English bacon vs American bacon; I mean, how different can it be, right? After all, they're all bacon in the end. So they must have similar tastes, right?
That's not exactly the case. Since most bacon that you see in supermarkets worldwide is American bacon, people assume that bacon, in general, has a crunchy and smoky flavor. In contrast, English bacon has distinct features that make it stand out in Britain.
Keep on reading, so the next time you see bacon, you will know which type you need to purchase for your family. In this article, you will learn about the history of bacon, how bacon is made, and different types of bacon.
After that, you will be able to tell the dissimilarities between English bacon and American bacon, thanks to the information from this article.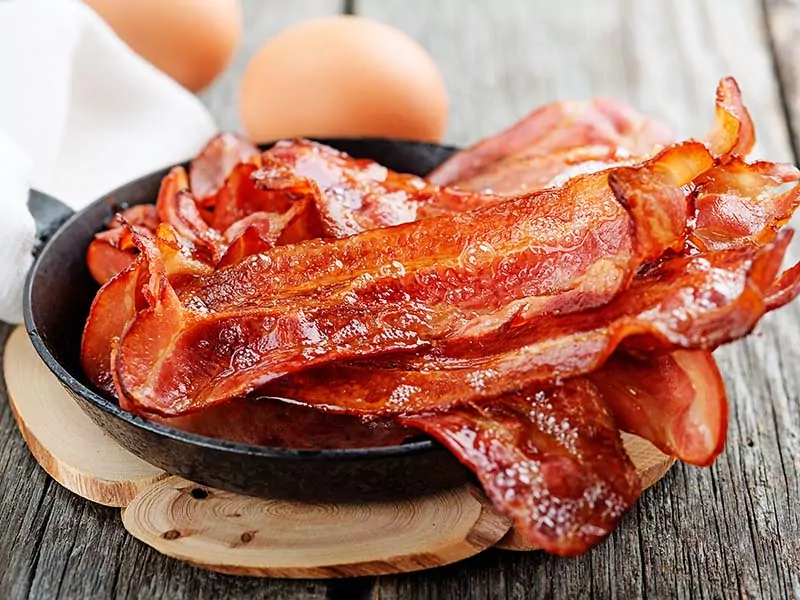 The History Of Bacon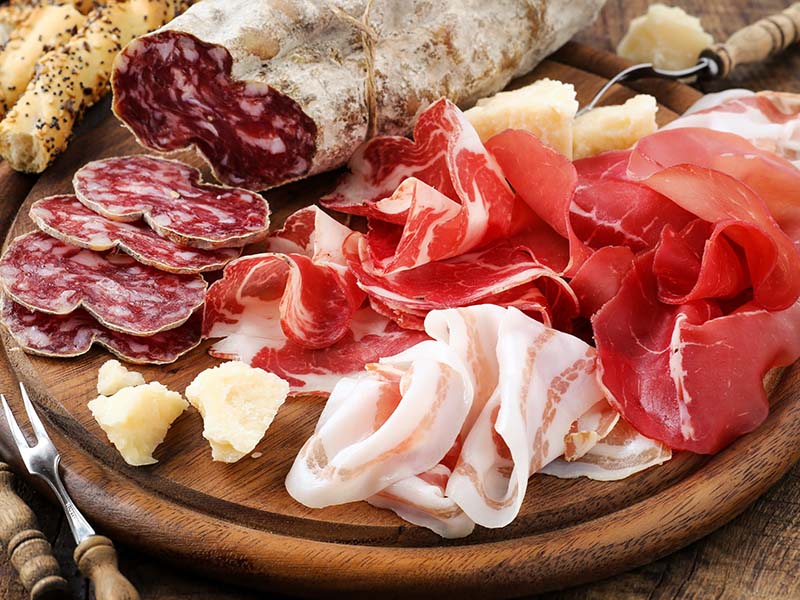 Bacon is referred to as the cured meat of pork, leading to many comparisons between bacon and pork belly. However, curing helps enhance the meat flavor and extend its storing time.
Curing the pork will require the meat to be covered in salt or a brine solution and hung to dry (for weeks or even months) for later consumption.
Originally, China was the first country to cure pork by covering it with salt. It's the earliest form of bacon, appearing in the early 1500 BC.
However, you should differentiate bacon from salt pork since these two are completely different. Other countries later adopted the method and added their twists to the recipes.
This method was widely adopted around the world as a convenient yet effective form of preservation for excess pork.
From the 11th to 14th century, the English people officially called cured pork bacon or bacoun. People worldwide fall in love with the fatty content of the bacon strip and start incorporating it into every meal.
In today's world, bacon appears in every corner of cuisine. You can see it in both condiments and main dishes. On average, an American consumes around 18 pounds of bacon per year. (1)
How Bacon Is Generally Made
Today, bacon will be extracted from the meat around the pig's body. The meat is then processed by rubbing an excessive amount of salt and cured for around one or two weeks.
Another form of this method is wet curing. The meat will be submerged in a brine solution or injected with nitrates to accelerate the curing process. The solution can then be added with vinegar, seasonings, sugar, and molasses.
After that, people often introduce smoke and other condiments to create the unique flavor of bacon. Sometimes, dry curing bacon will be left unsmoked. Instead, it will be hung to air dry at low temperatures for weeks.
7 Mouthwatering Types Of Bacon
Meat extracted from different areas of the pig will produce diverse types of bacon. Each type of bacon will have small differences making it distinguishable. Here are 7 of the most common types of bacon.
1. Side Bacon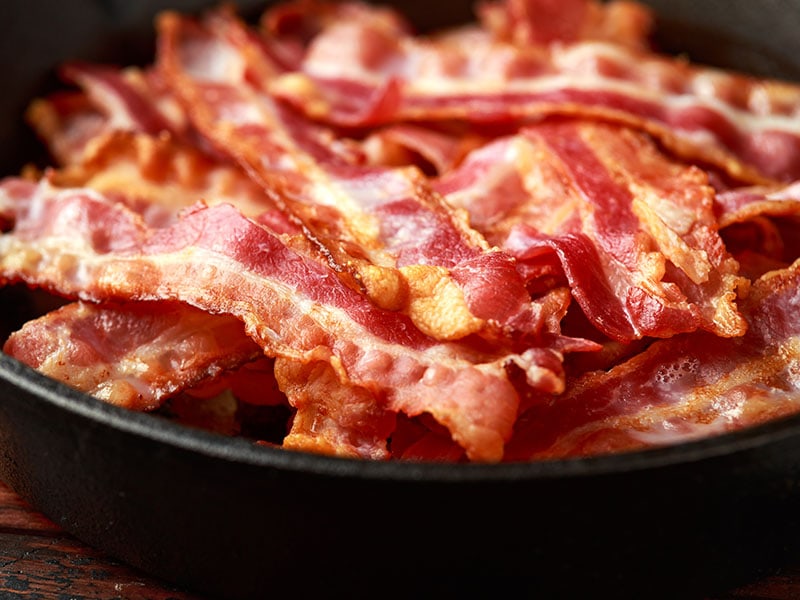 Side bacon (also called streaky bacon) is the fattiest cut of the pig belly. This is the part of meat where most American bacon is made from. The fatty, oily, and crunchy texture when fried is this cut's main highlights.
Plus, pork belly is considered cheaper than other cuts of meat in many parts of the world so it's a popular choice to make bacon.
2. Pancetta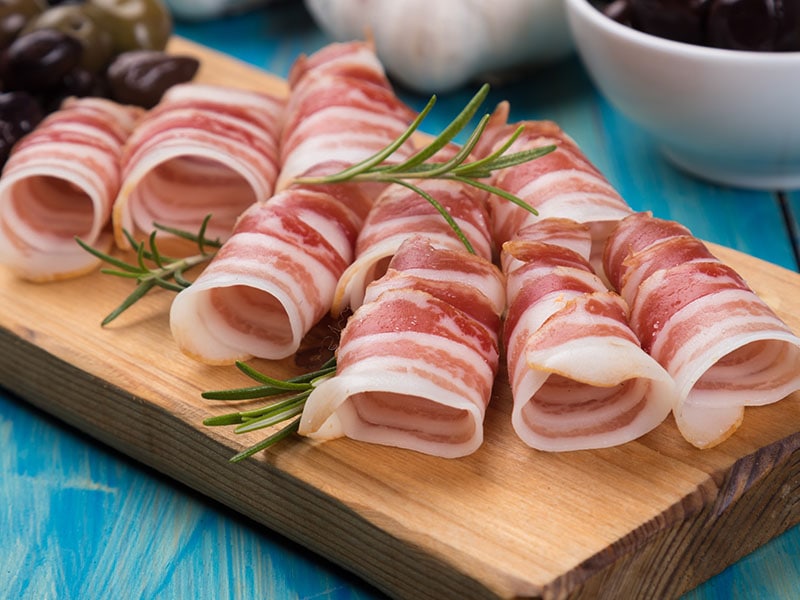 Pancetta is how Italians adopted the side bacon variety. However, the piece of meat won't go through the smoking process. In some regions of England, pancetta dominates the market in many supermarkets.
3. Back Bacon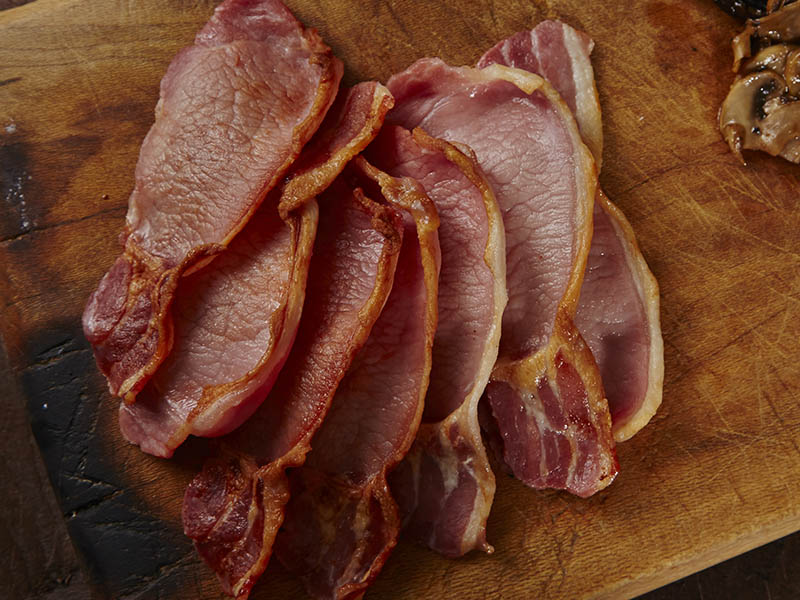 If you feel strange about this back bacon, maybe Canadian bacon is more familiar. The latter name is because Canada is where it produces.
This bacon comes from the pig loin portion, the less fatty part. That's why most people feel bewildered between Canadian bacon and ham. This leaner meat provides a much healthier option with a thicker slice than other bacon.
4. Middle Bacon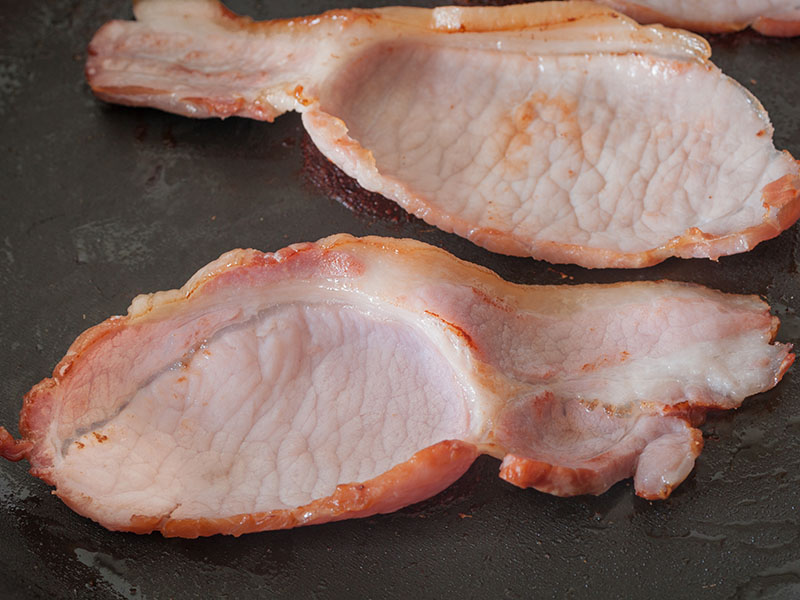 Middle bacon has an average amount of fat. Pulled out from the part between the back and streaky area of the animal, middle bacon has a mixed texture of the two areas of the meat. People describe the slice of middle bacon as more meat-like.
5. Cottage Bacon
Cottage bacon comes from the meat of the shoulder area. Instead of strips, cottage bacon will be cut into thin oval slices, often used in baking or frying, because of its firm and lean texture. In some areas, cottage bacon can also be called buckboard bacon.
Discover how you can make homemade buckboard bacon by yourself.
6. Slab Bacon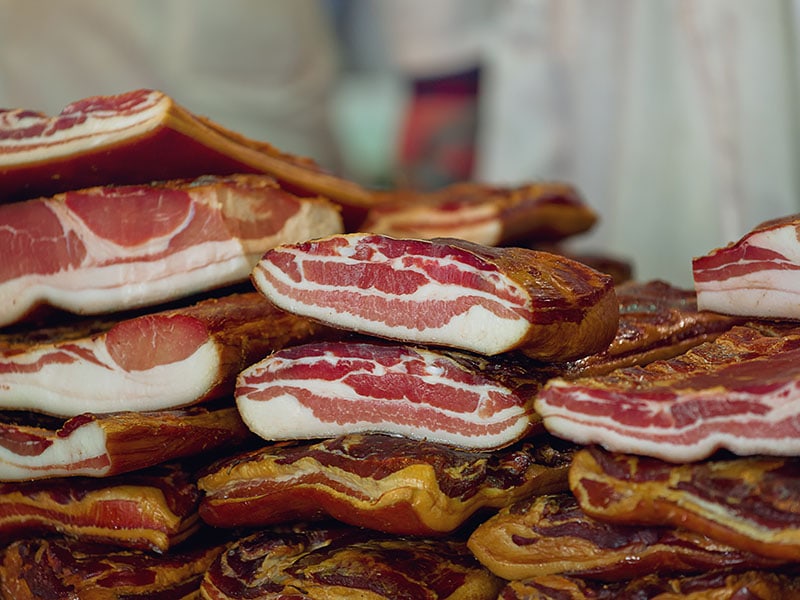 The meat of slab bacon is taken from the belly of a pig, making it high in fat content. It tends to be preserved as a whole slab (hence the name slab bacon) and cut into thick strips when served.
7. Jowl Bacon
Jowl bacon is made from the cheek of the pig. The bacon is served in thicker slices and bears similar tastes to regular bacon. Pig cheek can be easily found in the markets, making it an available ingredient to use to make bacon.
Here's how you can make bacon out of pig cheeks.
English Bacon Characteristics
In Britain, the bacon has another name and is extracted from less fatty parts of the pig. Rashers, as the locals often call it, is a type of back bacon that has much leaner meat. (2)
When served, people will cut it into circular slices to accompany it with eggs and beans for breakfast.
British bacon doesn't have to undergo the smoking process to give it flavor. Instead, rashers will gain their fragrance by absorbing herbs and spices through the cooking process.
However, the lack of smoke treatment means that British bacon will not possess the sweet and smoky flavor of oak wood or apple tree.
Here are the two factors that heavily influence English bacon characteristics:
1. Breed Of Pig
The origin of British pig can be traced back to American, European, and Asian wild boar. Constant breeding and selection of pig breeds have resulted in the Tamworth and Yorkshire pig breeds that produce great back meat for English bacon.
Tamworth Pig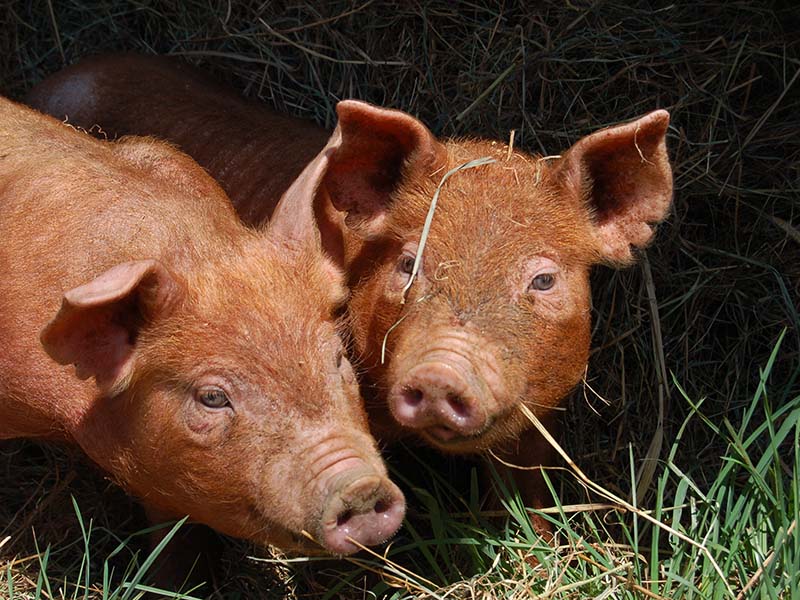 The Tamworth pig breed gives lean meat that is described to have a nutty and sweet flavor. Unlike commercial pig breeds, the Tamworth pig is a forager, which means its meat is flavored from all the natural food that it eats.
Curers favor the pig because it has a long and deep side of meat. In addition, the red meat to fat ratio is higher, which allows for a leaner texture to the rashers.
Yorkshire Pig
There's a large distribution of Yorkshire pig population worldwide. Yorkshire pig is white and is specially bred to make English bacon.
Similar to the Tamworth pig breed, the Yorkshire also produces lean meat. However, the fat content is a bit higher.
2. Types Of Cut Used For Bacon
To be considered English bacon, the cut of rasher will need to have both the pork belly and the loin. This is to ensure an impeccable balance between fatty meat and lean meat ratio.
American Bacon Characteristics
Only cured meat of the pork belly can be considered bacon in America. The pork belly is relatively cheap. That's why most Americans tend to consume pork belly bacon instead of buying other pig products.
After curing, most American pork cuts will be smoked for about 2-3 hours (6 hours if cold smoked). Hickory is the most common type of wood used to smoke the cured pork belly and create the traditional flavor of American bacon.
Strips of bacon will usually be fried up without using oil because the fat released during the cooking process will be enough to substitute the oil. Fried or baked bacon strips will have a crunchy and flavorful taste of smoked pork.
1. Breeds Of Pig
The pig breeds will greatly impact the bacon texture and flavor. For Americans, pigs weren't familiar until the European explorers arrived.
In the 15th century, the British introduced pigs to the indigenous people of North America. Since then, Americans have been selectively breeding pigs to create the industrial pig the world knows today.
Tamworth Pig
America also has its breed of Tamworth pig. However, this species is dwindling by the number. Only a few farms over the U.S are certified to raise this type of pig.
Having similar characteristics as the British Tamworth, the American breed is fed with soybean instead of foraging for food in the forest.
Take a look at how Tamworth pigs are raised in a barn.
Commercially Raised Pig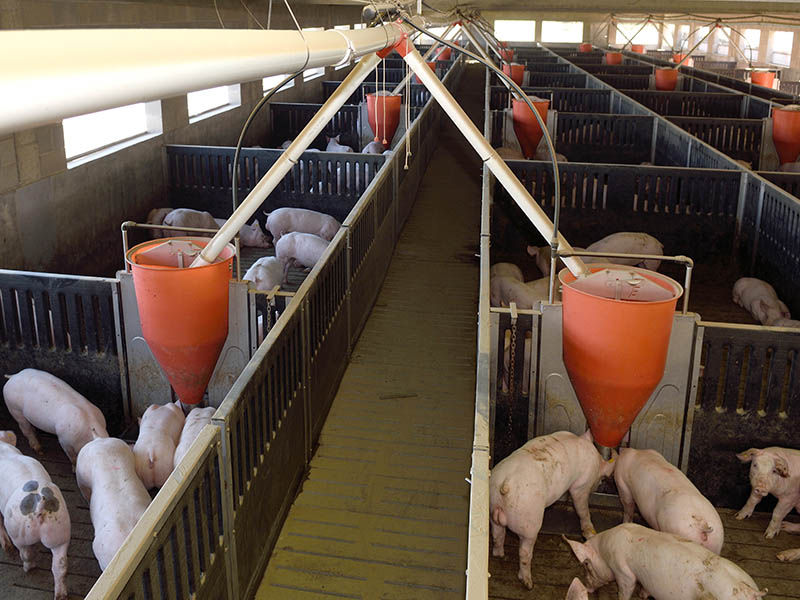 The Duroc pig is most commonly raised in America. It has high adaptability to the environment and produces meat with high-quality fat content. Plus, Duroc pig can be harvested for meat after 6 months of raising.
Since the bacon industry in America only wants the fatty belly of the pig, farmers favor raising this variety of pig. Commercial pigs typically gain weight very fast, making them a cheap and reliable source to make bacon.
2. Type Of Meat Used For Bacon
The U.S Department of Agriculture only registered bacon as pork belly, meaning that other types of bacon will need to be called with another name when they're imported into America (3). The pork belly is also a large portion to extract from the pig carcass, making it more profitable.
Differences And Similarities Characteristics That English Bacon And American Bacon Possess
Here are the basic characteristics that set English bacon from American bacon apart. With this table, you will be able to have an overview of the basic characteristics of the two.
Key Aspects
English bacon
American bacon
Breeds of pigs

The Tamworth breed.
The Yorkshire breed.

The Tamworth breed.
Commercially raised pigs.

Type of meat used for bacon
The back and loin with an average content of fat.
Solely the fatty pork belly.
Origin

In the 11th/14th-century.
Referred to as a special cut of the pig or cured animal products.

In the 1600s, introduced by the British.
Adopted from the British colonizers.

Fat contents
Average.
High.
Texture
Meaty and fatty.
Crunchy and oily.
Ingredients to make bacon
Mainly salt and herb condiments.

Salt and herbs.
A variety of woods to smoke bacon.
Similarities Of English Bacon And American Bacon
As you can probably tell, American bacon and English bacon have some resemblances. Cultural differences between the 2 countries cannot change the traditional methods of making bacon. Here are some of the elements that both types of bacon possess.
1. Pig Products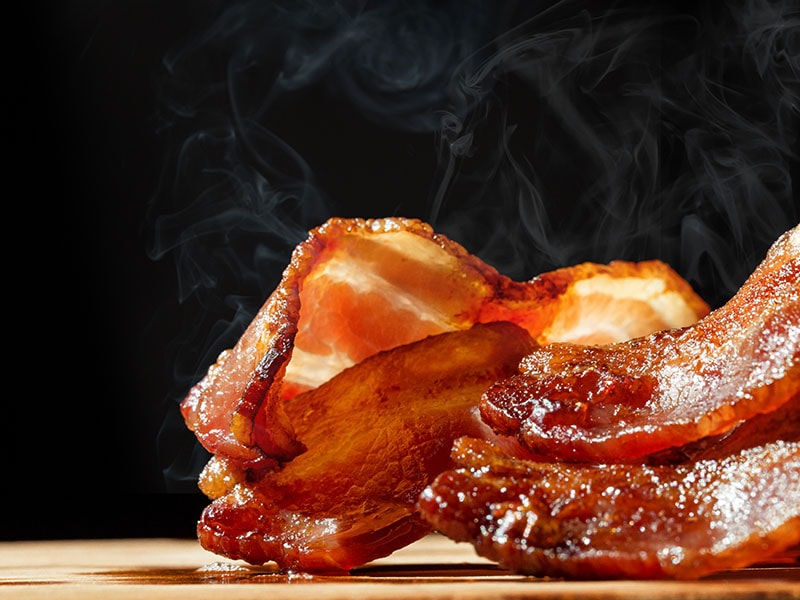 Although it's quite obvious, the term bacon will always be referred to as cured swine products. Any other types of meat that use the same method of curing will have to be labeled with different names to avoid confusion.
2. Curing Procedure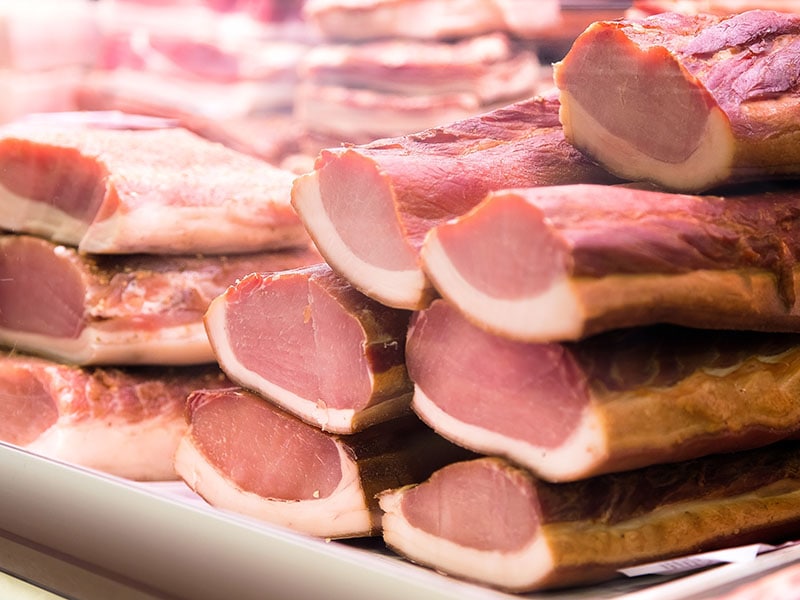 No matter which parts of the world, bacon will always be based on a very old traditional recipe. After removing the cut from the pig carcass, heavy use of salt and seasonings will be applied to ready the meat for curing.
The dry-curing process involves huge chunks of meat being rubbed with salt and cured for 1 – 2 weeks. During this time, salt will begin vaporizing all the surface liquid of the meat, causing the outer layer to shrink by a little bit.
Wet curing involves creating a brine solution and submerging your cut of meat in that solution for some time before it can be used. Curers will add extra ingredients like vinegar, sugar, and molasses into the saltwater solution to give the meat some flavors.
After the curing procedure, the bacon will need to have a completely dried surface, and the piece of meat will need to be tougher than its original raw status.
3. The Signature Salty Flavor
Most bacon today will always have to go through the curing process, this is to ensure the safety of consumers and give the meat a better flavor.
Many kinds of bacon will range from mild-salty to extremely salty, thanks to curing. Other regions of the world may get creative with their seasonings to the meat, but bacon will always need to have a distinctive salty flavor.
Differences Of English Bacon and American Bacon
As you can see, bacon can have different takes when different cuisines adopt it in the world. Here are some of the differences that you need to notice between English bacon and American bacon
1. Origin
The history of English bacon can be traced back to the 11th/14th century in the Middle English period when it was first introduced on dining tables of the British as cured pork.
America didn't invent bacon, although it's the country that consumes the most. Bacon first appeared in America in the 1600s, when America was still a colony of Britain.
In the 11th century, the English people started calling cured pork bacon or bacoun. The word derives from various Germanic and French dialects to refer to cured animal products or special cut meat of the pig.
In the 16th century, the American indigenous adopted the term when British colonizers with their pig products introduced it.
Uncover how bacon made its way all over the world.
2. Fat Contents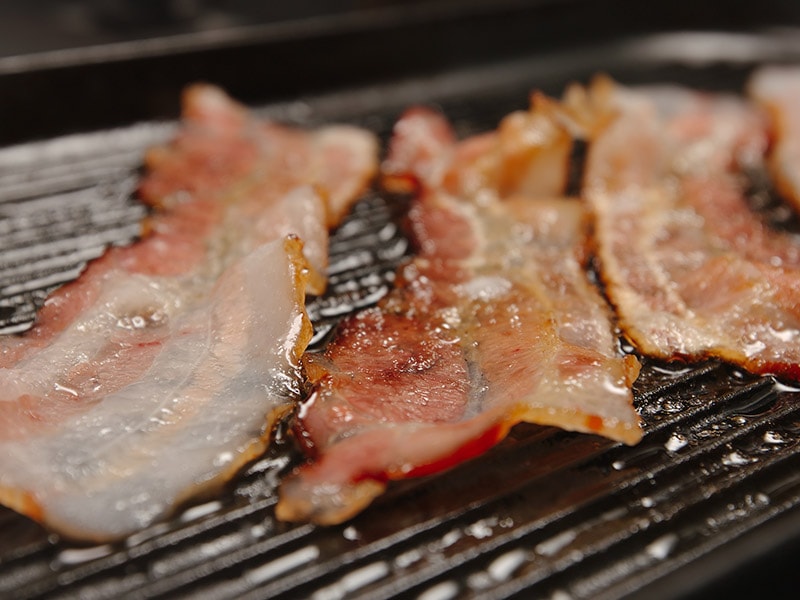 Since English bacon is extracted from the loin that is connected to the pork belly. The content of saturated fat will be lower than regular American bacon. When fried, American bacon strips often melt into an oily mixture.
3. Texture
Since English bacon has loins in it, it gives the meat a tender experience. When chewed, the meat is described to be juicy and sweet.
In contrast, American bacon will produce a high content of fat. When fried or boiled, an excessive amount of fat will be released. Instead of being meaty like the English variety, crunchy and smoky are what people often use to describe American bacon.
4. Methods To Make Bacon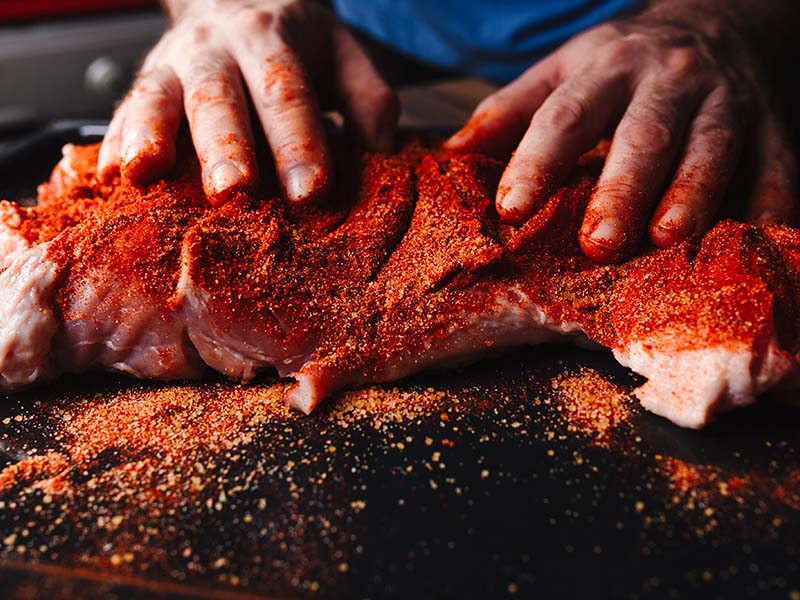 Aside from the meat differences, people don't often incorporate smoking into the procedure after the curing process of English bacon. This is to retain the flavor of the meat and ready it for seasoning when cooking.
Different from the English, American bacon is mostly smoked using a variety of wood to infuse extra flavor into the meat. This explains why when cooking the American variety of bacon, you only season it with simple condiments. Since the meat already has its distinct taste.
5. The Portion Of Meat
In Britain and Canada, the term bacon is widely applied to pieces of pig meat that undergo a curing process. Curers can use any part of the pig to make bacon.
However, America has a very strict term for what can be considered bacon. According to the U.S Department of Agriculture, only the cured meat of the pig belly can be labeled as bacon.
6. Types Of Pig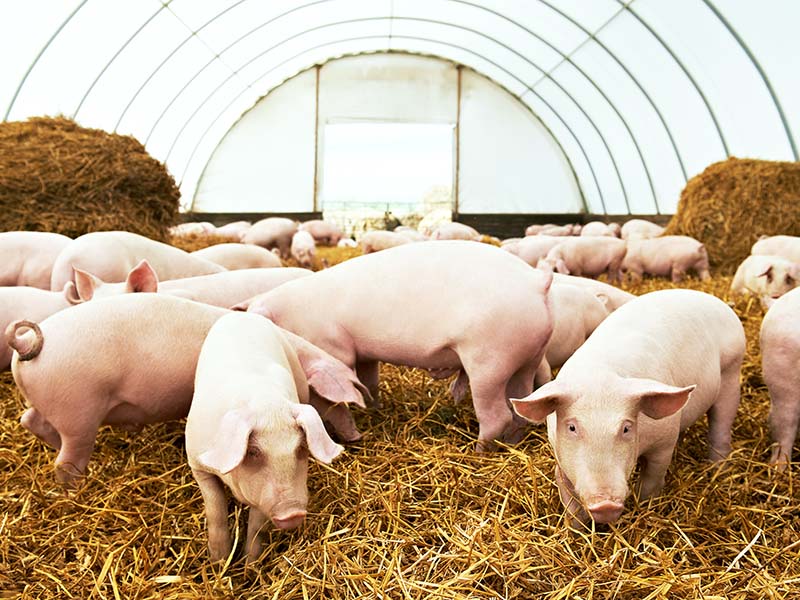 Through generations of breeding and carefully selecting desirable features of pigs. Britain was able to introduce 2 breeds of pig that were specifically raised to harvest for bacon making. The 2 breeds are The Yorkshire pig and The Tamworth pig.
While Americans are known for the huge consumption of bacon. The country only inherited the Tamworth pig breed from British colonizers. Therefore, America decided to invest in the commercially raised pig variety for faster results.
Level Up Your Cooking With These Recipes Using Bacon
Are you hungry already? Then try out one of these recipes that incorporate bacon. You may impress your family in your next meal.
Chorizo is an iconic Mexican dish that consists of sausage and garlic. The dish often has a distinctive dark red color and a spicy flavor from the powdered paprika seasoning.
A delicious mixture of spicy chorizo is mixed with black beans and smoked bacon to create an irresistible dish that you just want to dig in with your bread.
The turnover that originated as a dessert now has a twist to its recipe. By replacing the sweet jam filling with cheese, the outer pastry layer is then wrapped with bacon to create a compact yet fulfilling snack.
Looking for a creamy but spicy and oily at the same time? Then bacon-wrapped jalapeno popper is your answer. With cheese oozing out after every bite and delicious smoky flavored bacon wrapping outside of the chilies, you will always crave for more.
Carbonara is a traditional Italian dish typically pasta served with grated cheese and tomato sauce. You can add your twist to the dish by sprinkling in some bacon bits for a much meatier meal.
This is a must-try dish If you have some left-over chicken lying around and some spare time on your hand.
All you need is to prepare some pasta by mixing it in some double cream to give the dish a creamy texture. After that, throw in your chicken and prepare some bacon bits or strips to serve along with it. It'll only take less than 20 minutes before you can enjoy it.
Reasons Why People Love Bacon
It's undeniable that people love bacon. It is now popular around the world no matter what variety it takes. Here are some reasons why everyone falls in love with bacon.
1. Bacon Is Versatile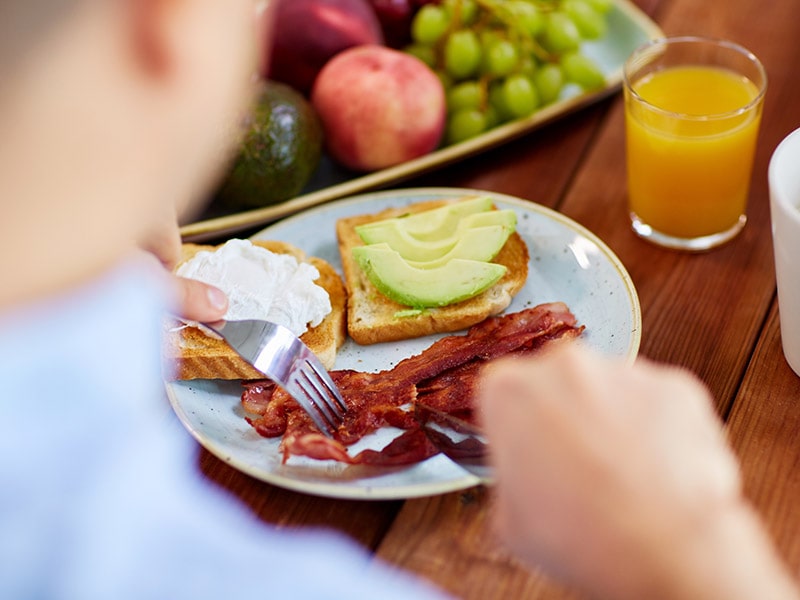 The salty flavor of bacon makes it easy to add to any dish without ruining the original taste of that dish.
Add bacon into any dish, and the flavor will only keep on developing, making bacon a solid choice if you want extra chewing experience and saltiness. Plus, bacon is a cheap yet addictive dish.
2. Bacon Is Everywhere In Culinary
Since you can become creative with how you cook bacon, it's not rare to see bacon now appearing in every corner of the world.
And you don't need complicated tools or techniques to cook this dish. With just a simple bacon cooker, you'll get a plate full of sweet, salty, and slightly smoky fried bacon that is virtually irresistible.
Also, you can use bacon for wrapping or as a filling in many dishes. There's even a crushed-up version of bacon bits, so you can use them to flavor your meal.
3. The Long History Of Bacon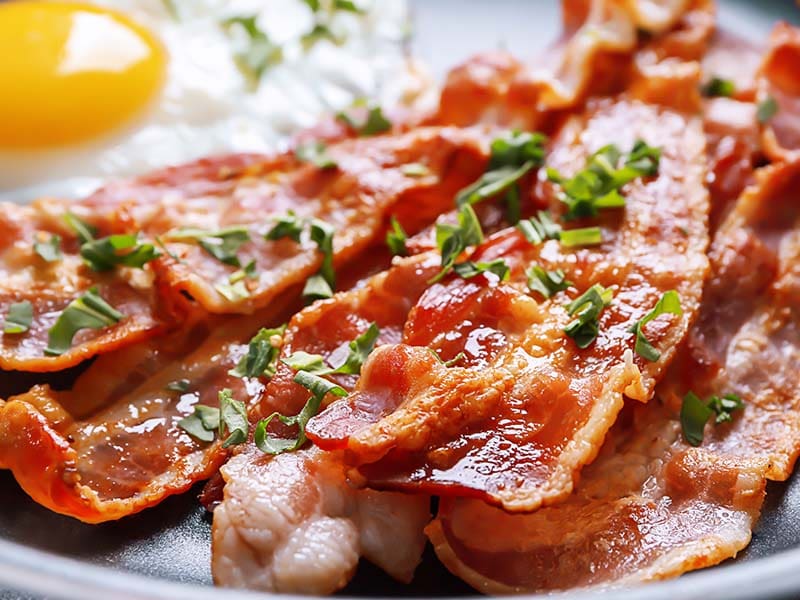 Ever since it was invented in China, people have grown an undetachable liking towards cured meat. Generations of crafting and constant improvements in curing recipes have elevated bacon in quality and flavor.
You can say that consuming bacon is carved deep into the human subconscious.
FAQs
If you still have some questions about American and English bacon. Take a look at these answers to your most frequently asked questions.
Bacon Is Easy To Consume For Any Individual
Now that you have equipped yourself with these facts about bacon. It's easier for you to decide on what bacon to buy on your next shopping trip.
No matter what the variety of bacon, it is easy to cook and will elevate your dish to the next level.
So what bacon variety is your favorite? Share it with me in the comment section below if you have any cooking tips that involve bacon. Feel free to share it with everyone.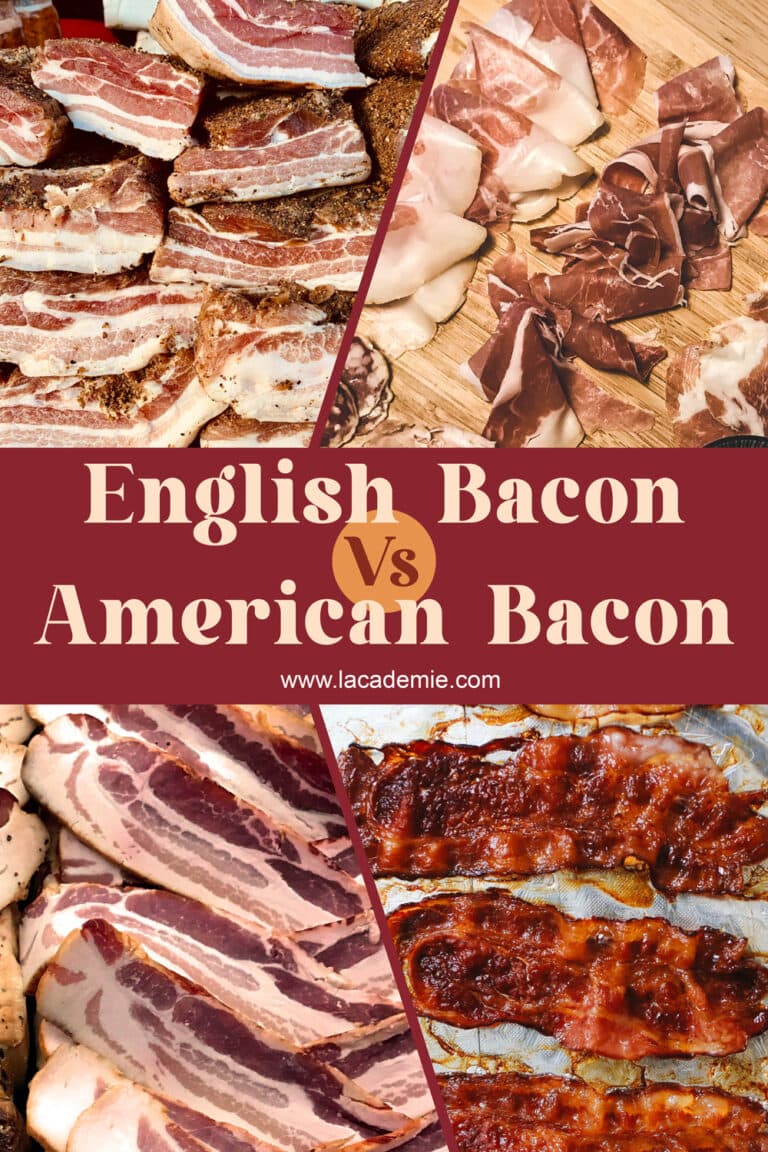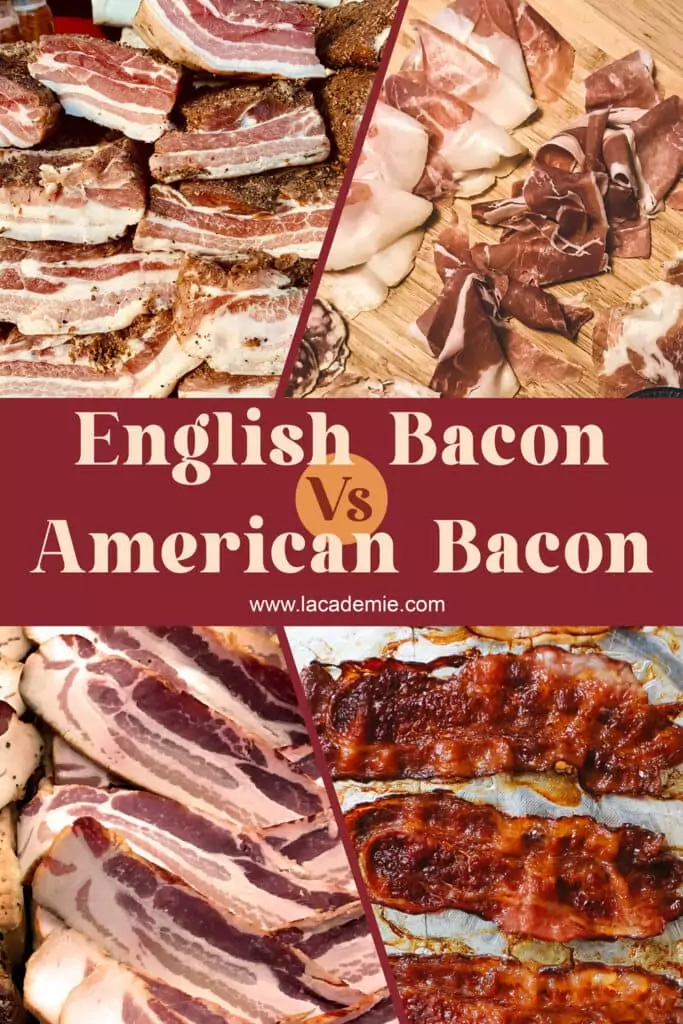 References
Kidadl.com. 60+ Bonkers Bacon Facts And Statistics From Around The World.
En.wikipedia.org. Bacon – Wikipedia.
Food Standards and Labeling Policy Book. [ebook] USDA, p.11.