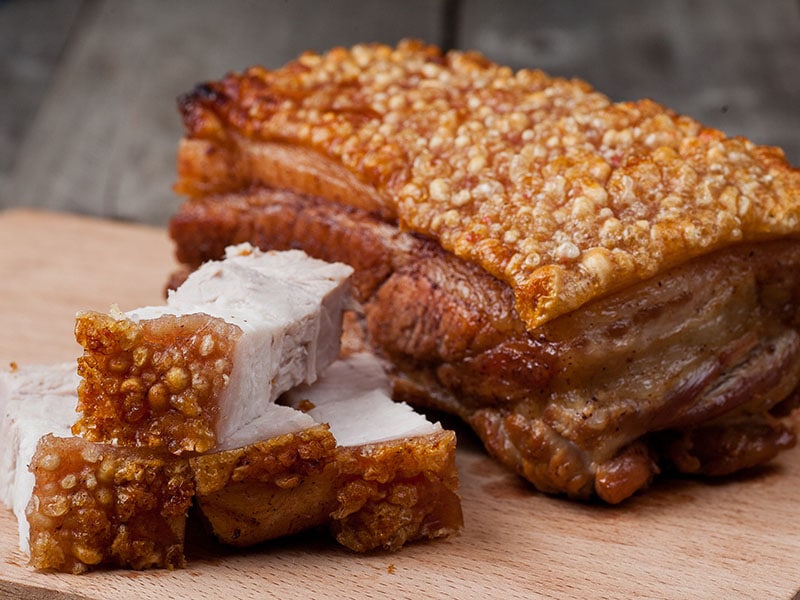 Pork belly vs bacon, can you tell all their differences? Being able to notice the differences will greatly benefit you the next time you decide to cook pork belly or bacon. This article will address all the common things and dissimilarities these two products have.
People seem familiar with bacon, but do you know which part of the pig is the pork belly? I will provide you with the information to determine the exact part of the pork belly.
So what are you waiting for? Keep reading so that you can become the next meat expert. You will soon learn the differences between pork belly and bacon, along with some useful advice on using them interchangeably.
An Overview Of Pork Belly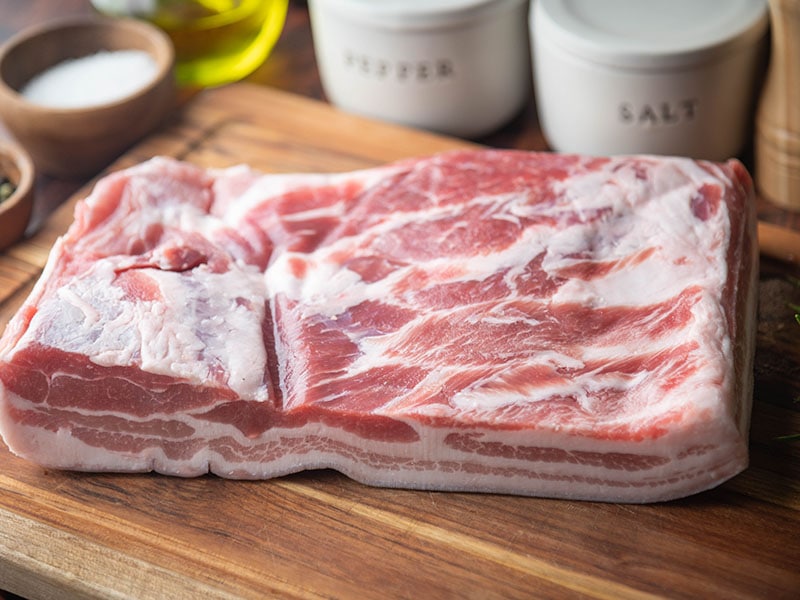 Pork belly is the cut of meat lying in the belly area of the pig carcass. The belly is the area with the most fat between the pig's ribs. In addition, this particular area of meat is boneless, making it a favorite in many cuisines around the world.
Most people around the world love the pork belly as it has a soft, melt-in-your-mouth texture. In China, you will often find braised pork belly, while in the Philippines, people will deep-fry it. Besides, you can make as many accompaniments to go with pork belly as you want.
Cooking with pork belly can get tricky as you need to pay attention to the temperature and time. Because if you overcook it, you will render all the fat and moisture out of the meat completely, leaving the pork belly with a dry and chewy texture.
Bacon 101
Bacon is a cured and sometimes smoked product made out of swine. To execute the curing process correctly, you will need to fully cover the piece of pork meat in salt or brine solution. To differentiate bacon from other salt pork products, you can refer to the information below:
History
The first known method of curing meat dated back to 1500 BC in China as they were using salt to cure meat. As time passed by, in the 11th/14th century of the Middle English period, the term bacon or bacoun was to refer to pork in general.
At the current time, bacon is a huge market in the world. As for the US alone, in 2013, Americans witnessed an all-time increase in bacon sales which was close to $4 billion.
Discover the origin of bacon through this short documentary.
Characteristics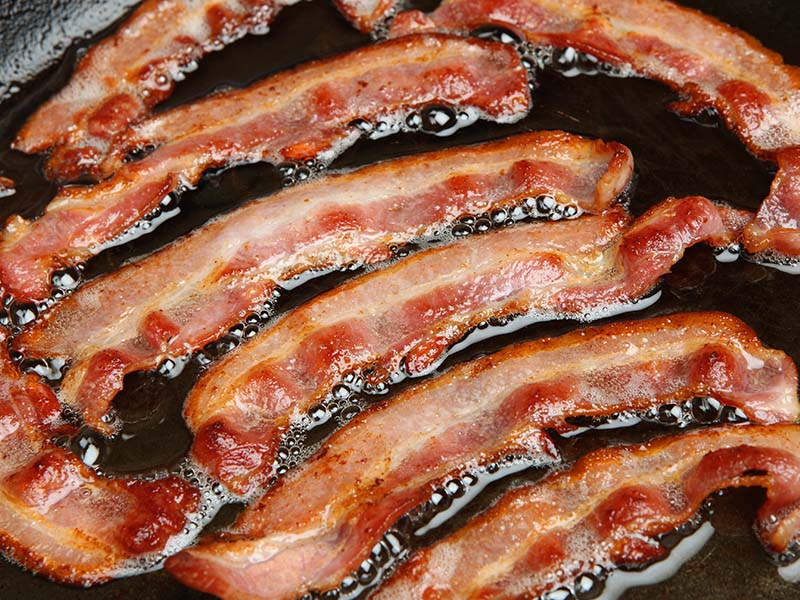 When exposed to heat, the bacon fat will melt and become drippy. This fatty mixture, when condensed under cool temperature, will be known as lard. In many traditional cuisines, lard people use lard as the base flavor for cooking, salad dressings, or gravy.
Most of the bacon energy lies in the fat, which contains around 68% of total energy. On average, a 10-gram slice of bacon will have 4.5 grams of fat and 3 grams of protein.(1)
I recommend you not over-consume bacon as scientists have already proved that bacon causes vascular and heart problems.
General Types Of Bacon
Bacon, in general, contains a high content of fat. However, each culture adopted bacon differently. That is why you need to learn about some basic bacon varieties to strengthen your understanding of bacon.
1. American Bacon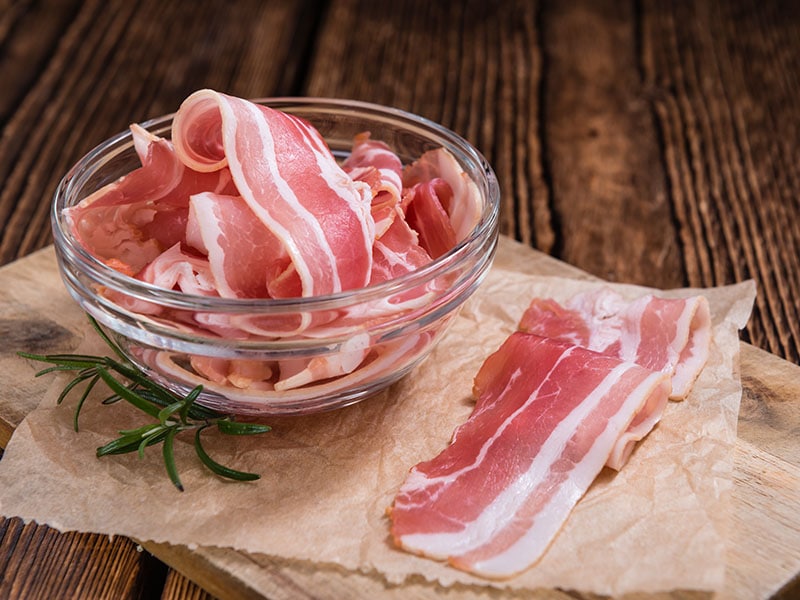 Typically made by using the pork belly area, these strips of bacon often have a high fat content. Other parts of the world may call American bacon "side bacon" or "streaky cut". When cooked, Americans will render as much fat out of the bacon strip as possible for a crispy texture.
People recognize American bacon for its crunchy texture with a smoky flavor when fried. You will surely find these sizzling bacon strips in many American cooking recipes.
2. English Bacon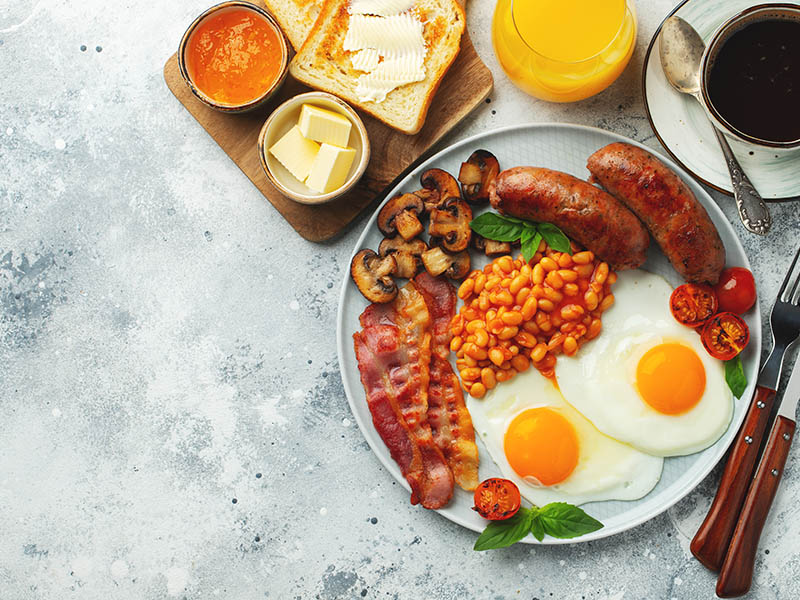 English bacon is a cut from the loin area of the pig carcass. This cut has much more meat and is leaner than others. There are tons of differences between English and American bacon, but the former obviously has less fat and doesn't go through the smoking procedure.
As a part of the traditional British breakfast, people serve bacon alongside beans, grilled mushroom, butter toast, and sunny-side-up eggs. In Britain, rasher is the name for bacon.
Take a closer look into the processing of making English bacon.
3. Canadian Bacon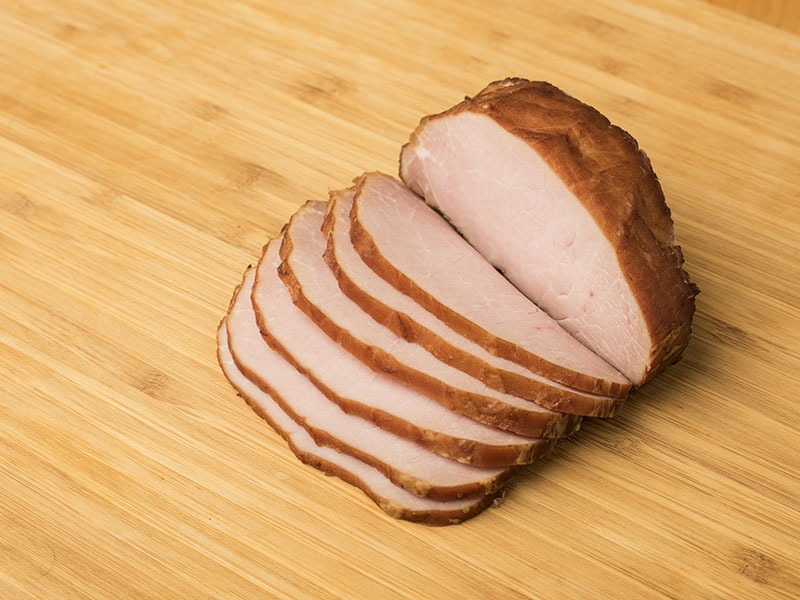 Although Canada shares the border with the US, the country is not influenced by its neighbor bacon. Instead, Canadian bacon shares more similarities to English bacon.
In addition, bacon in Canada is not always smoked. And when served, you will see it in oval slices. So, many people have confused this Canadian bacon with ham, but these two products are not totally the same.
In Canada, people often use the back meat of the pig to make Canadian bacon. The back meat has less fat than the pork belly, but it gives Canadian bacon a meatier texture. If you order bacon in Canada, it's most likely that people will serve you with the back meat bacon.
4. Irish Bacon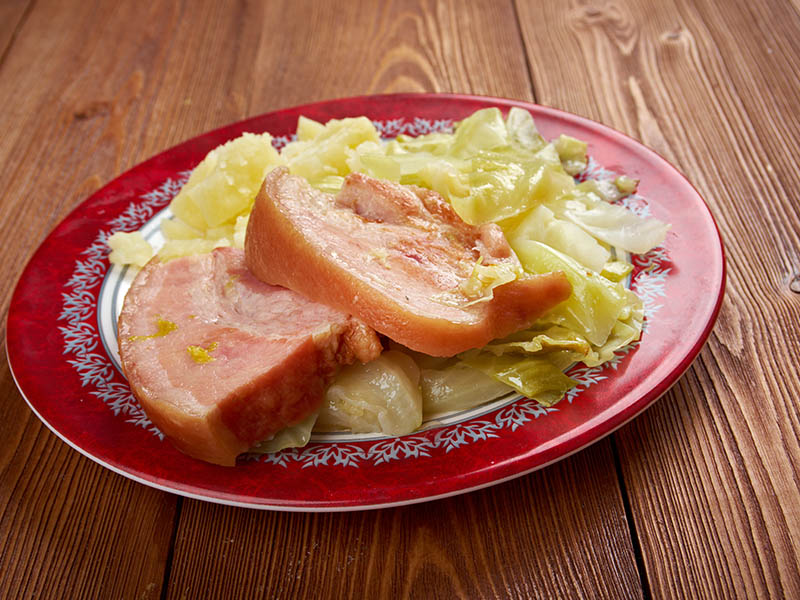 You may wonder how incredible bacon in Ireland is since many people go crazy about it. So, here is some general knowledge about it.
Irish bacon shares many similarities to Canadian bacon and English bacon in the lean meat and unsmoked aspects. However, when served, people will cut it into circular slices, making it different from the two mentioned varieties.
Irish bacon often appears during breakfast or lunchtime. People will serve it with eggs or rice. Unlike American bacon, where it needs to be fried to a crisp, Irish don't often fry their bacon.
5. Jowl Bacon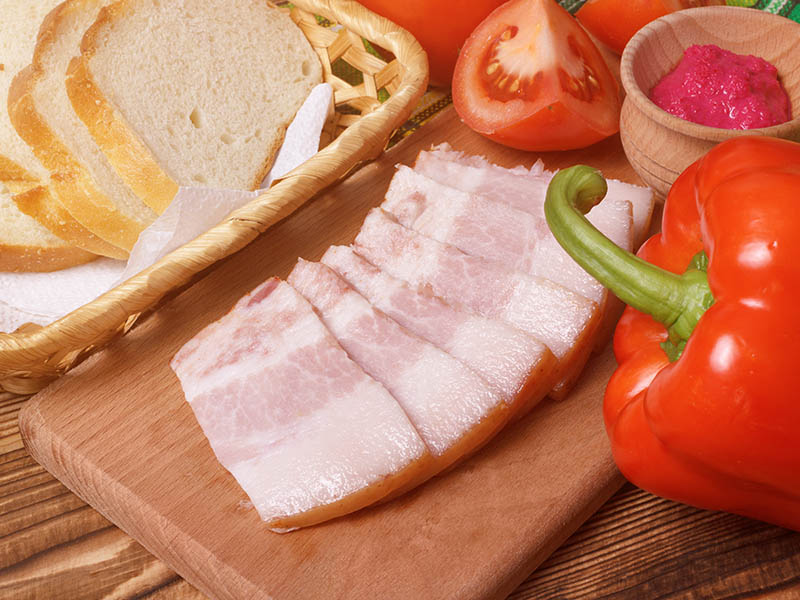 In America, the Southern will often call "hog jowl" to refer to jowl bacon. The thin slices of jowl bacon come from the cheek area of the pig. Similar to American bacon, curing and smoking procedures are also applied to jowl bacon.
Uncover how you can cure and smoke jowl bacon right at your home.
6. Pancetta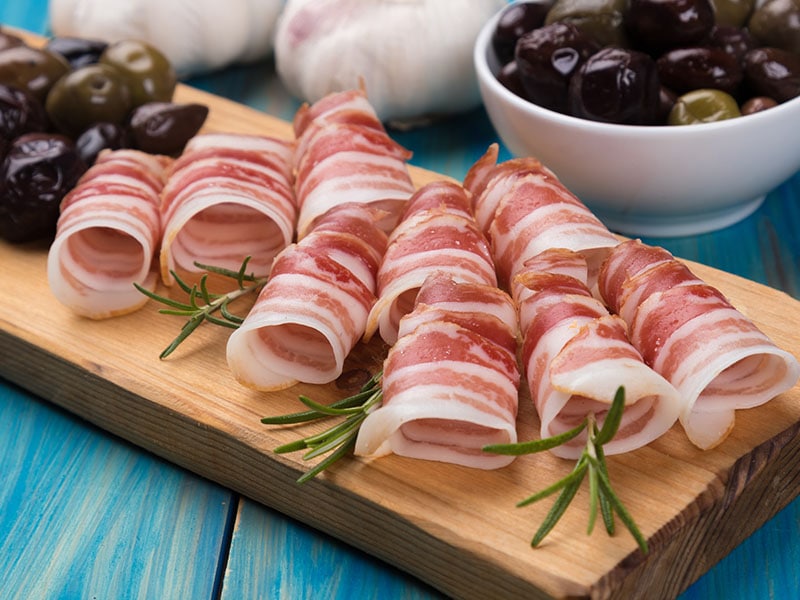 Pancetta is an Italian style of bacon made from pork belly. However, what sets this Italian bacon apart is that you can eat it raw. People often throw Pancetta into Carbonara to elevate the punchy flavor of the dish or have it between sandwiches.
7. Slab Bacon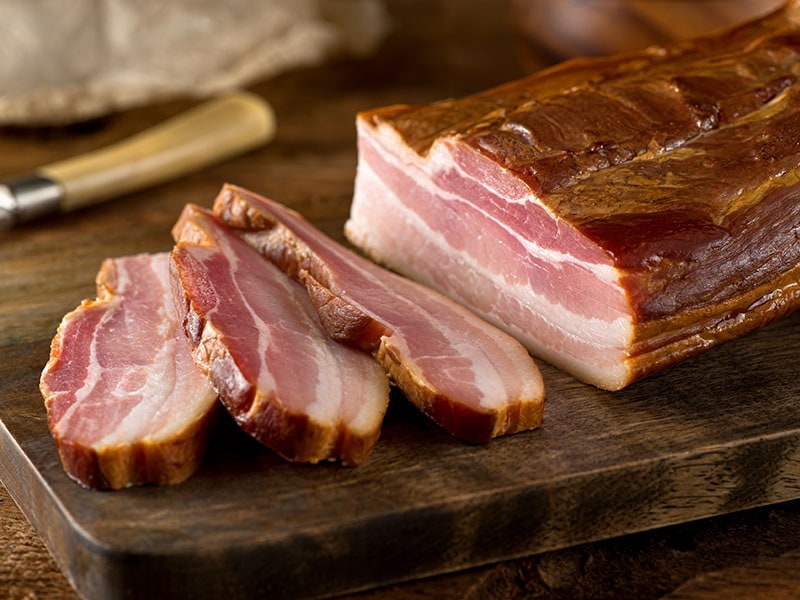 Maybe you've grown familiar with seeing bacon served or sold in strips. But when you keep the whole pork belly intact, people will call it slab bacon.
There are many approaches for this variant of bacon, as it can be smoked, cured, or aged. This leaves many options for creating various flavors.
8. Lardon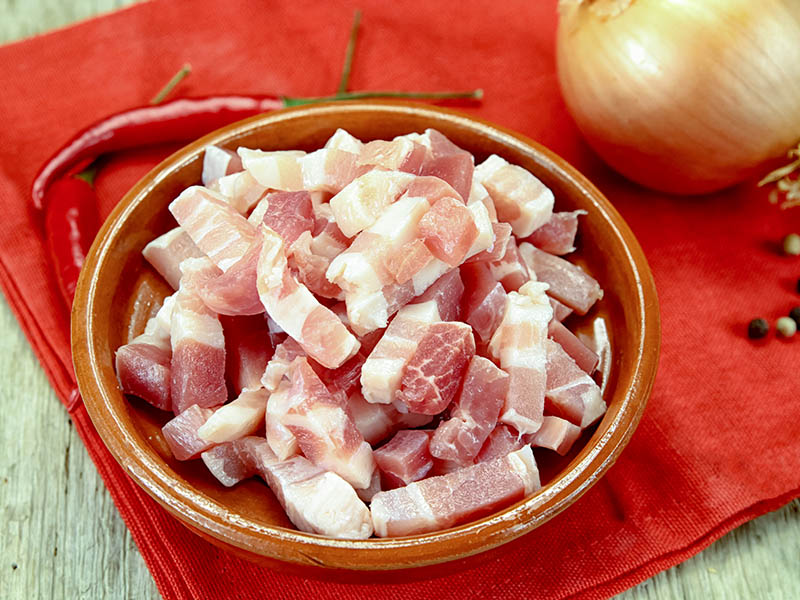 French cuisine adopts bacon and creates another variation of bacon called lardon. As a flavor enhancer, lardon is often unsmoked and cut into small cubes to easier distribute its flavor when cooked alongside a dish.
A Round-up Of Differences Between Pork Belly And Bacon
At this point, you probably can tell the differences between pork belly and bacon already. But you should remember that you can make bacon from pork belly. However, not any type of bacon can be referred to as pork belly.
Here's a table that summarizes the necessary information just for you.
Differences
Pork Belly
Bacon
The Cost
Often cheaper than cured meat.
Higher in prices because of the curing and smoking procedures.
The Cut Thickness
Kept as a whole big slab.
Thinly sliced.
The Curing Procedure
Raw, uncured meat.
Cured meat.
The Flavor
No flavor.
Salty and smoky.
The Source
The underside between the loin of the pig.
Can be made from other meat areas of the pig.
The Crunchiness
Soft and tender
Crunchy when fried.
Uses In Cooking
Braised, fried, slow-cooked, roasted, etc
Fry or braise.
Easy To Cook

Few steps make.

Difficult to master on the first try.

Require knowledge in cooking.

Simple and saving

Doesn't require cooking skills.

Health Benefits

Contain a high level of protein, minerals, and vitamins.

Have no additive substances.

A source for Omega 3 fatty acids, B-vitamins, and protein.

Have a lot of additives.
Differences Between Pork Belly And Bacon
Although some types of bacon can be made from pork belly, there are differences in why pork belly and bacon should never be referred to as one.
1. The Cost
Generally, pound for pound, bacon will have a higher price than pork belly. This difference in cost is because of the extra steps that bacon will typically have to undergo. Many aspects can influence the price of bacon, such as the price of the ingredients and the curing process.
Pork belly is just a cut from the underbelly of the pig that you can find at a butcher store or any supermarket. Because pork belly is raw meat, it is often cheaper than bacon.
2. The Cut Thickness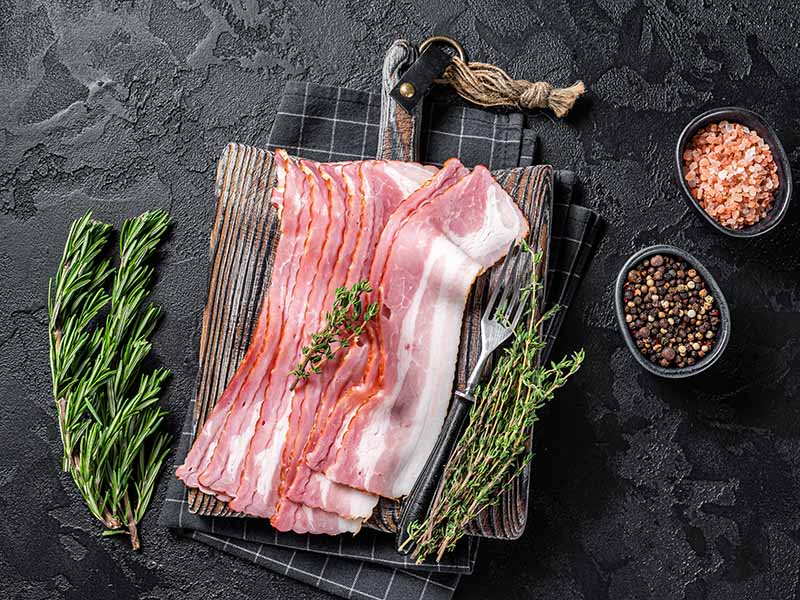 While you may argue that I can simply ask my butcher to cut the pork belly in any thickness, it is common to preserve pork belly as a whole big slab. Even after the purchase, I find it unnecessary to cut the pork belly into thin slices since it could become soft after cooking.
There's a reason why manufacturers cut bacon into thin slices before selling. It's because consumers will often want to have the crunchy texture in their bacon. Cutting bacon into thin slices will help render the fat quicker and make the bacon crunchy faster at the same time.
3. The Curing Procedure
Pork belly is just simply raw and uncured meat. You will often see pork belly appear at the butcher store in the unprocessed meat section.
Bacon is cured meat that undergoes many procedures to extend the meat shelf life. The curing process may involve rubbing the meat with salt for dry-curing or injecting it with nitrate solution for wet-curing. Also, some types of bacon will require an extra step of smoking.
Moreover, it takes time to produce bacon. On average, it will take at least 24 hours for the curing process to complete. But for pork belly, you can just buy it fresh from the butcher without having to wait for any processing procedure.
Click here to uncover the secret to how you can make bacon right at home.
4. The Flavor
On the one hand, pork belly is raw meat, so it's obvious that it doesn't taste any good. Raw pork belly will require marination and many steps in the cooking process to make it flavorful.
On the other hand, the curing procedure gives the bacon a signature salty flavor. For the famous American bacon, it will even possess a smoky taste from the smoking step. Plus, bacon seasoning will create an irresistible umami flavor when cooked.
5. The Sources
Bacon can originate from different areas of the pig carcass. For example, manufacturers can take the loin or cheek meat from the pork to make back bacon and jowl bacon.
Therefore, people can make bacon from whatever section of pork meat while the pork belly is only a slab of raw pork meat from the pig's underside.
6. The Crunchiness
When it comes to bacon, the most popular cooking method is to fry the bacon strips to crisp. This is because people want to remove as much fat as possible from the bacon, making for dried bacon strips.
Contradicting this is the soft and tender texture of pork belly. Thanks to the generous amount of fat that pork belly has, the more time you spend cooking the pork belly, the softer it will become.
7. Uses In Cooking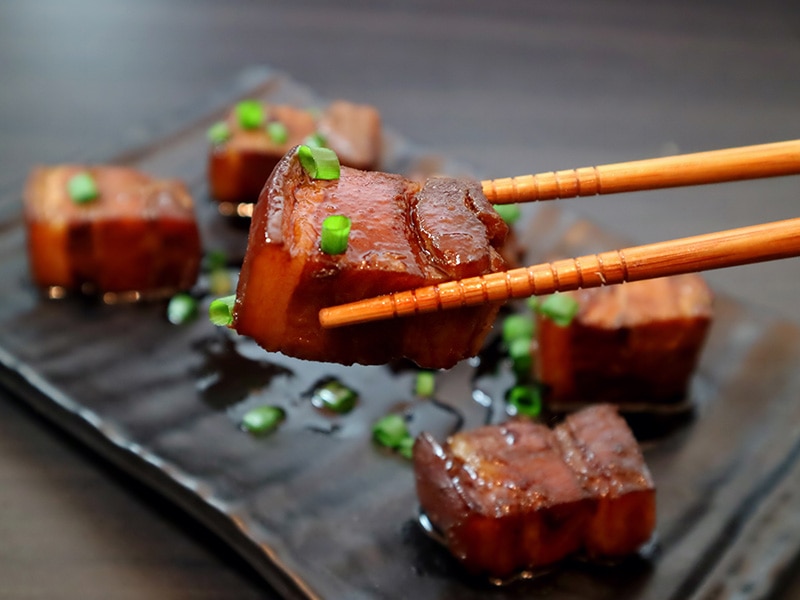 Although you can use pork belly and bacon interchangeably, you should prioritize one type of meat over another, especially when the recipe requires you to do so.
There are many ways to prepare pork belly as a main dish. Depending on the country's cuisine, pork belly can be braised, roasted, fried, slow-cooked, etc. For example, if you want to make Vietnamese braised pork with egg (Thit Kho Tau), pork belly is an ideal ingredient.
It's a great addition of fat to your dish. However, the pork belly flavor doesn't go well with sweet dishes.
The most common way to cook bacon is by frying it on a pan or braise. Bacon alone is not considered a main dish. Around the world, people often have bacon along with toast, eggs, and sausages. Opposite to pork belly, the saltiness of bacon elevates the flavor of sweet dishes.
Judging on the versatility side, pork belly is much more adaptable than bacon. Because of the tenderness, pork belly can pair with any cooking method. As for bacon, people will usually fry or bake to create distinct crunchy and smoke features.
Observe how you can professionally dissect the pork belly.
8. Easy To Cook
It's no secret that frying bacon will only take a little time to complete. That's why people often love bacon since it's easy to cook. You don't even need to have any cooking background to fry some crispy bacon strips.
For pork belly, it can get quite tricky for your first dish. You will need to learn from errors and make suitable adjustments. It's important to pay attention to time and heat to ensure your pork belly is cooked to perfection.
If you undercooked pork belly, it could result in the skin having a rubbery texture that isn't enjoyable to eat. Plus, maintaining a balance between crispy skin and moisture content in the pork belly is a demanding task.
9. Health Benefits
A lot of people see pork belly as a healthier option than bacon. Although the two products both contain a high level of fat.
Bacon contains a lot of additives and salt to preserve the meat. Judging on the nutritional value side, bacon is a good source of Omega 3 fatty acids, B-vitamins, and protein. Bacon also contains a large amount of cholesterol and saturated fat.
Pork belly is a natural cut of meat that has no add-on substances. While pork belly may have a high content of fat and cholesterol, it compensates by having a high amount of protein, vitamins, and other minerals that bacon doesn't possess.
Is Pork Belly Just Bacon?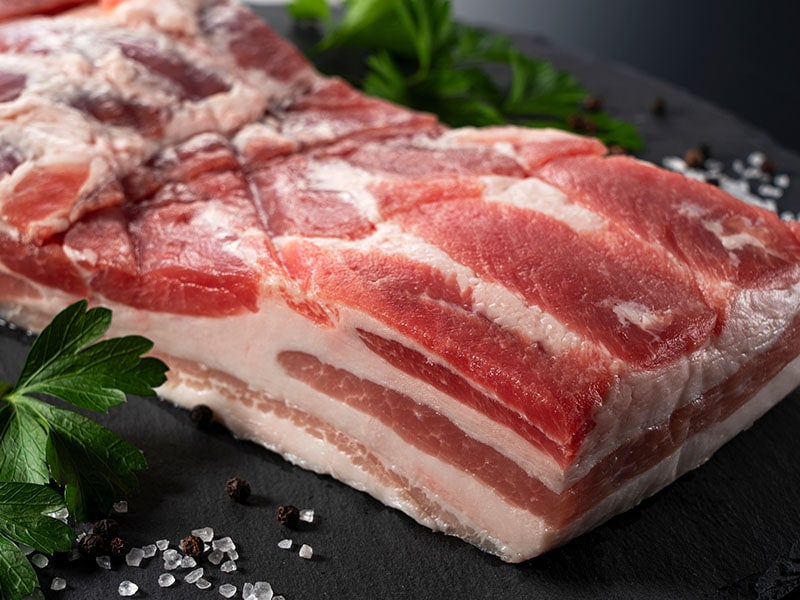 Although bacon is quite fatty and mostly made from pork belly, that doesn't mean pork belly is bacon.
Bacon originates from the cured pork belly. It is the most favorable choice to make bacon because of its high-fat content. However, there are other parts of the pig carcass that you can make bacon from. That is why you shouldn't think of bacon as pork belly.
Pork belly is a name used to call the cut of meat in the belly area between the pig's ribs. People usually leave the piece of meat in huge chunks and uncured condition. So you can just call pork belly raw meat to set it apart from bacon, which is a product that requires curing.
Can You Use Pork Belly To Replace Bacon?
So you must be looking for a way to substitute bacon with pork belly or vice versa, right? If that's the case, then I would love to tell you that is a great idea. However, you will need to pay attention to the following details.
Pay attention to the saltiness of the bacon to adjust if you're using pork belly to replace bacon. Pork belly will still be able to deliver that crunchy texture that you have in bacon if you slice it thinly. Also, you will notice that pork belly will need a longer time to cook than bacon.
When Do You Use Pork Belly Or Bacon?
Are you uncertain whether you should use bacon or pork belly for your next meal? Don't worry, I'm here to provide you with all the information you need.
When To Use Bacon
Bacon can be delicious on its own. However, if you're looking for a way to enhance your dish flavors, then adding bacon is a brilliant choice. Because it can greatly enhance the savory flavor of a dish, use bacon if you are…
Making breakfast with toast.
Wrapping jalapeno, cheese, or sausage.
Wanting more crunchiness to your dish.
Making desserts like dark chocolate bacon bark.
Enhancing the flavor of your soups or stews.
When To Use Pork Belly
Pork belly can taste amazing if you know how to handle the cooking process. In China, people often braise or roast pork belly. This gives the meat an amazingly soft texture that will melt in your mouth (braising). Roasting pork will produce a crispy layer of skin and soft meat.
You can consider using pork belly in the following situations.
Using the pork belly broth as a base for soup or ramen
Roasting
Braising
Slow cooking
Deep frying
Grilling
Let's learn how to make delicious roasted pork belly to impress your family on your next dinner.
5 Dishes That Use Pork Belly And Bacon
Are you starving already? Don't worry because I have some recommendations for you right here. You can try making these delicious dishes for your next dinner.
Americans cover freshly fried or grilled bacon with chocolate to create a sweet and savory dessert. Milk chocolate or dark chocolate are often preferable to cover over the bacon.
In addition to that, you can sprinkle some extra salt or various crumbled nuts to make it extra flavorful. You will be able to find it in many fairs around the US under different names like pig candy or pig licker.
Looking to level up your cooking? Then you should try this finger-licking good sticky Chinese pork belly. The sweetness and savory flavors are what these slices of pork belly have to offer. The shiny and delicious glaze can change anyone's appetite to hunger instantly.
Here is a staple dish in various countries in Europe and Asia. Although it takes some tries and errors, you eventually get a crispy layer of pork skin with soft and succulent meat.
It's impossible to describe the sensation of pork skin crumbling in your mouth. At the same time, the sweetness from the meat mixes with the pork skin will bring you an out-of-this-world experience.
Guacamole is a dip with an avocado base. It was first created as a dish to accompany tacos. Sometimes, local Mexicans will even feature Guacamole as a main dish. The dip became famous worldwide, with America adopting it as a dipping sauce for many types of food.
Since bacon can work great as a flavor enhancer or add crunchiness to the dipping sauce, Americans often add bacon bits to elevate the flavor of the Guacamole.
Check out this guide to how you can make a perfect bacon Guacamole at home.
Lechon Kawali is a deep-fried pork belly dish of the Philippines. Commonly, the locals will season the pork belly before frying it in a pan or wok. After frying, the pork belly will display a golden brown color with crispy skin.
When served, people often have Lechon Kawali with Lechon sauce, made from pig liver and vinegar.
FAQs
I know you still have many questions about pork belly and bacon. That's why I have these FAQs right, which I hope would provide you with the necessary information.
Everyone Can Enjoy Pork Belly And Bacon
At the end of the day, I find pork belly and bacon are just amazing foods that I want to have all the time. It's difficult for me to pick one to be my favorite. If I had to pick, the pork belly would be preferable to me. It's because you can make so many delicious dishes out of pork belly.
What about you? Which type of pork do you enjoy more? Place your ideas in the comment section below. Thank you for your attention throughout the article.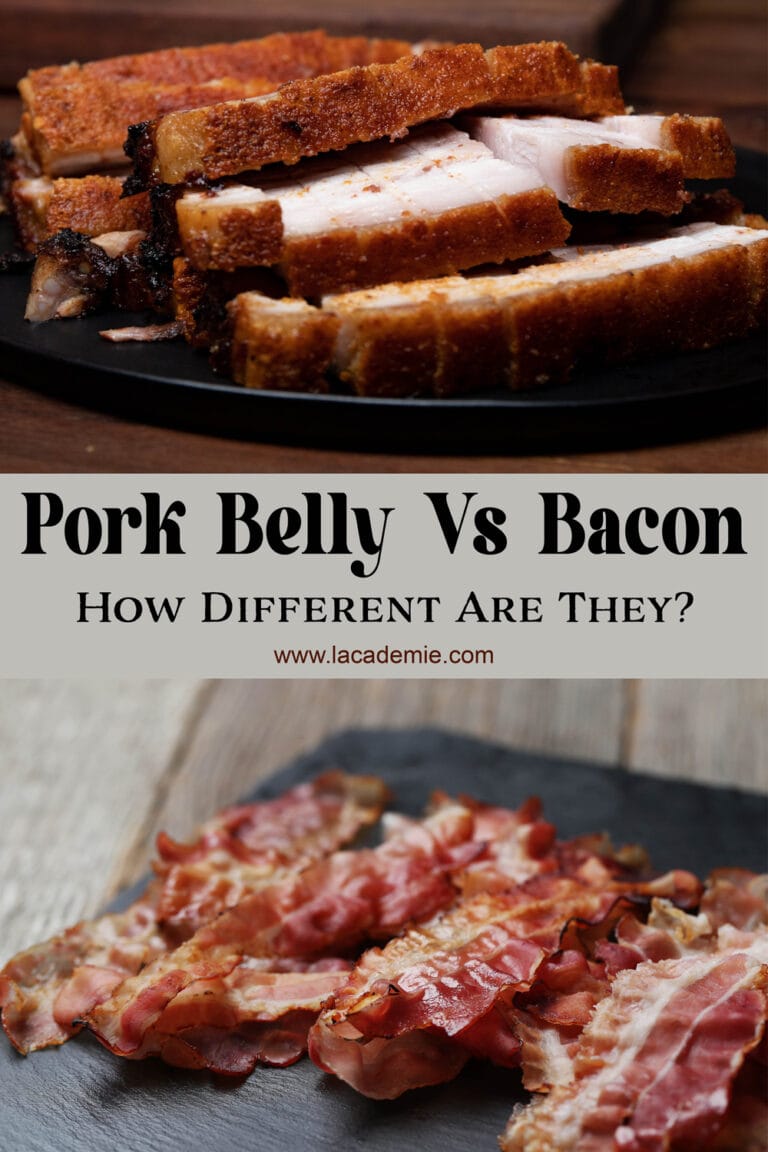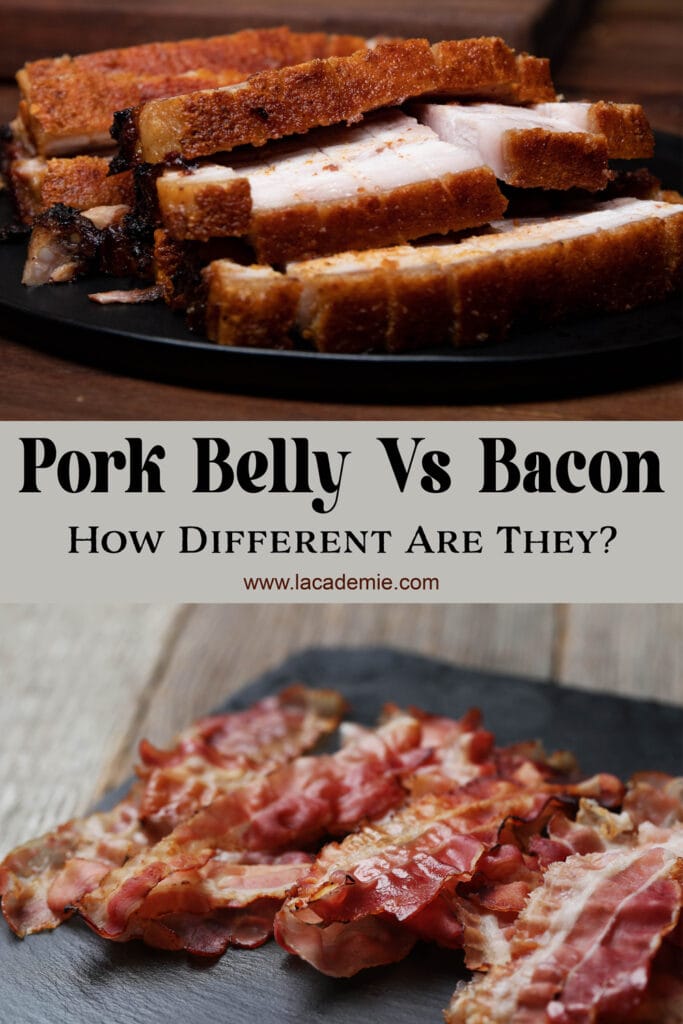 Reference
En.wikipedia.org. Bacon – Wikipedia.
Choe, J.-H., Yang, H.-S., Lee, S.-H., & Go, G.-W. (2015, June 9).