European recipes offer a great sense of diversity because of how many countries there are. Each region has its own culture, and the culture is heavily reflected in its cuisine. If you've been wanting to expand your own culinary knowledge, European food is a wonderful place to start.
The best way to truly learn about European cuisine is by making the dishes yourself. They tend to center around meats, pasta, pastries, and vegetables. The cooking methods vary from simple to complicated, so don't worry about how skillful you are; just give it a try anyway.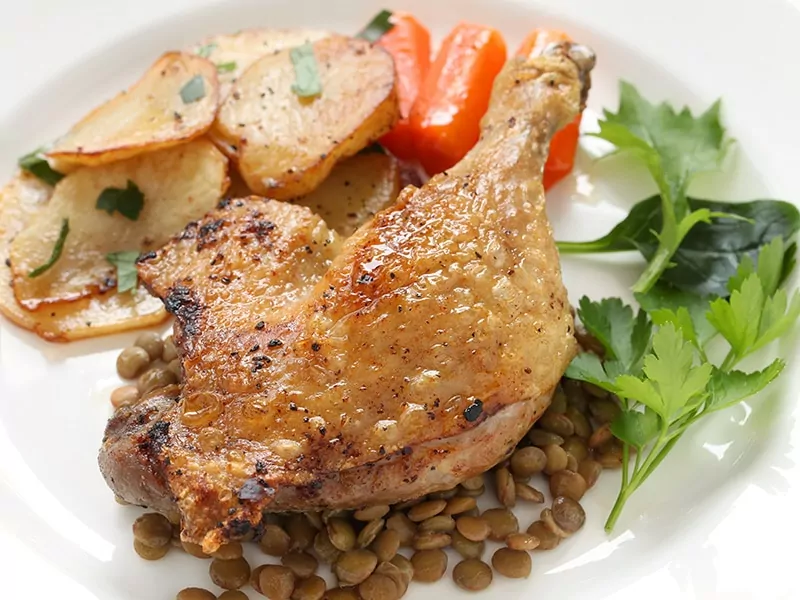 No matter how picky you are in eating, there's undoubtedly a European recipe that will satisfy you. Easy European recipes has categorized them based on the main ingredients to make it easier for you to decide what you like: vegetables, pasta, meat & poultry, flour, and other ingredients.
Vegetables
Minestrone Soup
Ratatouille
Greek Salad
Hungarian Mushroom Soup
Greek Sweet Potato Fries
Pasta
Pasta Carbonara
Shrimp Alfredo Fettuccine
Lasagne Alla Bolognese (Beef Lasagna)
Spaghetti Alla Puttanesca
Cheesy Sausage Rigatoni
Meat & Poultry
Souvlaki (Greek Meat Skewer)
Beef Paprikash
Confit De Canard (Duck Confit)
Keftedakia (Greek Meatballs)
Beef Stroganoff
Porchetta
Sauerbraten (German Pot Roast)
Flour
Éclair
Pretzel
Pastéis de Nata (Portuguese Custard Tarts)
Gata (Armenian Sweet Bread)
Skillingsboller (Norwegian Cinnamon Buns)
Bakestones (Traditional Welsh Cakes)
Pizza Margherita
Other Ingredients
Bisque
Risotto
Full English Breakfast
Moules Frites (Mussels And French Fries)
Vegetables
Vegetables are great for making a fresh bowl of salad. However, there are so many more ways you can bring them into your daily meal. See this list for all the exciting ways to eat your veggies.
Let's begin with Italian ideas for a hearty soup. Minestrone soup is a great way to use up all your leftover vegetables. Common ingredients are tomatoes, beans, carrots, celery, and pasta or rice, but you can choose anything that's available in your pantry.
Being packed with various vegetables makes this soup incredibly flavorful and chunky. Meat is an excellent addition if you want a more savory taste. Load it up with your favorite pasta, and there's your main course for the night.
Ratatouille is a French vegetable stew made mainly from tomatoes, bell peppers, zucchini, eggplants, and various herbs. The veggies are placed neatly on a large pan and left to simmer in the oven for about an hour.
In the meantime, you can prepare other foods to pair with ratatouille. Bread, soup, pasta, etc., anything savory dish you like. All of them will add more flavors and nutrients to your ratatouille meal.
Even though this dish looks pretty spectacular and takes a while to put together, the end result is totally worth it. The ingredients are given time to blend together fully and tenderize. Have some patience, and you will have the most vibrant dish to eat for days.
This summer salad is an iconic Greek starter that everyone would crave. It is filled with amazing and familiar veggies you can find at any grocery store. The real highlight is the dressing, which is a bright and zesty mixture of lemons, garlic, olive oil, and pepper.
There is no fixed recipe for this salad. Apart from the basic ingredients, you can add anything you like to make it more flavorful. Feta cheese, chickpeas, avocados, and mint are some popular suggestions for a more filling dish.
This unique soup can be your family's new favorite comfort dish. It's a wholesome mixture of fresh mushrooms, dill, onions, paprika, and other seasonings. The ingredients all carry a very earthy and rustic taste, giving you a soul-warming soup to enjoy on cold nights.
You can eat this creamy soup on its own as a light meal. It's rich enough in flavors to keep you full and satisfied for a short while. You can also turn it into a hearty and healthy main course by eating it with brown rice.
A simple and easy way to make this creamy mushroom soup. You can see this video to know more:
If you love French fries but think they're too unhealthy, try this dish of golden sweet potato fries instead. Sweet potatoes have high levels of vitamins, antioxidants, and fibers. Not to mention this recipe involves baking, which helps to retain the nutrients a lot more than frying.
The true flavor kick in this recipe lies mainly in sauces and seasonings. You can never go wrong with some tahini sauce, tzatziki, or feta cheese. If you're looking for a little bit of heat, try smoky spices like Za'atar or red pepper flakes.
Pasta
Pasta is a no-brainer for a simple, delicious, and nutritious dinner. These recipes are slightly different from each other, so you can have multiple options and don't get bored of eating the same thing.
Looking for a wholesome dinner for your family? You can make this classic Italian recipe in just under thirty minutes.
It features pasta smothered in a saucy mixture of heavy cream, eggs, and cheese. Easy to make and delicious to eat, this delightful pasta is the perfect go-to recipe for all your busy weeknights.
Crunchy bacon is a must-have topping to bring a savory taste to this rich and creamy dish. Other optional add-ons include Parmesan cheese, peas, and any fresh herbs that you like.
Tender shrimps and pasta covered in a creamy sauce is quite a fantastic way to end your day. For something so easy to make, this pasta is unbelievably good. You only need around twenty minutes to put together this dreamy comfort food.
It's impossible to tell what the best thing about this dish is. Some may say it's the buttery and cheesy sauce that will have you licking the plates long after you are done. Others think it's the juicy and vibrant shrimps. Whatever it is, it's something you won't want to miss out on.
Everybody knows and loves the classic lasagna. This recipe is quite similar, but instead of cheese, it features layers of egg pasta covered in a slow-cooked Bolognese meat sauce and bechamel.
Instead of making this dish with ground beef, you can prepare this recipe with ground bison as well. I can guarantee that regardless of whether you use ground beef or ground bison, the resulting dish will taste amazing all the same.
Much like your regular lasagna, this one is also a great source of comfort. It's heart-warming, savory, and melts right into your mouth from the very first bite. The cooking time may seem scary at first, but it is a very worthwhile process, and you can eat it for many meals.
You can see this video to know more:
This authentic Italian pasta recipe is something you can put together easily using simple ingredients. The sauce is a delicious blend of tomatoes, olives, garlic, and anchovies. If you want a vegan dish, feel free to remove the anchovies.
Even though this dish does contain fish, you can't really taste it at all. Instead, you get a really bold mixture of sweet and savory flavors that completely melt in your mouth. It's the perfect weeknight dinner dish to enjoy with your family.
This recipe is great for sharing amongst your loved ones. Not only is it unbelievably easy and quick to make, but the result is also a glorious dish everybody will love.
This golden dish includes tender pasta baked with lots of gooey cheese, Italian sausage, vegetables, and a garlicky Marinara sauce. The cheese completely melts into all of the ingredients, yet the top remains crispy, giving you an exciting eating experience.
Meat & Poultry
These European dishes are great examples of how versatile their cuisine is. Meat is cooked in many different ways, and the one thing they have in common is how mouth-wateringly good they are. These dishes are a must-try for meat lovers out there.
Here is another easy-yet-delicious Greek-based treat that can fit in any BBQ party. It's juicy meat marinated in a delicious sauce and grilled to absolute perfection. The marinade gives the meat a signature aromatic taste while also tenderizing it at the same time.
These skewers can be eaten on their own, but they are more often wrapped in a crispy pita with some tzatziki sauce drizzled over the top.
In addition, Souvlaki is one of Greece's most beloved street foods. Even though they are street food, you can totally eat them as a main course alongside some nice salad at your next barbecue.
This is a Hungarian beef stew seasoned mainly with paprika, tomatoes, and red peppers. It makes a hearty and rustic main course for dinner when eaten over mashed potatoes or any kind of noodle.
Sweet, cozy, and savory, this is the perfect comfort dish for all your cold winter days. It's even better as leftovers because the ingredients will have time to marinate and blend into one another. Give it a try and rediscover the beauty of a good homemade recipe.
Confit is an ancient cooking method that involves preserving meat in its own fat for a long time before slow-cooking until it has a crispy exterior. The process may seem like a lot, but if you have the patience, it will give you the most flavorful and tender meat you have ever eaten.
This dish is not something you can quickly whip up on a regular weeknight. However, it makes for an excellent celebratory or festive meal. Serve it with other French side dishes or a salad, and you can properly treat your guests with a meal they will never forget.
This recipe involves making meatballs from ground meat that has been flavored with coriander and garlic, giving it a savory and aromatic taste. Just roll the meat into balls, cover them in flour and deep-fry them for a crispy shell and juicy, tender inside.
These meatballs can be eaten in many different ways. They are an amazing side dish when dipped with tzatziki sauce or stuffed inside pita bread. If you have any leftovers, you can also use them for a later-day pasta recipe. The possibilities are endless.
This is a classic Russian dish made by sauteing strips of beef and mushroom in a creamy, garlicky sauce. It's the ultimate comfort food that you can put together in just under thirty minutes.
Or you can even transform leftover roast beef into new dishes with this recipe. And I guarantee no one can realize that it is made from remaining food because of its superb deliciousness.
The most common way to eat this beef dish is by pairing it with noodles or pasta. However, you can also serve it with some rice, fries, or mashed potatoes. If you want a low-carb alternative, try some cauliflower mash.
Find out the quickest way to make a delicious dish of beef stroganoff:
Porchetta is a traditional Italian recipe in which a pig is stuffed with herbs and slow-roasted until it is beautifully golden and juicy. However, if you are making this at home, pork belly or loin should be enough to create a tasty dish.
This roasted pork recipe is incredibly savory and aromatic, thanks to the various herbs used in the process. The meat is well-caramelized on the outside and very tender on the inside, perfect as an individual dish but also pairs nicely with other foods.
This traditional German recipe requires marinating the meat for days in red wine, red wine vinegar, and herbs, then braising until it is completely tender and succulent. This method gives you a dish that is insanely rich and multilayered, different from any other meat roast.
In order to further enhance the flavors, this dish is served with a sweet and savory gravy made from the same ingredient as the marinade. Serve this at your next holiday dinner, and the plates will get cleared up in no time.
Flour
Europeans are very well-known for how amazing they are when it comes to using wheat in the kitchen. These pastries are simple, but they are heart-meltingly good. If you have been looking for something new to bake, look no further than this list.
An éclair is a French tube-shaped pastry made with choux dough and filled with cream. It is light and airy with a deliciously puffy inside that melts right into your mouth from the first bite. Contrary to popular belief, this fancy-looking pastry is a lot easier to make than it seems.
Traditionally, an éclair is filled with vanilla cream and topped with melted chocolate. However, you can get as creative as you want with this pastry. You can use fruits, marshmallows, salted caramel, and more to give it the exact flavors that you want.
Chocolate éclairs can be surprisingly easy with these instructions:
Do you want to know what foods that Germans usually serve for appetizers? They are pretzels. Everybody loves a pretzel or two when they are hanging out with friends and family. It's warm, crispy, and carries an addicting salty taste that makes it impossible for you to stop munching on.
There are so many ways you can eat a pretzel as well. You can dip it in various sauces because of its simple taste that can complement anything it is paired with. Many also like to bake it into cookies or chocolate barks to create a unique 2-in-1 snack.
There's nothing quite like a batch of golden and caramelized egg tarts to brighten up your day.
These Portuguese tarts are a lot sweeter than the ones you may be familiar with. These palatable dishes from Portugal are also made with puff pastry, which makes them significantly lighter and flakier.
Pastel De Natas has everything you could dream of in a pastry: crispy around the edges with a creamy charred custard center. They are a great way to end any meal, but you can also make some extra to eat as a light snack or even a quick breakfast.
Gata is an Armenian pastry that is crispy on the outside with a spiral of vanilla cream filling. Many have compared it to croissants because they are both made from rolled bread dough. However, this recipe is much sweeter and more buttery.
Even though the spiral insides may make it seem difficult, these Armenian sweet treats are actually easier to make than you think. The dough is very simple to shape, and after baking, all imperfections will be hidden under the creamy layers, so throw all your hesitation away and give them a try.
Don't let the long foreign name scare you. These are actually just a Norwegian take on the classic and beloved cinnamon roll. This scrumptious recipe from Norway is smaller and less sweet than the American version, making it perfect to enjoy with a cup of coffee.
Skillingsbollers come in many flavor varieties. In addition to the original recipe, these Norwegian sweet treats can also be filled with raisins, chocolate, or sprinkled with some extra sugar.
Take a trip to Norway, and you will find all these lovely versions being sold in every bakery and cafe.
These inviting Welsh delicacies are the perfect light snack to munch on at any time of the day. They are a bit crumbly but very tender towards the center, with tiny currants laced all throughout the insides. The texture and taste make them one of the most unforgettable treats you will ever eat.
Bakestones can be made easily on a griddle or a frying pan in just under thirty minutes. They are best eaten fresh and hot, of course, but you can always save some for later to bring on the go.
Eat pizza like a true Italian with this classic recipe. It features tomatoes, sliced mozzarella, basil, and some olive oil. The ingredients may sound simple, but if done right, you will spend the time of your life eating this pizza.
Crispy crust, heart-melting cheese, and vibrantly sweet tomato toppings, everything about this pizza is a dream come true. The best part is you can make this magical dish at home with just a regular oven. Make this at your next dinner for a meal no one will forget.
Other Ingredients
European cuisine is obviously so much more than just the main ingredients mentioned above. Things like seafood, rice, eggs, and many others are also used to create unique dishes you will undoubtedly fall in love with.
While people still wonder whether bisque and soup are similar, the former is basically a French soup made from flavorful shellfish like shrimp, lobster, or crab.
It is like chowder but without the potatoes and a whole lot thicker as well. This creamy and velvety soup takes a while, but the result will be worth all your efforts.
Your meal will be off to a very fancy and impressive start with this soup as an appetizer. Serve it alongside a simple salad, white wine, or some crusty bread for your guests to dip in. It's so good I can guarantee everyone will be licking their bowls clean.
Italian food lovers are certainly no stranger to this dish. It's a traditional rice dish slow-cooked with broth until it becomes rich and creamy. It's relatively inexpensive and simple to make. Once you have known all the steps, you can customize it as much as you want to fit your preferences.
Risotto is best eaten when it's still warm and steamy. It makes a lovely dish alongside anything with meat or fish. You can also load it up with vegetables and various meats to create a main course that will steal everybody's hearts.
Another worth-trying variation of risotto is Crni Rižot, also known as black risotto. This is one of the most iconic dishes in Croatia, featuring umami squid ink and creamy parmesan cheese. Serve this with a bottle of Croatian wine for an authentic culinary experience.
Whip up a quick plate of risotto with this easy instruction.
Also known as a fry-up, this popular English dish consists of fried eggs, sausages, tomatoes, beans, toasted bread, and bacon. It is usually accompanied by a hot cup of tea or coffee.
Despite the name, this dish is not something many people have as a daily breakfast. It is more or less a weekend treat because of how lavish and complicated it is. At certain places, it is also served as an "all-day breakfast" because it fits well into any meal of the day.
This show-stopping dish includes sweet mussels cooked in aromatic herbs and white wine sauce, served alongside crispy French fries. It sounds like a fancy bistro dish, and it is, but this Belgium national dish is also a lot easier to make than you expect.
Mussels are quite affordable and only take less than ten minutes to cook. They have a sweet taste that pairs incredibly well with the sauce. Heavy cream, curry, or cider can also be added to the recipe to make it more interesting.
Let European Cuisine Inspire You!
European cuisine is a hearty blend of soul-warming dishes and age-old traditions. No matter what you are making, simple comfort foods or grand festive meals, they are always a great source of joy and warmth.
You may have heard of some of the dishes on this list already, or maybe not. Either way, they are fantastic opportunities to get out of the same routine and make something new for your meals. Let me know which dishes caught your attention and if you have given them a try.
Nutrition Facts
6 servings per container
---
Amount Per ServingCalories415
% Daily Value *
Total Fat 15.6g

24

%
Cholesterol 26mg

9

%
Sodium 678mg

29

%
Potassium 1230mg

36

%
Total Carbohydrate 48.4g

16

%

Dietary Fiber 10.6g

40

%
Sugars 7.3g

Protein 22.5g

44

%
---
* The % Daily Value tells you how much a nutrient in a serving of food contributes to a daily diet. 2,000 calories a day is used for general nutrition advice.