Bisque vs. Soup, how are they different from each other? And how to tell about them to prove that you are a real foodie? All of the in-depth information on bisque and soup can be found in this post, which will help you learn more about these warm and comfortable dishes.
Everyone is familiar with soup. But what exactly is bisque? And what is the connection between soup and bisque? They definitely have some common things as well as dissimilarities.
So why don't you keep rolling the page down so you will not miss any exciting facts about bisque and soup? Let's take a look.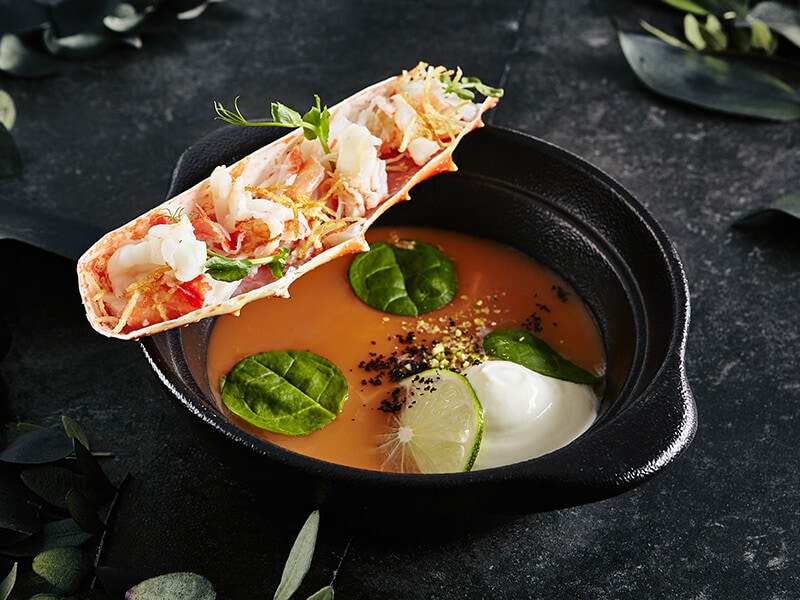 Bisque or Soup – Which Is Better, Or Are Both Delicious?
In short, bisque is one of the most prevalent soup types. Therefore, you can count bisque as a soup. However, as bisque is a subclass in soup, they have some similarities and differences with soup. Let's explore the big topic first with soup and its characteristics and types.
Soup 101 – An Overview of Soup You Might Not Know
Soup is one of the best dishes that are perfect for all ages, and even the pickiest people also love soup. So what makes the soup so well-liked? Keep reading to find the reason.
History Of Soup
Back in 20,000 BC, the first soup was more likely to be found in Jiangxi Province, China. The discoveries explain that the ancient soup might be made from a pit filled with water and some hot rocks to boil water (1).
So have you ever thought about why they are called soup when you are eating it? The term 'soup' comes from the Latin word 'suppa', which implies bread soaks in the liquid. Until the 1600s, when soup emerged in French, they were called 'soupe'.
Soup Characteristics
When I mention soup, what is the first thing that comes to your mind? Isn't it a tasty and nutritious dish that can be served as an appetizer or a side dish regardless of serving hot or cold?
And you probably conceive of soup as a liquid dish made by boiling with meats, vegetables, or both as the major elements. It is true, but it is not enough. In reality, some soups are creamy and thick, and clear soups devoid of any components.
Therefore, soup can be thin-and-clear and thick-and-creamy as well. A clear soup is typically made from broth or stock. And creamy soup's thickened ingredients are usually grains, rice, cream, etc.
Moreover, soup can be cooked in different kitchenware and methods. And if you prefer slow-cooking, you can try some crockpot soup ideas to see how excellent they are. Do not worry, it might take time but it is not too difficult to prepare.
Overall, the soup comes in many different varieties, each with its own set of features, which will be explored in the following section.
Common Types Of Soup
The soup concept is broad because they contain various subclasses. In this post, though I mainly talk about soup and bisque, I also briefly present other types of soup that you might not know.
Soup is classified into 4 main groups as Thin Soup, Thick Soup, Cold Soup, and National/Special Soup. In particular, there are subclasses in clear soup and thick soup.
1. Thin Soup
For thin soup, it includes Passed (e.g. Consommé) and Unpassed soup (e.g. Broth and Bouillons). Someone told me that they cannot differentiate beef consommé and beef broth. In fact, they look so similar but they have different aspects about cooking methods or taste.
But overall, these soups belonging to the thin soup group are clear and unthickened like stock or broth. They are usually served alone or with some vegetables or meat toppings.
| Types | Thin Soups | Definition | Example |
| --- | --- | --- | --- |
| Passed Soup | Consommé | A clear soup that is made of broth/stock. And the broth/stock is clarified by egg whites to get rid of fat content. | Chicken consommé, beef consommé |
| Unpassed Soup | Broth | An unthickened and clear soup that is made of stock. Served with veggies, herbs, or meats. | Meat stock (chicken, beef, pork), vegetable stock |
| Unpassed Soup | Bouillons | Has the same meaning as broth. Can be in the condensed and powder form of broth that is used to flavoring. Court bouillon is the quickly-cooked broth that is usually added for poaching seafood. | Court bouillon, meat bouillon, vegetable bouillon |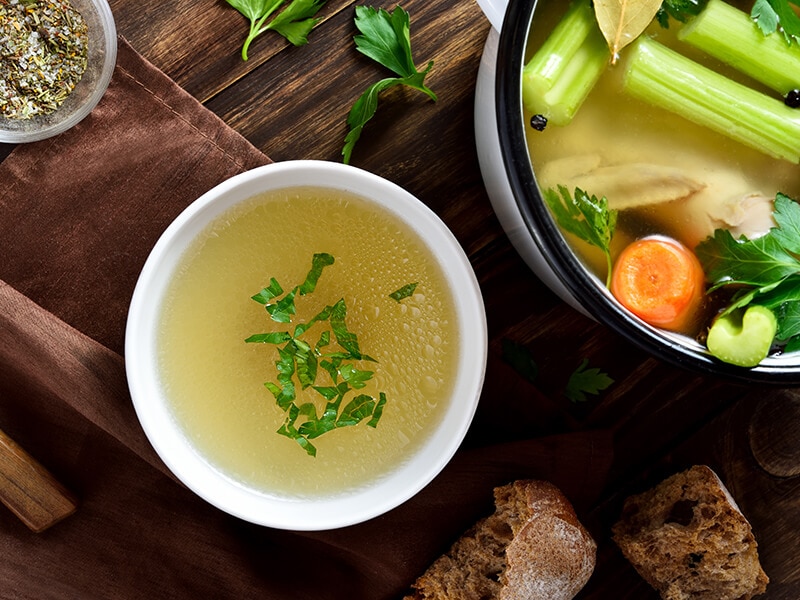 2. Thick Soup
For thick soup, they do not have transparent colors like thin soups. Instead, thick soups are opaque and thickened by some thickening agents or by pureed. There are 5 subcategories which are Puree, Velouté, Cream, Bisque, and Chowder.
| Thick Soups | Definition | Example |
| --- | --- | --- |
| Puree Soup | A thick cooked soup that is made of pureed veggies (main ingredient). | Purée vegetable soups |
| Velouté Soup | Thickened by roux (the combination of flour and butter) and stock which can be vegetable or meat stocks. | Fish velouté with mushrooms |
| Cream Soup | A vegetable-based (mostly) or meat-based soup thickened with cream and béchamel (the white sauce made of milk and herbs). | Cream of broccoli soup |
| Bisque | Shellfish-based (mostly) soup thickened with heavy cream or dry wine. | Lobster bisque |
| Chowder Soup | A thick seafood soup with vegetables, cream, or milk. They are also thickened with roux, crackers, or crushed biscuits. | Clam chowder |
Let's learn how to make and use roux – one of the popular thickening agents, like a pro. Watch this video: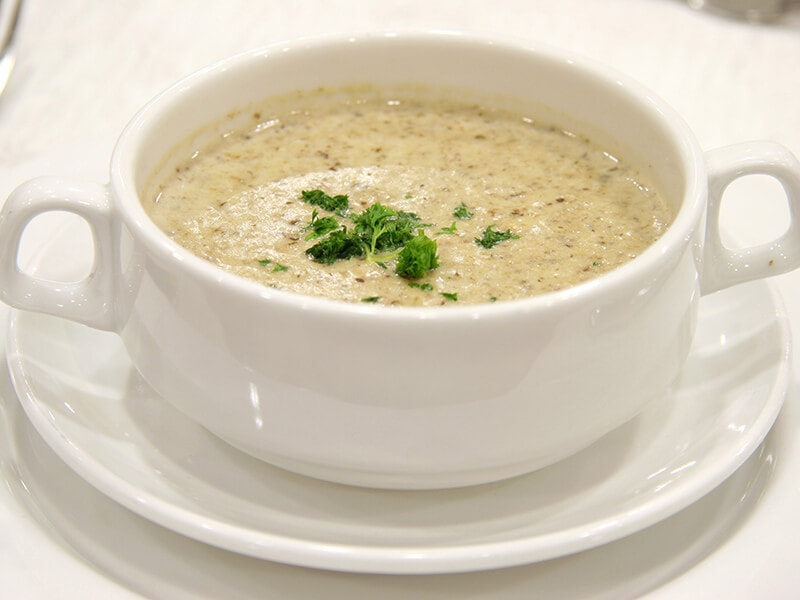 3. Cold Soup
Cold soups include gelatin jellies in making meat stock or use gelatin, starch, or puree to thicken. They are the best ideas for summer parties.
For example, cold consommé madrilène (flavored mainly with tomatoes), vichyssoise (potato soup with cream and chives), etc.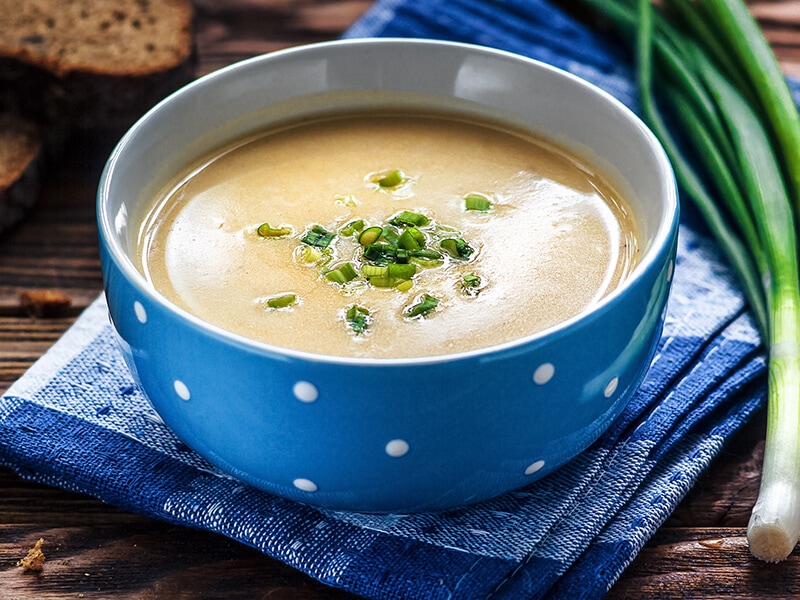 4. National/Special Soup
These soups have unique ingredients with unique cooking methods that depend on the country where the soups are made. Therefore, they can be cold or hot, thick or thin. That's why they are called National soups.
For example, Mock Turtle soup (U.S.A.), Minestrone soup (Italy), Gazpacho soup (Spain), Oxtail soup (England), etc.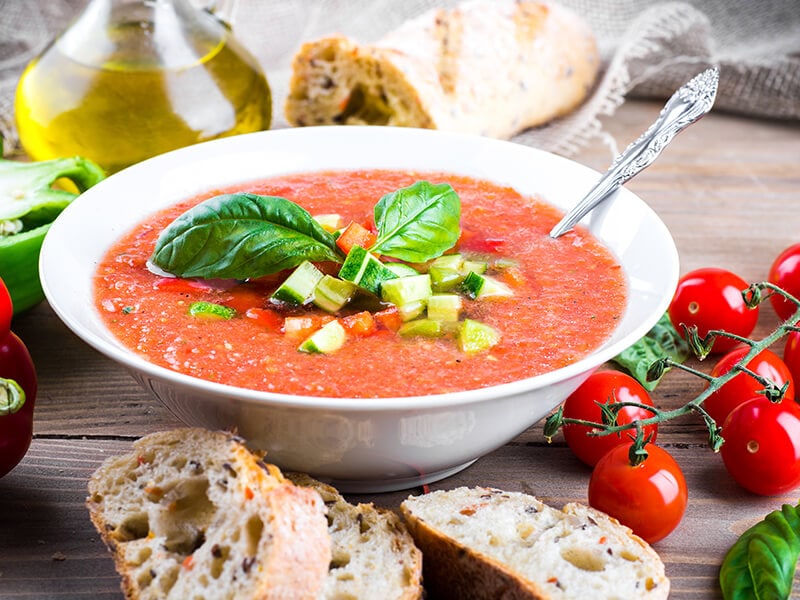 Bisque 101 – What Is Bisque Exactly?
For a short answer, bisque is a subtype of soup in the thick soup class. Therefore, bisque is a soup.
For a long answer, though bisque is a soup, not all kinds of soup are bisque because soup in general and bisque all have specific definitions, as explained above. Let's begin the bisque part with its etymology.
Bisques Etymology
The exact origin of the term 'bisque' is now an unknown answer. Some people claim that the bisque term is from the Bay of Biscay. Some are convinced that bisque is a soup that is cooked twice.
There is a suggestion that bisque is the conjunction of the words 'bis' (mean twice) and 'cuites' (mean cooked), as the traditional way to make this soup is roasting the shellfish first, then simmering them again in the broth; therefore, it is called 'bisque'.
Moreover, in the 16th century, the word 'bisque' in France refers to a game bird that was pureed to make soup and only for high-class people at this time.
In contrast, in the 17th century, the bisque was seen as a shellfish soup. The discoveries claim bisque was a fisherman's dish that was made of any seafood and other available ingredients. And obviously, bisque at this time was not a fancy dish like the dish in France.
Today's bisques are quite similar to the 17th-century version, in which the most famous bisque is lobster bisque. Moreover, 'bisque' also indicates creamy soup without seafood and is pureed by a food processor (2).
So what are the correct bisque characteristics and their ingredients? The following part will give you the answer.
Bisque Characteristics
In general, bisque is a famous European treat that originated in France. They are a creamy soup that is thick, rich, and flavorful as bisques are high-seasoned.
Today, bisques are typically made of shellfish (or other seafood) with vegetables like tomatoes, mushrooms, or squash. Some bisque versions are vegetarian-friendly that only include veggies.
Regarding shellfish ingredients, many of you have known about lobster bisque, but other bisques are made of other seafood like shrimp, crab, or crayfish.
Plus, sorts of puree play an essential role in ensuring the smooth and creamy texture of bisque. People also use French wine (cognac) and heavy cream to enhance this creamy texture.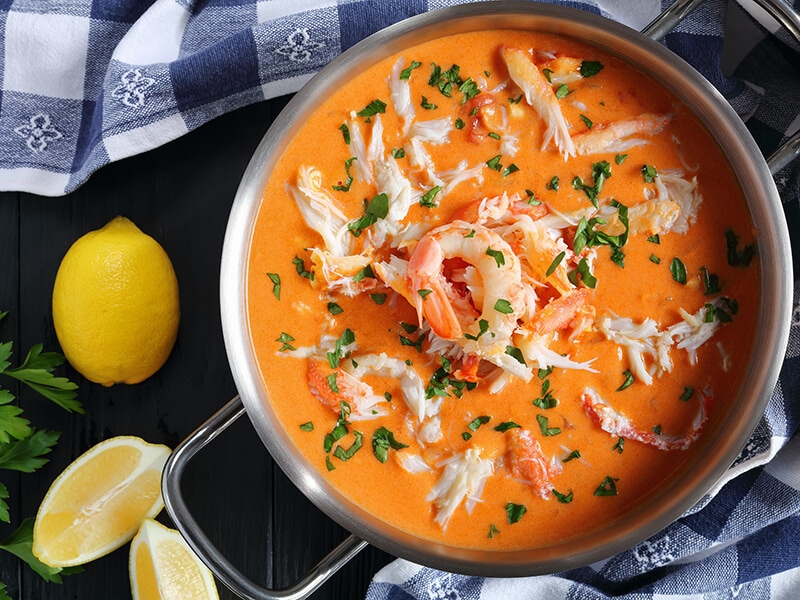 Bisque Vs. Soup – Similarities and Differences
You might be able to tell some common and dissimilarities between soup and bisque at this point. Also, never forget the general idea is that all bisques are soups, but not all soups are bisques.
With the table below, you can overview the similarities and differences of both bisque and soup in general.
| Factors | Bisque | Soup (In General) |
| --- | --- | --- |
| Origin | France | Jiangxi Province, China (20,000 BC) |
| Definition | Shellfish-based (mostly) soup thickened with heavy cream | The umbrella term for various subtypes of soups. Soup in general can be thick or thin, cold or hot. |
| Classification | A subtype of soup (in the Thick soup group) | Soup includes 4 big types as Thin Soup, Thick Soup, Cold Soup, and National/Special Soup. |
| Texture | A creamy-based food so bisque is smooth and creamy | Both liquid-based and creamy-based foods so soups can be clean or creamy, thin or thick, smooth or slightly coarse |
| Common Ingredients | Shellfish (mostly) or seafood, vegetables, heavy cream, broth/stock. | Meats, seafood, vegetables, grains, cream, broth/stock, cheese, etc. |
| Thickened Ingredients | Heavy cream | Grains (potatoes, pasta, noodles, rice…), flour, pulse, cream, etc. |
| Special Ingredients | Wine or cognac | No wine or cognac in soups |
| When To Add Cream | Add cream earlier in the cooking process | Within the last 20 to 30 minutes of the cooking process |
| Served | Steaming hot or chilled (cold) | Warm, cold, or at room temperature |
| Companion | Milk, cream, and crackers | Slices of various kinds of bread, or they are good on their own. |
| Garnishing | Chopped herbs, small pieces of shellfish (or seafood), and cheese | Chopped herbs, shredded/grated cheese, nuts, small pieces of meats, or seafood like the dominant flavor, sliced sausage or bacon. |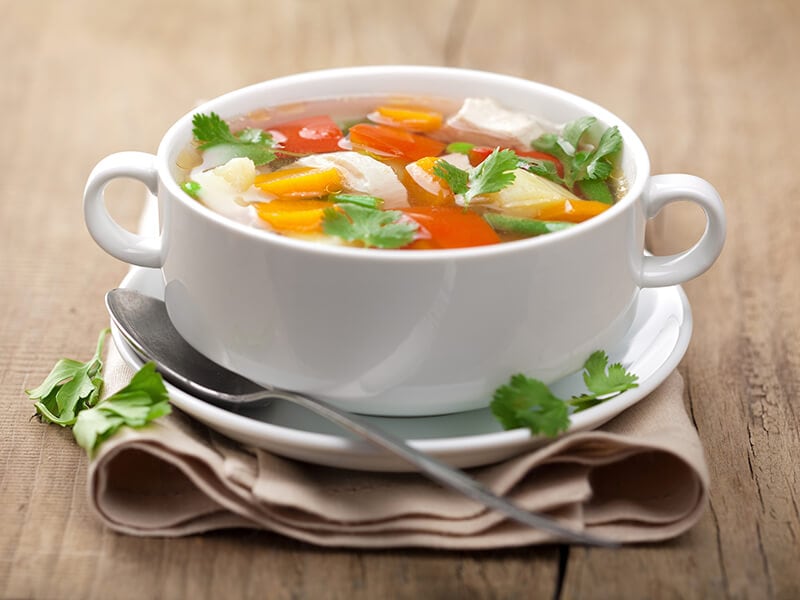 Similarities Between Bisque and Soup
At this stage, you can compare bisque and soup and come up with some things in common that both of them have. Here are 3 key commonalities between bisque and soup in general.
1. Liquid-Based Ingredients
Bisque and soup all require the liquid-based ingredient. For soup, it can be chicken, beef, or vegetable stock while bisque is a seafood soup so you will need seafood stock (for example, if you are making shrimp bisque, boiling shrimp in liquid to have shrimp stock is the best choice).
2. Cooking Process
Boiling and simmer are the main cooking techniques to make bisque and soup in general.
Moreover, some soups will be pureed in a food processor. If you have a blender, you can use it too despite the slight differences between food processor and blender. Both cookware function well to provide a creamy and thick texture soup like bisques.
3. Garnishing Ingredients
Chopped herbs and cheese would be ideal for bisques and most other soups. Moreover, with meaty or seafood soups, you can garnish your soups with small pieces of the dominant meat/seafood ingredient.
For instance, lobster bisques topped with lobster meat will be more appealing. Or chicken soup with shredded chicken on top is preferable.
Dissimilarities Between Bisque and Soup
Besides some similar ideas of making bisque and soup, and though bisque is a type of soup in the thick soup class, bisque also has some specific features to highlight the differences for the soup, such as:
1. Texture
Apparently, when it comes to bisque, you will think about the creamy-based soup that is so thick, gooey, and flavorful.
However, as soup is the broader term, there are various characteristics in various types of soup. So soup, in general, can be creamy or liquidy.
Some types of soup have a similar creamy texture like bisques (e.g. pureed soup) while the other soups do not (e.g thin soup group).
They do not have a creamy texture as there is no thickened agent in some soups; for example, chicken broth soup is only made from boiling chicken in water.
2. Thickened Agents and Ingredients
Soups can be made from endless ingredients like meat, seafood, vegetables, etc., while bisques are mainly made from shellfish (or seafood) with vegetables.
Moreover, the thickened agents for soups are varied, for example, with cream, flour, or any grain product (potatoes, pasta, etc.) whereas in bisque, heavy cream is the key thickened ingredient to make them have the creamy texture.
Not only heavy cream, wine, or cognac is another unique ingredient to enhance the richness in bisque but other types of soup do not have.
3. Time To Add Cream
As the cream is the important ingredient in bisque to aid the thickness, it must be added right away from the start of the cooking process
In contrast, for some soups that contain cream, you can only add cream to your soups during the last half-of-hour before finishing.
4. Best-Enjoyed
Bisques are usually served hot though some are also served cold. Soups, on the other hand, have various types; therefore, they can be served hot (mostly), cold, or at room temperature, depending on what types of soup.
Personally, I always prefer enjoying them hot because both bisques and soups are 2 excellent dinner ideas for winter. Just imagine, a hot bowl of food on a freezing day will ease all of your sorrow, right?
5. Companion and More Garnishing Options
Overall, accompanied choices for bisques are quite different from soups.
You can serve your bisque with milk, cream, and saltine crackers while most other soups are served with bread slices, even some soups can be served alone as they are delicious enough that no need to add more accompanied items.
For garnishing, besides chopped herbs, obviously, other soups have more options as some types of soups have more ingredients than bisque, making them can go well with various garnishing, for instance, nuts pair perfectly with some soups except bisques.
Ideas For The Best Comforting Soups
Feeling hungry yet? To change the mood, I'd like to introduce some yummy soup recipes. Here are some top-saved recipes to make 5 specific types of soup that also include bisque.
The main ingredients to make chicken consommé are egg whites, vegetables, ground chicken, chicken stock, and seasonings. The prep is super simple, but the cooking process requires a long time, around 6 hours, for the best flavor chicken consommé.
In general, this clear soup can be seen as the upgraded version of ordinary chicken stock with more flavors and pleasantness. Whenever you feel under the weather, this light soup will help you a lot.
Let's learn how to make the finest chicken consommé from the expert. Watch this video:
This easy soup is loaded with nutrition that makes your stomach happy and lights up your gloomy days. The recipe is also flexible as you can choose whatever veggies that you like.
Simmer the veggies with broth and add some seasoning and lemon juice, and this mixture will be pureed before serving. Low-fat and low-calories, this pureed vegetable soup is an excellent choice for those watching their weights.
This cream of broccoli soup is a light green soup that would satisfy everyone with its creaminess and deliciousness.
Nothing is hard to make, as all you need are just broccoli, onion, butter, water, seasonings, a hint of lemon juice, and some heavy cream for garnishing. Ah, you will need a food processor or a blender to puree this soup until smooth and thick.
I mentioned lobster bisque a lot earlier, so it would be a pity not to introduce how to make them. Though the main star of this soup is lobster – an expensive shellfish, I believe everyone should try this excellent soup at least once.
Lobster bisque is made of stock of the lobster by boiling it. Combine the stock with carrots, onions, celery, tomato paste, and other ingredients, then puree the mixture with a food processor.
And I guarantee this ultra-creamy, smooth, and bursting-flavor lobster bisque will leave you breathless.
Want to bring the 5-star-restaurant atmosphere to your kitchen? This fancy lobster bisque will help you:
Clam chowder is one of many highlights of American cuisine that you can easily make at home. They are such a creamy, delicate, and hearty treat that is loaded with clams, bacon, cream, broth, and vegetables (like potatoes, carrots, onions).
You can use canned clam to make this dish. Simple ingredients and minimal preparation, clam chowder would be your new favorite soups as they taste so flavorful and creamy.
Reasons That You Should Eat Bisques and Other Types of Soup
There are some key reasons that you should consume more soups, no matter what types of soup.
1. Soups Are Easy To Make
You do not need too much fancy cookware or any high-skilled culinary to prepare soups. Some of the soups are easy peasy that even beginners can make. Most of the cooking time is to simmer the ingredients. And it is the job of the stovetop, not yours.
2. Soups Are Packed With Nutrients
The main ingredients of soups are meats, poultry, seafood, vegetables, stock, etc. Therefore they contain a high level of vitamins, minerals that can boost your immune or digestion system. Eating soup is also a great way to keep your body fit with some low-carb soups.
Let's see how the expert explains the amazing benefits of broth, a simple thin soup that you might underestimate.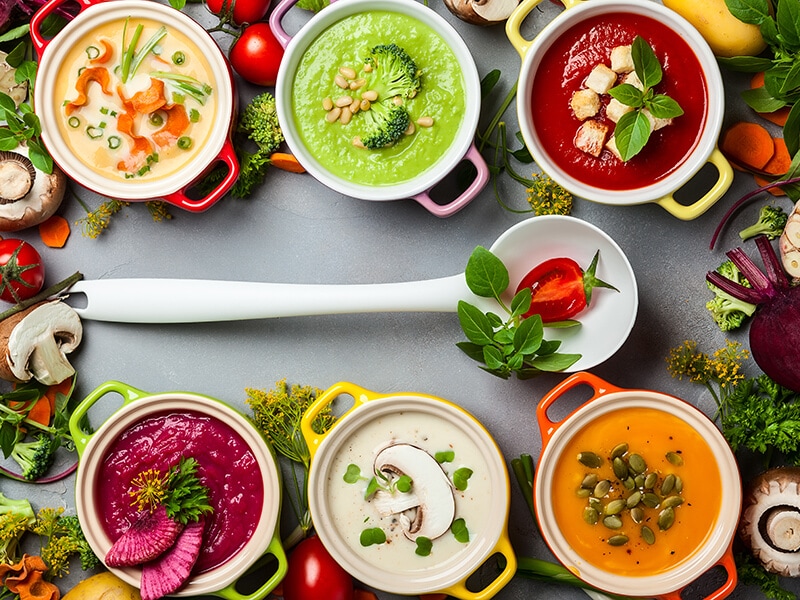 3. Soups Can Keep You Hydrated
Eating soup is a perfect solution to keep you hydrated all day without drinking too much water. So it is ideal for cold or chilly days.
4. Most Soups Are Low-cost
The ingredients for making soup are easy to buy at affordable prices. Except for some fancy soups like lobster bisque as lobster is quite expensive. But you already work hard; you deserve some hearty treats.
5. Soups Are Super Convenient
Soup can be stored well in the fridge for a few days and in the freezer for months so you can enjoy soup slowly. Just make a big batch of soups, and store them properly. Whenever you want to eat, defrost and warm them up by microwave or on the stovetop.
FAQs
These are other common questions that I know many of you are still concerned about bisques or soup in general. Take a look at them to learn more.
Bisque and Other Soups Are All Delicious
It is tough for me to choose the best soup because all of the soups that I have tried, from the clear to thick ones, are so tasty. Soups are the best friend for my weary days as I do not have to use too much effort to make them. And most of the soups are budget-friendly.
So what is your favorite soup? Please share your thoughts in the comment section. And if you think this article is helpful for you to grasp soup in general and bisque fully, please rate it below. Your support is my motivation for better foodie articles. Thank you.
Reference List
Wu, X. et al. (2012). "Early Pottery at 20,000 Years Ago in Xianrendong Cave, China". Science. 336 (6089), pp.1696–1700. doi:10.1126/science.1218643.
En.wikipedia.org. 2021. Bisque (Food) – Wikipedia. [Online]. Available at: <https://en.wikipedia.org/wiki/Bisque_(food)>.