What is the difference between beef consomme and beef broth? Can you tell them apart? Both terms are pretty complex in the culinary world, especially for home cooks. If you also get these difficulties, this post is for you.
In fact, these ingredients are very versatile to prepare different dishes, like hearty crockpot soup treats for your family's dinners.
So if you want to enhance your culinary knowledge and learn about the dissimilarities between beef broth and beef consomme, keep rolling down the page to find out the answer.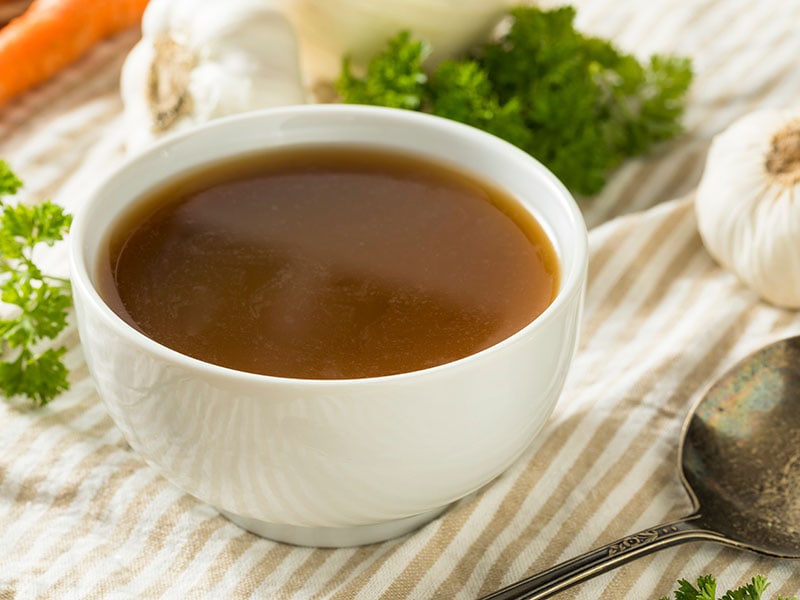 Basic Comparison Between Beef Consomme Vs. Beef Broth
Beef broth and beef consomme are similar, but they are not the same. The word consomme originates from France for perfect, or to make complete. Thus, a broth can be seen as an unfinished consomme.
Despite the similarities of beef broth and beef consomme, they differ in many aspects, from appearance and taste through their preparation to their use. Any change in the ingredients and quantities alters their taste and texture.
To cook beef broth, vegetables and beef are stewed together with low heat, while beef consomme is a clear liquid with clarity, and is often used to make purified beef broth.
The table below will show you all the dissimilarities between beef broth and beef consomme:
| Differences | Beef broth | Beef consomme |
| --- | --- | --- |
| Cooking method | Prepared by stewing beef with veggies over gentle heat | Prepared by the combination of egg whites and beef broth or beef stock, then removing impurities by straining |
| How to identify | Transparent with a tint of brown | Purified and dark brown liquid with no grease |
| Consistency | Thinner | Thicker |
| Taste | Milder than beef consomme | More concentrated |
| What to serve | Served in sauces, stews, and sauces | Can be used alone as an appetizer or can be used for making soups and aspic—a savory jelly |
The Nutritional Values Of Beef Consomme And Beef Broth
There is no doubt that beef broth and beef consomme have specific positive impacts on your health, such as keeping your digestion healthy, improving the health of your hair, skin, and nails due to their gelatin in bones, and healing colds and flu when you eat the spicy beef broth.
Nevertheless, because of the high sodium and additives, beef broth and beef consomme can harm your health in the long run. You should be careful and consume enough amounts of either. Otherwise, they might lead to health issues such as hypertension.
Beef consomme contains more protein than broth, perhaps due to the egg whites in consomme. Moreover, it is also richer than beef broth in potassium, iron, and calcium. Look at the table below to learn more about the comparison in nutritional values of two kinds of liquid.
| Nutrients | Beef broth (480g) | Beef consomme (480g) |
| --- | --- | --- |
| Calories | 34 | 62 |
| Fat | 1g | 0.4g |
| Carbohydrates | 0.2g | 5.8g |
| Sodium | 1786mg | 950mg |
| Protein | 5.4g | 9.4g |
| Iron | 0.368mg | 0.576mg |
| Calcium | 55mg | 75mg |
| Potassium | 260mg | 888mg |
Beef Broth 101 – Everything You Need To Know About Beef Broth
Now I will help you learn more about beef broth. Do you know exactly what beef broth is and how it is made? The precise answer will be included in this part.
What Is Beef Broth?
Beef broth also has another term, called 'bouillon', and is a savory liquid made from bones, seasonings, vegetables, meat and different herbs for one or two hours. In addition, other ingredients are also added to enhance the flavor of the liquid.
You can add salt and other spices based on preference and taste. To provide nutrients to the broth, you can add vegetables, such as onions, parsley, celery, and carrots. Cooking beef broth is relatively easy since combining all ingredients in a large pot and simmer is all you need to do.
The primary difference between regular beef broth and condensed beef broth is the intensity of flavor and consistency. The regular broth is less flavorful and thinner than any broth. It is often served as a starter of all other beef flavorings.
Moreover, there are several options to replace beef broth if you are not a big fan of beef, for example, chick or pork broth. Or if you are on a vegan diet, vegetable broth is ideal.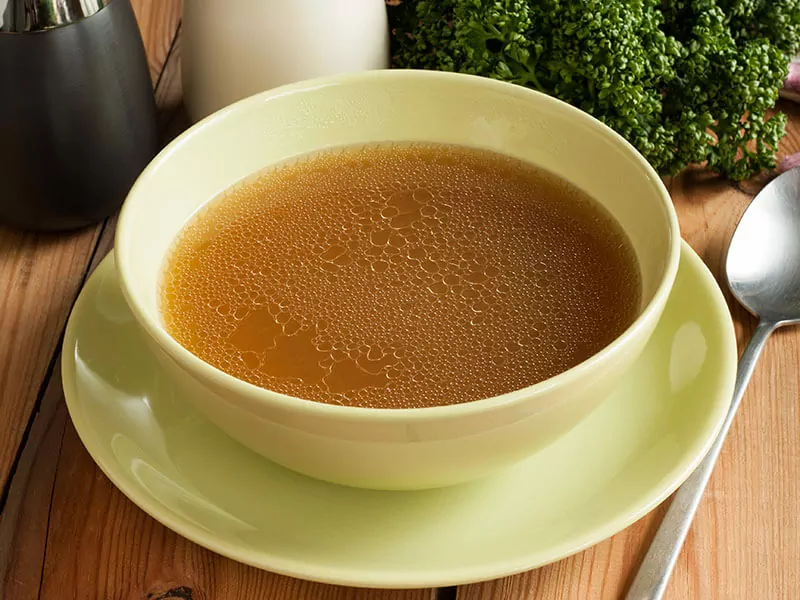 How To Make Beef Broth?
Beef broth is prepared by beef stewed in water. For example, you can simmer shank or the parts of meat which are not often eaten. This will make the nutrients extract and absorb into the liquid.
The mandatory ingredient is only beef, but you can add parsley, onions, peppers, and celery in your beef broth to be more delicious and flavorful.
To cook beef broth, you should adjust low heat. It would be best if you did not boil it since your broth can become cloudy. While simmering, the fat will form on the top of the liquid, you should take it out. The process of making beef broth consumes much time, for 3 to 24 hours
Some studies show that the flavors of beef broth can be affected by cooking temperature, so remember to cook with low heat to maintain its delicious flavors. (1) Therefore, people often choose to buy beef broth instead of cooking it, although it is easy to cook.
Plus, if you ever wonder if your beef broth can be spoiled, the answer depends on their type. Normally, homemade ones might have a shorter shelf life than store-bought varieties.
This is the best recipe for rich and gelatinous beef broth you can't skip. You can see this video to know more:
Beef Consomme 101 – Fabulous Facts You Should Not Miss
It's time to explore everything about beef consomme to distinguish it from beef broth. Let me show you all ingredients and techniques to make beef consomme as well as a step-by-step guide for you to make this delicious liquid.
What Is Beef Consomme?
The French term 'consomme' means 'perfect' or 'complete,' so you can guess that beef consomme is a perfect version of beef broth, with intense flavor and minimal impurities. It can be seen as one of the best beef soups because of the high amounts of concentration.
There are many variations of consomme, some are included with carrots or onions to boose the flavor. Additionally, a fun fact is that people in Serbia love consomme, although it is not authentic Serbian food.
Beef consomme is a clear amber liquid made from simmering cloudy broth, popularly used in culinary for purified broth. To purify beef broth, add egg whites and minced meat into the liquids, which are the key ingredients to add richness and thickness.
The preparation of beef consomme can require some techniques and delicate procedures that may take much time to turn a cloudy liquid into a beautiful translucent consomme. Your egg whites have to rise on the surface of the broth, then the liquid beneath gets clear.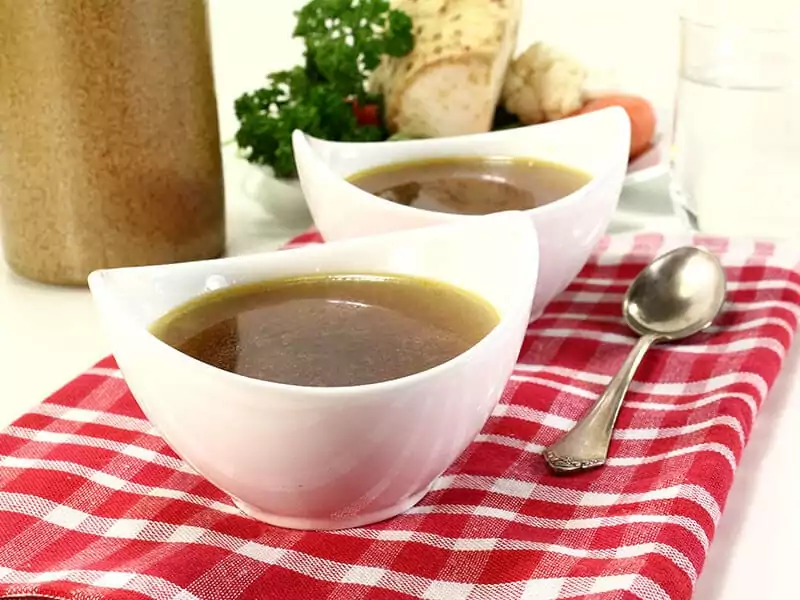 How To Cook Beef Consomme?
A beef consomme is cooked with ground beef, tomatoes, whisked egg white, beef stock, and seasonings. You can add minced onions, carrots, celery, or tomatoes. In addition, you will need some beef broth or stock. (2)
If you are making beef consomme for the first time, you may find it difficult. Nevertheless, making beef consomme is not as difficult as you think. It will take hours to clarify broth, so you need patience and a lot of practice. The result will not disappoint you.
Follow the steps below to make beef consomme:
Step 1: Separate the egg whites from the yolks. You should whisk the egg whites gently with an electric whisk or by your hands for a few minutes until they reach stiff peaks.
Step 2: Mix minced vegetables and ground beef with the egg whites and add the mixture to the broth you want to purify. Remember to add seasonings, such as bay leaf or black pepper.
Step 3: Simmer on low heat for many hours and keep constantly stirring until it is clarified.
Step 4: Then, use a cheesecloth or muslin to strain any impurities. After completing this step, you have done with your beef consomme.
The detailed instructions to make beef consomme will not disappoint you. Watch this video:
The Important Similarities Between Beef Consomme And Beef Broth
It is without a doubt that the first similarity between beef broth and beef consomme is beef ingredient. You can also add some seasonings like onions, parsleys, celery, peppers, and vegetables to both beef consomme and broth to make your liquid more flavorful.
Secondly, beef broth and consomme are both cooked over low heat and require a long time to simmer them. Moreover, beef broth and beef consomme can be interchanged in the culinary world. You can eat them on their own or serve them in soups depending on your preference.
The Key Differences Between Beef Consomme And Beef Broth
As I mentioned before in the above table, there are five primary differences between beef consomme and beef broth that you should know. Let's check it out.
Differ In Their Preparation
The first sign to distinguish between beef broth and beef consomme is the time. It will take you more time to cook beef consomme than beef broth, which only takes a few hours to simmer.
Besides, beef consomme requires more ingredients in the preparation than beef broth. For beef broth, you need beef as the mandatory ingredient. Parsley, celery, peppers, and onions in your beef broth will make it more delicious and flavorful.
Essential Difference In Appearance
The appearance is also an easy sign to differentiate beef broth and beef consomme. Beef broth is often clear brownish, while beef consomme is deep dark amber and a purified liquid.
Therefore, you can easily distinguish beef broth from beef consomme by just looking at it.
Based On Consistency
The critical difference lies in the fact that beef consomme is concentrated broth, which is often thicker than beef broth. Beef consomme can be seen as a double broth, but it is purified and richer. Thus, it is the best choice for you to make stews and sauces with beef consomme.
Varying In Flavors
The next significant difference is the flavors. Beef consomme's flavor is richer than beef broth. Beef consomme is more concentrated, while beef broth tastes milder. The taste also depends on the feeling of each person.
Different Uses
Last but not least, the uses of beef consomme and beef broth help them differentiate each other. Beef consomme can be served on its own as an appetizer, while beef broth is usually used to make soups, gravy and also is an ingredient in various dishes.
Consomme can also be used to prepare dishes because of its versatility. However, it requires high technique to make the clearest consomme, so it had better be eaten by itself.
The Shelf Life Of Beef Consomme Vs. Beef Broth
As you know, beef consomme vs. beef broth need plenty of time to make, although it is healthier to cook them homemade as it contains no additives. You will be happy to hear that two dishes have a long shelf life if you store them properly, so you can consume them at any time.
It is ideal for making a large number of broth and consomme and keeping them to eat gradually, but you need to put them in the fridge or freeze them. This is the only method to store them because they will easily spoil at room temperature.
An airtight and reusable freezer storage container is the best tool to store beef consomme and beef broth in the refrigerator and freezer. With this method, you can keep your liquid for three to four days, while it can last four to six months if you put it in the freezer.
Lastly, make sure that you label and date your beef broth and beef consomme outside the container.
Substituting One For The Other: Beef Consomme And Condensed Beef Broth
Indeed, you can substitute beef consomme for beef broth by adding some water to help the flavor thinner and milder, the same as beef broth's consistency. Both condensed broth and consomme have a considerably robust flavor, so they can easily substitute one for the other.
If your recipe requires beef broth and all you have is beef consomme, I am sure you can use this method to substitute.
However, in my perspective, you will waste your time and efforts to replace beef consomme with a simple beef broth because the preparation of beef consomme takes lots of your time and requires more techniques compared to beef broth.
On the other hand, to substitute beef broth for beef consomme, you need to turn it into an amber liquid. However, this is also a time-consuming process with all the egg whites and minced or ground beef to make beef consomme.
FAQs
If you still can't find your problems with beef broth and consomme, here is the place for you since I will answer frequently asked questions. Perhaps you will find out something interesting below.
Tips: What Makes A Perfect Substitute For Beef Consomme?
As you know, there are plenty of the best substitutes for beef consomme like I listed above. However, due to the intense beef flavor and high concentration, substituting beef consomme is never easy.
Even though beef consomme is easily used to prepare various dishes, you can serve beef consomme on its own. If beef consomme is not available in your house, and you need something with the same flavor and concentration, the best idea will be to replace beef broth with beef consomme.
The only difficulty is that beef consomme requires lots of essential ingredients to be substituted from beef broth, which takes much of your time. I highly recommend using mushrooms for your beef consomme primarily because of the umami flavor.
I hope this post has helped you with your problems about beef broth and beef consomme and helped you broaden your knowledge in the culinary world. If you are interested in the information in this post, share it with your friends who also have the same issues as you.
If you have any idea about this matter, please let me know through the comment section. I appreciate all your contributions.
References
Cambero, M. I., Seuss, I., & Honikel, K. O. (1992). Flavor compounds of beef broth as affected by cooking temperature. Journal of food science, 57(6), 1285-1290.
Online Culinary School (OCS). 2021. Beef Consomme. [online] Available at: <https://onlineculinaryschool.net/beef-consomme/>.
2021. [online] Available at: <https://substitutecooking.com/beef-consomme-substitutes/>.