The way Japanese ground beef recipes flourish shows how flexible Japanese cuisine is. The difficulty of being an island nation doesn't stop the Japanese from finding their way around to achieve many agricultural accomplishments and get versatile ingredients.
Suppose you happen to have a piece of Wagyu ground beef in your refrigerator. If you want to make a Japanese meal for your family, this list is exactly what you need. I will introduce you to these 15 ground beef recipes from Japan that your family will crave for more.
So tell me, are you ready to amaze your family today?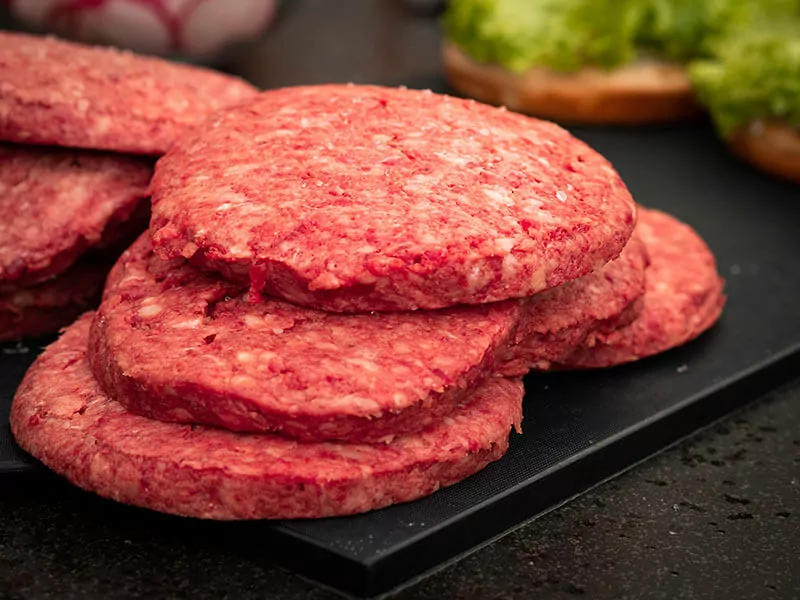 These 15 Recipes Will Urge You To Make Ground Beef Dishes Tonight
Apparently, there are many videos online that show how fancy and complex Japanese cooking techniques can be. But they are cooking performances, and you don't have to practice any of those moves to make these dishes.
These 15 dishes can be part of your breakfast, lunch, or dinner, depending on your need. Let's stop these ramblings and get you to the first Japanese ground beef recipe.
Total time: Around 23 minutes.
Hambagu is one of the representatives of the Yoshoku era of Japanese cuisine. Yoshoku refers to dishes that the Japanese have changed to adapt to the penetration of Western novelty.
There are some differences between Hambagu and Hambaga (the Western hamburger). Instead of being served with buns, cheese, and pickles like you often see, the Japanese enjoy Hambagu in a steak form. And they prefer rice over buns to go with Hambagu.
Hambagu is dressed with Japanese traditional sauces instead of ketchup, hot sauce, or mustard. Another distinct point is how Hambagu is a mix of minced pork and ground beef instead of seasoned ground beef like regular Hambaga.
Teriyaki sauce is usually seen as a Japanese BBQ sauce. It can be a dressing or dipping sauce.
These dissimilarities result in Hambagu having a more tender texture and saltier taste so that you can eat it with rice. Eating this delicious Asian ground beef delicacy with rice is better if you use Teriyaki sauce or soy sauce.
If you want to eat Hambagu steak, you should make sweet-and-sour Ponzu sauce. Ponzu is a famous sauce with a tangy flavor from citrus fruits and vinegar.
Total time: 35 minutes.
Although it is an offspring of Jiaozi (the Chinese dumpling), Gyoza has higher quality compared with its origin. While you often see people just steam, pan-fry, or deep-fry dumplings, Gyoza requires you to perform all of these techniques on them.
With Gyoza, you will need to pan-fry the dumplings until their covers start to turn light brown. Then, you need to add a small amount of water to the pan and allow Gyoza to cook themselves with the hot steam.
This cooking method lets Gyoza shape a thick and chewy wrapper that will give you a small joy and satisfaction every time you take a bite. The combination of salty filling and sour black rice vinegar sauce is the ultimate flavor that you will want to try.
And for those wondering if they can use frozen ground beef for cooking, it's in the filling. Therefore, you will need to mix your ground beef with garlic, onions, cabbage, and scallions. Don't be afraid of using too much garlic. Gyoza needs a thick flavor of garlic.
You should learn how to make the Gyoza wrappers instead of buying them in the supermarket.
Total time: 15 minutes.
Traditionally, you will need ground chicken to make this dish. However, in this recipe, you will use ground beef as an alternative.
Three colors of the food are golden from scrambled eggs, orange or brown from the meat, and verdant green from vegetables. For this recipe, I recommend you make a soft-boiled egg instead of scrambled eggs to go well with the ground beef.
This dish is perfect for breakfast. There are vitamins and fiber from the vegetables, carbs from the rice, and proteins as well as fat from eggs and ground beef. To neutralize the salty beef, you might want to have pickled vegetables to eat along.
Total time: 30 minutes.
Japanese curry is another representative of the Yoshiku era. Being a distant relative of Indian curry, the Japanese one includes regional condiments and spices that later make the dish less salty and more umami.
Originally, the British learned the curry recipe from the Indians after their invasion. During the Meiji era (1868 – 1912), they traveled to Japan and introduced it to the Japanese. After several changes, Kare Raisu has become one of the country's national foods.
To make Kare Raisu, people often use chicken, vegetables, or Tempura (deep-fried seafood or chicken). But you will learn about ground beef Kare Raisu today.
In this recipe, adding Worcestershire sauce can give the dish a more Western flavor. The sauce will also need to be simmered until the liquids start to thicken. This curry later will be served with rice (long or medium-grain rice is the best).
Total time: 45 minutes.
Katsu means frying in oil. It is the word that the Japanese use to indicate deep-fried food. You usually see Ketsu be a part of Bento or in Teishoku (two types of Japanese set meals). With Menchi Ketsu, it is almost like a deep-fried Hamburger steak.
To make Menchi Ketsu, you need to mix ground beef with minced pork and eggs to enhance the texture. However, in this recipe, I suggest using eggs only to give the beef a more chewy texture.
Besides being a part of the Bento box, you can also use Menchi Katsu as a patty for your hamburger. It can also be part of some Japanese rice meals like Kare Raisu or Katsu Don (a bowl of rice with Menchi Katsu).
Total time: 30 minutes.
Back in the aftermath of World War II, the Americans established their base in Okinawa. During their barracking, they introduced Taco to the Japanese. Taco Rice has become one of the traditional dishes in Okinawa.
In case you don't know, Taco is a Mexican dish that includes corn flatbread (Tortilla) as a wrapper and its filling. The inner part usually consists of vegetables, cheese, protein sources (pork, beef, chicken, etc.), and some condiments like lemon juice and hot sauce.
Since there are plenty of differences between Mexican and Japanese cuisines, the Japanese have a unique take on Taco. Unlike regular Mexican Taco, Taco Rice doesn't need Tortillas since it has a rice base to neutralize the intense salty taste of ground beef. You will also taste the lemon sour and pretty solid fat flavor from Cheddar cheese.
A culinary combination of Latin America and East Asia is what you need during this era of globalization. I think this dish is a very interesting choice that you should try out at least once in your life.
Total time: 40 minutes.
Teriyaki is a Japanese cooking method that you will need to learn if you want to dig deeper into Japanese cuisine. "Teri" is a reference to the Tare sauce that people usually use to marinate their meat. The "yaki" means grilling or broiling. Stir-frying is also called "yaki".
In this recipe, you will stir-fry the ground beef with vegetables and condiments. The ingredients are easy to find in your local grocery stores or supermarket. With just 40 minutes, this can be a great breakfast in Japanese style for your children.
Total time: 40 minutes.
Omurice is another result of the evolution of Yoshoku. This dish contains two main parts: the thin layer of omelet and the fried rice underneath. On top of the egg layer usually is a ketchup decoration which is either a drawing or words.
This dish is very popular online, and the way marvelous Japanese chefs perform their skills on the egg layer is impressive. But you don't have to be a splendid cook to make Omurice. It might take some tries, but the result will be superb and pleasant to enjoy.
To make Omurice, there are some ingredients that you would need. These include vegetables like carrot or pea, ground meat, rice, and egg. Ground beef Omurice will give you the chewy texture for the fried rice part.
The egg part in Omurice can be tricky, so here is a visual instruction so you can practice better.
Total time: 15 minutes.
Curry inside of bread might sound a bit strange to you, but this Kare Pan dish is actually pretty common and famous in Japan. The filling can be Keema curry (an Indian curry) or ground beef curry and boiled egg.
As I mentioned earlier, Kare Raisu is one of the most notable foods in the list of Japanese modern cuisine. Originally, in 1927, a bakery in Tokyo invented this dish. They wrapped the bread around the curry and then baked or fried it.
Eventually, the birth of this dish helped people to delish curry in a faster way. They can have curry in a more portable and convenient form.
Ground beef will give you the beefy salty taste, so you may want to prepare a sour side dish for the meal's balance. You don't have to bake and then fry the bread like the traditional way.
Total time: 20 minutes.
Udon is one of the three most famous noodles in Japan. You often see soup dishes with this noodle, but you can use Udon for various other recipes as well. One of them is Yaki Udon, which means stir-fried Udon.
The Udon noodle is thicker than your regular noodle, so Yaki Udon is fairly tough. With ground beef and other vegetables, this dish is a mixture of many different textures and flavors.
You can feel squishy noodles blend with chewy ground beef and crunchy vegetables in harmony. The combination of sour Mirin, salty soy sauce, and sweet sugar fits like music notes. Chewing Yaki Udon is like having an orchestra in your mouth.
To make the dish more Japanese, don't forget to use Mirin (sweet rice alcohol for cooking in Japan) and rice vinegar for seasoning.
Total time: 26 minutes.
Hayashi Rice is known as a Western-style stew in Japan that consists of three main ingredients: beef, mushroom, and onions. This dish often goes along with rice and a thick sauce from the stew.
The name "Hayashi" was actually from the inventor of this recipe – Yuteki Hayashi. It was also inspired by the British dish "hashed beef". And since people often have this with rice, the name of the dish is now known as "Hayashi Rice".
Traditionally, people prefer having sliced beef. However, in this recipe, you will learn how to make the dry version of Hayashi Rice with no brown sauce. You will use ground beef, carrot, and boiled egg instead of the regular components.
The dry version looks more appetizing without the brown sauce, but it still maintains the great taste of the stewed beef. With the rice underneath, this dish can be your new favorite meal for any time in the day.
Total time: 1 hour 55 minutes (including 30 minutes of chilling).
A deep-fried ball of potato and beef is what Korokke is. Just like Menchi Kitsu, you regularly see Korokke be a part of a box of Bento as well. However, this dish contains more carbs and gives a chewier texture than Menchi Kitsu.
When people have Korokke, they look for the crispiness that this delicacy can bring. The coat can be breadcrumbs or flour, while the filling can be vegetables, seafood, or ground meat like chicken and beef.
A sour-and-sweet dipping sauce will be perfect to go along with this dish. The taste is creamy, beefy, and not that salty at all. You can eat this as a snack or an appetizer.
Total time: 30 minutes.
Maybe you don't notice, but the Japanese love spaghetti. They have indeed invented so many recipes with Soba, Udon, and Ramen, but the incurable addiction to pasta and meat sauce still dominates a part of Japanese modern cuisine.
Adults aren't the only ones that desire to have a perfect dinner with spaghetti and wine; Japanese children also love this food for the sweet tomato beef sauce. There are several types of Japanese spaghetti as well, like Wafu spaghetti and Ketchup spaghetti.
The sauce from ground beef and tomato gives the dish a more pleasant texture. The appearance is so vivid with the red and orange colors. And the taste of the spaghetti is more interesting with a mix of sour and salty.
Total time: 35 minutes.
You have learned how to make ground beef Teriyaki, but you also notice that you can grill ground beef more easily by shaping it into meatballs. And that is how you make Tsukune.
Tsukune is any type of meat that is grounded or minced before being formed into a ball shape with the addition of eggs as a binding agent. People then skewer these balls and season them with Yakitori sauce.
Ground beef Tsukune is meatily sweet and chewy, and it is a perfect dish for drinking nights with friends. People always grill this type of Tsukune with their outdoor BBQ set and enjoy it with beer and chit-chatting.
Total time: 45 minutes.
Wonton is similar to Gyoza, but instead of pan-frying and then steaming, you need to deep-fry the dumplings or boil them before eating them with broth. Gyoza is simply served with sauce and enjoyed as a snack or a side dish.
Also, Wonton and Gyoza don't share the same wrapper. Gyoza has a thicker cover, and you can see them mostly in the crescent shape. The thinner wrap allows Wonton to be softer in soup dishes. And when they are deep-fried, these dumplings form an amazing crunchiness.
With deep-fried ground beef Wonton, you will want to keep the shape simple so these dumplings can be fried evenly. And the edge of the wrapper can be made extremely crispy.
Since this Wonton recipe has a bland coating and a slight salty filling, it's better if you can make some dipping sauces to accompany it.
Besides having soy-and-vinegar sauce as the recipe suggests, you can whip up sweet-and-sour sauces like Ponzu sauce or sweet chili sauce.
There are many ways to fold Wonton wrappers, and you should learn some of those.
There are more than a dozen ground beef recipes that you can and should try. I can promise you that you will enjoy the process and the food more than you really think.
After the post, I bet that you have learned so many new things about Japanese food. And you know how to wrap dumplings in multiple ways. Don't forget that this post also shows you how Western cuisine affects the Japanese.
If you think this post is informative and your loved ones should know about these things as well, I suggest you share this with them. And show me your ideas and opinions in the comment section, too. I would love to see your comments as always.
Until next time, take care!
Nutrition Facts
4 servings per container
---
Amount Per ServingCalories421
% Daily Value *
Total Fat 27g

42

%
Cholesterol 125mg

42

%
Sodium 778mg

33

%
Potassium 147mg

5

%
Total Carbohydrate 18g

6

%

Dietary Fiber 0.8g

0

%
Sugars 10.5g

Protein 23.2g

46

%
---
Calcium

57

%
Iron

2

%
Vitamin D

4

%
* The % Daily Value tells you how much a nutrient in a serving of food contributes to a daily diet. 2,000 calories a day is used for general nutrition advice.