Sometimes, what is Irish bacon also concerns both Irish peoples and other nationalities in the globe. I know that feeling. You may be confused by various kinds and names of food that you haven't heard of before.
But, keep reading this article to solve your curiosity by giving you the most exact description and definition of Irish bacon. Then, I also show other detailed information to help you understand deeply about this stunning food and know some relevant aspects that most people wonder about.
It is awesome when you discover a new kind of food that has already existed, but you haven't tried before, right?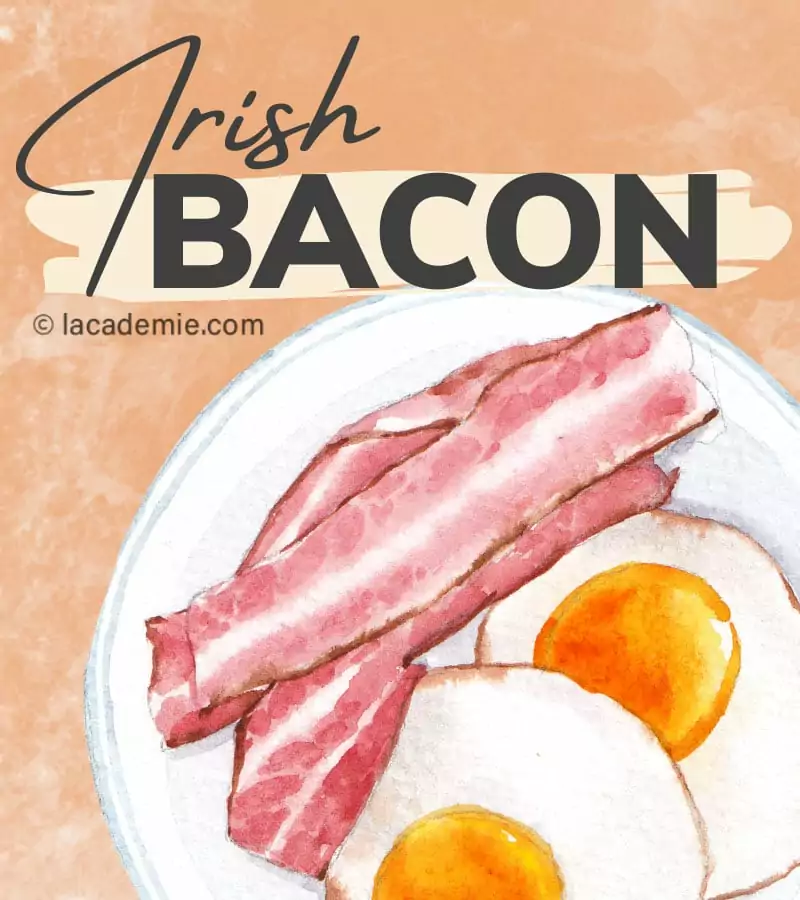 What Is Irish Bacon?
People usually misunderstand the term "Irish bacon" because they simply think that bacon is just bacon, nothing more or less. However, each culture has its distinctive characteristics imbued with the essence of that culture. And of course, it is also reflected in the food.
While other bacon is compared with pork belly, Irish bacon is more similar to Canadian bacon since it comes from the back meat.
Irish people can also use shoulder pork to make bacon. Each round slice of this tasty Irish dish is considered thicker and fatter than other sorts of bacon, except for American bacon.
It's the red meat that is often mistaken for raw meat. But it's actually been smoked to just barely cooked. This bacon will give you a feeling of being both soft and fatty, along with the freshness that few dishes can attain.
The astonishing flavor of Irish bacon comes from the layer of fat surrounding the meat, which enhances its taste so much. This also helps you recognize this amazing dish among a variety of culturally modified bacon.
Irish bacon is usually served with sandwiches, salad, eggs, and sauces in many tasty Irish breakfast recipes. It is well-known for ease of preparation and various applications. Just with a piece of bacon, the Irish can illustrate their creativity by transforming it into many kinds of dishes.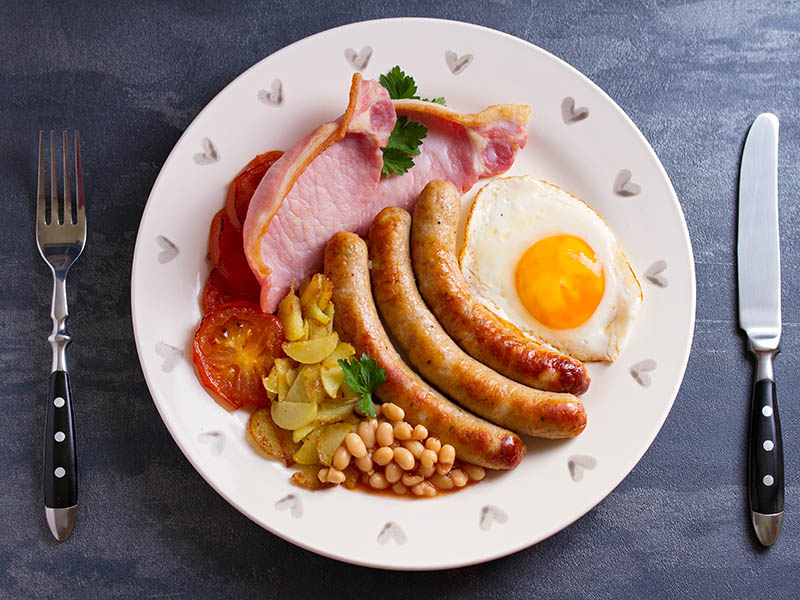 There are three ways of making Irish Bacon that you need to know:
Traditional bacon experiences the smoking process.
Boiling Bacon is only cured and boiled.
Fermanagh Black Bacon is thrilled bacon.
As you might know, traditional Irish bacon is somehow similar to American or Canadian bacon.
What Makes Irish Bacon Differ From Other Kinds Of Bacon?
There are many famous types of bacon, such as American, Canadian, and Irish bacon. While American bacon is the most popular one in the world, Canadian bacon is often compared to ham and is well-known as "back bacon"(1), and the Irish one is mysterious and implicitly attractive.
It would be remiss not to go through the distinguishing features between them. Each type of bacon has its characteristics and processing. Here I will mention the bacon identification features that make those kinds stand out.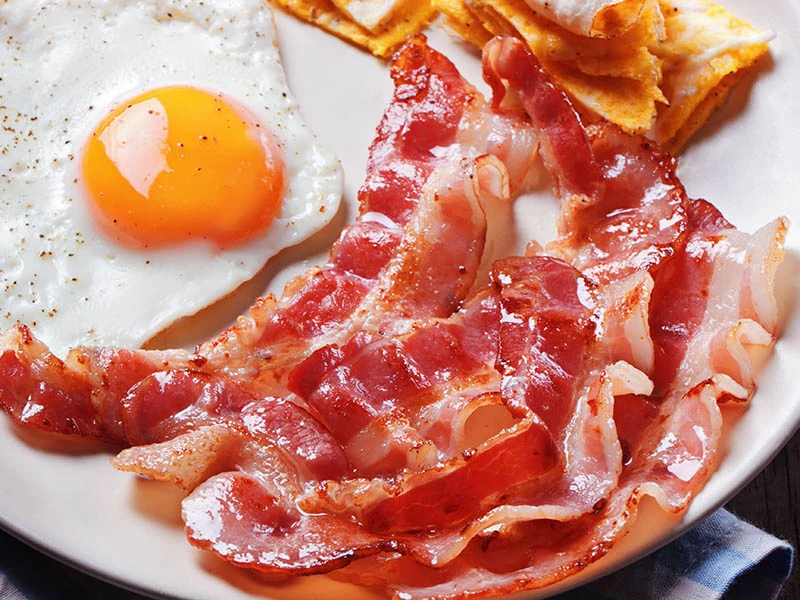 Features
Irish Bacon
American Bacon
Canadian Bacon
Kind of meat
Loin or shoulder of a pig.
The pork belly.
The loin of a pig.
Shape

Round shape.
Often served in thick slices.

Long strips
Served in thin slices.

Round shape.
Served in thick slices.

Color
Natural pink meat with yellowish or white fat
An array of colors: white, pale, and darker pink.
Pinkish color
Taste

Considerably soft.
A fatty layer emphasizes its flavor and distinctive taste.
A slightly salty taste.
Firmer, leaner, and a bit less fatty than the American one.

Chewy and fatty, but it almost melts in your mouth when eating.
Salty, juicy, and crispy.

Flavorful and tastes like ham but short of salty flavor
The taste is juicy and slightly sweet.
Lean and soft with no marbling

Processing

Typically boiled, then cured, netted
Sometimes smoked in a traditional way

Smoking with salt-curing intensively before.

Smoked or unsmoked.
Fully cooked.
Wet cured method.
All in all, Irish bacon and Canadian bacon are quite similar in appearance and taste, but American bacon is a different story. That's why you often see American bacon being compared with English bacon, another general type.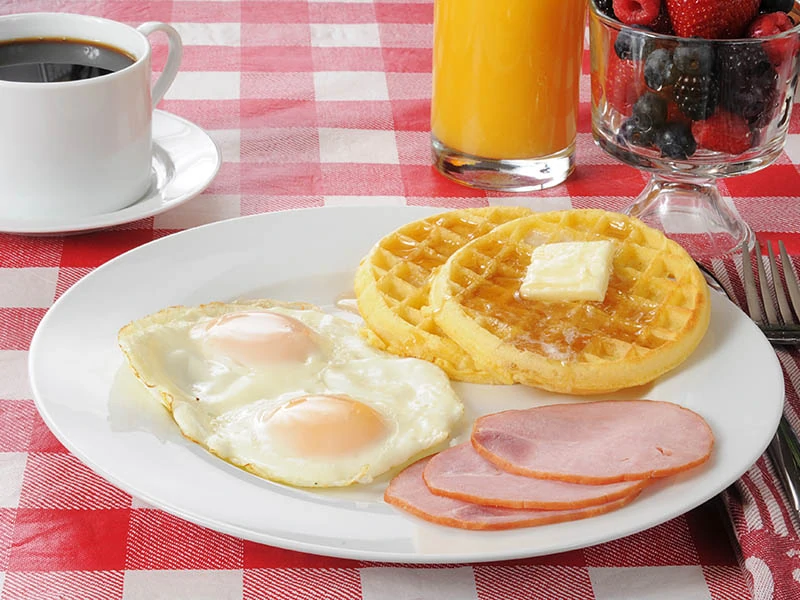 Learning new knowledge every day by going through articles is worth reading, right? I hope this table can help you to distinguish the differences between many kinds of bacon.
Learn how to make Canadian bacon through detailed instructions.
How To Cure Irish Bacon Properly
Curing meat imparts a distinct flavor to the meat while also extending its shelf life. Irish people usually cut bacon into large and thick pieces. You need to take several steps to have a strip of impressive Irish bacon.
Ingredients And Equipment:
These are all the ingredients and equipment that you need to prepare beforehand.
5 pounds of pork (back meat).
Other ingredients for curing mixture: Nutmeg, juniper berries, bay leaves, garlic, maple syrup, and thyme.
A large bowl of glass or stainless steel
Whisk
Spoons/ cups to measure
A gallon pitcher
Large stockpot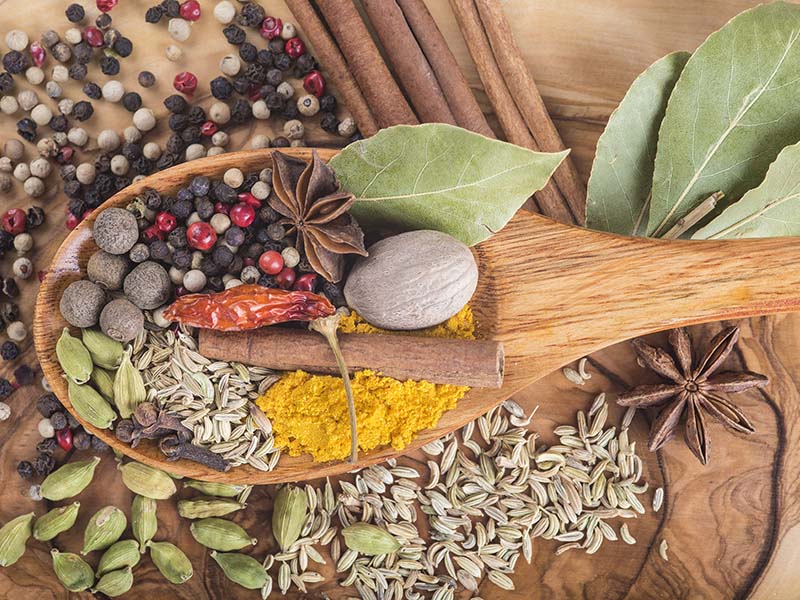 How To Do:
Follow these steps to cure your bacon properly. Don't ignore any notes because they may be essential.
Step 1: Clean The Meat
After taking it home, use clean water to wash it 3 or 4 times. Use cold water to wash in the last time to keep fresh. Pull out any remaining hairs (if any).
Step 2: Make Curing Mixture
In a mixing bowl, whisk together everything except the pork loin. The mixture includes salt, sugar, garlic, maple syrup, nutmeg, bay leaves, juniper berries, and thyme. Mix well until forming a smooth brine.
Step 3: Curing The Pork Properly
Place the meat in the brining bag or container. Then, pour the brine to cover the meat thoroughly. Use your hand to mix and rub it properly to make sure it soaks up the spices.
Step 4: Cover And Keep It In Your Fridge
Cover the container by the lid to have an airtight environment, and then put it in your fridge for 7 days. The ideal temperature is between 34F and 40F (2). It helps curing meat be more flavorful.
If the meat is just 1 inch thick, 7 days of curing is enough. But it is more than 2 inches; the duration will be extended to two weeks.
Step 5: Rub The Meat Again
When it comes to a halfway duration, take the container out and rub the mixture again. You also need to flip the meat to ensure 2 surfaces of it receive the same spices. Then put it in the fridge for the rest time.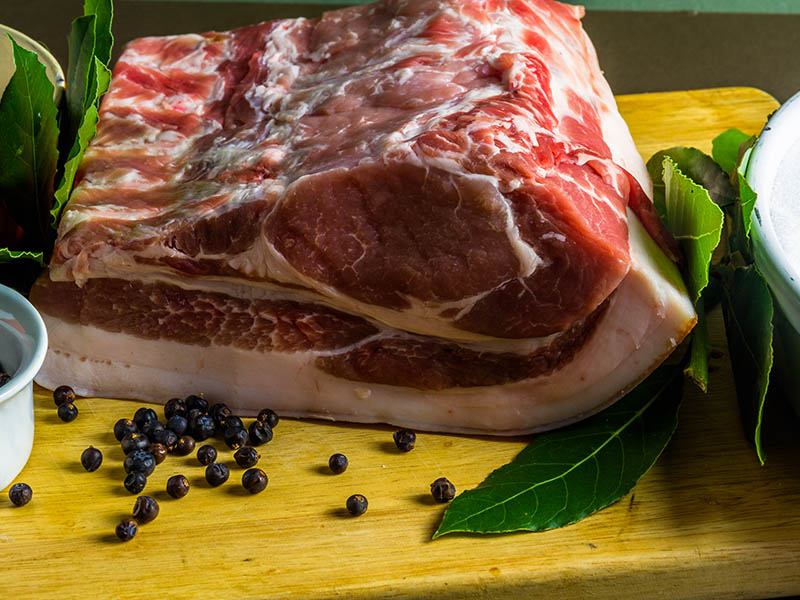 Step 6: Rinse The Cured Meat
After a certain time, take your pork out and rinse it carefully with cold water. Remember to do it properly because the meat is very salty to enjoy if it's not washed.
Step 7: Dry Cured Meat
Now, you set the bacon on a wire rack to dry after patting it dry with a paper towel. You may leave it out on the counter for 2 days.
Step 8: Enjoy Your Unsmoked Irish Bacon
You can cut your bacon into pieces depending on the amount of meat you need to use. The rest need refrigeration for storage. If needed, vacuum seal them for longer storage.
NOTE: The procedure is almost done here with Irish bacon. But sometimes, Irish people also smoke their bacon to have the traditional bacon taste.
So, now I will attach the additional steps for smoking bacon.
Step 9: Smoke The Cured Meat
First, you need to preheat the oven or smoker. The ideal temperature is between 140 and 200F. In case you use a smoker, open the damper for the dry-curing purpose.
Then, put the meat on a baking sheet and place it inside the oven or smoker. It will take 90 minutes to smoke your bacon. Do not take it out unless the interior temperature of the meat hits 150F.
NOTE: A meat thermometer can help you to determine the temperature of the thickest section of the meat.
Step 10: Get Your Smoked Bacon Done!
When the meat color is reddish-brown, turn off the oven and take them out. Then, wrap it in foil or plastic food wrapping and store it in your fridge. You can enjoy it anytime you want but remember to refrigerate cooked bacon to lengthen its shelf life.
Why don't you learn how to make Irish bacon correctly to widen your knowledge.
Boiling Bacon Is A Famous Dish Made From Bacon In Ireland
There are plenty of ways to cook Irish bacon. While you can fry it on a skillet and pair it with Colcannon – a dish perfect for serving with corned beef, there's nothing new and exciting about this method.
In this article, I only concentrate on Irish boiling bacon. Yep. Get away from something basic, something traditional, something normal. Today, are you willing to experience new and exciting recipes? It is Irish Boiling Bacon and Cabbage along with Parsley Sauce.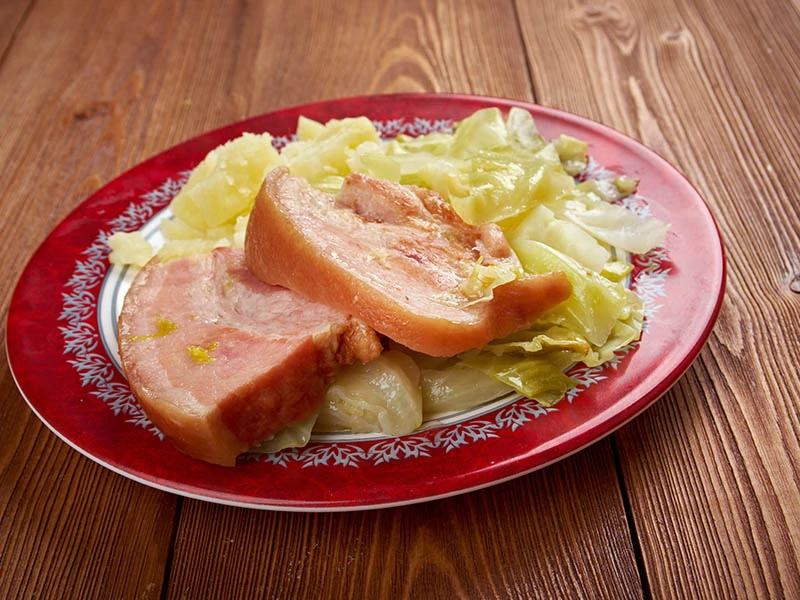 Follow this step-by-step procedure to have a perfect dish for your meal:
Ingredients And Equipment
The list below consists of essential ingredients and types of equipment that you must prepare in advance.
A large stockpot
A cutting board
Others such as knives, smaller pots, spoons, etc.
Irish bacon: 3 pounds.
Cabbage: 1 head cabbage.
Minced parsley: ½ cup
Kerrygold Irish butter: 4 Tbsp
Flour: 2 Tbsp
Cooking liquid from Irish boiling bacon: ¼ cup
Hot milk: 1 ¼ cup
Salt and pepper depending on your taste.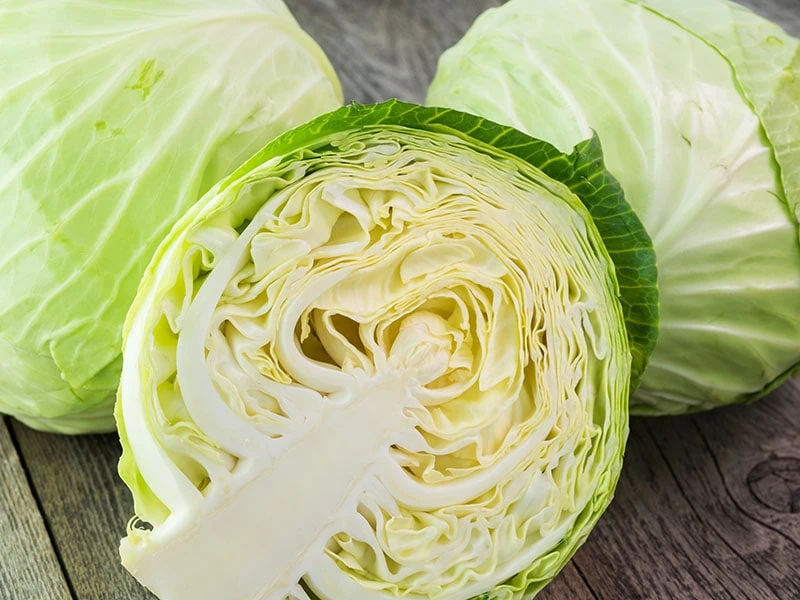 Now I divide the procedure into 2 stages which you can do simultaneously or in turn.
Stage 1: Making Boiling Bacon And Cabbage
In the first stage, I will give you an ultimate guide on how to cook boiling Irish bacon and cabbage. They are just quick and simple steps, but they can bring you a delicious dish.
Step 1: Clean Bacon And Cabbage
With bacon you buy from the store, you need to remove the foil or wrapper, then gently cut off strings from the meat. Remember to keep the netting intact.
With cabbage, you must remove the rotten and aged leaves as well as spoiled parts. Then, wash each leaf carefully with water to remove the remaining dust.
Step 2: Cook And Boil The Irish Bacon To Have The Wonderful Meat
Place a stockpot on medium-low heat. Put the bacon in the pot and pour the water over it. Each pound of bacon will take you 30 minutes to cook. Thus, you need to simmer for about 1.5 hours for 3 pounds of bacon. You can use a fork to poke the meat to check if it is soft or not.
NOTE: Remember to skim any foam that floats on the water's surface.
Step 3: Prepare Cabbage Properly
After cleaning and drying the cabbage, cut it on a cutting board. Cut it into quarters so that it is not overcooked while stewing. Watch out for the time; about 15 to 20 minutes before simmering bacon is done, add the cabbage to that stockpot.
Step 4: Delicious Boiling Bacon And Cabbage Is Coming
Using your fork to check the softness of the meat helps you know when your dish is ready. Take it out and let it rest in 10 minutes. Then, cut bacon into slices with ¼-inch thickness.
Place cabbage and bacon on a plate. Of course, you can enjoy your meal right away or try to hold back your craving and make the Parsley sauce to have the perfect dish on your dining table.
This video is willing to guide you specifically on the steps for making the Irish bacon and cabbage.
Stage 2: Steps For Making Parsley Sauce
No other sauce is more suitable for this dish than parsley sauce. It is a pity if you miss it, as this sauce will elevate the overall taste.
Step 1: Wash Your Parsley
Wash the parsley carefully with fresh water and dry it for a moment. Then, mince parsley to avoid clumping while cooking.
Step 2: Melt The Butter On Pan
First, melt the butter in a saucepan on medium heat. Slowly add the flour into melted butter and cook until the mixture is no longer lumpy.
Step 3: Add Milk And Parsley To The Mixture
Mix hot milk with ¼ cup of bacon sauce and cook it until boiling. After that, reduce heat to a simmer. Add parsley, salt, and pepper when you get the desired thickness. Don't forget to whisk constantly to avoid burning. Serve warm when parsley sauce has a creamy and velvet-like texture.
Now, you combine this wonderful parsley sauce and your plate of bacon and cabbage to have a healthy and savory meal. Oh no, I can't stop watering my mouth when imagining this vision.
Follow the instructions of this video to have a yummy parsley sauce. Don't forget to add bacon sauce to have a sweet and flavorful taste.
Irish Black Bacon Is A Wonder
I want to give you a bonus knowledge about Irish black bacon. This kind of bacon comes from a famous store in Ireland called Fermanagh black bacon. There, people raise pigs and make them into black bacon.
The pigs on the Fermanagh farm are free to wander, graze and sleep like ancestors' hundreds of years ago.
This black bacon is quite similar to other grilling meat. Irish people don't make it as traditionally as other kinds of bacon I mentioned above. Although they use classic Irish recipes, making black bacon is different. Instead of salt-curing or smoking, people give it the black color by grilling it.
They don't smoke it or crisp it up. The flesh remains tender after it has been cooked, fried, or baked.
Spar Crawfordsburn – delivering to the elderly & vulnerable in the area, Mondays, Wednesdays and Fridays.

Telephone – 028 9185 2363

Fresh produce, general groceries and locally baked goods from @MangeToutDeli & meat from @BlackBaconCohttps://t.co/142pK8D5M6#SupportLocal pic.twitter.com/jB7lsoLHuW

— Support Local – Northern Ireland (@DitchWeasel) April 20, 2020
FAQs
Well, Irish bacon is a distinctive dish, right? This is some further information you need to know about Irish bacon, and I hope it's useful for you.
Bonus Tips For Choosing The Right And Best Irish Bacon
Well, it is tough to distinguish the types of bacon without learning and experiencing it. Luckily, I'm here to help by giving my tips for choosing the right Irish Bacon.
You should look at the brand and labels from producers first. They will tell you exactly what type of meat.
If not, you bear in mind these features to help you. It comes from the back of a pig, so it will have a thick layer of fat. It looks like pork loin roasts. The color of Irish bacon is usually natural pink with yellowish or white fat. And the round shape of it also guides you to the best choice.
Make sure that you buy good meat from a reliable store to protect your family's health. Good meat has these criteria: freshness, bright color, no dark blood in the flesh, good smell.
Do you still wonder after browsing this article? Do you find this article useful? What food are you going to make with Irish bacon? Feel free to share with me your opinions via commenting on this platform. Like and share with your friends to gain more knowledge every day together.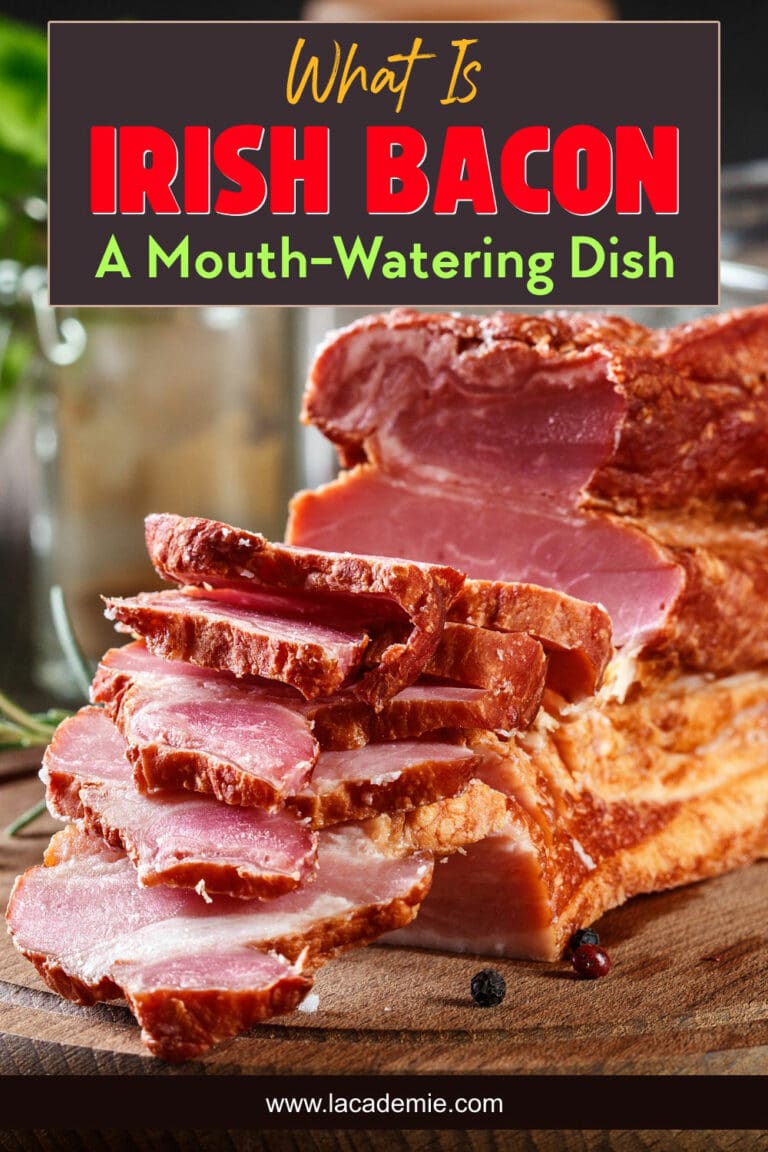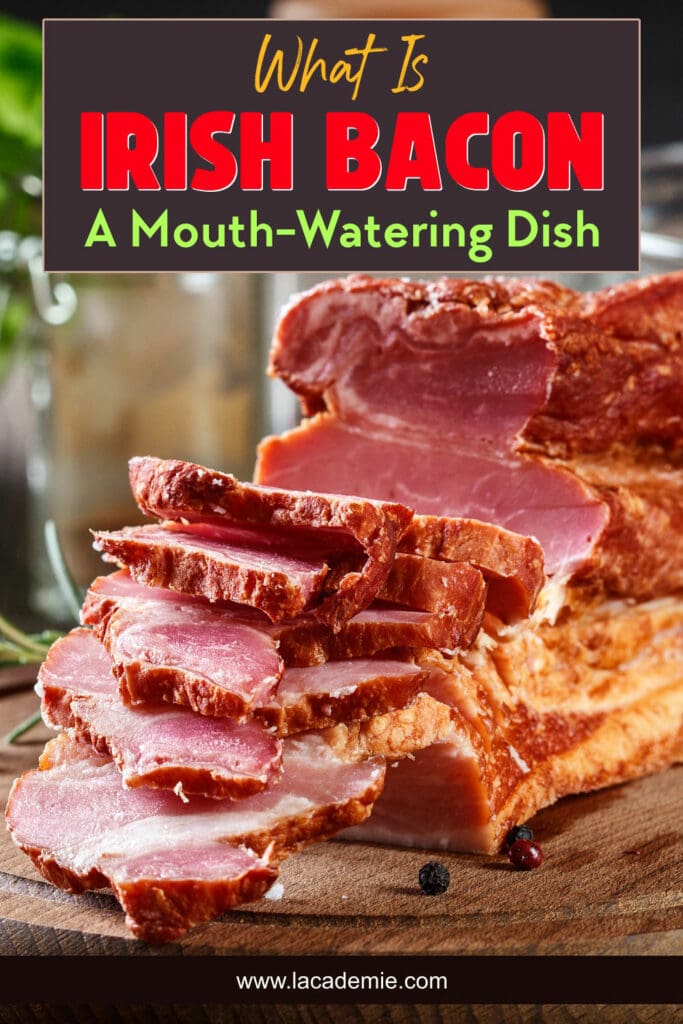 References
En.wikipedia.org. 2021. Back bacon – Wikipedia.
Web.extension.illinois.edu. 2021. Storing Meat in Your Refrigerator – Meat Safety for the Consumer – University of Illinois Extension.