Along with cuisine and wine, French cocktails are the true art of balanced and pleasant drinks. Don't be surprised to find a plethora of unusual cocktails available in the country, and more than a handful of ones originate in France!
While craft cocktail culture is a relatively recent addition to France, bar culture is not. The French have perfected the art of exquisite drinking.
Nowadays, an emerging and buzzing cocktail culture is being spearheaded by a new generation of bartenders. They are resurrecting France's old drinks and incorporating traditional spirits into contemporary classics.
The following straightforward cocktail delights will satisfy your palette whether you create them at home or order them at a French bar. A sip of these cocktails will whisk you away to France without leaving your door.
Without further ado, let's bring out the happy hour in your inner bartender with these delicious Parisian drinks for you and a companion!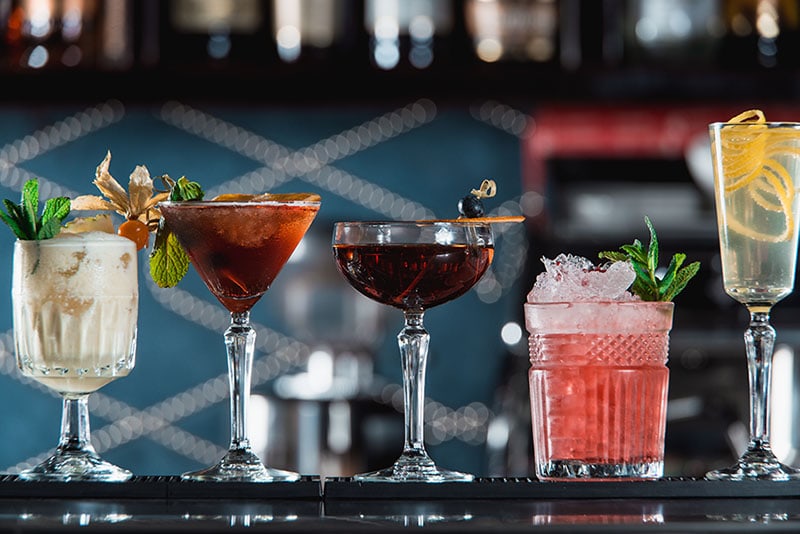 Let's Collect These Insanely Amazing French Cocktails!
Are you excited to start my list of insanely amazing French cocktails? These unique drinks are sure a delight to your gatherings or celebratory occasions!
Prep Time: 2 minutes.
Kir Royale Cocktail is a straightforward blend of Champagne and Crème De Cassis, a blackcurrant-based liqueur. When blended, the result is a lovely, bubbly drink that is equally fragrant and sweet, with a tinge of bitterness from the currants.
This recipe is a variant on the Kir, which is a white wine-based cocktail. Kir Royale gained popularity across France and, more recently, the globe after being named for priest Félix Kir – the mayor of Dijon, a hero of the French resistance during World War II.
Kir Royale is at its finest when served in a Champagne glass. It is the ideal cocktail to enjoy as an Apéritif while socializing with party attendees.
What makes this drink unique is the utilization of Crème De Cassis. Thus, if you substitute it with other elements, you get a brand new Kir variation. For example, using raspberry liqueur or sparkling wine will result in Kir Impérial or Kir Petillant, respectively.
Cocktails do not get any simpler than Kir Royale. The simple process of swirling two ingredients together speaks for itself! Yet, the concoction still has a sophisticated air, making it ideal for birthday parties, brunches, and other joyous winter events.
Prep Time: 3 minutes.
Kir is a more down-to-earth version of Kir Royale above. Together with Crème De Cassis, Kir also acquires dry white wine like a Chardonnay or Aligoté-based Burgundy (instead of using Champagne like Kir Royale). It has a dark hue and a thick viscosity comparable to Chambord.
Like Kir Royale, Kir receives its moniker from Félix Kir, thanks to his effort in popularizing the drink after World War II as part of the twinning movement in fostering camaraderie across towns, cities, nations, and cultures.
The drink was originally named Blanc-Cassis since it was created entirely with liqueur and Bourgogne Aligoté. Yet, the French have reinvented it and now incorporated a variety of white wines in the preparation process.
Nowadays, this beverage comes in various flavors. For instance, if you make it with apple cider, you achieve Kir Breton. If you mix it with Champagne, you generate Kir Royale mentioned above.
Serve the concoction straight up in a cold wine glass or coupe, unadorned! It is ideal to offer Kir at a casual cocktail party!
Prep Time: Around or under 5 minutes.
Sidecar is another famous French drink with World War I origin. According to legend, this beverage was invented for a motorcycle-riding client who also happened to own a Sidecar.
The recipe is somewhat sour and served with a sugared rim to balance the flavor out. If you prefer not to have a sugared rim, use a dash of simple syrup instead. No matter what way you choose, this drink is always acidic and potent!
It is a direct descendent of the Brandy Crusta, a traditional New Orleans cocktail that has seen a revival in recent years. With almost a century of history, Sidecar is undoubtedly the most renowned of the traditional Cognac cocktails!
Despite requiring just a few components (Cognac, lemon juice, Cointreau – an orange liqueur), this cocktail is a bit challenging to create. However, it will not ask too much time to make it.
You can either serve it directly from the bottle in a chilled coupe or deliver it as a shot to accompany the main drink.
Prep Time: 5 minutes.
Classic French 75, or "Soixante Quinze", is enjoying a renaissance at the moment. This light, fragrant, effervescent drink is the ideal combination of lemon juice, aromatic dry gin, Champagne, or other sparkling wines such as Prosecco or Crémant from France.
No drink better embodies France than a glass of French 75. You can find them in almost every credited cookbook in France as it is one of the most popular cocktail variations in the country.
Since its tastes are so pure and the citrus is so prominent, using a dry gin is better than a highly flavored one.
The drink's moniker derives from a weapon used by the French artillery during World War I – the 75mm Howitzer field cannon. The weapon was highly respected for its lethal punch and precision, and this beverage has a reputation for knocking your socks off!
Soon after that, American troops fell in love with the drink and carried it back to the United States, where it became instant popular, particularly in New York City.
To serve, pour this concoction into a Collins glass, then top it with Champagne and lemon peel. Avoid using super-expensive sparkling wines and go for a Champagne that you would drink on its own.
Then, take a seat with one of these in hand, close your eyes, and daydream about Paris! Le vie est magnifique!
A glass of French 75 is the best embodiment of France.
Prep Time: 5 minutes.
Originated in Paris in the 1920s, Rose Cocktail is a fragrant pink cocktail with a sweet cherry taste. Using French Vermouth, Kirsch (cherry brandy), and dry gin, the beverage is a brilliant twist on the conventional Martini.
Preparing this concoction requires simple steps. After gathering the essential ingredients, stir them with ice and pour them into a cocktail glass. Occasionally, a single Maraschino cherry is a preferred option to garnish the drink.
Prep Time: 5 minutes.
Dating back to the 1920s (the Art Deco movement), the Black Rose cocktail is a somewhat sweet and fragrant drink with a dark edge provided by the blackberry components. It is an exciting twist on the classic Rose Cocktail.
Although the hue is not black, incorporating blackberries in the mixture gives it its moniker. While it seems as feminine as a flower, its strong amount of Vermouth delivers a punch, and too many of these concoctions will have you falling over.
This delightful beverage is chilled, smooth, and wonderfully tinted with the fruit's color. It is served in a goblet glass with a fragrant rosemary sprig as a garnish.
Prep Time: 5 minutes.
French Martini is not really French. It is a fruit take on a Vodka Martini prepared with Chambord (a French raspberry liqueur) and pineapple juice. While it may seem to be a vintage drink, it was actually created in the 1980s by New York bartender Allen Katz.
Not only is this iconic Chambord cocktail delectable, but it is also lovely. The pink tint is just starting to shine, calling you in for a sip! Although garnish is not required, a lemon twist gives an exquisite touch to this delicate concoction.
This Martini has little resemblance to the conventional dry Martini. Its taste profile is not only well-balanced but also complex and subtle, making it so difficult to put the glass down!
This drink is an exquisite love potion concocted in the City of Love. A few sips of a French Martini will undoubtedly make you feel the scandalous seduction of Paris.
Let's generate this exquisite love potion to feel the scandalous seduction of Paris.
Prep Time: 2 minutes.
With Cognac and Amaretto served on ice in an old-fashioned glass, there is hardly any cocktail more straightforward than French Connection. After gently stirring the combination, this fabulous French drink is ready to serve!
Created in the 1970s, the drink received its moniker from Gene Hackman's 1971 film of the same name. Due to the cocktail's unknown origin, it is uncertain who deserves credit for this delectable mixture.
The beverage possesses a sweet, nutty, and powerful flavor. Cognac offers a bright and delicious foundation for the Amaretto liqueur's signature fruit and almond aromas. When combined, you achieve a rather sweet concoction.
You can pick various Cognac types for this cocktail, such as a young VS, an aged VSOP, or even an XO. Younger Cognacs have more vibrant and fruity aromas, while older expressions have more vanilla and spice notes from the oak barrels.
Prep Time: 2 minutes.
Mimosa is a traditional beverage served alongside opulent French breakfast meals to elevate a basic morning meal to a luxurious occasion. It is named after a similar-colored flower and has its first serving at Paris's Ritz Hotel in 1925 by Frank Meier, the chief bartender.
Preparing the drink simply requires combining freshly squeezed orange juice with Champagne in equal amounts and garnishing it with an orange twist or slice. You can add to the mixture another dry sparkling wine of your choice, such as Grand Marnier.
You don't even need ice for this orange juice-based alcohol mixed beverage. In fact, you should avoid using ice since it will dilute and weaken the wine's carbonation. A good tip is to chill the wine and orange juice the night before you intend to make mimosas.
When ready to serve, pour the cocktail into a slightly tilted Champagne flute, allowing it to flow down the inside of the glass to prevent carbonation loss. Add the orange juice to the wine, taste and adjust as needed, then enjoy!
Enjoy this brief but informative guide to generate the classic Mimosa cocktail right now!
Prep Time: 5 minutes.
If you love a drink with floral and vegetal tastes for your Aperitif, Suze And Tonic is an ideal selection. Its bitter, citrusy, flowery taste profile and appealing yellow hue will hypnotize you right from the first sip!
You cannot go wrong with any ratio of Suze and Tonic in this recipe. That is the beauty of this cocktail. Besides the two obvious ingredients, you can add Angostura bitters, a herbal alcoholic preparation, to lend this cocktail a stronger richness.
For those who enjoy light, refreshing drinks, you can add this Suze And Tonic to your repertoire now! This drink is a must-have item during a gathering, an outdoor barbecue, or on your back patio!
Prep Time: 10 minutes.
Black Raspberry Chambord is a delicious and refreshing drink prepared with fresh raspberries and blackberries, a dash of bitters, club soda, Chambord, and vodka for a festive fizz. This deliciously bubbly concoction is bright and pleasant to taste!
While its aroma is sweet, it is not overbearing! Indeed, the final result offers a smooth, fruity aftertaste devoid of the harshness associated with heavier beverages. It is thanks to granulated sugar and red wine vinegar that counteract the alcohol's bite.
This drink is an excellent alcoholic choice for a relaxing day by the pool or a light ladies' night out. The drink is a cause for celebration in and of itself. Therefore, grab an ice-cold glass and enjoy it, whether New Year's Eve or any other ordinary day.
Prep Time: 5 minutes.
While Yellow Bird Cocktail is not very well-known across France during the interwar years, this 1920s beverage is seeing a rebirth among Parisian cocktail bars. After tweaking the original recipe, the drink focuses more on conveying the harshness and becomes more contemporary!
Nowadays, Yellow Bird is a must-try drink! You will fall in love with its vibrant color and well-balanced taste, which has vanilla and licorice overtones. The addition of Galliano, a vivid yellow Italian liqueur, also adds refinement to this beverage.
There is relatively little information available regarding its history. Some people speculate it was named after the Yellow Bird, a Haitian hymn, while others believe the moniker derives from the vivid yellow Galliano liqueur.
Regardless of its origin, this cocktail is a beautiful invention with high flexibility in preparation. You can add pineapple and orange juice to transform it into a Tiki cocktail, or simply enjoy it on its own on the beach.
Prep Time: 2 minutes.
Boulevardier is a traditional drink that dates back to the 1920s. Often referred to as the Negroni's cousin, the drink substitutes rye whiskey for gin. Almost a century after it was invented, the cocktail is gaining huge popularity again in recent years.
Legend said this cocktail originated at Paris's Harry's New York Bar and was named after Erskine Gwynne, an American publisher who launched the Boulevardier, a monthly magazine in Paris.
The French treat calls for Campari (a sour Italian liqueur), sweet Vermouth, and either Bourbon or rye whiskey. After combining the ingredients with ice, they are strained into a cold cocktail glass. Finally, garnish the drink with an orange peel twist or a cherry.
Not only silky, spicy, bitter, and warming, but Boulevardier is visually appealing thanks to its brilliant red hue. Nothing fits the bill more than this beverage on a crisp evening.
Boulevardier is not only spicy, silk but also visually appealing.
Prep Time: 2 minutes.
Want to sip Pastis the way French people do? Let me introduce this fantastic anise-flavored liqueur that instantly takes you to France! The French dilute Pastis with water to create a gorgeous hazy, almost iridescent yellow liquid.
Established in France in the 1930s as a substitute for Absinthe, Pastis has a revitalizing flavor similar to how you feel when sipping ice-cold black licorice. Besides the strong licorice aroma, the beverage is gently sweet, while Absinthe is not.
Prep Time: 3 minutes.
If you are interested in learning about the Sidecar cocktails, you will recognize this amazing variation called Between The Sheets. People believe the rum-based cocktail was invented in the early 1930s at Harry's New York Bar in Paris.
It is a concoction of white rum, Cognac, Triple Sec, and freshly squeezed lemon juice. After shaking all ingredients with ice, you can serve the beverage in a chilled cocktail glass.
Others speculate its creation differently. Some claim that The Berkeley is where the drink came to life in 1921, while another theory states it was invented for prostitutes in French brothels, thus giving its moniker.
Whatever the case, Between The Sheets is a wonderful, balanced cocktail with a seductive name.
Prep Time: 10 minutes.
With its unique crimson hue, Bloody Mary is one of the most renowned drinks out there. It is a vodka-based cocktail mixed with lemon juice, tomato juice, and other seasonings of your choice, such as Worcestershire sauce, tabasco, pepper, and celery.
The drink's history is replete with legends about its name. Some say the moniker shares the connection to Mary Tudor, commonly known as Bloody Mary, due to her brutal policies.
Others attribute the name to Ernest Hemingway as he desired a drink that would not smell strongly of alcohol to prevent enraging his wife, Mary, upon his return.
However, the most reliable stormy states that Bloody Mary is the invention of Fernand Petiot, a bartender at Paris's Harry's New York bar.
Regardless of its unsavory name, there is no disputing that this Bloody Mary drink is extremely delectable. If you have sampled it once, you will hope that by saying "Bloody Mary" three times, this delectable beverage will emerge before your eyes!
Accompany this excellent drink during brunches. Besides delicious meals, this concoction completes your brunch. It will wow your guests and family, having them begging for the beverage more!
This tutorial introduces you to the easiest homemade Bloody Mary cocktail recipe ever!
Prep Time: Under or around 5 minutes.
Pousse Rapière is one of the most dangerous mixtures known to mankind. It has the look of fizz, is super moreish, and makes you forget it has a liqueur shot at the bottom. You may easily get hammered on this stuff before realizing what you have done.
Although the drink is relatively new, it has strong Gascon origins. Pousse Rapière was created in 1960 by Réne Lassus of Château Monluc in Saint Puy, Midi-Pyrénées, near Toulouse.
Literally meaning "rapiers push", Pousse Rapière is Gascony's characteristic aperitif. It is an Armagnac and sparkling wine cocktail with an orange taste that will glide through your digestive system effortlessly.
Prep Time: 1 minute.
Picon Bière is France's take on a Shandy, inspired by the now-obscure bitter orange liqueur Amer Picon. It is an orange liqueur produced using cinchona and gentian roots.
Although the beverage is most prevalent in Eastern and Northern France, it was invented by a young Marseille soldier stationed in Algeria.
For US drinkers, Picon Bière may be a little difficult to come by as Amer Picon, a bitter French liqueur that is one of the drink's major components, is not accessible in the country.
Nowadays, people love to consume Picon Bière with beer and with or without lemon. The liqueur also pairs well with other alcoholic beverages, such as wine. This cocktail is a low-effort, high-reward that will strike the mark on a hot and lazy day.
Prep Time: 2 minutes.
If you are looking for the ideal summer beverage, stop your search as Blue Lagoon fits the bill. The formula is straightforward, calling for vodka, lemon juice, and blue Curacao. The last ingredient gives this beverage its instantly identifiable blue hue.
Blue Lagoon is the perfect blend of sweet and sour flavors that is 100 percent refreshing. Best of all, it is an easy blue cocktail delight to pull off with no special equipment required.
People often mistake Blue Lagoon with Blue Hawaiian. The former uses lemon and vodka, while the latter utilizes pineapple and rum. Thus, Blue Lagoon has a sweeter citrus taste than its counterpart.
Typically, you will enjoy this blue concoction in a high ball glass. A sip will conjure up images of serene, shimmering oceans and calm your soul.
Prep Time: 5 minutes.
Looking for a triumph of simplicity? Find no further than Ti' Punch (short for tiny punch). It is a classic French West Indies beverage created on Marie-Galante island to commemorate the end of slavery.
You will have Rhum Agricole, lime, and sugar cane syrup in this concoction. Together, these three ingredients generate an important flavor of Martinique.
Your fist Ti' Punch try-out will be either too sharp or too sweet for your tastebuds. You will want to smooth the flavor out with ice. However, it is not a wise move. This beverage is designed for enjoying without ice in a shot glass with a wedge of lime!
Adding ice cubes to the beverage would definitely yield something different and unremarkable. Thus, if you have Martinique friends, expect them to forbid you from doing that and give you a lecture on why.
Ti' Punch is normally offered before any meal other than breakfast in Martinique. Although the French prefer having it as an Aperitif, no one will frown if you request or mix one at any time of day.
A keynote in enjoying Ti' Punch is to leave all ice cubes aside!
Prep Time: 5 minutes.
Do you believe there is a cocktail drink that has its own personality and upon tasting it, you will exclaim its name? Originating from one of the world's most opulent hotels – The Ritz in Paris, this boisterous Serendipity is a light,fruity and sweet alcoholic beverage with extra bubbles.
The beverage is so elegant and sophisticated that it is saved exclusively for celebration. If there is one cocktail recipe that people use for cheering on celebratory occasions, Serendipity must be it!
Invented by Colin Peter Field, the world's finest bartender by Forbes, this drink features Calvados, apple cider, and Champagne (or prosecco). You can use mint sprigs to dress up the dish as well.
Its taste is delicious and pleasant, with just enough sparkle, making it an excellent Aperitif.
Prep Time: 5 minutes.
If you like gin, this time-honored drink is for you. White Lady is a gorgeous gin cocktail that is light and refreshing from the gin blending with bitter orange Cointreau and fresh lemon juice. The drink also utilizes egg whites to generate a lovely foam for the topping.
Also known as the Chelsea Sidecar or Delilah, this White Lady cocktail is well-balanced and perfect for afternoon happy hour or post-dinner beverages. Yet, please drink wisely as the cocktail packs the punch of a Martini.
Despite its strange name, this concoction of gin, grenadine, orange juice, and Absinthe is incredibly tasty. The International Bartender Association (IBA) even classifies it as an "unforgettable" beverage.
The drink's name derives from a study conducted by Dr. Vornoff on using monkey glands to increase men's virility and improve their lifespan. The novel technique garnered great attention from everyone, including Harry MacElhone.
Although the study was unsuccessful, Harry's invention of the Monkey Gland cocktail in 1923 was a joy transfusion.
The secret to this cocktail is the use of high-quality Grenadine. The element adds pomegranate sweetness to the drink while imparting a lovely pink hue. Stay away from commercial kinds as they are primarily composed of artificial tastes.
Total Time: 9 minutes.
If you are a free thinker who defies societal conventions, this French Libertine cocktail is for you. With an emphasis on fun above frivolity, Jen Riley of Paris's Le Red House – the drink designer, has made it a favorite of hipsters and bartending experts alike.
Libertine allows you to say farewell to summer and welcome autumn with its autumnal overtones from Bourbon, maple syrup, and rosemary. Your tastebuds will pick up its sweet and robust flavor right from the first sip.
It helps you overcome a change-of-season cold while retaining a lingering summer flavor from the lemon and orange marmalade. I just cannot pick a more delectable way to ease into the new season than Libertine.
My preference is to serve this pale yellow beverage in a small glass, topped with a fluffy, airy foam and a sprig of fresh rosemary. This way, you can slowly enjoy and indulge yourself in its exquisite flavor blend.
Prep Time: 5 minutes.
Inspired by the original Negroni cocktail from Italy, this French version substitutes Lillet Blanc and Suze for Campari and Vermouth, respectively. Such French twists impart a milder, more subtle citrus taste and an attractive hue than its hot red sibling.
However, do not think this White Negroni is not as bitter and invigorating. Since its debut in 2001 by British bartender Wayne Collins, this beverage has established itself as a contemporary classic, gaining popularity among Negroni and happy hour lovers!
In addition, this elegant and delectable cocktail is wonderfully balanced by an orange twist. Along with its flowery and earthy overtones, this French version is an ideal dinner patio beverage on warmer days. It inspires you and me to sit back and drink!
When presenting the drink, larger ice cubes are preferable. They have a greater surface area, which means they will melt more slowly and provide less water to your beverage. Thus, you can retain its distinctive bitterness longer!
Along with the earthy overtones, White Negroni is an ideal dinner patio beverage on warmer days.
Prep Time: 5 minutes.
Using the grapefruit juice's delectable sweet and tart balance, this French Blonde cocktail imparts a fragrant and delicious citrus flavor ideal for the summertime.
Mixing with Elderflower Liqueur, white lillet wine, and dry gin, the final drink is so delectable that you can hardly put it down. However, be cautious as this beverage is deceiving! A few glasses of French Blonde will show you what a "hangover" is like!
Prep Time: 3 minutes.
Cannot find a cocktail that combines sour, floral, and herbal tastes together? Let me show you Lumière, a delightful French-inspired cocktail made with gin, St. Germain, green Chartreuse, lime juice, and a sprinkle of bitters.
Each season seems to have its own cocktail theme. Lumière has been crowned the champion for spring and summer. It is not as sweet as it sounds, yet its citrus kick is enough to make you feel like being on vacation.
Prep Time: 5 minutes.
French Mule Cocktail is a classic for a reason: it is simple to make, tasty, and requires few ingredients. This French version adds Cointreau, a traditional French Aperitif, to its Russian relative to elevate the beverage to new heights.
Copper mugs are the best friend of all Mule cocktails. They not only contribute significantly to the final flavor of the drink but also improve the cocktail's aesthetic look. Another incentive for using copper mugs is that they keep the drink cool!
Pick Your Favorite French Cocktail And Join The Party!
French cocktails are regarded as the pinnacle of luxury beverages in the country. Made with traditional ingredients, these drinks guarantee to explode your tastebuds with a delectable blend of sweet, sour, bitter, and powerful flavors.
Picking out your favorite French cocktail is not easy due to the vast selection this category comprises. However, take your time in sampling them and land your preferred choice.
If you have reached the final answer, share it below to assist other readers in finding a dream cocktail for themselves!
Nutrition Facts
1 servings per container
---
Amount Per ServingCalories228
% Daily Value *
Total Fat 0.2g

0

%
Sodium 20mg

1

%
Potassium 40mg

2

%
Total Carbohydrate 18.9g

6

%

Dietary Fiber 0.1g

0

%
Sugars 0.5g

Protein 0.2g

0

%
---
* The % Daily Value tells you how much a nutrient in a serving of food contributes to a daily diet. 2,000 calories a day is used for general nutrition advice.