Shopska Salad (Shopska salata or Шопска салата), a cherished Bulgarian dish, is a vibrant combination of fresh vegetables like tomatoes, cucumbers, fresh or roasted peppers, and onions. Top it up is the distinct taste of Bulgarian brine cheese and parsley.
The ease of preparation and its robust flavor make Shopska Salad a favorite at any dinner gathering. But the appeal of Shopska Salad extends beyond its flavor. It's also a nutritious choice.
As a low-calorie dish rich in fresh vegetables, it's brimming with essential vitamins and minerals. Additionally, for those who prefer vegetarian fare, this meat-free salad is a perfect pick!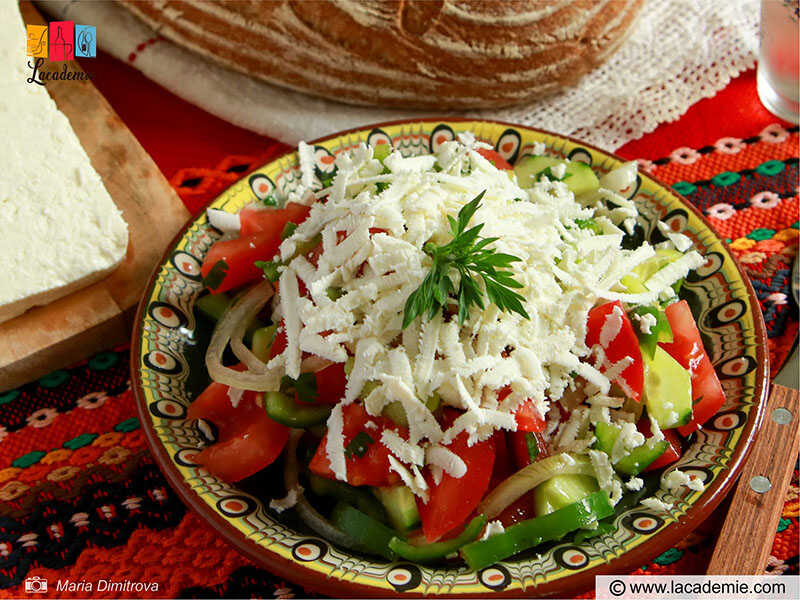 More About Shopska Salad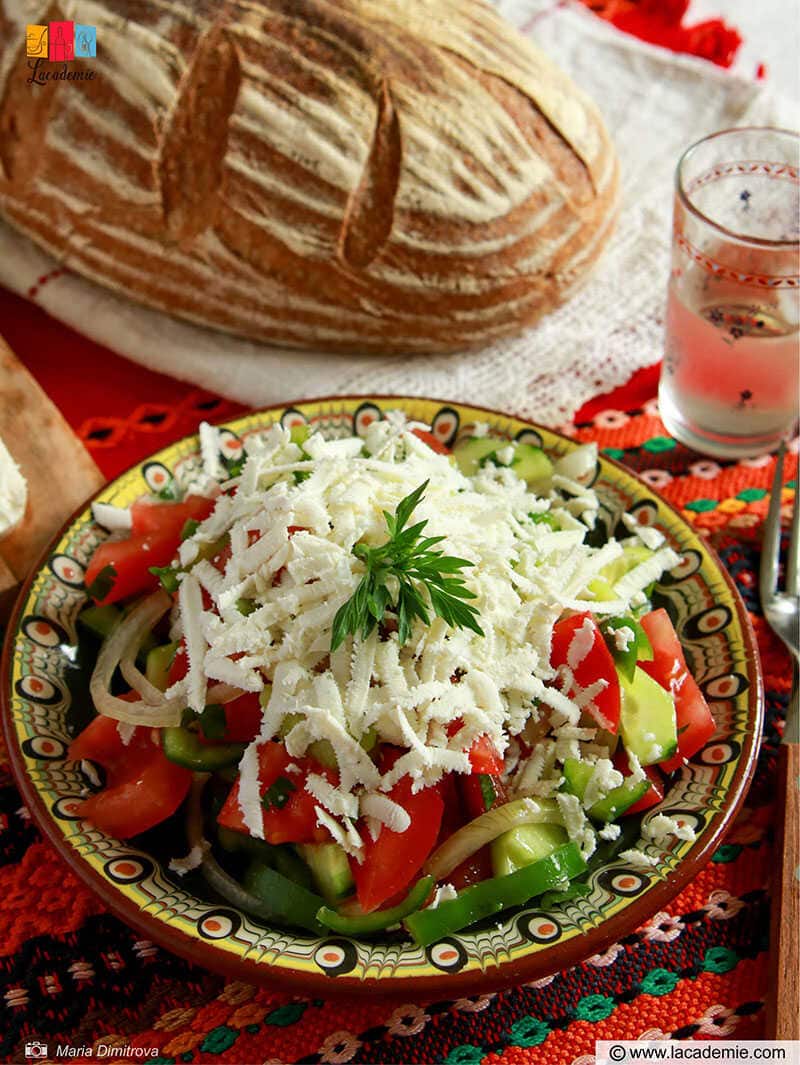 Shopska Salad is a cultural symbol, a connection to the heart of Bulgaria. The salad itself is fresh and vibrant – crunchy cucumbers, juicy tomatoes, zesty peppers, onions, fragrant parsley, and that unique Bulgarian brine cheese as a topping.
But what I find fascinating is that these ingredients are chosen not just for their flavor but because they mirror the colors of the Bulgarian flag. Every bite is a nod to the nation's pride.
Bulgaria first embraced the Shopska Salad as a culinary emblem in the tourism scene back in the 70s and 80s. It quickly captured the hearts of locals and travelers alike, and the love for this dish soon spread across the continent.
What is the best time to savor a Shopska Salad? During the Bulgarian summer, of course! The ingredients reach their peak ripeness during this season, creating an unforgettable blend of flavors.
Regardless of the season, though, Shopska Salad is always a refreshing, flavorful option that's as easy to prepare as it is joyful to eat.
Tools
Wooden Cutting Board: A sturdy base for chopping and slicing the fresh vegetables.
Knife: Sharp enough to cleanly cut through tomatoes, cucumbers, peppers, and onions.
Vegetable Peeler: Handy for peeling the cucumber skin before slicing it into the salad.
Large Bowl: A spacious container to combine all the salad ingredients and season them before serving.
Fork: Essential for stirring and mixing the ingredients evenly in the large bowl.
Kitchen Grater: Used to grate the Bulgarian brine cheese directly over the served salad for the perfect finish.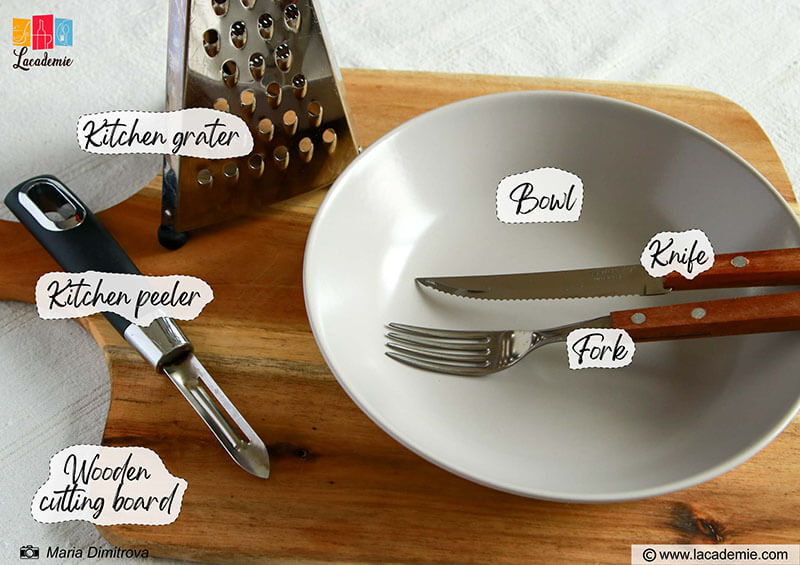 Ingredients
Each ingredient has been chosen to reflect the Bulgarian flag's colors – white, green, and red. The vibrant vegetables offer green and red hues, while the onion and the Bulgarian brine cheese give the salad its white touch.
Tomatoes: Use medium-sized ripe tomatoes for their sweet and tangy flavor. Wedge them with your knife and further chop each wedge into two or three chunks.
Cucumber: A large crisp cucumber adds freshness and crunch. Halve it lengthwise before slicing it into thin half-moons.
Green Pepper: You have the choice between roasted and raw green pepper, with the latter being more common. Cleanse it from seeds and stem, then slice it into thin strips.
Onions: Both brown and red onions work, but brown onions align better with the salad's color theme. Peel and thinly slice them for a milder taste.
Cheese: White brine cheese gives Shopska Salad its authentic flavor, but Feta cheese makes an acceptable substitute if you can't find the former.
Parsley: Beloved by Bulgarians, parsley adds a flavorful touch. Incorporate chopped parsley into the salad and garnish the dish with a sprig on top.
Oil: While you can use olive oil, Bulgarians traditionally use sunflower oil. To replicate an authentic Shopska Salad taste, stick with sunflower oil.
Salt: A pinch or two enhances the salad's natural flavors. Adjust the quantity to your preference.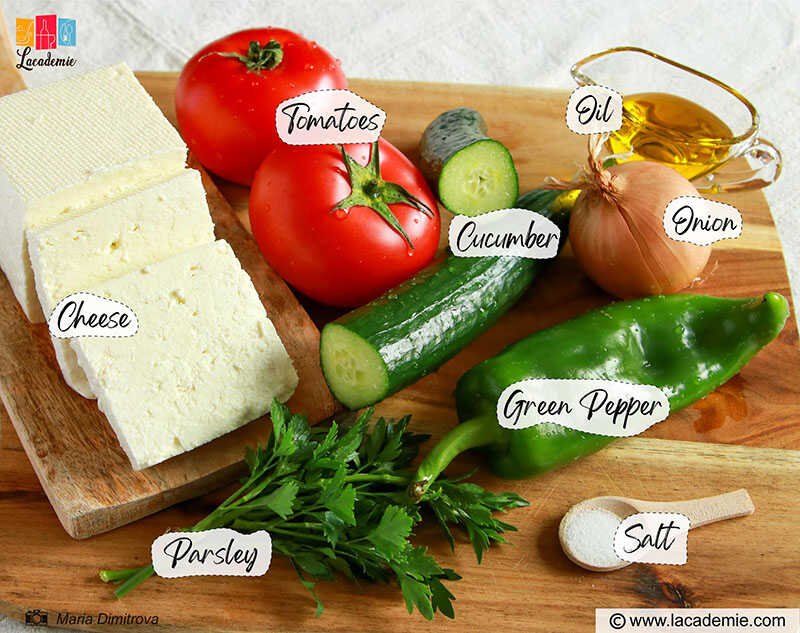 Instructions
Step 1: Prepare The Ingredients
Start off by giving all your vegetables a thorough rinse, and then pat them dry. Take your tomatoes, slice them into wedges and further cut each wedge into two or three pieces for bite-size goodness.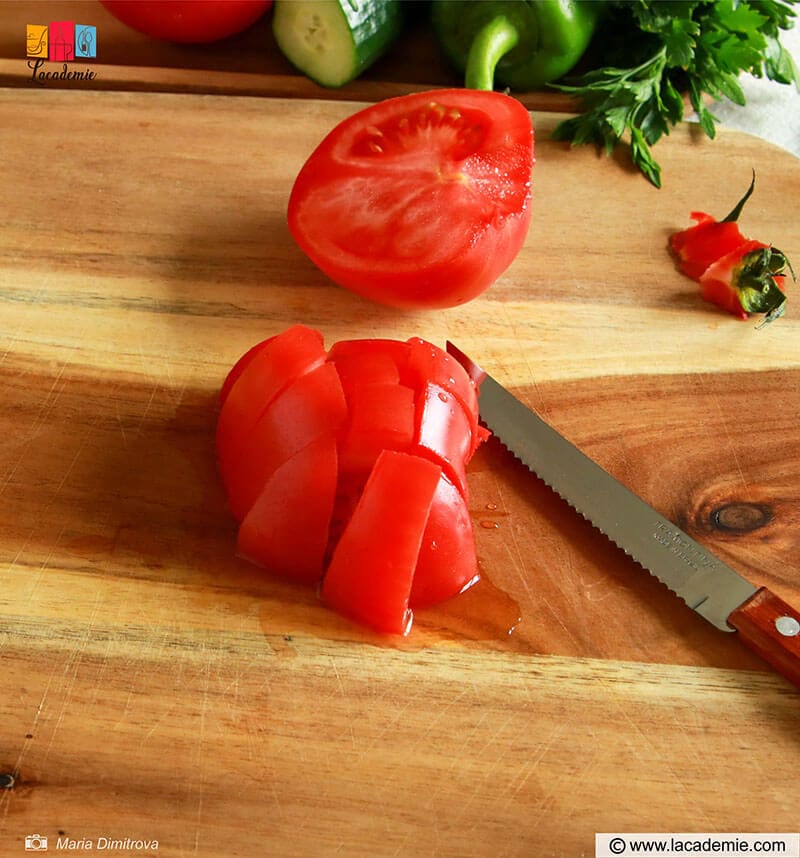 For the cucumber, use your kitchen peeler to strip off the skin. Cut it in half lengthwise and then slice it into thin half-moons. As you slice your tomatoes and cucumbers, transfer them into a large bowl.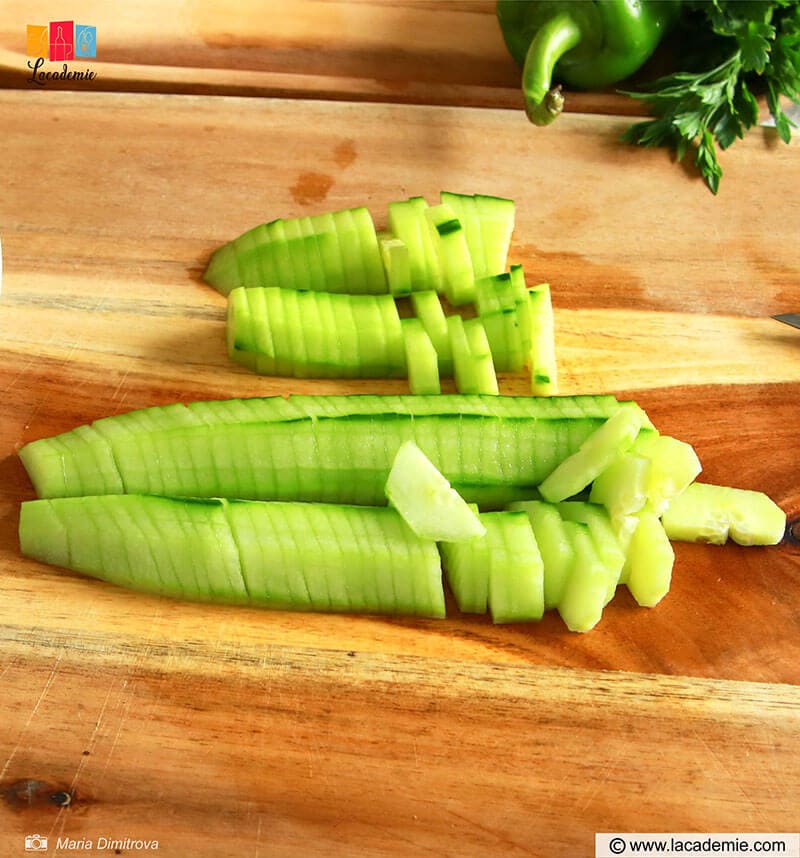 Next, tackle the green pepper. Remove the stem and seeds before slicing it into thin strips.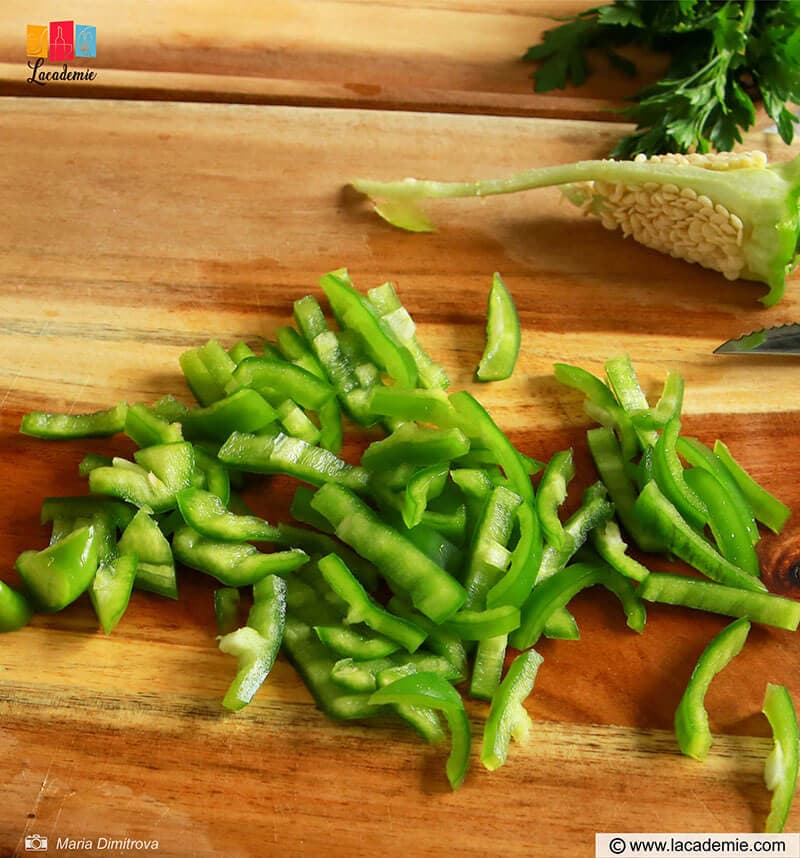 Step 2: Assemble The Salad
Peel and thinly slice your brown onion. Chop your parsley finely and toss it in the bowl with the rest of the vegetables.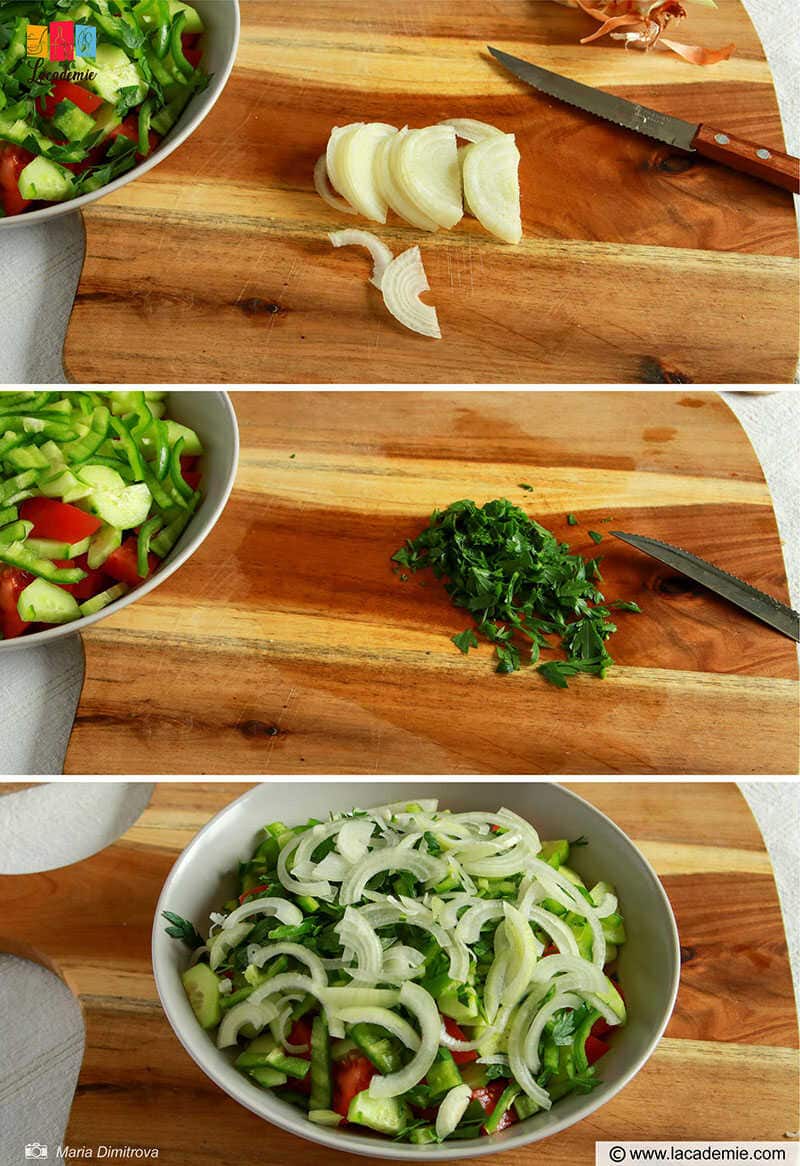 Drizzle some oil over your salad and sprinkle a bit of salt for seasoning. Mix the vegetables gently, making sure they're well-coated with the oil and salt.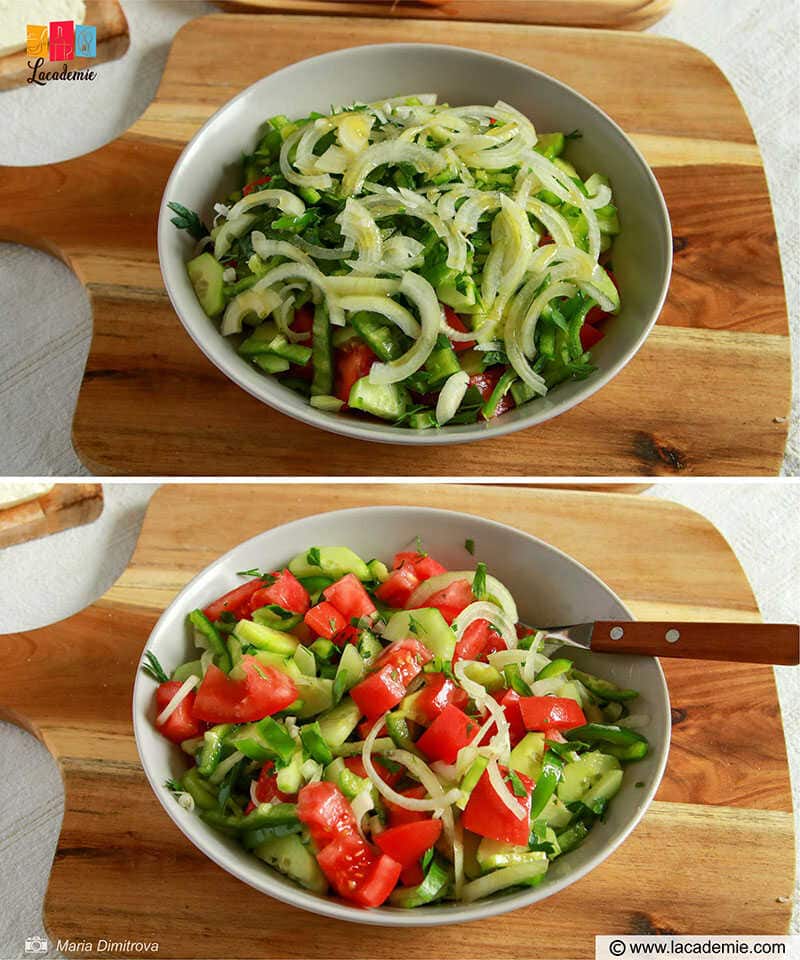 Step 3: Finishing Touches
Time for the final touches! Plate your salad and grate the cheese over it, letting it fall directly onto the veggies. It's like a delicious snowfall of cheese!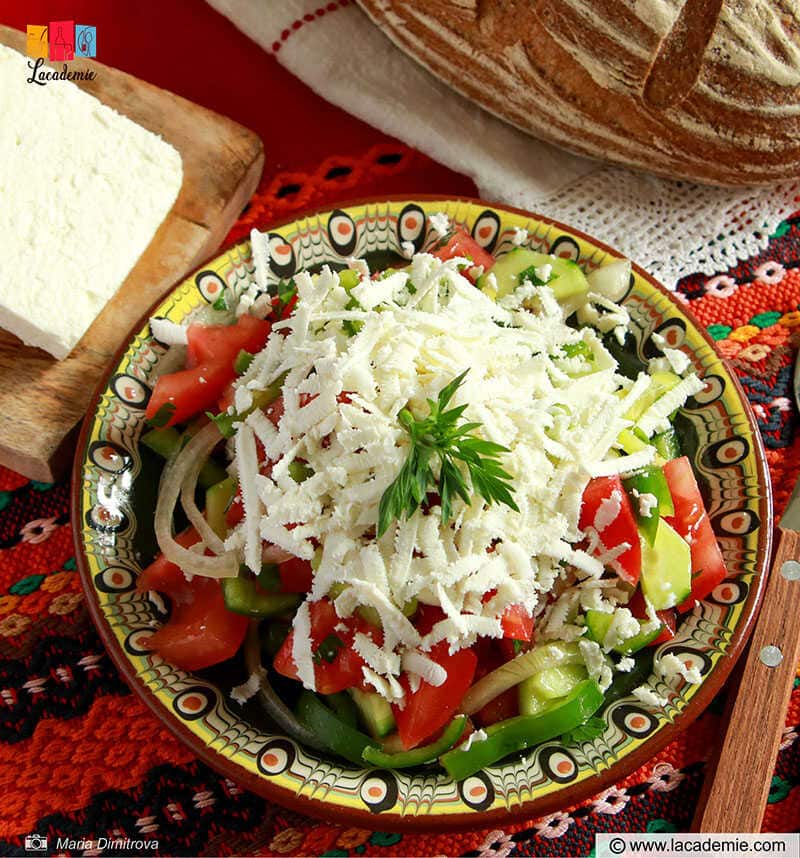 Serve your Shopska Salad immediately. If you're in the mood for a little extra garnish, feel free to add some more parsley on top. Enjoy your refreshing Bulgarian treat!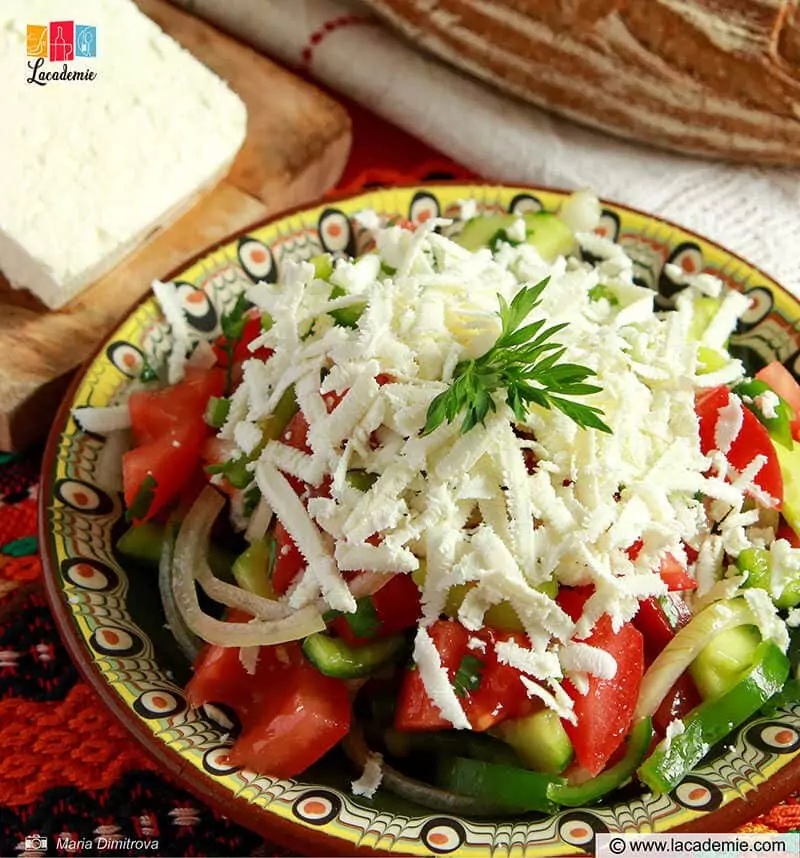 Tips And Tricks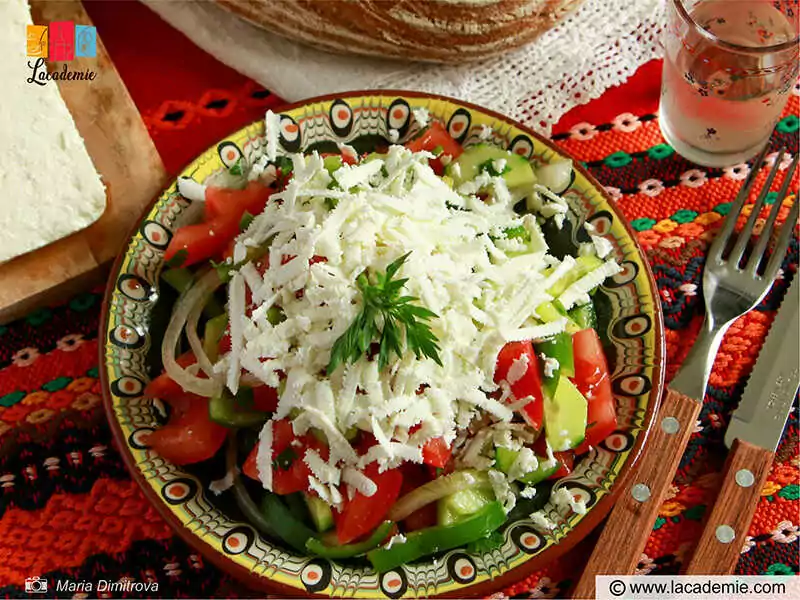 Maintain a crisp and refreshing texture by keeping your ingredients in the fridge until prep time. For an added cooling effect, give them a quick chill in the freezer.
Traditional Sirene cheese can be replaced with Bulgarian feta or any firm, grateable feta cheese for a twist.
Offer an array of flavor enhancers like balsamic or red wine vinegar, olive oil, salt, and fresh parsley. This way, each diner can personalize their salad to their taste.
Transform this light salad into a substantial meal by incorporating chopped cucumber and diced salami.
How To Serve Shopska Salata
Shopska salad is versatile. As an appetizer, serve it with some hearty bread and a glass of rakia (a fruit brandy, one of Bulgaria's finest beverages) or a cold beer for a complete experience.
When used as a side dish, Shopska salad perfectly complements a variety of meats. The refreshing flavors shine particularly well when paired with steaks, grilled chicken, or any type of pork roast.
For a vegetarian option, use this salad as a filling for wraps, or combine it with your favorite cold cuts for a satisfying sandwich.
The Best Way To Store Your Salad
If you've already assembled your Shopska salad but find yourself with leftovers, store them in an airtight container in the refrigerator. It should keep for a day or so. Keep in mind that the salad may lose some of its crispness over time due to the dressing.
Avoid Freezing: It is not recommended to freeze Shopska salad, as the fresh vegetables and cheese can become mushy and lose their texture when thawed.
Give These Bulgarian Recipes A Try!
Meshana Skara: This translates to "mixed grill," a meat platter combining various types of meats like pork, chicken, and lamb. Each meat piece is seasoned and grilled to perfection.
Kebapche: A staple in Bulgarian cuisine, Kebapche is a grilled dish made from minced meat mixed with spices, shaped into a cylindrical form. Served alongside Shopska Salad and Fries, it makes for a hearty meal.
Supa Topcheta: This is 'soup with meatballs' in English, and it's a popular comfort food in Bulgaria. It includes a flavorful broth filled with bite-sized meatballs, vegetables, and herbs.
Parlenka: Parlenka is a traditional Bulgarian bread, often served alongside main dishes. It's made from a simple dough, but the result is a beautifully fluffy, slightly crusty bread perfect for soaking up the rich flavors of Bulgarian cuisine.
FAQs
Embracing The Tastiness Of Shopska Salata
Shopska Salata is a simple yet mouth-watering introduction to Bulgarian cuisine. This refreshing salad is an unmissable treat that's perfect for any occasion, especially in the summer.
If you loved this recipe or have any suggestions or queries, please do share them in the comments. And if you found this post useful, please hit the like button and share it with your friends and family. Let's introduce more people to the magic of Bulgarian cuisine!
Nutrition Facts
2 servings per container
---
Amount Per ServingCalories446
% Daily Value *
Total Fat 37.5g

57

%
Cholesterol 67mg

23

%
Sodium 849mg

36

%
Potassium 704mg

21

%
Total Carbohydrate 18.6g

6

%

Dietary Fiber 3.8g

12

%
Sugars 11.4g

Protein 13.5g

26

%
---
* The % Daily Value tells you how much a nutrient in a serving of food contributes to a daily diet. 2,000 calories a day is used for general nutrition advice.