Savory Vietnamese crepes are one of many delicious dishes that prove how fine the line between snacks and the main course is. You can have them for breakfast or lunch while munching on a few crepes for a delicious bite between meals is also a fantastic idea.
Those crepes will stimulate your appetite through the suggestive sizzling sound and rich fragrance they emit during the cooking process. Then their brilliant golden color, nicely adorned with the verdant hue of green vegetables, will make you want to sink your teeth into them right away.
Finally, touch the warm and smooth skin of a crepe and let its wonderful combination of aromatic starch, savory proteins, and delicious dipping sauces seduce you into complete enjoyment. Scroll down to learn how to cook and succumb to this mouth-watering temptation!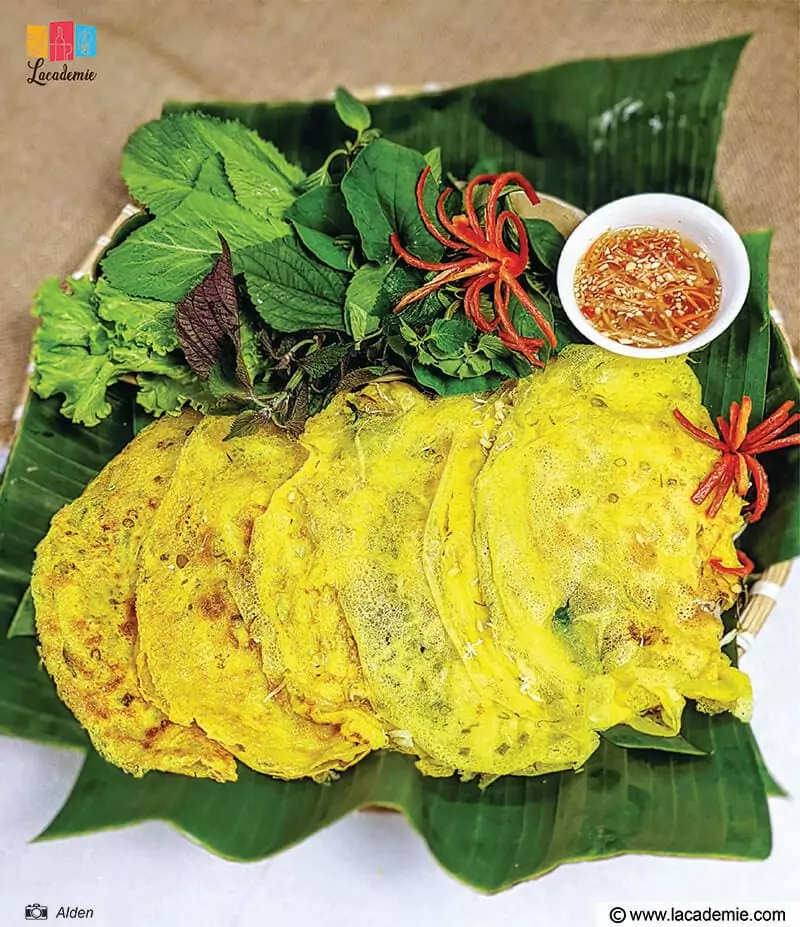 Do You Know These Things About Savory Vietnamese Crepes?
While the English translation of this Vietnamese staple may remind you of a French dish, Bánh Xèo is an authentic Vietnamese dish. It originated in the central region of the country many centuries ago, although the exact birthplace and inspirations for this dish are rather murky.
Its local name stems from the sizzling sound made when the rice batter hits the hot skillet. A good Vietnamese crepe should be firm yet thin enough to fold over the rich stuffings of pork, prawns, and mung beans. Fresh herbs and flavorful dipping sauces are their essential garnishes.
In Central Vietnam, locals often cook small crepes about 10 – 15 centimeters (4 – 6 inches) in diameter. In other parts of the country, such as the Mekong River Delta, people prefer to increase their size. Meanwhile, people in the north don't use coconut milk or eggs in the batter.
From Vietnam's central region, this dish has spread to all corners of the country (and probably the world as well). It is particularly suitable for communal meals or potluck parties. Vietnamese people love to make a large batch of those crepes for family gatherings or intimate meetings.
Tools
You may have to buy some of the following kitchen gadgets to make savory Vietnamese crepes or use different tools with the same function. It's all up to you.
Skillet: for cooking the crepes. A non-stick skillet is excellent for reducing clean-up after cooking. You should choose one with a suitable size, depending on how big you want your crepes to be. But a large skillet will allow you more room to handle the crepes.
Cooking pot: for containing the rice batter. You can use any container with a suitable size for this task; the bigger, the better.
Soup ladle: for pouring the rice batter into the skillet to form each crepe.
Spatula and spoon spatula: for removing the crepe after cooking it. A silicone or bamboo spatula works well with a non-stick skillet.
Chopping board and knife: for preparing the ingredients for the filling.
Whisk: for mixing the rice batter.
Lemon squeezer: an optional tool to get lime juice out of the fruit.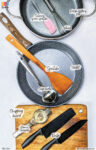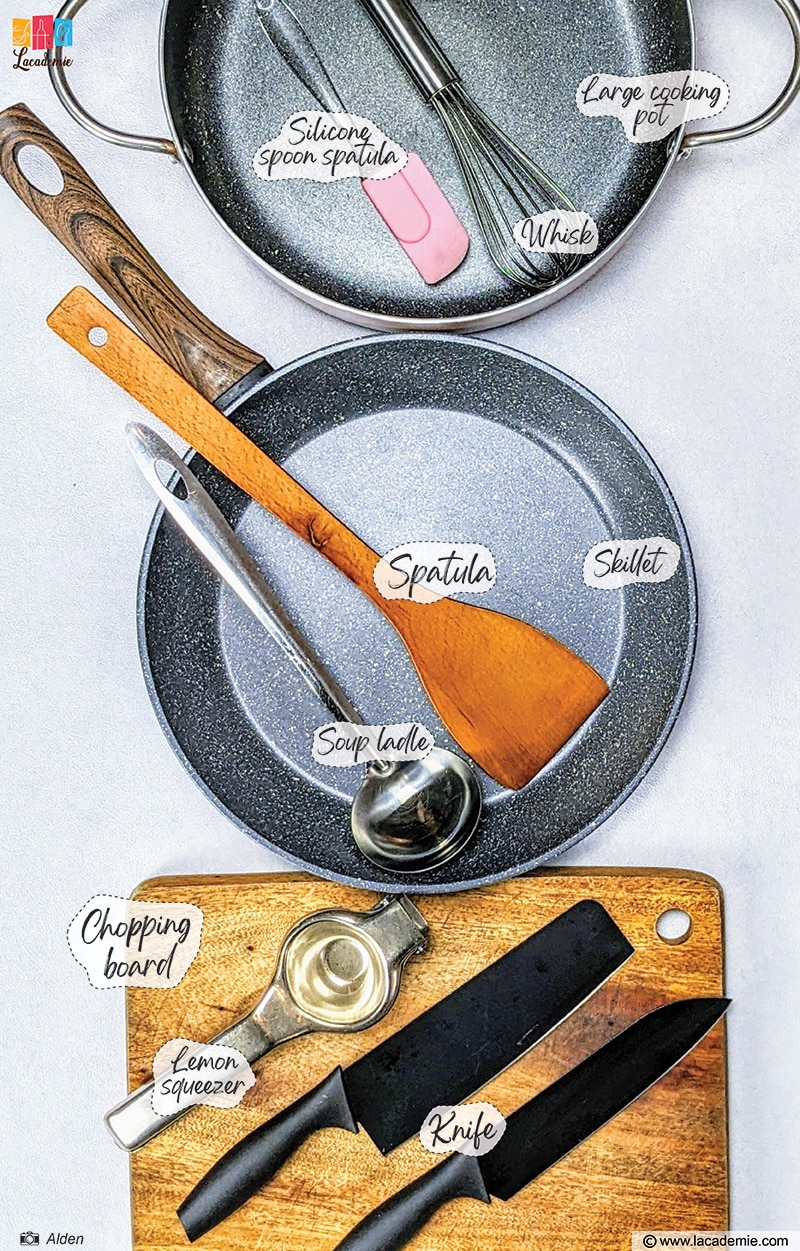 Ingredients
These crepes have more things than just rice batter and meat. There are a considerable number of condiments and veggies you should gather to prepare the best Vietnamese crepes.
Rice flour: This recipe will show you how to make the rice batter for this dish from scratch, starting with choosing rice flour milled directly from the grains and mixed with nothing else. In Vietnam, locals like to use rice flour that is a little old for the best consistency.
You can cut down on preparation time (and have less flexibility) by buying commercial crepe batter. It is usually available at Asian or Vietnamese food stores (labeled as "bột bánh xèo" in Vietnamese). In that case, you only need to mix it with water according to the instructions on the package.
Coconut milk: for making the rice batter richer and fattier. If you prepare the crepes with commercial batter, omit this ingredient.
Soy milk: Add this ingredient to the rice batter to increase the crispness of the crepes. Interestingly, you can replace it with beer for the same effect.
Turmeric powder: This spice is responsible for the iconic golden color and the faint fragrance of savory Vietnamese crepes. Premade crepe batter already has this ingredient.
Olive oil: for keeping the rice batter moist and cooking the crepes.
Pork: The traditional version always uses belly pork for a nice blend of meat and pork fat. You can substitute it with less fatty cuts of meat to cut down on calories.
Prawns: I recommend small- to medium-sized tiger prawns or white shrimp. Big prawns should be cut in half. To turn this recipe into a vegetarian-friendly dish, you can replace pork and prawns with sliced tofu.
Yam beans: for adding more flavors to the filling.
Onions: for adding more flavors to the filling.
Mung beans: Some recipes do without this ingredient, but you should keep it to experience the full flavor of savory Vietnamese crepes. The mung beans should be shelled beforehand.
Shredded coconut meat: contributes a more diverse texture and some rich undertones to the filling.
Bean sprouts: the traditional garnish for savory Vietnamese crepes.
Enoki mushrooms: for adding more flavors to the filling.
Carrot and white radish: Choose baby-sized veggies for making the dipping sauce.
Spice and seasoning: for flavoring the rice batter and making the dipping sauce. You need salt, brown sugar, black pepper, chopped shallots, scallion, Vietnamese fish sauce, lime juice, fresh chili, garlic, etc.
Veggie side: lettuce, mustard greens, fish mint, Vietnamese balm, sweet basil, peppermint, etc.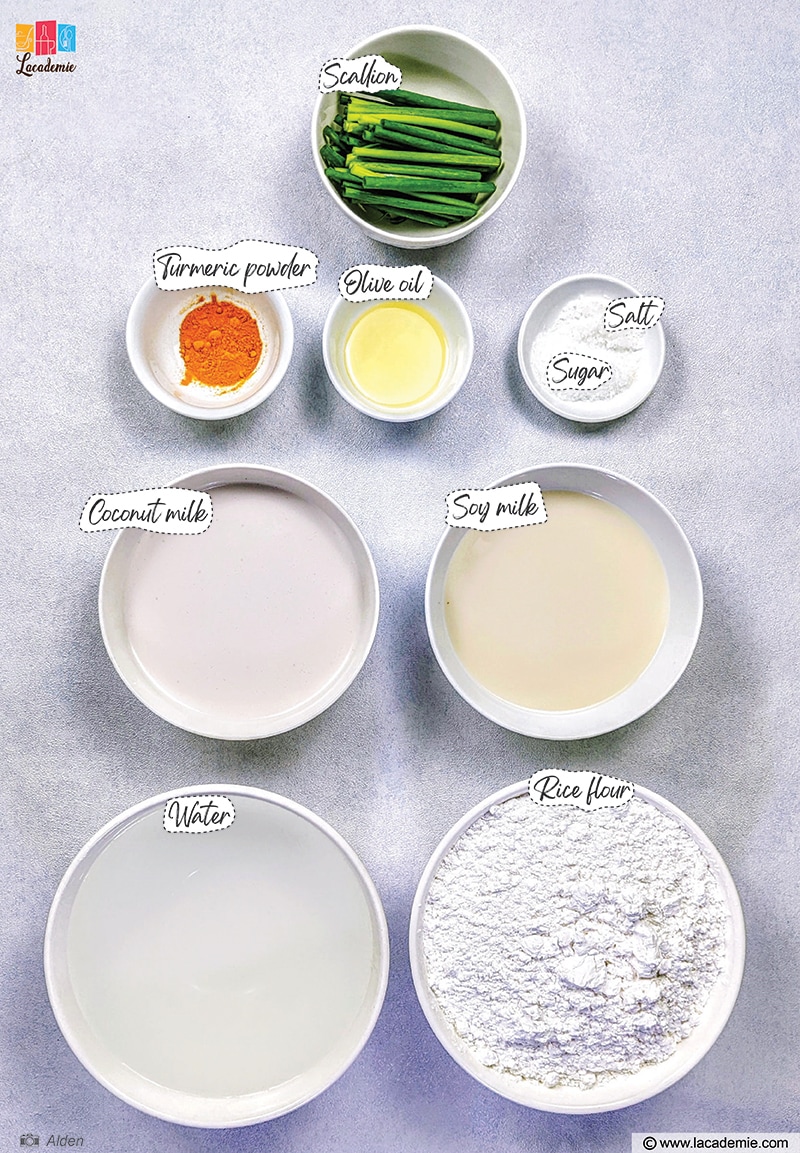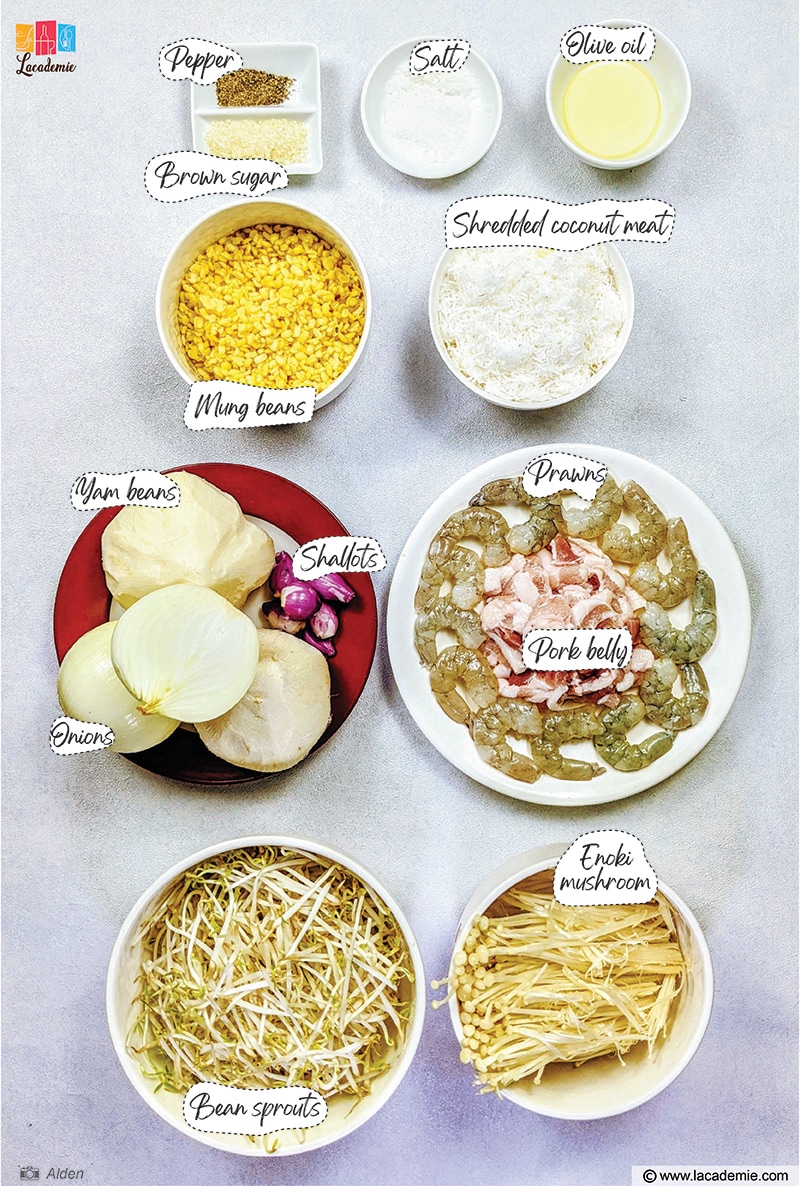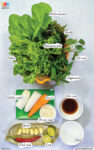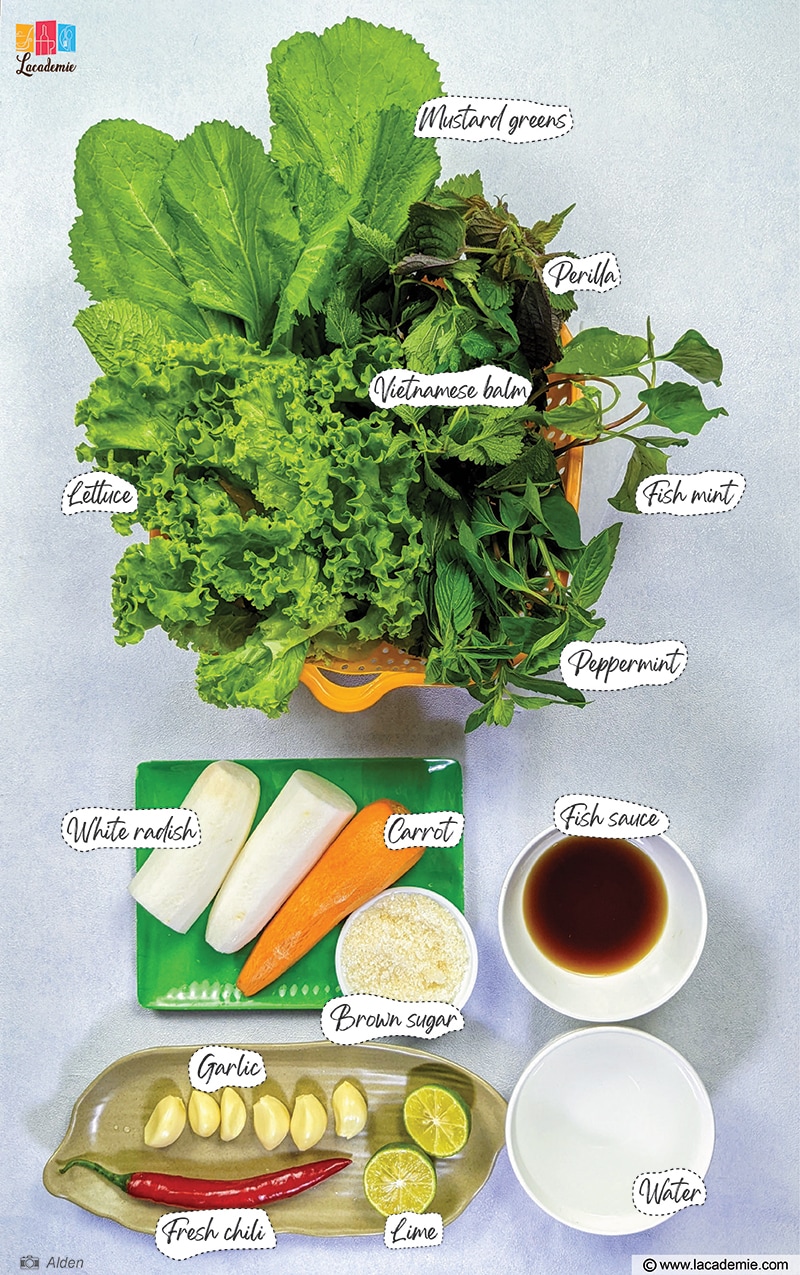 Instructions
Don't hesitate to ask your family members to help with making those crepes. They are meant for a family meal, after all. While those steps aren't difficult, there is plenty of work to do.
Step 1: Prepare The Ingredients For The Sauce And The Filling
Finely chop scallion and shallots. Cut the yam beans and onion into long thin pieces.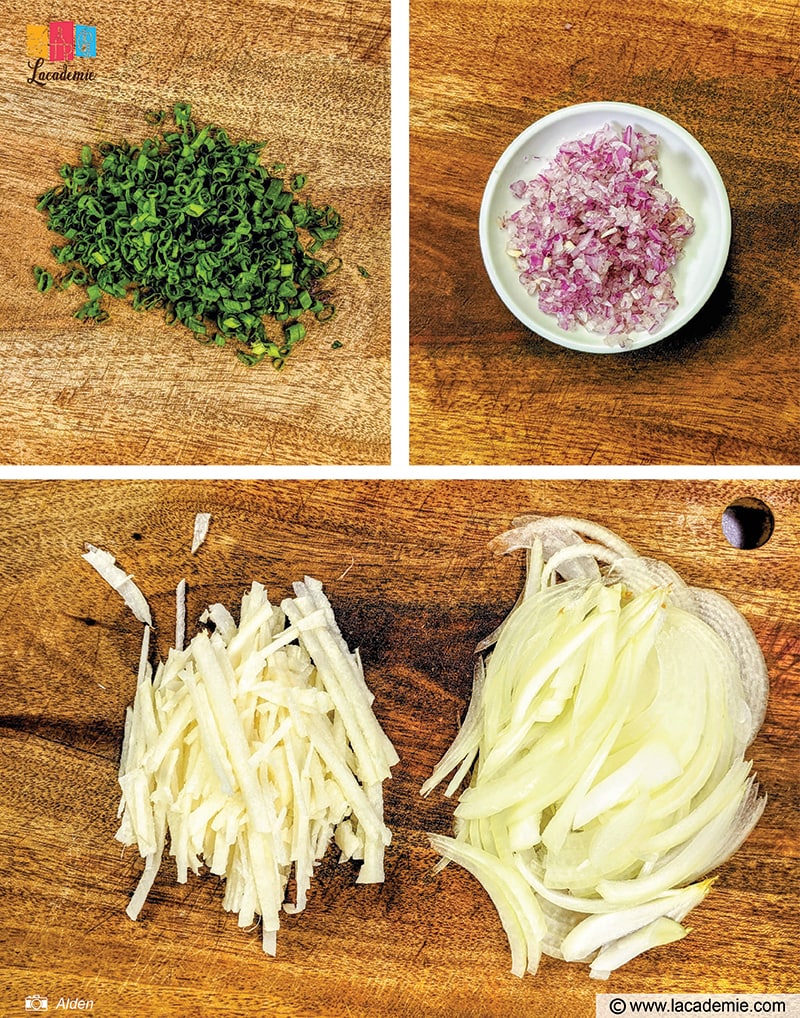 Julienne the carrot and white radish, then mix with a teaspoon of sugar and leave the veggie undisturbed for 15 – 20 minutes.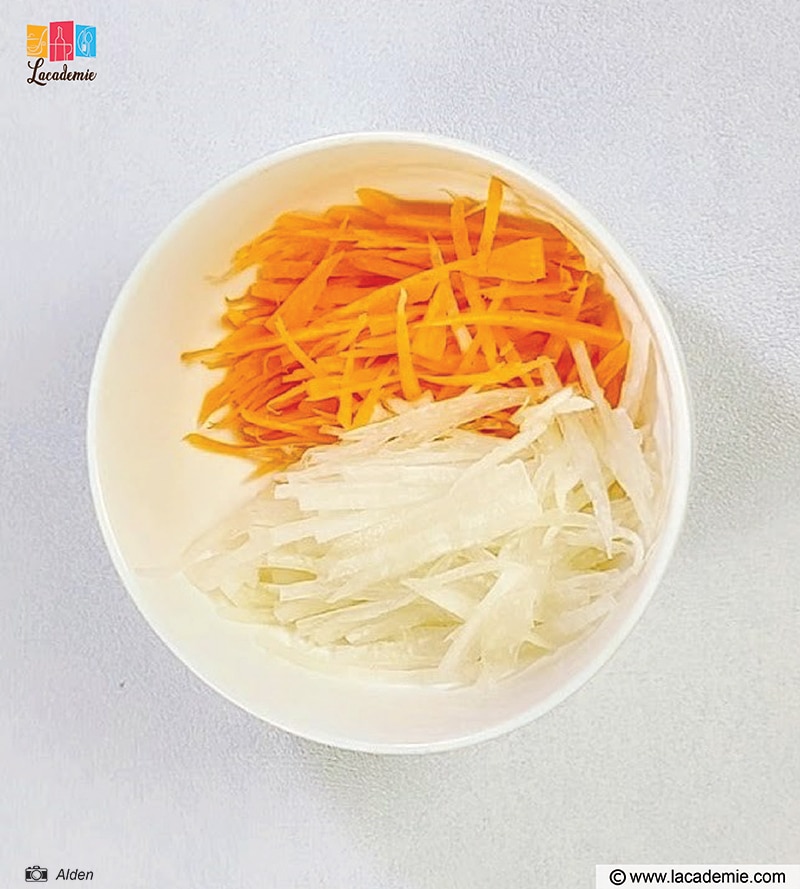 Cut pork belly into slices of your desired width. Marinate it with a mixture of ¼ tablespoon of salt, ¾ tablespoon of sugar, ½ teaspoon of black pepper, and ½ tablespoon of chopped shallots.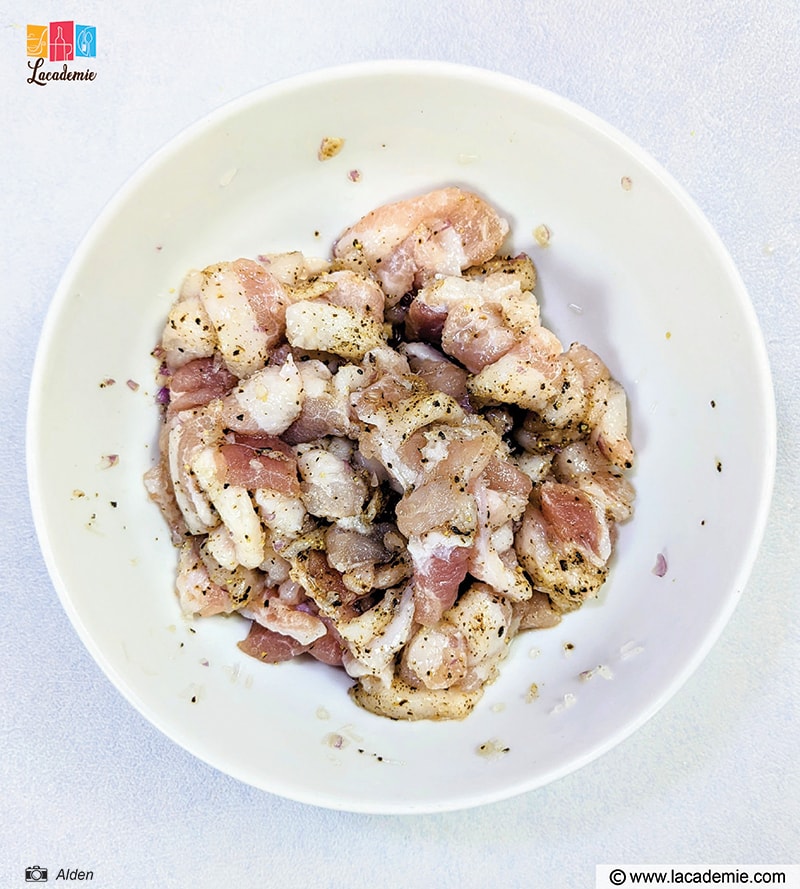 Soak mung beans in water for 1 hour before cooking them. Mix coconut meat and cooked mung beans together.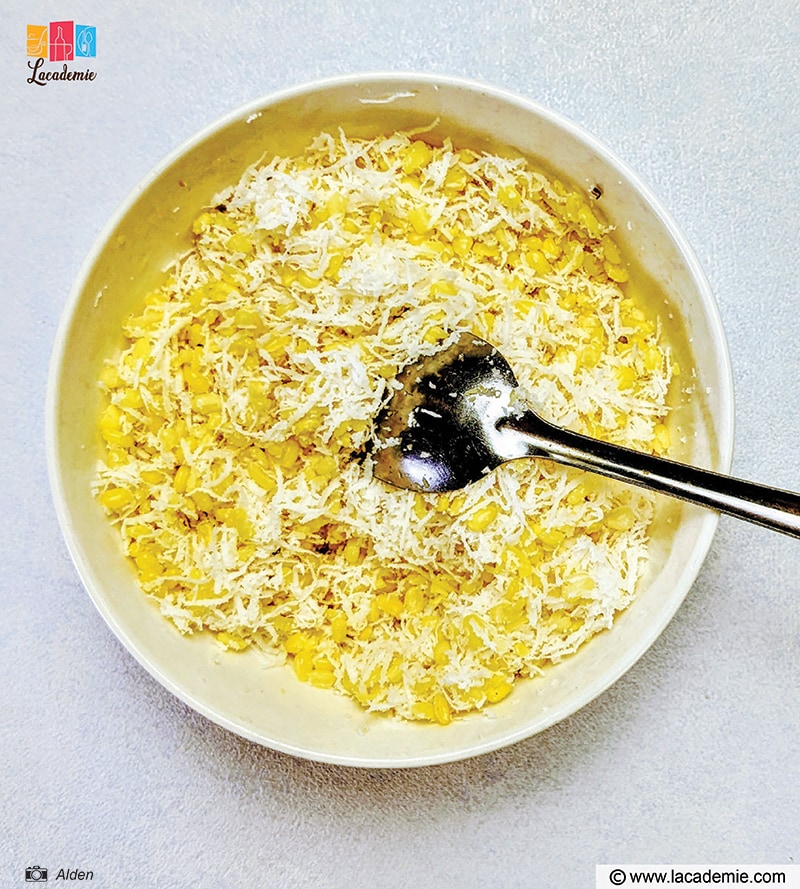 Step 2: Prepare The Filling
Heat the skillet with olive oil. Add chopped shallots and saute until fragrant, then add pork belly slices to the skillet and cook until the meat firms up. Add prawns and stir well for a few minutes. Set aside.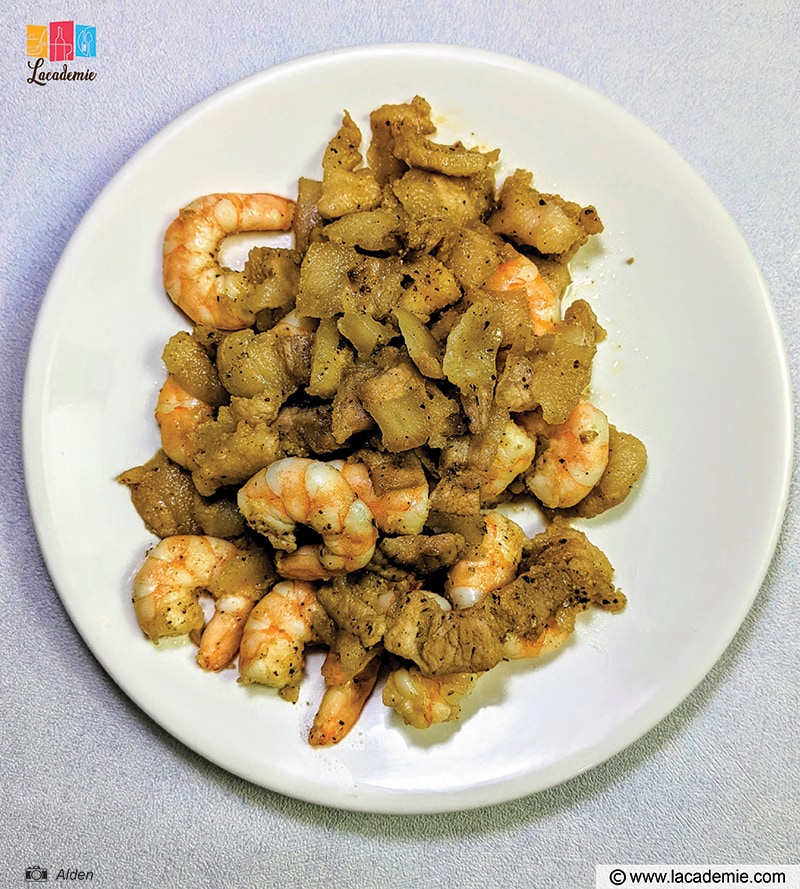 Saute julienned yam beans for 1 -2 minutes, then add enoki mushrooms, onions, and seasoning to taste. Cook until the veggies reach your desired level of doneness.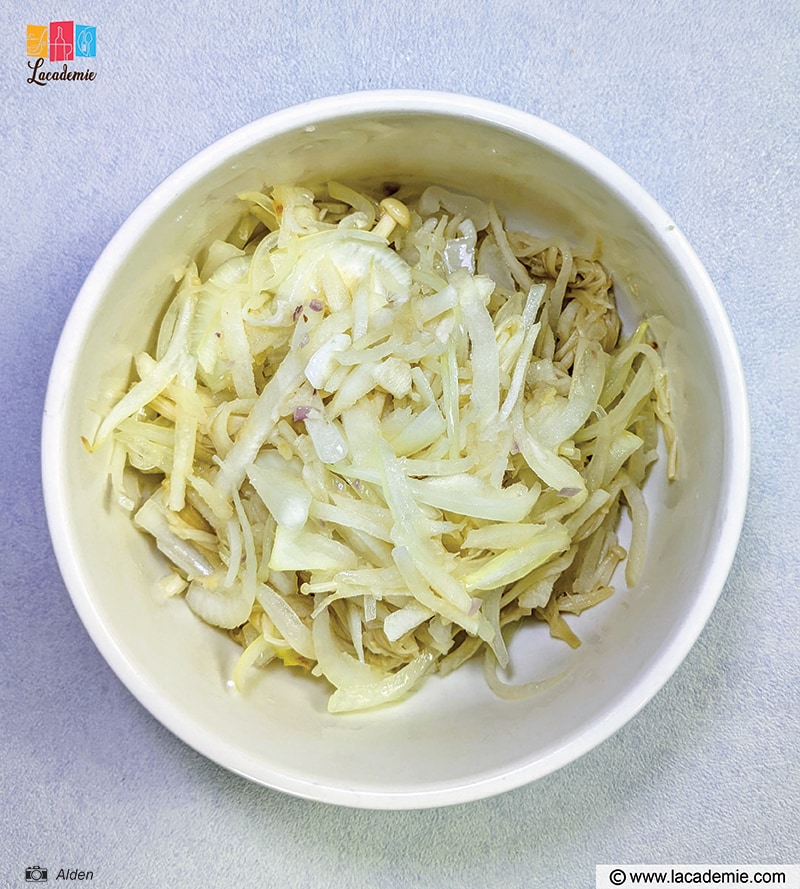 Step 3: Prepare The Rice Batter
In a large pot, mix rice flour, turmeric powder, and seasoning. Then, add soy milk and coconut milk to the blend. Stir well until the mixture becomes smooth and no longer lumpy. You should do the stirring fast and in the same direction.
Add some oil and chopped scallion to the batter before letting it rest in the fridge for 30 – 60 minutes.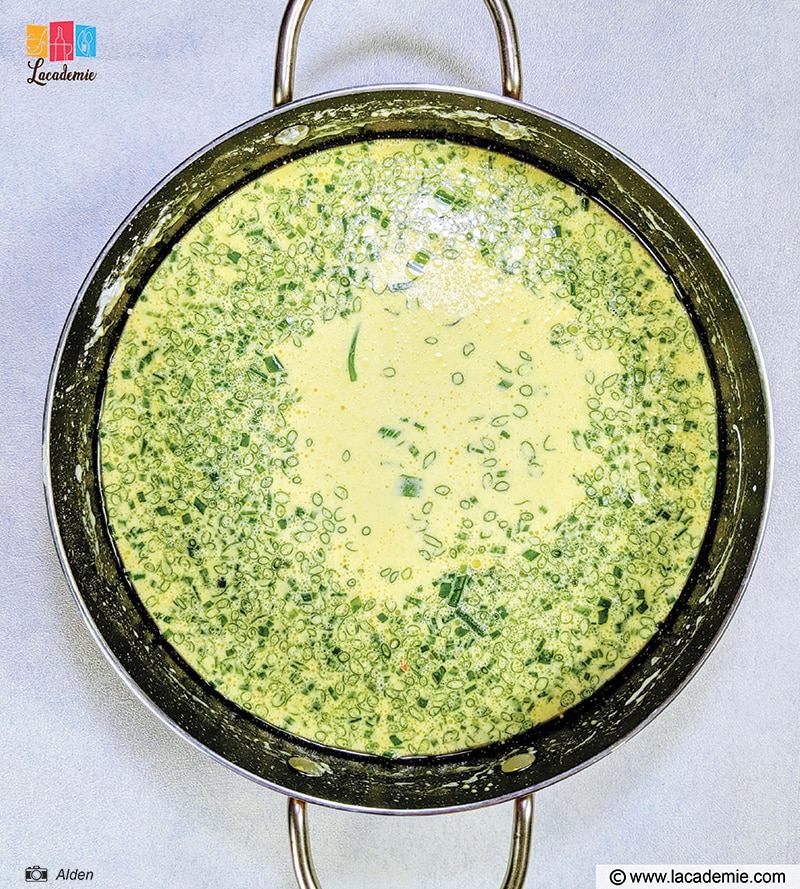 Step 4: Cook The Crepes
Heat the skillet with some olive oil.
For each crepe, pour two ladlefuls of batter into the skillet (you can increase or decrease the amount based on the size of the pan). Spread the batter evenly to create a perfect circle by tilting and rotating the skillet.
Add mung beans, pork, prawns, and the enoki mushroom mixture on top of the crepe. Close the lid and wait for 3 – 4 minutes.
Remove the lid. If the crepe is crispy and golden on both sides, fold it in half. Transfer the crepe to a plate and repeat the process until the batter runs out.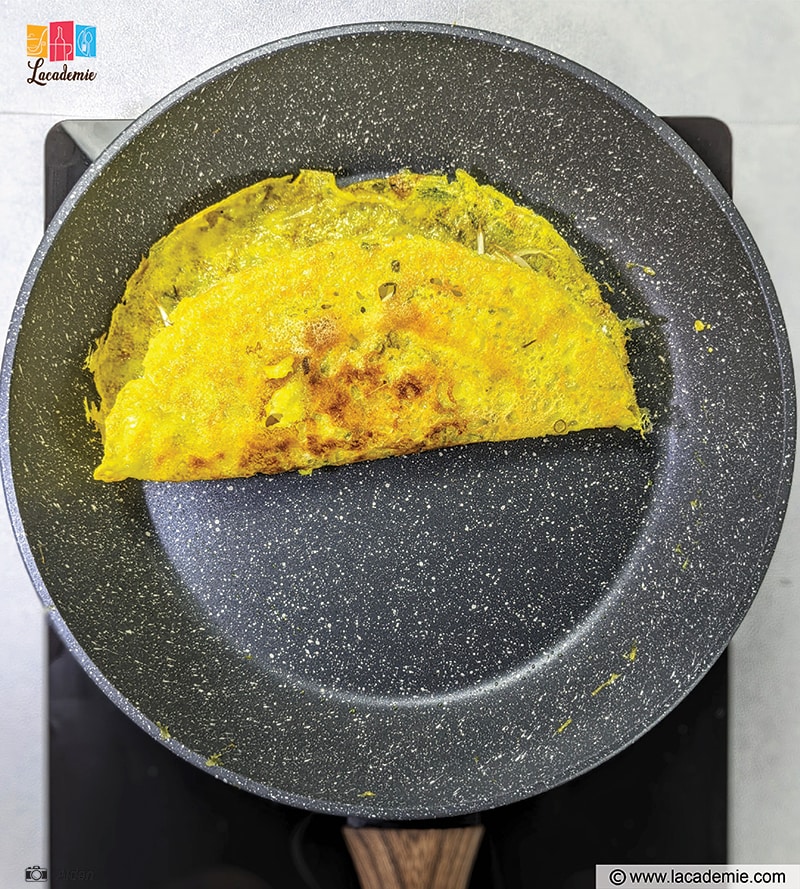 Step 5: Prepare The Dipping Sauce
Mince garlic and fresh chili.
Mix warm water, fish sauce, brown sugar, and lime juice. Stir until they are well blended with each other.
Stir the mixture with minced garlic and chili, then add marinated carrots and white radishes.
Step 6: Serve And Enjoy
Roll each crepe with fresh herbs and greens, then dip it in the sauce. You can also serve the combo with some rice paper wraps.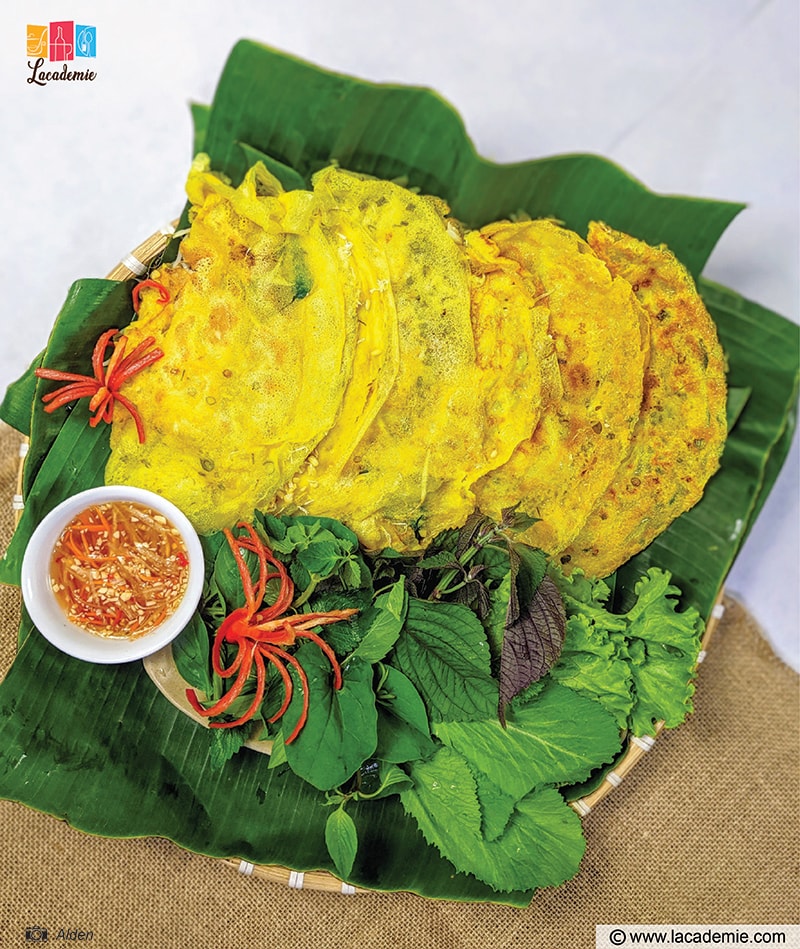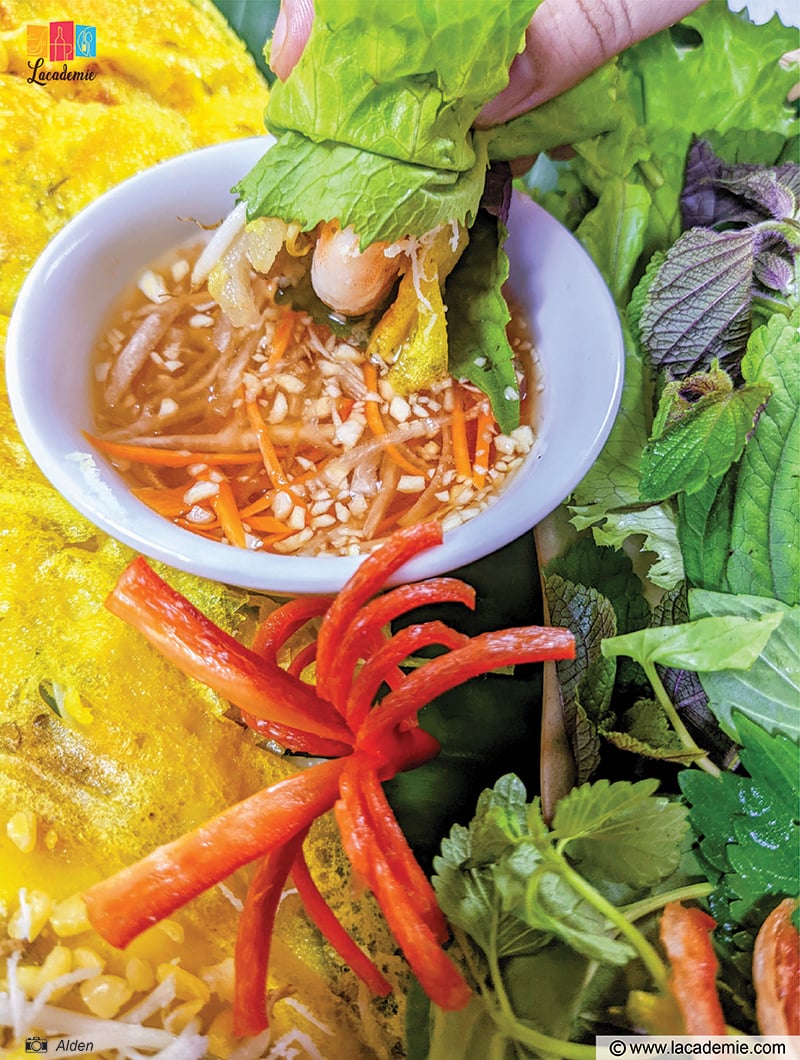 Tips And Tricks
Pay attention to the following details to create the best Vietnamese crepes that can dazzle your friends and loved ones:
Don't overcook mung beans or add too much water, or the filling may turn out mushy.
Ensure that the skillet is always hot during the cooking process.
Vietnamese crepes are best served hot right away. But if you want to save them for later, place them on greaseproof paper or similar material to drain excess oil.
You can either deshell prawns or leave their outer shells on.
Only add minced garlic and fresh chili to the dipping sauce at the end so that they can float on top and give your sauce a more appealing look.
Add just enough turmeric powder to the batter for a beautiful yellow color.
The batter should follow the correct ratio of water and flour to achieve the consistency suitable for creating firm and well-shaped crepes in the skillet.
The crepes will taste creamier if you add several egg yolks to the batter. But don't let the flour mix with the whites, or the crepes will soften more quickly.
You can refrigerate the crepe batter in an airtight container for up to a week. But if it contains egg yolks, the storage time can be a few days shorter. Freshly made crepes and their dipping sauces can stay good in the same condition for 3 days. The crepes can be frozen for 3 months.
Discover Vietnamese Cuisine With These Savory Crepes
From the moment that the rice batter hits the hot frying pan and produces a hissing sound, you know that you're in for a wonderful treat. But I assure you that not until your taste buds kiss those savory bites can you fully realize how many tantalizing sensations are waiting for you to discover.
Once you have a taste of this seductive delicacy, will you help introduce this post to your friends to tell them more about this Vietnamese treat? Feel free to share any ideas or amazing tips you have in the comment section. See you soon in other informative posts!
Nutrition Facts
15 servings per container
---
Amount Per ServingCalories284
% Daily Value *
Total Fat 9.2g

14

%
Cholesterol 89mg

30

%
Sodium 980mg

41

%
Potassium 311mg

9

%
Total Carbohydrate 29g

10

%

Dietary Fiber 3.3g

12

%
Sugars 5.2g

Protein 20.4g

40

%
---
Calcium

53

%
Iron

2

%
Vitamin D

48

%
* The % Daily Value tells you how much a nutrient in a serving of food contributes to a daily diet. 2,000 calories a day is used for general nutrition advice.