The French are as enthusiastic about French drinks as they are about their cuisine, language, art, and history. Their wine culture is genuinely awe-inspiring, but many other classic liqueurs and cocktails are waiting to be explored.
If you've visited France or dined with French friends, you may have come across several unique and exciting local beverages. And yes, some of the drinks in this list might be unfamiliar to you, but that is the beauty of learning about a new culture – to learn new things.
So don't waste another second, let's have a tour around all of France's famous regions to know more about these special drinks.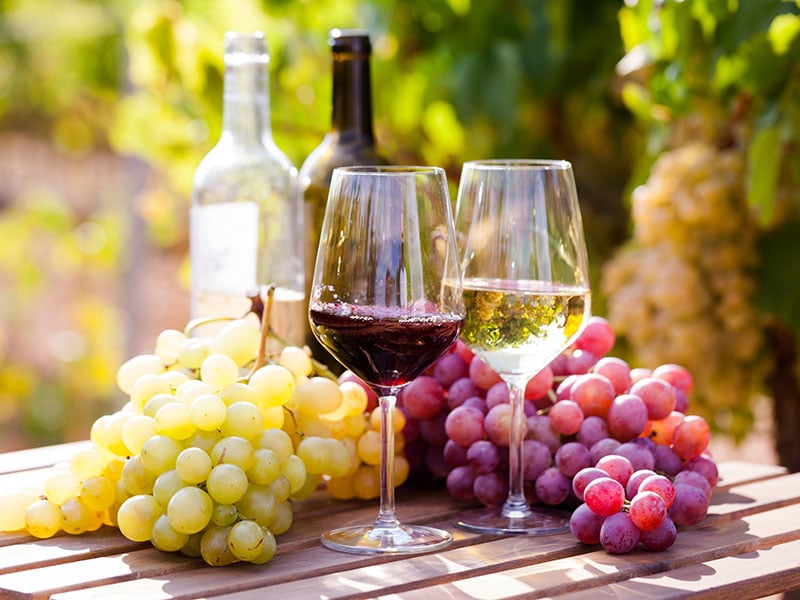 French Apéritifs to Pair with Your Meals
French Apéritifs, the pre-dinner alcoholic beverages, hold a special place in the cultural traditions of Paris and France at large. For those in search of a refreshing, boozy accompaniment to elevate their exquisite French dishes, this section is tailored just for you. These drinks are also a splendid match with savory snacks.
1. Calvados
Alcoholic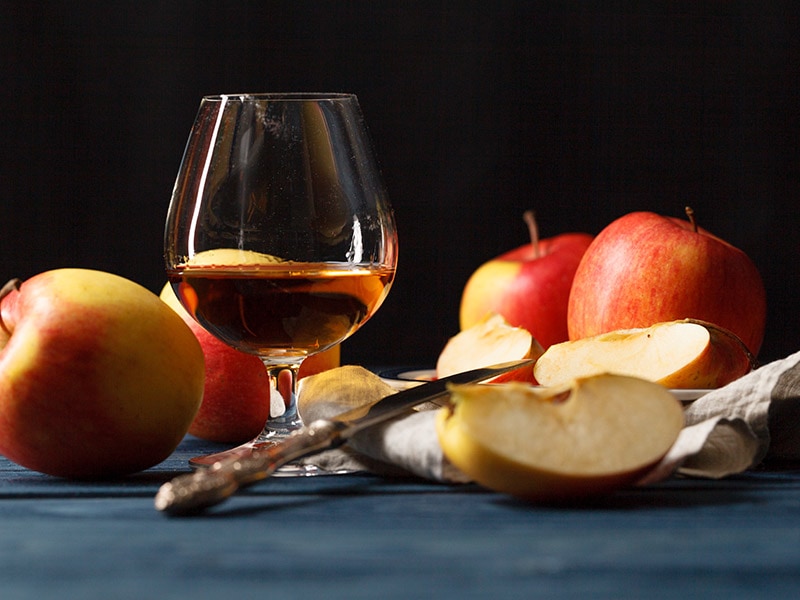 Calvados, often nicknamed Calva, is an appellation-controlled apple brandy from the Normandy area in Northwest France. Historically, this area has been linked with apples and apple cider, but the late 1800s phylloxera virus dealt a devastating blow to the industry.
The fermented juice of apples (sometimes with pears) is often double distilled as a base for the brandy to make this drink. After aging for 2 years in oak casks, it is ready to be sold. The maturation can go on for several years.
Calvados is separated into three sub-regions with slight differences in the distillation method, base ingredient, and terroir. You can drink Calvados before or after dinner; some even drink it with coffee and pair it with different sweet treats.
Where to find it: In any bar and pub across France. I recommend trying estate-grown producers Manoir de Montreuil and Camut.
2. Suze
Alcoholic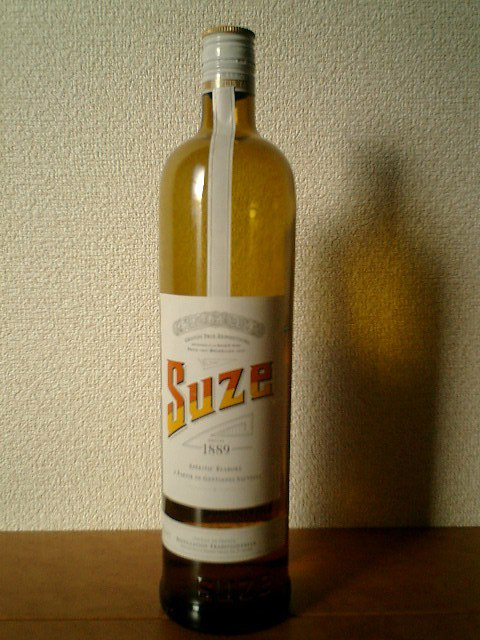 Suze is a refreshingly bitter French apéritif made from gentian root – a popular cocktails' bitter agent, which grows in the Swiss and French Alps. This drink first made its appearance under the name Picotin in 1889 during the Paris World Fair.
In 1898, the name was changed to Suze, which might be tied to the creator's sister-in-law Susanne Jaspert or the Suze River in Switzerland (where the creator purchased the recipe).
This gentian-based booze works well in cocktails. However, the locals also love to enjoy a glass of Suze without any mixed drinks before or after dinner.
Where to find it: In any bar and pub across France.
3. Byrrh
Alcoholic
This fruity aromatized apéritif contains a port-like wine and mistelle base with natural quinine. First introduced in 1866 and became a trademark in 1873, Byrrh sold successfully in the early 20th century thanks to its marketing and reputation as a "hygienic drink".
Despite its popularity, Byrrh still had its ups and downs. Byrrh's downfall began with the Second World War when natural sweet wines such as Banyuls, Muscat de Frontignan, and Rivesaltes made this drink fall out of favor.
Pernod-Ricard bought the family firm in 1977 and continues to make it at its facility in Thuir. Nowadays, this drink is still widely enjoyed, typically on the rocks with an orange twist or a dash of soda.
Where to find it: In any bar and pub across France.
4. Kir
Alcoholic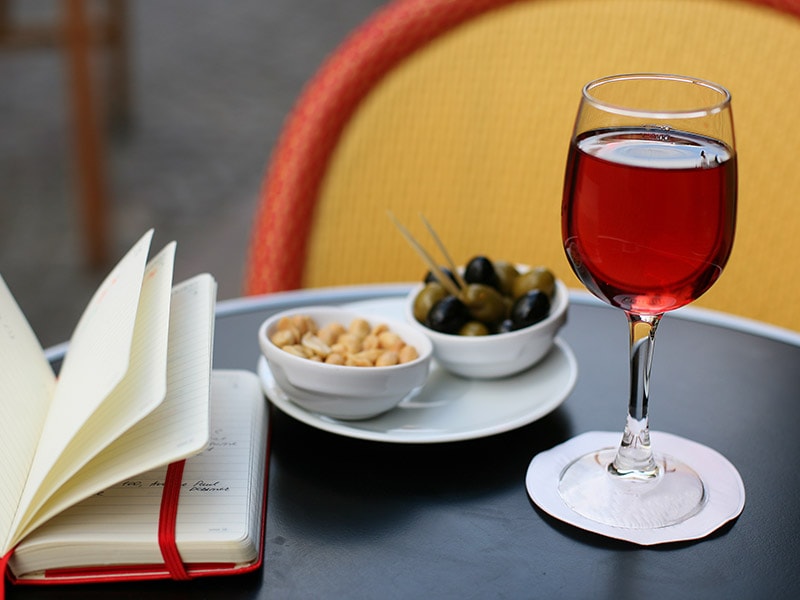 Kir is a popular drink prepared with blackcurrant liqueur (often crème de cassis) and white wine. It is usually served as an apéritif before a meal or snack in France.
This drink is named after Felix Kir, a mayor of Dijon in Burgundy, since he was the one who popularized the drink after World War II as part of the twinning movement. Back in the day, the locals used to call it Blanc-Cassis.
Kir is traditionally served in a flute glass with white wines. However, if you substitute Champagne for white wine, it will become Kir Royale – a popular and modern French cocktail.
Where to find it: In any bar, pub, or restaurant across France.
5. Pastis
Alcoholic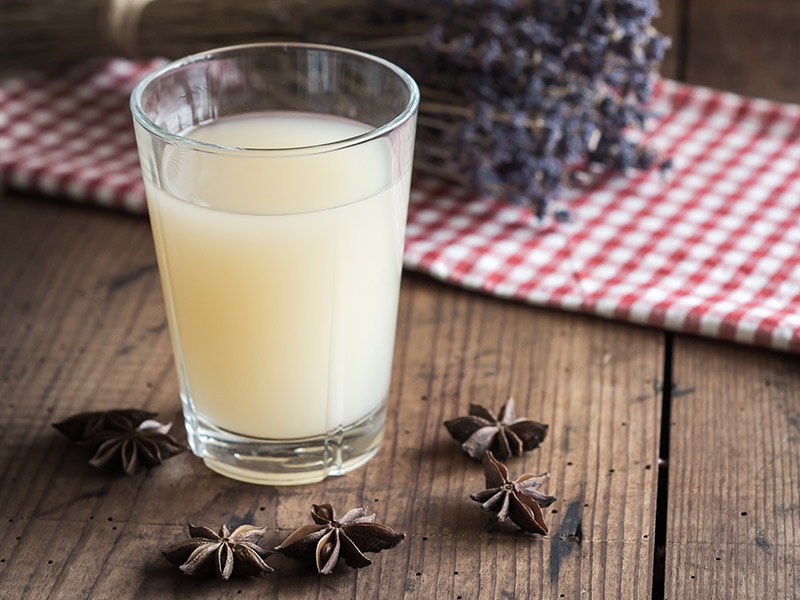 Pastis is created using herbs and spices, including licorice, cinnamon, pepper, as well as the potently sweet star anise to give the drink its distinct flavor. Locals usually dilute Pastis with water (1:5 ratio). Some even have it with ice but this drinking method is less common.
This unique beverage came from the Provençal word pastisson, meaning mixture. Sometimes, the French will call it by nicknames like Pastaga or La Jaune (yellow).
This drink was initially commercialized in 1932 by Paul Ricard, and it has remained popular ever since, particularly in the Marseille and Southeastern areas of the nation. Pastis was created 17 years after the Absinthe ban when the French public was wary of high-proof anise cocktails.
Nowadays, Pastis is not only the country's favorite apéritif, but it's also a significant element in several classic French dishes.
Where to find it: In any bar, pub, and restaurant across France, especially in the city of Marseille and other Southern regions.
6. Lillet
Alcoholic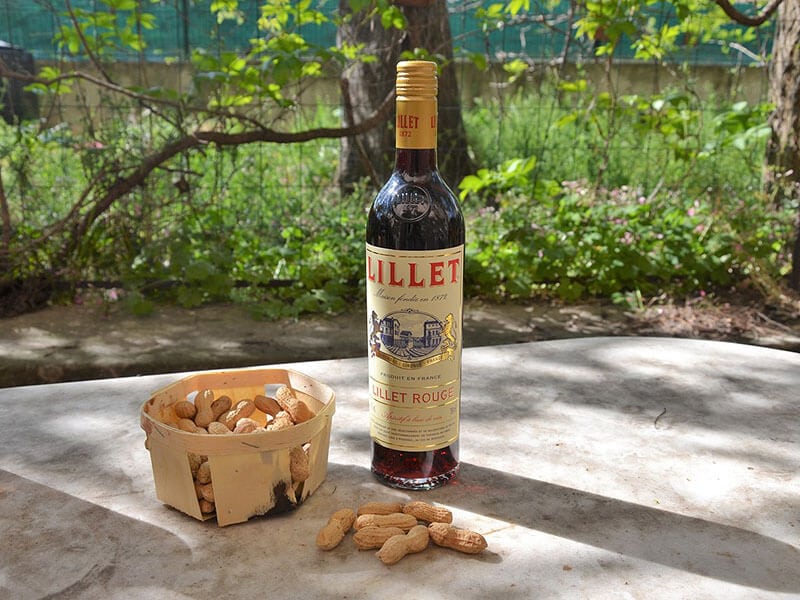 To make this classic fortified wine, the locals will macerate a mixture of French-originated fruits, peels, and barks in neutral alcohol and combine it with wine. Then they will put the final blend in oak barrels and allow it to mature for a couple of months.
Lillet tastes best when chilled. Most bartenders will serve it with ice and an orange slice or lemon peel.
This drink was created in 1872 by the Lillet brothers, who started their firm La Maison Lillet in Podensac (the South of Bordeaux). Bordeaux became one of the most prominent wine-producing regions in Europe throughout this period.
Because it contained quinine liqueur, the drink was first advertised as Kina Lillet. Following its popularity in the US, the firm expanded its distribution to include Lillet Dry, which is more suitable for cocktails. Other varieties of Lillet include Lillet Rouge, Blanc, and Rosé.
Where to find it: In any bar and pub across France.
7. Dubonnet
Alcoholic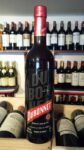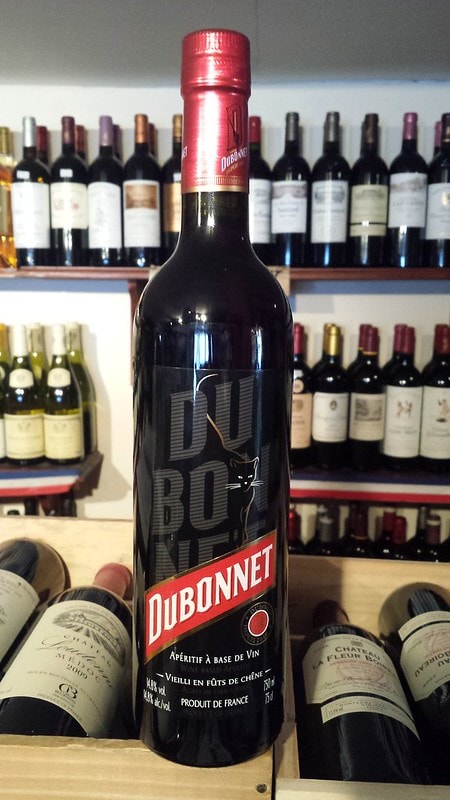 Sir Joseph Dubonnet, a Parisian wine trader, was the one who invented this French quinine-based apéritif in 1846.
To make the signature Dubonnet, this wine merchant mixed fortified red wine with a blend of herbs and spices. At first, he planned to use quinine to make it more palatable for French soldiers.
This drink is also extremely famous in other countries. Dubonnet is even Queen Elizabeth II's favorite cocktail! Apparently, the Queen of England loves to drink Dubonnet with gin. However, the French locals prefer mixing it with carbonated drinks such as sparkling wine or club soda.
Where to find it: In any bar and pub across France.
8. Absinthe
Alcoholic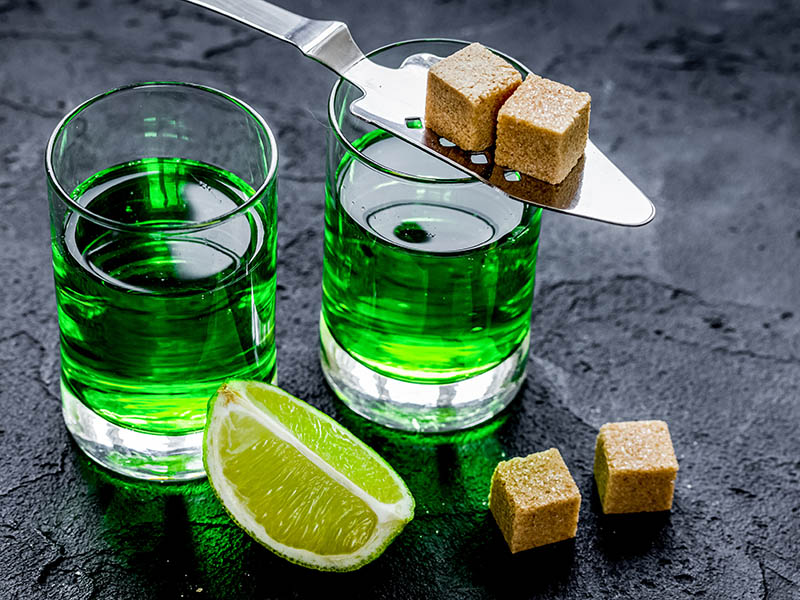 Even though it was initially a Swiss product, this so-called Green Fairy may be the most iconic of all French-made spirits. Made of a simple maceration of anise, fennel, wormwood, and other medicinal and culinary herbs in alcohol, Absinthe is truly a legendary drink.
The flavor of Absinthe is rather strong and intoxicating, so it might not be the best choice for the lightweight.
Absinthe has been through a lot to earn its position as one of the best French beverages today. This anise-flavored spirit originated in Switzerland around the late 18th century and became famous as an alcoholic beverage in France in the late 19th and early 20th.
After being portrayed as a highly addictive psychoactive substance, Absinthe was banned in France and other European countries. This drink began to resurface in the 1990s following the implementation of current European Union food and beverage legislation.
Where to find it: In any bar and pub across France. According to the locals, the best place to pick up a bottle of Absinthe is in Pontarlier, a commune in France.
9. French 75
Alcoholic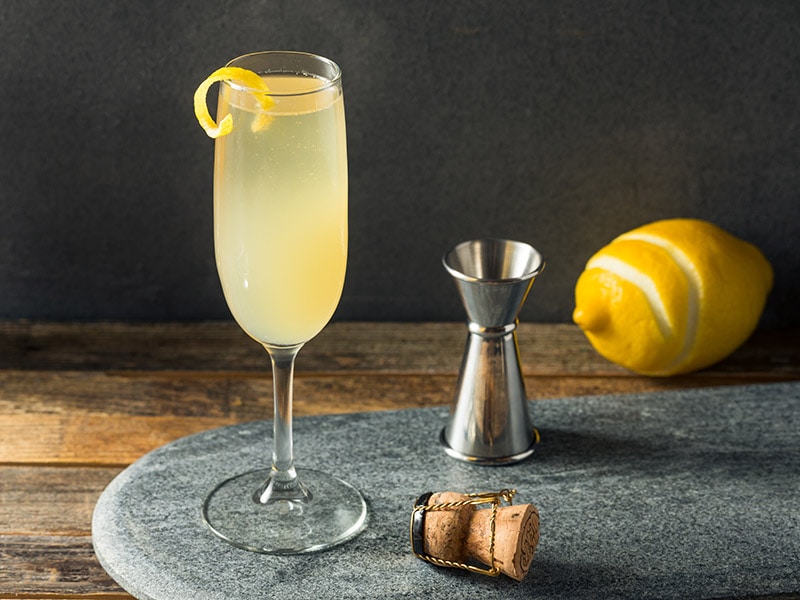 To be honest, it's impossible to talk about French drinking culture without talking about French 75. This signature French cocktail was invented in 1915 in Paris by a bartender from Harry's New York. However, at the time, it wasn't prepared with Champagne.
The number 75 in this drink's name commemorates the First World War French cannon (the Canon de 75 modèle 1897). The drink itself was described to be as powerful as the legendary cannon.
People started mixing French 75 with Champagne about ten years later, then this drink was renamed and became a worldwide phenomenon. Until this day, it is still one of the go-to beverages of the French, especially during weddings, holidays, or brunches.
Where to find it: In any bar, pub, and restaurant across France.
10. Ti Punch
Alcoholic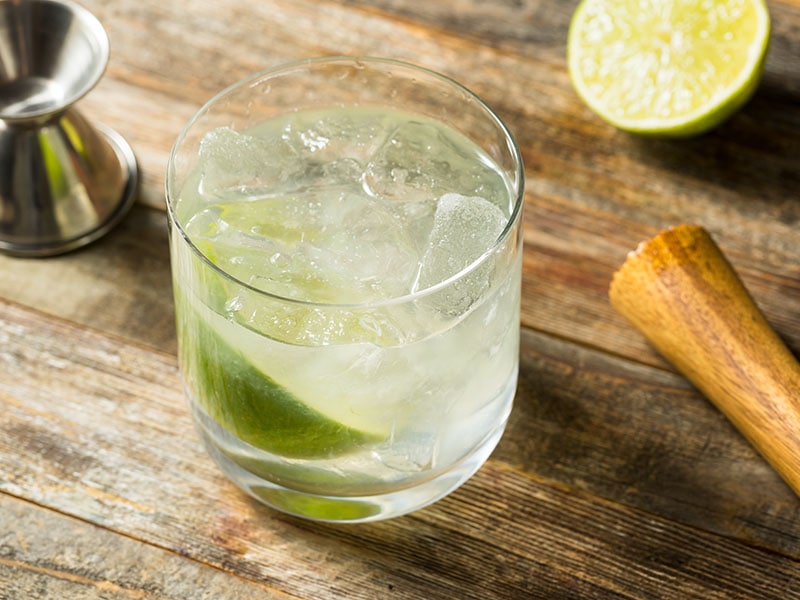 Ti Punch, which can be translated to "small punch", is a rum-based beverage from Martinique and Guadeloupe in the French Caribbean. This drink contains lime, cane syrup, and Rhum Agricole (a unique rum made of sugar cane juice instead of molasses).
According to Martinique tradition, the bartender will give customers the glassware, rum, syrups, and lime to make the drink based on their preference. This refreshing apéritif usually comes with no ice.
Where to find it: In any bar, pub, and restaurant across France, especially in the French Caribbean.
11. Ratafia
Alcoholic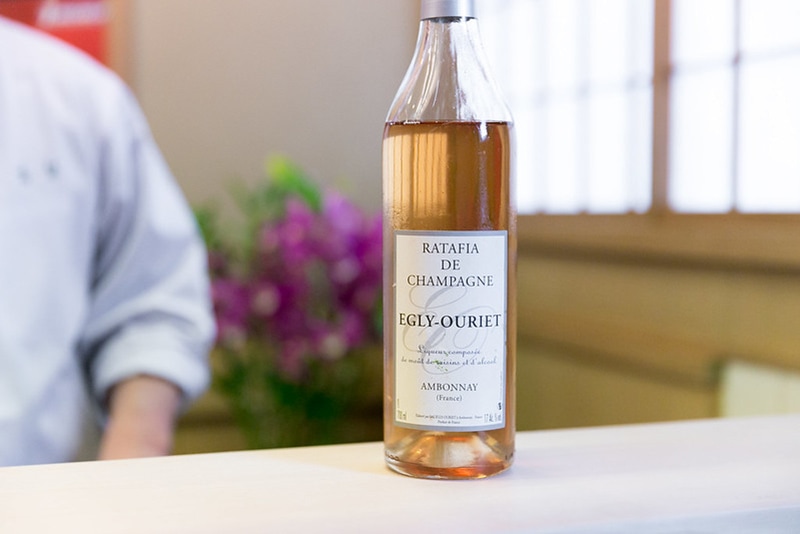 Ratafia is a perfect choice if you're seeking authentic French beverages. Known as l'apéritif du vigneron, or "apéritif of the winemaker", this fortified wine is one of the most popular apéritifs to enjoy with your friends.
Ratafia, or Ratafia de Champagne, is made from a blend of marc (grappa) and the grape's unfermented juice. That is why it is traditionally created around harvest time since it is the ideal time to acquire fresh grape juice.
This wine is mainly found in wine regions like Champagne, Burgundy, and the Bordeaux region. Ratafia tastes best when served cold with no ice. French people usually pair this drink with cheese and crackers.
Where to find it: In any bar, pub, and restaurant across France, especially in Champagne, Burgundy, and the Bordeaux region.
12. Ricard
Alcoholic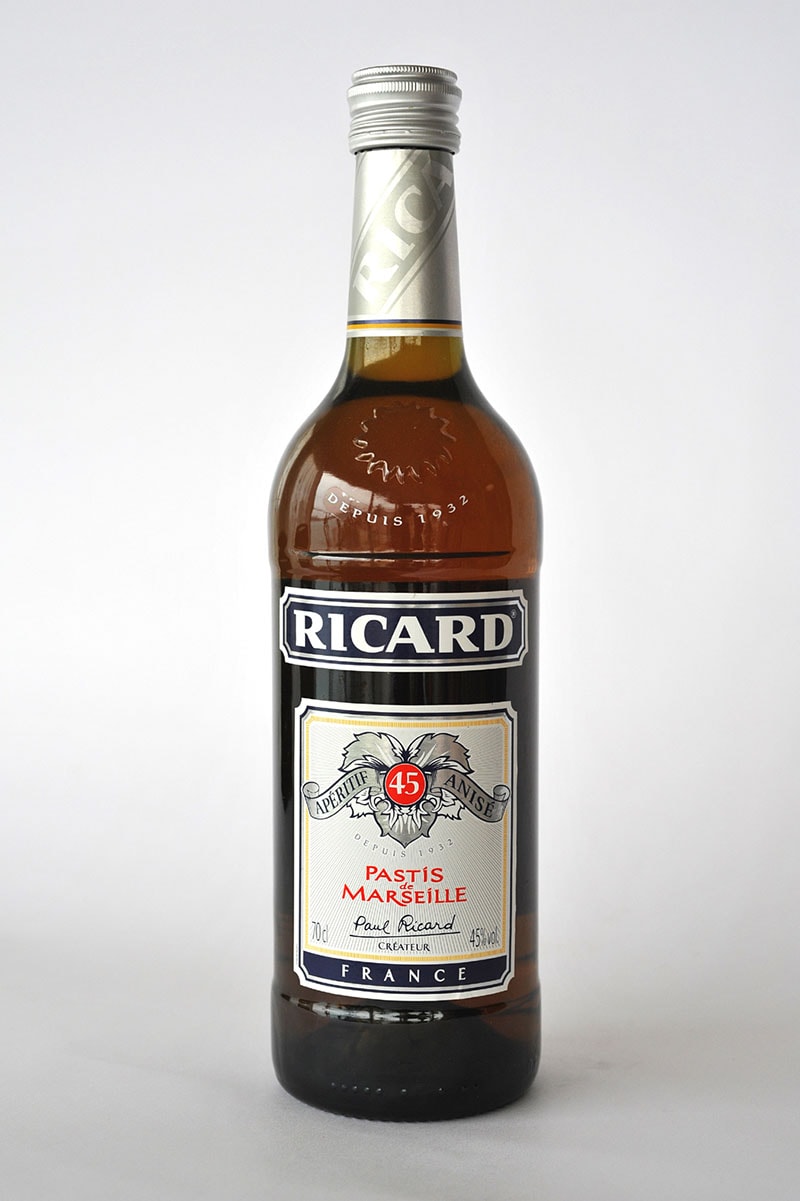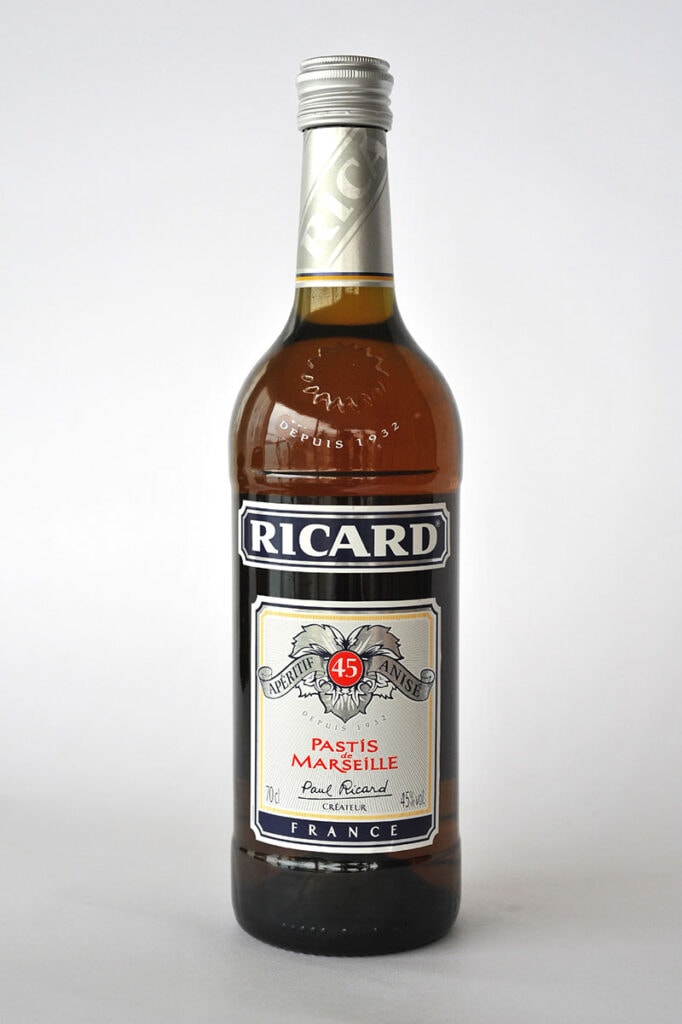 Ricard is another iconic apéritif in France. It tastes best when served cold and diluted with cold water, resulting in a somewhat opaque drink with a pronounced fresh anise and licorice flavor and underlying Provençal herb tones.
According to Paul Ricard's original recipe, you need to dilute the alcohol with chilled water (1:6 ratio). Once diluted, you can add ice cubes. With this method, you can release the full aroma of the anise in this apéritif.
Backstory time! Paul Ricard, a Marseille native, created this apéritif in 1932 and began marketing it as the "true pastis from Marseille". He had to experiment with fennel seeds, licorice, anise, and other Provençal herbs until he could refine the formula.
All his hard work seemed to pay off since the sales of Ricard quickly stood at 2.4 million liters after only 6 years.
In 1940, however, the production of Ricard was put to a halt since France started banning the sale and advertisement of non-grape-based alcohol. Ricard was able to restart production after 11 years of suspension and continue to thrive until this very day.
Where to find it: In any bar and pub across France.
French Alcohol Drinks
Alcoholic drinks in France are diverse and abundant, with many not yet touched upon in this guide. The renowned beverages featured in this section are versatile, suitable for any time of the day. While they can stand alone, many also serve as delightful apéritifs, akin to the ones previously highlighted. Truly, the choices are boundless!
13. Champagne
Alcoholic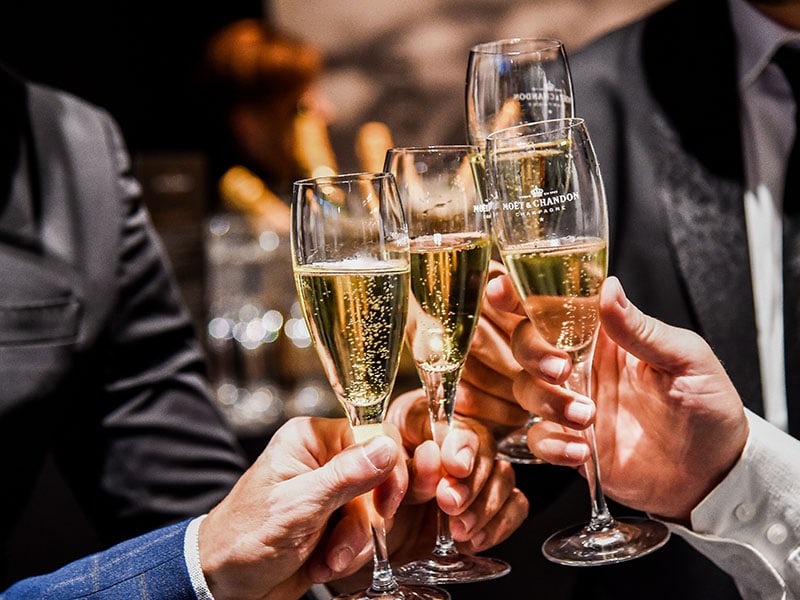 Even when you're not an alcohol enthusiast, you must have tried Champagne at least once. Although this well-loved sparkling wine is available anywhere, authentic Champagne is exclusively produced in the Champagne area of France.
This drink is prepared using a classic mix of Chardonnay, Pinot Meunier, and Pinot Noir, all of which are native to the Champagne area. However, people also add small amounts of authorized grape types in the Champagne AOP like Pinot Blanc, Pinot Gris, Arbane, and Petit Meslier.
The top Champagne producers aimed to identify their products with royalty and nobility through advertising and packaging. And around the 17th, 18th, and 19th centuries, Champagne successfully became synonymous with the monarchy,
This resulted in increased appeal among the burgeoning middle class. Champagne production grew exponentially in the 19th century, from 300,000 bottles per year in 1800 to 20 million bottles in 1850.
Where to find it: In any bar, pub, and restaurant across France, especially in the town of Epernay and the Champagne wine region.
You must have had Champagne at least once in your life, but do you know how to drink it right?
14. Mimosa
Alcoholic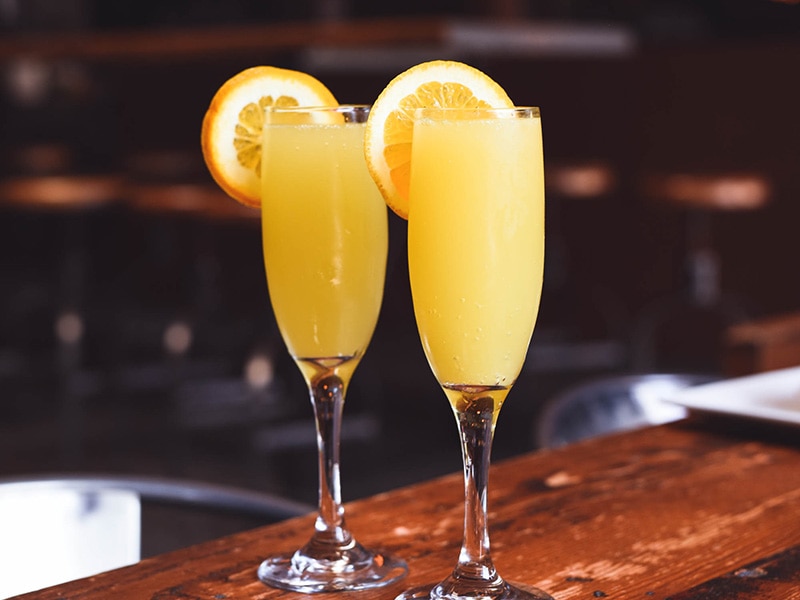 Here is one easy way to elevate your classic French dishes: Pair them with a refreshing flute of Mimosa! This drink is known for its magical ability to turn a basic breakfast into a luxurious experience.
This cocktail calls for Champagne or dry sparkling wine and freshly squeezed orange juice. Locals sometimes use Grand Marnier or bitters to give the drink more depth.
Although this drink is named after a yellow-flowered mimosa plant (Acacia Dealbata), it doesn't include any flowers. The story behind its name and origin is still unclear.
This iconic beverage is also well-loved outside of France, particularly in the USA. Many believe the legendary director Alfred Hitchcock introduced and popularized Mimosa in the 1940s, and it quickly became an American brunch staple.
Besides America, this drink also has a long history in Spain, particularly in the East, where oranges and sparkling wines are famous.
Where to find it: In any bar, pub, and restaurant across France.
15. Cognac
Alcoholic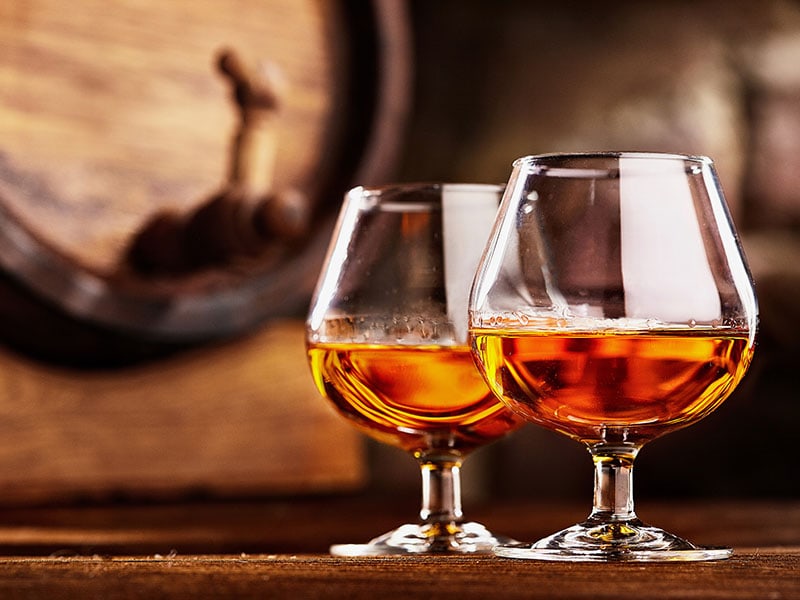 This traditional French brandy is made by distilling grapes into eau-de-vie, which is subsequently aged and combined to create Cognac. It took its name from the Cognac commune in the Southwest of France.
When people discovered that Charente eau-de-vie brandy aged in wood casks had distinct and more subtle tastes, Cognac was created and soon became a famous sought-after drink. This drink is particularly enjoyed among the British nobility.
Authentic Cognac must be manufactured in copper pot stills and matured in French oak for at least two years. If the drink is not produced in the Cognac AOC region and follows tight production processes, it is not real Cognac!
Where to find it: In any bar and pub across France, especially around the commune of Cognac.
16. Armagnac
Alcoholic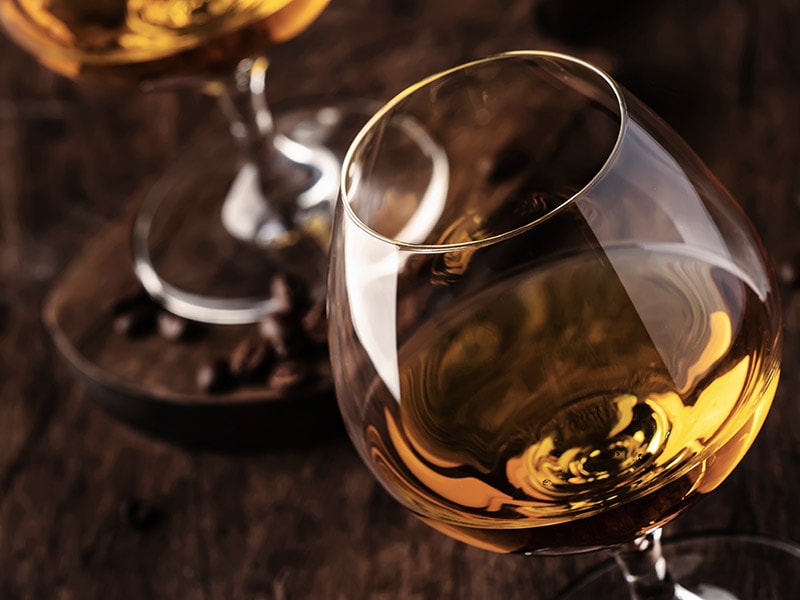 Armagnac originated in Gascony, which is now the provinces of Nouvelle-Aquitaine and Occitanie. Although it was primarily employed as a stomach treatment in the 15th century, Armagnac is considered one of the earliest grape brandy kinds made in France.
This drink can be made with ten different grapes, with Ugni Blanc being the predominant one. The grape blend is distilled once using column stills and aged in oak barrels for at least two years before release.
The flavor of this distinctive brandy varies depending on its maturation; young ones taste like vanilla and honey, while matured ones have roasted nuts, licorice, and tobacco flavors.
Where to find it: In any bar and pub across France, especially around the Armagnac region.
17. Grand Marnier
Alcoholic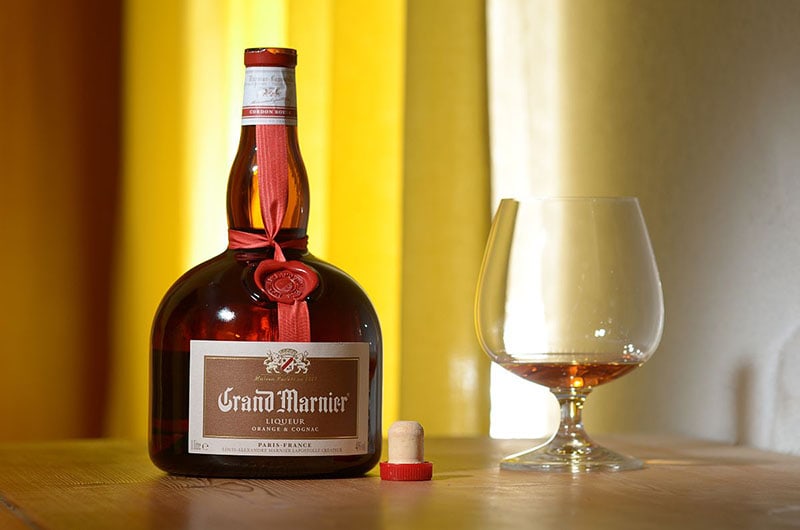 Although Grand Marnier is the name of a French liqueur brand, most people associate it with the brand's most famous product, the Grand Marnier Cordon Rouge. This Cognac-base bitter orange liqueur was created in 1880 by Alexandre Marnier-Lapostolle.
There are many ways to enjoy this delightful drink. You can drink it straight or mix it in a cocktail; both are delicious. Grand Marnier is also one of the critical components in Suzette crêpes – one of the most talked-about desserts in France.
Besides Suzette crêpes, Grand Marnier makes its appearance in other classic dessert recipes like Soufflé, Crème Brûlée, Bûche de Noël or sauces for savory dishes.
This liqueur brand is also famous for the Cordon Jaune, a different version of the signature Grand Marnier made with neutral grain spirit. However, the production stopped in 2017.
Where to find it: In any bar and pub across France or restaurants serving Suzette crêpes.
18. Chartreuse
Alcoholic
This herbal liqueur is one of France's oldest and most well-known drinks. Chartreuse comes in green and yellow varieties with different flavors and alcohol concentrations. It is usually served cold as an after-dinner drink.
The Carthusian Monks have been making this liqueur since 1737, following the manuscript by François Annibal d'Estrées in 1605. Chartreuse got its name from the monks' Grande Chartreuse monastery, located in the Chartreuse Mountains in the Grenoble area.
This herbal drink contains 130 herbs, spices, roots, and barks. These ingredients will be mixed with distilled alcohol and aged in oak barrels. Back in the day, Chartreuse was used as a form of medication.
Where to find it: In any bar and pub across France.
19. Hennessy
Alcoholic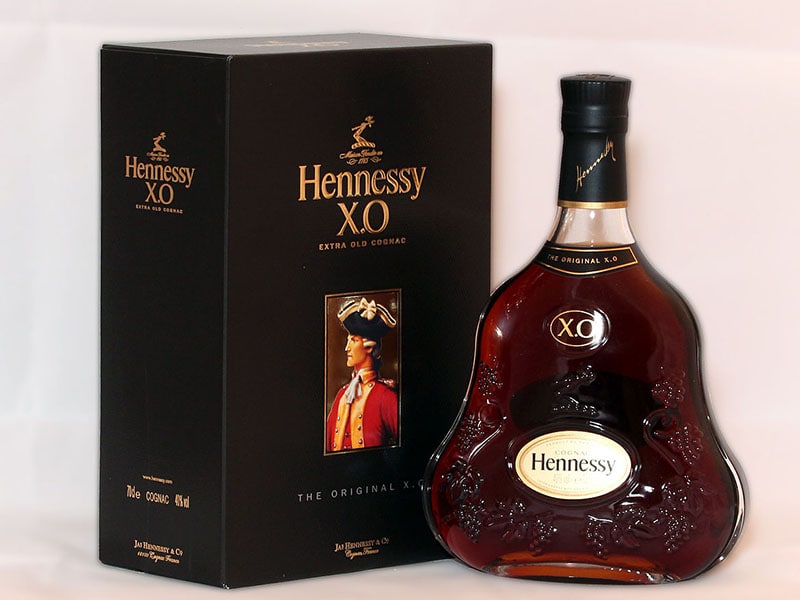 Cognac commune is home to another well-known French cognac distiller called Hennessy. This leading Cognac producer was established in 1765 by an Irishman named Richard Hennessy.
Hennessy products can only be made from locally grown Ugni Blanc grapes. The grapes are distilled twice after fermentation to produce a refined eau-de-vie. Then the alcohol will be aged in oak barrels until it satisfies the quality requirements.
Hennessy has recently attempted to widen the appeal of the drink by creating and promoting new brands like "Pure White", "Hennessy Black", and "Fine de Cognac".
Where to find it: In any bar and pub across France.
20. Chambord
Alcoholic
If you're in the mood for something fruity, choose Chambord! The locals make this low-alcohol liqueur from Cognac, berries, Madagascar vanilla, and Moroccan citrus peel.
Unlike other well-known French spirits and alcoholic beverages, Chambord is a newcomer to the family. It was founded in 1982, although it was inspired by a raspberry liqueur enjoyed by French royalty in the late 1600s.
This raspberry drink has an attractive zesty taste that many people enjoy. Its spherical bottle with metallic gold plastic belt design also sets it apart from other local liquor.
This drink is commonly used as a spritzer topping in several cocktails using Chambord, such as daiquiri, manhattan, and margarita. It pairs amazingly well with Champagne as well.
Where to find it: In any bar and pub across France.
It's time for some Chambord cocktails; check out these recipes!
21. Cider
Alcoholic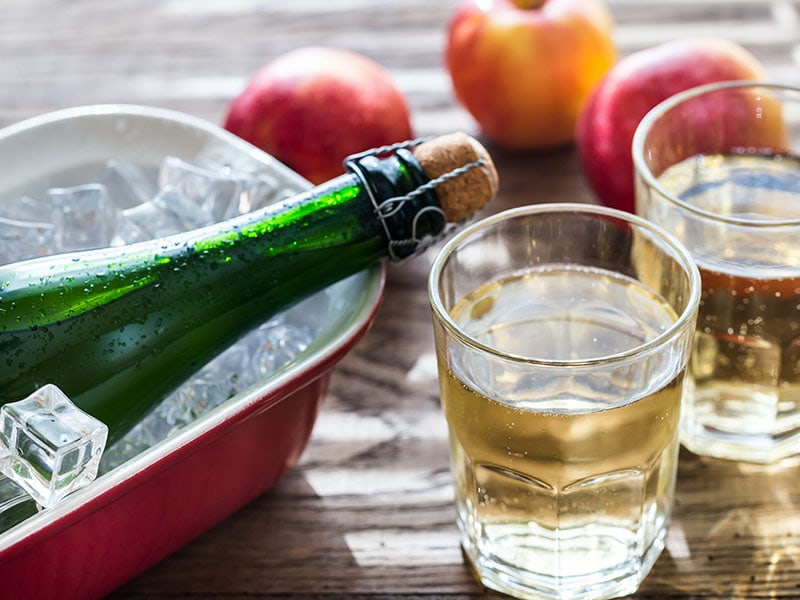 Although Cider is widely recognized as a traditional British drink, this drink is also popular in northern France, particularly in Normandy.
The locals usually pair Cider with Crêpe, fruit Galetters or other desserts. Savory meat and seafood dishes work great with this drink too.
Normandy offers the optimum environment for growing apples rather than grapes, making it the perfect place to produce Cider. Being made from organic apples, French Cider is considered healthier and more delicious.
If you can visit Normandy, you have to check out the apple farms and learn about the cider-making process. Many small restaurants in this region even produce their own Cider.
Where to find it: In almost any bar, pub, and restaurant across France, particularly in Normandy and Normandy apple farms.
22. Vin Chaud
Alcoholic
Christmas in France will not be complete without Vin Chaud, or "hot wine". Imagine strolling around the Alsace Christmas Markets while warming your hand with a cup of Vin Chaud; now, that is an unforgettable experience that you should not miss!
The French make Vin Chaud out of red wine, cinnamon, honey, and orange. The recipe for this festive drink may vary, but overall, it shouldn't be too sweet.
You can find this drink almost anywhere during Christmas. If you're eating at a restaurant, remember to order a hot cup of Vin Chaud before or after your European meal.
The locals usually prepare huge vats of white or red Vin Chaud at the marketplaces. The hot wine can sometimes contain star anise, cinnamon, citrus, or a slice of orange.
Where to find it: In any bar and pub across France during Christmas. You can also find it at local marketplaces.
23. Chablis
Alcoholic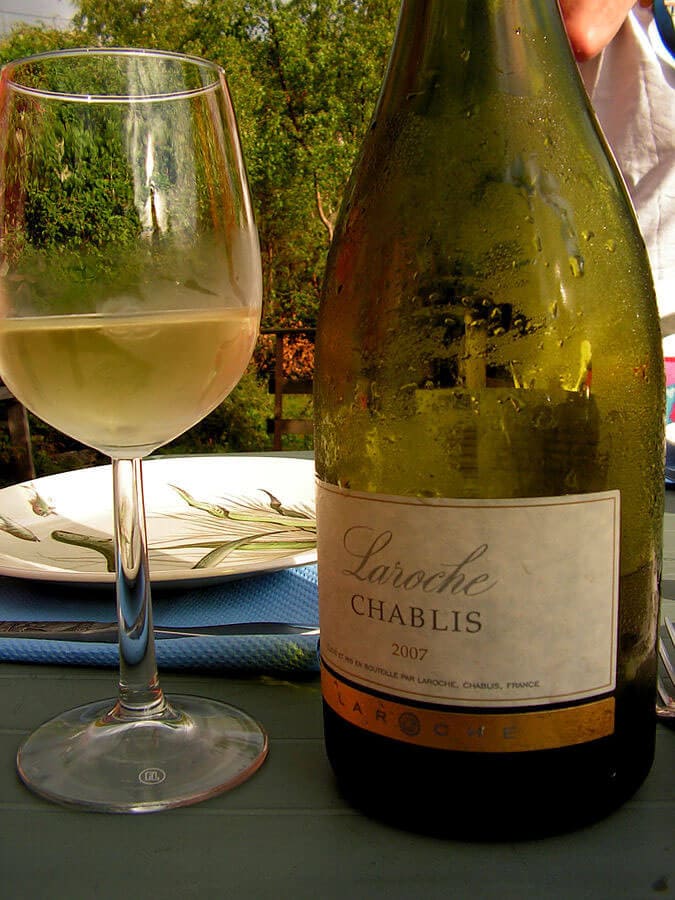 Chablis is widely known as the northernmost wine district of France's Burgundy region and the home of a famous white wine of the same name.
The locals use only Chardonnay to make Chablis wine, which is a green-skinned grape variety. However, unlike other Chardonnay white wines, they rarely use oak barrels to age this wine. Because of this, Chablis has a distinct flavor profile and style that many people can't resist.
This unique wine has a flint-like minerality and intense acidity, making it an ideal pairing for seafood-based European-style cooking ideas.
For most of the 20th century, Chablis wine was primarily produced for export rather than the French home market. Chablis winemakers have worked hard in recent years to maintain the Chablis classification, including legal measures to ensure that foreign nations appreciate it.
Where to find it: In any bar and pub across France, especially in Chablis and other wine districts of the Burgundy region.
24. Chambertin
Alcoholic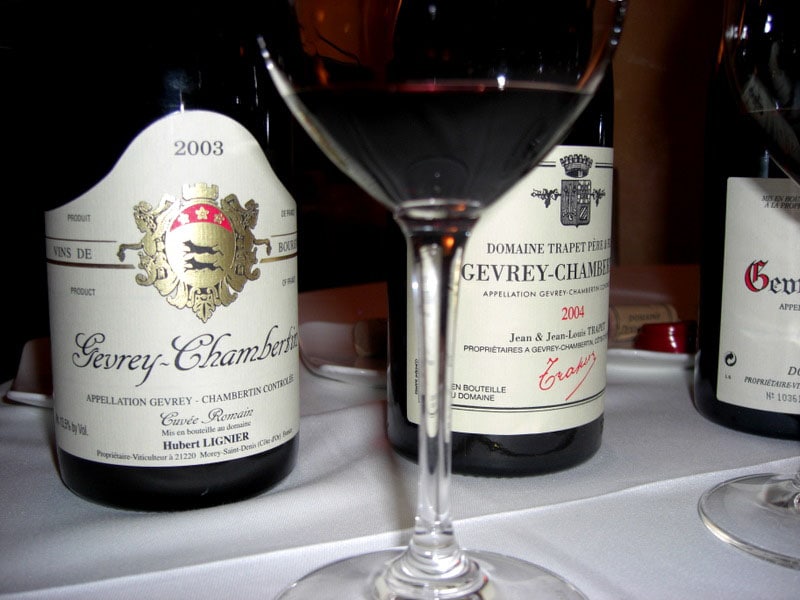 Chambertin is a Grand Cru vineyard and appellation in Burgundy, specifically in the Côte de Nuits wine region. This drink usually has rich red and black fruit scents with notes of smoky licorice, delicate herbs, and flowers.
Its unique, robust flavor perfectly complements chicken-based dishes, as well as beef or lamb-based dishes with rich wine-infused sauces. Overall, Chambertin is genuinely one of the most remarkable representations of the Burgundy area.
Where to find it: In any bar and pub across France, especially in the Burgundy or Côte de Nuits wine region.
French Non-Alcoholic Drinks
French non-alcoholic drinks offer a delightful alternative to the country's famed alcoholic beverages. As we transition from the spirited selections, this section shines a light on beverages suitable for all ages or those times when you're simply not in the mood for alcohol. Explore these refreshing choices perfect for a sober moment."
25. Diabolo Menthe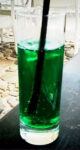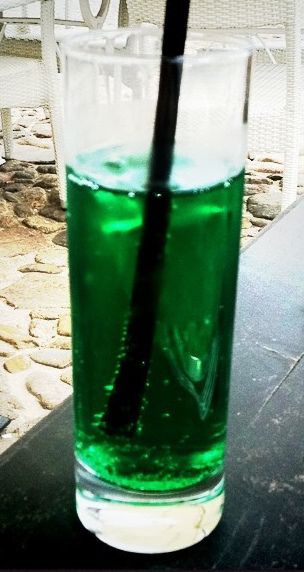 Diabolo, especially the mint-flavored type, is one of the most well-known and well-loved French cocktails. Not only is it incredibly refreshing, but it is also super affordable and accessible.
This summer drink is served in cafés and restaurants throughout France, and it comes in a variety of flavors besides mint (or menthe). The most popular alternatives are strawberry, lemon, or grenadine, but nothing can compare to the original green minty drink.
Made from a simple mixture of lemonade and syrup, this diabolo drink made its first appearance before 1920. And from that point on, every child in France is familiar with this drink.
Where to find it: In any café, bistro, and restaurant across France.
26. Perrier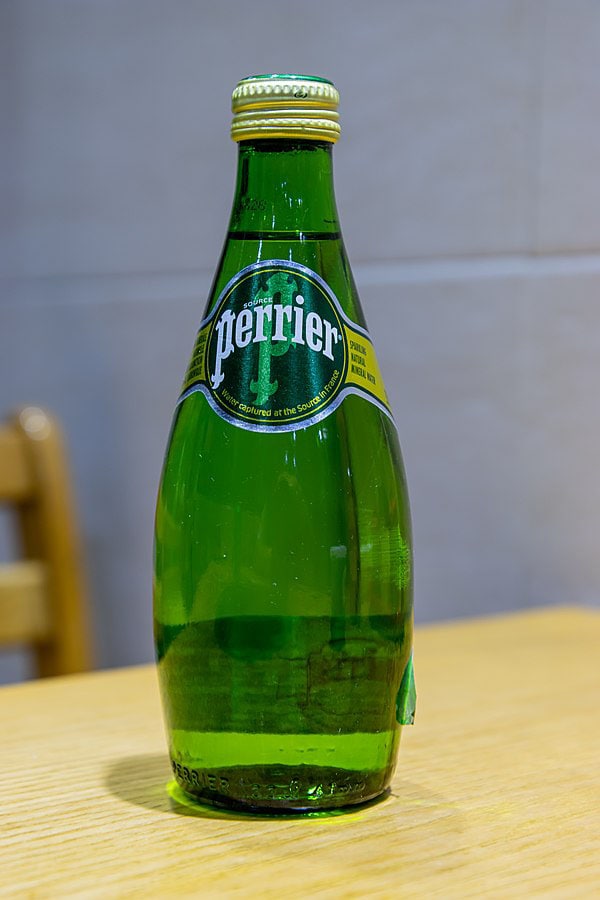 Known for its distinctive green bottle and carbonation, Perrier has to be the most talked-about sparkling water in this country. Perrier comes in a typical green bottle with a unique form. All of the bottles are in a droplet shape, which makes them instantly recognizable.
Perrier natural bottled mineral water was obtained from spring in Vergèze, France. This spring used to be utilized as a spa by the Romans, but people didn't start making bottled water from it until much later.
To make a bottle of Perrier, the water and natural carbon dioxide gas are extracted separately. The water is then filtered, and the carbon dioxide gas is re-added during bottling so that bottled Perrier has the same amount of carbonation as the Vergèze spring.
You can drink Perrier straight from the bottle. But to spice things up, try pouring it into a glass with mint syrup and garnishing it with a slice of lemon.
Where to find it: In any supermarket across France.
27. Gini Lemon
Care for some soft drink? Let's grab some Gini Lemon then! Gini Lemon is a French soda drink created in 1971 by Perrier, the sparkling water brand I mentioned earlier. You can drink it by itself, but it also tastes good in a cocktail or mojito.
This non-alcoholic sparkling soda is mainly known for its flirtatious and "sexual" commercials. These marketing strategies have granted Gini Lemon the title of the hottest cold drink of all time, "La plus chaude des boissons froides" in French.
Where to find it: In any supermarket across France.
28. Orangina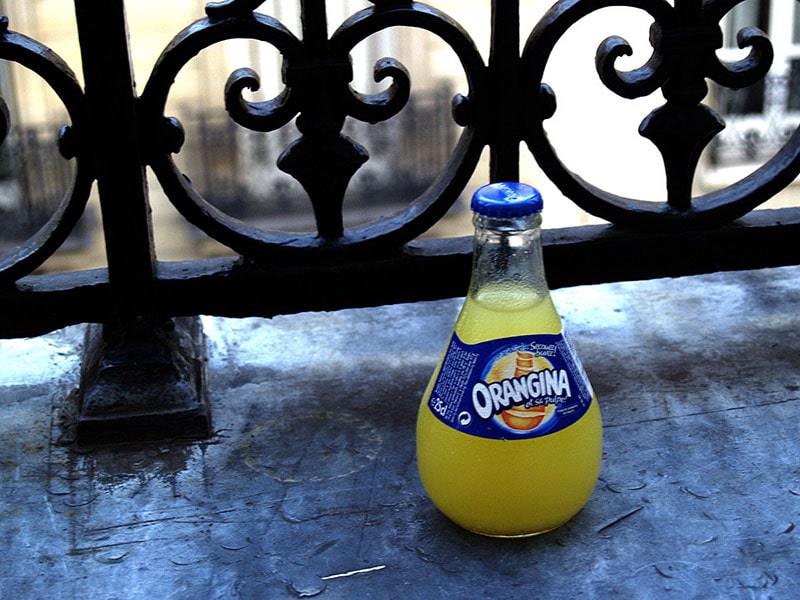 When it comes to carbonated beverages in French, Orangina is one of the best choices out there. It is a slightly carbonated orange juice with a tinge of lemon and grapefruit flavor that comes in an orange-shaped bottle.
Because of its fun bottle shape and delicious flavor, Orangina is very popular among children (and adults). Some bartenders even pair it with spirits or use it in a cocktail.
A Spanish scientist created this drink in Valencia in 1933, but a French businessman Léon Beton purchased it in 1935. It still maintains its popularity and has become an iconic drink in Europe, Japan, and North Africa until this very day.
Where to find it: In any supermarket across France.
29. Café Au Lait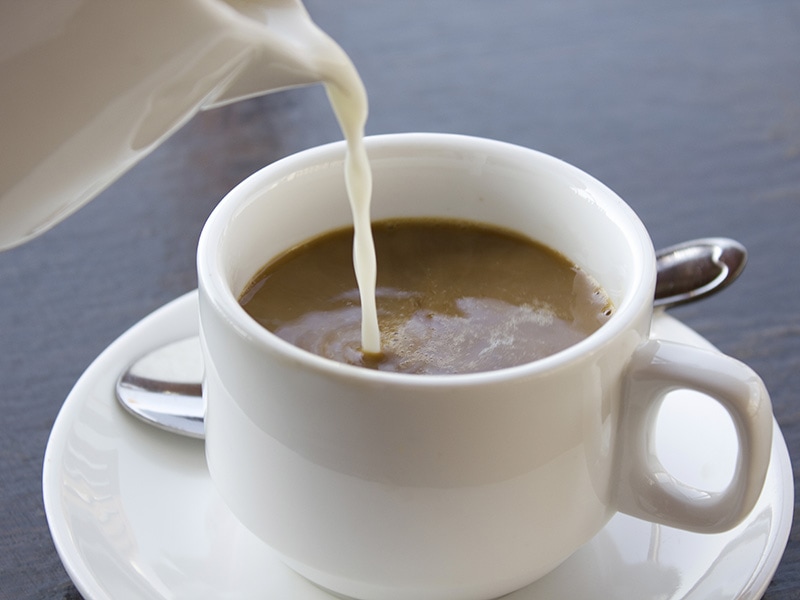 Café Au Lait, meaning "coffee with milk" in the French language, is a traditional French breakfast drink made with French press coffee and warmed milk. The proportions of the components vary depending on the drinkers' preference.
Ever since espresso machines became available in the 1940s, the French cafés have always used espresso to make this coffee. You can also prepare Café Au Lait with dark coffee and heated milk at home.
Some might think this drink is similar to Caffè Latte, but these two terms are used differently to indicate whether the beverage is French or Italian.
Where to find it: In any restaurant or café across France.
30. Hot Chocolate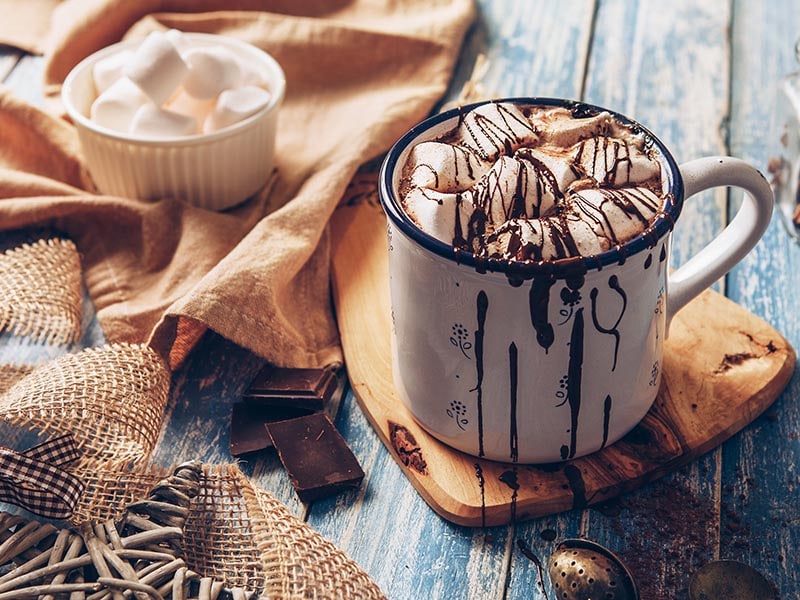 During the cold months of winter, there is nothing more relaxing than holding a mug of hot chocolate with marshmallows in your hands while curling up in your blanket. Many French café serve this drink at breakfast time with sliced bread so you can dunk it into the hot chocolate.
In the 17th century, when chocolate first arrived in France, it was reputedly used "to battle against fits of wrath and unpleasant moods".
Hot chocolate is now more often eaten for enjoyment than for therapeutic purposes, but a recent study reveals that the drink may have additional health advantages.
Overall, hot chocolate can heal mentally but also physically. So if you have never had one before, remember to order a cup at any French café during your visit.
Where to find it: In any restaurant or café across France.
---
Remember To Stay Hydrated!
And there you have it, a complete list of the 30 most iconic alcoholic and non-alcoholic drinks in this beautiful country. This lovely country delivers a powerful punch when it comes to its gastronomy. If you only explore the foods and not the drinks, you are missing out!
I hope this article has helped you learn more about the alluring beverages in France. Don't forget to try them all out during your next visit.
Please like and share this article with your friends if you enjoyed reading it. Also, leave a comment below if you have any further concerns about famous French drinks or cuisine culture. Thank you so much for your support. Have a nice day, and I will see you all soon!