It's no secret that authentic French recipes are of the finest in the world. French cuisine has been distinguished with its sweeping and rich culinary history. Thanks to the techniques and seasonal produce, their cuisine is unique and absolutely magnificent.
There's a great big world beyond baguettes and croissants that you may have yet to discover. From appetizing starters to some of the world's oldest stew recipes, the options are endless. So if you're looking to dial your menu up a notch or two, you're in the right place.
In this culinary journey, we have an in-depth look into French cuisine to find the best classic recipes that you can learn to master at home. While some of them are a doddle to whip up, others tend to take several attempts to perfect.
Grab your beret and let the finest French foods wake up your appetite!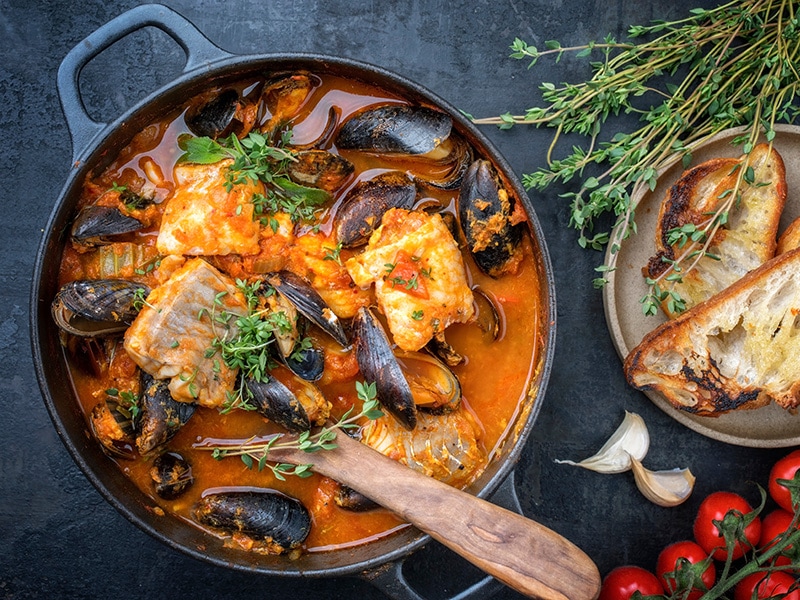 List Of 30 Classic French Recipes That Everyone Should Know
It's no secret that French cuisine has claimed its throne as one of the most delectable and unique food cultures in the world. So hold your baguettes and buckle up, for we're about to discover the best French recipes that you can begin to master at home.
French Breakfast Recipes
Croque Monsieur
Croissant
French Crepe
Ludo Lefebvre's Omelet
Quiche Lorraine
French Appetizers
Baked Camembert With Garlic And Thyme
Cheese Soufflé
Smoked Salmon Canape
French Main Dishes
Beef Bourguignon
Bouillabaisse
Cassoulet
Chicken Chasseur
Coq Au Vin
Filet Mignon With Béarnaise Sauce
Jambon-Beurre
Roasted Garlic And Lemon Chicken
Slow Cooker Chicken Provençal
Sole Meuniere
French Soups & Salads
French Chestnut Soup
French Onion Soup
Lyonnaise Salad
Potato Leek Soup
French Side Dishes
Boulangere Potatoes
Parsnip Gratin With Gruyere And Thyme
Ratatouille
Roasted Mushroom With Rosemary And Garlic
French Desserts
Berry Galette
Fiadone Cheesecake
French Apple Tart
Pear And Almond Tart
What Are The Best Authentic French Recipes To Master?
There's a big world beyond baguettes of French cuisine that you may have yet to discover. Both in quality and diversity, here are the most crave-worthy French recipes to celebrate.
Appetizing French Breakfasts To Start Off Your Day
Nothing starts off the day in the right way, like a good breakfast. In France, these breakfast recipes are light, simple, yet delicious so that you'll never skip this meal again.
With its name literally translates to "Mister Crunchy," croque monsieur is an iconic breakfast staple made in French cuisine. Essentially, it's a ham and cheese sandwich with a simple béchamel sauce oozing between two slices of bread.
Carving Croque Monsieur for dinner? Well, you're in luck, Croque Monsieur is also a breakfast dish you can serve for dinner. Serve it with a glass of wine, and you'll have the perfect dinner meal to sate your appetite.
The secret to mastering this breakfast classic lies in three elements: a good bread-to-filling ratio, subtle crispy crunch, and creamy melted cheese. This is the kind of food you'll commonly find in any French café and kitchen in the morning.
A good, authentic croque monsieur brings out a nutty, sweet, and creamy flavor that'll please your palate. Not only is it so yummy, but the handful of ingredients are easy to find and affordable for anyone.
How can we talk about French cuisine without mentioning croissants, one of its greatest food icons? Legend has it that ever since Marie Antoinette first brought this pastry to France from her homeland, Austria, croissant has become a national love affair.
Basically, a croissant is a flaky crescent-shaped pastry that smells like good butter. From the first bite, you'll taste the rich, sweet, tangy, and melt-in-your-mouth flavor. No surprise, it's one of the most common breakfast, and brunch treats in France.
The well-kept secret to mastering this pastry lies in good technique, which tends to take lots of time and strength. But the end result is so well worth it. Fill it with whipped cream and fresh fruits, or pull it apart and dunk it into your coffees, anything that suits your fancy.
Soft, delicious, and super versatile, who doesn't have a soft spot for classic French crepes? You might be familiar with these thin and delicate pancakes as street-food staples in France, but they can be easily whipped up at home to curb your sweet cravings.
All you need is to whisk up six ingredients in a bowl and cook the mixture in a non-stick crepe pan with a nice crepe maker for about a minute on each side. Then, dress it with any sweet or savory toppings that your heart desires.
From fresh and tasty French fruits to cream cheese and sometimes just a drizzle of maple syrup, there're plenty of ways to eat this elegant treat. Sweet crepes are often served for tea time or as a quick breakfast fix in France, while savory ones make a delightful lunch and dinner.
French crepes aren't that hard to master. Here's how!
Named after the famous French chef, Ludo Lefebvre's omelet is an instant-classic recipe that anyone can learn to master at home. While the first attempts may not turn out perfect, a few trials and errors will make you pro before you know it.
This French omelet is made with basic elements like eggs, salt, peppers, and lots of butter. In fact, the success of this iconic dish partially relies on the high quality of its ingredients, which is sometimes straight from the farms.
Once it's done, you can give it a light sprinkle of chives and enjoy. According to chef Ludo, the secret to his pitch-perfect classic lies in the soft and tender texture. It's essential to take time and make sure the heat isn't too strong to avoid cooking it too quickly.
From quick breakfasts and brunches to fulfilling main courses, Quiche Lorraine is a versatile dish for any meal of the day. The best way to describe this French specialty is a savory tart with a filling of rich baked custard, bacon, and cheese.
As you take a slice, the flaky crust and creamy, delicate filling will blow your taste buds away. Thanks to its incredible richness, this gourmet custard dessert is most often enjoyed as a complete meal on its own or with a simple side of nicely dressed green salad.
One of the beauties of Quiche Lorraine is that it can be served warm or cold. Plus, it's pretty quick and easy to prepare from scratch in less than an hour. If you wish to cut it short, you can get some store-bought pastry, and it'll turn out just as beautifully.
Scrumptious French Appetizers To Satisfy The Crowd
If you're seeking a show-stopping appetizer to present at your next shared meal or dinner party, here're the best French starters that'll fly faster than you may think.
Raise your hands if you're a cheese connoisseur! Camembert is a traditional French cheese that's somewhat similar to brie, except it has a deeper, more earthy flavor profile. This appetizer makes its appearance on lots of holiday tables, given how fancy and easy it is.
A rich and buttery block of camembert is sliced in a cross-hatch pattern. Then, you stuff slithers of garlic and thymes deep into it and finish with a drizzle of maple syrup before putting it in the oven. The whole thing takes just 20 minutes to come together.
No doubt, this baked cheese is a dream come true for any cheese lover. It's so soft and creamy without being too drippy as it touches your tongue. And the flavor infused from garlic, honey, and thyme is incredible served with any kind of bread.
Just because cheese soufflé is an impressive hallmark in French cuisine doesn't mean you can't make it for a casual appetizer. In fact, this gourmet delight only calls for some easy-to-find pantry staples and a few simple steps to come together.
In essence, it's a light and airy egg-based dish with a texture that tastes like a wonderful marriage between a pudding and a light cake. This is achieved by beaten egg whites that create air bubbles in the hot oven, giving the dish its famous rise.
Since soufflé deflates rather quickly, it's best savored straight from the oven. For many home cooks, this French recipe may be stressful at first. But keeping in mind that timing is the key, anyone can master it after some trials and errors.
If you need a guide to nail this classic cheese soufflé, take a look at this tutorial!
These elegant and classy smoked salmon and rye canapes are sure to impress guests at your next dinner party. For folks who are unfamiliar with this French appetizer, it's a little croustade of rye bread topped with cream cheese, smoked salmon, dill, and a squeeze of lemon.
No doubt, these little bites of goodness are guaranteed the toast of the party. The crunchy and creamy texture almost feels like the perfect harmony as you take a bite. Plus, the small portion is great for whetting up your appetizer without filling you up before the main course.
The true highlight of this appetizer lies in the irresistible flavor of salmon, which is why you should choose salmon as fresh as possible. The expected shelf-life of smoked salmon is not that long, so it's best to choose fresh salmon that has just been smoked.
If you're pressed on time, this starter can be made in advance. However, be sure to prepare and refrigerate the ingredients separately and only assemble them a few hours before serving. Now, raise your champagne or wine, and enjoy!
Traditional French Main Dishes To Add To Your Repertoire
When it comes to classic French main courses, the options seem to be endless. Let's flick through some of the best recipes that you can master at home like a breeze.
There're good reasons why beef bourguignon is a matter of national pride in France. This beef stew is an old recipe where the meat is slowly simmered in a hearty sauce of red wine, mushrooms, and carrots to perfection.
After three hours of cooking, the beef becomes so tender that it falls apart in chunks and melts right in your mouth. All the flavors meld together to develop a rich, savory, and deeply complex stew. Like other stews, beef bourguignon is likely to taste much better if you leave it overnight.
While it's the main course that you'll want to make time and time again, the long-hour simmering process makes it a well-suited choice for a weekend delight when you have more time to keep an eye on your oven.
The long waiting process for this dish to cook also makes a great occasion to prepare the perfect companion dish for beef bourguignon. While beef bourguignon is already a fantastic dish on its own, serving it with a suitable side dish will ensure your meal is as perfect as it can get.
You don't really have to know how to pronounce this dish correctly to relish its goodness. Essentially, Bouillabaisse is the glory of Provençal food culture.
Like many other fish stews, this dish has a humble beginning yet has made its way on many Michelin-starred restaurants' menus.
There's seemingly no strict rule. However, a typical Bouillabaisse features a creamy broth of fennel and saffron with a variety of shellfishes and seafood. The broth is hearty and sublime, while the fish remains firm to the bite.
This seafood specialty is fulfilling as the main course on its own. But the complex and aromatic flavors also pair beautifully with a glass of wine and a side of French bread.
When you've got yourself some leftover goose or duck meat in the back of your fridge, whip up some cassoulet. This traditional French stew has been around since medieval times and remains a national favorite to this day.
Typically, cassoulet includes goose or duck confits, various French sausage types, white beans, all slow-simmered in a tomato sauce to bring together an unbelievable taste. It's hearty and absolutely delicious with layers of complex flavors and aroma.
The best way to relish this comforting stew is straight from the oven to the table. Rich and satisfying as it is, cassoulet itself is a great full meal without any accompaniment to soothe your soul on a cold winter day.
To cook cassoulet to perfection, here's a stepwise guide that you can follow.
For those weeknights when all you crave is a hearty one-pot meal to cozy up to, this is it. There're good reasons why chicken chasseur is one of the most world-famous chicken courses in French cuisine. Rustic and rich in flavor, it's comfort food at its best.
The beloved meal consists of bone-in pieces of chickens braised in a robust tomato sauce and infused with mushrooms, fresh herbs, and shallots. The stew is best cooked up in a Dutch oven, but a slow cooker will still make lots of flavors out of it.
Simple and authentic, chicken chasseur may resemble something your grandma used to make. The greatest part is that it doesn't take all day long to prepare. It's ready to serve just after 25 minutes of simmering.
Don't let the fancy name mislead you! In fact, coq au vin is nowhere near as complicated as it may sound. This heart-warming French stew is typically prepared with chickens braised in a silky sauce of red wine, mushrooms, onions, and crisp pancetta.
Essentially, it's the ultimate comfort food made in one pan. This classic combination of elements yields a superior flavor and texture. Since the sauce is so juicy and rich, you'll want to plate it with some starchy sides like mashed potatoes or green salads to soak up the sauce.
Whether it be a dinner party, a self-indulgent moment, or a cozy dinner between lovers, coq au vin is the first choice that comes to mind. With the taste like a cozy, warm hug, it's easy for this chicken stew to please everyone around the table.
For any steak lover out there, filet mignon seems to be the most romantic dinner for two to prepare on special occasions. With 30 minutes of cooking time, you can put this fancy steakhouse recipe on your dining table.
At its best, juicy tenderloin is dripped in a rich, buttery homemade béarnaise sauce and infused with rosemary and thyme. You'll want to whisk up the sauce right before grilling the steak so that it remains warm for serving.
It's safe to say that perfecting this well-loved French sauce takes a learning curve. However, you can rest assured that the final result is absolutely worth it. All that's left is to set the table with a glass of wine and spend the perfect dinner with your special someone.
Perhaps one of the most popular French sandwich recipes, jambon-beurre is near and dear to every Parisian as a humble yet delicious lunch. There are only three ingredients in this iconic meal: a sliced open baguette with salted butter and spiced ham.
Lunch preparation doesn't get easier than this. However, to nail this classic staple, you'll need some truly high-quality ingredients. At its best, the nice crust texture and flavor are simply irresistible for any foodie.
The ham-to-bread ratio is customizable to your taste. Unquestionably, one big jambon-beurre is more than enough to tie you over until the next meal. If you ever set foot in Paris, this food with "J" as the first letter is the must-try lunch that you won't want to miss.
An exquisite delight hailing from the South of France, roasted garlic and lemon chicken is a great dinner recipe to have on hand. It's not your regular roasted chickens and is easier to throw together than you may think.
In this recipe, the chicken is slow-roasted in a mouth-watering pan juice of fresh herbs, garlic, a slice of lemon, and occasionally some white wine. Soon enough, you'll feel the beguiling fragrance filling up your kitchen.
Rich, golden, and crispy on the outer skin yet incredibly juicy and tender in the center, this chicken recipe might just be your new favorite. It pairs with almost anything, from crusty slices of bread to a crunchy green salad.
If you're fond of a flavorsome meal that doesn't involve lots of work, slow cooker chicken Provençal is your best bet. As the name suggests, this chicken recipe originated from Provençal, but is now a common specialty all over the South of France.
Easy yet fulfilling, it's a fulfilling meal combined into one pot. The braised chicken is layered with lots of summer veggies, herbs, and garlic. The best part is, you can set the timer and let the stew simmer away for 4-5 hours in the slow cooker.
No doubt, this rustic country dish is a great fit for folks who have little enthusiasm for cooking. The stew turns out so rich and hearty, while the chicken is juicy and tender; you can basically pull it apart with a fork.
Even if you're not a fish lover, sole meuniere is the kind of seafood recipe that'll make you week in the knees. Meuniere refers to the typical French method of coating the fish in seasoned flour and cooking it in a rustic sauce of butter, parsley, and lemon.
The taste of the sauce adds up well to the meaty and delicate Dover soles. When cooked, this fish has a silky and moist texture which is a pleasure to eat. The whole process takes 15 minutes to prepare, so you can enjoy it for a busy weeknight dinner.
As soon as the fish is done, you should sprinkle it with some pepper, salt and serve it right away. With this recipe, it's best to pair it with a simple and delicate side like roasted apparatus or rice pilaf to let the elegance shine through.
Delicate French Soups And Salads For Your Indulgence
Creamy, subtle, and absolutely delicious, these French soups and salads are just as good as it gets. Here's a compilation of the best regional soup and salad recipes from France cuisine.
The return of the cold weather can only mean one thing: it's time to warm up the night with a bowlful of chestnut soup. To recreate this simple puree soup, locals simmer sweet chestnuts in a hearty broth of onion, rosemary, butter, and milk.
Though mostly associated with Christmas dinners, chestnut soup is a great meal all winter long. It's creamy, smooth, and super nourishing; you won't be able to stop till the last spoonful. For some extra crunch, sprinkle it with some chives or bacon before serving.
Usually, this delicate soup doesn't take more than 30 minutes to prepare. If the timing is tight, you can also roast and refrigerate the chestnuts for several days beforehand.
Originally a humble peasant dish due to the accessibility of onions, French onion soup is now a much-appreciated dish in French cuisine. This recipe is made with rich beef stock, flavored with caramelized onions, and topped with creamy melted cheese.
While there're many variations, the classic soup has a rich, savory, and sweet taste with a bright note at the end. It needs nothing else to shine as a delicious course on its own. But for a filling meal, you can pair the soup with a simple salad or a nice steak.
Cozy and soul-warming, nothing cures the winter's cold like a bowlful of onion soup. Especially for those who had a long night of drink, this hearty dish is a traditional hangover cure that you can rely on.
For a visual instruction of French onion soup, here's where you can find it!
As the name implies, Lyonnaise salad hails from the French city of Lyon. This scrumptious recipe consists of bitter frisee lettuce, bacon, croutons, topped by the perfect poached egg and dressed in a delicious vinaigrette.
These humble ingredients combine to make such a special dish that's at the heart of many French people. When it comes to mealtime, this salad serves as a crunchy side or sometimes a light meal that requires no more than 15 minutes to get ready.
Salty, warm, and satisfying, it stands a big chance at being your next favorite indulgent salad. Besides tasting delicious, Lyonnaise salad is also an aesthetically pleasing dish. Especially, the yolk oozing when you cut the egg is such a pleasure for the eyes.
Potato is the ultimate comfort food, while leek lends itself to a pleasant, sweet tanginess. When the two combine? It could be the coziest French soup to get your hands on when the cold months arrive. This potato leek soup was once called "good wife" soup, and that's for good reasons.
With a total of five ingredients, most of which are already in your pantries, this French staple is easy even for an amateur home cook. Just add the melted butter, leeks, potatoes, milk, and cornstarch or its substitutes, respectively, and blend the soup until it's thick and creamy.
Nothing yields chilly weather like a bowlful of smooth, creamy, and delicious soup. To add more flavors to the dish, top it with bacon, fresh herbs, or anything that suits your fancy.
If you get your groceries a few days in advance, you should learn the proper techniques to store leeks, herbs, and potatoes. It's essential that every single ingredient used for this recipe is in its top condition. You'll thank me for this amazing tip.
Tasty French Side Dishes That Goes With Just About Anything
Fingers crossed, a lot of French accompanying dishes are super easy to make at the comfort of your home. Whether to accompany a heavy course or garnish the table for a romantic date night, here're the best French side dishes to give it a try.
Nothing comes close to a heart-warming winter course like Boulangere potatoes. If you haven't had this dish before, think of it as a potato gratin minus all the cream and cheese. With little prep work needed, this rustic country classic comes together in no time at all.
To create these tasty Boulangere potatoes, alternate layers of potatoes with onions in a prepared dish. Then, pour some vegetable or chicken stock on top and season it to your taste. You can also jazz things up with a touch of rosemary or butter between layers.
The whole thing takes around 40 minutes for all the flavors to combine. Golden, crispy on top, and tender, rich on the inside, this baked potato recipe never fails to satisfy your cravings. It's the perfect side for almost anything such as roast, cold cuts, and poultry.
If you hardly ever eat parsnips in your diet, this delicious parsnip gratin recipe will change your mind for good. Slices of parsnips drenched in a gooey mixture of heavy cream, cheese, melted gruyere, and minced garlic are the pinnacle of this winter veggie.
The earthy and subtle aroma is probably enough to draw you to this dish. Bite by bite; the root vegetable is so soft and sweet without being mushy. It's also gluten-free and vegetarian, which means almost everyone can have a share of it.
When the holiday gathering is around the corner, this parsnip gratin should be high on your menu. For a completed meal, it makes the perfect accompaniment for savory, meaty courses such as steaks and roasted lambs.
Ratatouille, made world-famous by the Pixar movie of the same name, is a timeless French classic that many foodies know and love. Once a humble peasant food, it's now a national specialty that French people take pride in.
In essence, ratatouille is a bright summer vegetable stew with colorful layers of roasted veggies bathed in a garlicky tomato sauce. Thanks to the blend of ingredients, the dish has a smoothing, spicy, sweet, and tangy taste that feels like a summer orchestra in your mouth.
There're endless ways to serve this flavorful stew. It's filling enough to make a standalone main course. Meanwhile, some crusty bread or a bowlful of rice is great for sopping up the excess sauce.
Recreate this world-famous veggie stew with this recipe right here!
A scrumptious veggie side option in French fashion, roasted mushroom with rosemary and garlic is just what you need in your life. As the main attraction, cremini mushrooms lend this recipe an earthy and savory flavor.
Roasted veggies don't get any easier than this. The mushrooms swim in a simple sauce of garlic, rosemary, thyme, and olive oil until they're brown. You can cook them up in a pan or spread the ingredients on a baking tray and let the oven take on the rest.
The pungent and sharp taste of both garlic and rosemary makes the perfect pair with the spongy mushrooms. This dish alone is a great side dish. A simple chicken or grilled steak would quickly turn it into a full main course.
Satisfying French Desserts That Feel Like A Cozy Hug
It's safe to say that desserts in French cuisine are a matter of national pride. Whenever you need to curb a sugar craving, whip up these delicious and rustic desserts in the comfort of your home!
What's the better way to showcase scrumptious summer produce than a rustic berry galette? Basically, a galette is an old-fashioned French pastry consists of flaky pastry dough wrapped around baked fruit fillings.
The ultimate element that sets a galette apart from pies is that there's no complicated shaping or pie plate involved, just your hands. In this summer dessert, you can use any of your favorite berries or ones that you have at the moment.
Without much hassle, this homemade treat will come out amazing and taste even better. The combination of mixed berries lends it a pleasant sweet-tart flavor that'll satisfy the pickiest eaters in the room.
If you've never tried Fiadone cheesecake before, boy are you in for a special treat! This traditional dessert is a delicatessen from the French island of Corsica. Traditionally, it gives the starring role to brocciu, a sweet and slightly acidic type of cheese.
Despite not falling in line with the most famous cheesecakes in the world, this tasty cake from France has a soft and refreshing texture that's almost as light as air. With no bottoms and only an inch in thickness, you'll want to extend the shelf-life of cheesecake to enjoy this delicacy forever.
Given how brocciu is a regional variety of cheese, you can whip up this treat with ricotta, and it'll turn out just as fine. Top it with some citrus fruits for contrast in flavor, and you have the perfect flourless dessert to indulge in a summer day.
An eye-catching, rustic dessert that tastes like sweet home? Count us in! The first thing that you notice from this apple tart is the aesthetically pleasing layer of cinnamon-scented apple slices layered in a shell line.
Sitting underneath is a flaky, buttery bottom crust that yields a wonderful crispy texture. An hour of baking will make the apple tender and give the crust a mesmerizing golden look. For a finishing touch, locals tend to glaze it with some apricot jam.
In every bite, the naturally sweet flavor of apples really shines through, which will give your taste buds a pleasant. It's the perfect dessert to bake up when apple season is in full swing. You can relish it on its own or top it off with a dollop of softly whipped cream.
France is not the only country that's proud of its apple tart. Äppelklatzen is an irresistible dish in Luxembourg cuisine that looks and tastes a lot like American apple pie. People in Luxembourg usually enjoy this treat during the Christmas season.
See how the expert brings this French apple tart to life right now! You can see this video to know more:
When pear season is in its full swing, treat yourself to a scrumptious pear and almond tart. This sweet pastry calls for Frangipane, an almond-flavored cream used as a filling in the tart. Stunning as it may look, this fancy dessert is a doddle to whip up at home.
The classic combination of poached pears and almonds really shines through in this dessert. As you slice through it, the flaky crust reveals a creamy, buttery filling that literally shatters in your mouth. Since the almond cream is already sweet, there's no need to add much sugar.
The best way to relish it is when it's slightly warm and with a dollop of vanilla cream on top. Whether for teatime or rounding out a heavy meal, this classical French dessert will take you to heaven.
Kick Your Skill Up A Notch With These French Recipes!
With the vast array of classic French recipes above, I hope you've been able to take your weekly menu rotation to the next level. It's safe to say that French cuisine is one of the highest regarded around the world and is, more or less, a matter of national pride.
To perfectly recreate these famous dishes at home, you should keep in mind that the success of French cuisine lies in their unique techniques and high-quality ingredients, which are sometimes straight from the farm.
Even with years of experimenting with this magnificent cuisine, it's a fairly tall order to compile a comprehensive list of their best dishes. Hence, if I've missed your favorite dishes, please feel free to let me know. And finally, Bon appetite!