Known as the second richest nation in the world, Luxembourg foods never fail to impress visitors. The cuisine of Luxembourg has been inspired by its neighbors, combining the rustic flavor of traditional German dishes and the fineness of French delicacies.
The top restaurants here tend to focus on fancy, international cuisine, which is understandable since Luxembourg is an international country. Because of that, finding a place to enjoy Luxembourgish specialties might be a bit challenging.
But don't worry, I am here to help! Just read this article, and you will know everything about the most delectable delicacies in Luxembourg. Let's dive right in!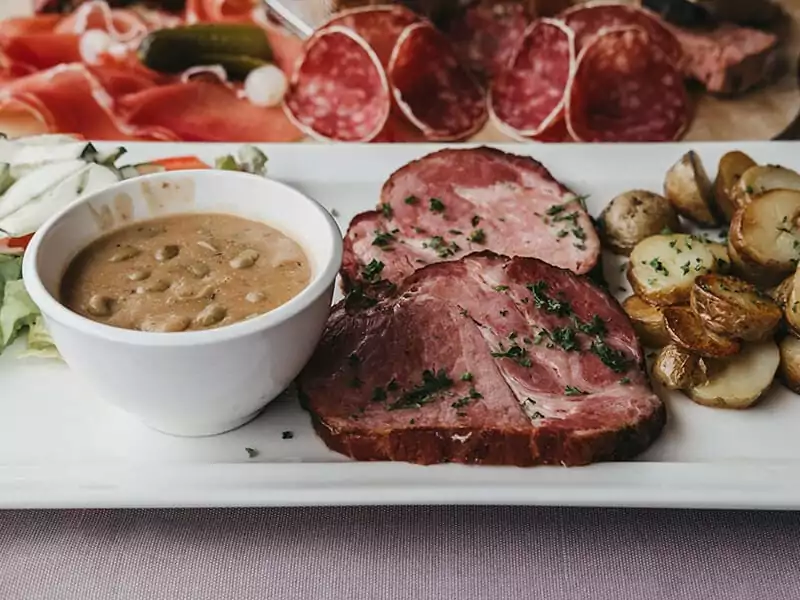 Luxembourgish Appetizers
Like any other European country, Luxembourg has a lot of yummy appetizers to help you warm up for your stomach. So if you're looking for some light and delicate Luxembourg dishes, this section will surely inspire you. Take a look!
1. Vol-au-vent/Bouchée à la Reine – Filled Puff Pastry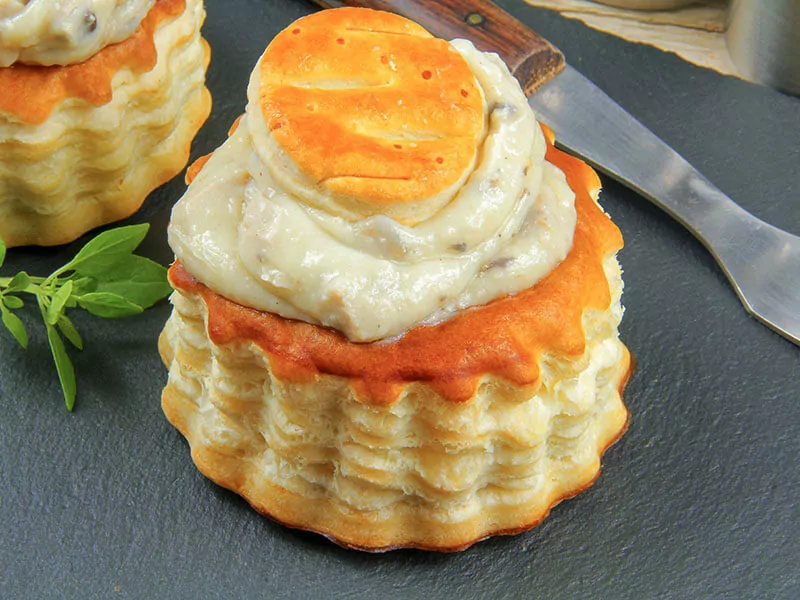 Vol-au-Vent is a hollow puff pastry filled with different fillings ranging from savories like chicken, mushrooms, and creamy veal sauce to sweets like berries and fig.
If you fill Vol-au-Vent with eggs, you will have yourself the perfect Luxembourg breakfast dish to make your weekend feel special.
This yummy pastry is originally a French dish, but it has a special place in the heart of many Luxembourgish. It is also an irreplaceable dish at many dinner parties in Luxembourg and other European countries.
2. Gromperekichelcher – Potato pancake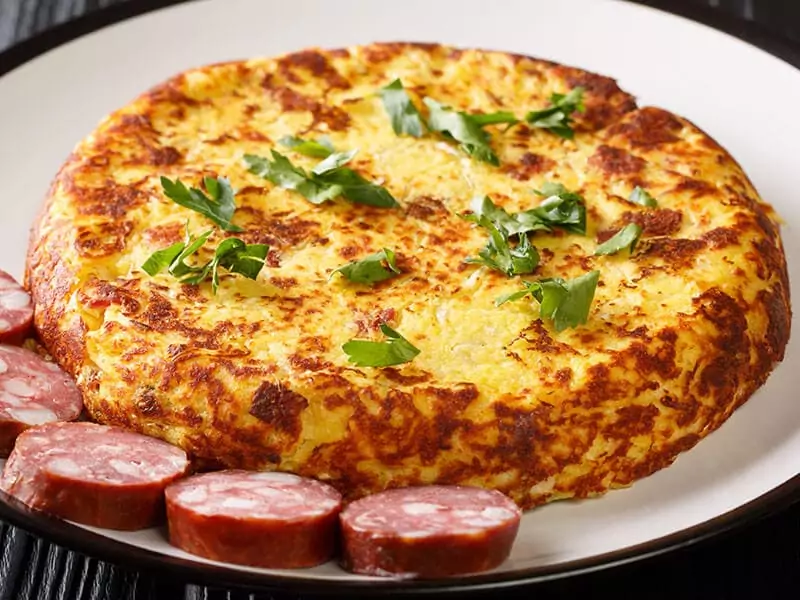 In older times, food was scarce, and peasants still faced the threat of hunger. Potato pancake was one of the dishes that the poor came up with to keep them and their community fed.
Every country has its own version of these filling potato patties, including Luxembourg. Gromperekichelcher (Luxembourgish potato pancake) comprises grated potatoes, eggs, flour, shallots, and seasonings.
Served with applesauce and Luxembourgish mustard, this delicacy is well-loved among almost every resident in this country. Not only is it an excellent starter or side dish during dinner, but it can also be a popular dish at festivals and fairs, such as Schueberfouer or Christmas markets.
3. Träipen – Blood Sausage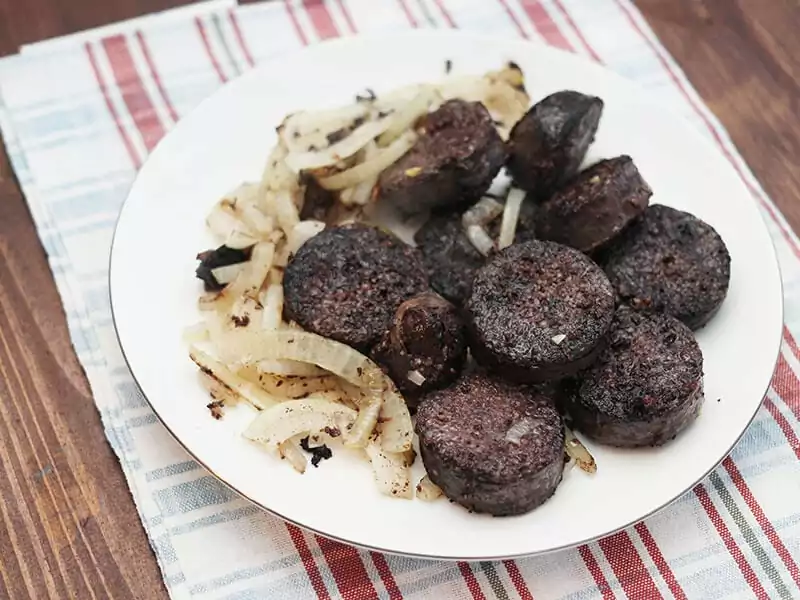 Träipen is traditional Luxembourgish blood sausages that sometimes remind people of the famous British black pudding or an exotic Estonian dish called Verivorst.
This winter delicacy is made from a mixture of minced hog's head, fresh blood, breadcrumbs, and chopped-up winter vegetables. This mixture will then be stuffed into a sausage casing, boiled, and fried until crispy.
Blood sausages are a typical appetizer worldwide. However, in Luxembourg, it can be a main dish served alongside boiled potatoes, apple sauce, and bounekräitchen (summer savory).
This dish usually makes its appearance on Christmas Eve, just after Midnight Mass. You can also find it during the first Sunday of the Lenten season or All Saints' Day.
4. Pâté au Riesling/Rieslingspaschteit – Riesling Pâté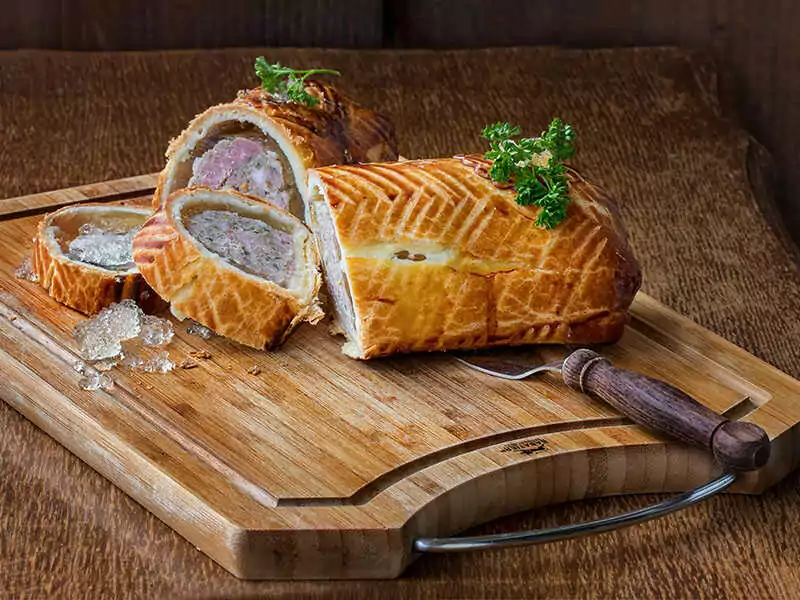 Now here's another signature French dish that the people of Luxembourg enjoy. Several kinds of pâté consist of ground meat with fat, vegetables, herbs, and spices. The type of meat used to make Pâté varies from country to country.
The Luxembourgish version calls for fresh bacon, pork liver, leeks, and many other ingredients. This appetizer is usually served with bread or crackers as influenced by French culinary art. Besides that, it can also be used to make Pâté au Riesling – a gastronomic gem in Luxembourg.
Pâté au Riesling is a log-shaped meat pie created by encasing coarse pork pâté and veggie in a Riesling-flavored aspic. This combination will then be wrapped in pastry and baked to perfection. The locals often serve it cold and pair it with a glass of Riesling.
Many Luxembourgish regard this delectable dish as the queen of pies. Because of that, it is available at almost every bakery and butcher shop in the country.
Luxembourg Main Dishes
Now that I have covered the delicious starters, it's time for the main course! As you can probably tell, the portion of Luxembourg meals is enormous. So these dishes will not only satisfy your craving, but they will also fill you to the brim.
5. Bouneschlupp – Green Bean Soup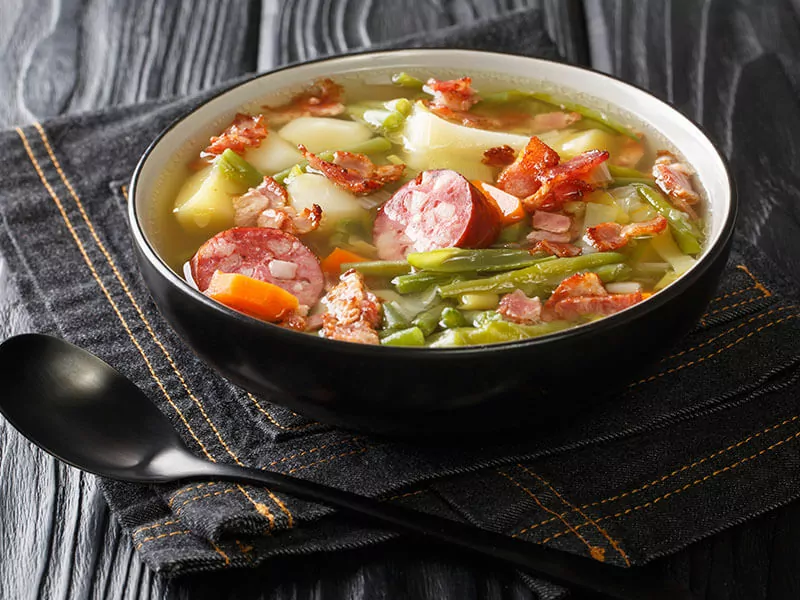 Ever since the dawn of time, when cooking utensils were first invented, people have been making all kinds of soups to fill their stomachs.
In Luxembourg, a traditional soup dish called Bouneschlupp is deeply rooted in the culinary culture. Since this tasty soup is so famous among generations of Luxembourgish, it has made its way to become a dinner table staple as it is today.
This Luxembourg dinner recipe contains green beans, potatoes, smoked bacon, and onions. Bouneschlupp can also be found in other Central European countries.
Judging by its ingredients, Bouneschlupp has another version: Gromperenzopp, a potato-based soup in Luxembourg. This dish is served in a deep bowl with pieces of sausage, fresh parsley, or fried onion. Both of these soup dishes deserve a taste!
6. Judd mat Gaardebounen – Smoked Pork and Broad Beans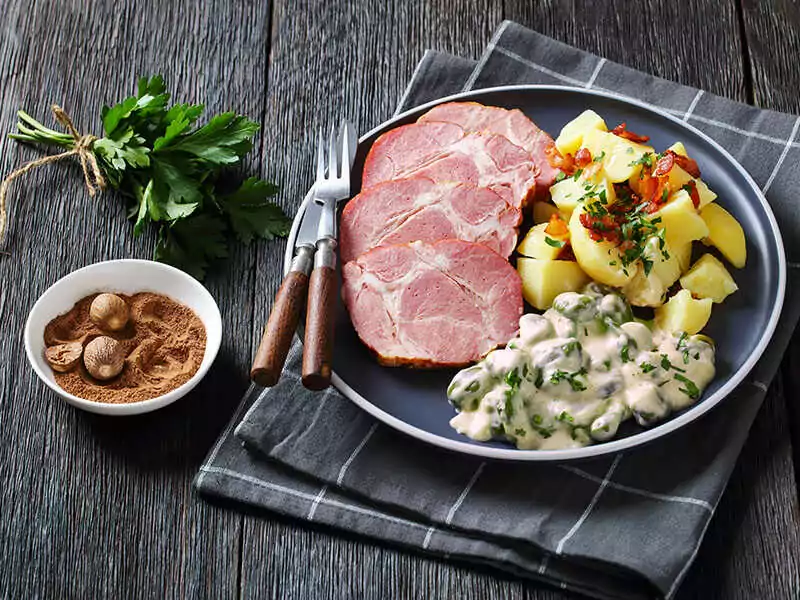 Judd mat Gaardebounen, which means "Jew with Bean", is one of Luxembourg's most recognized national dishes. It consists of smoked pork collars, broad beans, and a delicious creamy sauce. This is also why this dish mainly appears in summer, when beans taste the best.
Some sources claim that Judd mat Gaardebounen was introduced to the Luxembourgish by Spanish troops in the 16th or 17th centuries. This explains the dish's name since Judd is most likely to come from the Spanish word Judía, meaning "bean".
This mouth-watering Luxembourg lunch dish was first found in Gottingen, a town located in the southeast of Luxembourg, but has stolen the heart of the whole nation. The people here are even nicknamed "Bounepatscherten" after the famous dish.
As I mentioned earlier, the portion of Luxembourg main dishes is huge. So if you want to order Judd mat Gaardebounen at a local restaurant, make sure that you are hungry!
7. Flammkuchen – Tarte Flambée or Pizza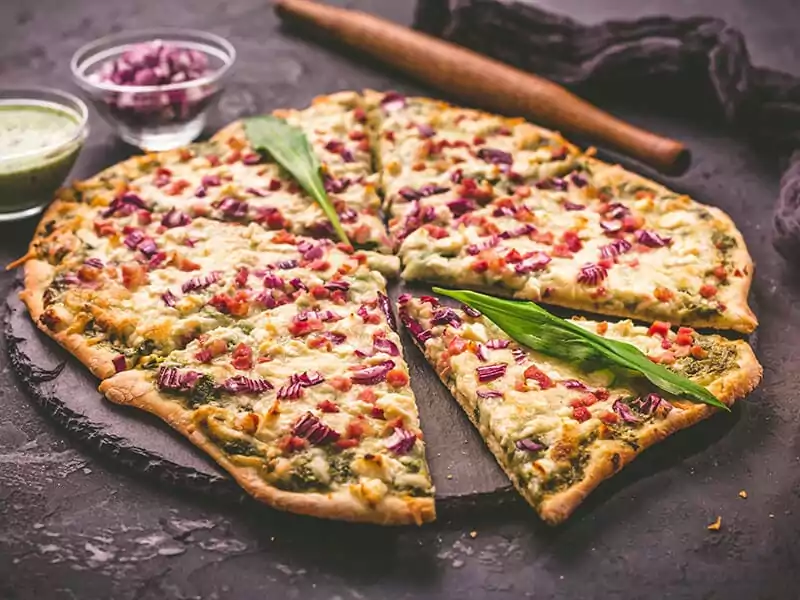 Flammkuchen is a Luxembourg classic baked dough that can either be called a Luxembourgish pizza or a Tarte Flambée (similar to how the French call it).
This tasty pizza calls for cheese, crème fraîche, onions, and various toppings ranging from meats to vegetables or herbs.
Germanic farmers first created the dish from Alsace as a simple way to test the heat of the wood fire oven that they used to make other types of bread. Flammkuchen remained a homemade dish until the "pizza craze" of the 1960s.
8. Hong am Reisleck – Chicken in White Wine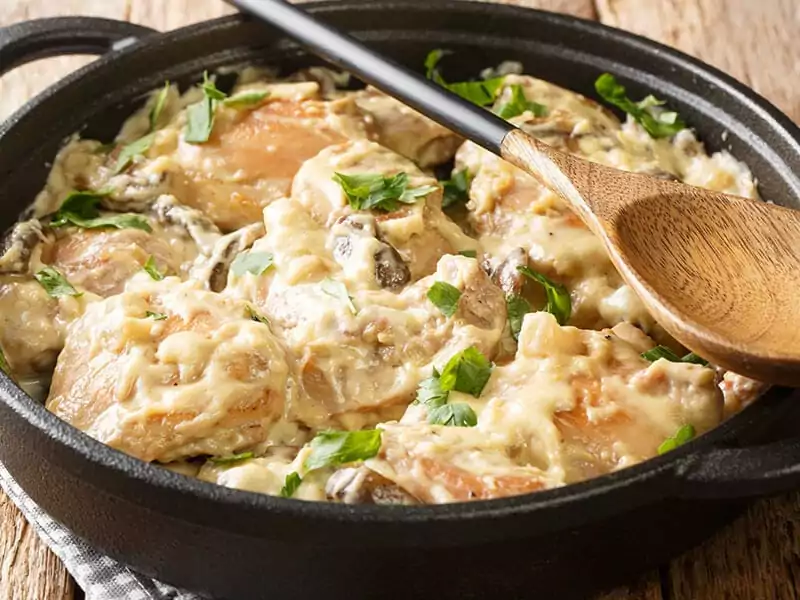 As you can tell, this nation is famous for its Riesling wine. After hundreds of years of wine production, the people of Luxembourg have found a way to incorporate their renowned wine into a delicious meal.
Hong am Reisleck holds a special place in the hearts of the Luxembourgish, despite the heavy French or German culinary influence.
It's not hard to make this dish. You just need to cook big chunks of chicken in a creamy Riesling wine sauce, along with shallots, mushrooms, chicken stock, and other spices.
9. Friture de la Moselle – Fried Fish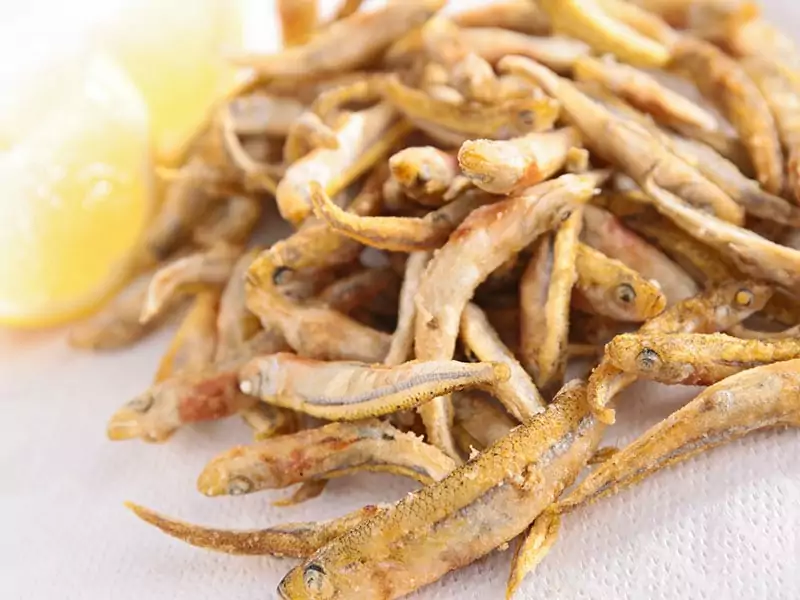 Originated in the wine-growing Moselle region of Luxembourg, Friture de la Moselle is a staple fried fish dish in Luxembourgish cuisine.
If you want to make this delicious yet simple dish, you need to get small river fishes, season them with salt, pepper, and lemon juice then deep fry them. The fishes might be gutted beforehand. However, if they're too small, they can be left whole.
Friture de la Moselle can be enjoyed in everyday family meals or served in restaurants with a glass of Luxembourg Riesling wine, a wedge of lemon, or some fries. Eating by hand is an authentic way to enjoy this delicacy.
10. Wäinzoossiss mat Moschterzooss – Sausage with Mustard and Wine Sauce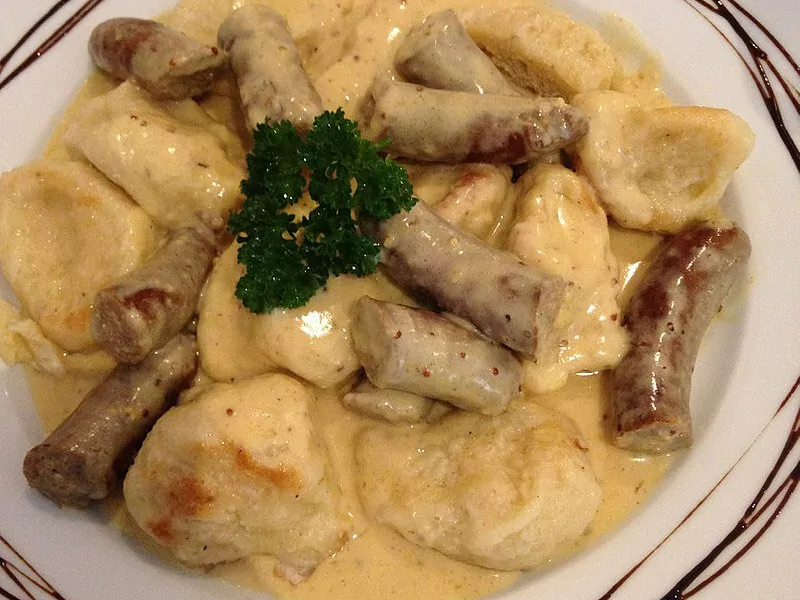 Wäinzoossiss mat Moschterzooss is a signature type of sausage of traditional Luxembourg cuisine. This dish consists of fried and cooked veal or pork sausage in a creamy mustard wine sauce, served with mashed potatoes and different types of greens.
Wäinzoossiss mat Moschterzooss is a staple home-cooked dish in Luxembourg. But you can also find this dish and enjoy it in traditional restaurants.
11. Kniddelen – Dumplings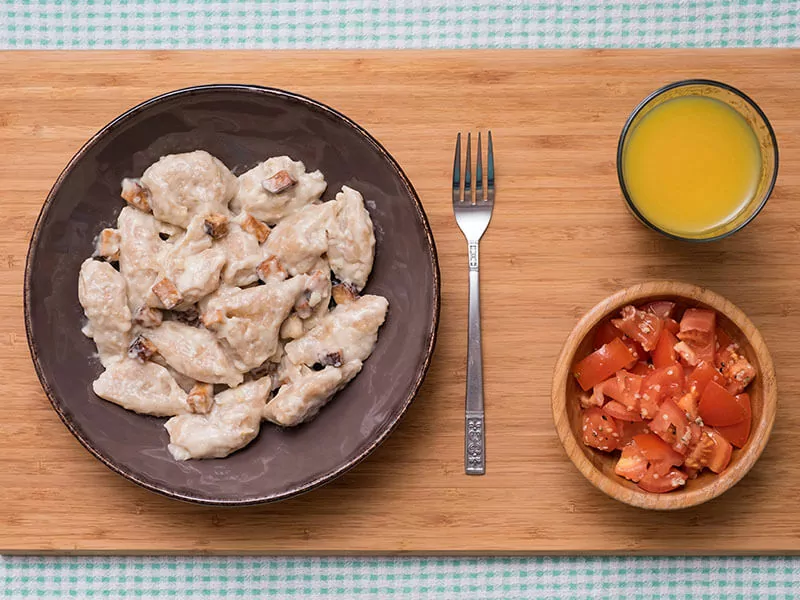 Contrary to popular belief, dumplings can be found outside Asia and become a staple in other cuisines. Kniddelen – the Luxembourgish dumpling is the perfect example of this.
Most dumplings in Central Europe were made with a savory filling in a rolled-out dough. Making Kniddelen is way more straightforward than that.
To prepare this dish, a thick dough mixture made from flour, salt, eggs, and milk is dropped scoop by scoop in boiling water and left to cook for a few minutes. Afterward, the dumplings are topped with a generous spoonful of rich bacon cream sauce and a light sprinkle of herbs.
Besides bacon sauce, this dish can also be paired with beer sauce and side dishes like Luxembourgish sausages and apple compote. However, since the portion of this dish is so big, the dumplings alone can already fill you up.
This simple yet filling dish was created by the poor back in the day, making it the perfect demonstration of the resourcefulness of the Luxembourgish during hardships. Kniddelen is now a famous national dish during annual events and Christmas time.
12. Kuddelfleck – Luxembourgish Tripe
Kuddelfleck is a special Luxembourgish dish that dates back hundreds of years ago. It was first created to make use of the inner part of a cow to avoid wasting any edible part of the animal. But eventually, the dish has gained popularity through the years.
To make Kuddelfleck, you must cover cow tripe in breadcrumbs and fry until golden brown. This dish goes perfectly with a side of boiled potatoes and a white wine sauce or a spicy tomato sauce.
13. Huesenziwwi – Jugged Hare
If you have never tried rabbit meat before, this is your chance! Huesenziwwi comprises marinated hare chunks in a thick sauce prepared from hare or calf's blood, red wine, and onions. Some even add sour cream, veggies, and herbs to make it extra flavorful.
To make this delicious stew, the hare has to be marinated for 48 to 72 hours before being cooked in lard and flambéed with cognac. The Luxembourgish often serve this dish with cabbage, noodles, and local wine.
Huesenziwwi is available on the menus of Luxembourg's best restaurants during the game season, which runs from October to December.
14. F'rell Am Rèisleck – Trout in Riesling Sauce
Since Luxembourg is a landlocked country with no access to the sea, the traditional fish dishes here are made with freshwater fish rather than marine fish. Most fine-dining establishments in Luxembourg also provide trout-based specialties, including F'rell Am Rèisleck.
F'rell Am Rèisleck is a typical Luxembourgish fish dish made with freshwater trout drowned in a creamy Riesling wine sauce. This phenomenal main dish usually comes with a side of crispy potato latkes or steamed potatoes.
Luxembourg Desserts
Let's end this article with some delightful Luxembourg desserts. Even if you don't have a sweet tooth, the sweet treats I listed below will definitely put a smile on your face.
15. Quetschentaart – Plum Tart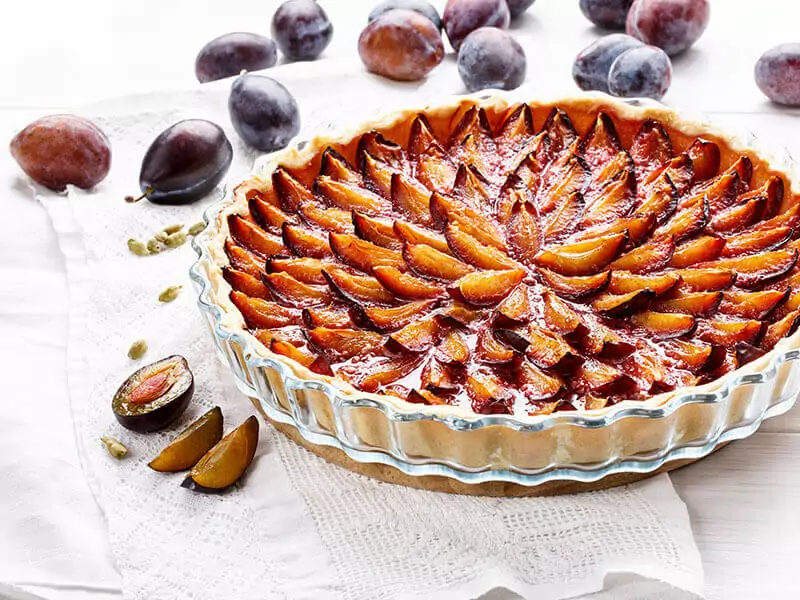 Quetschentaart is a famous Luxembourgish open fruit tart that you can find at almost every bakery across the country. This tart tastes best during the autumn when the quetsch (or plums) is freshly-harvested.
This gorgeous dessert was created to celebrate the harvest of this fruit. During this time, families would gather around the table and enjoy an afternoon coffee with a delicious slice of Quetschentaart.
The Luxembourgish love to enjoy this delightful tart with whipping cream and a cup of coffee in the afternoon.
16. Äppelklatzen – Apple Tart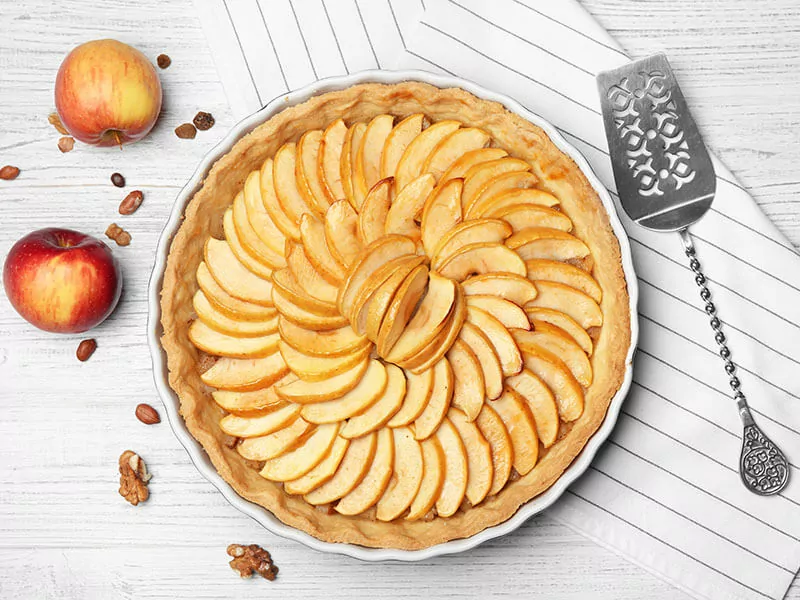 Äppelklatzen is a delicious apple tart found in Luxembourg. It looks and tastes quite similar to an American apple pie due to the classic combination of apples and spices such as cinnamon and nutmeg.
This comforting dessert is considered one of the must-haves during the Christmas celebration. If you successfully make this dish at home, remember to top it with syrup and a scoop of ice cream to make it ten times more mouth-watering.
17. Verwurelter – Donuts
Verwurelter, which literally translates to "the messy one", are little knot-shaped donuts that every Luxembourgish enjoys. So if you're a fan of deep-fried desserts, remember to look for these light and fluffy dough balls during your visit.
Since this dessert is so well-loved here, you can easily find them at many stores and bakeries in the country. The demand for this sweet treat rises even more during the carnival season. It is considered one of the best festival foods in Fuesecht, a festival in Luxembourg.
If you want to try out some Verwurelter, here's a tutorial for you!
18. Mummentaart – Traditional Luxembourg Tart
Another Luxembourgish apple pie recipe makes it to this list: Mummentaart – a traditional dessert of the people here.
To make the dough for this pie, you need to combine flour, butter, quark, water, and salt. The filling is simply made by tossing apple cubes and raisins in a mixture of sugar, cinnamon, and lemon juice.
Mummentaart is lovely when fresh out of the oven, but it still tastes excellent when cooled. The dish is enjoyed every day by the people of Luxembourg as a delightful treat to end the day.
---
Enjoy Your Meal!
Being one of the smallest yet wealthiest countries in the world might be the first thing that comes to people's minds when they think about Luxembourg. And there's no denying that this is the nation's distinguishing characteristic. However, it should also be known for its homeland dishes.
Thank you so much for reading this article. I hope this food list has kept you entertained until the very end. If you have made it this far, consider dropping a like and sharing this post with your friends and families.
Also, if you want to ask anything about Luxembourg foods, I am more than happy to answer you. I wish you all the best and goodbye!