How many types of snack foods do you know? Snack is a familiar term in various food categories, referring to small food portions that do not require any hassle preparation. However, naming snack types is not simple.
Snacks are not only the favorite treats for children; they are good friends for adults too because you can easily bring them along, let alone their tastiness. Moreover, some snacks are healthy as well.
Snacks are typical food to enjoy between meals in general, but you can consume them at any time during the day. So if you are unsure how many snack variations are there, you should not miss this enlightening post. Some of them are beyond your ken.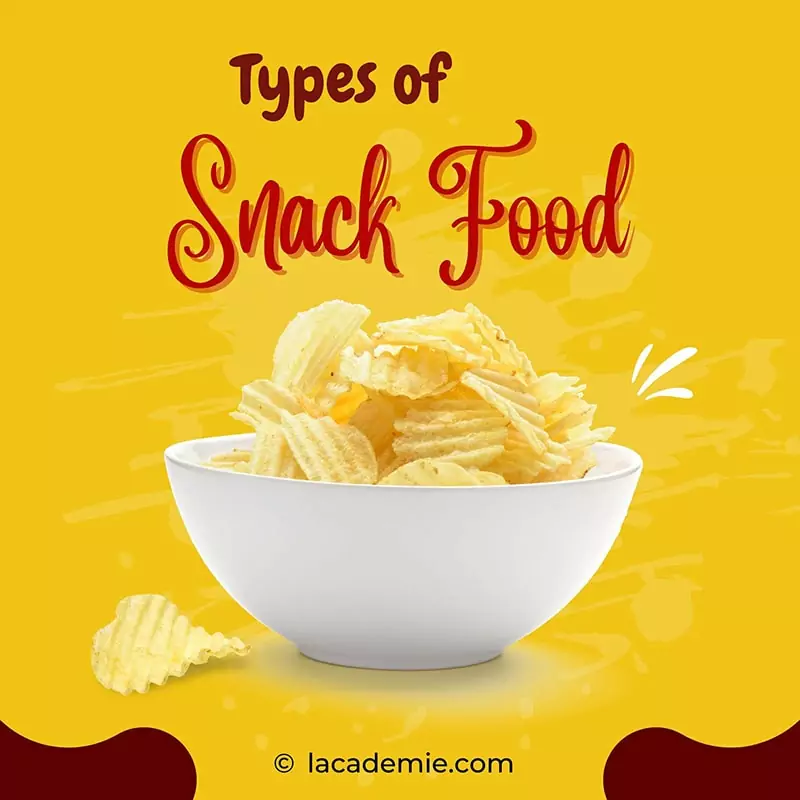 Different Snack Styles Around The World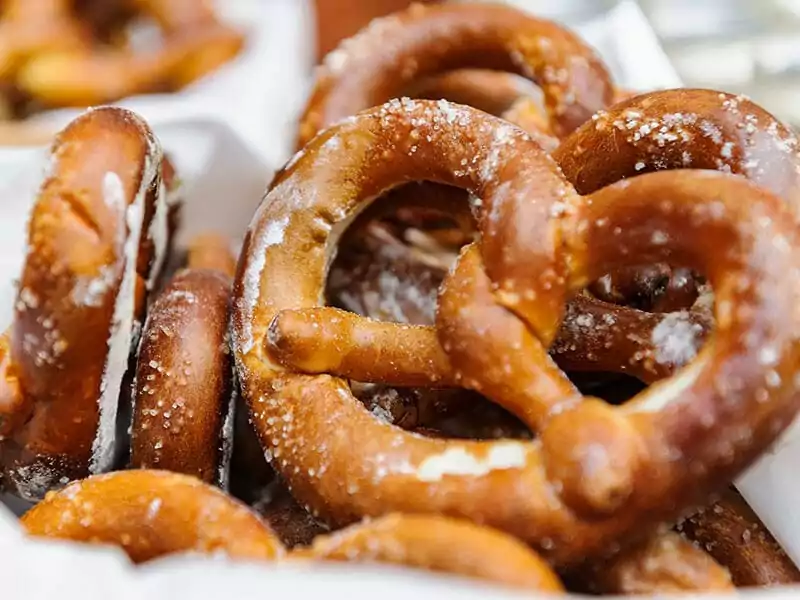 Like other foods, the way people prepare and enjoy snacks in different countries is not similar to each other. Here are some highlights about snacks in some countries (or regions).
In the USA, popcorn, peanuts, and pretzels are the staple food for snacking. Nowadays, these treats are sold under many brands as packaged snacks.
In Asia, snacks are indispensable food in people's lives. Each country has its own special snacks. For example, banana cue (similar to plantain fritters) is a simple yet tasty Filipino snack, or if you like flavorful treats, Indian-style snacks will not let you down.
In Europe, pretzels are also a favorite snack in Germany. Or, when you visit France, you might spot numerous French snacks that are baked goods. In case you want to experience them in various styles, the list of Spain snacks will impress you the most.
In the Middle East, high-protein snacks are preferable. The best instances are hummus (chickpea dip) or beans.
A fun review about American and Japanese snacks that you should not miss.
Specific Snack Forms In 4 Main Categories
For better understanding, here are 4 main groups with their examples regarding snacks. These classifications include Sweet snacks, Savory snacks, Plant-based snacks, and Others. Overall, snacks can be commercially packaged treats or homemade ones.
5 Sweet Snacks That Can Satisfy Your Sweet Tooth
Snacks with sweet flavors are everybody's favorite because they can immediately elevate your mood and provide energy. These snacks can be healthy treats as well, depending on their ingredients. Here are 5 basic types in this group.
1. Batter and Dough-Based Snacks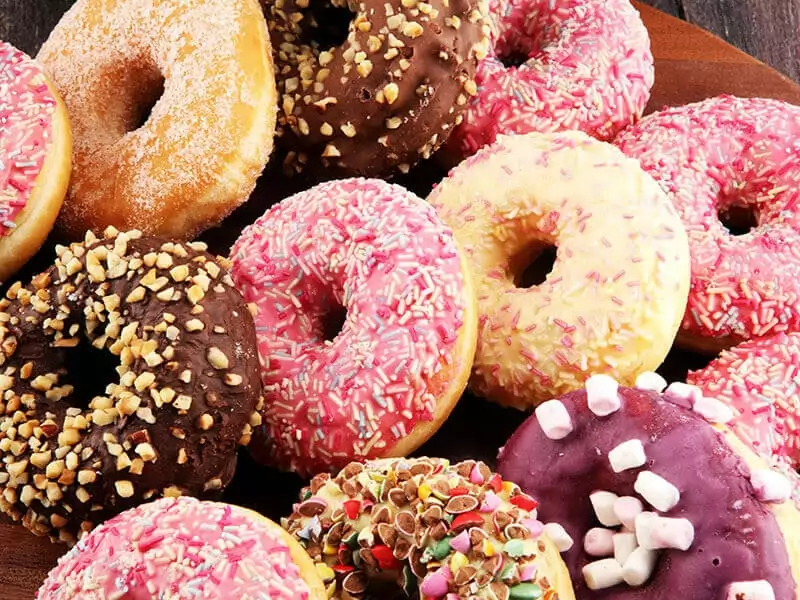 Examples: Donuts, banana fritter, pancakes, waffles, falafel, etc.
Normally, batter and dough-based snacks are fried (or deep-fried) food. A typical example of fried dough is the donut you can make at home or buy in any bakery or supermarket. The main ingredients of batter or dough are liquid, flour, flavorings, and other components.
In reality, different countries have different ways to create sweet snacks with batter and dough. Some of them might require a certain time to raise the yeast dough.
These treats, apparently, come in numerous appearances. But as they are fried snacks, their iconic color is golden brown that can be soft or crunchy.
2. Cookies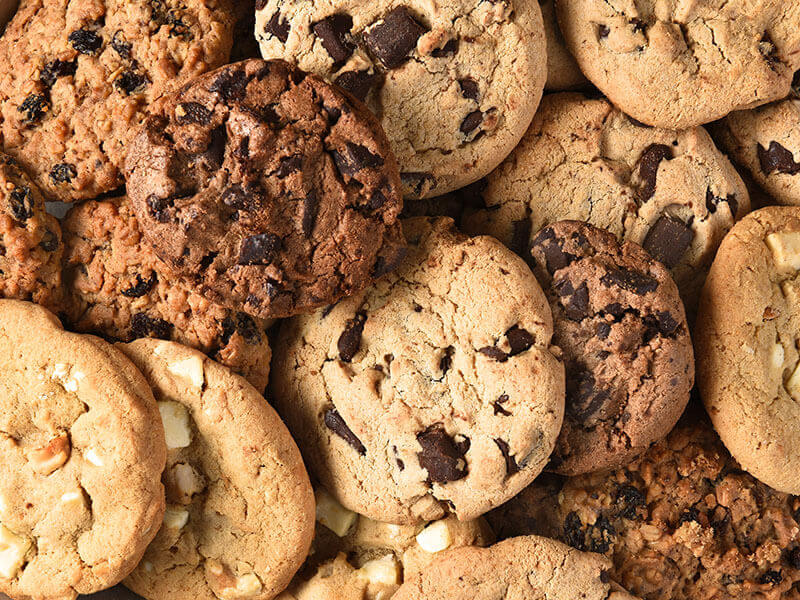 Examples: Chocolate chip cookies, icebox cookies, pinwheel cookies, Oreo, etc.
Cookies have been a popular human food for a long time. The first cookie was found in the 7th century AD, and it gained popularity in Europe by the 14th century. There are several cookie sorts with different preparations, shapes, ingredients, etc.
In brief, cookies are tasty snacks (or desserts) that you can buy at stores or bake (or cook) at home as there are many simple cookie recipes out there. The main components in cookies are flour, butter, eggs, and sweetener, with other common additions like chocolate chips, oats, nuts, etc
In other countries (outside America), cookies are known by another name as "biscuits". However, biscuit indicates crisp cookies, while normal cookies are chewy ones. On the other hand, people can call them based on their shapes, like bars or date squares.
In case you want to test your baking skill with cookies, here are some mistakes that you should avoid.
3. Snack Cakes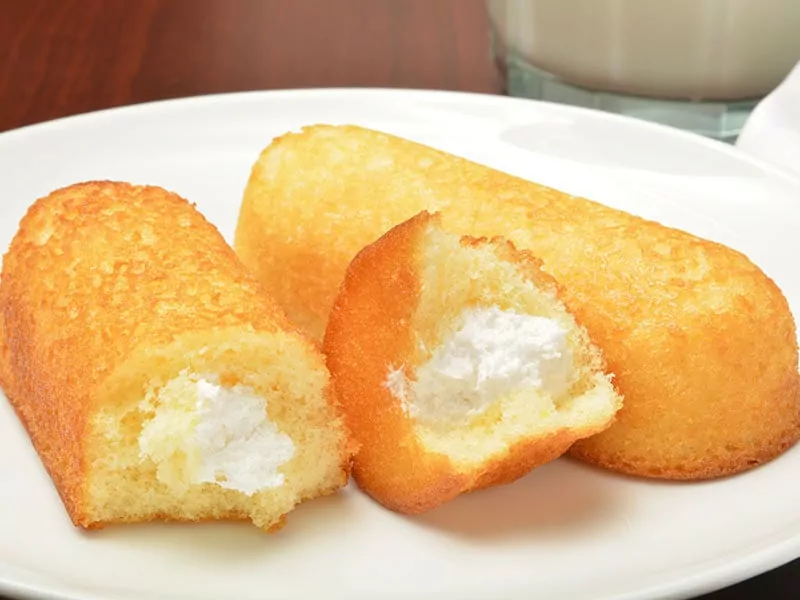 Examples: Gansito (Mexican snack cake with filling), Jaffa cakes (in the UK), etc.
Typically, cakes are the most common desserts that you can easily find at many special events, like weddings, anniversaries, or birthdays. However, snack cakes are different as they are not for these big occasions.
They must be in small servings available in a box or individual portions. And you can buy them at any American store or supermarket under several brands, for example, Twinkies, Little Debbie, Drake's Devil Dogs, and more.
These small cakes can be baked snacks or desserts made from icing, cake base, and sugar. In addition, you can enjoy these small sweet snacks for afternoon treats or any time in the day.
4. Confectionery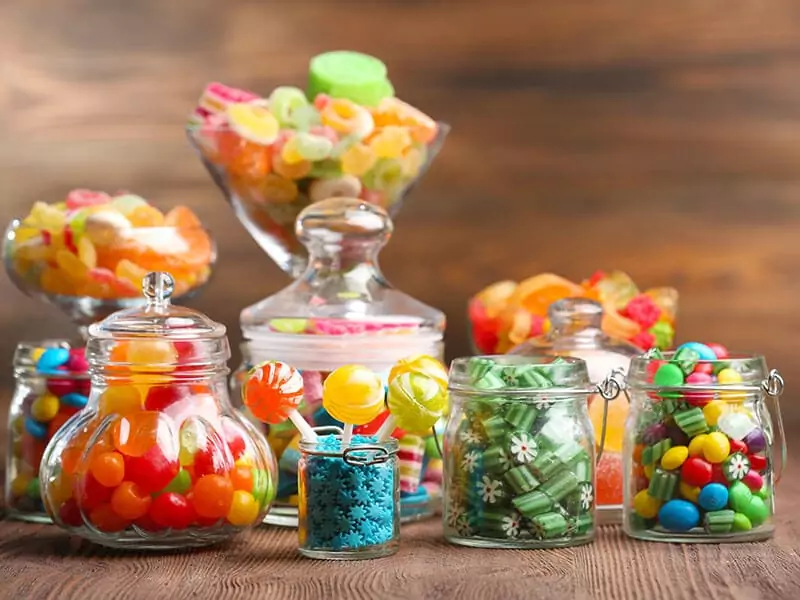 Examples: Chocolate, candy, fudge, marshmallow, and more
If you crave something very sweet, confectionery (aka confections) is a classic snack featuring a rich, sugary taste. Indeed, these foods are sugar-based treats however, there are 2 broad categories in confectionery.
One refers to a group of sweet cakes, pastries, or other baked goods, which are baker's confections. Another category is sugar confections with candies, lollipops, chocolates, gums, etc., which are typical instances.
In this case, the latter group is better known as snack food. However, you might find some chocolate confectionery without sugar, but people still count them in this group because there are other natural sweeteners on the market.
The shelf life of these treats varies, depending on the storage and water level. If they are super high in sugar, like boiled candies, their shelf lives are pretty long if you store them properly.
What does candy look like around the world? This clip will expand your knowledge about these sweet snacks.
5. Pastries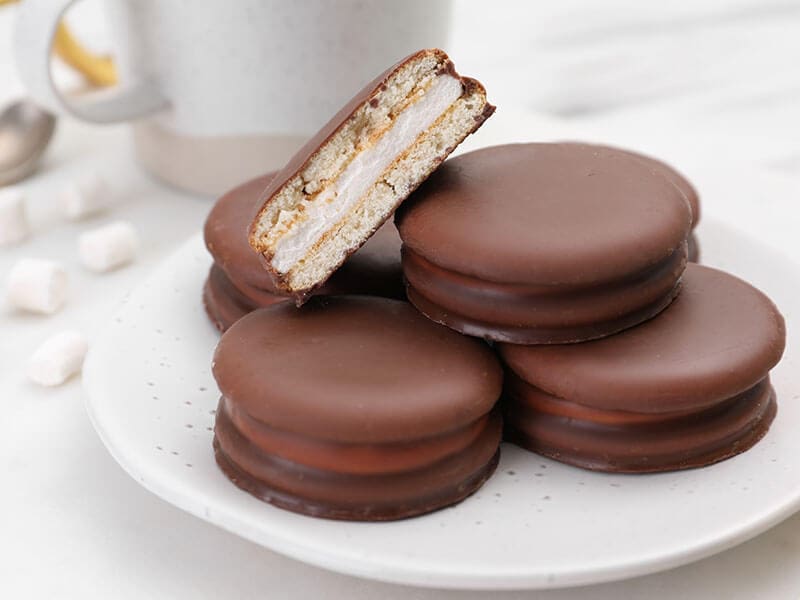 Examples: Snack pies, churros, pineapple cakes (Taiwan), scones, etc.
If you search for snack pies, you might be overwhelmed with too many brands on the market. But they all share one trait; these snacks are mini and convenient pies. Or, in Taiwan, small pineapple cakes are a trendy snack.
In fact, pastries for snack food are diverse. There are several simple recipes to bake in your own kitchen, like desserts with pie crust, scones, churros, or toaster pastry.
Savory Snacks Are Also Awesome!
Besides sweet snacks, there are several kinds with savory flavors. Here are 7 sub-categories in this group that you might (or might not) know before.
6. Chips (or Crisps)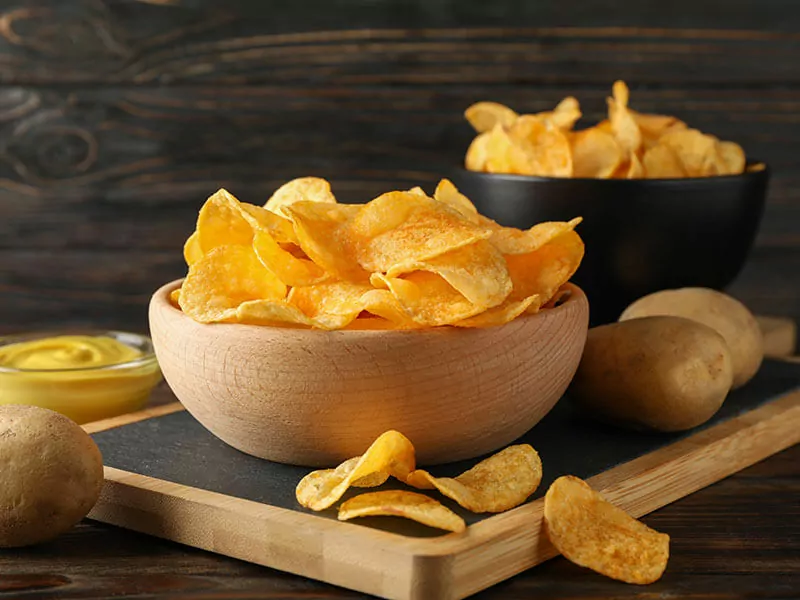 Examples: Potato chips, tortilla chips, corn chips, pretzels, etc.
Chips in the snack world are sliced food with bite-sized shapes. They are baked or fried foods to reach the desired crunchiness. Additionally, chips are typically flat and crisp that can pair well with various dishes.
What's more, they are good on their own as side orders, appetizers, and of course, snacks. For example, tortilla chips and nachos are the perfect snack food to go with many authentic Mexican foods, like salsa, guacamole, dip, etc.
Common ingredients to make chips (or crips) are root vegetables (e.g., tapioca and potato), fruits (like plantains or bananas), beans or grain (corn, beans), or vegetables (such as kale, carrot).
Making healthy and crunchy kale chips at home is trouble-free work.
7. Crackers (or Biscuits)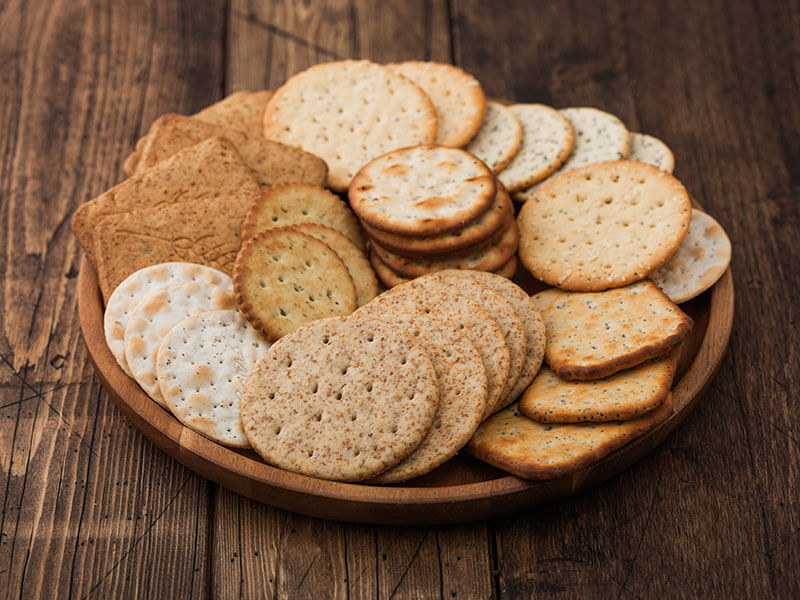 Examples: Crackers, Arare (Japanese crackers made from rice), oyster crackers, water biscuits, etc.
These foods are baked goods that mainly comprise flour and flavorings to create layering dough. Some also contain herbs, cheese, or seeds. People can enjoy them on their own or pair crackers with other foods like cheese, butter, jam, spread, etc., as some kinds are bland in flavor.
On the market, crackers are well-loved snacks since they are high in portability and cost-efficiency. Famous brands that you can consider are Cheese Nips, Bremner Wafers, Ritz Crackers, and others.
Their shapes are different, such as round, triangular, rectangular, or even irregular. On the other hand, many people mistake crackers for cookies, but the former refers to savory biscuits, whereas cookies are typical sweet treats.
8. Bread and Sandwiches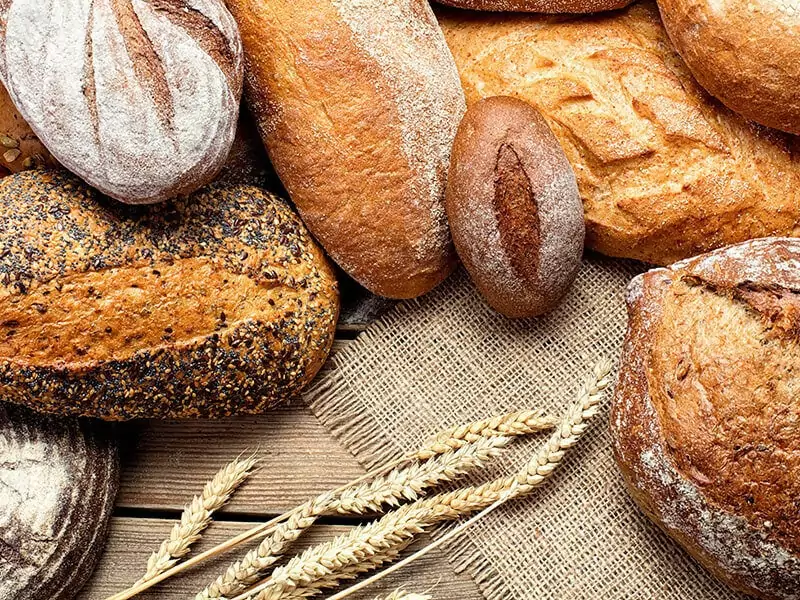 Examples: Bagel, croissant, lavash, sandwiches, and so on
Bread is an age-old food around the world. They are generally classified as bread, but you can consume them as a snack at any time, and they can go well with anything, from sweet to salty ingredients.
As bread comes in different varieties, some might not be an ideal snack. On the other hand, sandwiches are suitable sub-classes of bread snacks. They normally contain 2 or more slices of bread with fillings between them.
Various sandwich varieties have distinctive components (e.g., jam sandwich with sweet jam (or jelly), open sandwich with topping). Besides being tasty snacks, they can also be perfect dishes for your lunchtime.
9. Cheese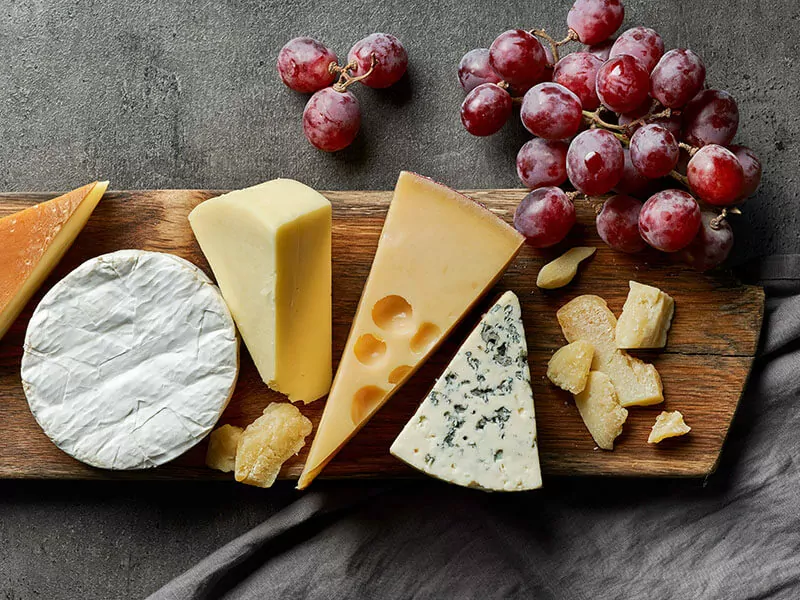 Examples: Cream cheese, string cheese, cheese balls, processed cheese, etc.
Consuming cheese for snacks is one of the healthiest ways to improve your health since cheese is high in protein. It can fill your stomach and forget the hunger right away.
Indeed, cheese is dairy food made from animal milk (like goats, cows, and buffalo). There are plenty of types of cheese, but not all of them are compatible as snacks.
The best snacking cheeses are string cheeses, cheese sticks, or processed cheeses. Generally, they are amazing after-school or late-night snacks. And if you opt for low-fat cheese, they can even boost your losing weight process.
Let's grab your cottage cheese and prepare some basic snacks with it.
10. Meat-based Snacks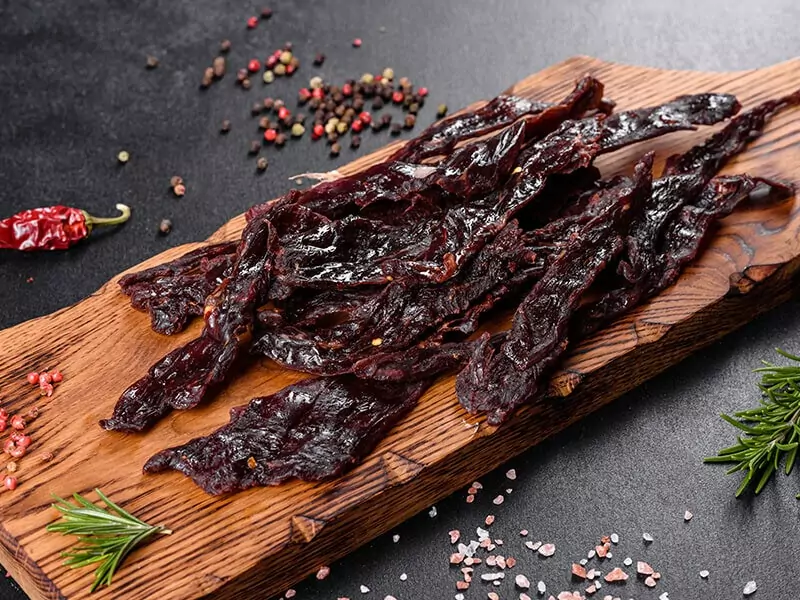 Examples: Jerky, dried seafood, bacon, deli meat snack, and more
Meat is the most widely-consumed food in the world. And several meat types are wholesome ingredients and play an important role in multiple cuisines.
Many are protein-packed and low-carb food that can help you stay full longer. These meat-based snacks are available in any convenience store or market, but if possible, you can prepare them yourself, like meat jerky.
Bacon also falls under this sub-category. This is cured meat derived from different cuts of a pig. Though bacon contains high amounts of fat and salt, it is still safe to consume if you eat them at a moderate level.
11. Noodles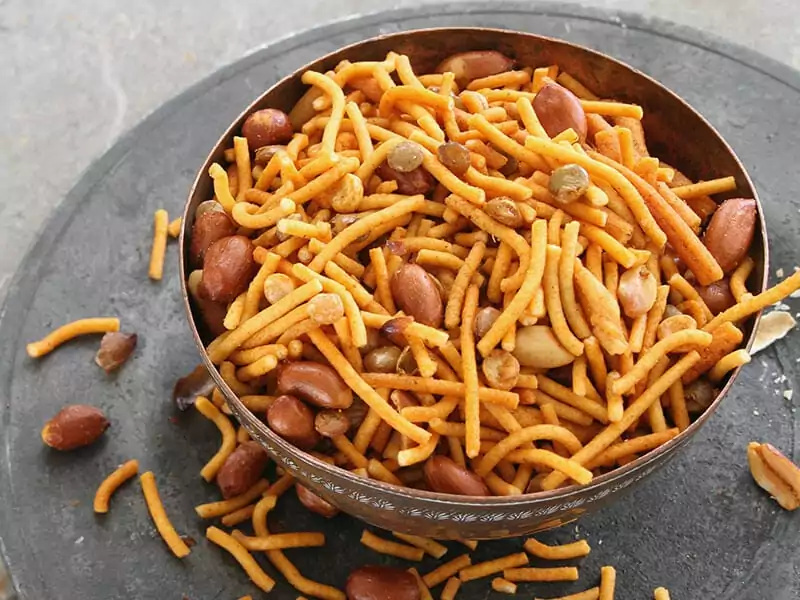 Examples: Bombay mix, raw instant noodles, etc.
Did you know that you can consume raw instant noodles as an emergency snack when there is no snack left except a package of instant noodles?
Cooked instant noodles are also a quick snack (or meal) to enjoy at any time. Regular noodles include many carbohydrates, which can refuel your hunger quickly.
In India, Bombay mix is also a convenient snack made from a lot of spiced dried noodles and other components, like lentils, chickpeas, or nuts. They are tasty treats bursting in flavors that you can serve as a snack or appetizer in the country.
12. Snack Bars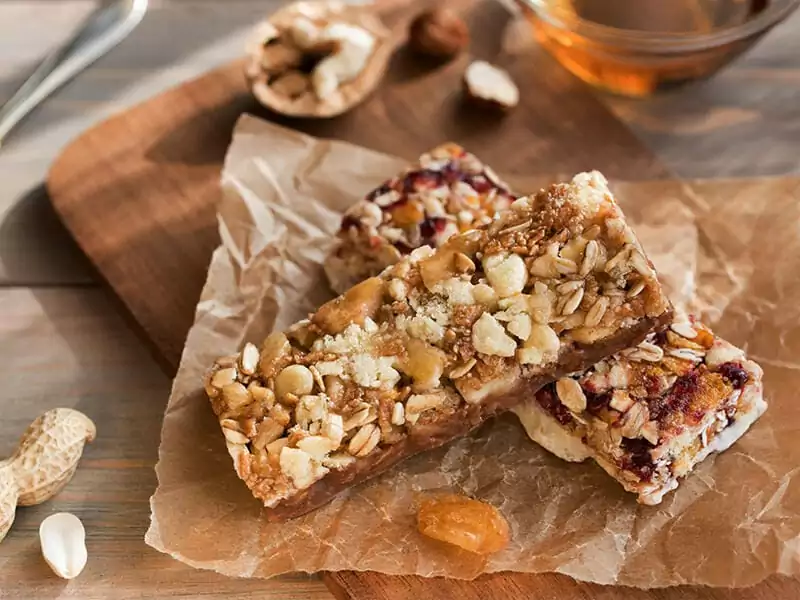 Examples: Energy bars, granola bars, cereal bars, and so on
In terms of snack food, these bars are versatile treats containing dried nuts, fruits, oats, or cereals, which offer a healthy snack packed with nutrients. For more specific, energy bars are the best examples.
These bars are the ultimate energy supplement that you can even eat to replace main meals because they contain 3 main energy sources in food (carbohydrate, fat, and protein).
Like energy bars, granola bars are also a well-loved snack in many countries, like the USA, New Zealand, Australia, and so on. In the United Kingdom, a similar version of these snacks are Flapjack, which primarily contains oat and sweetener.
Click here to learn more about these grab-and-go snacks – protein bars.
Plant-based Snacks – A Perfect Source To Promote Healthy Life
Speaking of natural snacks, there are many fruit varieties and several kinds of nuts that you can consume, especially for health-conscious people. What's better, veggies, grains, edible seeds, or legumes are also beneficial snacks. So keep reading to learn more about them.
13. Fruits and Vegetables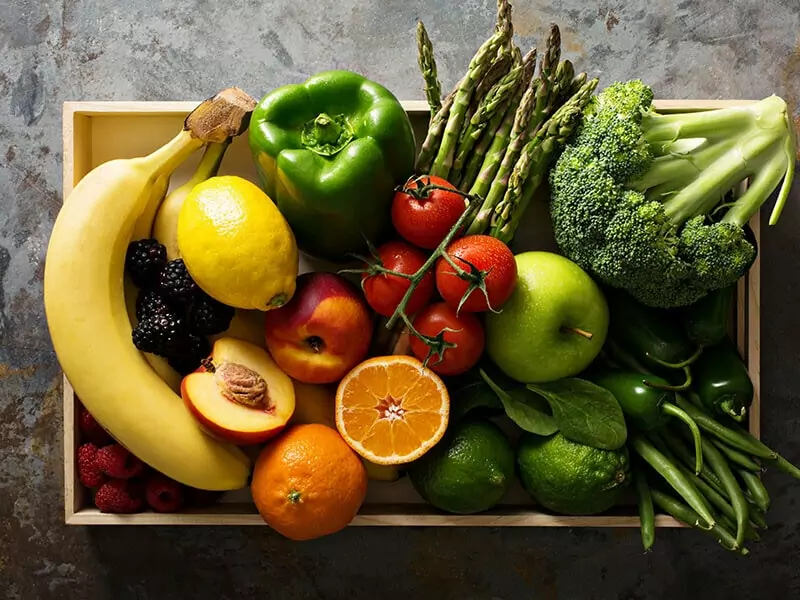 Examples: Apples, carrots, bananas, cucumber, celery, dried fruits (or veggies)
Fruits and vegetables are famous for their rich nutrients, antioxidants, and vitamins. But as for snacking, they should not be too sour or bitter. The best fruits you can consume as a snack are bananas, apples, melons, drupe fruits (like cherries), and others.
Regarding vegetables, you can eat sliced cucumber, tomatoes, celery, carrots, etc., whether they are raw, cooked, or dried. Pairing fruits or vegetables with dip, spread, or cheese are preferable if you need a longer fullness.
Another good thing about fruit or veggie-based snacks is their low-calorie, but it does not mean that they will totally help you lose weight. They still add calories to your body, so check for this information before consuming your snack.
What are the healthiest fruits to eat? Check here for more insights.
14. Edible Seeds, Nuts, Grains, and Legumes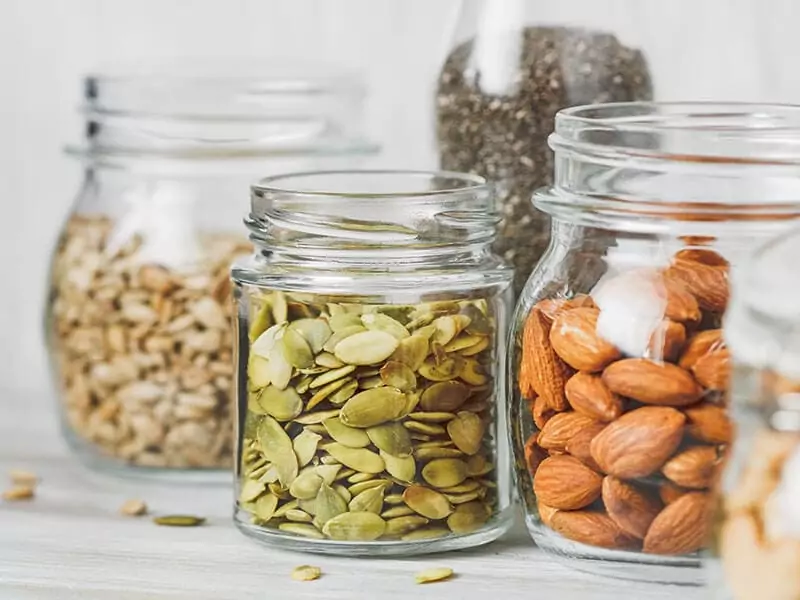 Examples: Cashews, pistachio, almonds, pumpkin seeds, popcorn, trail mix, and more
These tasty little ingredients are significant sources to add protein and calories. They can also lower chronic disease risks and cancer, making them one of the healthiest snacks to nibble all day long.
Many of them are ideal for eating alone (such as almonds, cashews, etc.), whereas others can mix with other ingredients, like trail mix. What is trail mix, by the way? This is a delicious mixture of dried fruit, granola, nuts, and candy (optional).
Regardless of their variety, these snacks are the ideal food to bring along because they are lightweight, nutritious, and quickly improve your energy.
Other Common Snack Foods That Everyone Loves
The last category is about drinks and frozen snacks. Technically, there are various kinds of drinks, but not all of them fit the requirement as a snack. So what beverages are perfect for snacking, and how can frozen snacks make you happier? The below parts will tell you more.
15. Drinks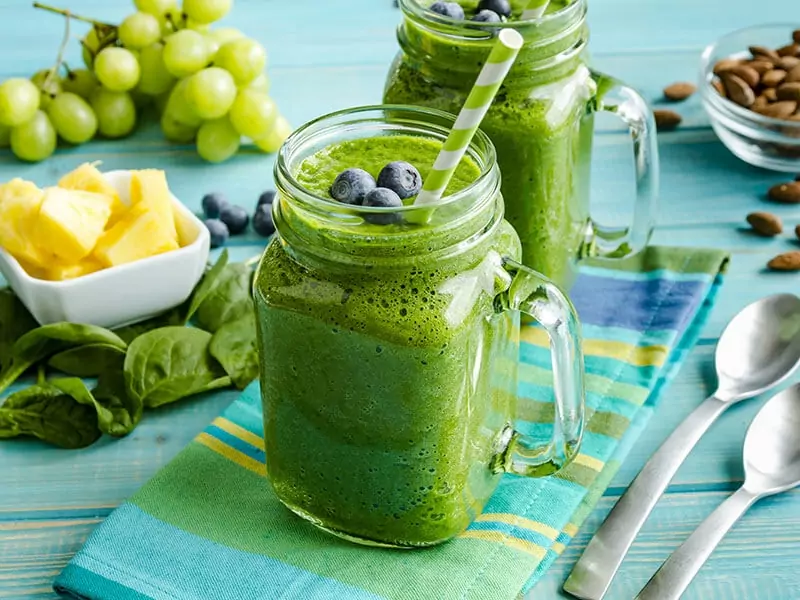 Examples: Smoothies, bubble tea, energy drink, soft drink, juice, etc.
When it comes to snacking beverages, they should relieve human hunger, whether these drinks are store-bought or homemade. With store-bought ones, soft drinks are the most common snacking beverages. In case you need a healthier option, a smoothie is the best idea.
Drinks as snacks also vary based on country. For instance, Lassi is an outstanding Indian drink made with yogurt, spice, and water, or Tejuino is a Mexican-based drink derived from fermented corn.
Energy drinks like Monster and Red Bull can be considered snacks to deliver quick physical and mental stimulation.
16. Frozen Snacks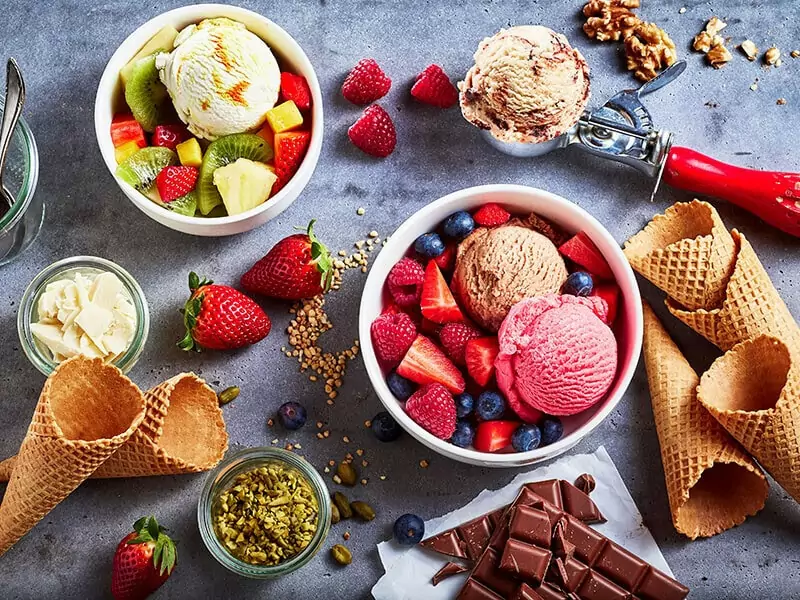 Examples: Ice cream, popsicles, or frozen custard
Ice cream is a decadent frozen snack (or dessert) made from cream, milk, and sweetener with diverse flavorings. You can find a lot of ice cream varieties and recipes, but whatever types they are, ice cream will surely satisfy your taste bud in every single bite.
In addition, frozen custard is a yummy snack for the summer, which is pretty similar to ice cream. The main difference between these 2 is a frozen custard made with eggs in place of sugar and cream as ice cream.
Milkshake is another frozen snack including milk, ice cream, sweetener, and more. In case you prefer a frozen snack without using milk or cream, ice pop (aka popsicles) is the greatest solution.
Guess what? Some ice cream is safe for people with diabetes. And here is why!
Basic and Healthy Snacks That You Should Consider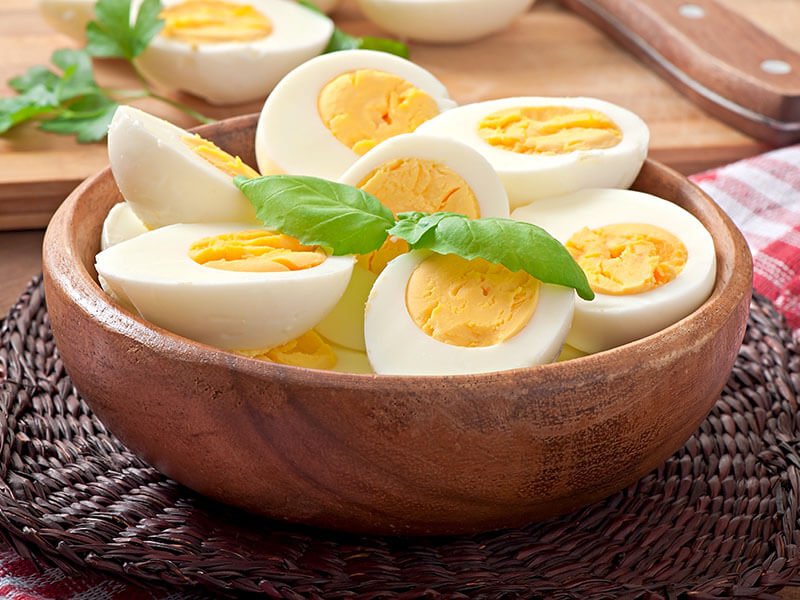 Here is the list of healthy snacks for adults (and even kids) that increase diet quality.
Protein smoothies
Low-fat cheese
Fresh (or frozen) fruits
Fresh vegetable sticks or slices
Whole-grain crackers and bread
Hard-boiled eggs
Some No-fuss Snack Recipes For Everyone
Let's wrap this post with some simple snack ideas. And some of them are also healthy recipes for snacks. With a few ingredients and tools, you are all set to prepare a big batch of snacks. Budget-friendly and tasty, you might not want to spend any penny on store-bought ones anymore.
Total time: 10 minutes
Your kids would love this snack. Including peanuts, cashews, M&M, chips, and raisins, this trail mix is loaded with many textures and flavors.
The snack offers a perfect balance of sweet and savory while soft and crispy in texture. And the preparation cannot get easier because all you need to do is combine ingredients and enjoy. For storage, put your snack in an air-tight jar or food container and keep them in a dry, cool place.
Total time: 5 minutes
The main component of making hummus is chickpea (aka garbanzo beans). This is a well-loved snack in the Middle East countries due to its high nutrients and easy preparation. You will need a blender (or a food processor) to puree ingredients to create a thick and smooth dip.
You can start from scratch by soaking chickpea in water. However, it is time-consuming as you will need to soak them overnight, or at least 1 hour. So I use canned chickpeas for more convenience. Dip your crackers, pita bread, or veggie sticks into hummus for the best snack.
Here is a brief instruction to show you how to make classic hummus.
Total time: 10 minutes
This green smoothie seems to be a best friend of your guy as it contains many nutritious vegetables (e.g., kale and spinach), fruits (apple and banana) with a touch of warm ginger, and crunchy-textured seeds.
Packed with proteins, vitamins, and dietary fibers, this green beverage is also a dairy-free treat, making them ideal for vegetarian diets. As the above idea, a blender is a must-have tool for making smoothies. With only 10 minutes, now you can enjoy it as a quick snack or breakfast.
Total time: Around 20 minutes
The combo of raisins and oatmeals creates the ultimate cookies. Minimal prep, simple ingredients, what else you can ask for a cookie, right?
There is no requirement to chill the cookie dough, making it much better for busy people. If you like nuts, you can also add them to the dough. After baking, your snacks will come out soft in the middle and slightly crunchy on the edges.
You will want to give these cookies a try after checking this demonstration.
Total time: Around 3.5 hours
Teriyaki is a signature sauce from Japan with a well-balanced sweet and tangy flavor. Therefore, using them to enhance the flavor of beef jerky is a wonderful idea.
You can either use a dehydrator, oven, or smoker to make this meat-based treat. The key factor of tasty and flavorful jerky is the preparation before drying. After removing meat pieces from the sauce, ensure they are pat-dried completely for equal cooking.
Snacks – Small Yet Wonderful, Regardless Of What Sort They Are!
It is clear to see that snacks might come in various styles, but one unchanged thing is their convenience and tastiness. I know there are other concerns regarding their health benefits and risks, but as long as you can consume them in moderate amounts, they will not ruin your diet.
Indeed, snacks can boost your energy and improve your mood. Some fresh snacks like fruits or vegetables are an extra source of nutrients. So what's not to love snacks, right?
Finally, I really hope that you have gained more knowledge about snacks and their types after reading this post. And do not be shy to share your opinion about them or how was your experience in making snacks.
I am also looking forward to receiving your support by clicking like or sharing this article with others. Thank you so much!