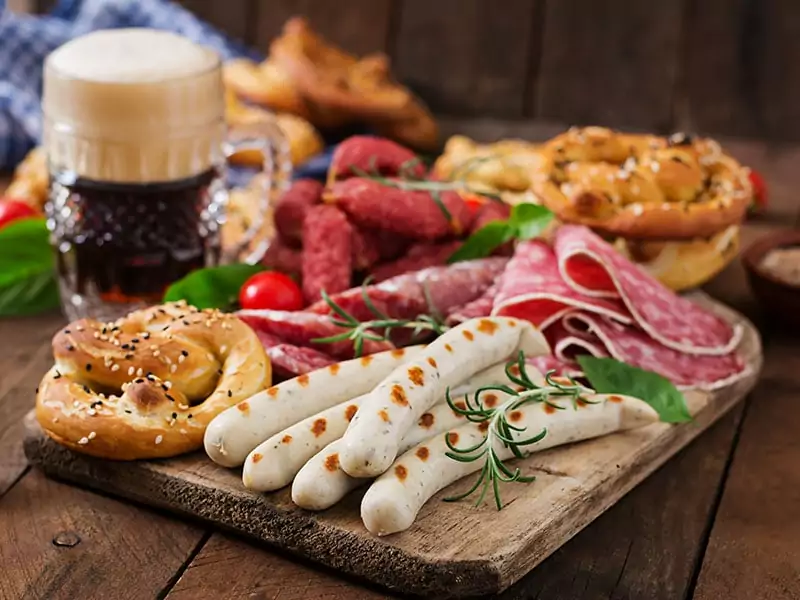 These German snacks will fill you with joy, whether sweet or savory. Germany has an endless amount of yummy cookies, cakes, sausages, and many more; some even dominate foreign countries and are available in almost every supermarket globally.
These snacks are not only delicious, but they also accurately represent German cuisine culture. So if you are intrigued and want to find out more about the most awe-inspiring snacks in this beautiful country, give this article a read now!
12 Delicious German Snacks You Will Regret Not Trying
It is hard to pick out a favorite snack in Germany since there are so many. However, I have managed to make a shortlist of the most well-known and well-loved German treats for you to pick from. Take a look and enjoy!
Total time: Ready in about 40 minutes.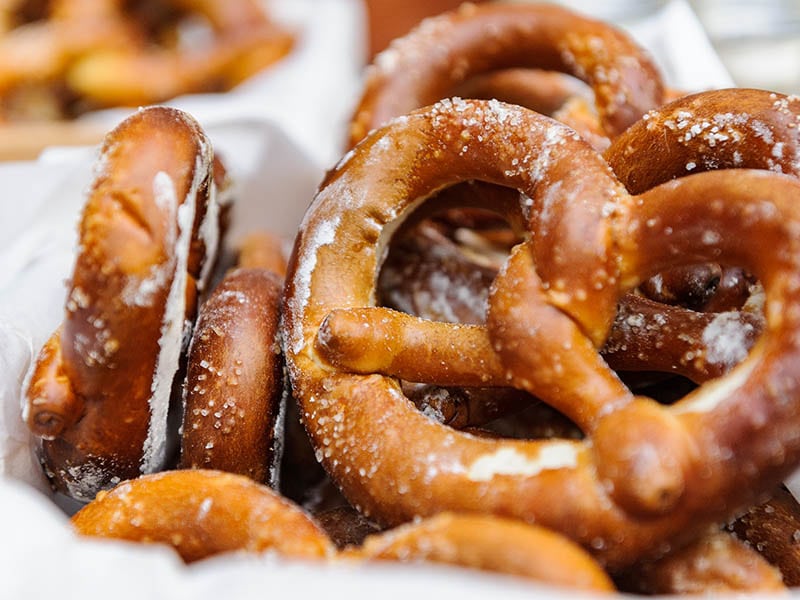 This famous knotted pastry is undoubtedly the most well-loved German street snack and a symbol of this country's cuisine.
This iconic snack makes its appearance in every significant event in Germany, including Christmas, Oktoberfest, and New Year's Eve. It comes in two varieties: hard, crusty Pretzel that can last very long and soft, moist Pretzel that should be eaten immediately.
The traditional version of this pastry only comes with salt, but nowadays, people often flavor it with butter, cheese, or nuts. This baked good is the perfect accompaniment to sausages, beer cheese dip, and cold beer.
Making Pretzels at home is easier than you think!
Total time: Ready in about 2 hours.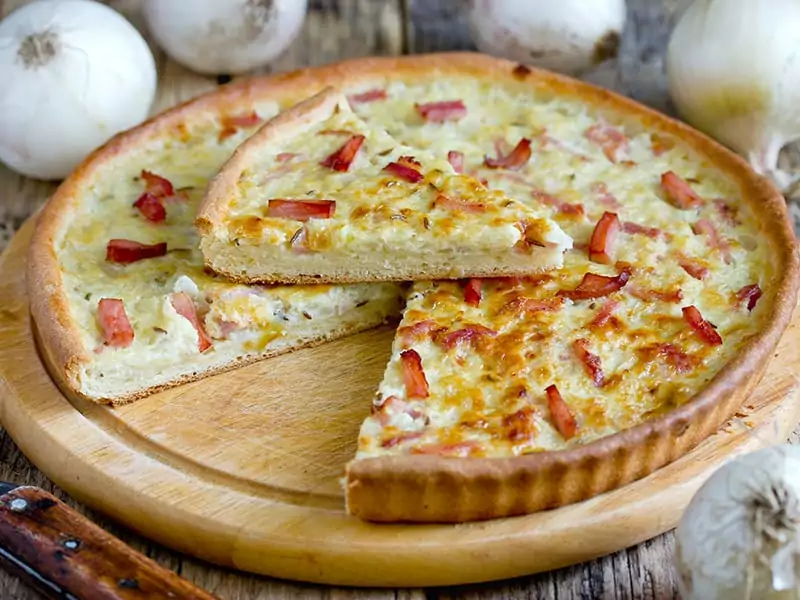 Although it looks more like a pie, Zwiebelkuchen is an iconic cake in Germany. This savory onion cake contains a creamy egg and sour cream filling, caramelized onions, and smokey bacon. You can also add caraway seeds to give the cake an earthy flavor.
This tasty German delicacy is usually baked in a circular deep-dish pan; however, feel free to alter its shape and size based on your liking. I highly recommend pairing it with traditional young wines; the Germans often enjoy this combo as a way to celebrate autumn.
Total time: Ready in 25 minutes.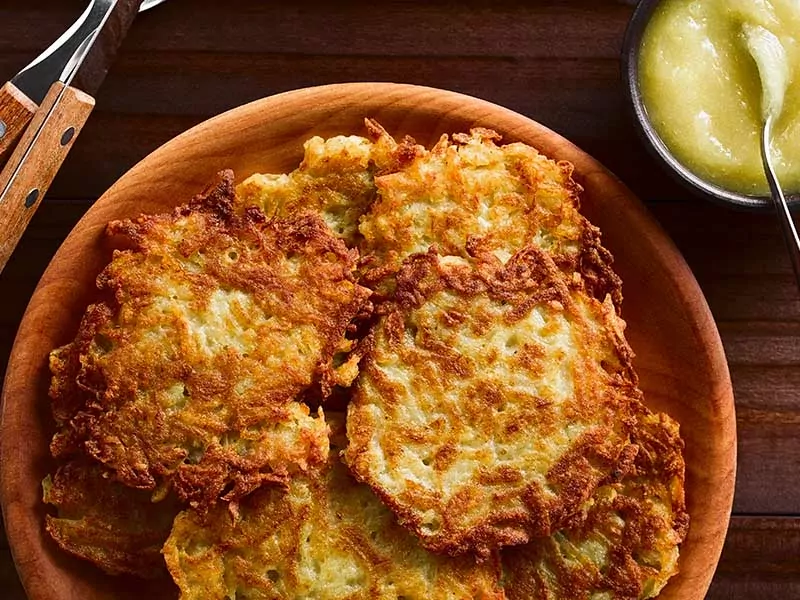 Here's an iconic German snack for all the potato fans: Kartoffelpuffer! From local street markets to fine dining establishments, you can find these golden potato pancakes almost anywhere around this country.
You can easily munch on these inexpensive savory pancakes on the go since they're easy to eat. This all-time favorite childhood snack is also one of the most common side dishes in Germany.
Kartoffelpuffer works well with sausages, stews, and other meaty dishes. Apple sauce, sour cream, and fruit preserves are the most typical toppings for this dish.
If you are looking for the best Kartoffelpuffer recipe, look no further!
Total time: Ready in 25 minutes.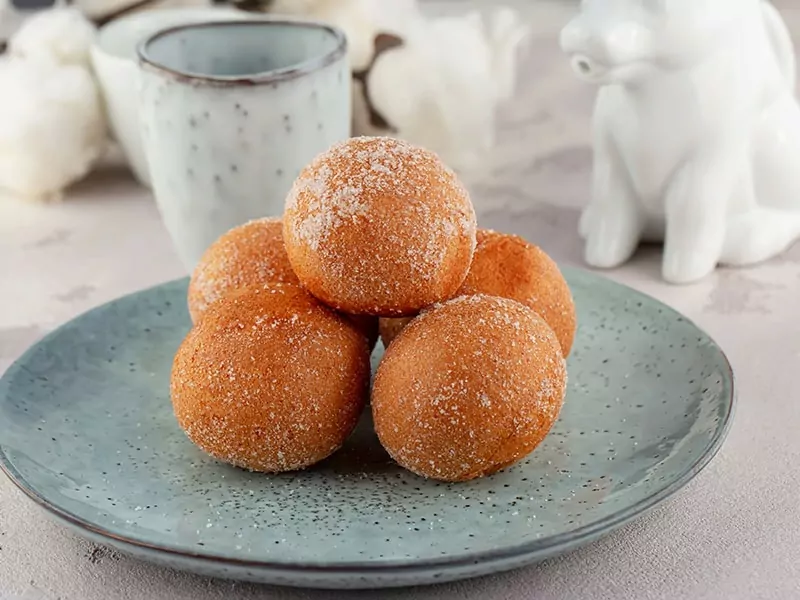 Look at these golden deep-fried cheese balls; doesn't this tempting snack make you drool? Made from one of the most popular cheeses in Germany, German Quarks balls are the perfect afternoon treat to enjoy with a cup of tea or coffee.
Quarkbällchen looks and tastes just like sweet donut holes. To make it, you will need to form dough balls out of Quark, flour, eggs, sugar and deep-fry them until golden brown. Afterward, cover these fluffy and airy donuts with a layer of powdered sugar or cinnamon sugar.
In Germany, Quarkbällchen is often enjoyed during Christmas, New Year's Eve, Oktoberfest, and Fasching (Germany's carnival season). But with this recipe, you can make this yummy treat whenever you like!
Total time: Ready in 1 hour and 55 minutes.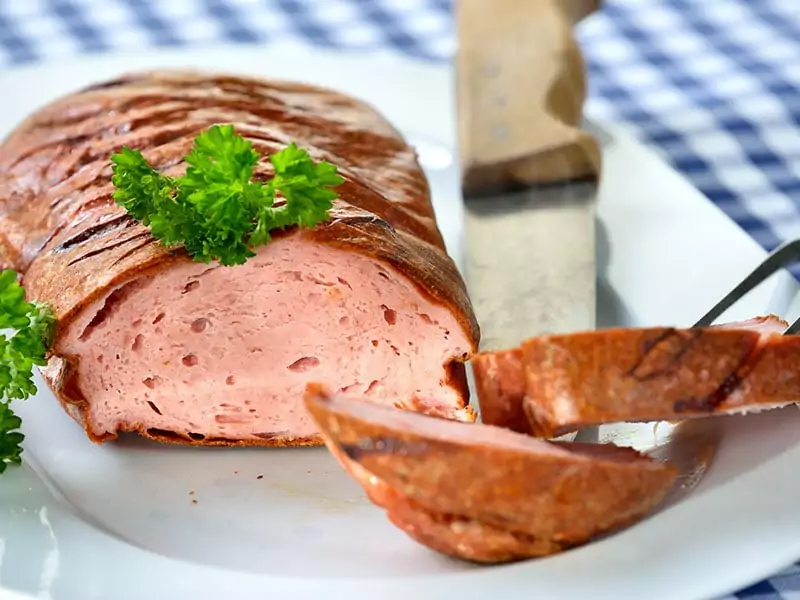 People have been making Leberkäse in Bavaria for over 200 years. This traditional German food uses pork and beef as the main ingredient. The surface of the loaf has a crunchy crust, while the inside is luscious and pink.
You can eat Leberkäse as cold cuts with a slice of authentic German bread or warm with a crispy roll, potato salad, or fries. If you like it warm, you should fry the meatloaf in a skillet to make the crust become extra crispy.
Total time: Ready in 30 minutes.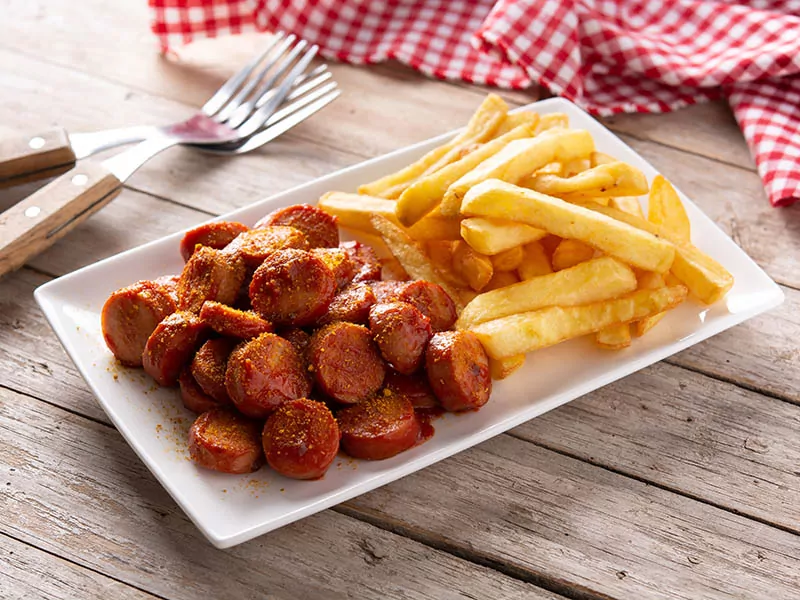 Currywurst has always been an indispensable part of Germany's culinary legacy. This iconic German recipe consists of only two main components: sausages and curry ketchup sauce.
The smooth and rich tomato-based curry sauce is the soul of this dish. It contains tomato paste and spices like curry powder, sweet paprika, and cinnamon.
Once the sauce is ready, just mix it with pan-fried or grilled sausages, and the dish is complete! Remember to poach the sausages lightly beforehand. You can use any type of German sausages you like, but Bratwurst is the most recommended one.
Germany consumes over 800 million Currywursts each year! From that number alone, you can tell how delicious this snack is. You can serve your homemade Currywurst with a side of French fries and Brötchen (German bread rolls) to elevate it even further.
Let's learn more about what Currywurst tastes like and how to make it!
Total time: Ready in about 2 hours and 25 minutes.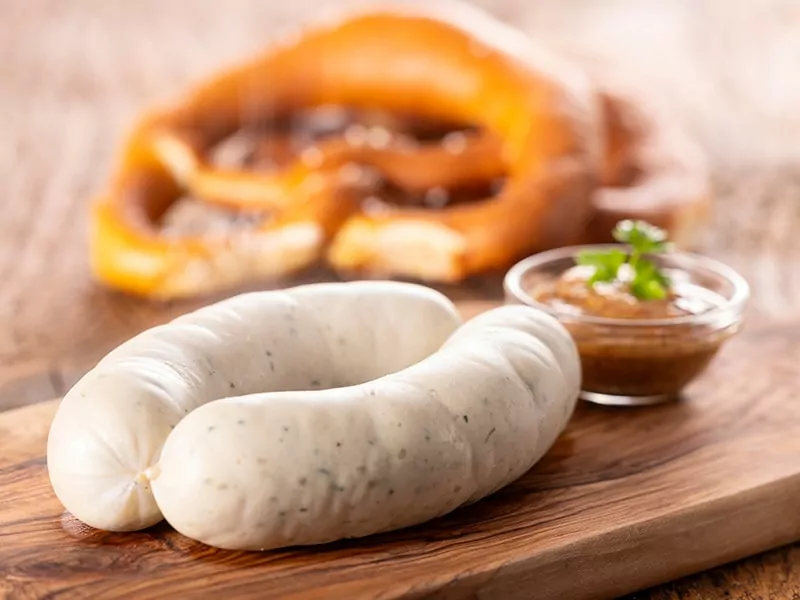 Let's be honest here, Weißwurst has to be one of the most unique-looking sausages you have ever seen. These grayish-white sausages are made with finely minced veal and back bacon. Some types even include sauerkraut, potato mash, and onions in the sausage mix.
This Bavarian classic tastes best when paired with sweet whole grain mustard, Weißbier beer, and soft Pretzels. The best way to enjoy it is to cut it lengthwise and roll out the meat from the skin with a fork. Do not eat the skin!
Total time: Ready in about 32 minutes.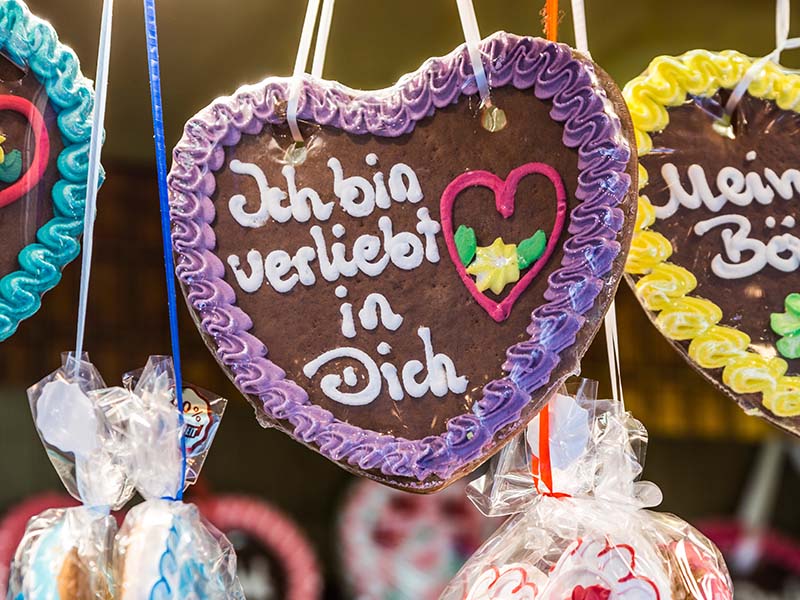 Although Lebkuchen has been around since the 13th century, this dessert snack still maintains its popularity until this very day.
This yummy German gingerbread comes in a broad range of flavors and textures. It can either be sweet or spicy, hard or soft, depending on the occasion. The shape of this special treat is also inconsistent; however, the most common shape is round.
Loaded with flavorful spices, nuts, and candied fruit, Lebkuchen is one of the most well-known Christmas cookies in Germany. So if you're planning a German-themed party during the holiday season, this should be your go-to recipe.
Besides the classic round-shaped gingerbread, you can go for the heart-shaped design with inscribed icing to make it more fun and festive. This Lebkuchen design is very popular at many German regional and Christmas fairs.
Total time: Ready in 2 hours and 30 minutes.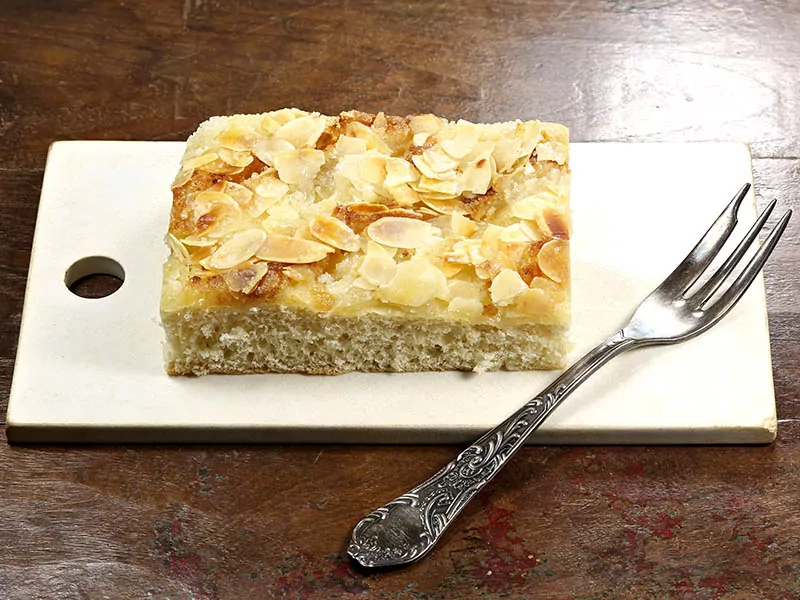 People sometimes refer to Butterkuchen as "funeral cake" since it is frequently served at German funerals (and weddings). Besides those important occasions, locals also love to enjoy this cake every afternoon with a cup of coffee or tea.
To make this incredible German dessert, you will need a yeasted dough mixture of butter, flour, sugar, and milk. Bakers need to roll the dough out, create dents on top, and fill them with butter. This will ensure that the buttery flavor is evenly distributed.
The buttery cake matches so well with the nutty chopped almonds topping. Once you take a bite of this simple yet delicious treat, you will understand why Butterkuchen is such a vital part of life for many Germans.
You can master the art of making Butterkuchen in minutes with this tutorial!
Total time: Ready in 20 minutes.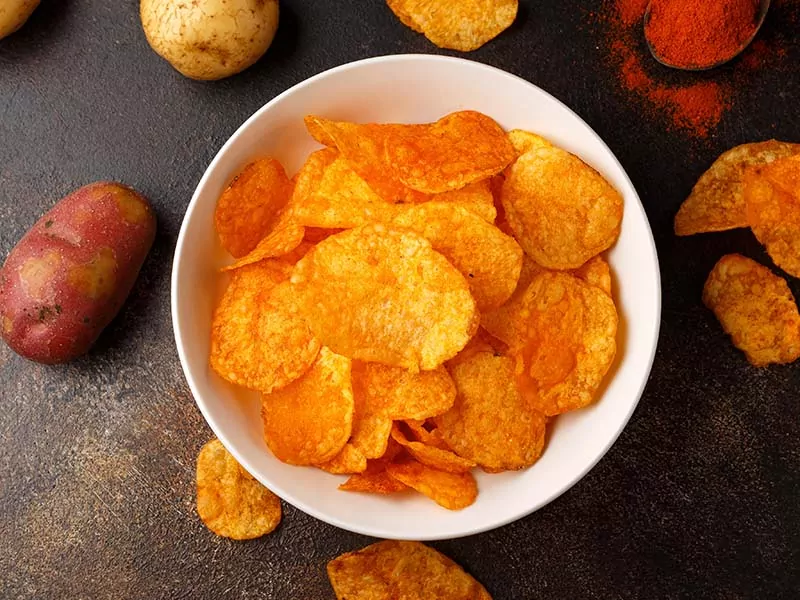 Since paprika is the ultimate spice in German cuisine, it should come as no surprise that paprika potato chips are a typical snack in this country.
To describe its taste, this yummy snack has the tanginess of American BBQ chips and the sweetness of bell pepper. The paprika flavor is relatively mild. So even if you cannot handle spicy foods, you can still eat bags after bags of these addicting chips.
Due to its popularity, you can easily find authentic paprika chips in your local supermarkets. But if it is not available in your area, just make it at home! Remember to slice the potatoes with a mandoline slicer. You can use a knife, but the potato slices won't be as thin and even.
Total time: Ready in 3 days and 20 minutes.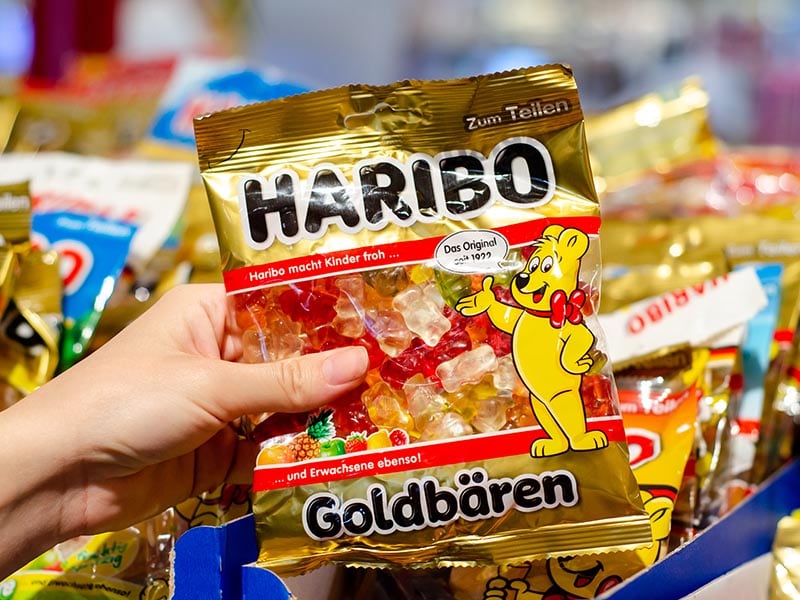 If you haven't tried these gummy bears, I bet you have at least heard the name of this brand before. This worldwide famous candy was first created in 1922. And after nearly 100 years, it is still Germany's most adored and popular snack.
You can find these colorful tiny bears at practically every party, dinner, or friend gathering. Each color has its own flavor; for example, red is raspberry, orange is orange, yellow is lemon, and green is strawberry.
Although this sweet treat might seem impossible, you can easily make a whole batch of these with some gelatin powder and bear candy molds. It is quite time-consuming. However, it will be a fun experiment you can try with your kids or friends.
Here's how you can make gummy bears at home!
12. Schokolade – German Chocolate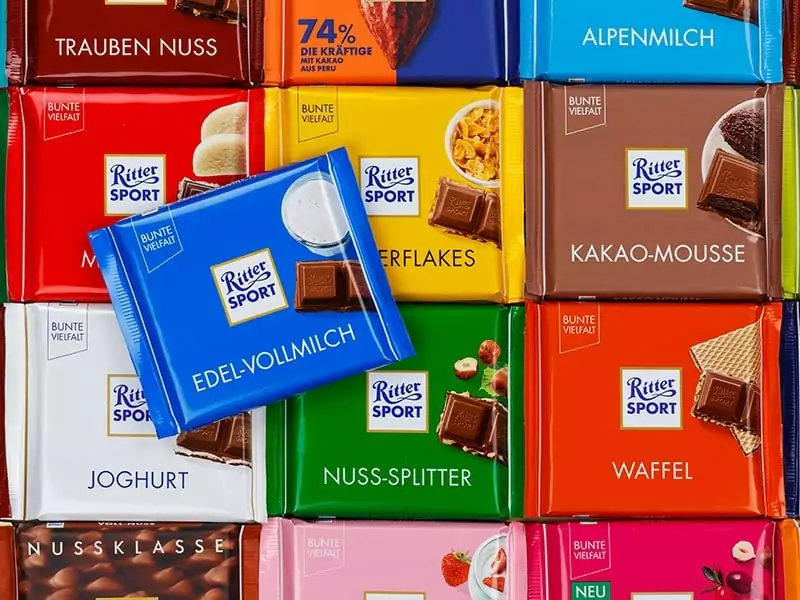 It's hard to list every famous chocolate brand in this country since it is such a well-loved treat. From Ritter Sport, Milka, Merci to Kinder, all are familiar names in many countries worldwide, especially America.
German chocolate usually has a higher proportion of cacao, lower sugar levels, and higher fat content than American chocolate. This results in a richer and more nuanced confection. Chocolate lovers from all over the world always prefer European chocolate to American one.
German Snacks Deserve The Spotlight!
When visiting a new country, you should always consider the best options for chowing down. And those options don't have to come from five-star restaurants. I'm talking about the cheap and accessible snacks you can easily find at the local markets, street vendors, and supermarkets.
Some of the German snacks I mentioned above are widely available worldwide. So if you can't travel to Germany, you can still buy them from the supermarkets and convenience stores nearby. Plus, you can also make them at home with the attached recipes.
If you have time, don't forget to show your support by liking and sharing this article with friends, I bet they will enjoy these snacks as much as you do. Thank you so much, everybody, for reading! Bye for now!
Nutrition Facts
8 servings per container
---
Amount Per ServingCalories257
% Daily Value *
Total Fat 15.2g

24

%
Cholesterol 47mg

16

%
Sodium 261mg

11

%
Potassium 615mg

18

%
Total Carbohydrate 26.6g

9

%

Dietary Fiber 3.8g

12

%
Sugars 2.2g

Protein 4.5g

8

%
---
Calcium

24

%
Iron

1

%
Vitamin D

4

%
* The % Daily Value tells you how much a nutrient in a serving of food contributes to a daily diet. 2,000 calories a day is used for general nutrition advice.