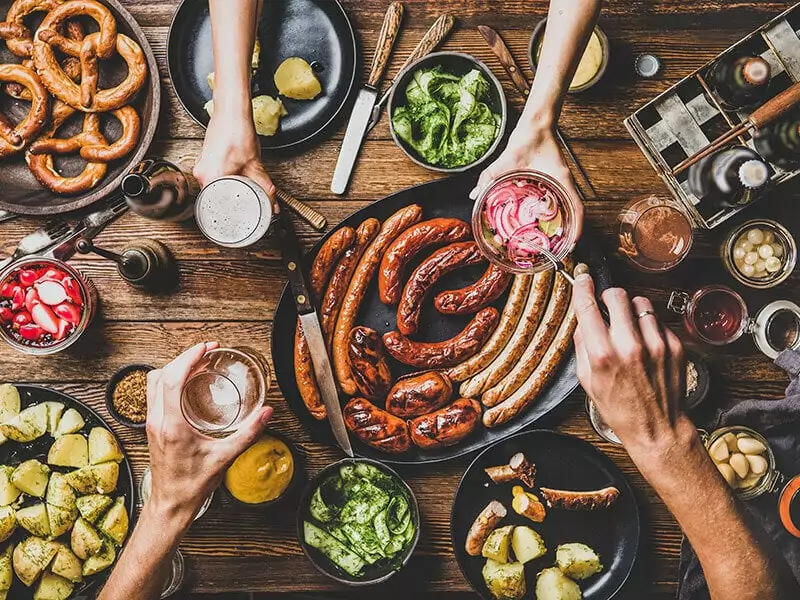 I can't tell you exactly how many types of German sausages are available on the market, but I know for sure that all of them are delectable and worth exploring.
Besides beer and Pretzels, sausages are also a stereotypical and traditional German specialty. The sausages here differ depending on the region and locality, each with different colors, sizes, and flavors. They are even consumed in a variety of ways.
If you are ready to know more about this world-famous delicacy, take a look at the section below! After reading it, you will soon become a German sausage expert!
16 Most Iconic Sausages You Have To Try In Germany!
Since Germany has an intimidating amount of sausage variations, I have created a handy checklist of the most beloved sausages in this country. You will regret not trying them all, so give it a read and learn more about them now!
Total time: Ready in about 2 hours.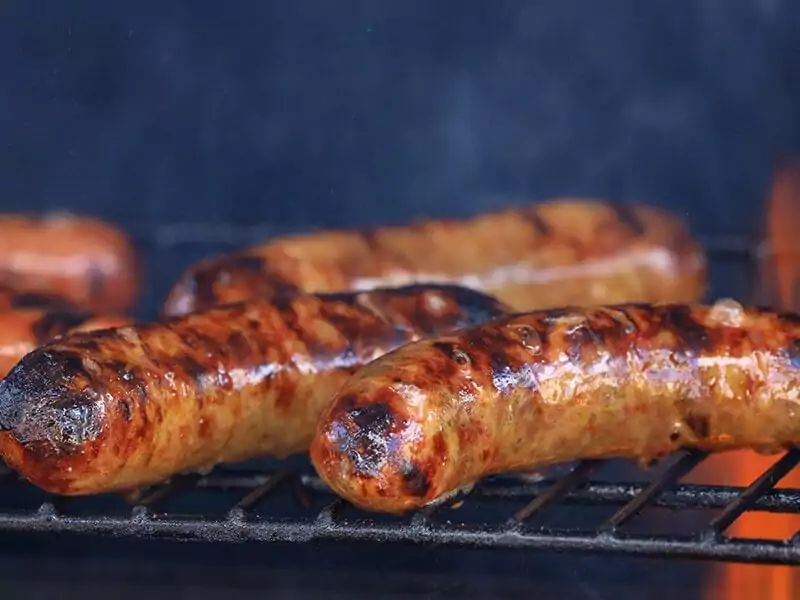 As the term brat means "meat without waste" and wurst means "sausage", you can already tell the purpose of this sausage from its name only.
But nowadays, Bratwurst is no longer just a method to avoid wasting meat. Instead, it has become a staple of German street food and a worldwide famous delicacy.
These iconic sausages can include pork, veal, beef, or a mix of these common German meats. I recommend pairing them with horseradish, mustard, and Sauerkraut.
Since this treat is popular, people from the United States are all familiar with it. So if you get invited to any summer cookout and barbecue, remember to bring some Bratwurst. They will undoubtedly be the soul of the party.
Bratwurst should be the first sausage you attempt to make at home; here's the recipe!
Total time: Ready in about 40 minutes.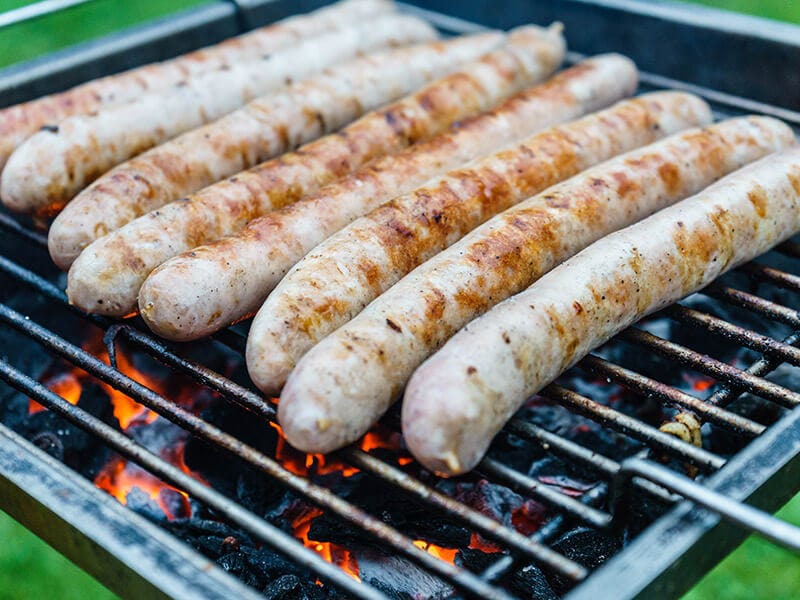 Originated in the state of Thuringia, Thüringer Rostbratwurst is one of Germany's oldest sausages, with a reference going back to 1404.
These traditional sausages are almost identical to Bratwurst. However, over 51% of the ingredients must be from Thuringia. Most people make this Thuringian classic out of finely minced pork, but other recipes might suggest mixing it with beef and veal.
The spices for these sausages are also very similar to Bratwurst. So if you've already had experience making Bratwurst, you can make a whole batch of Thüringer Rostbratwurst with your eyes closed!
If you want to grill Thüringer Rostbratwurst, remember to run some bacon fat on the grill first. Since the fat content in these sausages is relatively low, they might stick to the grill if you don't prep them.
Total time: Ready in 1 hour and 45 minutes.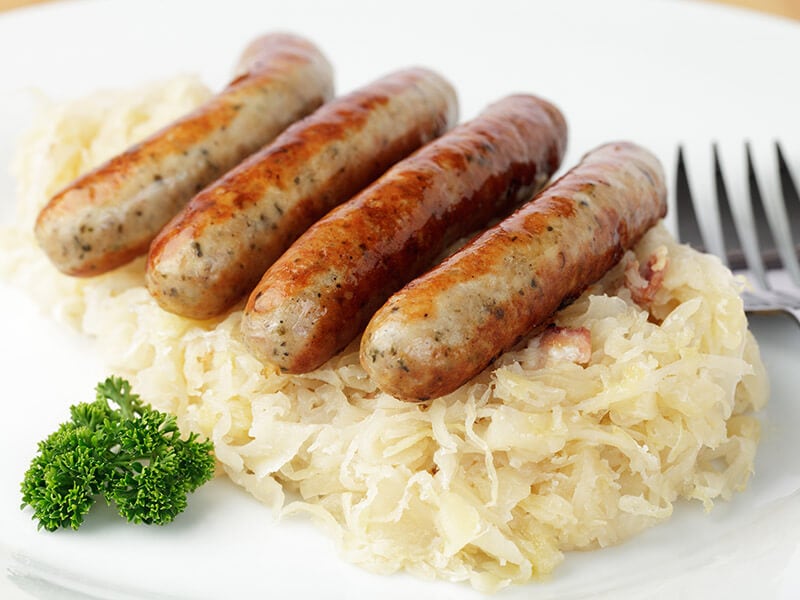 Here's another regional version of the all-time favorite Bratwurst – Nürnberger Rostbratwurst! This traditional German dish usually calls for 60% pork shoulder or neck and 40% pork belly. It also includes common seasonings like dried marjoram and lemon powder.
Nürnberger Rostbratwurst is a lot smaller than Bratwurst; it is roughly the size of a pinky finger. Due to this size, you can serve up to 6 sausages in 1 serving. These petite links also taste best when paired with horseradish, Sauerkraut, and potato-based side dishes.
If you want to eat Nürnberger Rostbratwurst with bread, here's how to prepare it: Place 3 roasted sausages between bread slices. Then, add some mustard and Sauerkraut. According to the locals, this is the best way to enjoy this delicious local delicacy.
Total time: Ready in 1 hour and 20 minutes.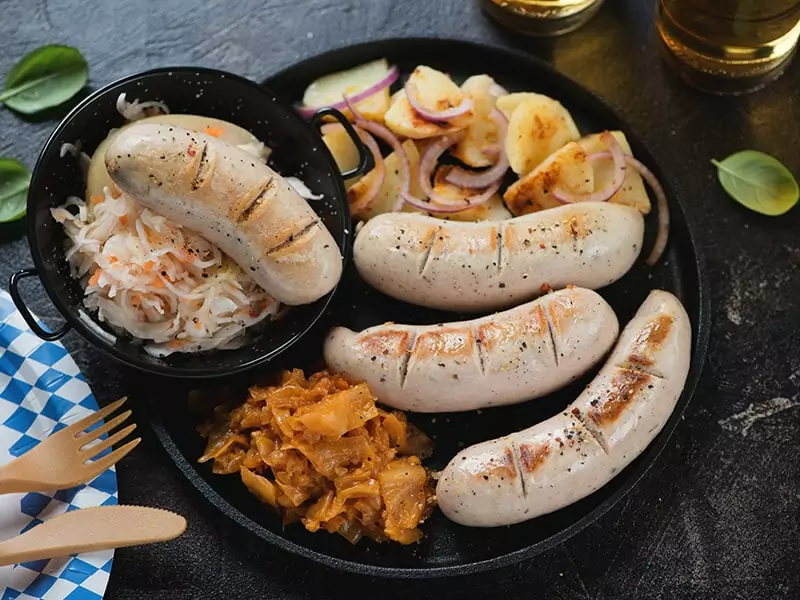 It would be a big mistake without talking about Weißwürste when mentioning the most famous German sausages. Although the white-ish color of this sausage makes it look quite bland, Weißwürste is robust with flavor from the herbs and warming spices.
When cooking these links, remember not to let the water boil since its skin is super thin and easy to burst. You should only let it sit in hot water for about 20 minutes. Also, this skin is not edible, so be sure to peel it off before you eat it.
The traditional Weißwürste recipe uses pork, veal, and pork fat. However, you can substitute them with other white meats like turkey and chicken.
Weißwürste Munich style is easier to make than you think; this will show you how!
Total time: Ready in 16 hours and 30 minutes.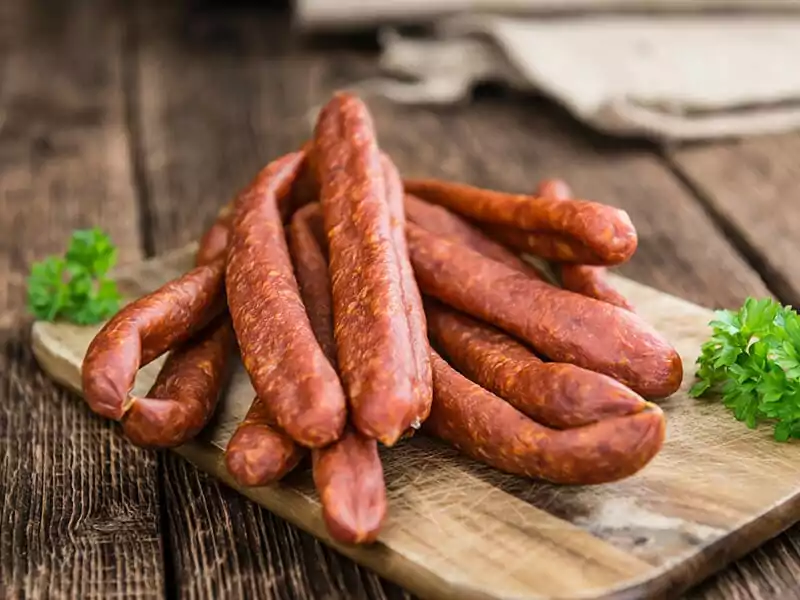 Imparted by garlic, onion, mustard seed, and pepper, Mettwurst is one of the most flavorful and aromatic German sausages out there. Making Mettwurst is quite time-consuming since you have to cure and smoke them for hours; however, it is totally worth it!
Smoked Mettwurst is a well-known snack in Germany. It pairs well with Sauerkraut and fresh bread. You can even add Mettwurst to your soups and stews or use it as a sandwich filler.
Total time: Ready in 1 hour and 20 minutes.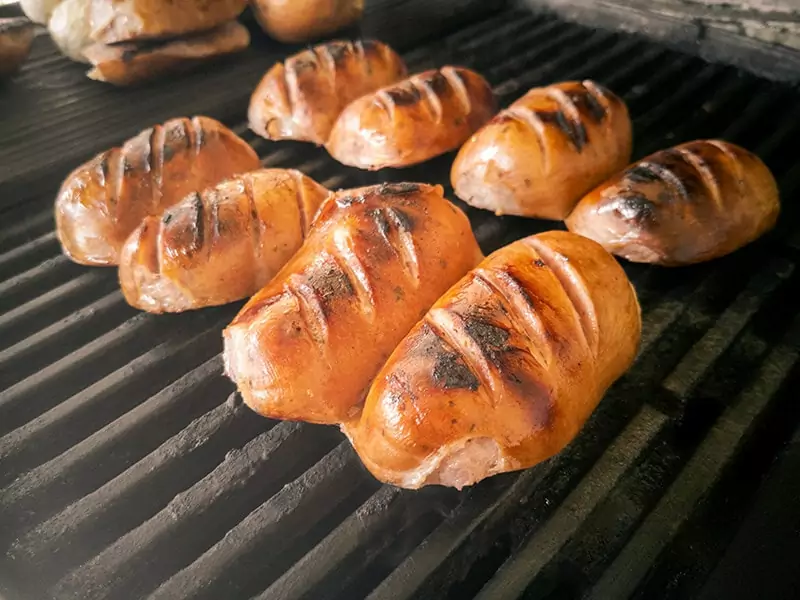 Knockwurst, sometimes known as Knackwurst, is a German sausage prepared from ground pig, beef, or a mixture of the two.
The ideal casing for Knockwurst is a hog casing, which gives it a crispy texture when cooked and a delightful sound when bitten into. This cracking sound of the casing might be the reason behind this dish's unique name (which means "to crack" in German).
Compared to Bratwurst, Knockwurst is significantly plumper and chubbier. Its appearance depends on the size of casing you pick. The average casing size is 38-42 mm, but you can use larger ones to make the sausages thicker.
Your smoked Knockwurst will taste amazing with a side of mustard, Sauerkraut, potato salad, and a glass of cold German beer.
Total time: Ready in 1 hour.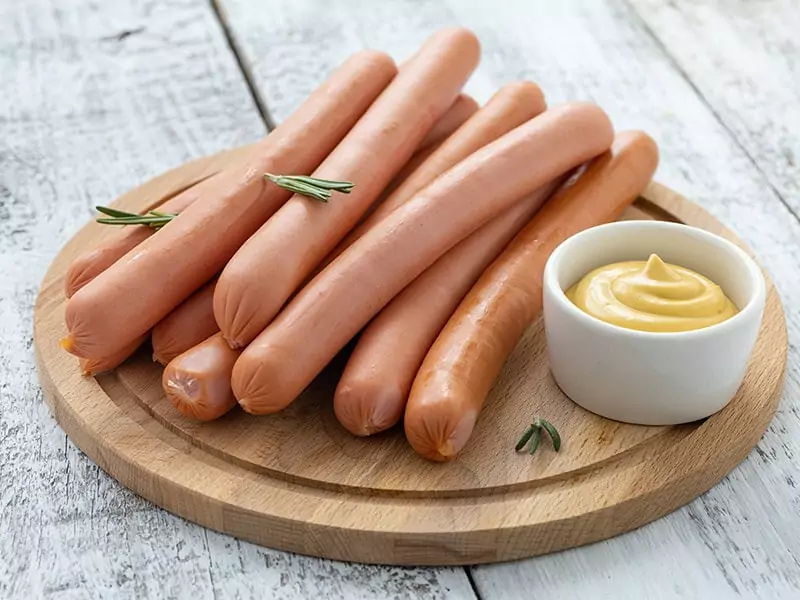 Hailing from Frankfurt, Frankfurter Würstchen is another must-try sausage in Germany. These traditional sausages contain a mix of ground pork and beef in a small diameter natural sheep casing.
Frankfurter Würstchen can last very long in the freezer. So just make a massive batch of these sausages, freeze them, and reheat them whenever the craving hits you!
It would be best to serve your Frankfurter Würstchen with condiments like mustard or horseradish sauce and side dishes like bread or potato salad. People also pair this dish with a glass of Apfelwein (local apple wine).
Total time: Ready in 2 hours and 20 minutes.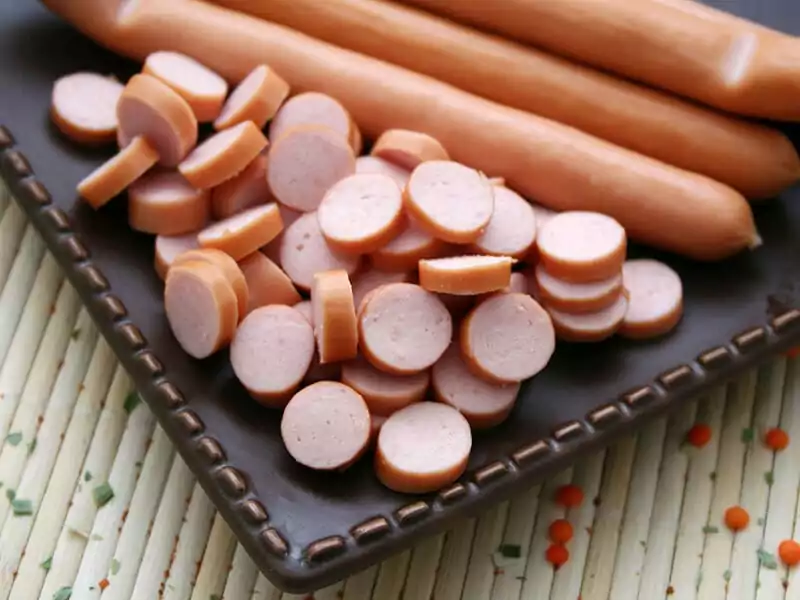 Wiener Würstchen is still one of Germany's most adored sausage varieties despite its Viennese origin. Since these Vienna sausages are a variant of the original Frankfurter Würstchen, their ingredients are nearly identical.
Same as before, the authentic German recipe of this dish calls for a mixture of minced pork, beef, and various spices. Once your filling is ready, stuff it in sheep casings and smoke them.
Since these sausages are pre-cooked, it will only take minutes to heat them. Remember to serve them with several German side dishes to make your eating experience more complete. Most people will eat Wiener Würstchen in pairs.
Let's learn how to make your own batch of Frankfurter Würstchen and Wiener Würstchen!
Total time: Ready in 1 hour.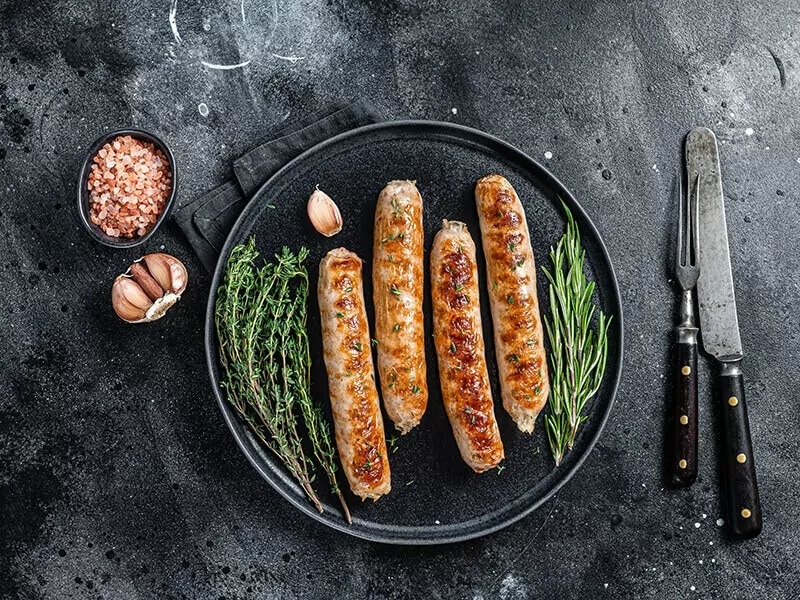 Bockwurst sausages initially contained finely ground veal and spices, but they may now contain pork meat and fat. They are typically light in color, at least until they are browned. Due to its pale color, some people will call it Weißwürste.
These flavorful pork and veal sausages are now available worldwide, but they are especially well-loved in Germany. The people here love to pair them with Bock beer, a strong and refreshing drink of German origin.
Like almost every sausage variance I mentioned earlier, Bockwurst goes well with mustard, Sauerkraut, and boiled potatoes. To cook it, you should simmer it in hot water or grill it. Avoid boiling it because the casing can split open and make the sausage lose flavor.
Total time: Ready in 1 hour and 20 minutes.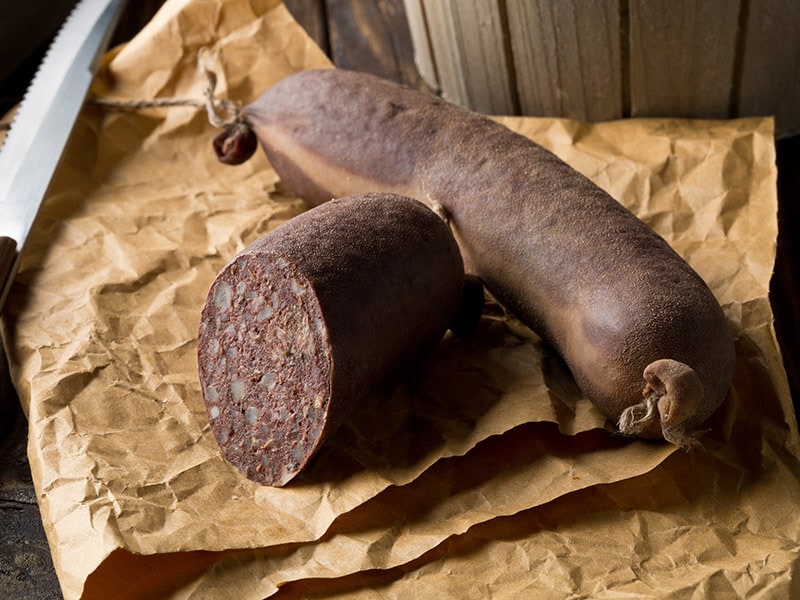 Almost every country in the world has its version of blood sausages, and Germany is no exception. This beloved German recipe mainly consists of pork, specifically pork blood, skin, offal meat, or back fat.
Blutwurst comes in various sizes, with several regional variations, including oats, barley, or sliced bacon. Sometimes, locals call this sausage Tote Oma, meaning "dead grandma" in German. The reason behind this concerning name is still unclear.
Because blood sausage is usually cooked, people often serve it cold as a quick German appetizer with bread and other cold meats. If you prefer it hot, boil or fry the sausages quickly and serve it with a side of mashed potatoes or Sauerkraut.
Total time: Ready in 1 – 2 hours.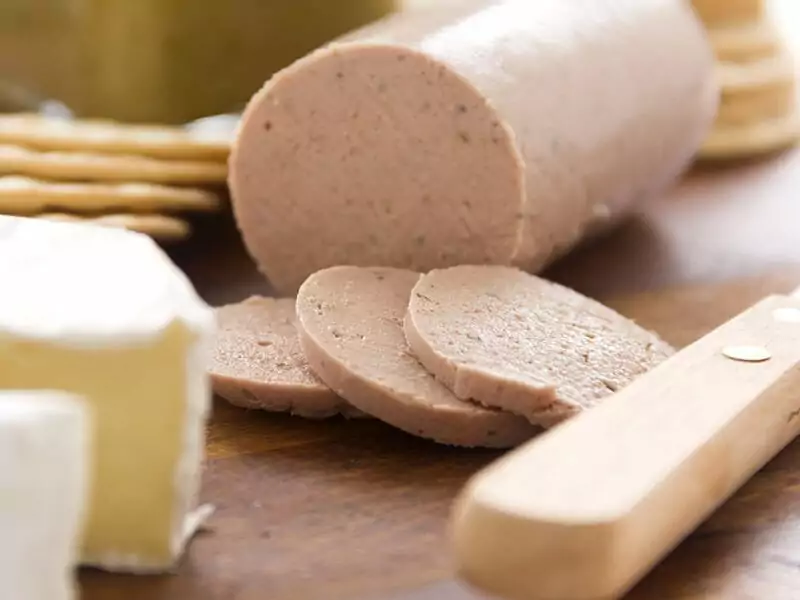 This is the German version of the iconic French liver pate. Made with a blend of ground pork liver, pork belly, onions, and spices, Leberwurst is a spreadable sausage that pairs well with bread and Sauerkraut.
This dish is popular in Germany, but it is also a typical treat in Austria, Serbia, Slovenia, and Romania. The recipe for this liver sausage varies by location; some even include mushrooms and cowberries.
Leberwurst will make an excellent addition to your tasty German sandwiches. Just spread a layer of Leberwurst on your bread, add some pickles, cheese, mustard, and voila! You will have yourself a super filling lunch or afternoon snack.
Check out this recipe and make some Leberwurst at home!
Total time: Ready in 1 hour and 45 minutes.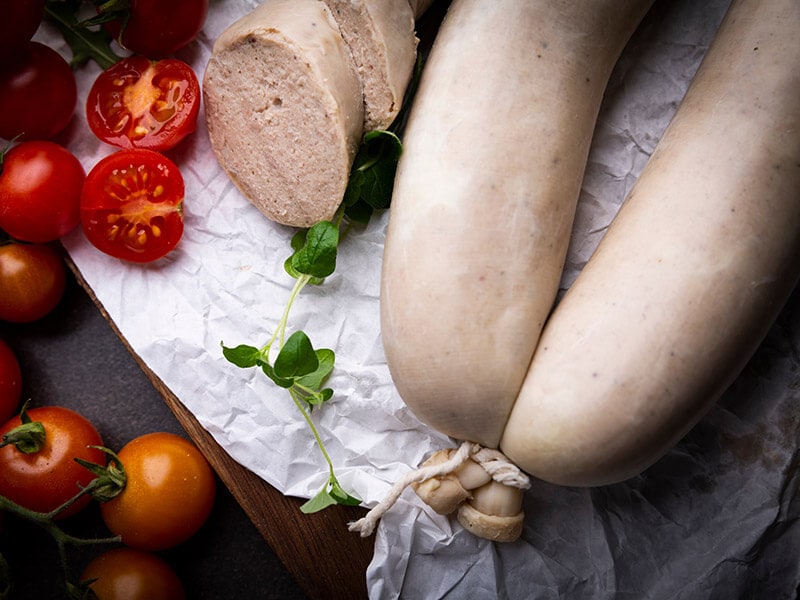 If you like the taste of Leberwurst, I can guarantee you will love Braunschweiger. While Leberwurst is a more general term for liver-based sausages, Braunschweiger is a regional specialty in the Braunschweig town of Germany.
There aren't many differences between the two since the recipes for either type vary by location. But the most noticeable dissimilarity is that people often smoke their Braunschweiger while Leberwurst is usually pre-boiled.
You can make your Braunschweiger out of pork liver and meat like the Leberwurst recipe above. Or you can switch things up and use lamb or goat; all of these meat options will make delicious sausages.
Total time: Ready in 5 hours.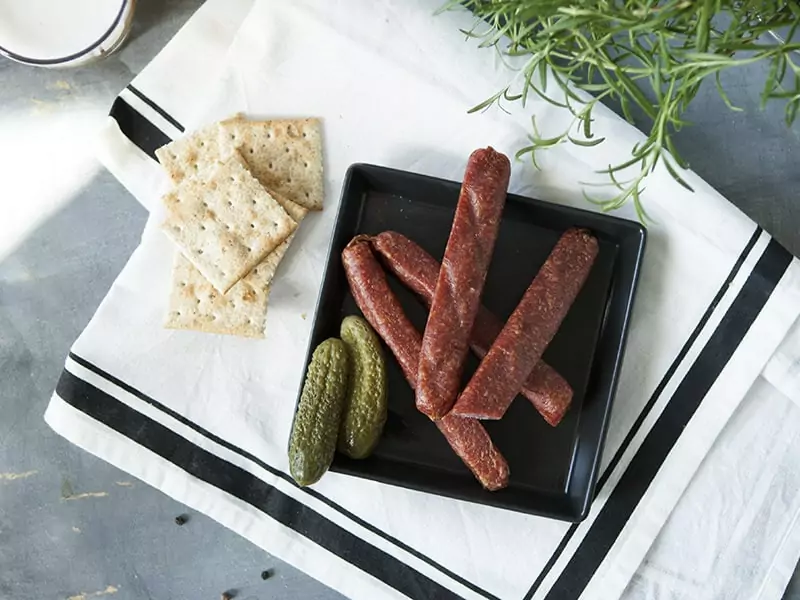 If you're looking for the ideal savory snack to munch on during your hiking trips, Landjäger is the recipe for you! Traditional Landjäger usually contains beef and pork. However, you can subtitle them with any other red meat like venison, goat, or lamb.
Besides meat, this recipe also includes sugar or typical sausage seasonings like caraway seed, coriander seed, black pepper, and allspice.
These dried wursts look like salami and taste like jerky. Since they are fully cured and smoked, you can eat them cold as a quick snack.
Total time: Ready in 1 hour and 55 minutes.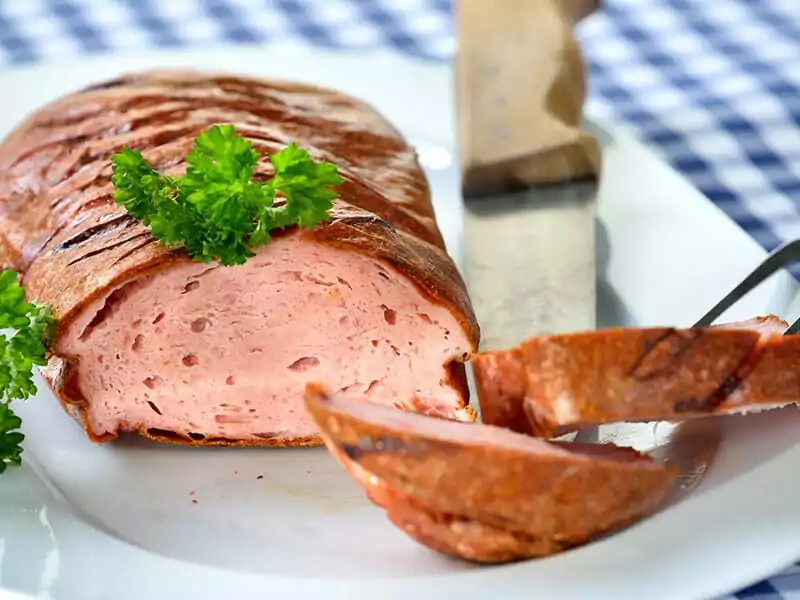 Although the terms Leber (liver) and käse (cheese) are in its name, this dish does not contain any liver or cheese. Instead, this German-style sausage loaf contains ground beef, pork, onions, and various spices.
Unlike regular sausages, this meat mixture will be baked in a pan until it forms a crunchy crust while remaining a luscious pink inside. You can serve it freshly baked or cold.
If served cold, you can cut your Leberkäse into thin slices and put it on bread with pickled cucumbers. And if you like it hot, just serve it freshly baked with sweet mustard, potato salad, and bread rolls. You can even pan-fry it and pair it with fries and a sunny-side-up egg.
Leberkäse is super simple to make when you have the right recipe.
Total time: Ready in 1 hour.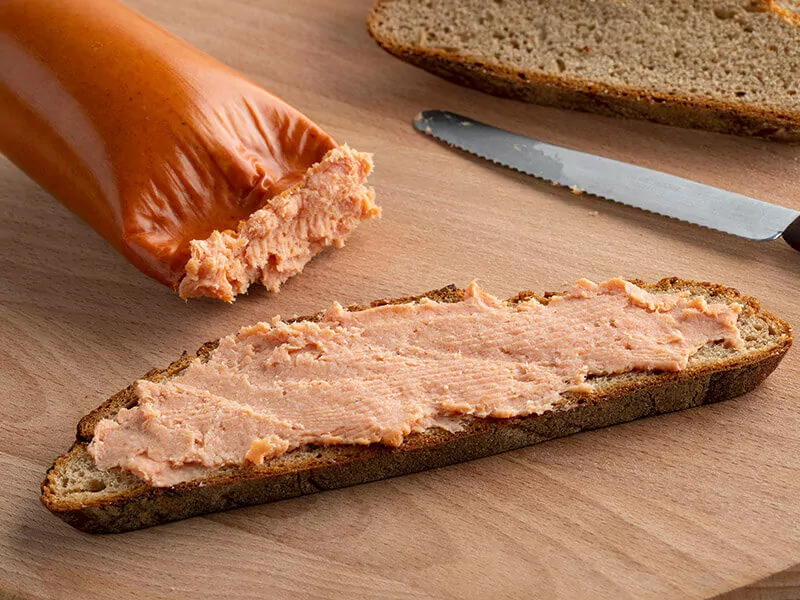 As you can tell from its name, Teewurst is a typical treat around tea time. Since this recipe includes pork fat, you can easily spread it on bread to make a beautiful and delicious open-faced sandwich.
Again, you will need to make a classic mixture of pork and beef for these sausages. And to create its signature mild and slightly sour, you will need to ferment and cold smoke it for hours. This recipe is quite time-consuming, but trust me, the result is worth your effort.
Total time: Ready in 2-4 hours.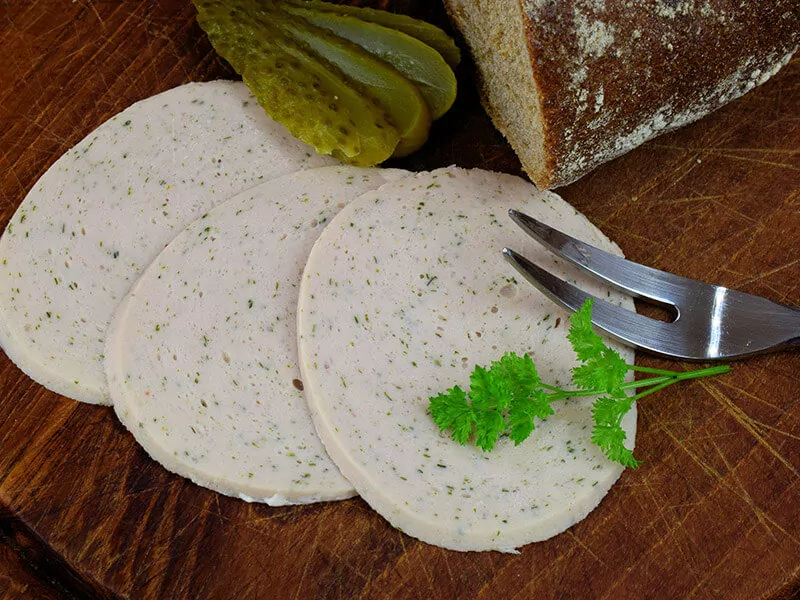 Although Gelbwurst literally means "yellow sausage" in German, the sausage itself is usually white-ish. This name actually refers to its characteristic yellow or saffron-colored casing.
Gelbwurst usually consists of pork, cardamom, lemon zest, and ginger. You can substitute the pork with beef, veal, chicken or combine them. Gelbwurst used to include animal brains back in the day, but this ingredient is no longer common.
Because Gelbwurst becomes rancid rapidly, you will need to eat it quickly. I recommend serving it in thin slices of bread.
Which Is Your Favorite German Sausage?
So that concludes my shortlist of the most well-known and well-loved sausages in Germany. Making sausages from scratch is never easy, but with suitable recipes and enough patience, you will soon be able to make a batch of fresh and tasty homemade German sausages.
Which type of sausage do you like most on this list? Let me know by leaving a comment in the section below. And if you think this article is helpful, remember to give it a like and tell your friends about it. Thanks for your time, and take care!