The crustless ham, potato, and cheese quiche is a must-try that will revitalize the pie as you know it. It boasts appetite-whetting flavors that'll captivate your taste buds and send them straight to culinary bliss.
This crustless indulgence makes room for more of the good stuff – the savory filling – and also cuts down on preparation time. The best part of this dish is that you only require a few cooking utensils to make the magic happen.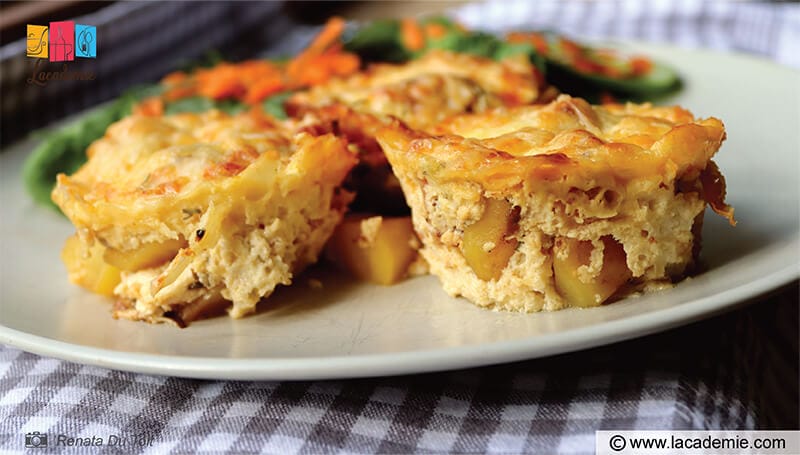 What Exactly Is Quiche?
Quiche, a French word, automatically makes one think of a French origin. However, many theories point out it is a dish born in Germany during the medieval era and later adopted by France.
It consists of meat and vegetable fillings covered by an egg custard, then baked in the oven until set. Traditionally, people make it with a crust and no cheese. But let's admit it, in modern-day life, one doesn't always have time to get the rolling pin out. And no cheese? It is the best part of any dish!
That is why this recipe is here to remedy those problems. It is beautifully versatile and really simple to prepare. Not only can one use just about anything as filling, but it can be enjoyed as any meal of the day, from breakfast to dinner.
Tools
You won't need any fancy cooking equipment for this dish because only a few basic items are needed. This ensures your kitchen is kept neat and only a little bit of time is spent washing up afterward.
Cutting board and a sharp knife: to chop and dice all vegetables.
Potato peeler: to remove skins from the potatoes.
Frying pan: to glaze ham and cook potatoes.
Spoon: to stir everything being fried in the pan.
Fork: to whisk the dairy and eggs.
Grater: to grate the cheese.
Bowl or measuring jug: to whisk dairy products in.
Ovenproof dish or muffin tray: to bake quiche in.
Oven mitts: to safely remove the quiche from the oven.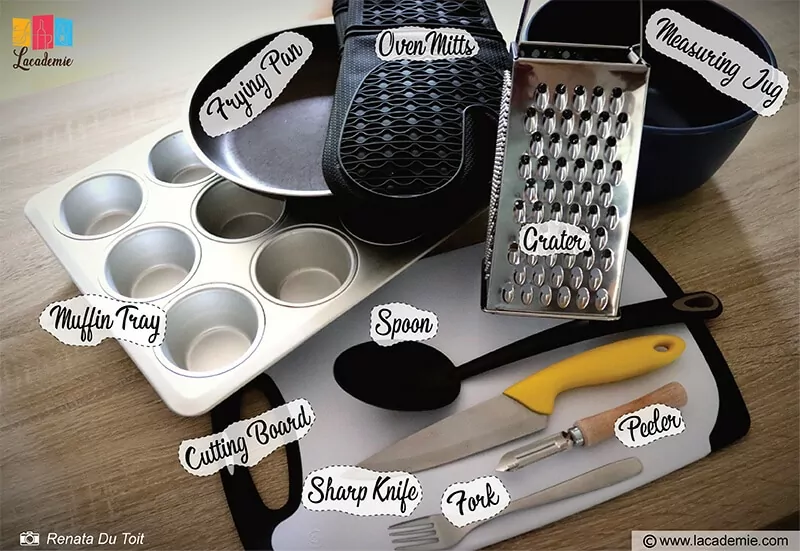 Key Ingredients
The following food items are what you'll need to create this show-stopper. Most of them are already in the pantry as standard cooking items, whilst the rest can be easily obtained from any local supermarket.
Ham steaks: the slices are thick and allow easy cooking and glazing in the pan. It also ensures a fuller taste profile when eating.
Waxy potatoes: These potatoes are low in starch but high in moisture. Therefore, they tend to keep their shape after cooking. This makes them ideal for the quiche as you don't want them to become mashed and disappear into the filling.
Rosemary: Either fresh or dried variety is fine. It elevates the flavor profile and gives out an atmosphere like a Sunday roast or Christmas Eve dinner with your family.
Dijon mustard: Ham works so beautifully with mustard; it seems abnormal to ever separate the two.
Maple syrup/honey: The sweetness not only compliments the ham but also blends perfectly with the mustard to take you one step closer to that glazed gammon slowly roasting in the oven.
Onion and garlic: These fragrant components always take food to another level. Onions have the tendency to absorb and enhance aromatic ingredients throughout the dish.
Sour cream and milk: the dairy creates the custard filling, which is thick and creamy
Eggs: the eggs are key in binding everything together during the baking process. It ensures that everything sticks together and becomes one delectable tart.
Cheese: There are two familiar cheese varieties in this recipe. Grana Padano lends a subtle creamy texture to the filling and adds savory notes. On the other hand, Cheddar sprinkled on the top gives a traditional oven-baked cheese taste to round the quiche off perfectly.
Salt and pepper to taste.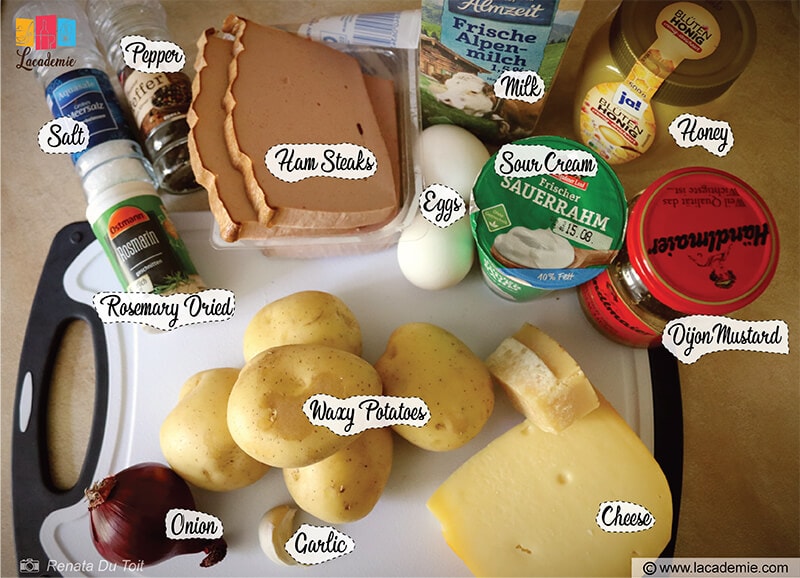 Making The Quiche
The process of making the tart is quite straightforward, allowing you to savor the final result of eating it so much more. Let's get started with the filling, and within 45 minutes, you can start baking.
Step 1: Prepare The Equipment
Arrange all the necessary kitchen equipment within reach. This makes the process smoother than having to open and close cupboards and drawers multiple times.
Preheat the oven to 180°C (356°F) so that it's hot enough by the time the quiche is ready to bake. Spray an ovenproof dish/muffin tray with non-stick cooking spray and set aside.
Step 2: Cook And Glaze The Ham
Unlike a gammon that needs to be cooked overnight, this step is much quicker with hams. Simply place the ham slices in a pan over medium heat and brown on either side.
Mix together the mustard and syrup/ honey and pour half over one side of the ham. Turn the ham over and pour the remainder over. Allow it to cook for a few minutes on both sides until the ham slices are glazed.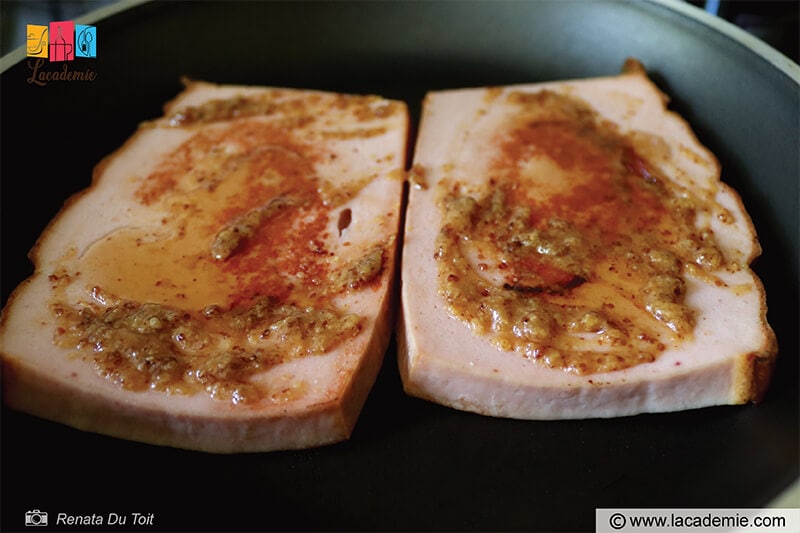 Remove the hams from the pan and cut them into small cubes of about 1cm.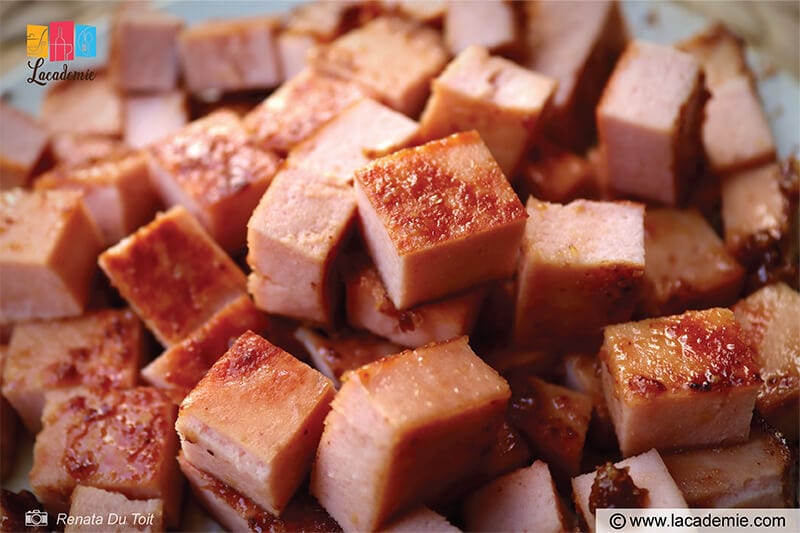 Step 3: Fry Chopped Onions, Garlic, And Potatoes
Peel the onion and garlic and chop them separately on the chopping board.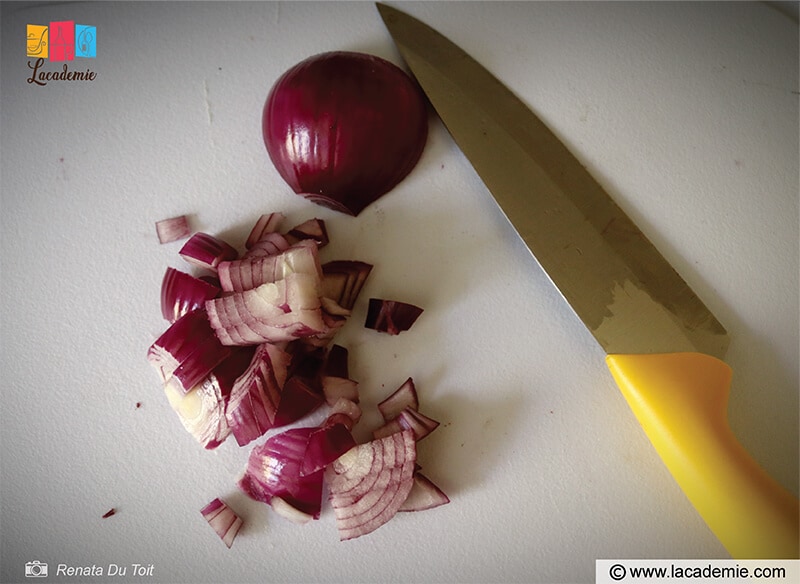 Next, peel the potatoes and cut them into cubes. 1-centimeter cubes are ideal for fast frying and even baking alongside the ham pieces.
Add some olive oil to the same pan to allow all the flavors to stick together throughout the cooking process (not to mention fewer dishes to clean up afterward!) Fry the onion on medium heat until translucent, then add the chopped garlic clove.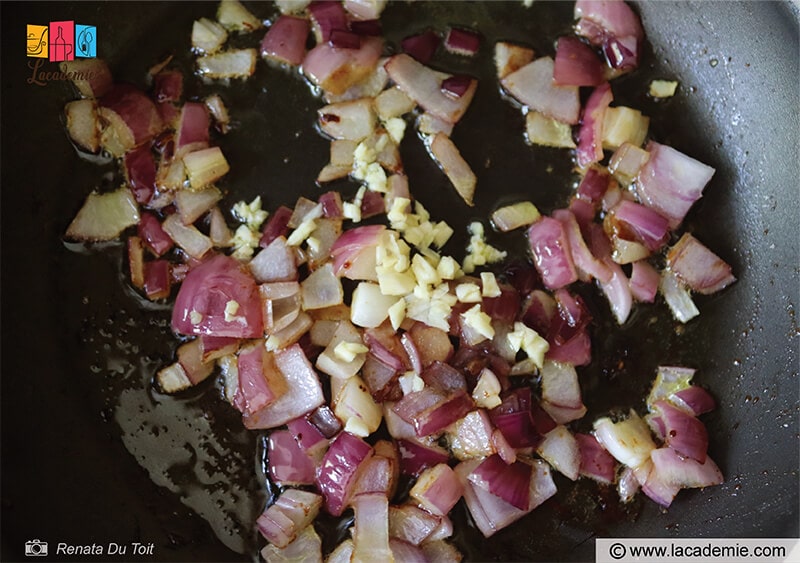 Toss in the potatoes and allow everything to cook for a few minutes before adding the salt and rosemary. Once the rosemary is added, it will cook for another couple of minutes to infuse with everything in the pan.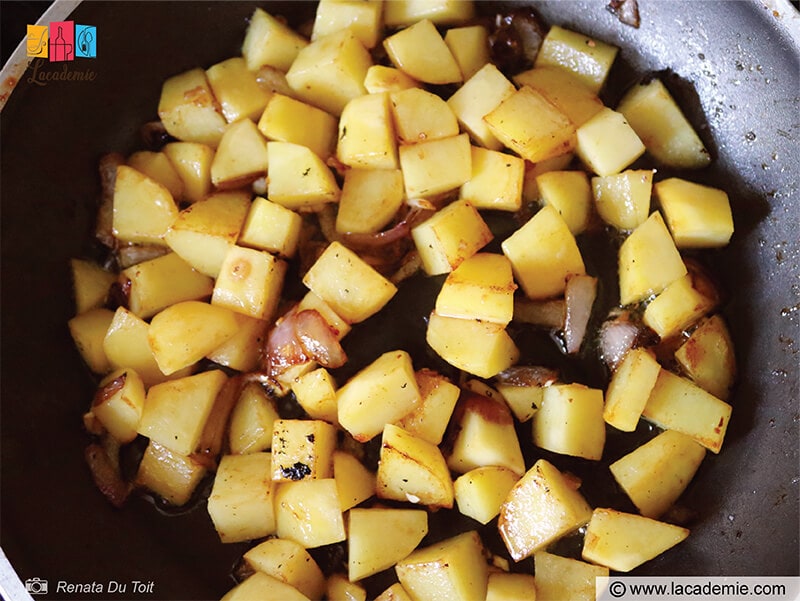 Test the potatoes after approximately 15 minutes. If you can poke a thin knife or trussing needle into the center of the cubes easily, they're cooked and can be removed from the heat. In case the potatoes are still hard, cook them a little bit longer and test every few minutes until they're soft.
Step 4: Prepare The Dairy And Egg Topping
In a bowl, whisk the milk, sour cream, and eggs together with a fork. Add the Grana Padano, then give it another quick stir.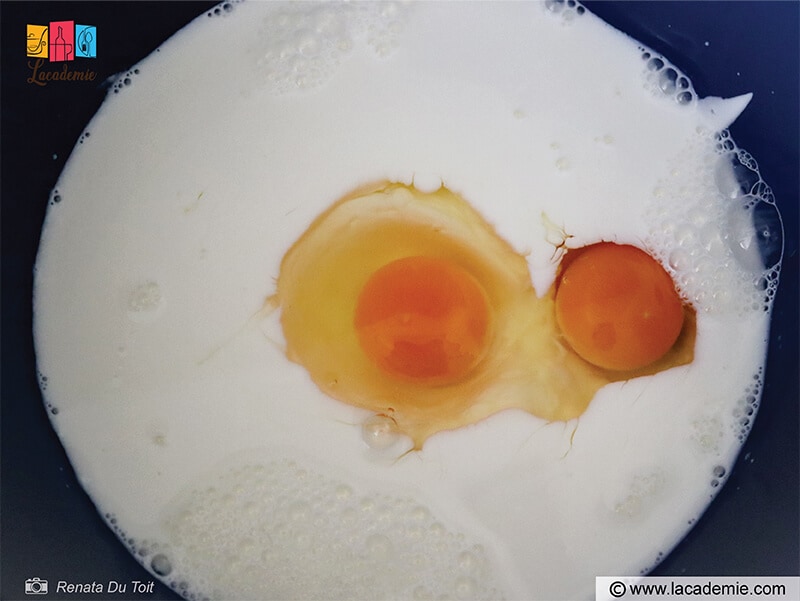 Add the ham and potato mixture into the custard before spooning the mixture into the prepared ovenproof dish and topping with Cheddar cheese.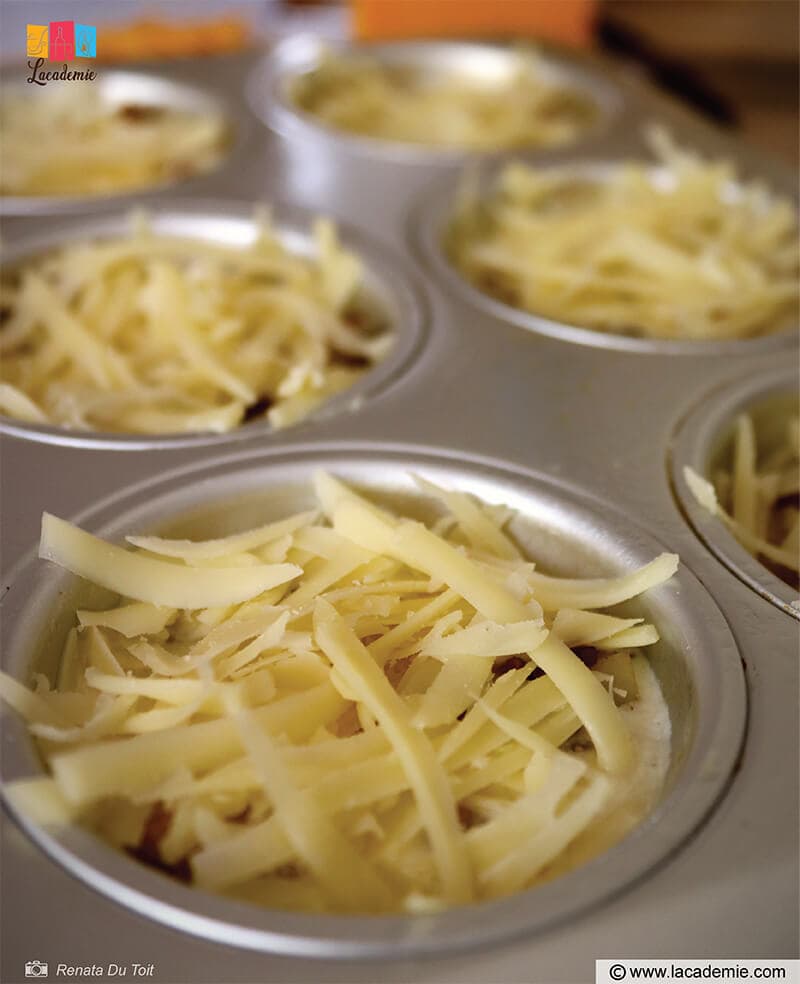 Step 5: Bake And Enjoy!
The hard work is done. Just pop the dish into the oven and let it bake until set. Using a large dish to make one quiche should allow for 45-60 minutes of baking time, whilst smaller muffin trays will ensure the little quiches are baked in about 30 minutes.
After the specified time, check that the egg custard is set and no longer raw. Remove from the oven and allow to cool slightly before serving.
Some Notes And Extra Tips To Make Your Cooking Easier
Efficiency is important in the kitchen, and one wants to reach this in the easiest way possible. Here are some tips to make the prep-work light and have the final product be a guaranteed success.
This recipe uses a large amount of cheese and olive oil for extra richness and creaminess. Feel free to cut down on it if you prefer a lighter meal.
If the potatoes are quite small, add some more. Similarly, if they are much larger than usual, use 1-2 potatoes less.
If you can't find ham steaks, buy a small ham loaf and cut your own steaks. Alternatively, use thinly sliced ham and cook at a ¼ of the specified time.
Replace the ham with smoked tofu if you want to turn the quiche into a vegetarian dish .
Grana Padano cheese is quite savory, and the more aged it is, the stronger its taste will be. Be sure to taste it beforehand to gauge its saltiness, and avoid overseasoning the rest of the quiche.
You can pick whichever Cheddar cheese products you like. White or yellow versions all work.
No need to put too much cheese on top of the quiche as you don't want it to be too rich.
Bake the quiche in a large ovenproof dish to serve as mains or fill a muffin tray to make smaller individual nibbles.
A quiche is perfect for any meal of the day, be it breakfast, lunch, or dinner.
Perfect Quiche Pairings
You've perfected this recipe, but all delicious quiches need different sides to elevate them. Here are some easy-to-prepare ideas with subtle flavors, allowing the ham, potato, and cheese to remain the highlight.
Basic green salad with vinaigrette is an easy go-to option with its familiar flavors. It offers a light contrast to the rich flavors of the quiche.
Coleslaw with raisins and a mayo dressing provides sweet and tangy nuances to the savory mouthfeel of the tart.
Sweet potato fries lend a subtle sweetness to give one's palate a pause from the immense delectability of the crustless delight.
How Store The Leftovers Properly
If you have some leftover quiche, store it in an airtight container in the fridge for up to three days. Alternatively, quiche can also go into the freezer for up to three months.
And don't worry! You can reheat quiche in various ways. For instance, pop it into the microwave for a few minutes and enjoy. Or with frozen quiche, warm it in a preheated oven of 180°C for about 30 minutes, and it's ready to go.
A Quiche Is A Multi-Category Winner!
The crustless ham, potato, and cheese quiche with its unique filling is easy, uncomplicated, and can be made by even the most inexperienced cook, not to mention the immaculate taste that will wow your guests!
Don't miss the chance to print this wonderful recipe out or write it down and try it as soon as possible; you won't regret it. In fact, you'll probably get requests to make your delicious quiche at family gatherings and friend get-togethers soon.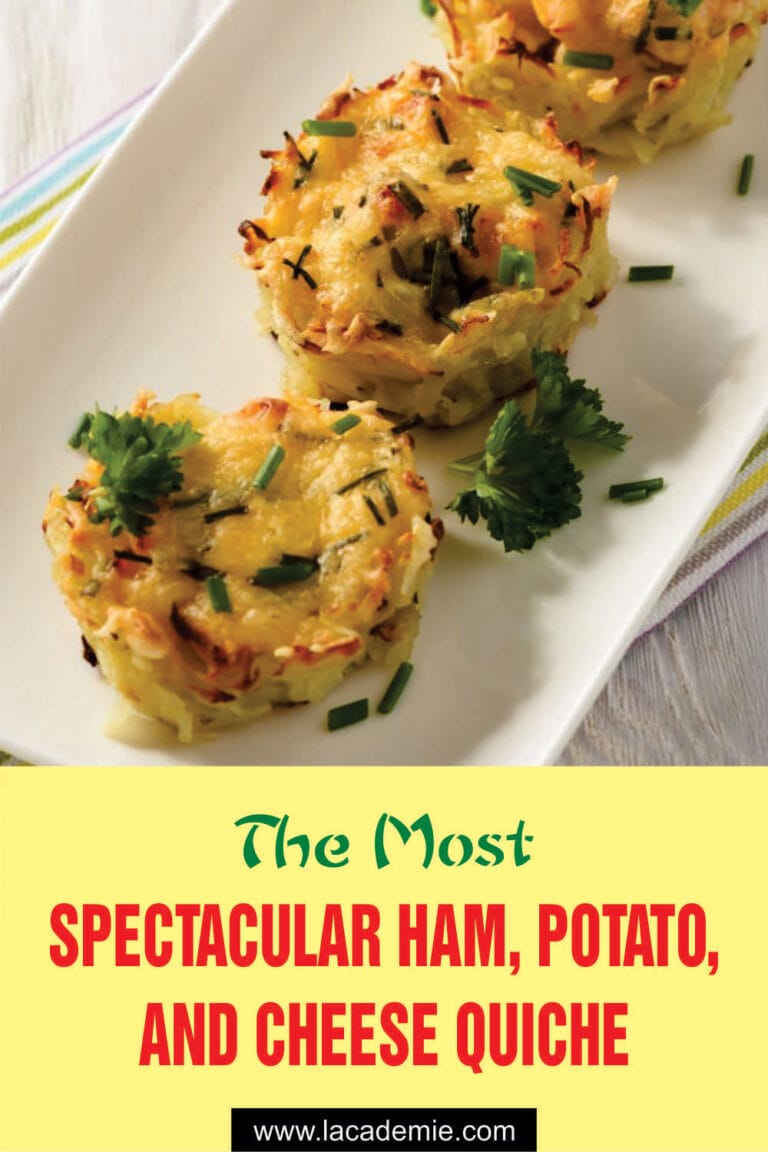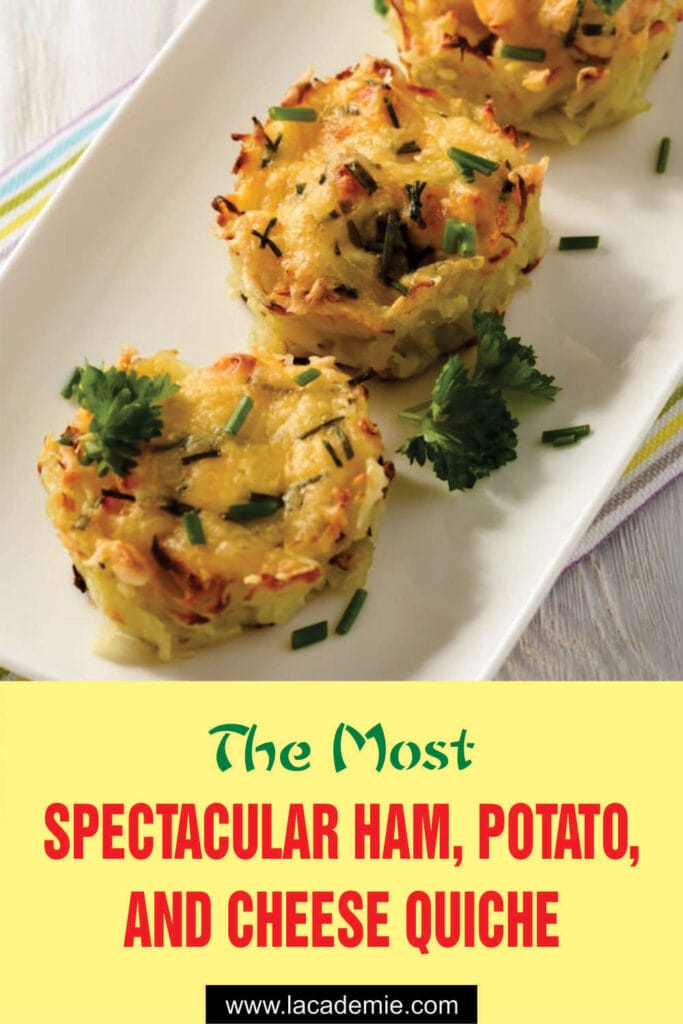 Nutrition Facts
4 servings per container
---
Amount Per ServingCalories770
% Daily Value *
Total Fat 48.5g

74

%
Cholesterol 106mg

36

%
Sodium 1363mg

57

%
Potassium 1126mg

33

%
Total Carbohydrate 54.3g

18

%

Dietary Fiber 3.6g

12

%
Sugars 12.7g

Protein 32.6g

64

%
---
Calcium

773

%
Iron

3

%
Vitamin D

8

%
* The % Daily Value tells you how much a nutrient in a serving of food contributes to a daily diet. 2,000 calories a day is used for general nutrition advice.