How to reheat risotto is a query that I often get recently. Unlike other foods, risotto dishes need some techniques to reheat for a perfect meal.
The secret key to making risotto is the creamy texture. So, if you do not revise it properly, it is easy to ruin it from a tasty to an inedible food.
Do not panic, though! I will show you the best techniques to reheat your risotto in this post. Stay with me to the end of the post because there are so many things that you should not miss.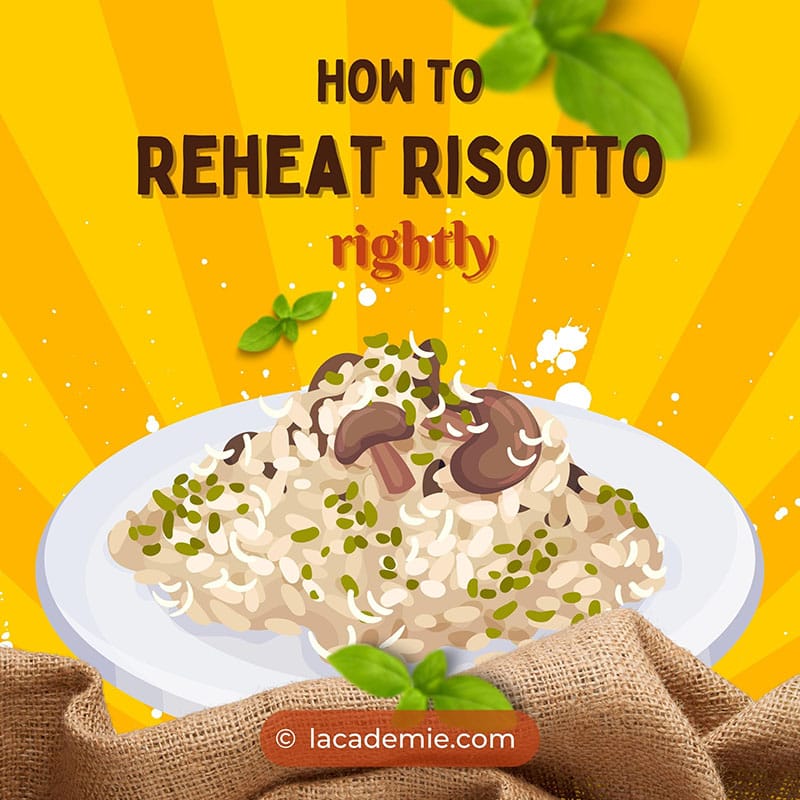 Don't Worry About Recooking Your Risotto Anymore
So now, let's check about the methods you can apply to reheat risotto. I want to share with you 5 working methods:
Method 1: Use An Oven
Method 1.1: Create a new dish from leftover Risotto
Method 1.2: Reheat normally
Method 2: Use A Microwave
Method 3: Use Frying Pan
Method 4: Double Boiler
Method 5: Use A Steamer Basket
This is just the general information about my reheating risotto. I am glad when you are still reading to see the details of techniques to apply them correctly.
Little Truth About Risotto No One Is Telling You
Before going to the way that I used to remake my leftover risotto, I would like to let you know more about this best-flavored dish as well as its exciting origin. Discover them and make a quiz with your friends.
What Is Risotto?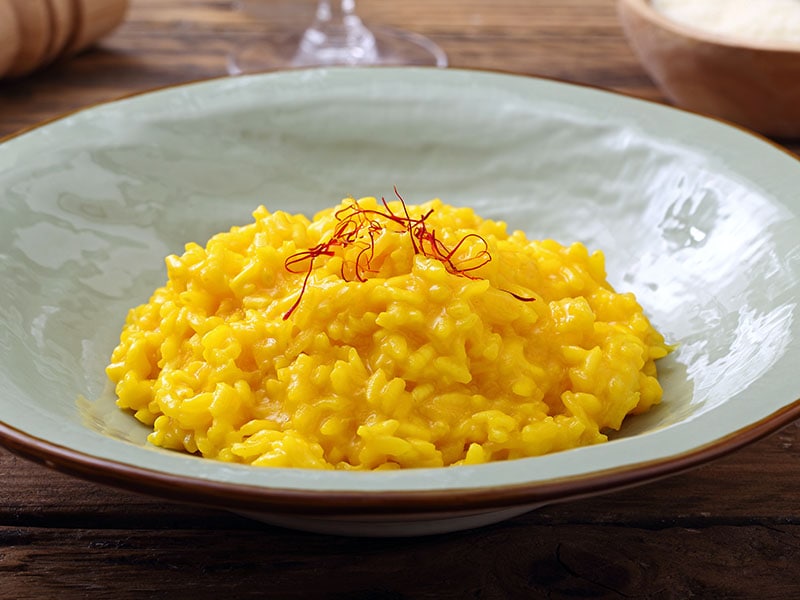 It is a traditional rice dish with a kind of creamy sauce in Northern Italy. This fantastic Italian dish for dinner has a sauce that is often made from meat, vegetables, etc.
Besides, they also add butter, onion, or parmesan cheese to make the dish more flavorful. And, lastly, the should-have spice to risotto is saffron. Without the very distinct taste of saffron, risotto might taste somewhat lackluster.
In case you have not tried adding saffron to your risotto before, give it a try, and the taste will be unforgettable.(1)
Unforgettable Taste And Texture Of This Italian Dish
Risotto has been famous for many years due to its exceptional creamy taste and the essential ingredients inside cheese and butter.
However, it does not just stop at the creamy taste. This famous dish also brings a sweet and earthy feeling with mushrooms and other vegetables.
The risotto texture looks like thicken soups, but someone describes its texture as more similar to sticky rice.
Let's show off your cooking skill with your parents by using this tastiest risotto.
5 Guaranteed Methods To Reheat Risotto Correctly
Back to the main topic, what will you do with leftover risotto? It is worth keeping and reheating in your next meal. In this part, you will know everything you need to do for reheating your flavorful rice dish.
Preparation Step Is Necessary Before Reheating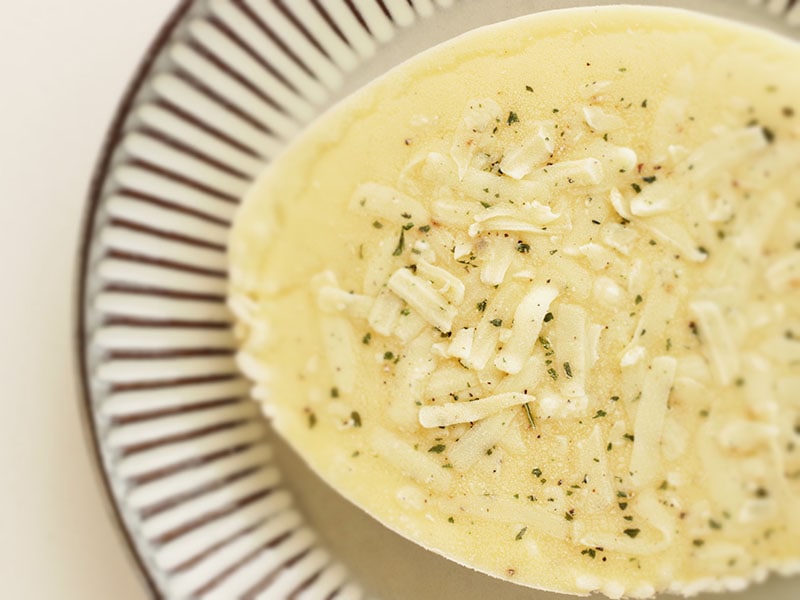 The first thing you need to do is to defrost your dish correctly. In detail, you should put it at room temperature for a few minutes. In case you store it in the freezer, move it to the fridge and leave overnight before making any remaking ways.
Do not try to eat cold risotto to save your stomach and meal. I will go on with the reason for this avoidance in the next section.
Method 1: Use An Oven
Many people told me that using an oven to remake this delectable dish from the European continent is a super-convenient method among the five. Luckily, after a try, I realized that there are two ways which are reheating normally and creating a new dish.
Method 1.1: Create A New Dish From Leftover Risotto
In case you do not like to stir the food constantly, using the oven to make crunchy risotto balls is not a bad decision.
What you need:
Your favorite grated cheese
Eggs
Some breadcrumbs
Flour
Olive oil or other vegetables oil
The number of ingredients will depend on how much rice you will serve. On my own, I prefer using a considerable amount of grated parmesan cheese.
Step 1: Prepare flour, eggs, and breadcrumbs in three separate bowls.
Step 2: Mix the rice with your favorite cheese and use your hands to roll it into balls.
Step 3: Roll the rice balls to the eggs, flour, and breadcrumbs, respectively.
Step 4: Sweep an oil layer into the balls.
Step 5: Prepare your oven to about 356°F and check with a thermometer.
Step 6: Place the balls in the hot oven and bake them for around 20 minutes.
When you bake your risotto balls, you have to check them regularly in order to ensure the rice is not overcooking. This new version is ideal when eaten along with cold drinks, such as a glass of beer.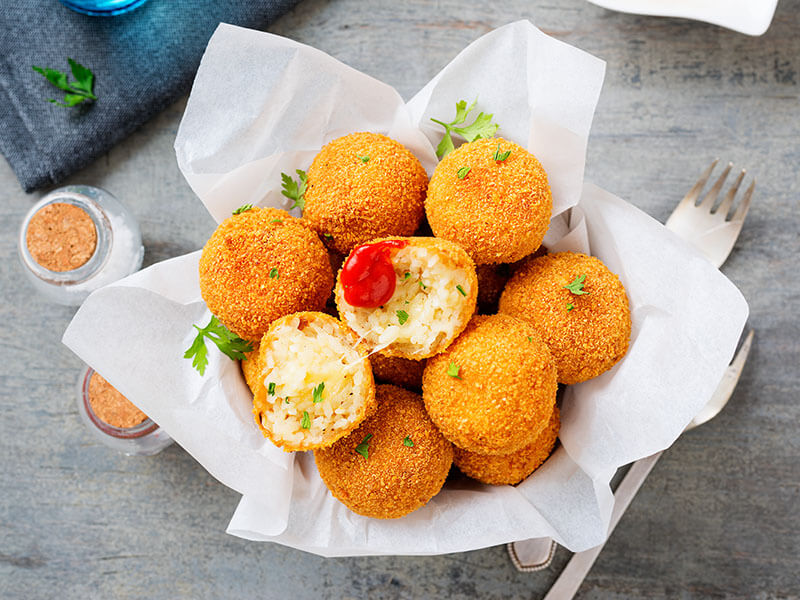 Method 1.2: Reheat Normally
You do not want a new dish? No worries, I have an alternative option. These are steps you should take.
What you need:
A saucepan
Liquid (white wine, or broth, water)
Butter (optional)
Step 1: Set up the oven at 350 °F.
Step 2: Coat butter to the pan and put risotto inside. Then, pour the liquid and stir it for a bit before placing it in the oven.
Step 3: Reheat the risotto in the oven for 10 minutes. You should stir it constantly while cooking for every 2 minutes.
Step 4: Now that the risotto is properly reheated, enjoy the risotto with some tasty side dishes. My top suggestions are pickled mushrooms and marinated olives – these two make the best flavor combination when served alongside risotto.
Method 2: Use A Microwave
Microwave is a versatile item for the kitchen because it is responsible for reheating or cooking almost all food. Thanks to the microwave, you can save your time but still serve a great dish.
What you need:
A microwave-safe glass bowl
White wine (or broth, water)
Butter
When all must-have things are ready, this is time to begin the process!
Step 1: Pour white wine (I often put a teaspoon) into the bowl of risotto. You can use broth instead.
Step 2: Set up your microwave at medium level. Start the reheating process for 4 minutes.
Step 3 (optional): If you think your risotto needs more heat, continue to reheat for one more minute.
Step 4: Add wine and butter for a more creamy texture and stir the rice again before decorating on the plate.
In this method, paying attention is the primary factor to determine your success. It means that you must keep your eyes on risotto every minute. Then, take it out from the microwave and stir to ensure it is reheated evenly.
Method 3: Use A Saucepan
I believe every home already has a saucepan in the kitchen due to its multifunction. Simply use your frying pan with some additional ingredients for a new risotto.
What You Need For A Cup of Risotto:
2 tablespoons of butter
3 teaspoon of white wine
3 teaspoon of olive oil
You can modify these added ingredients to suit your taste and the amount of risotto that you reheat. Check out my steps with a saucepan.
Step 1: Melt the butter in the pan.
Step 2: Pour your risotto after thawing inside.
Step 3: Slightly stir the rice with medium heat and begin to pour white wine into it.
Step 4: Continue to stir the mixture for 2-4 minutes.
Step 5: Add 3 teaspoons of olive oil before turning off the stove for around 10 seconds.
In this way, the traditional taste of risotto will be maintained. You can use high heat to finish the process quickly for 2 minutes, but I do not recommend it. Remember to stir your dish frequently for a perfect remaking dish.
Method 4: Double Boiler
A double boiler is a kind of cooking item that consists of two containers. When cooking, people usually pour hot water into the big container and put the smaller one containing food.
This thing is often used to steam food due to its stable controlling heat. While your house has this double boiler, why do not you reheat risotto with it?
What you need:
A glass bowl
White wine, broth, or water
Butter (optional)
Did you know that the double boiler is a common item of Asian people? Although there are a few acceptable replacements for double boilers when you're in a pinch, Asian people still prefer this item for many cooking purposes.
Step 1: Pour some water into the bigger container.
Step 2: Mix risotto with white wine or broth in a glass bowl. If you have butter, you can stir it with rice thoroughly.
Step 3: Place the bowl into the smaller one and put them on the bigger container.
Step 4: You should reheat at a medium heat level.
Step 5: Check and gently stir the rice to ensure it cooks evenly.
Step 6: This method will happen for around 5 minutes. Turn off your stove and enjoy.
Thanks to this process, it is easier to prevent your dish from over- reheating. Besides, you can cook other foods with a double boiler.
Method 5: Use A Steamer Basket
Another helpful thing that you should have while cooking is a steamer baker. Similar to streamer boilers, the primary function of this item is to steam food, especially vegetables.
What you need:
A heatproof
White wine, broth
A suitable pot for your steam basket
See how a steamer basket works on your dish:
Step 1: Put your steam basket into the pot. Pour some water into the pot and cook until the water boils.
Step 2: Put the food on the steam basket, reduce the heat, and put the lid on the pot.
Step 3: When you see your risotto is already hot, you can add wine with butter. Stir it again and turn off the stove.
As usual, you must focus on the whole reheating process to get the perfectly cooked risotto dish. Sounds easy, right? You should use a glass bowl to put the food inside before placing it in the steamer basket. To avoid drying up the food, it is better to cook with low heat.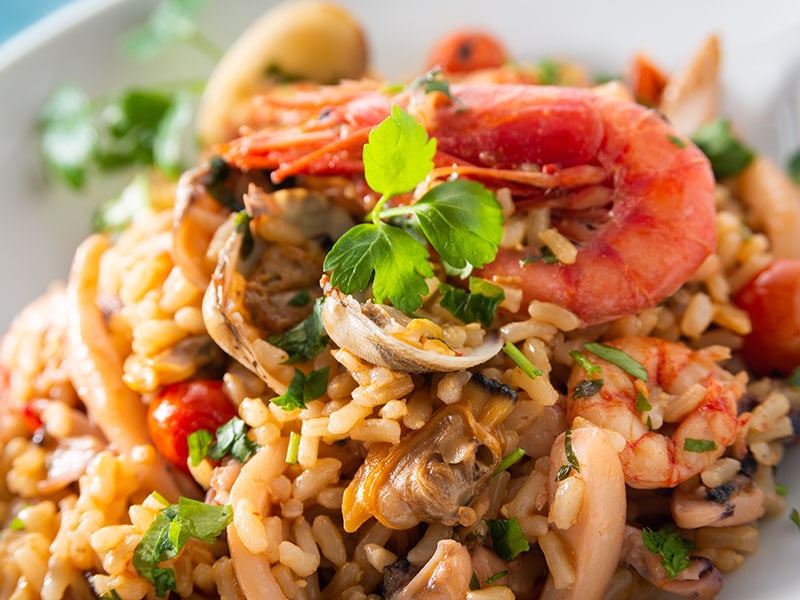 Great Tricks To Refresh A Perfect Dish
Thanks to these five methods, you will not find any difficulty in remaking the best risotto and save time for your meal, particularly on busy days. To help you do this process successfully, I will show you some extra tips below.
Do not freeze or store risotto which was reheated.
Do not try to keep too much risotto in the fridge or freezer because bacterias quickly attack it.
The level of heat is always from low to medium when cooking.
You can use vodka instead of white wine.
If possible, add some drops of lemon juice to enhance the taste stronger while reheating.
Use some Parmigiano on the top to keep the dish crunchy when choosing the microwave method.
You should not pour all of the liquid into your risotto before cooking again. Instead, it is better to half use to mix and pour the rest when you begin finishing the process.
Store leftover broth after cooking risotto to the fridge for next time using.
I prefer the steam basket and double boiler methods rather than other ways. Although these two ways can take more time, both will keep the flavor and texture of your food perfectly.
Go-Getter's Guidelines For Storing And Freezing This Food
When you have any leftovers, store them in the fridge for the next cooking. Keeping in the freezer at 0°F still works well, but it is not recommended.
Reheated risotto might not have a good taste and texture like the new dish, so you should not restore a batch of it. I want to show the shelf life of risotto in this table to help you understand deeply.
| Types | Fridge | Freezer |
| --- | --- | --- |
| Risotto | 5 days | 3 months |
| Risotto dish (has tomato, meat, etc.) | 3 days | Do not freeze |
1. Store In The Fridge
Follow these steps to store risotto in the fridge properly:
Step 1: Put the risotto into a glass box or bowl until it stops steaming.
Step 2: Place it in the fridge. However, do not close the lid of the box immediately. Instead, wrap a plastic wrap to cover the box and poke some holes on it.
Step 3: When it cools, cover it with the lid.
2. Preservation In The Freezer
You can not store your dish in the freezer in case it has any additional ingredients, such as shrimps, sausages, and so on. The reason is that each type of food has a different shelf life as well as the thawing process. Check the way to keep:
Step 1: Put the unsteamed risotto in the fridge to help it cool evenly.
Step 2: Use a sealed bag or airtight container with a lid to keep it.
Step 3: Place it in the freezer and use it for 2-3 months.
Useful Tips:
Write the day you keep in the bag or box by a label market to remember.
Avoid storing it near a place that has food with strong smells.
Do not use a metal box because the metallic on the box will absorb and impact the taste and color of risotto.
How To Know Your Risotto Dish Goes Bad
Like other rice dishes, risotto can go bad with three spoiled signs that you should not ignore. You can check these indications through my tests below.
Molds: Once you see molds appear green or blue, give it a toss in an airtight bag and do not sniff it because the mold can cause respiratory diseases.
Texture Look at your dish texture. The spoiled cooked dish will have a gooey texture and look not airy anymore.
Smell: Sniff the dish. You can smell an odor if there is a spoiled risotto. In case of any strange smell, it is better to throw it away.
When you decide to cook risotto again, it is essential to check and ensure the dish is still usable. As mentioned, eating spoiled food, particularly risotto, is not good for your health. Lastly, do not forget to apply my methods for making the dish hotter.
Reheat Risotto Is Best Way To Save Your Meal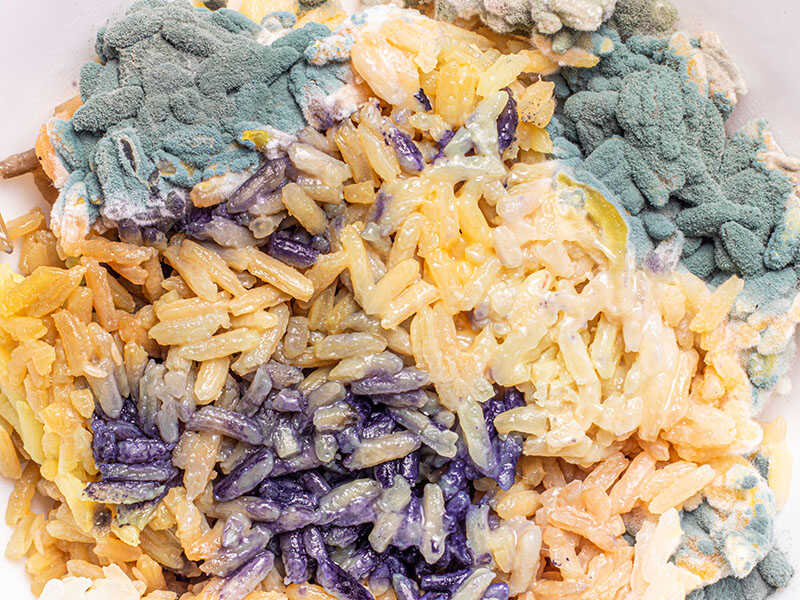 There are several reasons why you should not eat any cold risotto without reheating. Leftover dishes are the ideal place that bacterias tend to develop. Even though you have stored it right, you can not altogether avoid the attack of bacterias.
Therefore, reheating it will help you remove almost all harmful bacteria and prevent yourself from food poisoning symptoms.(2)
Plus, with exceptional food like risotto, a cold one will lose its unique flavor, creamy texture and also bring unexpected experiences.
Extended Versions Of Risotto I Totally Love
There is no limit to creating risotto with some vegetables in your kitchen. Therefore, I want to share with you my four favorite risotto recipes that you must try. Take all ingredients in your kitchen and be ready for a fancy dinner.
A version for vegans? Yes, that is my idea! In some cases, risotto for vegans in some restaurants might not suit your taste. So, why don't you make it by yourself?
The taste of spinach when pairing with salty, creamy cheese is very balanced and healthy. Moreover, you can enjoy the meal with a glass of wine.
This is an excellent choice for everyone, and also vegans. Mushroom risotto is often included in the menu of restaurants. So, you should jump at the chance to cook this expensive dish recipe in your home.
Mushroom risotto is very easy to make and has an unbelievably delicious taste. Besides, add herbs and other spices to level up the flavor.
Another simple recipe for you is chicken and leek risotto. Taking some minutes to cook all ingredients in the classic style, you can serve a soft and creamy dish.
The texture of the dish might be different, but it is still good to enjoy. On my own, this recipe will suit those who are on a hectic day, and can not stand in the kitchen to stir food.
Saffron makes almost all regular dishes turn into luxurious ones. Thanks to this spice, your traditional Parmesan risotto will be more robust, combining a unique floral smell that you can not find in other dishes. Some viable replacements for saffron are required if you can't find any.
And, of course, the creamy texture is unchangeable in comparison to the classic recipe. Don't forget to try it and give me your feeling!
Let's cook the risotto dish with saffron for a healthy meal!
FAQs
Not only methods to remake risotto, but I also received some other questions related to this topic. So, if you have questions, my extra section belongs to you.
Which Ways Do You Decide To Reheat Risotto Today?
This is all about how to reheat risotto effectively. For me, I really appreciate you still going with me to the end of the post.
I hope that the information I have shown you is beneficial for you when cooking or remaking this luxurious Italian dish. Remember that care and patience are always factors to cook it perfectly.
Lastly, if you have any queries or stories to tell me, don't be shy; comment on your idea after reading; I will listen and discuss it with you.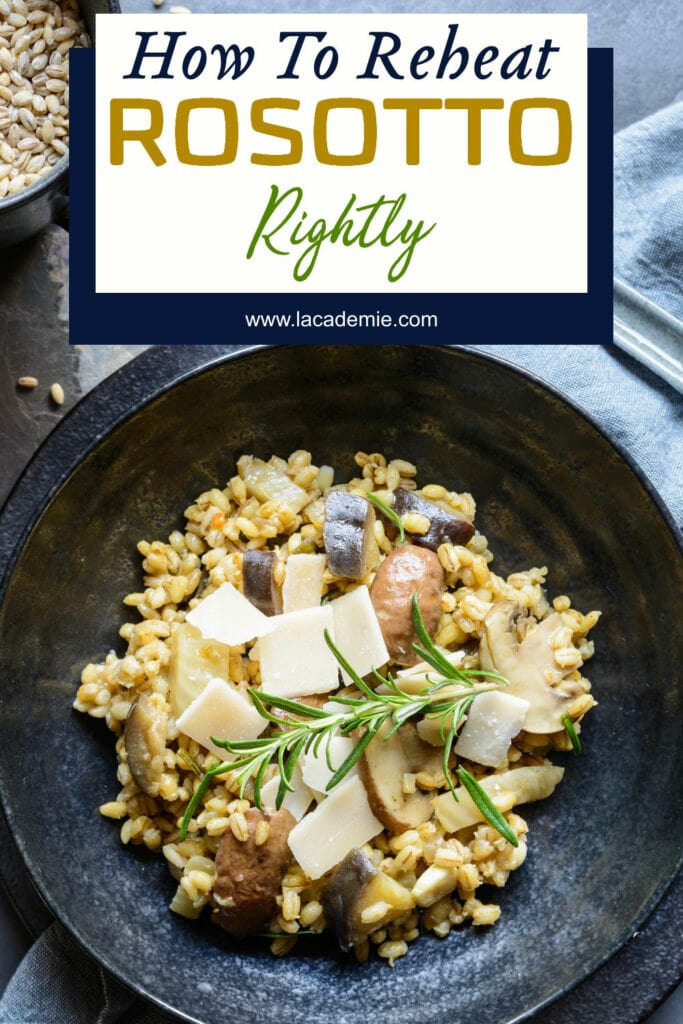 References
En.wikipedia.org. 2021. risotto – Wikipedia.
nhs.uk. 2021. Can reheating rice cause food poisoning?.