What is Sicilian pizza? Is it better than Neapolitan or traditional deep-pan pizzas?
Sicilian pizza is one of the familiar items at bakeries and panificios worldwide. The original Sicilian pizza originates from the Sicily of Palermo. People often call this delectable pizza "sfincione", meaning "thick sponge".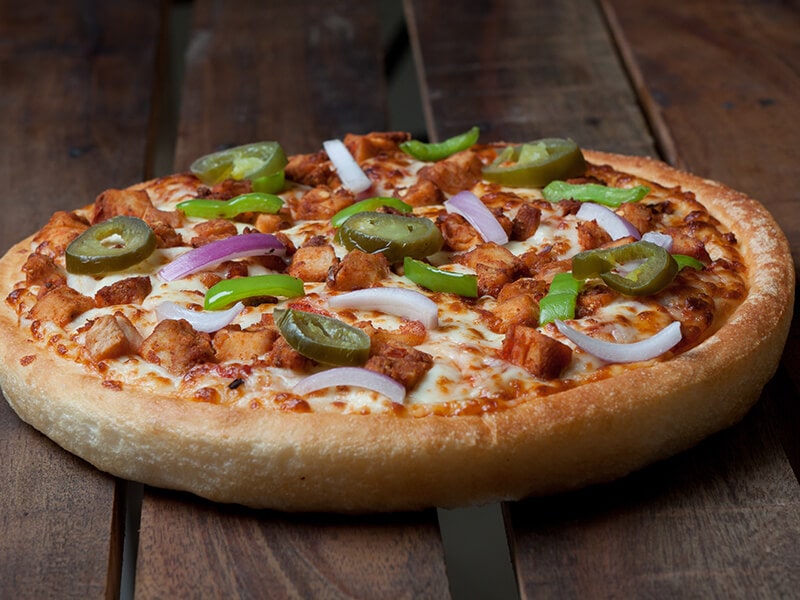 Pizza is a long-standing food that existed in ancient times in the Middle East (1). A theory said that Italians used pizza for the first time with the meaning "pie" in this language. In fact, this word stems from "pitch" in Latin and "pita" in Greek.
Sicilian pizza comprises a spongy, soft, and fluffy crust, meatless sauce with a layer of hard cheese made from cow milk, like toma or caciocavallo, and breadcrumbs. Typically, its rich sauce is made from onions, herbs, anchovies, and tomatoes.
Before having a signature square shape, traditional Sicilian pizza has round or rectangular shapes similar to the famous Neapolitan pizza.
Sicilian pizza is associated with the culture and tradition of some regions worldwide, such as Palermo, Siracusa, Catania, and Messina. Furthermore, each area has its interpretation of Sicilian pizza, creating various unique pizza recipes.
Aside from eating Sicilian pizza as a regular dish, people often make this mouthwatering pizza on special occasions, such as New Year's Eve, Christmas Eve, or Good Friday.
Origin of Sicilian Pizza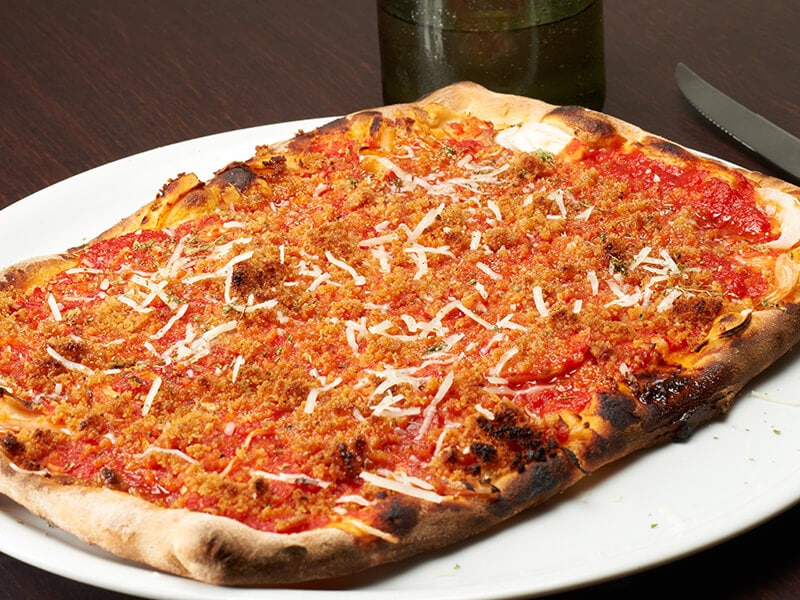 Sicilian pizza was invented in Bagheria, Palermo, Sicily, Italy. The dish received love from many residents in western Sicily in the mid-19th century and became the most popular pizza in Sicily during the 1860s (2).
Also, the reduction in tomato prices after World War II made tomato sauce more accessible to pizza. At this time, Sicilian pizza is common on streets, markets, and alleys in Sicily.
There was a trend of eating pizza in New York, Detroit, and Boston. And, Detroit-inspired pizza is considered a descendant of Sicilian pizza.
Originally, this fantastic pizza had many similarities to the older Italian focaccia. For more information, this Italian pizza is the notable no-knead bread made from all-purpose flour and yeast and prepared in a sheet pan with a flat shape.
This pizza became popular in the United States after Sicilian immigrants introduced it. Americans used mozzarella cheese for this delicacy because cow-based dairy products in this nation had low prices in the early 20th century.
Increase your knowledge with some amazing information about Sicilian pizza.
What Are The Ingredients Of Sicilian Pizza?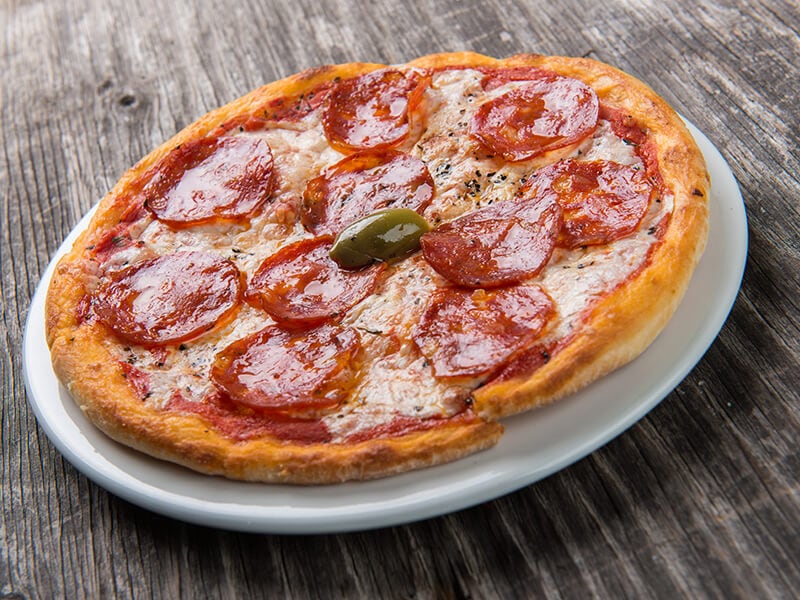 Sicilian pizza comprises 3 main parts: a spongy crust, rich sauce, and cheese. Flour, water, yeast, and olive oil are indispensable ingredients to create thick pizza dough.
To prevent the dough from sticking, adding a bit of olive on the pan bottom is better before baking. This pizza becomes more flavorful by adding sauce, a combination of anchovies, onions, tomatoes, red pepper, and oregano.
Furthermore, the pizza tastes cheesy and crunchy with mozzarella, Parmesan cheese, and breadcrumbs. Pizza makers always pour the sauce on top of the topping to avoid the sauce soaking into the pizza crust.
Common Variations of Sicilian Pizza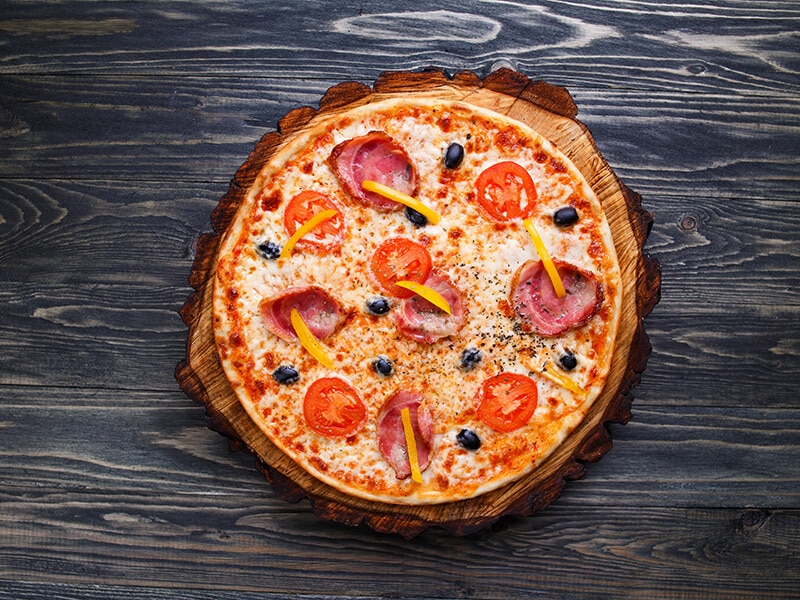 In different areas, Sicilian pizza has various adaptations made by the residents. They can have different appearances, flavors, or textures because of some changes in components. Here are some popular varieties of Silican pizza:
Messina Pizza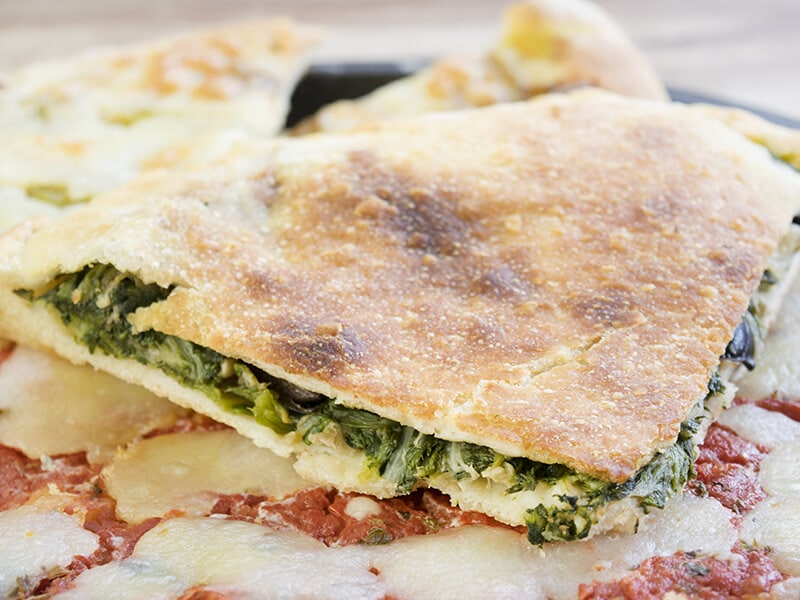 The variation of Sicilian pizza in Messina, located northeast of Sicily, is known as "piduni". This fantastic pizza roll comprises anchovies, vegetables, tomato sauce, and toma cheese (farmer's cheese). And these toppings are filled inside the pizza crust.
Catania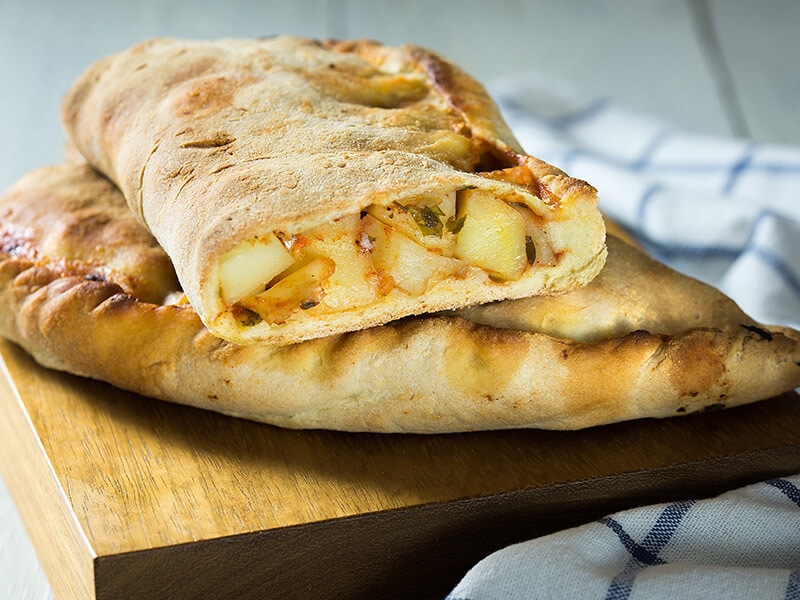 People in Catania call Sicilian pizza "scacciata". There is a difference in the way people make scacciata in the city and surrounding areas.
The pizza crust is topped in the city with farmer's cheese and anchovies. Meanwhile, these components are replaced with potatoes, broccoli, tomato sauce, and sausages in the suburbs.
Also, pizza from Viagrande and Zafferana of the Catania may be folded before frying with anchovies and cheese inside.
Sicilian Pizza Of The US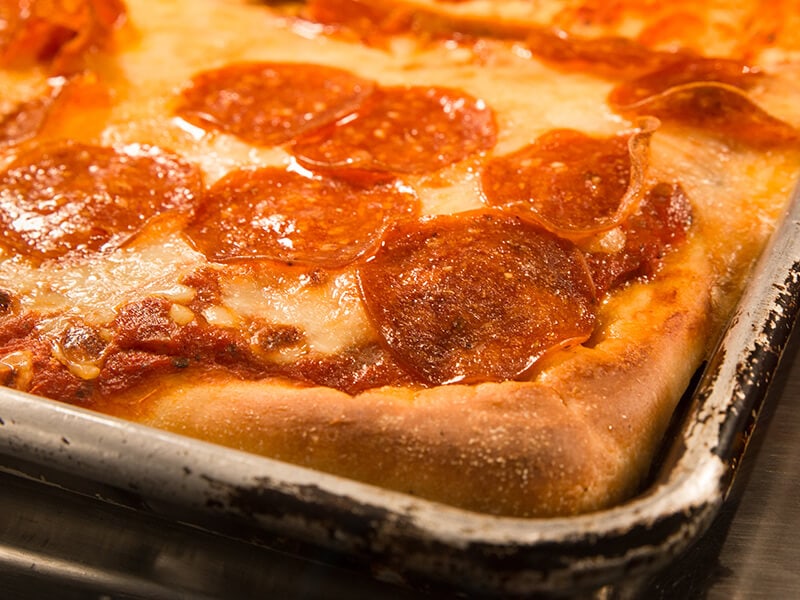 Sicilian pizza was introduced in the US by Italian immigrants. It is considered a square version of cheese pizza. Sicilian is a famous item in New York, New Jersey, Pennsylvania, and Rhode Island. In New Hampshire and Massachusetts, it's known as "beach pizza".
In the Northeastern US, this amazing pizza is famous in Italian-American enclaves. In this country, there is a similar dish to Sicilian pizza, which is tomato pie.
Learn how to make New York-style Sicilian pizza right at home.
Siracusa Pizza
Sicilian pizza has a round stuffed variation in the Siracusa. It is famous in Solarino and Sortino in this area with the name "pizzòu". This version is stuffed with filling and topped with parmesan cheese, aromatic herbs, and olive oil.
Palermo Version
In Palermo, pizzerias often serve Sicilian pizza with ingredients similar to Neapolitan. Plus, the pizza is more flavorful with the appearance of herbs, onions, and garlic. Also, the pizza makers retain the perfect texture for pizza by pouring sauce on top of the toppings.
Special Features Of Sicilian Pizza
There are some special features you can only find in Sicilian Pizza. These characteristics make Sicilian pizza special and recognizable on the map of countless pizzas. Let's check what makes it so different!
| | |
| --- | --- |
| Sicilian Pizza | Special Features |
| Cheese options | Diversity with many kinds of cheese, like Parmesan, mozzarella, and farmer's cheese |
| Crust | Thicker than other types of pizza |
| Color | Nice golden-brown hue |
| Ingredient quality and cooking methods | Use traditional methods to make pizza and high-quality ingredients |
| Sauce | Various options with large amounts of sauce |
Cheese Varieties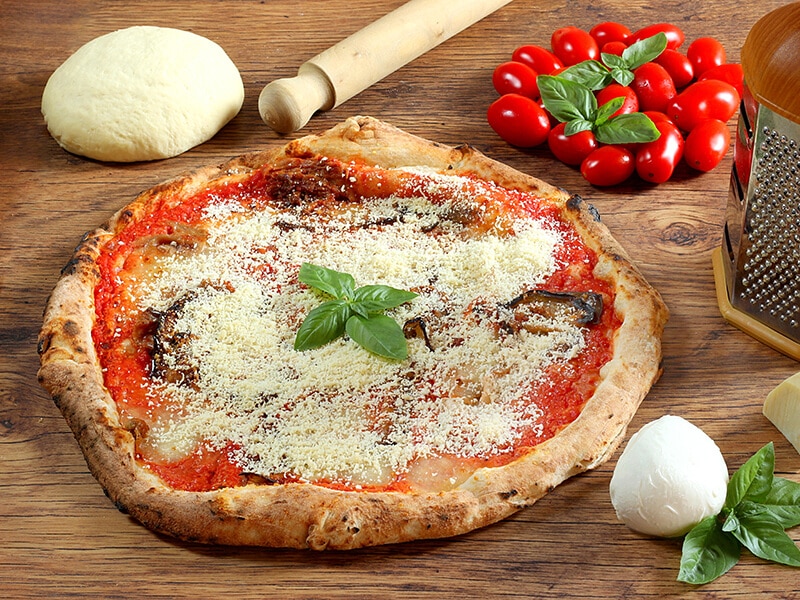 In the past, most pizzerias in Sicily used hard-grated cheese for their pizza because there were few cows raised in this area. However, the increase in cow farms led to various kinds of cheese on Sicilian pizza.
Nowadays, you can easily find Parmesan, mozzarella, or farmer's cheese on top of delicious Sicilian pizza.
Spongy And Thick Crust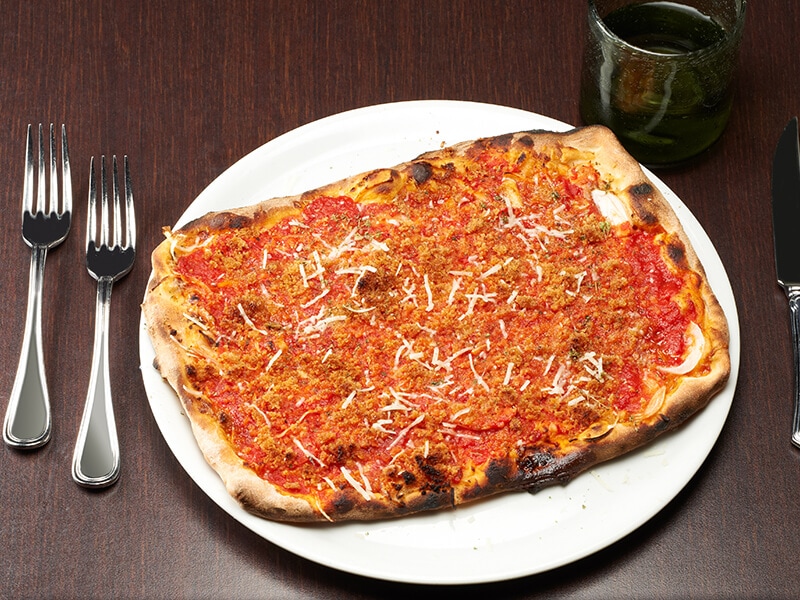 Compared to other types of pizza, Sicilian pizza's crust is thicker. Plus, its crust's spongy and light texture provides a nice crunch upon every bite. Not only that, the crust is filled with a large amount of sauce and toppings to deliver the most flavorful taste.
You can easily find the outer crust from other types of pizza, but you can't do this with Sicilian pizza because a large number of toppings and sauces will make this part disappear.
Check out how you can make thick and spongy Sicilian pizza crust.
Beautiful Golden Color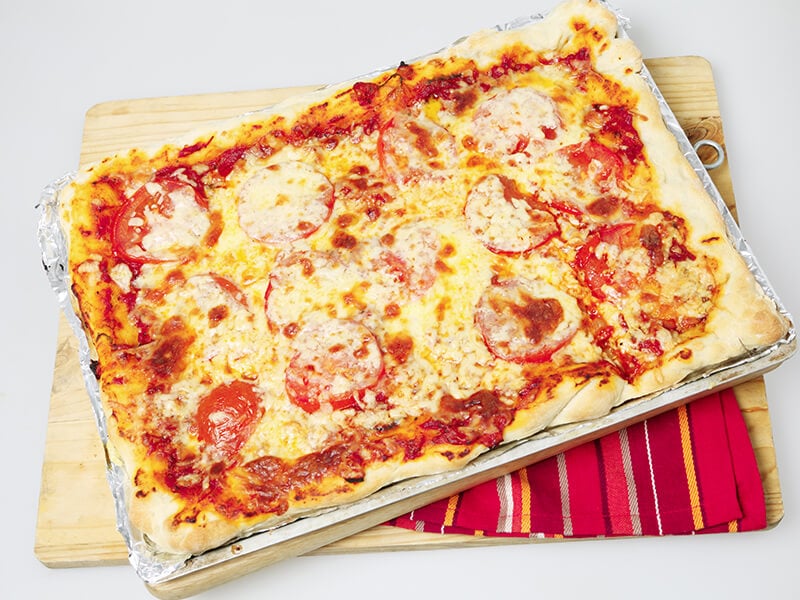 Another feature that makes people love this pizza more is its eye-catching golden hue created by perfect baking and a layer of breadcrumbs on top. Also, the ideal crispiness and lovely golden hue are created by the olive oil added to the pan's surface.
Authentic Ingredients And Traditional Cooking Methods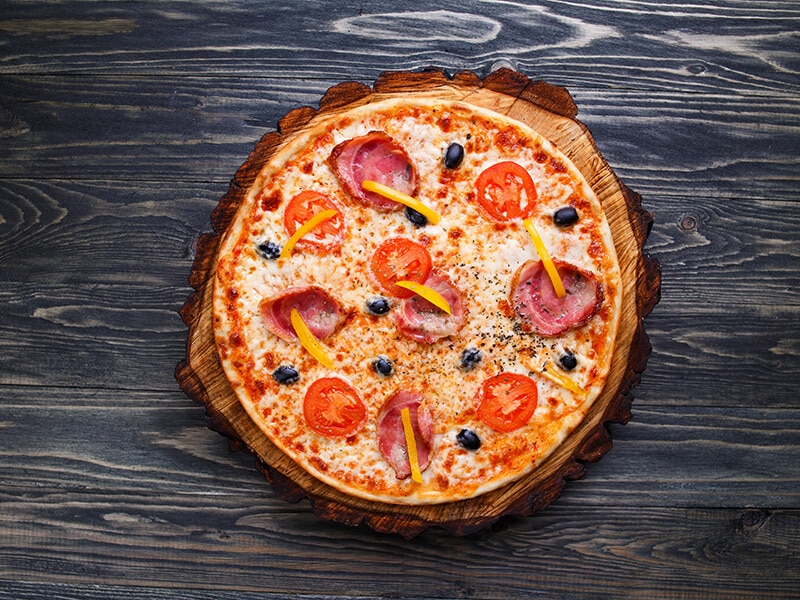 Italian pizzerias use traditional cooking methods when making Sicilian pizzas to keep the characteristics of Italian culture and cuisine. In addition, they also select high-quality ingredients for their sauces, toppings, and crust.
Furthermore, the ingredients usually come from local stores as they are easy-to-find items. Therefore, Sicilian has become an everyday favorite of many.
Generous Amount Of Sauce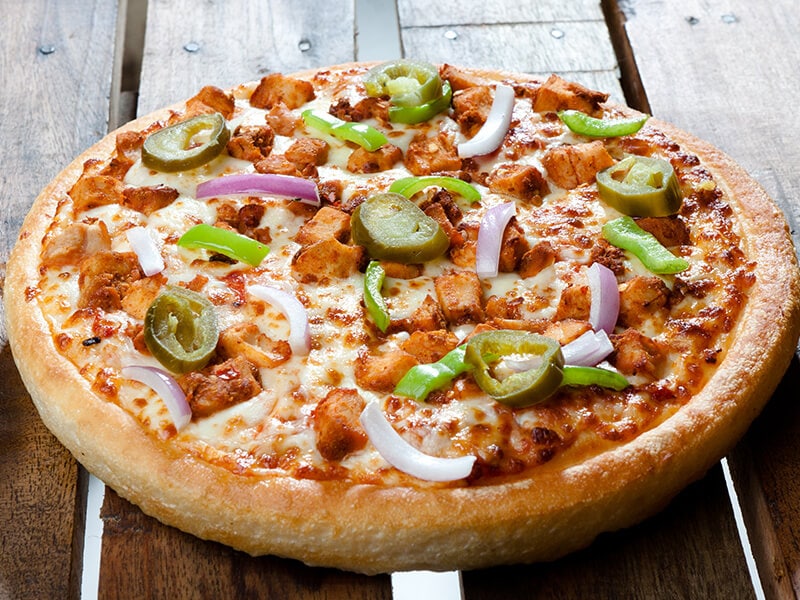 Before serving Sicilian pizza to customers, pizza makers always cover the crust with a generous amount of sauce to make it tastier. Usually, they will add the sauce on top of the cheese and toppings to prevent it from running down to the crust.
The procedure also ensures the crust is not too soggy when served. Typically, the crunchy crust makes the appealing characteristic of Sicilian pizza.
Sicilian Pizza Vs. Other Types Of Pizza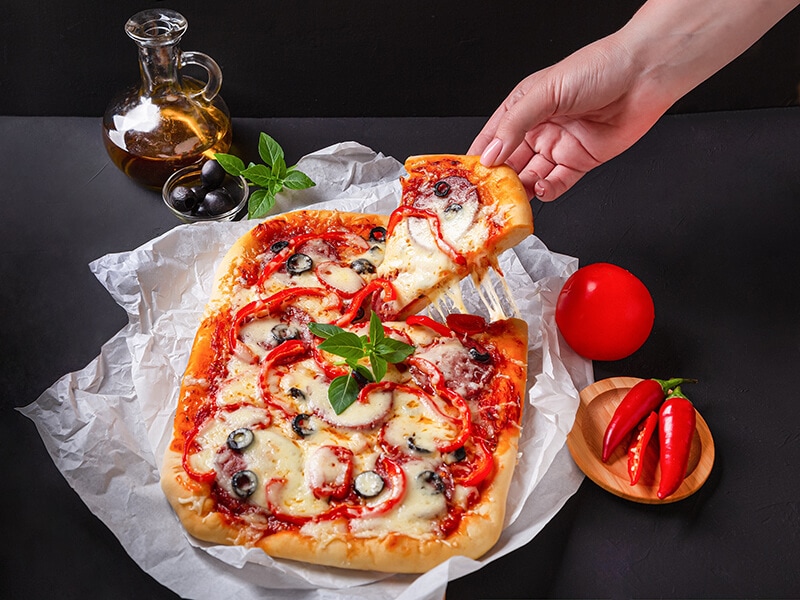 This section will help you better understand the difference between Sicilian pizza and other types of pizza, like deep pan pizza, New York-style pizza, or Neapolitan pizza.
Sicilian Pizza And Deep Pan Pizza
The first difference between 2 famous pizzas is the shape. While deep pan pizza is typically round, Sicilian pizza features square or rectangular shapes with even a circular appearance sometimes.
Sicilian pizza's topping and sauce choices are more diverse than deep pan pizza with meat, veggies, fish, and cheese.
Sicilian Pizza And Neapolitan Pizza
Their crust is the first feature that helps you distinguish between Neapolitan and Sicilian pizza. The Neapolitan pizza crust is thinner than the Sicilian one. Also, Neapolitan pizza crust is baked at a higher temperature (800°F).
Typically, Sicilian pizza is more flavorful because it is topped with more sauces and toppings than Neapolitan.
Sicilian Pizza And New York-Style Pizza
It is not complicated to find the difference between these 2 pizzas. First, the Sicilian pizza crust will be thicker and more tender than the New York-style pizza. In addition, Sicilian pizza tastes sweeter than New York one since its sauce is sweeter.
How To Make Homemade Sicilian Pizza?
Instead of ordering Sicilian pizza at pizzerias, you can go to the kitchen and make homemade pizza with some simple steps to treat your loved ones.
Here are what you need to make homemade Sicilian pizza:
4 cups of all-purpose flour
2 teaspoons of salt
2 teaspoons of sugar
1 teaspoon yeast
6 tablespoons olive oil
1 & ¾ cups of warm water
28 ounces of peeled tomatoes
13 ounces of mozzarella cheese
Directions:
Step 1: Add sugar, flour, salt, and yeast in a bowl and mix them.
Step 2: Prepare a large bowl of water, put in the flour mixture, and stir it.
Step 3: Add a bit of olive oil to the bowl and mix until you get a sticky dough.
Step 4: Knead the dough until it no longer sticks to your hand. Note you can add more flour if you desire.
Step 5: Prepare a large bowl with a smooth coating and put the dough into it.
Step 6: Use plastic wrap to cover the bowl and let it ferment overnight in the fridge.
Step 7: When you want to bake it, place the dough on an oiled baking sheet, and stretch it.
Step 8: Fill a bit of olive oil on the surface of the dough, wrap it, and let it rise for 2 hours in the pantry.
Step 9: Preheat the oven to 450°F, and bake the dough for about 20 minutes until you get a nice golden hue.
Step 10: While waiting for the pizza to cook, make the sauce by mixing tomatoes, juices, and salt with a potato masher.
Step 11: After the pizza has been done, take it from the oven, and top it with your favorite toppings, mozzarella cheese, and tomato sauce.
Step 12: Bake the pizza for about 15 to 20 minutes until you get brown pizza with bubble cheese.
Step 13: Let the pizza sit for about 10 minutes before taking it from the pan.
Step 14: Cut the pizza into small slices and enjoy them.
Go to the kitchen and follow these steps to make wood-fired Sicilian pizza.
FAQs
Let's discover other exciting information about Sicilian pizza via the answers to popularly asked questions in this article.
Do You Know Anything About Sicilian Pizza?
Indeed, Sicilian pizza is one of the top popular types of pizza due to its rich flavor, spongy texture, and diversity in sauce and topping options. If you have never tried it before, it's time to follow the instructions in the post to make it and enjoy it.
If you have any problems while making homemade Sicilian pizza, please let me know your issues in the comment part since I'll help you solve them. Finally, I hope you'll share this fantastic post with your friends. Thanks for reading!
References
What's Cookin in NYC.
"Sicilian pizza." Wikipedia