I know many home cooks stumble when they see the word "double boiler" in a recipe, let alone know how to make a double boiler substitute. A double boiler is actually a very helpful kitchen aid that most chefs and people who like cooking gourmet food possess.
If you want to melt chocolate or prepare delicate sauces or soups without burning them, you definitely need a double boiler. If you need to warm your leftover mac and cheese but aren't sure what tool to use, a double boiler will help you.
Moreover, direct heat will destroy the texture of chocolate or egg-based soups; that's when double boilers become handy. For those of you who don't have one, you can make a replacement for yourself.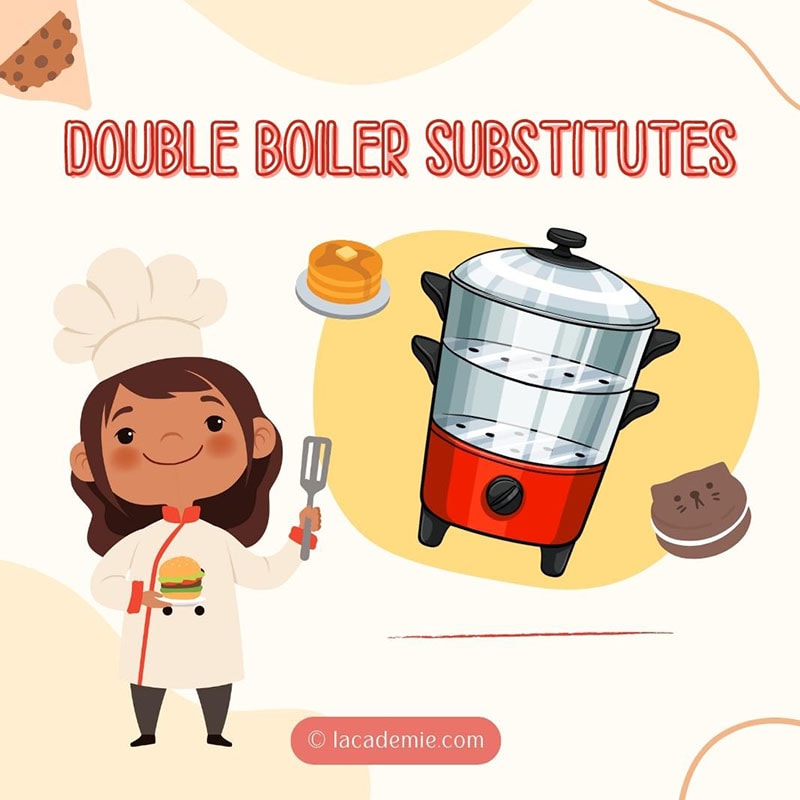 What Is A Double Boiler?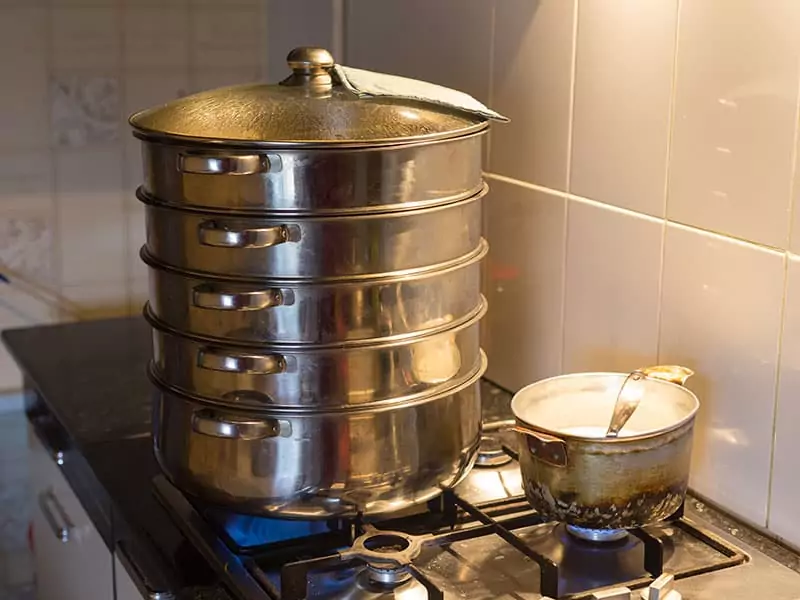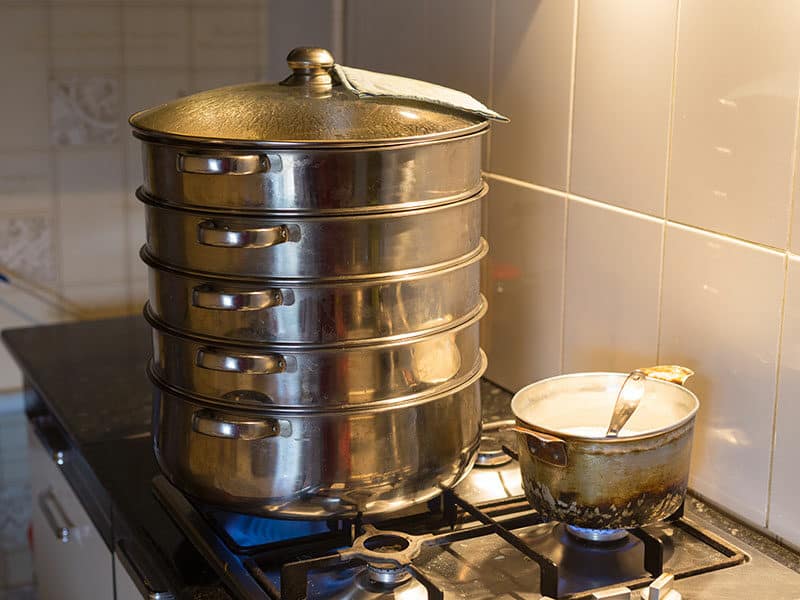 A double boiler is just two boiling pots combined. Place the top pot on the lower one, hollowing out some space in the bottom pot. Some types of double boiler make the top one a little bit shallower, and it falls down on the bottom one a little more but still leaves enough space in between.
Click on the video below to watch some fun facts to know about double boilers.
Is A Double Boiler Necessary?
The function of a double boiler is necessary if you want to heat up easy-to-melt food like chocolate, which requires indirect heat. Some fragile and heat-sensitive food requires gradual and gentle heating; otherwise, they will separate, clump or burn. A double boiler will transfer heat gradually and evenly, unlike the sudden and intense direct heat if you use a normal pot on the stove.
Some popular uses for a double boiler are to melt chocolate, make certain egg emulsion sauces like Hollandaise or custards. Therefore, whenever you crave for some tasty white chocolate dessert treats, or other kinds of chocolate sweets, use this cookware.
You can also use this equipment in making candles or soap. On some rare occasions, heating premium-quality cocoa powder might require a double boiler, too.
Now you know why a double boiler is necessary equipment. Next, I will share with you some tips to improvise a double boiler, just in case you don't have one ready yet.
How To Use A Double Boiler?
In the lower pot, which sits on the burner, you add an inch or two of water. After the water gets to a boil, you turn the heat to medium. Putting food on the top pot allows the heat to spread evenly and slowly, so there will be no scorching or burning.
Make sure the bottom of the upper pot does not come into contact with the simmering water by using a double boiler. There should be some space between the water and the bowl's rim. Don't underfill the lower half either. If all of the water boils out, you'll be left with a dry pan to heat, which might be dangerous.
Double Boiler Substitutes
Here are some ways to make your DIY double boiler.
Use A Pot/Saucepan and Bowl (or Two Pots)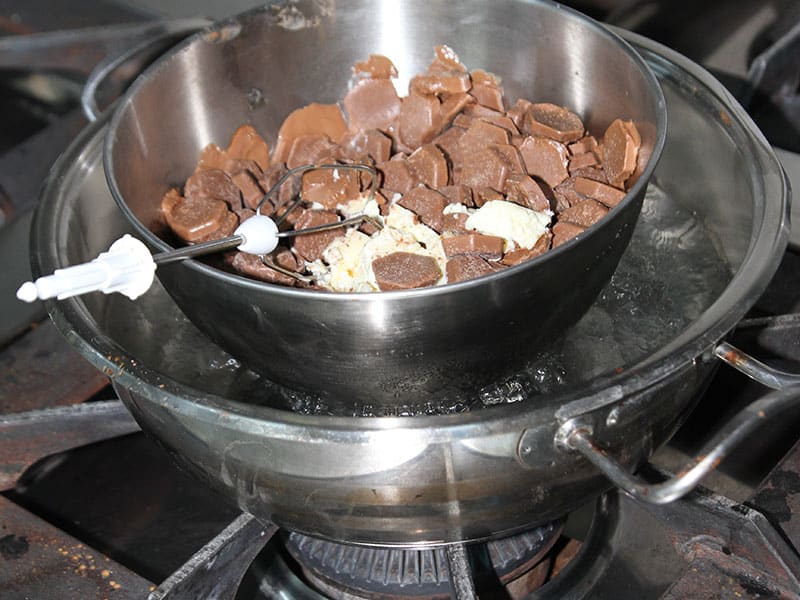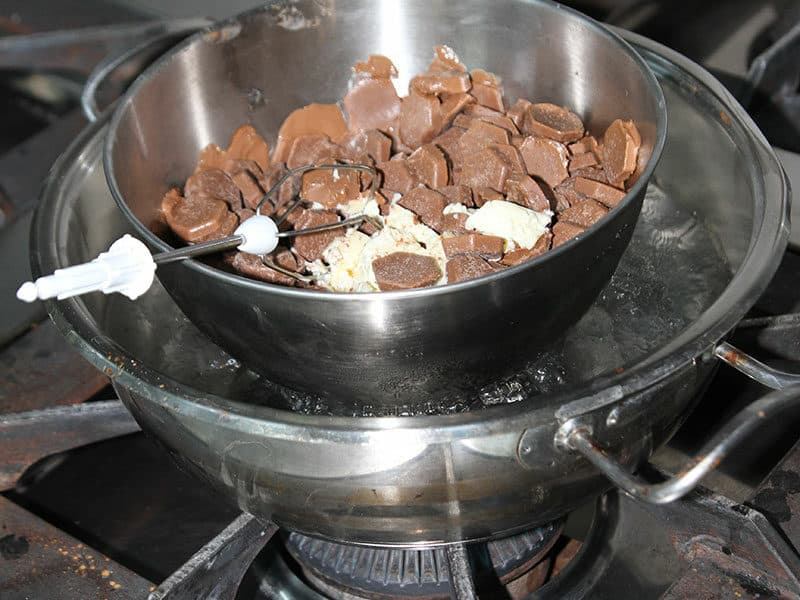 To simulate the function of a double boiler, the most popular method is using two pots, or a small pot/saucepan, and a large heat-resistant bowl. You should use food-grade metal bowls or glass/ceramic bowls.
If you use two pots, one for the top and one for the bottom, and they should be of the same size. If you don't have two pots to spare, then the bowl you use should be a little bit larger than the pot/saucepan. In this case, the pot will act as the bottom half of the boiler, and the bowl is the top half.
Now pour some water into the bottom half until it's filled up to one or two inches. Place the bottom half directly on the burner and turn on the heat. After getting the water to a boil, you can now place the top pot/bowl directly on the lower half.
The top pot or bowl should fit the rim of the bottom half so that it doesn't touch the water underneath. It also needs to seal the bottom pot completely so that no steam can get out. The aim is to use steam to softly heat the contents of the bowl without allowing water or steam to come into close contact with the food.
When you've finished positioning your makeshift double boiler, turn down the heat to a low. Put your food or sauces in the top pot/bowl. Some dishes call for constant stirring to avoid clumping, so you should check the recipes thoroughly.
At this point, you should keep the water at a simmer to prevent sudden heat from ruining the ingredients. In case you use a bowl and need a lid, you can use aluminum foil or a similar-sized lid to cover it. Also, the bowl will get hot, so you should use a potholder or oven mitts to remove the bowl when your food is done.
Watch the video below to know more about how to melt chocolate with a makeshift double boiler.
Water Bath Or Bain-Marie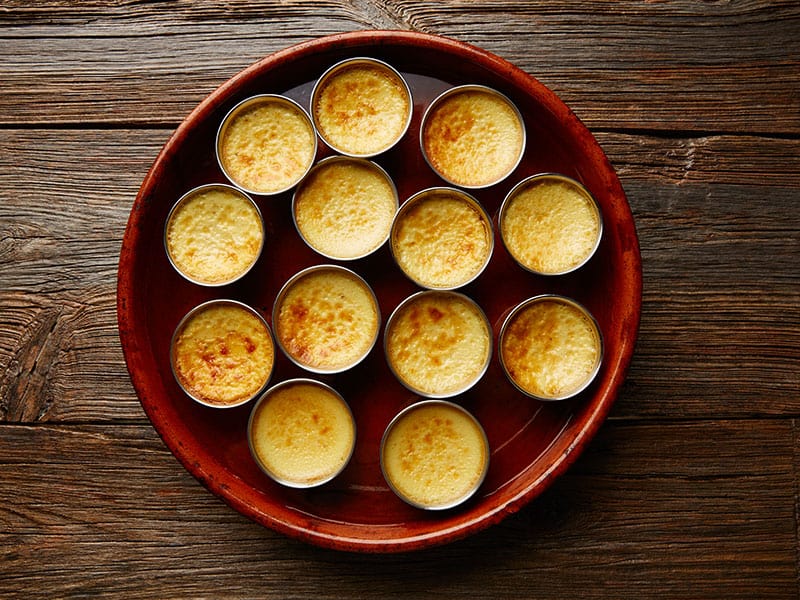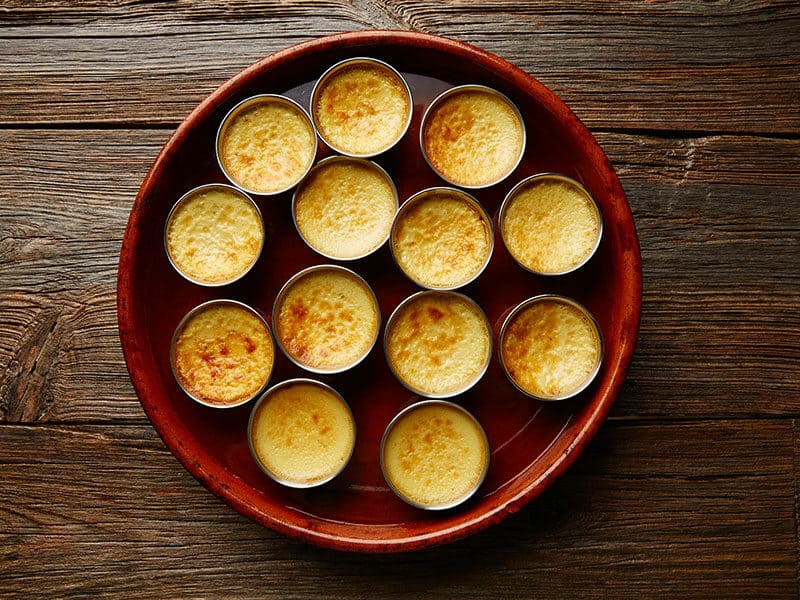 Another great double boiler substitute is called the water bath or bain-marie method. This one is a little bit more complex than others, but if you love fussily-yet-worthy French foods, like soufflé, or other amazing dishes like custards and egg emulsion sauces, this method works really well.
You should prepare a large shallow pan or a large and deep baking tray to use as the bottom half. Fill the bain-marie halfway with hot water. Or you can boil the water separately and gently drain it into the larger pan until it reaches 13 to 12 inches up the sides of the smaller pans.
Now, put the smaller containers in. If you're using several containers, nestle them in the middle to save them from rolling around. I recommend putting a kitchen tower inside the large pan to prevent this.
Place the whole thing on a cooking stove like a gas range or oven and turn on the heat to boil the water. If you use the oven, don't forget to preheat.
Remember to pour slowly to avoid splashing. You can use a measuring cup or a kettle for easier handling. Turn the heat on and let the water simmer. Keep an eye on the water's level and refill if necessary.
When your food is done, carefully remove the smaller containers. You can use tongs with rubber or silicon tips or potholders.
Use A Mason Jar
Mason jar usages are versatile. You might have tried some special sweets in mason jars, but do you know they might also be used as a replacement for a double boiler?
Fill a pot halfway with water and bring to a low simmer. Remove the lid from the glass mason jar and set it aside. Place the mason jar in the simmering bath, and done, now you have a double boiler in a mason jar!
Alternatively, you can place the mason jar lids in the bottom and place the jar on it to avoid directly touching the hot water. This method works great for making an herbal infusion.
Slow Cooker As A Double Boiler
Fill the slow cooker three-quarters full of water and turn on high heat to serve as a double boiler. When the water is hot enough, you can use a slow cooker just like you usually do with a double boiler by carefully putting a glass bowl of chocolate or whatever ingredients you cook over it and cooking.
Microwave
Don't worry if simmering water and makeshift double boilers sound complicated. Using the microwave is perfectly acceptable under certain circumstances.
Or if you have your convection microwave oven to do it, please do not hesitate to use it because this appliance has some similar functions like a typical microwave. However, using a microwave is less sticky, and it can be your best bet if you just need to melt a tiny bit of chocolate.
It's important to keep an eye on your mixture to make sure it doesn't burn! Every few seconds, take it out of the microwave and mix it. The trick is to take your food out right before it's done, then use the remaining heat to cook it fully.
It's important to note that microwaves heat the ingredients rapidly, while a double boiler heats slowlier. For greater imitation of a double boiler function, use other substitutes I mention above.
Double Boiler Substitute for Candle Making (Melt Wax) and Soap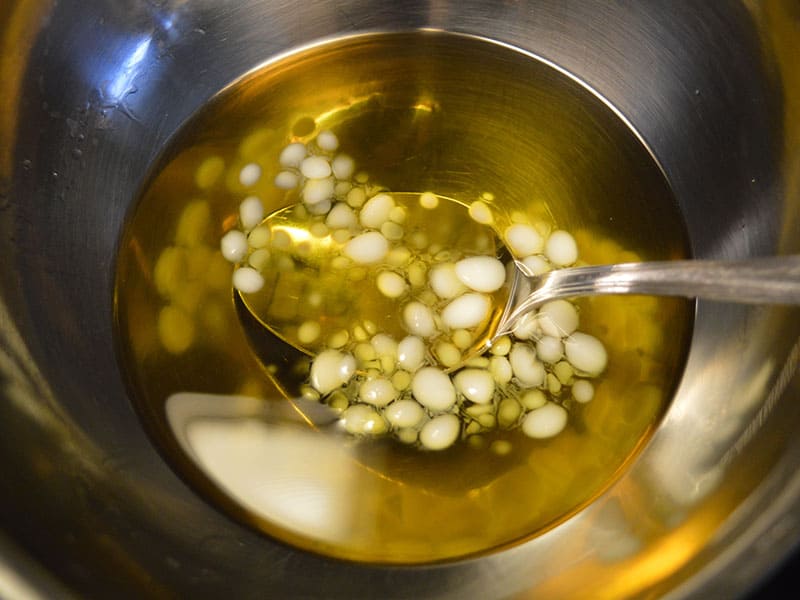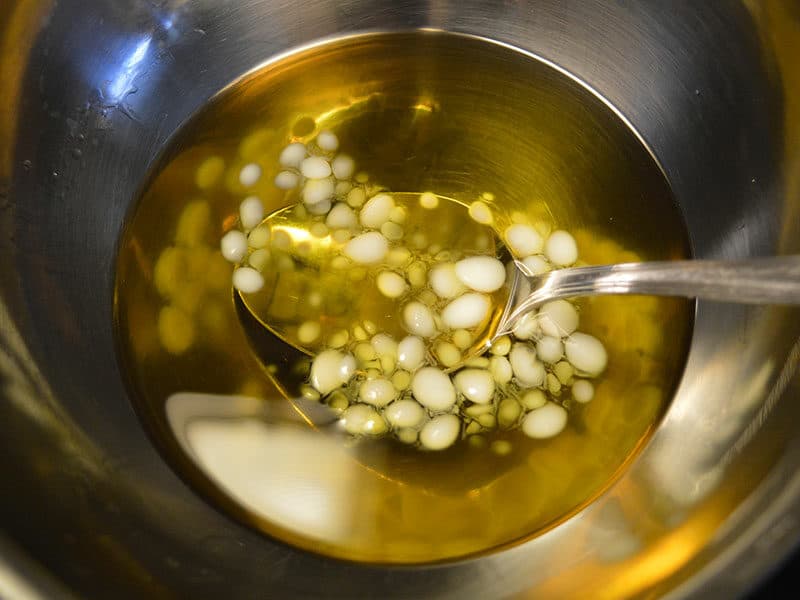 When I first began my adventures in wax, I discovered I needed a double boiler to melt the wax. It's necessary to use a double boiler because you need some separation from the intense heat of the hot pan and the wax. A double boiler allows water to boil, and the steam from that can heat the bowl of wax.
Melting wax for making candles or soap requires a double boiler because you need some separation from the constant heat. A double boiler is an efficient and economical way to melt wax for candle making.
If you don't have one ready, you can use a large saucepan to contain the water and a Pyrex glass or a pouring pitcher to contain the wax. Fill the saucepan half full with water, get it to a boil, then put the Pyrex glass on.
Technically, this is not a double boiler as the water is touching the glass; however, the idea is the same as the heat will spread slowly and gradually melt the wax. If you happen to like canned tuna and always wonder how to reuse the can, I will let you in on this trick.
You can put the glass over an empty tuna can with the top lid cut off if the idea of putting glass directly over boiling water isn't comfortable for you. When the wax is completely melted, take the class or pitcher out.
If you are curious about how to make candles with a double boiler, watch the video below.
What Can't You Use As A Double Boiler Substitute
As a double boiler replacement, a double silicone boiler is not the safest choice. You might wonder why since silicone is known for its heat tolerance and versatility.
However, silicone is a sluggish conductor of heat, so the whole process can take much longer than it should. Just use silicone as a mold and replace it with the above alternatives for quicker and cooking more efficiency.
Should I Purchase A Double Boiler?
Now you know that creating the function of a double boiler with things you already own is quite easy. There's no reason to waste the money on a double boiler and give up your valuable pantry space.
However, if you like collecting kitchen aids and sometimes melt chocolate, cook egg-based sauces, or fancy egg Benedict, it's handy equipment. So, the choice is yours. If you do buy one, I recommend getting one with a shallow top pan, as this makes whisking and stirring much simpler.
Dos And Don'ts When Using A Double Boiler
When using a double boiler substitute, you should keep in mind the following points to ensure your replacement works well.
Don't overdo it with the bath. You want the water to be only hot enough not to break the bowl. You will prefer it if it heats by steam rather than water.
Do let the water come up only half the side of the glass cup if you dip the cup directly in contact with the water. Any more water will make the cup float.
Do keep an eye on the double boiler at all times.
Don't keep the water boiling over the whole process.
That's all about making your own double boiler substitutes. Now make your own DIY double boiler with my suggestions, and remember, be safe!