Have you ever thought of making various Italian soup recipes yourself? I bet some have already got some cold feet with just this thought. However, let me assure you, all these soups you're about to know aren't too hard to make at all.
In fact, most of them just consist of essential ingredients, just like other soups in the world. And if you stick to all the steps, there's no way your dishes will come out wrong.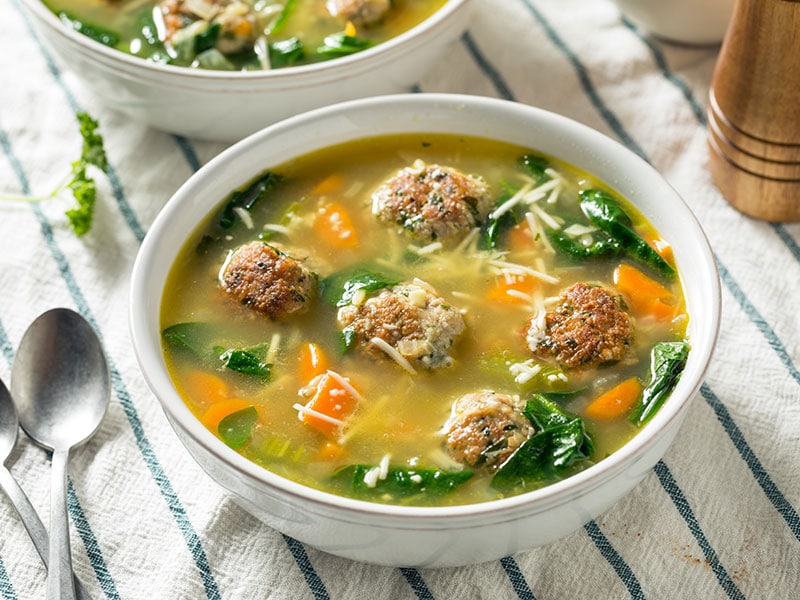 Here Are My Hand-Picked Italian Soups For You!
I have grouped these Italian soup recipes into different categories based on their origin. This way, you will get to know about each Italian region's cuisine through its different soups.
Central Italian (Roman) Soups
Minestrone Soup
Pasta e Ceci (Italian Chickpea Soup)
Stracciatella (Italian Egg Drop Soup)
Central Italian (Tuscan) Soups
Crockpot Tuscan Chicken
Ribollita (Tuscan Bread Soup)
Pappa al Pomodoro (Tuscan Tomato And Bread Soup)
Acquacotta (Tuscan Stone Soup)
Tuscan Ravioli Soup
Minestra Di Farro (Tuscan Farro Soup)
Tuscan Tomato Artichoke Soup
Zuppa Toscana (Tuscan Soup)
Southern And Northern Italian Soups
Italian Wedding Soup
Zuppa Di Pesce (Italian Seafood Soup)
Sicilian Chicken Soup
Zuppa Imperiale (Italian Imperial Soup)
Other Italian Soups
Tortellini Soup
Macaroni Soup
Pastina Soup
Lasagna Soup
Chicken Gnocchi Soup
Italian Meatball Soup
Italian Lentil Soup
Have you prepared for what's about to come? Yes or no, let's take a breath and start reading now!
These Tasty Soups Representing Central Italian Cuisine
Most of the time, when people talk about their favorite dinner food in Italian cuisine, they tend to refer more to central Italian cuisine. So, if you are interested in it, these soups will be a credible guide for you.
In this part, I'll focus mainly on two crucial areas: Rome and Tuscan.
First, Let's Get To Know Those Soups Coming From Rome
Rome is the center of Italy, and its food reflects what Italian cuisine is all about. You'll know more once you've tried all these soups yourself.
Initially made by Roman people, this dish that begins with "M" has become a favorite dish among the Italians. While there's no fixed recipe for this dish, some people say you only get to know the authentic minestrone by using borlotti beans, a kind of bean coming from Roma.
But that doesn't mean other minestrone soup versions don't taste as delicious. You can make it thick and dense by boiling all the veggies or turn it into a broth soup with lots of lightly cooked vegetables.
With this recipe, your minestrone soup will taste better than ever. Check out this video:
Just like its name indicates, this dish contains two main ingredients: pasta and chickpeas. Though they're simple, while combined together, these two make one hearty and satisfying soup that's enough for your dinner.
Originally a peasant soup, pasta e Ceci contains different components based on the chefs, except for pasta and chickpeas. You can find many versions cooked in a tomato-based sauce, but it's not obligatory. In fact, if you don't like tomatoes, you can leave them out and use a vegetable broth instead.
In Italian, stracciatella means "shred," but this dish doesn't include shredding anything. This word refers to the beaten eggs, or should I say "egg shreds," floating in the broth.
Traditional stracciatella only contains eggs mixed with grated parmesan cheese. But nowadays, people have improved this dish into many different variants. Among those, the most popular one must be the spinach version.
Another fascinating fact about this stracciatella: This dish is the inspiration for one gelato flavor.
Nothing Reflects Tuscan Flavor Better Than These Soups
Tuscan cuisine focuses on simplicity. That's why people here always search for components with the highest quality, so you'd better be careful when picking ingredients for those soups.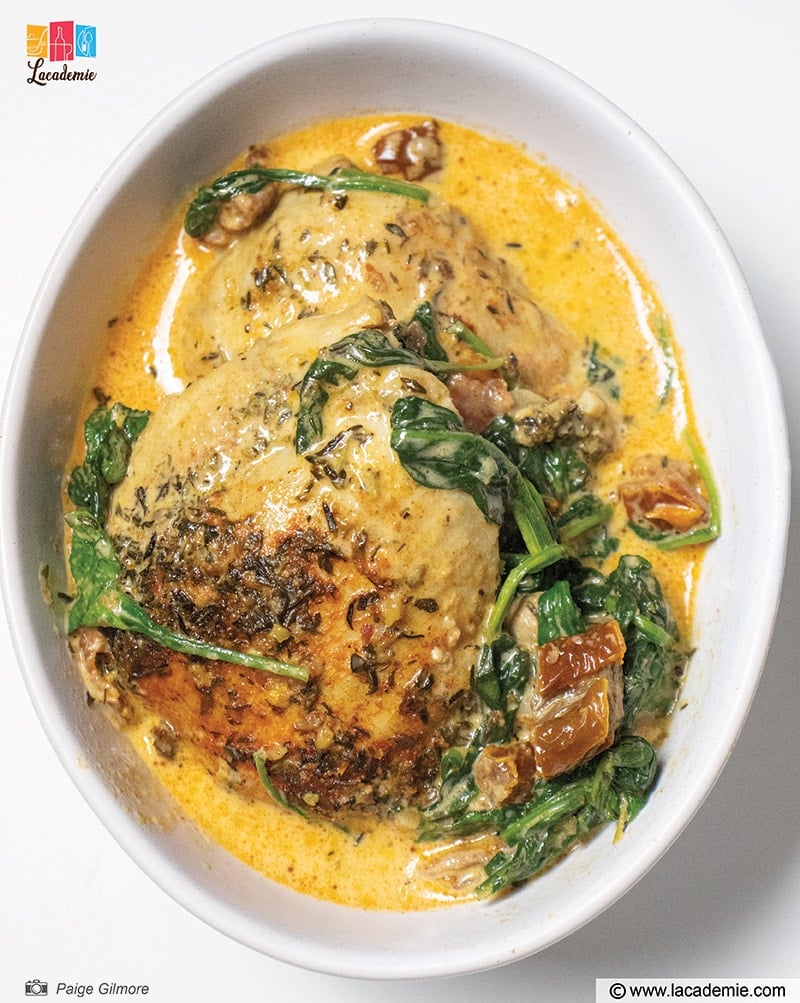 Tuscan chicken is undoubtedly one of the iconic dishes from Tuscany. And now, you don't have to watch the pot closely when cooking it. With a crockpot, you only have to stir the ingredients and let the device do all the work for you.
If you cook too much, remember to refrigerate or freeze the dish properly. The best way is to place it into an airtight container/bag before moving to the storing steps. With precise storage, your soup can last for 3-4 days (in the fridge) or a couple of months (in the freezer).
There are so many ways to interpret ribollita. Some call it a bread soup while others think of it as a vegetable one. Many even consider ribollita a bean soup. All these names are correct, corresponding to each ingredient in this soup.
I tend to choose the first name as bread is a vital element to thicken this soup. You can make this dish with day-old bread or fresh ones, that all depends on your preferences. Just make sure they have a crusty texture like sourdough.
Ribollita can't be any more delicious than this! Check out this video:
Just like ribollita, this dish is also thickened with Italian bread. But unlike the previous recipe, which uses all kinds of vegetables, this one only needs tomatoes, with some additional herbs and seasonings.
Since tomatoes are its main ingredient, be sure to pick ones with the highest quality possible. Even if you choose canned ones, choose some canned tomatoes from the brands of which quality has been confirmed. This detail can decide your dish's flavor.
This is why I always have some canned tomatoes around in my pantry. Considering the timespan canned tomatoes can last, I rarely have to worry that they'll spoil before I can use them all up.
I must admit this soup's name is not appealing at all, whether it's the original name ("acquacotta" means "cooked water") or the other name – "stone soup." And in fact, it used to be considered a dish for the poor with only water, bread, and onions as the main ingredients.
Nowadays, with these three components remaining unchanged, people elevate acquacotta by adding various ingredients. Seasonal vegetables are a fantastic choice. Or you can use it as a chance to clean up all your leftover foods in the fridge.
You don't need to understand its name to master this Tuscan stone soup. Let's see this video:
Italian soups tend to be quite light-flavored as they are often an appetizer. But don't be disappointed yet! There are still some hearty, filling Italian soups for you to try, such as this Tuscan ravioli soup.
Nothing about this soup isn't satisfying. You have numerous ravioli with fillings based on your favorite and a creamy tomato-based broth.
You can serve some accompaniments that match with ravioli's flavor to balance back the flavor. Or another fun way is adding the vegetables directly into the pot.
If you want a taste of genuine Tuscan cuisine, this farro soup is a must-try. Farro has always been a part of Italian history, appearing in multiple salads, soups, and stews.
With this recipe, farro is simmered with beans in a chicken broth, making a flavorful and filling soup for your dinner. You don't need to eat this soup with anything else besides a salad bowl if you want to keep your meal well-balanced.
Regular Italian tomato soup now becomes even better with the light flavor of artichokes. The secret to this perfect recipe is the quality of all the ingredients, as the fewer ingredients it has, the clearer their quality shows.
That's why I suggest you fire-roast your tomatoes so it will provide a deeper flavor for this soup. Also, if you want your soup a little chunky, then refrain from blending the mixture too much.
While it's named "Tuscan soup," this dish is not a traditional Tuscan recipe. Actually, Italian people call it by a different name – "minestra di pane," which means "bread soup." Maybe that refers to the act of serving this dish on toasted Tuscan bread.
The classic Tuscan soup consists of different vegetables and Italian bacon called "rigatino." However, people now prefer the North American version with Italian sausage, chicken broth, and cream as it's richer than the original one.
This Tuscan soup will satisfy even the pickiest eaters. You can see this video to know how to make Zuppa Toscana:
Southern And Northern Italy Also Have Their Own Soups
While Southern and Northern Italy don't get as much notice as the Central region, it'd be a waste if you don't know these soups.
Despite its name, in Italy, people actually don't serve this soup at any wedding. It often appears on festival tables like Easter or Christmas.
To explain the name, maybe the Italians call it that because this soup is indeed a beautiful wedding between green, bitter vegetables and meat. They meet each other in a rich broth, most of the time chicken-based, and create a flavor harmony in diners' mouths.
This Italian wedding soup may look easy, but you'll need those tricks to perfect it. You can see this video to know:
There have been many fights about whether this soup and cioppino, an American-Italian seafood stew, are the same. And at least, for now, people still haven't come up with an answer convincing enough.
No matter how you conclude your answer, it doesn't change the fact that Zuppa di Pesce is a soup containing tons of fish and shellfish. You can stick with the familiar fishes like cod, salmon, and tuna. Or choose some exclusive to your local only.
This is one tasty Italian slow cooker dish that I recommend following the traditional path as it guarantees the best outcome. You need to use an entire chicken so that the broth will come out full of flavor.
However, I know doing it that way takes lots of time and effort, which I deem unnecessary in this era. So, you can reduce the preparation time by using only the chicken thighs instead. Of course, your broth won't have the same body as the original, but it still passes the mark.
Or you can opt for a crockpot to make this soup. For me, that's an awesome way since you still keep the flavor, yet don't have to waste too much time or effort to make it.
With a fancy name and a simple appearance, it's hard to tell whether this dish belongs to the royale or peasant group. Despite the question left unsolved, Zuppa Imperiale still becomes one of the irreplaceable Christmas dishes in Bologna.
And making it is as simple as it looks. The most vital step in this dish is baking the dough cubes from flour, eggs, butter, nutmeg, and cheese. After that, you just need to boil them in a capon broth, or you can use regular chicken to make it.
Other Italian Soups
Unlike those soups above, no one knows clearly how, where, or when these recipes are born. There's only one thing I'm sure about. That is, they will capture your heart right at the first sip.
What's better than a tortellini soup on a cold night? I bet not. And this dish doesn't require much attention to perfect it. You just need to toss all the components in the pot and let them simmer.
Adding some sausages may be a little more complicated as you have to brown them, but that's all. Even the herbs don't have to be fresh; you can use all dried ones for the soup's flavor. Serve it with bread or some rolls, and here is your filling meal!
Rich and creamy, this tortellini soup will disappear right when you serve it! Let's see this video:
Macaroni soup has appeared in Italian cuisine since forever. However, unlike other fancy recipes, this soup was once treated as food for miners, the poorest among the poor. At these times, there was nothing in macaroni soup, except for some pasta and weeds.
However, things have turned for the better. Macaroni soup is now seen everywhere with all kinds of variants. And I think the most well-loved one is the version with beef and tomatoes as it's easy to make and flavorsome at the same time.
There's hardly any soup more simple than this pastina soup. Just toss some pastina, a tiny pasta kind, into a chicken broth. And that's done! You can make the broth yourself, which will take more time, or buy ready-made in any grocery store.
Also, don't hesitate to level up this dish if you find pasta with broth too dull for your taste. One of the most well-known ways is adding shredded chicken. Some even pour beaten eggs into the broth for a richer flavor.
Some may want to run away when looking at this dish's long list of ingredients. But the result is really worth your effort. And you may go for some easier options if you can't find all the necessary components.
For example, the Italian seasoning mixture is a decent substitute for all the fresh herbs on the list. Or switching ricotta with other suitable ingredients doesn't change your soup's flavor much. So, use your fascination to make your own lasagna soup.
You will never get enough of this lasagna soup! Let's see this video:
Everyone loves chicken soup when having a cold or feeling down. Now, with the addition of gnocchi, you'd love to have this soup anytime.
And making it is easier than you could have thought. While this soup looks like it takes hours to make, you just need about 30 minutes to complete it, especially if you buy ready-made gnocchi in advance.
Not to mention, you can finish this soup in just one pot, which saves you from cleaning up afterward.
American people often serve pasta with a meatball sauce. But in fact, Italian people rarely do that. They enjoy pasta with its classic sauces and use meatballs to make this soup. You can imagine it as a heartier version of the minestrone.
The only setback of this dish is that it takes quite some time to complete. But well, you can use that time to relax. Lie on a sofa with a glass of wine in hand while waiting for the soup to be done. That's just like in a dream, right?
When the temperature starts to drop, it's time to make some lentil stew. But if you are tired of the same old recipes, let's make this Italian lentil soup for a fun change.
Actually, there's not much difference between this one and other lentil soups. The most significant gap is that this dish uses Italian seasonings and dried lentils.
Also, you can grate some parmesan cheese for the garnishment and serve this soup with rice or crust bread.
A normal lentil soup can never win over this Italian version. Let's see this video:
Are You Satisfied With All These Soup Recipes?
Italian people often serve soups as an appetizer, so these soups are pretty light-flavored, leaving the guests still hungry enough for the main courses. If you want your dinner party more elegant, they are a perfect choice for you.
Do you know any other Italian soups? Or do you have any recommendations regarding those recipes above? Don't hesitate to share all your thoughts in the comment section. And if you find this article helpful, remember to introduce it to your family and friends.
Nutrition Facts
6 servings per container
---
Amount Per ServingCalories250
% Daily Value *
Total Fat 7.1g

11

%
Cholesterol 1mg

1

%
Sodium 1015mg

43

%
Potassium 1125mg

33

%
Total Carbohydrate 38.6g

13

%

Dietary Fiber 10g

40

%
Sugars 3.7g

Protein 12.5g

25

%
---
* The % Daily Value tells you how much a nutrient in a serving of food contributes to a daily diet. 2,000 calories a day is used for general nutrition advice.