My Crockpot Tuscan chicken is so creamy and delectable that the whole family will be madly in love with its flavor. And you'll appreciate this simple recipe made with a Crockpot.
This recipe is quick and easy to throw all the ingredients together and let the Crockpot do the rest of the work. That is a big bonus if you have a busy life.
The outcome is juicy and tender chicken enriched with Tuscan herbs and served in a creamy sauce. When you get back home from work, the aromatic smell of this delicacy is an irresistible invitation to a wholesome cooked meal.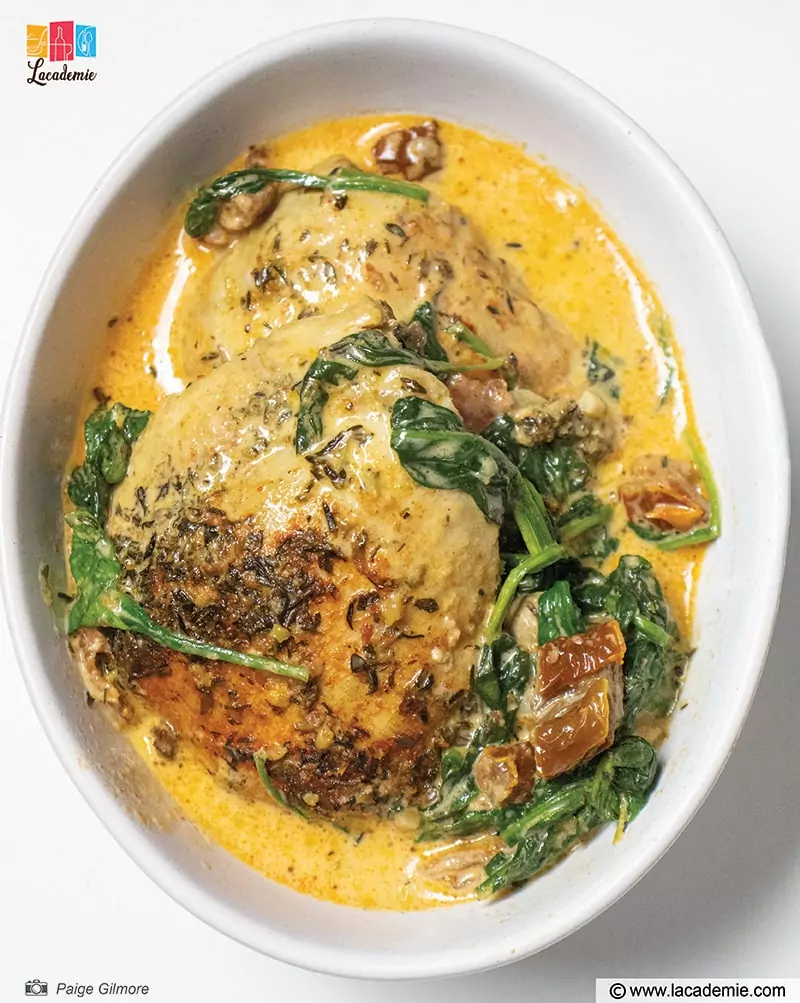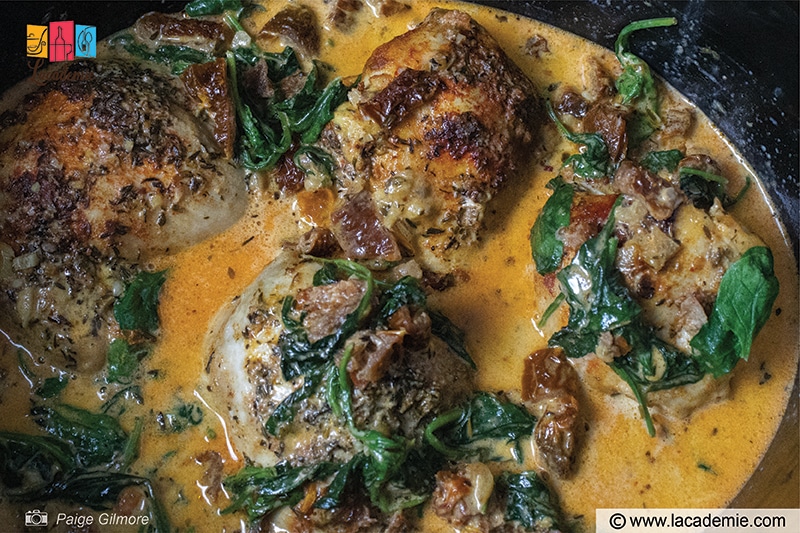 What is Crockpot Tuscan Chicken?
As its name suggests, this Crockpot Tuscan chicken is a chicken dish full of Italian flavors. It is creamy, savory, and delicately herbal. This delicacy requires a wide array of strong herbs and spices that, when combined, will unleash a hunger-provoking fragrance.
But the heavenly smell isn't the only selling point of my recipe. My mouth is watering just thinking about how deliciously tender the chicken tastes in its creamy sauce! You can serve it with anything: root vegetables, rice, pasta, or freshly baked dinner rolls. The result is always a hearty meal.
Tools
From the name of the dish, you can guess the essential equipment to recreate this recipe at home. But it also calls for some other tools:
Crockpot: This recipe can be cooked on the stovetop, but a Crockpot or slow cooker will certainly ease the cooking.
Chopping board: to cut the chicken (if necessary).
Sharp knife: to cut the chicken (if necessary).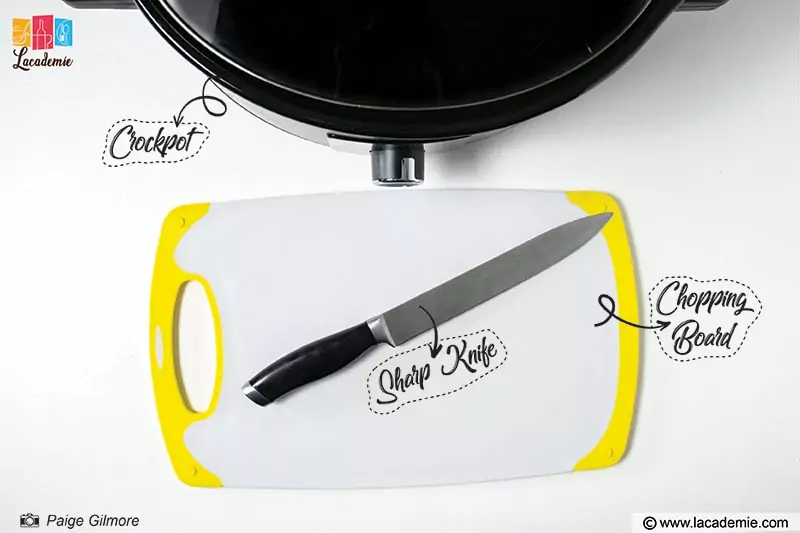 Ingredients
You will need the following ingredients to recreate my Crockpot Tuscan chicken (make sure that there are enough spices to go around).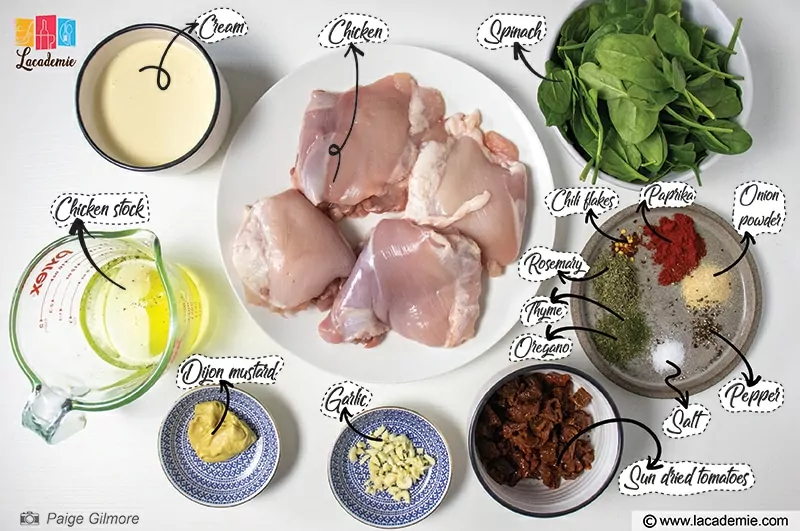 Chicken: Choose your favorite cut of meat for this delicious Crockpot recipe. I use boneless chicken thighs with some fat for a richer flavor, but you can choose chicken breasts to reduce the amount of calories.
Cream: Adds the richness that this chicken dish is famous for.
Chicken Stock: Strengthens the chicken flavor as well as the richness of the dish.
Dijon Mustard: Diversity the flavor profile by adding a touch of spicy tanginess.
Garlic: A necessary ingredient in Tuscan cooking.
Spinach: This attractive-looking veggie is a plentiful source of iron. I recommend using baby spinach for a sweeter flavor, though the mature one is still tasty.
Onion powder, paprika, thyme, oregano, and rosemary: My blend of herbs creates a truly fragrant Tuscan chicken.
Chili flakes: For a little spice kick. Use it to adjust the heat level of your dish.
Sun dried tomatoes: This ingredient has more heat resistance and longer shelf life than fresh tomatoes while still retaining the rich nutrients and distinct tanginess.
Salt and pepper: To taste.
How To Make Crockpot Tuscan Chicken
Today is a good day to cook my Crockpot Tuscan chicken! Follow these simple steps to make this specialty at home.
Step 1: Set Up Your Crockpot
In your kitchen, set up your Crockpot on a hard surface next to a power socket.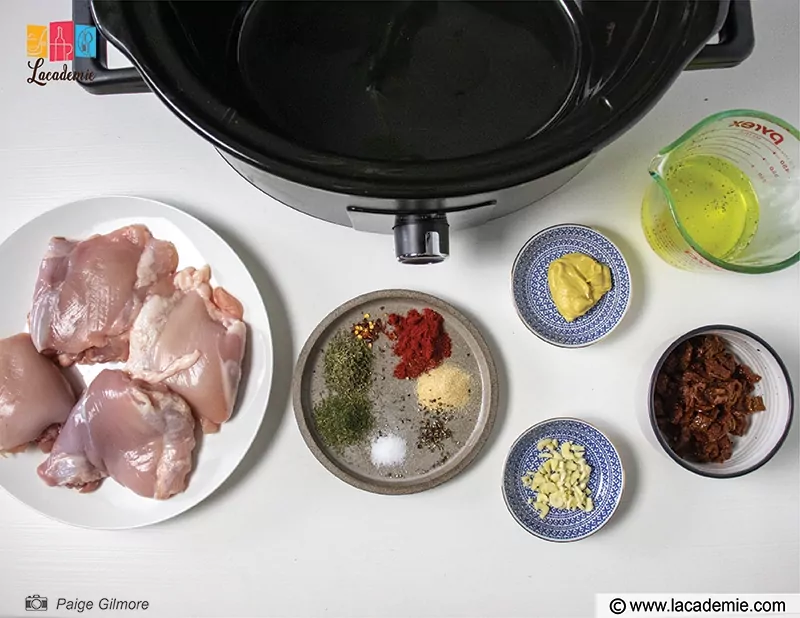 Step 2: Cook Your Chicken
If the chicken chunks are too big to cook, cut them into smaller pieces with a sharp knife. Place the chicken in the Crockpot, then spoon over Dijon mustard and sprinkle dried herbs, chili flakes, fresh garlic, and sun-dried tomatoes over it. Pour in chicken stock last.
Thoroughly stir all the ingredients around the chicken and close the lid on top. Cook on high for 4 hours or low for 7 hours.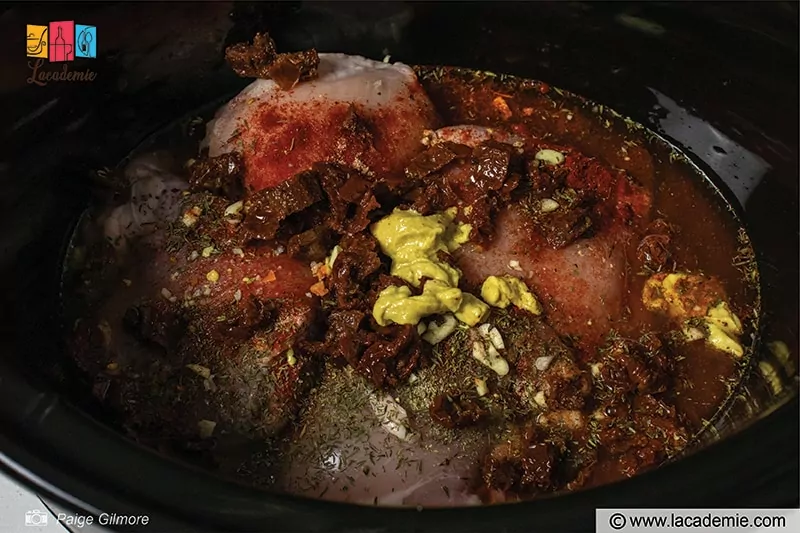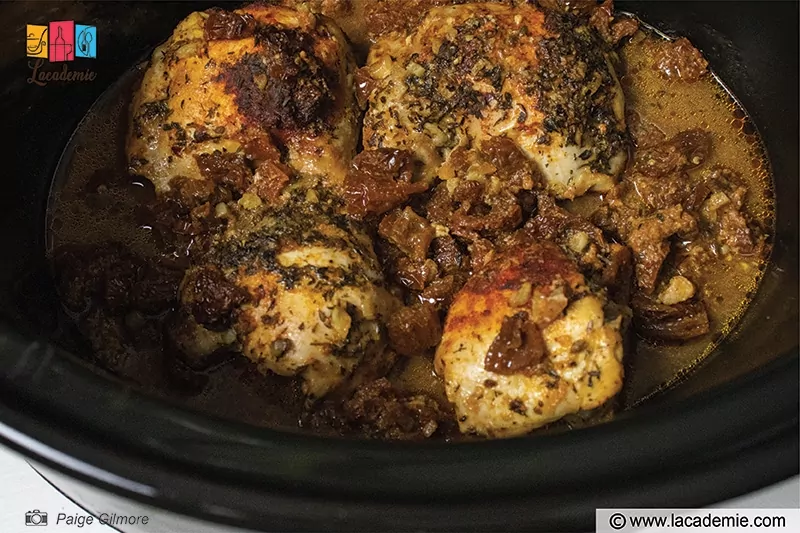 Step 3: Add Spinach and Cream
Once your chicken has cooked, add baby spinach and fresh cream to the Crockpot. Stir everything together and replace the lid. Cook for 20 minutes more. However, you stop when the spinach has wilted and the sauce has blended with the cream.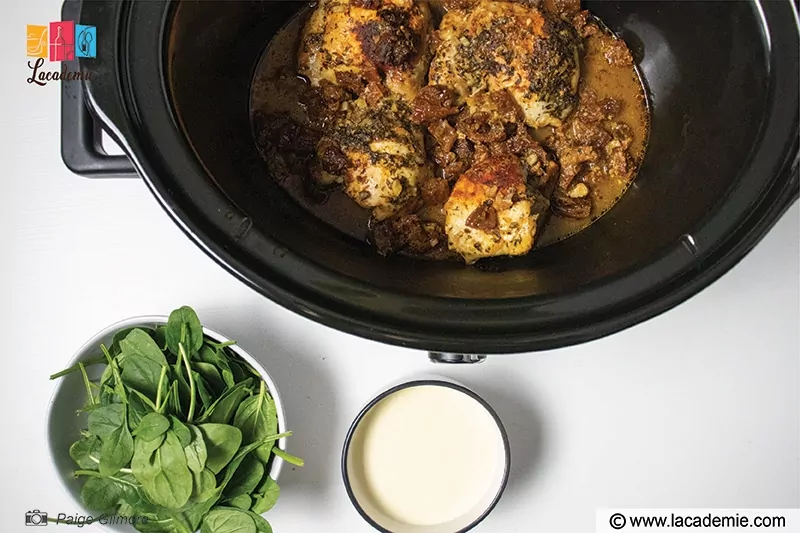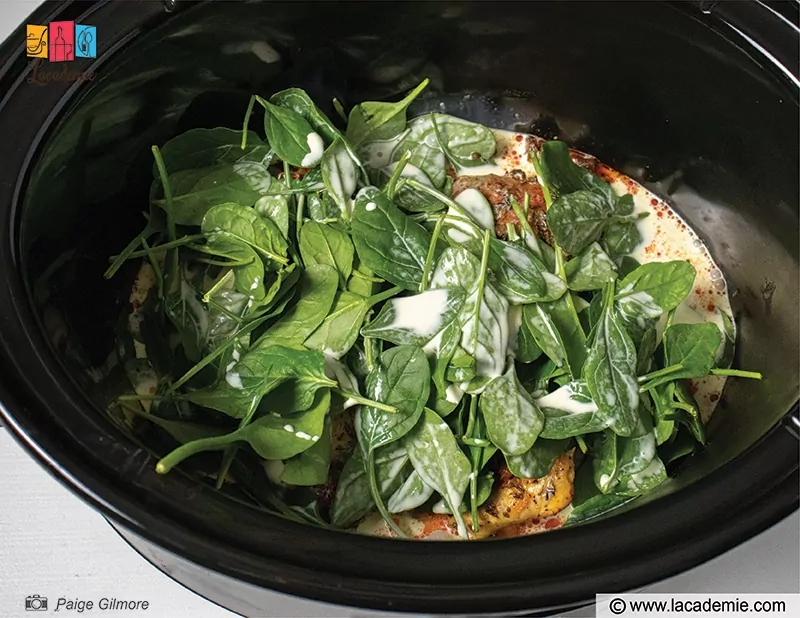 Step 4: Serve Your Crockpot Tuscan Chicken
Once your Crockpot Tuscan chicken is complete, remove the lid and spoon a generous amount of chicken and sauce onto your plate. Enjoy!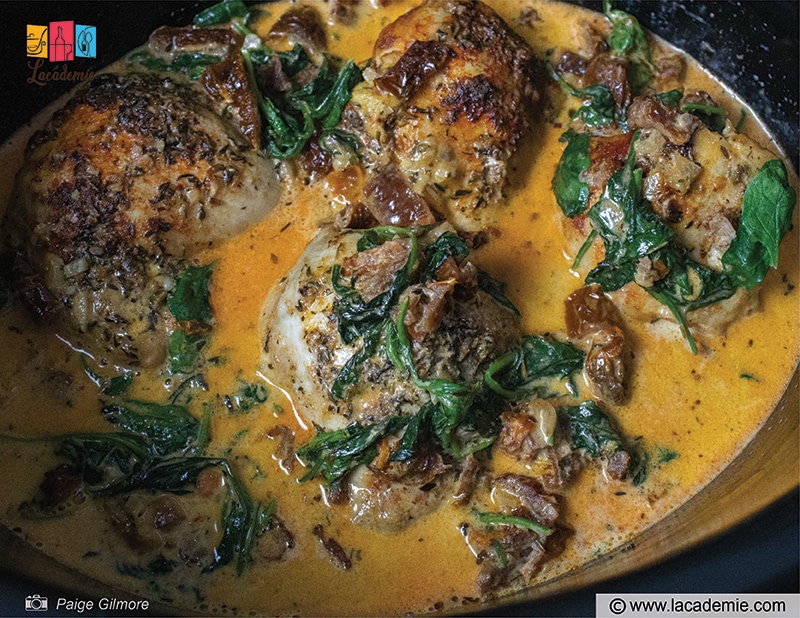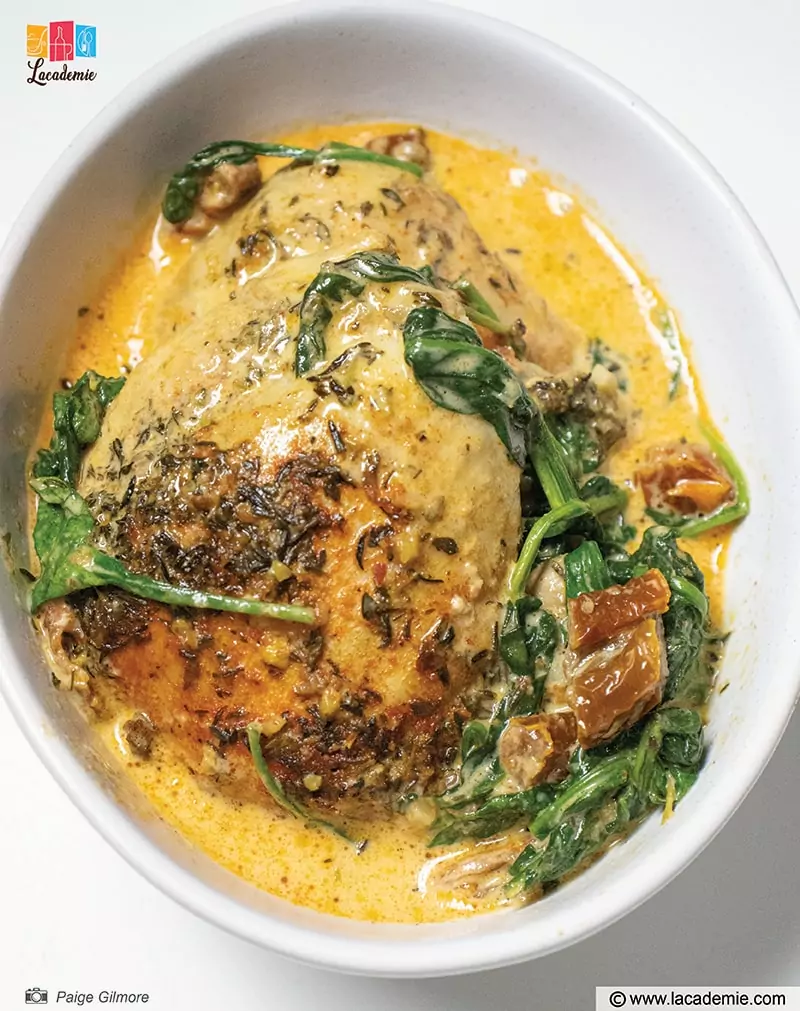 Tips For Cooking The Best Crockpot Tuscan Chicken
If you wish to prepare your Crockpot Tuscan chicken to perfection, I recommend the following tried and tested tips.
Since chicken tenderloins and breasts have some resemblances, you can switch for the former if you cannot get the latter or chicken thighs.
Searing the chicken beforehand will make it firmer and deliver a more tempting mouth feel. Feel free to do so if you have the time.
Leave adding your spinach to the end. Otherwise, the heat will greatly reduce the size and soften the texture of the veggie.
While onions are somewhat different from onion powder, you can still use them to replace the latter. Your dish's flavor will only change for a bit.
To make your Tuscan chicken even creamier and more Italian, you can add butter and Parmesan to the sauce.
What To Serve With My Crockpot Tuscan Chicken?
Here are a few of my favorite carbohydrate options that I like to accompany my Crockpot Tuscan chicken.
Dinner rolls: Warm and fragrant dinner rolls go so well with my Tuscan chicken recipe.
Rice: You can serve this dish with the iconic Italian risotto. If you choose other types of rice, remember that the fluffier they are, the better.
Pasta: I prefer to use an egg noodle or egg fettuccine pasta to sop up the creamy sauce.
Root vegetables: Chopped and roasted sweet potatoes, pumpkins, and potatoes are my go-to choices.
How To Store Crockpot Tuscan Chicken
You can make this dish ahead for 3 – 4 days as long as you keep it in an airtight container in the fridge. To prolong its shelf life to 2 – 3 months, store the chicken in the freezer (inside a freezer bag, of course). And don't forget to thaw and reheat this chicken dish properly before enjoying it.
Crockpot Tuscan Chicken – Creamy And Herby Chicken
My Crockpot Tuscan chicken is a perfect example of fragrance, tenderness, and complicity. When you've got a busy day ahead, spend a few minutes preparing this truly creamy and fragrant chicken dish that will send your taste buds on a journey to Tuscany once you get home.
If you love making this, please share it with your friends. Don't hesitate to comment in case you have wonderful ideas to share or notice something I missed. Remember: a delicious Italian dish is just a few simple steps away!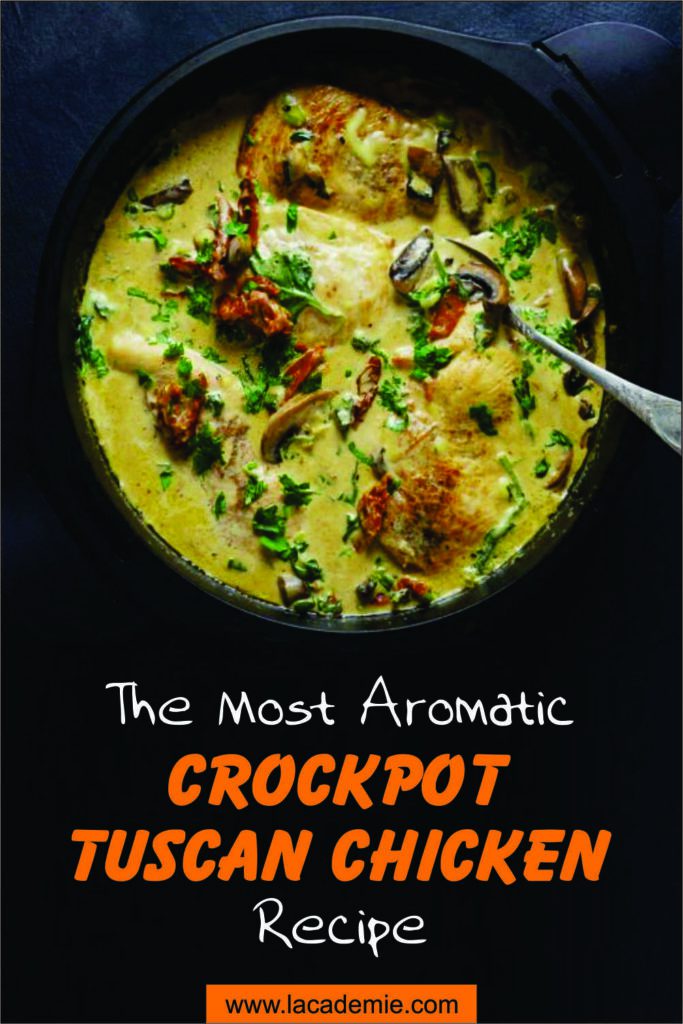 Nutrition Facts
4 servings per container
---
Amount Per ServingCalories513
% Daily Value *
Total Fat 28.2g

44

%
Cholesterol 148mg

50

%
Sodium 658mg

28

%
Potassium 563mg

17

%
Total Carbohydrate 29.7g

10

%

Dietary Fiber 3.2g

13

%
Sugars 4.3g

Protein 36.1g

73

%
---
* The % Daily Value tells you how much a nutrient in a serving of food contributes to a daily diet. 2,000 calories a day is used for general nutrition advice.