When it comes to onion powder vs. onion, what is on your mind first? Yes, they are both onions. Yes, they are both adaptable in the kitchen. Anything else to talk about these two?
Alright! Prepare to learn more about them as you read this article. I guarantee that what I am about to tell you is packed with information that you can barely find anyplace else.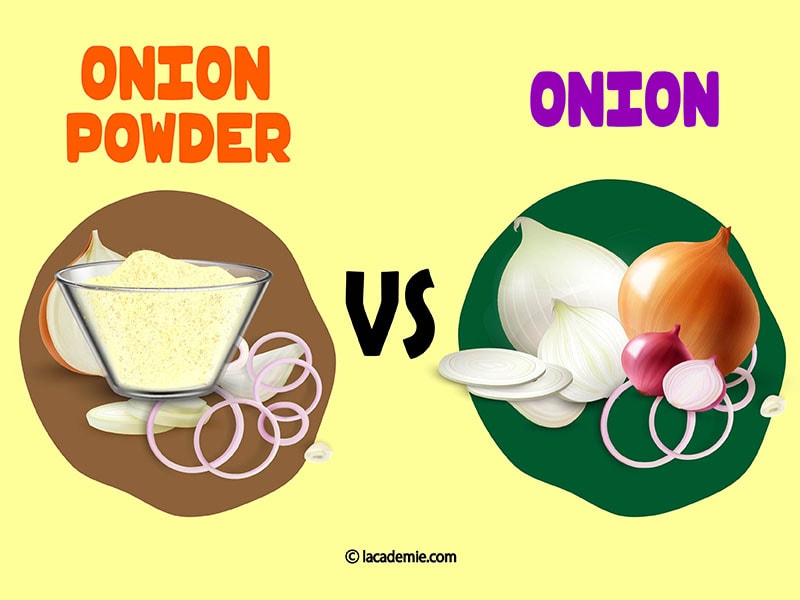 So Which One Is Better? Onion Or Onion Powder?
Well, personally, I do not have a proper answer for determining whether fresh onion or onion powder is better as I love them both. I love their versatility and their onion flavor.
There are also various factors to highlight the differences between them, such as the texture, flavor, uses, shelf life, the level of control when you use them, or nutrition information with their health benefits.
So, with only 5 minutes (or less) to read, you would not imagine how much you can learn in this post. Wait no more; here comes the world of onion.
Onion 101 – Understanding The World Of Onion
Onions are too familiar to everyone. They can come in different forms like fresh, flakes, dried, or powder. As I only focus on the fresh form and powder form of onion in this post, I will begin with the general information about onion and onion varieties worldwide. Let's find out.
The Overview Of Onion
Onion (bulb onion or common onion) is one of the most common ingredients in cooking. Their scientific name is Allium cepa, in the Allium genus, like garlic, leek, chive, green onions, shallot, and Chinese onion (1).
The origin of the onion is still in debate; however, many believe that they are from Southwestern or Central Asia. Onions were first introduced to North America by European immigration in the Age of Discovery.
Onions are grown to collect bulbs as they are edible. Common onions have at least one flower stem that grows in clusters with an average height from 75 to 180 cm.
Their white-greenish flowers are small and quite pretty. The green leaves developed from the underground onion bulbs are long, hollow, and have cylindrical shapes. The right time to collect onions is when you see the green leaves start to fall, and the bulbs are also big enough to use.
Onions are hard so that they can fit in several conditions, even in the winter. Moreover, the sizes, hues, and pungency of onions vary depending on the varieties. And this information will be shown in the next part.
Several Widely-Used Onion Varieties And Its Usage
In reality, there are more than 600 spices in the onion genus; therefore, I can only summarize them with 9 popular types of onion in this post.
Moreover, for your better understanding, I also group them into 3 groups including:
Dry Onions (Yellow onions, Red onions, and White onions)
Soft Onions (Sweet onions, Green onions, and Spring onions)
Small-sized Onions (Shallots, Cipollini onions, and Pearl onions)
1. Dry Onions
Have you ever found yourself stuck in the supermarket as you did not know which onions you should buy because there are several types with different colors? That was me before I learned the differences between them.
You might have seen white, yellow, and red onions, right? Do you know they are classified as dry onion types? In fact, there are more dry onion varieties, but white, yellow, and red onions are more popular. So, here are their characteristics and uses.
Yellow Onions (or Brown Onion)
Yellow onions are the most common onions with yellow-brownish papery peel and white flesh. They have a pungent smell and flavor, making them quite strong to eat raw.
Yellow onions contain relatively high starch, making them barely dissolve after cooking. Also, as they are rich in sulfur, your eyes can easily produce tears when cutting them.
Use: They are good to eat raw and cooked (mostly). You can cook them for your stews, soups, sautéed, or roasted dishes.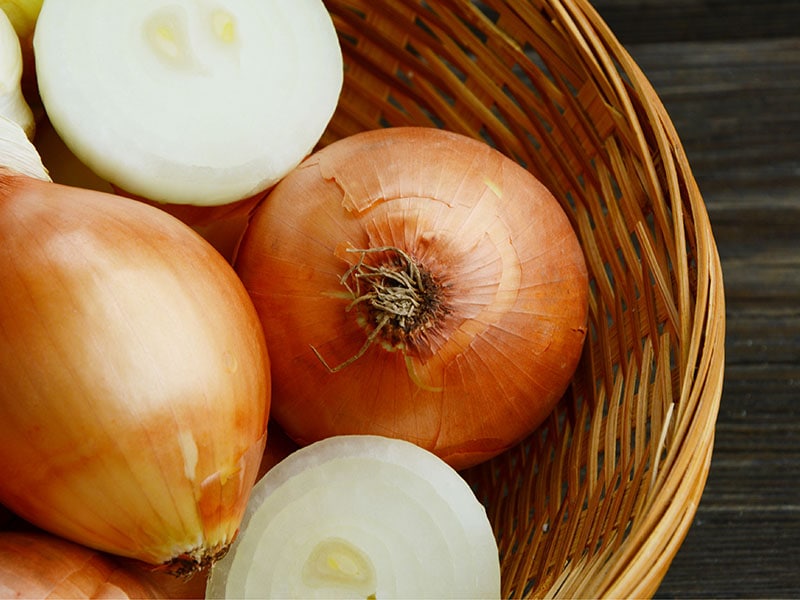 Red Onions
Red onions are the mildest sweetness type compared to other onion varieties. They have distinctive red skin and pale red flesh. However, they sometimes discolor and change some other ingredients' color into a blue-gray hue.
Their texture is quite chewy after cooking, while white and yellow onions are mushy after cooking. For increasing their crispiness, use cold water to soak the onions in.
Uses: They are good to eat raw (preferred), this is why you'll often come across red onions in many recommendations for preparing salad meals. Red onions can be cooked. They're also suitable for pickling, sandwiches, braises, fried dishes, etc.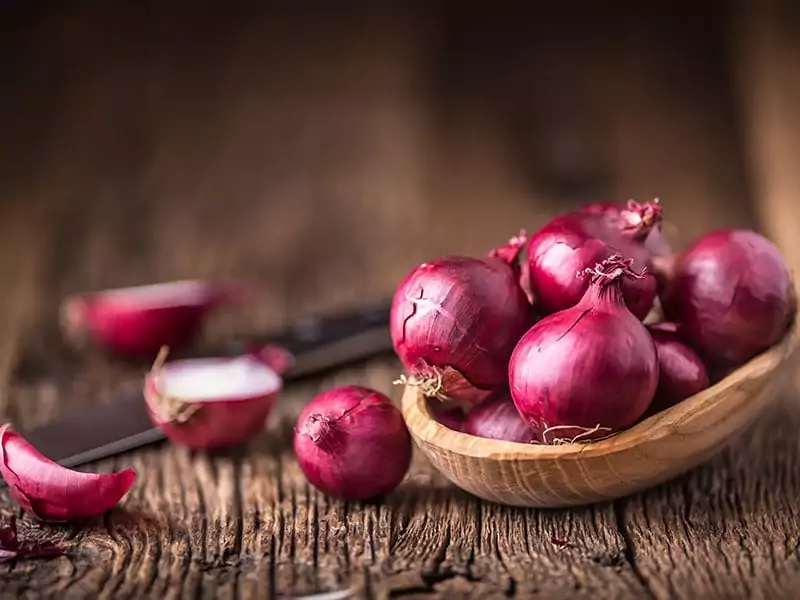 White Onions
Like their name, white onion flesh and skin are both white. Their flavor is milder than yellow onions, so this onion variation is suitable for you if you are looking for a not-too-strong onion flavor. By soaking them in cold water, their flavor might mellow down with a hint of sweetness.
Uses: They are good to eat raw and cooked (quick-cook). And white onions are popular in Latin and Central American cuisines.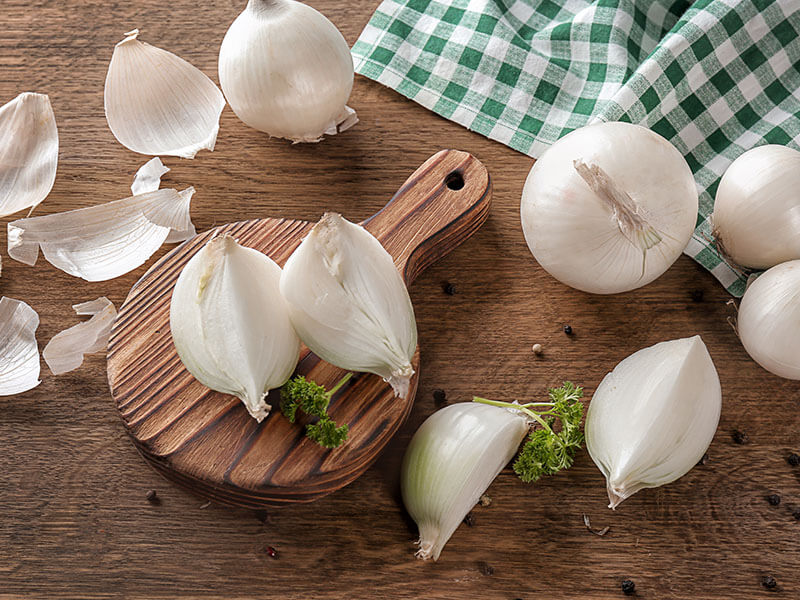 2. Soft Onions
As the texture of these onions is soft, you probably want to store them in the fridge to extend their shelf lives. They are Sweet onions, Green Onions, and Spring Onions.
Sweet Onions
Why are they called sweet onions? Because their taste is sweet as they contain less sulfur, making the pungency in them lighter than other onion varieties. They also have a mild flavor with crispy flesh.
Uses: They are good to eat raw and cooked. Mainly, sweet onions are suitable for roasted, caramelized, or stuffing dishes. Or you can eat them raw in salads or use them as a garnishing.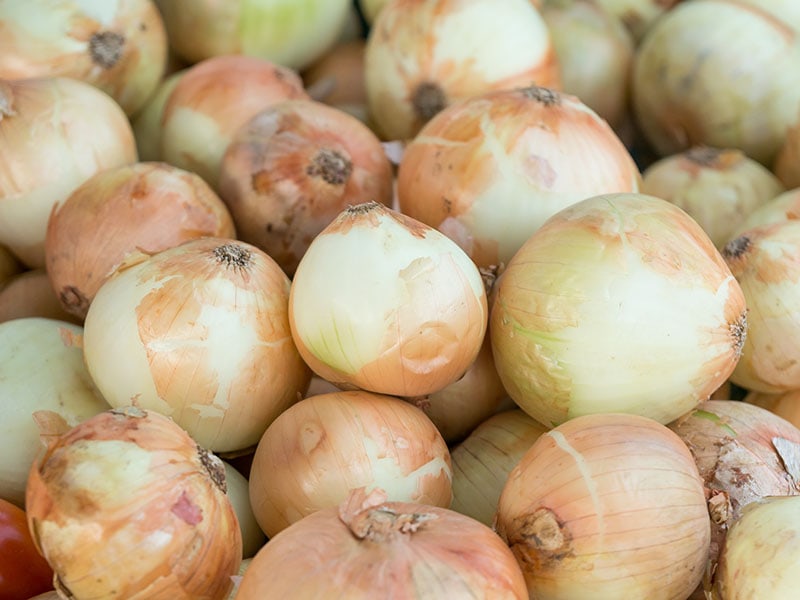 Green Onions (or Scallions)
While green onions have a wide array of species, they are basically non-bulb and bunching onions. Their flavor is milder than other onions, with grassy notes on their green top.
Uses: They are good to eat raw and cooked. Suitable to garnish for soups, salads, salsa, meaty dishes, etc. Or you can cook them in your braise dishes. Ideal as a stand-in for chives due to similar appearance and flavor, especially as garnishing. Can hold up to heat rather well.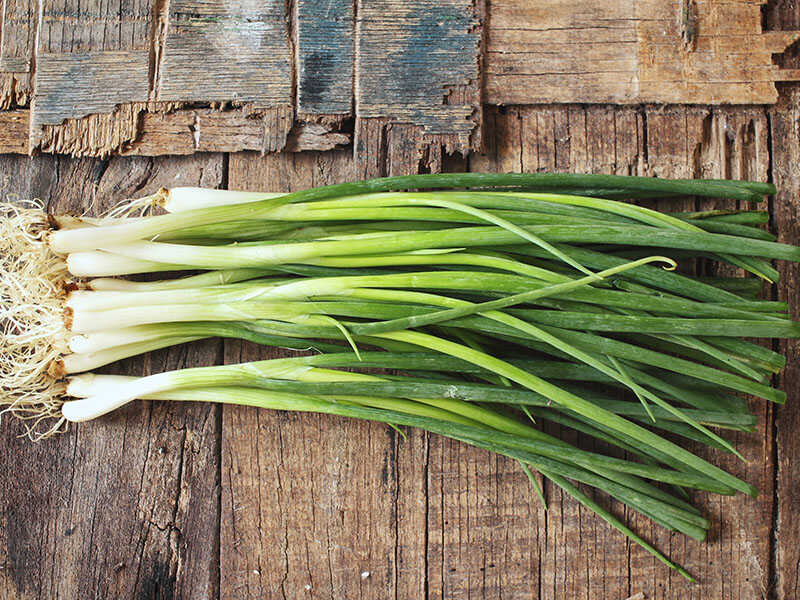 Spring Onions
In fact, they are mature green onions with a small bulb at the bottom. Their flavor is sweet and slightly pungent.
Uses: They are good to eat raw and cooked. Raw chopped spring onions can pair well in soups, stews, dipping sauces, salads, omelets, or grilled dishes, and they act as garnishing. Or cooking them in roasted, grilled, and braised dishes is excellent.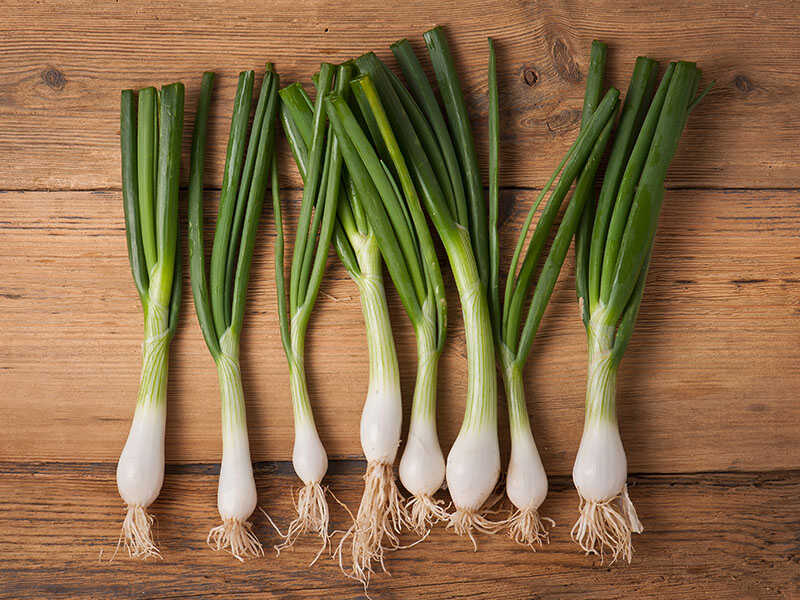 3. Small-sized Onions
Here are 3 small onion types that you might try before: Shallot, Cipollini onions, and Pearl onions.
Shallot
Shallot has a different appearance than other onions as they have elongated shapes (some are pretty round). Their papery skin has various colors (brown, gray, or reddish-pink) with white or pale purple flesh. Shallot has a delicate oniony flavor with a light sweetness.
Uses: Good for eaten raw or cooked. You can pickle shallot, use them in salads, soups, stews, or slice thinly and fry them to make a crispy garnishing in various dishes.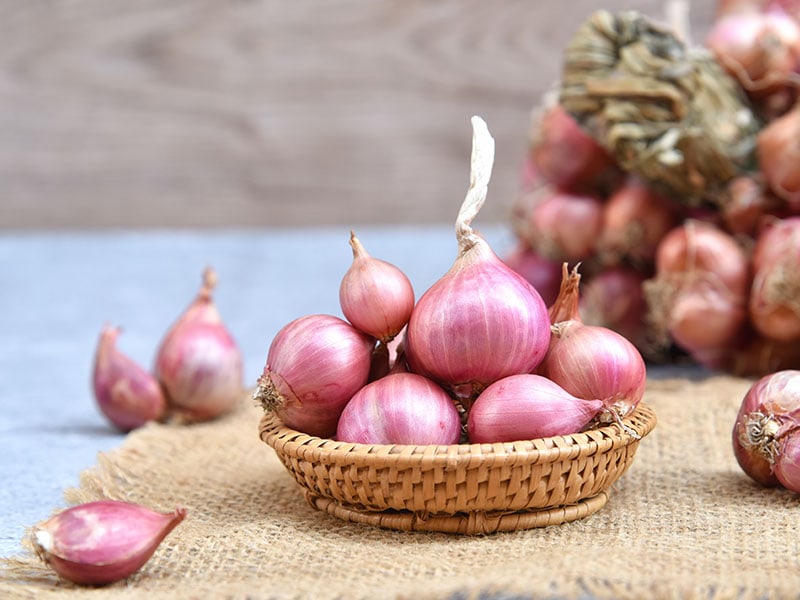 Cipollini Onions (Cipolline Onions)
This onion variation is famous in Italian cuisine. Their oniony flavor is similar to shallots, and they are also sweet as the sugar in them is higher than other onions.
Uses: Italians use cipollini onions to make a sweet and sour sauce. They are also used to make marination and pickles. Plus, you can cook a whole onion in your stews or braises. Roasting or frying them is perfect for bringing out their sweetness.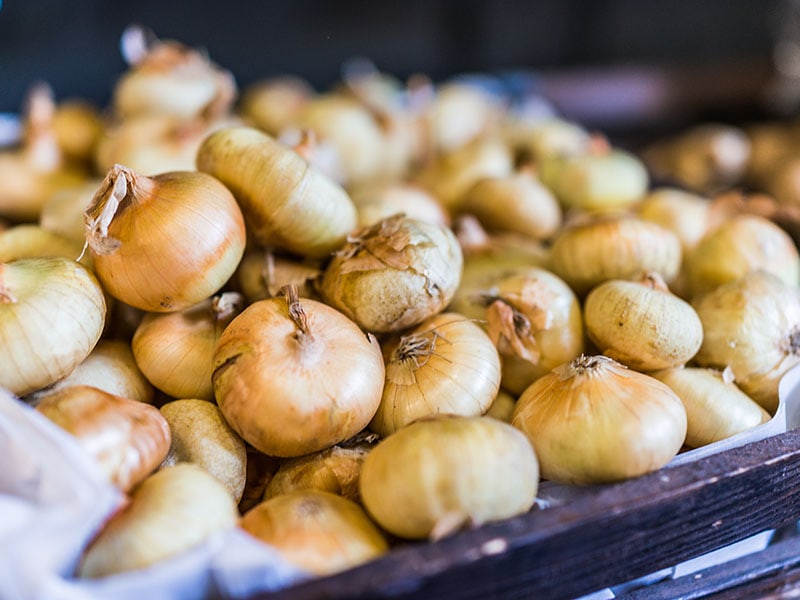 Pearl Onions
This is another sweet small-sized onion. They can have red, white, or yellow colors. Their flavor is also less pungent than other onions after cooking.
Uses: It is good to eat raw or cooked, especially, you can eat the whole one as they are small. You can use them for making the roast, braised dishes, stews, or gratin. For eating raw, you can pickle pearl onions.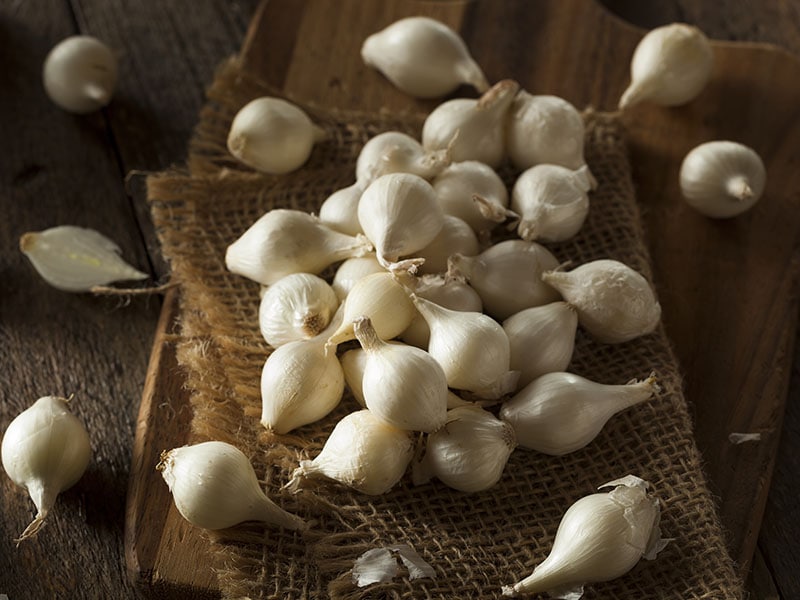 A helpful presentation on onions will make it easier for you to comprehend them. Watch this video:
Tips To Know Your Onions Are Big Or Small
In fact, besides 2 typical sizes as big and small, there are some other size standards that USDA has classified (2). Here is the size chart of onions so you can check if your home-grown or store-bought onions are big, small, or, well, just take a look to find out.
| | |
| --- | --- |
| Sizes | Diameter (inches/mm) |
| Small | 1 to 2.25 inches (25.4 to 57.2 mm) |
| Repacker* | 1.75 to 3 inches (44.5 to 76.2 mm) |
| Medium | 2 to 3.25 inches (50.8 to 85.1 mm) |
| Large (or Jumbo) | 3 inches to up (76.2 mm to up) |
| Colossal | 3.75 inches to up (92.3 mm to up) |
(*) Some onions are classified as Repacker size in which more than 60% of onions have 2 inches (50.8mm) or more in diameter.
Onion Powder Story And What You Should Know About Them
So, what is onion powder, apart from the fact that they are made from onion and come in powder form? Keep reading for more information.
How Can You Make Them From Onion?
Onion powder is made from dehydrated onions, then grounded into a powder. You can use white, yellow, or red onions to make onion powder.
Some onion powders are solely made from the bulb; some include the onion's stems, roots, or even skins.
Onion powder is often confused with onion salt. However, it's quite easy to distinguish onion powder with onion salt once you know the main differences between them. It's important to be able to tell the two apart, as you can't use them interchangeably with a 1:1 ratio.
Onion powder can be found in seasoned salt or spice mixes. You can buy onion powder in any supermarket. Or, if you want to save money, you can make them at home.
Below are some steps for creating a big batch of homemade onion powder. Do not worry; it is easy to do, as long as you have some kitchenware like a food dehydrator (or an oven), blender (or food processor), clean jars, and, of course, Onions.
In this instruction, I only use the bulb part of common onions to make onion powder. But feel free to use other types of onions (like red or white ones). Or you can also use their stems, roots, or skins to make the powder.
Step 1: Cut 1 end of the onions and peel the first layer of them. Then wash them well with water.
Step 2: Use a knife, onion slicer, or a high-grade veggie chopper and cut them on the cutting board. Make sure you cut them thin evenly as well.
You might expect some eye irritation as the sulfur in the onion, making your eyes wet. But I will show you how to avoid it later in this post.
Step 3: Place and fill them up in a food dehydrator. Then set the highest temperature to get rid of the water in them in 12 hours. In fact, the ideal temperature to dehydrate is from 125 to 135 degrees, and it takes from 8 to 12 hours.
If you only have an oven, you can spread the onion slices on the baking tray with parchment paper on it, then set the temperature between 150 to 175 F degrees and bake these slices until they are dried.
Step 4: Once they are dried completely, wait for them to cool down before grinding them. Do not skip this step as if your dried onions are still hot; when you grind them, the powder texture will be cakey, which is not good.
Step 5: Use a food processor to puree them until smooth and powdered.
Making onion powder at home is a good solution for your pocket. Watch this video to know more: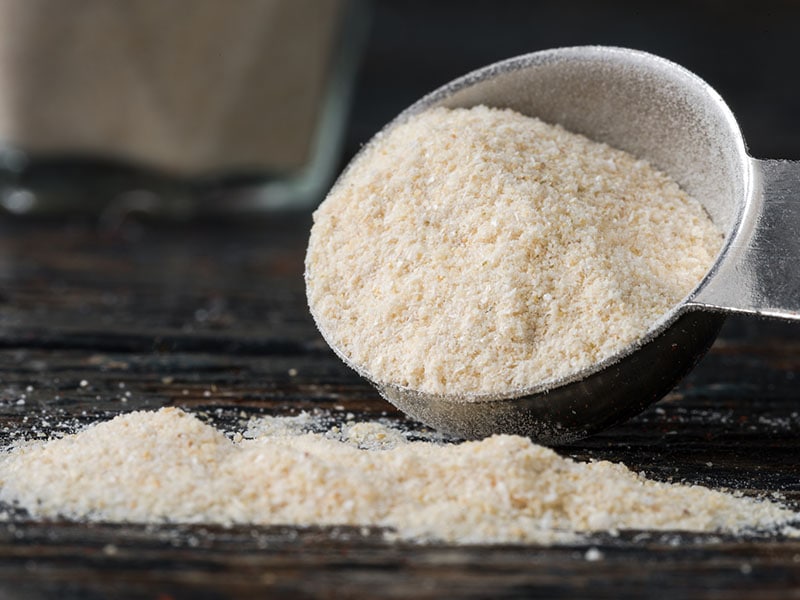 Best Ways To Use Onion Powder
You already know that onion powder is used for cooking, especially when you want to increase the onion flavor in your savory dishes. But I will show you more details about how to use them with the following ideas.
Soup, Stew, Pizza, Or Pasta Dishes
Onion powder pairs ideally in these dishes as they can blend very well. Whether meaty or vegetable soups, stews, pizzas, or pasta, onion powder can enhance the onion flavor and smell by sprinkling them on the dish's surface.
Sauces or Dippings
Indeed, as they come in powder form, onion powder is perfect in any sauce or dipping that requires an oniony flavor. Especially, as onion powder can blend well, it will not ruin the smooth texture of some sauces or dippings.
Seasoning or Dry Rubbing Meats
By adding an appropriate amount of onion powder, you can season your ground meats, meatloaf, or dry-rub your meats before roasting or grilling, making them full of onion flavor.
If you use onion powder to rub, allow your meats to sit for 1 hour to absorb the powder's flavor fully.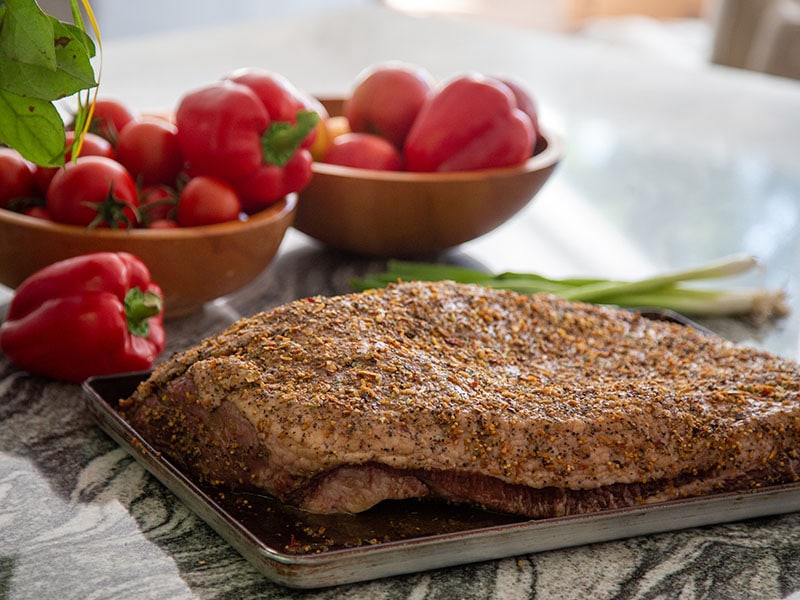 The Comparison Of Onion and Onion Powder
Comparing onion and onion powder is an excellent way to see how good they are in their characteristics, uses, or other factors. So let's check the below table for more information.
| Elements | Onion | Onion Powder |
| --- | --- | --- |
| Texture | Uncooked: Hard and coarse texture; Cooked: Bulky, coarse, and fibrous | Uncooked: Fine and smooth powder texture; Cooked: Blended well in dishes so it can keep the final texture of dishes |
| Flavor | The fresh flavor of onions with a pungent taste; Varied flavors, based on what types of onion | More concentrated as they are dehydrated (or air-dried, freeze-dried); Varied flavors, based on what type of onion and what part that people use to make them. |
| Culinary Usages | Can be eaten raw; Suitable for savory dishes (e.g., soups, stews, braises, salads, sauces, etc.); Good for making pickles | Rarely be eaten raw or directly. Mainly used as seasoning that comes along with other ingredients; Suitable for savory dishes (e.g., soups, stews, braises, salads, sauces, etc.); Good for dry-rubbing meats |
| Shelf Life | Shorter shelf life as they contain water; Can last up to 6 weeks at room temperature or 2 months in the fridge | Long shelf life as they are dehydrated; Can last up to 4 years with proper storage |
| Controlling Level | Easier to control as you can choose a specific onion type | Hard to control if using store-bought onion powder; Easier to control if using homemade powder as you already knew the flavor of onions you use |
| Nutrition Level | Lower in nutrition | Higher in nutrition, especially calories, carbohydrates, potassium, and sodium |
| Health Benefits | Similar health benefit But onion powder is preferred for those who have digestive problems with fresh onions | |
1. Texture
What I want to discuss here is the texture of onion and onion powder itself and the texture of dishes that you add them in.
The textures of their own, in fact, are straightforward to say, as fresh onion is in raw and coarse form, and onion powder is in smooth powdered form.
But when these 2 come in cooking dishes, the textures of these dishes are different. For example, if you use fresh ones in soup, onions are still bulky, coarse, and fibrous after cooking, no matter how small you cut them.
However, when you add onion powder to your smooth soup, the final texture of the soup is still smooth as the powder blends.
You can remember: if you want your meal to be more crunchy or more coarse so you can chew and enjoy your food, fresh onions are better, while onion powder can keep the same final texture of the dish.
There is 89% water in fresh onions, so they can add moisture to your dishes that onion powder cannot offer. Also, as onion powder is dried and fine, it can be quickly burned if you use them in fried dishes, so make sure you regulate the heat when cooking with onion powder.
Overall, whether to use onion powder or fresh onion also depends on the recipes. Some are fine with chopped, sliced, or diced raw onions, while some are suitable with onion powder.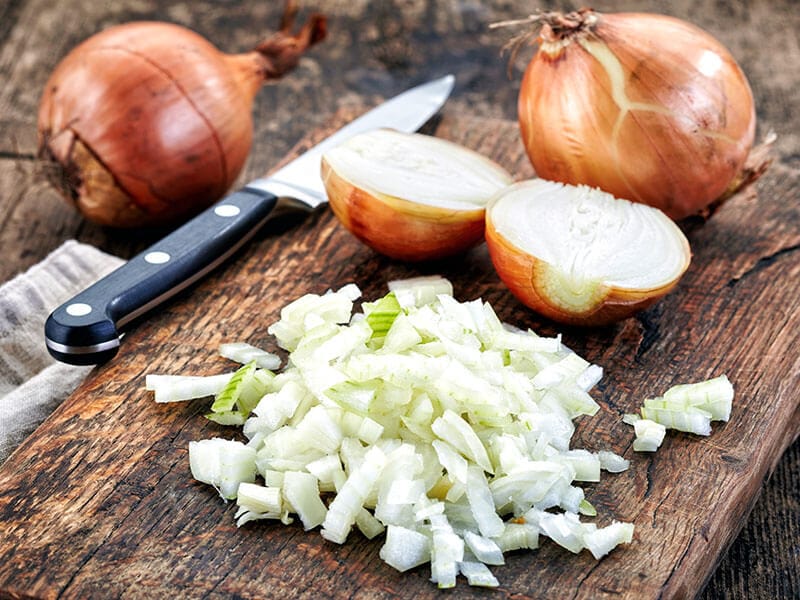 2. Flavor
The pungent flavor of raw onion always results in some onion tears when you cut them. In contrast, onion powder is not as pungent as fresh onions are due to the dehydration process. That's why when you use onion powder; your eyes will not produce tears.
If I talk about the real authentic taste of onion, fresh onion is better, obviously. However, onion powder has a similar onion taste but with a more concentrated flavor profile, and they still have a nice onion aroma with a touch of sweetness.
The flavor of fresh onion only depends on the type of this onion, while onion powder's tastes are varied, let alone the kinds of onions or which parts of onions they use to make the powder.
Didn't you know that in some commercial onion powders, they not only dehydrate the onion but also apply the air-dry or freeze-dry techniques to make powder? And some are even toasted in advance to reduce the pungency in fresh onion. That is the reason they have different tastes.
But in general, fresh onions have slightly distinct flavors than onion powder, although they both have an onion taste.
3. Culinary Usages
It is clear to see that both fresh onion and onion powder are versatile in various recipes. They are suitable for savories like soups, salads, stews, braises, etc.
The minor difference between them in culinary usages is that you can eat a fresh onion raw and make pickles from them only. But if you want to dry rub meat, onion powder is way better than raw ones, making them suitable to go along with other ingredients to increase oniony flavor.
4. Shelf Life
As fresh onion contains 89% of water, its shelf life is shorter than onion powder. Why? Because the dehydration process for making onion powder has removed all the water content in fresh onions, making them less moisture and reducing the bacteria growth.
While whole and cut onions have numerous preservation approaches, they can only last for a maximum of 6 weeks at room temperature or up to 2 months in the fridge. But onion powder can be safe for up to 4 years, in sealed jars and away from direct heat or sunlight.
5. Controlling Level
The controlling level in fresh onions is pretty easy because you can choose and buy the specific type of onion and you can know their particular flavor.
But onion powder is another story. There are 2 scenarios for the controlling level in onion powder. If they are store-bought ones, remember that onion powder can be made from various types of onion or multiple parts of onion, it would be harder for you to control their overall flavor.
Most store-bought onion powder will not mention what type of onions that they use on the label. But they are usually made from white onions.
However, if they are homemade onion powder, you can clearly know their flavor, so you can have more options to use and manage them.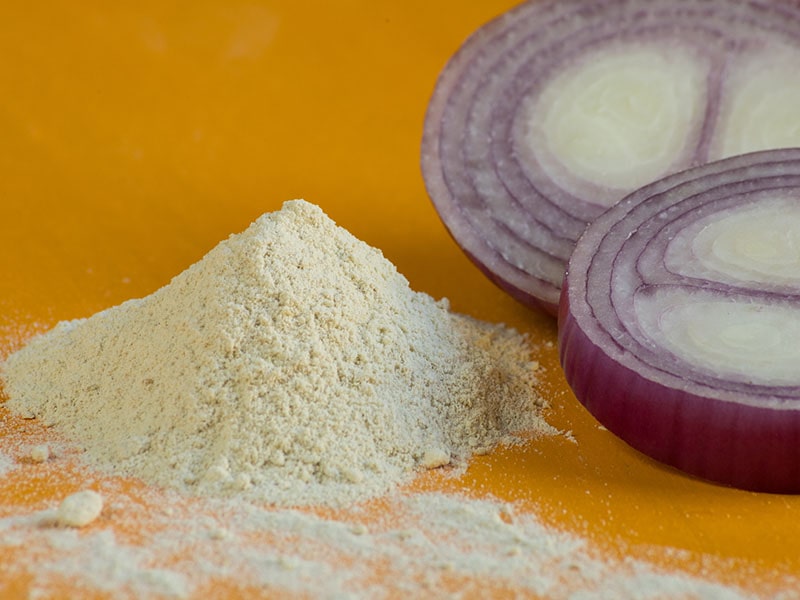 6. Nutrition Level
The below table will reveal the nutritional level in 100 grams of onion powder and fresh onion. Check it out now to find out which one is better.
| Element of Per 100 grams | Onion | Onion Powder |
| --- | --- | --- |
| Calories | 40 | 342 |
| Total Fat | 0.1 g | 1 g |
| Cholesterol | 0 mg | 0 mg |
| Total Carbohydrate | 9 g | 79 g |
| Fiber | 1.7 g | 15 g |
| Protein | 1.1 g | 10 g |
| Sugar | 4.2 g | 7 g |
| Potassium | 146 mg | 985 mg |
| Sodium | 4 mg | 73 mg |
| Magnesium | 2% | 28% |
| Calcium | 2% | 38% |
| Iron | 1% | 21% |
| Vitamin C | 12% | 39% |
| Vitamin B6 | 5% | 35% |
Apparently, all of the nutrients in fresh onions are much lower than onion powder, particularly the level of calories, carbohydrates, potassium, and sodium. Seeking for low carb and low-calorie options? Fresh onions are the winner.
7. Health Benefits
As they are both onions, just come in different forms, they share several similar health benefits such as:
Improve Blood Sugar: The antioxidants in onions can reduce your blood sugar, prevent the possibility of diabetes.
Enhance Bone Health: Onions might aid the function of bones and increase bone mass (3). They can decrease the level of oxidative stress and bone loss.
Boost Digestive System: Onions are a good source of fiber and prebiotics, making them perfect for your stomach. They can enhance the function of your digestion and prevent the attack of bad gut bacteria.
Reduce Risk Of Cancer: Once again, the antioxidant and anti-inflammatory properties of onion can decrease the chances of cancer, for example, stomach, colon, breast, or prostate cancers.
Improve Heart Health: Also, antioxidants work well to reduce cholesterol and high blood pressure, lowering the risk of any heart disease or blood clotting.
Fight Bacteria: The quercetin properties in onions can prevent many kinds of dangerous bacteria, for instance, Helicobacter pylori (H. pylori) bacteria that might result in stomach cancer.
However, as fresh onions might be difficult to digest to some people, onion powder is much easier for you to consume.
Let's listen to experts explain the health benefits of consuming onions here.
Can I Substitute Onion Powder For Fresh Onions And Vice Versa?
In fact, for the best result, you should better use onion powder to substitute fresh onions for dishes that require the onion flavor only, as the texture of onion powder and fresh onions are totally different.
However, if you still want to use onion powder to replace, as onion powder has a more concentrated onion flavor, you might use a small amount of powder.
Here is the ration substitution for fresh onions by onion powder:
For small onions, use 1 teaspoon of onion powder to substitute
For medium onions, use 1 tablespoon of onion powder to substitute
For large onions, use 5 tablespoons of onion powder to substitute
Do not forget to taste your dish until you feel happy with it. But as the onion powder is dried, it cannot provide any moisture to your dish as fresh onions do.
Similarly, you can still use fresh onion as the onion powder alternative in some dishes. Adding fresh onion instead of onion powder means you add moisture to your dish.
Therefore, it would not be ideal to use fresh onion to make a dry rub for meats. But they still work fine in other dishes like soups, stews, or braises. Check the ratio that I mentioned above for replacing fresh onions.
Fantastic Dishes With Fresh Onion and Onion Powder
Let's change the mood of this topic with some recipes to cook with fresh onions and onion powder. All of them will not ask you for a whole day in the kitchen or any special cooking skills.
Right, how could I forget this famous onion recipe? It is onion rings, a brilliant golden brown-colored dish that is perfect for your appetizer ideas.
These fried onion rings are super crispy and tasty with flour, baking soda, and bread crumbs. Deep-frying is not the only method to cook them if you have an air fryer at home. And obviously, air-fried onion rings are much better for your health if you are so into this dish.
Let me introduce to you a warm and hearty soup that originated from France. Yes, it is French onion soup, and you can make them without effort.
First, you will cook the combination of onion, butter, herbs, and seasonings until your onion caramelizes to bring out its sweetness. Add beef broth and let them simmer for around 10 minutes. Serve this soup with some slices of bread for the fulfilling dish.
What are you doing this weekend when the weather is getting cooler? How about trying this fantastic French onion soup?
Baked chicken with onion powder might be your new favorite dish. They will bring the busting flavor from the chicken rub, made from many seasonings like onion powder, garlic powder, paprika, Italian seasonings, etc.
It would be better to use chicken thighs or drumsticks for this dish. Do not forget to let the skin side up to be crispy and have a golden brown color after baking.
Easy but flavorful and super juicy baked chicken with onion powder will make you love it for sure.
This mayonnaise-based sauce is a brilliant idea that only costs you 5 minutes to prepare.
They are so creamy, gooey, and full of flavor with onion and garlic powder, apple cider vinegar, and other spices, making them perfect to pair with many meaty dishes or salads. Imagine dipping your chicken in this sauce; how wonderful they are.
FAQs
Alright! Let's finish this article with some questions and answers relating to 2 main stars, onion and onion powder. Do not skip this part as they are also crucial as the above section.
Either Fresh Or Powdered, Onion Is The Best
Indeed, if this vegetable has a fan club, I would sign myself in. Their flavor enhances the deliciousness in numerous dishes, and they are also super cheap. So I cannot find any reason you should not use them, whether they are fresh or powdered.
So, how about you? Do you like onions as much as I do? If yes (or even no), please share your thoughts in the comment section so you and I can discuss more regarding this matter.
And if you think this post is so helpful for your knowledge, particularly about onion, your likes are appreciated. Thank you for your reading, and enjoy your onion!
References
En.wikipedia.org. (2021). Onion – Wikipedia.
Ams.usda.gov. (2014). United States Standards For Grades Of Onions (Other Than BermudaGranex-Grano and Creole Type)
Roman, C. et al. (2001), 'Onion and a Mixture of Vegetables, Salads, and Herbs Affect Bone Resorption in the Rat by a Mechanism Independent of Their Base Excess', Journal of Bone and Mineral Research, vol.17(7), pp.1230-1236.