You may wonder: what can I use as chives substitutes? When you are going to the end of the cooking process and find your refrigerator devoid of chives, but you are a huge fan of the intense flavor. Don't worry! This post offers the best replacements for chives.
I am writing to help you find some suitable alternatives when you are short of chives. Surprisingly, some of them may be available in your crisper drawer without being noticed. Let's scroll down to know what are the best chives replacements!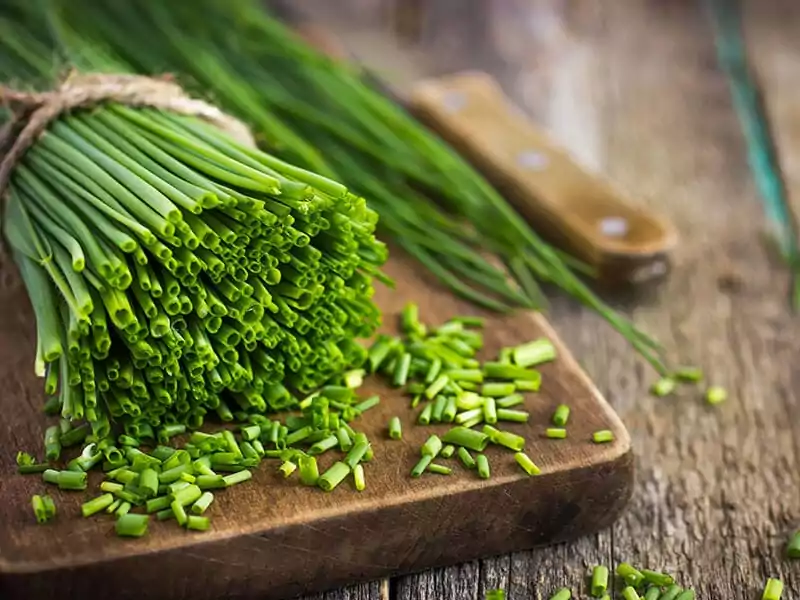 7 Chives Replacements Can Add A Similar Flavor To Your Dish
Here are some best chives substitutes to save your dish when there are no chives available in your home:
Scallions
Leeks
Chinese leeks
Barlauch
Garlic scapes
Shallots
Onions
Before going to the detailed information about the chives alternatives above, it's time to understand more about chives!
What Are Chives?
Chives are one of the variations of the Allium family and are related to garlic, onions, etc. Europeans and Asians have used chives for millennial years. However, you can find it available in any country these days because it is easy to use and cheap.
Chives are usually recognizable by their bright green color with long and hollow stems like a straw. Their season is in spring, and they are effortless to grow.
The mild and not-too-pungent taste of chives makes them indispensable for various dishes (1), particularly in traditional French delicacies. So if you are a big fan of this cuisine, you might be too familiar with this herb.
Blow Your Mind With These Incredible Chives Substitutes!
After understanding deeply about chives, let's discuss chives substitutes if you have run out of chives. Below are the best replacements for chives due to their similar flavor and smell. Get ready to take notes for later uses. You won't regret it!
| | |
| --- | --- |
| Chives substitute | Proportion |
| Scallions | 1 tbsp chives = 1 tbsp scallions |
| Leeks | use a smaller amount |
| Chinese leeks | 1 tbsp chives = 1 tbsp Chinese leeks |
| Barlauch | 1 tbsp chives = 1 tbsp barlauch |
| Garlic scapes | 1 tbsp chives = 1 tbsp garlic scapes |
| Shallots | use a smaller amount |
| Onions | use a smaller amount |
1. Scallions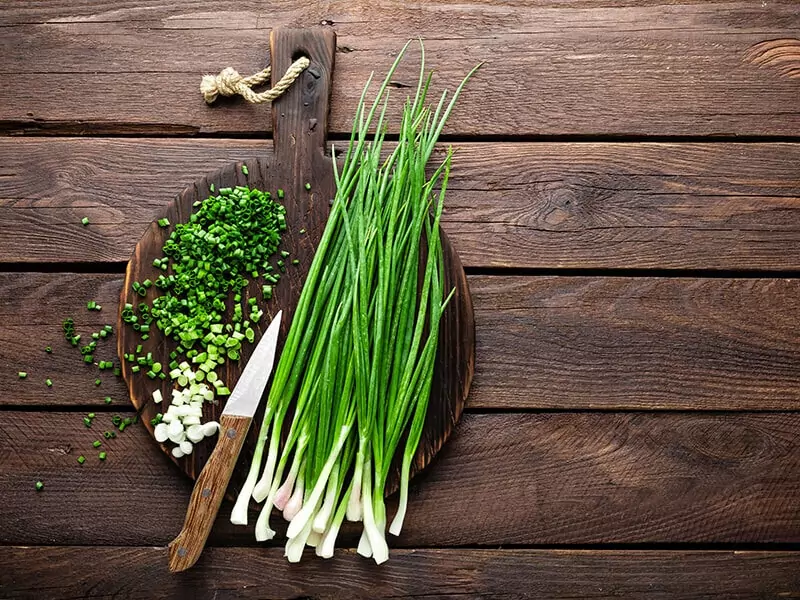 Scallions are also known as a part of green onions' varieties. Because scallions and chives come from the same family, they are similar in appearance and flavor. Some people usually mistake chives with scallions.
The same as chives, scallions have a mild taste. However, they taste a bit more oniony than chives. Therefore, you should reduce the number of scallions while using them to replace chives.
Also, if you are wondering about scallions' shelf life, there are various ways to prolong scallions' storage life without ruining their quality.
Scallions are also used fresh or as a form of garnish like chives. However, you can add them earlier than chives in the cooking process because they can hold up to heat better than chives.
Take a closer look at scallions and chives to avoid grabbing the wrong one!
2. Leeks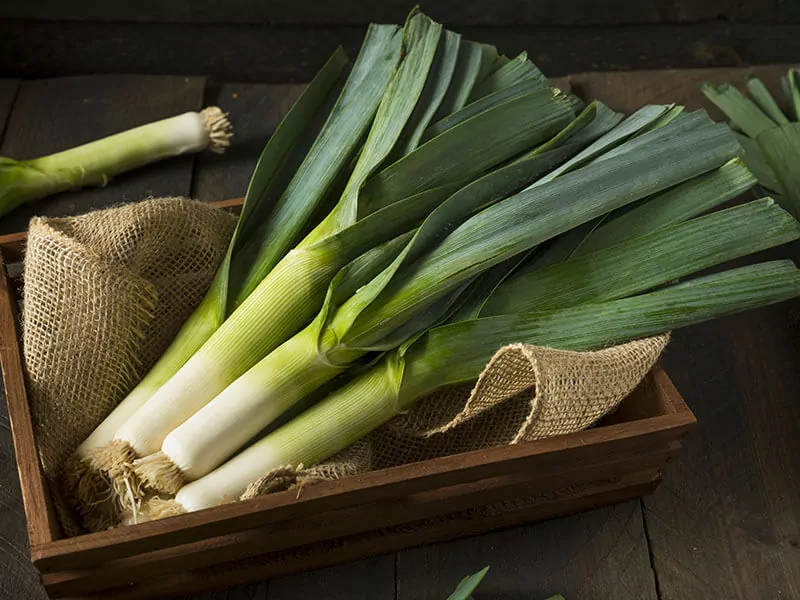 Leeks are also a variation of the allium family. Therefore, they could be the best replacement for chives. But besides the fact that they share the same plant family, what is the real taste of leeks?
In reality, leeks have a more pepper-like flavor but they do not look the same as chives, and their stalks are significantly bigger, so it might be hard to use leeks as a garnish. But if you still want to decorate your dish with leeks, chop them evenly.
The best way to use them is by soaking them properly with iced water and adding a smaller quantity while cooking. Doing this can help reduce the intense flavor of leeks. And with some tips to help keep leeks fresh, you'll have a fantastic chive alternative for your dishes.
How about trying this simple stir-fried firm tofu with leeks recipe for your meal?
3. Chinese leeks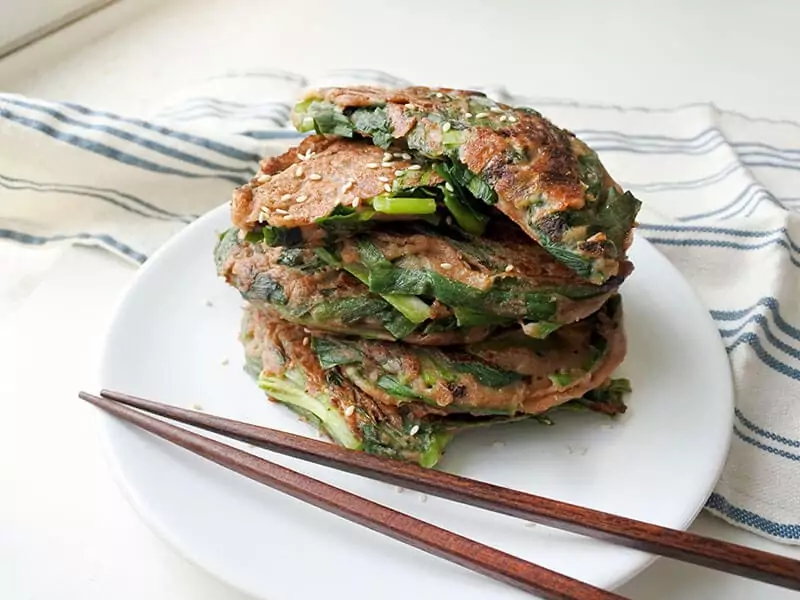 Chinese leeks are also called Chinese chives. Compared to leeks, Chinese leeks look more similar to chives. In addition, Chinese leeks and chives share the same flavor profile.
You can use fresh Chinese leeks as a garnish thanks to their long and thin stems or cook them instead of chives. That's why they are one of the best replacements for chives.
Furthermore, they are available in any Asian grocery store. So, you can switch chives with these Chinese leeks for many Asian dishes, especially Chinese cuisine.
4. Barlauch
People also call barlauch wild garlic, ramsons, or wood garlic. Although it looks different from chives, they share the same garlicky taste. It is mainly used as a cooking ingredient instead of chives.
Barlauch tastes incredible when served with salads and mashed potatoes. Using barlauch to make pesto for multiple uses is also a great idea. To get the best substituting result, you should cut barlauch into long and thin slices to make it milder.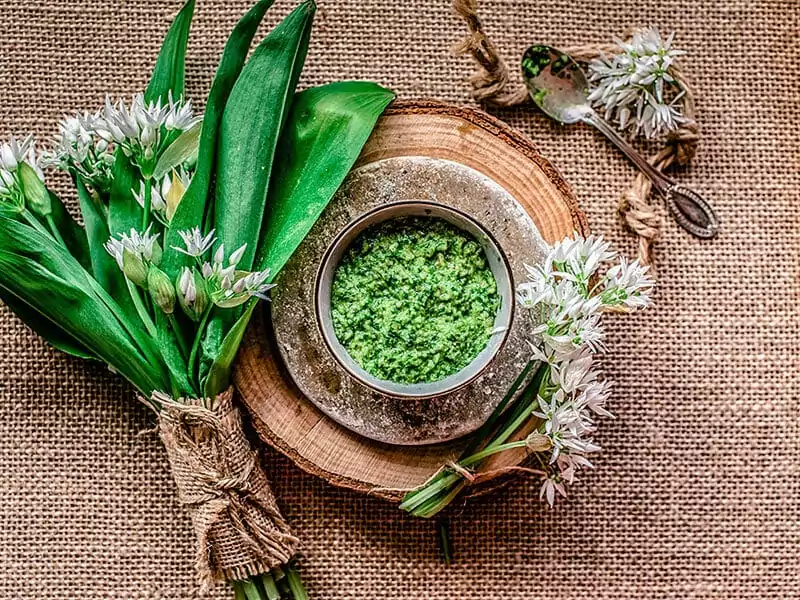 5. Garlic Scapes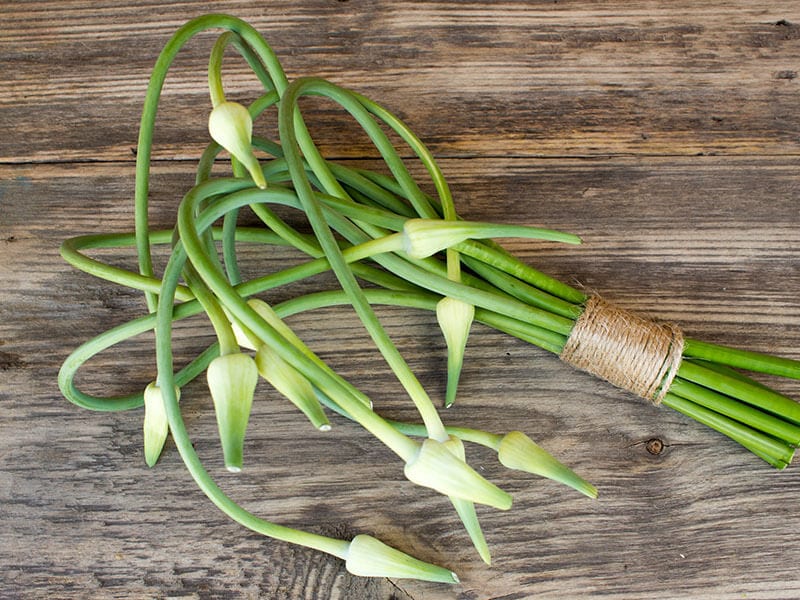 In case you can not identify the scapes of garlic, they are the green stalks that grow out of the bulbs. Garlic scapes and chives are similar in both appearance and taste.
Therefore, you can use garlic scapes to substitute chives in either cooking or decorating your dishes. Apart from that, garlic scapes are crunchy. They will bring a new breath to your dishes with their crunchy texture.
Garlic scapes can also be a delicious Korean banchan (side dish)! You can see this video to know more:
6. Shallots
Shallots, or Thai red onions, are not so similar but still decent enough to replace chives. Shallots look more like onions and taste sweeter and more peppery than chives.
People usually use shallots to replace chives while making sauce. But it is better if you add a smaller amount of shallots because of the peppery taste. Also, shallot works very well as the substitution of asafoetida – an Asia-originated spice that might be hard to find in the market.
They are not recommended to use fresh shallots as a garnish. However, if you are in need, you can use a small number of minced shallots for garnishing.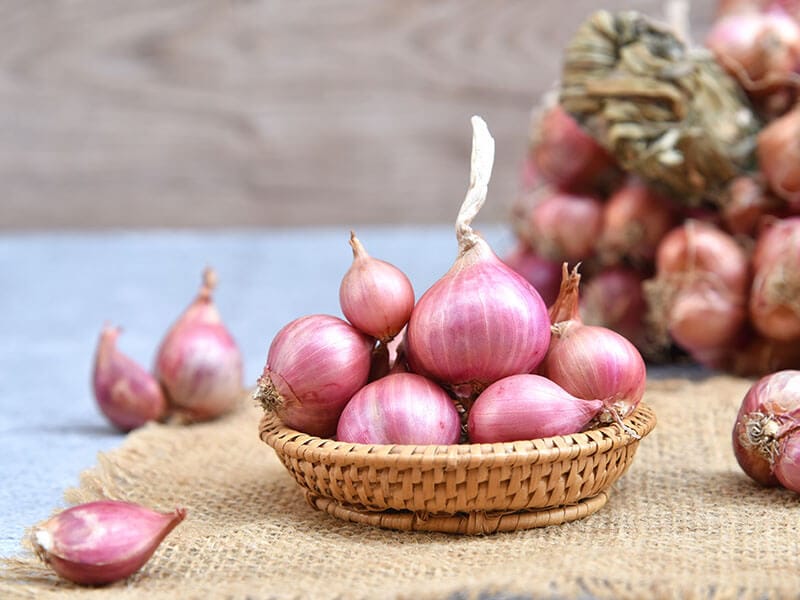 7. Onions
Perhaps you never think of onions as an alternative for chives. Surprisingly, they work well as a chives substitute as they belong to the same family as chives. But if you are confused about using onion or onion powder in this case, I think the fresh one is better.
However, instead of adding them at the end of the cooking process like chives, you better add them while you are cooking. This way will make them become soft and reduce the strong flavor of onions to have the best substituting result.
However, instead of adding them at the end of the cooking process like chives, you better add them while you are cooking. This way will make them become soft and reduce the strong flavor of onions to have the best substituting result.
Do not forget to reduce the number of onions while using them to substitute chives.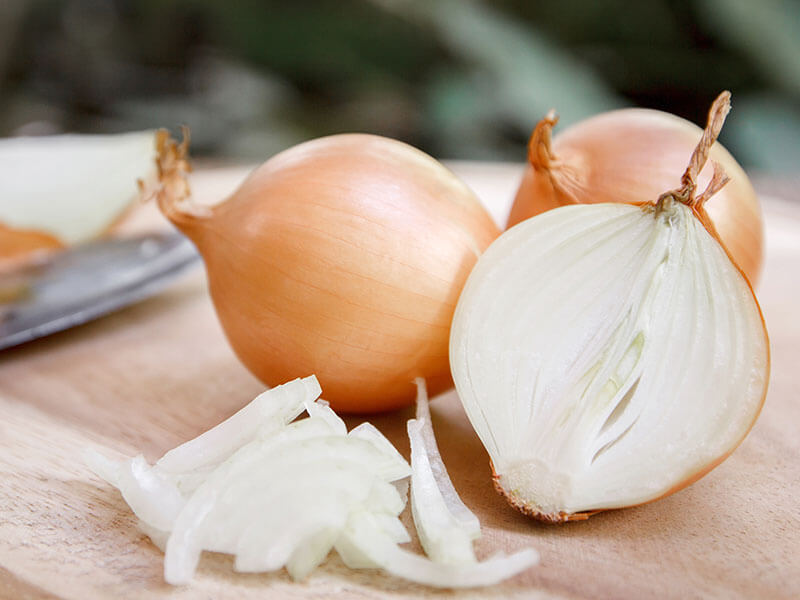 Some Noticeable Features Of Chives
Below is some further information about chives. Keep on reading to understand more about them.
How People Usually Use Chives?
Thanks to their mild and slightly oniony taste, they are often used fresh as condiments or garnish. People prefer adding chives to their soups, salads, or egg and potato-based dishes. Europeans love to eat bread cream cheese which has chopped chives on top.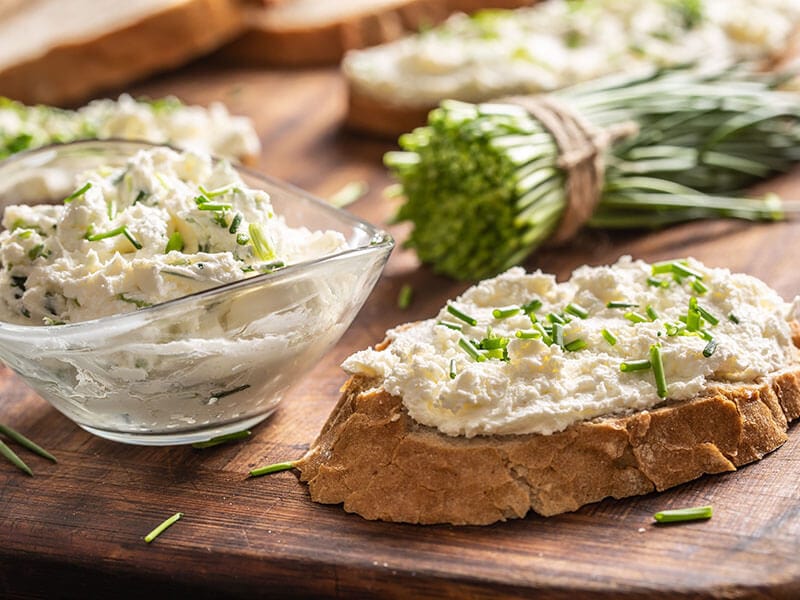 Chives also appear in many famous Chinese foods, including dumplings and mapo tofu. They also use chives to reduce the smell of animal's viscera and make the dish smell more aromatic. Koreans also make chive kimchi and serve it as a side dish.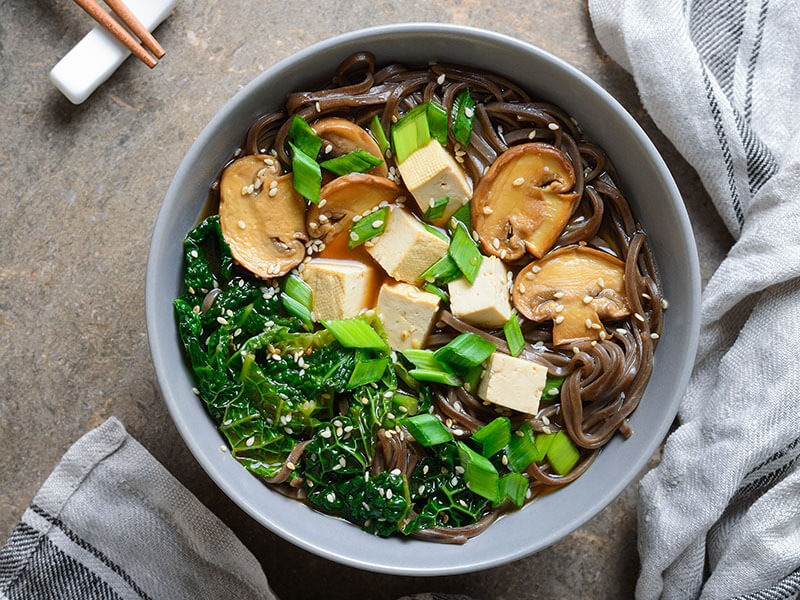 But you should add them at the end of the cooking process to avoid losing their flavor and freshness. You'd better avoid making dried chives as they will lose their flavor and attractive color.
How To Store Chives?
Because fresh chives will spoil in a wink, you have two common ways to store them properly.
The first storing method is refrigerating chives, and the second one is freezing. No matter what way you choose, do not forget to place them in an airtight bag or container.
Are Chives Good For Your Health?
Chives are considered a nutrient-dense herb, which contains low amounts of calories but offers incredible health benefits.
Chives belong to the Allium genus, which has anti-cancer effects. They help in preventing and fighting against cancer.
They are also beneficial for brain and nervous system functions.
The high amounts of vitamin K in chives help improve bone health, blood clotting, and brain health. (2)
There are other numerous essential benefits of chives! You can see this video to know more:
FAQs
After reading my suggestion of chives substitute, perhaps you will be curious about other problems surrounding chives and their alternatives. I hope you can find your answer by reading this.
Adding chives to your dishes makes them more colorful and eye-catching. Chives also bring to dishes a unique taste that other herbs can not. However, if you have run out of chives, the herbs and vegetables listed above will help replace chives.
Please share with me your feelings after using my recommended substitutes list in the comment section below. If my article provides you such helpful information, do not forget to like and share to support me! Thank you for reading.
References
En.wikipedia.org. 2021. Chives – Wikipedia. [online] Available at: <https://en.wikipedia.org/wiki/Chives>.
2021. [online] Available at: <https://fdc.nal.usda.gov/fdc-app.html#/food-details/1103349/nutrients>.
Nutrition Facts
1 servings per container
---
Amount Per ServingCalories1.4
% Daily Value *
Sodium 2.4mg

1

%
Potassium 41mg

2

%
Total Carbohydrate 1.1g

1

%

Dietary Fiber 0.4g

0

%
Sugars 0.4g

Protein 0.3g

0

%
---
Vitamin A

3

%
Vitamin C

4.7

%
Calcium

0.8

%
Iron

1.2

%
* The % Daily Value tells you how much a nutrient in a serving of food contributes to a daily diet. 2,000 calories a day is used for general nutrition advice.