Many of you at least once ask yourself how to store cut onions after preliminary treatment and avoid them from being rotten. In reality, it is not too complicated to do; however, many people may fail.
You spend so much time at the supermarket's counter to find high-quality ingredients that turn out to go down the drain only because you do not know how to keep fresh. But you are lucky after going through this article and your problem is going to be solved.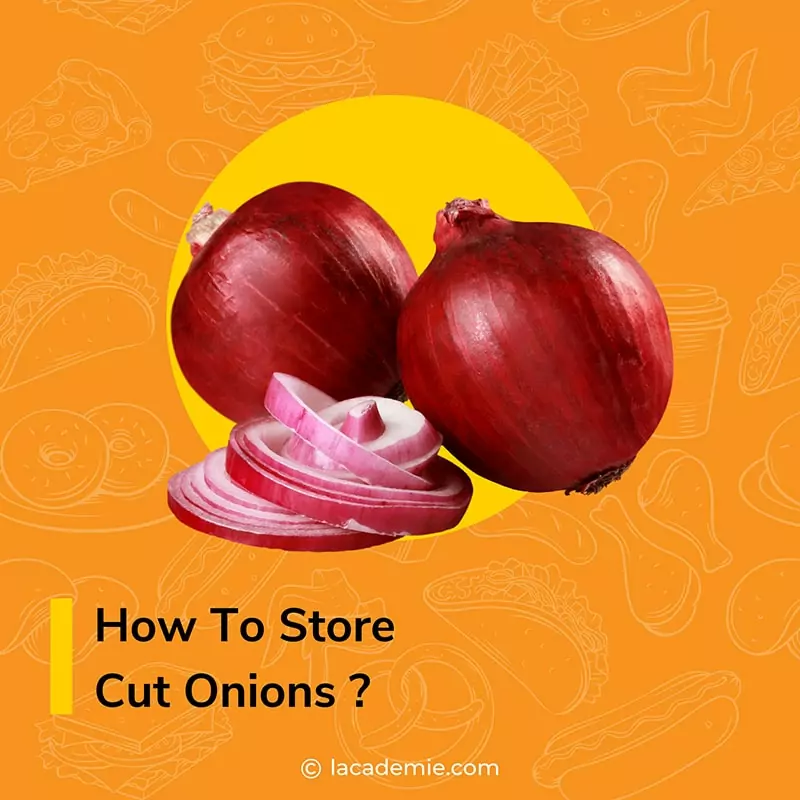 Basic Ways To Preserve Cut Onions
It cannot be denied that onions have many benefits; they advance the taste of your meals by their special smell and also come with many medical advantages. When using onions in your cooking process, you tend to find ways to preserve the leftover parts for later meals.
There are many kinds, sizes, and colors of onions in public merchants; even green onions have numerous varieties. Each of them has its unique cooking purposes.
And since onions are a culinary staple, people usually do not purchase them in small quantities. However, this type of vegetable goes bad quickly if you do not use it up.
Any kind of vegetables, specifical onions in this situation, needs to be fresh before being cooked. In addition to chili and lime, onions seem to be the most necessary ingredient in your kitchen. Here are some basic methods to prevent cut onions from spoiling.
Put Cut Onions Into Your Refrigerator
The fridge is an ideal storage for different food types, such as raw meats, preservative-free food, fresh vegetables, and so on. Since the temperature inside it is cool enough, the harmful bacteria are unable to grow, which helps you prevent your onions from being spoiled and wasted.
You would better not let cut onions be exposed directly to the cool air in the fridge. Doing that will release an uncomfortable smell and also affect the other food's taste and smell. Also, the low temperature can make cut onions dehydrated.
To take the above problem easy, I recommend you to put these cut onions into an airtight box; that will help stop these mentioned issues and lengthen the usage period.
Reminder: Your onions can stay fresh for a week when stored in the refrigerator with the temperature at 40oF (4oC) or below, so remember to label the expired date on the outside box. And you should remember to discard or replace them when they are out of date.(1)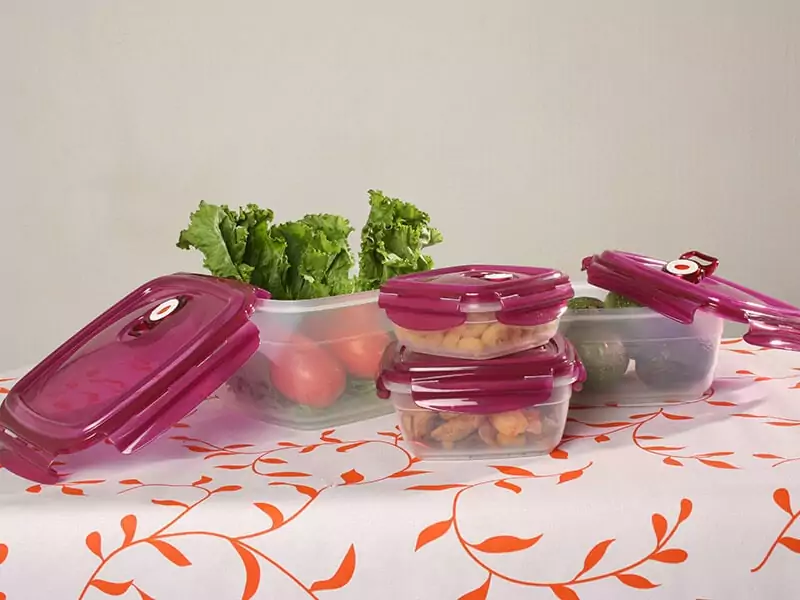 With a large piece of onion, cover it with a wrapping film because the film will isolate the piece of onions from the fridge's cool air, which protects it from being dehydrated.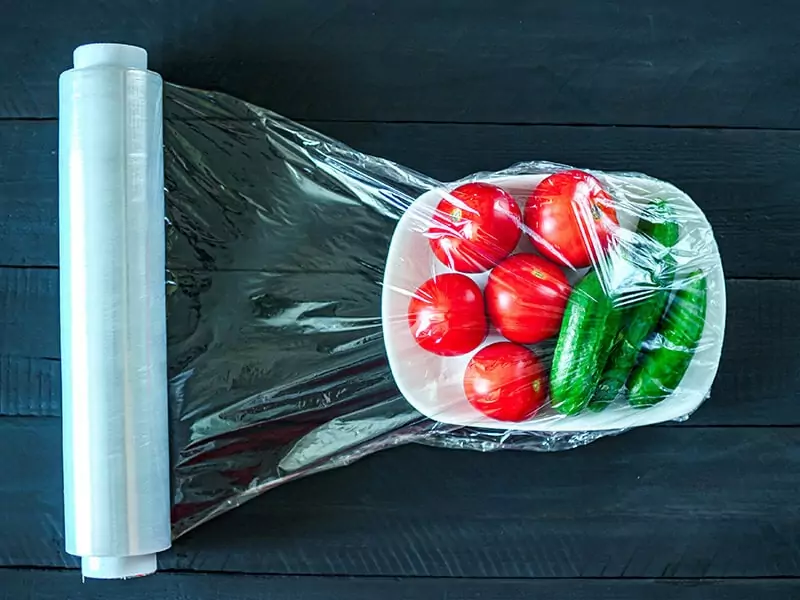 For the smaller pieces of onion, use an airtight bag with zipping to store it before refrigerating them.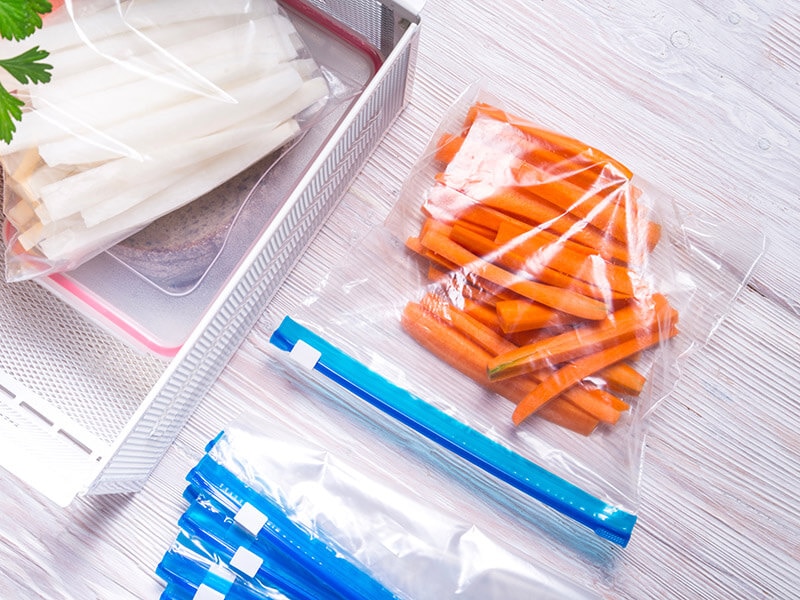 You must have a plan to use previously-stored onions. Harmful bacteria may have developed in your onions during the time of storage, so you need to cook them as a priority.
Store Your Cut Onions Without The Fridge
If you care about long-term storage and use of your onions, the fridge is not a good choice. I have some other options for you to store cut onions without the fridge:
Use A Cooler – An Alternative To A Fridge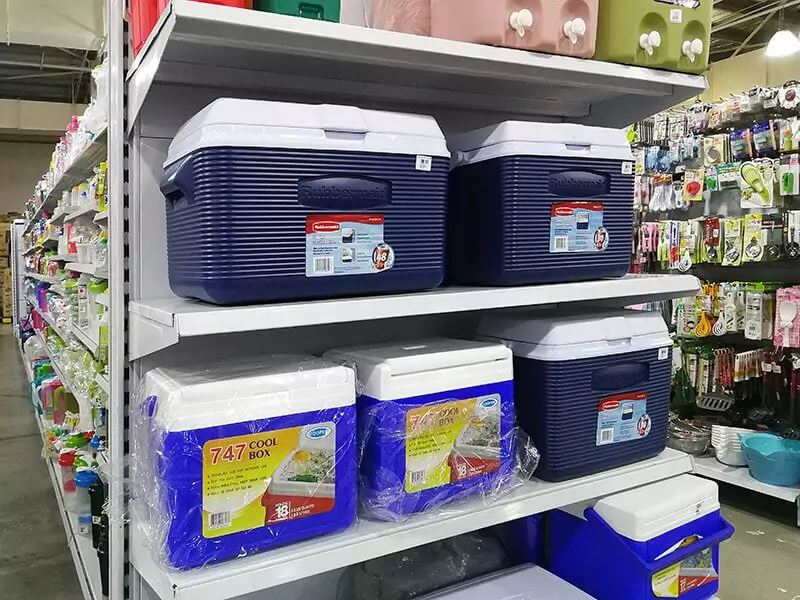 You may think, "how can this idea be possible? And how can life be good without this modern invention?"
Believe it or not, if one day your fridge needs to be retired and your budget does not allow you to get a new one, you must think of this idea.
A cooler is inexpensive and convenient to use; you can even take advantage of your high-quality beverage cooler. Additionally, it does not take up too much space in your kitchen. You can place any corner that you want it to be.
All you need to do is fill the cooler with dry or water ice. After that, just place cut onions covered with an airtight box in that cooler.
If you use dry ice to create a fridge-like space, the cooler can hold the ice for up to 18-24 hours. And for that with the water ice, it lasts up to 12-24 hours. And, your cut onions will last up to 10 days when stored in a cooler.
Use Pickling Process To Store Cut Onions
Pickling is a method of preserving and increasing the good status of foods by anaerobic fermentation or pickling in vinegar.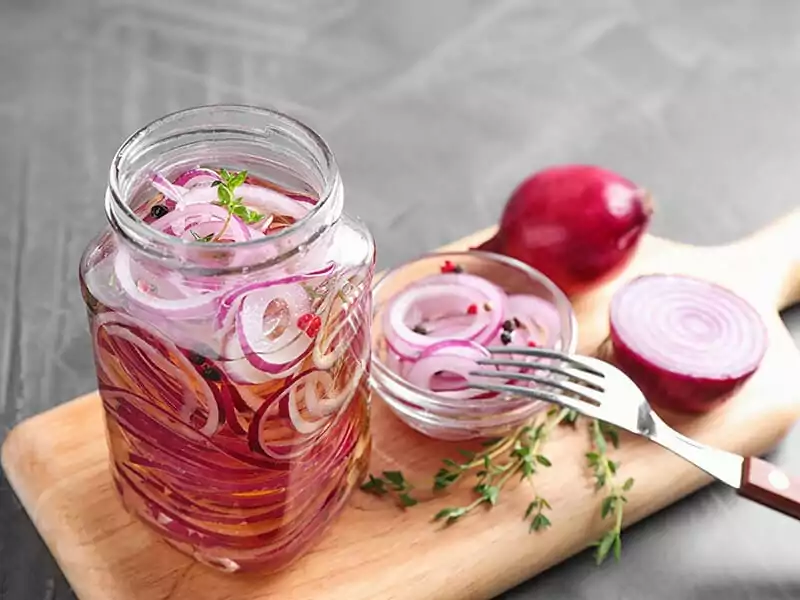 General steps to start pickling:
Step 1: Preparation
Prepare a jar, a bottle, or an airtight box – make sure that whatever kind of container is well-cleaned, sterilized, and completely wet-free. Along with main ingredients:
1 fresh onion
½ cup of water
¼ cup white vinegar
½ teaspoon honey
½ teaspoon salt
Step 2: Preliminary Process
Remove the outer skin and cut fresh onions in shapes and sizes you wish them to be. Then, put cut onions into the container you have prepared – ensure it still has space for adding liquid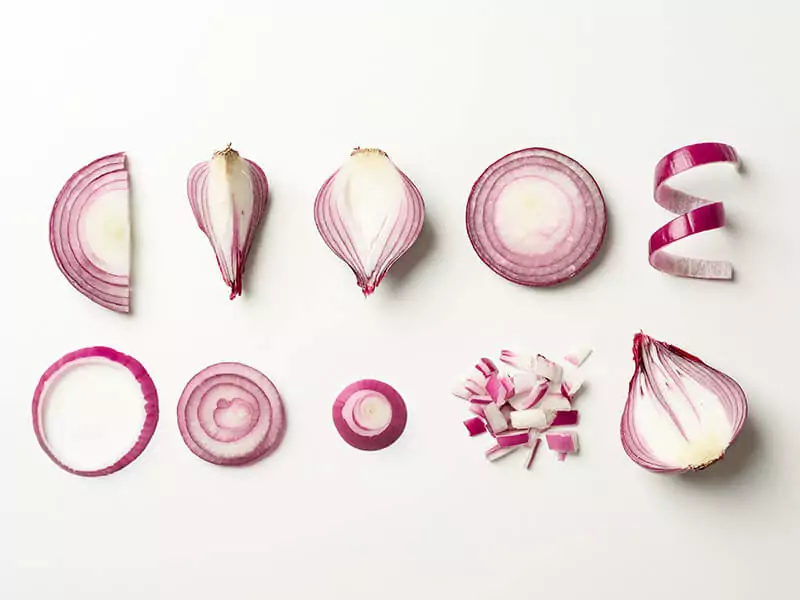 Step 3: Main Process
Combine the rest of the ingredients in a small saucepan. After that, boil the mixture over medium heat, then gently add the mixture into the jar over the cut onions, and remove air bubbles out of the jar.
Step 4: Preservation
Make sure the container is air-free and sealed. Your onions can last up to 2 years in the pantry.
This short tutorial instruction will guide you on how to pickle correctly.
The Benefits Of Eating Pickled Onions
In addition to keeping your cut onion's long life, this preservative method brings medical advantages to eaters you should take note of:
Has a source of antioxidants providing a defense barrier that fights for the safety of your physical health.
Contains vital minerals and vitamins such as vitamin A, Vitamin C, Calcium, and Iron.
Improves digestive function: eating pickled food helps restore probiotics that partly leave you out of digestive issues.
Helps control blood sugar levels: using adequate pickled food can control diabetes and strengthen the immune system.
Use Drying Method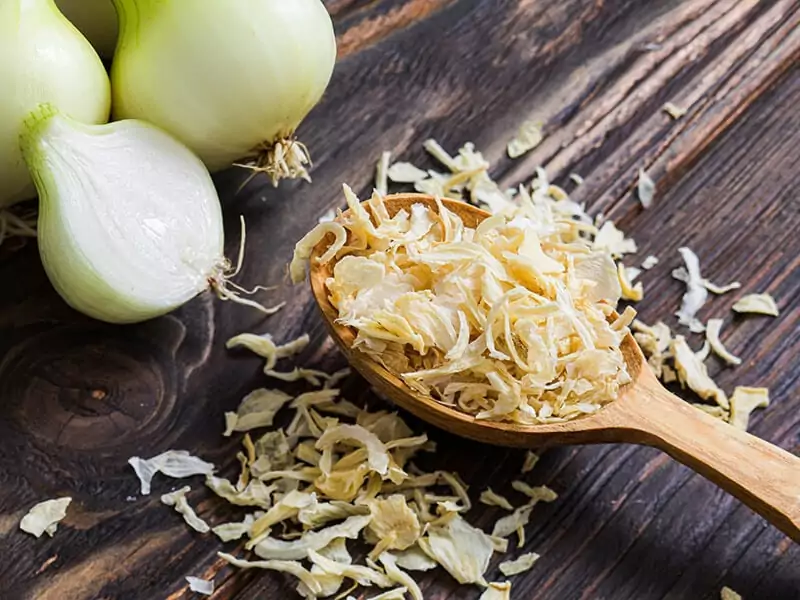 Drying is the easiest way to extend the food date up to months. And it won't require too much time or effort if you have a premium food dehydrator, or a good air fryer with a dehydrator feature. Also, dried onion is possibly an indispensable spice for your soups and stews.
The natural moisture in your onions is a good condition for mold, mildew, and harmful bacteria to grow; thus, the drying method helps you to dehydrate the onions and inhibit the development of these bad factors.
Step 1: Preparation
Find fresh onions and make sure a dehydrator is problem-free.
Step 2: Prelim Process
Remove the outer skin of your onions. Then, cut them into sizes and shapes you like – don't slice them too thinly because they can get burned easily. After that, spread your onions out on the dehydrator's trays.
Step 3: Drying
Set the dehydrator's temperature to about 60oC to dry for 3-9 hours. You must notify the size and moisture of your onion because the drying duration will be decided depending on these factors.
Step 4: Preservation
Put dried onions into an airtight glass jar, then place them in a cool place. They can stay in good condition for up to 3 years.
If you are still confused about how to dry your onions, this guide will give you a real-life experience.
The Benefits Of The Drying Cut Onions
Drying onion method brings several advantages:
Help maintain the vital nutrients and minerals of your onions in a dehydrated state.
Increase the shelf life of your onions.
Save money and time by saving the leftover part of your onions.
Improve the taste of your onions even if you eat them alone.
The Benefits Of Consuming Dried Onion
Dried onion gives us many medical values:
Provides vitamin C, which is good for the immune system.
Has antioxidant functions like vitamin A, C, E, which help to fight photoaging.
Helps reduce stress and improve your sleep.
Builds up bone density.
Benefits human health.
Freeze Your Cut Onions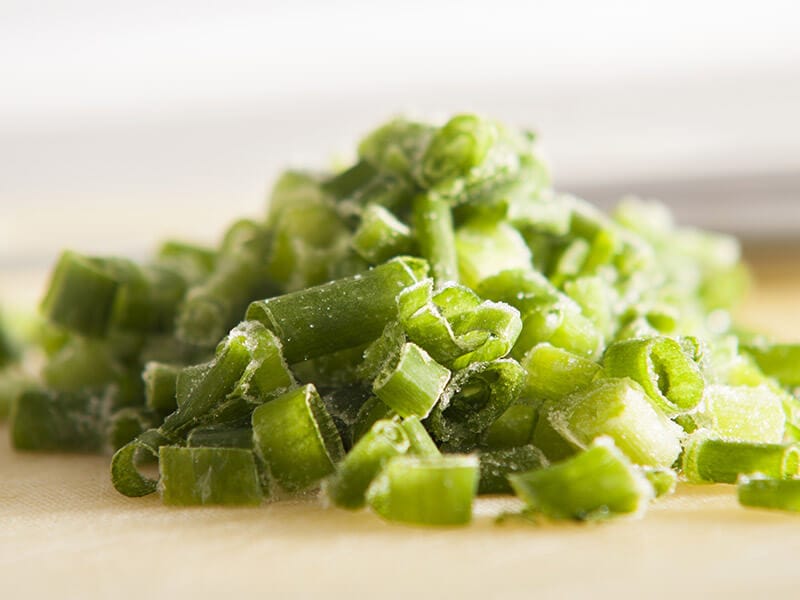 In reverse to the drying method, you may use the freezing method to store your cut onions to advance their storage period.
Step 1: Preparation
Collect fresh onions and check your freezer.
Step 2: Prelim Process
Removing the onion skins and cutting them into small pieces. The freezing method will effectively store a small enough piece of cut onions (about ¼ to ½ inch), which will help it easily defrost during cooking. (2)
Step 3: Freezing
Use an airtight zip bag to protect your cut onions before putting them into the freezer. And set the temperature at 0oC or lower. This process helps the excellent status of onions last up to 8 months. (2)
The tutor from The Rip Tomatoes Farms channel will show you how to freeze onions.
Recommended Dishes For Frozen Cut Onions
Frozen onions function best in prepared recipes because they lack the spring of fresh onions. They may be added to soups, stews, casseroles, and chili or sauteed with ground beef. When frozen, they keep the majority of their flavor for up to 8 months. (2)
Shelf-Life Of Cut Onions
You may be concerned about which one is the best for onions to stay in good quality for a long time. In this section, the following table will conclude the lifespan of cut onions in each storing method, so it will be easier for you to consider which method is effective for your cut onions.
| Storing methods | Refrigerating | Pickling | Drying | Freezing |
| --- | --- | --- | --- | --- |
| Shelf-life | Up to 7 days | Up to 2 years | Up to 3 years | Up to 8 months |
| Elaborateness | Easy | Moderate | Easy | Easy |
Further Awareness
In order to make your cut onions easy to preserve, here is some following information you should take note of.
Notes When Storing Raw Onions Before Chopped
It is important to take good care of your onions before they are cut to have them in fresh and original condition. In this section, I would like to share some notes when storing uncut onions:
Your onions would love to live in cool and dry corners in your kitchen. The cold and humid temperature in the refrigerator quickly makes the onions spoiled.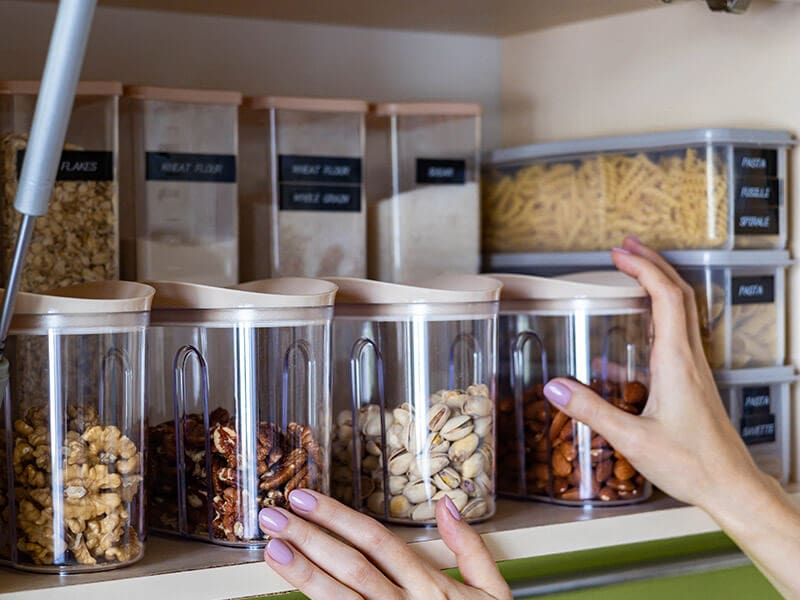 The light factor also matters in storing bulb plants like onions, because the light will allow them to sprout. The original taste will be affected when it sprouts. Therefore, you must not let the light come directly to the place you store onions.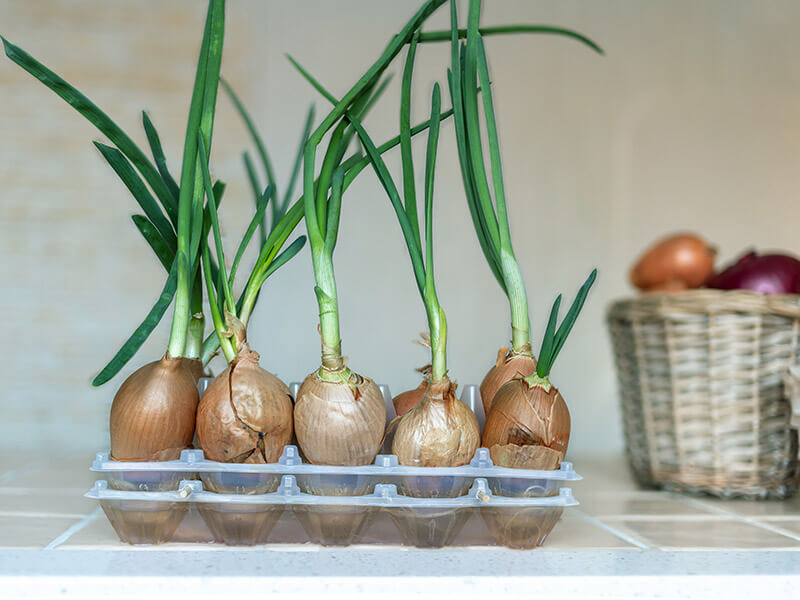 Your onions are still living plants, so you ensure there is enough air for them to breathe, and avoid using plastic bags to store them because when the air is not ventilated, mold and mildew will have a chance to grow.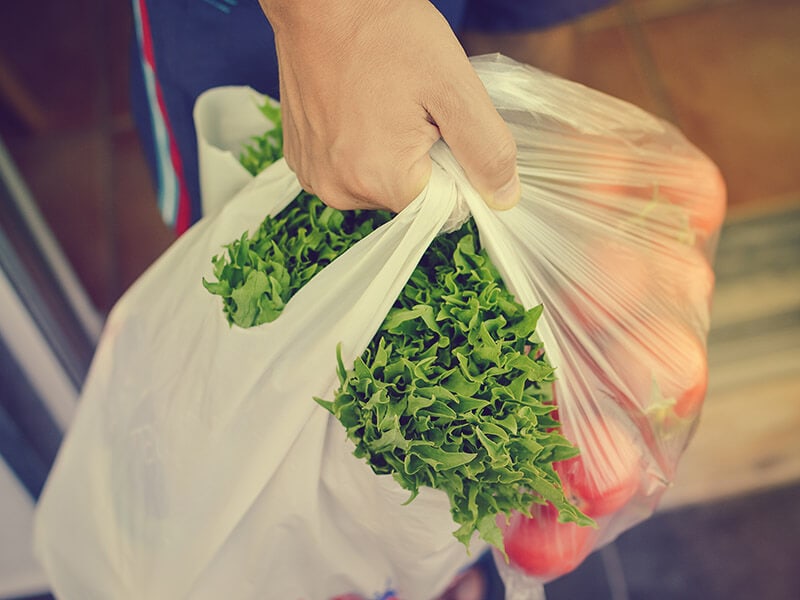 You can use some carriers, such as mesh bags and mesh bins. These things can let the airflow easily move, which helps control the increasing moisture level.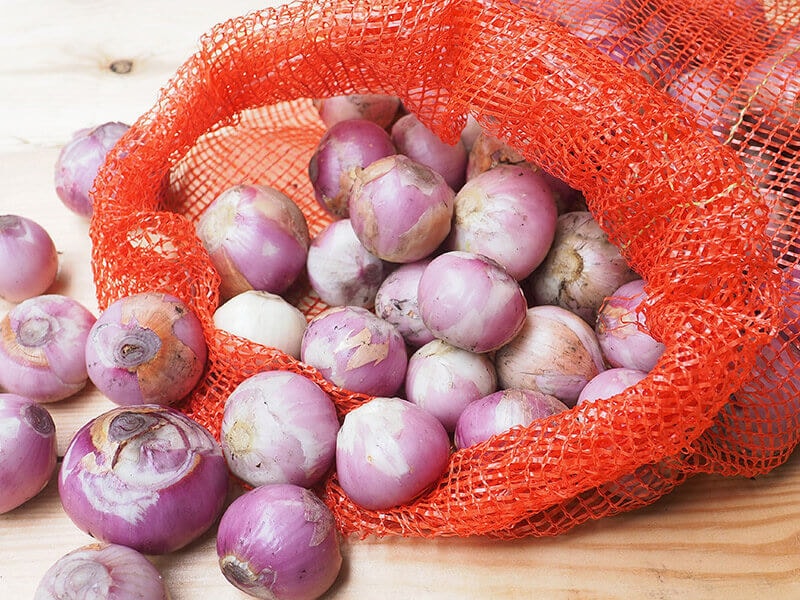 Signs To Know That An Onion Is Out Of Date And How To Deal With Each One
Onions can be spoiled. But if you need to find an onion replacement, onion powder is a good solution. However, there are some key differences between onion and onion powder, especially their textures.
In fact, it is hard to recognize signs that your onions are going bad. In this section, I will show you the reasons and how to resolve it.
Black Mold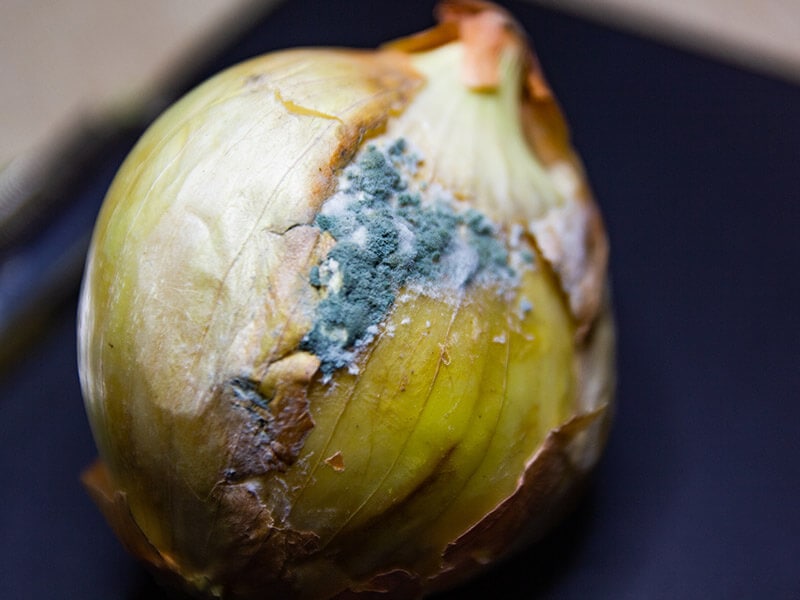 Black mold is a common disease in onions. It is caused by a soil fungus, Aspergillus niger. There will be so many black spots on the outer scale of onions that have gone bad.
How To Prevent And Cure:
To protect onions from black mold, reserve them in your refrigerator. Remember the tips I have mentioned above to make sure your onion is completely air-free covered in the fridge.
To cure a black mold onion, use cool tap water in your house to wash or discard the infected parts, and keep the rest.
Note: Aspergillus niger is not safe for those who have allergic symptoms, so replace all these onions if you do not want to get in any trouble.
Decay
When you find your onion's color is going to change, its outer or inner color is not the same as it's when fresh and releases a stinky smell; that onion is considered rotten. This issue is created by several factors like high temperature, moisture level, and bacteria.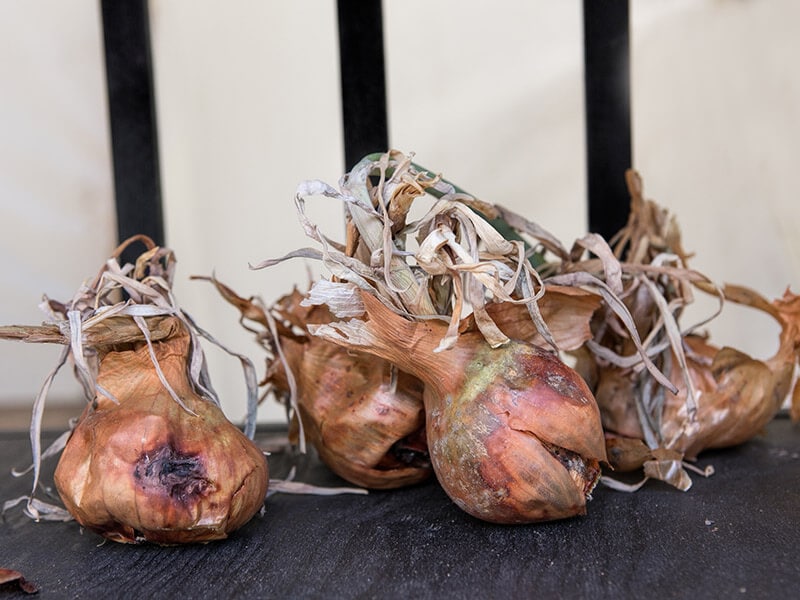 Sprouting
As I have mentioned earlier in this blog, when there is adequate light, your onions begin to sprout. This natural process is not going to turn your onion to be poisonous, but the onion will not be as crispy as it was before and change its taste.
How To Deal With:
You simply cut the sprout off and use the bulb as normal.
If the sprout is healthily grown, you may think of making for yourself a little onion area in your garden. Just plant and water it, you will not have to spend money to buy onions in the days to come.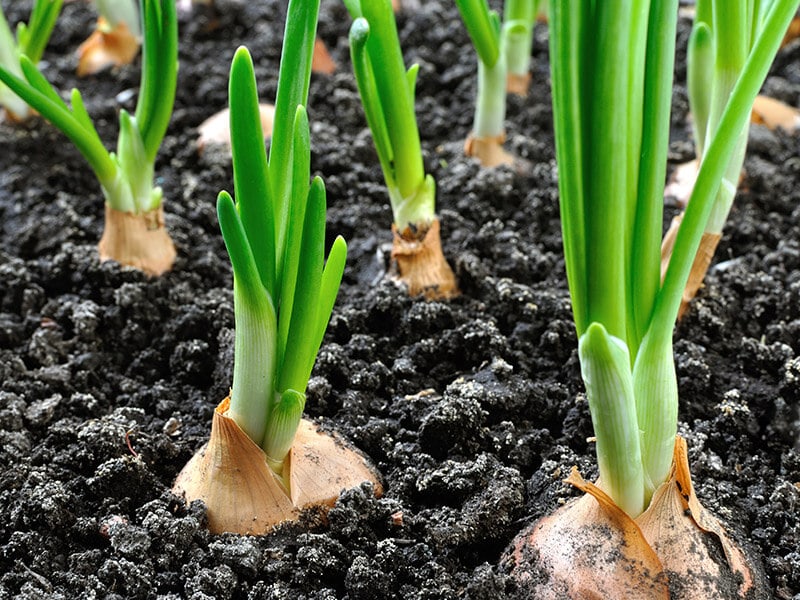 FAQs
This part will help you to answer some common questions about how to store cut onions in specific and fresh onions in general.
Treat Your Food Well, And They Will Bring You Good Value
Is it easy to preserve your onions, right? With my own experience presented above, I hope it will be a good helper whenever you need it. And even if you just come and read my words by chance, I wish you could mark it as your helpful reference.
And, did your worries about how to store cut onions melt away? Let me and other viewers know what you have done via the comment section. Huge thanks for your time.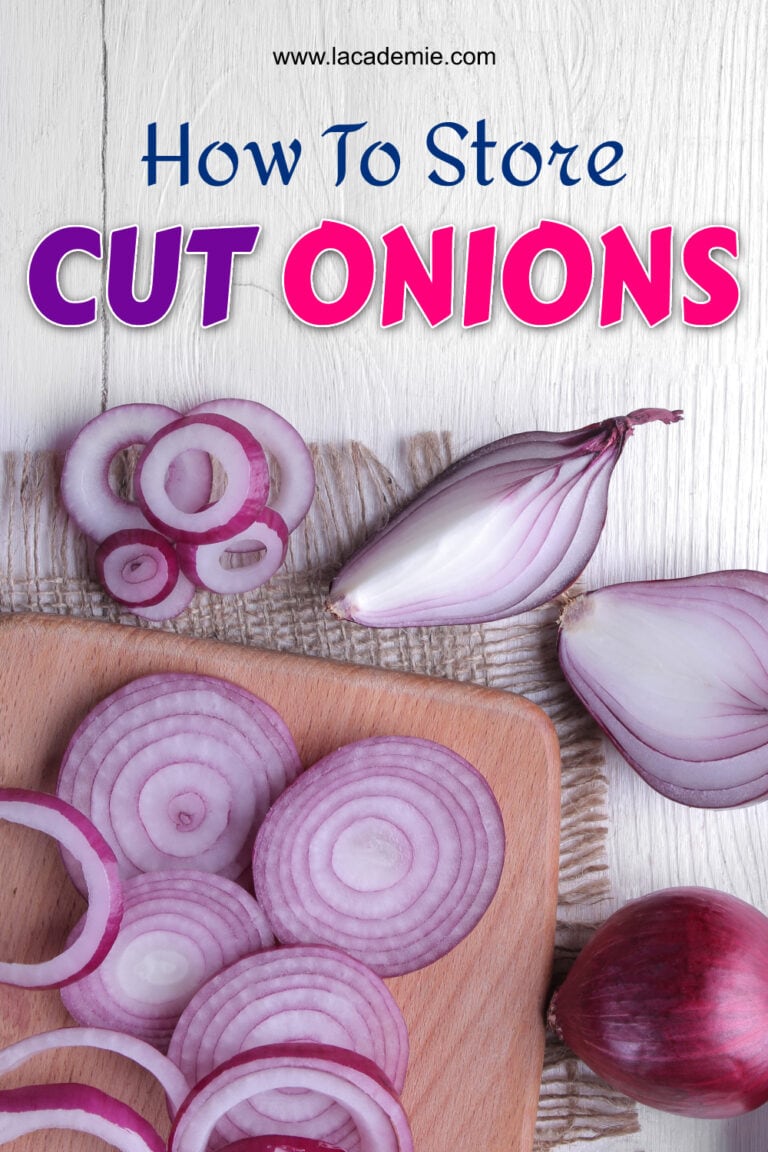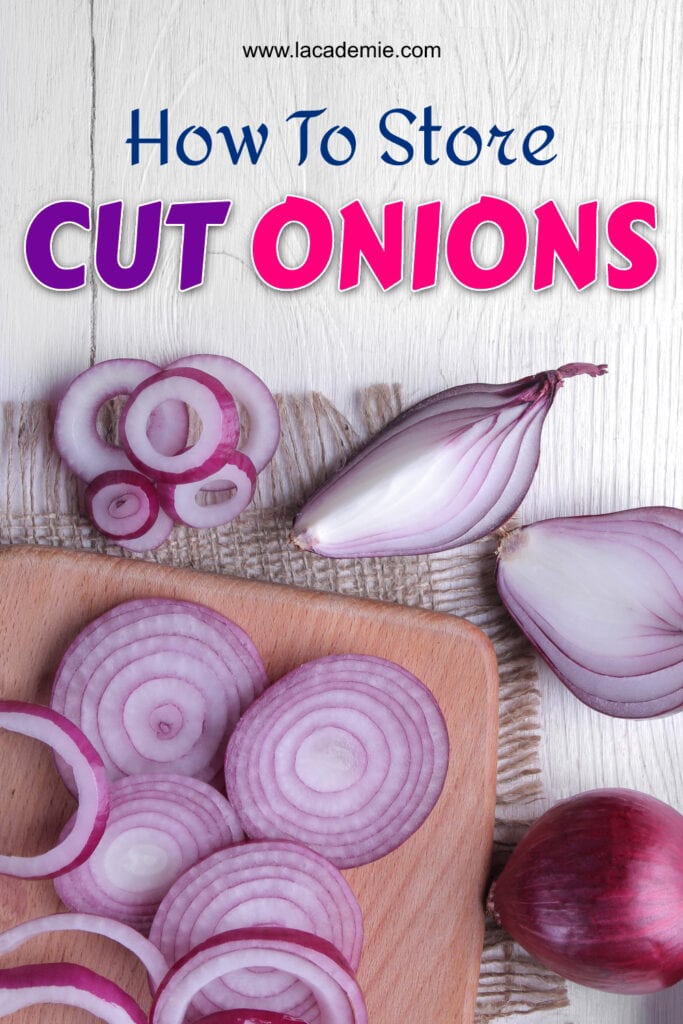 References
onions-usa.org. 2022. Leftover Onion And Cut Onion.
food.unl.edu. 2020. How to Freeze Onions.
COMMERCIAL ITEM DESCRIPTION ONIONS, BULB, READY-TO-USE.
dryingallfoods.com. 2022. 5 Methods of Dehydrating Onions at Home.