Many people often let their food sit in the freezer for storing purposes, but can you freeze fried chicken? The answer would be provided in what you're about to read. Furthermore, you can find all of the in-depth information on frozen fried chicken in this post. So let's discover!
Everyone is familiar with fried chicken, but can you store fried chicken in a freezer? Are there any benefits or drawbacks of frozen chickens? And what about recipes for these chickens? All of these wonders will be covered in this article. So keep following!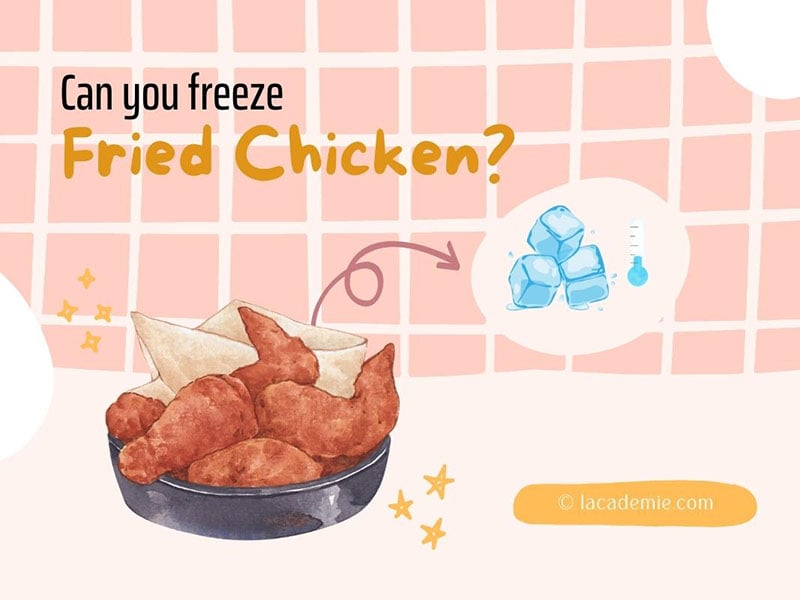 Can You Freeze Fried Chicken?
If you are a fan of fried chicken, you may wonder if it is possible to freeze your fried chicken and maintain its quality. The answer is yes. Depending on the size and shape, each part of the chicken may prefer slightly different ways of storing or packing.
Wings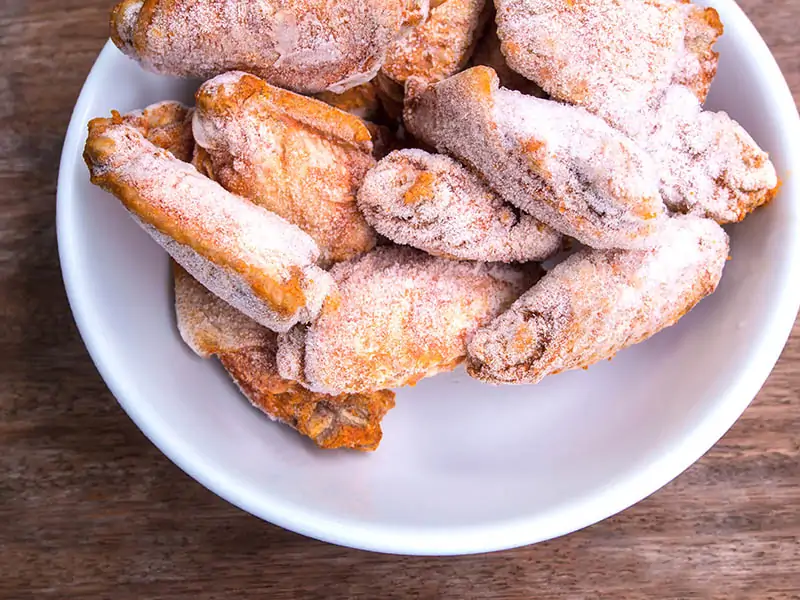 You just read about the differences between white and dark meat chicken and decided that chicken wings are your preferred cuts, but can you keep these wings in the freezer?
Of course, chicken wings can be kept frozen. It is easy to find several frozen chicken wing products in supermarkets.
Freezing your chicken wings will keep them safe for six months. If the chicken wings constantly remain frozen at 32ºF all the time, they can stay great for an even longer time.
Cutlets
Fried chicken cutlets can be frozen and kept fresh for 3 months. When freezing cutlets, most people would use some sheets of cling film to fold them. One reminder is to separate your raw meat away from cooked meat, stopping the spread of bacteria.
Liver
Yes, chicken livers can be successfully frozen. One cooked chicken liver will stay fresh for 3 to 4 months in the refrigerator when being preserved at or below 40ºF. When you defrost the cooked chicken liver, it is unlikely that the liver would stay as fresh as it is but still edible.
Breast
Do not mistake chicken tenderloin for chicken breast. There are some differences between them. But is there anything to note about fried chicken breast or fried chicken tenderloin?
Overall, as long as your fried chicken, regardless of which part, is frozen at or below 32ºF, it will be safe indefinitely. For ideal freshness and taste, I suggest frozen chicken breasts should not be kept in the freezer for longer than 9 months.
Temperature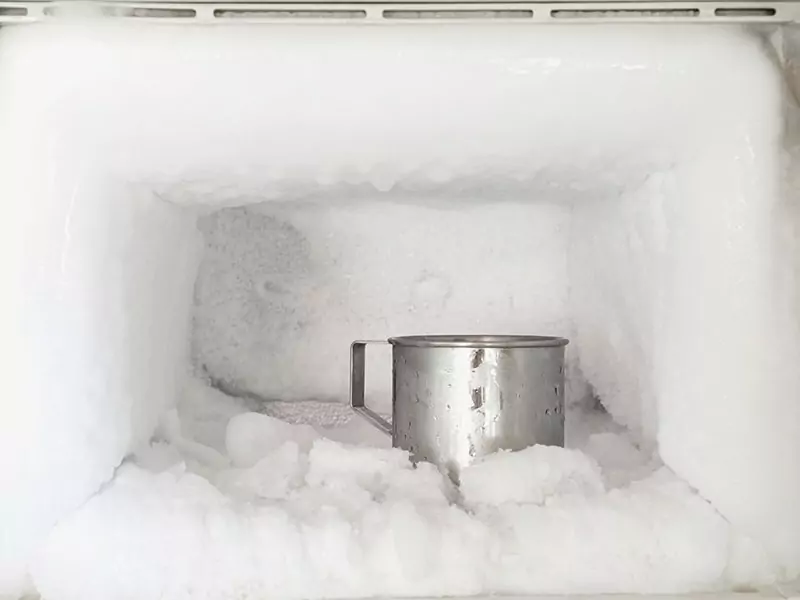 Generally, fried chicken stored in the freezer at 32ºF will last up to four months. But maintaining a stable temperature in the freezer is of importance as it will directly affect your food once the freezer does not do its job probably.
Storing cooked chicken at a temperature above 32ºF and changes in the temperatures can shorten the shelf life of your chicken. Hence, when you open or choose the freezer, make sure to shut the door after your food is out.
Bacteria can grow quickly if ready-to-eat meat, for example, cooked chicken, is not kept refrigerated. The most suitable temperature to stop the proliferation of bacteria is 32ºF or below.
Benefits And Drawbacks Of Storing Fried Chicken In The Freezer
Now, you know that you can freeze fried chicken, but can you consume cold chicken? Yes, you can. However, there is some more information that you may need to know: the pros and cons of using this storing method for fried chicken to ensure you eat them safely. So let's check it out!
Upsides
Leaving cooked chicken at room temperature overnight is typically not a good idea. Instead, you should either freeze or chill the meat. Many people would be surprised that there are a lot of advantages to freezing fried chicken. I'm sure you will want to freeze your fried chicken due to those benefits.
Not Wasting Food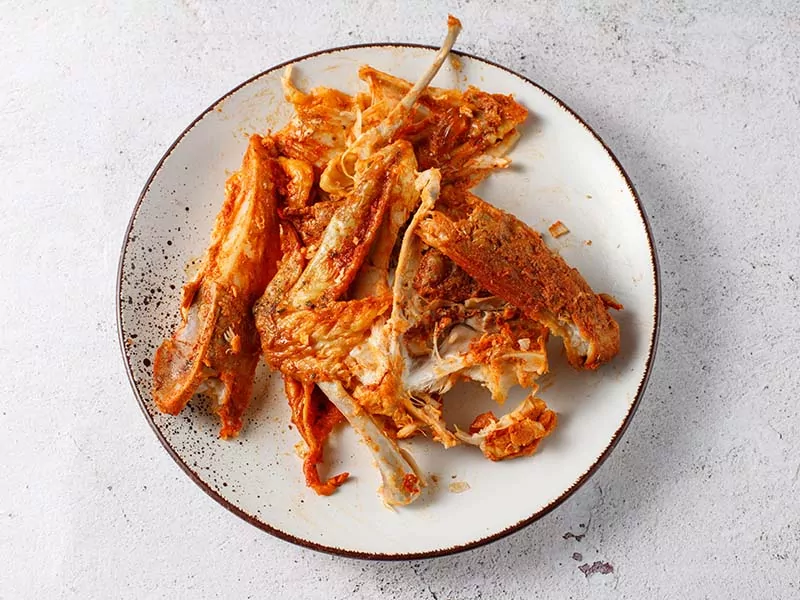 Frozen chicken is more sustainable since freezing helps prolong the shelf life of food so that everyone can eat chicken meat instead of purchasing more chickens. Consequently, it reduces food waste, too.
Did you know that food waste is a massive issue in the United States-American throw out more than 400 pounds of food per person annually (1)? If each person saves some pounds of chicken meat, that would help decrease quite a landfill and rots.
It's Convenient To Use Frozen Fried Chicken
Undoubtedly, using frozen fried chicken products will save a lot of time in the kitchen. When freezing fried chicken in the refrigerator, you can separate each piece, allowing them to thaw for a short amount of time.
Today is one of those busy days. You are in the kitchen preparing food after a working day, and your refrigerator contains only raw materials except for fried chicken in the freezer. What dish do you think you can cook quickly? Yes, I'm sure that you'll opt for frozen fried chicken.
Portion Control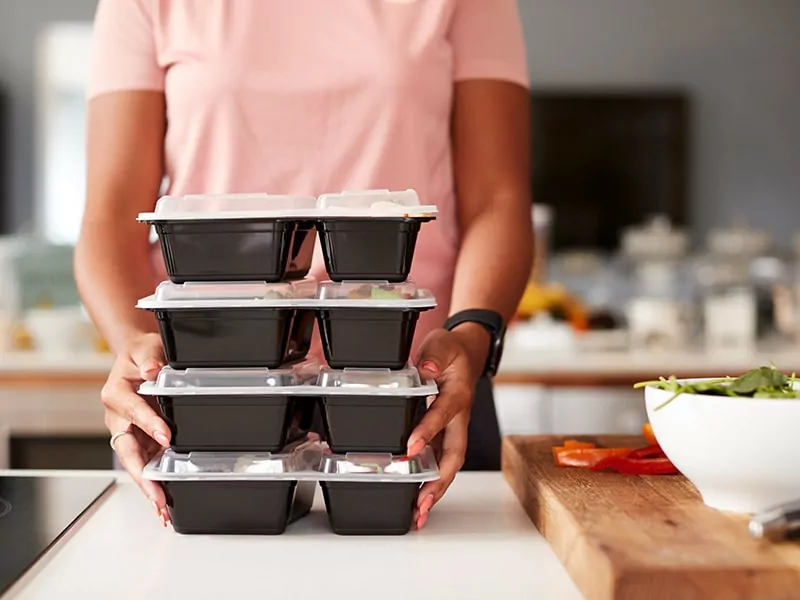 There are a few benefits to frozen fried chicken compared to other food preservation methods. With this storing method, your chicken will be frozen individually, ensuring that each piece will not stick to one another or the bad, allowing you to take as much as you want for each meal.
Downsides
Even though frozen chicken still gives you some vitamins and minerals, it still brings major health disadvantages. So carefully discover its drawbacks before you take any action!
Loss Of Nutrients
The freezing process and the duration time of frozen storage affects significantly chicken meat. During the process of freezing, frozen chicken loses nutrients. For example, lipid and protein oxidation occurs in the freezer, decreasing the amount of protein and lipid inside the meat.
Decrease In Freshness
A primary concern of freezing fried chicken is its freshness. The frozen fried chicken looks less attractive and tasty when compared to freshly fried chicken.
While fried chicken tastes crunchy and juicy, frozen fried chicken is less crispy and moist. And after freezing your chicken wings, you can not suppose they to be as fresh as you buy at the store.
Change In Taste And Color
While fried chicken has a light golden color with white pieces of fat, your frozen chicken can not maintain its flavor and color when frozen for a long time. Also, its bones can become darker.
So be careful! You should smell and look at the chicken. Some signs of lousy chicken are a sour smell and a slimy texture. You had better discard any chicken with an off smell or appearance, do not taste it first!
Higher Sodium Content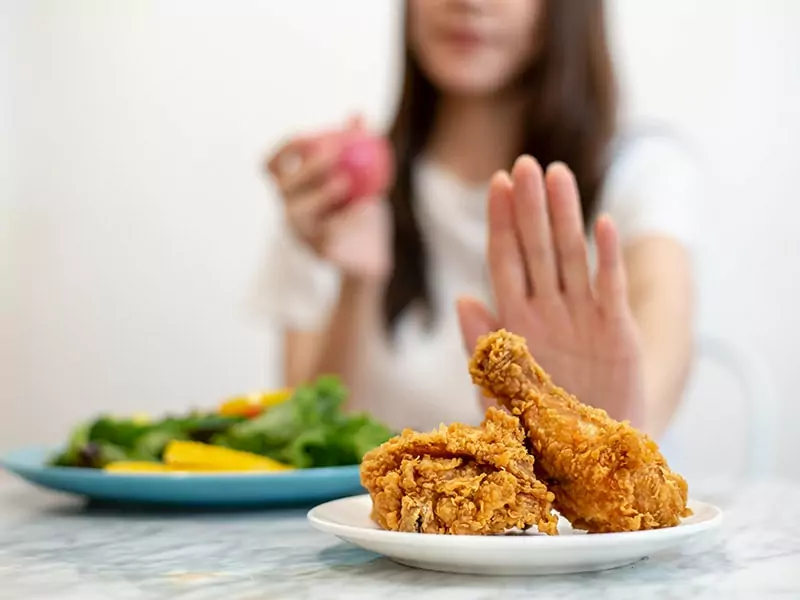 Frozen chicken often contains lots of sodium, or salt, enhancing its flavor. Each 3.5 ounce serving of frozen chicken patties contains 532 milligrams of sodium. Too much sodium might contribute to osteoporosis, increasing your cancer and heart disease risk.
Another primary concern of eating frozen fried chicken is that it contains a large amount of trans fat, leaving you prone to heart diseases.
How To Freeze Fried Chicken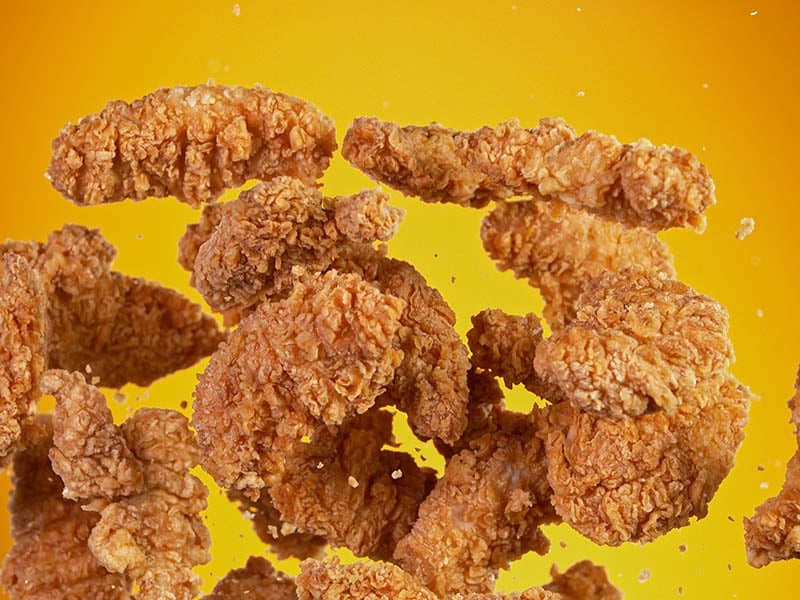 Freezing fried chicken is a well-known method. Freezing could prolong the shelf life of fried chicken. For more information, if you still question whether freezing rotisserie chicken is a good option, rest assured because it is similar to freezing fried chicken.
But do you know how to freeze your fried chicken correctly? The instructions below will show you how.
Step 1: Cool The Chicken
Firstly, you should place fried chicken into an airtight bag and then put it into the refrigerator. This way would allow your fried chicken to cool before you freeze it, reducing the risk of bacteria multiplying in the refrigerator.
For this step, you will be able to leave it in the refrigerator for up to two days.
Step 2: Wrap It Up
To prepare for freezing, you can wrap your fried chicken in a layer of plastic wrap and a layer of foil. After wrapping it carefully, you can now store the chicken bag in a freezer container.
You should put multiple layers of wrapping paper. This would help maintain quality and prevent freezer burn. Then, it would be best if you wrapped the chicken tightly, pressing out as much air as possible.
Wrapping your chicken keeps its quality for more extended freezer storage. When freezing fried chicken, your goal is always to prevent your fried chicken from making contact with air as much as possible.
Step 3: Label The Chicken Bag
After wrapping, you should put cooked chicken in an airtight container or wrap the food carefully in freezer bags, wraps, or cling film before freezing. Label it so that you know its freezing date as well as expiring days quickly.
Step 4: Locate The Bag In A Freezer
Finally, you can place the chicken bag at 10 ºF to 32 ºF. Remember to check whether your freezer is constantly cooling; if not, you should double-check several times to ensure your freezer works appropriately.
Discover this step-by-step guide on how to freeze fried chicken.
How To Defrost Frozen Fried Chicken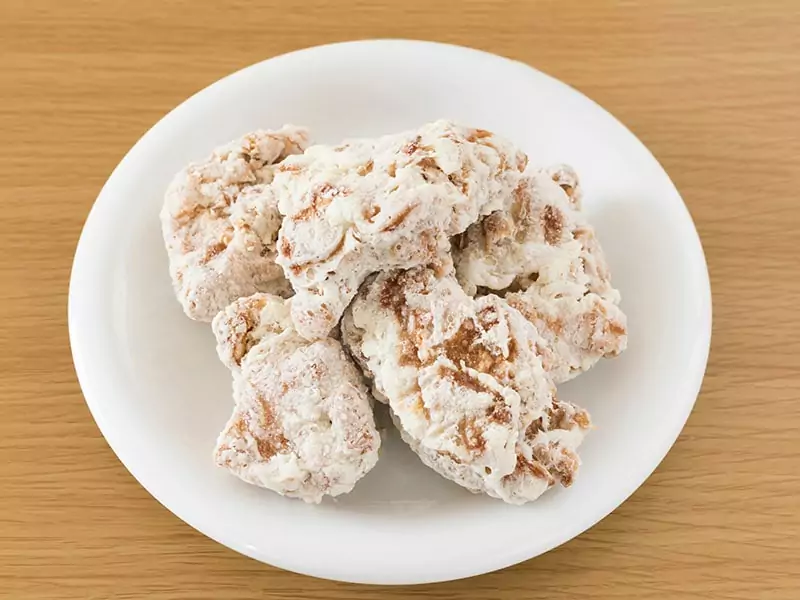 Before preparing for your meal, you need to thaw the layer of ice sticking to the fried chicken. Defrosting your fried chicken can be done in several ways. However, if you do not have enough time to thaw your fried chicken, please pick one method that best suits you.
Oven
Place on the cookie sheet, and turn the oven to about 375 ºF-425 ºF. If you want your chicken to be much crisper, I recommend you do more preheating. This way would take around 25-30 minutes to thaw the chicken.
For small parts of chicken like drummettes, heads, etc., you can use aluminum foil to wrap them partly. Your fried chicken should turn out a golden brown color in this method. However, the more you preheat your fried chicken, the drier it will get. So do not overdo this process!
Cool Water
For this method, it would take one to two hours. It would be best if you were not in haste. Firstly, prepare a large bowl of cold water. Your fried chicken should be packed in a plastic bag. Place the chicken bag into the cold water. Remember to change to water every 30 minutes.
Refrigerator
In case you are not in a hurry, you can leave the chicken bag in the refrigerator compartment. Place the chicken bag in a large bowl to prevent the ice from melting all over the refrigerator.
Though this process takes 24 hours, it causes no temperature shock to your fried chicken, keeping its taste longer.
How To Reheat Fried Chicken
If you think that reheating frozen chicken should be a tough challenge, keep following the methods below. Because I will show the three applicable ways to warm up your chicken without compromising on its quality.
Air Fryer
Using an air fryer is a terrific way to preheat your last-night or frozen food. And it is perhaps one of the quickest ways to heat up the fried chicken. In addition, It is a simple process that anyone can do.
Step 1: Prepare For Defrosting
Firstly, place your defrosted fried chicken in the basket. Then, you spray your chicken with some olive oil. The oil will prevent the chicken from sticking to the pan and provide the chicken a lovely brown color and fantastic flavor.
Step 2: Reheat The Chicken In The Air Fryer
Next, you will place the basket in and reheat the air fryer to 320ºF for 8 minutes. After that, check it out! You must receive super crispy fried chicken now! Good for you.
Oven
One of the best methods for reheating fried chicken is to use the oven at 400 ºF. And as soon as you press the button to preheat, remember to take the chicken out of the refrigerator.
Step 1: Place Your Chicken At Room Temperature
Firstly, let your chicken out. Give chicken 30 minutes to 1 hour at room temp for the ice to melt away. Allowing the chicken to come to room temperature before reheating also helps it dry out as much moisture as possible, letting the chicken heated evenly.
Step 2: Reheat The Chicken In The Oven
Next, you should arrange your chicken on the rack, preventing chicken wings from the bottom so as not to get soggy. Reheating in the oven would take around 15-20 minutes. When the chicken feels hot and crispy, you'll know they are done.
Frying Pan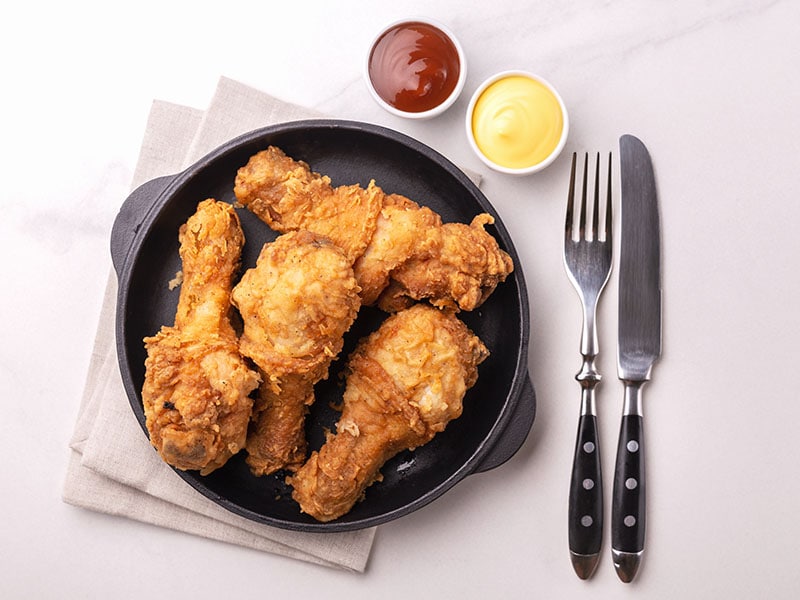 You can definitely reheat your frozen fried chicken on a frying pan. This is by far the fastest way to reheat your frozen fried chicken. With this method, you should be careful not to overdo your fried chicken.
Step 1: Place The Chicken On The Pan
Before placing the chicken on the pan, you should cut the defrosted chicken into pieces in order to fry each chicken part equally. Then, add a bit of oil or butter to the pan. For more moisture, you could cover up the pan while the meat reheats.
Step 2: Reheat The Pan
This method usually takes around five minutes. You should flip the chicken several times to ensure you are not burning it. You take it out when the chicken becomes crispy and hot. Of course, your chicken is ready for the cooking steps.
Want to know the pros and cons of each reheating method? Find out here.
4 Incredible Dishes With Fried Chicken That You Must Try
You may think to yourself, what can I do with these fried chickens? Is it possible to make something tasty out of them? Do I have other choices for cooking these chickens?
Please hold on! Everything you need is right in front of you, the complete guide to the best-fried chicken recipes ever. In the section below, I will instruct you step by step on those 5-star dishes. So keep following!
Crispy chicken ranch wraps are a well-known dish in many fast-food restaurants. The main ingredient of this dish is fried chicken. If you are worried that fried chicken is not delicious to eat, this recipe will make your fried chicken more flavorful and healthier.
Chicken and waffles is an American dish combining chicken with waffles. After defrosting and reheating, your fried chicken becomes drier and less juicy. However, they would be "hydrated" with the sauce and maple syrup, allowing the dish to be juicier.
The salad's creation is generally attributed to restaurateur Caesar Cardihi (2), crowned as the best dish in American history. This recipe allows you to make one of the world's most famous dishes out of your frozen chicken.
Before making the dish, you should crisp up your fried chicken and re-marinate it. Doing this will upgrade your fried chicken dish to the next level.
The answer to why so many people are into Southern fried chicken burgers comes clear: supply and demand. Since your fried chicken would become the center of this recipe, you should take an eye on the defrosting and reheating process of your fried chicken to avoid overdoing it.
If you want to know the restaurant's secret for making 5-star burgers, I recommend following the first-rate recipe below. It satisfies your craving!
Discover the Southern fried chicken burgers recipe here.
FAQs
I know that you have more questions about the topic "Can you freeze fried chicken?". Therefore, I will provide you with some crucial information below to satisfy your curiosity. I hope you will get the answers you are looking for.
Take It Easy With Fried Chicken
Indeed, you can freeze your fried chicken. Once you defrost and reheat your fried chicken carefully, you can avoid ruining its flavor and color. It also means you can retain as much original taste as you can.
And when pairing your chicken with one of the recipes above, you could save yourself a lot of time and remove some disadvantages regarding the health benefits mentioned in the article. Do not forget to share your 5-rate fried chicken with your friends and family!
If you think the provided information is useful, please spread the information to your beloved people so that they know how to freeze fried chicken and remake it with one of the recipes I mentioned.
References
nj.gov. 2019. Food Waste – Frequently Asked Questions
en.wikipedia.org 2022. Caesar Salad
sciencedaily.com. 2019. Fried Food Linked To Heightened Risk Of Early Death Among Older US Women