Chicken is a healthy source of protein, which you regularly need to maintain good health and energy. Steamed or boiled chicken dumplings can be an excellent alternative to those fried chicken recipes. Including a lot of vegetable fillings in healthy chicken and dumpling recipes makes it more nutritious and healthy.
Now, it's time for a new addition to your recipe reservoir. If dishes that star ground chicken no longer entice you, or if recipes featuring canned chicken are too easy, maybe you'll find this recipe fun and exciting.
Let's start from scratch and discover the secret behind a thick and luscious chicken and dumpling recipe-
What Are Chicken And Dumplings?
You are here because you love soup, aren't you? Perhaps, you want to expand your horizon beyond authentic recipes for Italian soups, potato soups, or simple but delicious soups made in crockpots. In any case, you're here for the best soup with chicken and dumplings.
Chicken and dumplings is an instant recipe that tastes delicious. Long story short, chicken is cooked in water. You may face a little bit of difficulty while dealing with dumplings.
You have to be very cautious while mixing flour, shortening, water, buttermilk and chicken stock in the right proportion. Now either you can drop the dumplings into the soup or you can turn them into a ball. You have full liberty to try any one of them. (1)(3)
Types Of Chicken And Dumpling Recipes?
Although dumplings are a staple Chinese dish, chicken and dumplings are thought to have originated from the Southern United States. It was an inexpensive way to make the dish into a complete meal using kitchen staples to fill the stomach.
In fact, you can prepare this tasty dish from leftover chicken. There will be no noticeable change in flavor or texture, and you get to use up all the unfinished meat in your fridge. I see this as an absolute win.
Three types of dumplings can be used in the chicken and dumplings recipe. They are drop dumplings, biscuit dumplings, and noodle/rolled dumplings. Among these, drop-dumpling is the preferred method.
Here are some easy and quick chicken and dumplings methods. Well, you can keep your hands on any one of them. Without further ado, let's check them out:
Drop Dumplings: Being the most popular one, this recipe is not only easy but also light and fluffy. All you need is a bowl to mix things. Once everything is mixed together, the dough is scooped out. Then the dough is poured into the simmering soup. Now cook until everything gets settled.
Rolled Dumplings: Although this recipe revolves around a traditional way of cooking but trust your gut, this is going to taste awesome. They are generally soft and dense dumplings. What are you waiting for? Try it soon.
Check out this video to know:
Biscuit Dumplings: Well, here the main ingredient is canned biscuit. Once they are cut into pieces, then they are dropped into the soup. Adjust the taste and cook until it's necessary.(2)
How To Enhance The Taste of Dumplings?
If any guest is coming to your house and you are quite tensed to figure out how to improve the taste of your dumplings then this section is surely going to help you.
Dumplings are quite popular, aren't they? It's time to dig out the reasons behind their taste and popularity. Before proceeding further, let's take a quick tour to discover the ways to improve the quality and taste of dumplings.
Mostly, dumplings are preferred over any other food because of their easy recipe, flavor and last but not least, texture.
Flavor: You can add seasonings like sugar, salt, pepper, parsley, dried chives while making the dough to enhance the test. Always make sure to use them in the right amount.
Easy to make: This recipe neither consumes much time nor costs too many bucks.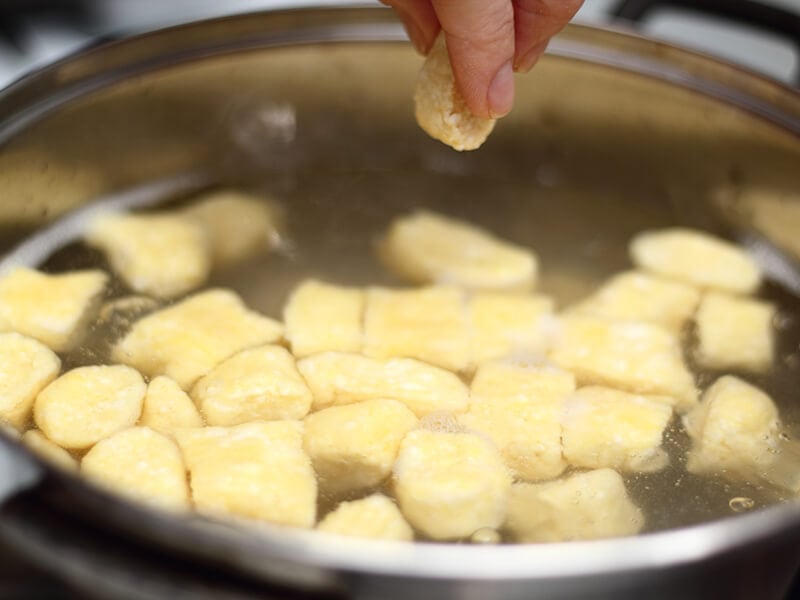 Tricks And Tips For A Perfect Dumplings Soup
Interestingly, to make chicken and dumplings, the whole chicken needs to be cooked by boiling it with some herbs and vegetables like carrot, onion, cabbage, and celery. In this article, the drop dumpling method has been discussed thoroughly. It is the key step to prepare a delicious bowl of chicken and dumplings.
Step 1: Preparing Broth
Boil the whole chicken for approximately 45 minutes. After the chicken gets cooked, you are ready with a tender chicken and steaming broth with an enthralling aroma. It is always recommended to prepare fresh chicken broth as it tastes much better than the pre-made broth.
However, you'll need to keep in mind the maximum time cooked chicken can sit out. While it's true that leaving the cooked meat at room temperature for a few hours usually won't hurt anybody, I believe it's always better safe than sorry.
What about the chicken broth? Will chicken broth get spoiled quickly?As you're using it to cook right away, this really isn't a concern. So rest assured, my friend!
Dumplings depend on the broth quality and the chicken. If you are making broth-based soup, its consistency depends on individual preference. Although preparing a thicker soup is tricky.
Step 2: Soup Consistencies
If you are interested in making your soup thicker, it can be done in two ways.
Add more flour by making flour paste which involves cooking the flour in butter. Generally, this will make your soup thicker.
After pouring the chicken broth into the above paste, if you still feel the consistency is not as thick as you wanted, you can fix it using cornstarch and water slurry. Mix equal portions of cornstarch and cold water, followed by adding this mixture to boiling soup gradually till you get the desired consistency.
Step 3: Making Fluffy Dumplings
While making the batter, when you mix the dry and wet ingredients, do not over mix the batter as it will develop the gluten in the flour, making the dumplings denser. Here are some easy tips which will help you make your dumplings well cooked and fluffy
Do not over mix the dough, and the consistency of your dough should be wet and not drippy.
Make small teaspoon-sized dumplings as they expand when cooked. Usually, this allows the kids to enjoy this dish as such sizes easily fit into their small mouths.
Put the dumplings in the rolling boil soup.
Keep the pot covered after transferring all the dumplings to the soup and remove the lid only after the cooking is over. It usually takes 15-20 minutes to get completely cooked.
After the dumplings are fully cooked, they will float to the top and seem to blend. But nothing to worry about, as they will separate in the end.
Chicken And Dumplings Recipe
Chicken and dumpling soup gives warmth on cold winter days, especially when paired with a scrumptious chicken and dumpling side dish. It tastes delicious with the addition of heavy cream along with a beautiful aroma.
Nutrition Facts
1 servings per container
---
Amount Per ServingCalories498
% Daily Value *
Total Fat 22g

34

%

Saturated Fat 11g

56

%
Trans Fat 1g

Cholesterol 109mg

37

%
Sodium 481mg

21

%
Potassium 938mg

27

%
Total Carbohydrate 46g

16

%

Dietary Fiber 5g

20

%
Sugars 7g

Protein 29g

58

%
---
Vitamin A

180

%
Vitamin C

13

%
Calcium

17

%
Iron

17

%
* The % Daily Value tells you how much a nutrient in a serving of food contributes to a daily diet. 2,000 calories a day is used for general nutrition advice.
How To Store The Left-Over Chicken And Dumpling Soup?
There is a possibility that the dumpling soup is made in bulk to enjoy it for a long time. In such cases, you need to make arrangements to freeze it. For doing so, you need a medium-sized freezer bag and an air-tight container.
Bring the temperature of the soup to room temperature by transferring it to a separate bowl.
Carefully remove the dumplings from the soup and pour them into the freezer bag, which should be free from air.
Now separate the chicken parts into a separate freezer bag and remove as much air as possible from the bag to prolong the freshness.
Pour the soup into the airtight container and seal it tightly. Store it properly in the freezer to avoid any spillage as it is cumbersome to clean up.
Now, if you wish to have chicken and dumplings again for your family dinner, remove everything from the freezer. Transfer the soup to a large pot and bring it to a boil. Thaw the freezer bags of chicken and dumplings by putting them in warm water.
After a few minutes, when the dumplings and chicken are separated, slide it into the boiling soup and simmer for ten minutes. The above process can be carried out in a microwave oven for reheating the chicken, dumplings, and soup.
When done properly, freezing can retain the taste and flavor, making it seems that they were cooked freshly a few hours ago. (4)
FAQs
Still, so many questions are hovering over your mind, aren't they? That's why it's better to do a quick revision. Let's crack them one by one.
Keep Enjoying Your Favorite Recipe!
It is quite evident that the chicken and dumplings recipe can be made quite exotic, tempting yet beneficial to the health. The healthiness of the recipe depends on the method of cooking, ingredients, quality of chicken, and quantity of serving.
Keeping all these factors in mind, a healthy chicken and dumpling recipe can be enjoyed as a nutritious, flavored, and complete meal.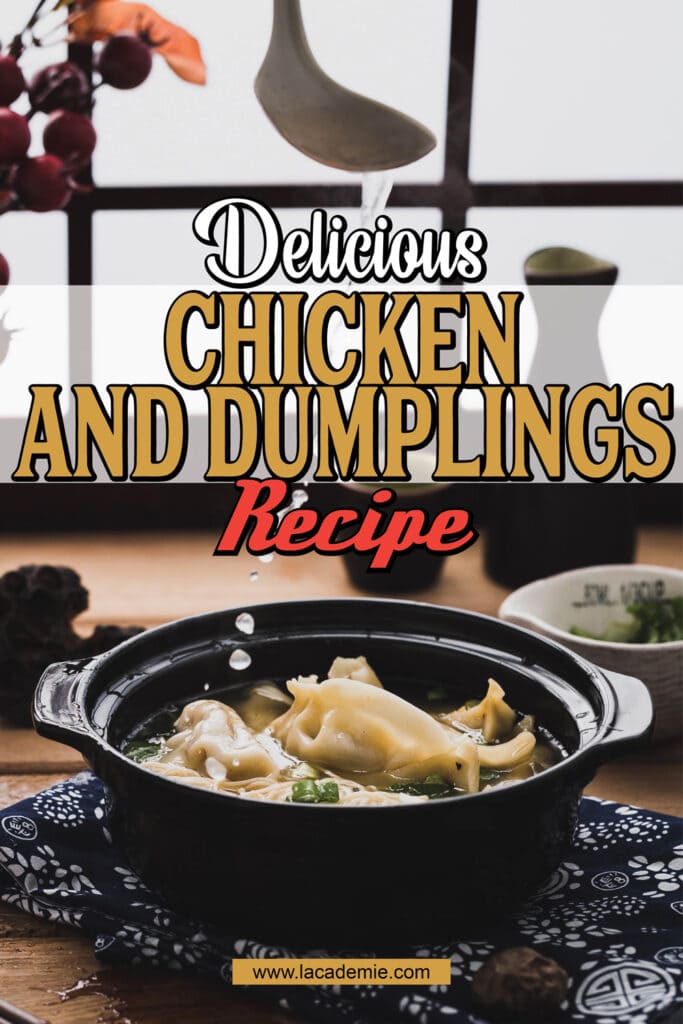 References
Quora. 2021. What are dumplings?
Wikipedia. 2021. List Of Dumplings
Wikipedia. 2021. Chicken And Dumplings
Quora. 2021. How To Store The Left-Over Chicken And Dumpling Soup?