Over the years, Chinese recipes excite the attention of gourmets worldwide, and many home cooks have attempted to replicate the dishes served at authentic restaurants. Indeed, I am one of those, and after trials and errors, I have finally pulled off some delectable victories.
I love Chinese cuisine because it emphasizes not just the artful plating but also the tasting experience. Plus, its spicing and seasoning game is unmatched, bringing out the full, exotic flavors that live rent-free in your palate.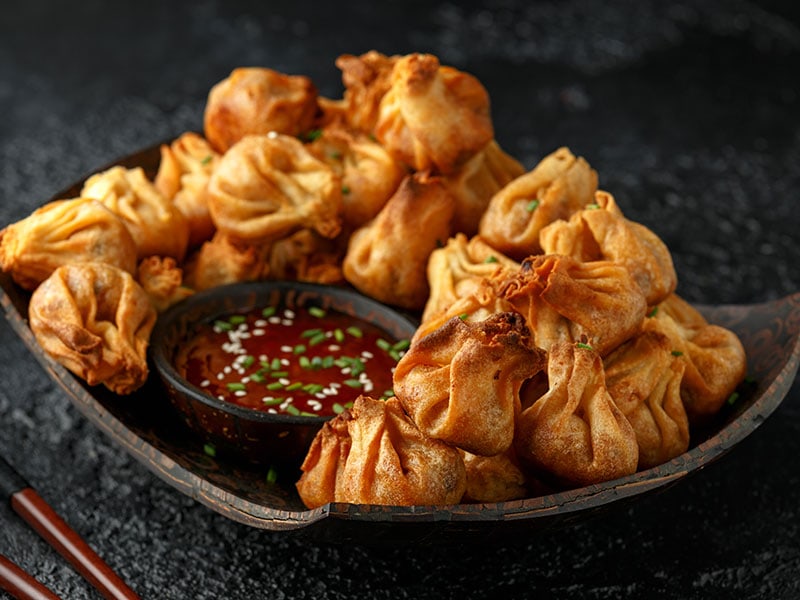 Top 43 Homemade Takeout Chinese Dishes You Cannot Miss
If you are intrigued, here's a list of the top-notch Chinese dishes to get you into the spirit. From classic dumplings to innovative treats like fried milk and fortune cookies, you won't be disappointed with the options range.
Chinese Appetizer Recipes
Chinese Dumpling Appetizers
Homemade Chinese Dumplings
Pork Potstickers
Steamed Pork Buns
Ginger-Pork Wontons
Asian Chicken Dumplings
Crispy Crab Rangoon
Other Chinese Appetizers
Chinese Pearl Meatballs
Basic Congee (Chinese Rice Porridge)
Chinese Tea Eggs
Fried Egg Rolls
Spinach Soup With Tofu
Asian Lettuce Wraps
Chinese Spring Rolls
Egg Foo Young
Chinese Main Course Recipes
Chinese Main Course With Meat
Char Siu (Chinese Barbecued Pork)
Instant Pot Sesame Chicken
Slow-Cooker Mongolian Beef
Peking Duck With Scallions and Honey
Steamed Whole Fish
Kung Pao Chicken
Asian Slow-Cooked Short Ribs
Sweet Gingered Chicken Wings
Chinese Main Course With Noodles and Rice
Crockpot Chicken Lo Mein
Chinese Noodle Soup
Dan Dan Noodles
Tofu Chow Mein
Sriracha Shrimp and Noodles
Yangzhou Fried Rice
Chinese Side Dish Recipes
Chinese Green Beans
Sixi Scallop Stir-Fry
Gai Lan (Chinese Broccoli With Oyster Sauce)
Chinese Cucumber Salad
Chinese Spinach-Almond Salad
Chinese Peanut Sauce
Egg Roll Bowls
Chinese Dessert Recipes
Almond Ginger Cookies
Fried Milk
Fortune Cookies
Mango Pudding
Chinese Green Tea
Sesame Seed Dessert Balls
Red Bean Soup
Nian Gao Cake (Chinese New Year Sweet Rice Cake)
Are you ready for an authentic Chinese cooking experience? I bet you are!
Tasty Chinese Starters That Work Up Your Appetite
These appetizers are the introduction to Chinese cuisine, and you will be surprised by how easy they are, with a few exceptions that call for a little practice. Of course, they are also flavorful, and you may have already stuffed your face before the main course is served.
Irresistible Chinese Dumplings To Keep Everyone Entertained
Chinese are well-known for their dumplings, and according to their beliefs, these foods are the symbol of wealth and good luck. Dumplings can be made with or without the filling. They can be boiled, fried, or steamed, made in different shapes, and are known with many aliases.
Even some experts can't begin with these Chinese dumplings. They can be a little complicated to master, but the delicious results are worth your effort. All you need is a little patience, a deft pair of hands, and this easy recipe to get into business.
These potstickers have several similarities with dumplings, except for the steam-frying treatment, resulting in a golden-brown part that "sticks" to the "pot". The filling also contains pork and veggies, and these potstickers are a million times better when dipped in soy sauce.
These pork potstickers come quite close to those served at restaurants, check out this video to know:
Also known as baozi, these adorable steam buns are among the best-selling pork dishes in every Chinese restaurant. The filling will amp you up with the delectable sweet-and-savory pork meat, covered in a soft, chewy bun that has been steamed to perfection.
Did you know that these steamed pork buns are what inspired Keke Pua'a, a staple dish in Samoan cuisine? Like Chinese baozi, Samoan Keke Pua'a is often steamed or baked before getting served while still steaming hot.
These rangoons look stunning with that crispy outer shell but wait until you get to take a bite. The inside is loaded with crab meat, cream cheese, and other veggies, all rounded with a spicy dipping sauce that brings a kick to your taste buds.
The Chinese love to use ground pork for their dishes, but it's fantastic how different these wontons are when served together on a table. These wontons stand out with a warm bite thanks to ginger, and the flavor is balanced perfectly with a homemade plum sauce.
Besides pork, ground chicken is also used to make the dumpling filling for its flavorful tenderness. The taste is jazzed up with fresh ginger and vegetables, and you can choose either to steam or pan-fry them.
More Sublime Appetizers That Might Upstage The Main Course
The following starters are way too good to be true. I can't lie, though; if all the dishes below are served on the table, the chances are that I will have to skip the main course because of feeling stuffed – and well, as happy as a lark.
These meatballs got the fancy name because they are covered with a layer of white sticky rice. However, it's what on the inside that matters: it's the tender pork meatballs marinated with Shaoxing wine, water chestnuts, scallions, and other seasonings.
You will love this fun riff on your meatballs – the easiest recipe ever! You can see this video to know more:
In Asian countries, congee is the panacea to cure a cold, but I have found that this simple and delicate Chinese breakfast dish can also cure my ravenous hunger. It's the combination of glutinous rice and chicken broth, along with green onions and ginger to enhance the flavor.
Tea egg is a Chinese delicacy that takes my breath away not just for the incredible flavors but also for how it's made. After boiling, the shell is slightly cracked to allow a special sauce to seep inside. The longer it soaks, the better-tasting (and looking) the egg is!
These egg rolls are my takeout favorite, but you can make them from scratch right at home, too. Don't mistake egg rolls with the classic spring rolls you usually meet. Unlike the latter, egg rolls' interior is filled with pork and vegetables
They are all wrapped up and fried until crispy and golden. Make sure that you roll these little guys tightly so that the oil won't penetrate the filling.
If you are watching your carb intake, this delectable Chinese soup is the ultimate choice. It's an elegant recipe starting with a rich beef or vegetable broth, fresh spinach, tofu, and green onions for garnishing. Spice it up with half a spoon of Gochujang – highly recommended!
These healthy wraps are refreshing and require little to no effort, so it's a brilliant idea to serve them before a hearty meal. You can replicate P.F. Chang's recipe with chicken filling or switch up with pork tenderloin. Serve with sriracha and soy sauce.
Spring rolls make an excellent appetizer, and rest assured that they won't last long on the table. The flaky shell on the outside looks appetizing, and with that flavorful filling made with tender pork meat and vegetables, you can't resist having another roll.
Elevate your omelet with vegetables and meat and whip up an authentic Chinese egg foo young that takes fifteen minutes only. The highlight of this easy appetizer is the smooth, lip-smacking gravy made with chicken stock, soy sauce, dry sherry, and cornstarch.
This egg foo young makes an excellent midweek dinner, let's see this video:
Wonderful Chinese Main Course That Pleases A Crowd
What are you planning to serve your guests tonight? Is it going to be the majestic peking duck, the umami-flavored char siu, or a sizzling-hot steamed whole fish? Whatever you go for, your guests will be satisfied for the entire night.
Meaty Chinese Main Courses That Steal The Spotlight
These sumptuous main dishes look like they belong to a royal Chinese feast. Below you'll find the best char siu recipe, which is a staple of every party, or the awe-inspiring peking duck that fits for a king. Other options are sesame chicken, steamed whole fish, and so on.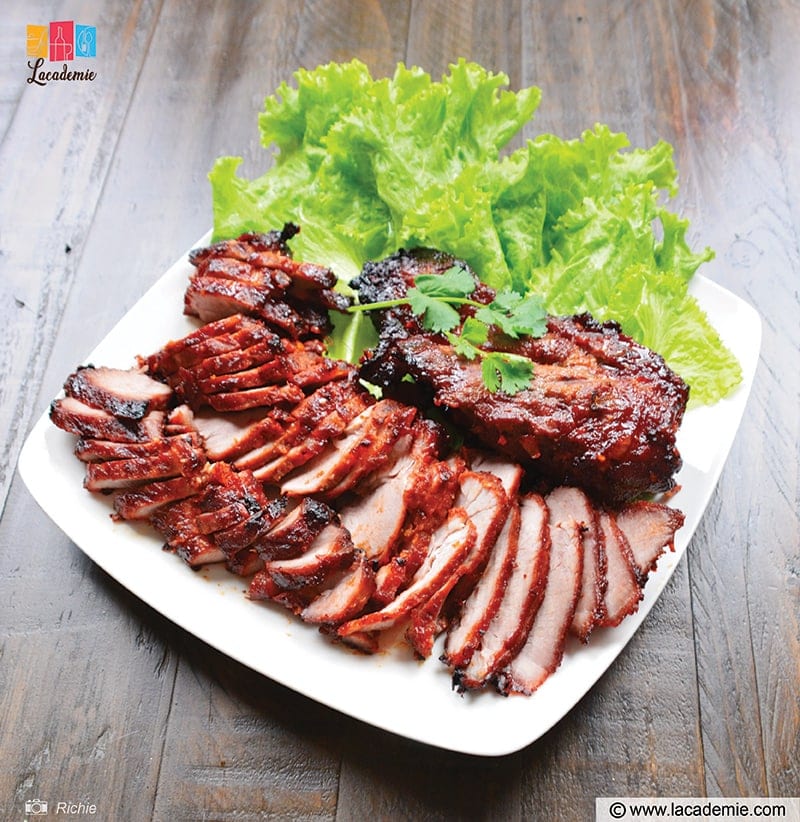 Char siu is a famous Chinese dish, especially in Cantonese cuisine. With the signature umami flavor, char siu, or Chinese barbecue pork, is a first-rate main course that makes everyone jump with excitement when served on the table. The dish originated in Guangdong and is now a well-loved dish in Hong Kong cuisine.
The secret behind the sweet and savory deliciousness is the traditional five-spice powder made with cloves, star anise, Sichuan peppers, cinnamon, and fennel seeds.
When talking about chicken, this yummy Chinese instant pot recipe is second to none. The tender chicken meat is glazed in a pronounced gravy made with honey and soy sauce, followed by a slight kick from sriracha and other spices.
Patience is the key to making this Mongolian beef dish, and it is meant to savor at a leisurely pace. After about three hours, the meat becomes all tender and juicy, and the lovely blend of garlic, ginger, and soy sauce has enhanced the taste quality to the top.
This crockpot Mongolian beef dish is totally worth the wait! Let's see this video:
Peking duck is the main star of every feast in China, and the dish has long been on the imperial menu since the Ming dynasty. The preparation is painstaking, but the result is always satisfactory: the crisp skin is coated in a unique glaze, while the meat is roasted to perfect tenderness.
A whole fish seems a little too much, but the Chinese beg to differ – and so do I. The perfect candidate for this recipe is a branzino fish, which is usually served whole; it is steamed on a bed of aromatic herbs and laced with sake, then showered in a rich sauce along with other garnishings.
Kung pao chicken can be your family's favorite dish every night that you regret not knowing sooner. The stir-fried dish is sweet, savory, and spicy at the same time, with chicken, bell peppers, and chilies swimming in the indulgent kung pao sauce.
A friendly warning, these short ribs are highly addictive, and you can't suppress your cravings. But why do you have to anyway? With the luscious meat that has reached the falling-off-the-bone tenderness drenched in a rich sauce, there's no going back.
The chicken obsession continues with these finger-licking good chicken wings that guarantee to please any tough crowd. As they are done to a turn, you can easily catch the comforting smell of ginger, followed by an underlying sweetness of honey as you take a bite.
Noodle And Rice Main Dishes For A No-Fuss Midweek Meal
If you are taking a treat-yourself day seriously, here are some suggestions. How about a serving of spice-laden dan dan noodles? If you are up for a real kick, try sriracha shrimp noodles, and the Yangzhou fried rice is also a premium choice. Cleaning is done in a snap!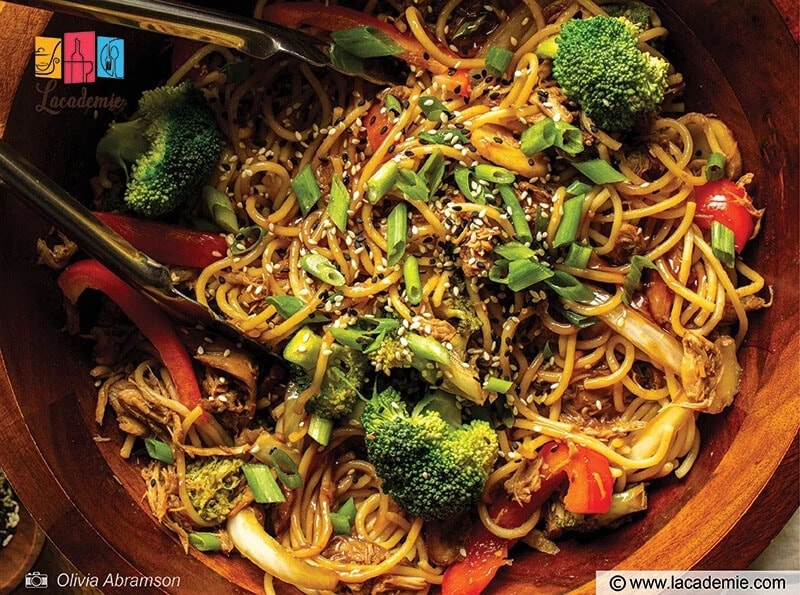 Lo mein, which means "tossed noodles," is a simple yet delicious Chinese noodle dish that you can easily whip up with a crockpot. The noodle dish works with any protein or vegetables, but my favorite combination is chicken, water chestnuts, scallions, and a sprinkle of sesame seeds.
The Chinese take great pride in their broth game, and you will understand why as soon as you indulge in this chicken noodle soup. The rich broth is simmered with six different ingredients, imparting mellow flavors to the noodles, the chicken, and the vegetables.
Your favorite takeout dish is now here to stay with this quick and easy recipe. The noodle dish used to be a street food staple in Sichuan, but it has become world-famous with its exquisite flavors of pork meat, soy sauce, rice wine, and other supporting ingredients.
Similar to lo mein is chow mein, a traditional stir-fried noodle dish that holds your appeal at the very first taste. Mix in the tofu and any vegetable of your liking, then bring in the hoisin sauce and soy sauce to turn your noodle dish into an instant dinner hit.
You can't resist this tasty tofu and vegetables chow mein! Watch this video to know:
Spicy lovers are tempted to have this yummy Chinese shrimp dish all year round. Shrimps are cooked until pink, combined with peppers, green onions, and cucumber, and the mixture receives a flavor boost from sriracha, soy sauce, and lime juice. For the noodles, you can opt for lo mein, chow mein, or even ramen.
Originating from the Jiangsu province, Yangzhou fried rice is a hearty dish that transcends your taste buds to heaven. It's an intricate blend of chicken, eggs, and an array of vegetables that pop out on the plate with dazzling colors.
Make this Yangzhou fried rice for a speedy dinner, let's see this video:
Straightforward Chinese Side Dishes To Balance Your Meal
The Chinese pay close attention to the details, and every Chinese feast must include some simple accompaniments to keep everyone from feeling bloated. Green beans, broccoli, or cucumber, what is your pick today? I say let's make them all.
Fresh and healthy, these green "buffet" beans make an excellent side dish that pairs impeccably with many Asian savory dishes. They are flash-fried until tender-crisp, and the flavors are taken to another notch thanks to the aromatic minced garlic.
If you want to showcase all the ingredients, stir-frying is the way to go. Scallops are marinated with rice wine for an extra flavor in this recipe, while carrot, peppers, and chili add vibrant colors to the simple but tasty side dish.
Your meal is not complete without this sixi scallop stir-fry side! Check out this video:
Chinese side dishes are famous for their simplicity, and this one is not an exception. Crunchy broccolis are infused with toasted garlic and a splash of wine rice before being served on the plate with sizzling oyster sauce.
Due to the high water content, cucumber is ideal for mixing in any salad. The trick here is to smash it beforehand to absorb more sauce; then, you stir in rice vinegar, soy sauce, sesame oil, and spice things up with a smidgen of Lao Gan Ma chili.
Chinese Spinach-Almond Salad
Here's a laid-back, hassle-free salad side that you are looking for, which calls for baby spinach, pork cubes, carrot, mushrooms, and bean sprouts only. The healthy concoction is finished with a drizzling of sesame-ginger dressing and toasted almonds.
I can't live without this amazing sauce. It goes with almost anything, from cold noodles, steamed veggies, tofo to dunking goodies like spring rolls or fried wontons. Such awe-inspiring versatility is the result of soy sauce, peanut butter, garlic, and ginger.
There's always something for the weight watchers on the table, and this egg roll serves its purpose since it's keto.
Technically, it has all the flavors of an egg roll without the wrapper, so you can still relish the meat, cabbage, ginger, garlic, along with soy sauce and sesame oil in every spoonful.
Wonderful Chinese Desserts To Call It A Day
Chinese desserts are impressive, and it amazes me how much effort they put into the cooking techniques rather than the use of ingredients. Keep reading to learn what you can rustle up for the final course of a long day.
People are lusting over these scrumptious cookies, and honestly, I can't blame them. Sweet and salty cookies are overdone, so it's exciting to see warm-spiced cookies made with ginger and cinnamon – just in time for the holidays.
I know it seems crazy, even impossible, but fried milk is a yummy treat with a lovely sweetness mainly enjoyed as a snack or after a meal. The milk is cooked with cornstarch until it thickens, then cut into strips, coated in a frying batter, and deep-fried.
Since fried milk is so famous as a Taiwanese street delicacy, you might think that it originated here. However, this unique recipe came from the Shunde District of Guangdong.
These crunchy fortune cookies have the power to foresee the future, and they tell me that your meal will become a success with these fun cookies. They can be pretty challenging to make, but it's worth the fun, especially when you hear that cracking sound!
Mango pudding has me drooling with that smooth, silky texture, and the taste hits me on another level with that unforgettable creaminess. Here's a tip to make it even richer: use evaporated milk instead of regular milk. And yes, this dessert is vegan-friendly!
No more skipping dessert from now on when you have learned how to make these crispy-chewy dessert balls from scratch. The exterior is embezzled with sesame seeds, waiting for you to uncover the sweet red bean paste on the inside.
Finish your meal with a Hong Kong sweet delight by slurping this refreshing red bean soup made with red beans, mandarin or tangerine peel, and rock sugar to taste. Some mix-in options include pandan leaves, coconut milk, and sago.
Keep your guests entertained till the last minute with this red bean soup:
Right from its name, you know nian gao is an indispensable dessert to welcome spring in China. This cake has more than just the smooth finish that makes you hungry. It is pleasantly sweet, and you'll find yourself in a sticky situation where you eat more than you're supposed to.
Authentic Chinese Recipes Have Never Been This Easy!
Those Chinese dishes were such a blast, weren't they? They all sound like a challenge at first, but once you master them, you will feel as if you're on top of the world – indeed, that's also how you feel when you taste your final results.
With such selections, I hope that you already have something in mind for dinner tonight. What are you planning to make? Share with other readers and me in the comments, or show us any brilliant hacks you have learned while you're cooking. Xie Xie, or thank you!
Nutrition Facts
4 servings per container
---
Amount Per ServingCalories799
% Daily Value *
Total Fat 16.2g

25

%
Cholesterol 173mg

58

%
Sodium 1177mg

50

%
Potassium 261mg

8

%
Total Carbohydrate 134g

45

%

Dietary Fiber 8.6g

35

%
Sugars 17g

Protein 30.4g

61

%
---
Calcium

61

%
Iron

6

%
Vitamin D

8

%
* The % Daily Value tells you how much a nutrient in a serving of food contributes to a daily diet. 2,000 calories a day is used for general nutrition advice.