As a huge fan of Chinese noodles, I always want to try various types of Chinese noodles to explore their tastes and textures. If you are also crazy about them, you should never miss this article because it is packed with a lot of fascinating information.
The overall flavor of a Chinese noodle dish is heavily dependent on the type of noodles used. Furthermore, some noodle types have very special cultural significance, preparation methods, and history. So I think you don't want to miss all of these interesting things about them. Follow me to find out!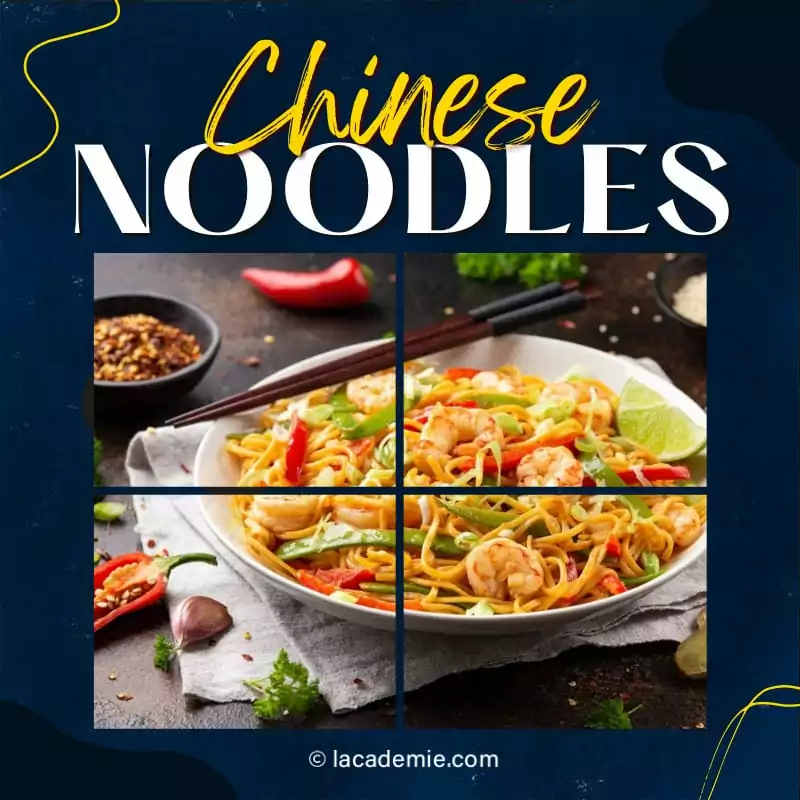 12 Most Common And Delicious Types Of Chinese Noodles
Let's get straight to the main topic. I am very delighted to introduce to you my favorite varieties of Chinese noodles so that you have more options to consider when it comes to Chinese noodle dishes. First of all, check this table for an overview.
| Types of Chinese noodles | Appearance | Texture | Uses |
| --- | --- | --- | --- |
| Lamian Noodles | Thin yellow strands | Stringy and chewy | Deep-fried dishes, chow mein, Tangmian |
| Dao Xiao Mian Noodles | Wide strands | Chewy | Braised meat and soups, Uyghur dishes |
| Yi Mein Noodles | Yellow, thin | Chewy, spongy | Salads, soups, stir-fried dishes |
| Mi Fen Noodles | White. thin | Light, chewy | Soups and stir-fried dishes |
| Ho Fun Noodles | Wide and flat | Chewy, elastic | Stir-fried dishes |
| Loh Shi Fun Noodles | Short and thick strands, made of ground rice flour and water | Chewy | Noodle soup, clay-pot dishes, and stir-fried dishes |
| Fensi Noodles | Thin and transparent strands | Gelatinous | Spring rolls, soups, hot pots, and stir-fried dishes |
| Lai Fun Noodles | Made from rice flour and tapioca starch, come in short and long forms. | Slightly chewy | Soups, stir-fried dishes |
| Mixian Noodles | Made of non-glutinous rice, fermented | Silky | Meat, tomato, chili, and egg |
| Misua Noodles | Off-white or yellow, thin | Firm | Served with beef, eggs, and pig's large intestine. |
| Cumian Noodles | Made from wheat flour and water | Thick and chewy | Fried noodles, noodle soup |
| Saang Mein Noodles | Thin strands, get tender quickly | Smooth and soapy | Sesame oil or vegetable |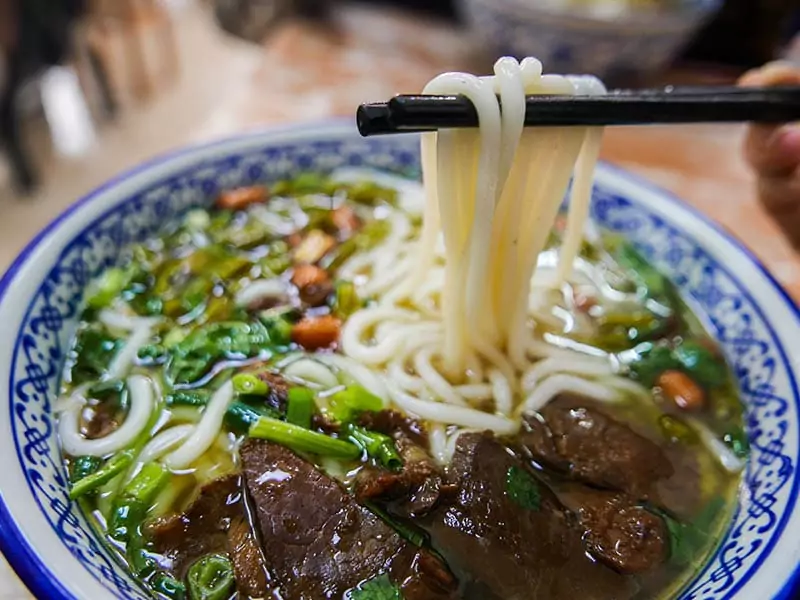 Lamian noodle is popular in China and also other Asian countries. Most often, people cook it to make a delicious bowl of instant noodles. They also deep-fry it with meat and vegetables.
To make Lamian, the cook creates strands by stretching and folding the dough, resulting in stringy and chewy noodles. The dough is made of wheat flour, salt, and water.
The more people fold the dough, the thinner the noodles will be. This excellent method came from Song Xu in 1504.
The style of making Lamian varies from region to region. Lanzhou people tend to put more pressure on the strands and do the steps quickly to create uniformity. On the other hand, Beijing cooks prefer to do it gently.
People also use Lamian noodles to make other Chinese dishes, such as Tangmian (beef soup). People use it to make chow mein, a very famous noodle dish. People use Lamian to make salads with shredded cucumber and tomato.
Lamian also has a cultural significance. There are Hui ethnic families in Northwestern China who possess the Lamian restaurants in China, and they only make Halal food, which does not contain pork.
There is also another variety of Lamian called "Shandong Lamian," which belongs to the Shandong province.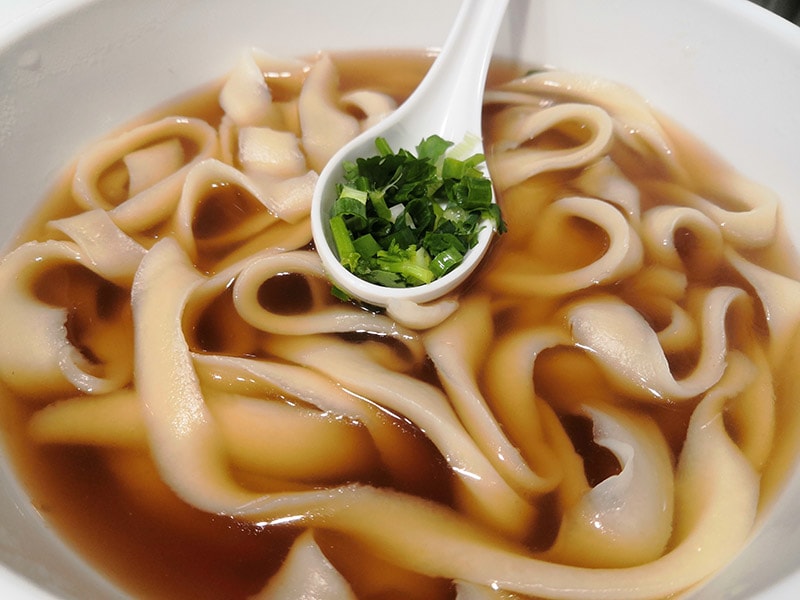 This noodle means "knife-cut noodles". It is a delicacy of Shanxi province. The way people prepare it is amazing. The cooks shave plenty of wide strands of noodles from a large dough. They put the strands in a pot of boiling water.
Notably, their hands move very quickly. They always use sharp knives to ensure that the process runs smoothly. The strands are not always uniform, but they taste perfectly chewy.
The cooks have excellent timing skills. They have to let each strand stay in the pot until it is ready to eat. And do you know that Dao Xiao Mian noodles are one of the most ideal noodle types for making ramen? Yes, they are.
I recommend that you try Dao Xiao Mian at least once to see how delicate it is. In China, it is used to make braised meat and soups. It is also a staple of Uyghur dishes, such as lamb-and-vegetable stir-fry.
Making a bowl of Dao Xiao Mian is much simpler than you think.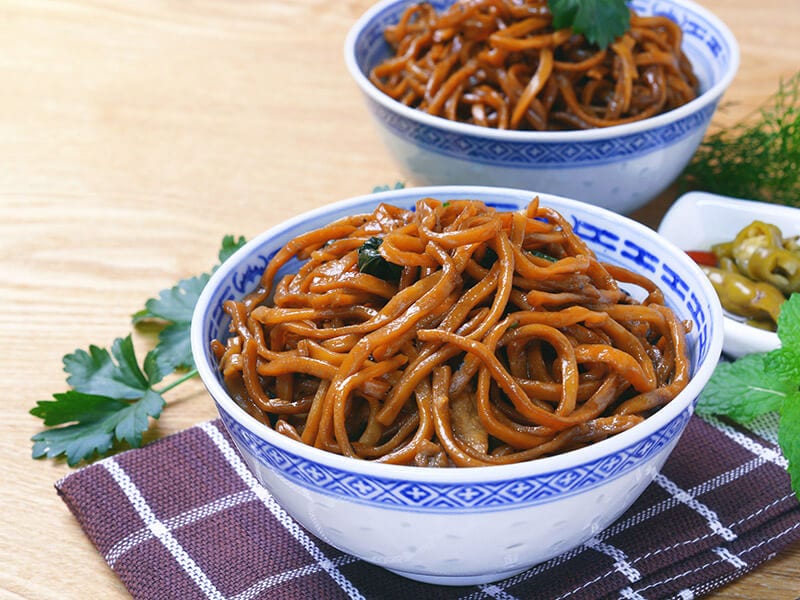 Another name of Yi Mein noodles is "longevity noodles". They have a crucial role in Chinese celebrations such as birthdays, lunar new year banquets, and weddings. This noodle symbolizes luck and prosperity.
This noodle is made of wheat flour, eggs, and sodium bicarbonate or soda water. The strands have a delightful yellow color and a spongy and chewy texture. After making the strands, the cooks deep-fry them, then dry them and shape them into a cake.
You should note that Yi Mein noodles can easily become soggy after cooking. So make sure that you don't overcook them. The best way to get their perfect spongy texture is to boil them for less than 3-4 minutes before you use them to make any dish.
This type of noodle is also very versatile. You can use it to make your favorite Chinese delicacies such as salads and soups. I love to stir-fry it with my favorite meat and vegetables.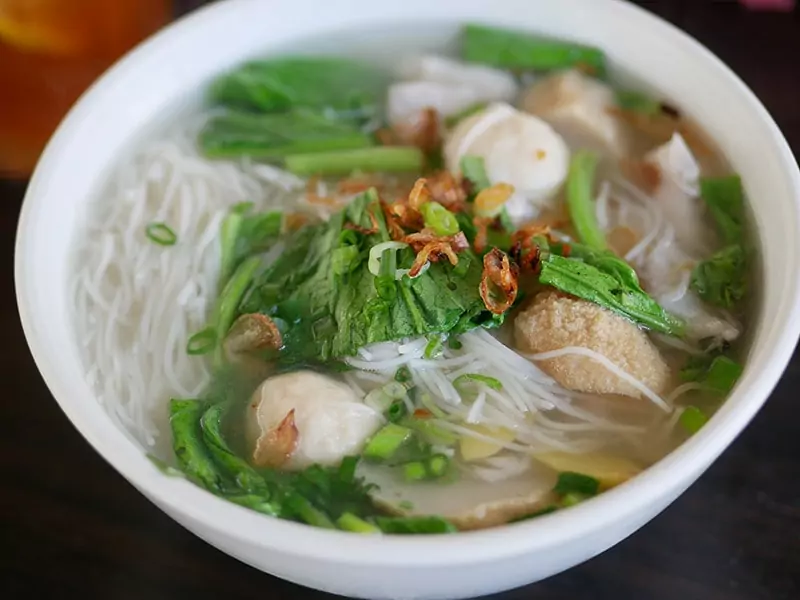 This thin noodle is one of the most popular types of noodles used in China. It originated in Southern China. Now it has gained popularity as a street food in Hong Kong, Taiwan, Malaysia, Vietnam, Indonesia, and other nearby countries.
Rice vermicelli is used in many famous dishes in Chinese cuisine. Since it mainly consists of rice, it comes in the form of thin white strands. They are light and chewy.
People use it to make Cantonese noodle dishes. They cook it in a broth along with beef balls, fish balls, or fish slices. In Yunnan and Guangxi cuisine, it is the main ingredient of Mixian, Luosifen, and Guilin noodles.
In Fuji and Teochew, people make soups and stir-fried dishes from rice vermicelli. There is usually a sauce accompanying it. Sometimes, people serve it without soup. They just stir it with other condiments.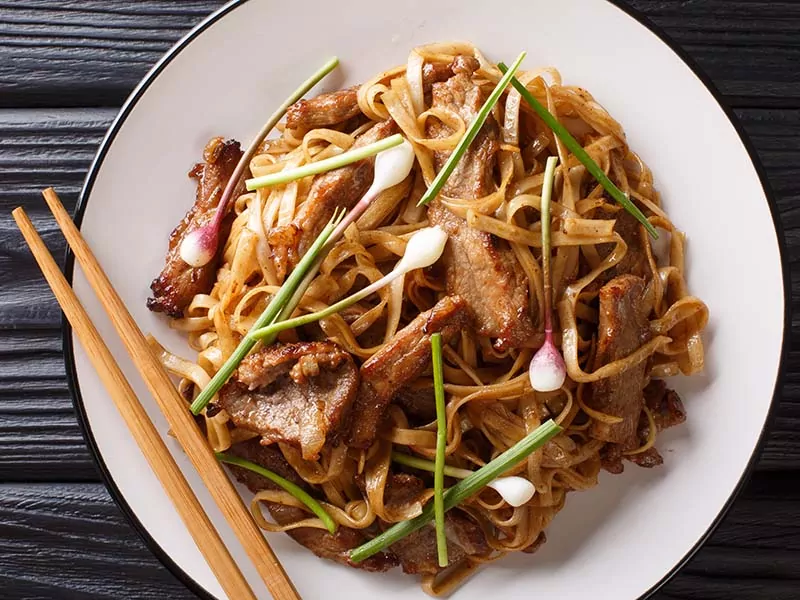 Ho Fun noodles are also called "Shahe Fen" or "He Fen". It came from the town of Shahe in Guangzhou. It is also very common in other Asian countries like Malaysia, Vietnam, the Philippines, Singapore.
While other types of noodles are typically round in shape, Ho Fun noodles are wide and flat. The strands have a chewy and elastic texture. This noodle is available in fresh form. People display it in the form of sheets or strips. You can find it in the dried form.
Ho Fun noodles look like "bánh phở", a type of noodle used in traditional Vietnamese dishes. People use it to make soups and stir-fried dishes.
Traditionally, people use Ho Fun noodles to make a stir-fried dish named "Chao Fen" or "Chow Fun". It also consists of meat and vegetables.
Ho Fun noodles are best used to make Chow Fun, a traditional Chinese dish.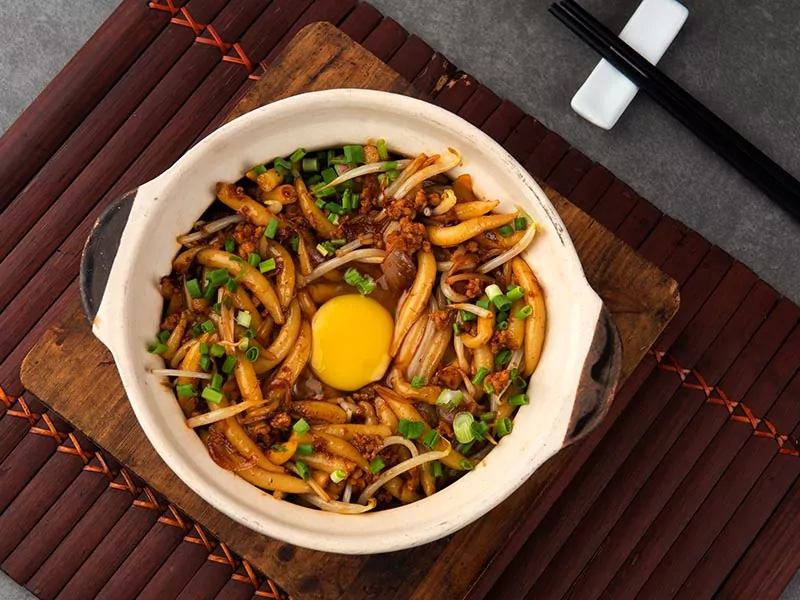 Most noodles are long, but Silver Needle noodles are not. They are just about 5 cm long and are very thick. The strands are made of ground rice flour and water. The flour comes from either glutinous or non-glutinous rice. Some cooks use cornstarch to make them chewier.
You should note that Silver Needle noodles are only available in fresh form. You can buy it directly at noodle vendors or get the commercial products at grocery stores.
A dish with Silver Needle noodles is a fulfilling meal that can be served as a delicious Chinese breakfast, lunch, and dinner or as a side dish.
People use it to make noodle soup and stir-fried dishes. Notably, it is an ingredient of a clay-pot dish called "Clay-Pot Lao Shu Fen".
7. Fensi Noodle (Cellophane Noodles Or Glass Noodles)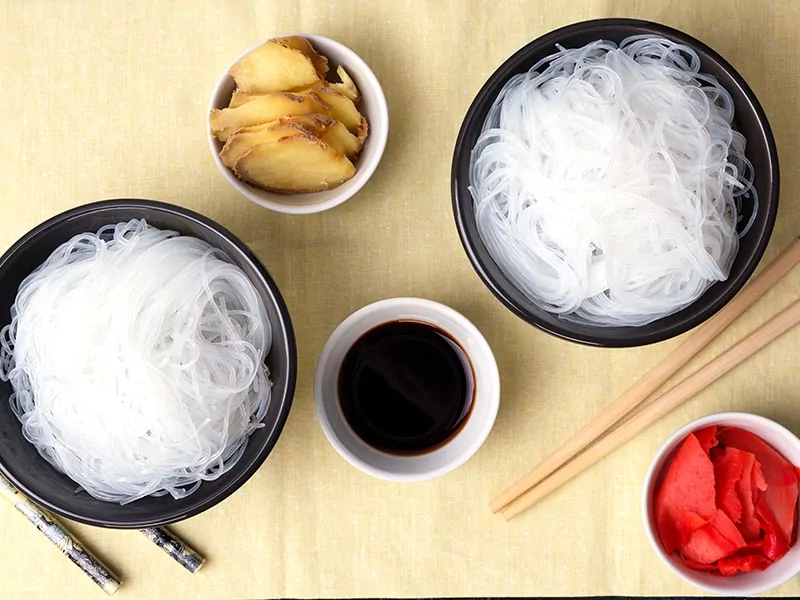 Cellophane noodles come in dried form. People first soak it in water, then add it to spring rolls, soups, hot pots, cold salads, and stir-fried dishes.
The strands are thin and transparent. That's why people often call it "Glass noodles". They also resemble the look of shark's fin. In Sichuan, people even stew it with a spicy meat sauce. Notably, it is used in Tibetan cuisine to make pork curry.
People make this type of noodle with water and starch, for example, potato starch, mung bean starch, and tapioca. So overall, it has a gelatinous texture.
This noodle also has a thick version. In China, people mostly used mung bean flour to make Fensi noodles.
You can find Cellophane noodles in other nearby countries, such as Vietnam, Indonesia, Taiwan, and Korea with different names.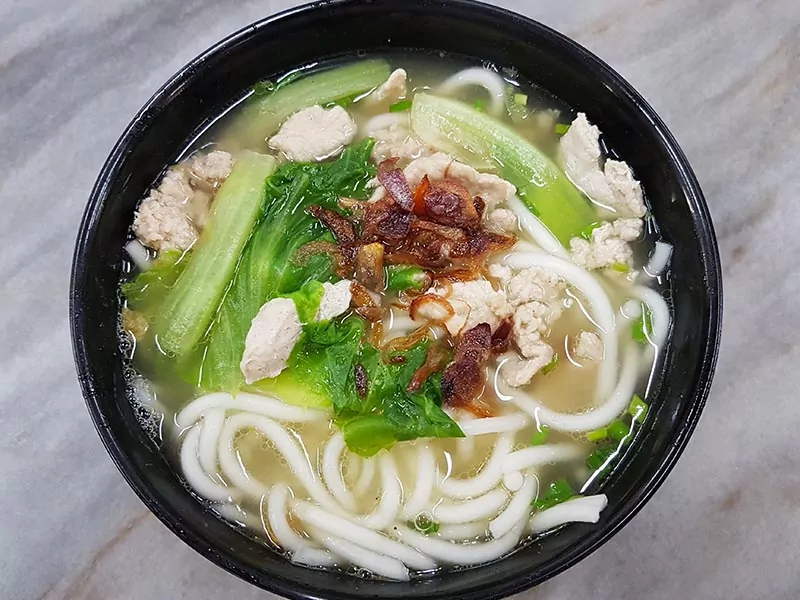 Lai Fun noodles come from the Pearl River Delta region of China. Outside China, you can also find it in Chinatowns.
The strands of Lai Fun noodles are made from rice flour and tapioca starch. They come in short and long forms. They are slightly chewy.
Many people confuse between Lai Fun noodles and silver needle noodles. They are both thick and white. You can distinguish them by paying attention to the ends. The ends of Lai Fun noodles are not tapered like silver needle noodles.
People mainly use this type of noodle to make soups and stir-fried dishes.
Making Lai Fun noodles is a very enjoyable process.
9. Mixian Noodles (Yunnan Rice Noodles)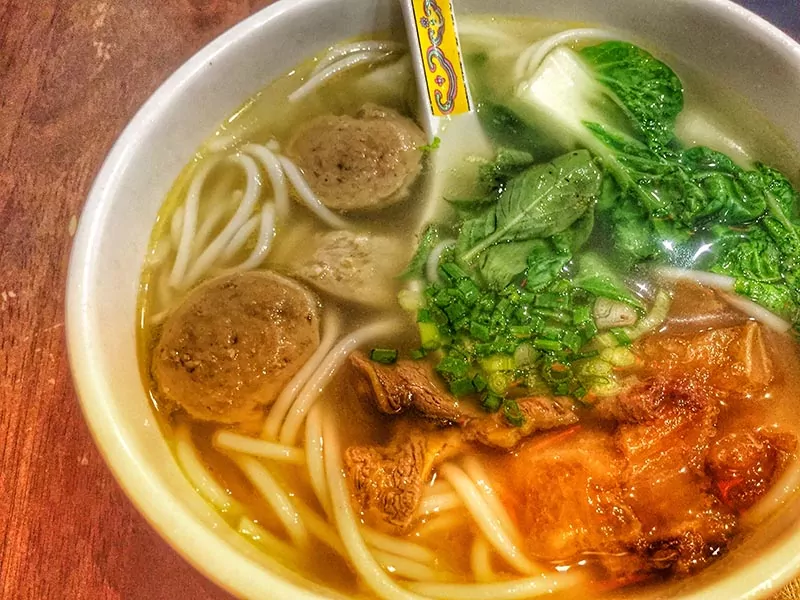 Mixian noodles are the traditional noodles of Yunnan, a Chinese province. Local people produce it from non-glutinous rice. The rice goes through a special fermentation process. The strands can be 1.5mm or between 3.5-4mm in diameter. They have a silky texture.
This noodle type is available only in dried form. People use it to make broth and stir-fried dishes. Yunnan people stir-fry Mixian noodles with meat, tomato, chili, and egg and sell them at roadside barbecue-type stands.
People also utilize this delicious variety to make noodle soup. The broth is usually made of chicken or beef and other condiments. They serve it all day round.
In Yunnan, people use Mixian noodles to make a unique dish called "Crossing-the-bridge noodle". People serve the broth, noodles, and toppings separately on a cutting board. The bowl of broth regularly has a large size and has a layer of fat to keep it warm longer.
The origin of the name "crossing-the-bridge" is still a mystery. Some people theorize that it refers to the process of putting noodles into the broth.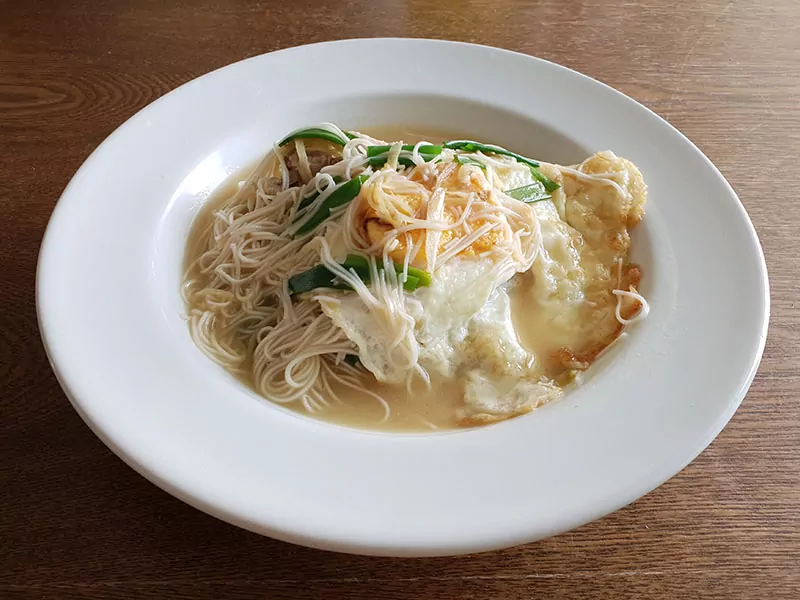 Misua noodles' origin is Fujian, a Chinese province. People also call it wheat vermicelli since it consists of wheat flour. It plays an important part in the culinary culture of China. People make it at festivals or important events, such as birthdays.
The strands of Misua noodles are extremely thin, so it takes only 2 minutes or less to boil them. They have a firm texture. People often serve them with beef, shallots, eggs, and pig's large intestine.
This type of noodle is not only popular in China. It is also available in countries where Fujian people live, such as Vietnam, Malaysia, Singapore, and Thailand.
In the wonderful world of Taiwanese cuisine, you can find 2 Misua versions, including plain and brown Misua.
To make brown Misua, people steam then caramelize the strands until a brown color appears. On birthdays, people make plain Misua then serve it with stewed broth and pork hocks.
Brown Misua is used to make a well-known vermicelli noodle dish called "oyster vermicelli".
Misua soup is a hearty and comforting dish that you should never miss.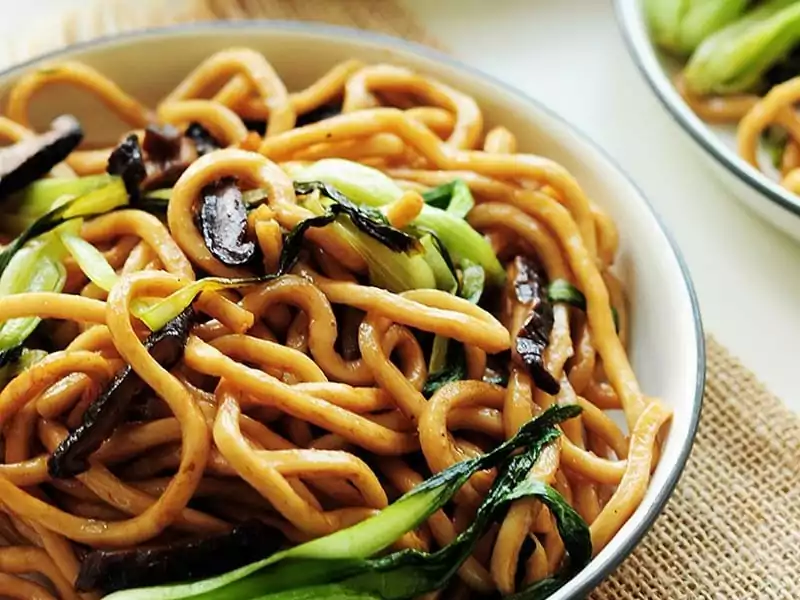 Cumain looks pretty much like udon noodles in Japanese cuisine. It is very thick and chewy. People make it from wheat flour and water.
There are 2 varieties of Cumian noodles in China. The first one is Shanghai Cumian. It is super thick and is an ingredient of Shanghai fried noodles. There is also Hong Long Cumian, which has a flat and wide shape. People cook noodle soup from it.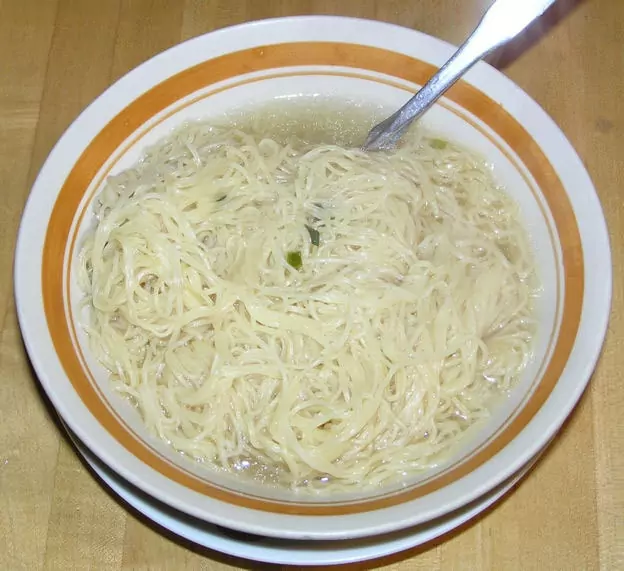 Another variety of thin noodles is Saang Mein noodles. People make the strands with tapioca flour, wheat flour, potassium carbonate, salt, and water. Thanks to the thin strands, it gets tender very quickly. It is smooth and has a soapy texture and wheat flavor.
People often serve it on its own or add sesame oil or vegetables to it. A very common type of vegetable used is kai-lan.
Saang Mein noodles are more popular in Hong Kong culinary culture than in mainland China. You can also find it in Chinatowns in other countries.
5 Chinese Noodle Recipes You Will
Knowing the types of Chinese noodles only is not enough. To make delicious Chinese noodle dishes, you need some excellent recipes. In this section, I will introduce to you 4 classic recipes that you can make with these noodle types.
A stir-fried dish is ideal for a flavorful and delicious lunch. If you are bored with Western dishes, let's change to this Chinese delicacy. The chewy noodle strands, vegetables, and meat work together, creating a tasty flavor that is unforgettable.
Lo mein is one of the classic Chinese noodle dishes. It is made of egg noodles, various types of vegetables, and condiments. Unfortunately, if you wonder whether lo mein is suitable for a vegan diet, the answer is no.
However, you can't imagine how flavorful and delicious it is until you try it. Just boil the noodles and stir everything together, and your lo mein will become unbeatable.
Let's make a high-quality Lomein bowl with this delicious recipe.
I love the thin shape of Misua noodles. They taste even better when I make soups with them. This recipe is a perfect diner dish for winter days. The soup is warm, comforting, and super delicate.
Chow mein is often considered as being similar to lo mein. Yet there are some differences between chow mein and lo mein. Compared to lo mein, chow mein is more crispy. It has seduced a lot of people around the world. I bet that you are not an exception.
The flavorful taste of chow mein will make you feel over the moon.
Everyone Will Fall For Chinese Noodles After Trying Them
Chinese noodles are one of my favorite Asian foods. And as you have read this article until this end, I am sure that you love them as much as I do. So please do not hesitate to share this article with other people so that they can know more about these amazing delicacies.
And if you still have any questions, please let me know in the comment section. I will reply as soon as possible to untie your knot. Thank you!