Chinese noodle recipes have been a big part of China's culinary world for many centuries. The origin of Chinese noodles dates back to the Han Dynasty, particularly the Eastern Han period (1st – 3rd A.D), as a way for soldiers to carry food easily.
And soon, the role of noodles grew from being a military ration to a national delicacy. Thanks to the starchiness, as well as the ability to absorb broth and seasonings, it's no wonder noodles are popular not only in China but also in the rest of East Asia.
In order to help you recreate the best noodle dishes, I have prepared a very extensive list of recipes from China. With the help of those recipes, you can cook a fantastic China-themed feast for your family. It's time for another interesting journey!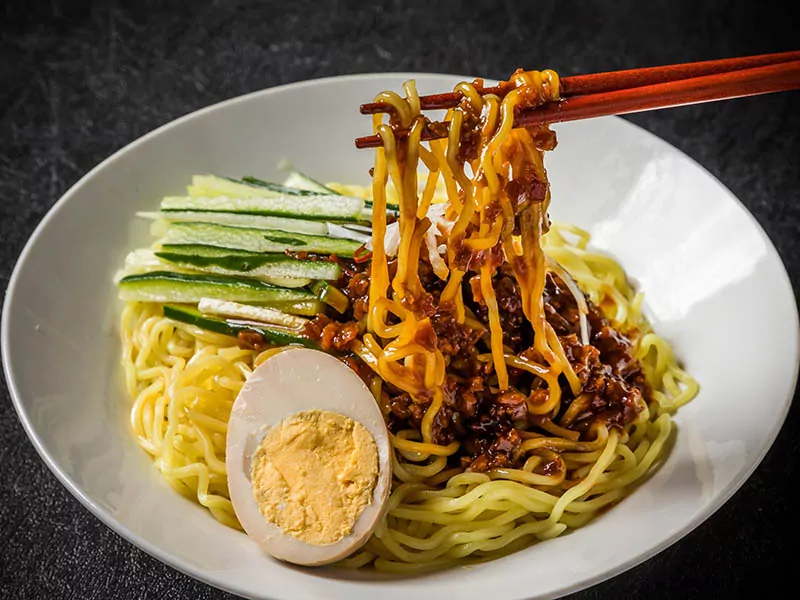 Iconic Noodle Dishes Originating From China
There is no better way to enjoy a meal with your family than the Chinese specialties below. They come in so many flavors and variations that even picking one out might prove to be a challenge. However, I'm sure you will not regret your decision after getting a taste.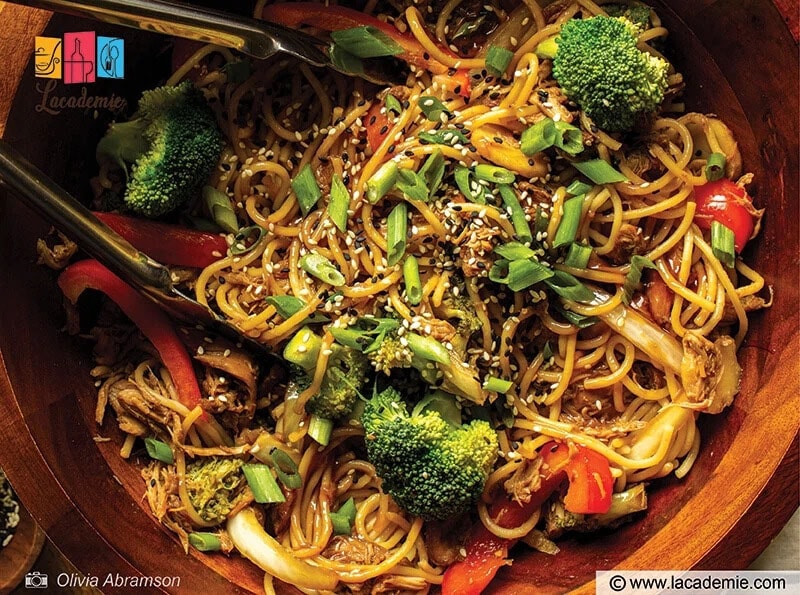 Lo Mein is one of the most famous noodle dishes in Chinese cuisine. You can see it in almost any Chinese-American eatery. And its flavor is worth the fame. Now, I'll introduce a chicken version of this familiar recipe.
Since you'll cook this Lo Mein in a crockpot for a long time, you should use dark meat as it won't dry out easier and is easier to prepare.
Aside from the protein, prepare other veggies for more flavors, textures, and nutrients. I usually use bell pepper, broccoli, and water chestnut. But you can use your favorite combination. Remember to cut veggies into the same size, so they'll get cooked evenly.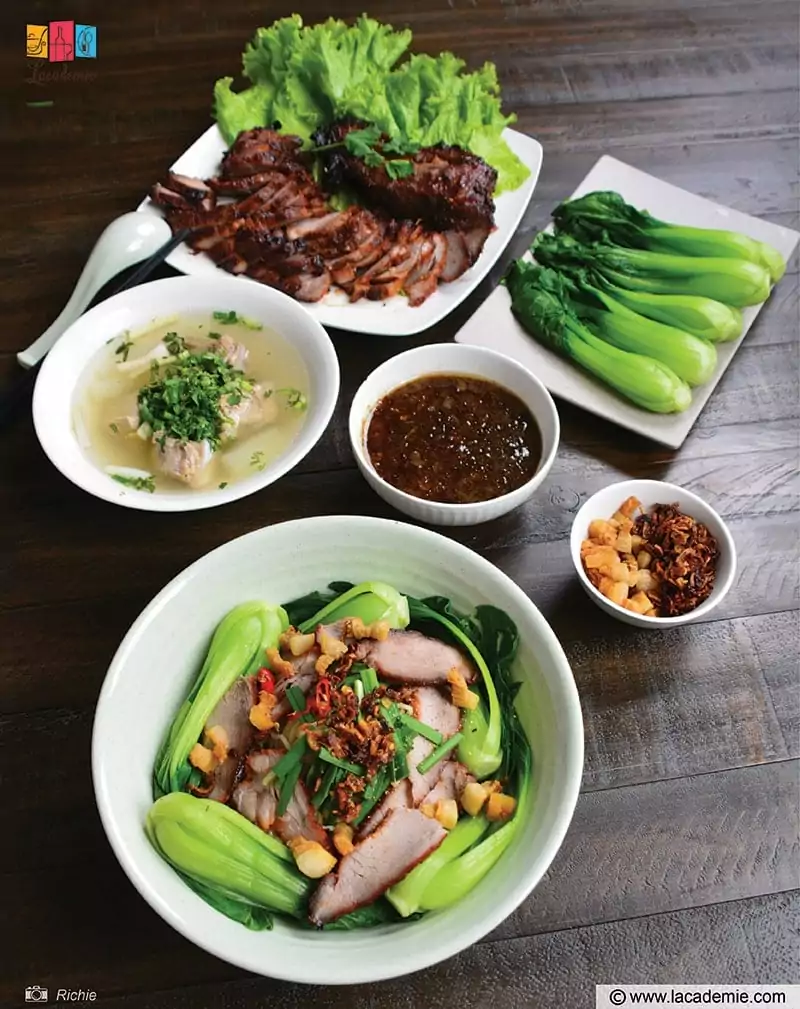 Fans of Chinese cuisine are certainly no strangers to Char Siu – a delicious Cantonese pork dish with an iconic reddish color. While there are many viable side dishes to enjoy with this delicacy, such as rice or buns, dried noodles are my favorite.
The well-marinated, flavorful roasted pork pair perfectly with chewy egg noodles to create an unforgettable mouthfeel. Moreover, the crispy pork cracklings and bok choy add more to the appeal of the dish. Lastly, remember to serve the noodles with a small bowl of pork bone broth on the side.
Total time: 3 hours 45 minutes
During an especially cold month, you often wish for a warm bowl of soup to keep yourself from being miserable. Well, you might as well try this one Chinese delicacy called Beef Noodle Soup or Niu Rou Mian.
The explosiveness of this beefy Chinese recipe alone will give you enough energy to stay alert. The main ingredients for the broth consist of savory beef and a combination of seasonings (soy sauce, beat paste, and Chinese cooking wine).
Aside from the broth, you can also experience a delectable texture through the spongy noodles. The starchiness is very absorbent, so you can taste a variety of flavors like saltiness, spiciness, and acidity from the tomatoes.
This rich Beef Noodle Soup recipe can keep you warm all day.
Total time: 10 minutes
Beef can be very hearty during a chilly winter, but it sometimes can be a bit pricey to get. To give you a more affordable option, I want to introduce this next specialty called Ji Tang Mian or Chicken Noodle Soup.
When it comes to Chinese-style soup recipes, the best part is always the broth. In this case, the richness lies within the chicken stock. It's savory with even a hint of sweetness. You can enrich the stock with soy sauce and Chinese cooking wine.
Apart from the stock, you still have a few more ingredients to consider. With the noodles, pick whichever type that you like, but I do recommend egg noodles. For the veggies, pick out scallions and Bok Choy (Chinese cabbage) for extra freshness to the soup.
Total time: 1 hour 15 minutes
This version of rice noodle soup from Yunnan province is also called Xiao Guo Mi Xian or Little Pot Rice Noodles. That is because you can see many Chinese restaurants serve this rice noodle delicacy in a small clay pot.
What makes the dish so interesting is the fact that it uses quite a lot of flavoring agents. Aside from the usual central Chinese staple spices like dried chilies and pickled cabbage, you need other aromatics like ginger, garlic, and cilantro.
Due to the use of many vegetables, the rice noodle soup is very refreshing, tangy, and spicy. But it also contains ground pork to give an extra serving of proteins and savoriness. The result is a balanced meal that you can have any time of the day.
Total time: 1 hour 20 minutes
With so many Chinese dishes, it can be a bit overwhelming to taste them all. That's why I want to show you an option that combines two different delicacies from China: Wonton Noodle Soup. As you can guess from the name, it has both Wonton (dumplings) and noodles in a rich broth.
Historically speaking, Wonton has existed since the Han Dynasty period (3rd century B.C – 3rd century A.D). Wonton is very simple in nature, consisting of meat filling and a dough wrapper. That's why it's very popular as a standalone specialty or as an ingredient of a bigger dish.
To describe this seafood dish from China, there is only one word, "super savory". Not only do you get the richness from the broth, but you can also experience flavorful shrimp Wonton and noodles. All of the components can send you to culinary bliss.
Making a bowl of Shrimp Wonton Noodle Soup will brighten up your day.
Total time: 20 minutes
Sichuan, a province of south-central China, is famous for its spices and excessive use of peppercorns. It's no wonder that only the bravest can handle some of Sichuan's signature dishes. And if you want to test your taste buds, I have just the perfect dish for you.
Dan Dan Mian, or Sichuan Spicy Noodles, is not only well-known in the region, but its popularity is also spreading all over the world. The name "Dan dan" came from the pole that street vendors used to sell this type of noodles in the past.
The recipe includes three parts: Meat, sauce, and noodles. While the meat and noodles are very standard, the sauce is the real attraction. With ingredients like soy sauce, Sichuan peppercorns, and chili flakes, it will surely numb your mouth.
To eat this beloved Chinese breakfast meal on a cold morning, you combine everything thoroughly. The savoriness of the marinated pork comes perfectly with the richness of the egg noodles. All of that precedes a general numbness from the sauce.
Total time: 45 minutes (With 3 hours of resting time)
Shaanxi is a landlocked province of central China. Compared to Guangdong, Sichuan, and Shanghai, Shaanxi food is relatively unknown. However, it doesn't mean you can't find great delicacies within the region.
In this entry, I have to show you Biang Biang Mian as the representative of Shaanxi cuisine. Like Dan Dan Mian, this dish looks and smells absolutely appetizing thanks to the fragrant Chinese sauce. But don't worry, it will not paralyze your tongue.
The texture is rather interesting since the noodles are wider compared to normal ones. The size might make eating difficult at first, but the noodles prove to be useful when it comes to retaining the chili oil, which consists of chili flakes, soy sauce, and peanut oil.
Of course, if you can't make the noodles yourself, you can also buy package noodles from grocery stores. It might be easier, but you will lose the authenticity of Biang Biang Mian.
Total time: 10 minutes
In this entry, you will be going to the east of China, particularly the port city of Shanghai. Around this area, there is a dish called Cu Chao Mian, or Shanghai Fried Noodles in English. While it looks simple, the flavors will stay in your mind for a long time.
For starters, you have to marinate the pork with a mixture of soy sauce, Chinese cooking wine, and a light sprinkle of sugar. This enriches the meat with the umami of the soy sauce, a bit of sweetness from the sugar, and the vinegary aroma of the wine.
The cooking process is all about adding everything onto a wok and quickly stir-frying them. This quick method causes the seasonings like soy sauce, sugar, and vinegar to coat the noodles better. When the noodles turn a darker color, serve them on a plate.
Total time: 30 minutes
Chow Fun, or simply Stir-Fried Rice Noodles, is part of Guangdong cuisine. This delicacy is well-liked in many Cantonese-speaking communities since it's rather quick to prepare with simple ingredients.
Chow Fun can either be very saucy or somewhat dry, this Beef Chow Fun recipe falls in the latter. Most of the sauce comes in the form of condiments, including soy sauce, oyster sauce, and black pepper. The noodles soak in the sauce, causing the color to turn very brown.
And to get the beef to fully release its full potential, you marinate the meat in a mixture of soy sauce, sugar, and Shaoxing wine (some people call it Chinese cooking wine). The blend of umami and sweetness infiltrate the meat tissues to increase the delectability.
This quick Beef Chow Fun tutorial is great for busy people.
Total time: 30 minutes
Chow Mein is a type of noodle dish that is associated with the Cantonese culinary style. However, instead of being entirely rice flour, Chow Mein comes from a mix of egg and flour. This gives the Chow Mein a very rich and creamy texture.
When you pair this type of noodle with flavorful ingredients, the taste can reach a higher level. And the best example is this current entry called Beef Chow Mein. The preparation is rather eye-catching: You fry the noodles until they turn crispy and layer on top with a special sauce.
This sauce includes oyster sauce, maple syrup, and cornstarch water to thicken the mixture up. The marinated beef also adds a lot of savoriness to the mix. As a result, you can feel two different textures from the dish: one of irresistible crispiness and one of delicious tenderness.
Total time: 15 minutes
When it comes to Lo Mein, people seem to mistake it for Chow Mein since it also comes from Guangdong and uses egg noodles.
However, the cooking method is different because you have to boil the noodles first so they become moist. The sad news is, if you're wondering if you can eat lo mein on a vegan diet, this recipe is not for you.
Through the process, each strand of the noodles turns a little firmer, enhancing the chewiness. This also keeps the texture of Lo Mein very juicy. Any type of sauce can easily coat the exterior of the noodles. You can also make this Chinese dish using an instant pot.
And it's what makes this pork-based Chinese dish a delight to eat. The seasonings are Hoisin sauce, Sriracha hot sauce, and dark soy sauce. When you bite the noodles, a wave of flavors will rush through your taste buds. The pork gives a very palatable tenderness.
Total time: 30 minutes
Instead of the usual shape that you tend to see in many noodle dishes, Cheung Fun has a very distinct style from Hong Kong cuisine. This rice-based specialty from China is a cross between a crepe and a flat pancake. So what makes Cheung Fun so good?
It all comes down to the wrapper which consists of rice flour, cornstarch, and whipped eggs. This combination makes a very fine and smooth batter, so when you steam it, you get a chewy and creamy layer. The whipped eggs can give a certain richness to the texture.
Aside from the wrapper, there is also a unique sauce that enhances the overall flavor. The sauce includes soy sauce, sugar, and garlic. You prepare it by stir-frying the components in a wok until there is a pleasant smell coming out of the pan.
The mixture gives Cheung Fun a much-appreciated sweetness, pungency, and umami. If you want extra proteins, add shrimps inside the rice noodle rolls.
This tutorial will teach you how to make Cheung Fun, a great Cantonese dish.
Total time: 45 minutes
Ku Xia combines glass noodles with a sauce to create this tasty Chinese shrimp delicacy. So, what exactly are glass noodles? Instead of using wheat or rice flour, the variant comes from a type of starch, usually mung bean or sweet potato starch.
Due to that ingredient, the noodles look almost transparent, and the texture is sort of gelatinous. Glass noodles are suitable as an ingredient in soups and hot pots. In this particular recipe, they can thicken up the sauce thanks to their starchiness.
The other parts that make Ku Xia irresistible are shrimp and its sauce. You need to steam the shrimp to tenderize it. As for the sauce, combine sugar, light soy sauce, and Chinese cooking wine. You drizzle this savory mixture on top of the shrimp before steaming it.
Total time: 40 minutes
The concept of oil noodles has existed for a long time in Chinese history, possibly as far back as the Ming Dynasty (14th – 17th century A.D). This version of "Mian" ("noodles" in Chinese) is very versatile; you can combine it with a lot of different ingredients.
With Cong You Ban Mian, you can experience so many flavors with only a few simple components. First, toss the scallions into the hot oil. This step is necessary to create a base aroma for the oil. After that, add the chili flakes for that kick to your taste buds.
Drizzle both dark and light soy sauce into the mixture. The umami from the soy sauce can offset the greasiness of the oil. The final step is to mix the noodles with the oil to create a quick dish. This meal has a combination of saltiness, richness, and spiciness.
Total time: 15 minutes
Ma Jiang Mian, also known as Sesame Noodles in English, is one delicacy that you cannot miss out on during the summer. This refreshing bowl of northern specialty can cool you off with its very incredible combination of ingredients.
A few important things that you have to get are noodles, sesame paste, and Chinese condiments (sugar, vinegar, and light soy sauce). Those seasonings, as well as freshly shredded cucumber, prevent the sesame paste from being too overwhelming.
Upon taking the first bite, you will be greeted with both nutty and savory sensations. The flavors evenly coat every part of the noodles. If you want to spice up Ma Jiang Mian, I highly suggest adding a spoonful of chili oil to give this dish a side of spiciness.
Total time: 30 minutes
Originating from the northern side of China, specifically Shandong province, Zha Jiang Mian is not only well-known all over China, but it is also available in both Korea (as Jajangmyeon) and Japan (as Jajamen). So what is the secret to this dish's popularity?
It always boils down to the sauce. This sticky and rich sauce is the result of combining many Chinese-style seasonings. They include soy sauce, soybean paste, and Doubanjiang (chili bean sauce from Sichuan). The mixture creates a sense of nuttiness and savoriness.
In order to recreate Zha Jiang Mian, you stir-fry pork belly with the bean sauce until it becomes fragrant. In the final step, place cooked noodles, cucumber, and the bean sauce with meat in a bowl. Remember to mix everything together evenly to maximize the flavors.
Zha Jiang Mian is a type of Chinese comfort food that you should make.
Total time: 20 minutes
Longevity Noodles, or simply Yi Mein, is often a dish that you will find in many Chinese celebratory feasts, such as weddings, birthday parties, and New Year events. The meaning of its name is that people want to have a long life after eating this delicacy.
If you plan to have a year-end party, this might be a good Chinese-style New Year recipe to consider since it's fairly simplistic. Yi Mein noodles are easy to find in Chinese supermarkets. Yi Mein is similar to egg noodles since they are chewy and delectable.
The cooking steps are easy to follow. First, you boil the noodles to soften them up a bit. Meanwhile, stir-fry mushrooms with green onions and toss in the noodles. Season Yi Mein with soy sauce, oyster sauce, and white pepper to improve the savoriness.
Experience Chinese Cuisine Through Noodles
China is a vast country with so many regional cultures and cuisines that people should experience for themselves. However, not everyone can have the freedom and the means to do it. That's the main reason for the existence of this list.
I want to show many people the beauty of Chinese gastronomy, including the many variations of noodles. Hopefully, you will be inspired by the recipes above to make your meals more delightful and exciting. This change of style can improve your mood in the long run.
Well, that has been quite the journey. Thank you for accompanying me, and hit that like button if you appreciate the recipes above. Also, share this on your social media so more people can take a look. Stay tuned, and have a great time!
Nutrition Facts
3 servings per container
---
Amount Per ServingCalories278
% Daily Value *
Total Fat 5.2g

8

%
Cholesterol 199mg

67

%
Sodium 1532mg

64

%
Potassium 126mg

4

%
Total Carbohydrate 47.2g

16

%

Dietary Fiber 0.9g

0

%
Sugars 3.6g

Protein 12.2g

24

%
---
Calcium

51

%
Iron

1

%
Vitamin D

15

%
* The % Daily Value tells you how much a nutrient in a serving of food contributes to a daily diet. 2,000 calories a day is used for general nutrition advice.