It's undeniable that Chinese shrimp recipes have a large part in popularizing Chinese culture. There are so many world-renown delicacies from China that consist of shrimp as their main component.
It's easy to understand since shrimp is easier to prepare and eat than other shellfish. Also, if a person eats the right amount of shrimp, it can bring various health benefits. These factors make shrimp the go-to seafood for many incredible dishes.
Doesn't this already sound very appetizing? That's why I've already listed some of the most iconic Chinese recipes that you might be interested in. I think these new additions to your meal will make everything much better. So, what are you waiting for?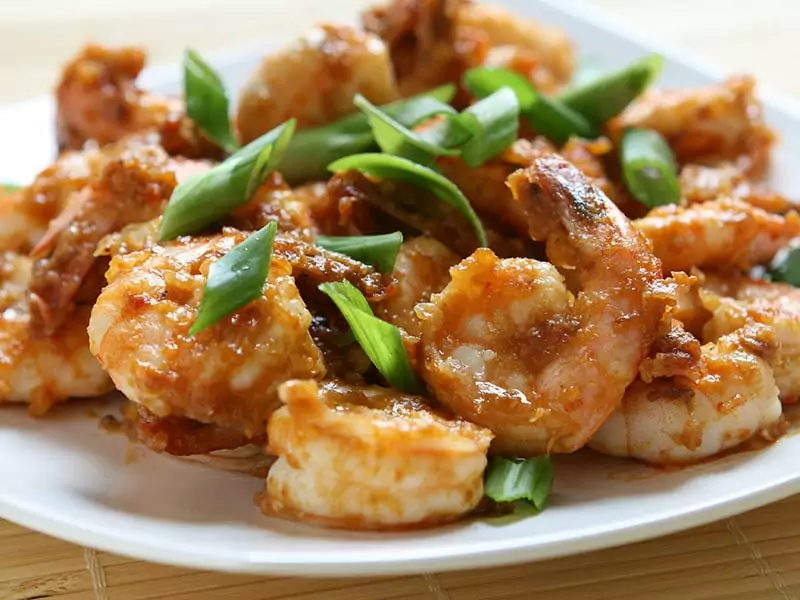 How To Cook Shrimps With A Chinese Flair
Looking at the selection of specialties from China below, you will find so many fascinating ways to prepare shrimp. From a simple plate of stir-fry to dishes that require a bit more skill, you can feel assured that none of these entries will be boring at all.
Total time: 20 minutes
For a very Asian-inspired recipe, why don't you try to make this Honey Garlic Shrimp (or Feng Mi Da Suan Xia)? It's a favorite amongst many people in China and other Asian countries as well.
This delicacy is easy to make, and in the end, you will get a combination of flavors that you've never experienced before. The three main ingredients are shrimp, honey, and garlic.
First of all, to bring out the best in the shrimp, you marinate it with vinegar, soy sauce, and salt. This can both reduce the fishy smell as well as enhance the savoriness of the meat.
After that, saute the shrimp with chopped-up garlic and a drizzle of honey. The garlic will exude a fragrance that increases your appetite, while the honey improves the overall taste with its sweetness. Honey Garlic Shrimp is perfect on a bowl of nice or white noodles.
Total time: 15 minutes
Kung Pao Shrimp derives from a more popular specialty in Sichuan province called Kung Pao Chicken. Aside from the difference in the main ingredient, everything else in both recipes stays the same, even the cooking method.
With the switch from chicken to shrimp, the taste will go through a bit of change as well. While the chicken meat is very rich and tender, the shrimp feels somewhat chewier. Kung Pao Shrimp also has a more seafood essence.
Apart from that, you still need to add bell pepper, green onions, and tomatoes to complete this dish. The vegetables provide some freshness to the flavor. To give a signature Sichuan flair, toss in red pepper flakes, Sriracha chili sauce, and sesame oil to improve the aroma.
This is a good example of how to make Kung Pao Shrimp at home.
Total time: 45 minutes
Noodles are a staple of Chinese cuisine. That's why there are so many different noodle-based specialties in China, including Chow Mein from Guangdong province. In this entry, I want to show you how to make a shrimp-based version of this delicacy.
To create a good plate of Chow Mein, you must choose the right type of noodles. I highly suggest creating a dish with egg noodles since they are very creamy, with a hint of sweetness to improve the overall flavor of the dish.
You can use a simple frying pan or get a special Chinese pan called a wok. The pan has an oval bottom to help the ingredients and condiments blend thoroughly. You can throw the shrimp with the noodles onto the pan and stir-fry. Season the mixture with soy sauce and oyster sauce
Total time: 30 minutes
Lo Mein and Chow Mein are indistinguishable if you're not familiar with Chinese cooking. For Chow Mein, you cook the noodles in the frying pan with other ingredients. With Lo Mein, however, you boil the noodles separately before mixing them with everything else.
Thanks to the boiling process, the noodles are very moist and tender. That's why Lo Mein tends to be a lot saucier than Chow Mein. And this is true for Shrimp Lo Mein as well, since you will be able to taste the mixture of soy sauce, Chinese cooking wine, and oyster sauce much better.
You can still use egg noodles as a base for Lo Mein thanks to their richness. This type of noodles is especially good at absorbing moisture to keep themselves puffy. When combined with the shrimp and sauce, Lo Mein makes for a great meal.
Total time: 1 hour 20 minutes
Wonton has had a very long life, being created during the legendary Han Dynasty (3rd century B.C – 3rd century A.D). It's no wonder that the delicacy has spread all over China to become an important part of China's culinary world.
While many versions of Wonton filling consist of pork, this shrimp version will impress you. Instead of the more fatty taste of the pork, when you take a bite of this Chinese soup specialty, it feels like the ocean waves washing over you.
The shrimp has a mild meatiness that keeps the flavor from being too overstimulating. The thin Wonton wrapper gives a nice layer of starchiness. Aside from those, the soup broth is still very rich with the combination of creamy egg noodles.
Total time: 1 hour 15 minutes
What if you don't want a soupy dish but still crave Wonton? Well, then I can introduce you to the Fried Shrimp And Pork Wonton. Aside from being a great Chinese side dish, this version of Wonton can act as an amazing appetizer and main dish.
The ingredients for making this wonton are similar to the traditional version, including wrappers, filling, and seasonings. The filling combines minced pork and shrimp. This creates a nice blend of aroma with the meaty pork and a more savory shrimp.
Season the filling with sugar, sesame oil, and soy sauce to your liking. Then, wrap the Wonton dumplings and deep-fry them until they get a very crunchy outer layer. That texture gives a really good contrast to the juicy filling inside.
Total time: 26 minutes
If you are familiar with the incredible Dim Sum cuisine, you would definitely recognize this delicacy with how unique it looks. Coming from the southern part of China, particularly the Cantonese-speaking region, Xia Jiao (or Har Gow) is simply iconic.
There are so many aspects that make people fall in love with this type of Shrimp Dumplings. First, the wrapper is made from wheat and tapioca starch, increasing the chewiness. Compared to wonton, the skin is a bit thicker, so it can soak in a lot more of the dipping sauce.
Second, the filling consists of minced shrimp, bamboo shoots, and seasonings (Chinese cooking wine, sesame oil, and white pepper). The minced shrimp has a lot of savoriness. On the other hand, the chopped-up bamboo shoots give a nice crunch with a bit of sweetness.
You can now make your own Xia Jiao or Har Gow with this tutorial.
Total time: 15 minutes
Jiao Yan Xia, or Salt And Pepper Shrimp is another dish that comes from the ever-popular Cantonese cuisine. This Asian-originated shrimp delicacy is available in so many Chinese restaurants across the world, but with this recipe, you can always make Jiao Yan Xia at home.
What makes Jiao Yan Xia so great is taking simple ingredients and turning them into a delectable meal. You only need shrimps, Sichuan peppers, and salt. Sichuan peppers are not as spicy as red chilies, but they will numb your tongue. This creates a distinct feel to the flavor.
With the shrimp, you mix it with cornstarch before frying. This will coat the shrimp with a crunchy layer, adding a great texture and depth to Jiao Yan Xia. Sprinkle some salt and pepper on the shrimp at the end to improve the savoriness.
Total time: 45 minutes
Ku Xia, or Steamed Shrimp With Glass Noodles in English, has such an interesting way to prepare the shrimp. Not only does the end product look absolutely elegant, but the shrimp also oozes out delectability.
The two main stars of Ku Xia are the shrimps and the glass noodles. The traditional method of cooking for this recipe is steaming. This helps the shrimp retain most of the moisture, increasing the juiciness of the meat.
On the other hand, you don't need to boil the glass noodles beforehand, just add them to the plate. What will soften up the noodles is the mixture of Chinese cooking wine, soy sauce, and sugar. When everything is done, the noodles will turn soft and flavorful.
Total time: 40 minutes
In Chinese cooking, nothing is quicker and more filling than Fried Rice. Chao Fan, as locals call it, has existed for quite a long time since the Sui Dynasty (6th – 7th century A.D) of China. From a simple way to take care of leftover food, the dish has grown to be very famous worldwide.
One of the biggest sub-categories of Fried Rice is the seafood variant. For this entry, I want to focus solely on Shrimp Fried Rice. With the richness of the rice, the freshness of the vegetable, and the savoriness of the shrimp, you will surely be impressed.
To save time, I would recommend making this dish using frozen shrimp, but you can also buy fresh ones and peel them. First, you cook the rice until it turns puffy and fragrant. After that, you stir-fry the rice with shrimp and an assortment of vegetables (corn, carrots, and green peas).
The seasonings stay simple, just salt, pepper, and soy sauce. These will enhance the dish while not being too overwhelming. After all, the main flavors come from shrimp and veggies.
Total time: 30 minutes
If you want to add another shrimp-based Dim Sum dish to your repertoire, let me introduce you to this next one. Xia Duo Shi, or simply Shrimp Toast is the complete opposite of Xia Jiao when it comes to appearance texture.
Xia Duo Shi takes a lot of inspiration from European cooking since toast is not a traditional Chinese creation. However, the people of Hong Kong managed to fuse two styles to form a specialty that has a unique triangular look.
To get the perfect texture, you must grind the shrimp with egg and salt. This process will form a very smooth paste that packs a ton of flavors. You spread this between two slices of bread before deep-frying them. In the end, you get a crusty snack and appetizer.
Total time: 25 minutes
Egg Foo Young is a well-known delicacy of Guangdong cuisine. It's a favorite amongst overseas Chinese communities in North America, Britain, and Southeast Asia. That's because most Chinese immigrants arrived in these regions from Guangdong province.
Since there is no definitive recipe for Egg Foo Young, different Chinese communities will make up their own. In this particular version, aside from the eggs, you can add shrimp, bean sprouts, and scallion. There is also a special sauce consisting of cornflour, soy sauce, and oyster sauce.
Combining the creamy omelet with the savory shrimp creates an interesting texture. The addition of bean sprouts gives Egg Foo Young a refreshing and crunchy feel. And of course, the special sauce is filled with delightful flavors.
Total time: 15 minutes
Chop Suey is very prominent in many Chinese communities in the U.S. This stir-fried delicacy might have originated within the Guangdong region since there is a similar dish in the province called Tsap Seui (meaning "Leftover Food" in English).
While most of the ingredients are not leftovers anymore, the main focus of this dish remains. You make Chop Suey by stir-frying meat (in this recipe, it's shrimp) with many types of vegetables (young corn, snow peas, and chopped cabbage for this version).
When it comes to nutrition, Chop Suey is probably one of the healthiest Chinese specialties for your diet menu. The fresh vegetables have a lot of fiber and vitamins. The meat contains proteins and even minerals. If you want to change your eating habit, Chop Suey is the one.
Total time: 30 minutes
If you're looking to make a Chinese-inspired snack, look no further than Cheung Fun. These little rice noodle delights are popular across many parts of Guangdong province, as well as the port city of Hong Kong.
What makes Cheung Fun so good is its simplicity. This delicacy never requires a lot of ingredients to make. You only have to prepare the flour, water, and whipped eggs to make the wrapper. This combination gives the layer a creamy and puffy texture.
In many Chinese recipes, the filling of Cheung Fun consists of just shrimp. When you steam the stream, this helps the meat stay very moist, keeping most of the flavor. At the end of the cooking process, drizzle a mixture of soy sauce, garlic, and garlic to improve the savoriness of the rolls.
Cheung Fun is a very beloved Dim Sum item that you should make.
Total time: 20 minutes
During days when you don't have a lot of time, Shrimp And Broccoli Stir-Fry will be a life-saver. The recipe for this delicacy is quick and simple. The result will be a perfect Chinese side dish to go with white rice.
For the ingredients, you will need shrimp, broccoli, and onions. The broccoli packs a ton of nutrients including vitamins and fiber. Aside from that, onions are very fragrant and aromatic. They make up for broccoli's lack of noticeable flavor.
And the shrimp still has that slight sweetness within the meat. To further improve the taste, you can make a special sauce consisting of soy sauce, oyster sauce, and vinegar. Drizzle this on top of the shrimp and broccoli to bring out extra savoriness.
Total time: 25 minutes
La Jiao Da Suan Xia, or Chili Garlic Shrimp is also another quick dish that you can make. With an interesting combination of fragrant ingredients, you will not be able to get this delicacy out of your mind after one single bite.
First of all, to get the shrimp to be as flavorful as possible, marinate it in a mixture of lemon juice, garlic, and chili powder. The sauce will slowly seep into the shrimp to moisten the meat. This also has the effect of making the meat a little spicy and tangy.
When you stir-fry the shrimp in a heated pan, this will bind the seasoning to the shrimp even more. As a result, the result has a very pleasant aroma. You can pair the shrimp with steamed broccoli and white rice.
Total time: 25 minutes
Sweet and sour is a very well-known cooking style that originated during the Tang Dynasty (7th – 10th century A.D). There are so many ingredients that you can pair with this cooking style, from pork to beef and even chicken. In this recipe, I will show you how to make it with shrimp instead.
One of the great things about this version of Sweet And Sour Shrimp is the interesting effect of combining two opposing flavors. Thanks to the shrimp's mild taste, the sweetness from honey and the acidity of pineapple juice are very apparent.
A single bite will reveal how much of the sauce the meat has soaked up. Not only that, when you eat this delicacy with a side serving of white rice, the experience becomes much better. The puffy rice, alongside the sauce and shrimp blend together for an explosion of aromatic bliss.
Total time: 20 minutes
If you have a preference for spicy Chinese dishes like me, Szechuan Shrimp is not something you want to miss out on. While the ingredients are simple enough, it is the Sichuan cuisine-inspired sauce that elevates this specialty to a new level.
For the sauce, you will have to mix soy sauce, rice vinegar, and a lot of chili flakes. This sauce brings a lot of acidity and savoriness to the shrimp. You can also sprinkle in five-spice powder (including star anise, closes, Chinese cinnamon, Sichuan pepper, and fennel seeds).
Of course, a Chinese stir-fry will not be complete without some vegetables. You can choose whatever veggies you like, but I highly recommend bell pepper, green onions, and green peas. They bring a certain freshness that will even out the savoriness of the sauce.
Total time: 39 minutes
You're planning a Chinese-themed party but don't know what to serve first? Well, don't worry because I have the right Chinese starter for you. Introducing Xia Qiu, a very simple and effective way to please your guests.
With just simple ingredients including shrimp, water chestnuts, and scallion, you will be able to form tasty balls of shrimp. When you combine the savoriness of the meat with the sweet chestnuts, it will create an appetizing effect on your taste buds.
To make everything better, you deep-fry these Shrimp Balls until they form a very crispy and golden brown layer. This layer gives the balls an irresistible texture, like biting into a greasy cookie. The flavors become much better if you dip them in a sweet and sour sauce.
Total time: 30 minutes
If you want to indulge yourself a little bit with some greasy comfort food, let me tell you about this next recipe. Xia Dan Juan or Shrimp Egg Rolls will make your mind pop with how great these little snacks are.
Xia Dan Juan has a very incredible mix of textures. The outside is a very crispy layer of egg roll wrapper. The wrapper is made by combining eggs and flour. This gives the outer layer a level of creaminess. The crunchiness adds a new side to the overall flavor.
On the inside, most of the ingredients including shrimp, bean sprouts, and onions stay very moist and tender. That's because the outer layer protects the filling from drying out, trapping in most of the savoriness.
This Xia Dan Juan recipe is popular with many overseas Chinese.
Total time: 45 minutes
It's time to throw away that bag of chips because I have a Chinese-inspired snack for you. Introducing Xia Bing, or Shrimp Cake, a simple delicacy that you can whip up in no time. And the best thing about Xia Bing is that it's very diet-friendly.
To recreate this version of Shrimp Cake, you will need minced shrimp as the base. Its flavor is very mild so you can pair the meat with other more fragrant vegetables like ginger, water chestnuts, and cilantro.
Mix the ingredients to form a meat paste and season it with soy sauce, oyster sauce, and Chinese cooking wine. The sauce will enhance the mixture so when you bite into the cake, the savoriness will explore every single corner of your taste buds.
Total time: 2 hours
When you need something to eat in the morning, Pork And Shrimp Congee, or Xia Zhou is the perfect delicacy for the job. The smooth texture of the rice and the savoriness of the meat will provide you with much-needed energy.
There are two essential parts to a good bowl of Xia Zhou. First, you have to boil the rice correctly to get the right consistency. If the boiling time is too short, the congee will be lumpy. If it's too long, the soup will be more like a paste instead.
The second part is taking care of the shrimp and pork. You have to marinate the shrimp in a mixture of soy sauce, sugar, and salt. In the meantime, mince the pork. After that, cook both before adding them to the congee.
After soaking in the marinade, the shrimp is very juicy and packs a ton of sweetness. On the other hand, the minced pork adds a pleasant savoriness to the congee.
Shrimp Is Very Important To Chinese Cuisine
When it comes to shrimp-based delicacies, there's no denying the diversity that many Chinese provinces have to offer. It's also one of the great things about the country, the huge number of regional cuisines is what makes China a favorite destination for many foodies.
With the help of the recipes above, you will be able to create more fascinating dishes for your family or even for yourself. In a way, I hope this will kickstart a love of foreign delicacies inside of you. And who knows, I might see you again real soon.
If you appreciate the article above, don't hesitate to click that thumbs-up button and share this post on your social media. Thank you for accompanying me, and have a nice day!
Nutrition Facts
18 servings per container
---
Amount Per ServingCalories179
% Daily Value *
Total Fat 7.4g

11

%
Cholesterol 56mg

19

%
Sodium 275mg

12

%
Potassium 115mg

4

%
Total Carbohydrate 18.6g

6

%

Dietary Fiber 1g

4

%
Sugars 0.6g

Protein 9g

18

%
---
* The % Daily Value tells you how much a nutrient in a serving of food contributes to a daily diet. 2,000 calories a day is used for general nutrition advice.