When throwing a party, figuring out how many pounds of shrimp per person is one of the most frustrating and challenging things ever. While it is essential to ensure that no guest should be left hungry, it is not that easy when it comes to preparing delicious seafood recipes like shrimp.
Apart from having a variety of sizes, shrimp can also be cooked in different ways. While choosing good recipes, you need to ensure there is plenty to entertain multiple people.
So, how to come up with a good shrimp buying plan? This post will give you a detailed guide and some easy-to-follow tips that make you a master at serving shrimp for gatherings!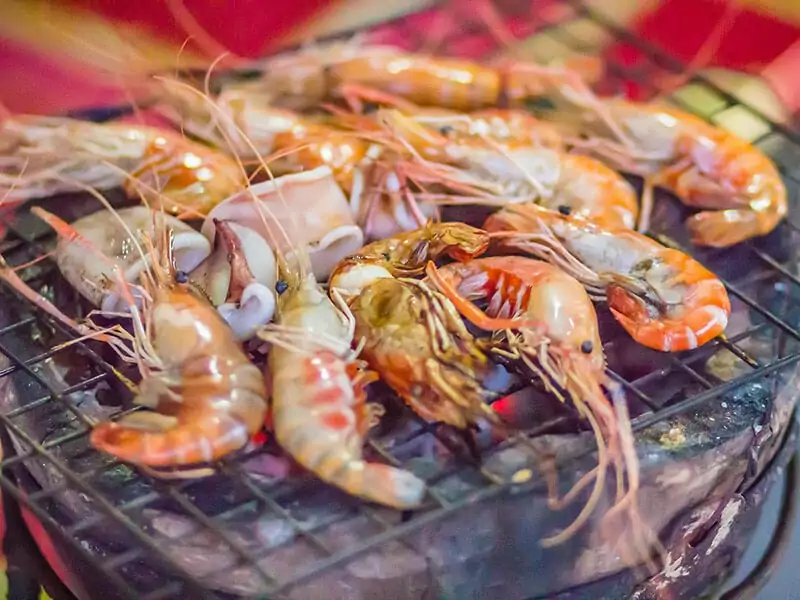 Understand Shrimp Sizes & Counts Per Pound
Shrimp are graded by size (typically from small to colossal) and sold by counts per pound in the United States. This "counts per pound" thing is represented as a set of numbers on the label of a shrimp package, informing the number of individual shrimp in one pound.
For example, 26/30 means you can expect to get 26 to 30 shrimp. The smaller the numbers, the bigger the shrimp.
Shrimp Sizing Chart
Below is a detailed chart illustrating how shrimp are counted and sized.
| | |
| --- | --- |
| Common Size | Counts Per Pound |
| Colossal | 10-20 |
| Jumbo | 21-25 |
| Extra Large | 26-30 |
| Large | 31-40 |
| Medium | 41-50 |
| Small | 51-60 |
| Extra Small | 61-70 |
It is also noteworthy that the chart does not cover all shrimp sizes, and its main purpose is to give you an idea of common ones. In reality, shrimp sizing is like a spectrum. There exists bigger shrimp than the colossal and more undersized than the extra small listed here.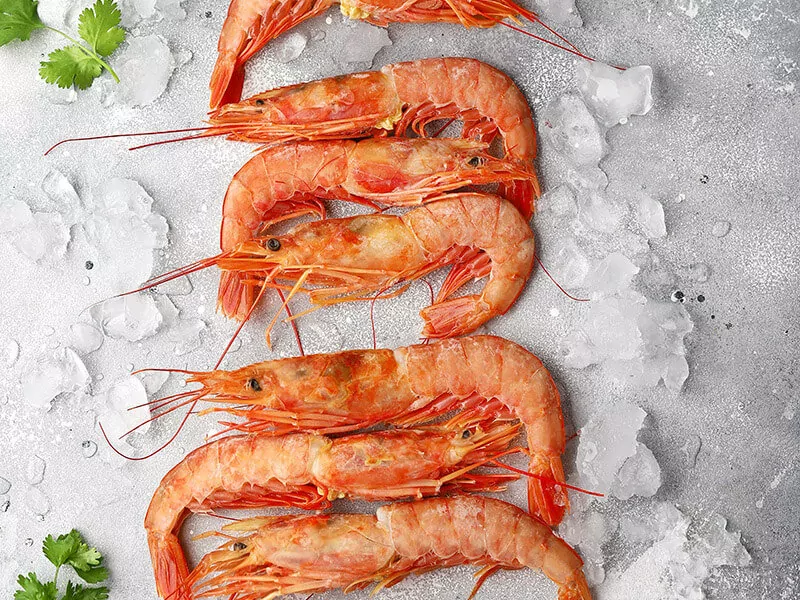 Thus, it is best to determine how many shrimp you will need for each person beforehand and shop according to count.
Shrimp sizing demystified: a guide to buying the right shrimp you need.
Shrimp Serving Size: How Many Pounds of Shrimp Per Person
Shrimp can be cooked or boiled, depending on the recipes. Generally, the average serving size of cooked, peeled shrimp is roughly 1/4 pound per person, which means that one pound of shrimp can feed up to 4 people. That is a rule of thumb (1).
In case you are preparing shrimp for boil, the number should be greater. Because they are basically shell-on shrimp in boiling water, it often takes 1 pound to serve a person when boiled.
Approximate numbers of cooked, peeled shrimp per one serving size:
Jumbo and above: about 2 to 5 shrimp per person.
Large to extra large: about 6 to 8 shrimp per person.
Medium and below: about 10 to 12 shrimp per person.
There also exist other factors when it comes to shopping for shrimp. You should always keep in mind that the amount you need to buy can be less or more than planned, depending on how big the group is, one's serving size, diverse types of shrimp, etc.
Here is some information that may help you make a better plan.
Shrimp Per Person For Appetizer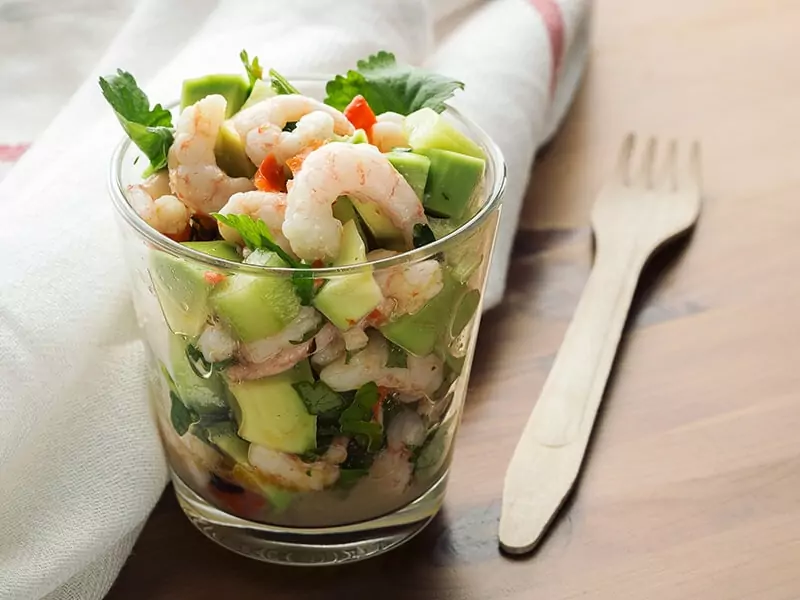 It is recommended to have 6-12 appetizers for a party. If you have several ones ready, opt to prepare 3-4 counts of medium or large shrimp for each person.
Best shrimp appetizers to prepare:
Shrimp Cocktail
Cream Cheese Shrimp Dip
Bacon Wrapped Shrimp
Shrimp Ceviche
Shrimp Dip
Shrimp Per Person For Entree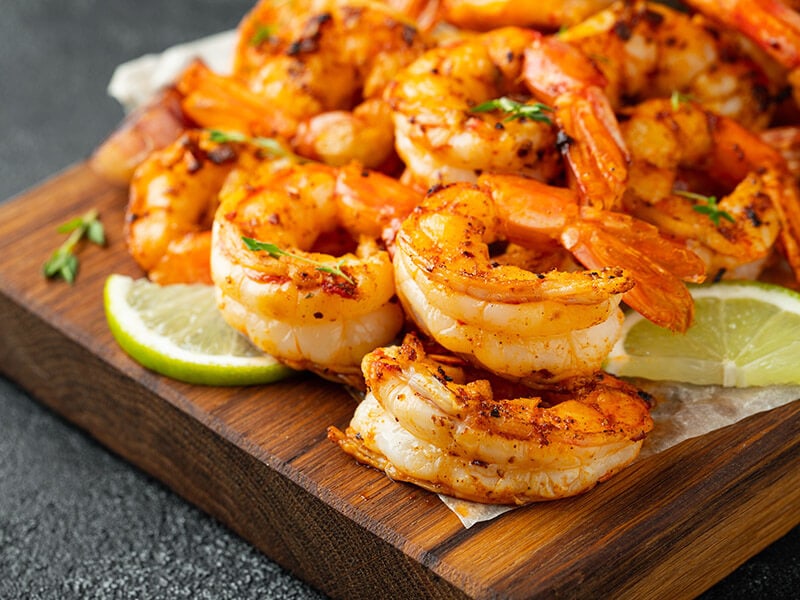 If you are serving shrimp for the main course, it's best to allow 1/4 pounds of cooked, peeled shrimp for each adult and about 1/8 for kids.
Highly recommended shrimp dishes:
Garlic Shrimp
Spicy Grilled Shrimp
Shrimp Linguine
Shrimp Scampi with Pasta
Cream Pesto Shrimp
Pounds Of Shrimp Per Person For Gatherings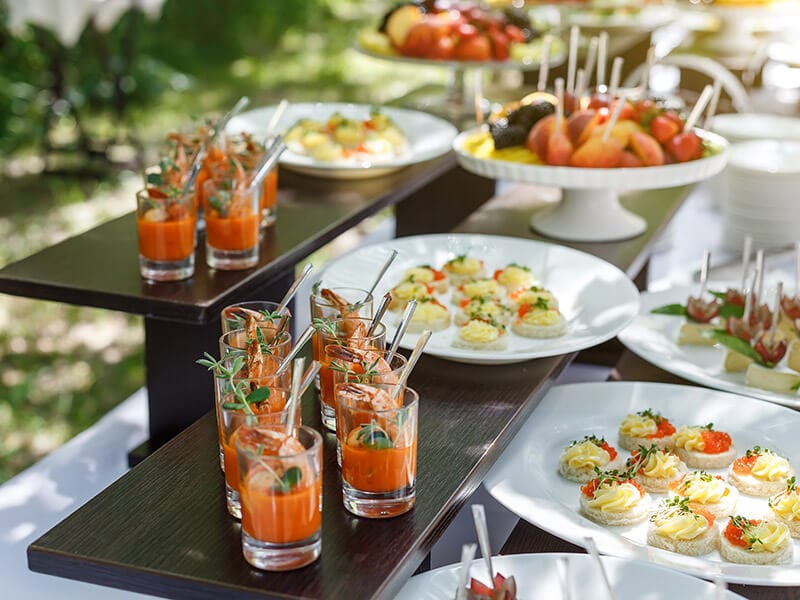 While it is not a big sweat if you know your group well, preparing shrimp for large groups can be a real challenge because not everyone will eat one serving size. Eager eaters may desire more, while some eat less or don't even bother to touch the shrimp.
Ultimately, it is always safer to have plenty of food than not enough. But, you also do not want to handle a load of leftovers. To settle this problem, here are some tips that usually help me get the right amount of shrimp I need without overbuying.
Group Of 4 People
Buying shrimp is pretty simple when it comes to small groups. According to the suggested shrimp serving size, one pound is enough to make up four servings.
In case some of your guests may end up consuming more than the recommended serving size, it's safe to buy 1/4 pound more.
Group Of 10 People
Regarding a party of 10, the serving size suggestion is still applicable. Four people make up one pound, which translates to 2.5 pounds of shrimp for ten people.
But don't strictly follow the "formula". Remember: Having more food than not having enough. Some may have larger serving sizes than the average or may bring their kids along. To prepare for a group of 10, I would add an extra one pound to the calculated numbers.
Group Of 25 People Or More
The larger the group, the trickier it is to figure an exact amount of shrimp to purchase. In the case of a big group of 25 guests and beyond, I would just follow the serving guide and add an extra 1/2 of a pound for every set of 4 people.
Often, the results are pretty neat, with little to no leftovers.
Tips: It is more manageable to determine how many pounds of shrimp you need when you know what kind of dish you will prepare beforehand.
Nutritional Facts For Cooked Shrimp
Shrimp is considered the center of the p,arty because they are not only delicious but also nutrient-rich. Naturally, they are an excellent source of protein and provide many other nutrients like phosphorus, and vitamin B12. They are low in saturated fat, carbs, and calories, as well.
Nutrition facts in one serving of cooked shrimp (1/4 pound) (2)
| | |
| --- | --- |
| Shrimp Nutrition | Nutrition Facts In 1 Serving Size |
| Calories | 135 g |
| Fat | 2 g |
| Fiber | 0 |
| Sugar | 0 |
| Protein | 26 g |
| Carbohydrate | 1.4 g |
| Iron | 0.4 mg |
| Calcium | 108 mg |
| Potassium | 189 mg |
| Cholesterol | 236 mg |
| Sodium | 1080 mg |
It is believed that high-cholesterol foods like shrimp can be dangerous to cardiovascular health, but these old assumptions have been dispelled (3). In fact, shrimp have many health benefits. For example, they help promote heart health, support brain health, and maintain weight loss.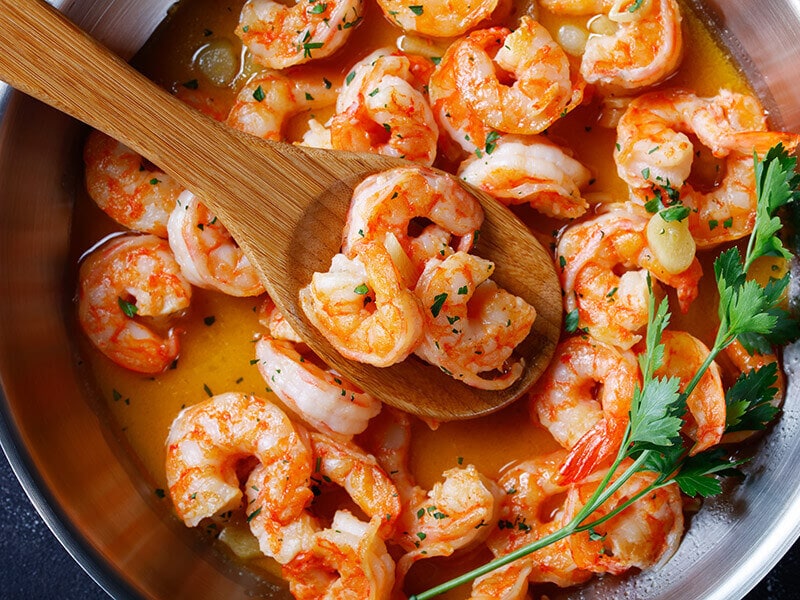 Shrimp Sizes: Which One Should You Buy
Shrimp comes in various sizes, and which one to buy vastly depends on how you cook them. The table below can give you some suggestions on choosing the right type of shrimp for your recipes.
| | |
| --- | --- |
| Sizing Terms | Recommend For |
| Colossal (10-20) | Baked stuffed shrimp grilled or barbecued shrimp, Shrimp Cocktail, or grilled shrimp skewers |
| Jumbo (21-25) | Salads, shrimp and grits, shrimp po'boy sandwich, coconut shrimp, and shrimp cocktail |
| Large & extra-large (26-40) | Pasta dishes (shrimp scampi, pasta primavera, risotto), shrimp roll, paella |
| Medium (41-50) | Fried rice, stir fry recipes, low country boil, shrimp fritters |
| Small & extra small (51-70) | Soups, stews, and gumbos |
Tip: There is no actual industry standard for shrimp sizes. "Medium shrimp" at one counter can be called "large shrimp" at another and vice versa. Therefore, always look for the set of numbers divided by a dash on the label to get the type of shrimp you want.
Big mistakes everyone makes when cooking shrimp.
Perfect Shrimp Recipes To Overwhelm Your Senses
Tired of all this shrimp preparation stuff? It's okay, I've got you covered. Here are some quick, easy-to-cook yet taste-good-to-the-mouth shrimp recipes that can entertain even the difficult guests!
This should be the first dish to add to your to-cook list. Up front, the ingredients are simple and easy to find. For this mouthwatering dish, you need shrimp (ideally jumbo size), garlic, butter, honey, and fresh broccoli are the main ones.
Secondly, this classic dish is not so challenging to make. Just allow yourself 50 minutes to prepare, and I swear you will love how it turns out!
It can be said that the only reason people come to parties is that they serve the shrimp cocktail. Filled with flavorful shrimp, avocado, juicy tomatoes, and crunchy cucumbers this low-calorie food is not only visually appealing but also appetizing.
Furthermore, it is also quick and convenient to cook. Without doubt, shrimp cocktail is the ultimate seafood appetizer that can entertain almost all guests.
Have you ever eaten something, and suddenly, all the thought-to-be forgotten memories just come back? That is what shrimp scampi makes you feel.
Come with five main ingredients such as shrimp, butter, garlic, salt, and lemon, this elegant dish never fails to delight party-goers despite occasions. It's classic, nostalgic, and flavorful. I recommend try this with some crusty bread to enhance the taste.
Tips For Storing Leftover Shrimp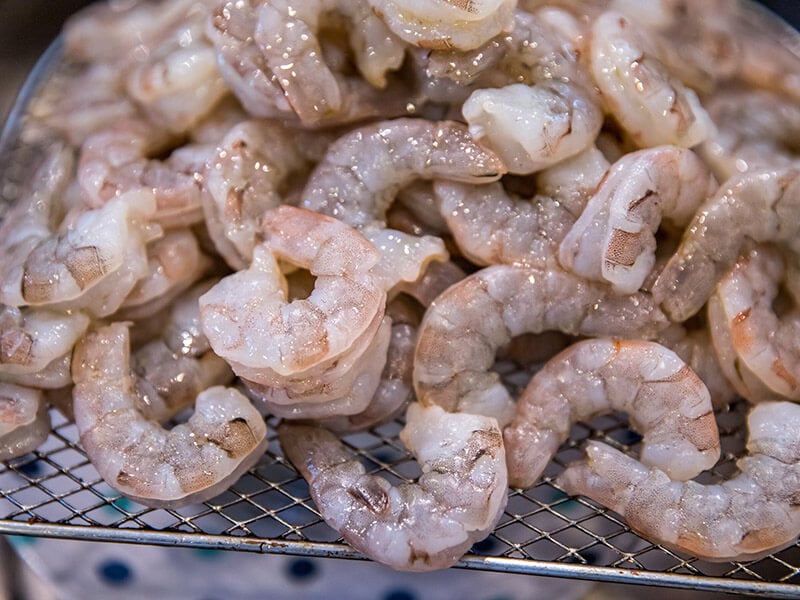 What if your plan goes a little out of hand and you have to deal with some leftovers? Besides carrying out some leftover shrimp cooking ideas, you might think of storing shrimp in the fridge. However, the time cooked shrimp can last needs your consideration.

You can store both cooked shrimp on the coldest part of your refrigerator, preferable on a bed of ice. Cooked shrimp can last for 3-4 days when kept in a sealed bag.
On the other hand, raw shrimp can last for 1-2 days in the fridge and months if frozen. You can keep them with the shell on and undeveined, but it is best to remove the heads before storing them.
Either cooked or raw shrimp will lose some of their texture when thawing. However, raw shrimp preserve a better flavor.
FAQs
Shrimp preparation can be a tedious job. Acknowledging this, I have summed up some of the most asked questions that may help you decide faster.
Preparing Shrimp Is No Longer A Challenge
So, you now understand how many pounds of shrimp are per person and the average serving size. It should be effortless to make a neat shrimp buying plan. I am positive that every guest at the gathering can't help but be amazed by how well-prepared and meticulous you are!
If you have any interesting tips on this topic, feel free to drop some in the comment section. Thank you, and have a nice day!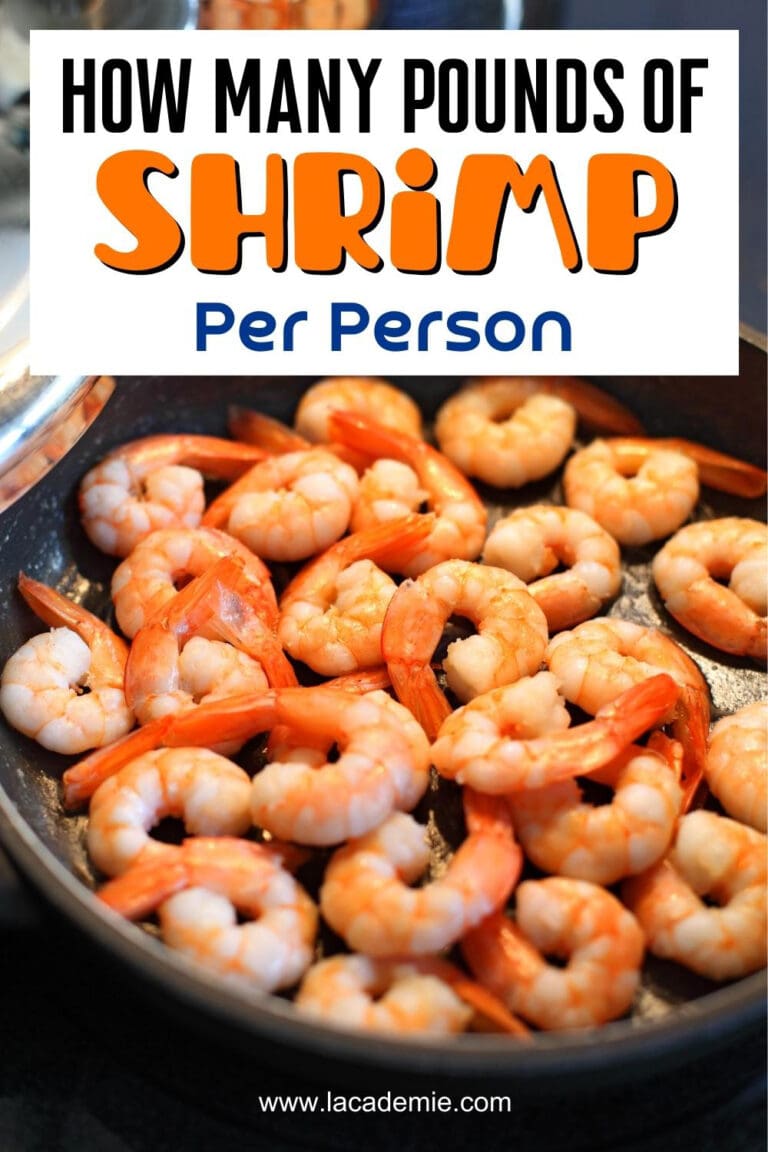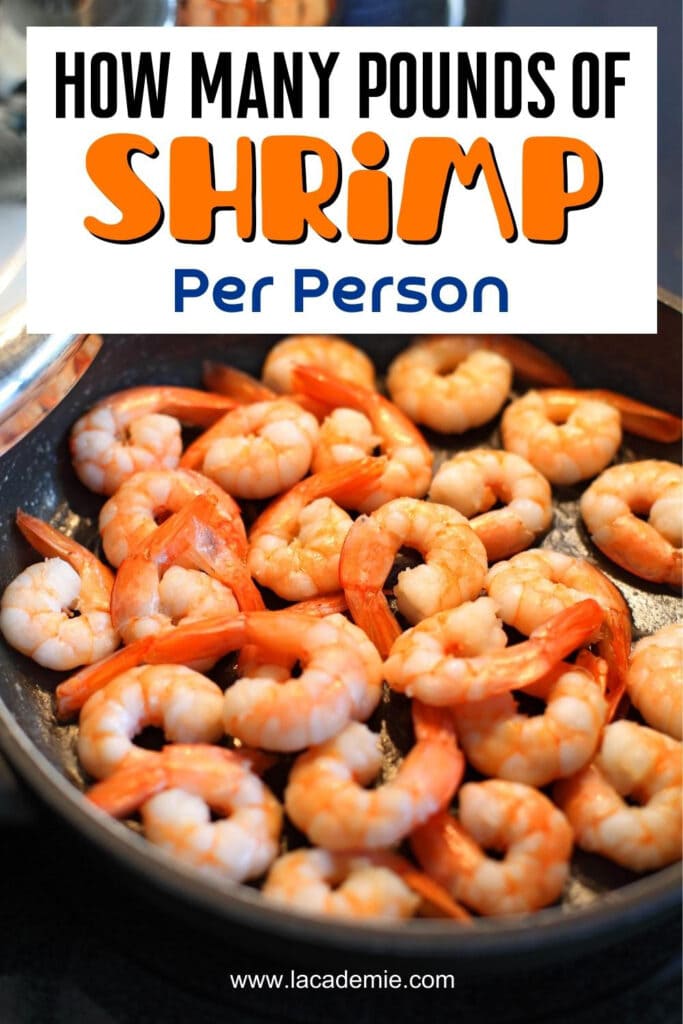 References
Seafood Serving Sizes. Retrieved 12 June 2022
Cooked shrimp nutrition facts and analysis.
Soliman GA. Dietary cholesterol and the lack of evidence in cardiovascular disease. Nutrients. 2018;10(6).