A delicious juicy shrimp coated in crispy browning coconut shredded is irresistible but what to serve with coconut shrimp is a considerable question.
This is a favorite food to welcome your guests, please your family as a snack, or freshen your main course menu. However, it will be boring when you use coconut shrimp only.
A perfect pair of food will enhance the taste of your coconut shrimp not only by the nutrients they contain but also to have an impact on your palate to help you thoroughly enjoy these foods.
You are self-questioning what kinds of tasty side dishes or sauce I am going to introduce to you, right?
My answer is a lot of them, from the mouth-watering tasty sauces to the refreshing green power of vegetables, an essential protein in starchy foods, and end with the enjoyable experience drinks.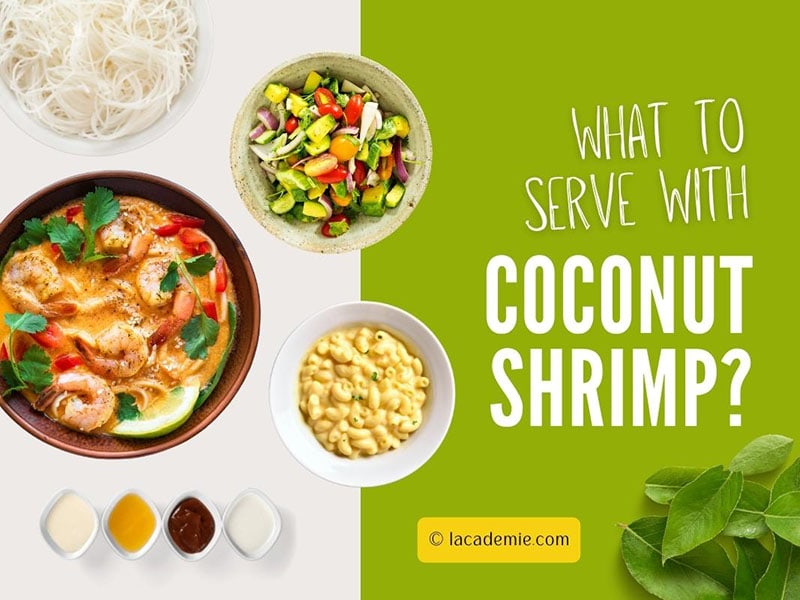 Which Foods Are Best Serving With Coconut Shrimp?
Do you want to finish all of your coconut shrimp in one go instead of worrying about the total time cooked shrimp can last in fridges? You can pair them with the following dishes to make sure that everyone will scrape their dishes spotlessly clean!
1. Spicy Mango Dipping Sauce
2. Sweet Chili Sauce
3. Orange-chili Dipping Sauce
4. Apricot Dipping Sauce
5. Pineapple Sauce
6. Honey Dipping Sauce
7. Maui Dipping Sauce
8. Tartar Sauce
9. Tamarind Ginger Sauce
10. Chipotle Mayo Sauce
11. Salad With Sesame-Ginger Vinaigrette
12. Salad With Spicy Mango And Cilantro Dressing
13. Avocado, Mango, Cucumber Salad
14. Caesar Salad
15. Coleslaw
16. Plain Rice
17. Egg Fried Rice
18. Pineapple Fried Rice
19. Rice Noodle
20. Macaroni And Cheese
21. Macaroni And Coleslaw
22. Cacio E Pepe
23. Tacos With Mango Salsa And Avocado Cilantro Sauce
24. Crispy Roasted Parmesan Potatoes
25. Sparkling Wine
26. Sex In The Driveway
27. Mojito
Those Foods Belong to These Groups:
The list below is a category for you to follow easier. I separated those side dishes into four main groups:
Sauces
Sauces are my first recommendation to serve with coconut shrimp. The delightsome taste of sauces will explode your taste when combined with coconut shrimp.
Salad
The second here is a salad. The fresh and green taste of the salad will neutralize the greasiness of fried coconut shrimp.
Starchy Foods
The last is starchy foods. A luscious combination of starchy carbonylate and coconut shrimp not only brings a succulent taste but also helps you feel complete for the main dish.
Drinks
Drinks are not simply used as a beverage when in pair with foods. A perfect matching drink will be a good supplement for your dishes.
This is a brief introduction about side dishes, and there are more details for you in the rest of this article.
So, now let's start the journey to discover a new harbor for your coconut shrimp!
Wait … Don't Ignore, You Will Miss Those Sauces
There are many kinds of sauces with different primary flavors such as salty, sweet, sour, spicy, fatty, and rarely appearing bitter. Sweet-sour and spicy are the two best candidates to go with any regular or unique shrimp varieties.
The sweet-sour taste mostly comes from fruit jams with the support of spicy taste from chilies, mustard to enrich the appetite of sauces.
Spicy Mango Dipping Sauce
This sauce is a blend of fresh mango taste from the tropical areas with the creamy texture of mayonnaise and spicy red chili or curry powder that will satisfy your appetite. You mix the mango jam with mayonnaise in the same amount, stir it, and adjust the amount of red chili or curry powder to fix with your palate.
Some little lemon juice, honey, cilantro, or salt will make your sauce more appropriate.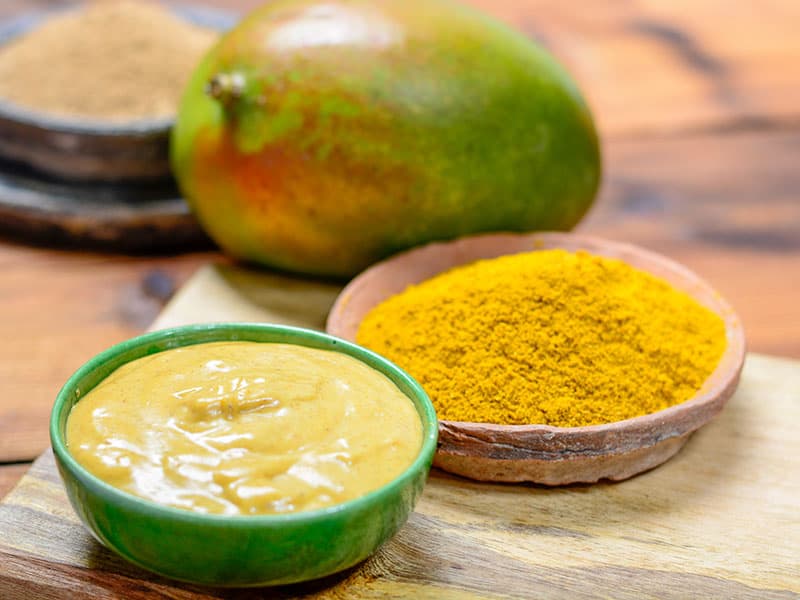 Sweet Chilli Sauce
You may refer to this sauce as Thai Sweet Chilli Sauce or Asian Sweet Chilli Sauce sold in the grocery store. Those are not different, while the taste comes from significant ingredients such as chilies, garlic, ginger, vinegar, and sugar, adjusted by some other ingredients such as soy sauce, sambal oelek, cornstarch.
The most special one is fish sauce. This sauce is famous in Asia with its unique smell but an incredible taste for you to try with sweet chili sauce.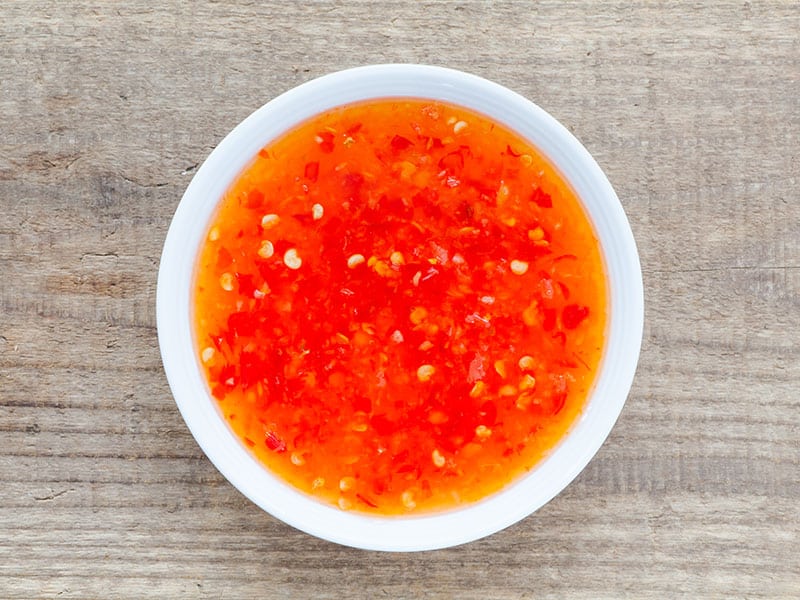 Orange-Chilli Dipping Sauce
The light sour taste of orange marmalade will wake up your gustation with a bit of spice from chilies or stone-ground mustard. You will need orange marmalade, chili flakes, sugar, lemon juice, sesame oil, and soy sauce.
The portion of orange marmalade in this sauce is more than half, so you can adjust the sugar and lemon juice to pleasure your sweet-sour taste when served with coconut shrimp.
Apricot Dipping Sauce
Since the tart taste of orange zest in orange marmalade may bore you, apricot preserves have become another excellent candidate to use for your sauce. Apricot dipping sauce includes apricot preserves, fresh lime juice, water, soy sauce, chili sauce, and fresh peeled minced ginger.
An equal portion of apricot preserves and chilies sauce will please your taste. You can substitute chili sauce with sriracha and white vinegar or mustard for spicy ingredients.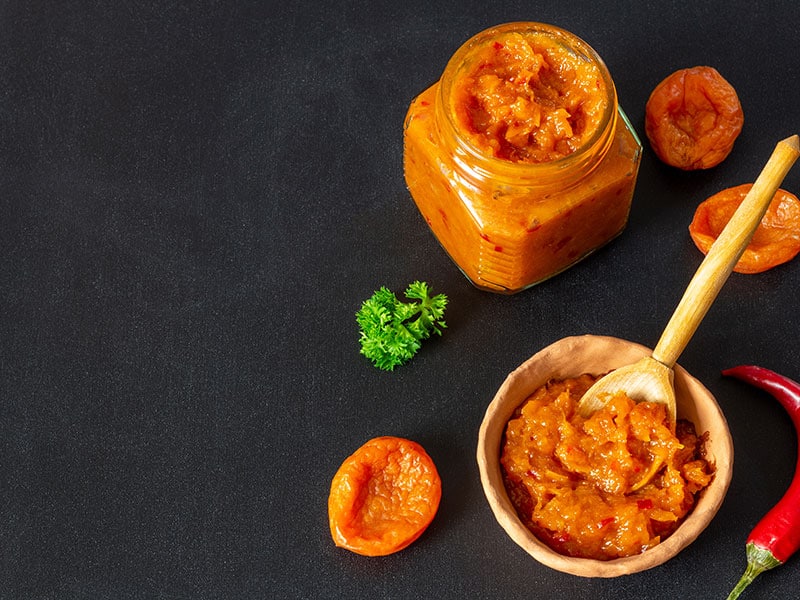 Pineapple Sauce
If you are a coconut lover and you want more coconut for your dish, the Pina Colada sauce or the simple name is pineapple sauce, is the perfect matching for you. Crushed pineapple or pineapple juice, coconut cream, sugar, and the mix of cornstarch with water, are the four main ingredients for your sauce. You also can alternate the coconut cream with plain yogurt and flaked coconut.
The fresh sour taste in pineapple is neutral with sugar and coconut cream. Herbs such as basil, rosemary, parsley are used to make up the smell of this sauce.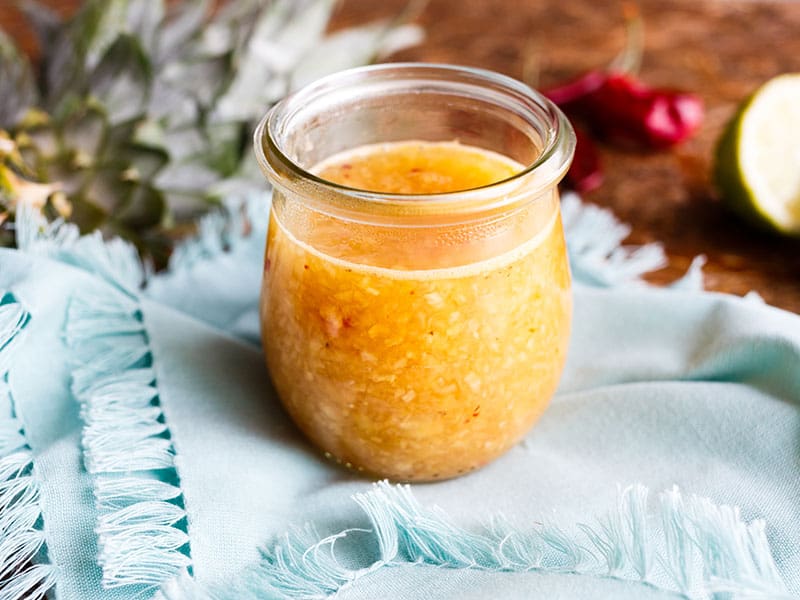 Honey Dipping Sauce
When the sweet and sour taste from those fruit sauces gets bored of you, honey dipping sauce may give you up a notch by its natural sweetness. You can easily make this sauce by using three ingredients: honey, mayonnaise, and mustard.
The sweetness of honey with the piquancy from mustard will wake up your taste on the creamy texture of mayonnaise. If you wonder that the honey is too sweet, you can add some lemon juice to balance it.
Maui Mustard Sauce
What will happen if you have both the apricot preserves and pineapple preserves in your kitchen. Considering between an apricot dip sauce or a pineapple dip sauce may get you a headache. What about the Maui mustard sauce?
The mix of apricot preserves and pineapple preserves in the same amount with stone-ground mustard will bring you the taste of a tropical island. This sweet and spicy sauce is a new delicious taste for your coconut shrimp.
Tartar Sauce
If you want a sauce without spicy food for your kid, here is my recommendation for you: the Tartar sauce, a French sauce with a blend of mayonnaise, some pickled with lemon juice.
Mayonnaise is used to create a tangy, creamy texture with a firm acidity flavor by adding pickle, lemon juice. Mince garlic, onion, or some other herbs such as dill and tarragon are used to smell. Hard-boiled eggs and olive oil are two options for this sauce.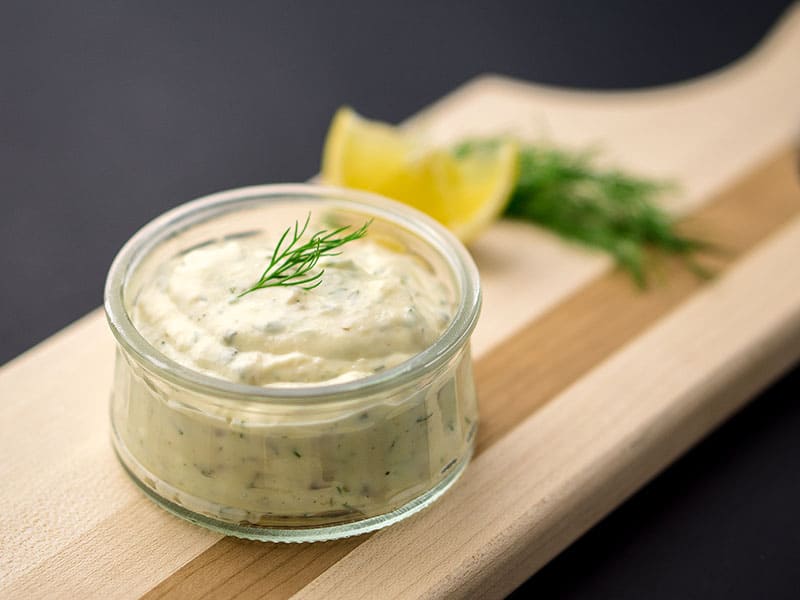 Tamarind Ginger Sauce
Tamarind is a tropical fruit used in many Asian countries as a substituted choice for lemon juice. The tamarind concentrate has the texture of thick apple butter and the whole sour taste of tamarind pulp balanced with sugar. Tamarind concentrate is an inert ingredient for you when it goes straight from the jar to the dish.
The tamarind flavor will take your sauce up a notch when accompanied by a crispy dish like coconut shrimp. The sauce is a combination of tamarind concentrate, mayonnaise, lime juice, honey, mustard, ginger, and salt.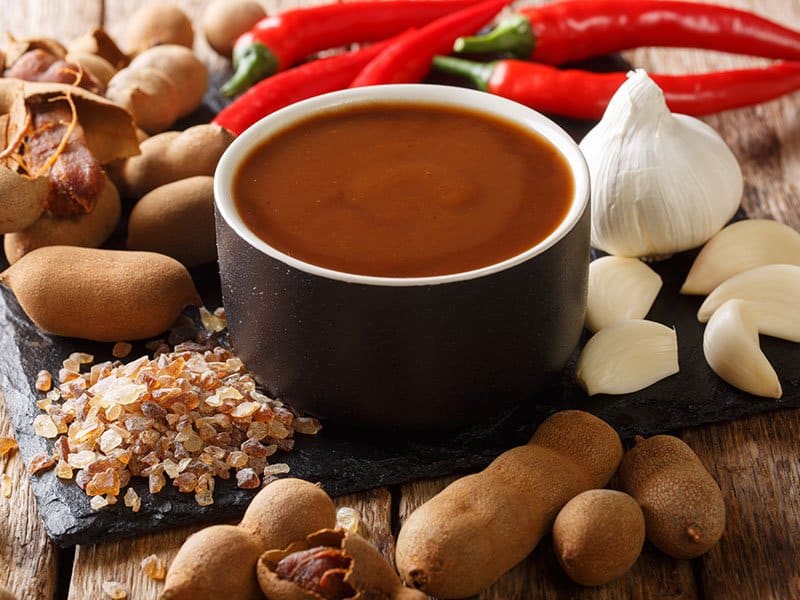 Chipotle Mayo Sauce
Another way of using mayonnaise in the sauce is blended with chipotle pepper. This dried and smoked pepper is a ripen jalapeno chili, which is derived from Mexico. Chipotle pepper will be crushed and mixed with mayonnaise, lime juice, and lime zest.
The sauce has the browning color of ground chipotle on the creamy, tangy texture of mayonnaise. Chipotle mayo sauce can also be used as taco sauce, burritos, or any other Mexican-inspired food.
In case you can't find any chipotle to mix with mayo, you can opt for some stand-in ingredients for chipotle powder. A few choices you should consider are cayenne powder, paprika, or chili powder. Depending on how spicy you want your food to be, you can adjust the substitute ratio.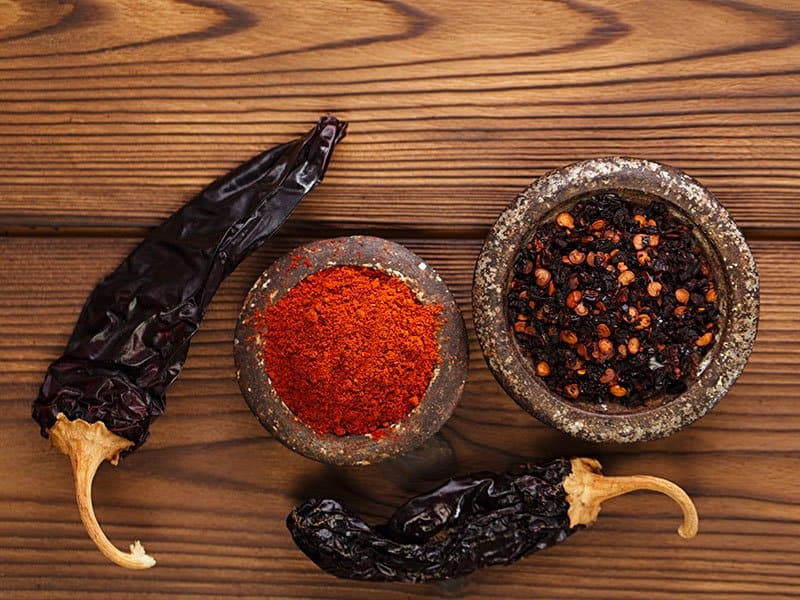 Do You Want Some Green Salad?
Salad is one of the good choices to serve with coconut shrimp. The green and fresh taste of vegetables blended with savory vinaigrette is a good complement of vitamins, minerals, and fiber for your protein-loaded dish.
You can make your healthy salad by combining different kinds of raw vegetables with vinaigrette. Here are some of my suggestion for you:
Salad With Sesame-Ginger Vinaigrette
You can make your homemade salad with a handful of vegetables such as lettuce, onion, purple cabbage mushroom, spinach, cucumber, and so on. All of them need to be chopped into your eaten size. After that, leave them aside and continue to make the soul of your salad.
The sesame-ginger vinaigrette features tahini – a sesame butter sauce found in many popular Middle Eastern dishes. Aside from tahini, you'll find whtie rice vinegar, soy sauce, minced ginger, and sugar in sesame-ginger vinaigrette.
If you cannot find tahini, opt for toasted sesame oil instead. You can use sugar or honey to balance the sour taste of whtie vinegar. Some toasted sesame is potential for your sauce.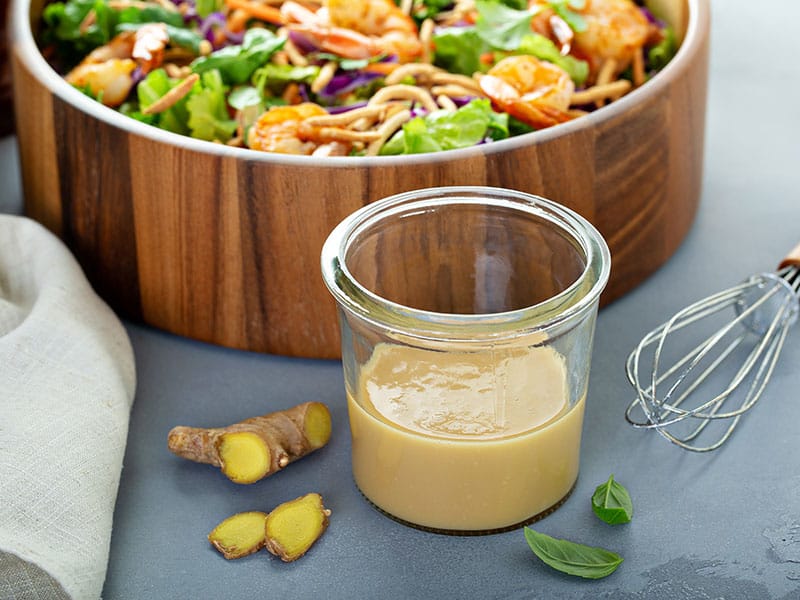 Salad With Spicy Mango and Cilantro Dressing
Mango and cilantro salad dressing is gluten-free. Check for this video and you will have this delicious recipe.
It is a luscious blend when combining the fresh and spice in mangoes and chilies with herbaceous cilantro. You can easily make the sauce by putting all the sauce ingredients into the blender. Those ingredients include ripe chopped mango, cilantro, garlic, and red chilies.
The natural sweetness of the mango means there is no need to add more artificial sweet, but if you have a sweet tooth, honey or marble syrup are two options for you.
Coconut shrimp with salad dressing with spicy mango and cilantro is a great appetizer to wait for your guesses.
Avocado, Mango, Cucumber Salad
This salad is coupled with the satin-smooth of avocado and mouth-watering cucumber. Some tantalizing taste from mango will bring you the taste of summer when combined with crunchy coconut shrimp.
The texture of this salad is perfectly balanced between the flavor of fruits, veggies with the dressing of lemon juice, honey, olive oil, and a bit of salt.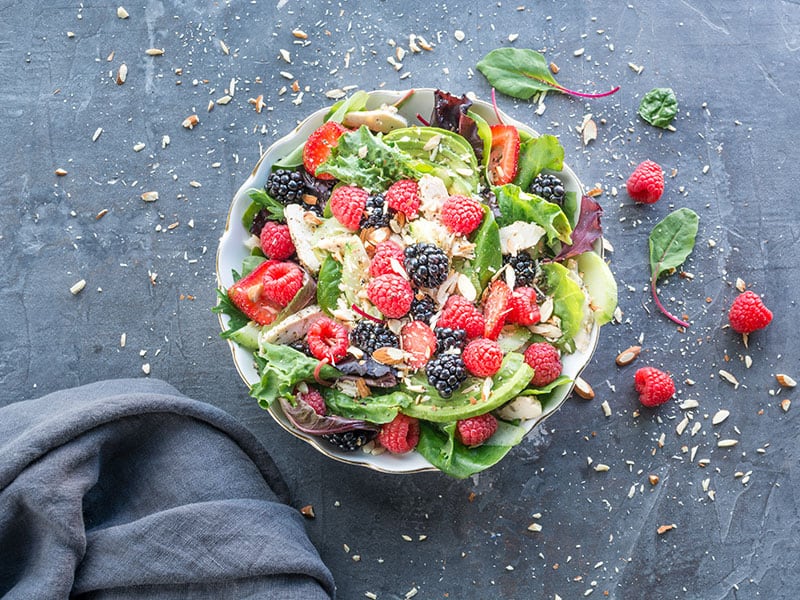 Caesar Salad
Caesar salad includes romaine lettuce, rebaked bread, Parmesan cheese. In the origin form, the dressing is made from olive oil, lemon juice, egg, anchovies, minced garlic, black pepper, Dijon mustard, and Worcestershire sauce. This salad can go well with so many things and coconut shrimp as well.
In Caesar salad, many people do not refer to the taste of anchovies, and they are fearful of using raw egg yolks, but these two are irreplaceable in the salad. Raw egg yolks enrich the dressing of salad, while anchovies are the umami for the whole dish.
Watching this video to know how to make a Caesar salad dressing:
Coleslaw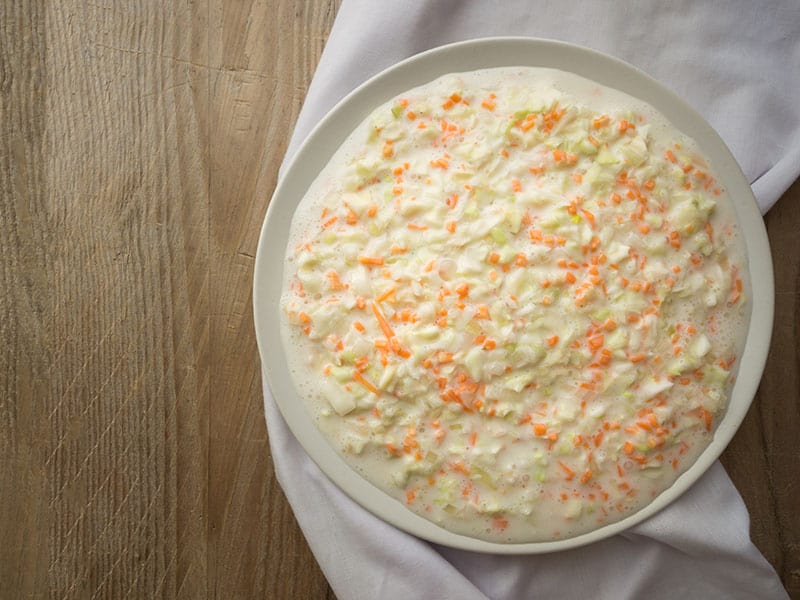 Coleslaw is a mix of shredded raw cabbage with salad dressing such as vinaigrette or mayonnaise. Besides shredded cabbage, there are many variations in the recipe of coleslaw and the added ingredients.
Commonly, coleslaw has some additional ingredients: carrot, onion, pepper, red cabbage, raisin, apple, pineapple, grated cheese, etc.
In England, shredded carrot and onion can be found in coleslaw. In contrast, coleslaw has its other name as Krautsalat with the replacement of mayonnaise by vinegar and oil in German. In Sweden, coleslaw dressing is used with vinegar and vegetable oil.
I Am Not Lie For Those Best Starchy Foods
Coconut shrimp is a loaded-protein food, which a dish of starchy food will make it a delicious main course.
Plain Rice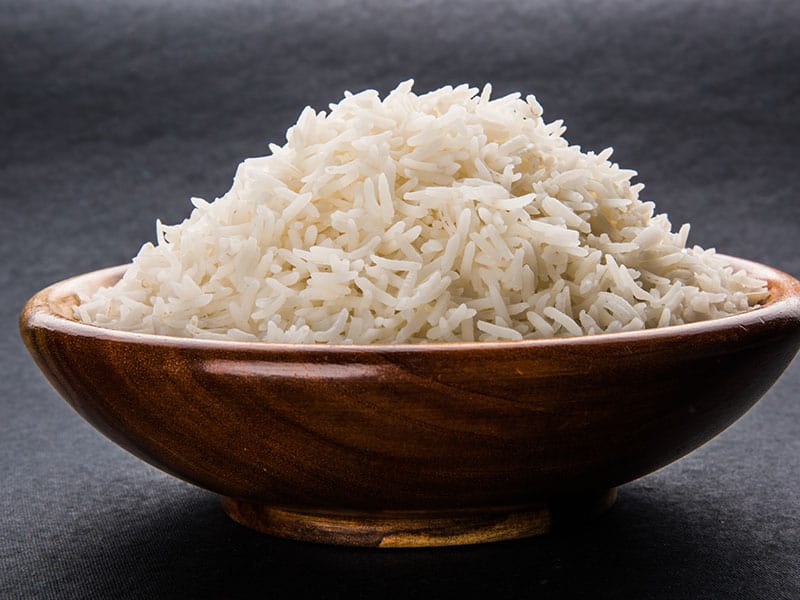 If you want to try a more Asian way to enjoy your coconut shrimp, a plate of plain rice is your first choice. Plain rice can be cooked quickly and easily by a cooker, stove, microwave, and even an oven.
Rice has plenty of types due to its origin, such as arborio, jasmine, basmati. Rice also has different colors such as red, brown, white, and so on.
The light favor of rice will enhance the taste of your coconut shrimp. I recommend you use those two with a mix of sauce if you prefer a salty taste.
Egg Fried Rice
Another way to use rice as a side dish of your coconut shrimp is fried rice. The egg fried rice is a simple dish with two main ingredients: rice and eggs. You can also add chopped scallion for some green veggies on it.
The egg fried rice is a fantastic side dish that goes well with coconut shrimp and chicken, beef, and meat.
Watching from 0:56 to 4:24 and you will know how to make an easy egg fried rice:
Pineapple Fried Rice
The Thai cuisine, pineapple fried rice is another option for your side dish to go with coconut shrimp. Pineapple fried rice includes all these ingredients, such as white rice, chopped to small pineapple, red bell pepper, scallion, peas, onions, garlic, and seasoning by fish sauce, oyster sauce, and sugar.
The pineapple fried rice with a light taste of sour pineapple would take your palate up a notch when it goes with crunchy coconut shrimp.
The simple, easy home-made recipe is waiting for you in this video:
Rice Noodle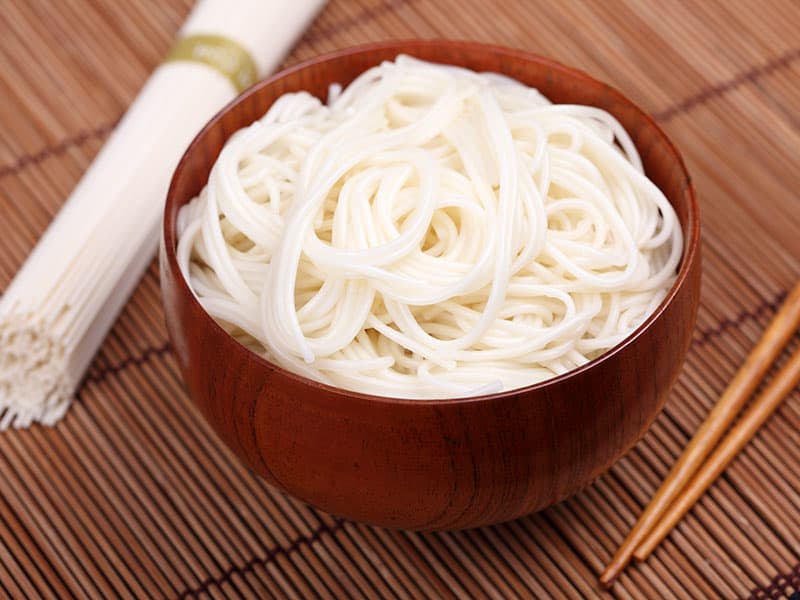 You may rarely see this combination between coconut shrimp and rice noodles. Rice noodle is made from rice flour, and it is a common ingredient in many Asian countries.
In this recipe, rice noodle is used as a side dish for coconut shrimp. You need to follow the instructions on the package to cook them. After cooking, drain them and mix them with the sauce of lime juice, lime zest, sesame oil, brown sugar, and sriracha.
Use the rice noodle with shredded carrots, sliced butter, cilantro, and toasted sesame.
Macaroni and Cheese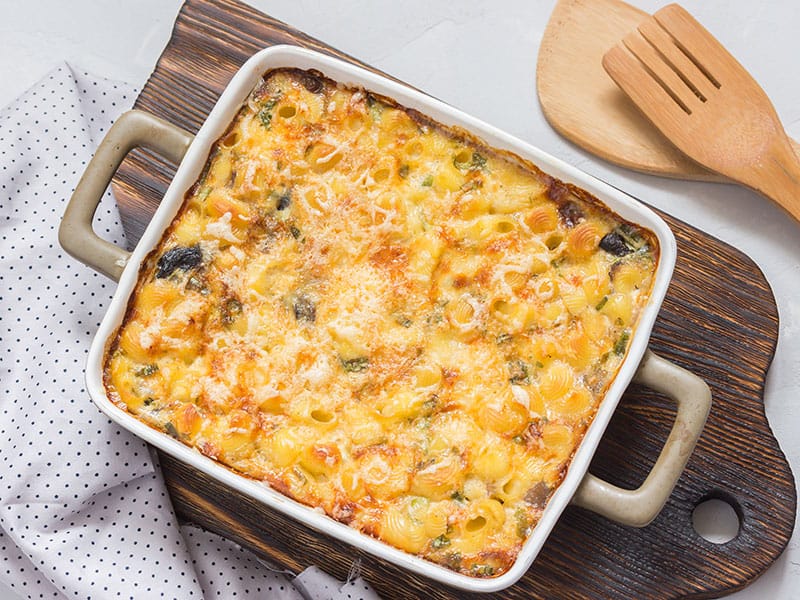 You will have a creative, tasty dish when you couple crunchy coconut shrimp with the rich taste of cheese on the ground of macaroni.
Macaroni and cheese is a flexible side dish that can go well with many main dishes. Instead of a fancy plate of macaroni and cheese in the restaurant, you can totally make an affordable dish at home. You will need a box of elbow macaroni, shredded Cheddar cheese, milk, butter, all-purpose flour, and seasoning as salt, black pepper.
Macaroni and Coleslaw
Do you know whip cream can alter the mayonnaise? Watch this.
If you want some more veggies on the dish of macaroni and coconut shrimp, coleslaw is the one that cannot be ignorable.
Add the mix of coleslaw with mayonnaise, white vinegar, sugar to cooked macaroni. You can use some other vegetables such as cucumber, onions, celery, green pepper.
Cacio E Pepe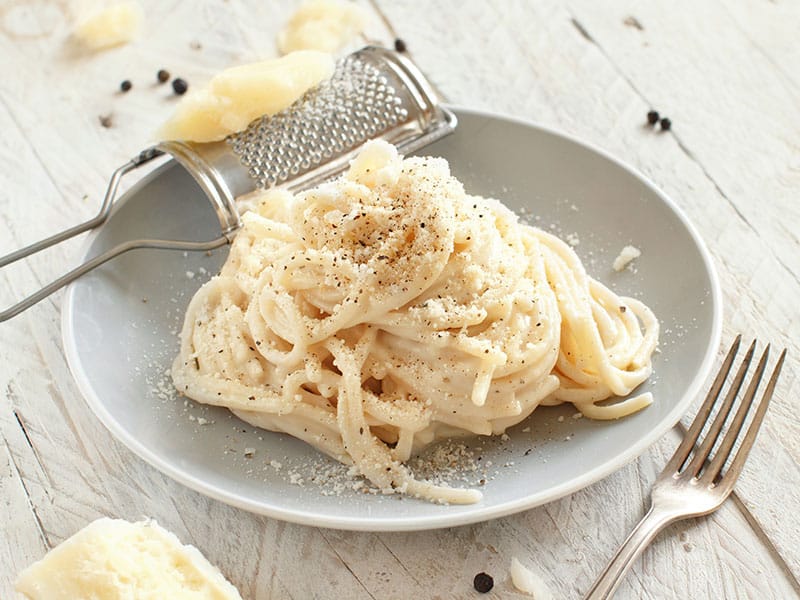 For this side dish, please don't count any calories here. It is because this is for cheese and coconut shrimp lovers. A fantastic side dish originating from Italian cuisine, cacio e pepper will make sure that every bite is a burst of cheesy, creamy flavors.
A plate of spaghetti with whole cheese is irresistible for you to enjoy with crispy coconut shrimp. You use the ratio of Parmesan and Pecorino as 30:70 or only Parmesan if you want. For the seasoning, black pepper and salt are ideal.
Sautee the spaghetti in the pan with melted butter and garlic, add cheese and lots of cheese before you season them, and serve with the crunchy coconut shrimp.
Tacos With Mango Salsa and Avocado Cilantro Sauce
Tacos is a traditional bread of Mexico made from cornstarch. Tacos accompanied with coconut shrimp, mango salsa, and avocado is a delicious dish for your dinner party.
To make the mango salsa, you put all the ingredients such as diced mango or diced pineapple instead, red bell pepper, red onion, lime juice, and cilantro into the highly efficient food processor and blender combo, add ⅓ cup of water to smooth the salsa.
The avocado cilantro sauce includes avocado, cilantro, garlic, black pepper, salt, ground cumin, and lime.
Place a corn tortilla or lettuce cup, put 3 or 4 coconut shrimps, sprinkle the salsa and the avocado cilantro sauce on the top.
You also can make a mango salsa without a food processor by watching this video.
Crispy Roasted Parmesan Potatoes
One of the best finger foods goes well with coconut shrimp and dip sauce and this video will show you how it is made.
When you serve the coconut shrimp as the finger food, you also want other foods to go with it. My answer here is the crispy roasted Parmesan potatoes.
None of your guesses will know that these crispy potatoes are made from only two ingredients: potatoes and Parmesan cheese.
You cover the bottom of your baking pans with grated Parmesan cheese and season with salt, black pepper, oregano, paprika, and garlic powder. Place the cut potatoes upside down and bake for 40 minutes. The grated Parmesan will be brown crispy while the center of the potatoes is soft.
Save The Best Drinks For Your Last
For the last part of the journey, drinks are an unignorable side dish for your coconut shrimp. A perfect pair of drinks may fulfill you with the taste of the main dish.
Sparkling Wine
Sparkling wine is the best pair for your dish. The bubbles in wine will cut through the weight of fried food to release your palate from fatty oil. The acidity flavor in sparkling wine is mainly made from apples, grapes, peach, lemon peel, and tropical fruits.
Some famous sparkling wines such as Champagne, the word used for those sparkling wines come from the northeast of France; Prosecco, the wine that only is made in Veneto, Italy; Cava, the bubbly wine, comes from Spanish.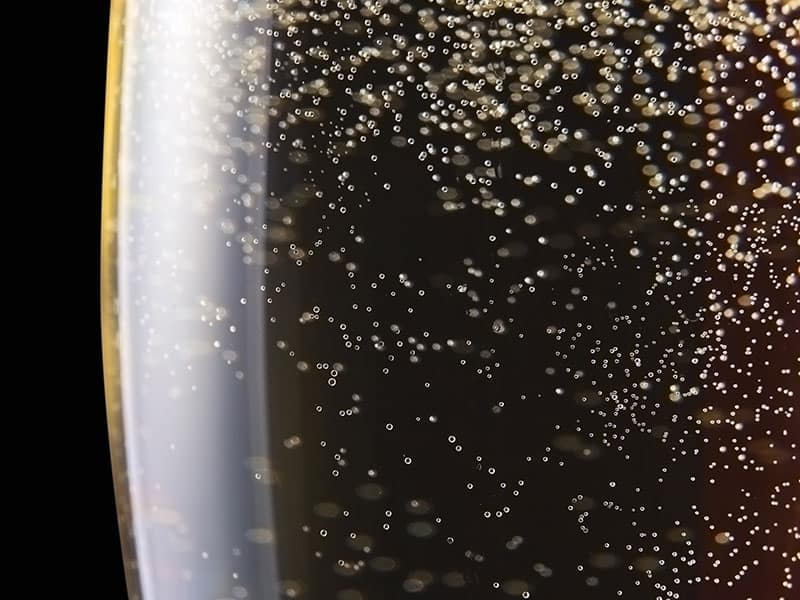 Sex In The Driveway
Don't be distracted by its name. Sex In The Driveway is a type of cocktail made from vodka, blue curaçao, peach schnapps, and sprite. This fizzy blue drink is a sweet drink with the adding of a pleasing tartness from sprite.
Sex In The Driveway is a perfect cocktail for a high-fat content meal. Due to the simple ingredients and the making process with no mixing or shaking, you can make this blue cocktail at home to pair with the crispy coconut shrimp in the summer. Watch this video and you will know how to make this mesmerizing drink.
Mojito
One of the best drinks in the summer to serve with seafood, Mojito is a popular dessert that comes from Cuba. with some simple ingredients such as lemon, mint leaves, sugar, soda, and rum, you can easily make a glass of refreshing mojito to rejuvenate yourself.
The bubble in the soda will cut through the weight of fat oil in fried food as the sparkling wines do. This drink has a non-alcoholic version that is suitable for kids while rum is eliminated, and the sweet and sour from fruit and soda will be a healthy choice instead of coke. You also can replace the lemon with other fruits as your favorites, such as strawberry, lychee, passion fruit, and blueberry.
There are more than 2 mojito recipe waiting for you in this video:
Did You Feel Satisfied With My List?
Those side dishes above are my recommendation for your best coconut shrimp. It is from my experience with my hope that you will feel pleased with your coconut shrimp.
When you have any other suggestions to serve with coconut shrimp, please feel free to share them with me via the comment section.
And if you see that my list of side dishes is exciting, share them with your friends to enjoy those tasty foods.
Nutrition Facts
6 servings per container
---
Amount Per ServingCalories39
% Daily Value *
Total Fat 2.2g

4

%
Cholesterol 1mg

1

%
Sodium 109mg

5

%
Potassium 41mg

2

%
Total Carbohydrate 5g

2

%

Dietary Fiber 0.4g

0

%
Sugars 4.5g

Protein 0.3g

0

%
---
* The % Daily Value tells you how much a nutrient in a serving of food contributes to a daily diet. 2,000 calories a day is used for general nutrition advice.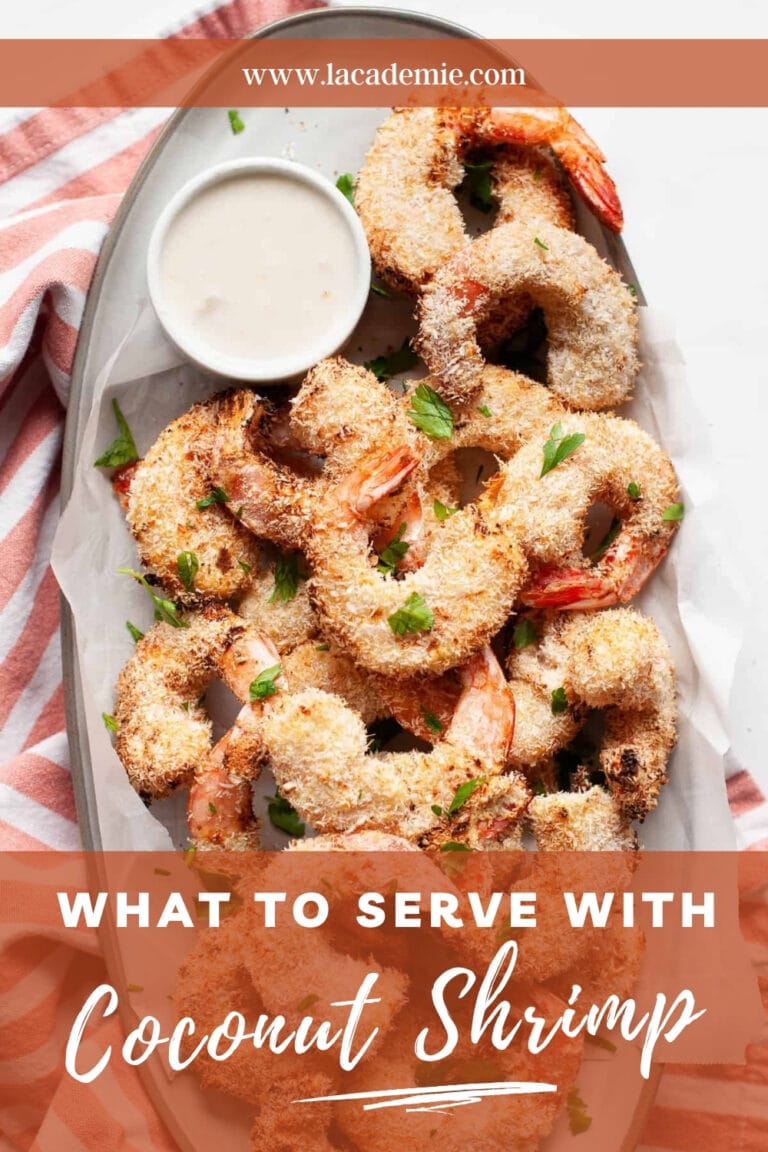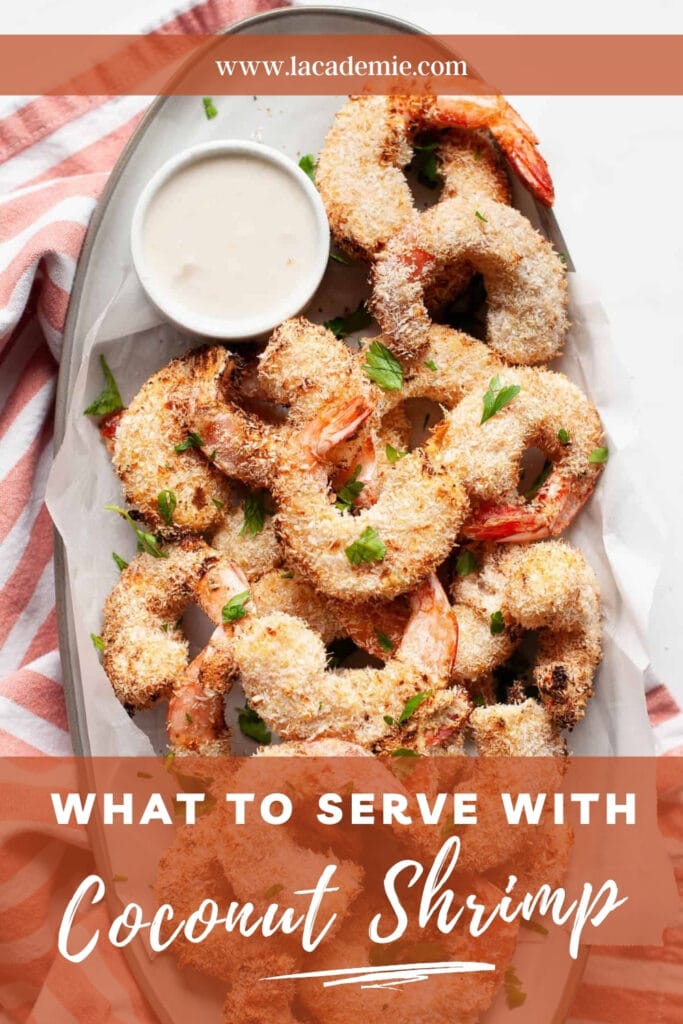 Reference
Burke, D. and Choate, J. (2006). David Burke's New American Classic. p 67.