Are you having a headache because you don't know if there is anything that can be a chipotle powder substitute? Relax, I will help you find the solutions in this article.
Spices are the soul that creates the distinct flavor of each dish. When there's any spice in a recipe, it's for the above reason. When you try a new recipe and need chipotle powder, what if you can't find it at your local market or supermarket?
Don't worry, because, in this article, I will give you suggestions on what can be substituted for chipotle powder. Although not exactly the same, it definitely still ensures the flavor should be in chipotle powder.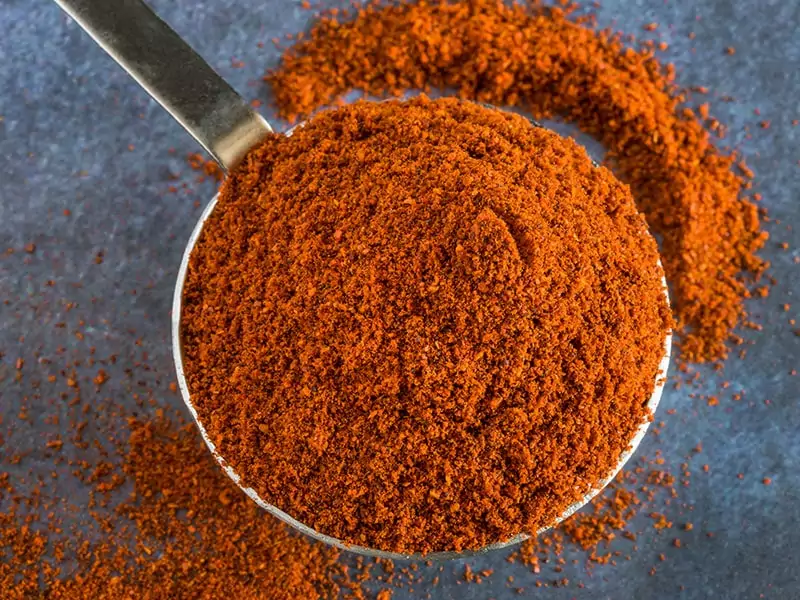 Can't Wait Any Longer? Let's See Chipotle Powder Substitutes Right Now!
A list of 12 chipotle powder substitutes below will give you a more diverse and easier choice.
Smoked Paprika
Chili Powder
Cayenne Powder
Adobo Seasoning
Piri Piri Powder
Guajillo Powder
Aleppo Pepper
Crushed Red Pepper
Pasilla Powder
Ancho Powder
Gochugaru Powder
Chipotle-based Products
Wait! Do You Know Exactly What Chipotle Powder Is?
Chipotle powder is a mildly spicy spice made from chipotle peppers. The name chipotle is not the name of a natural plant; it is the name of the jalapeno after it has been smoked and dried.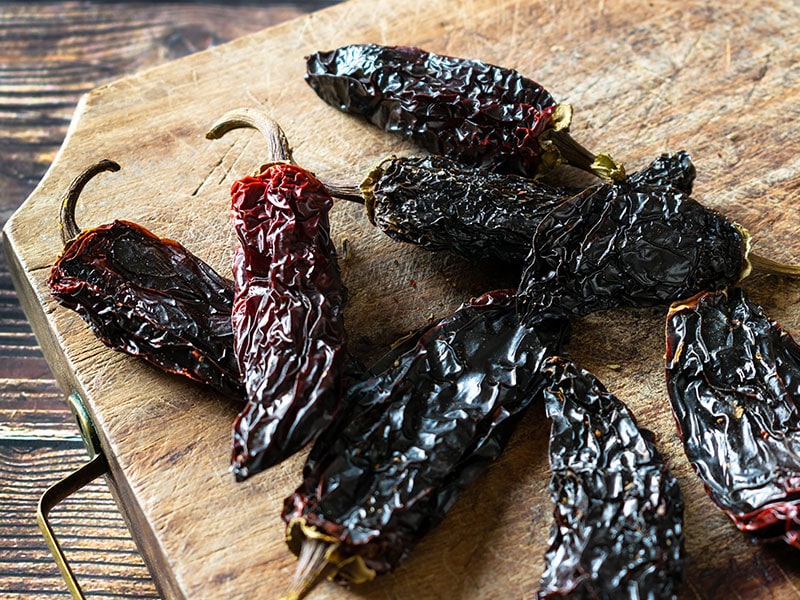 In chipotle powder, there are no ingredients other than jalapenos. You're probably all too familiar with jalapenos. They are often used in pizzas and other dishes that require a slight spiciness.
The chipotle powder has taken advantage of this taste and combined it with the smoking method to create a special spice. You know what, the way to keep a certain type of chili fresh is much more difficult than drying them and preserving them.
Instead of going to the market often to buy jalapenos peppers to spice up our dishes, the chipotle powder is a perfect alternative and much more convenient for your kitchen.
If you are curious about making dried chipotle peppers, they have a close-up relationship with chipotle powder; why don't you explore it right now?
Are You Curious About What Chipotle Powder Tastes Like?
For the record, the chipotle powder is made from jalapenos. Of course, its taste will be similar to this kind of pepper. It has a mild spicy taste. More special in that, compared to jalapenos, chipotle has been smoked and dried. This is what creates the characteristic smoke smell for this spice.
In fact, if you make your own chipotle powder at home, you can add other seasonings if you want. For example, you can add a little salt to give it a slight saltiness, or add a little sugar to make them a special sweet and spicy condiment.
Of course, you can be creative with your own to create your favorite seasonings. However, the only important and indispensable ingredient is still chipotle pepper. Therefore, the spicy taste is indisputable of this spice.
How To Use Chipotle Powder In Cooking?
If you are a lover of traditional Mexican cuisine, the chipotle powder must have been a very familiar condiment. Almost in the dishes that need Mexican spicy, chipotle powder is indispensable. The chipotle dough has become the hallmark of this cuisine.
Not only about the spiciness, but the orange-red color of the chipotle powder is also often used to create beautiful colors for dishes—especially the curries, soups, stews.
In addition to Mexican cuisine, the chipotle powder is also used in many other dishes. In the United States, for example, chipotle powder is commonly used in barbecue sauces and salsa dishes. Add a little chipotle powder, and you will immediately feel the difference. The reason why this spice is loved is no longer a mystery.
When used as an ingredient for beef and seafood dishes, the chipotle powder will also be a special highlight to create a delicious dish thanks to its distinctive smoky taste. Even fast foods like pizza, sandwiches, chipotle powder can also do a good job in raising these dishes to a new level.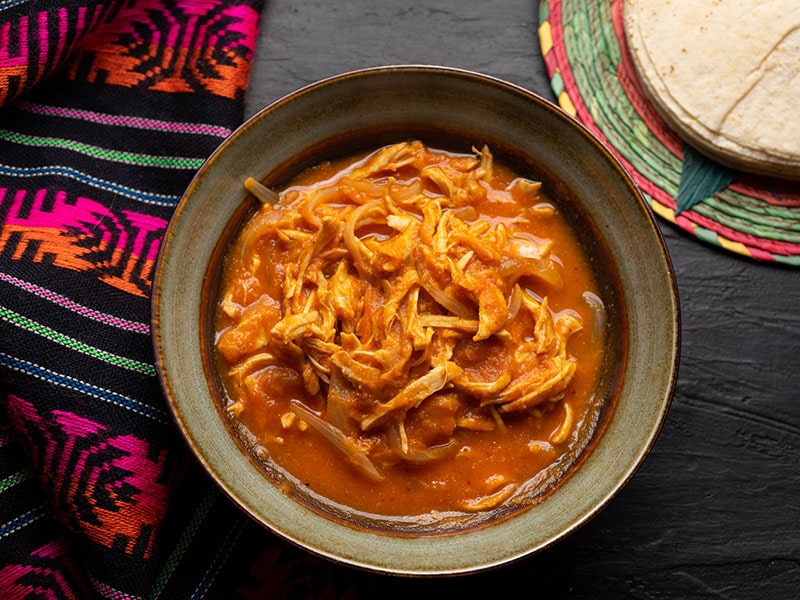 Is There Any Good Substitute For Chipotle Powder? Let's see it!
Everything in the world is created for a reason. Wanting to replace chipotle powder perfectly with another seasoning, I think it isn't easy. However, it is not impossible. With spiciness of 2,500 to 8,000 Scoville heat units (1), the chipotle powder can be replaced with many other peppers with certain ratios.
Chipotle Powder Substitute Conversion Chart
The chart below will give you a rough overview of the conversion rates when using chipotle powder substitutes based on the Scoville scale so that you can adjust the amount of spice substitutes accordingly.
| Chipotle powder substitutes | Scoville heat units | Proportion |
| --- | --- | --- |
| Smoked Paprika | 500 - 1,000 | 1g Chipotle powder = 1g Smoked Paprika |
| Chili Powder | 500 - 1,500 | 1g Chipotle powder = 1/2g Chili Powder + spice up |
| Adobo Seasoning | 2,500 - 8,000 | 1g Chipotle powder = 1g Adobo Seasoning |
| Guajillo Powder | About 5,000 | 1g Chipotle powder = 1g Guajillo Powder |
| Pasilla Powder | 1,000 - 2,500 | 1g Chipotle powder = 3g Pasilla Powder |
| Ancho Powder | 1,000 - 1,500 | 1g Chipotle powder = 1g Ancho Powder + other spicy seasoning |
| Gochugaru Powder | 5,000 - 8,000 | 1g Chipotle powder = 1g Gochugaru Powder |
| Chipotle-based Products | 2,500 - 8,000 | 1g Chipotle powder = 1/2g Chipotle-based Products |
1. Smoked Paprika
Smoked Paprika is a spice that is almost similar to chipotle powder. The only difference is that the starting ingredient is pimiento peppers instead of jalapenos. The pimiento will be smoked and dried over a fire, then finely grinded, and you have a spice called smoked paprika.
This is a spice commonly found in traditional dishes in Spanish cuisine. Compared with chipotle powder, smoked paprika does not have much difference in taste. However, the spiciness of smoked paprika is still a bit milder.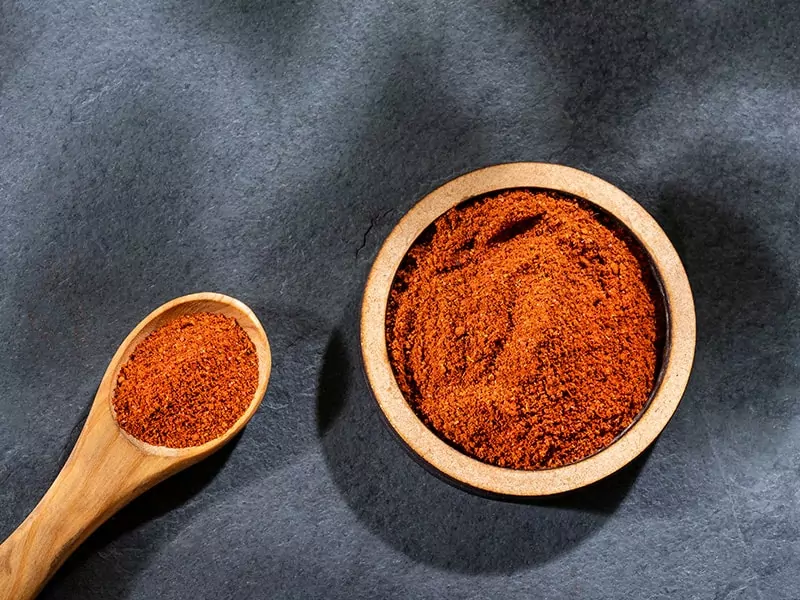 2. Chili Powder
Chili powder is a suitable second choice to replace chipotle powder. Consisting of not only one ingredient, chili powder is a mixture of various herbs and spices. This is why the most suitable replacements for chili powder are usually a combination of several ingredients.
Specifically, the most common ingredients in chili powder are dried chiles, cumin, cayenne pepper, garlic powder, paprika, onion powder, and oregano. There will probably be a few other variations, but there won't be much change in the above ingredients in reality.
Whenever you need a little heat for your dishes, chili powder will be a wise choice. It has a mild spicy taste that won't upset you.
Chili powder is especially suitable when used as a seasoning for Latin American dishes such as tacos, enchiladas. Although chili powder itself is a mixture of many spices, you still have to add spices when cooking to create mouthwatering dishes. Anyway, the main use of chili powder is still to create spiciness.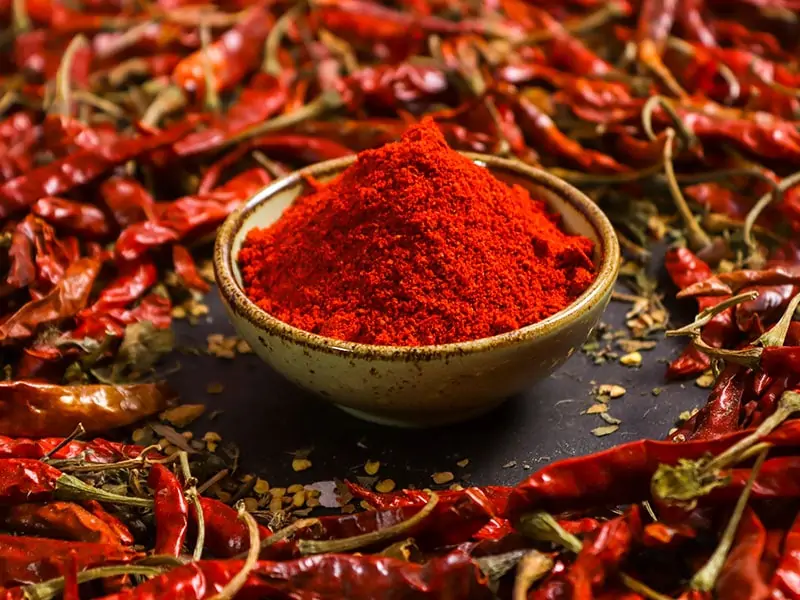 3. Cayenne Powder
If you are a person who likes to eat healthy food but still wants to experience the spicy taste in it, Cayenne powder will be a perfect choice that can solve your problem. Cayenne pepper is an excellent plant for human health, not only used in food but also in many other fields.
In many instances, Cayenne powder and chipotle powder can be used interchangeably, which explains why you'll sometimes see chipotle powder used as a replacement for Cayenne powder. However, Cayenne might lack that smokey taste, so don't forget to take this into consideration.
It is also because of this healthy property that Cayenne powder has been used in cooking in most countries around the world. Cayenne powder is also used in a variety of dishes, such as stews and soups.
But compared to the mild spiciness of chipotle powder, Cayenne powder is especially spicier. Therefore, when seasoning, you should only sprinkle a minimal amount of Cayenne powder to make sure the dish is delicious but not too spicy.
If you add too much Cayenne powder to a dish, you may have digestive or stomach problems (2). Be careful!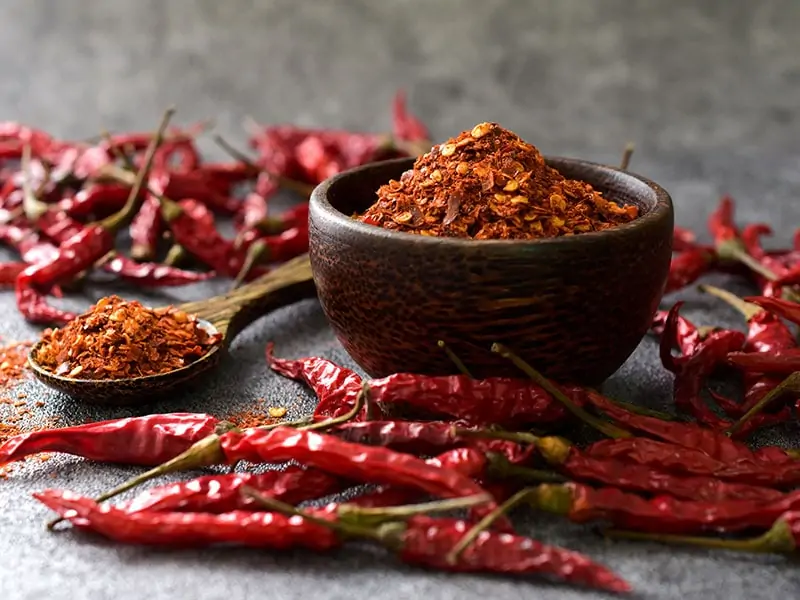 4. Adobo Seasoning
Traditionally, the word Adobo comes from Spanish and means "to marinate." That's because it was previously used to marinate ingredients before cooking.
But now, adobo is no longer used to marinate ingredients. It is used as a condiment instead. It contains many ingredients, including black pepper, garlic, oregano leaves, and turmeric. Depending on the country, onions, lemons, cilantro, etc can be added to this spice.
A popular dish that contains adobo as a condiment is Mexican meatballs, a lip-smacking dish made with ground pork and simmered in marinara sauce. As a result, the dish has strong notes of spicy flavors that will make you sweat even on a cold, chilly day.
To make it more convenient for storage, people have improved the formula of adobo seasoning. Instead of the previous wet form, it has been processed into another form, a dry form.
The mild spiciness of this spice makes it a suitable substitute for chipotle powder. You can be assured of the taste of the dish when substituting these two ingredients for each other.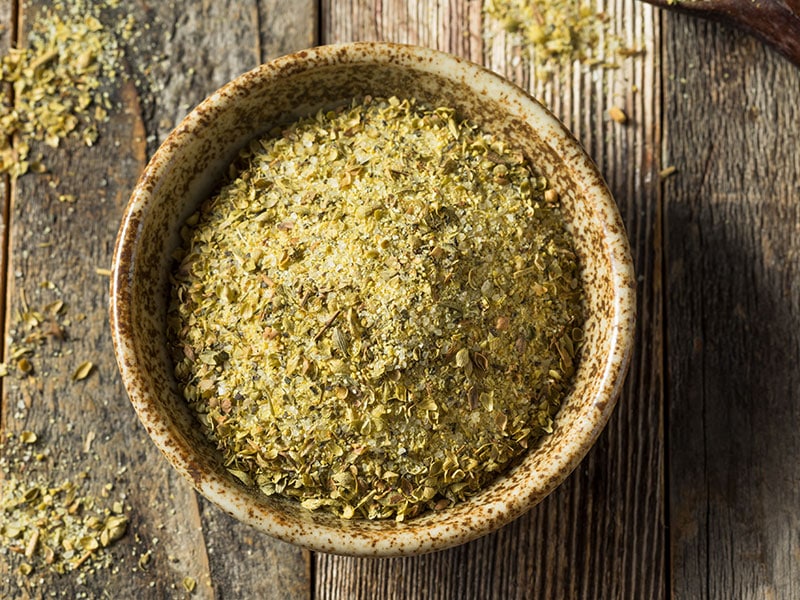 5. Piri Piri Powder
Piri Piri powder is a spicy spice that has citrusy and herbal aromas. This spice is a mixture of hot spices, including paprika, cayenne pepper, ginger, and oregano—all combined to create an impressive Piri Piri powder.
The Portuguese are very fond of this spice and often use it in everyday dishes. Especially caldo verde soup, a traditional Portuguese dish with a signature green color, will not be the same without Piri Piri powder. Dare I say, caldo verde without Piri Piri powder is no caldo verde.
Piri Piri powder is especially suitable for seasoning meat dishes such as pork, beef, and chicken. This would be an ideal substitute for chipotle powder with its spicy taste and herbal aroma.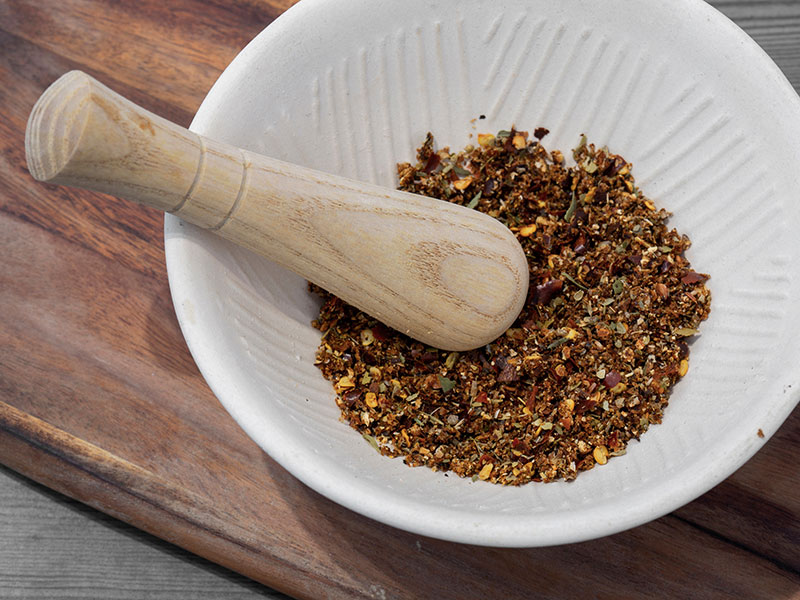 6. Guajillo Powder
Guajillo is the name of the dried chili peppers that are heated from chile mirasol peppers. The mirasol chile is the second most commonly grown chili pepper in Mexico.
Have you found common features between Guajillo powder and chipotle powder? Yes, both of these spices are very popular and are used heavily in Mexican dishes.
The special feature of this Guajillo chili is its sweet taste. Yes, you are not mistaken! It's sweet; it's this that makes this spice distinctive. If you want to taste a dish with both mildly spicy and sweet tastes, Guajillo is a perfect choice.
This spice is especially suitable when used for chicken and fish dishes. Not only used for savory dishes, but you can also use Guajillo powder for cakes because of its natural light sweetness.
My favorite is the Guajillo Chile Chocolate Cake. Give it a try. A new horizon will open up in your recipes!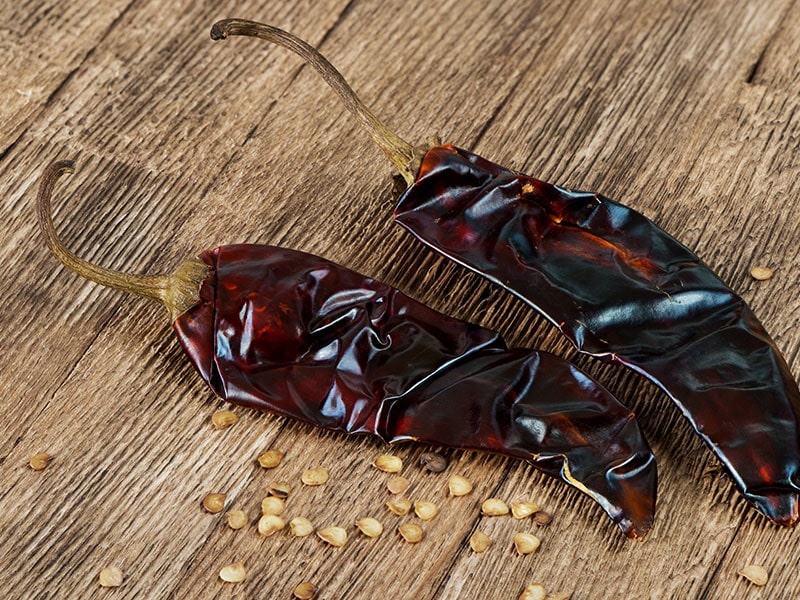 7. Aleppo Pepper
This pepper is named after the city of Aleppo in northern Syria. With their characteristic deep red color, Aleppo peppers look extremely eye-catching. Perhaps you are not very familiar with this chili, but it is prevalent in the Middle East and Mediterranean countries.
For this type of chili, people do not use it fresh or too dry but tend to semi-dried and coarsely grind it before using it as a spice.
In addition to the spicy taste, Aleppo pepper has a very mild salty taste. That's because people often add salt when grinding. With just a little Aleppo to the dish, you'll get a special rich flavor.
To compare with chipotle powder, Aleppo pepper has a similar mildly spicy taste. But there won't be the characteristic smoky smell in chipotle powder. If you are planning to cook a mildly spicy dish with a slight aroma, Aleppo pepper will be the most suitable substitute for chipotle powder.
Aleppo is not picky about food. It can be used for many other ingredients such as meat, beans, and salads. Its applications are diverse. You should definitely have a jar of Aleppo in your spice rack.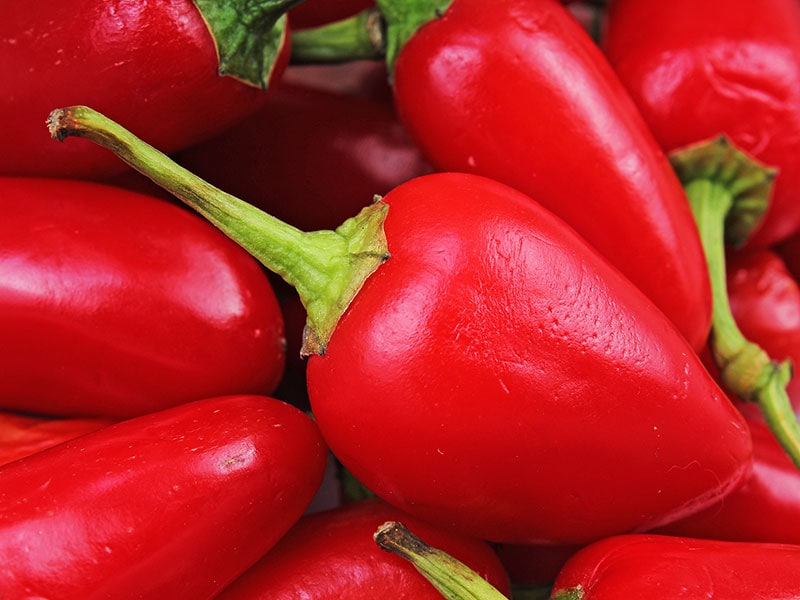 8. Crushed Red Pepper
Crushed red pepper is a mixture of many different types of chili peppers that are mixed and grinded. The main ingredient indispensable in this mixture is cayenne pepper. In addition, there are other varieties such as serrano, bell pepper, jalapeño.
If you're making your own crushed red pepper at home, you can also add any other spicy chili peppers to this mix. At the same time, you can also adjust the spiciness you want in the final mixture after you have finished grinding.
This spice has a mild to medium spiciness, depending on the chilies you use in the mix. Because many different types of chili are used, there are also many different colors in this mixture. This is a sign for you to recognize a crushed red pepper jar outside the store.
The key that creates the spicy taste of chili peppers is the seeds inside. So, if you're making your own crushed red pepper at home and want to reduce the spiciness, you can remove the seeds before grinding. This is an effective method I have tried. I hope you can do it too.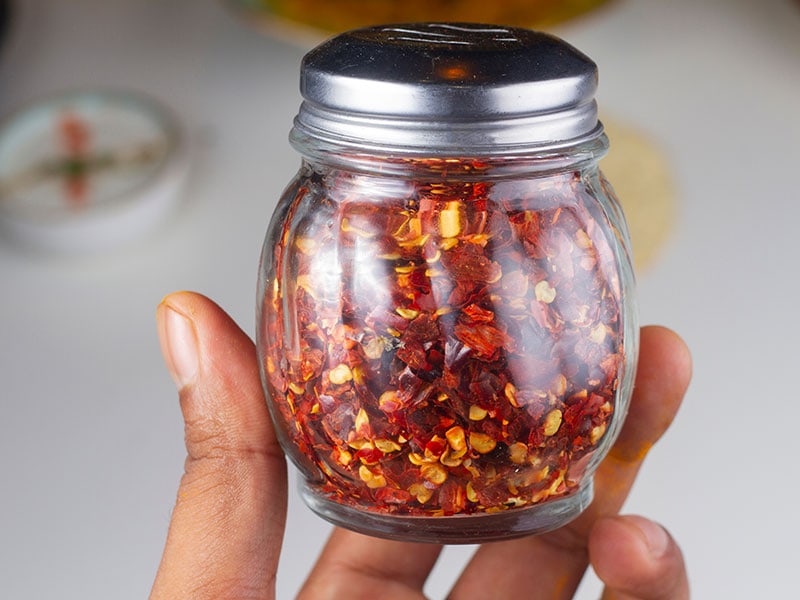 Why don't you try making crushed red pepper at home with these very detailed steps?
9. Pasilla Powder
Also made with smoked and dried ingredients and then milled, but pasilla powder is made from chilaca chile pepper. Unlike other red peppers, chilaca chile peppers are black when ripe. Therefore, after processing, it also forms a characteristic black pasilla powder.
In addition to the main ingredient, chilaca chile peppers, people also add oregano leaves, cumin, and garlic powder when grinding. This spice is suitable for most dishes such as meat, seafood, lamb, duck, etc.
Although they are a type of chili, they have flavors of raisins and prunes. This creates a novelty when they are used as cooking spices. When thinking of a chipotle powder substitute, pasilla powder is also a very viable option.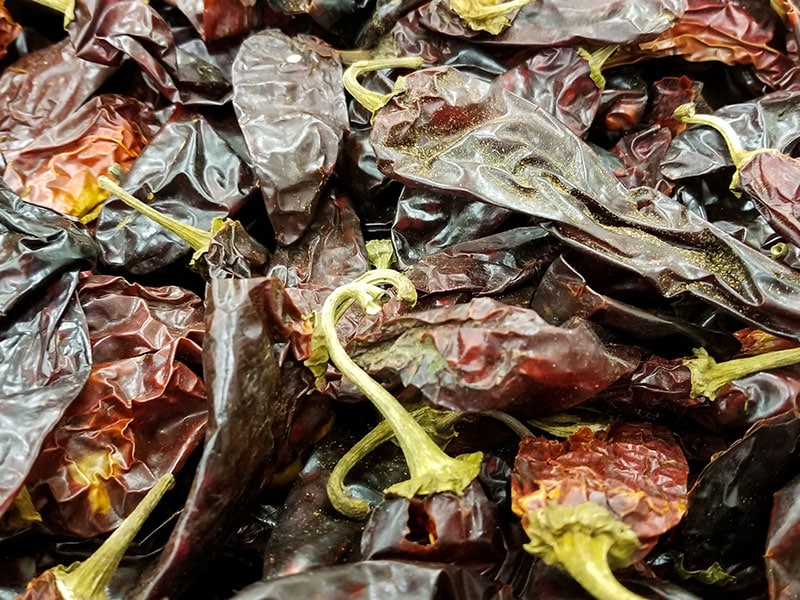 10. Ancho Powder
Before being dried, Ancho pepper is called poblano pepper. These peppers range in color from dark red-brown to black. They are quite large in size, about the same as bell peppers. In terms of taste, it has a hint of raisins.
Also processed by smoking, Ancho powder will give off a smoky smell quite similar to chipotle powder. This is why you can use these two spices interchangeably when cooking.
The spiciness of this spice is also relatively mild. You will not have to worry about your stomach when using this Ancho powder as a seasoning.
Like the chipotle powder, Ancho powder is often used in Mexican dishes. In addition, you can also use them to sprinkle on soups and noodles, the same way you would use salt or pepper.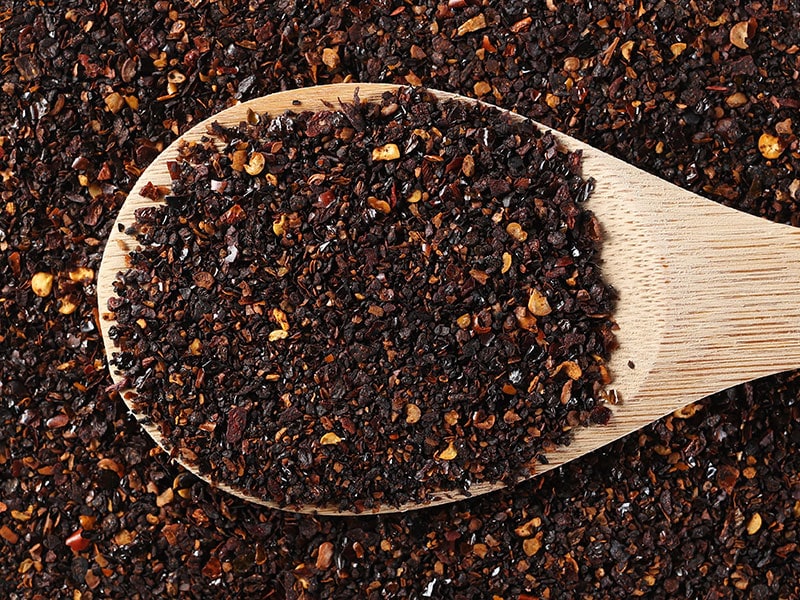 11. Gochugaru Powder
The special thing about this chili powder is that it comes from a country of Asia – Korea. Gochugaru powder is an essential component in Korean dishes. Don't mistake Gochugaru for Gochujang though, as they can be quite different despite sharing the same origin.
Do you know kimchi? It is a kind of symbol of Korea. This Gochugaru Powder itself creates a characteristic red color of Kimchi.
Along with dried and ground peppers, Gochugaru powder and Chipotle powder have a relatively similar smell. In addition, both of them have a mild spicy taste.
Thus, replacing them for each other when cooking is understandable, right?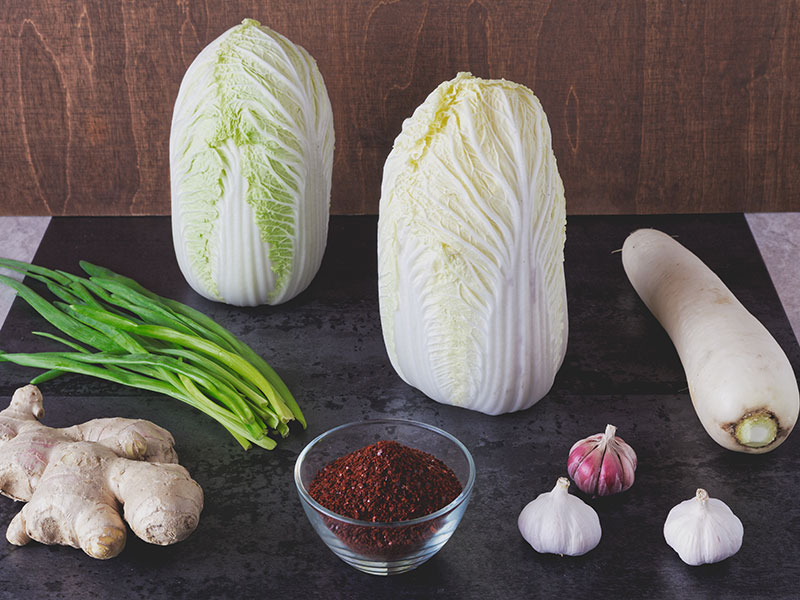 12. Chipotle-Based Products
Chipotle is not only turned into powder. You can change it into a form of sauce. If your recipes don't necessarily use powdered peppers, other products made from Chipotle are also a bad replacement.
Because of the same raw material, you can rest assured that the dish's taste will not be changed. So you can be more flexible in cooking to take advantage of this.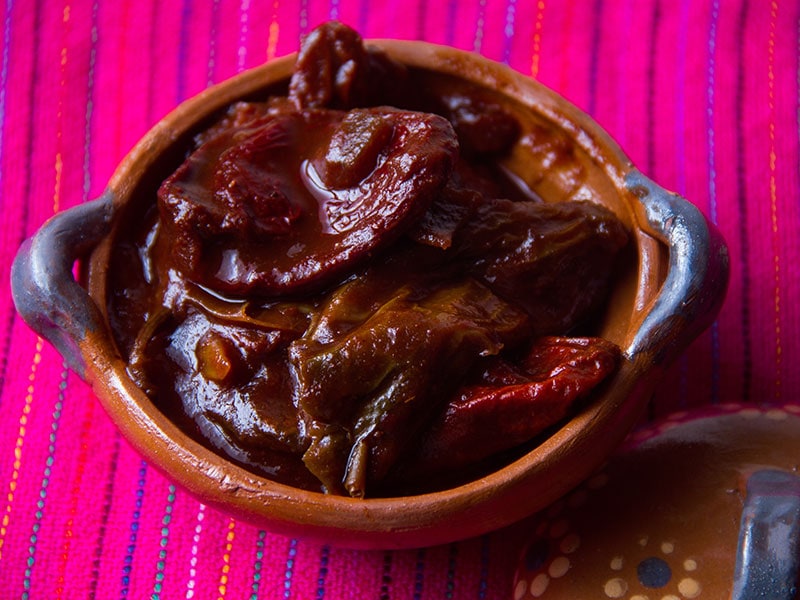 Cooking Easier With Chipotle Powder Substitutes
Cooking is also a way to create joy in life. It's bad if that joy is interrupted by the lack of ingredients needed for dishes. So instead run right out of the market to buy that material, you can use other ingredients instead.
Fortunately, there are many raw materials that can replace Chipotle Powder. If you have one of the 12 raw materials I have mentioned above, you can completely use them immediately without being interrupted.
Although the taste of the dish is completely different or slightly different from the original, I believe you will discover new interesting things. Share your experience with these chipotle powder substitutes by leaving a comment below! Good luck!
Nutrition Facts
1 servings per container
Serving Size1 tsp (2.3g)
---
Amount Per ServingCalories54
% Daily Value *
Total Fat 0.3g

0

%
Sodium 1.6mg

1

%
Potassium 52mg

2

%
Total Carbohydrate 1.2g

1

%

Dietary Fiber 0.8g

0

%
Sugars 0.2g

Protein 0.3g

0

%
---
Vitamin A

23

%
Calcium

0.4

%
Iron

2.7

%
* The % Daily Value tells you how much a nutrient in a serving of food contributes to a daily diet. 2,000 calories a day is used for general nutrition advice.
References
Scoville Scale. Available at: https://en.wikipedia.org/wiki/Scoville_scale
Ahmad Esmaillzadeh. "Consumption of spicy foods and the prevalence of irritable bowel syndrome". 2013. Available at: https://www.ncbi.nlm.nih.gov/pmc/articles/PMC3801318/