Sometimes, you think about cocoa butter substitutes because you cannot find any left in your kitchen to make rich chocolate bars or pancakes. So, how can you prepare your favorite recipes without the butter?
In addition, this cooking ingredient is not always available in local grocery stores because it is not a daily essential product like sugar or salt. Rushing to a food store to buy a package of cocoa butter when you need it for cooking is not a good idea.
Therefore, it's time for you to find the perfect alternatives that allow you to make delicious baking products and dishes that initially call for cocoa butter. I will cover all of these concerns about this product in this post. Now, let's roll down for the details!
List of 13 Effective Cocoa Butter Alternatives
I recommend the following 13 ultimate options you can consider for the cocoa butter substitution.
Homemade Cocoa Butter
Cocoa Powder
Cocoa Paste
Butter
Shea Butter
Kokum Butter
Coconut Oil
Coconut Butter
Palm Oil
Mango Kernel Fat
Cottonseed Oil
Soy Lecithin
White Chocolate
Introduction Of Cocoa Butter
Cocoa butter is a vegetable fat taken from cocoa beans. It is mostly used in beauty products like creams, lotions, and lip balms because its moisturizing properties help hydrate and nourish the skin.
Cocoa butter is also well-known for its presence in cooking, especially chocolate making. It has a mild, fatty, and slightly bitter flavor. It does not taste like chocolate but has a chocolate smell.
The aromatic flavor of cocoa butter creates a pleasant taste for every single recipe, such as sweet and appetizing dishes. Unlike other kinds of fats that can go rancid easily, cocoa butter has an amazing shelf life of three to five years.
This type of butter is rich in antioxidants that can reduce the risks of diabetes. In terms of skin health benefits, the antioxidant content also helps protect your skin from UV radiation and reduces inflammation (1).
When purchasing cocoa butter, you should read the product description carefully to buy the right products that meet either your skincare or cooking needs. It is because you can not consume cocoa butter manufactured for skincare purposes and vice versa.
How Is Cocoa Butter Produced?
As mentioned before, cocoa butter is the finishing product of cocoa beans that are harvested from the Theobroma cacao trees.
In order to create the cocoa butter, the beans will undergo the fermenting, drying, roasting, and cracking process to form cacao nibs. Next, the nibs are crushed into a thick paste called cocoa liquor.
After that, the cocoa liquor is pressed so that the solid content can be separated from the fat or oil that is cocoa butter. The solid part is used to make cocoa powder.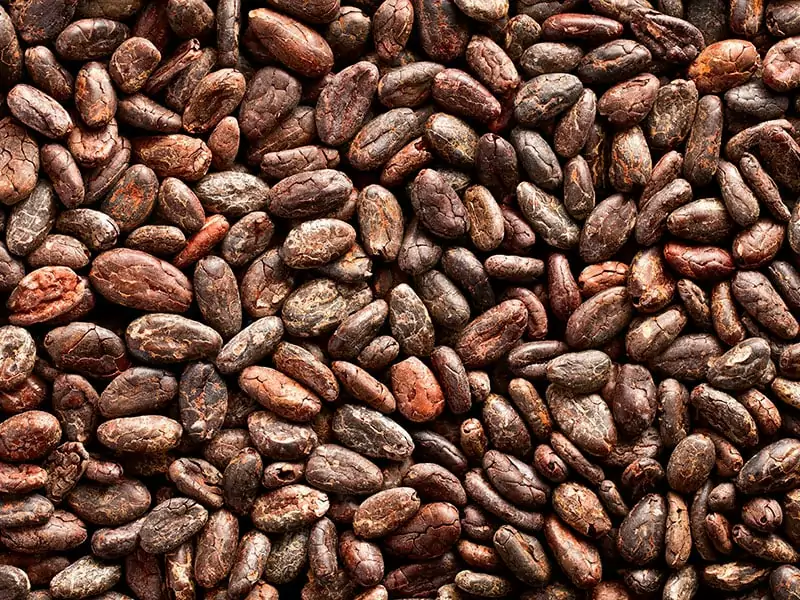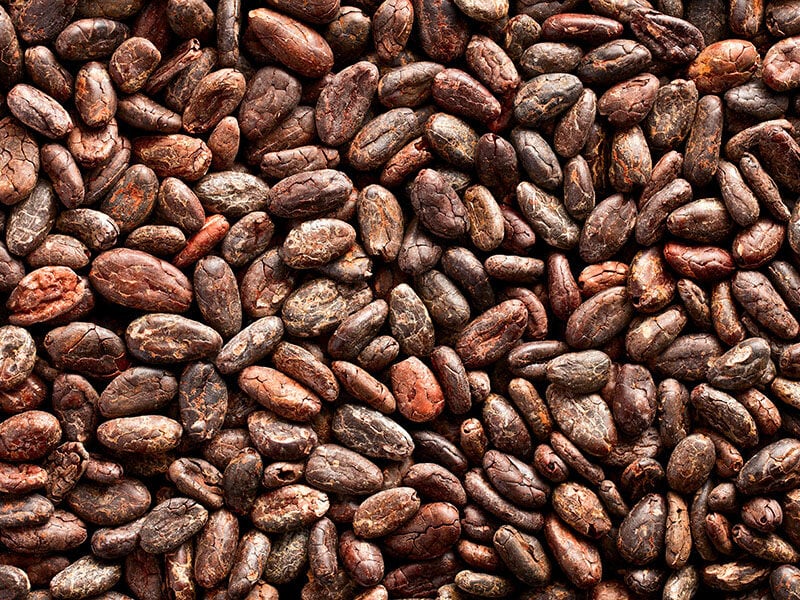 Cocoa Butter Substitution
While cocoa butter alternatives are extracted from other sources, not cocoa beans, they come with similar consistency and flavor to cocoa butter.
1. Homemade Cocoa Butter
Fortunately, it is possible for you to make cocoa butter at home. If you have some cocoa beans, you can transform them into butter for making skin care products or preparing delicious dishes.
To create cocoa butter, just follow these steps I show you now:
Step 1: Roast Cocoa Beans.
Prepare a skillet, put the dried cocoa beans in it, and roast them over medium heat for 20 minutes. Because the cocoa beans' shells can catch fire easily, you should not roast the beans with an open flame to prevent the beans from burning.
Step 2: Eliminate Their Outer Shells.
Heat off the beans and let them cool down at room temperature, and remove the beans' hulls.
Step 3: Boil Some Water.
Pour some water into a pot large enough to cover the number of cocoa beans you used, and then boil it.
Step 4: Grind The Roasted Cocoa Beans.
Pop the cocoa beans into a highly-trusted food processor blender combo to grind them. If you don't have one, a nut grinder will do. When done, pour the grounded cocoa beans into a bowl.
Step 5: Cooked Cocoa Beans in Boiled Water.
When the water reaches its boiling, you put the powdered cocoa bean in it and keep it at medium heat.
Stir the mixture well and let it cook for 2 hours or more. Remember to constantly stir it until the water content reduces, and the light yellow oil layer appears on its top.
Step 6: Collect The Oil Content.
You use a spoon to collect all the floating oil into a saucepan.
Step 7: Heat The Oil For Water Evaporation.
Place the saucepan with oil over medium heat so that the water content can evaporate completely. After that, remove the saucepan from heat and let it cool down.
Step 8: Strain The Oil.
Just use a cloth or strainer to filter the oil two times and eliminate any particles. Just pour the oil into airtight containers and store them at room temperature or in the fridge for a long time of consumption. When the oil becomes solid, it is cocoa butter. It's time to enjoy your pure and aromatic butter!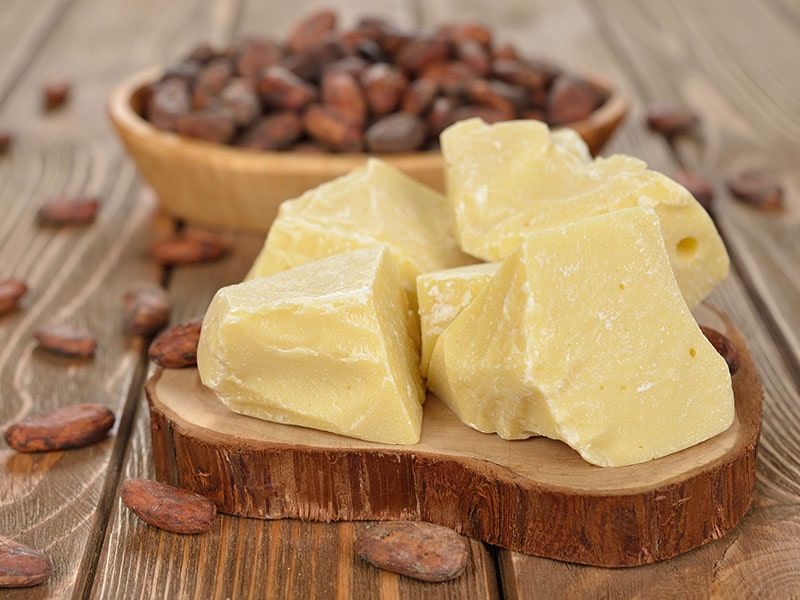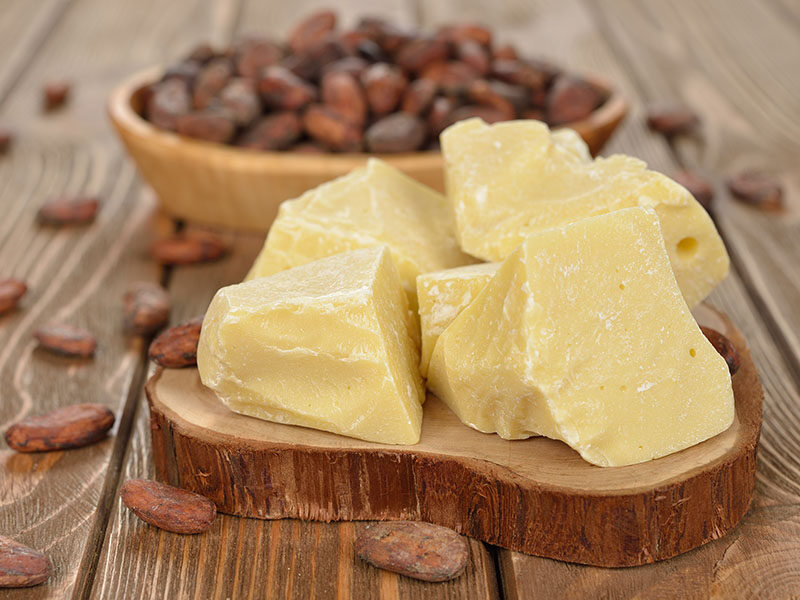 Watch this video to know more:
2. Cocoa Powder
Cocoa powder may not be as rich as cocoa butter but excellent cocoa powder can still bring your food a beautiful chocolate flavor. Be careful since pure cocoa powder is quite bitter.
You should combine it with some sweeteners like sugar or maple syrup and oil alternatives of cocoa butter. This will be a great mixture with a fatty and chocolate taste for the substitution.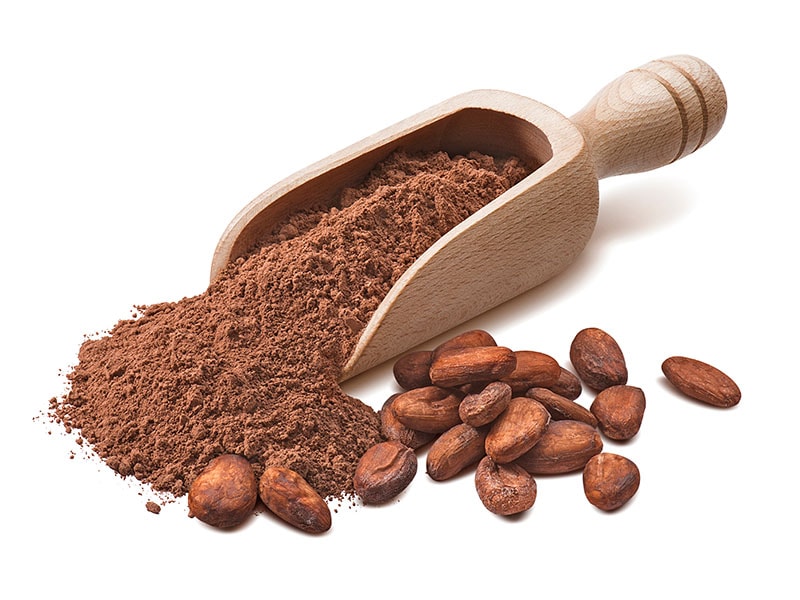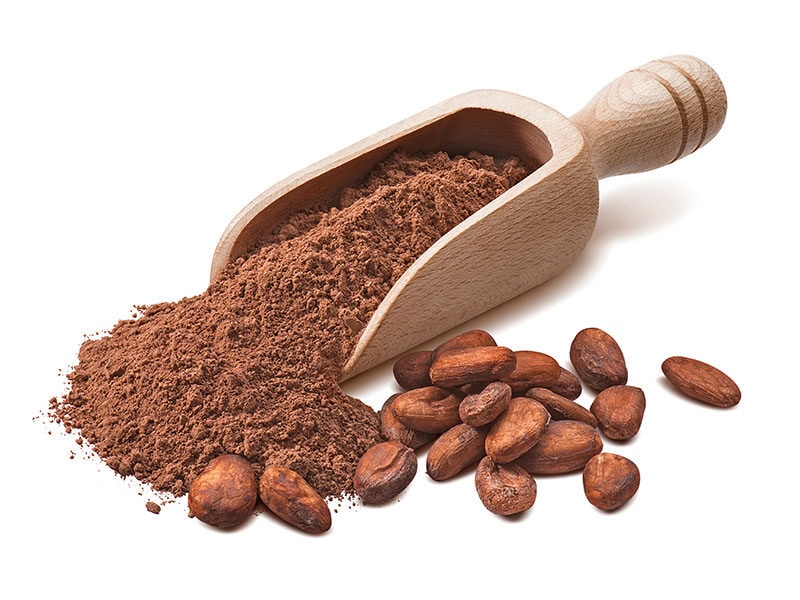 3. Cocoa Paste
Like cocoa butter, the paste form is also taken from processed cocoa beans. After undergoing the pulverizing and pressing stages, the paste products are ready for sold-out.
Because cocoa paste contains pure and authentic chocolate flavor, it is an excellent replacement for cocoa butter in confectionery.
It is easy for you to find cocoa paste available in food stores or supermarkets, so it should be on the best cocoa butter alternative list.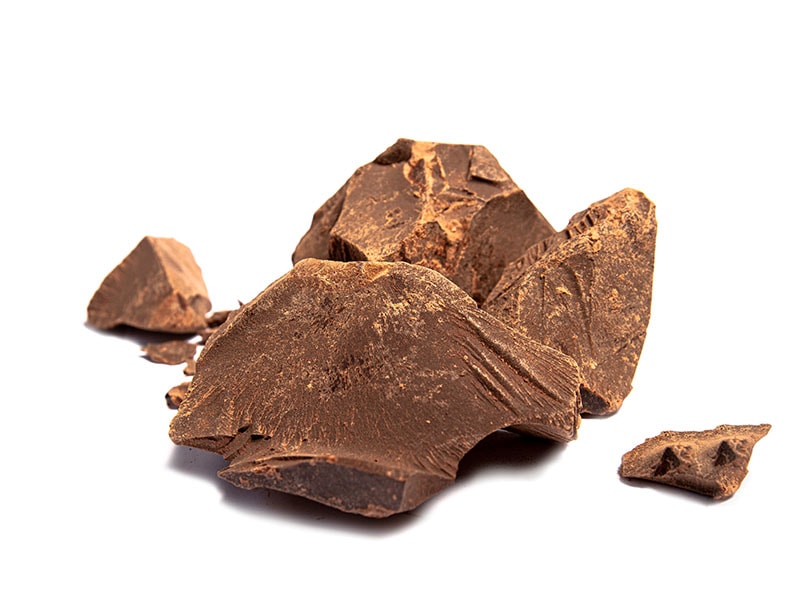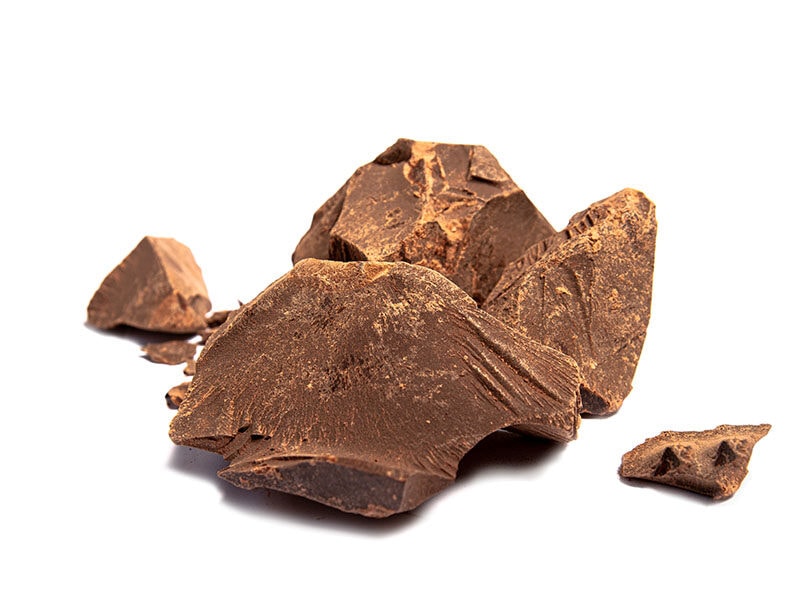 4. Butter
The pure and unsalted butter contains less protein and carbohydrates while it has a high amount of pure fat.
Hence, it will be the perfect alternative to cocoa butter in various recipes, especially in baking products. The butter can keep your food texture moist and soft, just like cocoa butter does.
Talking about flavor, butter does not have a nice chocolatey smell like cocoa butter. Therefore, it is better for you to add some cocoa powder or vanilla extract along with the butter to your dishes. This will bring a sweet and aromatic flavor to your cooking.
The butter has a low smoking point in comparison to cocoa butter. For the substitution, you should not use the butter for deep-frying that comes with high heat. However, you can feel free to put it in stovetop dishes over medium heat.
While cocoa butter is a vegetable fat, butter is a dairy product. Therefore, you can not use butter in several desserts for vegetarians. Instead, when it comes to cocoa butter substitution for vegan foods, you should consider plant-based alternatives.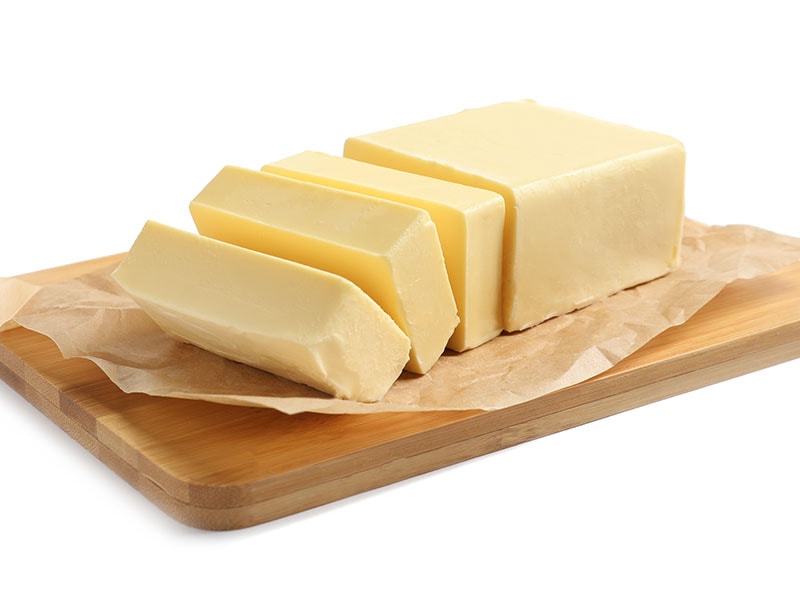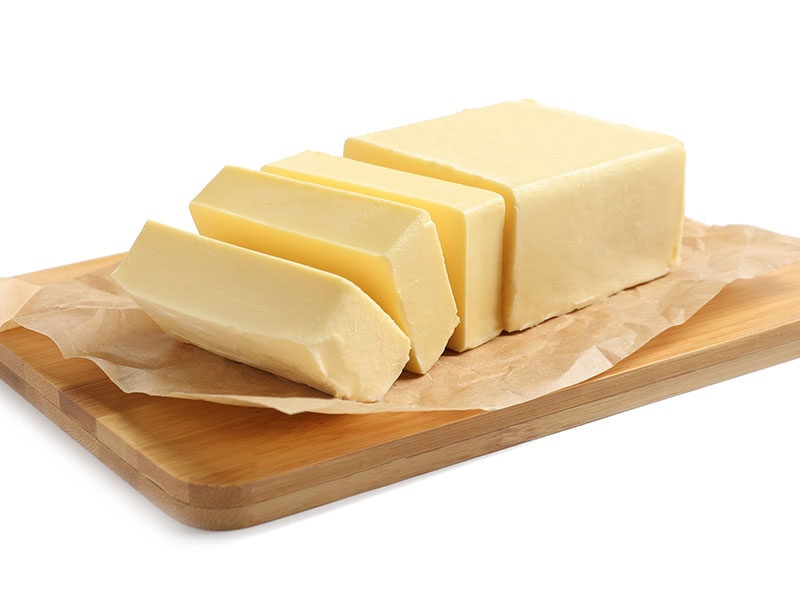 5. Shea Butter
Shea butter is an edible vegetable fat coming from the fruit's seeds of the shea trees. It also has a solid texture and is frequently used as a cocoa butter substitute in chocolate manufacture.
Like cocoa butter, the shea one is famous for its nutritious values and its practical uses in the production of hair and skin goods.
An anti-inflammatory found in this kind of butter can help cure bruising, dermatitis, and all forms of massage therapy (2), (3).
However, the shea butter's flavor is quite smoky, which can make your food taste different from what you desire it should be.
For the first time you use it as a cocoa butter alternative, you should add it in a small amount to your recipe to test whether you feel well with the shea butter flavor. If it is fine, you can adjust to larger amounts of butter for your future cooking.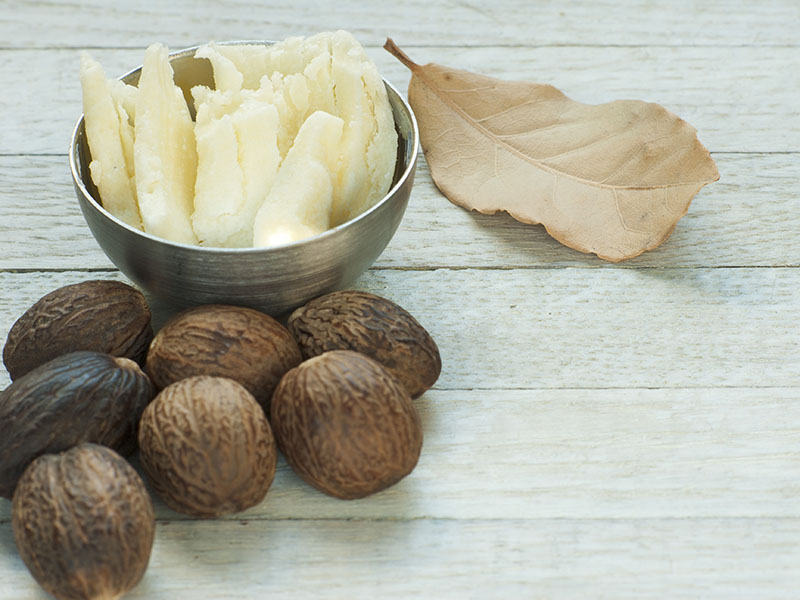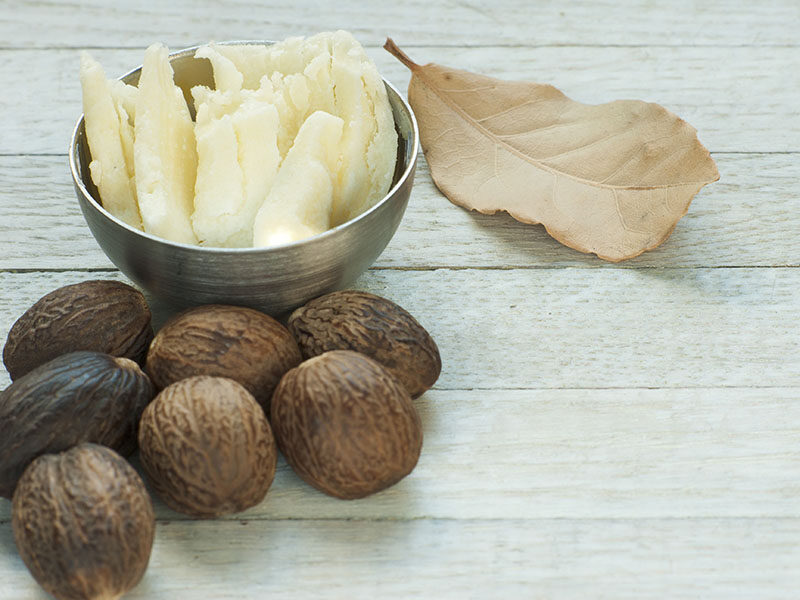 6. Kokum Butter
Kokum butter or Goa butter is an edible fat that is taken from processed seeds of the Kokum tree.
Because of its healing properties, kokum butter is used as a cocoa butter substitute in producing lotions and face masks that help prevent signs of aging on the skin.
In terms of chocolate making, the pure fats in kokum butter allow the chocolate's texture to be hard and dense. Moreover, it is a perfect ingredient for healthy recipes (4).
7. Coconut Oil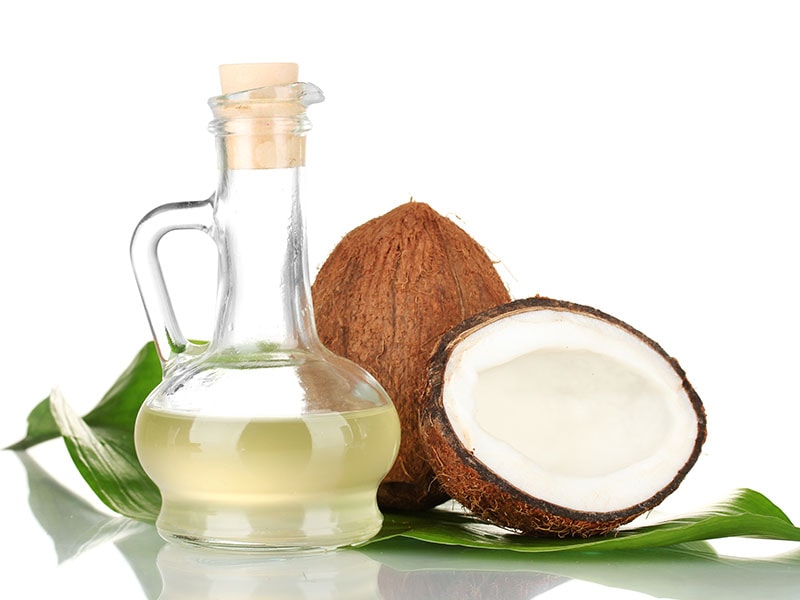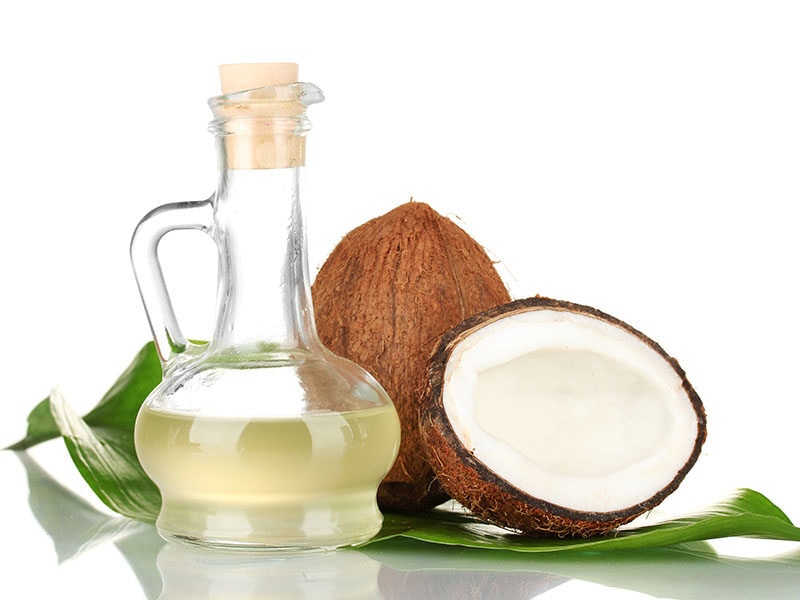 There is no doubt that coconut oil has the same fatty flavor as cocoa butter, so it will be a reliable alternative to cocoa butter. Different from butter, coconut oil exists in a liquid consistency even when it is put in the fridge.
Coconut oil has the nutty flavor and natural sweetness of tropical fruit, so it will be a perfect substitution for cocoa butter in recipes calling for the aromatic flavor and the naturally sweet taste.
If you are not a big fan of coconuts, do not worry that the coconut oil will spoil your food taste. It is because the oil is super mild, so its coconut flavor will be easily neutralized by other ingredients in your dishes.
As a result, you will not even notice the coconut oil content in the recipes if someone cooks them for you. Due to the high smoke point of refined coconut oil, you can use it in place of cocoa butter in high heat cooking.
In contrast, cold-press coconut oil can not be used in high-temperature cooking because of its lower smoke point.
8. Coconut Butter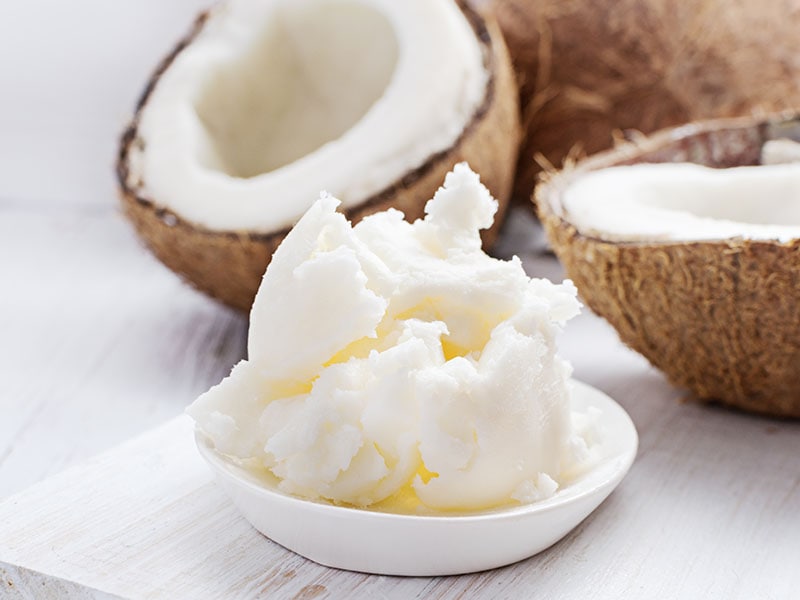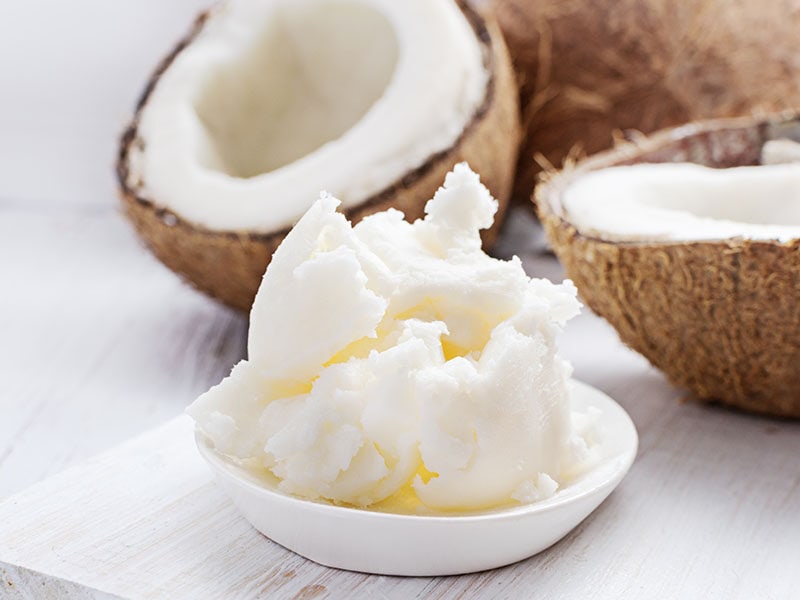 Whereas coconut oil is extracted from the fat of coconuts, the butter is made of coconut flesh.
The key reason why you can replace cocoa butter with coconut butter is that they all have a natural sweetness. Although it does not bring chocolate flavor to your dishes, it can create sweet-smell cooking recipes.
Coconut butter is also rich in fat like cocoa butter, but the former contains some carbs and a small amount of protein, which create the main difference between them.
When compared to the oil, coconut butter has a sharper flavor. Therefore, it will bring you extremely flavorful dishes.
9. Palm Oil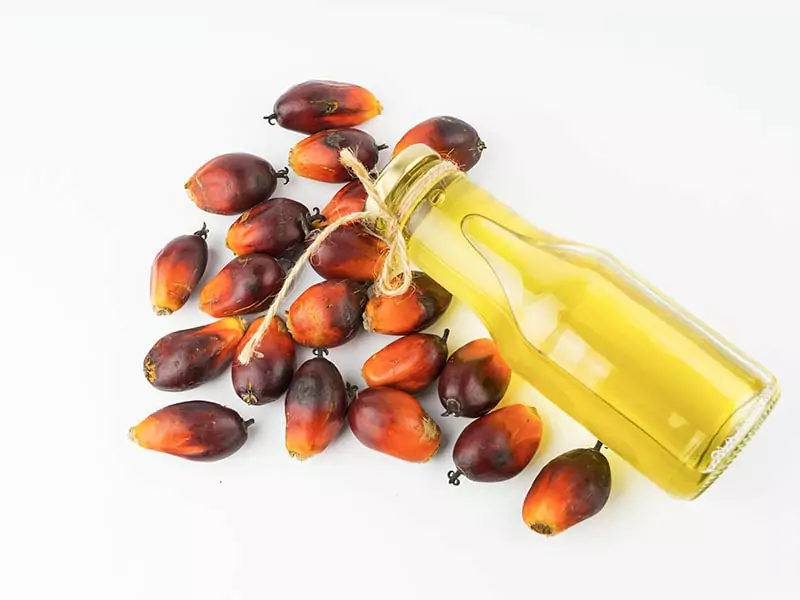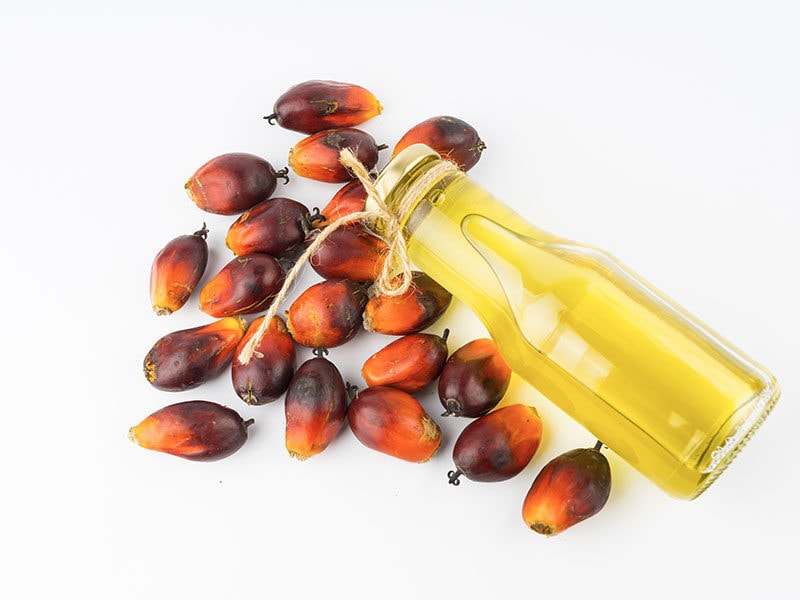 Palm oil is a plant-based oil extracted from the fruit of the palm tree. The low price and versatility of palm oil make it more and more popular worldwide.
As an ingredient of chocolate bars, palm oil acts as a lubricant that makes the chocolate surface smoother.
Regarding home cooking, the savory and earthy taste of palm oil can go well with tropical cuisines, especially curries and spicy recipes. Its high smoke point allows it to be cooked with sauteed and frying dishes (5)
10. Mango Kernel Fat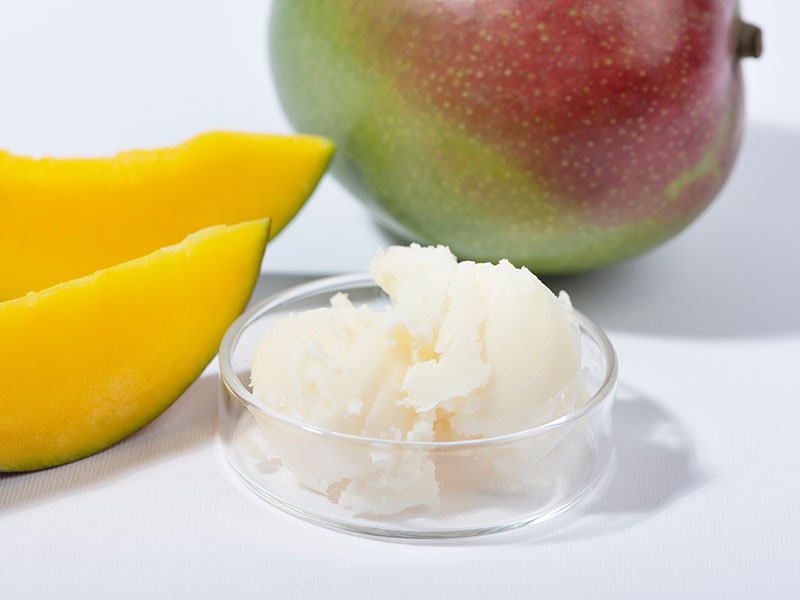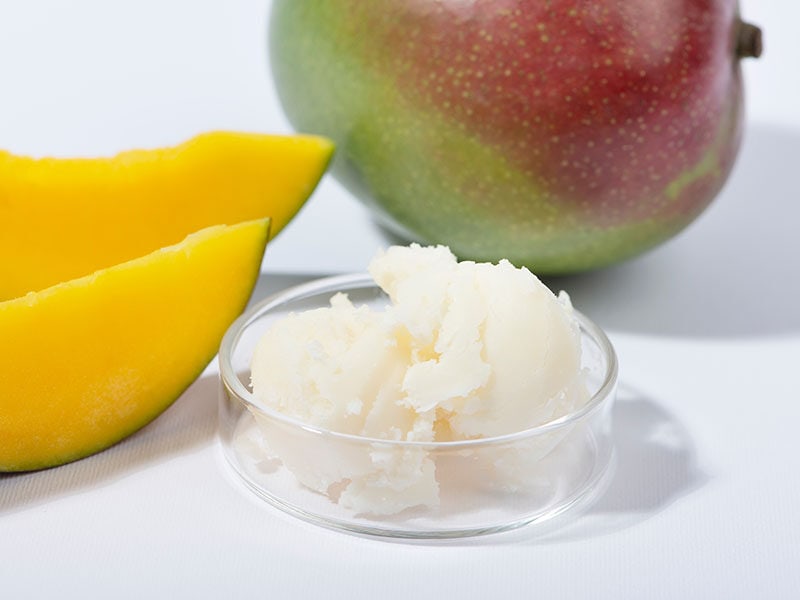 Mango kernel fat, also known as mango butter, is an edible oil made from the mango seed. When put at room temperature, the mango butter is semi-solid.
Due to its high level of fatty acids, it is a cocoa butter alternative in chocolate production. However, to create a butter consistency suitable for the manufacturing process, the mango fat needs to be mixed with palm oil.
Chocolate made with mango fat will not easily melt at room temperature, which is one of the main reasons why mango butter is a reliable ingredient frequently used in chocolate making.
11. Cottonseed Oil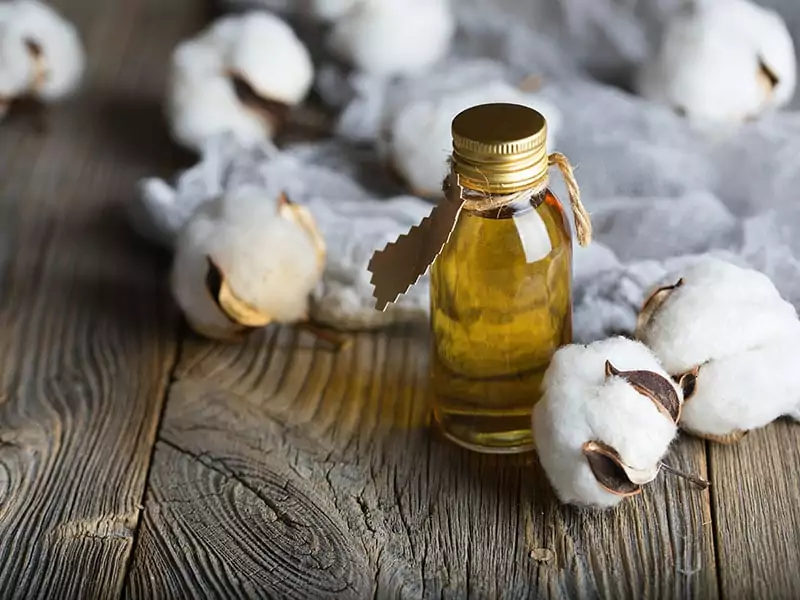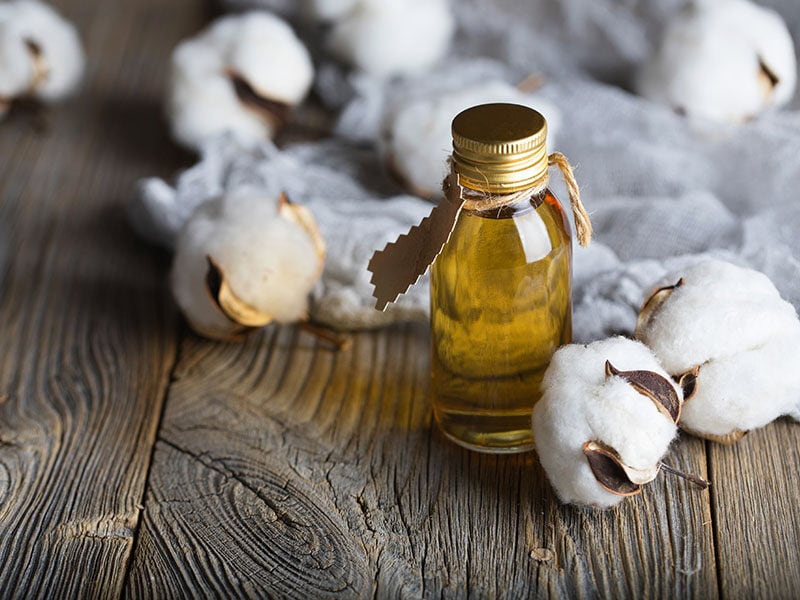 Cottonseed oil is an edible vegetable fat extracted from the seeds of cotton plants. The refined cottonseed oil is safe for consumption because it is processed to remove the gossypol toxin, a substance found in natural cotton plants (6).
In terms of cocoa oil substitution, cottonseed oil is great for creamy and moist baking products and savory dishes.
However, the oil contains a high level of saturated fats that may be harmful to human health in case of overconsumption. Despite its versatility for both home cooking and baking, you should consume it in moderate amounts.
12. Soy Lecithin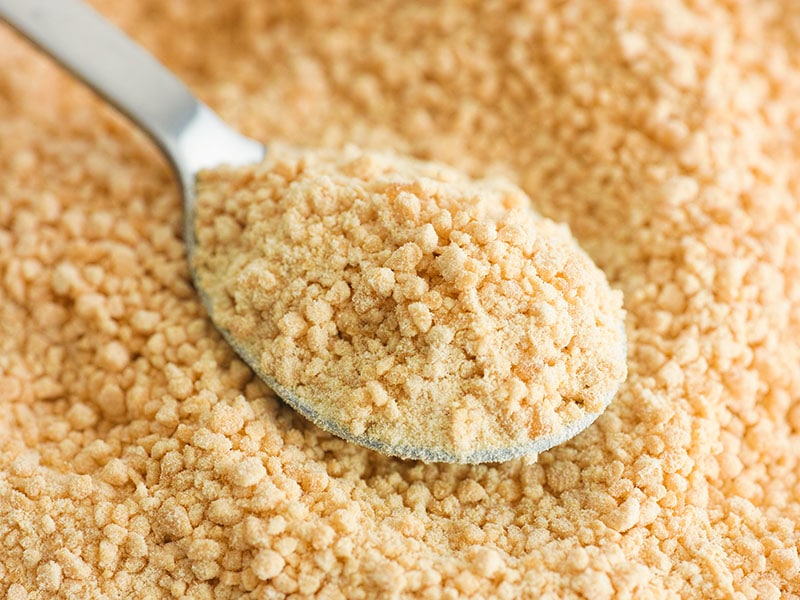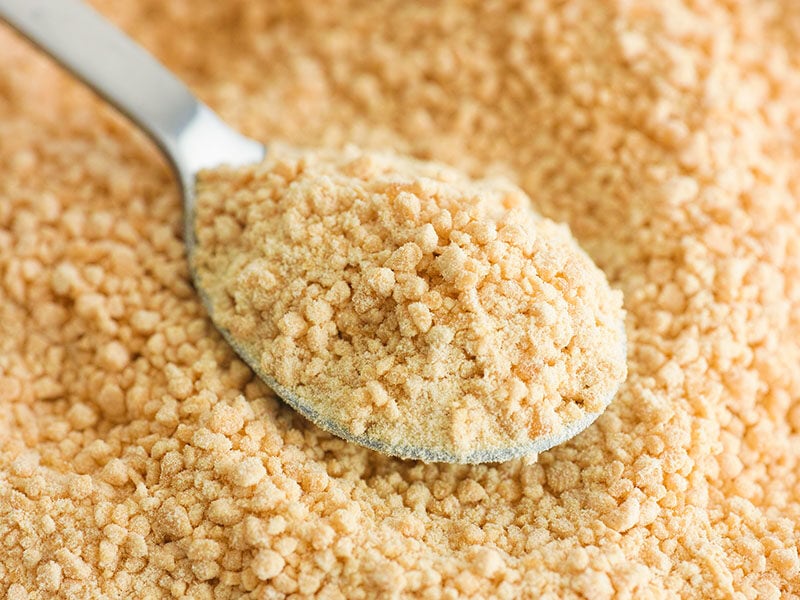 Soy lecithin is an edible oil extracted from processed soybeans. When the oil is added to chocolate products, it forms a glossy chocolate texture.
It also allows all the ingredients in chocolate to stick closely together. Hence, you can find soy lecithin content on food labels of most chocolate bars.
With those who are allergic to soybeans, you should not worry too much when consuming food products containing soy lecithin. It is because the majority of soybeans allergens are removed during the manufacturing process.
In addition, only a small amount of soy lecithin is put in the products, so it will not be a big problem! (7).
However, if someone is extremely allergic to soybeans, he should take caution in consuming food with soy lecithin content to minimize the risks of undesired reactions.
Moreover, adding soy lecithin to the diet helps reduce the level of bad cholesterol in the blood (8).
13. White Chocolate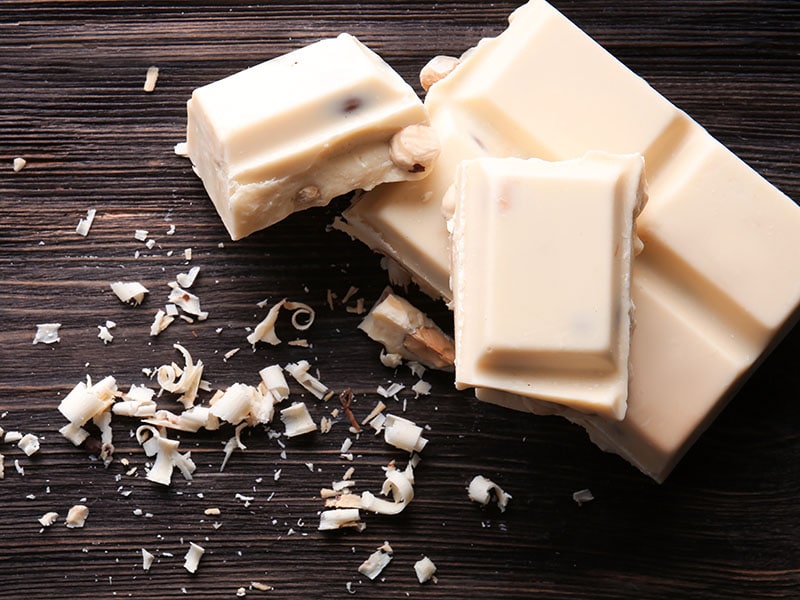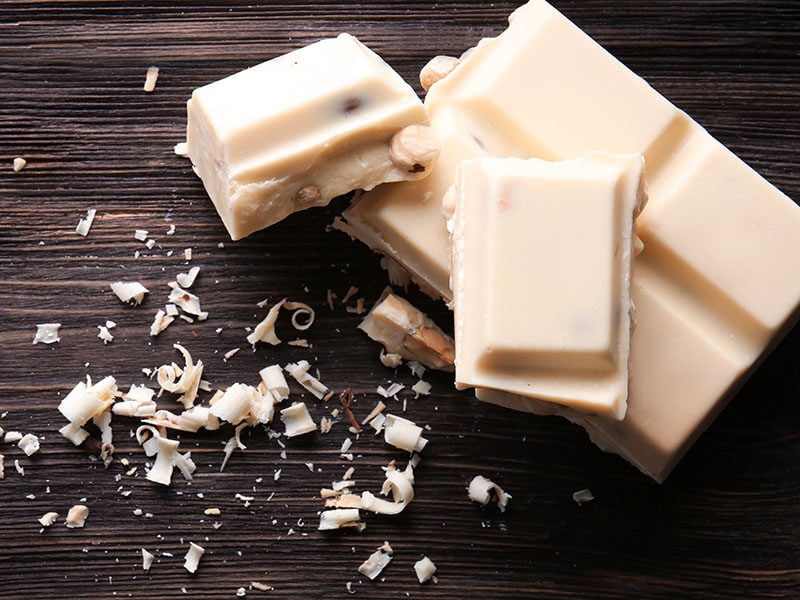 Cocoa butter is one of the most important ingredients of chocolate making in the food industry. Hence, it is such a quite good idea to use white chocolate in place of cocoa butter.
Especially if you are craving a rich chocolate recipe, you will not go wrong with some finest white chocolate. However, just remember that this chocolate contains a high level of sweetness, so it can substitute for cocoa butter in sweet foods, commonly baking products.
Otherwise, using white chocolate in other recipes may make them oversweet.
FAQs
Here are some commonly asked questions related to cocoa butter and its substitution that you would like to know the answers to.
Just Find Your Favorite Cocoa Butter Substitutes!
The greatest cocoa butter alternative is one bringing you the most desired taste of food. Even if I suggest you use coconut oil to substitute for cocoa butter, but you do not actually get used to its nutty taste, the oil can be put away from your list.
Moreover, when purchasing cocoa butter substitutes, you should choose high-quality products for the safest consumption that can ensure your healthy life.
Have you ever tried any cocoa butter replacement? If yes, how about the result?. Just feel free to share your ideas and experiences with me by leaving your comments below this article.
Lastly, if you find my post informative, give me a like or share as a nice encouragement from you!
Nutrition Facts
25 servings per container
---
Amount Per ServingCalories87
% Daily Value *
Total Fat 7.4g

11

%
Cholesterol 20mg

7

%
Sodium 52mg

3

%
Potassium 16mg

1

%
Total Carbohydrate 5.6g

2

%

Dietary Fiber 0.2g

0

%
Sugars 5.2g

Protein 0.2g

0

%
---
* The % Daily Value tells you how much a nutrient in a serving of food contributes to a daily diet. 2,000 calories a day is used for general nutrition advice.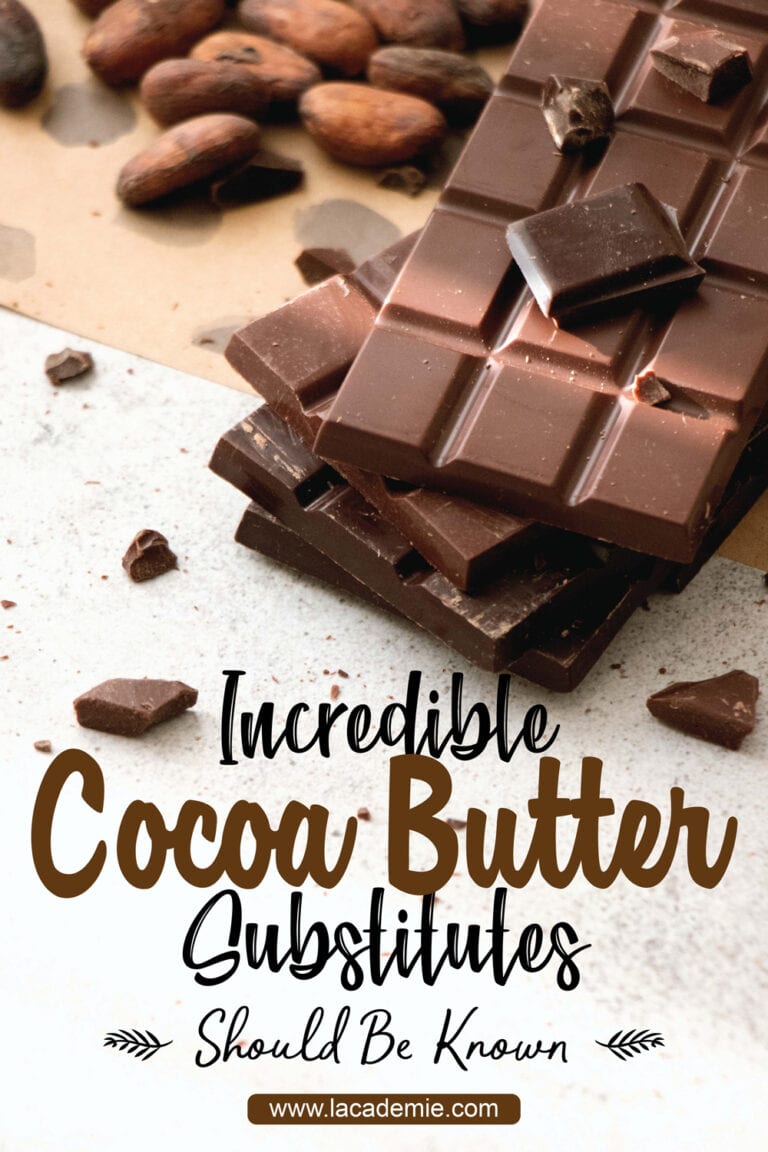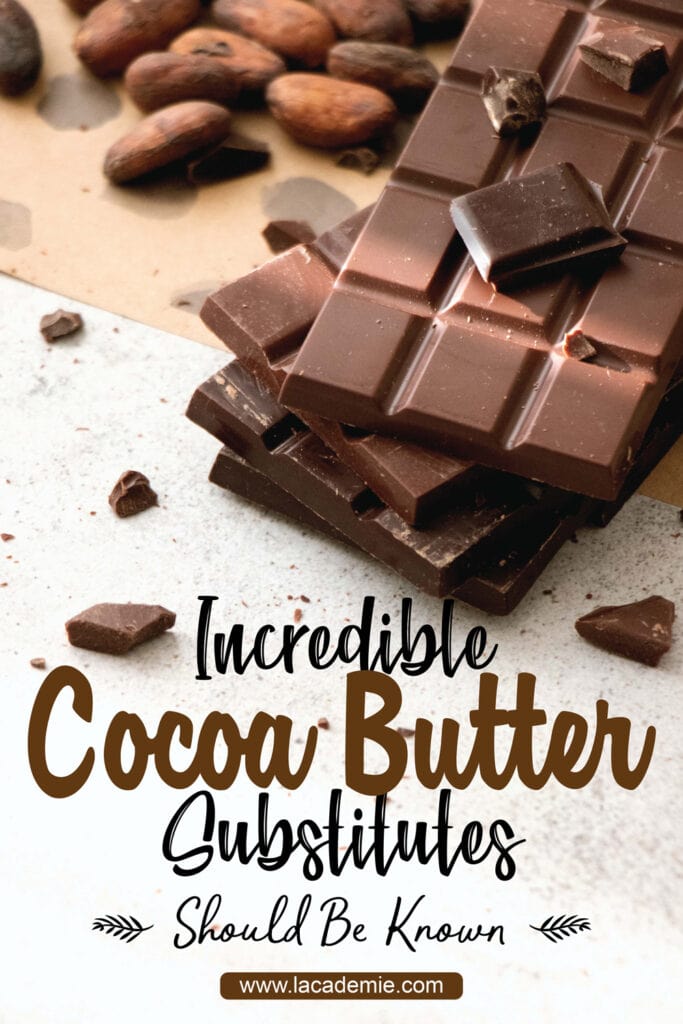 References
Katz, D. L., Doughty, K., & Ali, A. (2011, November 15). Cocoa and chocolate in human health and disease.
Dennie, MaKeish N., "Medical Benefits of the Shea Nut Tree" (2012). Biology Student Research.
Honfo FG, Akissoe N, Linnemann AR, Soumanou M, Van Boekel MA. Nutritional composition of shea products and chemical properties of shea butter: a review. Crit Rev Food Sci Nutr.
Swami, S., & Krishi, K. (2014). Kokum ( Garcinia Indica ) and its Many Functional Components as Related to the Human Health: A Review.
Tarmizi AH, Lin SW. Quality assessment of palm products upon prolonged heat treatment. J Oleo Sci. 2008;57(12):639-48. doi: 10.5650/jos.57.639. PMID: 19001776.
Cottonseed Oil and Food Safety. (2021).
Soy Lecithin. FARRP. (n.d.).
Mourad, A. M., de Carvalho Pincinato, E., Mazzola, P. G., Sabha, M., & Moriel, P. (2010). Influence of soy lecithin administration on