If you love desserts but don't like eating butter – a common ingredient in these, then easy desserts without butter are definitely what you're looking for. Your problem will be completely solved in this post.
Butter is known to be a widely used ingredient in cooking with its characteristic fat and aroma. However, this does not mean that butter-free desserts will lose the flavor they should have. Let's see what desserts you can make without butter.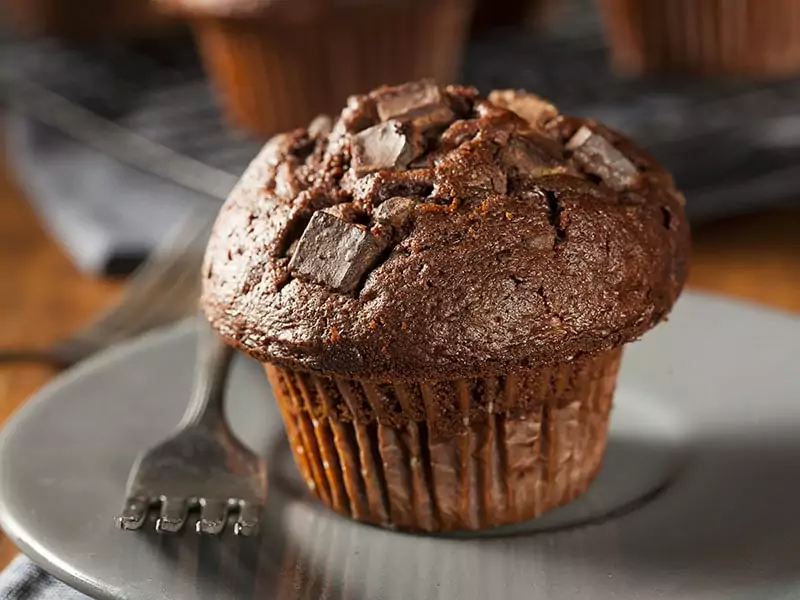 26 Easy Desserts Without Butter That Blow Your Mind
Butter can be replaced by many different ingredients but still creates the flavor that should have in desserts. To make it easier for you to choose your favorite dessert recipes, I will divide them into 4 categories: cake, bread, cookie, and muffin.
Cakes Without Butter:
Cherry Pudding Cake
Chocolate Depression Cake
Water Cake
Blueberry Lemon Yogurt Cake
One Bowl Chocolate Cake
Pumpkin Cake
Lemon Olive Oil Cake
Lemon Coconut Cake
Bread Without Butter:
Pumpkin Bread
Swirl Cinnamon Bread
Herb Quick Bread
Banana Bread
Pistachio Bread
Country White Bread
Vegan Chocolate Chip Cookies
Snickerdoodle Cookies
Chocolate Cookies Without Butter
Gingersnaps
Pumpkin Oat Cookies
German Chocolate Cookies
Cake Mix Peanut Butter Cookies
Muffins Without Butter:
Cranberry-Orange Muffins
Applesauce Muffins
Banana Muffins with oil
Double Chocolate Muffins
Pumpkin Oatmeal Muffins
Yummy Cake Without Butter Everyone Should Know
What would the cakes with a characteristic aroma and taste be like without butter? If you're curious, continue reading the butter-free cake recipes below.
If you want to serve a certain sweet dish to many people at a buffet party, this will be the choice you can consider. This cake will have a sweet and sour taste mixed with cherry.
To make the cake more delicious, you can eat it with fresh cream or vanilla ice cream. And it is best to eat when the cake is still warm or cool a little bit. And don't leave it for more than 36 hours without eating it all. Otherwise, the cake will be stale.
At first, you will probably wonder about the strange name of this cake. It got its name because it was created during the Great Depression. It was tough to find the ingredients needed to make the cake at that time, hence the name.
Until now, this cake still retains its status with great taste. With cheap ingredients and simple steps, you can already make a delicious cake.
This is a light dessert with simple ingredients, no eggs or butter at all. The calories in the cake are not too high so that you can make them for your little ones.
It doesn't take long to make this cake. With just a well-made cake pan and some simple steps, you have easily created a delicious cake full of flavor. You can also consider swapping out the water cake with fruit juice to add more flavor to it.
Healthy water cake recipe without butter, eggs, and milk. Try it now!
Not only served as a dessert, but this cake can also be eaten as breakfast or as a snack. With ingredients like lemon juice and especially yogurt, this cake has a soft, moist texture and a slightly sour taste.
The cranberry filling inside will give you a pleasant feeling when biting into the piece of cake. It would help if you chose fresh blueberries to enjoy the flavor that it brings to this cake fully.
Without complicated tools, you can still make this chocolate cake by hand easily. Simple ingredients, simple to make, but creates a very delicious cake. What's better than that?
As for the topping, you can customize it to your liking, be it a layer of fat cream or sweet sugar flour.
This pumpkin pie has delicious flavors reminiscent of fall. The cake has a spongy texture with moisture inside. It can be topped with a layer of vegan cream cheese for extra fat.
In less than 30 minutes, with simple ingredients, you will have a delicious pumpkin pie. Eating this cake with a cup of tea or coffee will help you have a relaxing evening.
Don't miss this cake if you are looking for a dessert for the holidays or a special occasion. After the main course dishes, this cake is the perfect sweet course for your dinner party.
Olive oil will help make this cake extremely soft, moist, and keep for a long time, which you can hardly find in other pastries. With a cool lemon flavor, this will be a dessert that everyone must love.
You can easily make a lemon olive oil cake at home with these detailed instructions.
Both coconut and lemon are familiar ingredients in desserts. This cake, too, will combine these two ingredients in a new way to create an attractive dessert.
Lemon has a refreshing taste, and coconut has a natural fatty taste, all make your cake a perfect combination with just the right amount of moisture. You can decorate a few slices of lemon on top to create an aesthetic for the cake.
Easy Bread Recipes Without Butter You Can Make At Home
The delicious moist bread on the inside and crispy on the outside are desserts that no one can refuse. Without an ingredient like butter, can you make delicious bread? Of course, right below are the bread recipes without butter you've been looking for.
No butter, no mixer, you can still make delicious pumpkin bread. This dessert is almost like a moist, spiced cake.
This pumpkin bread recipe is so easy that you can learn it in no time and make it yourself with the help of your beloved pan for bread loaf. The texture is moist but not fatty, plus the seasoning is seasoned just right. You're sure to love it!
You won't be able to resist the scent of cinnamon in this sweet treat wherever it is displayed. If you are wondering if you can make this cinnamon swirl bread yourself at home, my answer is absolutely possible.
With only familiar ingredients that are easy to find, you can make this delicious bread. You don't even need a mixer. At any time, you can make this bread at will.
There isn't any refined butter or sugar in this quick bread recipe. This recipe uses whole wheat flour and cornmeal as a substitute for white flour.
With different herbs in this bread, you get not only a delicious dessert but also a healthy one. Let's quickly make "quick bread" at home!
This butter-free banana bread recipe will quickly take place on your menu once you've tried it. It's like the classic banana bread, but instead of butter, you'll substitute it with vegetable oil.
Make sure to choose ripe bananas, so your bread doesn't get acrid! In addition to the basic ingredients, you can tweak the recipe a bit with chocolate or whatever ingredients you like and suit.
A simple recipe for banana bread without butter. Give it a try!
With a super easy recipe and a short time to make, in just 15 minutes in the oven, these pistachio bread are ready for you to enjoy. You can make it on holiday to entertain your guests. You can also make a loaf to eat on your free days.
This recipe is made with a pudding and cake mix. Pistachios will give this cake an interesting light green color. Perhaps this is also another attraction of this bread besides its delicious taste.
No extra ingredients are needed. Let's go back to the classic white bread recipe. Because it's made with the most basic ingredients, you can cut this loaf into sandwich-like slices and serve with other dishes.
If you're looking for the simplest bread recipe, go back to this classic white bread.
There are many different variations for butterless cookies. It's a bit drier than a butter cookie, but it's all as light and crunchy as it should be.
Chocolate chip cookies are almost a dessert that no one can refuse. However, if you are a vegan, you must wonder if there is any way to replace the cocoa butter in these cookies. And yes, there is a way to turn this recipe into a vegan version.
With the right substitutes for butter, your cookies will still retain their original deliciousness.
"How about the chocolate? Is chocolate a vegan food?" Well, chocolate can sometimes contain dairy products, so make sure to choose the vegan variation. Now nothing can stop your passion for this cookie!
A perfect chocolate chip cookie recipe here. Come and get it!
These snickerdoodle cookies are the perfect idea if you want to make something for your friends for Christmas. No one can say no to your delicious and heartfelt cookies.
Don't forget vanilla to flavor your cookies. At the same time, if they are coated with cinnamon sugar twice, they will be even more delicious.
Still chocolate, still cookies like the chocolate chip cookies above, but instead of chocolate chips, this time it's cocoa powder. It still has the same softness and flavor as any other cookie.
These chocolate cookies without butter tend to flake more in the oven than the buttery recipe. However, this does not affect your cookie at all. Its taste remains intact.
These soft gingerbread cookies will add something new to your dessert list with a hint of spiciness in the ginger. When you don't use butter in the recipe, your gingerbread cookies will even be softer and chewier than they are.
These gingerbread cookies will be a delicious dessert that can warm your body up a bit on cold weather days. Try it and feel it by yourself!
This cookie is healthy for you with pumpkin and barley ingredients, especially without butter. With easy-to-find ingredients and simple steps, you can make this cookie in 20 minutes.
This cookie does not taste too sweet. You can easily eat a lot without getting bored. Or if you like sweets, add little chocolate chips. This will make your cookies more special and different.
Still another cookie with chocolate. If you've ever eaten chocolate, you'll understand why I love it so much. This time, the chocolate cookies will be made in German style. It's a bit like German chocolate cakes, but it's smaller.
Combine chocolate with pecans with a few other ingredients, and you have the perfect dessert.
This will be an extremely simple dessert with almost all ingredients already prepared and canned. You just need to mix them and bake for a "homemade" cookie.
However, leave out the peanut butter and switch in some other ingredients with similar taste. With lazy days, you can still easily make a delicious dessert cookie that is not inferior to other complicated recipes.
Mouthwatering Muffin Without Butter You Have To Try Once
Moist crumb and chewy texture are two elements that make a delicious muffin. The absence of butter in the ingredients won't have much of an impact on these elements of many muffins recipes. Check out these muffins without butter recipes below, and you'll see why I say that.
Fresh cranberries and refreshing orange flavors combine perfectly to create the flavor of this muffin. In just 30 minutes with familiar ingredients, the cranberry-orange muffin will be completed from A to Z.
These delicious fluffy muffins can be served as a dessert, or you can turn them into your simple, nutritious breakfast.
Anyone of any age will fall in love with this applesauce muffin as soon as they taste it. This muffin is packed with healthy ingredients, and especially without the butter. In addition to applesauce, you can add cinnamon to give this recipe some flavor.
You can serve it at any meal of the day. Simple, cozy, delicious are the most basic words for you to imagine about this muffin.
Why don't you try this recipe to make applesauce for the next meal?
Want to make a banana muffin but don't want to use butter in the recipe? This is possible with the banana muffin without butter recipe. Instead of butter, you can use vegetable oil.
So the butter problem was solved. But to get a delicious muffin, that's not enough. The choice of ingredients can also tell if the dessert is delicious or not. Remember to choose ripe bananas so that your muffins are moist and have the right sweetness.
Still a simple and easy muffin recipe, you will have a dessert with rich flavor and moist texture with chocolate in ingredients. What could be more desirable in a muffin than that?
If you accidentally make too much and don't eat it all at once, rest assured, you can store them in an airtight container for up to 3 days.
Not many people think of making sweets with oatmeal. But when it comes with pumpkin, this muffin is born with enough fiber for you for breakfast. Of course, it's still a dessert you shouldn't miss after any party. A muffin with a cup of hot tea, it's a perfect match.
This recipe has no butter in the ingredients. Not only that, but it also has many healthy ingredients. You can rest assured to let your kids eat these super delicious muffins.
Practice Healthier Eating Habits With Butter-free Desserts
Since time immemorial, butter has always been an important ingredient in flavoring dishes, and desserts are no exception. However, in terms of nutrition, butter is not good for health. Get in the habit of removing this ingredient from your recipes if you can.
The list of desserts without butter that I just shared is very easy to make. Even if you are new to the kitchen, you can still do it easily. So why not start a new habit from these recipes?
If you succeed, let me and others know by leaving a comment and sharing this post. Thank you!
Nutrition Facts
12 servings per container
---
Amount Per ServingCalories279
% Daily Value *
Total Fat 12.3g

19

%
Cholesterol 3mg

1

%
Sodium 294mg

13

%
Potassium 29mg

1

%
Total Carbohydrate 41.3g

14

%

Dietary Fiber 1g

4

%
Sugars 22.5g

Protein 2.4g

4

%
---
* The % Daily Value tells you how much a nutrient in a serving of food contributes to a daily diet. 2,000 calories a day is used for general nutrition advice.