Have you ever heard of South African desserts before? When it comes to sweets, few people would think about South Africa. I did, too. However, when I tasted them for the first time, my thoughts changed utterly. These desserts are now my favorites.
If you have never eaten the sweet delicacies of the South African food menu, I strongly suggest that you try making and enjoying them once. After that, I promise there will be a second and third time. Their delicious tastes will never disappoint you.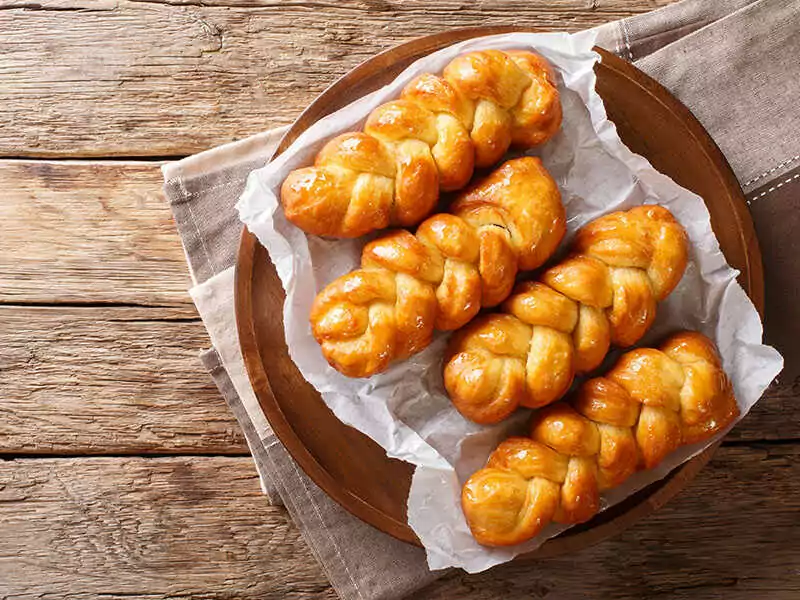 A chilled fruity dessert is perfect for summertime. I can't say how much I love this South African trifle recipe. It is a must-have treat in my family on any holiday. It has a rich and refreshing taste that everyone dies for.
Trifle comes in multiple layers, which makes it look super eye-catching. There are layers of fruit, cream, and custard. You can use any fruit that you like. I love to use strawberries, blueberries, and raspberries.
You should see the video below: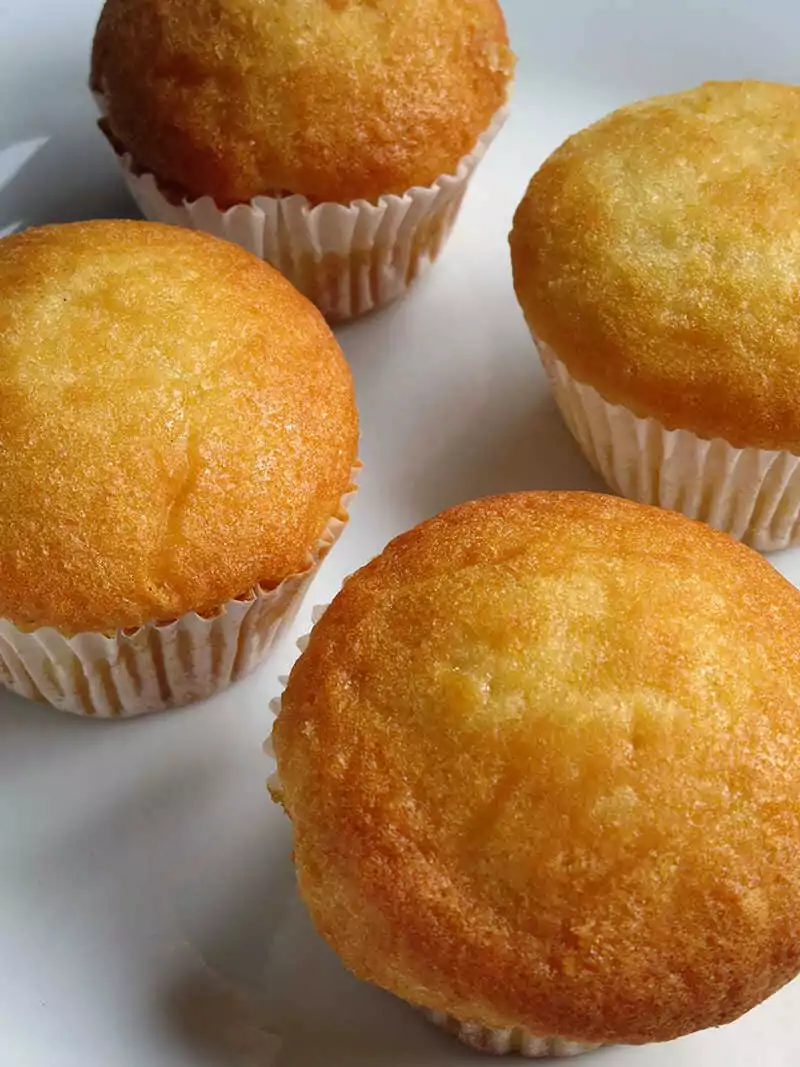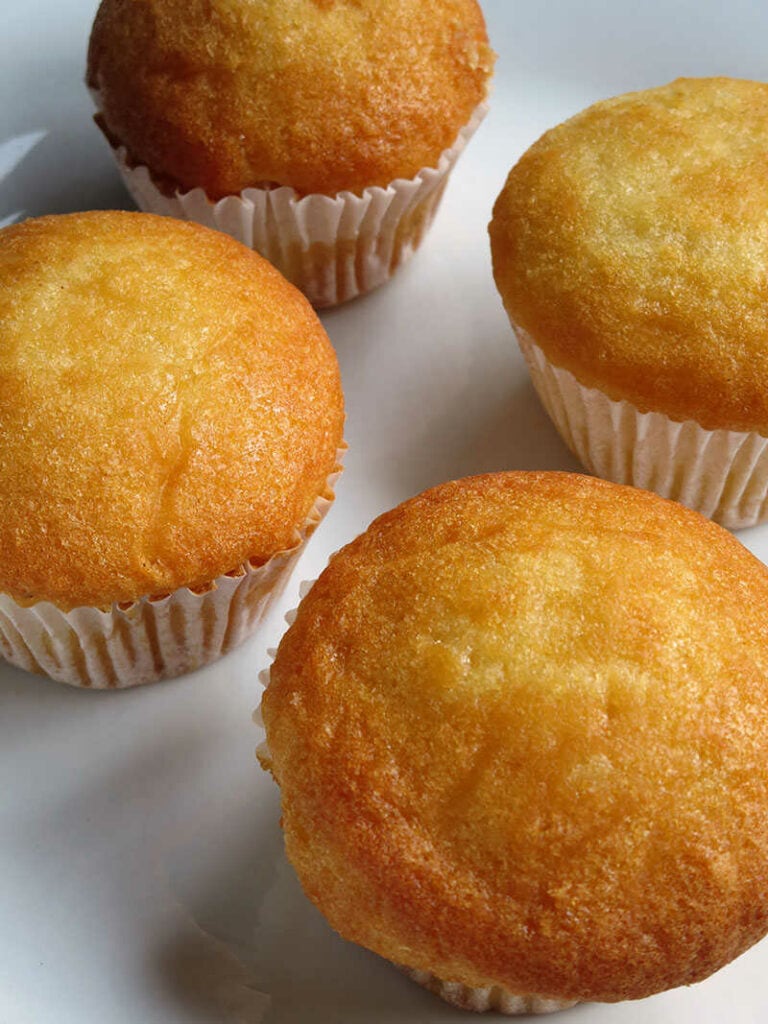 When looking at the name, I thought this should be a very awe-inspiring dessert. And that is true. It features beautiful cupcakes. However, such a fancy dessert turns out to be very simple. You only need basic ingredients, such as butter, milk, flour, and vanilla essence.
Do you think that these adorable cupcakes are perfect for enjoying at the end of your South African lunch recipes? Its dense texture and sweet taste will please all of your family members.
This dessert has a stunning appearance, don't you think so? It has an attractive golden-brown color and a beautiful shape that is hard to ignore. Creating such a shape seems to be a daunting task. But trust me! It is simpler than you think.
The dough of Koeksister includes common baking ingredients, namely flour, sugar, and butter. However, it has a lot of other flavorings.
Milk and cream add a lot of richness, while spices cinnamon and ginger provide a complex sweetness. After making the dough, deep fry it to get the beautiful golden-brown color.
Making these twisted donuts is an enjoyable thing to do.
I love to have some hints of peppermint in my dessert because it makes me feel refreshing. But I prefer to combine it with chocolate to get a lot of sweetness. Luckily, I found Peppermint Crisp Tart. I am sure that it will also be your favorite after tasting it.
This South African delicacy is made from peppermint crisp and tennis biscuits. It also has a layer of cream which is so rich and yummy. Peppermint crisp tart is unique. You can't find it in other cuisines so don't forget to try it.
Milk, flour, and butter are a classic combination. It provides a lot of richness. Later on, spices like cinnamon add a subtle sweetness that significantly enhances the flavor. You will have a chance to taste this unique flavor with Melkkos.
Melkkos is a creamy dessert that African people have loved for years. It has a thick milk-like texture that looks a little bit like porridge.
People often serve it warm on cold winter days. Sounds cozy, right? Make a bowl of Melkkos and top some cinnamon sugar on it. Then you will get a warm treat that is out of this world.
Boeber is a very popular dessert among Cape Malays, a group of ethnic people in South Africa. It comes in a creamy dessert made from vermicelli and milk. It is also flavored with cardamom and cinnamon, just like other South African desserts.
In addition, rose water is also a crucial ingredient. It adds a lovely aroma that is hard to resist. When you finish, top it with some almonds. With a rich, nutty, and sweet taste, Boeber deserves to be on your South African food list.
Melktert is one of the most famous desserts in South Africa. It features a fancy tart with fluffy dust and a creamy filling made from milk and cornstarch and flavored with multiple spices. Some cinnamon is sprinkled for a lovely aroma.
If you seek a recipe to serve at tea time, Melktert is a perfect choice. Its sweet taste and creamy texture. In addition, you can make it to celebrate Easter or Mother's Day.
Melktert may be the best dessert you have ever tried.
Tipsy tart is also called "Cape Brandy Tart". It features a brown sponge cake topped with cream. The brown color does not come from brown sugar or chocolate but from a dried fruit called pitted dates. It has a caramel-like sweetness but is very distinguishing.
Besides the sponge cake and cream, Tipsy Tart is also accompanied by a sweet syrup made from sugar and brandy. Pecan nuts add some nutty notes to the flavor. I love to enjoy a slide of Tipsy Tart alongside a cup of tea. This combo is heavenly delicious.
Do you love pancakes? These baked thin pancakes are so versatile that you can serve them with anything. In South Africa, they are made a little bit different. It comes in the form of rolls instead of a round shape.
Inside each roll, there is plenty of cinnamon sugar. So every bite is sweet outside and very sweet inside. Amazing, isn't it? You can sprinkle some lemon juice before rolling to get some sour notes.
Malva Pudding is the national dessert of South Africa. I am sure that you will regret it if you don't taste this delicious African dish at least once in your life. It makes a perfect after-meal treat to enjoy at your South African dinner. And you can hardly find this distinctively delicious flavor in other cuisines.
The main star of Malvapoeding is apricot jam to add a complex and tangy flavor to your fluffy sponge cake. It will turn caramelized after you bake it, resulting in a brown color that looks incredibly attractive. Serve it with a sauce made from heavy cream and milk.
Malvapoeding is one of the most loved desserts in South Africa.
Crumble and custard have contrasting textures. Custard is super light and creamy, while crumble is crunchy. What do they taste like when combined. My mouth is watering right now. I suddenly thought of a delicious South African dessert called "Apple Custard Crumble".
This fancy-looking custard dessert consists of a shortcrust pastry, a filling made from apple, and a layer of icing sugar. It is so sweet and full of flavors and textures. If apples are your favorite food, I cannot recommend Apple Custard Crumble more.
12. Dadelvingers (No-Bake Date Slice)
Dates are delicious and nutritious fruit. South African people use them to make plenty of desserts. Dadelvingers is one of them. An amazing thing about this sweet is that you don't need to bake it but still get a mouth-watering dessert.
Besides dates, Dadelvingers is made from Marie biscuits and basic baking ingredients. If Marie biscuits are not available in your area, rice Krispies is a great substitution.
The outer layer of the slice is covered with desiccated coconut, which is a common way of making dessert in South Africa. It provides a distinctive sweet overtone.
Brown pudding is a variation of the famous Malva Pudding. It has apricot jam as the main ingredient and is served with a delicious sauce made from milk and sugar. Although it is a variation, its popularity is comparable to the original one.
Apart from apricot jam, you just need the classic ingredients always available in every household. More amazingly, it will only take 10 minutes to prepare the batter and sauce. After that, let the oven do its job.
You will see the combination of apricot jam and coconut a lot in South African desserts. This is because this duo is so tasty that people want it to be present in any dessert. Hertzoggies is no exception.
These tartlets come in the form of cup-shaped pastries filled with apricot jam and topped with meringue icing made of coconut. Except for the pastry, everything else is so creamy and delicious. You don't want to miss such an amazing dessert.
Rusks is mainly a dessert, but people also love to serve it as a South African breakfast recipe. It has a strong buttermilk flavor and a crispy texture that will seduce you from the first bite. Also, it makes a perfect complement for tea or coffee.
A notable ingredient of this South African delicacy is bran flakes. They are a kind of cereal made from whole grain. That's why Rusks are a nutritious breakfast. Another fascinating thing is that you can freeze it for up to 2 months, so it will always be there whenever you crave it.
Traditionally served at weddings, Aartappel Poeding has a cultural significance in South Africa. It features mashed potato flavored with almonds, lemon, and nutmeg, then baked until perfection.
Aartappel Poeding has a distinctive starchy texture of potatoes and the deliciously complex flavor combined from the 3 tastes: tangy, nutty, and sweet. Once you taste it, you will be addicted to it immediately.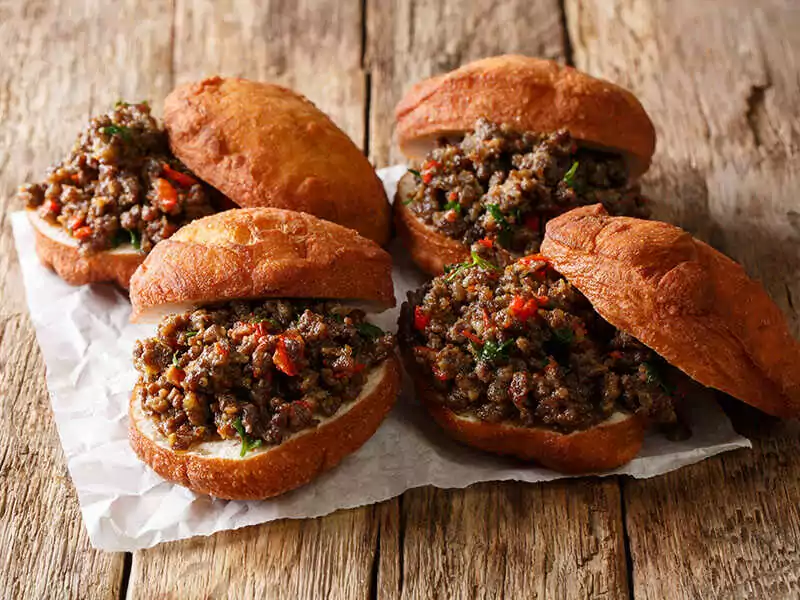 Vetkoeks is a very versatile bread that every South African person loves. It can be served with a wide range of food, including sweet and savory food. It is also among the most famous street foods in this country. This delectable treat is also famous in Botswana cuisine.
There is nothing special about the ingredients and process of making this bread. It is just yeast-based bread made from common baking ingredients. Overall, people love Vetkoeks for its simplicity.
Are you a fan of deep-fried desserts? If you are, Pampoenkoekie is a must-try. It is fritters made from pumpkin. Frying pumpkin seems unusual, right? But South African people do that, and the result is amazing.
The pumpkin is flavored with cinnamon before frying. You can serve it with either caramel syrup or cinnamon sugar. I prefer caramel syrup because I love to have some liquid to accompany the dry fritters.
The name tells everything about this wonderful South African dessert. It has a distinctive crunchy texture. And everyone loves crunchy food since it provides a very satisfactory feeling.
Let's talk a bit about the taste. Crunchies are mainly made from oats and coconut. Oats have an earthy and toasted flavor, while coconut is nutty and sweet. I can't describe what this combination tastes like because it is unique. Try it and explore!
Making Crunchies will be much easier with this excellent recipe.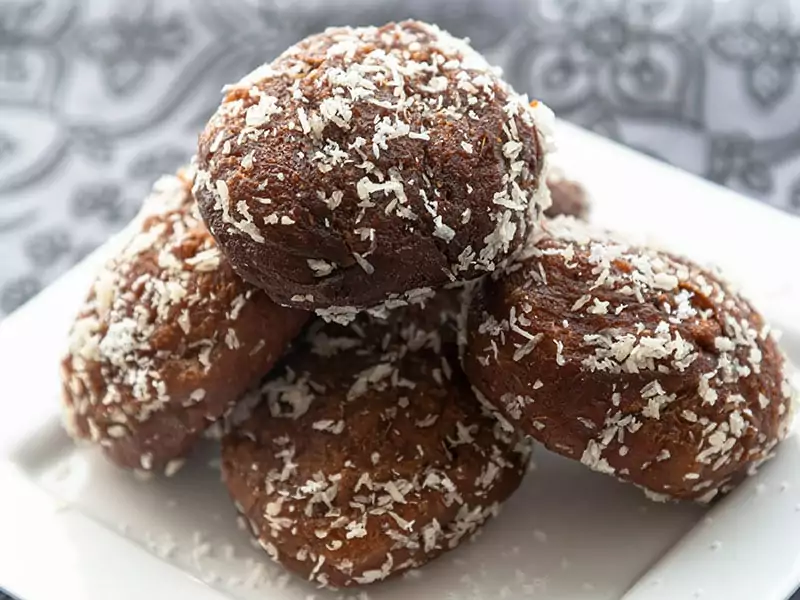 If I have to choose the best South African dessert to enjoy in tea time, I will go for Koesisters because its spicy flavor is fantastic. Anyone who doesn't have a taste for sweets will also love this dessert.
The dough is made of mashed potatoes and flavored with various spices such as cinnamon and nutmeg. You can use cinnamon alone if you don't want its flavor too complex. Traditionally, it is served with a delicious spice syrup.
Don't be confused between Koesisters and Koeksister. Although their names are very similar, they are entirely different dishes.
Koeksister is a fried dessert that normally goes with sugar syrup. On the other hand, Koesisters features a combination of different spices, namely cinnamon and cardamom.
Jalebi is a super popular dish in South Africa and other countries such as India. It is prevalent among Hindu people and Italian people living in Durban.
I am sure it will become your next favorite dessert after trying it once. Who doesn't love crispy dough?
But the great thing is that Jalebi is rarely served by itself. It usually goes with a syrup made from saffron and sugar. Saffron is an unusual and expensive ingredient. If you don't have it at hand, you can use cardamom instead.
These South African Desserts Will Become Your Favorites
The desserts and recipes I have introduced to you are the most famous and classic ones in South Africa. Not just that, most of them are very easy to make. You can hardly fail, don't worry! Just put some care into every step. Your effort will pay off.
Many people out there are also looking for some unique and tasty sweet treats. If you have fallen in love with these South African desserts, why not recommend them to others by sharing this article?
Nutrition Facts
12 servings per container
---
Amount Per ServingCalories203
% Daily Value *
Total Fat 10g

16

%
Cholesterol 69mg

23

%
Sodium 81mg

4

%
Potassium 115mg

4

%
Total Carbohydrate 25.7g

9

%

Dietary Fiber 0.6g

0

%
Sugars 13.2g

Protein 3.5g

6

%
---
Calcium

46

%
Iron

1

%
Vitamin D

10

%
* The % Daily Value tells you how much a nutrient in a serving of food contributes to a daily diet. 2,000 calories a day is used for general nutrition advice.