As a sweet tooth myself, I love traditional African desserts, which are famous for being sugary, mouth-watering, and incredibly blissful. So whenever I crave some indulgent goodies, I usually whip up some traditional African desserts.
I know that to some of you, traditional African desserts can be somewhat unfamiliar. You might not know what they're supposed to be like, you might not know how to make them, or you might not know what suits you best.
Because I'm a big traditional African dessert enthusiast, I consider it my responsibility to help you find out the most wonderful treats to indulge yourself in.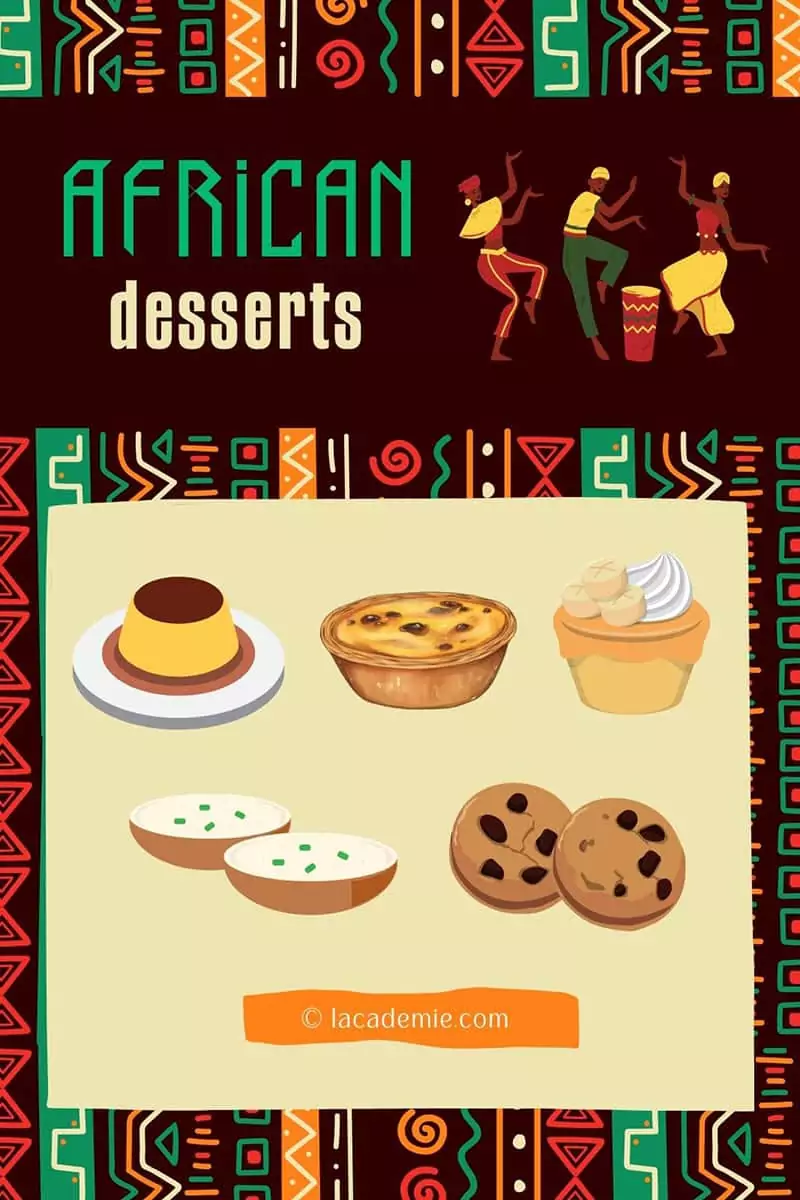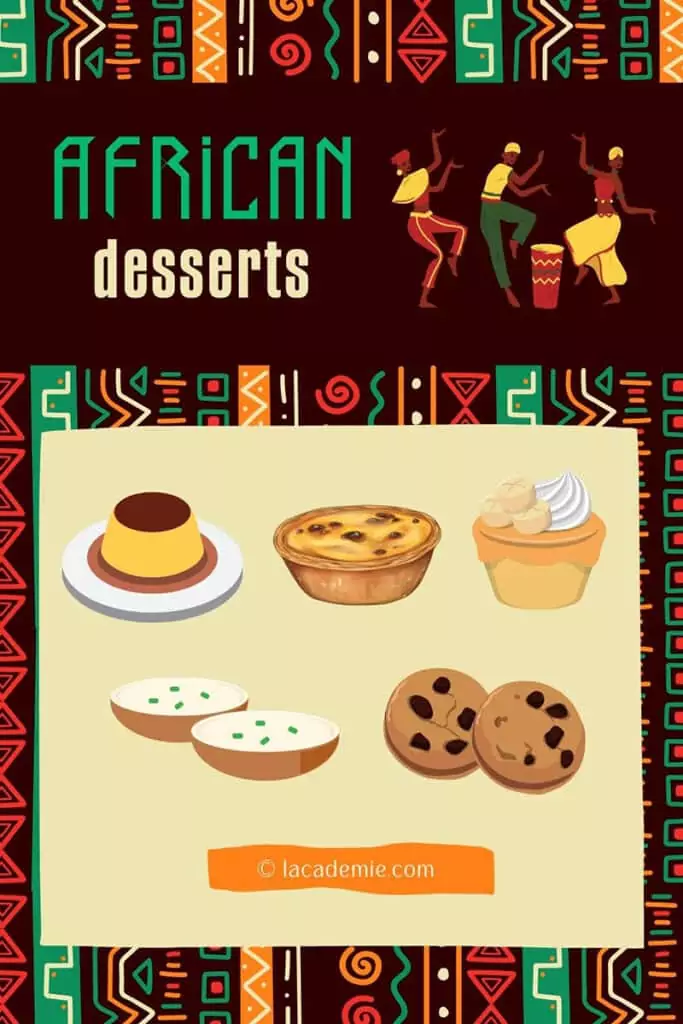 25 Of The Best Traditional African Desserts To Try
Here is my list of the best traditional African desserts that you shouldn't miss out on, especially if you're a fan of sweets. Because these desserts might be unfamiliar to you, I've also included detailed descriptions of them in the section below, so don't forget to check them out.
Soft And Fluffy African Desserts
Puddings And Tarts
Asynpoeding (vinegar pudding)
Malva Pudding
Chocolate Malva Pudding
Cape Brandy Pudding
Melkkos (milk food)
Melktert (milk tart)
Cakes
Awakdu (Baked Bananas)
Moroccan Cake (Meskouta)
Baseema
West African Lime Cake
Baghir (Moroccan Pancake)
Basbousa
(Vitumbua) Coconut Rice Pancakes
Ethiopian Flatbread
Crispy And Crumby African Desserts
Cookies And Crisp Tart
Moroccan Shortbread Cookies
Egyptian Shortbread (Ghorayebah)
Moroccan Sesame Cookies (Chebakia)
Algerian Almond Cookies (Makroud El Louse)
Peppermint Crisp Tart
South African Oatmeal Bars (Crunchies)
Hertzoggies
Macarons And Pastries
Shuku Shuku (Coconut Macaroons)
South African Koeksisters
Umm Ali
Kaab El Ghazal
25 Swoon-Worthy Traditional African Desserts For Every Craving Food Lover
Traditional African desserts are such amazing treats for sweet-tooths as they are all luscious, sugary, and a huge indulgence. If you're a fan of sweet, gooey treats, you'll find yourself right home with these amazing desserts.
14 Soft And Fluffy Traditional African Desserts
If you prefer your traditional African desserts, soft and fluffy, this is the right place for you. With their melt-in-your-mouth texture, these desserts will certainly win your heart.
Puddings And Tarts
1. Asynpoeding (Vinegar Pudding)
Also known as vinegar pudding, asynpoeding is a widely loved South African dish. Many people speculated that this treat originated from wine pudding, which is a dish made with raisin-and-date batter and wine syrup.
I know that vinegar can seem out of place when it comes to making sweet, gooey desserts. However, here's the catch: vinegar is actually used to make syrup. With vinegar as its key ingredient, the syrup strikes the perfect balance between sweet and sour.
As South Africans are famous for being sweet-tooths, you can rest assured that this insanely famous dessert will sate your cravings.
Malva pudding is another fantastic traditional African dessert for you to try. Originating from the South, this delightful treat is a sweet pudding with apricot jam. The cake boasts a spongy, fluffy, and caramelized texture that will awaken your taste buds.
Traditionally, malva puddings are served hot with simple custard. Many Africans also love to pair malva puddings with a few scoops of vanilla ice cream. Whatever side dishes you use, make sure that it's extra sweet and gooey.
Malva pudding? With chocolate flavors? How could anyone say no to such an attractive combination? If you think malva pudding is already delicious in the first place, then you'll love chocolate malva pudding even more.
Like regular malva pudding, this African dessert should be served warm with either custard or ice cream. However, I'd suggest opting for vanilla ice cream, as it will bring out the delicious cocoa flavors in this amazing chocolate pudding.
This is how you make the ultimate chocolate malva pudding. You can see this video to know more:
If you're looking for a tender, fluffy dessert with a hint of liquor, you'd love cape brandy pudding. Utilizing brandy, this luscious pudding boasts a signature flavor that will capture your heart within the very first bite.
Whenever I make these cake brandy puddings, I always flavor up the almond milk or add new ingredients to my hot chocolate to serve alongside the brandy puddings. Suffice to say, these drinks are the perfect accompaniment to this fantastic African dessert.
Wait, isn't milk something you drink? How can you make milk a food, let alone a dessert? Well, to be perfectly honest, melkkos resemble a thick, creamy soup. As this "creamy soup" is always served warm, melkkos make an excellent comfort food when the weather gets cold.
Melkkos can also be served for breakfast. In this case, don't forget to enjoy melkkos with some fluffy slices of bread. You can also pair melkkos with some nuts or seeds for extra flavor and texture.
You can't discuss traditional African desserts without mentioning the insanely popular meltert. Don't be fooled into thinking that this scrumptious dessert is overly sweet. Despite its name, meltert focuses more on the creamy, savory flavors rather than sweetness alone.
I love how meltert features simple and easy-to-find ingredients. Every time I want to make this treat, I always find that I have all the required ingredients at home. They're also effortless to make, which makes melktert the ideal traditional dessert to try if you're inexperienced.
Cakes
You might be thinking, "How can baked bananas be delicious?" Admittedly, this classic recipe from Africa might not sound appealing at first. But once you glance at the recipe, I'm confident that you'll soon change your mind.
Awakdu does not contain bananas alone; it also contains yummy ingredients such as lemon juice, orange juice, coconut, and brown sugar. When served, this fruity dessert should be drizzled with sweet, smooth honey.
There are many ways you can make meskouta – a staple dessert originating from Morocco. For instance, you can use yogurt as a key ingredient, you can use lime for zesty and tangy flavors, or you can opt for oranges to lend the cake pleasant, tangy notes.
Personally, I find meskouta orange cake to be the best among the varieties. Sometimes, I might add to the batter some Greek yogurt to make the meskouta even more fluffy. But, most of the time, traditional recipes for meskouta are enough to make the cake deliciously moist and tender.
9. Baseema
Baseemas are a street delicacy originating from Egypt, a country in the northeast of Africa. While these coconut cakes might look like Basbousa, they are different in that Baseema features strong coconut flavors.
As baseema needs to be soft and fluffy, you'll need to use quite a bit of yogurt in the recipe. And like I said, Baseema is all about coconut, so be sure to be generous with the desiccated coconut as toppings.
If you're looking for traditional African desserts with light and fruity flavors, lime cakes are the best choice for you. Featuring lime juice, this West African cake boasts a subtle hint of zesty, citrusy flavor that will linger after you finish the cake.
When serving West African lime cake, you should garnish some peanut crumbs on top. These will give your cake more crunch and some pleasant nutty notes.
As this is one of the most popular desserts in West Africa, don't be surprised to see this delectable dish in Liberia, Guinea, Ghana, Nigeria, or Mali.
11. Baghrir (Moroccan Pancake)
Baghrir is basically spongy pancakes with many tiny holes. If you think your regular morning pancakes are fluffy, you'll be surprised beyond your imagination when you try these. Baghrirs are deliciously soft, tender, fluffy, and perfect for both breakfast and desserts.
Because Baghrirs are incredibly spongy, they'll instantly soak up any honey or maple syrup you drizzle on them. While I love enjoying pancakes rich with honey, I find pouring too much of it can ruin the fluffy texture and over-sweeten these treats. So, don't go overboard!
You can see this video to know more:
12. Basbousa
I've mentioned that Basbousa and Baseema can look quite similar, with Baseema featuring robust notes of coconut. On the other hand, basbousa places a stronger emphasis on semolina (either fine or coarse is okay).
While basbousa still features shredded coconut, I find that it will work out better for you if you go easy on this ingredient. If possible, you should choose unsweetened coconut, as these will not overpower the semolina.
If done right, basbousa will strike the perfect balance between sweet and savory. Its robust flavor is probably why this is one of the most beloved desserts in the Middle East as well. Who can say no to such a perfect treat – a treat that can satisfy even those who aren't fond of sweets.
13. (Vitumbua) Coconut Rice Pancake
Vitumbua is an addictive coconut and rice pancake drizzled with caramel sauce. Because these pancakes are mind-blowingly soft and fluffy, they can deliver a pleasant melt-in-your-mouth experience. Even better, the slight exterior crust will make these cakes taste even better.
Because this East-African dish is made of plant-based ingredients, it's a vegan-friendly treat. Your vegan friends will surely love this amazing African traditional dessert. You can serve vitumbua with a cup of chai tea latte.
Known to the natives as injera, Ethiopian sourdough flatbread resembles a crepe with a porous surface and a slightly spongy texture. This must-try food from Ethiopia looks like Baghrir; however, injera is a lot lighter and larger than the average baghrirs.
You can top many different foods on injera, from farmer's cheese to stew or vegetable dishes. As injera is very porous, this traditional African dessert can soak up the juice exceptionally well. That's why I'd recommend serving injera with juicy dishes.
With how delicious and versatile injera is, it comes as no surprise that this is a must-try food in Eritrea and many other African countries. Some Africans might even claim that they consume this food daily, which goes to show how beloved injera is.
11 Crispy And Crumby Traditional African Desserts
Prefer something more crunchy? If so, you'll love these traditional African desserts. Delicious with a crispy and crumbly texture, these traditional African desserts will surely not disappoint.
Cookies And Crisp Tart
15. Moroccan Shortbread Cookies
Moroccan shortbread cookies are my favorite. They're crumbly, savory, and not too sweet. These enticing African desserts are perfect when served with a cup of hot coffee, tea, or cocoa. This means Moroccan shortbread cookies can be the ultimate indulgent food in the wintertime.
Don't worry if the dough looks dry during your baking process; it's completely natural. These shortbread cookies are very crumbly, sandy, and crispy. So I can guarantee that your cookies will turn out incredibly addictive.
16. Egyptian Shortbread (Ghorayebah)
Egyptian shortbreads are one of the easier traditional African desserts to make because they contain only a few simple ingredients. As long as you're following the recipe, there's no way you can mess up these crumby desserts.
If you've ever had Indian nankhatai, these authentic Egyptian desserts are almost similar to them. Both of these are irresistibly crumby with a melt-in-your-mouth texture. The only notable difference is Egyptian shortbreads tend to be more buttery, and they feature almonds on top.
17. Moroccan Sesame Cookies (Chebakia)
A staple dessert in Morocco, chebakia is a deep-fried, honey-coated sesame cookie formed into a flower shape. Because chebakia is coated with melted honey, these cookies are excellent for sweet tooths.
Traditionally, chebakia is served with harira soup. This meal is very commonplace for Moroccans when they break the Ramadan fast. Chebakia also pairs well with mint tea, especially when the temperature plunges.
18. Algerian Almond Cookies (Makroud El Louse)
If you haven't tried makroud el louse, you're missing out. These flourless cookies are made with almonds, eggs, orange flower water, and sugar. While makroud el louse might contain only basic ingredients, these must-try Algerian foods turn out to be exceedingly delicious.
When making makroud el louse, it's important to use blanched almonds. However, if you can't get your hands on these, you can let the almond sit in boiling water for a minute or two. After that, drain the almonds and rinse them in cold water.
A classic South African dessert, peppermint crisp tart might not look sophisticated or fancy, but it sure is yummy enough to keep you coming back for more. After all, peppermint crisp tart is a dessert that virtually every South African has tasted at least once in their lives.
This ambrosial pudding only takes 15 minutes to prepare. After that, you can leave it in the fridge to refrigerate for a few hours, which will give the caramel mixture enough time to set.
20. South African Oatmeal Bars (Crunchies)
The ultimate combination of coconut and oatmeal, these crunchy bars are excellent with coffee or tea. They're sweet, buttery, nutty, and crisp. I don't quite believe that you can feel satisfied eating only one or two bites of these scrumptious oatmeal bars.
The beauty of these traditional African desserts is that you can make them healthy. You can add some raisins, sunflowers, or pumpkin seeds to the recipe. I've used gluten-free flour for these bars, and the results still turned out amazing.
21. Hertzoggies
Hertzoggies, or Hertzog cookies, are sweet foods filled with coconut meringue and apricot jam. These sweet morsels are usually served at celebrations in African. Due to their popularity, I believe it's always handy to master the art of baking them.
If you're afraid that some people might find hertzoggies to be too sweet, you can serve them with tea to balance out the taste. I also believe that hertzoggies and unsweetened coffee make a match in heaven.
Macarons And Pastries
22. Shuku Shuku (Coconut Macaroons)
These bite-sized African desserts stand out among others due to their crisp-on-the-outside and chewy-on-the-inside texture. Easy to make, these delectable foods from Nigeria only consist of coconut, sugar, eggs, and flour for coatings.
When preparing shuku shuku, it's important that you refrain yourself from over-sweetening them. These coconut balls should be only slightly sweet so that the coconut flakes can shine through.
Even though shuku shuku doesn't require anything too complicated, I'm sure you'd appreciate having some visual instruction.
You can see this video to know more:
Deep-fried dough, glazed with syrup, those are the descriptions for South African Koeksisters. I know that they sound like an indulgence, but I always find these luscious sweets too delicious to pass up.
Whenever I make a large batch of koeksisters, I always prepare at least two bowls of syrup. This way, I don't have to worry about running out of syrup, and I can leave at least one bowl in the fridge. Trust me; cold syrup makes all the difference when it comes to koeksisters.
24. Umm Ali
Even though there are quite many variations to this dessert, you can expect to find these basic ingredients in almost every Umm Ali: dairy, different kinds of nuts, and crisp pastry. Depending on your preferences, you can use condensed milk or cream as a dairy option.
To make Umm Ali packed more with flavors and texture, I always add to the dessert at least a handful of raisins and a pinch of cinnamon. Other dried fruits such as cherries, apricots, or cranberries also pair well with this fantastic dessert.
25. Kaab El Ghazal
When translated into English, kaab el ghazal means "gazelle ankles/horns." These crescent-shaped cookies are widely popular in North African countries like Morocco, Algeria, or Tunisia.
Kaab el ghazal has a sugary cinnamon-flavored stuffing, which is wrapped in pastry. It's common to flavor these cookies with orange blossom water. After baking, you can roll these cookies in icing sugar to sweeten them further.
Let's Make Traditional African Desserts At Home!
Don't let your inexperience with traditional African desserts stop you from making these. Strange and unfamiliar as these treats may seem, you only need practice and the right recipes to master the arts of whipping up these.
If you find my post helpful, don't forget to share it with your friends and family. Hopefully, they will start making traditional African desserts and share those scrumptious treats with you!
Nutrition Facts
6 servings per container
---
Amount Per ServingCalories467
% Daily Value *
Total Fat 23.1g

36

%
Cholesterol 92mg

31

%
Sodium 282mg

12

%
Potassium 139mg

4

%
Total Carbohydrate 61g

21

%

Dietary Fiber 0.6g

0

%
Sugars 42.6g

Protein 5.3g

10

%
---
Calcium

85

%
Iron

1

%
Vitamin D

32

%
* The % Daily Value tells you how much a nutrient in a serving of food contributes to a daily diet. 2,000 calories a day is used for general nutrition advice.