Romanian desserts are something that Romanian people are proud of. They are beautiful, diverse, and distinctive. If you have tasted any of them, you may think that it is not easy to replicate these distinctive flavors.
However, with the recipes that I will introduce you, you can easily create these lovely tastes by yourself. Is there anything better than that? Remember to read until the end since the best is saved for last.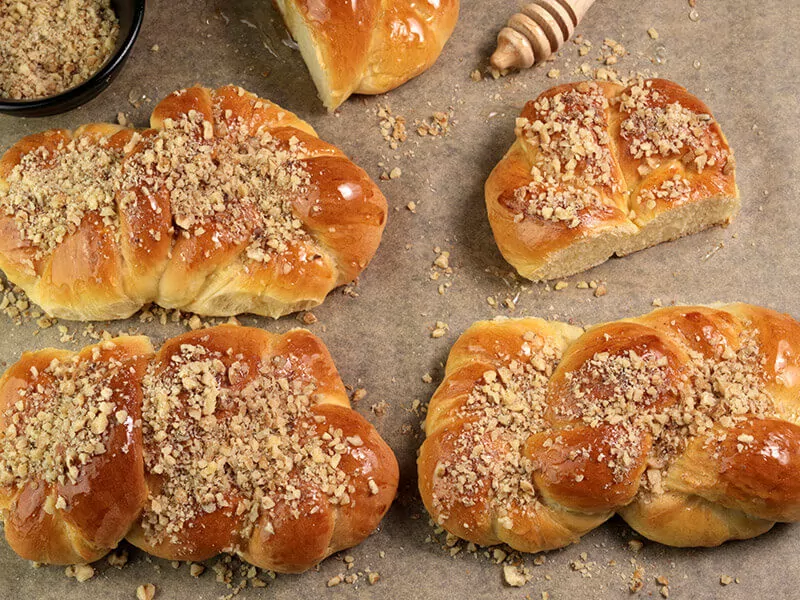 7 Most Delicious Romanian Pastries That Nothing Can Beat
Speaking of pastries, a golden brown dough with a delightful filling appears before my eyes. I can't wait to introduce my favorite Romanian pastry recipes to you. Let's dig into each of them!
Everything you ask for on a cold winter day is a warm, juicy, and sweet dessert to stay cozy. Papanasi has all of these characteristics. It features small adorable donuts made from simple baking ingredients.
This Romanian food is a simple dessert but not that simple. They are topped with sour cream and jam, which are the sources of sweetness and richness. When you place Pananasi on the table, everyone's mouth will water.
Papanasi is an iconic Romanian dessert you should know how to make.
If you are searching for a sweet treat to serve on Easter, I have an excellent recommendation. Make Pasca, a yummy type of bread or cheesecake traditionally served at Easter in Romania.
It features a beautiful dough covered with golden-brown skin and filled with cheese and raisins.
Not only is Pasca delicious, but it also has a vital role in the religious tradition of Romania. It represents a Christian belief about the eternity of life. Also, on Easter night, the priest will pour some red wine on it to remind people of the great sacrifice of Jesus.
I love to enjoy Romanian lemon pastries in summer lunch since it has a slightly tangy flavor that will help me fight against the heat.
This pastry has beautiful golden-brown skin and a flavorful filling made of cheese, sugar, and lemon zest like other pastries. The tanginess of lemon zest balances out the richness of the cheese, and sugar adds essential sweetness.
Do you know the difference between American apple pie and Romanian apple pie? While the one in American gastronomy comes in a round shape, the Romanian apple pie is baked in a baking pan then cut into small squares.
With this classic recipe, you will get fluffy and soft dough stuffed with a sweet and delicious filling made out of apple, sugar, and cinnamon. The top layer of the pie is covered with powdered sugar, creating a stunning dessert that will please the crowd.
Crepes are probably the easiest and quickest dessert recipe to make. All you need is the simple baking ingredients and 15 minutes. And the result is beautiful fried golden-brown thin crepes to achieve the highest perfection.
Romanian crepes are a great idea if you are still thinking about what to serve for breakfast tomorrow. But don't just eat crepes by themself. That would not be so tasty. Instead, enjoy it with various toppings, such as jam, fruit, and Nutella for the best result.
Whoever sees Romanian crepe would want to make it right away.
When the religious holiday on the 9th of March comes, Romanian people make Mucenici. Why don't you do the same to immerse yourself in the great culture of Romania?
It is probably one of the quickest desserts to make. Just spend roughly 30 minutes, and you will get a sweet European delicacy.
Mumenici has an unusual shape with ground walnut sprinkled on the top. It looks like the eight number, doesn't it? People also boil it with syrup to increase the sweet and nutty flavors. With this recipe, you can create that iconic taste.
7. Vargabeles (Sweet Noodles)
Vargabeles is an amazing dessert that you can also enjoy as your sweet main meal, for example, your Romanian lunch recipe. You can choose any thin noodles, but vermicelli noodles would yield the best result.
Another base ingredient is yufka pastry. If you don't have it, you can substitute yufka pastry with filo pastry or puff pastry. This noodle dessert is packed with flavors. It has the typical sweetness of a pastry and some fruity and deep sweet notes provided by raisins.
15 Romanian Cakes That Are Packed With Flavors
Fluffy cakes with creamy filling and topping have long been beloved sweet treats. In Romanian, there are a lot of delicate cake recipes that anyone can make. Check out the most popular ones!
Coffee and rum are a rare combination in a recipe. But when that happens, the result is stunning. Coffee adds some bitter notes, while rum increases the complexity of flavor.
In this popular treat, these 2 flavors are blended beautifully, creating a delicious cake that will become a hit.
Romanian coffee cake has a fluffy base, a layer of rum syrup, and another thick layer of coffee buttercream frosting topped with some chocolate ganache.
9. Boema (Romanian Chocolate Cake)
Boema is a very rich chocolate cake ideal for your sweet tooth. The base chocolate cake is covered by a thick layer of chocolate syrup followed by 2 layers of whipping cream made from chocolate and heavy cream.
This cake makes a perfect treat for birthday parties and other celebrations. Its fancy look and delightful taste can never go wrong. Your guests, especially the kids, will certainly keep asking for more.
Savarina is among a few desserts that have an alcoholic flavor. It has a delicious fluffy dough accompanied by a sweet syrup with some hints of rum and garnished with heavy whipping cream. I am sure that once you taste it, you will keep asking for more.
You can make Savarina in several ways. Before baking, you can create a huge dough and then cut it into more miniature cakes or divide the batter into multiple cupcakes. Both yield fascinating results.
Can you imagine what the flavor would be like when combining chocolate and poppy seeds? Chocolate has a distinctive sweetness with bitterness, while poppy seeds are nutty, woody, and slightly sweet.
Tosca is an excellent combination with three layers. The topmost is chocolate, followed by a fluffy pastry and poppy seeds. And you can sense wonderful flavors in every bite. So what are you waiting for? Let's roll your sleeves and make some.
Many Romanian cakes have a very sugary filling. But Cozonac does not. It is a great choice for those who enjoy just a slight sweetness. This is a staple dish of Moldova and Romania, especially on Easter.
Instead of the filling, it has some beautiful swirls made of cocoa in the middle.
Cozonac will also give you a nutty taste, thanks to walnuts. You can also use almonds if you prefer. Looking at these swirls, do you think creating them is a challenging task? Not at all. I can promise you that it is way easier than you think.
Let's see how to create beautiful swirls for Cozonac.
13. Harlequin (Romanian Layered Cake)
Everyone loves layered cakes because every bite is bursting with flavors and textures. The Romanian version will amaze you with delicious fruit jam filling, including apricot, plum, and creamy glaze.
This Romanian cake looks beautiful and tastes delicious. But it is pretty easy to make. You just need to pay attention to every small step to ensure that they are done with perfection. Then you will have plenty of neat and tasty cakes to serve your guests.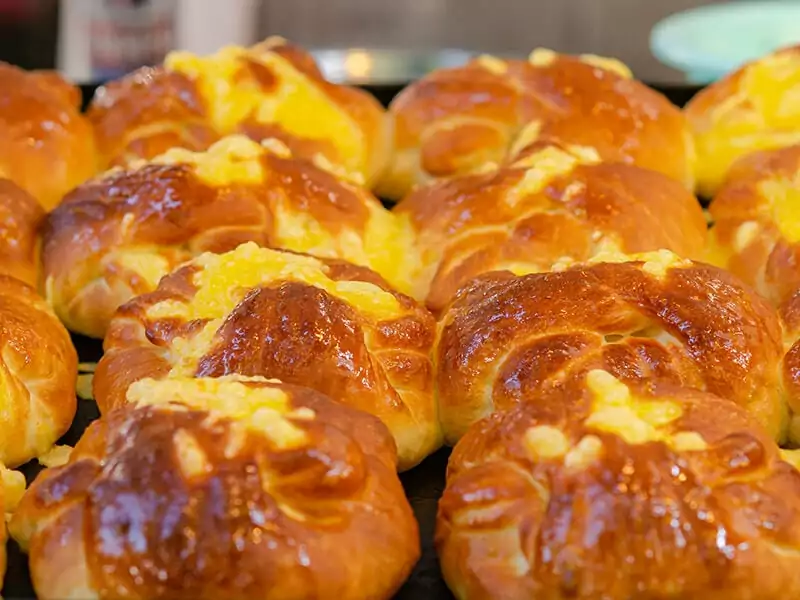 Cheesecakes always have the spotlight anywhere and anytime, thanks to their delectable and rich taste. Branzoaice, the traditional Romanian cheesecake recipe, is more special because it contains raisins, which offer a lovely sweetness.
Like many other pastries, Branzoaice consists of a yeast-based dough and a filling made from cottage cheese, raisins, semolina, and other baking ingredients. To create that distinctive shape, simply divide the batter into square pieces and fold the 4 sides towards the center.
Have you ever tasted rhubarb? It is a vegetable that has a very sour taste. Romanian people don't eat it raw but make a delicious cake. This recipe is adapted from the authentic one from German cuisine.
A sweet and sour cake seems appealing, doesn't it? The contrast of these 2 flavors will certainly make your mouth water. Also, the richness of meringue frosting adds more balance to every bite.
16. Albinita (Romanian Honey Cake)
Anyone who falls for the enchanting sweetness of honey should never miss this recipe. It features rectangular cakes with multiple layers. Interestingly, there are 2 kinds of filling: cream and a jam of your choice, such as plum or raspberry jam.
The honey flavor is not in the filling but in the dough in this recipe. Forget about boring dough made with just flour, salt, eggs, and sugar. Now you have some hints of honey, which have an amazingly delightful taste.
Let's make some Romanian honey cakes and contemplate their delicate flavor.
This cake is also called "Snow White". This beautiful name reflects its elegant appearance with layers of dough and filling topped with plenty of sugar, just like snow.
The dough is sweet, rich, and fluffy, while the filling made from lemon is juicy and tangy. The ingredients work well together, creating a cake whose flavor will never make you bored.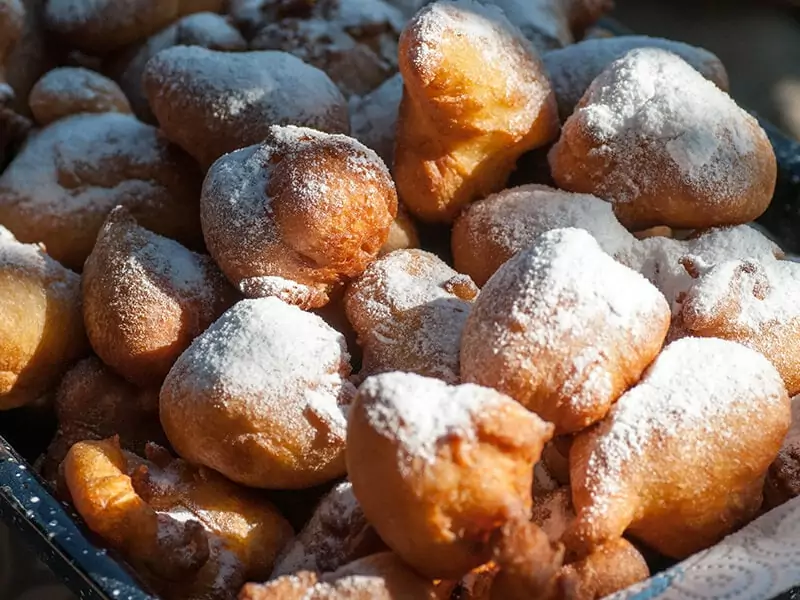 Who doesn't love deep-fried dough? Although it is just a basic dessert, many people are addicted to it. In Romanian cuisine, Gogosi is a very famous sweet made from yeast-based balls fried to perfection.
Gogosi is delicious because of the dough and the sugar icing. The exterior has a beautiful golden-brown color with a lot of sweetness. The interior is exceptionally airy, fluffy, and slightly sweet. Mouth-watering!
This dessert has a funny name, isn't it? But it tells almost the truth. Instead of pajamas, the apple slices are coated in the batter made of flour, milk, eggs, sugar, and salt then fried in vegetable oil.
After making this recipe, the result you will get is scrumptious pieces of apples that are crispy on the outside and sweet on the inside. They are perfect for a midday snack. If you want to add more complexity to the flavor and aroma, consider adding cinnamon or rum.
This cake looks funny, doesn't it? Romanian people often serve it at weddings. Plus, it's a extremely popular dessert in Hungary. When I first saw it, I wondered how people could invent such a strange cake. But I was further surprised by how tasty it is.
Kürtöskalács consists of rolled dough covered with cinnamon sugar. The dough is simply yeast-based dough made from common baking ingredients.
The best part is the shaping stage, but it cannot be easier. You just have to coat it with some butter and roll it in cinnamon sugar.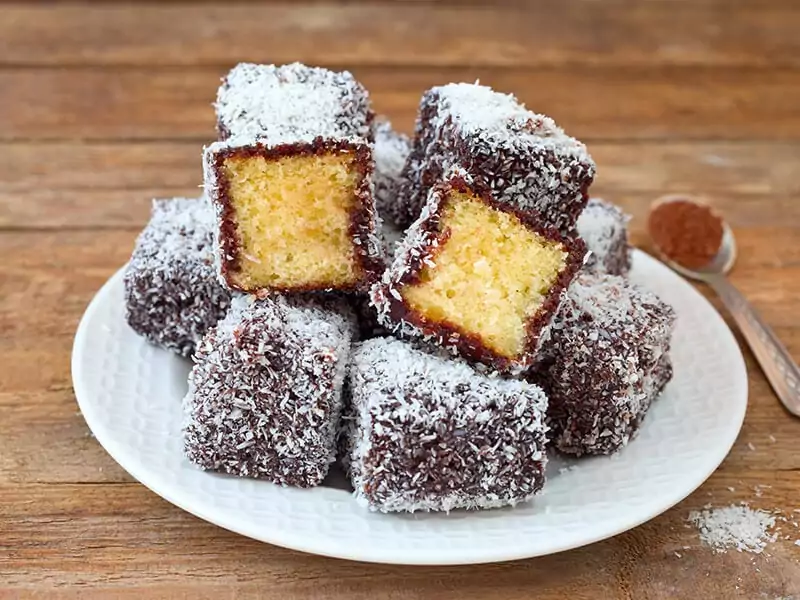 The flavors of chocolate and coconut pair very well with each other. Both have a distinctive sweetness, but when combined, a more complex flavor is created, blowing the mind of everyone who tries.
Romanian cuisine has a dessert made from this tasty combination. It comes in the form of square chocolate cakes covered by shredded coconut. It will make your Romanian dinner recipes more enjoyable, especially at Christmas.
Make your Romanian party more delightful with chocolate coconut squares.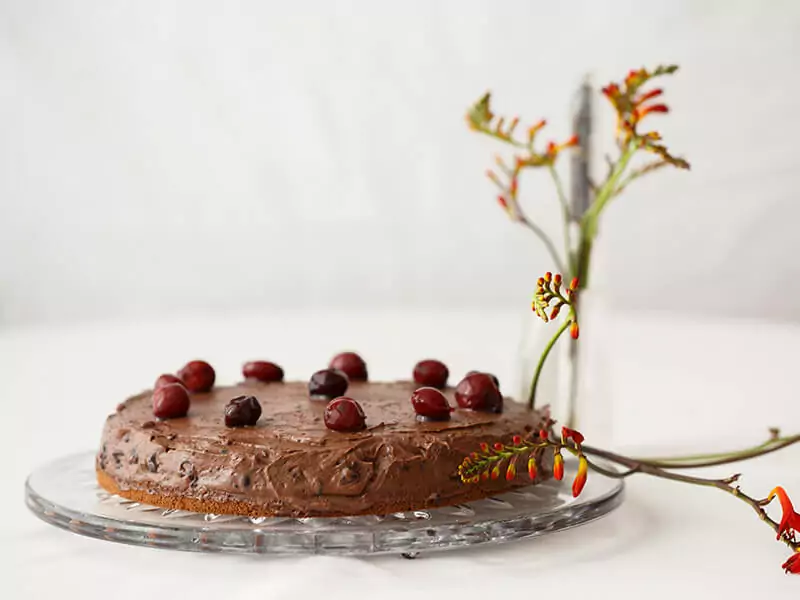 Joffre cake is an authentic Romanian dessert that will please all fans of chocolate. Every element of this cake is made from chocolate, from the sponge cake, the filling, to the frosting. You will come back for it, I bet.
Although this cake seems complicated to make, the truth is the opposite. Not only are the ingredients simple, but the procedure is also super easy.
4 Other Romanian Desserts That Are Also Seductive
Besides cakes and pastries, Romanian is also famous for other desserts. Let's find out what they are! I can assure you that they are all delicacies.
Rice pudding is already a classic dessert. Let's see what the Romanian version tastes like! This recipe will get a creamy pudding flavored with honey and spices, namely cinnamon. It has a rich and sweet taste that is unmistakable.
You can serve this delectable pudding dessert both hot and cold. When served cold, it is a delicious dessert. But when you keep it warm, it makes a healthy Romanian breakfast recipe. You can add some fruit or jam for more flavors.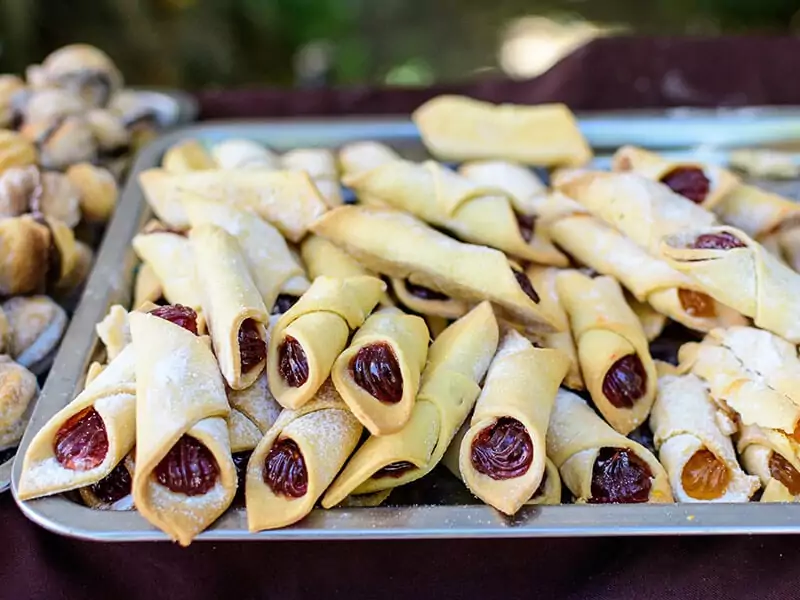 Rugelach features small and thin dough wrapped around a filling, which can be jam, nuts, Turkish delight, or cherries. The dough is made from flour, yeast, and sour cream. It has a semi-hard texture, just like cookies.
This dessert is typically present in Romanian holidays and is best served warm. To make beautiful wraps, you just need to divide the batter into triangular pieces, spread the filling on them, and roll them up on powdered sugar.
It is hard to believe that you can make a cake without baking. But this simple Romanian dessert proves that it is possible. Instead of baking, you will put the batter into the fridge for several hours until it becomes solid.
Chocolate salami has delicate flavors provided by chocolate, walnuts, rum, and raisins. It has a subtle sweetness, many nutty notes, and a distinctive rum flavor that is incredibly impressive. Whoever tries it will go back for the second and third time.
It is hard to find a chocolate recipe that is simpler than Romanian chocolate. Even if you have failed to make chocolate a few times, I bet you will succeed with this recipe.
Chocolate also has an important meaning to Romanian people since it was created when baking ingredients were expensive, so they had to use everything available. Therefore, the elements of this recipe are so simple that they are always present in the kitchen.
The base elements are unsweetened cocoa powder, butter, and powdered milk. Everything is whisked together, creating a fantastic flavor to celebrate for years.
These Romanian Desserts Will Fill Your Heart With Sweetness
What do you think about these excellent recipes? What are your favorite ones? If you have made them, what did they taste like? Feel free to share your ideas with me in the comment section.
I believe that many other people want to make these Romanian dessert recipes too. So please give this article a share so others can have more ideas for sweet treats.
Nutrition Facts
12 servings per container
---
Amount Per ServingCalories466
% Daily Value *
Total Fat 14.7g

22

%
Cholesterol 96mg

32

%
Sodium 127mg

6

%
Potassium 181mg

6

%
Total Carbohydrate 73.3g

25

%

Dietary Fiber 2.1g

8

%
Sugars 23.8g

Protein 10.3g

20

%
---
Calcium

75

%
Iron

3

%
Vitamin D

14

%
* The % Daily Value tells you how much a nutrient in a serving of food contributes to a daily diet. 2,000 calories a day is used for general nutrition advice.