I know that sometimes coming up with what to eat with potato salad is more difficult than preparing it.
However, in order to create perfect meals or BBQ parties, adding some beautiful dishes matching well with potato salad is necessary to call everybody to get together and enjoy wholesome food.
And the good news for you is that finding delightful food to eat with the creamy salad is just at your reach. When you know how to combine different recipes with potato salad, you will surely find out your new favorites.
In case you want to get more ideas of the potato salad pairings, I am here to fulfill your need with 26 simple but super savory food recipes going well with the salad. So, just scroll down to discover what I bring you today!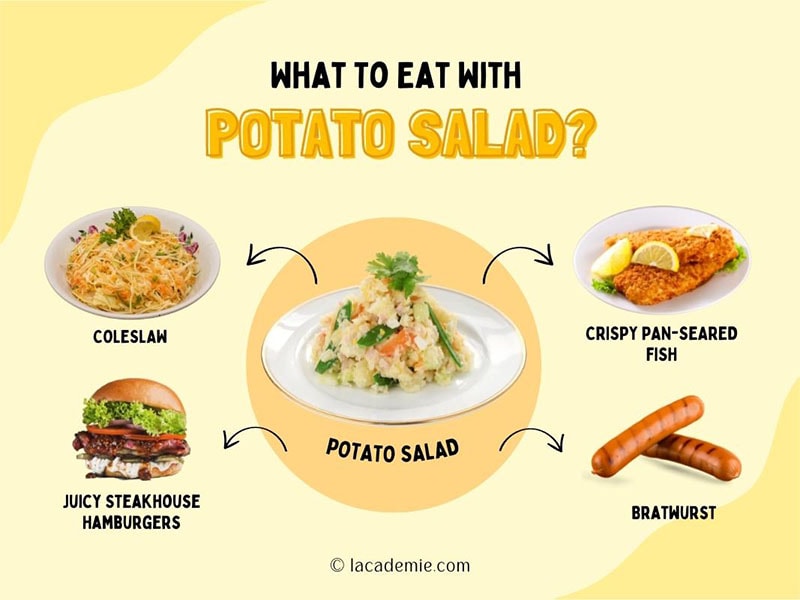 List Of 26 Beautiful Dishes To Eat With Potato Salad
There are various food choices to be served with potato salad as below:
Beef And Pork Main Courses
Gordon Ramsay's Perfect Steak
Barbecue Ribs
Baked Ham
Honey Garlic Pork Chops
Meatloaf
Chicken Recipes
Chicken Nuggets
Batter-Fried Chicken
Garlic Herb Butter Roast Chicken
Barbecued Chicken
Crispy Mustard Chicken
Classic Buffalo Wings
Fish And Shrimp Dishes
Homemade Fish Stick
Crispy Pan-Seared Fish
Perfect Grilled Tilapia Or White Fish
Perfect Grilled Shrimp
Fast Foods
Juicy Steakhouse Hamburgers
Roasted Turkey And Cheese Sandwich
Homemade Hot Dogs
Bratwurst
Ham and Cheese Sliders
Sausages with Grilled-Onion Chow Chow
French Dip Sandwich
Veggies Sides
Baked Beans
Corn On The Cob
Coleslaw
Garlic Sauteed Asparagus
The Needs Of Potato Salad's Pairings
The potato salad comes with tons of recipes depending on food tastes and favorite ingredients. In addition, it is a popular and versatile recipe that can be present in every home meal, picnic, or party.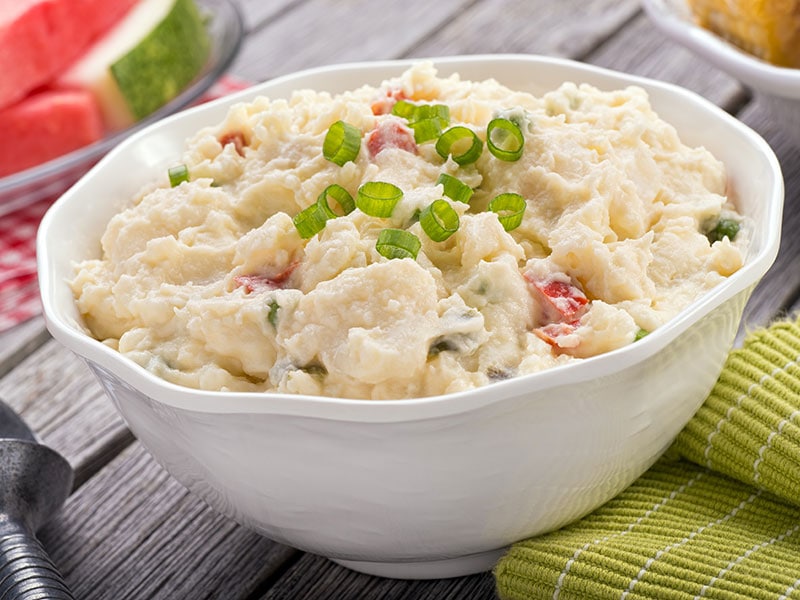 However, the starchy salad is a light meal that cannot provide enough nutrients for eaters when consumed on its own. Moreover, it sounds simple and not attractive when you serve the salad alone.
Hence, you should prepare some nutritious main dishes to eat with the salad, which allows you to have more appetizing meals and also get enough nutrition intake for your healthy life. Now, let's see what dishes you can eat with potato salad!
26 Delightful Recipes To Go With Potato Salad!
You have many alternatives for what to serve with potato salad ranging from meat to veggies dishes.
Beef And Pork Main Courses
A savory beef or pork dish will complement your potato salad, so just reference the following recipes.
Steak is a super appealing dish on any occasion, and you will not go wrong to match it with a hearty and delicious potato salad. People share with each other a variety of great recipes to prepare delicious steak.
To me, I love the most simple steak with tasty seared beef that is sprinkled with some salt, pepper, and herbs. This is the best way to enjoy the most natural beef taste.
Despite its simplicity, you should take notice of the steak while searing it on the skillet. If not, you may waste your yummy beef.
Barbecue ribs are the big hit of every backyard party. The smoky and savory flavor of grilled pork or beef will bring you to heaven on the first bite.
Especially when it is combined with the creaminess of potato salad, it will be a perfect treat.
It is not difficult to make barbecue ribs, and you will know what recipes meet your own taste.
However, every step should be done with the most caring, from choosing fresh nibs to brushing sauce on them while grilling.
When you have to prepare dishes for a big party but do not have enough time for this, then a convenient but yummy dish you can add to the menu is baked ham. What you need to do is buying ready-to-eat ham from stores and cook it at home.
The sweet glaze of honey, melted butter, thyme, cider vinegar, and brown sugar will highlight the appetizing taste in each slice of baked ham. When serving the smoky harm with some creamy potato salad, it will create a fancy meal.
Another equally delicious glaze for baked ham is pineapple glaze. This enticing cross between baked ham and pineapple glaze is actually one of the most widely-beloved Danish dishes. No one will be able to resist this dish.
I have another mouth-watering baked recipe for you to enjoy with fresh and creamy potato salad.
The honey garlic pork chops will rock your world with super juicy and tender pork chops that are baked and brushed with honey garlic sauce.
It is also a perfect baked dish for busy or exhausting days, such as Monday. This is why this savory meat dish is my top choice for Monday dinner dishes. After all, the perfect way to lift up your spirit after a weary day is a lip-smacking and fulfilling dish.
In addition, for the best taste of pork chop, you should prepare it in advance by rubbing honey garlic sauce all around the pork and store it in the fridge for tomorrow's meal.
If you have some free time, just invest it in preparing the amazing meatloaf dish. Meatloaf is usually served with mashed potatoes, so matching the meat recipe with potato salad will be a reasonable option.
A juicy and tender meatloaf glazed with a sweet and tangy sauce will surely satisfy your taste a lot. Just prepare a big batch of meatloaf so that everyone can feel free to grab some more during the meal.
In case you cannot consume all the meatloaf, you can store the leftovers in the fridge for the next meal. As long as you know the proper ways to reheat meatloaf, you'll still have a dish that tastes just like it's fresh out of the oven.
Chicken Recipes
If you and your family member love chicken, you can try one or some of the chicken dishes as below:
Crispy chicken nuggets are always the great hit of every occasion and also the favorite food of all kids. When taking a bite of chicken nuggets and then another one of creamy potato salad, you will know why I offer you this convenient recipe!
Of course, chicken nuggets can be prepared in a healthy way. Preparing your meal with an air fryer is one ideal method to cut down on the oily grease while still maintaining the delicious crunch.
The chicken taste can match well with a variety of sauces, commonly ketchup, honey mustard, or barbecue.
When talking about fast foods, it is a big mistake if I do not mention the savory batter-fried chicken.
The dish is very popular and affordable in fast food restaurants. More importantly, you can make your perfect fried chicken at home.
It takes you only about 30 minutes to prepare and cook the chicken recipe at home. Therefore, you can make your potato salad first and then pop it in the fridge.
After that, it's time to prepare the fried chicken. When everything is done, serve your hot dish with the salad. What a yummy meal!
I am a real fan of roasted chicken. I am crazy about the smoky and pleasant smell of the dish. Taking a big bite of juicy roasted chicken can bring me to my heaven!
How about you? Are you craving the appealing dish? In this roasting recipe, the chicken will be rubbed with favorite spices, lemon, butter, and garlic before it is put in the oven for baking.
Nothing better than chewing a crispy and juicy roasted chicken while reaching for some creamy potato salad.
If you are planning for a backyard party, you should consider adding the barbecued chicken recipe to your list.
It is a versatile main dish to match well with various side dishes, including potato salad. The rich taste of the salad will complement the BBQ sauce.
You can cook the chicken on the grill or toast it in an oven for your convenience. However, you watch the chicken regularly during the cooking time, or it may be overcooked, dried, and even burned, which may spoil your perfect party.
For those who love the spiciness and sweetness of mustard, the good news for you is that you can use your favorite sauce to make a delightful fried chicken.
To make this, you will toss the chicken into the mustard mixture, stir it well so that the chicken is covered evenly with the sauce.
After all, apply one layer of crumb mixture to the chicken before it is baked in the oven. Such an easy but irresistible recipe!
Serving a big plate of classic buffalo wings with potato salad and ranch sauce is the fastest way to call all of your friends and family members to get together for dinner.
Although the recipe takes about 1 hour for you to prepare, the result will be much better than you think! However, if you're too busy to spend time on this recipe, you can find some top-tier frozen chicken wings for a quick but hearty meal.
The seasoned chicken is baked in an oven until it becomes crispy. Next, it is coated with the buffalo seasoning made of hot sauce, butter, and honey before being broiled for a caramelized dish. Let's enjoy it!
Fish And Shrimp Dishes
You can prepare the recommended recipes if you love fish and shrimp.
If you usually buy store-bought fish sticks, it's time to get rid of this habit. It is because you can create delightful fish sticks at home with some simple ingredients.
The crunchy fish sticks with crispy on the outside while tender and juicy from the inside dipped in Tartar sauce and devoured will surely melt your heart.
Serving the chicken dish with some potato salad will also make a big difference in your meal.
Are you tired of sticking fried fish on your pan? If yes, do not go anywhere, and your cooking problem will be solved easily with the pan-seared fish recipe.
One side of the fish fillets will be coated with breadcrumbs that prevent the fish flesh from sticking on the skillet's surface.
A moist and flaky fish texture with the crispy layer of breadcrumbs outside will be the best match for a creamy potato salad.
Adding some tartar sauce and lemon wedges to your plate to flavor the fish taste will be the worthy serving you should try.
For chilled weeknight parties, some smoked, grilled fish served with potato salad will be the perfect light meal for you and your beloved family or friends.
The savory flavor of the tender fish will be topped with sweet and flaky cherry tomatoes.
Every flavor complements each other, which creates a memorized dish that can be prepared many times for future cravings.
Just take out some simple ingredients, including tilapia fillets, olive oil, salt, and spices, and you will be ready for amazing cooking time! Despite the simplicity of the dish making and decoration, the taste will be super stunning.
You sometimes do not have much time for making meals, right? Don't worry. I am here to share with you a simple but savory shrimp dish. It just takes you about five minutes to grill the shrimps seasoned with oregano, garlic powder, onion powder, salt, and olive oil.
The grilled shrimp can be served with many dishes in your meal, but the potato recipes are always a great match.
Fast Foods
Fast foods would be great alternatives for moms to attract their children to home meals.
Let's say "Hi" to loyal hamburger fans! This juicy steakhouse burger will be your favorite homemade light meal to serve with potato salad. It is because the creaminess of potato salad can fit well with vast kinds of fast food.
When making burgers at home, you can adjust all of the ingredients ranging from the amount of meat to the cheesy taste you prefer.
This will be perfect for every home meal and so attractive to all of your family members, from kids to older people.
If you are dreaming of a beautiful turkey recipe, the good news is that you do not have to wait for the Thanksgiving event to enjoy a big poultry meal.
You can prepare wholesome roasted turkey sandwiches as a stunning side of potato salad.
In this fast-food recipe, the two pieces of whole-grain bread are sandwiched with roasted turkey breast, beef steak, lettuce, tomato, and Sargento cheese.
Drizzling some mayonnaise and mustard on layers of meat and vegetables will make your sandwich more tasteful.
Hot dogs are a fine combination of ground meat and seasonings, and it is easier to prepare homemade hot dogs than you think. In addition, you can use your favorite meat, such as beef or pork, to make these savory hot dogs.
Besides potato sticks or wedges, potato salad is a great side of this fast food. Last but not least, dipping the hot dogs in mustard, ketchup, or relish can highlight their deliciousness.
Bratwurst is a famous variation of sausage that comes from Germany. It is usually made of pork or veal and spiced up with nutmeg, caraway, and ginger.
There are various bratwurst versions with differences in size, cooking method, ingredients, and even serving.
In terms of cooking ways, you can steam, poach, or grill the bratwurst. But when it comes to the main course of potato salad, grilled bratwurst is the top choice.
The small-size sliders are packed with tons of layers of ham, onion poppy seed butter, and swiss cheese. But not yet; the sliders are then brushed with butter and baked for a perfect taste.
Ham and cheese sliders are a traditional version, but it is always a great food choice for every occasion, such as parties, home dinner, or even picnics.
The sweetness and savory of baked slider buns and ham will go perfectly with creamy potato salad.
Have you planned any dishes for your game day this weekend? You do not have to be tired of coming up with food ideas because I have a stunning sausage recipe to offer you.
The tasty and robust sausages will be a great match of potato salad, which you should not miss on the big day of entertaining.
The grilled and chopped onion is cooked with a simmered mixture of cider vinegar, Dijon mustards, brown sugar, turmeric, and caraway seeds.
The smoky flavor of golden sausages with beautiful grill marks will be appealing to every demanding guest.
One more juicy and savory sandwich recipe can be added to the list of potato salad's sides.
It is the baguette-style French rolls that are filled with slow-cooked tender chuck roast and then dipped in the juices for serving. Serving the glorious bread dish with some potato salad will rock your world!
Veggies Sides
If you love vegetables, the following dishes are right for you to serve with your potato salad.
The baked beans along with potato salad will be one of the perfect pairs to be added to your big meals with BBQ dishes.
Instead of using fresh beans for cooking the dish, the canned products will be much better for their soft texture that will mix well with the sauce.
In this recipe, beans and other ingredients such as pork, ketchup, mustard, Worcestershire barbecue sauce, soy sauce, and brown sugar will be simmered in the oven with a delightful meat sauce.
The classic boiled sweet corn coated with melted butter and seasoned with salt and black pepper is never outdated over time due to its versatility.
You can match the poached corn with a variety of dishes, including potato salad. The sweet and salty taste of corn will complement the creamy salad, which creates a lovely taste in your mouth.
In addition, it is a quick and simple corn recipe that takes you just about 5 minutes to cook the corn in salted water.
Hence, when you are usually on busy weeknights but still want something healthy to eat, the corn on the cob will best serve you.
Coleslaw is famous not just because of its attractive appearance but also the creamy and refreshing taste of the glorious side.
When combined with potato salad, they will be pocket recipes for summer days when you need some light veggies dishes for your meals.
One common point between them is that they are all served well with hot sandwiches and grilled meats.
Therefore, when you want to prepare some sides for BBQ parties, a pair of potato salads and coleslaw should be a top choice for your big meals.
Among various food choices nowadays, I believe that eating healthy food is always the most prioritized need of every family.
Hence, I want to suggest to you one of the most sauteed recipes that are beneficial for your health. The sauteed asparagus dish is packed with garlicky flavor and salted butter.
The match of potato salad and the sauteed recipe can present on different occasions ranging from home meals to parties to supply some starchy and fiber content.
Just Invest Effort And Creativity For Your Tasty Meals!
Now, you have a variety of choices for what to serve with potato salad. However, I know not all the recipes I recommend meet your favorite food tastes, so just select the options you prefer.
You can also be creative to substitute some ingredients in the recipes with what you love to eat because I personally believe cooking is a beautiful art with non-stop creativity.
Last but not least, please feel free to share with me your experiences in cooking dishes to serve with potato salad in the comment section below. If the post is useful, you can like or share it with everyone. Thanks for reading!
Nutrition Facts
4 servings per container
---
Amount Per ServingCalories152
% Daily Value *
Total Fat 11.1g

17

%
Cholesterol 20mg

7

%
Sodium 112mg

5

%
Potassium 469mg

14

%
Total Carbohydrate 9.8g

3

%

Dietary Fiber 4.8g

16

%
Sugars 4.3g

Protein 7.5g

15

%
---
Calcium

124

%
Iron

5

%
Vitamin D

4

%
* The % Daily Value tells you how much a nutrient in a serving of food contributes to a daily diet. 2,000 calories a day is used for general nutrition advice.