I've found that the charm of European desserts can be your sweet solution to the dullness of routine meals. These desserts will make your dining table sparkle.
This post provides insight into the diverse heritage of European pastries. It also offers the chance to learn new desserts from different regions. So why the wait? Scroll down and learn more about European sweet treats right away!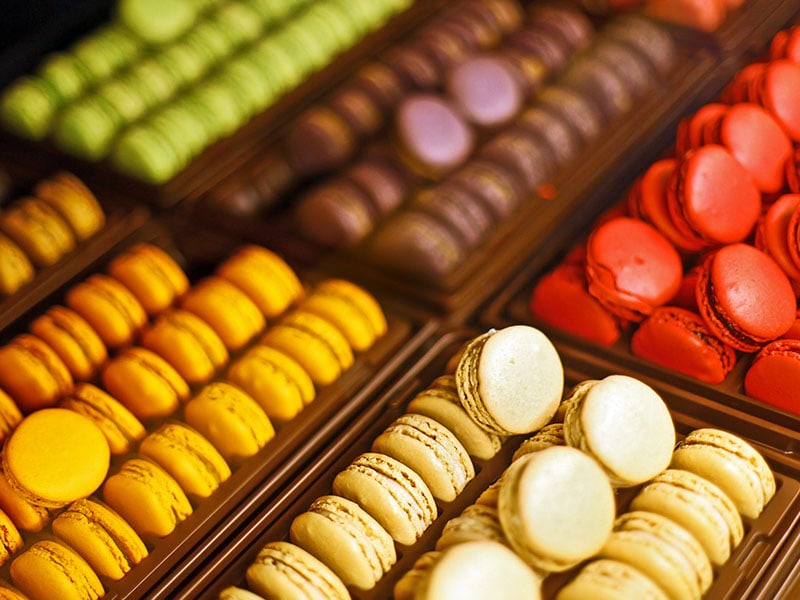 Definition And Brief Background of European Desserts
European desserts come from many cultures and regions. The rich and colorful history of European cuisine has had a profound influence on global desserts.
French pastries reflect the country's flair for elegance and sophistication, while German desserts often incorporate hearty ingredients, such as nuts and fruits. At the same time, Italian tiramisu and gelato showcase their love for coffee and dairy.
Farther to the south, Greek desserts (such as Baklava) represent the rich, honeyed flavors of the Mediterranean. From the sweet Medovik of Russia to the various kinds of puddings in the UK, there is so much diversity in European desserts to discover.
Importance Of Desserts in European Culture
Desserts play a significant role in European culture. They are not merely an afterthought of a meal but are often the highlight of dining. Celebrations, festivals, and life milestones are incomplete without these sweet courses.
For instance, in France and Spain, king cakes are a traditional treat to celebrate Epiphany. Special desserts like Stollen, panettone, and pudding are popular during the Christmas season.
Desserts are also a means of social bonding and hospitality. Sharing a dessert is a communal activity that brings people together, and offering sweets to guests is a common practice.
They are not just about their taste but also about aesthetic appeal. European desserts display artistic flair, from French pastries to Italian gelato.
Overview Of The Diversity In European Desserts
The unrivaled diversity of European desserts reflects the rich tapestry of cultures, traditions, and culinary techniques. Note that the given examples only scratch the surface of the incredible diversity of sweet offerings in Europe.
In the Western part of Europe, France, Belgium, and Spain are renowned for their desserts. France's contributions range from the delicate macarons and crème brûlée to the rustic Tarte Tatin.
Many popular Western European recipes contain high-quality Belgian chocolates and waffles, and Spain adds churros and flans to the spectrum of sweet offerings.
Speaking of Central European foods, Black Forest gateaux, Stollen, and Sachertorte are indulgent Central European treats you can't miss. Switzerland and Poland contribute their own distinctive flavors with Swiss chocolates and pastries, Polish Paczki, and Makowiec.
Many sweet and decadent Northern European dishes are characterized by the use of local fruits, dairy, and grains. Swedish Prinsesstårta and Kanelbulle, Danish pastries, Finnish Pulla, and Laskiaispulla illustrate the region's affinity for baked goods.
In Southern European cuisine, many sweet offerings draw upon the rich flavors of the Mediterranean. Italian tiramisu, cannoli, and gelato; Greek baklava, and Loukoumades are some of the most wonderful treats to try in Southern Europe.
When it comes to tempting dishes from Eastern Europe, especially sweet courses, countries like Russia and Hungary are the brightest stars. They bring forth desserts like Medovic (a honey cake), Syrniki (cheese pancakes), and Dobos Torte (a type of sponge cake).
United Kingdom
1. Lemon Drizzle Cake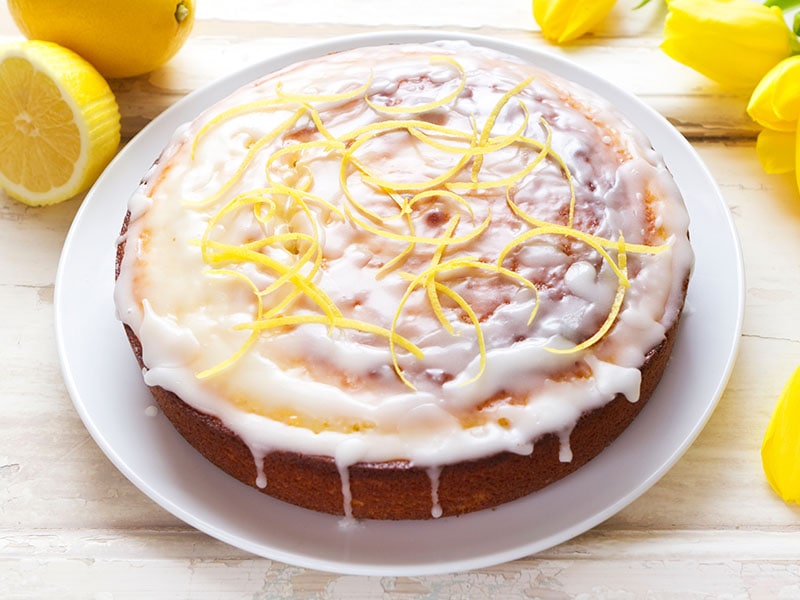 Lemon drizzle cake is a zesty and famous dessert in Britain with a big fan base. According to The Independent, 40% of the participants chose it as their favorite cake, even surpassing the classic chocolate fudge cake (1).
Though its origin is still in mystery, many attribute its creation to a Jewish woman back in 1967. Like a sponge cake, its base is a blend of flour, sugar, eggs, butter, baking powder, and milk. Its highlight, however, is the lemon drizzle on top, a mix of lemon juice and sugar.
Preparing this involves making tiny holes in the cake with a skewer to let the drizzle seep in. After that, the cake needs to cool down before savoring, ideally with afternoon tea.
2. Christmas Pudding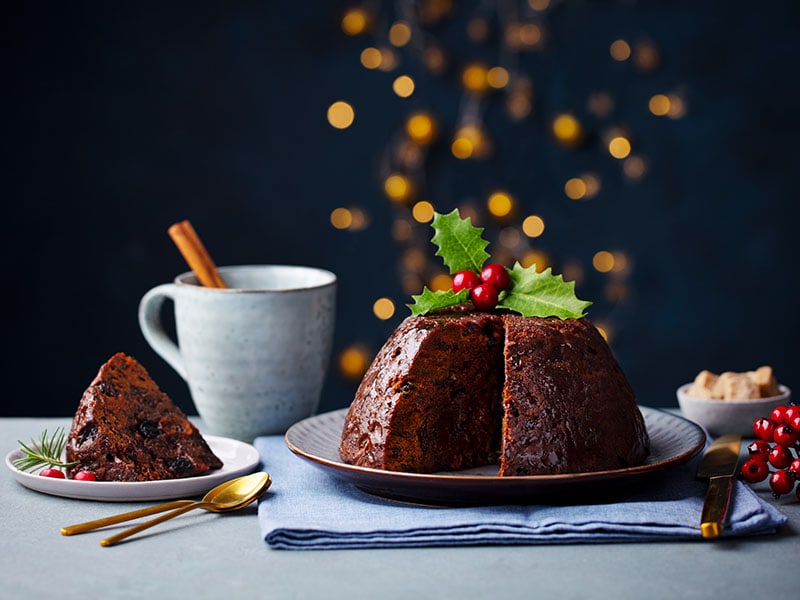 Christmas pudding, often referred to as plum pudding, is a quintessential part of festive celebrations, particularly adored during Christmas dinners.
It holds a rich culinary heritage with its ingredients serving as a symbolic representation of Christian tradition. Its 13 core ingredients reflect the tale of Jesus Christ and his 12 disciples.
Its dark appearance stems from the combination of its key ingredients, which include breadcrumbs, dark sugar, suet, treacle, and an assortment of dried fruit. Moreover, the lengthy cooking process deepens its color in a look of a 'speckled cannon-ball'.
Prepared with care and tradition, the pudding is often doused with brandy and set alight. To complete this festive delight, you can serve it with hard sauce, rum or brandy butter, or a scoop of ice cream.
3. Flapjack (Oat Bar)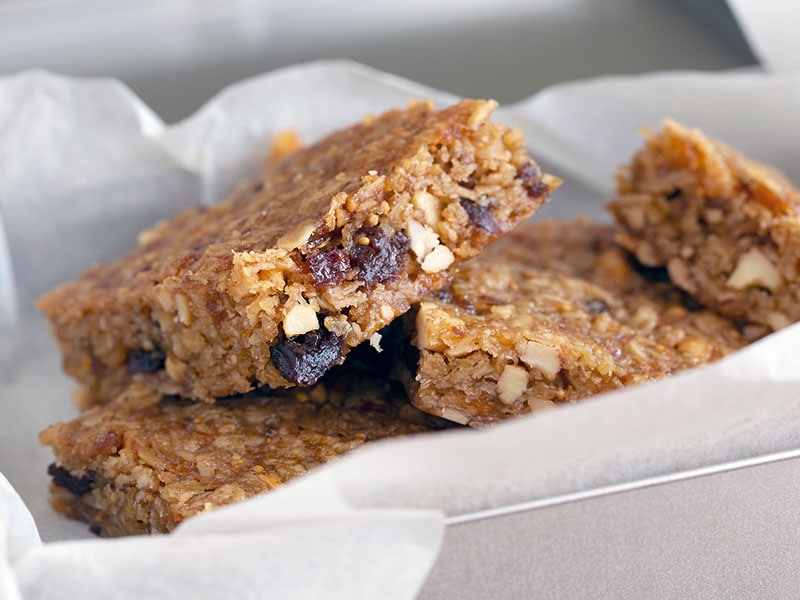 Flapjack is an interesting term for a pancake in the United States and Canada. But if you head over to Britain, it's a traditional oat bar that many consider the ancestor of North American granola bars.
Rolled oats, brown sugar, butter, and golden syrup are its key ingredients. All you need to do is mix these, spread the mixture on a baking sheet, pat it down, and bake until it achieves a beautiful brown hue.
Once cooled, it's cut into smaller rectangular or square pieces. Each bite offers a dense, crunchy texture, making it feel like you're munching on a cookie.
4. Shortbread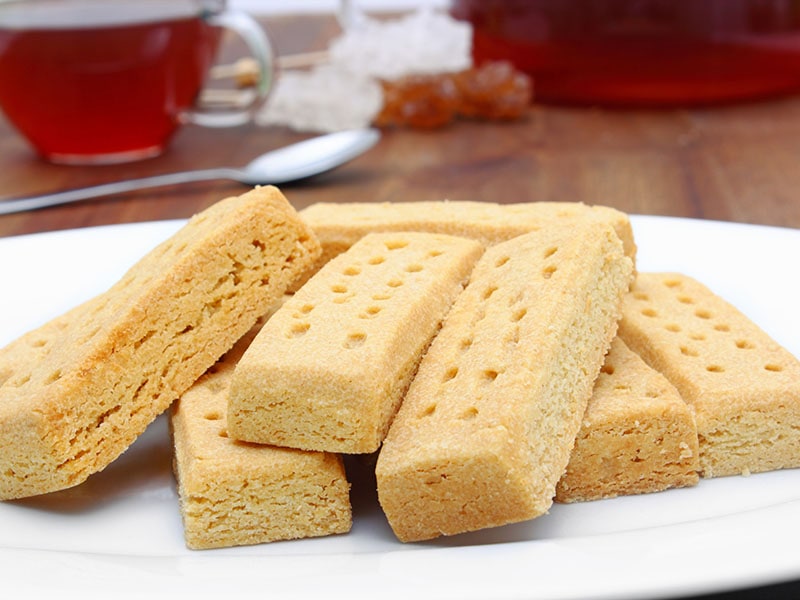 Shortbread, a traditional Scottish biscuit, is a staple during Christmas, Hogmanay festivities, and weddings in Scotland. Its key ratio, 1:3:3 of white sugar to butter to wheat flour, results in a melt-in-your-mouth, crumbly texture.
The higher quality of the butter, the better the shortbread. Remember to poke small holes into each biscuit to let moisture escape and heat distribute evenly.
Shortbread is also available in three main shapes: oblong slabs cut into fingers, bite-sized rounds, and large circles.
5. Mince Pie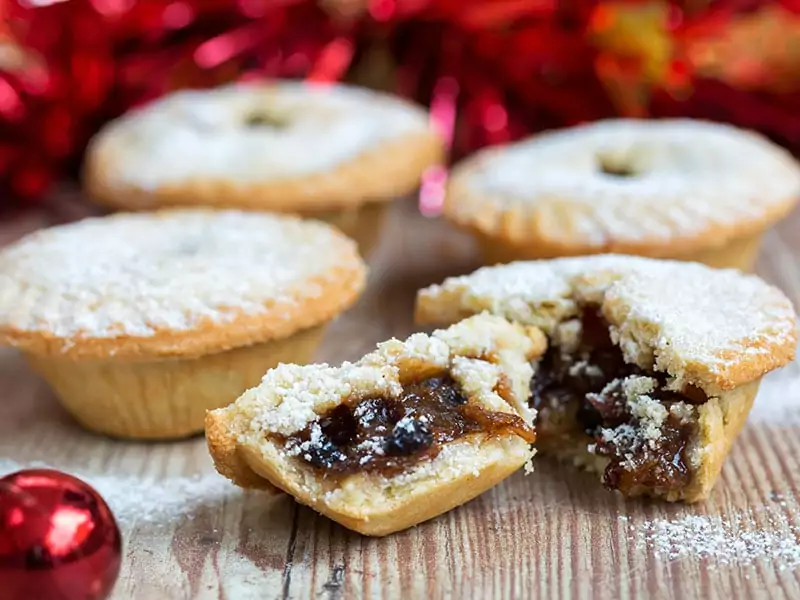 Mince pie has roots in England and is a sweet treat without a meaty element. Though historically it contained meat, today's mincemeat is a luscious blend of dried fruits, distilled spirits, spices, and occasionally suet.
Tucked under a flaky pastry crust, the filling is rich and sticky. Hot or cold, it's a pleasure to savor. Americans do not widely consume this treat, despite it being a traditional Christmas staple in England.
6. Trifle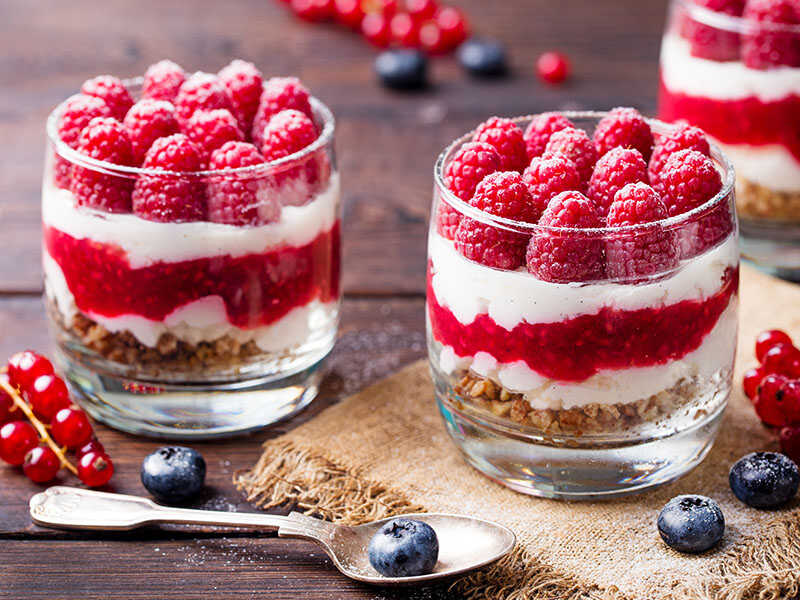 Trifle is an eye-catching layered dessert boasting a tempting assembly of cake pieces, custard, fruit, and whipped cream. This isn't a rigid recipe, though. You can personalize it, maybe adding jelly or tweaking the alcohol component—swapping sherry for Madeira or brandy.
If it's for kids, just omit the alcohol. Prepare your trifle ahead of time, but not too far in advance, to maintain ingredient texture. Serving it is an art in itself. Use a large spoon to lift a slice for each guest gently.
7. Victoria Sponge Cake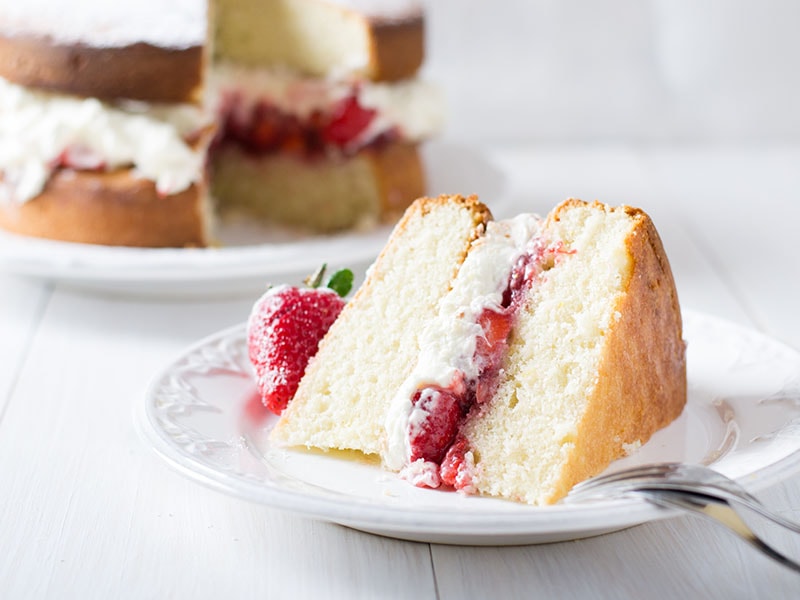 Victoria sponge cake, named for its royal fan, is a simple yet delicious British classic. It showcases two fluffy sponge cakes with a jam and buttercream filling – a distinctive contrast to regular sponge cake.
A light dusting of sugar adds to the final touch. It's easy to whip up and ideal for savoring afternoon tea, but don't let that limit you. This sweet creation fits beautifully into any occasion!
8. Eton Mess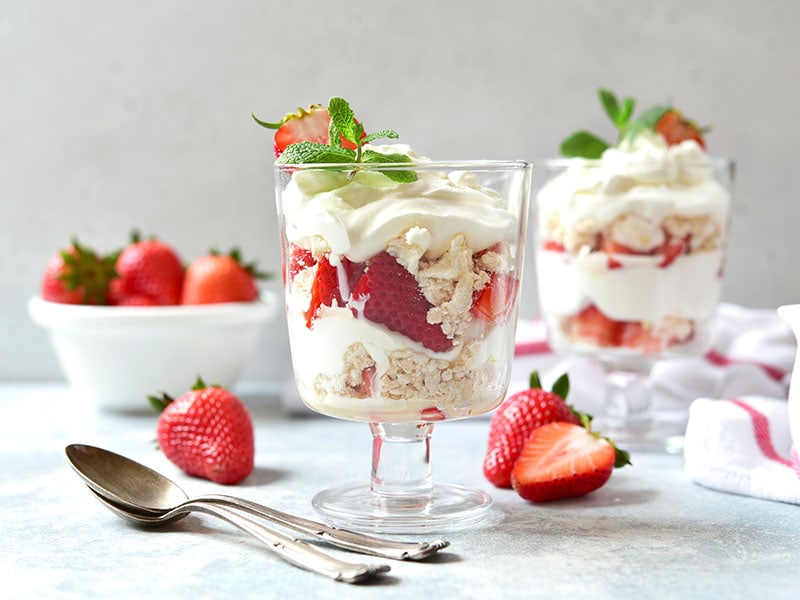 I've savored Eton Mess, a charmingly simple and creamy dessert, in sunny gardens and bustling kitchens alike. According to popular belief, this British gem has its roots tracing back to Eton College cricket matches.
The name 'mess' hints at the jumble within: strawberries, or maybe other berries, whipped cream, and meringue. Some prefer to substitute classic meringue with meringue cookies.
You can prepare the components in advance, ensuring it's a breeze to serve up this refreshing dessert, especially in the summer heat.
9. Sticky Toffee Pudding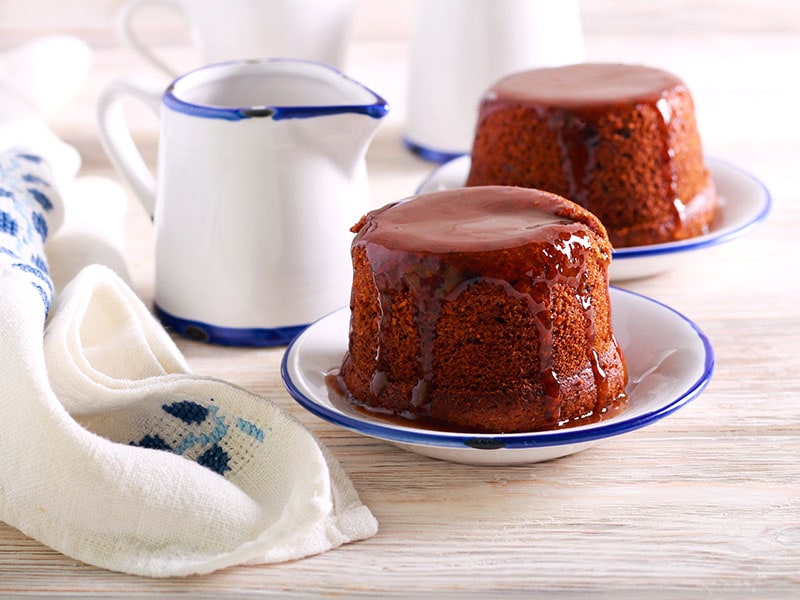 Sticky toffee pudding, born in a northwest England pub, carries such sweet memories to me. In Australia and New Zealand, folks know it as sticky date pudding. It's a straightforward sponge cake, but the addition of chopped pitted dates makes it something special.
The soft cake seamlessly blends with the caramel-like toffee sauce, consistently served warmly. In the absence of dates, prunes are a good substitute.
The addition of vanilla ice cream or whipped cream on the surface brings a delightful harmony. Notably, I have observed its growing prominence on dessert menus across the United States.
France
10. Tarte Tatin (French Apple Tart)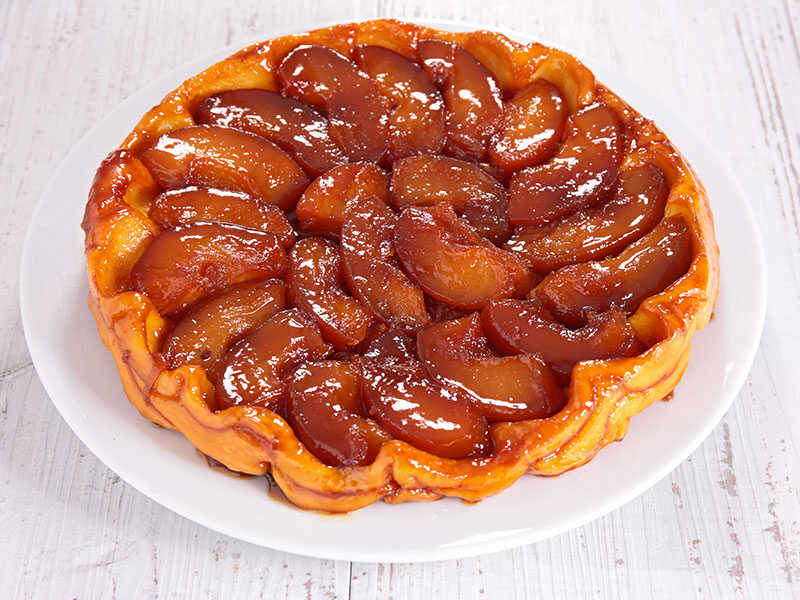 Named after Stéphanie and Caroline Tatin, Tarte Tatin is an upside-down apple tart that was first served in their hotel in the quaint town of Lamotte-Beuvron. Simple yet flavorful, this French-style dessert starts with caramelizing apples in a sauce made of butter and sugar.
The chosen apples should be Granny Smith, Golden Delicious, Gala, or Fuji. Once the apples reach a beautiful caramelization, they're topped with a pastry, the edges tucked neatly into the skillet.
After baking until it gets a golden hue, it's time to savor it warm, maybe with a dollop of crème fraîche or a scoop of vanilla ice cream.
11. Crêpes Suzette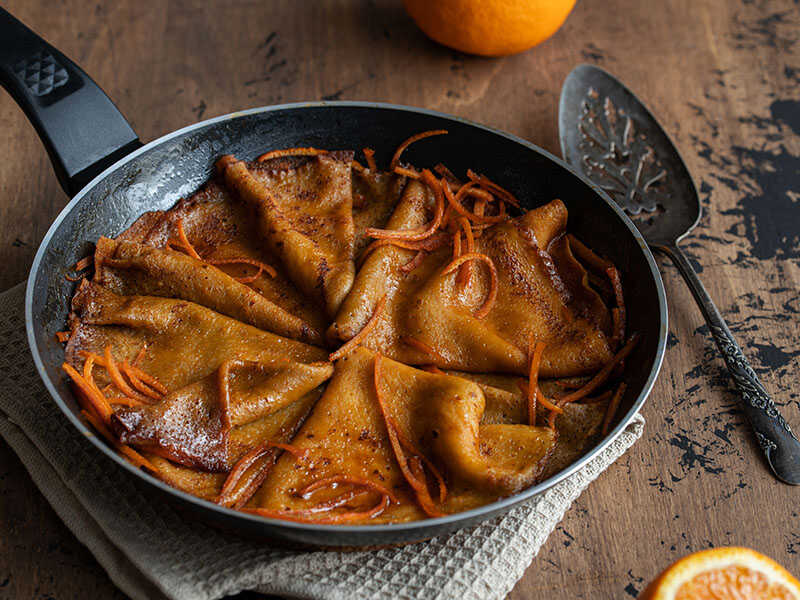 Crêpes Suzette, a classic French dessert, has unclear origins. One story suggests a creation at Monte Carlo's Cafe de Paris in 1895. Another one credits Monsieur Joseph, a restaurant owner who made the recipe in 1897 as a tribute to French actress Suzanne Reichenberg.
This dish comprises pillowy crêpes doused in beurre Suzette, a luxurious, orange-flavored sauce. This sauce combines tangerine or orange juice, orange zest, and liqueurs like triple sec or Grand Marnier.
As the sauce caramelizes, it fills the air with a robust caramelized note and a fragrant orange aroma with a distinct boozy undertone. My top tip to make the crêpes fluffier and tastier is to chill the batter before cooking.
Feel free to top these crêpes with whipped cream or ice cream to add an extra layer of indulgence.
12. Canelé / Cannelé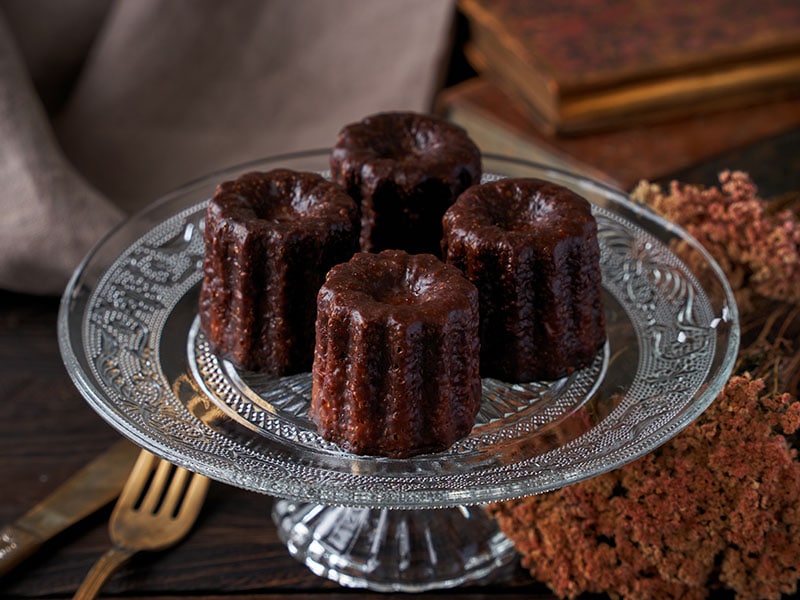 The Canelé, from the French word for "fluted," is a modest-sized pastry with an impressive palette of flavors. Milk, butter, egg yolk, and flour unite in a sweet harmony, elevated by vanilla and rum.
The pastry's charm is in its contrasts: a dark outer crust gives way to a tender and custardy center. Its subtly sweet flavor carries a hint of rum, for an enjoyable complexity.
Although crafting it requires a special Canelé mold and high-quality ingredients like premium rum and vanilla beans, the result is worth every penny.
13. Bûche de Noël (Yule Log Cake)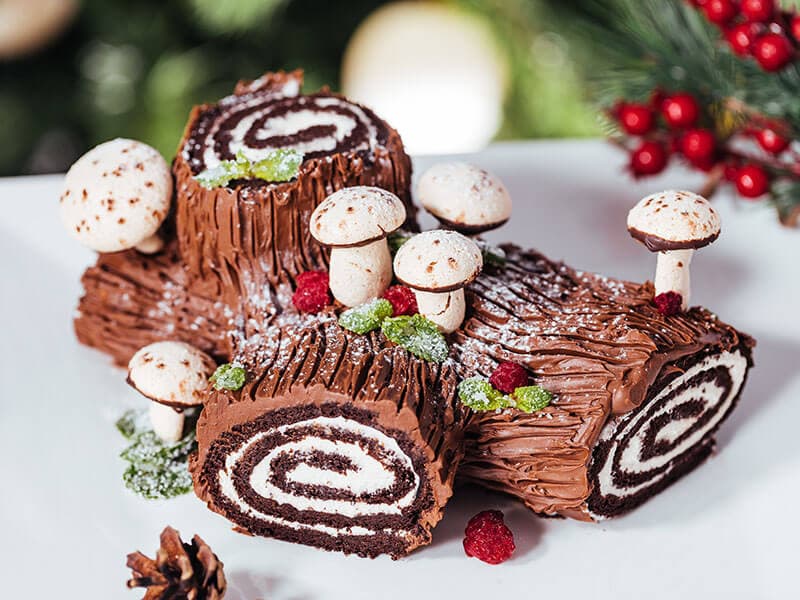 Yule log cake is an iconic Christmas specialty that appeared in the 19th century. It's always the centerpiece of the dessert table, not only in France but also in Belgium, Luxembourg, Switzerland, and more.
It's a spectacle in the shape of a Yule log, artfully designed with a rolled, cream-spread sponge cake. The exterior, dusted or coated with confectioners' sugar or chocolate ganache, adds that wintry allure. And the distinct design element of a cut-off end always brings me a little smile.
14. Mille Feuille (Layered Puff Pastry)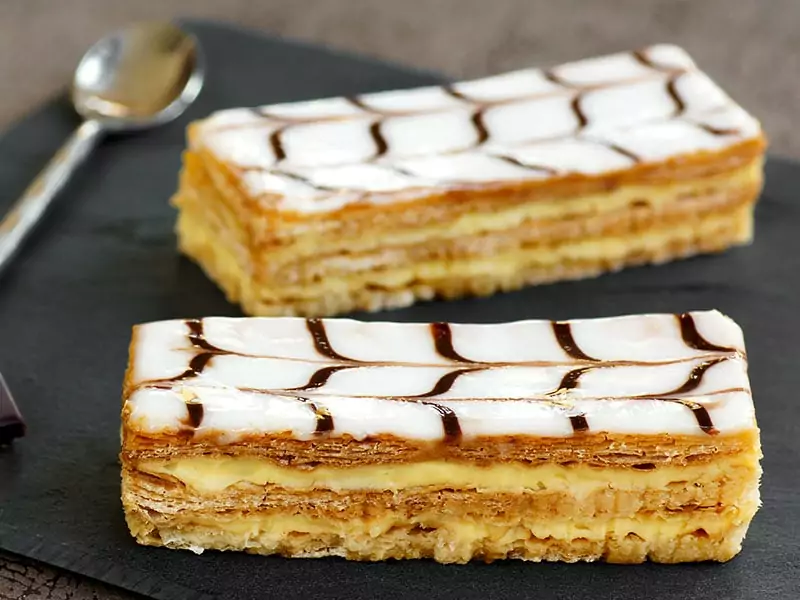 Mille Feuille, also known as Napoleon in North America, truly lives up to its French meaning, "thousand sheets." This flaky, buttery, and slightly crisp pastry is truly an unforgettable treat.
Three layers of puff pastry, filled with pastry cream, are an absolute joy to bite into. While some top it off with a playful mix of white and brown icing stripes, others simply dust it with powdered sugar.
And guess what? You can even cheat a bit and use frozen puff pastry sheets if you're pressed for time.
15. Paris-Brest (French Choux Pastry)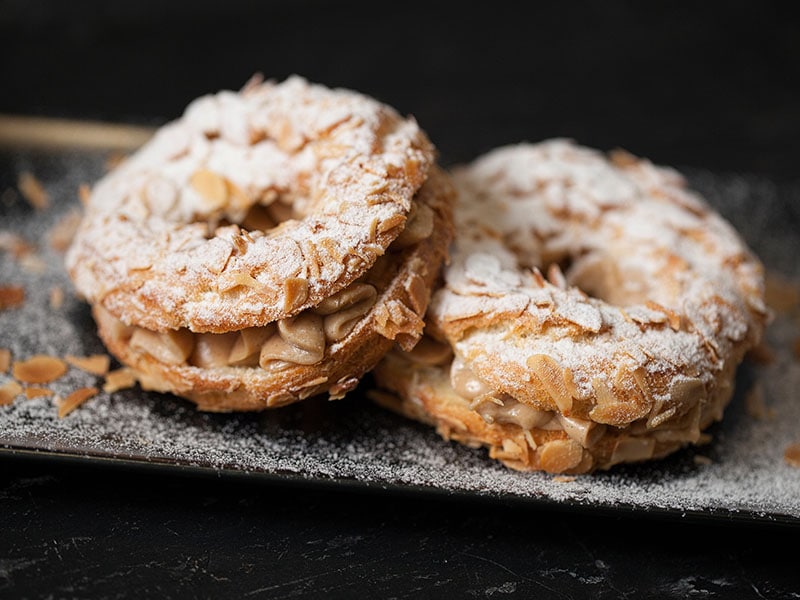 Paris-Brest is an impressive French pastry created by chef Louis Durand in 1910. It beautifully mirrors the bicycle wheel, commemorating the famed bike race from Paris to Brest.
Popular in French pastry shops, it captivates with its delicate, light choux pastry and nutty, silky filling. To serve, simply slice between the upper ring pieces and through the base.
And no, it's not an éclair. Unlike eclairs that house custard or pastry cream, Paris-Brest pampers you with its praline-flavored mousseline filling.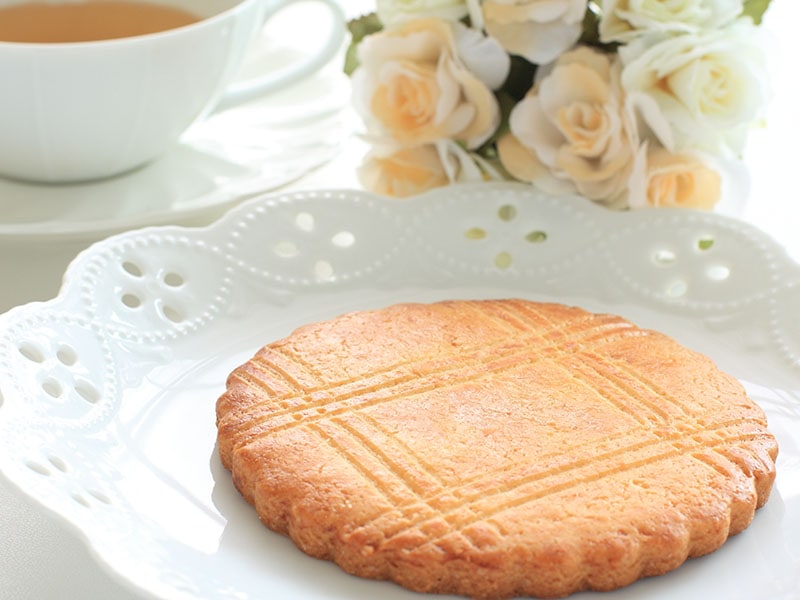 Sablé, a charming round shortbread cookie, hails from Sablé-sur-Sarthe since 1670, and its name aptly translates to "sandy."
Baked with flour, butter, egg yolk, salt, and sugar, this cookie can don flavors of almonds or zest of lemon and orange. Its texture is just like its name suggests – sandy, crumbly, yet buttery. And better, it's easy to make! Just ensure to chill the dough for an hour and roll it evenly.
17. Clafoutis (Cherry Cake)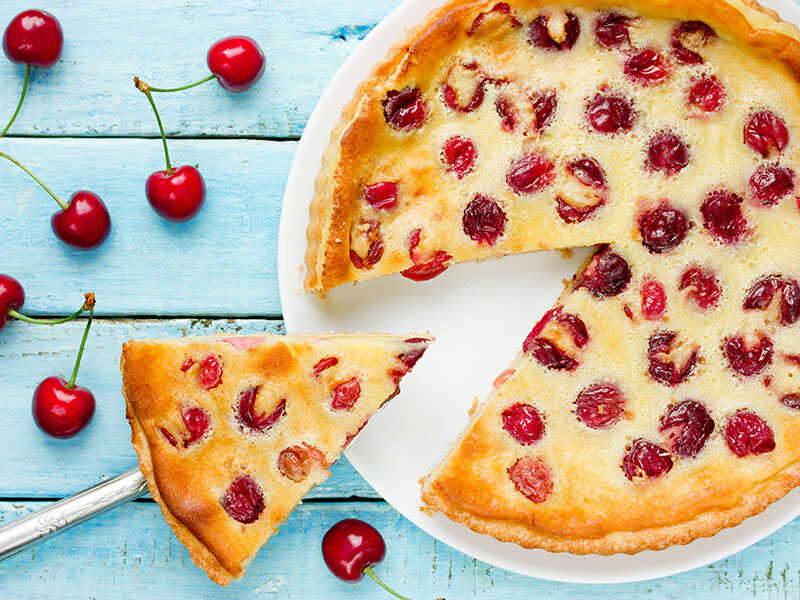 Clafoutis is a genuine treasure from Limousin, France. With its mild, fruity taste, this dessert showcases black cherries ensconced within a flan-like batter.
The batter doesn't simply cover the fruit. It mixes and mingles, creating a texture similar to thick custard. Plus, people usually dust the cake with powdered sugar.
Although black cherries are traditional, ‌get creative with apples, plums, or even blackberries. Besides dessert, this versatile dish could be your next favorite breakfast, served warm or cold.
18. Île Flottante/Floating Island (Snow Eggs)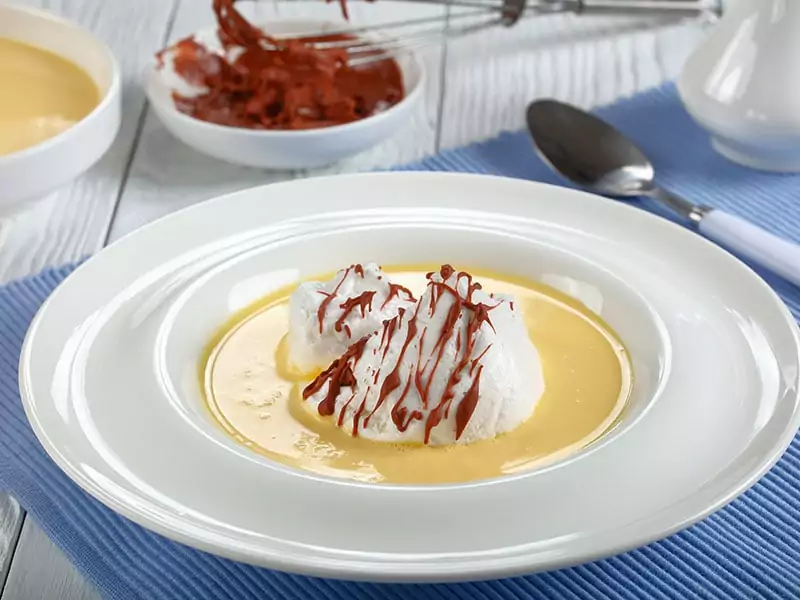 Île Flottante, aptly named "floating island," is a dessert as dreamy as it sounds. A soft meringue crafted from egg whites, vanilla, and sugar, is set adrift on a sea of crème anglaise, a vanilla custard.
A drizzle of caramel tops the meringue, adding a touch of decadence. This dessert, best served at room temperature or slightly chilled, is the ideal finale for a substantial meal.
19. Macaroons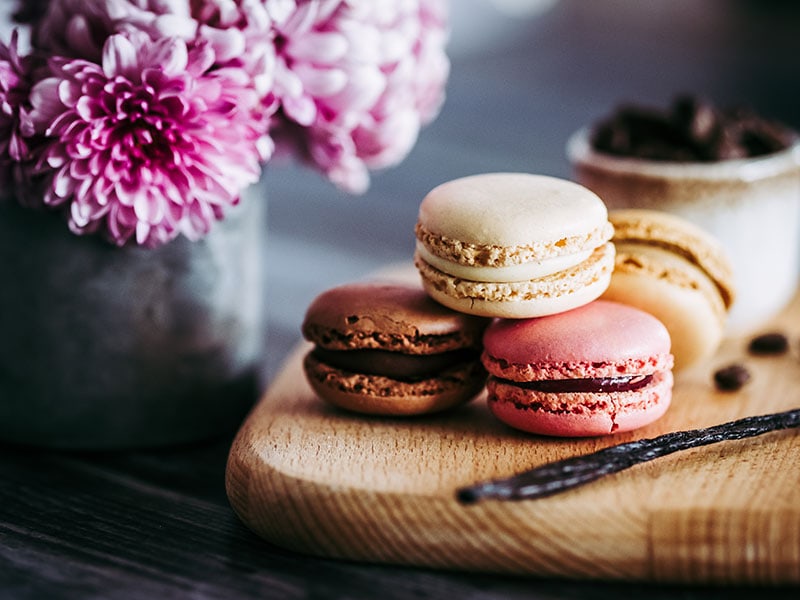 Don't mistake macaroons for macarons – these are unique drop cookies with an extra 'o' in the name for extra oomph! Ground almonds, coconuts, egg whites, and sweetened condensed milk come together to create a cookie that is chewy on the inside and crisp on the outside.
For serving, you can enjoy these versatile treats plain or drizzled with melted chocolate. Macaroons, in most of their regional variations, can be stored at room temperature in an airtight container, staying fresh for up to seven days.
20. Madeleines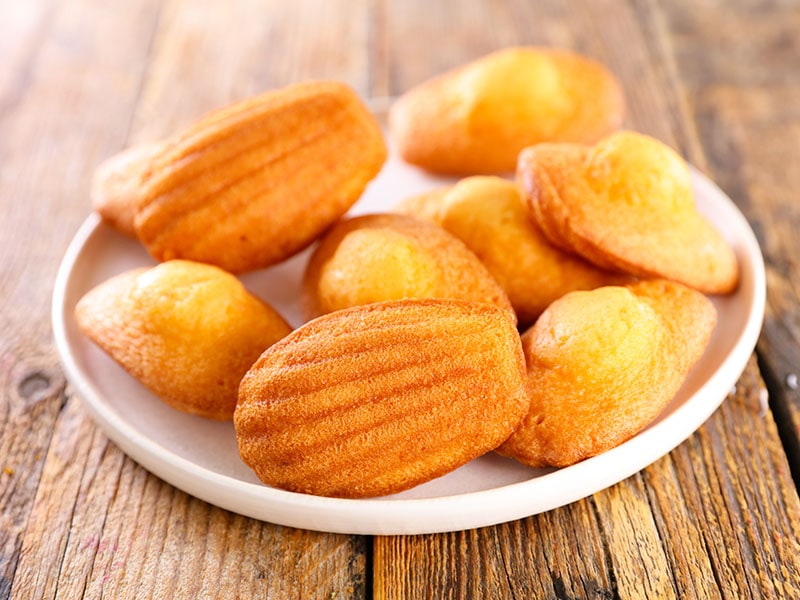 As a big fan of French sweets, I have a soft spot for madeleines, those small, shell-shaped sponge cakes hailing from Commercy and Liverdun. Each bite into these buttery, light treats reveals a sweet hint of lemon and vanilla.
I've had success baking these at home using a special pan, but a non-stick spray or melted butter is essential to avoid a sticky situation! Nothing beats the pleasure of a fresh, homemade madeleine.
Of course, grabbing a batch from the bakery is also a lovely treat. Whether for tea time or a midnight snack, they never disappoint.
21. Mousse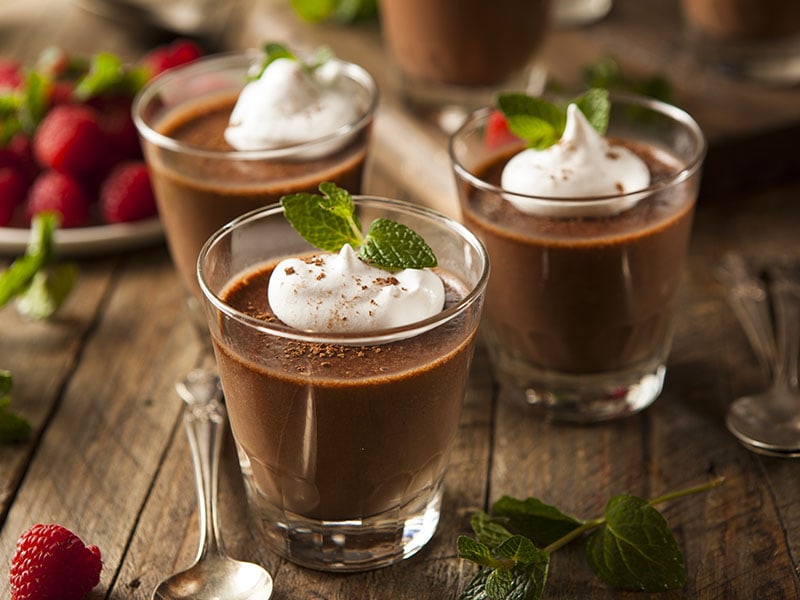 Mousse, which translates to "foam" in French, traces its roots back to the eighteenth century in France. My fond memories of this delicacy involve both sweet and savory versions, each offering a distinctive taste.
Sweet mousse, whipped to perfection with cream and various flavorings, from chocolate to fruit puree, is an absolute joy. Some styles, like the beloved Mousse Au Chocolate, hold a special place in my cookbook.
Whether served light and foamy or thick, it's the chilled texture that brings comfort to my palate every time.
22. Boudoirs (Ladyfingers Biscuits)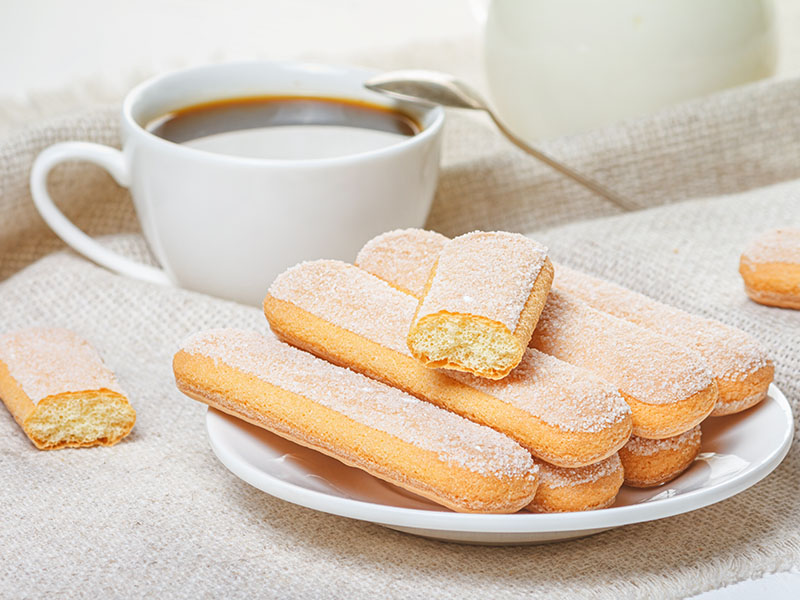 Boudoirs, or Savoiardi as it's known in Italy, which means "from Savoy," are ladyfinger biscuits. Now these sweet, spongy biscuits have this charming finger-like appearance with a narrow shape and round ends.
Made with simple ingredients like eggs, wheat flour, and sugar, their light, crunchy texture is the dream of any baker. I recall them as fantastic elements in desserts like Tiramisu, Trifles, and Charlottes.
23. Beignets (Deep-Fried Fritter)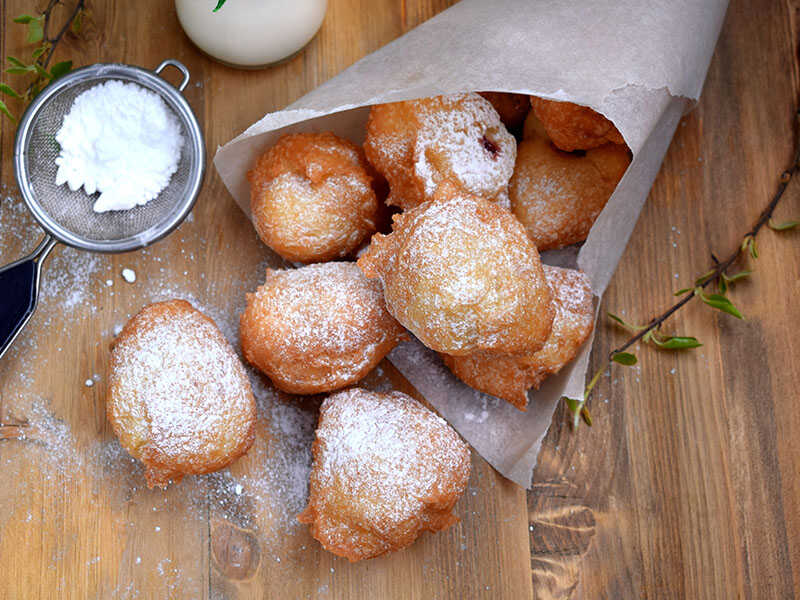 Beignets, a type of deep-fried pastry, are French in origin. These goodies can be created using Pâte à Choux, the same dough that gives life to cream puffs or eclairs. In France, you can explore over 20 varieties of beignets, each having distinct shape and ingredients based on the region.
Notably, the French version is square-shaped, unlike its round American cousins. Biting into a beignet reveals a soft middle, light, airy, and melty texture. Before serving, a generous sprinkle of powdered sugar is a must.
A crucial tip: the oil must reach 350 degrees Fahrenheit for frying to achieve the perfect texture. Hot off the fryer, beignets are an irresistible dessert, especially popular during carnivals and special occasions like Mardi Gras.
24. Croquembouche (Cream Puff Tower)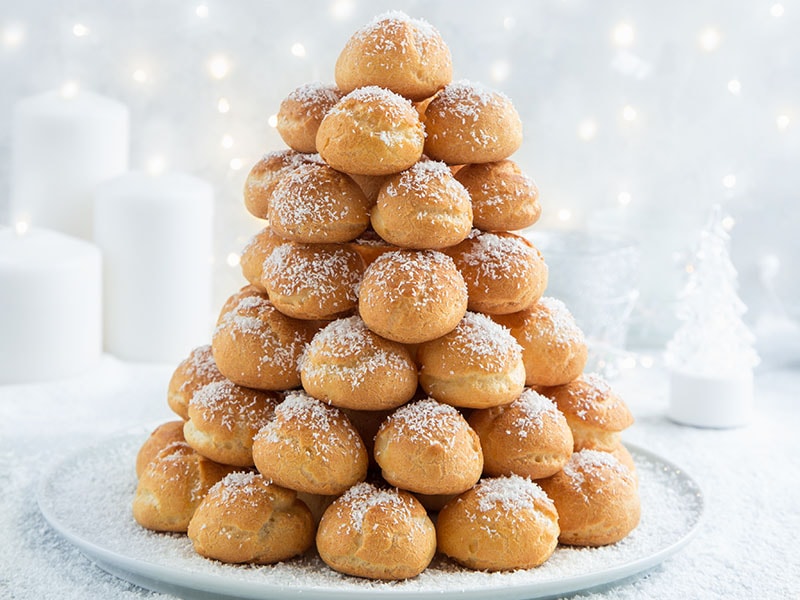 Croquembouche, aptly translating to "crunch in the mouth," is a showstopper. Its foundation comprises choux pastry puffs, each filled to the brim and organized into an impressive cone-shaped tower.
These puffs are bound by threads of caramel, lending that signature crunch. Sometimes, chocolate, confectionery, or fruit are added as decoration. It's a French tradition to have this as a wedding cake!
Bear in mind; it requires some careful handling – assembled within two hours of serving, as the puff filling and caramel react to air moisture. It's a bit tricky to serve, too. But, with two forks, you can gently separate two puffs at a time, revealing the intricate layers of this marvelous creation.
25. Choux Au Craquelin (Crispy Cream Puff)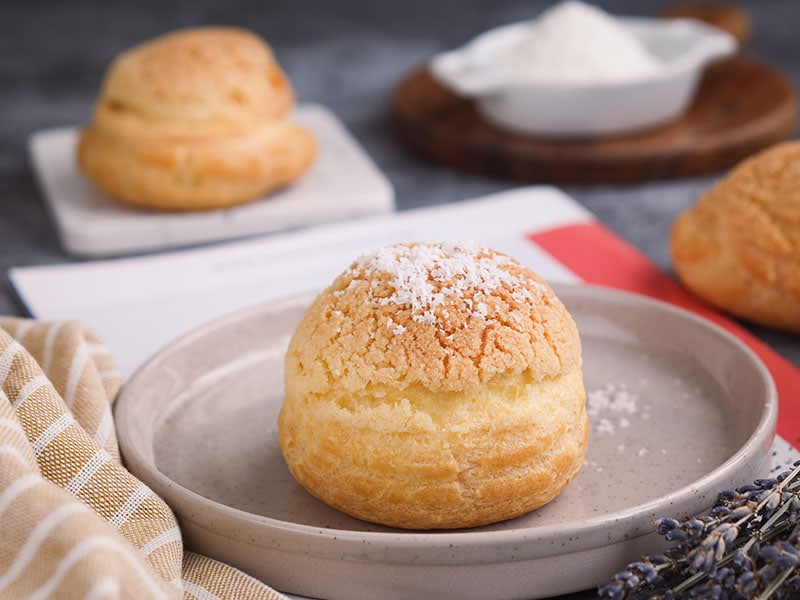 Choux Au Craquelin is a pastry game-changer, featuring a choux base topped with a cookie-like disc, known as craquelin, before they head into the oven together. The craquelin, crafted from flour, butter, and brown sugar, bakes into a crackly crust, enhancing the caramel taste and golden hue.
Inside the puff, a surprise awaits – a luscious vanilla-flavored filling. The texture is a combo of crunchy and soft, with a sweet, buttery flavor. Whether with morning coffee or afternoon tea, this pastry masterpiece is best savored fresh.
26. Galette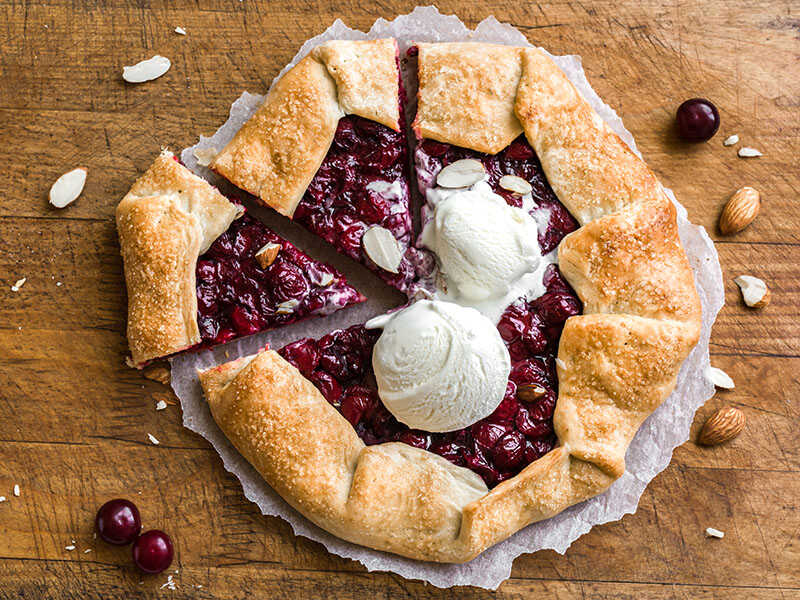 Galette, a name born from the Norman word 'gale,' which signifies 'flat cake,' embodies simplicity and versatility. This round, free-form pie comes to life from pastry dough, brimming with seasonal fruits, its edges artfully folded to form a rustic charm.
Popular variations like peach, blueberry, and apple galette grace many tables. One can either fashion the dough from scratch, which needs a cool rest in the fridge, or opt for the convenience of a supermarket version.
But the galette's repertoire doesn't stop at sweet; the savory Galette, Galette Comtoise with choux pastry, and the Epiphany-special La Galette de Rois present other options.
27. Parfait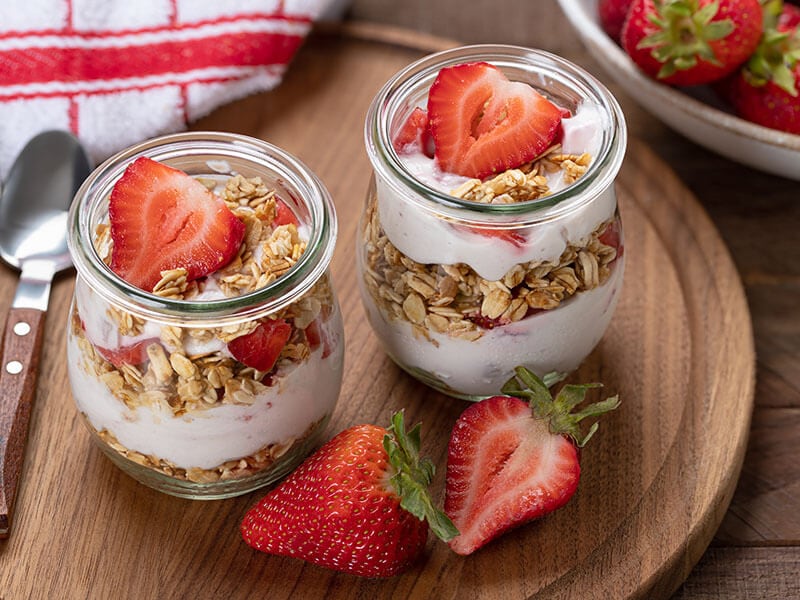 Parfait, a name that translates to 'perfect' in French, fittingly describes a beautifully layered, frozen dessert. The creamy base of cream, egg, and sugar syrup paired with fruits becomes an art form on a plate in France.
It's always an experience to witness variations around the globe, notably the American take with its added crunch from granola and nuts.
An added bonus is the fact that it's easy to whip up at home without any fancy gear. The French version even balances fat, sugar, alcohol, and air to keep any frosty crystals at bay.
28. Soufflé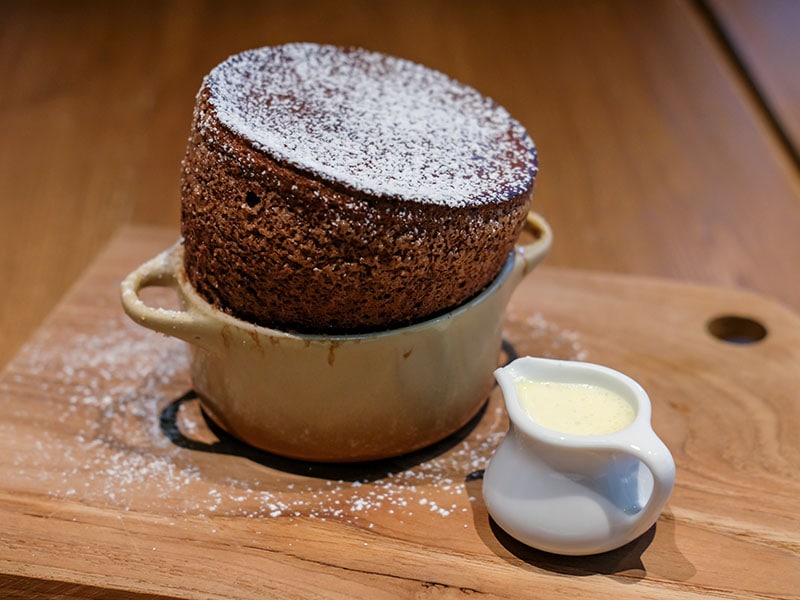 The elegant soufflé is of its French roots. The name stems from "souffler", symbolizing a breath or a blow.
Brought to life by French master cook Vincent La Chapelle in the 18th century, Soufflé makes full use of the wonders of egg yolks and whipped egg whites. It effortlessly transitions from a sophisticated dessert to a savory indulgence with cheese, vegetables, or herbs.
Ramekins of various styles make for perfect vessels, but remember to coat them lightly with butter to prevent any sticking. And nothing beats the sight of a perfectly baked Soufflé, puffed up and tantalizingly fluffy, knowing it'll gently fall after just a few minutes.
For those of you who like an extra punch of flavor, a drizzle of sweet sauce or a scoop of ice cream or sorbet does wonders.
29. Kouign Amann (Breton Butter Cake)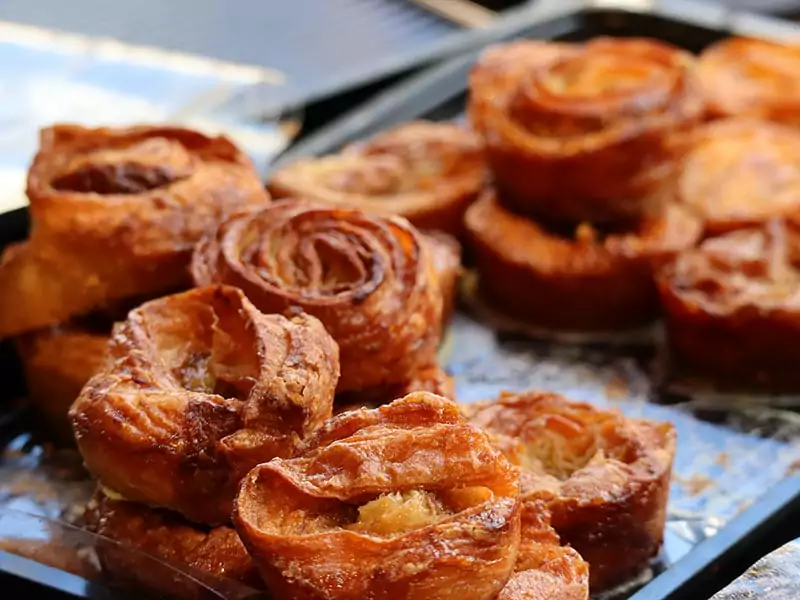 One sweet, buttery pastry that has remained in my top choices for years is Kouign Amann, pronounced: "queen-a-mahn." This mouth-watering cake, native to Brittany in northwest France, truly lives up to its Breton name, meaning 'butter cake.'
Named by the New York Times as 'the fattiest pastry in all of Europe,' it's a celebration of yeast, salt, flour, butter, and sugar. The result is a flaky, buttery, dense cake with a soft, moist center and crisp exterior. Everything is bathed in a sweet, caramelized coating thanks to slow baking.
It's the patience-requiring process of folding and rolling dough multiple times to create hundreds of whisper-thin layers that define its signature texture. Served in slices from a large baked cake, it's a genuine taste of Breton tradition.
30. Baba Au Rhum/Rum Baba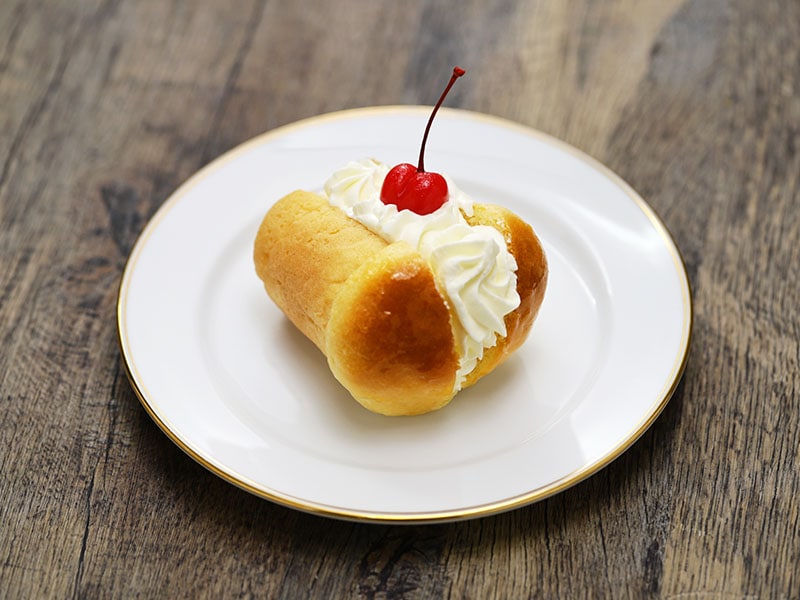 In the 18th century, northeastern France got a culinary gift from Lorraine – the Rum Baba. This dessert is a yeast cake that's drenched in rum, creating a soft and moist texture and rich flavor profile. It's a simple dessert to prepare and never fails to impress.
Standing at a modest 2 inches tall, this cylindrical wonder can also come filled with cream, and modern twists even incorporate dried fruit. As if that wasn't tempting enough, it reveals subtle notes of citrus from zests of lemon and orange.
31. Tarte Au Citron (Lemon Tart)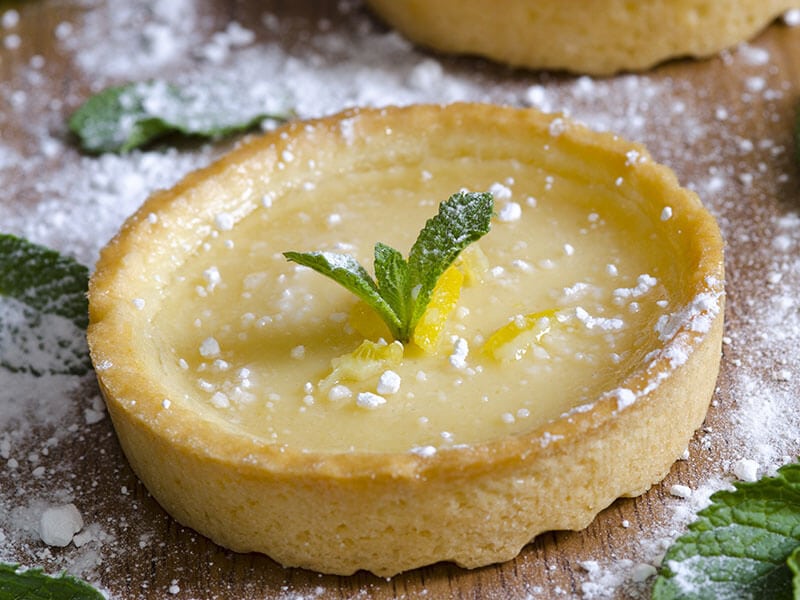 In the world of tarts, France takes the crown with its renowned Tarte Au Citron. This enticing dessert comes with a lemony filling, tucked inside a buttery crust. Unlike its meringue-topped counterparts, it opts for simplicity, showcasing the zing of citrus.
The crust, a crumbly and sweet French pastry known as pâte sucrée, requires a chill before rolling. When it comes to flavor, this dessert nails the sweet-tart balance, making it a perfect pick for any feast.
32. Éclair
From the city of Lyon in the 19th century, the Éclair is another sweet delicacy to explore. Freshly made, room temperature Éclairs are widely available at most local bakeries. In French, it's like a 'flash of lightning,' and true to its name, you'll devour it quickly!
It is an oblong, crispy choux pastry, hollow inside. Once baked and cooled, it is piped full of luscious cream or custard. The finishing touch is fondant icing, topped with a glaze of chocolate or any other delicious flavor.
33. Flan Pâtissier (Custard Tart)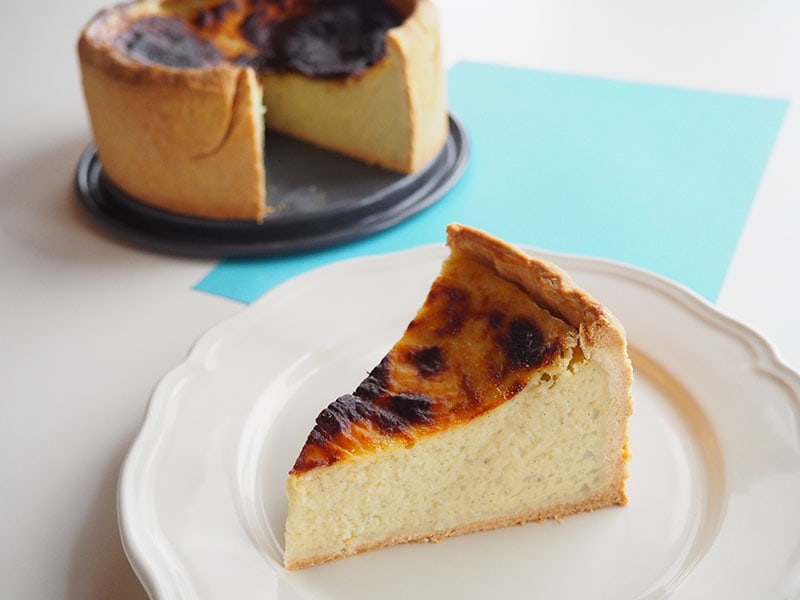 Known as Parisian flan, flan Pâtissier is a simple custard tart with a buttery, flaky crust and filled with velvety vanilla pastry cream. Sometimes, it may hide a burst of fruit inside, adding a fresh contrast to the creamy, rich flavor of the dense filling.
On baking, the top turns a pleasing shade of golden brown. Perfect for dinner parties or afternoon tea, you can prepare it ahead and chill it before serving. This creamy indulgence is typically found in suburban French bakeries.
Italy
34. Tiramisu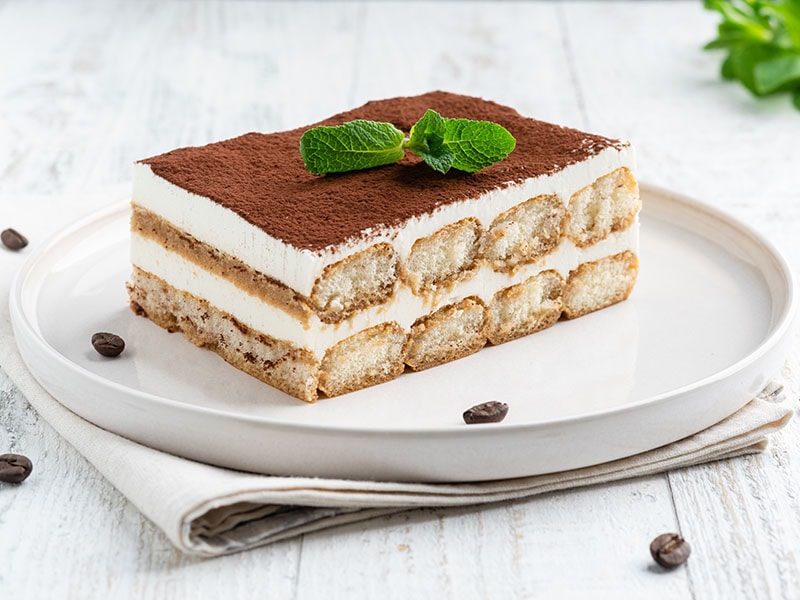 Tiramisu, a lovely Italian dessert that translates to "pick me up" or "cheer me up," boasts a distinctive coffee flavor. It came into existence in the 1960s, and its birthplace remains a debate between the Veneto and Friuli Venezia Giulia regions.
The dessert takes ladyfingers, known as Savoiardi, and layers them in a whipped medley of eggs, sugar, mascarpone cheese, and a dusting of cocoa. Some folks prefer a punchy twist, soaking the Savoiardi in spirits like Marsala wine, amaretto, or a coffee-based liqueur.
I always adore how its delicate layers of mascarpone and Italian custard perfectly balanced the robust espresso and punchy cocoa powder.
35. Gianduiotto Chocolate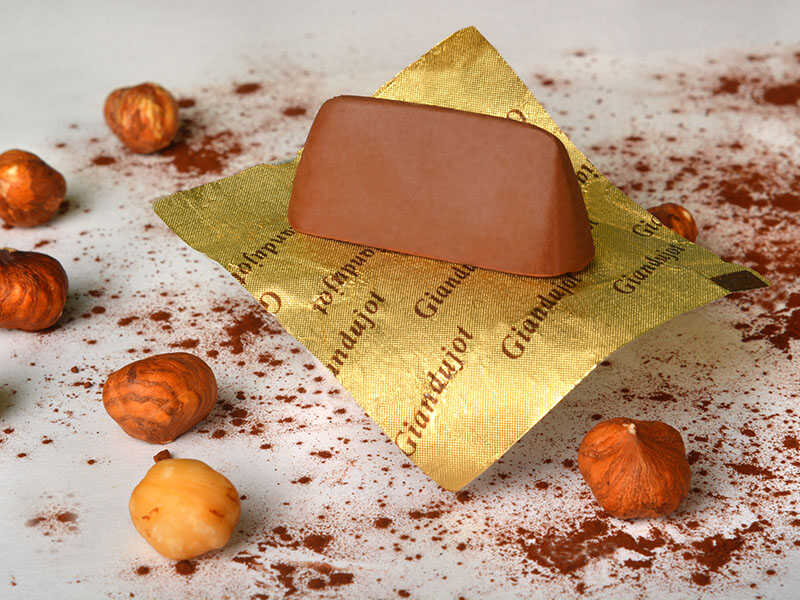 Gianduiotto chocolate, hailing from Piedmont in Northern Italy, proudly bears the title of Italy's king of chocolate. Local chocolatiers meticulously produce these treats using a finely honed paste of cocoa, sugar, and hazelnuts, the latter imparting a pure and roasted essence.
Wrapped in foil cover, often gold or silver, their shape mirrors ingots. These nuggets become an indulgent treat after meals, or a special companion to your morning espresso. Yet, their allure increases with scarcity as production in Italy pauses come springtime.
36. Semifreddo (Frozen Italian Dessert)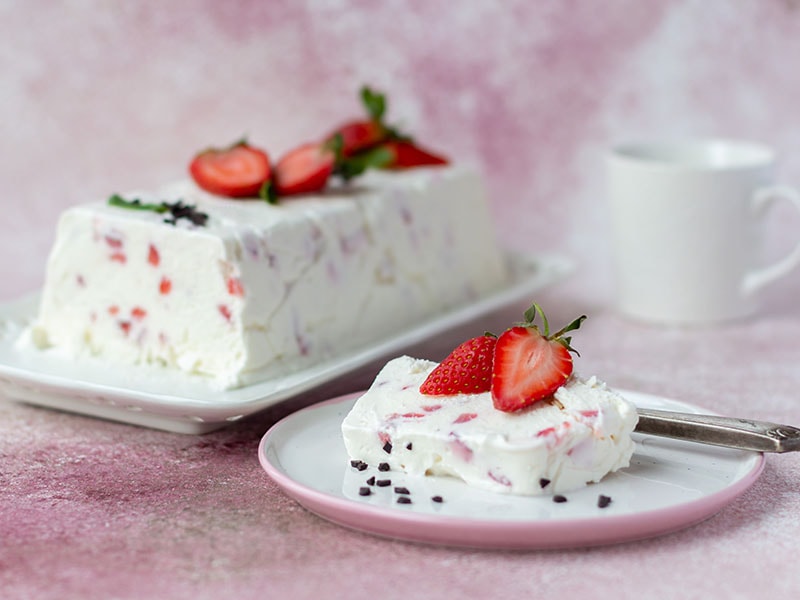 Semifreddo, an Italian term that translates to "half frozen," is an intriguing dessert that surfaced in the 19th century and truly came into its own in the early 20th. This treat boasts an ice cream-like flavor without any churning.
Crafted from a mixture of egg yolks, sugar, and cream, Semifreddo is frozen yet maintains a soft, creamy consistency akin to an ice-cold mousse. It's important to note that it's different from gelato due to its distinct ingredient list and fat content. In Spain, you'd order this as a 'Semifrío.'
37. Ciambella (Breakfast Cake)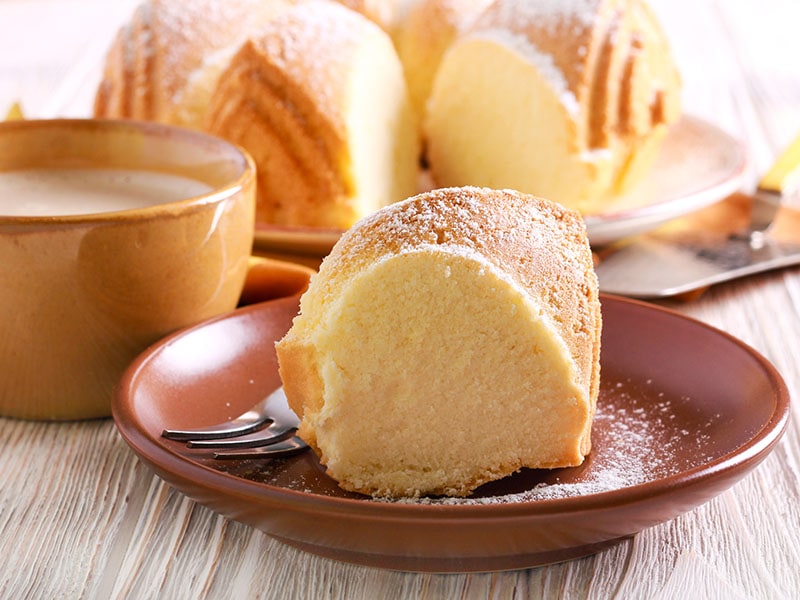 In Italy, morning rituals are incomplete without a slice of Ciambella, a ring-shaped breakfast cake that's as rich in taste as it is in tradition. Each region carries its unique spin, leading to a vibrant array of variations in both preparation and ingredients.
Crafted from standard cake elements, this culinary marvel takes on a unique character from flavorings such as lemon, orange, hazelnut, or vanilla. For those craving a little more indulgence, fruits like berries or a dollop of whipped cream make outstanding additions.
But don't let its dessert-like qualities fool you; its light, soft, and fluffy texture, coupled with the bounciness of a sponge cake, makes it an ideal breakfast companion. A piece of Ciambella, paired with a warm cup of tea, is sure to offer a satisfying start to your day.
38. Crostata (Jam Tart)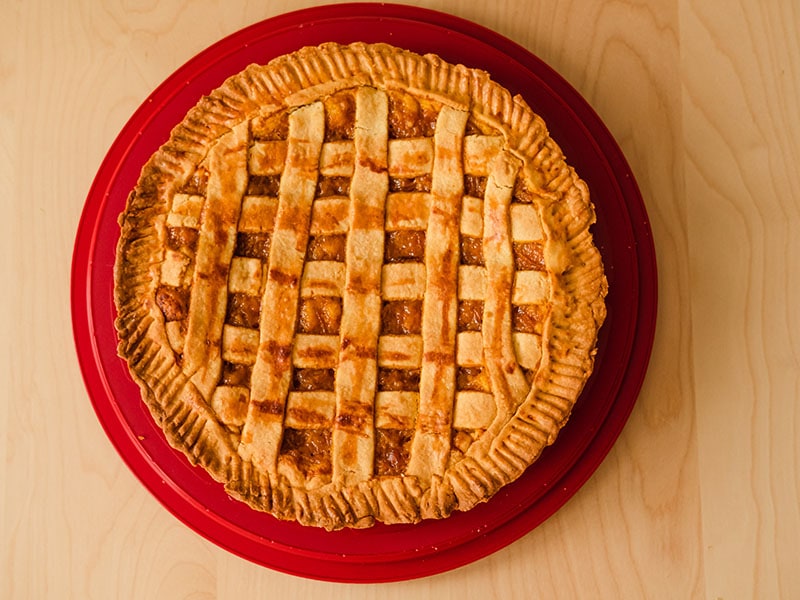 Crostata, an Italian term, is a free-form, open fruit tart that is akin to the French galette. It could also find itself being baked in a pie plate. The basic recipe calls for a pastry crust filled with jam and fruit, with apricot crostata being the most traditional version.
Yet, this dish caters to personal tastes by welcoming other jam and fruit options. The end product is light, crisp, and oozing with sweet filling.
It can fit into your day as a breakfast treat or dessert, best paired with a warm cup of coffee or tea. For dessert time, I suggest adding a scoop of ice cream on the side.
39. Affogato (Coffee & Gelato Dessert)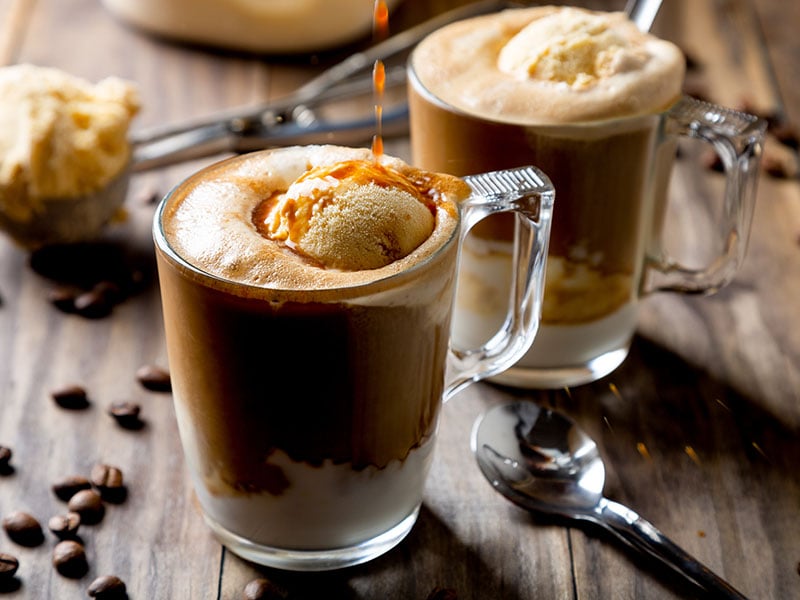 Affogato Al Caffe, or simply 'Affogato,' is Italy's gift to dessert lovers. First capturing hearts in Italy during the 1950s, it mirrors the rise of industrial ice cream production.
The name translates as 'drowned,' a playful nod to its creation – a scoop of ice cream bathed in a hot pour of freshly brewed espresso.
Traditionally, vanilla or fior di latte gelato plays the part of the 'drowned,' but the script of this dessert can be varied. Creative deviations might include an array of gelato flavors, almonds, or crumbled biscotti. Even fortified wines have found their place in this Italian classic.
I fondly remember how it wrapped up a large meal perfectly, during my visit to a cafe in Italy. This dessert can come in a tall, slender glass, eaten with a spoon, or slowly sipped to relish the layered flavors.
40. Pastiera (Neapolitan Easter Pie)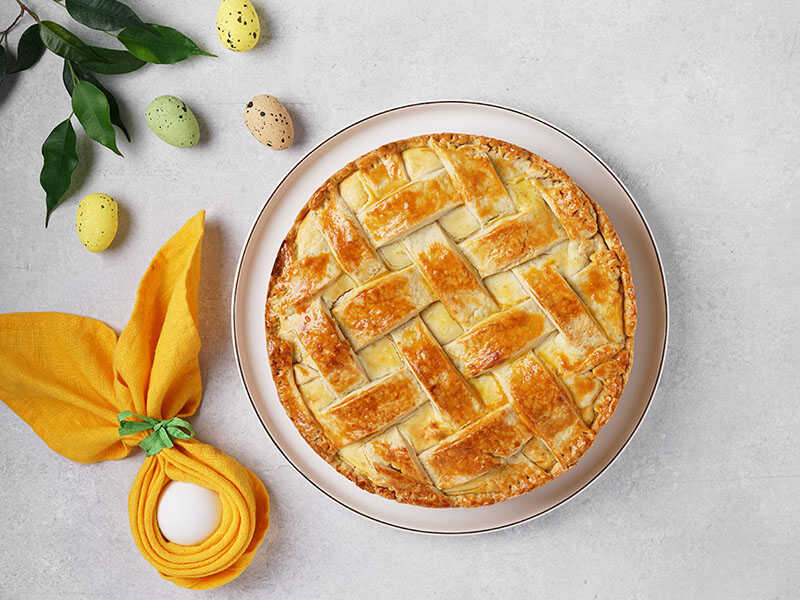 Pastiera, a traditional Neapolitan dessert, entices the senses with a buttery crust and rich filling. This enticing treat, likely born in a Neapolitan convent, harmoniously combines cooked wheat, eggs, and ricotta cheese, all delicately flavored with orange flower water.
Eaten primarily at Easter, Pastiera symbolizes resurrection, rebirth, and new life. It's been a long-standing tradition to prepare this special tart between Holy Thursday and Easter Eve.
41. Gelato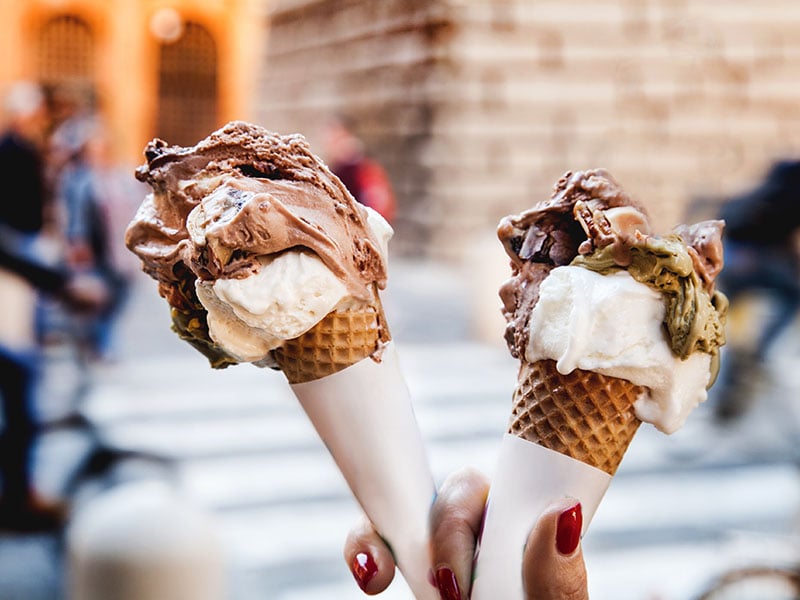 Gelato, the Italian word for ice cream, offers a taste of Italy's dessert tradition. In English, it specifically refers to a smooth frozen dessert that originated in Italy. The butterfat content falls between 6% and 9%, giving it a creamier texture than other frozen treats.
With a third of the mix being air and an extra splash of flavor, gelato offers a one-of-a-kind experience. My personal favorites include the pistachio and chocolate variants, both of which provide a deliciously authentic Italian vibe.
42. Cassata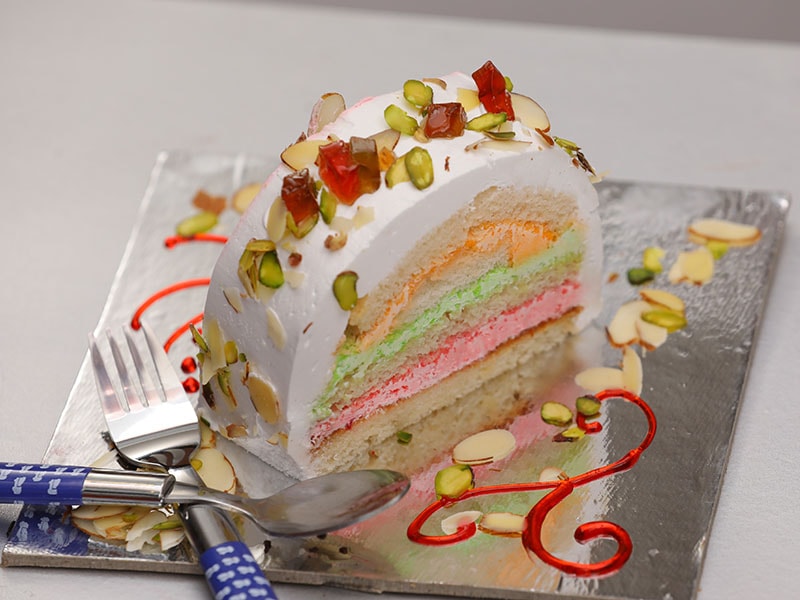 Cassata, Sicily's most renowned dessert, traces its roots back to 10th-century Palermo. Starting life as a humble cheesecake with sugar, eggs, and ricotta, Cassata has evolved into a sponge cake marvel.
Layers of genoise sponge, richly soaked in liqueur, mingle with sweetened ricotta and fruity preserves. The whole affair is then crowned with a marzipan shell and a vibrant sprinkle of candied fruits.
Cassata, its name from the Arabic word 'qas'ah', is usually a winter and spring dish, particularly loved around Easter. After a good chill in the fridge, it's ready to enjoy.
However, Cleveland, Ohio's 'Cassata cake' takes a new spin with yellow sponge cake, rum or rum syrup, custard, and fresh strawberries.
43. Ricotta Pie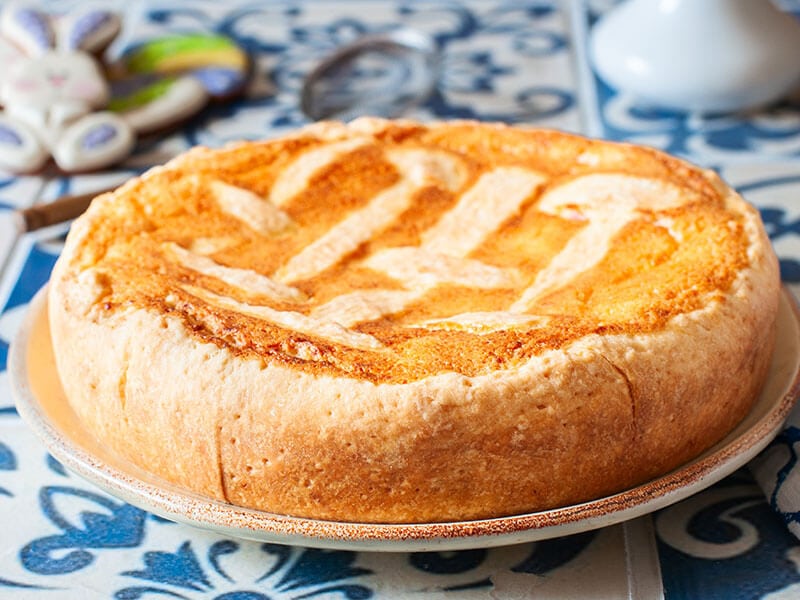 Speaking of cakes and pies in Italy, ricotta pie is a cherished traditional recipe, gracing Easter tables with its golden brown exterior. It presents a creamy filling of ricotta cheese beaten with sugar, eggs, and a touch of vanilla extract.
The rustic crust carries hints of vanilla and almond flavors, achieving a crispy and flaky texture through the use of extra virgin oil. Though this pie is best enjoyed fresh, it can last for up to three days if wrapped in foil and stored in the fridge.
Just remember, freezing isn't ideal, as it alters the texture.
44. Panna Cotta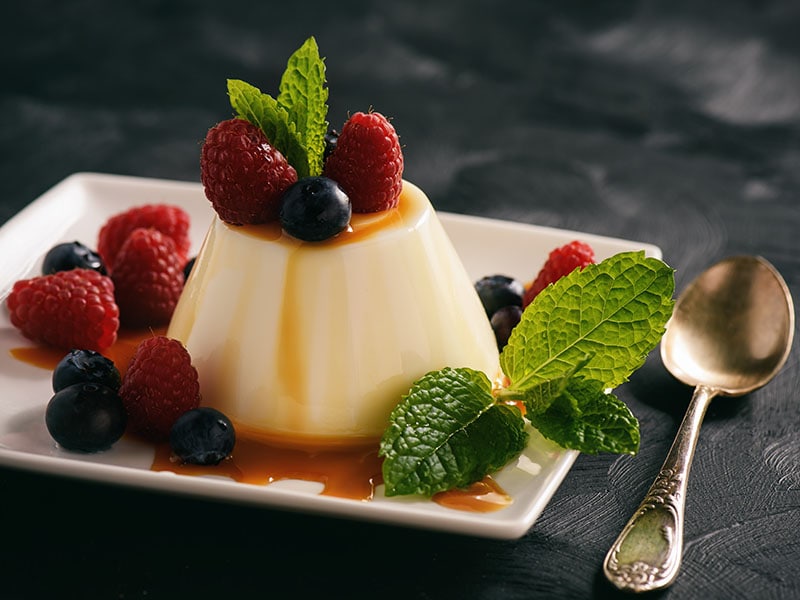 Being a fan of everything-sweet, I have a special place in my heart for Panna Cotta, an elegant Italian dessert. The base of this dessert is sweetened cream, thickened with gelatin, and molded to form a pleasing shape.
Vanilla and coffee are popular aromatics, but the options are endless. As a true heritage of Piedmont in northern Italy, Panna Cotta has a history that might trace back to a French recipe of fromage Bavarois by Marie-Antoine Carême.
Unlike custard, which relies on eggs for thickening, Panna Cotta achieves a jello-like consistency using gelatin. The creation involves blending cream, milk, sugar, vanilla, gelatin, rum, and Marsala, followed by pouring it into a caramel-lined mold.
The popularity of Panna Cotta surged in the United States in the 1990s, and today, it's frequently garnished with berry coulis or decadent sauces of caramel or chocolate. For a personalized touch, other fruits or liqueurs can adorn this stunning dessert.
45. Cannoli
Cannoli, decadent fried pastry tubes filled with ricotta cheese cream, are a firm favorite of mine. They're a proud creation from Sicily, gaining fame well beyond Italy's borders.
Their roots date back to the 9th century under Arab rule, originating around Palermo, and believed to be first prepared by the women of Qal'at al-Nisā (now known as Caltanissetta). In Italy, they're known as Cannoli Siciliani, a nod to their Sicilian origins.
These pastry wonders range in size from bite-sized 3.5 inches to a generous 8 inches. Thin, crispy shells, lighter than cream horn shells, encase the fluffy filling, rendering Cannoli reminiscent of puff pastry.
46. Granita (Frozen Fruit Dessert)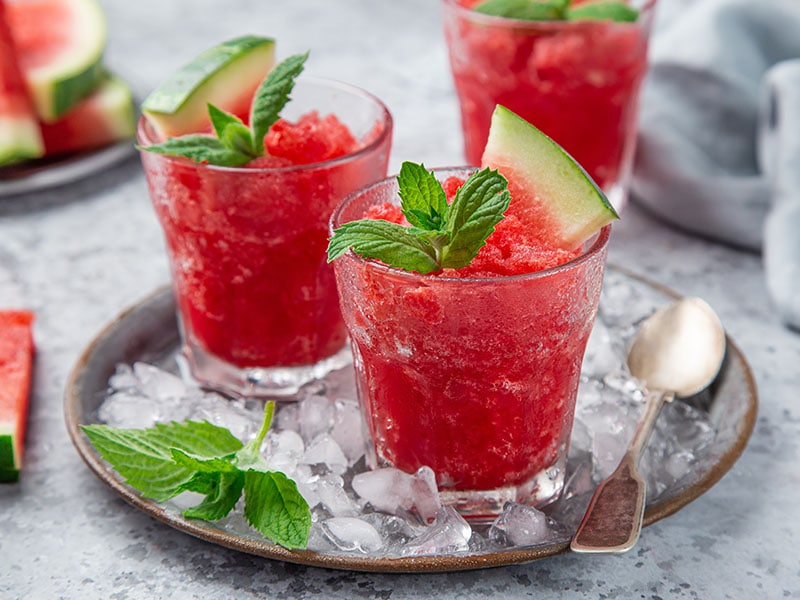 Granita, a semi-frozen dessert, carries a long and sweet history in Sicily, tracing its origin back to the Arabic chilled drink Sharbāt. This treat, with its diverse textures, can vary from coarse to smooth and is sometimes mistaken for Sorbetto, although Granita has a grainier texture.
The old name for this dessert was "Rattata," meaning "grated," pointing to its traditional creation process of using snow and ice from Mount Etna, collected during winter and stored in caves.
The ingredients of modern Granita are water, sugar, fruit juice, and various flavorings. It is frozen using two distinct methods. The smoother types are churned in a Gelato machine.
On the other hand, the coarser ones are agitated occasionally during the freezing process. Afterward, they are scraped or shaved into separate crystals.
Across Sicily, Granita finds its way to breakfast tables accompanied by espresso and brioche, particularly during the summertime. It also takes on local flavors – in Messina, coffee Granita is a favorite, while in Catania, almond Granita rules.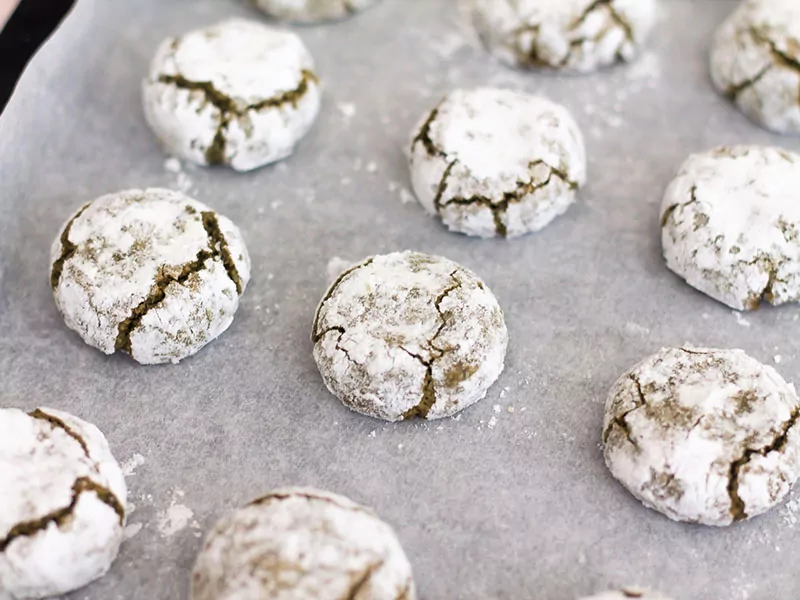 Amaretti cookies are a classic sweet treat from the heartland of Saronno. Their legacy reaches as far back as the Middle Ages. They carry an intriguing bitter-sweet flavor. Their name 'amaro' – Italian for bitter, refers to the punch of bitter almonds or apricot kernels.
Every bite offers a choice – the Ecchi variant delivers a dry, crispy texture, while the Morbidi one promises a soft, chewy delight. The Lazzaroni family has been commercializing these delicacies, solidifying their status as original Amaretti artisans.
48. Chiacchiere (Carnival Fried Pastries)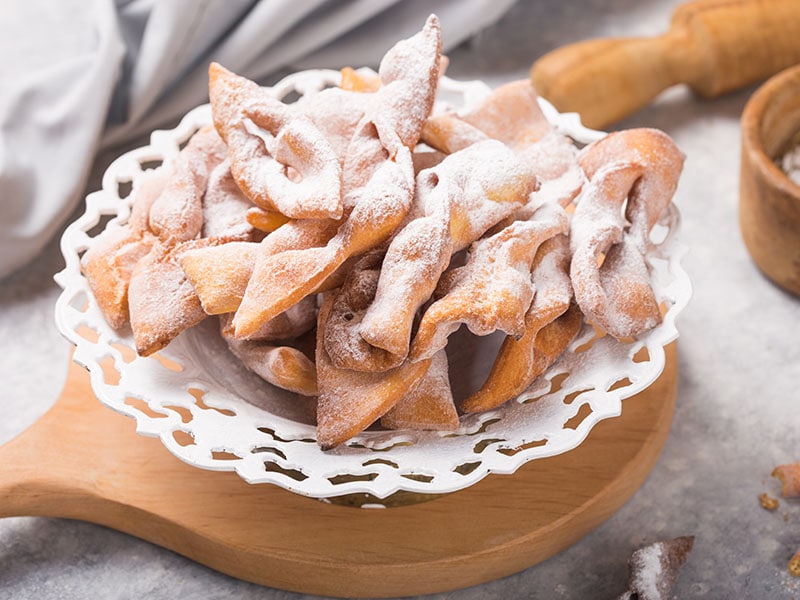 Chiacchiere, Italian carnival pastry fritters, have a nickname I adore – angel wings, which perfectly captures their ethereal shape.
These pastries start with thin, rectangular dough sheets, elegantly twisted into ribbons or left flat with charming wavy borders. Then comes a bath of hot oil, resulting in a deep-fried masterpiece dusted with powdered sugar.
I find the regional quirks fascinating: Marsala adds depth in Sicily, while northern regions prefer Grappa. What remains consistent, however, is the joyous crunch that greets each bite.
49. Sfogliatella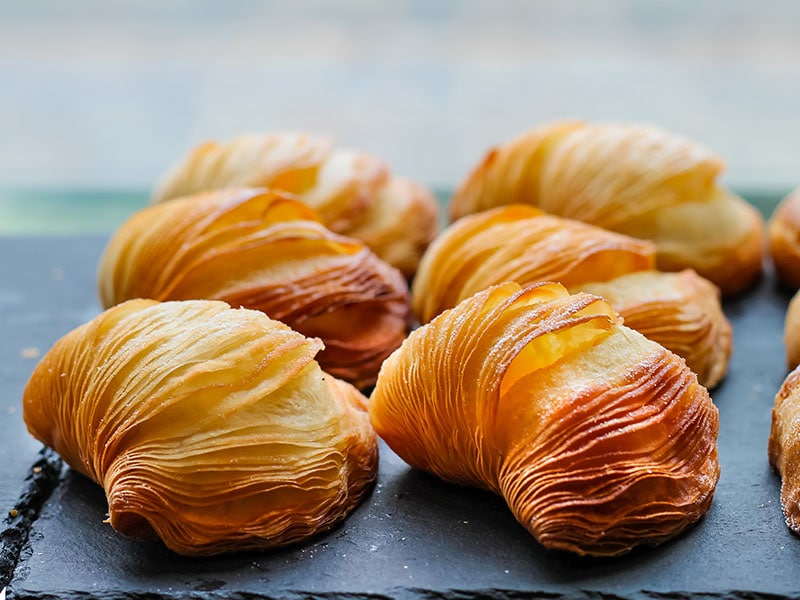 Sfogliatella is one of Italy's most iconic pastries. When I think of Sfogliatella, an image of a shell-shaped Italian pastry comes to mind. It's known as a lobster tail in the US – a moniker that hints at its unique form.
The humble beginnings of Sfogliatella can be traced back to the 1700s in Italy's charming Amalfi Coast, the brainchild of the Santa Rosa monastery's nuns. Sfogliatella, meaning 'small, thin leaf,' perfectly describes its exquisite texture of stacked, flaky layers.
Dough and filling recipes differ, with Neapolitan cuisine offering the standard 'curly' version or the shortcrust variant without layers, called Sfogliatella Frolla. Trust me, straight out of the oven; they're sheer bliss.
Spain
50. Crema Catalana (Catalan Cream)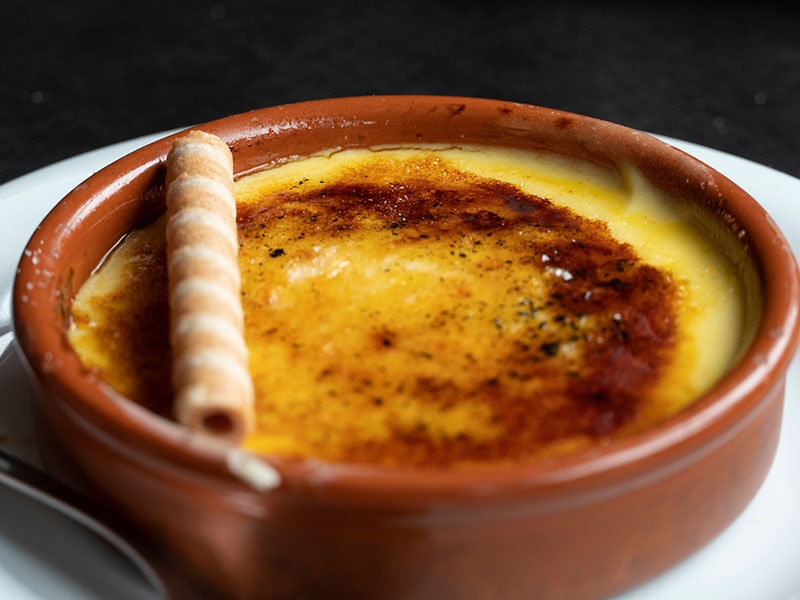 Drawing from the rich culinary history back to the 14th century, Crema Catalana (alternatively known as Crema de Sant Josep) is a custard dessert famous in Spain. Its debut recipe appeared in the Catalan cookbook Llibre de Sent Soví.
Made from milk, cornstarch, and eggs, they are ideal for homemade dessert recipes. After baking, it's topped with sugar and skillfully torched to achieve a tantalizingly crispy, burnt caramel layer. The subtle hints of cinnamon, lemon, or orange zest often characterize its flavor.
Crema Catalana is traditionally prepared on March 19th to celebrate Saint Joseph's Day. What sets it apart from Crème Brûlée is its reliance on milk, while its French counterpart uses cream.
51. Basque Burnt Cheesecake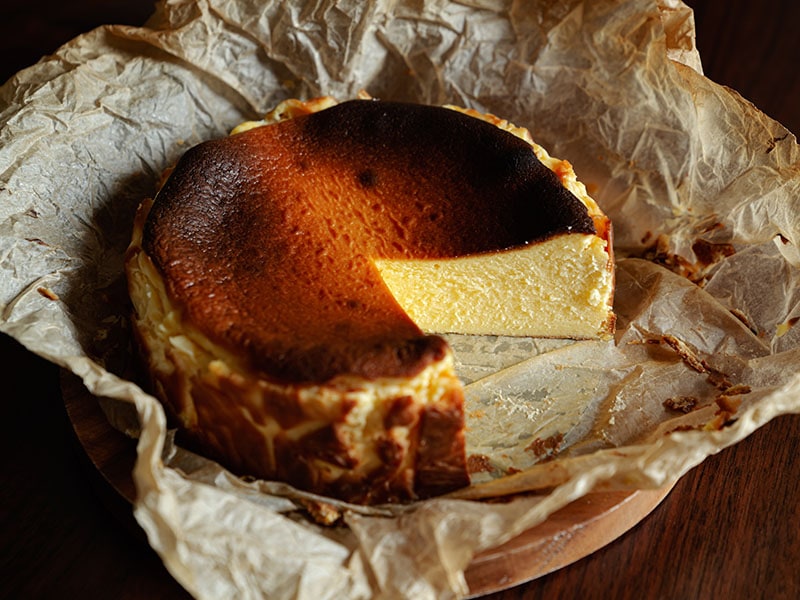 Coming from the Basque Country, the Basque Burnt Cheesecake owes its birth to Santiago Rivera of La Viña restaurant, who crafted it in 1990. This iconic dessert truly made its mark in the 2010s, becoming a sensation in the online world.
Its defining characteristic lies in its burnt custard composition, free of crust, lending it a compelling texture and flavor. The baking process without using a water bath, lends it crispy edges.
One might say it's like the love child of cheesecake and Crème Brûlée, with some detecting a smoky, nutty nuance. A trip to La Viña in San Sebastián is a must for a true taste of this culinary marvel.
52. Tarta De Santiago (Spanish Almond Cake)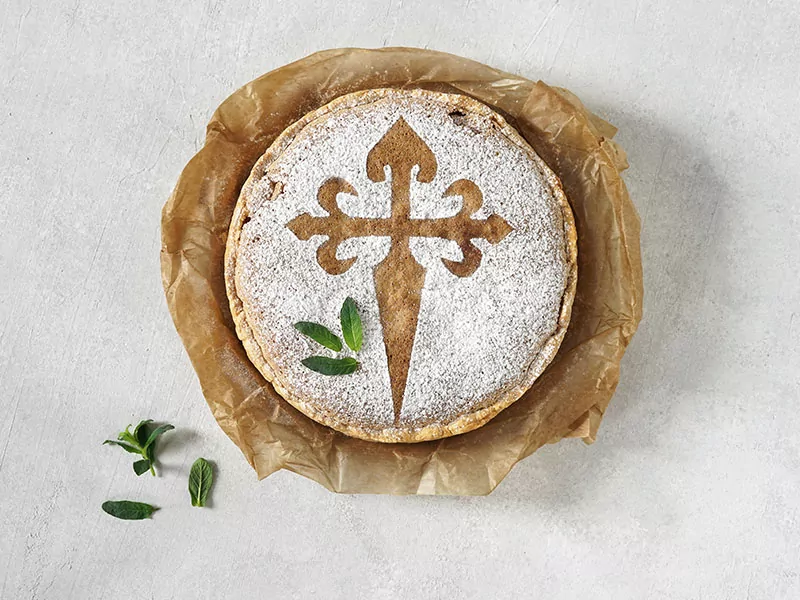 Galicia is where a Middle Ages creation known as Torta de Santiago, or the cake of St. James, originates. This Spanish almond cake has a historical connection to the Camino de Santiago.
What catches my eye first is the powdered sugar dusting on top, cleverly interrupted by the silhouette of the Cross of Saint James, a decoration since 1924.
It is made following a simple yet enchanting recipe. The primary ingredients include almonds, eggs, and sugar. These are enhanced by the addition of lemon zest, sweet wine, brandy, or grape marc.
Moreover, some bakers may make this almond goodness with a puff or shortcrust pastry base. However, others opt for a simpler approach and bake it without any crust.
This dessert holds such a valuable place in Galician culture that it received Protected Geographical Indication status in 2010 (2).
The EU decree ensures that this dessert can only be rightfully called Torta de Santiago if it's made in Galicia and has an almond content of at least 33% (excluding the base).
53. Leche Frita (Fried Milk)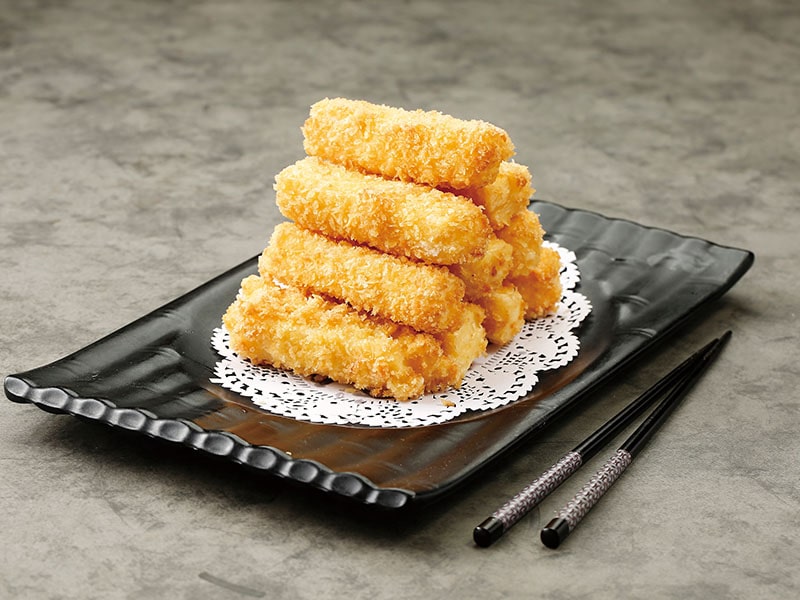 Northern Spain, particularly the Province of Palencia, introduced me to a fascinating sweet called Leche Frita. Flour, milk, and sugar combine to create a firm dough, which then takes a quick dip in hot oil.
Dusted with a sugar glaze and cinnamon powder, it emerges as an irresistible dessert. Whether you prefer it hot, cold, or at room temperature, this dessert has secured its place as a favored street food, eagerly beckoning pastry shops and restaurants.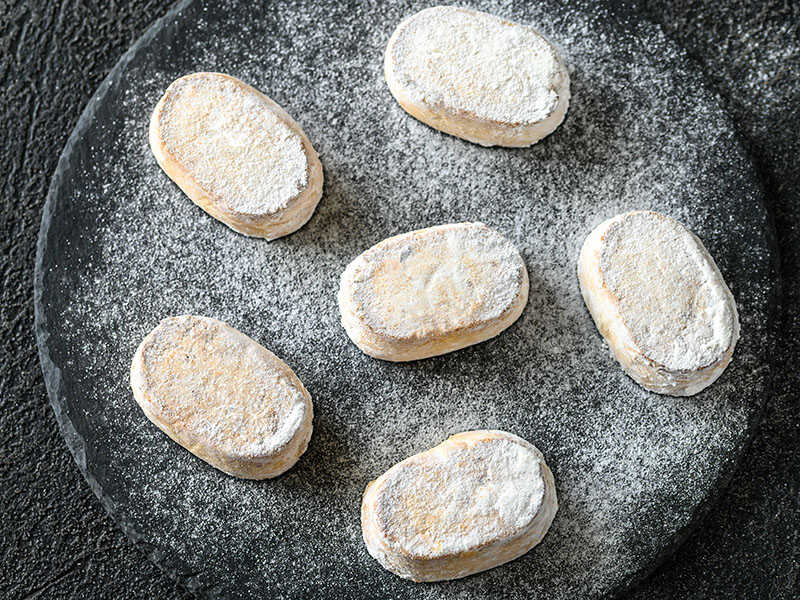 Polvorón, this heavy, soft, and crumbly shortbread from Spain, grabbed my attention in Andalusia, where about 70 syndicated factories dedicate themselves to its creation. What makes it unique is its blend of flour, sugar, milk, and nuts.
Some might know it as Mantecados, its alternative name. It reigns supreme as a beloved holiday delicacy not just in Spain, but also in Hispanic America and other Spanish-influenced countries.
Traditionally, preparation starts in September and continues until January, before it becomes a year-round staple. A fascinating aspect is the diversity in the fat used – you can find Polvorones made with butter or olive oil, giving vegetarian and non-pork eaters a chance to taste this dessert.
55. Miguelitos (Spanish Cream-Filled Pastry)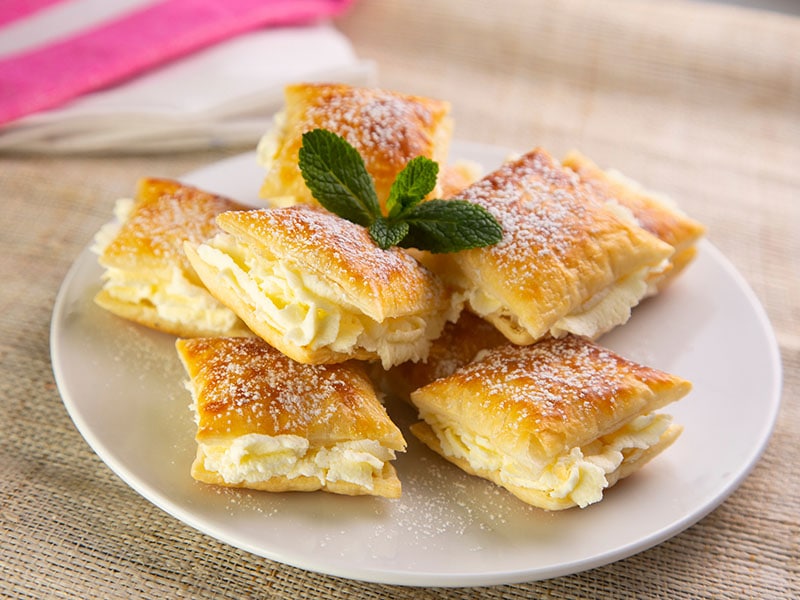 Miguelitos, originating from La Roda in Castilla–La Mancha, Spain, are cream-filled puff pastries that can double up as a cake. This sweet got its name from Miguel, the inventor's friend and also the first one to try it.
Each piece has a creamy, custard-like filling, ensconced within a flaky crust, dusted off with powdered sugar. The filling can vary: original cream, milk chocolate, dark chocolate, or even white chocolate. Depending on the chef, the size varies too.
Hot or cold, it pairs excellently with a cup of café con leche, a combination known far and wide.
56. Panellets (Catalan Almond Sweets)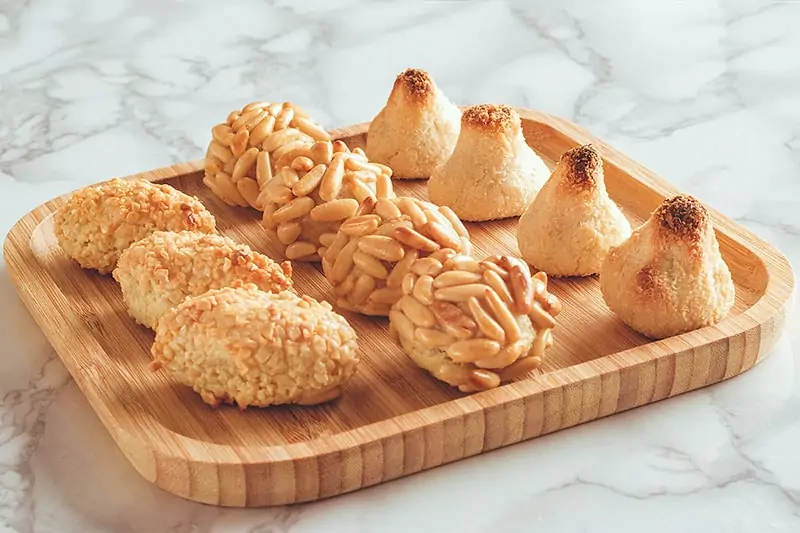 Panellets, or "little bread" in Catalan, are traditional Spanish sweets that are popular during All Saints' Day, celebrated as Castanyada. These small cakes or cookies, boasting various shapes but mostly round, are crafted from marzipan, a sweet paste of almonds and sugar.
The most sought-after version is Panellets cloaked in pine nuts and given a glossy finish with an egg varnish. Accompanying these treats is a sweet wine like Moscatell, Mistela, Vi De Missa, or Vi Ranci, further enhancing the flavors.
In Sevilla, southern Spain, they're called Empiñonados. Once served after religious celebrations, these delicious bites still carry that air of special occasion.
Russia
57. Çäkçäk (Fried Honey Cake)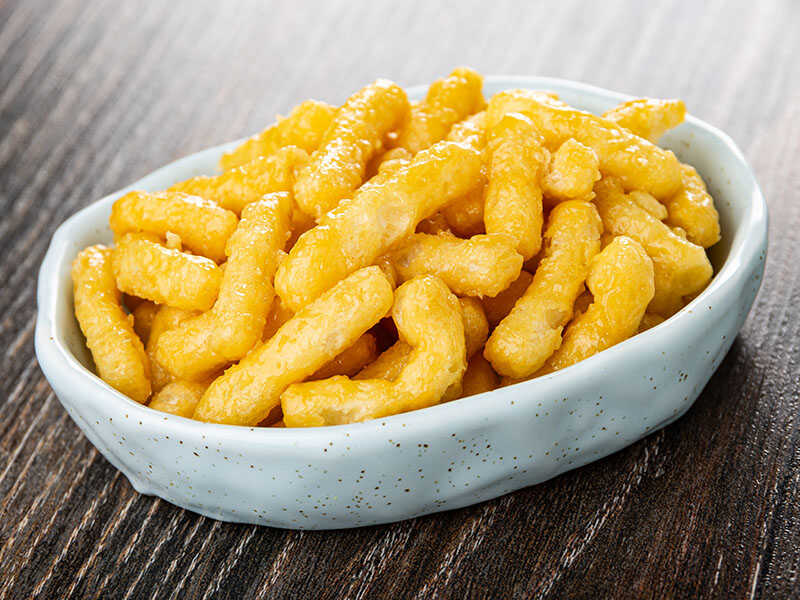 Çäkçäk, a Russian sweet treat anglicized as chak-chak, one that's deeply loved in Tatarstan and Bashkortostan. As Tatarstan's national sweet, it has a special place in the hearts of locals.
Unleavened dough forms the backbone, rolled into small balls resembling hazelnuts, and deep-fried to a lovely golden brown. Adding hazelnuts or dried fruit to the dough is not uncommon.
Once fried, they assemble these tiny bites into a mound, bathed in hot honey. Weddings call for a larger Çäkçäk version, sometimes dressed up with candies and dragées. In 2018, a four-ton chak-chak (probably the biggest one) was prepared to celebrate the FIFA World Cup (3).
58. Medovik (Russian Honey Cake)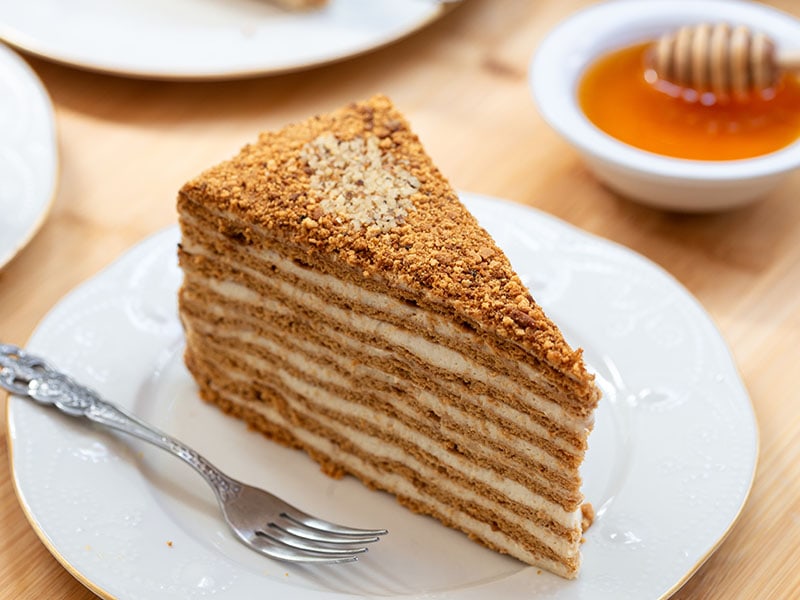 Medovik, or as some know it, Tort Medovik, is a classic Russian honey cake. Some say it was created in the 1820s for Empress Elizabeth Alexeievna, wife of Alexander I of Russia, (a myth, actually).
Its honey-infused, biscuit-like sponges, blanketed with thin layers of sour cream, meld into a blend of sweetness and tang.
With time, it adopted more diverse tastes, like the addition of condensed milk, a likely contribution from the Soviet era. Current spins on the cake sometimes mix in enticing elements like berries or even chocolate, broadening its appeal.
59. Tula Pryanik (Russian Gingerbread)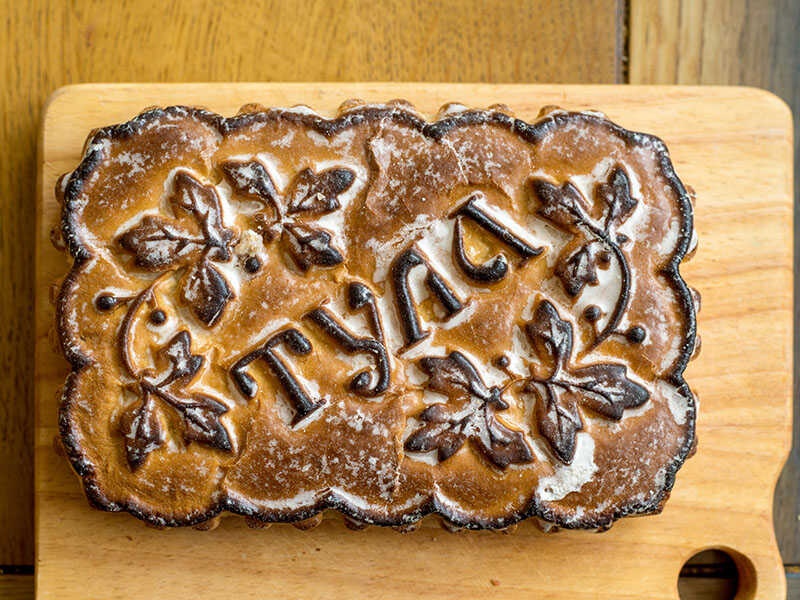 Tula Pryanik is a famed variant of Russian Pryanik originating from the city of Tula, with its roots planted in the 16th century.
Each cookie is a mixture of rye flour, honey, eggs, water, and spices that resembles a rectangular tile or a flat figure. These are artistically imprinted with various patterns, symbols, images of the Tula Kremlin, and occasionally, personalized names or heartfelt congratulations.
These carefully carved prints are an art form unique to Tula. Its dark-brown surface catches the eye and sparks intrigue. And there's a museum in Tula dedicated solely to this fascinating cookie.
Poland
60. Mazurek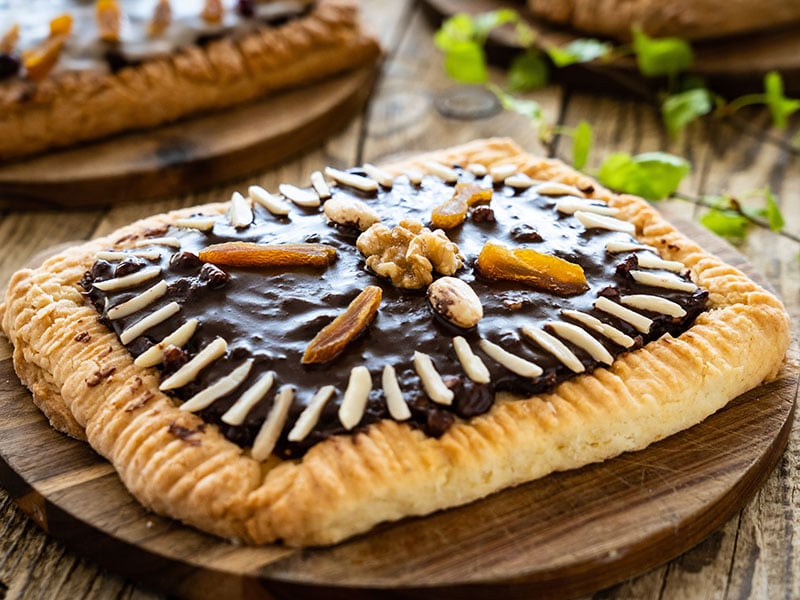 Mazurek is a classic Polish dessert baked during Easter. Its flat shape and intensely sweet flavor characterizes it. There are different variations of Mazurek, but typically it consists of one or two sheets of short pastry or a combination of short pastry and butter sponge cake.
In the case of a two-sheet version, the pastry layers are held together with a layer of marmalade, while for a single sheet version, the marmalade is omitted.
Mazurek often comes with nut-based icing or almond-based icing, as well as candied fruits. When homemade, dried fruits and nuts are ideal decorations. Historically, Mazurek was considered a rich reward for maintaining faith and tradition after a 40-day fast.
61. Sernik (Polish Cheesecake)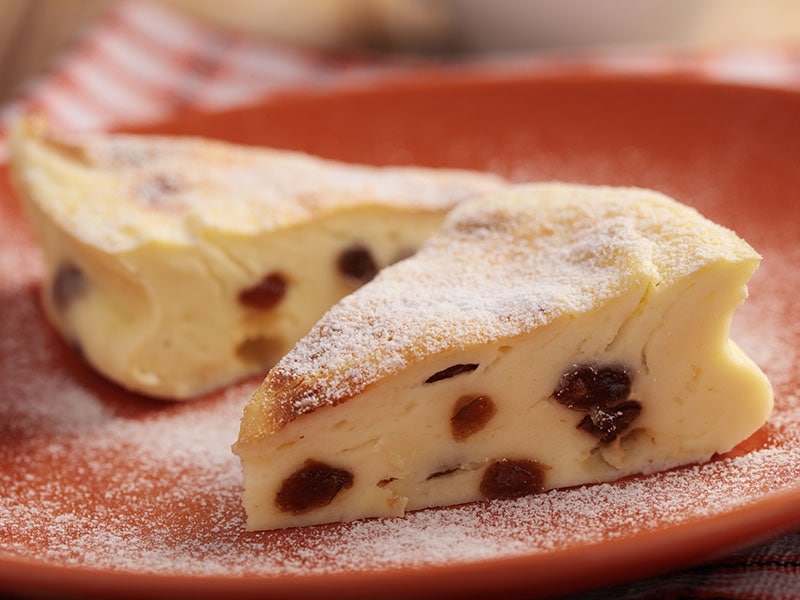 Sernik, a time-honored cheesecake from Poland, has roots in age-old Christian and Jewish traditions. This dessert combines eggs, sugar, and Twaróg, a particular type of curd cheese.
It's believed to have emerged in the 17th century, credited to King Jan III Sobieski following his victory against the Turks at the Battle of Vienna.
Sernik is as versatile as it is delicious, with variations including baked or unbaked versions, and even accompaniments like raisins, chocolate sauce, or fruits.
One of the most favored versions features a sponge cake base topped with jelly and fruit. It is a staple at Polish cafes and restaurants – a taste that brings back fond memories from my last trip to Poland.
62. Ptasie Mleczko / Ptichye Moloko (Bird's Milk)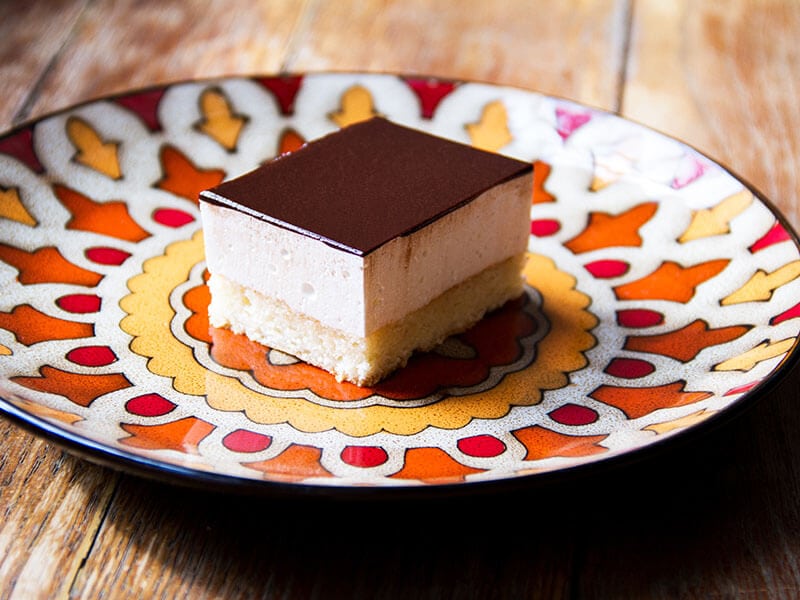 Ptasie Mleczko, a name as smooth as its soft, marshmallow-like interior that melts in your mouth, is a renowned Central European confectionery and is among the most well-known chocolate confectioneries in Poland.
Making its debut in Poland in 1936, it owes its existence to the inventive prowess of Jan Wedel. The classic version of Ptasie Mleczko consists of a firm yet creamy vanilla-flavored meringue, lovingly enrobed in a thin layer of smooth chocolate.
While the name is deeply associated with its original form, it often refers to a variety of similar candies featuring an array of flavors such as vanilla, cream, lemon, and chocolate.
Moreover, one must be careful when navigating the sweet world of Ptasie Mleczko. In Russia, Ptichye Moloko can refer to not only a popular candy, but also a renowned soufflé cake.
63. Toruń Gingerbread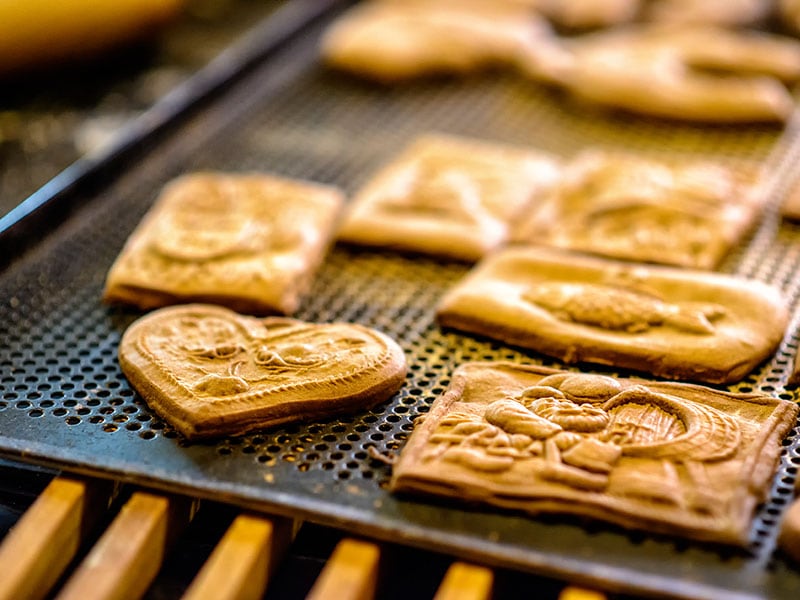 Toruń Gingerbread is a traditional Polish delicacy with roots dating back to the Middle Ages in the city of Toruń. It holds a special place in Poland's national cuisine and is considered an iconic treat.
Toruń gingerbread has historical significance and has been presented as a gift by the city to Polish leaders. The city of Toruń commemorates this beloved gingerbread with an annual celebration called Święto Piernika (the Gingerbread Festival).
Two prominent producers of Toruń gingerbread are the confectionery factory "Kopernik" S.A. and the Toruń Bakery.
Austria
64. Linzer Torte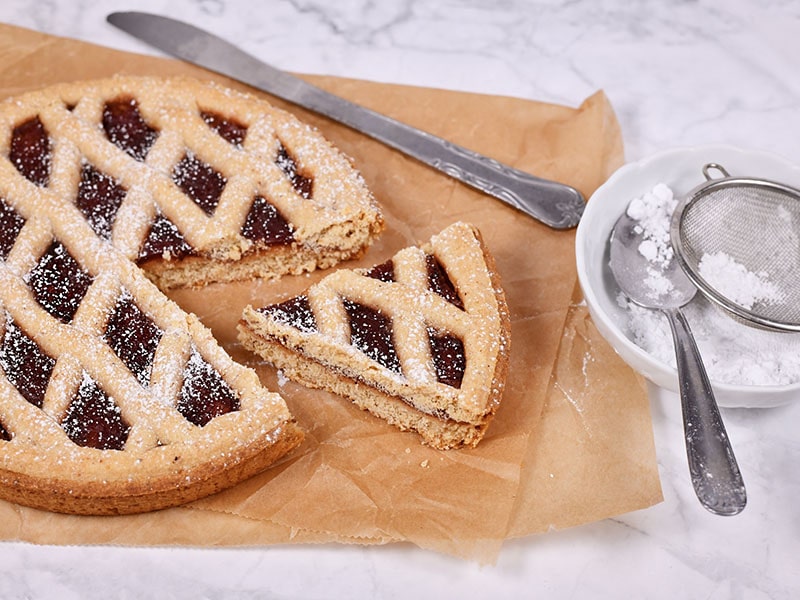 The Linzer Torte is a holiday dessert treat enjoyed in Austrian, Czech, Swiss, German, and Tirolean traditions, particularly during Christmas. It is named after the Austrian city of Linz and is considered the oldest cake named after a city.
This dessert features a crumbly, buttery pastry shell infused with lemon juice, cinnamon, and a choice of almonds, walnuts, or hazelnuts. The shell is then topped with fruit preserves, traditionally redcurrant jam, though raspberry or apricot jam can be used as well.
The lattice design on top, created by crisscrossing strips of pastry, adds to its visual appeal. For a variation, there are also Linzer tarts, which are sandwich cookies with a cut-out circle exposing the fruit preserves, topped with a layer of dough and dusted with confectioner's sugar.
65. Vanillekipferl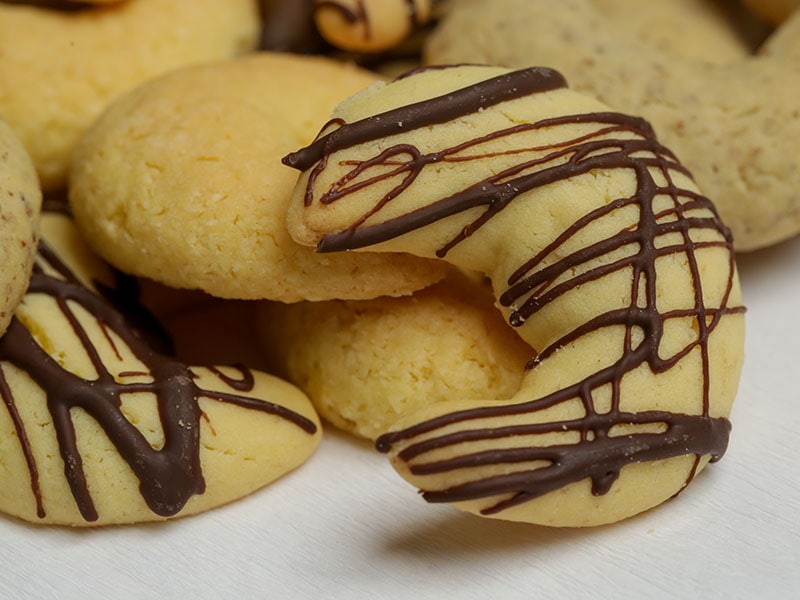 Vanillekipferl are traditional, sweet, crescent-shaped cookies originating from Vienna, Austria. They are found throughout Austria, Hungary, and Germany and are particularly popular during the Christmas season.
Vanillekipferl were invented in the days of the Austro-Hungarian Empire following the empire's victory over the Turkish army at Vienna in 1683. Their shape mimics the Turkish crescent moon on the flag.
These delicate cookies are made with flour, sugar, butter, and vanilla, and traditionally include walnuts, though locals also use almonds or hazelnuts. They are often dusted with powdered sugar or dipped in chocolate.
You can easily find Vanillekipferl sold in Viennese coffee shops. If you want to try baking them at home, note that the dough tends to crumble easily, which might pose a challenge.
66. Apfelstrudel (Austrian Apple Pastry)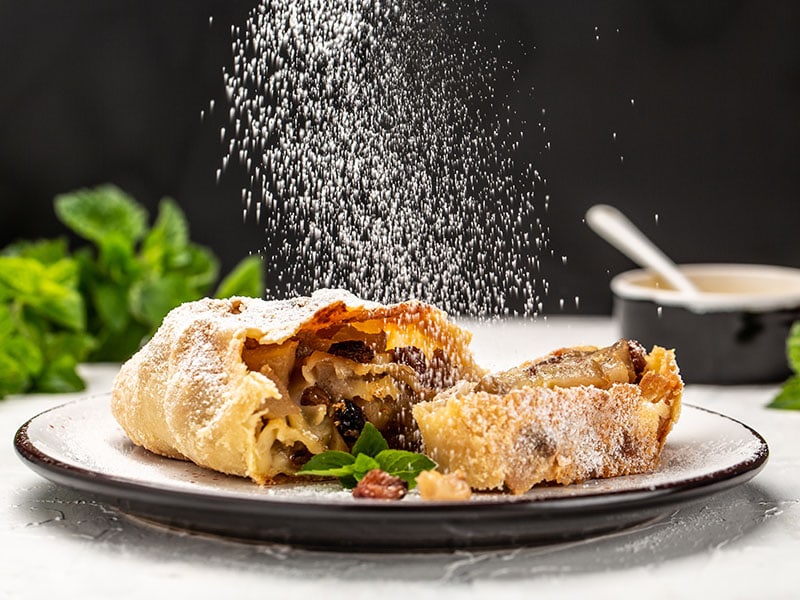 Predominantly found in Austria, Bavaria, the Czech Republic, Northern Italy, Slovenia, and other nations that once formed part of the Austro-Hungarian Empire, Apfelstrudel has a rich history.
An original handwritten recipe from 1697 preserved at the Wienbibliothek im Rathaus is testament to its enduring legacy. The Apfelstrudel is a symbol of Austrian gastronomy, sharing the national dish title with Wiener Schnitzel and Tafelspitz.
The star of the show in this pastry is undeniably the apple filling. It strikes a beautiful balance between sweetness and spice, owing to the mix of grated cooking apples, sugar, cinnamon, and bread crumbs.
The thin and elastic dough encloses the filling, creating a wonderful texture contrast when baked. Topping it off, indulgent additions like vanilla ice cream, whipped cream, custard, or vanilla sauce are widely appreciated.
It's a common sight at Viennese cafés, served alongside tea, coffee or champagne.
67. Sacher Torte Cake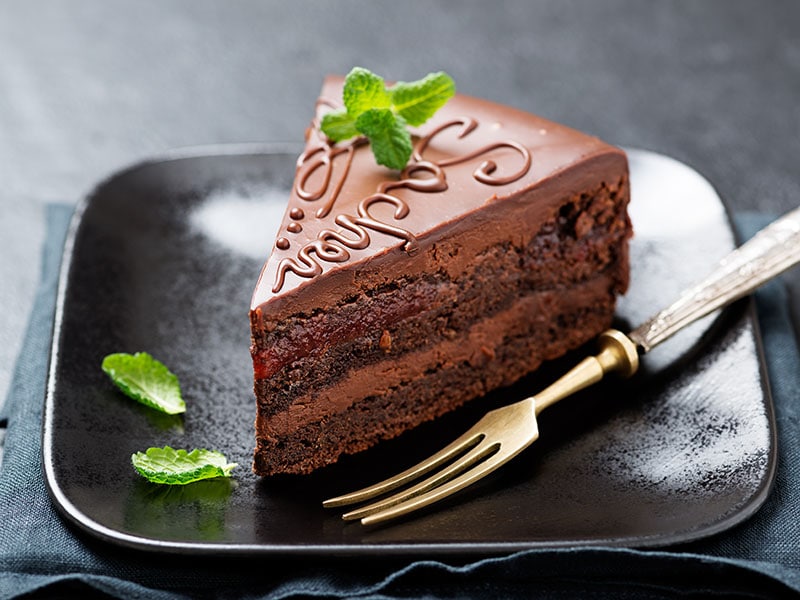 Sacher Torte Cake, a dense chocolate cake, was the brainchild of Franz Sacher. He was a pastry chef serving under Prince Clemens Lothar Wensel Metternich, the State Chancellor of Austria, back in 1832.
Its defining feature is a thin layer of apricot jam nestled between two rich chocolate halves, all encased in a luscious dark chocolate icing. When served with unsweetened whipped cream, it's a symphony of flavors.
Interestingly, there are subtle differences between variants. The basic Sacher Torte boasts two layers of jam between the sponge and chocolate icing, while Demel's "Eduard-Sacher-Torte" has just one layer of chocolate and jam. Demel's version also claims a denser yet smoother texture.
68. Mozartkugel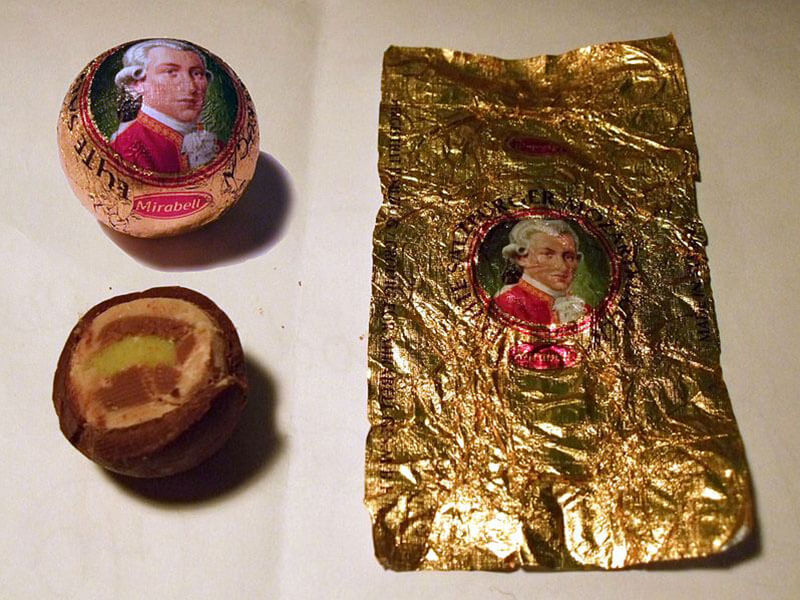 A tribute to the legendary Wolfgang Mozart, Mozartkugel is a petite round sugar confection that elegantly blends different flavors and textures. Crafted by confectioner Paul Fürst in 1890, these exquisite treats were first known as Mozart-Bonbon.
The core of each Mozartkugel is a pistachio-flavored marzipan ball, subsequently wrapped in a layer of nougat. The finishing touch is a luxurious coating of bitter dark chocolate.
Interestingly, Fürst's descendants continue the tradition of creating handmade Original Salzburger Mozartkugeln to this day. These chocolates are wrapped in metal foil, maintaining their freshness for about eight weeks at room temperature.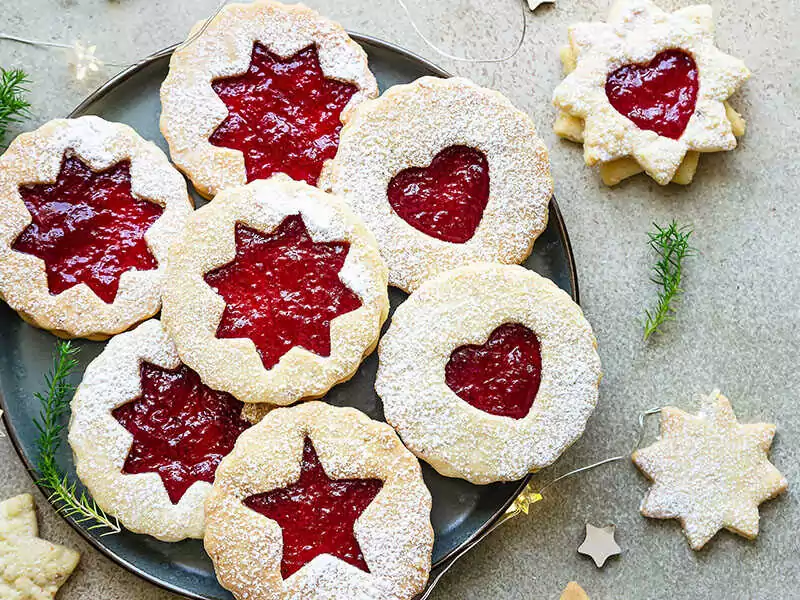 These traditional Christmas sandwich cookies take inspiration from the Linzer Torte. With their soft, buttery texture, they play host to an appealing jam filling. Apricot or strawberry jam is customary, lending a sweet-tart contrast to the cookie.
The unique feature of these cookies is the top half, flaunting a cute hole that lets the jam peek through. After their assembly, a dusting of powdered sugar provides a winter-like touch.
The fun part is, you can adapt them using your favorite jam or fig. And if baking isn't your cup of tea, you can find these cookies in stores any time of the year.
Germany
70. Schwarzwälder Kirschtorte (Black Forest Cake)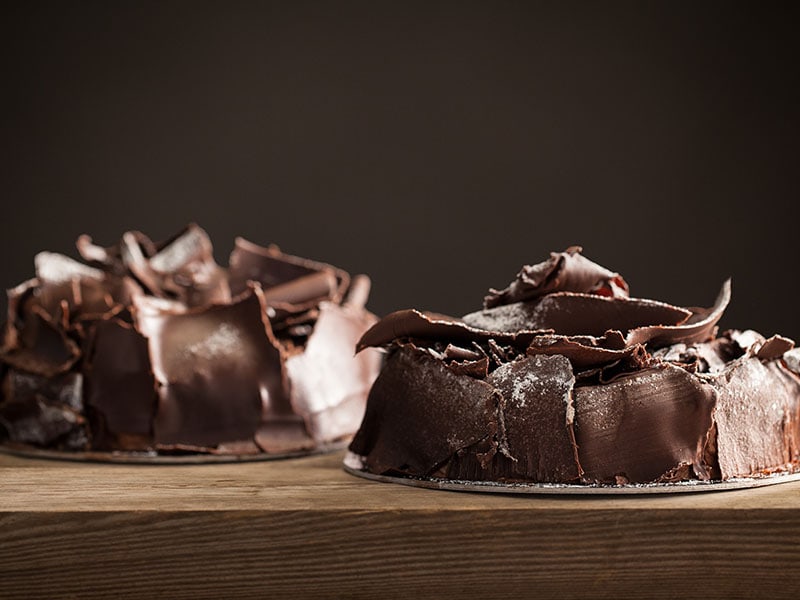 The Schwarzwälder Kirschtorte, also known as the Black Forest Cake, is a celebrated German sweet. Its composition is an elegant ensemble of chocolate sponges slathered with whipped cream and accented with kirschwasser-infused cherries.
Kirschwasser, a clear brandy derived from sour cherries, is often used to soak the cake layers or enrich the whipped cream. This distinct ingredient is so integral to the identity of the cake that German law dictates any dessert labeled as Schwarzwälder Kirschtorte must contain it.
71. Lebkuchen (Honey-Sweetened German Cakes)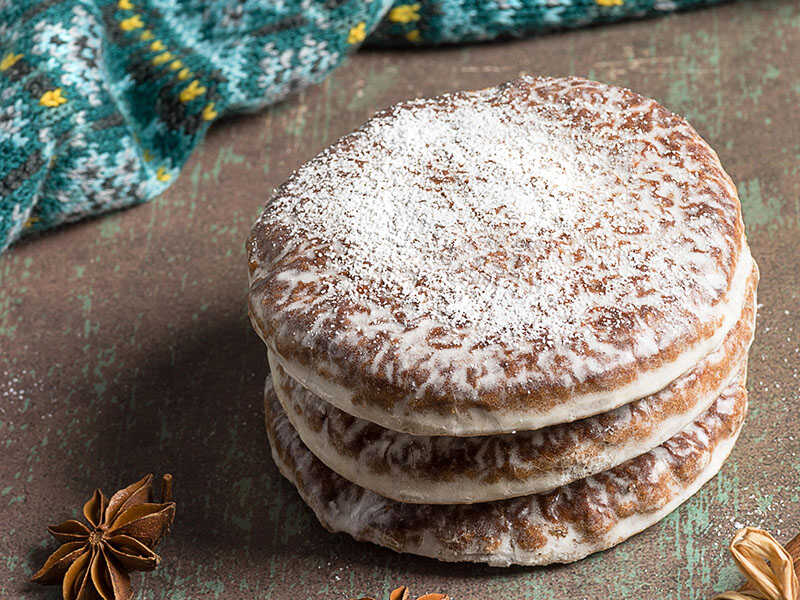 Lebkuchen are not your average cookies. Think of a relative to gingerbread, but steeped in tradition and with their own twist. They're honey or ginger-flavored, but what makes them stand out is their spice mix.
They encompass a rich blend of spices – aniseed, cloves, coriander, nutmeg, and cardamom. They're even adorned with various types of nuts or candied fruit. For people living in Germany, winter holidays feel incomplete without them.
Lebkuchen softness is a delightful contrast to the traditional icing or dark chocolate coating, often baked atop thin wafers known as oblaten.
These cookies, from spicy to sweet, come in various shapes, round being the most frequent. Among the numerous types, the heart-shaped Lebkuchenherzen is a standout. They're a bit harder than the others and beautifully decorated with icing inscriptions.
Differentiating types of Lebkuchen in Germany can also be a fun endeavor, as it's usually based on the kind of nuts used.
72. Berliner (German Jelly Doughnut)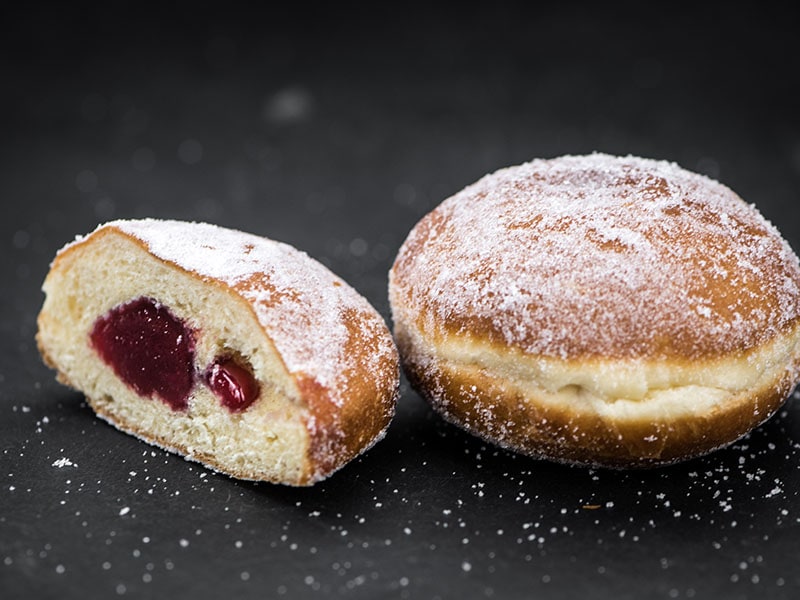 The Berliner is a jelly doughnut symbolizing German tradition. Its roots lie in the 1800s, named after a patriotic baker from Berlin, according to legend. Crafted from sweet yeast dough, it's carefully fried in lard or cooking oil until it achieves a perfect golden exterior.
But the real surprise lies within – a tasty jam filling, usually injected with a large syringe or pastry bag, making each bite a burst of fruity goodness. After adding the filling, the doughnut is generously dusted with powdered or conventional sugar, creating a delicate snowy cap.
The Berliner has also etched its place in cultural celebrations, traditionally devoured during New Year's Eve and carnival holidays like Rosenmontag and Fat Tuesday.
73. Quarkbällchen (Curd Cheese Doughnuts)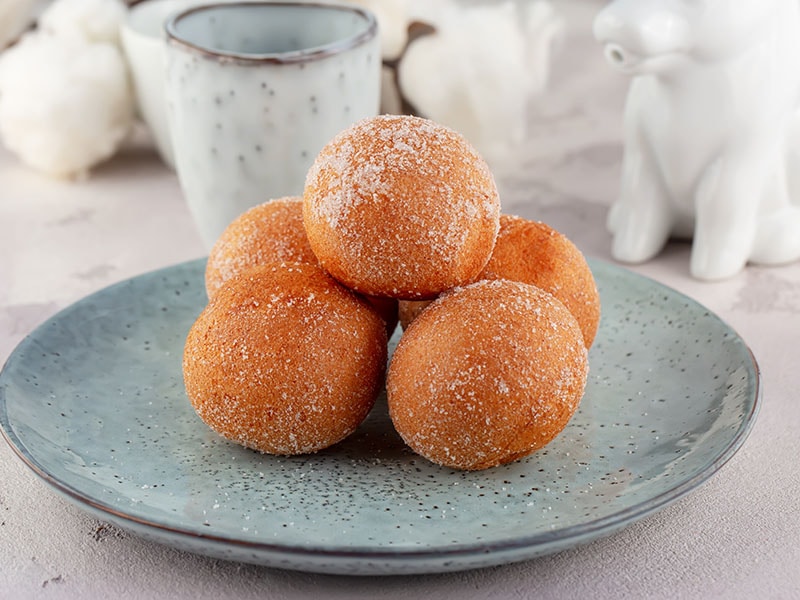 Quarkbällchen (aka curd cheese doughnuts), translating to quark balls, are small, deliciously golden snacks traditionally adored in Germany. At the heart of the recipe is quark, a type of fresh dairy product.
To craft these delectable snacks, the locals combine quark with flour, eggs, sugar, vanilla sugar, and baking powder to create a mixture typically made without yeast. They then mold this blend into petite balls, preparing them for deep frying.
Each Quarkbällchen takes a hot oil bath for about four to six minutes, enough time for the exterior to turn a beautiful golden hue while the inside stays soft and fluffy. Afterward, they're gently coated in powdered or granulated sugar or, for a hint of spice, a cinnamon-sugar mixture.
Let's enjoy these curd cheese doughnuts as an afternoon snack with a companion to a warm cup of tea or coffee!
Netherlands
74. Stroopwafel (Syrup Waffles)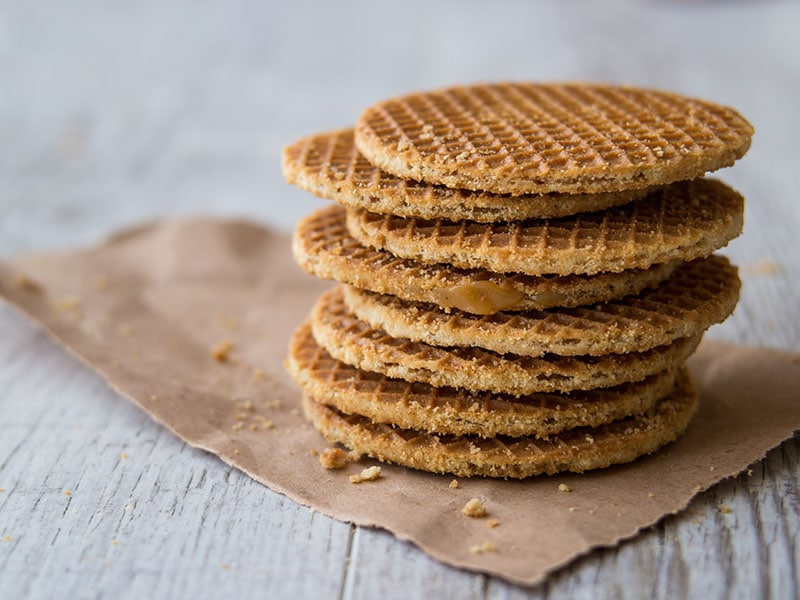 Stroopwafel originated in the city of Gouda in the late 18th century. Each Stroopwafel is a thin, round waffle cookie composed of two delicately crisp wafers, lovingly sandwiching a very thin layer of syrup made from sugar, butter, and cinnamon.
This Dutch sweet treat is traditionally served with a hot cup of tea or coffee. In fact, there's a custom of perching the Stroopwafel atop your steaming cup, allowing the cookie to gently heat and the syrup layer to soften.
The creation of these cookies begins with a stiff dough, pressed in a hot waffle iron until it achieves a desirable crispness. Edges are trimmed with a cookie cutter, allowing the resulting disc to be seamlessly separated into top and bottom wafers.
For those preferring a twist on the classic, the Netherlands also offers honey-filled versions, known as Honingwafels.
75. Poffertjes (Dutch Mini Pancakes)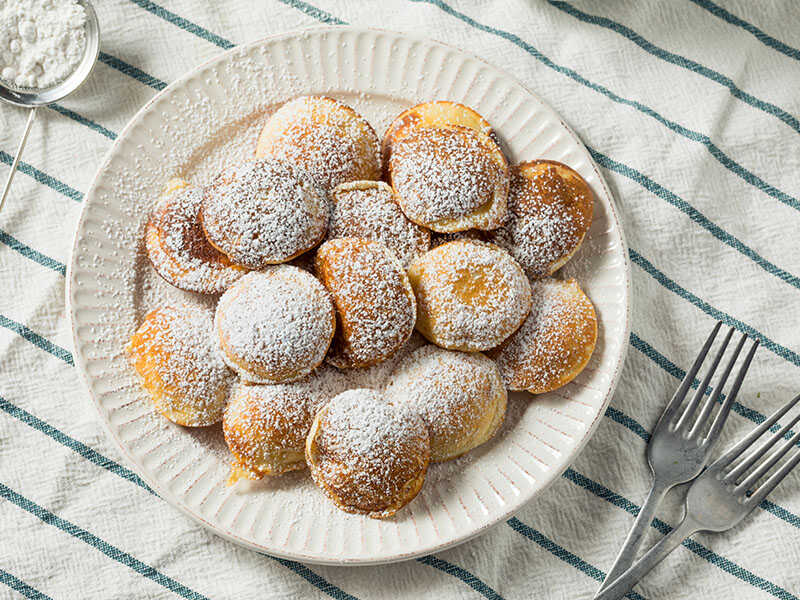 Poffertjes, affectionately known as 'brothers,' are charming, small, puffy pancakes hailing from the Netherlands. Made with a yeast and buckwheat flour mixture, they're traditionally baked in a distinctive pan known as a poffertjespan.
Unlike their larger counterparts, often meant for breakfast, Poffertjes serve as a snack, frequently enjoyed warm from outdoor stands, nestled on a piece of cardboard paper. The standard topping includes a generous dusting of powdered sugar and a dollop of melted butter.
You might find them adorned with fresh fruit, whipped cream, or even a splash of rum. Particularly popular during the festive Christmas and New Year period, you'll spot them across Dutch streets, served from numerous carts.
They also make an appearance at summer festivals and Christmas markets. For a quick fix at home, most Dutch supermarkets stock ready-made poffertjes, just a microwave ping away from deliciousness!
76. Vla (Dutch Custard)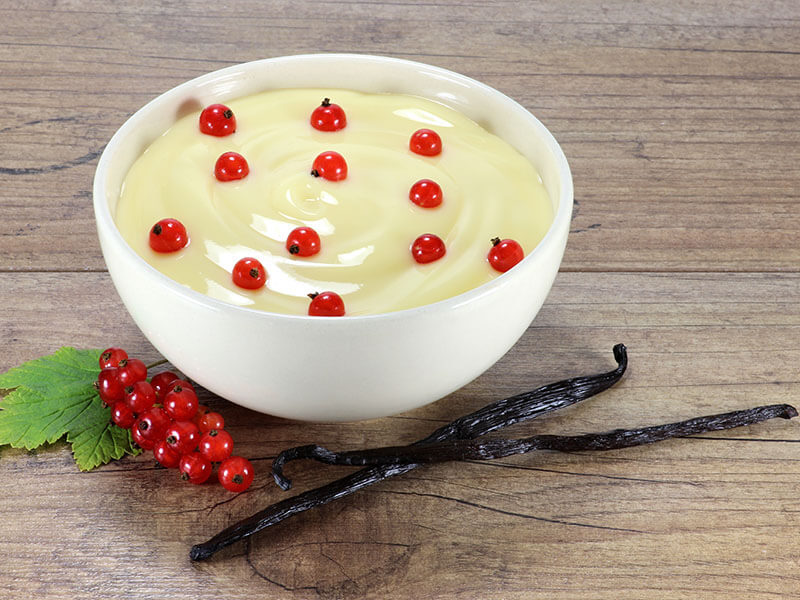 Vla is a rich, creamy dairy product crafted from fresh milk. Once used as a custard-like topping for cakes and baked goods, Vla has since transformed as a stand-alone treat.
Its creation involves eggs, sugar, and milk, although some manufacturers opt for cornstarch instead of eggs in the modern recipe. Among the many flavors available, vanilla takes the crown, closely followed by chocolate, caramel, banana, orange, and apple.
In its early days, Vla was sold in glass bottles. Given its thick consistency, a special tool called a flessenschraper, or bottle scraper, was used to retrieve the delectable content. These days, you'll find Vla conveniently packaged in cartons.
A fun fact: orange-flavored Vla becomes especially popular during Koningsdag (Queen's Day) and significant soccer matches as it mirrors the colors of the Dutch flag!
Greece
77. Bougatsa (Greek Cream-Filled Phyllo Pastries)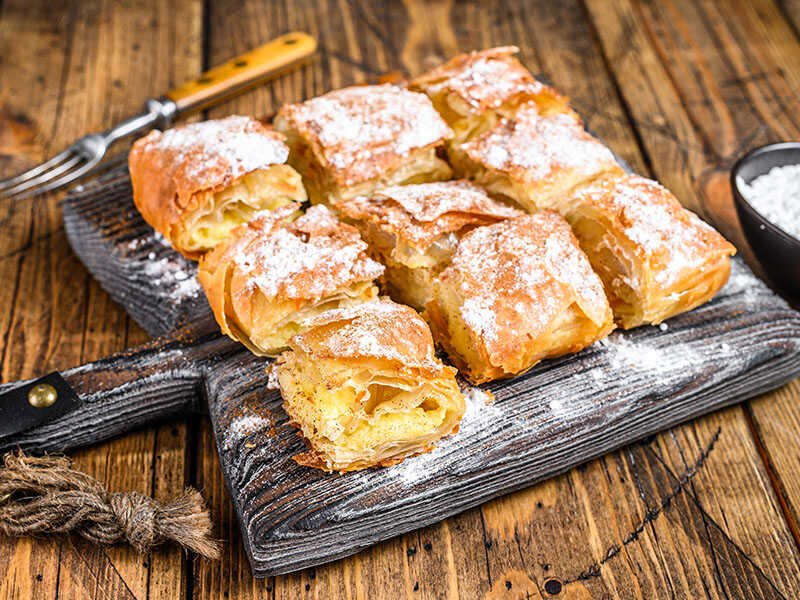 Bougatsa, a custard pie like pastry hailing from Greece, brings together the delicate textures of phyllo and the richness of custard cream. Within this Greek sweet treasure, you'll find a creamy custard made from semolina, milk, and sugar, snugly nestled inside the phyllo pastry.
Once baked, it's allowed to cool before receiving a generous dusting of icing sugar and a sprinkle of cinnamon. That's not all though; honey and pistachio nuts are elegantly strewn across the top, adding another layer of flavor and texture.
Ideal for those warm summer lunch parties, Bougatsa also makes a wonderful breakfast when paired with a cup of thick Greek coffee or a snack. This dish is particularly beloved in Thessaloniki, the second-largest city in Greece.
Apart from the traditional version, other variations include buttercream, sweetened cheese, and the invigorating lemon or orange cream Bougatsa.
78. Melopita (Greek Honey Pie)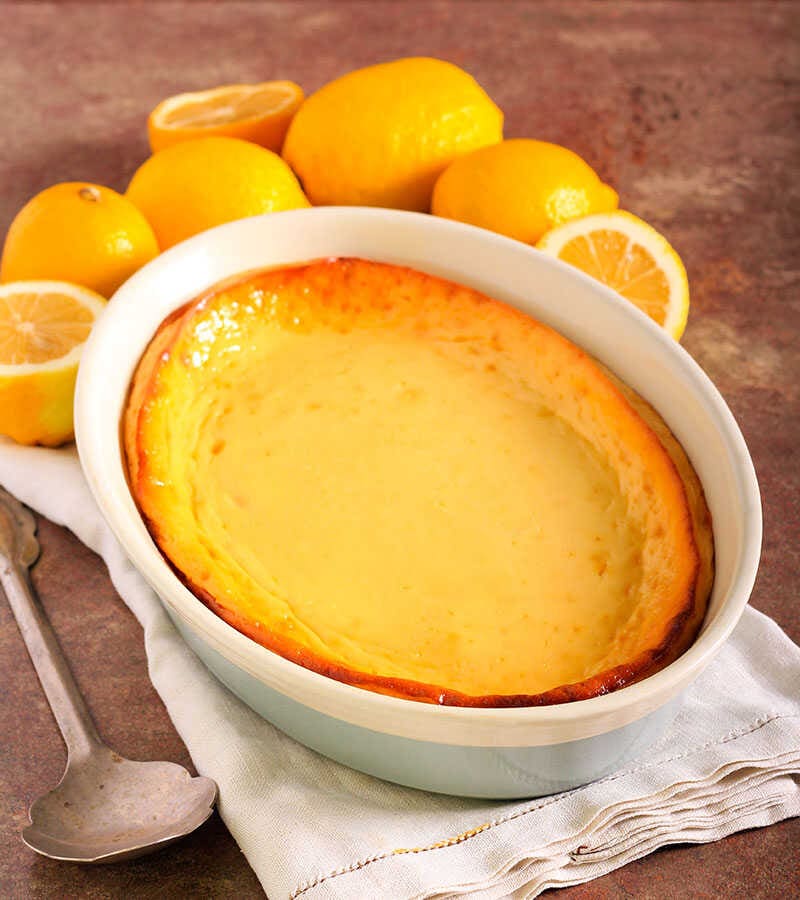 In the heart of Greece, on the picturesque Sifnos Island in the Cyclades, Melopita was born. This honey pie may seem like a cornbread at first glance, but it's lighter, moister, and sweeter. Its taste has a buttery note and a rich honey flavor that seems to melt on your tongue.
A seamless blend of a cake and a pie, its texture comes from anthotyro or mizithra cheese, which bear a resemblance to ricotta. As you dig into the Melopita, a symphony of honey, cinnamon, and nutmeg reveals itself.
What adds to its charm is the outer crust, flaky and reminiscent of a cookie, offering a lovely contrast. For a final flourish, pomegranate seeds are scattered on top as an optional but recommended garnish.
79. Galaktoboureko (Greek Custard Pie)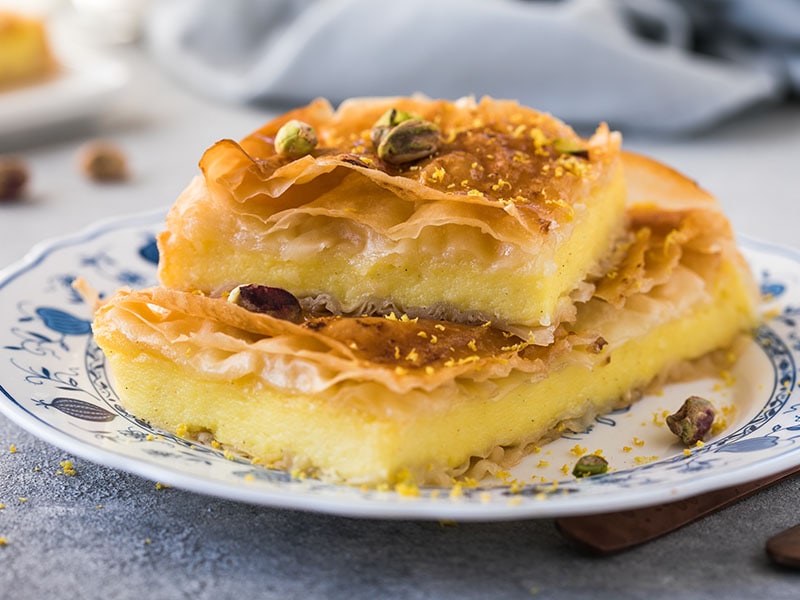 Galaktoboureko is a traditional Greek custard pie that finds a sweet spot between comforting and exciting. Its name, translating to "milk börek", hints at its creamy filling made from semolina flour, eggs, butter, sugar, and milk.
But it's the fragrant vanilla, tangy lemon juice, and warming cinnamon that gives it its iconic flavor profile. Some bakeries even elevate it further by incorporating lemon or orange peels. The pie is wrapped in crisp phyllo pastry before it gets a generous drizzle of cold, spiced syrup.
Unlike its cousin, Baklava, Galaktoboureko has the versatility of being served hot or cold. It's a dessert that is as popular in Cyprus as it is in its Greek homeland.
Turkey
80. Lokum (Turkish Delight)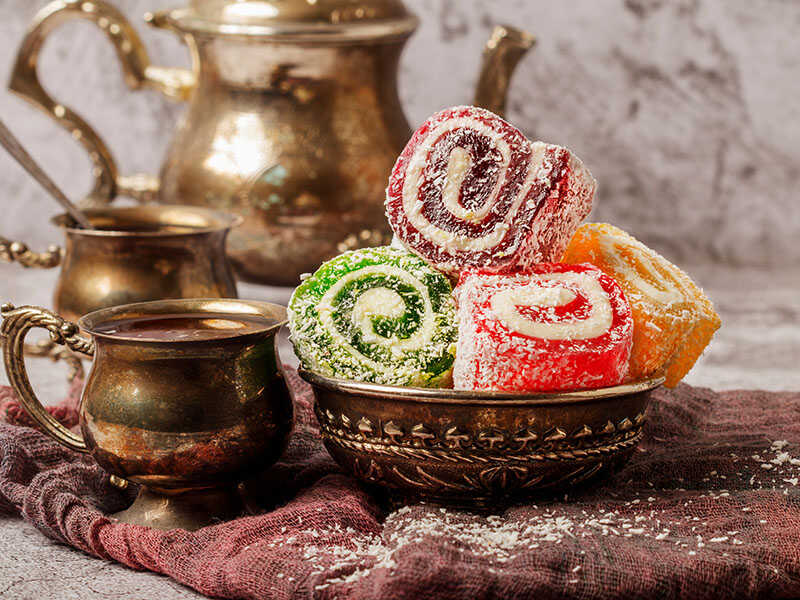 Born in Anatolia, Lokum, also known as Turkish Delight, started to captivate sweet tooths during the expansive Ottoman Empire. At its foundation, this Turkish-origin dessert consists of sweet cubes made from gel, powdered sugar, and starch.
It's the flavors, though, that truly ignite the senses. Think along the lines of rosewater, vanilla, mint, pomegranate, bergamot orange, and even strawberry. Some Lokum are even stuffed with nuts like pistachios or walnuts for an unexpected crunch.
A dusting of powdered sugar finishes off each piece. And for those who appreciate a gourmet twist, artisan variations roll these sweet morsels in coconut, chopped nuts, dried edible rose, or hibiscus petals. A strong cup of Turkish coffee, of course, makes the best companion to Lokum.
81. Güllaç (Rose Pudding)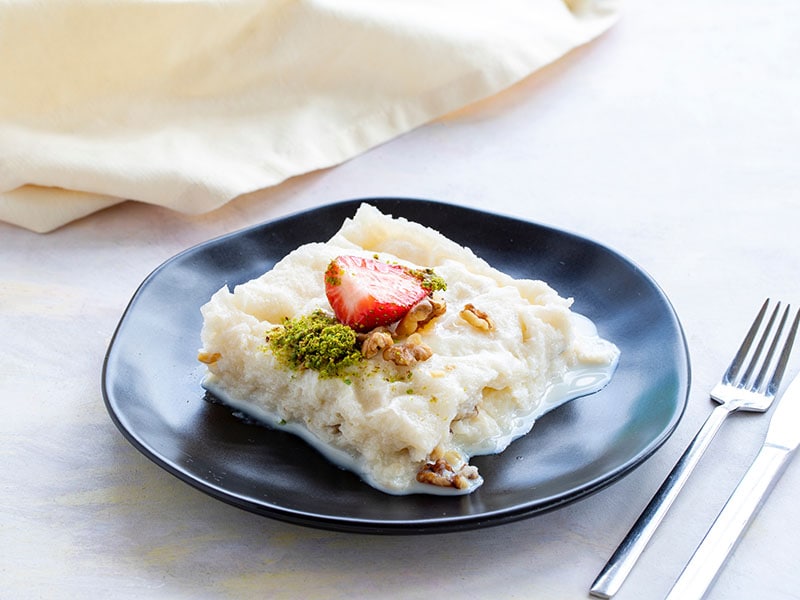 Although Güllaç or Rose Pudding, is primarily a milk pudding, it surprises many with its distinct composition of starch wafers and water-based sheets.
After being soaked in a blend of sweetened warm milk and aromatic rose water, it becomes tender and full of flavor. The final touch, a topping of pomegranate seeds, pistachio, and ground nuts, adds texture and visual appeal.
It's a common treat during Ramadan, and you might link it to the Tres Leche cake with a spongy texture.
Portugal
82. Dom Rodrigo (Angel's Hairs)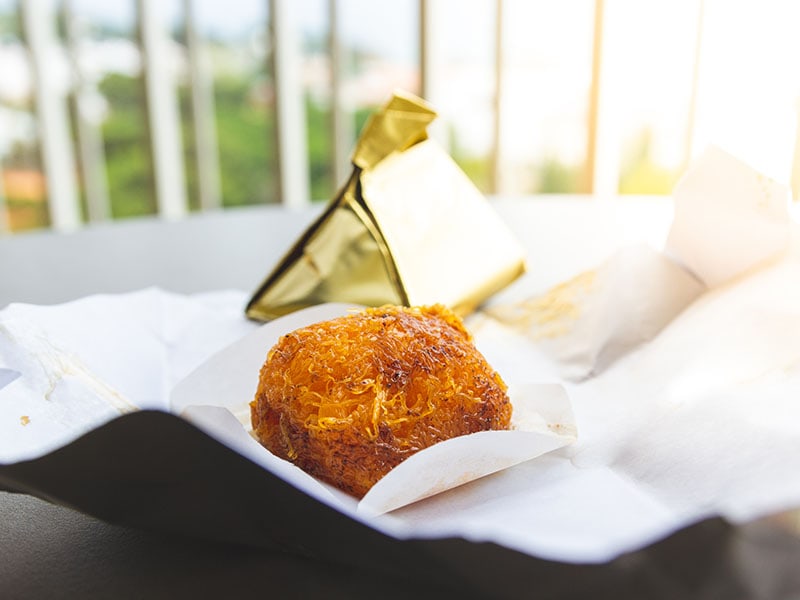 Originating from the Algarve region, Dom Rodrigo, also known as Angel's Hairs, is a Portuguese sweet treat that you should experience once.
The ingredients include sugary egg threads known as 'fios de ovos', egg yolks, ground almonds, cinnamon, and sugar. Locals usually wrap in a colored foil and form the foil into a pyramid shape. They also come with a ribbon on the foil, making it an excellent gift for others.
83. Pastéis De Nata (Portuguese Custard Tarts)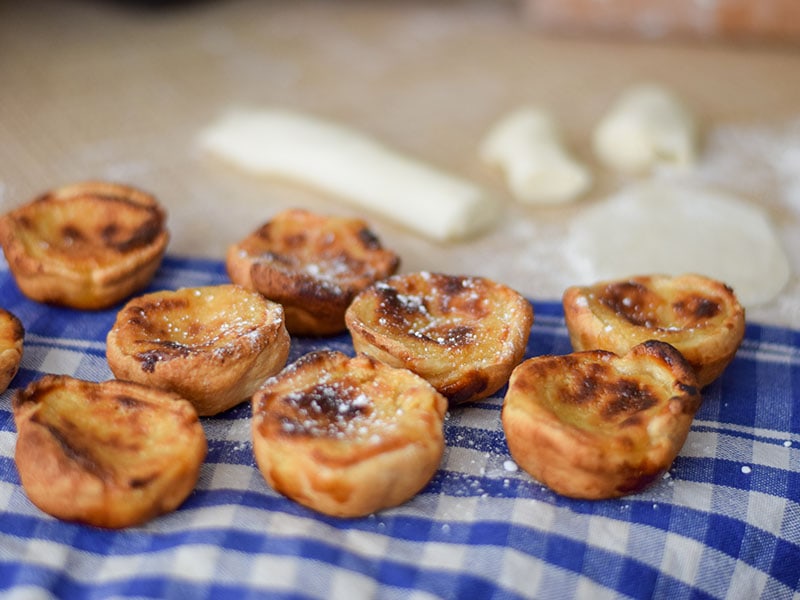 Pastéis De Nata boasts a crisp, flaky puff pastry crust swiftly followed by the creamy custard filling bursting with the warmth of cinnamon and vanilla. To top it off, a soft touch of cinnamon dust graces the tart.
Their origin story takes you back to the 18th century with the Catholic monks at the Jerónimos Monastery in the historic Belem district. To generate funds, these innovative monks started a small bakery. This venture gave birth to Pasteis de Belem, the original name for these tarts.
Today, this original name survives solely at a cafe in Belem. Let me warn you; the first tasting experience of these tarts can be a surprise due to the unrivaled depth of flavors!
Ireland
84. Porter Cake
Porter Cake, a traditional Irish sweet delight, bears a strong association with St. Patrick's Day. Its signature ingredient is Porter, a style of beer known for its rich, dark character. Sometimes, stouts like Guinness step in as substitutes.
This cake is particularly famous during the holiday season, often baked a few weeks before Christmas. Post-baking, the cake is stored in an airtight tin.
To keep it moist and further enhance its taste, a ritual follows – each week, a small amount of whiskey, brandy, or ale is poured onto the cake.
85. Soda Bread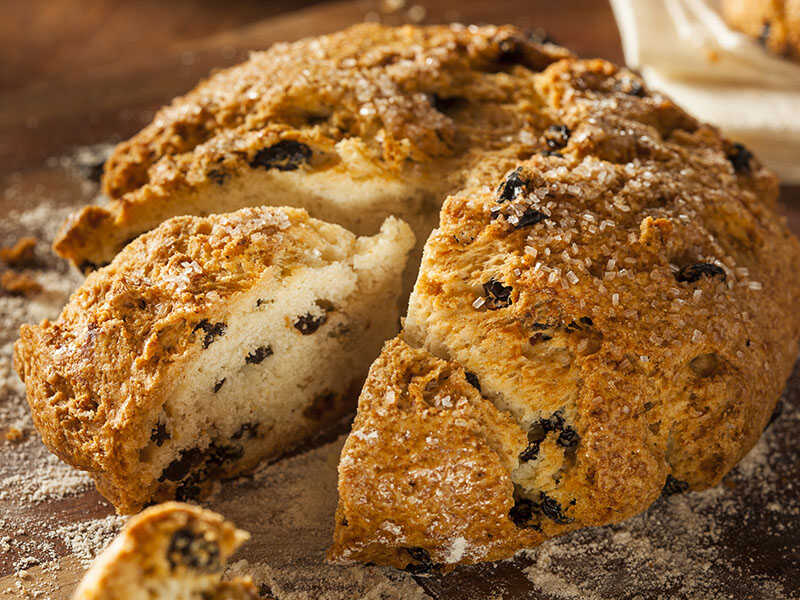 Soda bread, a traditional Irish staple, offers a satisfying crunch and soft interior. It's best made with cake or pastry flour, preferred for its lower gluten levels over bread flour. Instead of buttermilk, some bakers prefer using live yogurt.
What's unique is that the dough doesn't require kneading, a step that's essential in most other bread. Varieties are numerous, from using wholemeal to white flour or a mix of both.
It's a frequent sight in Irish cafes and bakeries, with modern twists including ingredients like Guinness, treacle, walnuts, and herbs. A rarer version incorporates caraway and raisins. "Spotted Dog" or "Spotted Dick" is another name for those including raisins.
Other or Multiple Origins
86. Baklava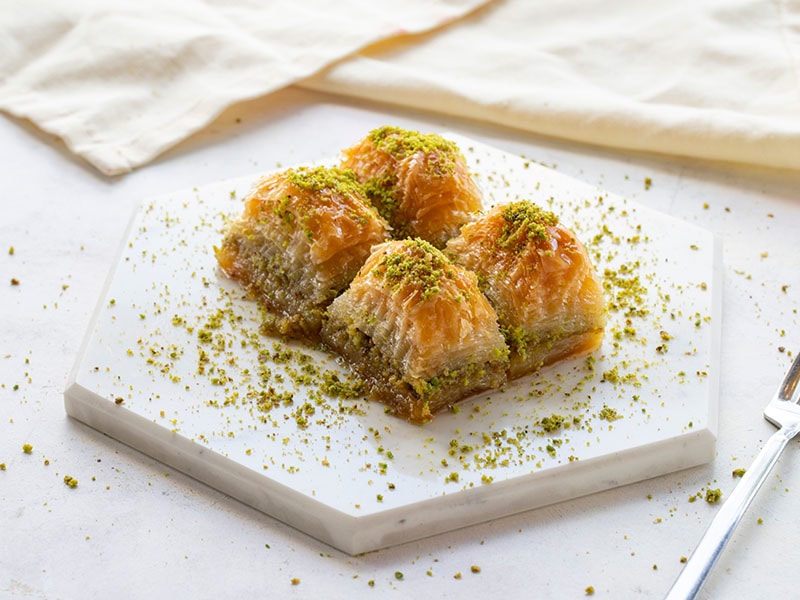 If you fancy a bite of Ottoman history, reach for Baklava – a multi-layered pastry dessert from Turkey, Greece, and other former Ottoman territories. To make this decadent dessert, you start with layers of whisper-thin filo pastry, each separated by the melted butter.
Chopped nuts, such as almonds, cinnamon-flavored pistachios, pine nuts, and walnuts, fills the pastry. The entire assembly is sweetened with either sugar syrup or honey and then baked to perfection.
It's traditionally garnished with sprinkling pistachios and is a wonderful partner to your cup of coffee. The Turkish Gaziantep Baklava even found a spot on the European Commission's list of protected origins in 2013, marking its significant culinary status.
87. Crème Caramel (French Custard)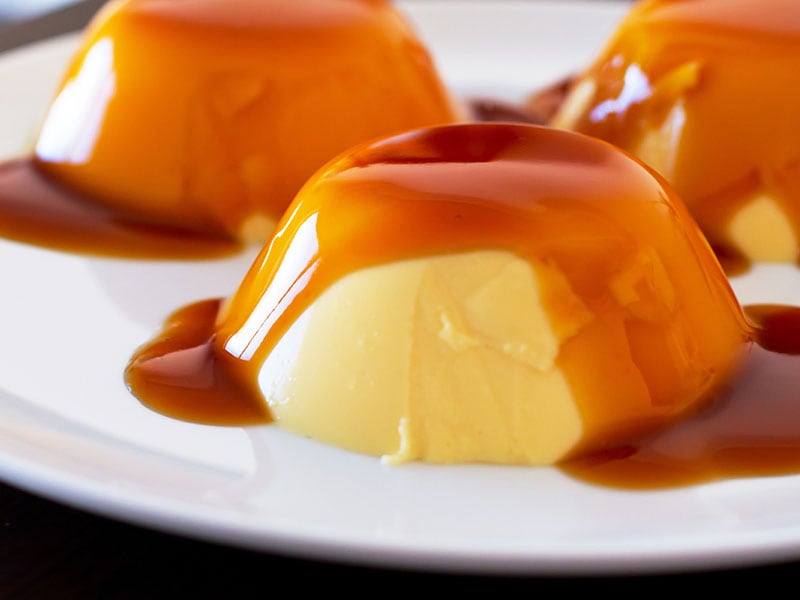 Crème caramel is a worldwide favorite known by many names – flan, caramel custard, caramel pudding, or condensed milk pudding. This sweet treat's origins are steeped in mystery, with the French, English, and Spanish all staking their claim.
The French rendition of crème caramel is made solely with whole milk or cream, giving it an exquisite richness. It's a perfect harmony of custard base and caramel sauce, an indulgence hard to resist.
88. Profiteroles (Cream Puffs)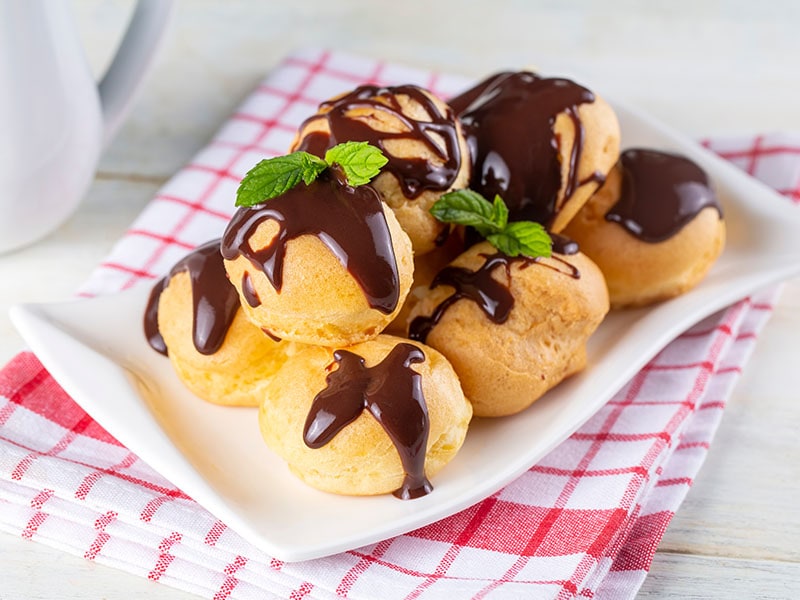 Profiteroles, also known as cream puffs or, in France, Chou à la Crème. These choux pastry balls of French and Italian origin get their name from the French word 'choux', meaning 'cabbage,' for their resemblance to small cabbage heads.
By the mid-19th century, both France and England recognized them as 'profiteroles'. Sweet fillings like pastry cream, whipped cream, custard, or vanilla ice cream transform them into an irresistible treat.
These delights can be served plain or lavished with chocolate sauce or caramel and a dusting of powdered sugar. A glass of dessert wine, tea, or coffee partners beautifully with these cream puffs.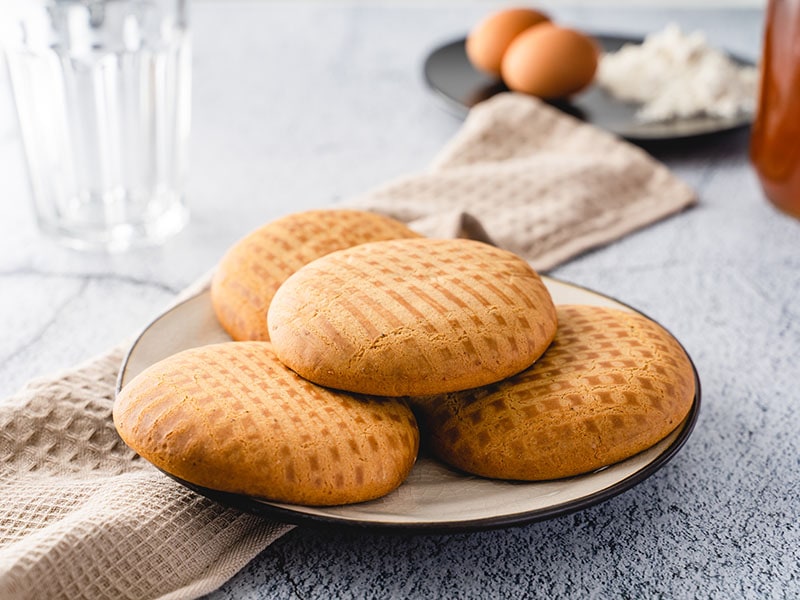 Eastern Europe presents a trove of culinary treasures. And from the list of Bulgarian desserts, you can taste the wonderful cookies called Medenki, or Honey Cookies.
With a resemblance to chocolate-dipped vanilla wafers, Each cookie gets dressed in a choice of white, dark, or milk chocolate coating.
Medenki is soft, chewy, and considerably sweeter than regular cookies due to its rich, honey flavor. Moreover, a cup of coffee or tea finds an excellent companion in Medenki. Their sweetness juxtaposed with the hot drink's bitterness creates a perfectly balanced tasting experience.
90. Flødeboller (Chocolate Covered Marshmallow)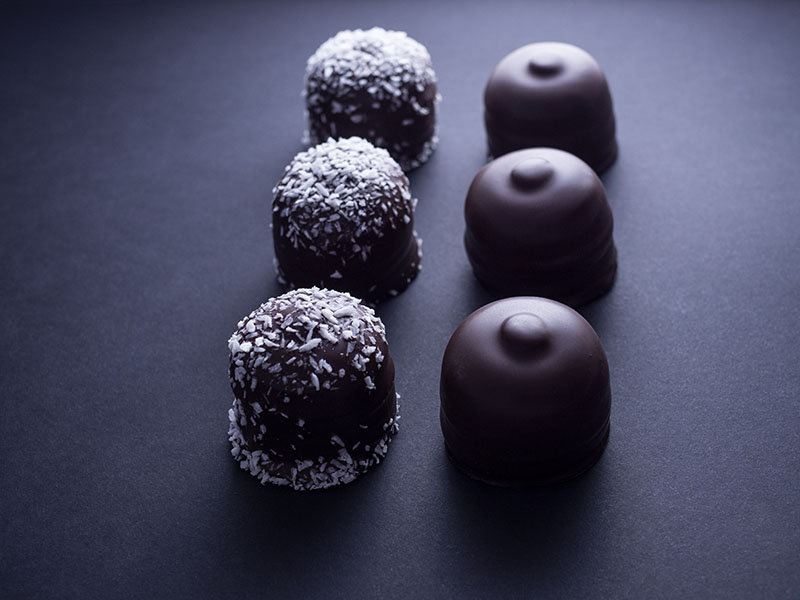 In the city of Copenhagen, Denmark, Flødeboller, a Danish-style dessert brings back fond memories of birthday parties and special occasions. In the past, it carried names of Negerbolle (negro bun) or Negerkys (negro kiss) in the Copenhagen area.
The process begins with a base of a wafer cookie or marzipan, topped off with fluffy meringue. The initial recipes relied on cream fillings (that's why its Danish name means cream buns), but they later evolved to egg white.
Every Flødebolle gets a generous dip in chocolate, offering options from dark to white and even a licorice coating. Sprinkles are optional, but it adds a dash of whimsy.
So where to find it in this country? A visit to most Danish ice cream shops wouldn't be complete without this delightful addition to your ice cream cone. Also, you can find it in various confectionery stores and supermarkets throughout Denmark.
91. Waffles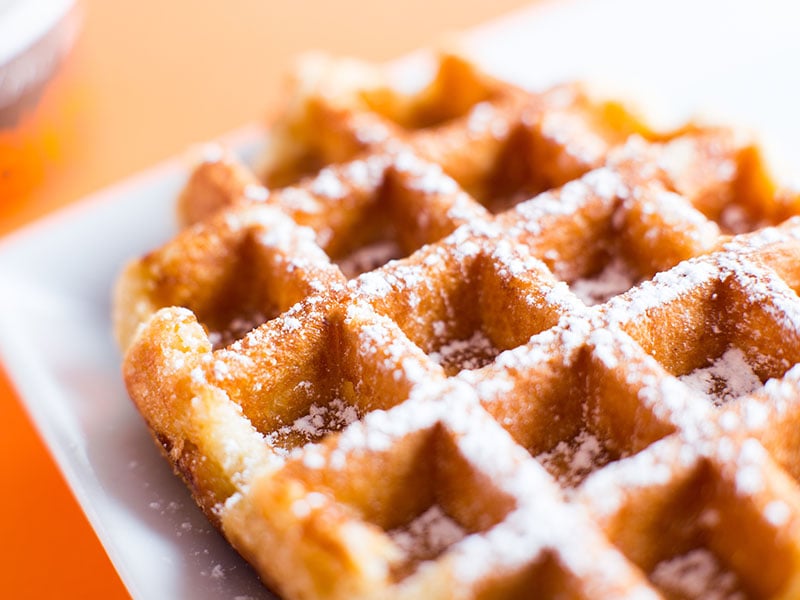 Waffles are akin to their flat cousins, crepes or pancakes, but with a twist. Belgian takes the spotlight as the origin of the most renowned waffle recipes. The leavened dough is carefully prepared, then baked in a special waffle iron, crafting that iconic grid pattern we all recognize.
There are two major types of waffles in Belgium dessert list – the light and airy Brussels waffle, dressed with toppings like fresh fruit, whipped cream, or chocolate, and the denser Liege waffle, with thick dough, warmed with caramelized sugar.
The American version is actually inspired by the Belgian waffles. Overall, they can be either breakfast or dessert, depending on your need. Trace back the lineage of waffles, the first recipe was recorded during the Middle Ages.
92. Meringue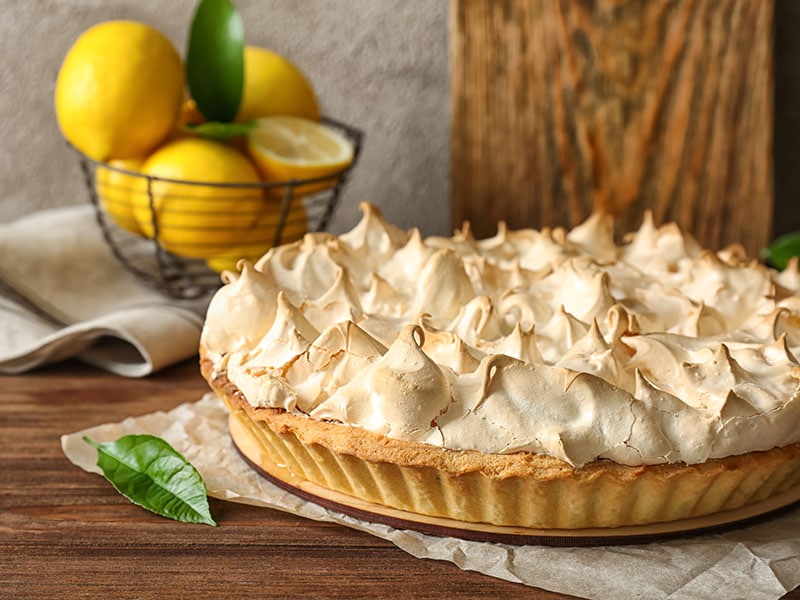 If you are looking for a sweet, airy, and featherweight delicacy, Meringue is a great option. And it's found a home in French, Italian, Swiss, and Polish cuisines.
Meringue is the combination of humble ingredients – egg whites, sugar, and the occasional dab of acid from the cream of tartar, lemon, or vinegar. There might be a binding agent, too, like salt, flour, or gelatin.
The preparation requires a gentle touch, baking at a low temperature of around 176–194 °F for up to two hours. It works excellently as a frosting for cakes or pies. Meringue also plays delightful duets with chocolate, fruits, and ground nuts.
However, the heritage of meringue is still in debate. Larousse Gastronomique, the esteemed culinary encyclopedia, offers two possibilities – a Swiss pastry chef with Italian origins or the chef of King Stanislas I Leszcynski.
Quick fact: The word meringue is derived from 'marzynka', a Polish term.
93. Crème Brûlée (Burnt Cream)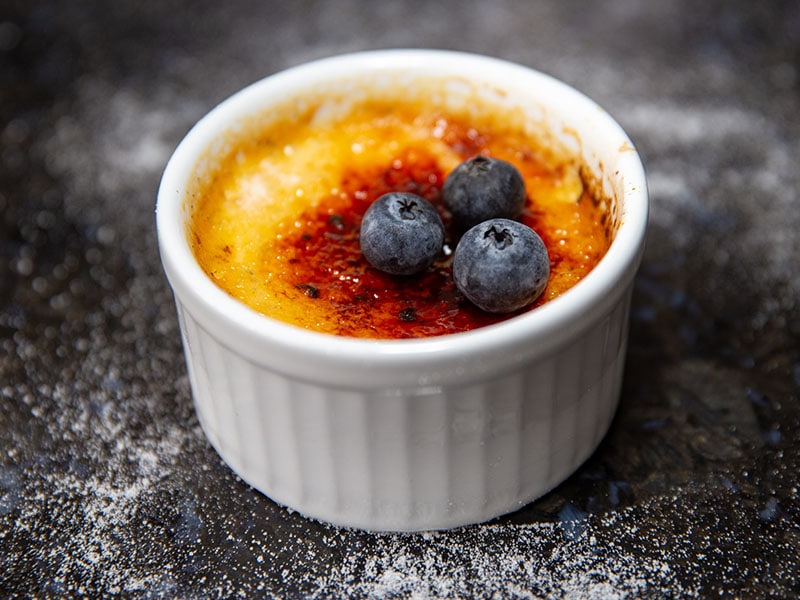 Crème Brûlée, or as some might say, 'burnt cream', is a dessert from the sophisticated kitchens of France. The origin of this classic French dessert is shrouded in mystery.
Claims of invention come from England, Spain, and France, the first written recipe hails from a Palace of Versailles cookbook. It's been relished since the Middle Ages and continues to surprise foodies (like me) until today.
This egg custard dessert is all about indulgence, with its luscious concoction of egg yolks, cream, sugar, and a hint of vanilla. Therefore, every bite is a mixture of caramel and vanilla that you can't resist.
A complex process of baking in a bain-marie ensures its distinct texture, and it's served only after it's been well-chilled. It has a hard, toffee-like crust made from caramelized brown sugar layer, burnt to perfection under a broiler or with a blowtorch.
This step is only done just before serving. The satisfaction of cracking that top with a spoon, revealing the silky custard beneath, is pure joy.
94. Turrón / Torrone (Almond Nougat)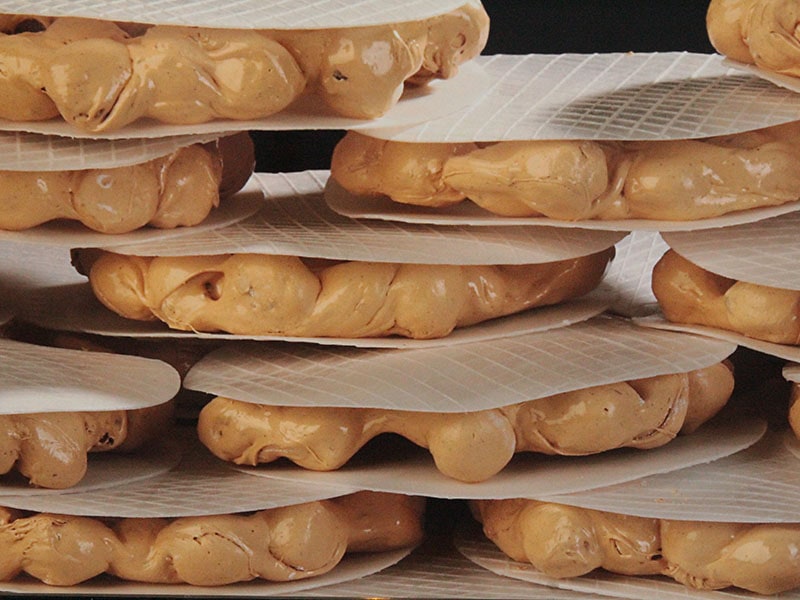 Turrón or Torrone is a classic almond nougat confection in southwestern Europe. 'Turrón' is what the Spaniards call it, while the Italians know it fondly as 'Torrone.' This is a traditional treat served as a Christmas dessert across Spain, Portugal, and Italy.
The main ingredients are simple yet flavorful – toasted almonds, honey, sugar, and egg white. Other nut variations are also elements of surprise in these confections.
Moreover, it typically comes in a rectangular tablet or a round shape. You can cut them into cubes and enjoy them with coffee or brandy.
95. Churros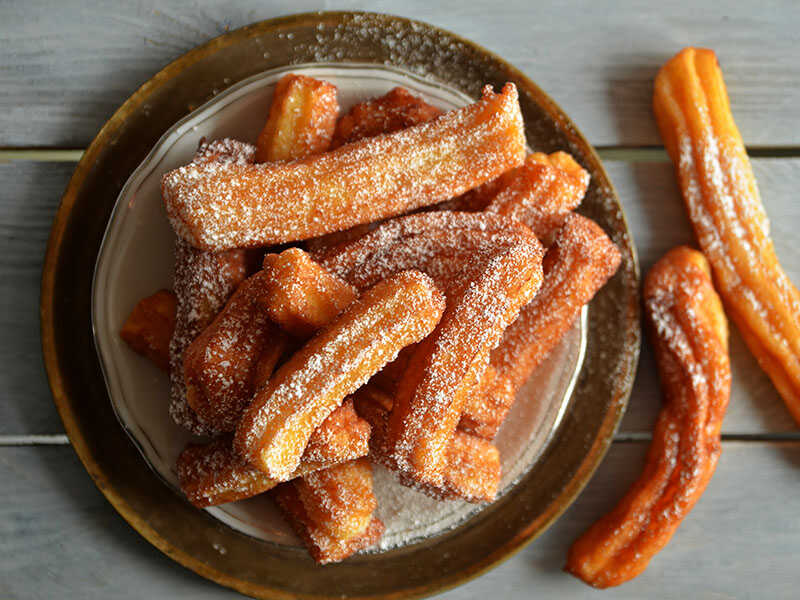 Churros carry a legacy that some attribute to Spanish shepherds, while others believe they arrived in Portugal via adventurous sailors. Regardless of origin, churros have been famous globally with their crispy exterior and soft inside.
Made from a yeast dough consisting of flour, water, salt, and sugar, they're deep-fried until golden brown, then often dusted with cinnamon or sugar for that extra sweet kick.
The simple pleasure of a churro is elevated when paired with rich, velvety chocolate dipping sauce, a comforting coffee, or a mug of hot chocolate.
This deep-fried delight, particularly celebrated as a breakfast food in Spain and Latin America, is also a favored treat in Portugal, Central, and South America.
96. Paskha (Russian Cheesecake)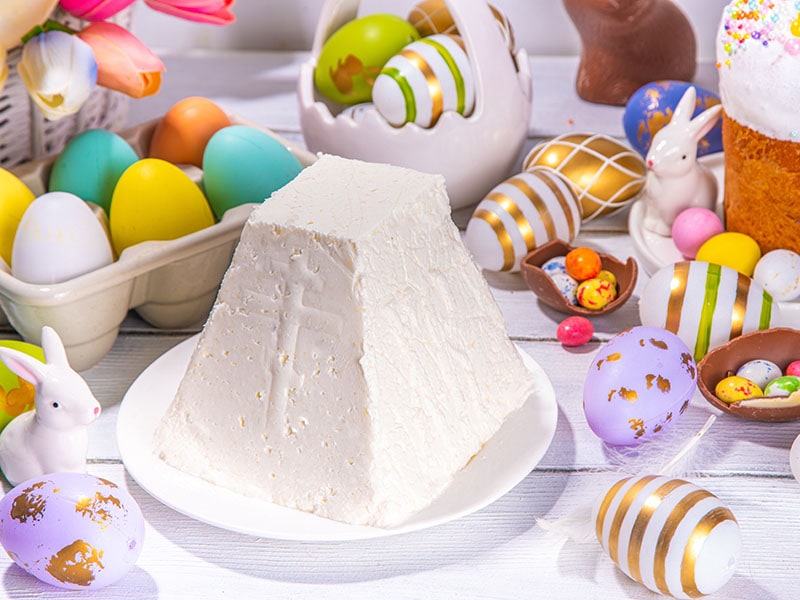 Paskha is a traditional Slavic festive dish deeply intertwined with religious and cultural significance. Made predominantly in Eastern Orthodox countries, its preparation is centered around the holy period of Easter, especially during the Holy Week.
The ingredients of Paskha are symbolic, as it consists of foods that are generally forbidden during the fast of Great Lent, such as tvorog (a type of cottage cheese), butter, eggs, and smetana (sour cream). Additional ingredients like raisins, almonds, vanilla, spices, and candied fruits are also ideal for the mix.
Paskha is traditionally brought to Church on Great Saturday, the day before Easter Sunday, where it's blessed after the Paschal Vigil. Plus, the name "Paskha" itself derives from "Pascha," the Eastern Orthodox celebration of Easter.
The dish is often formed in a specific mold, giving it a unique and identifiable shape. The dish's traditional form is a truncated pyramid shape. This design is meant to symbolize the first Passover in Egypt and Christianity's early Jewish beginnings.
Paskha's white color also implies the purity of Christ, the Paschal Lamb, and the joy of the Resurrection. In many celebrations, Paskha is served as an accompaniment to Easter bread.
97. Kissel (Sweetened Fruit Puree)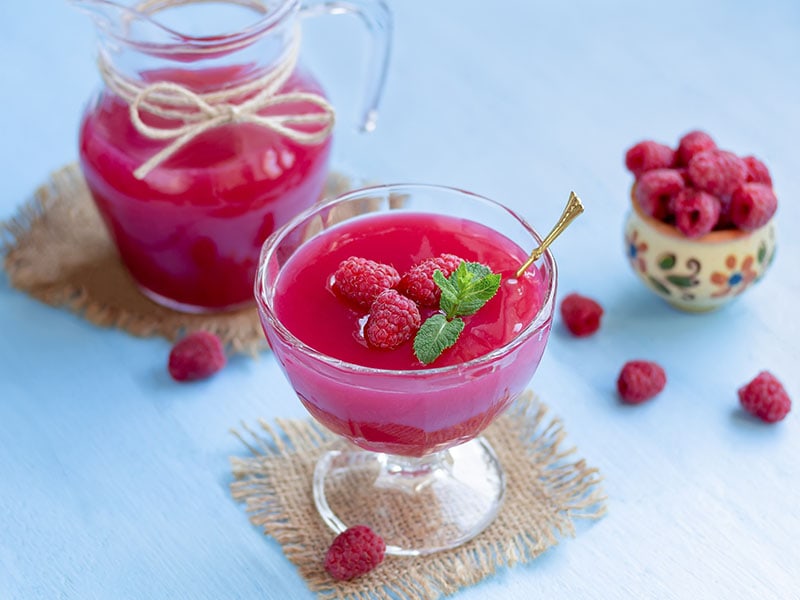 If you're familiar with the Danish Rødgrød or German Rote Grütze as red berry pudding, then you're already familiarized with Kissel, as they share a striking resemblance.
Kissel is a versatile treat that can be a dessert drink or soup. It is widely enjoyed in Poland, Belarus, Russia, and Ukraine. It's usually crafted from summer berries, creating a symphony of sweet and tart flavors.
The process involves combining water, mashed fruit (or fruit juice), with a thickening agent, which could be cornstarch, potato starch, or arrowroot. Red wine or dried fruits can also make an appearance, adding complexity to the taste.
Strawberry, gooseberry, and raspberry are the most loved flavors, but cranberry, cherry, and redcurrant are Russians' favorites. For serving, sweetened quark or cream often accompanies Kissel.
If you serve it as a soup, just combine it with sliced fruit. Beyond that, Kissel can garnish pancakes or ice cream.
98. Kolach Cake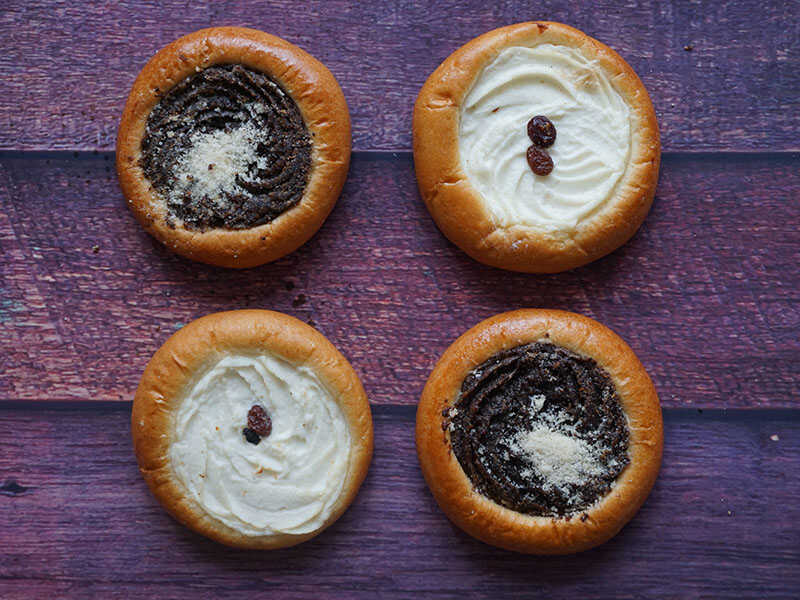 Kolach cake is a kind of sweet pastry including puffy yeast dough surrounding various fillings. Its traditional fillings are as diverse as they are delicious, ranging from tvaroh, a kind of cottage cheese, to fruit jam, poppy seeds, or povidla, a rich prune jam.
The evolving palate of the modern world has seen new fruity entrants to the mix. Now, you might find a Kolach filled with zesty apricot, tangy blueberry, tart cherry, refreshing lemon, exotic pineapple, or plump raisins.
99. Kutia (Wheat Berry Pudding)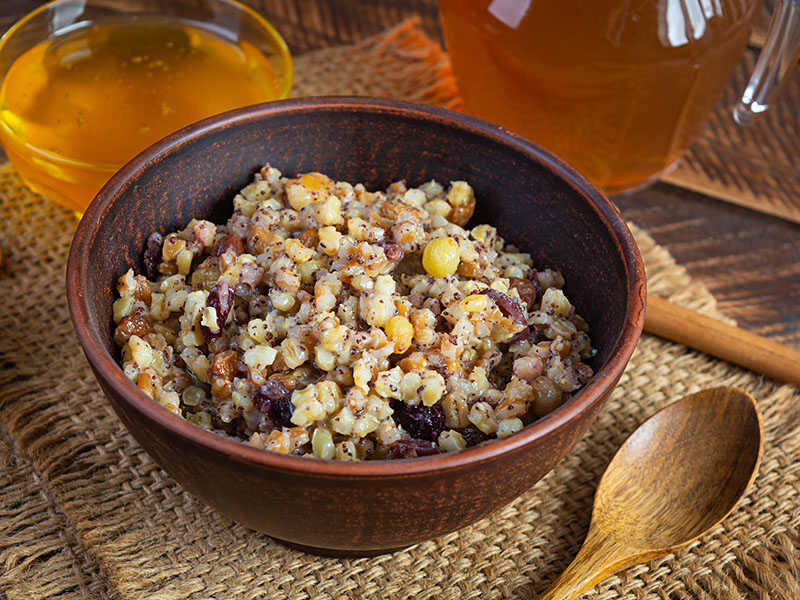 Kutia is a special sweet grain pudding in the culinary traditions of Eastern Orthodox and Byzantine Catholic Christians. It has a history believed to stretch back even before Christianity.
This dish, composed of wheat, berries, nuts, raisins, and poppy seeds, is enhanced by honey or sugar, creating a taste that balances earthy grains and sweet undertones. As a centerpiece of the twelve-meal Christmas Eve supper, it symbolizes holiday joy in Ukraine, Russia, Belarus, and Poland.
There's an enchanting ritual, too! A small bowl of Kutia is placed outdoors on Christmas Eve as a sweet bribe to Father Frost. But its presence isn't limited to Christmas alone. It is also served during the Feast of Jordan holiday season and even in the solemnity of funeral feasts.
100. Syrniki (Cheese Pancakes)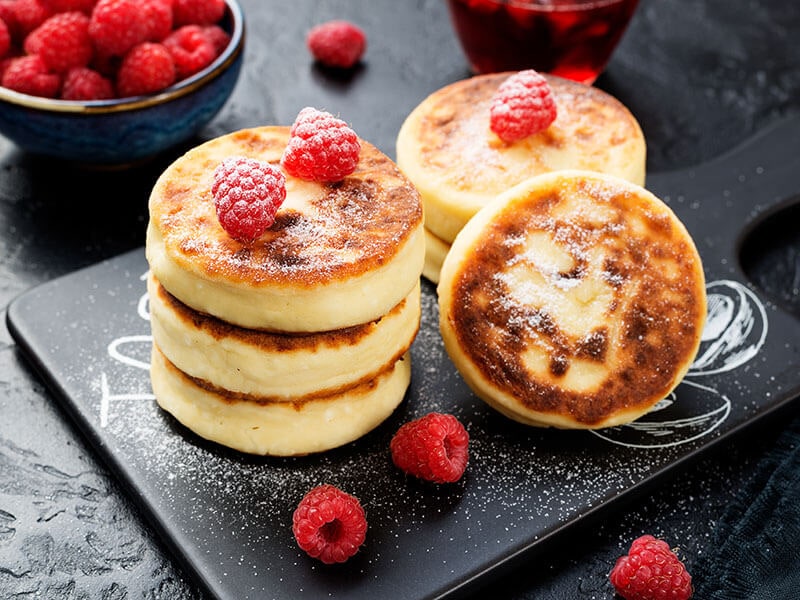 Syrniki, or cottage cheese pancakes, bring a distinct touch to breakfast tables and dessert plates. This beloved staple transcends boundaries, finding its way into the hearts of Russian, Belarusian, Ukrainian, Serbian, Latvian, and Lithuanian cuisines.
Syrniki includes cottage cheese sweetened with sugar, deftly combined with flour to create a workable dough. Then, these pancakes are fried in hot oil until golden brown.
After that, the garnishing comes into play – a dollop of sour cream, a drizzle of honey, a spread of fruit jam, or a heap of applesauce. Each adds a different layer of flavor, complementing the rich cheesiness.
101. Apple Cake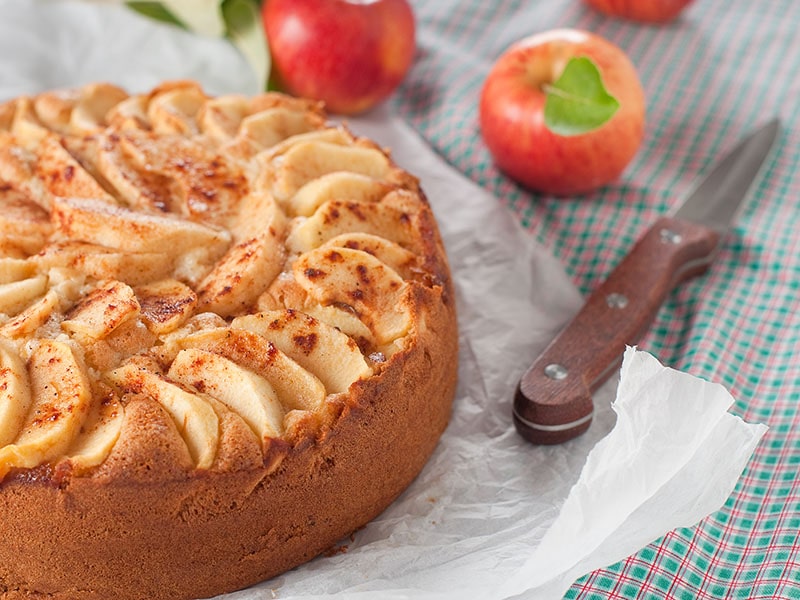 Apple cake brings together the humble apple and the celebratory cake. As a main ingredient, apples lend their natural sweetness, reducing the need for refined sugar.
They come in various forms in these cakes – diced, pureed, or stewed. Complementing the apples are dashes of spices like cinnamon or nutmeg and add-ins like raisins and nuts is also a good choice.
Apple cake is popular around the world. Therefore, it has several varieties, from German Apfelkuchen to Russian Sharlotka, from British and Irish Dorset, Devonshire, and Somerset apple cakes to Polish Szarlotka or Jabłecznik, and French Tarte Tatin.
102. Babka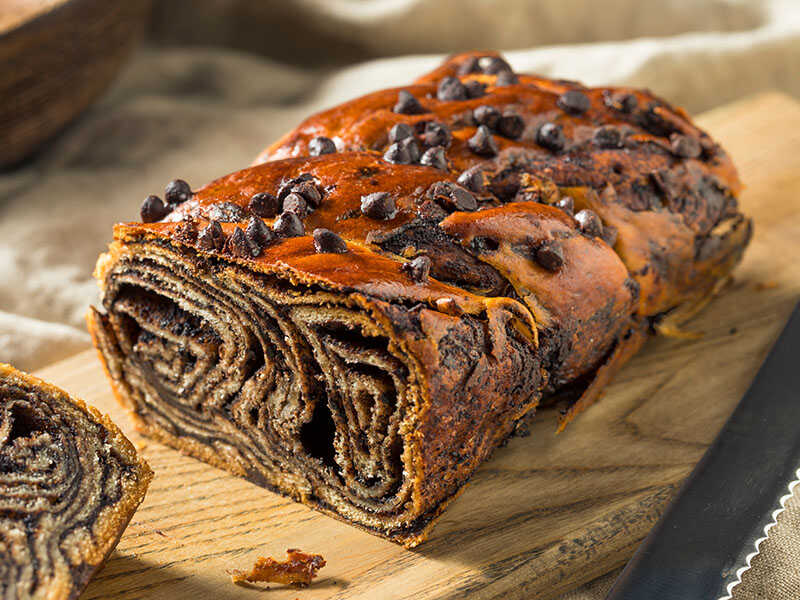 Babka is a sweet braided bread with roots in the Jewish communities of Poland and Ukraine. It is particularly special on Easter Sunday, not only in Poland but across Central and Eastern Europe. Beyond its birthplace, it's also a favorite in Israel and among Jewish communities globally.
This bread is a symphony of flavors, including cinnamon, raisins, chocolate, cheese, and fruits, all nestled within a soft, yeast-leavened dough. And don't forget that glossy finishing touch, a glaze of fruit-based icing.
Its name, Babka, stems from the Polish word meaning grandmothers. It refers to the traditional Bundt mold giving Babka a fluted, round shape reminiscent of a grandmother's flowing skirt. This roundness isn't just a tribute to grandmothers, though; it's also a symbol of fertility.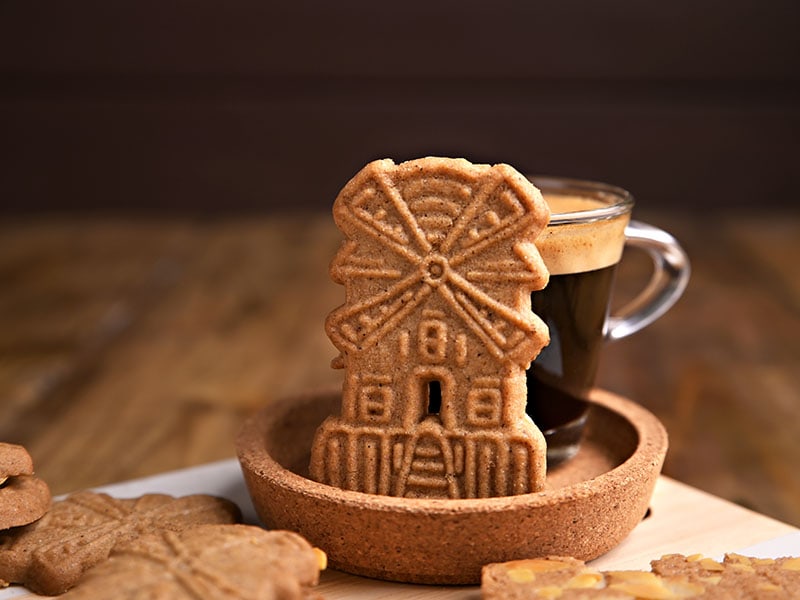 Falling leaves, chillier days, and the scent of Speculaas drifting from kitchens signal the coming of winter in many parts of Europe. These spiced star cookies are a cherished treat in Belgium, the Netherlands, and even parts of Germany, Luxembourg, and northern France.
Every bite of a Speculaas cookie is a burst of warmth, brought on by an aromatic mix of cinnamon, cloves, nutmeg, and ginger. As December rolls around, the baking of these cookies heightens, as they are traditionally baked on the eve of St Nicholas Day, celebrated on December 5 and 6.
What's better, a perfect companion for these cookies is a cup of tea, coffee, or a tall glass of milk. Quick fact: the name Speculaas could come from the Latin word 'speculum', meaning mirror.
104. Kaiserschmarrn (Austrian Torn Pancakes)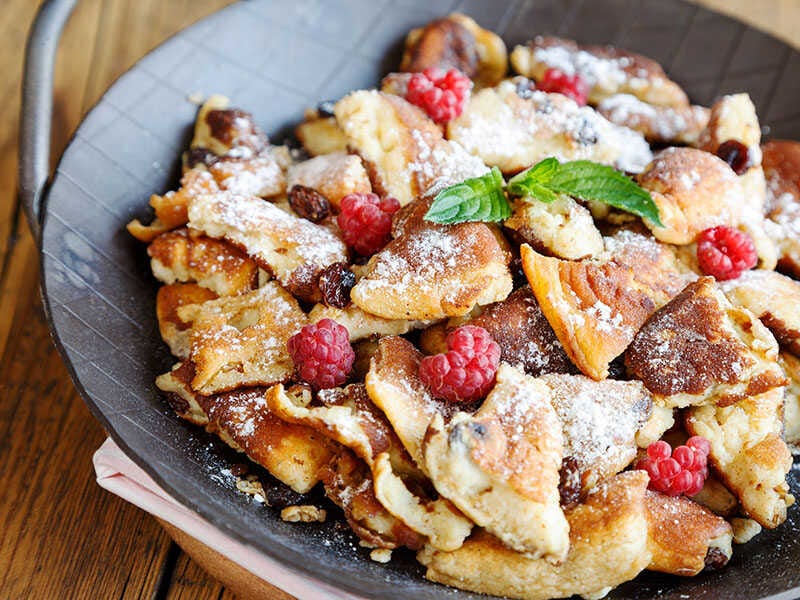 Meet Kaiserschmarrn, or Kaiserschmarren (meaning 'Emperor's Mess'), a shredded pancake! First made for Austrian Emperor Franz Joseph I, this shredded pancake has a storied past. Not just an Austrian favorite, it's beloved in Bavaria, Hungary, Slovenia, Czech Republic, and northern Croatia too.
Kaiserschmarrn blurs the line between dessert and light lunch. It is topped with a dusting of icing sugar and is usually served with a fruit sauce, jam, or compote (plum compote is a common one).
And there's room for innovation, too! Modern iterations incorporate a host of exciting additions, such as nuts, raisins, dried cranberries, plums, or apples.
105. Cremeschnitte (Vanilla Slice)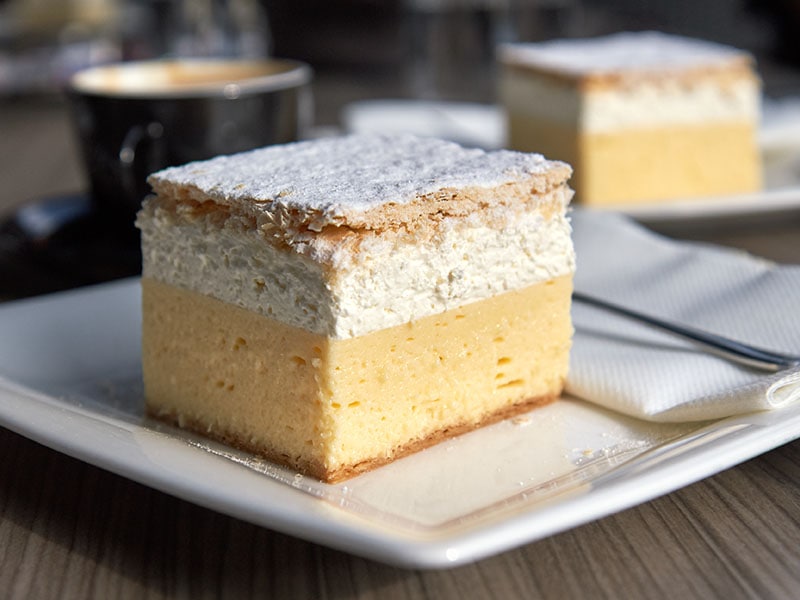 Cremeschnitte, also known as the vanilla slice or custard slice, is a custard and chantilly cream cake. Its name, Cremeschnitte, translates into English as 'cream slice' or 'cream pie', fitting for a dessert comprising a puff pastry base filled with rich, creamy custard.
Regarding its origin, this dessert is a nod to the era of the Austro-Hungarian Empire and has roots deep in the heart of central and eastern European cuisine.
This delectable pastry can be seen as a testament to the blend of two cuisines (Austrian and Hungarian) in the Austro-Hungarian empire. The Cremeschnitte may draw its origins from the French mille-feuille, also endearingly called the Napoleon.
Yet, its popularity doesn't stop at those borders. It's also widely savored across the Balkans.
106. Papanasi (Romanian Cheese Doughnuts/Donuts)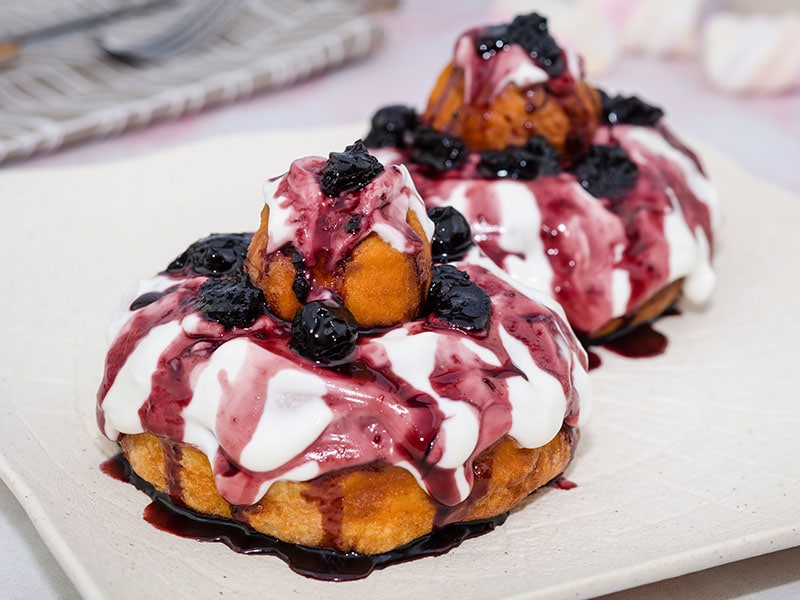 In Romania and Moldova, Papanasi is a fried doughnut filled with sweet cottage cheese. Each Papanasi is crafted from a simple dough mix of flour, eggs, and sugar, before it's deep fried in sunflower oil to achieve its mouthwatering golden exterior.
Once cooked, these doughnuts are adorned with sour cream or a runny, sticky sour cherry jam. This garnish strikes a delightful balance between sweetness and tanginess.
With all of these best features, Papanasi has earned its status as one of the most popular Eastern European desserts. So when you find yourself in a traditional Romanian restaurant in Romania, don't forget to spot this cherished delicacy on the menu.
107. Kladdkaka (Swedish Sticky Chocolate Cake)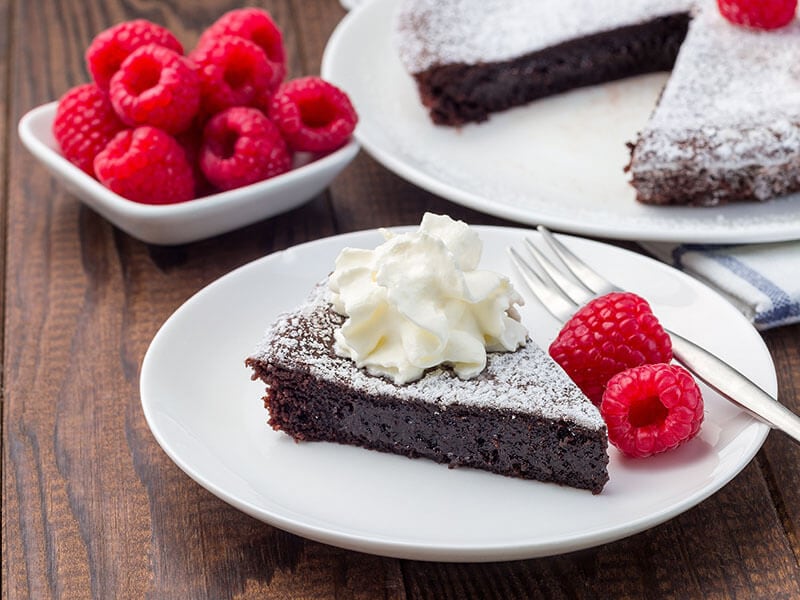 Who can resist the tasty Kladdkaka? This Swedish sticky chocolate cake has a rich, deep, dark color that just invites you in.
Kladdkaka is a mainstay of the traditional Swedish coffee break, which is known as fika. Made from a tempting mix of flour, butter, eggs, cocoa or chocolate, sugar, salt, and vanilla extract, the batter is poured into a tin and baked.
What's extraordinary is its texture – it has a filling that's a bit like a chocolate lava cake. Once out of the oven, you can garnish it with powdered sugar. If you're feeling a little extra, berries can be thrown into it to make Kladdkaka more colorful.
On the other hand, it is also a great idea to enjoy a slice with a dollop of ice cream or whipped cream.
108. Mämmi (Finnish Rye Pudding)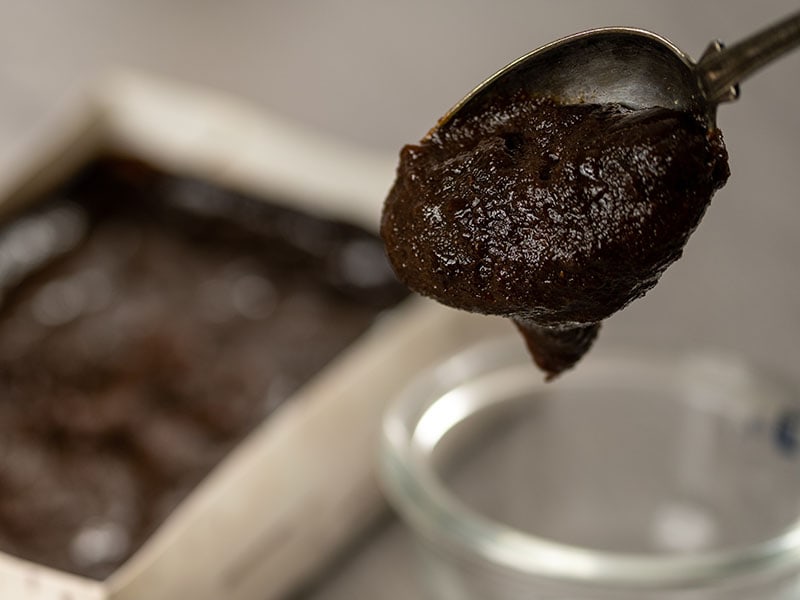 One of the many joys of Easter time in Finland is getting to savor Mämmi, a traditional rye pudding. Made of ground malted rye, rye flour, salt, water, and an intriguing twist – dried, ground Seville orange zest, it's left to sweeten naturally before being baked.
Plus, this Finnish sweet course is typically being chilled for a few days. The dish owes its inviting color and flavor to the Maillard reaction, a fascinating chemical process between amino acids and reducing sugars.
Commercial versions use dark molasses, adding another depth of taste. Mämmi is not just tasty, but nutritious too, being rich in trace elements and offering a good protein boost (has up to 10% protein). Traditionally, it's stored in cute, small birch bark boxes called tuokkonen.
To enjoy it, they are ideally eaten cold. Remember to relish it with milk or cream and a sprinkle of sugar. If you're in a mood for something different, you can spread it on sliced bread or team it with vanilla sauce.
109. Dobos Torta/Dobos Torte (Hungarian Layer Cake)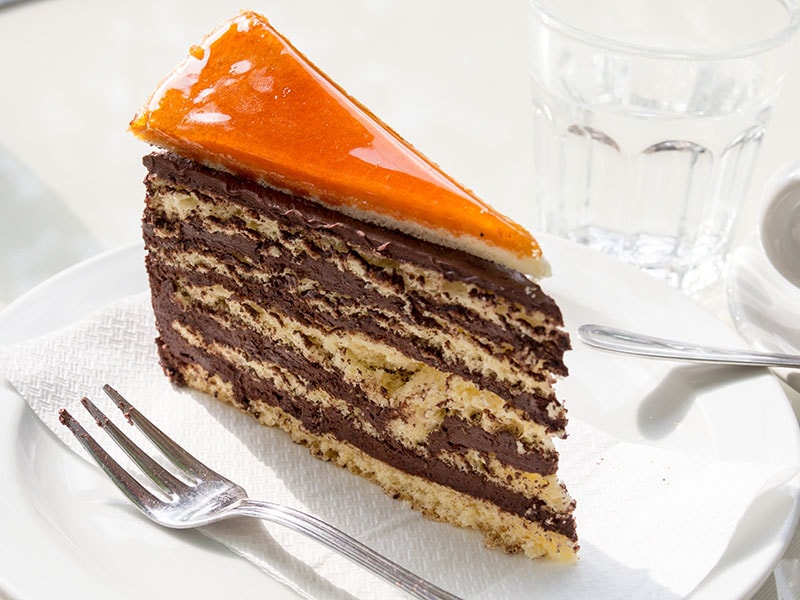 Hungary is home to the Dobos Torte, or Dobosh, a cake that deserves your attention. It's a creation of József C. Dobos, a Hungarian chef and delicatessen owner in Budapest, from the 19th century.
This dessert is a spectacle, with layers of sponge cake and chocolate buttercream. A hardened caramel topping adds a satisfying crunch. What's more, the round sides are lavishly coated with ground hazelnuts, chestnuts, walnuts, or almonds.
Another perk is its long shelf life, making it a perfect cake to take your time with. Throughout Budapest, Dobos Torte graces the display cases of coffee houses and cafes as they are best to enjoy with coffee.
110. Vínarterta (Icelandic Layered Cake)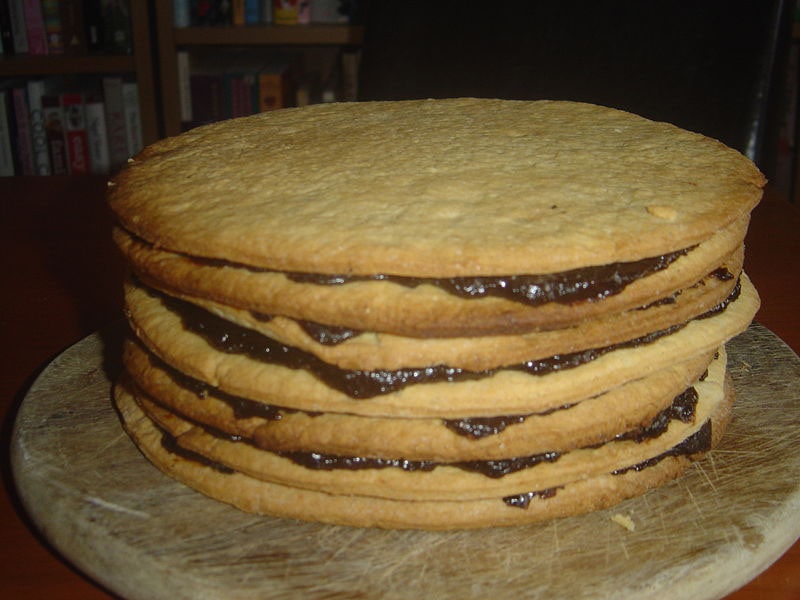 Vínarterta is a delicacy from 19th-century Iceland. It is also a much-loved treat of descendants of Icelandic migrants in North America and Canada.
As a multi-layered cake, you can taste a delightful blend of almond or cardamom-flavored biscuit, and prune or plum jam. But modern versions now use cream or strawberries instead of jam, without tampering with its essence.
The fillings, often infused with warming spices like cardamom, cinnamon, cloves, and vanilla, also come in less-expected flavors such as apricot and rhubarb.
To top it off, some versions have a decadent bourbon-flavored sugar glaze. Despite the little changes over the past 150 years, Vínarterta remains a timeless classic, best paired with a cup of coffee.
111. Churchkhela (Georgian Grape & Walnut Candy)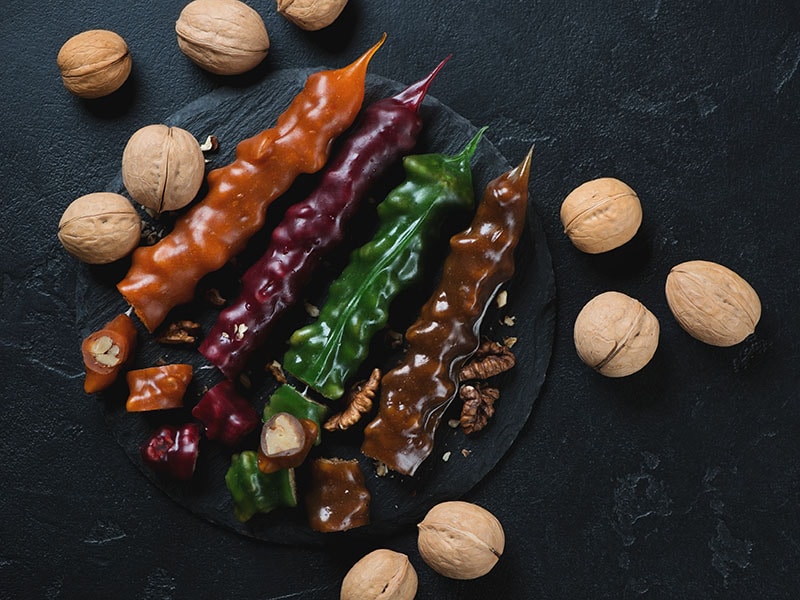 Churchkhela is a candle-shaped candy that you need to try once. Made primarily from grape must, nuts like almonds, walnuts, hazelnuts, and flour, this Georgian delight can be optionally enriched with chocolate, mulberry juice, fruit juices, or even raisins.
Regional variations are seen in its preparation. In eastern Georgia, locals use a condensed juice made from local grapes (called tatara) and thickened with wheat flour, while the western part of the country prefers corn flour and a condensed grape juice known as pelamushi.
Not just a between-meals snack, Churchkhela is also a favorite dessert during New Year and Christmas. The traditional method of crafting Churchkhela in the Kakheti region is so significant. It was inscribed on the Intangible Cultural Heritage of Georgia list in 2015.
112. Trdelník (Czech Cinnamon Pastry)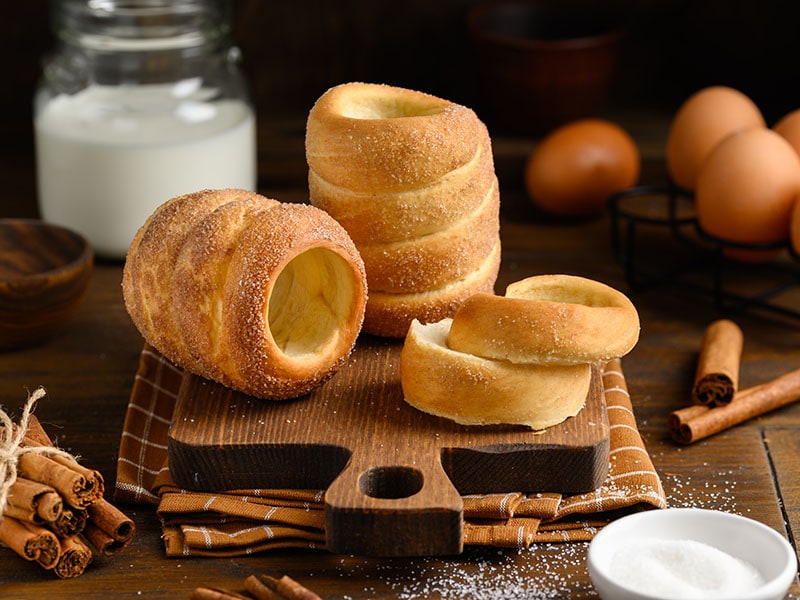 Having had the pleasure of traveling to Prague, I can tell you about the goodness of Trdelník, a Czech cinnamon pastry also fondly known as a chimney cake.
This popular dessert, a variant of the Hungarian Kürtőskalács, is a kind of spit cake that has managed to carve its name into the cuisine of the Czech Republic capital.
The Old Town Prague is where you can feel the prominence of Trdelník, sold by street vendors or inside charming small bakeries. As I would walk down the cobblestone streets, the dough twisted onto a rolling pin (called trndlo), and being cooked over a warm oven was irresistible.
Overall, this is a hollow sweet bread in a cone shape. As for the topping, it's rolled in sugar, adding that touch of sweetness. And for a better experience, you can have your Trdelník dipped in chocolate, sprinkled with cinnamon, or rolled in chopped nuts or candy.
Sometimes, they are filled with whipped cream, ice cream, or fresh fruit
113. Kroštule (Sweet Pantry Knots)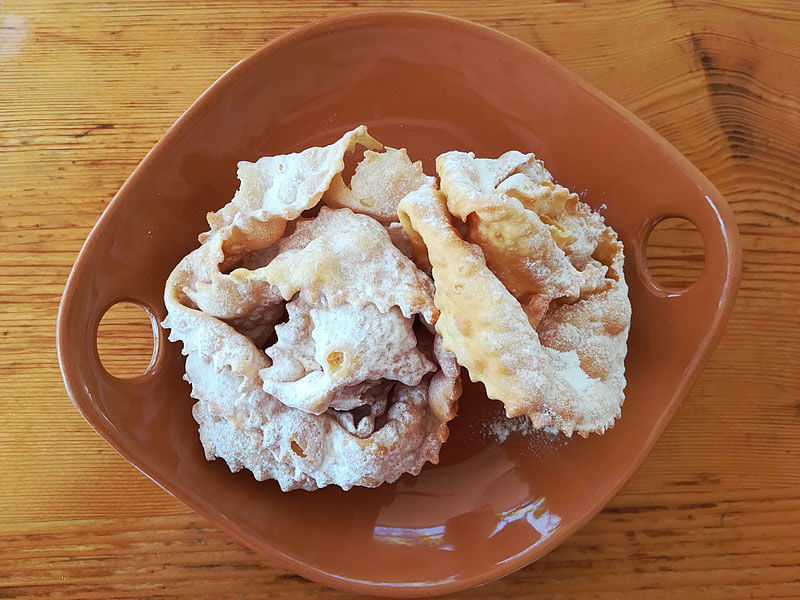 Kroštule is an old recipe with Latin roots. It is a traditional pastry from the regions of Dalmatia and Istria. They make their star appearance between Christmas and Easter, with a special emphasis on Carnival time.
This treat is simply a deep-fried dough that has various tweaks in its preparation. In some kitchens, chefs use only one type of flour, while others might opt for just egg yolks instead of the entire egg.
You can also find other versions with lemon or orange peel added to the dough to add flavor.
Influence of European Desserts on Global Cuisine
Spread of European Desserts Around the World
European desserts have long been a beloved part of cuisines in many different countries. This dissemination can be attributed to a variety of factors such as colonialism, immigration, tourism, and global trade.
For instance, French pastries like croissants and macaroons can be found in bakeries from New York to Tokyo. Italian gelato has become a universal symbol for high-quality ice cream, while Belgian chocolate has set a global standard for fine confectionery.
Adaptations and Variations of European Desserts in Other Countries
As European desserts spread, they were often adapted to local tastes and ingredients. Green tea-flavored tiramisu made with matcha (green tea powder) is a perfect example.
In Mexico, locals typically fill Spanish churros filled with dulce de leche (a sweet milk caramel), while the French crème brûlée has inspired coconut-based versions in tropical regions.
European Influence on Desserts in America, Asia, and Other Continents
European desserts have significantly influenced the dessert culture in many countries outside Europe. The most noticeable effect can be found in prevalent sweet offerings from the Mediterranean region, which also includes the Maghreb and parts of the Middle East.
In America, pastries and cakes have been heavily influenced by European traditions: New York cheesecakes definitely have roots in German cuisine. Certain cakes and desserts in Asia are a local take on Danish pastries and Swiss rolls.
The Art And Craft Of Creating European Desserts
Traditional Baking and Preparation Methods
The making of European desserts often involves traditional methods that have been passed down through generations. French pastry making requires precision and skill. Italian gelato is made using a slow churning process that results in a denser, creamier ice cream.
Meanwhile, many Eastern European desserts, like Russian Medovik, involve multi-layering techniques.
Modern Influences and Trends in European Dessert Making
Molecular gastronomy has made its way into dessert creation, as chefs use scientific techniques to create entirely new textures and presentations.
There's also a growing trend towards using less processed and more natural ingredients in response to increasing health consciousness among consumers.
Unique Ingredients Commonly Used in European Desserts
Dark chocolate, cream, and a variety of nuts and refreshing fruits easily found in Europe feature heavily in many dishes. Some ingredients are more favored than others, depending on the region.
For example, Mediterranean desserts often use ingredients like honey, citrus fruits, and nuts, while Eastern European desserts often include cottage cheese and poppy seeds. Many popular European vegetables can also make an appearance. Beets, carrots, and zucchinis are a few options.
FAQs
The Art Of European Desserts: Unleash The Indulgence
As the dessert plate of European pastries is polished off, I sincerely hope that today's post has inspired you. Each confection comes with its own unique tale, a distinct flavor echoing its origin, and a cultural tradition that imbues it with significance.
If these sweet spectacles have captured your fancy, let's keep this dessert dialogue thriving. Give this article a like, spread the sweetness by sharing it, and enrich the conversation with your comment. Your engagement is the essential sugar dusting on this gastronomic discussion!
Paragraph
Lemon drizzle revealed as UK's favourite cake (2018). independent.co.uk.
Tarta de Santiago (2018). gov.uk.
Tatar's national dessert chak-chak is a hit in Kazan (2018). apnews.com.
Nutrition Facts
12 servings per container
---
Amount Per ServingCalories111
% Daily Value *
Total Fat 4.6g

7

%
Cholesterol 7mg

3

%
Sodium 15mg

1

%
Potassium 59mg

2

%
Total Carbohydrate 16.2g

6

%

Dietary Fiber 0.5g

0

%
Sugars 7.1g

Protein 1.6g

2

%
---
Calcium

29

%
Iron

1

%
Vitamin D

3

%
* The % Daily Value tells you how much a nutrient in a serving of food contributes to a daily diet. 2,000 calories a day is used for general nutrition advice.