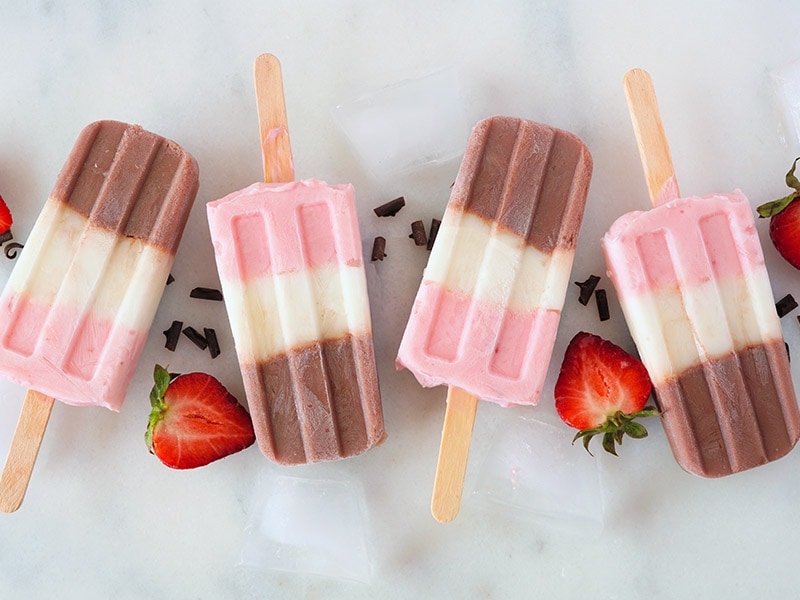 Neapolitan desserts belong to Naples, a city in Italy. They have some distinctive characteristics that few can beat. You will discover them as you read through this article. I will introduce you to the 11 most iconic recipes that make Neapolitan sweet treats become the world's favorite.
These desserts are so amazing that you will regret if you don't try them at least once. They all have stunning appearances and delicious tastes that will wow you. Give them a try! I am sure that they are all crowd-pleasers.
5 Neapolitan Cake Recipes You Should Never Miss
Cakes are perfect for midday treats. In Naples, people eat cakes all the time. Let's see what the best Neapolitan cakes are and what is unique about them.
This classic Neapolitan food is a gorgeous cake consisting of a combination of 3 delicious flavors, namely chocolate, vanilla, and strawberries. Each flavor occupies an equal part of the cake, creating a well-balanced appearance that looks stunning.
All of these three flavors are sweet. But their sweetness is not the same. Chocolate provides a subtle sweetness with some bitter notes, while strawberries have a fruity and refreshing sweet taste. Finally, vanilla adds a little bit of complexity to the overall flavor.
This sophisticated Neapolitan cake is actually easy to make.
Let's meet the three famous flavors of Neapolitan dessert again! This time, I will introduce you to a sheet cake recipe. The tastes do not change at all. It is just the appearance that alters a bit.
This sheet cake is not just a dessert. It is also a tasty Italian breakfast recipe that is undoubtedly perfect for a crowd.
Sheet cakes are often larger in size, so if you have a lot of guests, this recipe is an ideal choice. The procedure is almost the same, but you will need a sheet pan. Make sure you spread a layer of butter at the bottom to ensure the cake remains in shape when you cut it out.
Is there anything better than enjoying a delicious dessert without worrying about gaining weight? This recipe is not only sugar-free, but it also does not contain any grain. More amazingly, the classic flavor remains almost the same.
You will still get a slightly sweet flavor from cocoa powder, strawberries, and vanilla. Instead of all-purpose flour, you can use plantains or coconut flour to minimize the carbohydrate content. It is a great idea, isn't it?
Migliaccio is a mouth-watering cake that is typically served at Carnival. It is a fluffy cake made of semolina, milk, and cheese. Can you imagine how rich it is? However, that richness is balanced out by orange juice and lemon zest, making the cake more fruity.
On the top, there is plenty of caster sugar or powdered sugar, forming a white layer that looks like snow. Although Migliaccio is a very fancy cake, it has a humble history. Legend has it that it was created by a peasant woman who was trying to use up the leftovers.
Your party would be more enjoyable with this iconic Migliaccio recipe.
Chocolate is always my favorite food. But I love it more when it is complemented by the nutty taste of almonds. Every time I taste Torta Caprese, I am always afraid that I cannot stop. If you are also a fan of chocolate, you will love this recipe.
Torta Caprese is a chocolate cake dusted with plenty of icing sugar. The main ingredients are dark chocolate and almond flour or peeled almonds.
Some Torta Caprese versions have another special ingredient – Grand Marnier, an alcoholic drink made from distilled bitter orange. It adds more complexity to the flavor.
6 Other Neapolitan Sweet Desserts That Will Fascinate You
Neapolitan desserts do not just include cake. In this section, you will find plenty of other scrumptious sweets that are also heavenly tasty.
I have been talking about the three classic flavors of Neapolitan desserts from the beginning. Do you know why they are so popular? Actually, these flavors first belonged to Neapolitan ice cream. When it becomes famous, people adopt the flavors to other dessert recipes.
Before you try any other unique type of ice cream, go for this classic first. There must be a reason why it is loved that much. Your summer would be amazing with some ice cream. Make plenty of it and put it in the freezer so that it is available anytime.
Is there any reason not to try the famous Neapolitan ice cream recipe?
This fancy pastry is an important staple of Saint Joseph's Day held on the 19 of March in Naples. It has a stunning appearance, featuring a dough wrapped around the cream and topped with a cherry.
The ingredients of this breath-taking dessert are pretty simple. They are all simple baking ingredients that are always available. The challenging part is the shaping stage, but it is not that difficult. You can bake the pastry or fry it, depending on your preference.
Sfogliatella is an irresistible puff pastry dessert with beautiful golden-brown dough and creamy ricotta cheese filling.
Don't worry that the filling is too rich because it also has candied orange and lemon bits, which provide some sweetness and sourness to balance out and diversify the flavor.
In addition, this amazing dessert is also flavored with cinnamon. It offers a subtle sweetness and warmth that will please your taste bud. You can easily store Sfogliatella in the freezer and rebake it anytime you crave it.
The lovely flavor of Sfogliatella will fascinate you.
I have found the perfect Neapolitan dinner recipe for Christmas, which is Struffoli. It is just fried ball-shaped dough covered with honey syrup. It looks simple, I know. But you will be surprised by how delicious it is.
Struffoli is often served with candied cherries, powdered sugar, or nuts. These ingredients will further enhance the flavor of Struffoli, taking it to the next level. To add a more Christmas vibe to it, don't forget to sprinkle some rainbow or Christmas decorating.
Making Struffoli is never easier with this excellent recipe.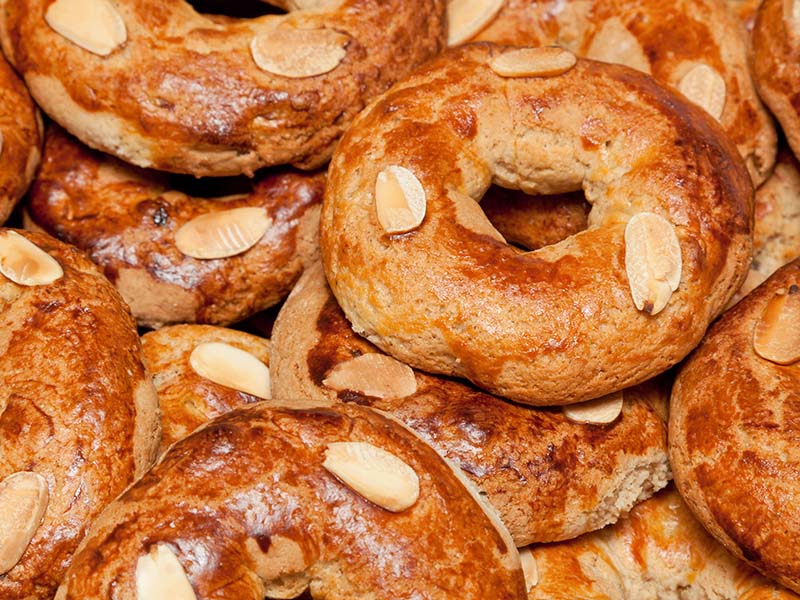 Rococo is a must-have element of the Neapolitan Christmas party. It has a complex, delicious taste with a yummy crunchy texture and a beautiful aroma. I bet that once you go for Roccoco, you can never go back.
The subtle flavor of this yummy Italian sweet treat is provided by the combination of plenty of spices, such as cinnamon, cloves, and nutmeg. It also contains almonds, which deliver a strong nutty taste. Although Rococo does not have an eye-catching appearance, its taste is so heavenly.
Anginetty is a great summer sweet treat that will become your next favorite. It consists of crispy cookies topped with mouth-watering icing made from lemon.
Thanks to lemon and its refreshing nature, I suggest serving it after your Neapolitan lunch recipes to get some sweet and sour notes.
If you want it to be more eye-catching, consider adding some colored sprinkles. These colorful cookies will catch the attention of your guest.
Have A Sweet Time With The Best Neapolitan Desserts
I believe that you have found some fantastic recipes to make today. Now it's time to demonstrate your baking skill. Gather all of the ingredients and start making a culinary masterpiece!
If this article can help you make some delicate dessert, I am sure it can also help others. Please share it with your friends and relatives who are also looking for some Neapolitan tea-time treats.
Nutrition Facts
12 servings per container
---
Amount Per ServingCalories499
% Daily Value *
Total Fat 37g

57

%
Cholesterol 137mg

46

%
Sodium 190mg

8

%
Potassium 122mg

4

%
Total Carbohydrate 34.8g

12

%

Dietary Fiber 2.8g

12

%
Sugars 28.9g

Protein 8.8g

18

%
---
Calcium

61

%
Iron

1

%
Vitamin D

21

%
* The % Daily Value tells you how much a nutrient in a serving of food contributes to a daily diet. 2,000 calories a day is used for general nutrition advice.