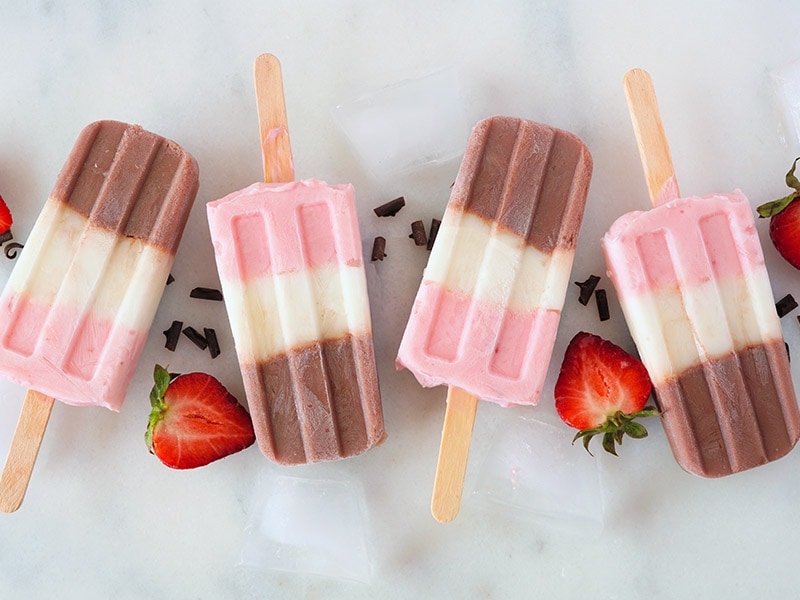 Neapolitan desserts belong to Naples, a city in Italy. They have some distinctive characteristics that few can beat. You will discover them as you read through this article. I will introduce you to the most iconic recipes that make Neapolitan sweet treats become the world's favorite.
Instead of uncovering famous Italian items like tiramisu, Cannoli, or flan, you will get a chance to discover new selections. They all have stunning appearances and delicious tastes that will wow you. Give them a try! I am sure that they are all crowd-pleasers.
Neapolitan Cake
Cakes are perfect for midday treats. In Naples, people eat cakes all the time. Let's see what the best Neapolitan cakes are and what is unique about them.
1. Neapolitan Cake
This classic Neapolitan food is a gorgeous cake consisting of a combination of 3 delicious flavors, namely chocolate, vanilla, and strawberries. Each flavor occupies an equal part of the cake, creating a well-balanced appearance that looks stunning.
Chocolate provides a subtle sweetness with some bitter notes, while strawberries have a fruity and refreshing sweet taste. Vanilla adds a little bit of complexity to the overall flavor.
The cake is perfect for featuring at birthday parties or wedding ceremonies revolving around the Neapolitan theme. Interestingly, the cake is a tribute to Neapolitan ice cream or Harlequin ice cream, bearing three colors: vanilla white, pistachio green, and cherry red.
2. Migliaccio (Semolina And Ricotta Cake)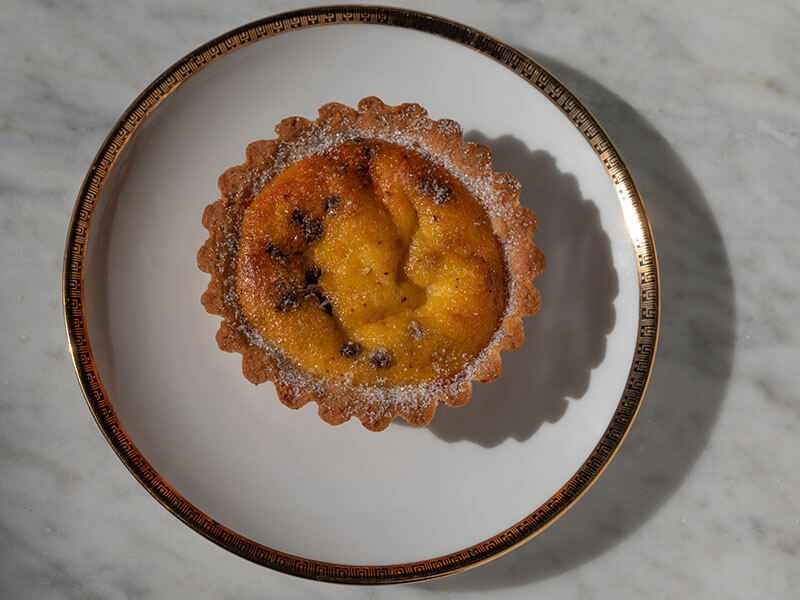 Migliaccio is a mouth-watering cake that usually appears at carnivals. It is a fluffy and rich cake similar to a cheesecake made of semolina, milk, and cheese. However, that richness is balanced out by orange juice and lemon zest for a more fruity cake.
On the top, there is plenty of caster sugar or powdered sugar, forming a white layer that looks like snow. Although Migliaccio is a very fancy cake, it has a humble history. Legend has it that it was created in the 19th century in the peasant community.
3. Torta Caprese (Chocolate Cake)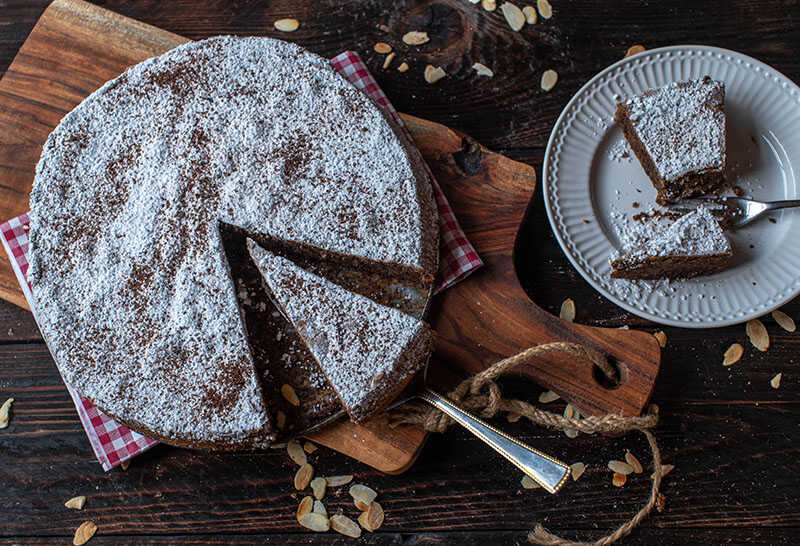 Torta Caprese is a chocolate cake dusted with plenty of icing sugar originating from the Capri island of the Bay of Naples. As for the main ingredients, people utilize dark chocolate and almond flour or peeled almonds. Interestingly, the authentic recipe may not require flour, making it a gluten-free treat.
Commonly, Torta's crust has a crispy texture while being moist enough so it's not crumbling. Although it's uncertain, many speculate the dessert came to be in 1920.
Some Torta Caprese versions have another special ingredient – Grand Marnier, an alcoholic drink made from distilled bitter orange to add more complexity to the flavor.
4. Pastiera (Neapolitan Tart)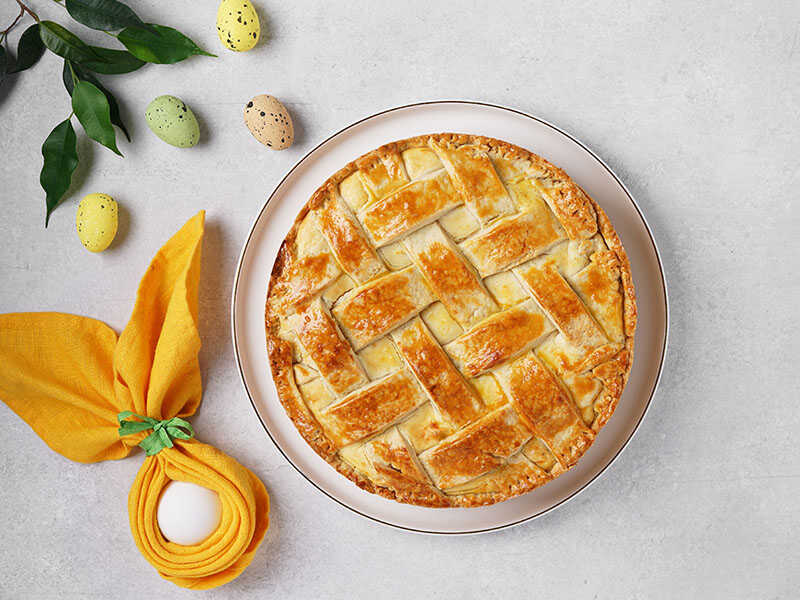 Pastiera is a traditional Neapolitan dessert commonly appearing on Holy Thursday or Easter occasions. Commonly, the Neapolitan Pastiera is a sweet pastry-based tart filled with ricotta cheese and fruity ingredients, such as orange flower water.
This delectable treat was invented by a Neapolitan nun in the San Gregorio Armeno convent and used to be a luxurious treat reserved for wealthy families during Easter. These cakes are relatively fluffy and have a texture like what you can find in Zuppa Inglese, another treat made using pastry such as sponge cake or ladyfinger.
There are two variations of Pastiera, with an older version made by mixing eggs with ricotta, while the newer variety uses a combination of pastry cream and ricotta. Each Neapolitan family typically has its own unique recipe for this pie, making it a cherished tradition passed down through generations.
Neapolitan Sweet Desserts
Neapolitan treats do not just include cake. In this section, you will find plenty of other scrumptious sweets that are also heavenly tasty.
5. Neapolitan Ice Cream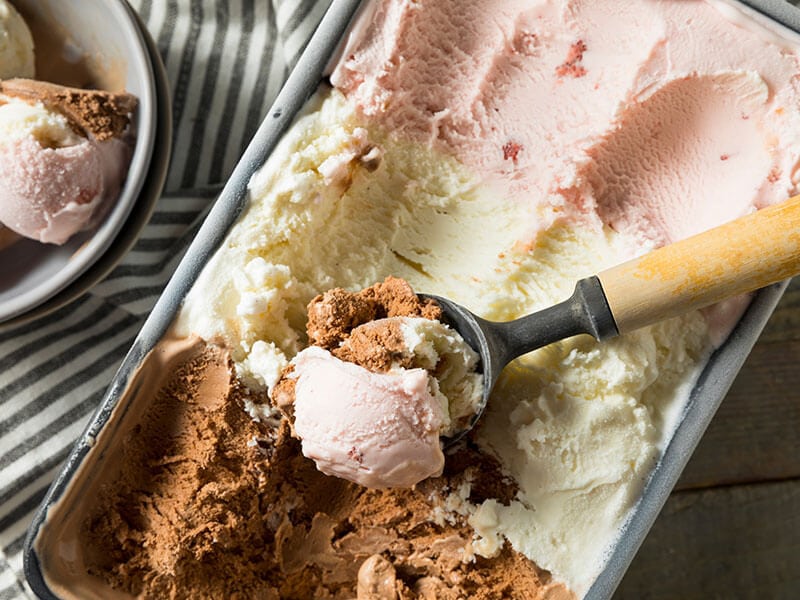 Before you try any other unique type of ice cream, go for Neapolitan ice cream first. Your summer would be amazing with some ice cream. Make plenty of it and put it in the freezer so that it is available anytime.
Neapolitan Ice Cream, also known as Harlequin ice cream, is a delightful frozen treat that combines three classic flavors – chocolate, strawberry, and vanilla – in a single dessert. It's unlike sorbet or gelato in terms of texture and main ingredients.
This unique creation dates back to 1839, when Louis Ferdinand Jungius, the head chef of the royal Prussian household, introduced the concept. The inspiration behind Neapolitan Ice Cream was to represent the colors of the Italian flag through the ice cream's layers.
6. Zeppole Di San Giuseppe (St.Joseph's Pastries)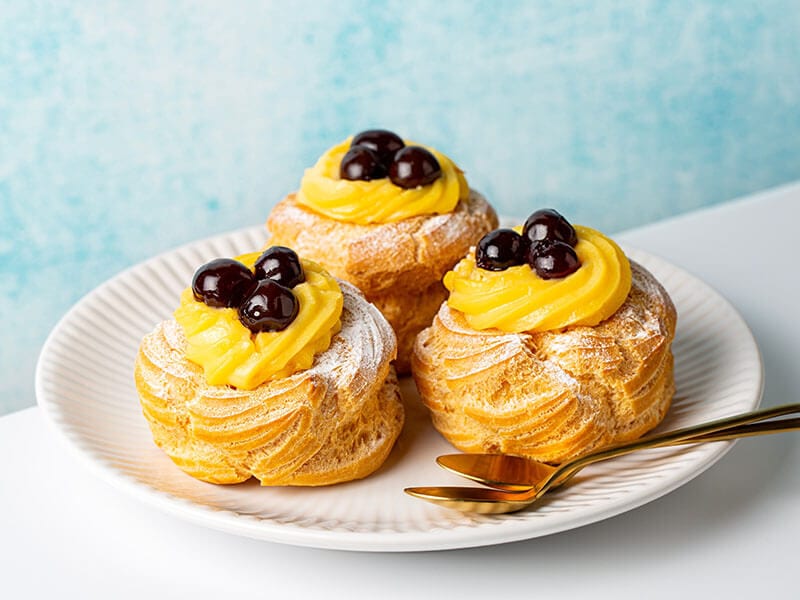 Zeppole Di San Giuseppe is an important staple of Saint Joseph's Day, held on the 19 of March in Naples, on Father's Day. It has a stunning appearance, featuring a dough ball or choux pastry puffs wrapped around the cream and topped with a cherry.
Zeppole Di San Giuseppe is a delectable dessert with roots in the Sardinian tzípulas, a region of ancient Rome. This scrumptious treat was first created in 1837 by Pasquale Pintauro and has since been a favorite among Italian dessert lovers.
Zeppole Di San Giuseppe typically measures about 4 inches in size and boasts an array of fillings such as custard, jelly, pastry cream, or honey. The dough used to make Zeppole Di San Giuseppe is often fried in lard before coated with sugar, cinnamon, or chocolate, giving it an irresistible taste when served hot.
7. Sfogliatella (Ricotta-Filled Pastries)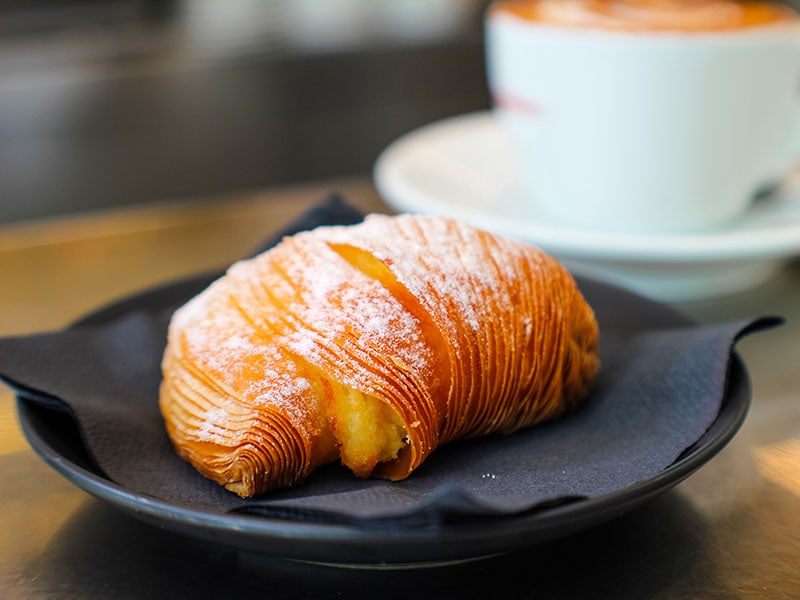 Sfogliatella is an irresistible puff pastry dessert with beautiful golden-brown dough and creamy ricotta cheese filling. The dessert's name means "small, thin, leaf/layer," or "lobster tail" in the United States. This delightful treat comes in two varieties, the curly Sfogliatella Riccia and the dome-shaped puff pastry Sfogliatella Frolla.
The origin of Sfogliatella can be traced back to the monasteries of Santa Rosa in Conca dei Marini, Salerno, Italy, during the 17th century. The recipe for this delectable pastry was kept secret for many years until it was eventually uncovered in the Convent of Santa Rosa on the Amalfi Coast.
The nuns at the convent employed fillings such as Agerola ricotta, cream, and blackberries, creating a mouth-watering experience. Sfogliatella is typically dusted with confectioner's sugar, which adds a sweet finishing touch.
This versatile pastry can go as a snack, dessert, or even for breakfast, making it a popular choice for those who appreciate its unique texture and delightful flavors.
8. Graffe Napoletane (Fried Dough)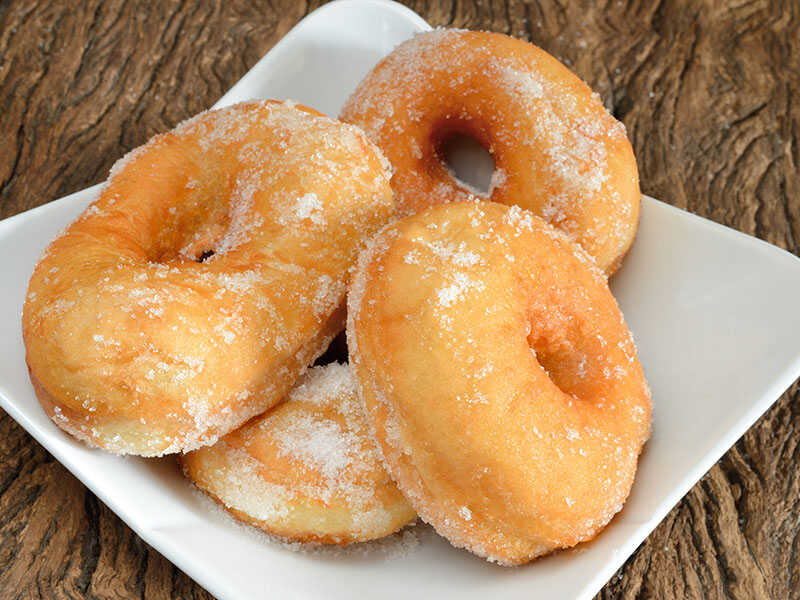 Graffe Napoletane is a donut-shaped treat coated with sugar, originating from Naples, Italy. These delicious pastries are inspired by Austrian cuisine, particularly Krapfen, a type of German jelly doughnut.
Graffe Napoletane is characterized by its hole in the middle and a moist texture. Traditionally, Graffe Napoletane is reserved for carnival events, but it can also be enjoyed as a breakfast item or snack.
One unique feature of Graffe Napoletane is the addition of cooked potatoes in the dough, which contributes to the pastry's softness. The dough is fried until it achieves a fluffy texture and a golden brown color.
9. Struffoli (Fried Balls With Honey)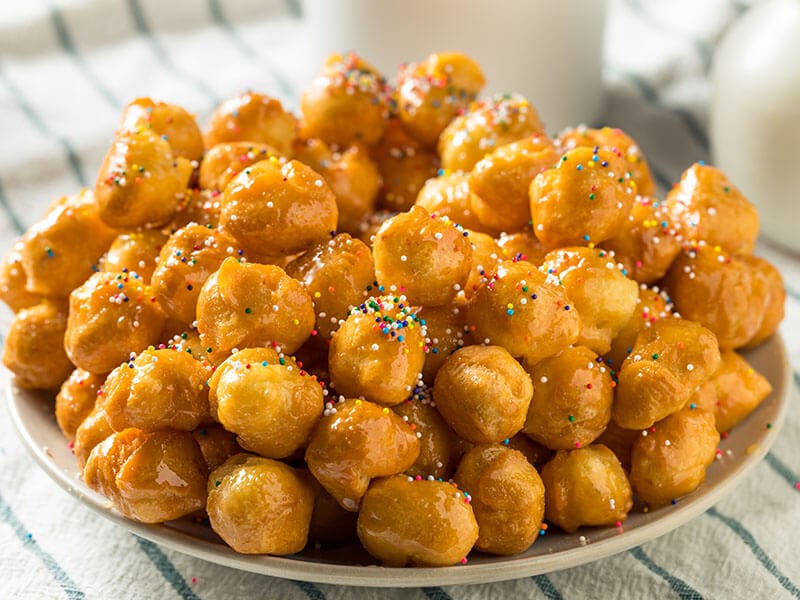 Struffoli is a traditional Neapolitan dessert known for its small, crispy fried dough balls. Particularly popular in Naples during Christmas and New Year celebrations, Struffoli is a common item during the holiday season. In the past, nuns would distribute the treat to noble families during Christmas.
The origins of Struffoli are debated, with some suggesting that it takes inspiration from the Greek fritter "loukoumades," while others believe it is influenced by the Spanish piñonate.
Regardless of its origin, Struffoli is believed to bring good luck and prosperity, adding a touch of festive charm and sweetness to special occasions.
Struffoli is often served with candied cherries, powdered sugar, or nuts. These ingredients will further enhance the flavor of Struffoli, taking it to the next level. To add a more Christmas vibe to it, don't forget to sprinkle some rainbow or Christmas decorating.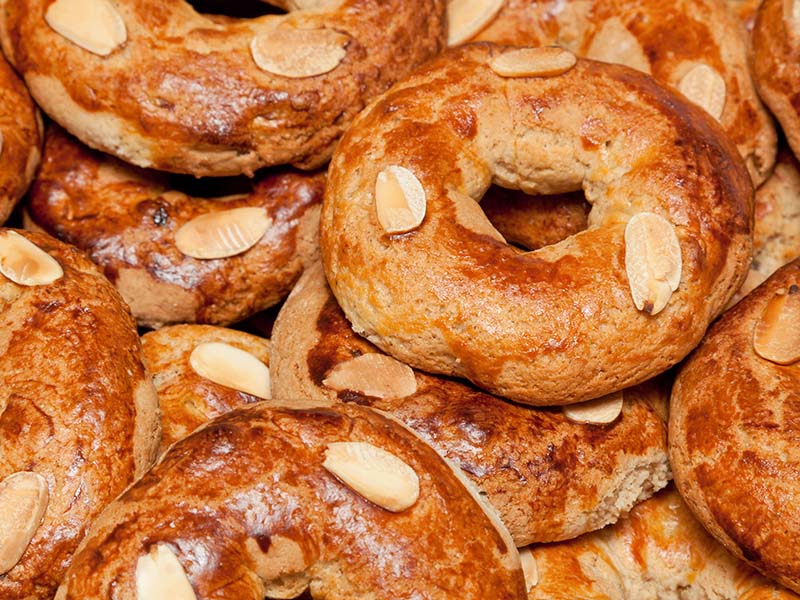 Naples is famous for Roccocò, a treat that dates back to the 14th century when nuns first created it at the Convento della Maddalena.
Named for its characteristic semi-round shape, Roccocò captivates the senses with its harmonious blend of contrasting textures – a crispy outer shell yielding to a soft, melt-in-your-mouth interior.
Each bite of Roccocò unveils an enchanting medley of aromatic spices, including cloves, cinnamon, star anise, and coriander, while almonds adorning its surface add a delightful crunch. Also, this enticing Neapolitan treat pairs great with beverages like tea, coffee, or liqueurs, similar to tiramisu.
A beloved fixture in Neapolitan family celebrations, Roccocò is traditionally savored after lunch on December 8th for the Immaculate Conception of the Blessed Virgin Mary and throughout the Christmas season.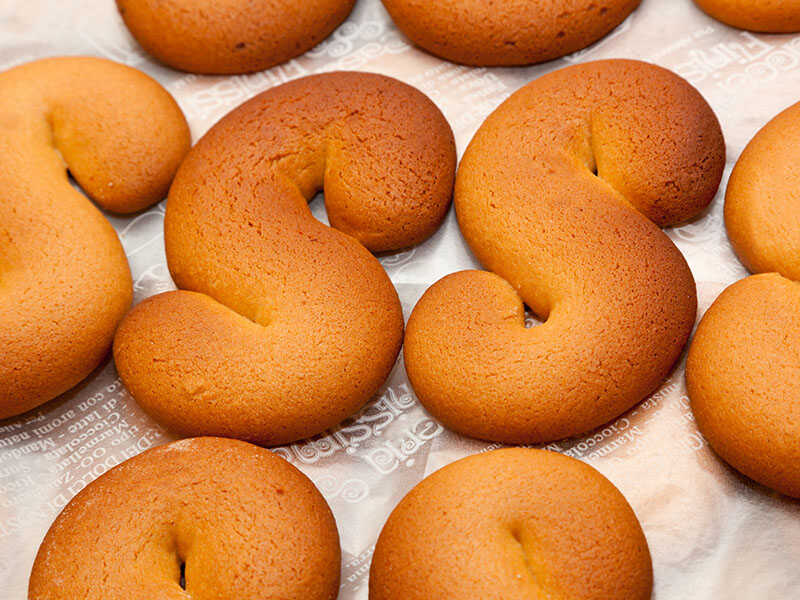 Another delightful Christmas cookie originating from Southern Italy is Susamielli, cherished for its festive flavor and unique shape. Infused with an enchanting blend of fragrant spices, such as cinnamon, nutmeg, and cloves, Susamielli captivates the senses and fills homes with the unmistakable aroma of the holiday season.
Each Susamielli cookie starts as a simple soft dough stick before being expertly twisted into an elegant "S" shape. As these delightful treats bake, their appearance transforms, taking on a beautiful golden brown hue that beckons eager taste buds.
To fully savor the delectable taste and texture of Susamielli, it is recommended to enjoy them with a refreshing glass of milk or a rich dessert wine. Simply dunk the cookie directly into the drink and allow the flavors to meld.
12. Baba Al Rum (Rum Filled Yeast Cake)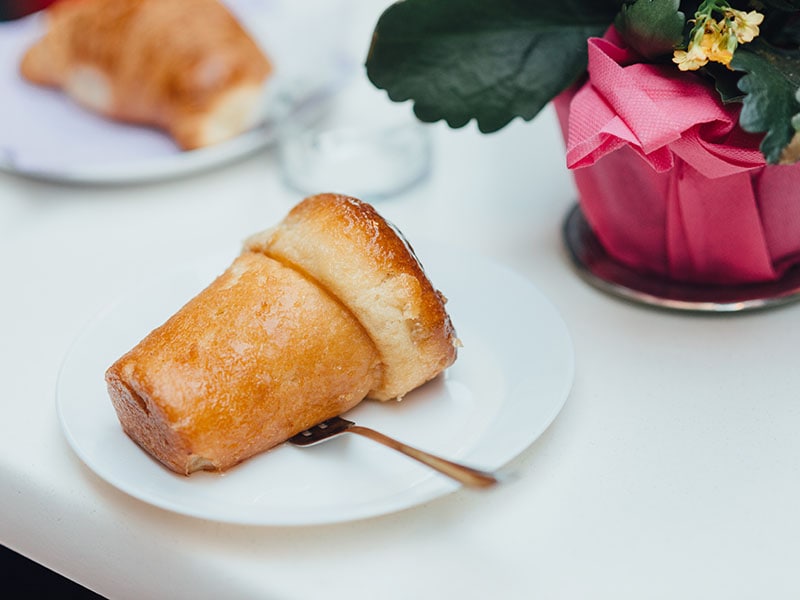 Baba Al Rum, or Rum Baba, is a delightful small yeast cake soaked in a syrup made from liquor, usually rum. These delectable treats are typically served in individual portions, with their name translating to "old woman" or "grandmother."
Originating in Montorgueil, Paris, in 1835, Baba Al Rum has its roots in French cuisine. However, the dessert has gained popularity beyond being a simple French treat, particularly in Naples, Italy, where it is known as Babà or Babbà.
Modern versions of Rum Baba often include dried fruits to add a touch of sweetness and texture. This delicious, rum-infused cake has become a beloved treat in various cuisines worldwide.
13. Neapolitan Panna Cotta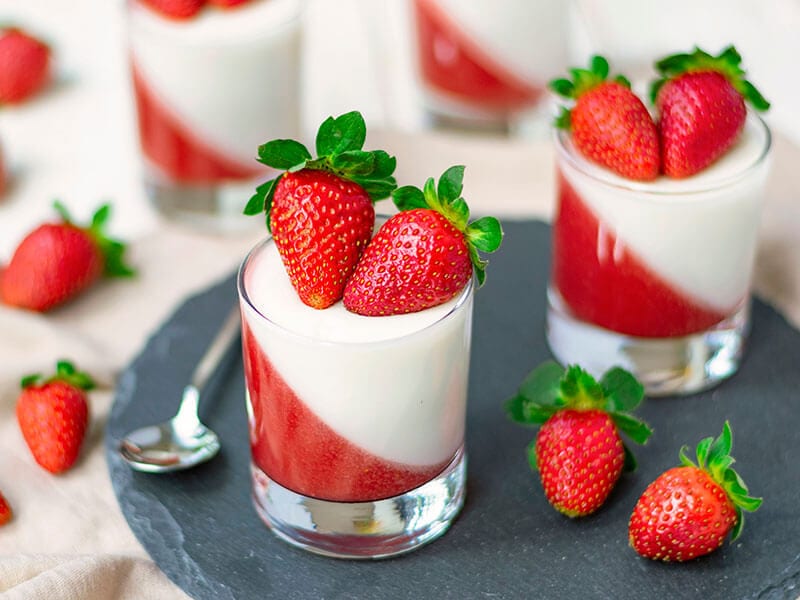 Made from a mixture of sweetened cream thickened with gelatin, panna cotta is the key to any successful meal. Though it originates from the Piedmont region in Northern Italy, this creamy dessert has also been adopted by Naples and has become a favorite.
A basic panna cotta recipe includes gelatin, rum, milk, and cream to create a smooth, silky texture. People often pour the mixture into a mold with a layer of caramel at the bottom to prepare the dessert. Once set, the panna cotta is unmolded to reveal its delicate shape and luscious caramel layer.
Traditionally, Panna Cotta is served without any accompanying sweet sauce. However, modern adaptations of this dessert have embraced a variety of flavors, ranging from rich chocolate to vibrant red strawberry, making it even more appealing to dessert lovers everywhere.
Influence of Various Cultures on Neapolitan Desserts
The influence of various cultures on Neapolitan treats can be traced back to the diverse historical roots of Neapolitan cuisine, which date back to the Greco-Roman period.
Over the centuries, different cultures, such as Aragon and France, have controlled Naples and its kingdoms, further enriching the cuisine with their culinary traditions.
Naples' location in the Mediterranean basin and its contacts with Arab countries also significantly shaped the city's culinary heritage. For instance, some attribute the origin of the Neapolitan dessert Struffoli to the Greeks of the classical era, given that Naples was a major center of Magna Graecia.
These various cultural influences have resulted in a unique fusion of flavors and techniques observed in the wide array of mouth-watering Neapolitan delights, such as babà, sfogliatella, struffoli, and pastiera.
FAQs
Dive deeper into Neapolitan dessert in this FAQ section, where you can find interesting facts and knowledge about this cuisine. Don't miss your chance to learn more about Naples.
Nutrition Facts
12 servings per container
---
Amount Per ServingCalories499
% Daily Value *
Total Fat 37g

57

%
Cholesterol 137mg

46

%
Sodium 190mg

8

%
Potassium 122mg

4

%
Total Carbohydrate 34.8g

12

%

Dietary Fiber 2.8g

8

%
Sugars 28.9g

Protein 8.8g

16

%
---
Calcium

61

%
Iron

1

%
Vitamin D

21

%
* The % Daily Value tells you how much a nutrient in a serving of food contributes to a daily diet. 2,000 calories a day is used for general nutrition advice.