Rich and heavy are the first two signature feelings when it comes to German cuisines. This also affects the flavors of this country's desserts. Most of the time, you will find the creamy taste or strong sweetness from German sweet treats.
Surprisingly, some of the desserts in Germany have spices like ordinary foods. This made them so special because desserts in most cultures' perspectives are sweet.
From the famous Lebkuchen (gingerbread cookies) to the traditional Stollen (German bread), all those special German desserts are must-try dishes if you want to explore the cuisine of this European country.
So, what are you waiting for? Let's discover my list of yummy traditional German desserts.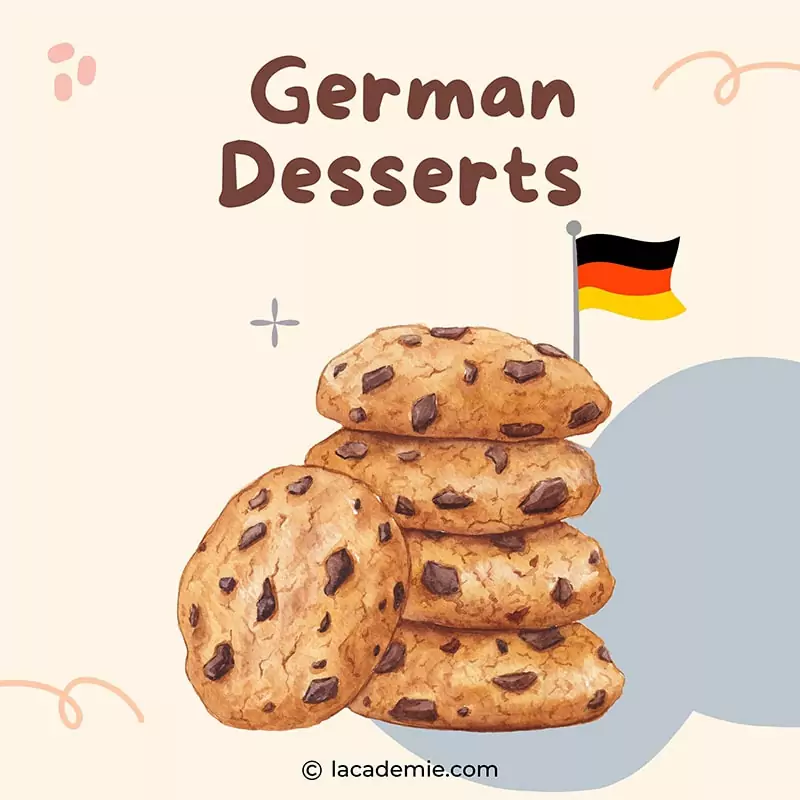 Top 32 Traditional German Desserts For Any Party
When it comes to the exciting culinary world of German dishes, there are many types of classic desserts for you to try out, from cakes, cookies, flans, to tarts. Follow my listed recipes below to find out the best desserts that German cuisine has to offer.
Cake
Saddle of Venison Cake
Sauerkraut Chocolate Cake
German Butter Pound Cake
Potluck German Apple Cake
Tillie's Ginger Crumb Cake
Sachertorte
Hazelnut Yule Logs
Raspberry Custard Kuchen
Chocolate Rum Balls
.Pepper Nut Cookies (Pfeffernusse)
Spiced German Cookies
Fruit-Filled Spritz Cookies
Pfeffernüsse Cookies
Lebkuchen
Zimtsterne
Authentic German Lebkuchen
Chocolate Chip Mandelbrot Cookies
Dipped Gingersnaps
Linzer Cookies
Chilling
Blushing Maid
German Fruit Flan
Spaghetti Ice Cream
German Rice Pudding
Kirsch Michel Cherry Dessert
Pastry
Apple Strudel
Chocolate Pear Hazelnut Tart
German Plum Dumplings (Zwetschgen Knödel)
Apple Bavarian Torte
Rustic Caramel Apple Tart
Oma's Marzipan Stollen
Almond-Filled Stollen
Bee Sting
Follow me and find out more detail about the recipes above.
10 Traditional German Cake Recipes For Birthday Party
Need a perfect German birthday cake? Try the following best delicacies from Germany, some of them will be a wind of change that creates a new experience for your birthday party.
This cake is certainly a nice suggestion from Germany for chocolate lovers. The cake is more likely chocolate mousse with almonds. Moreover, it is a flourless cake made by using leftovers to create a new distinguished flavor.
The combination will be not just rich and creamy fusion, but also bitter from dark chocolate. Therefore, it will give you a really delightsome dessert to balance the whole meal.
This type of cake sounds interesting right the time you have heard it. Because of the Sauerkraut ingredient included, which is a German call of sour cabbage. Therefore, the cake is a combination of vegetables and sweetened spices.
However, it is not what you think. The cake is sweet and the sour taste even can not be realized at all. In fact, the sauerkraut has been squeezed dry and drained, then there is no lactic acid contained. Plus, it creates an interesting texture for the cake in every single bite.
Moist and tender is the first impression of a first-pound cake bite. In fact, the name pound comes from its one pound for 3 main ingredients are butter, flour, and sugar. Therefore, the butter cake has a unique measurement for how it is made.
The German butter pound cake also has plenty of flavors from vanilla, cardamom, almonds, and lemon that give it a lighter taste. Plus, the pound cake is coated with a bit of sugar and can be served raw or with some fresh fruit.
A crumbly, cinnamon scent cake recipe from Germany will let you stand in the middle of Berlin and feel all the culture of this country in this cake.
And one more thing, I'm sure you can not resist the creamy whipped cream as the topping of this recipe. If you don't believe me, try it.
Want every bite of a cake you will get a bit of a sweet crumb topping? Yeah! I'm talking about Tillie's Ginger Crumb Cake.
Ginger and cinnamon with the touch of sweetness from the crumb topping, you will never forget this cake. Plus, put a scoop of vanilla ice cream and surprise everyone who tastes this masterpiece.
Some people may known sachertorte as a classic Austrian treat originating from Vienna. However, it is also very common in Germany and possesses many local's hearts. The cake is pretty moist and luscious, it is usually served with some unsweetened whipped cream.
But wait, is sachertorte a cake or a torte? It has the word "torte" in its name, so it must be a torte, right? Are there any contrasting points between torte and cakes? Well, of course, yes! For now, you can simply understand that sachertorte is indeed a torte, which is also a kind of cake.
The cake layers consist of a rich chocolate sponge and thick apricot jam. Therefore, the taste is going to be extremely elegant. Plus the texture is denser and smoother than regular chocolate cakes.
What is the most famous cake for Christmas? I have to tell you that this Hazelnut Yule Logs recipe is perfect for this holiday.
Although the cake takes time to decorate with an amazing appearance and great flavor, this cake will be a highlight for your party.
This traditional German custard dessert contains a delicious fruit that begins with the letter "R". Can you guess what that is? That's right, it's raspberry, a tart fruit with delicate sweetness that goes well with almost any sweet desserts.
This traditional Raspberry Custard Kuchen is the perfect sweet to start your day. This delightful R-something food has a crumbly texture with a bit of sweetness, sourness, and creaminess. Whether you're a fan of sweets or not, you'll be swept off your feet with how delicious this is.
This combo of flavors will knock out everyone, especially for those who love raspberries. So if you are a fan, try this recipe.
Only a 2-minute video, Raspberry Custard Kuchen should not be a problem for you:
You must have tried different types of chocolate balls from the market. This chocolate treat is usually made on German Christmas and has become such an attractive dessert.
Typically, the chocolate rum ball has an incredible crumb coat. Plus, the filling is a nice fusion of chocolate and coconut versus condensed milk inside that will surprise you. Then last with a gentle hint of rum that makes a stunning dessert for everyone.
The pastry is topped with sweet and buttery honey almonds that will bring the cake to the next level. Honestly, thanks to the topping, it gives the cake a fancy richness that ends in your tongue and can not be replaced.
The bee sting cake is named after the sugary honey topping. Plus, the creamy filling inside will create a rich flavor for the cake. The best way to enjoy the cake is right after taking it out from the oven when the fragrance smell and spongy texture appear the best.
A snack can be an important source of energy during a hard-working day. I will give you some awesome ideas of cookies from Germany in this section. With them, you can easily have a productive day.
Here comes another traditional German cookie that will make you obsessed. Pepper nuts or Pfeffernusse cookies are usually made during the German holidays as a lovely present. Plus, the smell is incredibly fragrant just like gingerbread.
The cookies are a bit tiny but super addictive. Its crunchy texture filled with cardamom, nutmeg, cloves versus the cinnamon and black pepper brings such an interesting taste.
Sick of normal sweet cookies? I have a recipe for salty cookies that you will never forget. This signature dessert from Germany will change your mind about cookies.
Who said that cookies have to be sweet, right? These spiced babies will change your definition of cookies, so try them now!
The smell of buttery crumbles and the sweet taste of fruit inside these small cookies will show you how good a German cookie can be. Berries such as strawberries or blueberries are also perfect for this recipe.
The refreshing taste from fruits, soft and crispy taste from the cover are everything you could wish for from a cookie recipe.
Pfeffernüsse Cookies are chewy and coated in confectioners' sugar. Germans usually make these special cookies for Christmas. Cinnamon, ginger, and white pepper will mesmerize you with the special flavors that these ingredients have created.
Chewy and extremely yummy, these cookies will be great treats for your kids. Try this recipe now!
Lebkuchen is a traditional cookie recipe for any holiday in Germany. With diverse spices and nuts, Lebkuchen is rich in nutty smells and aromatic flavor. Sweetened with honey, a bite from this cookie will show you what the festive season is like in this European country.
These cookies can be shaped into different kinds of cartoon characters for your kids. Lebkuchen will bring a lot of fun to your family.
Who said you have to wait for a holiday to make Lebkuchen? Watch this video to know more:
I would like to introduce you to another tasty cookie that can be in everyone's favor. The unique zimtsterne may come from the white glaze surface like snow on the star-shaped cookie. Therefore, this food that begins with "Z" is usually made for Christmas in many German families.
The gluten-free cookie contains cinnamon which is the signature ingredient of the German recipe. In fact, the plain zimtsterne is not really sweet at all, but it has a slight citrusy note and a nutty flavor that can not be replaced.
The most impressive point about the German dessert may be from the ingredients. Cakes are made commonly without flour and have a fantastic flavor for their own. In fact, its appearance looks just like regular cookies but the taste will make it very special.
The texture is wonderfully moist and chewy which is combined with plenty of nuts, fruits, and honey. Thus, the first bite of the crunchy cookie has a pretty sweet, nutty, and spicy aroma.
Mandel bread is known as mandelbrot which is a classic Jewish cookie. In fact, it is also very popular in Germany and many European countries as a delight snack or a wonderful dessert. Plus, the mandelbrot is a gluten-free treat.
In general, the cookies are pretty similar to Italian biscotti but this one has its own method to make them crispy and crunchy. As a matter of fact, the Mandel bread is baked twice, thus it has a very well-cooked texture and is perfect for dipping in tea or coffee.
Here comes a delicious cookie that the German also likes. Gingersnaps cookies are usually made as a favorite snack for any time and any day.
A great treat for all ages, this luscious ginger-flavored dessert is also a great fusion of different spices. Plus, it is commonly likened to be dipped in a creamy white chocolate sauce that will make it tastier and more attractive.
Besides wonderful tasty cakes, the German dessert menu has more variety than that. I would like to introduce you to another famous cookie which is no less interesting.
In general, it is made by sandwiching two buttery shortbread cookies with a flavorful raspberry jam in the middle that makes it very thick and unique. The stunning cookie appearance is created in different lovely shapes that make them super attractive.
Aren't these Linzer Cookies lovely? Make them now!
5 Chiling Desserts Ideas From Germany That Are Super Refreshing
What can you do in the hot evening? These chilling dessert ideas are made to reduce the heat from those scorching nights.
The dessert will link us to the most popular German ingredients which include pumpernickel, a famous type of local rye bread. It is an interesting combination with several variations from bread, yogurt, a bit of chocolate, and whipped cream.
The Blushing maid is made by mixing the crumbs bread with chopped chocolate and then soaked with schnaps of juice. Then display with yogurt and topped with raspberries and is served cold. Additionally, it is even better whether the whole mixture is soaked through.
Another savory dessert that will mesmerize most everyone. In general, this flan texture is not really fluffy like a typical flan. In fact, it tends to look like a muffin from the outside but really thick and smooth from the inside.
The sourness from those topping fruits will politely decrease the sweetness of the cake. Plus, you can customize your favorite fruits from berries, kiwi, peach, or even passionfruit. Therefore, try to add some sour fruits to adjust the taste of the whole cake.
The first impression may blow your mind because the dish is insanely like a plate of spaghetti covered with bolognese sauce. In fact, it is made of stringy vanilla ice cream and is coated by a thick layer of strawberry jam that makes it looks like tomato sauce.
Because of its interesting appearance, the ice cream is very stunning and fascinates curiosity. As a matter of fact, the younger generation may incredibly love it and are willing to give it a try.
Watch this video to know more:
There are plenty of versions for this delectable pudding sweet treat around the world, so what makes this German recipe different from others? Well, one of the features that set Milchreis apart is the cinnamon and how the pudding is cooked with a stovetop.
The creamy rice pudding is such an all-time favorite dish of the German people. It can be used for any meal as a snack or a dessert. In addition, you can enjoy it warm or chilled and also can add some topping as your own special choices.
If you have enough sweetened dessert then you should try the kirsch. Typically, it is not sweet at all and has a fruity cherry flavor spread out every corner of your mouth.
You can literally taste the cherry with a bite because the chef put a whole fruit into the cake. As a matter of fact, kirsch as known as kirschwasser is a distilled cherries brandy. However, you can probably substitute with fresh cherries that will be tasty as well.
7 German Pastry Recipes To Welcome Your Guests.
An astonishing sweet treat to welcome your guests is never an old idea. You only need to choose one of the following ideas and surprise your guests.
In general, this well-loved German street food and dessert is pretty much like apple pie but the Germans have their own way to cook. The difference between them all is the strudel is made using rolled unleavened dough and filled with grated cooking apples.
Moreover, compared with other apple pies, the apple strudel cuts back the sweetness to delight its flavor. Plus, because the cake layers are thin so that after being baked, it is really crispy and delicious.
What an effective combination of fruits and chocolate. The tart is very fragrant and tasty due to its crunchy bottom and buttery sweetness from cheese and pears.
Don't forget the magnificent chocolate and hazelnut flavors. There is no word that can describe the feeling when tasting this masterpiece, try it yourself.
It sounds like the main dish when its name is dumplings. In fact, with a plum filling, it becomes a nice dessert that can be enjoyed for any weekday.
Plus, the dumplings are one of the most popular traditional desserts in Germany and in some neighboring countries. In Hungary, it's called Szilvás Gombóc and is among the most famous Hungarian desserts.
To make it, the locals will stuff ripe plums into the quark dumpling and coat it with a smooth layer of cinnamon sugar. Thus, the flavor is pretty sweet which is not only from sugar but also from the cake potato cover. Moreover, that will be a bit of a woody fragrance in the end.
This magnificent torte is one of my most favorite cakes with the "cookie" crunchy texture but an incredibly creamy filling inside. Plus, It is topped with baked mild almonds that create a wonderful fusion combination.
The apple bavarian tortes are a bit rich in cream cheese and versus the freshest apples that will comfort the cake's flavor. Baking this apple torte is super funny and fragrant as well. The smell is going to spread to every corner of your house that everyone will love.
How can you turn a typical apple pie into a new version but tastier and crunchier? I have a Rustic Caramel Apple Tart right here for you. With a skinny layer of flaky crust, caramel and sweetened apple slices, and a touch of butter, I'm sure this tart will amaze you.
This crunchy, sweet, and tasty apple tart must be added to your baked list. With a golden color and juicy slices of apple, your family will have a memorable meal together.
Oma's Marzipan Stollen means the bread from grandma, this bread that has a homey taste and brings you to the good old days of your family. Topping with just a few almonds, the Oma's Marzipan Stollen is ready to serve.
The crispy cover and sweet sugar powder topping create a signature appearance and flavor for this Oma's Marzipan Stollen. Plus, you can put some condensed milk on top to add a little sweetness to this cake.
Want something new for your first meal to start a day in German instead of just bread and sausages? This Almond-Filled Stollen will be a suitable alternative you are looking for. This fruit bread is moist and flaky, which will be a great alternative to your ordinary bread.
With candied citrus peel, almond with dried fruits and spices., I'm sure this recipe will fill up your energy for an exciting morning.
Let's Go To Germany!
Each of the recommended recipes above carries a signature flavor and a cultural aspect of Germany in it. Isn't it fun to make food but also learn about another country's culture?
Some of the recipes will have an unusual taste so be careful when choosing the recipe you want to make. I suggest you have a closer look at the ingredients listed in the chosen recipe.
I hope that the list gives you some useful recipes. I'm sure you will love some of them.
Nutrition Facts
40 servings per container
---
Amount Per ServingCalories76
% Daily Value *
Total Fat 2.5g

4

%
Cholesterol 11mg

4

%
Sodium 28mg

2

%
Potassium 45mg

2

%
Total Carbohydrate 12.4g

4

%

Dietary Fiber 0.3g

0

%
Sugars 5.9g

Protein 1g

2

%
---
Calcium

9

%
Iron

1

%
Vitamin D

2

%
* The % Daily Value tells you how much a nutrient in a serving of food contributes to a daily diet. 2,000 calories a day is used for general nutrition advice.