What makes Korean desserts iconic from others? More than 30 recipes are waiting to tell you the truth. Are you curious?
Korean culture has thrived more and more around the world. Not only Hallyu (Korean Wave), the idols on big stages, but their desserts have also contributed significantly to the diversity of Asian sweet world. Don't believe me? Keep on reading to find out for yourself!
Korean sweets are renowned for their distinct taste and vibrant appearance. Moreover, they come in different flavors, from gloriously sweet to intriguingly sour or savory, each with its elegance.
They are so simple but skillfully executed, astonishing everyone on many levels. Soon you feel unsure where to begin. Don't worry, and I got you covered! I am setting down a list of all the top Korean sweet delights, which are easier to make at home than you think.
Let's savor the culinary delights of the whole Korean!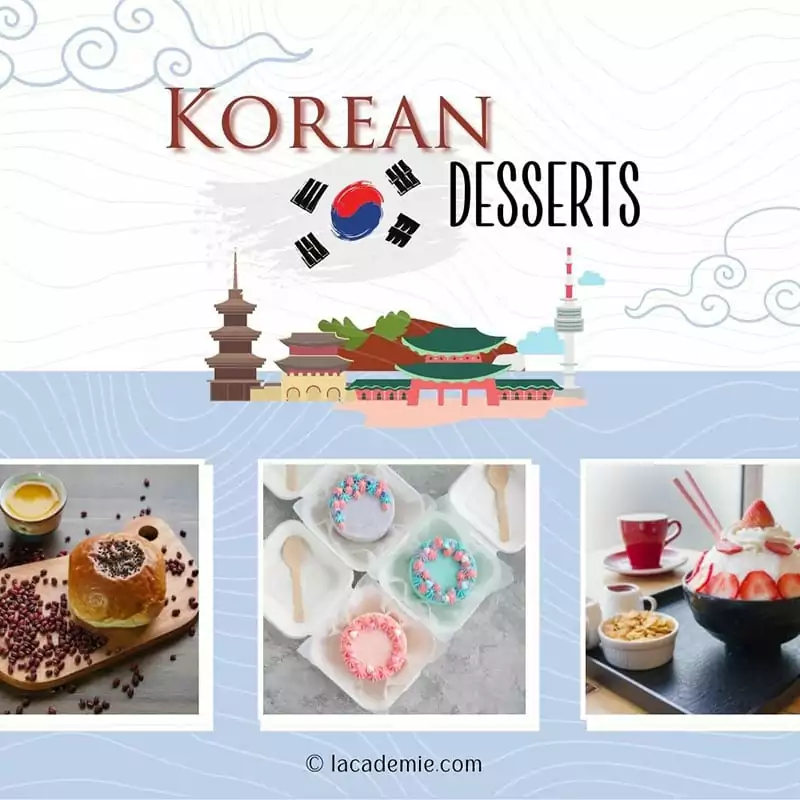 Above 30 Must-Try Korean Sweets
End up your party menu with yummy sweet treats from Korean cuisine. It's an appealing way to finish a memorable day, take all stresses and strains away. You will be surprised at how stunning and luscious they are! Let's scroll down right now!
Cakes
Red Bean Rice Cake
Korean Minimalist Cakes
Dasik
Hodu-gwaja
Pie & Pastry
Bungeoppang
Hotteok
Yakgwa
Songpyeon
Gotgamssam
Bukkumi
Cream-ppang
Yeongyang Chaltteok
Chapssal Donut
Chapssaltteok
Hwangnam-ppang
Hoppang
Gelatin & Pudding
Gwapyeon
Nokdumuk
Sweet Soups And Beverages
Baesuk
Sikhye
Subak Hwachae
Danpatjuk
Sujeonggwa
Dalgona Coffee
Hobakjuk
Omija Hwachae
Yujacha
Ice Creams
Patbingsu
Melona
Other Desserts
Yaksik
Tteok Kkochi
Pepero Stick
Top 30+ Korean Sweets In Town
Are you looking for something to refresh your sweet soul? My review is precisely a place you can trust. When it comes to Korean aesthetics, there's nothing better! A lot of these are popular dishes in North Korea and South Korea alike, so don't hesitate to try them out.
Learning about a new country is attractive, especially the cuisine. One fact about Korea is that you need to learn some basic table manners to respect the owner if you are invited for a meal.
Here are the most luscious Korean sweets you must taste when visiting native houses. It's a lot more quick and easy to prepare. Right tomorrow you can start baking them at home.
2 Cakes
Both Korean cafes and Korean sweets are attractive and worth a post on Instagram.
The adorable Korean cakes are so typical that you can find them in any bakery. So, is there any difference in ingredients and methods to the US or Europe? Yes, definitely. Keep moving to see the distinct points!
I used to be a red bean lover, and I still am. I believe that the majority of Koreans also enjoy red beans in whatever form. The best aspect is that making them is a breeze, the yummy cake ready in one hour.
The Red Bean Rice cake is delicately sweet, mildly chewy, not too dense, and spongy in texture. The red bean paste and rice flour are a match made in paradise.
When it's done, cut it into bite-size pieces and enjoy with a cup of hot Korean hot tea. Red bean dishes are both delicious and healthy. I sincerely hope that the culinary world will pay more attention to these excellent legumes.
The cake is sweet and warm, filled with happiness, love, and energy for a part of your gorgeous day. Today, I will share the latest Korean minimalist cake with you. Its design is surprisingly simple, but you can't even take your eyes off it.
If there is one thing that Koreans successfully engage in, it is making things look alluring. That is the reason why Korean Minimalist cakes have been trending on social media.
It is a master of bonny that is often single or two-tiered, frequently uses pastel colors or muted tones to decorate, and has a nice message on top of other fillings such as fruits, flowers, and pearls.
You can now have the most precious moments imprinted on cakes and send them to your beloved one.
A Korean movie, a dinner reservation, and Korean language study all have something in common. When you add Korean cookies to the mix, all activities become much more pleasant!
The tasty cookies have a colorful appearance, and perfect textures are waiting for you. Now let's hunt them down with the list below.
Dasik is a traditional dessert usually coming in small sizes and served with tea in Korea. The kneaded dough is pressed into Dasik molds to create small round cookies with various patterns and striking colors.
It comes in five different shades: red is made from omija fruit, while green is taken from Angelica Gigas. Suppose you want to have black, just using black sesame. In addition, potatoes, sweet potatoes, or mung starch bring white to the staple.
Dasik has captivated diners' palates and piqued your interest with the unique flavor provided by components. If you've never had this toothsome taste, what are you waiting for? Start making it in the kitchen to enjoy it fully!
Hodu-gwaja is also known as walnut cookies. The golden exterior is batter, made from 150g flour, 120ml milk, 35g melted butter, 40g sugar, one beaten egg, ½ tablespoon baking powder.
While the interior is soft and sweet, with crunchy walnut and red bean paste filling in the middle, they have just the proper level of sweetness, but not too much.
The Korean dessert is a must-try. Grab all components, get creative in the kitchen, and enjoy nutritious meals.
12 Pie & Pastry
Koreans also tend to be more focused on food as medicine, utilizing exotic items such as dried persimmon, pine seeds, chestnut, red dates (jujube), gingko, tangerine, and ginseng in cooking.
That is why Koreans will customize recipes as well as possible besides common constituents like glutinous rice flour. Pie and pastry are not exceptional.
Bungeoppang is a Korean version of a famous sweet treat in Japan: taiyaki. They are both a fish-shaped pastry packed with sweet red bean filling. Regardless of its shape, there was absolutely no fish in there.
The pastry is generated in a special fish-shaped waffle iron, and then the batter is then poured into a mound to achieve the signature shape. Place the filling before adding more layers of batter to cover the filling.
The cake is also something I accidentally learned from a Korean video. It was a chilly day, and everyone was huddled around a donut cart, waiting for the seller to shape the cake quickly. It is so appealing to the eye, golden brown, with a crispy exterior.
I think no one can resist a golden fried bake with gooey syrup inside.
Each Korean honey cookie is crunchy, sweet, and fragrant, and you can taste it as you sip it. Yakgwa is best served with hot tea or fresh fruit. If you prepare it in this manner, you will have a proper dessert.
You only need to try for more than 3 hours to complete the dish. However, the majority of the time, the cakes are soaked in honey syrup.
Yakgwa will pique your interest with this one-of-a-kind cake, light, simple, but highly scrummy and nutritious. So, what are you waiting for? Let's bring all ingredients to make these flavorsome honey Yakgwa cakes.
I look forward to seeing your creations! Let me know in a comment below! My dear!
Songpyeon is a type of tteok cake that is a traditional Korean delicacy for the Mid-Autumn Festival. To make Songpyeon, we thoroughly knead the rice flour, take the appropriate flour, add the filling, and shape it into a semicircle.
In addition, there are different kinds of fillings, such as red beans, black beans, chestnuts, and sesame seeds. If you want the cake a little brighter, simply add wormwood, pumpkin, or other vegetable juice to the rice flour.
The final step is to steam the cake with several pine needle leaves before brushing a layer of oil.
The light, gentle, and romantic scent of fresh pine needles will make Songpyeon truly unique, leaving you with long-lasting memories. When biting into a piece of Songpyeon, you will enjoy a chewy texture, a sweet taste, and a delightful light aroma.
You can eat dried persimmons right away or cut them into small pieces like jam for yogurt, but they can also create a masterpiece dish – Gotgamssam (walnuts wrapped in dried persimmon).
Gotgamssam is an inviting staple generated with two unique ingredients: dried persimmon with iridescent golden honey inside, natural sweetness, and the light, fleshy aroma of walnut.
Korean often enjoys Gotgamssam with a cup of tea or shares this dessert with beloved family, friends as an adorable gift.
Try making this yummy staple yourself to explore a whole new world of dessert. You can see this video to know more:
Bukkumi is a pan-fried rice cake made with sorghum flour or glutinous rice flour filled with red bean or mung bean paste. The dough will form the rice cakes into a half-moon shape before frying them in the pan. In just 20 minutes, the tasty dish is ready.
Garnish with jujube, chestnuts, rock tripe, pumpkin seed, and serve as a dessert with tea.
Tender and fluffy layers complement with rich, creamy custard to generate something genuinely unforgettable in your mouth. Cream-ppang is so prevalent in Korean bakeries for a reason.
I always grab one and go along with a cup of coffee for a quick fill me up during the day.
I hope you enjoy cream-ppang as much as I did. And Now, simply following the simple recipe, you can make some mouth-watering buns at your own home.
There are different kinds of pastries in Korean cuisine. The next dish is yeongyang chaltteok, which is super nutritious. This rice cake is made with various nutritional ingredients: black soybeans, jujube, dried kabocha, chestnuts, walnuts, etc.
This recipe is pretty flexible. You don't have to do any kneading, pounding, shaping, or even any particular tool. All you need is a steamer made from bamboo. You can apply rice power or other elements comfortably, giving you a delicious and healthy rice cake.
Give the super-nutritious cake a chance to satisfy your sweet cravings. You can see this video to know more:
The highly addictive ball-shaped donuts are made of sweet potato or glutinous rice flour, giving them a signature chewy texture. The golden-brown surface is crunchy, while the center is soft, gooey, and filled with red bean pastes.
Finish in a few hours for the best chewiness. Before serving, roll in cinnamon sugar to coat. Korean-style donuts are ready in front of your eyes.
Chapsalteok is traditionally made with glutinous rice flour and packed with red bean paste. Chapsaltteok is nearly the same as Japanese mocha, so it is also called mochi. When eating, everyone will notice its thickness and softness.
Besides white color, the outer has a green color, made from adding match into the dough. Koreans believe that the cake can bring luck, giving everyone gifts, especially those adored before examinations.
Hwangnam-ppang was invented in 1939 during the Japanese colonial period in Gyeongju Province's Hwangnam-dong district, giving rise to the cake's name.
The flour used to make the cake must adhere to a strict flour-water ratio before being wrapped with red beans, rounded and flattened, and pressed with molds to decorate.
Finally, the prepared dough is baked in the oven, generating a ripe Hwangnam-ppang with a rich aroma from the sweet scent of red beans.
Hoppang is a famous dish on all Korean streets, particularly during the winter season. It is a rice ball filled with sweet red bean paste or other fillings: vegetables, sausage, etcs. The dish is excellent as a dessert for the whole family, especially your beloved children.
Check out if you don't know how to make the tasty sweet red bean bun.
2 Gelatin & Pudding
Korean dessert has made the spotlight on the market. On many TV shows, Koreans are so passionate about daily food that they always make me hungry. It will inevitably be a culinary adventure that you will never forget.
One of my favorite food bloggers is a Jeju girl; she is the one who inspired me the love gelatin desserts and pudding. It's my turn to spread the love to you!
Gwapyeon is a splendid fruity summer dessert, small, colorful, and jelly-like. Boil fruits with tart-sweet flavor and pectin content such as cherry, quince, apricot, hawthorn, blueberry, bokbunja, or berry.
And it is then combined with honey and mung starch to quicken the process and generate specific shapes for dessert.
Nokdumuk is a jelly formed from mung bean starch. It's typically served cold. Soy sauce and vinegar are commonly used to season Nokdumuk.
Aside from its mild flavor, the delightful and glassy treats are a lot of fun to create and serve. Yeah, make fun; you can implement a new challenge at home named Nokdumuk with chopsticks.
Nokdu-muk is a traditional dish served on special occasions such as weddings or other celebrations.
9 Sweet Soup & Beverages
Korea has a polite culture where young people need to get drinks or food with both hands. This country is indeed astonishing; the more you learn, the more you want to visit this charming nation.
More than that, Korea is well-known for having a wide range of flavorful desserts during the day. Get some cool beverages to chill with drama on Netflix at night. Are you ready?
Baesuk is a ginger and pear tea used to treat a sick patient with a cold. The yellow-skin crunchy pear can boost the immune system, improve digestive health, and deliver essential minerals and vitamins to prevent freezing.
Since it can keep the body warm and alleviate the cold symptoms, ginger plays a vital role in this dessert. Koreans know how to combine two great ingredients to create a healthy dessert.
It uses more ingredients (honey, jujubes, dates, and pine nuts) to deepen the flavor. After peeling and cutting ginger into small pieces, simmer all the units in the ginger pot for 3 minutes. Let's wait until it is cold entirely before serving.
Sikhye, also known as rice water or sweet rice wine, is a popular traditional drink in Korea. Rice water is easy to digest, calm, and charming. Therefore Koreans prepare it in their daily meals, particularly those with a lot of meat.
Sikhye is a fragrant and easy-to-drink beverage with aromas of rice and barley (malt used to make beer). Making homemade rice water is not difficult, but it does take some time and only requires a few simple items. It's a drink worth a chance to try. Enjoy the ride!
Summer is undoubtedly the best season for eating watermelons, which appear in various beverage recipes worldwide. Watermelon is one of the freshest fruits in Korea as well. Subak Hwachae is the next Korean dessert, so what makes this drink unique?
Subak Hwachae is a watermelon beverage that has long been a favorite of Korean families. It's remarkably straightforward, and you'll have the cool drink ready in 20 minutes with some essential items on hand.
Cool, refreshing, sweet watermelon, this cocktail is genuinely "true love" on a humid night!
Danpatjuk, also called sweet red bean porridge, is an incredible Korean dessert. It delivers a delightfully smooth and silky taste. Furthermore, the red beans are highly nutritious and high in fiber, boosting the digestive system.
It would be best to serve it with simple toppings like chewy rice cakes, pine nuts, walnuts, or a sprinkle of cinnamon powder. However, they are just optional. You can adjust the amount of sugar or honey or add more items to your flavor up to your favorite.
Sujeonggwa is a traditional cinnamon punch in Korean. To prepare you boil water with cinema and ginger; let it cool before adding dried persimmon and garnishing with pine nuts. When finished, it will be dark reddish-brown.
Two of the main sections have anti-inflammatory and antioxidant properties, preventing catching a cold. The slight bitterness from cinnamon and ginger's pungent flavor balances splendidly with sugar sweet and persimmon.
It is not hard to make things right! The combination of ginger and cinnamon offers such a terrific warm spice flavor that the drink is remarkable. Give it a try.
Since its inception, sponge cafe- dalgona has quickly created a new wave in Korea and is a worldwide hit.
Coffee Dalgona is a beverage made by whisking together equal parts instant coffee, sugar, and hot water until creamy and then adding cold or hot milk. It is sometimes topped with coffee powder, cocoa, crackers, or honey.
Whip it up, begin your day with a tasty cup of coffee. So, what are you chasing? Make your way to the kitchen as soon as possible!
Hobak-juk, also known as pumpkin porridge, is a juk (porridge) made from pumpkin and glutinous rice flour. It is a naturally smooth and sweet porridge traditionally served to recover sick patients or the elderly.
With its sweetness and light color, the Korean-style porridge stimulates the appetite. Hobakjuk is low in calories and a portion of good diet food.
Omija Hwachae is a berry punch made with magnolia berries (omija berries), sugar and honey, then garnished with flower-shaped pear pieces. Like other punch types, Omija Hwachae is optimal for keeping cool and serving during hot summers.
The sweet and tangy drink has a pink color and is high in organic acids, which reduces fatigue and quenching thirst.
Another Korean drink is Yujacha, made from yuja citrus fruit peels that have been thinly cut.
Yujacha is made from thinly cut Yuja citrus fruit peels. Combine Yuja peel and honey into a fruit preserve mixture before storing in glass bottles. Then you place it in the refrigerator for up to a month.
The bitter and sour flavors match well with the sweetness of honey. When ready, simply stir 1 or 2 tablespoons of this mixture in hot water. It is an excellent remedy for health when you are searching for standard cold treatment.
2 Ice Creams
No matter the occasion, you are finding something new to try, and it's time to enlarge your dessert lists with Korean ice cream!
In a Korean convenience store, you may have been surprised by the sheer amount and variety of Korean ice cream flavors offered.
The weather is scorchingly hot. You require a little refreshment during such moments; below would be the oh-so-yum ice cream ever.
Patbingsu is also known as shaved ice cream. This Korean dessert is famous worldwide as a refreshing summer dish, nutritious, and very enjoyable.
The dessert is made initially with three simple ingredients: red bean paste, sticky rice cake, and shaved ice. It is now adding more sweet toppings, including chopped fruit, syrup, condensed milk, cocktails, and other beverages as a flavoring.
Keep in mind and don't forget to bring Patbingsu to the next meal. It is incredibly delicious!
I'm a big fan of ice cream, so I take all the chances to buy something cool, either on hot days or cool days. Say goodbye to the dull days, my dear, since you are having Melona.
Juicy honeydew is the star in this version of South Korean ice-pop. There are no artificial flavors here; ripe honeydew. Korean melon is blended and then removes the excess liquid to intensify the fruit taste. Later, you add sugar and cream.
Trust me; it'll be worth the wait. Enjoy a hit of honeydew on every popsicle bite, creamy but not too sweet.
3 Other Desserts
Most of the foods and customs evolved from royal cuisine hundred years ago. The food is balanced with temperature, color, necessary elements, or texture.
They are carefully renovated to convert high-quality staples. Desserts in Korea are not simply food, and it's an art to contemplate. So far from now, you are expanding more newborn recipes to the menu!
Yaksik is a rice cake made from sweet glutinous rice, nuts, and dried fruit such as chestnuts, jujubes, and pine nuts. Yaksik is not only impressive but is also immensely healthy.
The fabulous properties of sweet rice are nutritional, active on the stomach to support digestion issues, and frequent heartburn.
Tteok Kkochi has a simple recipe, but the flavor is unique; you will never forget it. Trust me!
Rice cakes with a crispy outer shell but chewiness on the inside that is true yum-yum to eat. Additionally, the signature sauce is vibrant, sweet and sour, and spicy. This dish can be prepared as a quick snack with friends, baits for husband, or appetizers for family gatherings.
I never stop drooling over this dessert. I hope you add relish to make this dish at home.
Have you heard of pepero sticks? It is long, thin cookie sticks covered in dark chocolate, raw almond, coconut shavings, or pumpkin seed. The crunchy sticks are pretty simple to make. You just need to melt chocolate, dip the sticks in and sprinkle the fillings.
Now you can relish the crunchy pepero stick all year round. Speed up!
Korean Sweets & All It Takes
It's time to imitate the scrumptious Korean sweet items in your kitchen. What a true blessing to have sweets to ẹnoy in life!
Every dessert lover has a vital way to indulge in sweet treats. Nowadays, more and more desserts from Korea have traveled around the world. I believe you have figured out more about Korean and Korean sweet treats through this post, fun facts only found in Korea.
Don't hesitate to send these goodies to your loved ones. Just share this little happiness with your family, friends, coworkers, or even lovely neighborhoods. If you have any dessert concerns, feel free to reach me down there in the comments.
Nutrition Facts
2 servings per container
---
Amount Per ServingCalories465
% Daily Value *
Total Fat 3.1g

5

%
Cholesterol 6mg

2

%
Sodium 167mg

7

%
Potassium 397mg

12

%
Total Carbohydrate 100.6g

34

%

Dietary Fiber 8.3g

32

%
Sugars 48.5g

Protein 10.5g

20

%
---
* The % Daily Value tells you how much a nutrient in a serving of food contributes to a daily diet. 2,000 calories a day is used for general nutrition advice.