When mentioning desserts, torte vs. cake are one of the first ideas that pop up in people's heads. Because they look alike, some people often assume that torte and cake are the same at first sight.
They are attractive with soft, smooth layers and lovely decorations, such as fruits, candies, marshmallows, etc. However, these sweet desserts are different!
Those who are curious about the distinctions between them, do not skip my post to find the answer you are looking for!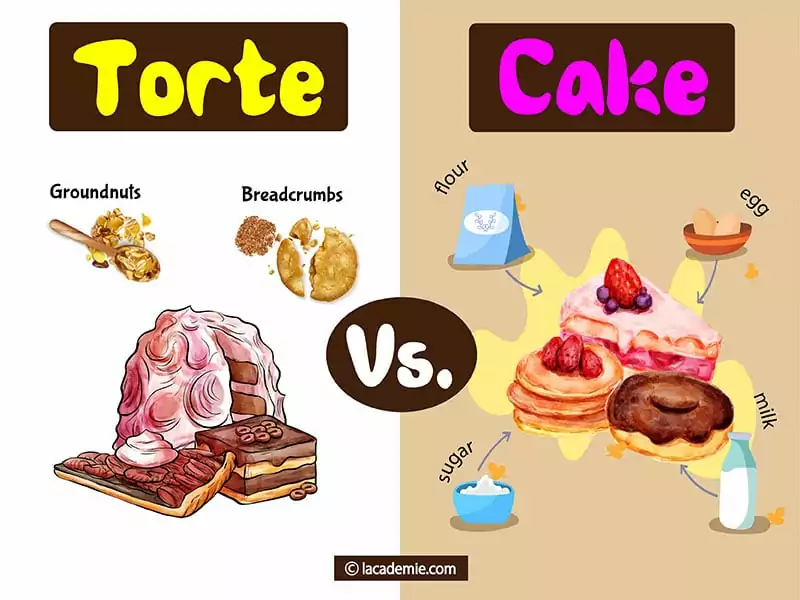 Torte Vs. Cake – The Showdown Between Two Lovely Desserts
Both torte and cake are great options for tea time and parties. But, how to distinguish them? Here are some differences that will help you tell them apart at a glance:
Basic ingredients
Texture
Height
Layer
Texture/ density
Flavor
Decoration
Fillings
If you are inspired by baking, you have come to the right place. Stay with me to explore the insights of torte and cake!
Do You Like Eating Tortes? Find Out More About Them
I should begin with the information on the torte. Although torte is a widely beloved dessert, not everyone knows about its origin and its definition. Check it now!
1. Surprising Facts To Learn About Torte
Torte is a flourless type of cake that usually comes with at least 4 layers. Although it originated from Central Europe, its name is actually from Germany. Among the various ways to enjoy torte, serving it with coffee is one of the most popular.
Instead of using flour to make, this flourless cake is finished with groundnuts or breadcrumbs. As it is usually made from premium ingredients, torte tends to come at a higher price than most other cake types.
The filling layers are often sliced fruits, jam, or buttercream, making the torte rich and dense. After baking on a springform pan, you will need to decorate it with fruits or other elegant decorations.
A remarkable aspect of it is the thick icing between each layer. Moreover, people also tend to cover an icing layer on the top and other sides of it. Last but not least, it is often cut into pieces and served after chilling (sweet icing).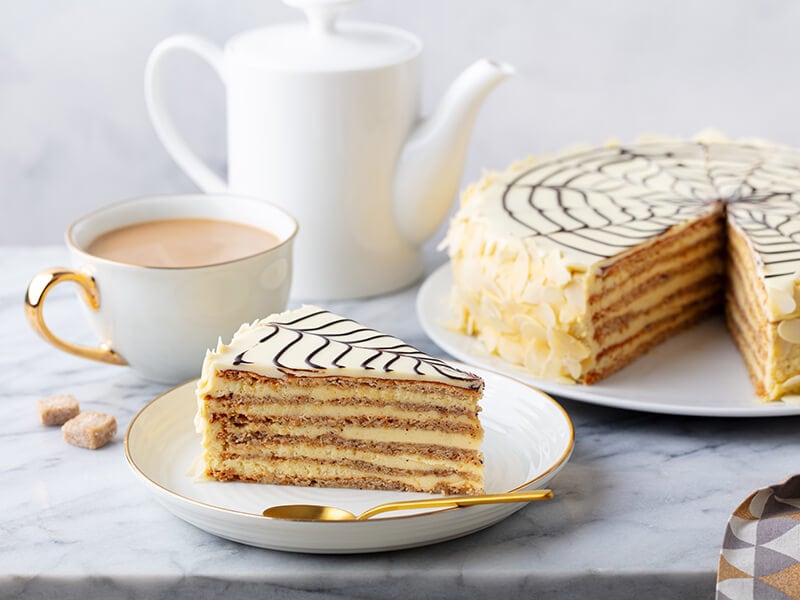 2. Which Torte Is The Most Famous?
Each country has its own torte with different fillings, decorations, and so on. You can see some common types in this part.
Sacher Torte
Sacher torte is also considered one of the most popular desserts in Germany. A big hit with the locals here, sacher torte tends to go with unsweetened whipped cream for an extra flavor boost. This really goes to show how widely beloved sacher torte is.
Linzer Torte:
This cake is from Austria, made from nut-rich pastry crust and raspberry jam covering. That is why its taste is more tart than other tortes. One feature that sets Linzer Torte from other tortes is that it only has one single layer, resulting in its short build.
Plum Torte:
This version is considered the most popular torte in America. It is often eaten in fall as a tradition of many regions in this nation. Nowadays, people tend to make a plum torte in their home instead of buying already-made cake in the market.
Moreover, there are some other versions of torte in Europe which do not have icing layers, particularly Gâteau Mercédès in French or Käsesahnetorte in Germany.
The Story I Should Tell You About Cake
The cake is not an unfamiliar dessert with all people, but what did you know about it? In this part, I will surprise you with more information about the cake. Read and share them with your friends now.
1. What Is Cake?
Cake is a baked dessert featuring basic ingredients such as flour, sugar, eggs, etc. One of the most popular desserts, cake can be served on many special occasions from birthdays to wedding parties.
There are many shapes and sizes of cake depending on the demand and purpose. Some people believe that cake is a variant of bread, the oldest form of sweet food.
The term "cake" was coined by Vikings, but ancient Egyptians were considered the first to come up with cakes. Because there are several types of cake, each type's origin may vary from one to another.
However, the precursors of cake which people see these days appeared for the first time in Europe during the 19th century. (1)
After mixing the constituents, people will bake and decorate a cake. Besides that, also use fruits, nuts, cocoa, etc., to substitute the main element when preparing any cake.
If the cake has layers, bakers will fill each layer with buttercreams or custard. Another option is using whipping cream. Decorations depend on your preference, and they can be candies, whipped cream, or different kinds of nuts.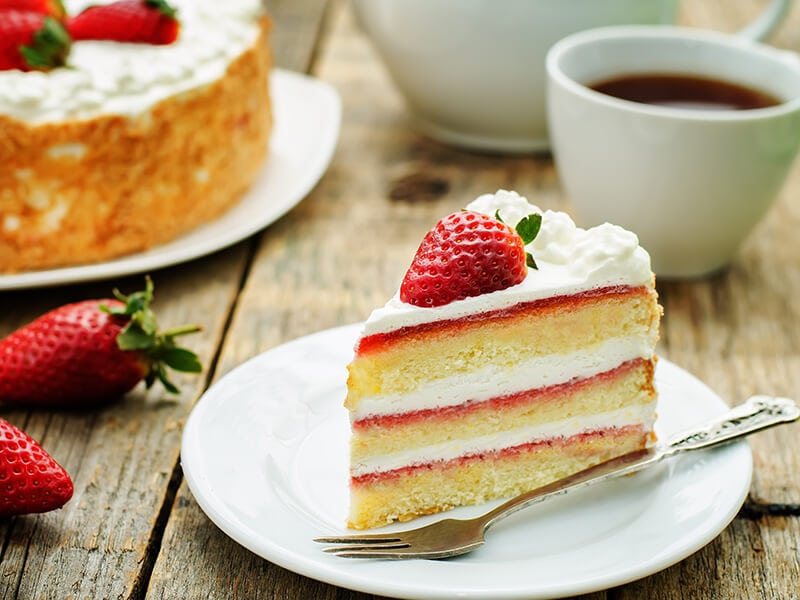 2. Famous Cakes Which You Might Not Know Before
The cake has a huge collection when mentioning its types. In this part, I will tell you some famous cakes that you can add to your list and try.
Coffee Cake
Despite its name, coffee cake is actually not baked from coffee. Its name is derived from the fact that it's usually served with coffee. For a more decadent bite, the cake can be decorated with streusel topping, which blends well with its fluffy, melt-in-your-mouth texture.
While most prefer serving this cake with light coffee like Americano, the most suitable candidates for it are strong coffee varieties such as Vietnamese coffee, one of the most popular treats in Vietnam. The strong bitter undertones really complement well with the sweet flavors from coffee cake.
Red Velvet Cake
When it comes to red velvet treats and confections, you'll instantly think of red velvet cake and its attractive colors. Usually made from cocoa powder, red velvet cake boasts a fudgy flavor that will steal chocolate-lovers' hearts. Plus, like other cakes, its texture is fluffy and moist.
Chocolate Cake
Chocolate cake is definitely not a strange dessert for all of you. It is often baked with layers with whipping creams or cherry fillings inside. The main ingredient is cocoa powder, so you can feel slightly bitter but still moist and rich.
Vanilla Cake
Simple as it may be, vanilla cake has managed to defend its position as one of the most beloved cakes around the world. It is its simplicity that allows the cake to be paired with various fruit toppings such as including lemon, strawberry, kiwi, etc.
How does a chef bake a vanilla cake? Remember the method and try it! Watch this video:
Torte Vs. Cake – Tasty Desserts For Your Meal
Although both of them are great desserts with sweet and creamy tastes, they are not the same. To help you know about torte and cake similarities and differences, I got the answer for you! Let's begin to discover!
| Aspects | Torte | Cake |
| --- | --- | --- |
| Definition | A flourless type of cake | A baked dessert made from flour, eggs, and other ingredients |
| Cooking Time And Temperature | Around 350°F | 325 - 450°F |
| Preservation And Shelf-life | Fridge: 3-4 days; Freezer: 3 months | Fridge: 3-4 days; Freezer: 3 months |
| Basic Ingredients For Making Sponge | Breadcrumbs or groundnuts, eggs, sugar; Does not contain flour | Eggs, flour, sugar (baking soda or baking powder are optional); Usually contains flour |
| Height | Around 2-4 inches | At least 4 inches |
| Layers | Might has more than 4 | Often 2-3 layers |
| Texture/density | Dense and heavier | Fluffy, light |
| Flavor | Rich and dense with tight crumbs (pair with syrups or liqueur) | Lightly sweet with loose crumbs (does not require adding syrups) |
| Fillings | Buttercream, jams, mousses, and fruits | Whipped cream, custard, and fruit |
| Frosting | Ganache, glaze, etc | Fondant, buttercream, etc. |
| Decoration | Elegant decorations (does not depend on the event) | Light icing or fondant (depend on the event) |
Torte Vs. Cake – Intriguing Similarities You Should Know
Although torte and cake might be two different desserts, they still share some similarities. Have I managed to get your attention? Have a look at the section below to discover the 3 features tortes and cakes share.
1. Cooking Temperature And Time
Generally, torte and cake have the same cooking time, and they both need to be baked in a high-quality cake pan to hold their shapes well. However, the time and temperature might depend a lot on the size and the number of layers you want for desserts.
When you want to make one of them, you must blend the ingredients to be a perfect mixture. Also, they tend to be cooked at nearly similar temperatures, from 325 to 450°F.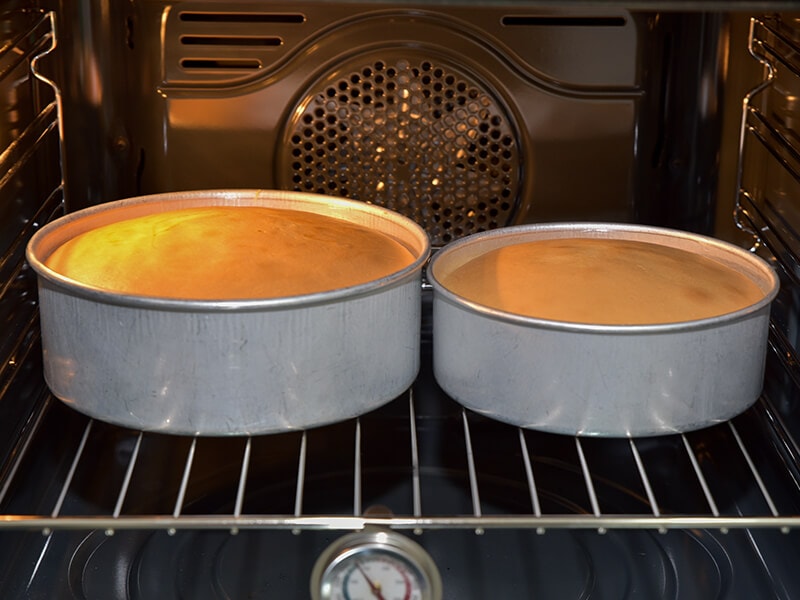 2. Preservation
With leftovers, you have to store them in the refrigerator, which should be covered by an airtight container. In case you want to freeze them, you can use them for up to three months. Surprisingly, their tastes are still good after freezing.
Anytime you enjoy your cake or torte, all you need to do is to thaw frozen ones at room temperature or in the fridge.
3. Shelf-Life
Torte and cake will stay fresh and delicious for 3-4 days in the fridge. You should not leave them out at room temperature for more than 24 hours.
Moreover, you can recognize spoiled cake and torte through similar indications. When their textures become hard and dry or develop molds, you should toss them away. If your dessert is decorated with fruits, check the fruits to see any moldy or slimy on them.
Torte Vs. Cake – Fascinating Features That Set Them Apart
This is the time to compare torte and cake! There are eight elements with specific features of each type. So, I am glad to bring you more details about them that help you understand deeply.
1. Basic Ingredients
If you used to create these foods, you might notice the ingredients are different. Torte is considered a flourless cake, while traditional cakes need flour to make.
Torte needs breadcrumbs or groundnuts as ingredients. In some cases, people will use flour in making torte, but it is a negligible amount. For instance, the chocolate torte with crème Anglaise is cooked with a teaspoon of all-purpose flour.
In contrast, flour is still a must-have part of baking any perfect cake. Sometimes, people add baking soda or baking powder to make the cake texture lighter. These adding parts for the cake will not work in creating a torte.
2. Height
As you may know, a torte is shorter than a cake in height. Unlike cake, it does not contain flour, so it doesn't rise while cooking, resulting in the fact that most tortes are only around 2-4 inches in height.
On the other hand, cake contains a generous amount of flour, which always expands and rises when exposed to high temperatures. This makes most cakes fall around at least 4 inches in height.
3. Texture/Density
Because torte is made of groundnuts or breadcrumbs, it's a lot denser than the average cake. On the contrary, flour gives cakes its light, fluffy texture. It's also easily noticeable that torte is a lot heavier than cake.
4. Flavor
As shown in the table above, the flavor of the two dishes is a separate factor that you should not ignore. These foods are considered sugary and flavorful. However, if you are a loyal fan of them, you will feel the difference.
The dense texture makes a torte richer in flavor with tight crumbs than a lightly sweet cake with loose crumbs.
Plus, another reason which leads to the distinction of taste is the covering syrup. To keep the torte constantly moist, people will cover it with syrup or liqueur. But, some bakers skip the covering step with cake.
5. Layers
Creating the number of layers depends on your preferences. As usual, cakes are made with 2-3 layers at the maximum.
After baking, the cake will rise much more than the torte, so adding more than 2-3 layers for a cake is quite challenging. You can quickly stack up to 5 layers of torte due to its dense and flat features.
How many layers do you want for a torte? I prefer 4 layers! Watch this video to know:
6. Fillings
When coming to the layers, it is vital to add the fillings for both cake and torte. There are many types of fillings that make you consider.
The most famous filling for tortes is buttercreams or slices of fruits that enhance its dense texture. If you are a new baker, you should begin with American buttercream because it is easy to prepare with only two ingredients.
Cake's filling tends to be whipped cream or custard to add a creamy taste to it. In case you do not like many layers, try a two-layer cake with vanilla custard fillings. It is simple but tasty.
7. Frosting
The density of the torte is heavier than cake, partly due to the frosting. While bakers frost cake with buttercream or fondant, it is generally preferable to apply a more decadent coating on the torte. Torte frosting is often dark chocolate ganache or glaze.
8. Decoration
There is no limit to decorating torte vs. cake! However, torte tends to be trimmed more elegantly than cakes. Meanwhile, bakers like to show off their creativity with a cake, from funny to formal ideas with light icing or fondant.
Most tortes' decoration is not determined by the occasions in which they're served. However, cakes' decoration tend to be more event-oriented. This explains why you can easily spot cakes specifically designed for occasions such as birthdays, weddings, anniversaries, etc.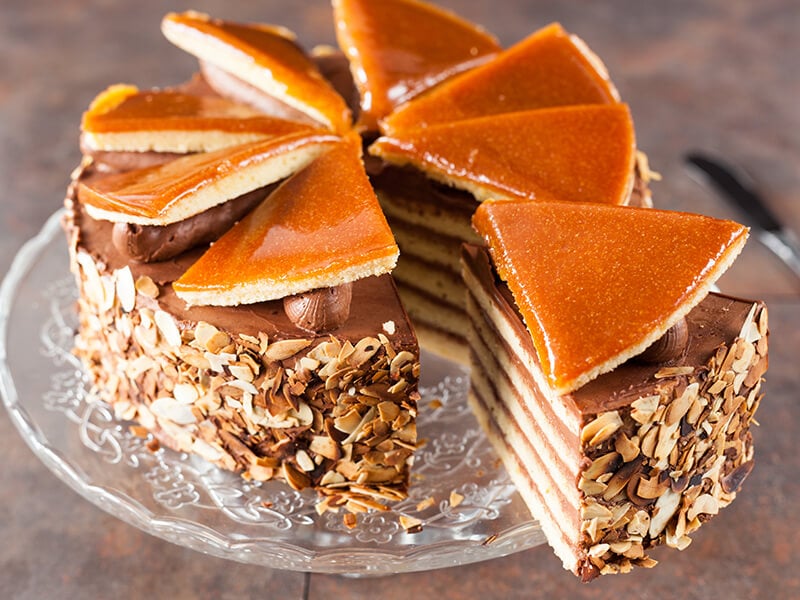 How To Torte A Cake Properly?
Torting a cake is very important to decide the appearance of this dessert. This process simply cuts the cake evenly into layers and adds the fillings. But, it is not an easy task, especially with new bakers. Read these instructions to know what to do.
What you Need:
Rotating tray
Pastry knife
Ruler and large stainless steel cake shovel (optional)
Step 1: Make sure your cake is cool evenly. You can put it into the fridge or leave it at room temperature.
Step 2: Put the cake into the rotating tray, you can also go for a premium cake stand with a rotation function if you don't have a rotating tray. Determine the place you will cut. Gently mark the place which you are going to cut with a ruler or your pastry knife.
Step 3: Start to turn the tray slowly and use your knife to cut around the outside of the cake.
Step 4: Begin to cut inside of the cake according to the shallow cut you've just created. In this step, you have to be careful and move the knife as slowly as possible.
Step 5: After cutting, you should use a cake lifter to separate the layers easier.
Step 6: Connect the layers with fillings.
Useful Tips:
You should torte a cake in the middle so that the layers of cakes are even.
If you see the severe dome on the cake, remove it before cutting to make it more beautiful.
Torting a cake and adding fillings like sliced fruits will make it tastier! Watch this video to know:
Incredible Recipes To Sweeten Parties With These Foods
It is worth standing in the kitchen and creating more versions of these delicious cakes, right? That is why I bring this part to all of you, especially those inspired cooking desserts. I think some of my recipes will be familiar to you, and others are new experiences.
3 Decadent Torte Recipes To Sate Your Inner Sweet Tooth
There are a hundred recipes to make the best completion for your day with torte cakes, so I want to share my favorite cooking methods with you this time.
Missing out on a plum torte is a big mistake if you want a tasty dish to eat during your tea time. This cake is very famous and easy to make.
Dense, moist, and lightly sweet are the words to describe this dessert. And, of course, you can feel a unique flavor of plum in the dish.
As mentioned, sliced fruits are ideal ingredients for a rich food like a torte. Whenever I find many kinds of berries in the fridge, my mind will say, "make a blitz berry torte now".
Thanks to fruits, I believe you will not be fed up with the rich flavor of tortes! Not only adults but kids also fall in love with it immediately.
Cooking a simple dessert like chocolate torte is not a bad decision. This traditional dish has been the most popular one for many years.
This cake brings you rich and decadent bites. The thick icing glaze on top will level up the richness of this flourless cake.
Besides, this unskilled cake does not require any rare constituents, just with eggs, sugar, and chocolate and your inspiration.
3 Amazing Cake Recipes You Need To Try At Least Once
I have here three cake recipes that help you to show off your cooking talent with friends. In case you like some of them, remember how to cook and enjoy them!
I believe fluffy lemon cake never makes you disappointed. I like the balance between sweet and a bit sour flavor from lemon juice.
At a glance, it seems to be easy to make, but this is not the truth. You have to pay attention to the amount of lemon juice you will pour inside the cake.
Have you ever baked any cake with oreo? Save this recipe and make it then. This cake is straightforward to make, but the taste is vanilla due to the fillings of oreo inside. Moreover, you can decorate the cake with whipped cream to enhance the creamy feeling.
Trust me; you will want to buy a lot of oreo from stores to make this cake when you try!
Oreo cake is sure to never disappoint you! Let's make Oreo cake with this video:
Do not simply think carrots can only make savory dishes! This brown butter carrot cake will change your mind. Thanks to the carrots ingredients, the texture and flavor of the cake are moist, naturally sweet.
I recommend you add a ton of your favorite cheese type in case you like creamy flavor. This is a perfect decision for your family's big meals.
FAQs
I think that you still have some questions about this topic. Keep reading and see what you should notice about these cakes.
Torte Vs. Cake: Which Desserts Do You Like To Eat?
For me, torte vs. cake are the best choices at formal parties or cozy meals with my family members. No matter what bad mood you are in, eating these sweet foods will help you to reduce stress and improve emotion.
Which cakes or tortes have you made before? I hope you can share with me your experiences and other ideas about these desserts. Lastly, apply one of my recipe suggestions to experiment with new flavors.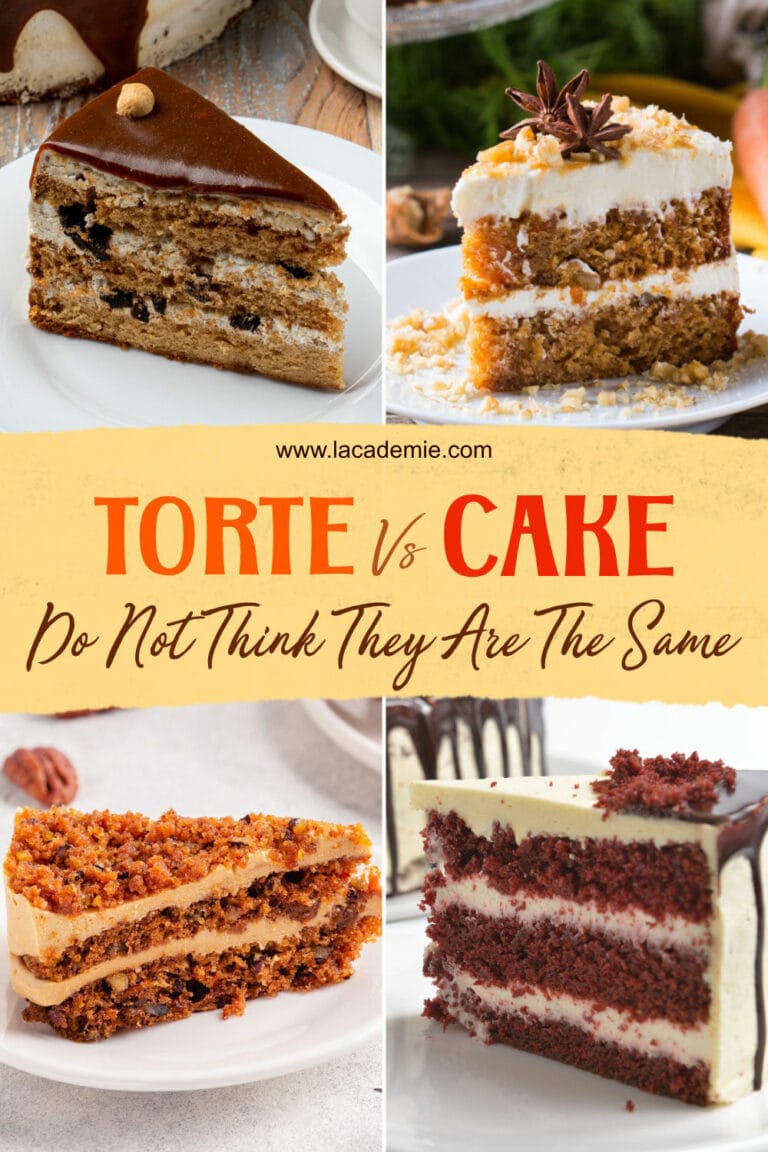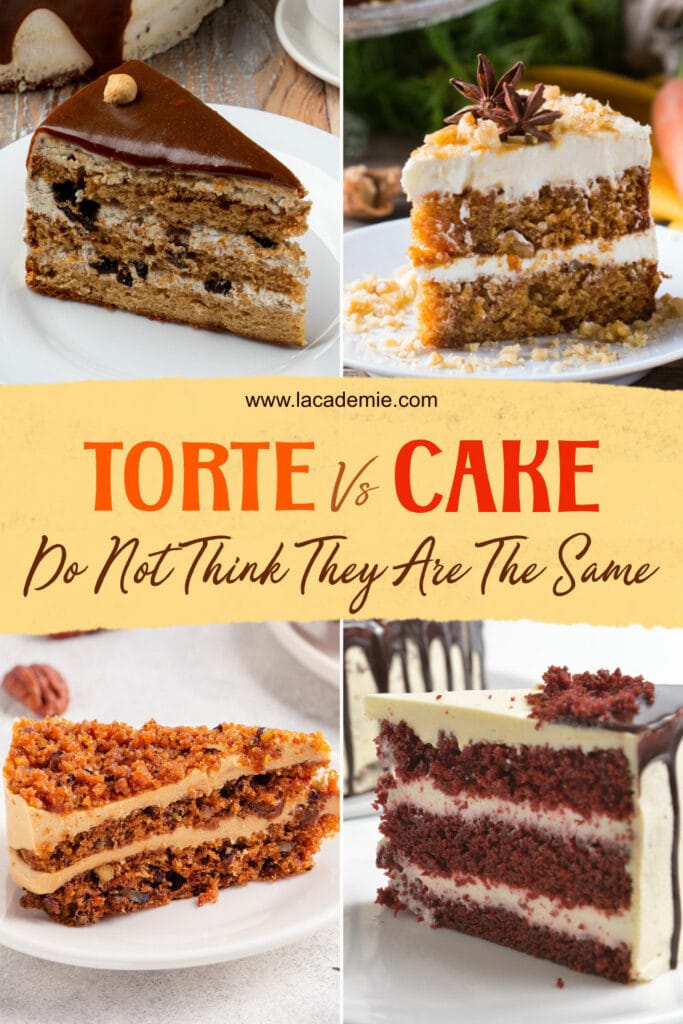 References
Sutori.com. 2021. Sutori. [online] Available at: <https://www.sutori.com/en/story/a-brief-history-of-cake–YCPiFFmDYTbzWE11G598wSpv>
Healthline. 2021. 20 Foods That Are Bad for Your Health. [online] Available at: <https://www.healthline.com/nutrition/20-foods-to-avoid-like-the-plague#TOC_TITLE_HDR_8>