It's shocking how many different types of cheesecake there are in the world. If you're a US citizen, you probably know about New York and Chicago-style cheesecake, but that's far from covering all the kinds of cheesecake available.
In order not to miss out on any delicious cheesecake type, why don't you start learning about them today? Take this post as a starting point to discovering the wonderful world of cheesecake!
A History Of Cheesecake
First, let's learn a thing or two about the fascinating history of this well-loved dessert type. Although some people might think of cheesecake as a modern world invention, this crowd-favorite sweet treat has existed since the ancient Greece era.
A Greek physician named Aegimus wrote the first book about the art of making cheesecake in the 5th century BCE. After the Roman conquered Greece, they adopted the dish and made 3 documented cheesecake recipes for religious uses called the placenta, libum, and savillum.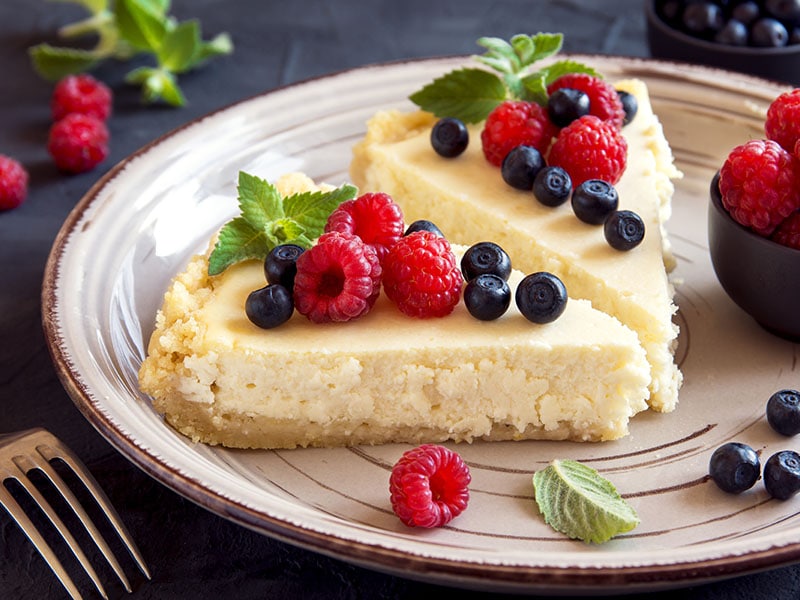 Among the three, placenta cake, which has a separately prepared crust, resembles the modern cheesecake the most.
Later on, a modernized version called the sambocade, which features rose water and elderflower, appeared in the English cookbook Forme of Cury in 1390. For this reason, some people argue that the English are the real inventors of cheesecake.
However, it was not until the 15th century that the English term "cheesecake" became popular. Then, it took another 3 centuries for the famous dessert to evolve into the modern form that everyone knows and loves today.
In the United States, the first version of cheesecake was an invention by Chester-based chef William Lawrence in 1872. He accidentally made a heavy and creamy "unripened cheese" while trying to recreate Neufchâtel – a traditional French cheese.
Important information about cheesecake's history in less than 2 minutes.
What You Will Find Inside A Cheesecake
Around the 18th century, Europeans replaced yeast with beaten eggs and other ingredients, resulting in a milder taste and dessert-like cake.
English chef Maria Rundell then wrote a cookbook called A New System of Domestic Cookery, which contained cheesecake recipes made with fresh butter and cheese curd. Other ingredients might include blanched almonds, cream, eggs, brandy, currants, etc.
There are generally two versions of modern cheesecake: baked and unbaked. American cheesecake often features cream cheese on top of a base made with graham crackers and crumbled cookies.
As you can see, cheesecake is made mainly from dairy products. As a result, the shelf life of cheesecake is not very long, especially when you store it at room temperature. If you don't plan to enjoy this dessert within 2 hours, remember to keep it in the fridge.
You might also wonder if cheesecake is suitable for a gluten-free diet. Since cheesecake traditionally has a graham crackers base, which may contain gluten, you'll need to be careful of store-bought ones. Of course, you can make your own gluten-free cheesecake at home.
Apart from the two basic versions above, there are many regional variations, many of which will be included in today's post. Keep scrolling to know more!
13 Yummy Types Of Cheesecake Worldwide
It's time to get to the "main course" of this post and discover the various types of cheesecake. Apart from the well-known variants in the United States, I'll also include some regional versions of other countries.
They could be your new favorite desserts cooked in instant pots as well.
| Types Of Cheesecake | Country Of Origin | Main Ingredients |
| --- | --- | --- |
| Classic Cheesecake | Europe | Cream cheese, sugar, eggs, sour cream, graham crackers, and heavy cream |
| New York-Style Cheesecake | America | Cream cheese, heavy cream, sour cream, sugar, graham crackers, and egg yolks |
| Chicago-Style Cheesecake | America | Cream cheese, eggs, sour cream, vanilla extract, shortbread, butter, and sugar |
| "Cotton" Cheesecake | Japan | Cream cheese, sugar, egg whites, and egg yolks |
| Ube Cheesecake | The Philippines | Cream cheese and ube halaya |
| Vatrushka | Russia | Yeast bread dough (sweet or unsweetened), quark |
| No-Bake Cheesecake | Various countries | Double cream, cream cheese, and icing sugar |
| Basque Cheesecake | Spain | Cream cheese, eggs, and sugar |
| Ricotta Cheesecake | Italy | Ricotta cheese, sugar, eggs, and flour |
| Vegan Cheesecake | Various countries | Silken tofu, cashew nuts, coconut milk, vegan graham crackers |
| Käsekuchen | Germany | Quark, shortcrust pastries |
| Ostkaka | Sweden | Cheese, eggs, sugar, almonds, bitter almonds, and cream |
| Topfentorte | Austria | Topfen cheese, eggs, flour, sugar, lemon zest, double cream, and gelatin |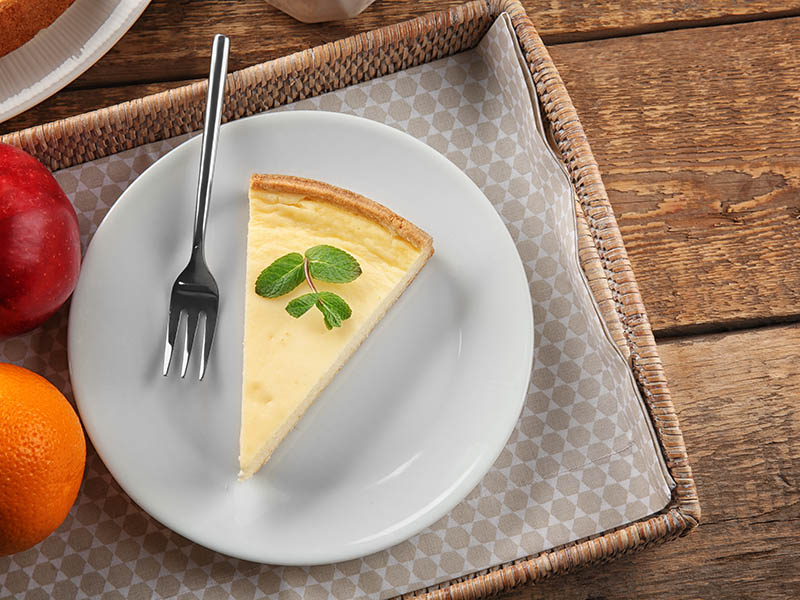 Let's start this list with the original modern cheesecake, which is likely to be the most popular version worldwide. Chefs make this cake in the oven at moderate temperature using the water bath technique.
If you live in New York, you'll probably find the classic cheesecake similar to the New York-style ones. While both of them feature sugar, eggs, and cream cheese, the ingredient ratio is what sets them apart.
The traditional cheesecake will often have less cream cheese, resulting in a less dense texture than the New York-style counterpart. To make up for the reduced amount of cream cheese, chefs will add more sour cream or heavy cream.
Another distinct characteristic of the classic cheesecake is its graham cracker crust and dark browned edges. In countries like France and Italy, the locals might use their signature cheese types such as mascarpone, Neufchatel, or chevre to make these delicious desserts.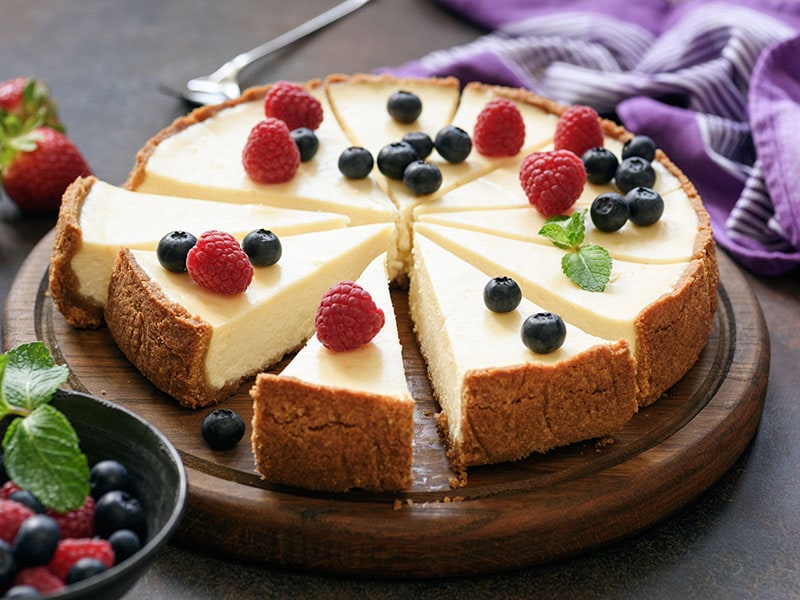 New York-style cheesecake – an iconic American delicacies is the perfect treat if you crave a smooth, dense, and creamy dessert. Similar to the classic cheesecake, this cherished cheesecake variant is packed with cream cheese (a lot of it), heavy cream, and egg yolks.
Furthermore, sour cream or a squeeze of lemon juice might be added to create a more diverse flavor. The addition of sour cream also makes the cake less prone to freezing. As for the crust, typical ingredients consist of melted butter, graham crackers, and sugar.
The secret to the best-tasting New York cheesecake lies in the baking technique. Bakers will use a springform pan for baking the cake at a high temperature until the crust turns golden brown. After that, they'll lower the temperature and cook it to perfection.
To enhance its flavor, you can top it with strawberry compote. However, even without this optional topping, the cake's silky smooth and rich texture is more than enough to mesmerize your taste buds.
Check out the best New York-style cheesecake in New York City.
Chicago-style cheesecake is another mouth-watering dessert that originated in America. It boasts a firm outside while being creamy, moist, and soft on the inside. Compared to other versions, Chicago cheesecake is relatively fluffier in texture.
The cheese base of this cake is nothing fancy, just some simple cream cheese, eggs, sour cream, vanilla extract, and sugar baked in a greased cake pan. Despite that, its fluffy consistency has stolen the heart of many sweet lovers.
Its delicious crust comes from crushed shortbread mixed with sugar, butter, a bit of salt, vanilla extract, and some all-purpose flour. Chicago cheesecakes are also sold in frozen forms.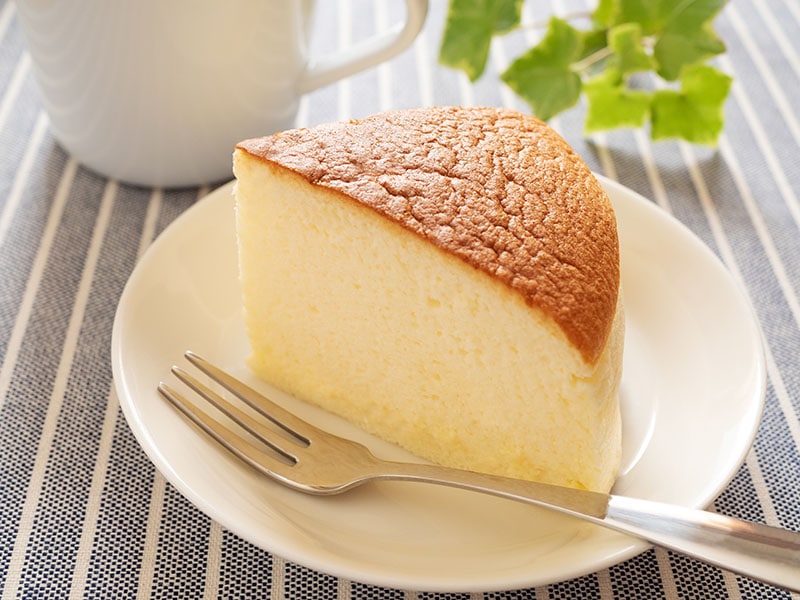 Although cheesecake was originally a Western dessert, its popularity has spread to "the Land of the Rising Sun." And the result is this phenomenal Japanese "cotton" cheesecake, which also goes by the name souffle cheesecake.
Sufurechīzukēki, as the Japanese call it, was an invention of a Japanese chef named Tomataro Kuzuno. He took a trip to Berlin in the 1960s and was inspired by Germany's Käsekuchen cake.
Later on, Uncle Tetsu's Cheesecake bakery in Hakata, Fukuoka, Japan, popularized this tasty Japanese sweet treat worldwide in the 1990s.
In comparison to North American cheesecakes, "cotton" cheesecake contains fewer calories and has a less sweet flavor since the Japanese use less cheese and sugar. The signature feature that makes souffle cheesecake famous is its wobbly, airy texture.
To achieve this distinct fluffy consistency, chefs will need to whip egg white and egg yolk separately. The cake is often baked in a bain-marie.
These jiggly Japanese cheesecakes will take your breath away.
Ube cheesecake, also known as purple yam cheesecake, is a Filipino sweet delicacy made with cream cheese and topped with ube halaya (a combination of mashed purple yam, milk, butter, and sugar). It features a crushed graham crackers base.
There are two ways to make this beautiful dessert: bake and refrigerate. The unbaked version involves mixing and molding all the ingredients and chilling them until solid. Baked ube cheesecake often requires eggs and is also refrigerated before serving.
The biggest "selling point" of ube cheesecake is, of course, the appetizing ube halaya layer on top. To thicken the topping, the locals will mix it with cream cheese, vanilla extract, and, occasionally, condensed milk.
If you can't get enough of this yummy treat from the Philippines, you can also enjoy it in cupcake or bar forms. Some variants might swap out the cream cheese for queso de bola – a semi-hard cheese from Holland.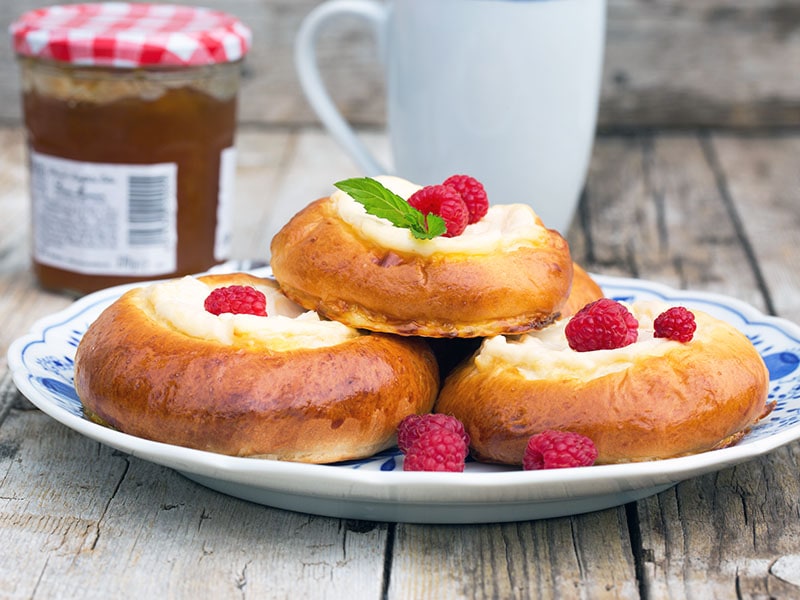 Vatrushka doesn't come in the run-off-the-mill cheesecake shape. Instead, the Russian-style dessert is a type of Pirogi (baked case of dough) that has a ring shape with cottage cheese or quark filling in the middle. Some recipes also add raisins or small pieces of fruit.
The Russians use sweet yeast bread dough to make sweet vatrushka, while savory versions contain unsweetened dough and onions. The most common size for a vatrushka is about 2 to 4 inches in diameter.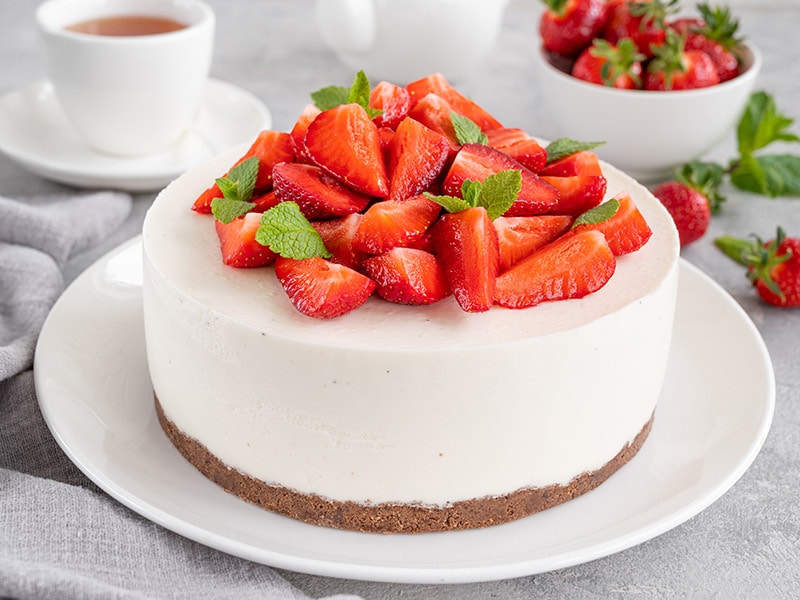 What if you want to make a cheesecake without using an oven? Well, no-bake cheesecake is your answer! While there are many recipes for this no-bake sweet goodness, most of them ask for 3 essential ingredients: double cream, cream cheese, and icing sugar.
Since there's no egg involved in the making of no-bake cheesecake, you should always opt for high-quality, full-fat cream cheese. Doing this will help your cakes to hold their shape better and have a creamier, smoother consistency. Cream cheeses that include gelatin are also solid choices.
When done right, your cake will taste just as good as a fully-baked one. However, you should also keep your expectation in check, as a no-bake cheesecake is likely to be less creamy and puffy.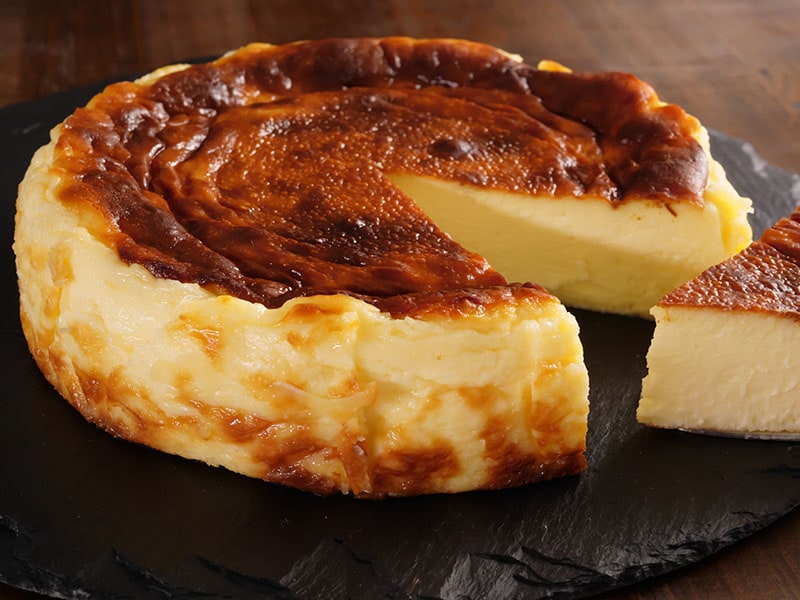 Originating from a cafe called La Viña in the Basque region of Spain, Basque-style cheesecake is a unique Spanish dessert that will change your depiction of cheesecake forever.
In 1990, Spanish chef Santiago Rivera created an amazing sweet treat that's totally different from the typical cheesecake in the States. The cake has no crust, and looks rough, charred, with a dark brown and torched top layer that resembles a crème brulée.
Furthermore, Basque cheesecake boasts a light and airy texture, which might remind you of a mousse, while the ones found in America are often dense and creamy. Interestingly, these two polar-opposite cakes consist of the same basic ingredients of cream cheese, eggs, and sugar.
The thing that creates Basque-style cheesecake signature appearances is its high baking temperature. Chefs will bake the cake at around 392 degrees F for an hour, then let it rest for a couple more hours or overnight. The final result is a special cheesecake that deviates from the norms.
Learn how to make a Basque cheesecake at home.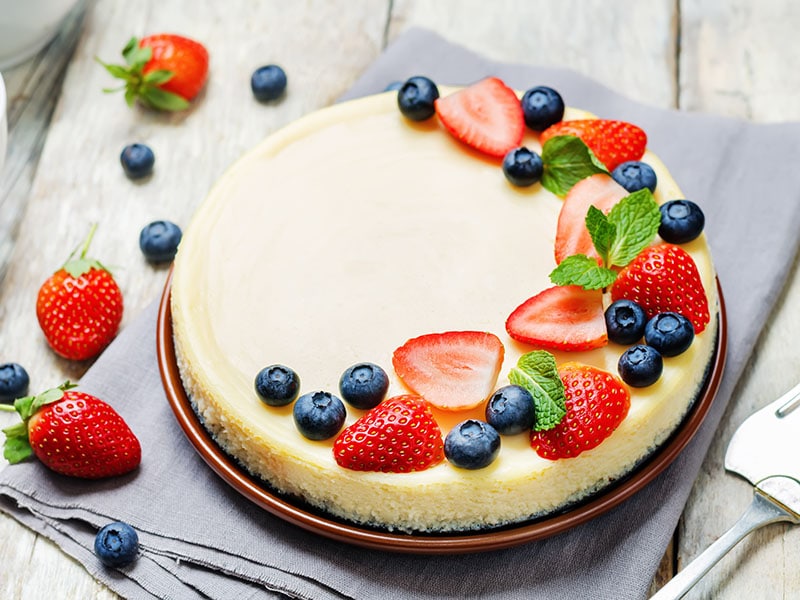 Any fan of traditional Italian gastronomy will know about Ricotta cheese, which, for obvious reasons, makes for exceptional cheesecake. If you want to add a little Italian twist to your favorite dessert, Italian Ricotta cheesecake is your go-to.
As the name implies, this delectable recipe replaces cream cheese with Italian Ricotta cheese. As a result, the cake has a light, cake-like texture that's a bit drier and less creamy than its American counterpart.
If a slightly granular consistency isn't your cup of tea, you can add a little milk to the cheese. For the best result, opt for the freshest Ricotta cheese you can get your hands on!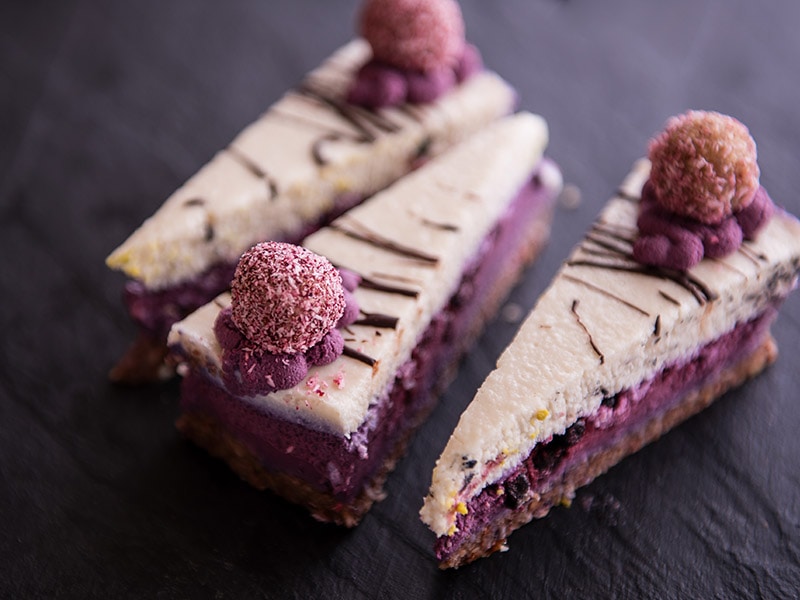 To be certified as "vegan", a cheesecake must be deprived of two essential ingredients: cream cheese and eggs. But don't worry, the genius vegan chefs out there have come up with perfect alternatives for these two products.
The number one candidate for replacing cream cheese is silken tofu, which mimics the consistency of cream cheese flawlessly when blended. Softened cashew nuts are another solid choice, especially when you mix them with coconut milk.
To make your vegan batter more cream cheese-like, you can also add a touch of citrus. Alternatively, you can simply buy vegan cream cheese in grocery stores. As for the crust, you can't go wrong with vegan graham crackers, digestive biscuits, or cookies.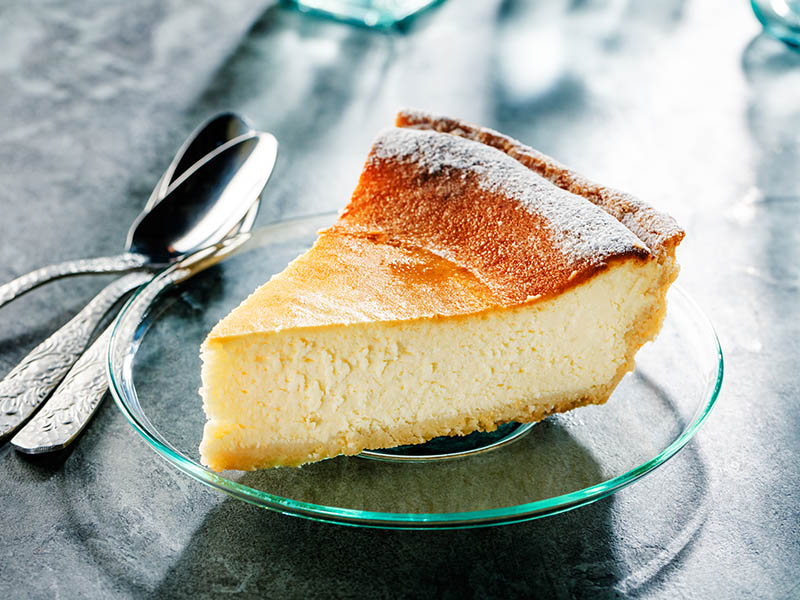 Käsekuchen is the German version of a cheesecake. This classic German dessert has a heavy, dense, yet fluffy interior that's made mainly from quark or sour cream instead of cream cheese.
In case you aren't familiar with quark, it's a ubiquitous cheese type in Central Europe. The locals make it from curdled and strained milk. Although the Germans usually separate quark from cottage cheese, other European nations might view cottage cheese as a form of quark.
In general, Käsekuchen is less sweet and has a more milky flavor than American cheesecakes. Additionally, German people use shortcrust pastries to make the base in place of graham crackers.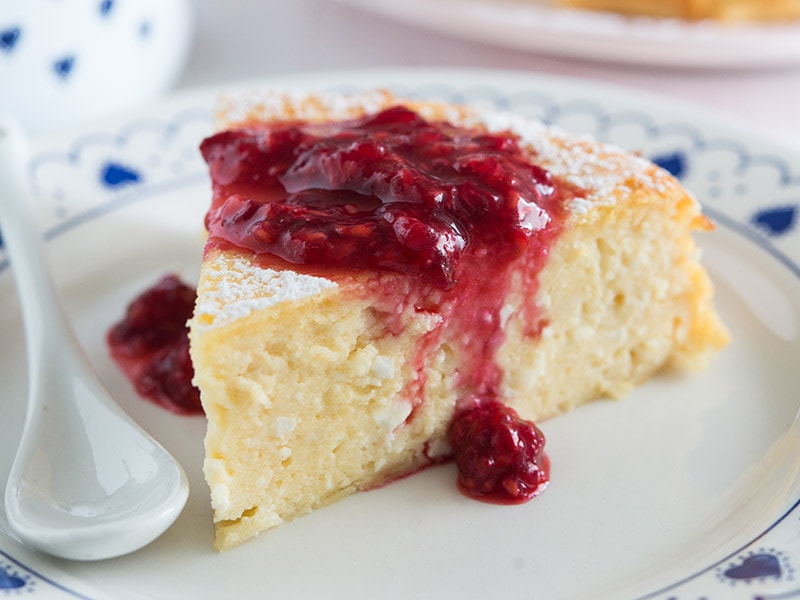 I'll start off this entry with a quick explanation of the cake's name. In Swedish, "ost" means cheese and "kaka" means cake. Combine these two nouns, and you have "cheesecake". Simple, right? However, the Swedish cheesecake isn't remotely similar to American-style ones.
First of all, traditional Ostkaka doesn't contain cream cheese. Instead, the Swedish make this delicacy by adding rennet to a mixture consisting of warm milk and flour. After the casein has coagulated, eggs, sugar, almonds, bitter almonds, and cream are added.
They will then proceed to bake the batter in an oven until perfection. Since making this yummy Swedish dessert is a bit of a hassle, some versions use cottage cheese as a shortcut.
The locals love to enjoy Ostkaka warm with some cream and strawberries on top. Although it might not be as sweet as a New York-style cheesecake, Ostakaka is considered a healthier dessert.
You won't regret making this Swedish cheesecake.
Like other European countries, Austria also has its own version of cheesecake, which is called Topfentorte. You can easily distinguish it from other variations by looking at the two cake sponges that sandwich the cheese layer in the middle.
The cheese of choice here is Topfen – Austrian quark cheese. Other ingredients include eggs, flour, sugar, lemon zest, double cream, and gelatin. To round off the flavor, don't forget to garnish the cake with some powdered sugar, cream, or berries.
Creative Ways To Change Up Your Cheesecakes
While the various cheesecake types listed in today's post are considered classics, you can always change up this treat to fit your liking. Here are some ideas to infuse your personalities into these tasty desserts!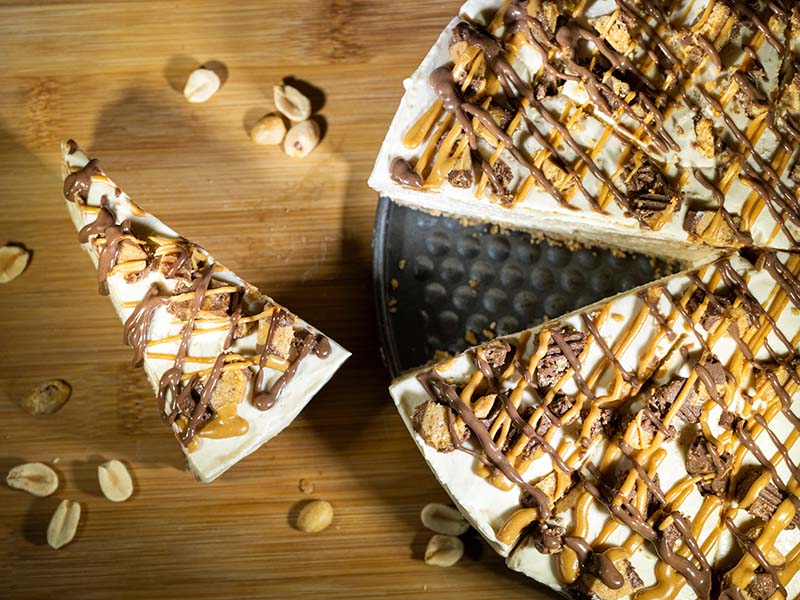 Add More Toppings
The toppings for store-bought cheesecakes are often quite simple. You might see some sour cream and preserved fruit, usually cherry, strawberry, or raspberry, on top of a New York-style cheesecake.
While that's all well and good, you can always "go wild" with the toppings if you're making your own cheesecake. Add more whipped cream, drizzle some syrups or chocolate sauces, or even throw in some candy bars. The sky's the limit!
Play With The Flavors
Traditionalists might insist on keeping cream cheese as the dominant taste in a cheesecake, but you can always have fun with flavored ones.
A quick search on Google will give you numerous ideas to flavor your cake. For example, fruits, chocolate, spices, seeds, and liqueurs-infused cheesecake are very popular among sweet lovers. You can even try a savory cheesecake if you want something more unconventional!
Alter The Crust
Swapping out the traditional graham crackers or cookie-based crust is another excellent way to level up your cheesecake. For starters, give pastry, sponge cake, crushed nuts, or nut flour a go. Plus, you can also skip the crust entirely!
Easy Cheesecake Recipes To Try At Home!
After reading through all the delicious cheesecake types above, I'm sure that you're tempted to make this classic dessert. Well, check out these recipes right now!
Not only is this swirl cheesecake recipe incredibly delicious, but it's also visually stunning. Despite its rather complicated appearance, you'll be surprised to learn how simple the recipe is. This is the perfect dessert to impress your guests.
If you're thinking that vegan cheesecakes are all plain and boring, let this yummy raspberry cheesecake change your mind. The sweet flavors from raspberry blend beautifully with the slight nuttiness of cashew will make for a satisfying culinary experience.
For some people, savory cheesecakes might be a bit off-putting. However, if you can get past that prejudice, this spinach and artichoke cheesecake will surprise you with its amazing flavor. I suggest serving it as an appetizer rather than a dessert.
Enjoy Your Cheesecake!
The many cheesecake variants provided in today's post should satisfy your dessert craving for a while. After trying all of them, don't hesitate to dig deeper into the vast cheesecake world, and who knows, you might be able to find some even yummier options!
Let me know which type is your favorite in the comment section. Plus, if you know some other delicious cheesecake types, feel free to share their name with me and other readers. If the article has proven useful, please give it a like and send it to your fellow dessert lovers!