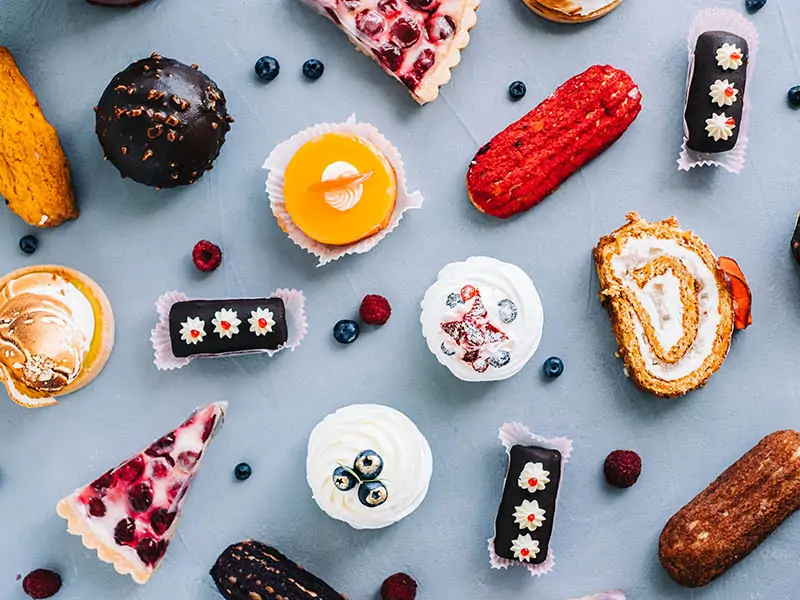 There are numerous types of desserts. They all have distinctive traits to differentiate them from each other. But they also share 1 thing in common: desserts are irresistible.
Dessert is one of the most precious food types. You can find many dessert recipes out there, and some of them are simple desserts to try at home without too much time or effort.
I know sugar might not be too good for your health, but I barely feel guilty after indulging myself in a piece of cake. They bring a smile to me, and I believe you would feel the same. So there is nothing wrong with eating these sweet treats.
If you consume them moderately, they even bring several benefits to your health. Chocolate dessert is great for your heart and can prevent stroke. Plus, they can lower your blood pressure since they are good packages of nutrients.
In this post, I will not only cover 16 dessert types but also show you some famous sweet recipes around the world. Wait no longer; let's dig into the dessert world to discover how wonderful they are.
1. Pies and Cobblers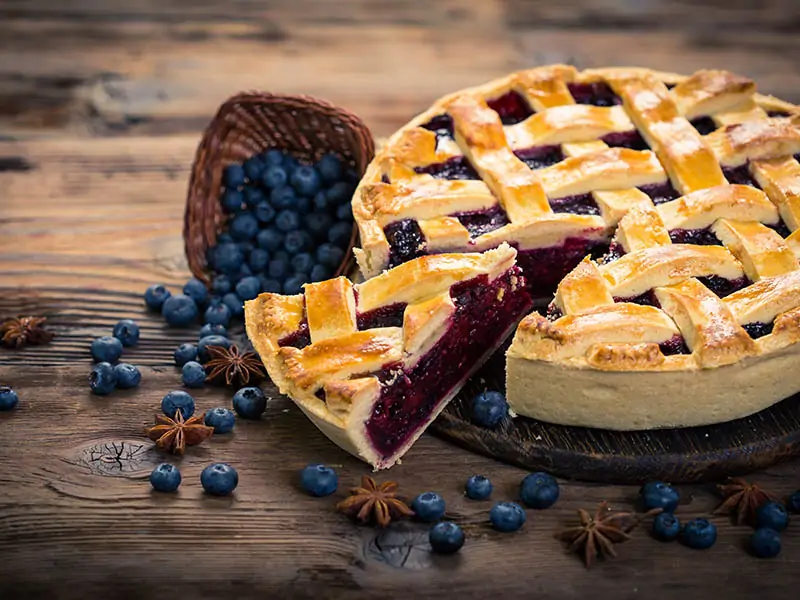 Pies are baked goods made from pastry dough (to make a pie shell) and sweet filling containing different ingredients, like fruits, sugar, sweetened veggies, or nuts. And remember to use a sort of fork that is designed to spear and slice pies effectively.
You can classify them by pie crust. If they are lined on the baking dish with opened filling on the top of the pastry dough, this is the filled pie. In top-crust pies, the pastry (or other ingredients) will cover the filling in the bottom.
On the other hand, if you see the pastry shell completely covering the filling with bottom and top crusts, this is a double-crust pie. In general, pies are those that come with a bottom crust. And this is the biggest difference between pies and cobblers.
Some people think cobbler is a fruity pie since they typically contain fruit filling covered by a batter on the top. They normally do not have any bottom crust. However, some cobblers are deep pies with both top and bottom crusts in American South cuisine.
While dessert pie's origin is unknown, cobblers are a typical American dessert that originated in the British American colonies. And some pies have a "pie" in their name; they are not a pie technically, like Boston cream pie. Actually, this is a cake.
In case you want to make some "true" pie and cobbler, here are 2 famous recipes that you can prepare at home without too much effort.
Prep + cooking time: 50 minutes to 1 hour
Everyone knows that the first apple pie was an English delicacy, but if you want to add a little twist to your pie with crispy streusel on the top, you should not miss this Dutch-style dessert. And I think you might not want to go back to the original one.
This is also an ideal recipe for dessert with cinnamon. Imagine the crunchiness of the top crust, sweet and melt-in-your-mouth apple filling with a handful of cinnamon; they are a truly festive dessert to celebrate any holiday.
Let this big Dutch apple pie shine on your dining table with this detailed instruction.
Prep + cooking time: 50 minutes
When I was a kid, I usually woke up with the smell of my mom's peach cobbler. And I knew this would be a nice summer day. Indeed, it was so aromatic, sweet, and heavenly delicious.
As I grew up, I tried this amazing Southern sweet course by myself, and it turned out great. Summer is the peach season, so before making a perfect Southern peach cobbler, you need to choose ripe and high-quality fruits.
Do not forget to peel off the peach skin before baking since it can get tougher with the heat.
The preparation is very simple because you just have to combine ingredients before placing them in the oven. And as there is no bottom crust in the bottom, the prep part is fairly quick, which is only 20 minutes.
2. Tarts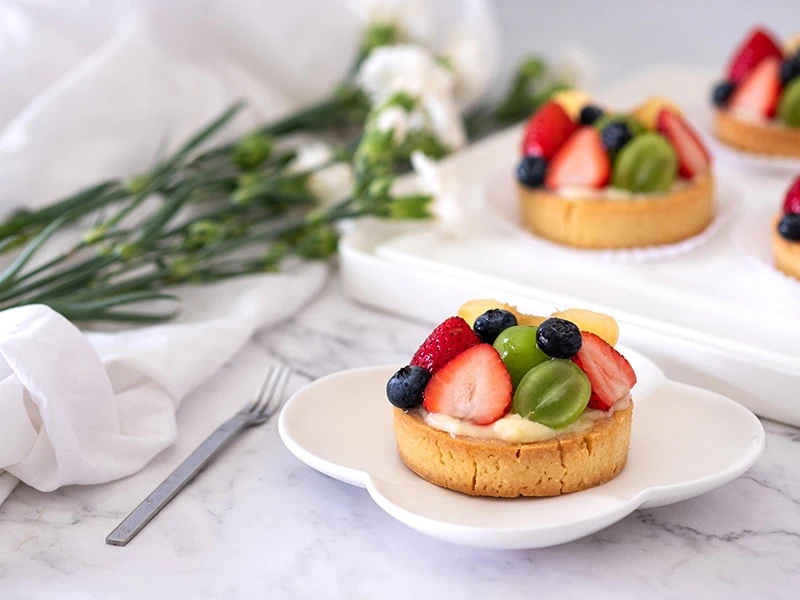 Tart's origin is not as ancient as pie's. The first tart appeared in 1550, around 200 years after the pie's appearance. Both pie and tart have sweet (or savory) filling with a crust covering, but they must include sweet elements for desserts.
A tart is another confusing dessert as they also look similar to a pie. However, if you look closer, especially at their crust, you will find some differences. The pie crust is not too thick; they are soft and light.
The tart crust is thicker, firmer, and quite crumbly, making them a typical free-standing dessert, while pies are softer, so they should be served from a pie plate. Plus, tarts usually have a bottom crust only, and they are thinner than the bottom pie crust.
The tart crust is usually shortcut pastry. Tart filling ingredients are diverse; they can be fruits, custard, or others. There are various types of tarts, and the most common ones are Tarte Tatin (upside-down tart), Treacle tart, Bakewell tart, and meringue tart.
Quick fact: "Tart" derives from "tarte" in French, which means either pie or tart.
Prep + cooking time: Around 1 hour 40 minutes
Egg tart is a significant dessert in Hongkong. In Cantonese, these "dan tat" are small creamy pastry which is not too complicated to prepare at home.
You can easily spot them in dim sum restaurants, and the Hongkong version is normally smaller than the Chinese ones. They do not need too many ingredients to make, but you will need some mini tart tins or a muffin baking tray to ensure they come out nicely.
Ensure the dough is thin because it will expand during baking. It also helps the crust become flaky, crispy, and more enjoyable. Fill the custard mixture in the center, then bake at 375 degrees F for 20 minutes. And now you have a big batch of silky, smooth, and tasty egg tarts.
Prep + cooking time: Around 1 hour 30 minutes
Treacle tart is a classic British sweet treat with pleasant deliciousness. With a buttery, flaky crust and sweet lemon-flavored filling, it is easy to understand why this tart is one of the greatest desserts in British cuisine.
Do you know the slang meaning of "treacle tart" is "sweetheart"? And if you are a big fan of Harry Potter, treacle tart is a favorite treat of Harry. The main components are high-quality breadcrumbs, golden syrup, egg, double cream, and lemon.
In fact, golden syrup might not be too common in American desserts, but it is an indispensable element in this recipe and other British sweets. They have a deep amber color with a buttery flavor, making this tart become a real game-changer at any party.
How to make a treacle tart correctly? Check here for more details.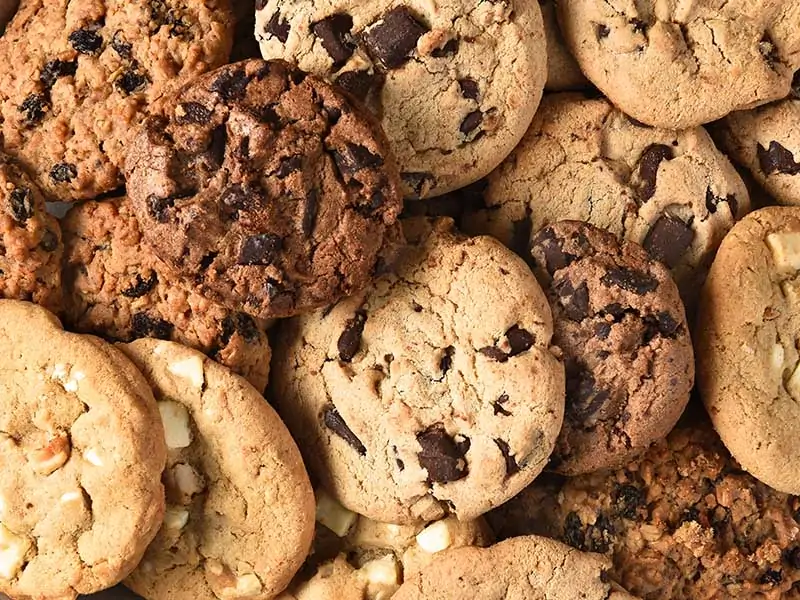 The main ingredients in cookies are flour, eggs, sugar, and butter (or oil, fat). Other popular components might be chocolate, nuts, raisins, spices, etc. They are baked (or cooked) foods that people regularly use as a snack or dessert.
Another cousin of cookies is biscuits, but I will explain them in more detail in the following part. As a whole, cookies can come in various varieties, so they have different shapes and sizes. But when mentioning cookies, people usually think about small, flat, and round sweets.
Their textures are distinctive based on different cookie recipes, so ingredients and cooking methods vary. Baking is the most common technique to provide crisp or quite soft cookies, but some cookies are not baked. Typically, people classify them into some classes:
Drop cookies: made from soft dough and dropped on a baking sheet with a spoonful of batter. And they are one of the easiest cookie variants.
No-bake cookies: are the combination of filler (e.g., nuts or cereal) with a melted sugary binder. They have a normal cookie shape or bar-shaped form with a hard texture. Rum balls are an example of this cookie style.
Pressed cookies: As the name suggested, this cookie needs a cookie press to shape them. Soft dough is their key element.
Filled cookies: Their filling can be jam, fruit, and covered by rolled cookie dough.
Sandwich cookies: pressed or rolled cookies with a sweet filling that looks like a mini sandwich. The easiest example of this cookie type is Oreo.
Molded cookies: Snickerdoodles are famous molded cookies. People use stiffer dough and a mold to shape them into balls or cookie form by hand.
Rolled cookies: Stiffer dough is the main ingredient. People will roll and cut the dough into smaller pieces with a cookie-cutter. And Gingerbread man is a rolled type.
Prep + cooking time: Approximately 40 minutes
Speaking of the best Argentina sweets, it is hard to ignore these Alfajores cookies. They are sandwich cookies with a unique and tasty filling made with dulce de leche (including milk and sugar).
In order to make perfect Argentine-style cookies, you should remember some notes. First, let the butter be at room temperature before mixing it with other components. Do not roll the dough too thin. The ideal thickness is around 8 to 10 mm.
Moreover, good Alfajores have a pale white color, not golden brown like other baked goods. So do not overbake them and set the appropriate oven temperature. Creamy, soft, and crumbly, these cookies taste even better with shredded coconut if desired.
You do not have to fly to South America to try these Alfajores cookies. Let's make them today, right in your kitchen!
Prep + cooking time: Around 1 hour 20 minutes
Seek fun and simple non-butter dessert? Basler Brunsli – an authentic Swiss chocolate spice cookie might be your new go-to recipe. When Christmas comes, the locals usually serve them in their dinner. These cookies are also a perfect gift for this holiday.
They also have a long history closely attached to Swiss people's lives. They are undoubtedly a big hit thanks to their chewy and crisp texture with an excellent combination of chocolate and spice flavor.
The traditional Basler Brunsli cookies have a flower shape, but feel free to use your available cookie cutters to make them more convenient.
Biscuit
Many English-speaking nations refer to crunchy cookies as biscuits, like in Canada. Sometimes, biscuits are also chewier cookies. Moreover, cookies are heavier than biscuits and usually come in bigger sizes.
Another difference is cookies use many ingredients, while biscuits only need a few ones, so biscuits' taste is not as flavorus as cookies. But it does not mean they are not a delectable dessert. And I will prove it with the recipe below.
Prep + cooking time: 35 minutes
These chocolate chip biscuits are a wonderful mini sweet course that is embarrassingly easy to make. They are the upgraded version of your regular buttermilk biscuits, which I am sure you will immediately fall in love with.
They are also an awesome alternative to chocolate chip scones. To have a fluffy, soft, and flaky biscuit, you should use low-protein flour. As they can rise as they bake, you should leave some space between your biscuits on the baking tray.
Last but not least, drizzle a bit of heavy cream flavored with vanilla before serving.
4. Cakes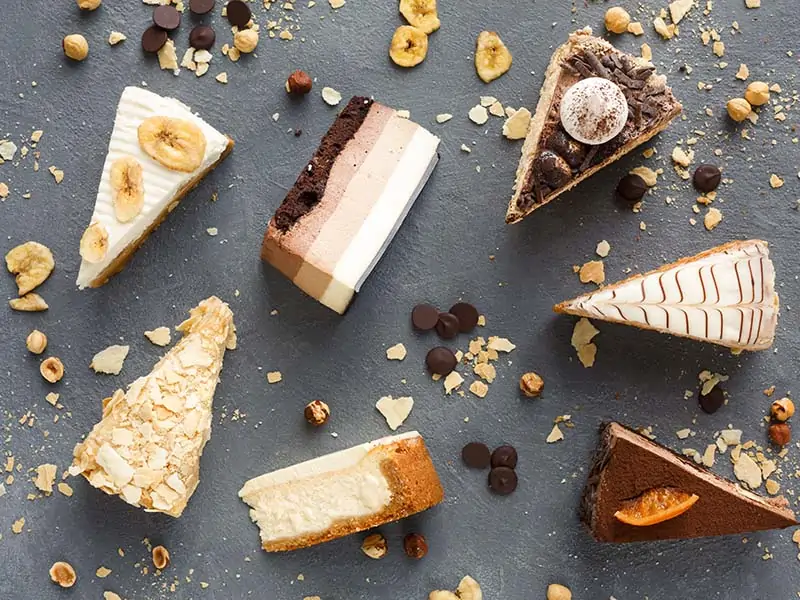 Cakes must be the most popular dessert globally since they are a centuries-old type of dessert. Flour, eggs, salt, sugar, and butter (or oil) are the cake's main ingredients. Some versions include leavening items like baking powder or baking soda too!
Cake preparation can be simple to fussy with a wide array of sizes and colors. In the past, they used to be a complicated sweet that required much labor and effort. But today, you can find various simple cake recipes with many baking tools that you can easily buy in the market.
People often consume cake for special occasions, such as birthdays, weddings, etc. There are several cake variants; here are some special ones:
Sponge cakes: It combines sugar, flour, and whipped eggs. Their old version mainly uses egg as the leavening agent, but today, baking powder or other types are preferable.
Butter cakes: People have to beat the butter and sugar to become fluffy since the air incorporates into the butter. Butter cakes are moist and rich at room temperature but will dry out when put in the fridge.
Layer cakes: As the name suggests, they compose several layers, including butter cake, jam-filling, and cream layers.
Coffee cakes: They are perfect to go along with your coffee or tea breakfast. They are also sponge cakes flavored with coffee.
Chocolate cakes: They can be sponge or butter cakes flavored with cocoa powder or melted chocolate.
One-egg cakes: If you need a cost-effective cake, this one is for you since you only need 1 egg to make them, along with butter or vegetable shortening.
Flourless cakes: There are various easy flourless dessert ideas, and these cakes are also worth trying. The most popular flourless cake is cheesecake (which I will explain in the next part).
Prep + cooking time: 20 minutes
Vanilla cupcakes have always been my go-to desserts with vanilla because they are so simple. Apparently, the aromatic scent of vanilla completes every dessert recipe. And these cookies might sound so basic, but they are not ordinary treats.
The ingredients might be already in your cabinet or fridge as they are all common baking elements. The preparation part is also effortless since you only need to combine them. Make sure you use room-temperature components to have the best texture and flavor for a cake.
Plus, prepare a muffin tray to have a nice and uniform appearance. For the frosting part, use a piping bag (or sandwich bag with a small hole on the top).
Prep + cooking time: 35 minutes
Desserts do not have to be too fancy and costly. So with this awesome 3-ingredient sweet, they can be a lifesaver to any low budget.
On the other hand, if you are a big fan of Nutella, they are also a rich dessert made with Nutella. Easy, cost-effective, moist, and flavorful, sounds like a dream come true, right?
So if you are not into baking, who knows, this recipe might be a good start for a new hobby? I think your kids can also make this one.
5. Cheesecakes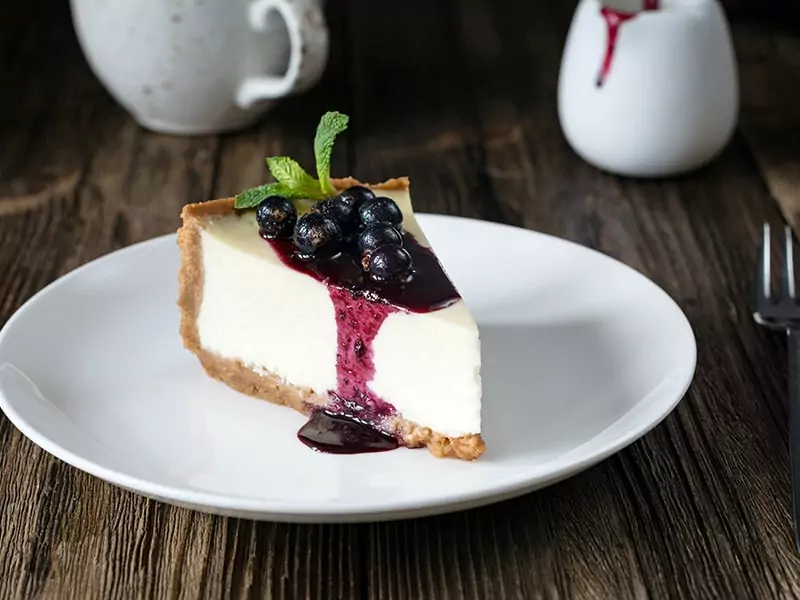 Dessert with cream cheese never gets old. In reality, cheesecake is a Greek-origin sweet dessert that was very popular in ancient times. But nowadays, the popularity among consumers is huge globally.
Cheesecake combines fresh cheese (e.g., cream cheese, cottage or ricotta cheese), eggs, and sugar with a crust base made from pastry, graham crackers, crushed cookies, or even sponge cake.
There are different cheesecake variations. However, modern cheesecake has 2 main types: baked and unbaked. The cheesecake made from uncooked cream cheese and graham cracker base is an American-style dessert. They also vary in style in different nations.
Classic South African desserts with cheesecakes normally contain cream cheese, whipped cream, buttered crust, and gelatin-based filling. This African version is an unbaked type, similar to the British variant.
In the USA, New York and Chicago cheesecake are 2 renowned versions. The Chicago style is baked with a firm exterior and soft interior. New York cheesecakes use sour cream or heavy cream, so they have a very rich and dense texture with perfect creaminess.
Prep + cooking time: 1 hour and 30 minutes
There are many greatest options for Asian desserts, and this ube cheesecake is 1 of them. This is a special sweet from the Philippines that I can hardly forget.
They have a bright purple color of ube (purple sweet potatoes) with a mellowly sweet and nutty flavor somewhere between pistachio and vanilla. You can find many Filipino treats cooked with this ingredient.
When you combine it with cream cheese, they become an irresistible dessert with decadent and wonderful taste.
Ube cheesecake is 1 of the most popular treats on the Filipino dining table, especially on their holiday.
Prep + cooking time: Around 1 hour and 20 minutes (but need to chill in 10 hours (or overnight) before serving)
Smooth, rich, and creamy is what I can describe this classic New York cheesecake. Moreover, if you like a not-too-sweet dessert, this cake also meets your requirements.
Starting with mixing graham cracker crumbs with butter and sugar to make the base, then you can prepare the filling with ease. The general rule for most desserts made with dairy products is to ensure the room-temperature components so the mixture will not have any clump.
Plus, the water bath is the best method to make cheesecake. And chill your dish before enjoying it. So just follow the instructions here, and you can have a stunning yet delicious New York cheesecake!
6. Pastries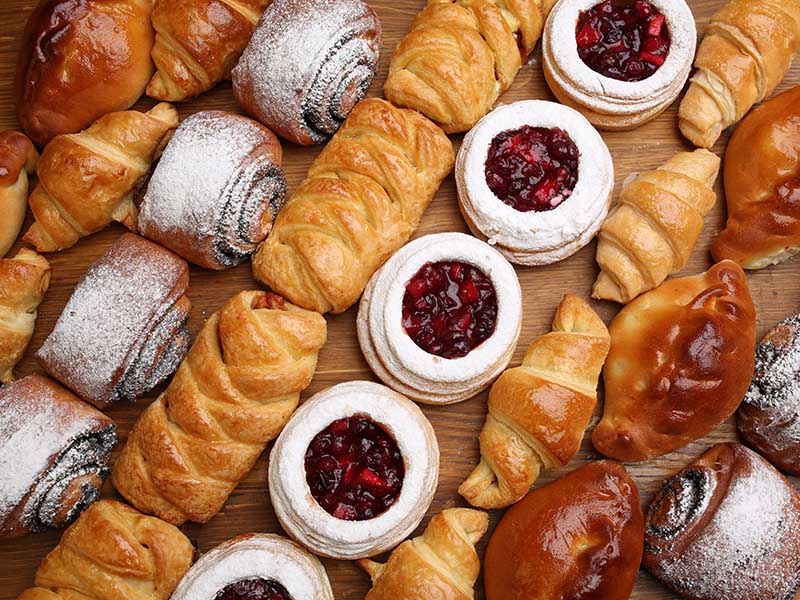 Pastries are universally famous desserts made with dough (including water, flour, and shortenings like fat or butter). Pastries can be savory or sweet, but sweet ones are considered desserts. And they are the bigger terms that also include pies and tarts.
However, pastry is mainly about the pastry dough. They are flaky, airy, and crumbly but still able to hold the filling inside. Here are some special sweet pastry types that I think you should learn more about. And some of them you might have tried before.
Puff pastry: This one is the most common variant with many puff pastry ideas for dessert. In general, they are laminated dough made from butter, water, flour, and salt. They have a lot of layers and can rise up (expand) when incorporating heat. Flaky, light, and tender are their main characteristics.
Shortcrust pastry: If you need the simplest pastry, this one is your answer. Their ingredients are similar to puff pastry, but they require a chilling process before rolling. Shortcrust pastry is also soft and flaky.
Phyllo pastry: Featuring a paper-thin type, they also have various layers. The pastry normally covers the filling, and people usually brush it with butter before cooking. Take a bite of this pastry; you will fall in love with its flakiness and delicateness.
Flaky pastry: Like puff pastry, they can expand due to the heat of cooking. During this process, flaky pastry also creates many layers.
Choux pastry: Choux is quite similar to a dough since it uses heated milk (or water and butter) and adds flour to make a dough. They can still expand in the oven. Since they have a high water level, they are super light and normally filled with cream.
Prep + cooking time: 1 hour
European-based desserts have never failed me, like this Profiterole. They are the best example of using choux pastry to create terrific desserts. In the USA, people call them cream puff, but their names vary by country.
Additionally, they are a delicacy in French desserts filled with cheesy, gooey ingredients like whipping cream, pastry cream, custard, or ice cream. They are a hazard since you can barely stop yourself from indulging in these small-bite treats.
Prep + cooking time: 1 hour
Kunāfah is a typical Middle Eastern sweet course including cheese, nuts, dough, rose water, etc. Their recipes vary based on where they are made. You can find them in many delightful desserts in Turkey, or Egypt-style sweets with Kunāfah are also notable.
Overall, the first thing that might appeal to you from a first look is their vibrant orange color. Grab a bit of it; you can feel how gooey and stretchy the Mozzarella cheese is with shredded phyllo dough soaked in rose water.
Here is comprehensive information to show you the best way to make a Kunāfah.
7. Custards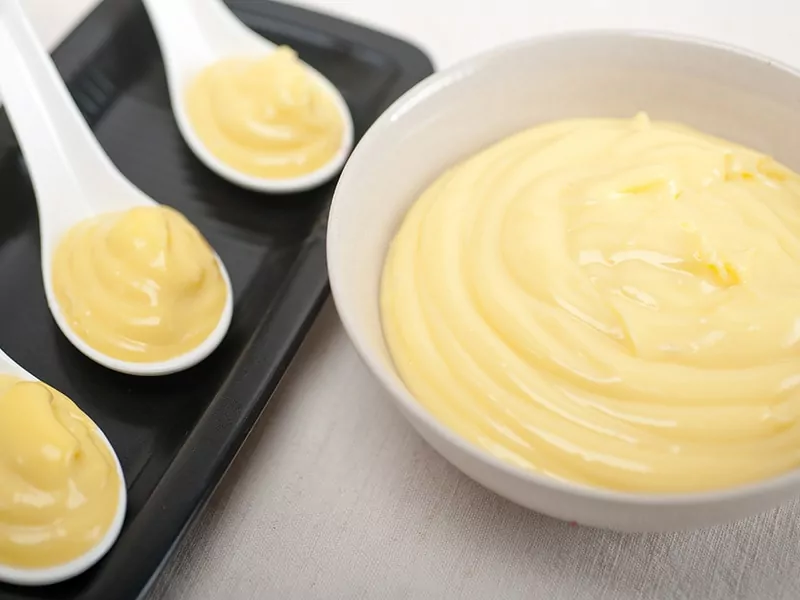 Custard encompasses cheese or cream, sweetened milk, and egg or egg yolk as a thickening agent. Some custard recipes also use gelatin, flour, or cornstarch. So when it comes to custard, you might imagine a dessert with high consistency, but some might be thin.
Custard preparation is usually about the double boiler method with low heat, but it can be cooked, baked, or steamed without a water bath. Custard is also an ingredient for some dessert recipes, particularly tarts or pastries.
I believe many find making custard is challenging since they require the correct temperature not to overcook them. The cooked custard should not be higher than 175 degrees F, and it will start to set at 160 degrees.
But do not worry! The 2 recipes I introduce here are suitable for everyone, even if you are a beginner.
Prep + cooking time: About 30 minutes
What is your favorite Spanish sweet treat? Mine is this Natillas – a custard in Spanish style. There are various variants, like those in the Colombian dessert list, but today we will try the most classic one with this recipe.
As a whole, it encompasses milk, eggs, milk, and sugar as the basic ingredient to make the custard. Plus, cinnamon is a noteworthy addition to make this sweet tastier. Natilla is also a favorite holiday sweet in Spanish-speaking countries.
Prep + cooking time: 1.5 hours
There are countless flan recipes around the world, but here is a mouthwatering dessert in Puerto Rico with this smooth sweet. They are also a hand-down caramel sweet course that many people love because of their simplicity.
This flan will not ask you for any expensive ingredients. They are also perfect for a gluten-free diet. In general, this flan combines the 2 best worlds of smooth custard and sweet caramel topping.
Have you ever tried flan in Puerto Rican style? If not, why don't you try it this weekend?
8. Puddings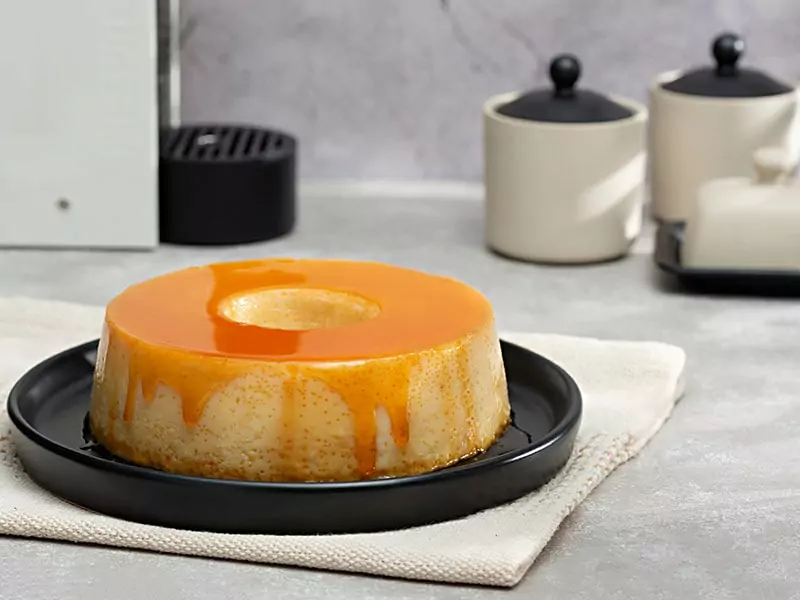 Pudding is a cousin of custard with some similarities. The main ingredients in the pudding are milk or cream with a similar consistency to custard. However, the thickening agent in custard is eggs, so they can be firmer, whereas pudding uses starches (e.g., tapioca or cornstarch) to coagulate.
Some pudding dessert recipes also contain gelatin, but I group them in another class to explain them in more detail. Overall, they are rich and creamy desserts (e.g., rice pudding).
The definition of pudding is quite different by country. While North Americans refer to them as a sweet treat, British people or those in some Commonwealth countries use pudding for both sweet (mostly) and savory food.
There are various cooking methods to prepare pudding: baking (in the oven), simmering (by a saucepan on the stove), or boiling (using a double boiler). Just combine the ingredients and cook them to create a solid result.
Interestingly, people might rely on pudding ingredients to enjoy them as a dessert or the main course. Plus, if they are dairy-based and creamy dishes, they are suitable to enjoy chilling, but some ideas might be better served warm, like rice pudding.
Prep + cooking time: 10 minutes
Mango – a juicy and sweet tropical fruit, is an ideal ingredient for various awesome mango desserts. And for making dessert, you should go with ripe fruits so they can be sweeter in flavor.
Plus, the yellow color of mango makes this pudding idea more attractive. And what I love most about this idea is that they are super simple and quick to prepare. No baking is required; they are a no-fuss dessert packed with many flavorful tastes.
You will need a blender to puree mango so your pudding can have a nice smooth texture. If you cannot buy fresh fruit, canned or frozen ones are acceptable.
Prep + cooking time: Around 12 hours (including soaking time overnight)
Do not fret about the total time of making Moghli; it is just a soaking time for nuts. And the rest of the preparation is uncomplicated. So are you ready to explore another Middle Eastern cuisine with this fascinating Lebanese dessert? I bet you are!
First, you will need to prepare pistachios, almonds, and walnuts for making Moghli. As they are a rice pudding, rice flour is another important element to thicken this treat. So just combine all ingredients, cook them in a pot and whisk them constantly to reach the desired thickness.
You should add some shredded coconut or nuts on top for the best flavor. And this pudding is best served cold.
Moghli is a simple dessert for celebrating Christmas or children's birthdays in Lebanon.
9. Gelatins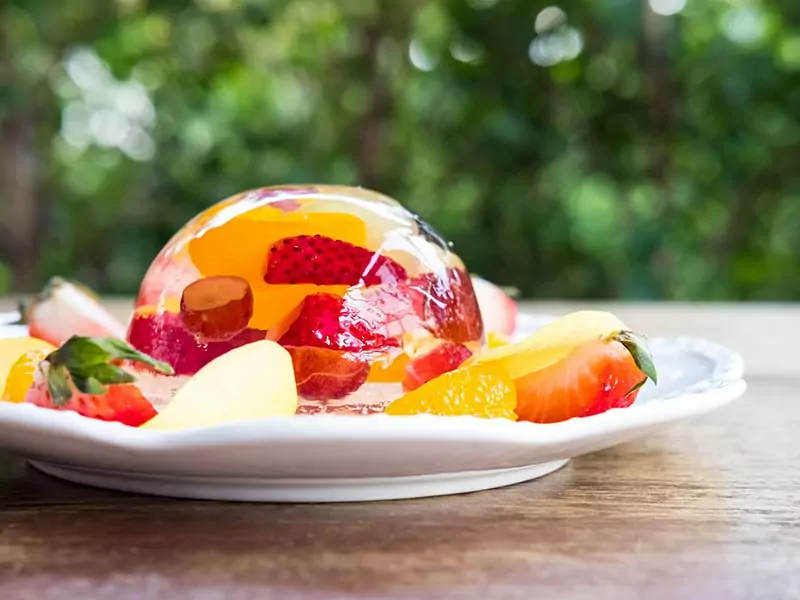 Gelatin-based desserts use a processed collagen item as gelatin and other elements like sweetened, flavored elements or fruits. Their other names are Jello or Jelly; some are multi-layer with many colors.
The first jelly dessert can trace back to the 18th century in The Art of Cookery cookbook. Nowadays, you can mix various ingredients based on your preference to make these sweets, as long as it has gelatin so that the desserts can be set into a solid form.
They also come in various shapes, from big ones to small cups for individual serving. You can also find many commercial jelly brands on the market at affordable prices.
But of course, the homemade ones are much better. You can buy a prepared commercial gelatin powder or concentrated block to make these treats. Use hot water to dissolve them, then add cold water to an appropriate level to prepare the dessert.
On the other hand, gelatin dessert can be a work of art with 3D gelatin sweets. They were from Mexico and have become more popular in some Pacific and Western countries. However, these desserts need specific tools and skillful makers.
Prep + cooking time: 10 minutes (need to chill in the next 5 hours before serving)
Coffee jelly is a lovely sweet in Japan with no-hassle preparation. They are a refreshing, melt-in-your-mouth treat with the pleasant aroma of black coffee.
Gelatin powder is the must-have component to make jelly, but this one is a vegetarian-friendly recipe with Kanten powder (vegan gelatin). With only 10 minutes, you and a few ingredients, they are a comforting food for hot days because they are best consumed cold.
You can find coffee jelly in many Japanese coffee shops or restaurants, but nothing tastes better than homemade ones.
Prep: 10 minutes (4 hours for resting in the fridge before enjoying)
People believe Panna cotta is an Italian-origin dessert. In Italian, its name literally means "cooked cream" to indicate how to make this treat. Therefore, the simplicity and delight in panna cotta are unquestionable.
Remember to see medium-high heat to cook the milk mixture so the gelatine can dissolve completely.
Once you have done the cooking part, pour them into panna cotta molds, leave them at room temperature for minutes, and then transfer them into the fridge since cold ones are preferable.
10. Confections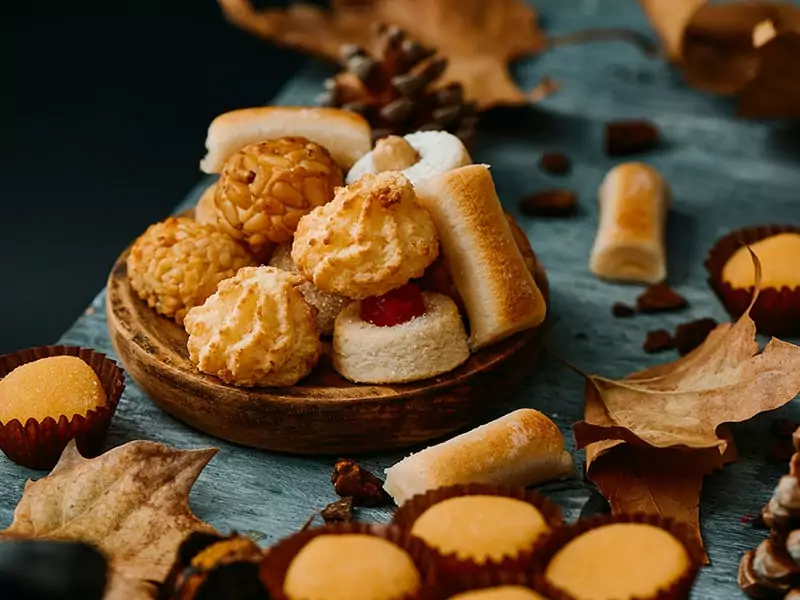 Confections are sweets that heavily use sugar or honey to make them. They are also high in carbohydrates. There are 2 overlapping concepts of confection, including bakers' and sugar confection.
In barker's confection term, it also refers to cakes, sweet pastries, or other baked ideas (excluding bread) to imply the baker's baked products. But in sugar confections, they are about candies, chocolate, or other sweets with high sugar.
Therefore, I will mainly focus on chocolate and candies under the sugar confection concept in this part. In short, besides being desserts, they can be portable snack food, allowing you to carry them to any place.
Chocolates
Chocolate derives from roasted and ground cacao. The importance in the culinary world is massive. They can be a flavoring, dessert ingredient (like in some traditional sweets for Hanukkah), or a dessert itself.
Moreover, they are also a perfect gift for many holidays, such as Valentine's Day, Easter, or Christmas. But whether chocolate is suitable for a vegan diet, the answer is maybe because it depends on what type of chocolate you buy.
Next to various sweet chocolate versions, multiple confections are made from unsweetened dark chocolate. People do not use milk to make dark chocolate. Instead, sugar and fat will be added to the cacao. Finally, if you love dessert with white chocolate, the below recipe can be your new go-to treat.
Prep + cooking time: 20 minutes
Another ideal Christmas treat is peppermint bark – a toothsome dessert made with white chocolate. Plus, it only takes 20 minutes to prepare, sounds promising, doesn't it? And if you want to make them look more festive, use holiday sprinkles to top your confection.
The traditional peppermint bark has 1 layer with white color. However, this recipe will upgrade it with 2 layers, featuring 2 different colors of white and dark chocolate. They also carry the refreshing note of peppermint candies.
This American peppermint bark is especially famous in the Christmas season, and making them is easy peasy.
Candies
Candy (or sweet in British English, or lollies in Australian, New Zealand English) encompasses sugar or sugar substitutes (e.g., honey) as the main ingredient. They mostly have a smaller size than other dessert types, increasing their portability.
Typically, candies are desserts, but how people classify them might differ among different countries (or culinary cultures). And people normally consume them as a snack between meals.
Sugar candies can be soft or hard. Marshmallows, caramels, and other sugar-based food are also candies. Their shapes and colors are diverse, but most are vibrant and bright, making them more attractive.
Due to their high sugar concentration, candies' shelf lives are normally longer than other dessert kinds. You can keep them for months or even years.
Prep + cooking time: Around 40 minutes
Butterscotch sweet is another specialty that originated in England. Their primary components are butter and sugar, but I also add an alcoholic hint to this idea with rum extract to make my candies more special.
Overall, they are chewy candy with a well-balanced flavor. But you should use a candy thermometer for cooking the ingredients accurately. It might taste quite bitter if you cook them at more than 300 degrees F. The ideal temperature should be from 270 to 300 degrees.
11. Sweet Soups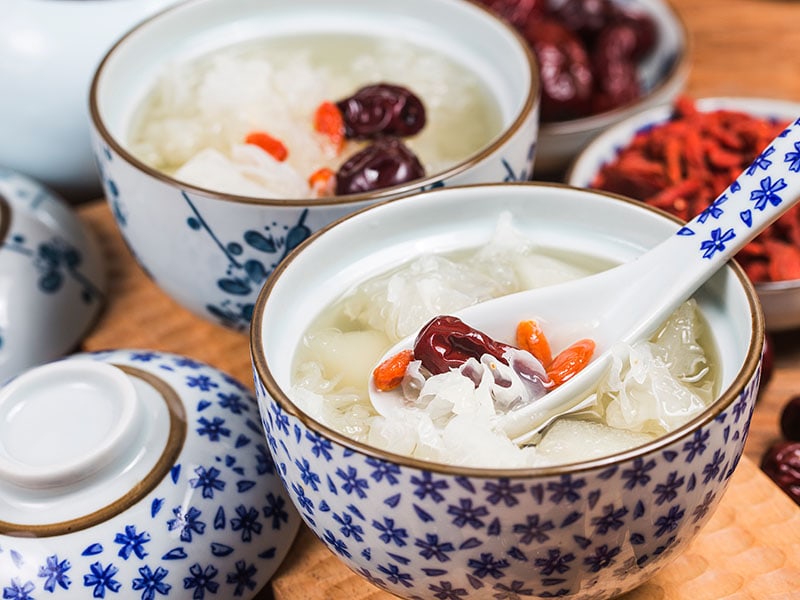 Sweet soups for dessert are a more common way to end meals in Asian countries, especially in Cantonese cuisine. These Chinese-origin sweets are referred to as tong sui (which means sugar water in Cantonese), and they are a group of warm, sweet soups or even custards.
However, the term "tong sui" is not popular in non-Cantonese-speaking countries. Sweet soups recipes are numerous with many ingredients. Some famous varieties are black sesame soup, egg tong sui, red bean soup, sweet potato soup, etc.
People in some areas in the United States, Canada, and Australia can easily spot them in many local Chinese restaurants. These sweets play a certain role in Chinese cuisine, making them more distinguished.
Other similar sweet soups are found in other Asian countries, like Malaysia (with their famous Malaysian-style dessert – Candol), or chè in exotic Vietnamese sweets. If you want to make them at home, here are some ideas from 2 specific countries: Denmark and China.
Prep time: 15 minutes
Koldskål is a traditional dessert in Denmark consisting of buttermilk, yogurt, eggs, and other components. In reality, they can work great as a dessert or a cold beverage in this country.
They are the best idea to enjoy in the hot summer, so some people also love to have them as a midday snack. Such a versatile dish, right? In short, Koldskål is an easy-to-make sweet treat with a note of lemon (or vanilla) with a soup-like texture.
Fun fact: Koldskål means "cold bowl" in Danish.
Let's prepare a big bowl of Koldskål sweet soup to find out how Danish people enjoy their dessert.
Prep + cooking time: Approximately 1 hour 20 minutes
Red bean sweet soup (or hong dou tang) is a famous dessert in China. Besides, this recipe is a must-try instant pot sweet treat so it can be ready in a shorter time.
This soup is great to eat hot (for winter) or cold (for summer). And they are one of the fondest desserts of Chinese New Year. In this country, they believe eating this soup can bring them luck in the new year.
They are also simple because the instant pot will take care of the cooking part. So what you have to do is just fill your cookware with ingredients and cook them at high pressure.
12. Deep-Fried/Fried Desserts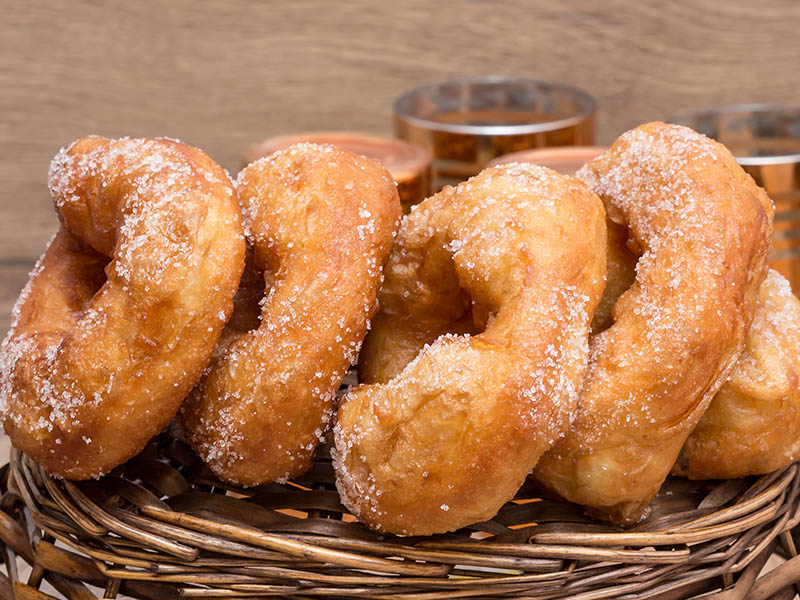 Desserts and the way people create them are full of surprises. And deep-fried (or fried) desserts are examples of how creative humans can be. Many cuisines are famous for their deep-fried sweets, especially Mexico, India, and other Indian subcontinent countries.
These sweets mostly contain starch (or flour) batter or dough. Some recipes also come with filling made with custard or jelly. As they are deep-fried treats, they normally have a delicious golden color with a crispy texture.
Fritters made from fruit pieces covered with a deep-fried batter are a tasty idea in this section. For example, sweet fried plantains are a popular dessert in Cuba, or Pisang Goreng is a similar wonderful sweet from Indonesia. These treats will show you another way to enjoy plantain (or banana).
If you do not want to consume a lot of oil to make these deep-fried dishes, you can use an air fryer because you can find various convenient air fryer dessert ideas out there. Similarly, there are multiple ideal grilled desserts to try out at your next BBQ party.
Prep + cooking time: Around 45 minutes (chill in 1 hour before serving)
Churros – a beautiful Mexican-based dessert, is the first idea I want to introduce in this section. Why did I choose a dessert recipe cooked by air fryers? In reality, they are a healthier version of deep-fried churros because this is an oil-free cooking method.
Your air-fried churros still have a pretty golden brown coat, crispy outside and fluffy inside. Making them from scratch is trouble-free, but ensure your dough has around a 5-minute chilling time so it will not become soggy after frying.
If desired, serve these churros with hot chocolate or caramel sauce.
Prep + cooking time: 45 minutes (Proof time: 1 hour)
Classic Croatian desserts might not be too common in the world of sweets, but they are worth exploring. And Fritule – Croatian fritters are a good example to prove it.
They are fried yeast doughs that resemble tiny doughnuts. Fritule is a festive treat that you can find on the Croatian Christmas table. The ingredients of this dish are varied based on its varieties, but the main flavorings are rum and citrus zest (e.g., lemon and orange).
In this version, I use potatoes to make the dough mixture. They might not be the quickest recipe, but they are more special than original recipes. Finally, enjoy your soft-and-crispy Fritule warm with a sprinkle of powdered sugar on top.
Fried desserts are unique, and these small Fritules totally deserve a try.
13. Frozen Desserts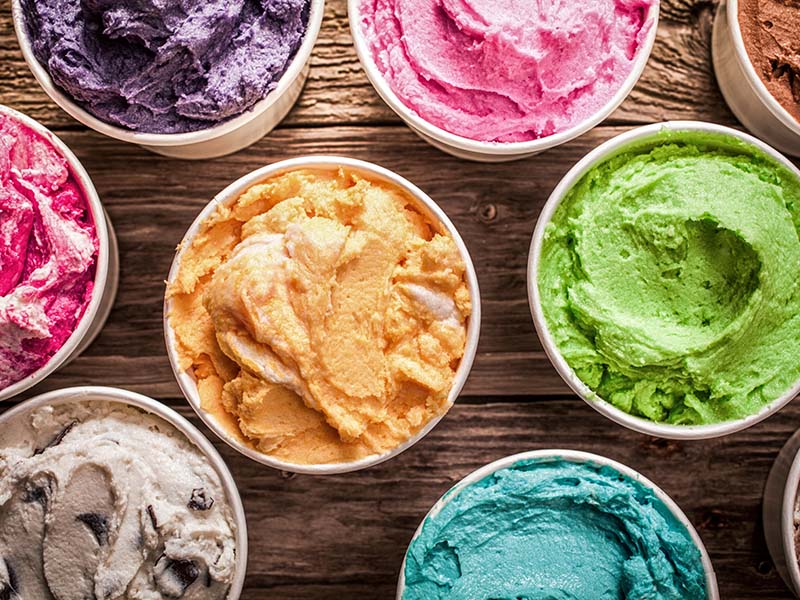 Frozen dessert is a big term to refer to several cold sweets made from freezing liquid, solid or semi-solid. Therefore, ice cream, ice pops, gelato, sorbet, or shaved ice belong to this group.
They are familiar desserts to most people, from children to adults. But it would not cost anything to know more about them, like their ingredients, characteristics, or other informative information. Let's start with the most famous one – ice cream:
Ice cream: Either a dessert or snack, ice cream has always been a top choice if you crave something sweet, creamy, and cold to ease the heat of your summer. They also contain other flavorings, like vanilla, chocolate, or fruits.
Gelato: This is another specialty from Italy. Though ice cream and gelato have similar ingredients, gelato has higher density and richness since they include more flavoring and 70% less air than other frozen desserts.
Sorbet: Or water ice, is another ideal frozen sweet made from water, sugar, and flavorings (mostly fruit juice, honey, wine, or liqueur). They are different from ice cream as most sorbets have no dairy products.
Ice pop (aka popsicle): They are sweets on sticks (as a handle), which is a childhood favorite of many people. Their ingredient is similar to other frozen desserts, but ice pop is frozen when the liquid rests in an ice pop mold, forming a solid ice block.
Shave ice: They are a typical Hawaii-style dessert; that's why their other name is Hawaiian shave ice. People have to shave a pie block, then top it with condensed milk and syrup. Besides, a snow cone – a similar version, contains crushed ice, not shaved ice.
Prep + cooking time: 20 minutes
Patbingsu is an incredible dessert of Korean, which refers to a shaved ice treat. There are a thousand ways to make this dessert, but if you love fruits and red bean paste, this Patbingsu will surely blow your mind, especially in the summer.
Use a food processor to grind the ice cubes until smooth, then combine all of your favorite fruits and red bean paste into a bowl. Drizzle sweetened condensed milk to increase the sweetness if you want.
Do not limit your creativity with various Patbingsu here.
Prep + cooking time: 20 minutes (chilling in 8 hours)
Similar to the above recipes, this idea is also a lifesaver to light up your hot days, but in a different form. Pomegranate sorbet offers the optimal balance of sweetness and tartness. As this is a dairy-free dessert, pomegranate sorbet is ideal for a vegan diet.
The health benefit of this fruit juice is awesome as well since they contain high levels of vitamin C, E, and K. With 20 minutes, you can prepare this cold treat with no problem, but as it requires a certain chilling time, ensure you make them 1-day ahead for your party.
14. Dessert Drinks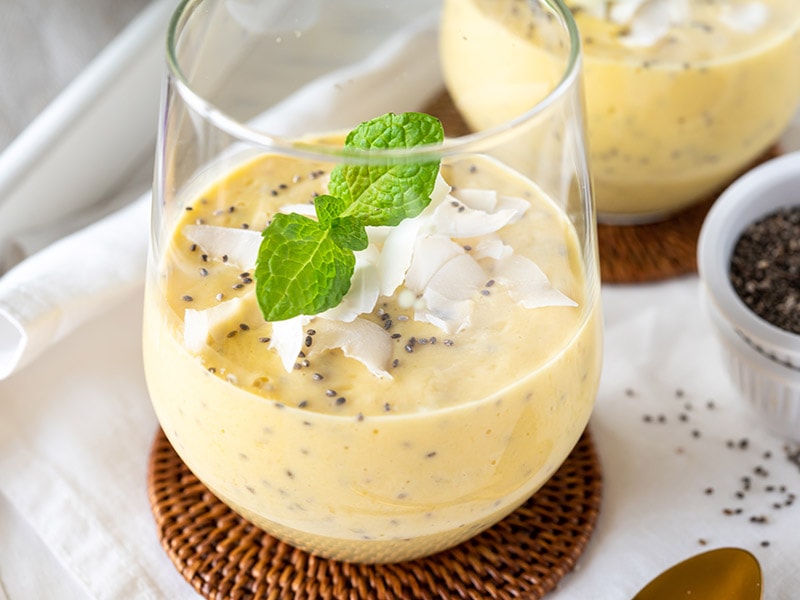 Beverage for dessert is not a new concept around the world. They can be non-alcoholic and alcoholic drinks that can serve cold or at room temperature.
So when you do not feel like you cannot take any bite of these above treats, how about sipping some drinks to finish your meal?
They can be a lighter version of desserts that make your dinner more splendid and unforgettable. Moreover, they are also more affordable and allow you to customize your version with your favorite ingredients.
Most dessert drinks are sweet, but some are decadent with full of fruity or alcoholic notes (e.g., cocktails). Moreover, they might be one of the quickest dessert ideas to prepare at home. Below are 2 recommended recipes that I think you will love right after a first sip.
Prep + cooking time: 20 minutes
Irish coffee is an alcoholic beverage including coffee, Irish whiskey, sugar, and cream. But I will transform it into a tasty Irish-based dessert with this milkshake version.
Strong coffee, creamy vanilla ice cream, and mildly fruity flavor from Irish whiskey combine to create a luscious sweet course. If you do not like alcohol, you can skip it in this dessert too!
In addition, you should make the coffee chocolate syrup to make your milkshake more flavorful with coffee, cocoa powder, water, and flavorings.
Prep time: 5 minutes
Concluding your meal with a glass of cocktail is never a bad idea. So let me tell you more about this awesome cocktail called strawberry daiquiri. It is a cold cocktail with a strong note of strawberry and rum.
You can either use fresh or frozen fruits to make it. With a blender, let them take care of the preparation part. Garnish it with a few slices of strawberry, and/or a lemon slice is ideal.
15. Dessert Wines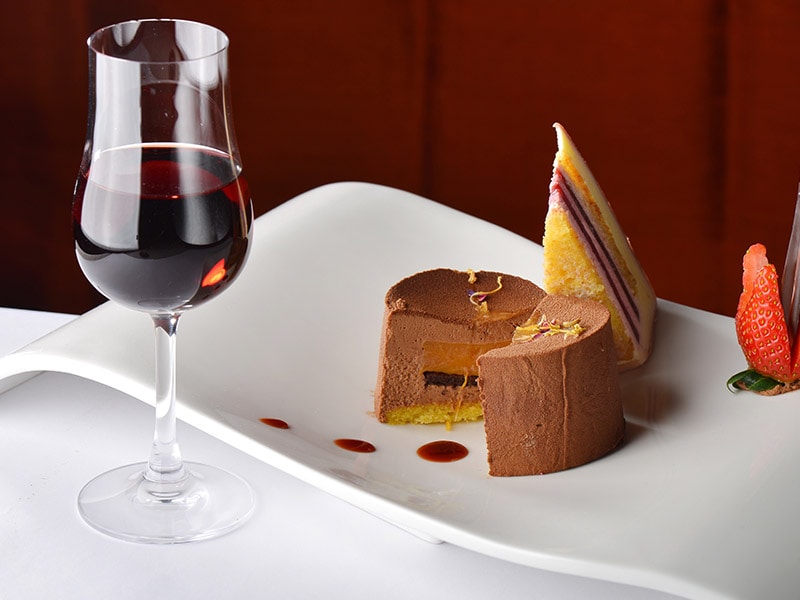 Dessert wines? It might not be a familiar concept in some Asian countries, but they are a well-liked option in many Western countries, particularly the United Kingdom. So what wines are for desserts?
Dessert wines (aka pudding wines) are sweet wines that normally pair with dessert. In the UK, most white or red fortified wines are not dessert wines, but some less-strong white wines like Muscat de Beaumes-de-Venise or Pedro Ximénez sherry are suitable wines for dessert.
However, in America, these wines must have higher than 14% alcohol by volume, including fortified varieties. The reason is that American wine markers produce all dessert wines through the fortification process.
People have found various ways to increase the sugar amount in them, including using grapes in multiple varieties (ideal are Muscat, Huxelrebe, or Ortega), adding sweetness with sugar or honey, or reducing water level to concentrate the sugar.
Interestingly, dessert wines can be a dessert on their own, but matching them with sweets is much better. However, a principle rule for serving wine with dessert is that these wines should be sweeter than the dessert they are pairing.
That's why ripe peaches can be seen as an excellent companion. Conversely, toffee or chocolate might not be ideal to go with dessert wines.
16. Fruits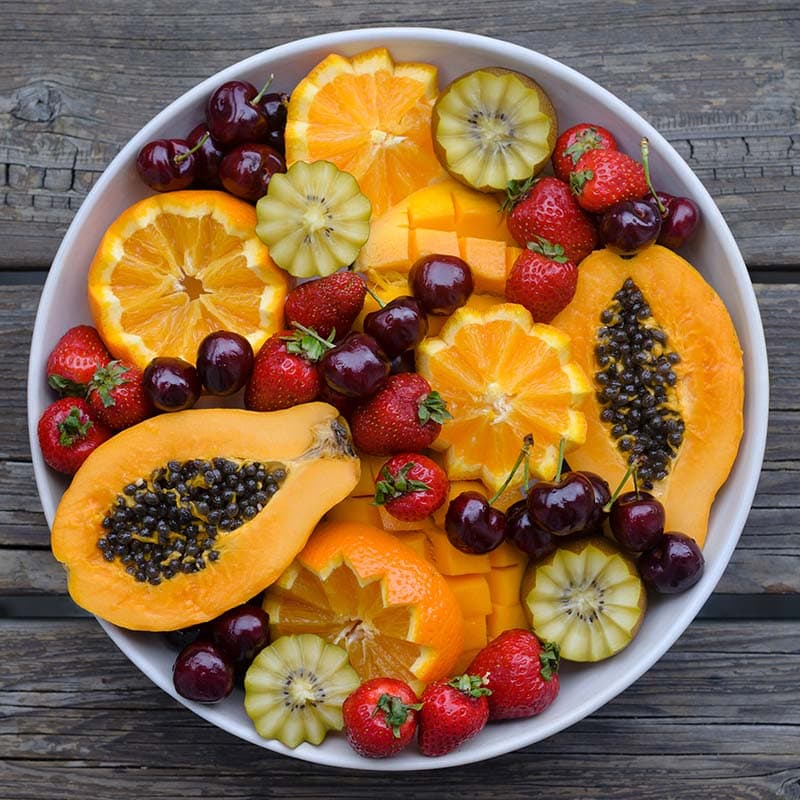 Besides using fruits as ingredients in the above ideas, fruits themselves can be a perfect and natural dessert in many countries. They especially shine in the summer and make your days better.
You can consume them alone (with some naturally sweet fruits) or add a bit of honey or cream if they are quite sour. There are many varieties of fruits, but overall, they are a good source of vitamins and minerals.
If you are on a diet, fruits are perfect since they are fat-free. Some fruits are high in fiber so you can feel full longer. They can satisfy your sugar craving in a blink.
Some slices of apple, orange, watermelon, banana, or berries are ideal for your fruit desserts. In addition, mixing various fruit types into a bowl, sprinkling a bit of honey, or scooping ice cream on top is perfect for making them more flavorful.
Desserts Can Make You Happy, Regardless Of Their Types!
There are no bad or unappetizing desserts. Therefore, it is hard to answer if someone asks me what my favorite dessert is because I love all desserts, no matter what types they are. And I think many of you have the same thought as mine.
Finally, I hope you can gain more knowledge about desserts after reading this post. And if you have free time, just try my recommended recipes; you will like them, I guarantee.
The last word, please let me know how you feel about dessert or share with me your experience of making them. Your shares and likes are also the best motivation for me to write more informative articles. Thank you for your support!