Cookies are comforting snacks (or desserts). But how many different types of cookies are there? 8, 10, or more? In reality, there are 9 main cookie classifications and some unofficial types with distinguishing traits.
Overall, these differences are mainly based on the way people prepare the cookies. As human creativity is endless, you can find many different styles with tons of simple cookie ideas (even no-baking ones).
So, who doesn't love these small cute treats, right? And if you are curious about cookie types and how to make them at home with ease, this post will open your mind with a lot of insights. Check it out!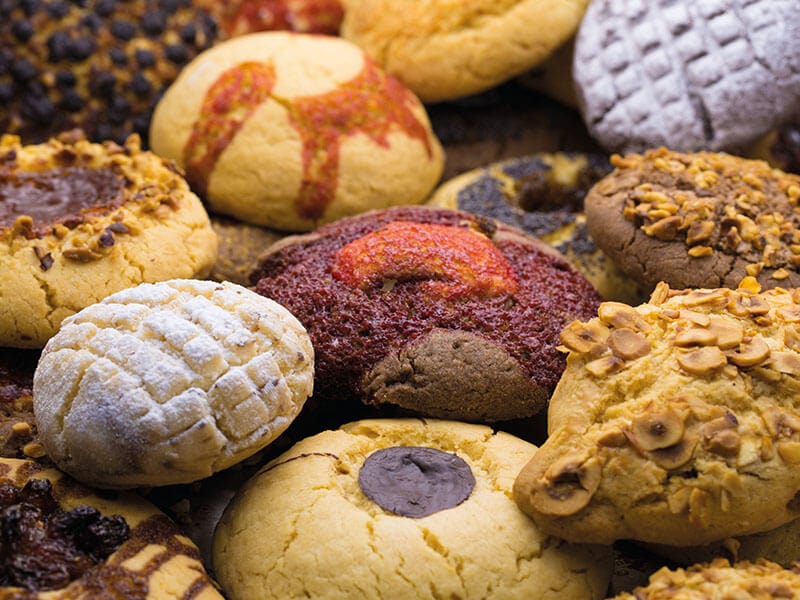 Cookies are an age-old food that is believed from the 7th century AD in Persia. They have become more popular in Europe by the 14th century. Nowadays, you can find them in plenty of bakeries around the world.
Typically, cookies are sweet baked goods with a small and flat appearance that you can enjoy as finger food. There are also non-baking cookies. Overall, cookies are a favorite snack or dessert for all ages, from kids to adults.
The main components to make them are flour, egg, sugar, and butter (or oil), but you can find other ingredients like chocolate chip, oat, nut, etc., in hundreds of cookie recipes. Also, they can be soft, crisp, or chewy.
Actually, the cookie's softness relies on how long you bake them. Normally, people prefer to bake their cookies until the edges turn crispy. But if you like the softer version, underbaking cookies may offer your expected softness.
For more information, the word "biscuit" is widely-used to refer to crisp cookies in many English-speaking nations outside North America (e.g., the United Kingdom), while "cookie" is for chewier treats.
Here is a vivid introduction regarding cookies around the world.
Cookies are little pleasants that you can nibble on anytime you want. Therefore, different sorts of cookies might offer distinct pleasant levels. But I believe that the goodness from the plainest cookies can still surprise you.
First, you should check the below table for brief information regarding these cookie types.
| Cookie Classification | Characteristics | Examples |
| --- | --- | --- |
| Drop Cookies | Formed by dropping spoonfuls of pretty soft dough Cookies can expand when baking | Chocolate chip cookies, oatmeal cookies, etc. |
| Bar Cookies | Have square or rectangular shapes Maybe moister than other types | Brownies, lemon bars, blondies, and more |
| Molded Cookies | A stiff dough formed into balls or other shapes by hand or molds | Snickerdoodles, biscotti, etc. |
| Pressed Cookies | Formed with a cookie gun/cookie press Have a similar size to drop cookies | Spritz cookies |
| Filled Cookies | Made with cookie dough filled with jam, fruit, or confectionery | Cucidati, thumbprint cookies, etc. |
| Rolled Cookies | Made from the rolled and flat dough, then cut into smaller cookies with sharp cookie cutters, pastry wheels, or knives | Sugar cookies, gingerbread men, and more |
| Sandwich Cookies | Can be pressed or rolled cookies with the filling between 2 cookies | French macaroons, Oreo cookies, etc. |
| Refrigerator Cookies | Come from a mixing dough rolled in a cylinder (or a log) and have to be chilled (in the fridge or freezer) for hours before slicing into smaller cookies | Icebox cookies, pinwheel cookies, and so on |
| No-bake Cookies | No baking involvement Ingredients: comprise filler (e.g., nuts, cereal, or oats) held by a sticky binder | Vary |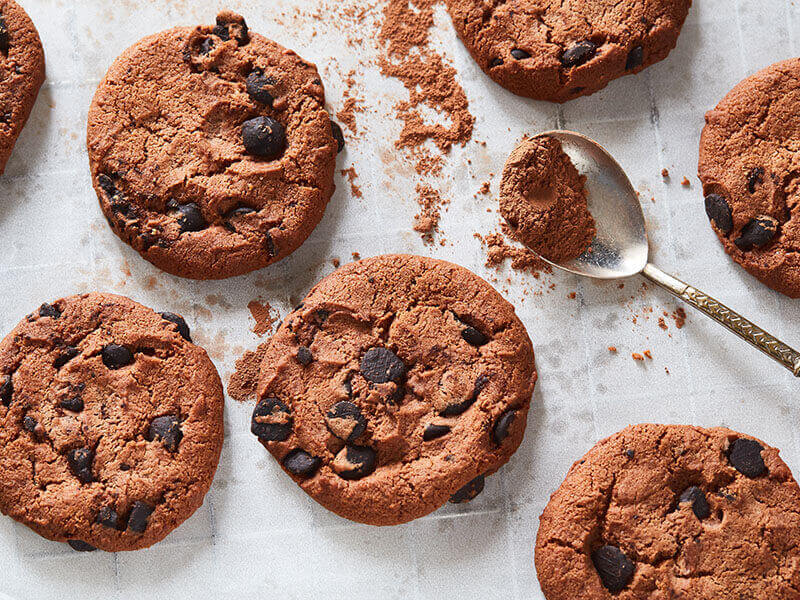 Drop cookies are the most basic type shaped by dropping spoonfuls of dough on a baking pan, hence the name. The dough is quite soft yet stiff enough to hold the form. However, despite the name, you may need another spoon or use your finger to actually "drop" them on the sheet.
During baking, these cookies can flatten and spread to have the round shape that you usually see in a cookie. Therefore, remember to leave some spaces (1 to 2-inch apart is ideal) between the cookies.
The recipes for drop cookies are normally simple without using any cookie cutter. It also requires less preparation compared to rolled cookies, which I will explain later.
So if you are a beginner in making these treats, you should start with drop cookies. The most common representatives of this type are chocolate chip cookies, cookies with oatmeal, and thumbprint cookies (with jam). And below are some drool-proof recipes to make drop cookies.
Total time: 30 minutes
Chocolate chip cookies are typical drop cookies with the addition of chocolate chips. Its first appearance was in America in the late 1930s. Nowadays, they are one of the most popular cookies around the world with many variations.
The idea that I use here is a classic one with the greatest quality. To make them properly, the accuracy in ingredient measurement is crucial. For example, if you add too much flour, your cookies can barely spread.
Soft interior and crunchy exterior, chocolate chip cookies are a hassle-free recipe.
Total time: Less than 30 minutes
Adding oatmeal and raisins to your cookies is always a good idea. If you follow the instructions carefully, your cookies will come out perfectly soft and extra-chewy, thanks to added molasses.
Luckily, making it is very straightforward as you just need to combine ingredients with a stand mixer. After baking, you can store your cookies in a jar. And do not worry if they are hard because there are many ways to soften your cookies with some simple tools.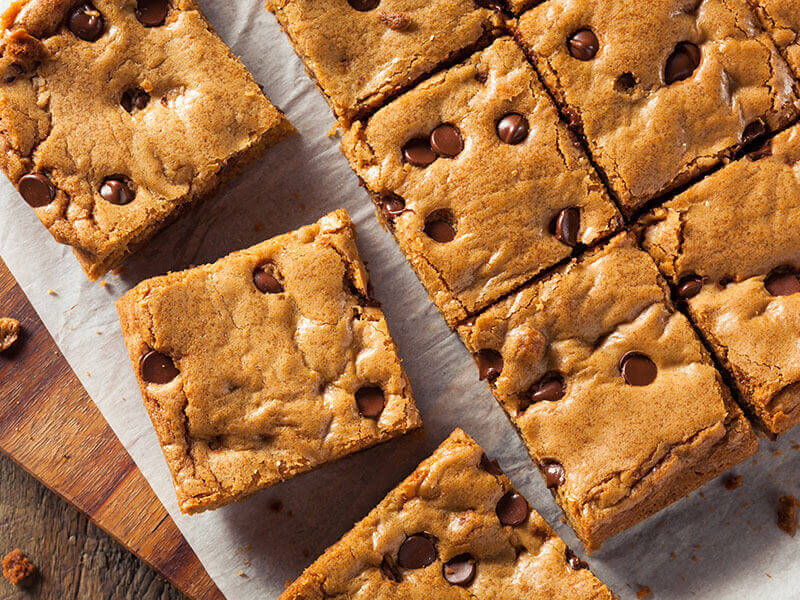 Bar cookies commonly come in square or rectangular shapes instead of circle forms like other types. For easier understanding, remember that brownies, lemon bars, and blondies are popular instances of this type.
Making bar-style cookies is also straightforward. You can mix ingredients in a big bowl first, then pour or press them into the baking sheet and bake. Some recipes are layered bar cookies so you can skip the mixing step.
After baking, you can cut your food into small-sized cookies to enjoy. Bar cookies are also referred to as "tray bake" in British English. Regarding the texture, it might be moister than other regular cookies due to shortening or extra eggs.
However, several recipes for bar cookies need many preps, so if you need the easiest ones, here are my favorite recipes to try out!
Total time: Less than 1 hour
Are you looking for wholesome cookies for summer? Let's impress your friends with these snickerdoodle cheesecake bars. It is a special version of snickerdoodle if you want extra cheesiness.
This is a layered cookie bar, beginning with the snickerdoodle dough for the base. The dough can be sticky so please use a spatula to spread it evenly. The next layer is a cream cheese mixture with egg and vanilla.
Finally, spread the remaining snickerdoodle dough over it with a bit of cinnamon sugar on top and bake them for about 30 minutes until the edges turn golden brown and crispy. Make sure they totally cool down before cutting into smaller bars.
Total time: 35 minutes
Brookies is the combination of brownies and cookies, creating a fudgy treat that your kids would keep asking for more.
This recipe offers an ultra-chocolatey taste, including brownie batter and chocolate chip cookie dough. You can enjoy it with a scoop of ice cream for a more pleasant dessert.
With some basic ingredients, you can whip up these brookies as a pro.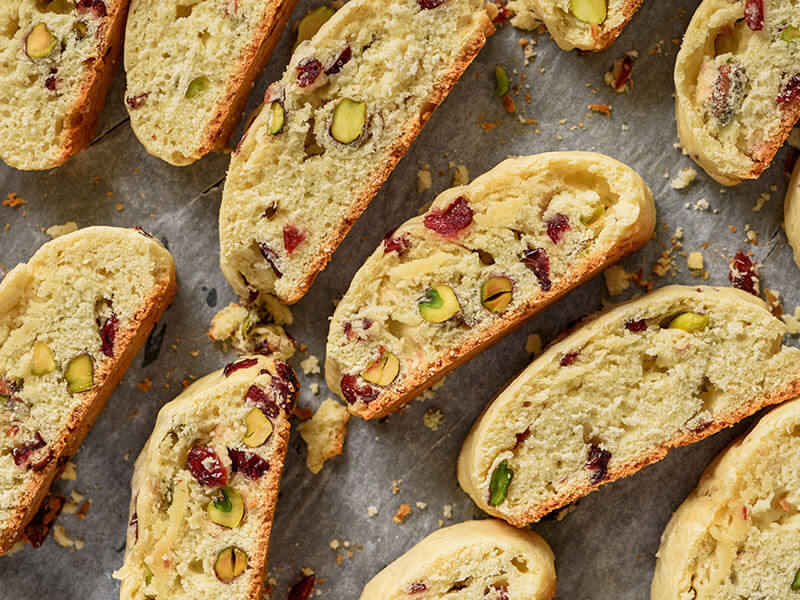 As the name suggests, this category refers to a stiff dough shaped into balls or other forms (crescents, logs, cans, etc.) by hand or molds.
With a hand-molded style, you should moisten your hands with cold water before rolling them to prevent any stickiness. Do not over-roll the dough because it might end up too soft to hold the form when baking. The best example of hand-molded cookies is snickerdoodles.
On the other hand, Biscotti is a well-known Italian cookie formed into a flat loaf and cut into little pieces afterward. And they are also popular molded cookies.
You can also use cookie molds to shape them into your expected design. Mold materials vary, but ideal ones are wood or ceramic and free of chemical components.
However, the hardest part of using these molds might be removing cookies from these tools if you forget to spray cooking spray on the mold's cranny and nook in advance. Plus, the dough should not be too dry as it can crack when baking.
Total time: 1 hour 5 minutes (but only 15-minute prep)
Biscoti derives from Tuscan city (in central Italy). These delicacies are almond-based biscuits that require 2 baking times. And of course, you can make them at home effortlessly.
In this idea, I use cocoa powder to enhance the chocolatey flavor in every single bite. So if you are a chocoholic like me, I promise you will love this biscotti recipe.
Depending on how long you bake them, they can be crunchy or tender. And if you do not like almonds, you can replace them with your favorite nuts.
Total time: Approximately 30 minutes
If you want to create peanut butter cookies with 3 ingredients, here is the best one for you. They are tender and thick and can melt in your mouth.
Since the list of ingredients is short, you should highlight the importance of their quality. Go for the top-rate ones, especially creamy peanut butter. And when the dough already comes together, you should stop mixing it because overmixing dough results in hard cookies.
Wanna know more about baking tips to prepare perfect peanut butter cookies? Check here for more information.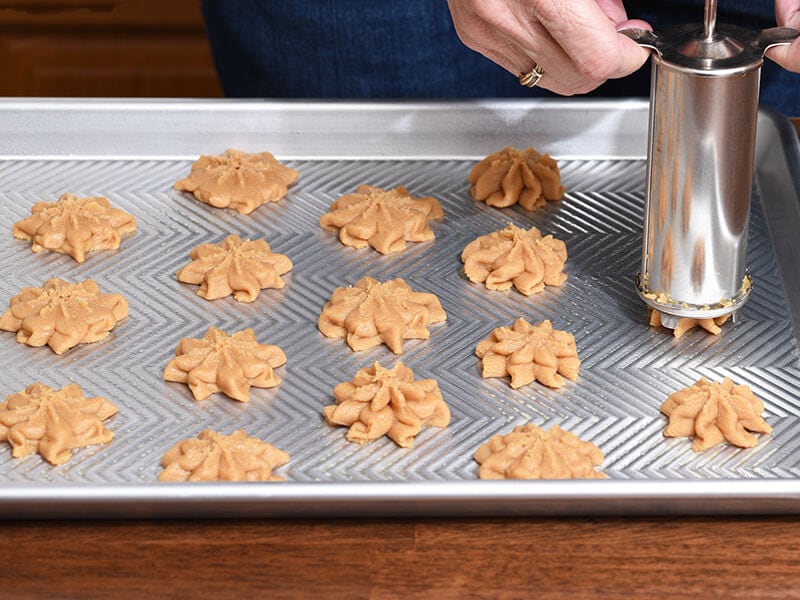 This classification refers to cookies formed with a cookie gun/cookie press (which you need to press your tool so the soft dough can extrude from a large tube onto the baking pan). Thus, pressed cookies vary in shape and pattern based on the gun's design (or cookie press's)
Spritz cookies – authentic cookies in Germany, belong to this type. And thanks to their appealing and festive appearance, pressed cookies are perfect for serving on special occasions or important days, like cookies for Mother's Day.
Besides, they normally have a similar size to drop cookies. And there is no need to chill the dough before using it.
If you do not have a cookie gun/press, you can use a decorating bag (in cake decoration) to extrude the dough through the top of the bag to make pressed cookies.
Total time: 22 minutes
You should save this idea for your spring cookies to try in the next cookout. Lemon spritz cookies are loaded with a lemony flavor to brighten your days. Plus, as they are pressed cookies, they come in very cure shape, like flowers.
But please bear in mind that you should not bake them until brown. After around 7 minutes, the cookies start to set and dry, meaning they are ready to go.
In case you prefer basic spritz cookies, here is how to prepare them easily.
Total time: Around 40 minutes
In the basic form, they are cute pressed cookies. However, since I want to upgrade them into the best cookies for Father's day, I add a layer of melted chocolate between the espresso-flavored cookies.
Regarding the espresso ingredient, you should choose espresso powder instead of instant coffee granules for a stronger coffee hint. Overall, these treats are very versatile as you can enjoy them on any holiday, like Christmas.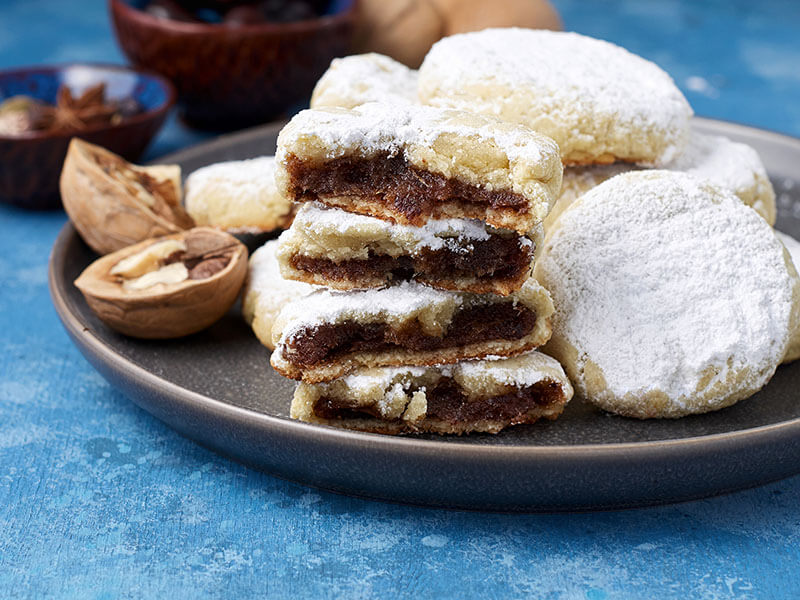 What makes filled cookies different from other types is, obviously, the filling. In short, they are made with cookie dough stuffed with jam, fruit, or confectionery, for example, caramel, chocolate, apples, cherries, nuts, etc.
They can come in various forms and sizes. Some might look like dumplings; some are thumbprint cookies. The dough can be soft or dry (based on the recipe), but it has to be firm and malleable to go well with the filling.
The preparation also depends on recipes. Some ideas require adding the filling before folding the dough, while other recipes ask for shaping the dough beforehand and adding filling later (like thumbprint cookies).
Total time: About 40 minutes (excluding chilling time)
Nutella is everyone's favorite spread, and using it to make cookies' filling is also a wonderful idea. However, you need to prepare the filling before making the dough, as the Nutella filling requires 30 to 60 minutes to chill in the freezer until they become solid.
For the perfect stuffed cookies, you also need a bit of time to chill your dough. After placing the filling in the middle, you should fold the dough quickly since Nutella can melt. If they are melting, you can place them again in the freezer to firm up once more.
Total time: 35 minutes (excluding chilling time)
Cucidati (or fig cookies in Italian style) is a filled cookie comprising the fig filling and the dough. The best part about it is you can easily throw ingredients together to create a batch of Cucidati in just 35 minutes.
Similar to the above recipe, both dough and filling need to be chilled before using. Therefore, all you need to make these cookies is time. And the rest of the preparation is easy peasy with rolling out the dough and adding the fig filling.
Homemade Cucidati is not as hard as you think. Click here and experience it!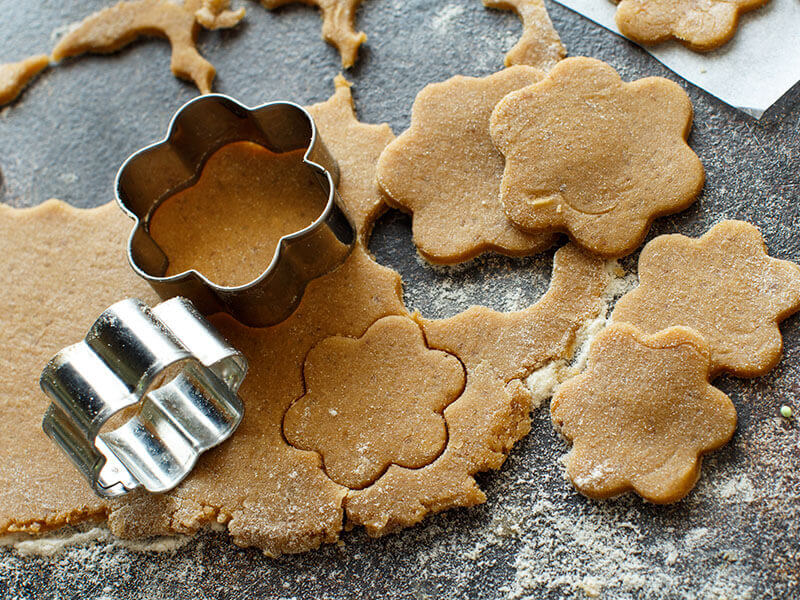 Rolled cookies (or cutout cookies) come from the rolled and flat dough, then cut into smaller pieces with sharp cookie cutters, pastry wheels, or knives. Thus, their shapes are diverse, depending on the cutter's design or how skillful you are in using other cutting tools.
The dough of rolled cookies is stiff and quite heavier than molded cookies, and you will want a rolled pin to flatten them. Besides, the biggest difference between rolled cookies and dropped cookies is the former asks for more effort and time to prepare.
Rolled cookies are likely to be crumbly and delicate after baking. And the greatest examples, in this case, are gingerbread men and sugar cookies.
Total time: 30 minutes
Gingerbread men are iconic cookies for Christmas. In every bite, you can feel their ultra chewiness and softness packed with tons of flavors from molasses and spices.
But make sure that you will not overbake them. Otherwise, they will turn out too crispy. In addition, the best part of preparing these is the decoration. Use royal icing and draw your own gingerbread men. You can ask your kids to help you in this part. I think they are willing to do it.
Christmas baking is a fun activity with these gingerbread men cookies.
Total time: About 40 minutes
Sugar cookie recipes are diverse, but if you are looking for the best ones, this recipe will satisfy your sweet tooth. Soft and cost-effective, these cookies are also simple and quick to make because you do not have to chill the dough.
Actually, you can still make the dough ahead and store it in the refrigerator. Just remember to bring it to room temperature before rolling out. Plus, a little tip to prevent too-stiff or too-dry dough is you can add more flour to its surface, and wet your hand to knead the dough mixture.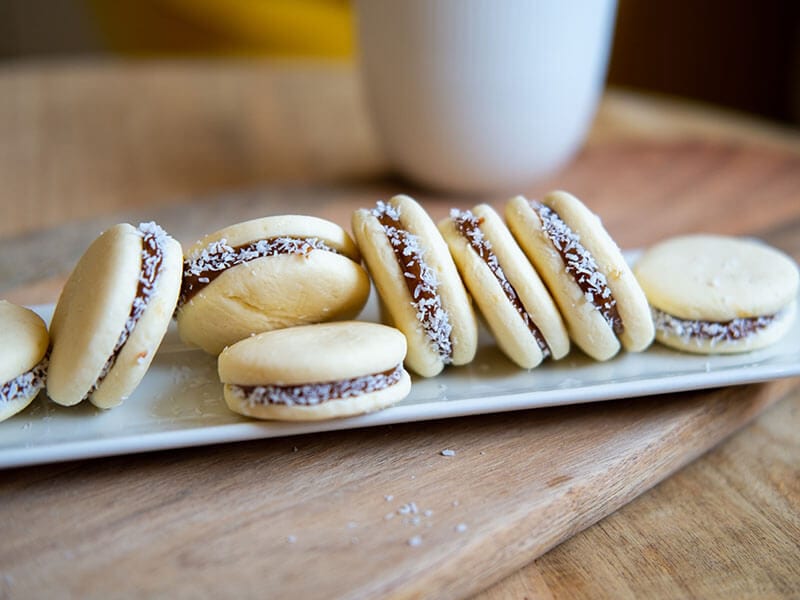 Sandwich cookies can be pressed or rolled types with the filling between 2 pieces of thin (or medium) cookies, assembling as a sandwich. The ingredients for fillings are abundant. They can be frosting, marshmallows, jam, cream cheese, and more.
Oreo cookies or French macaroons are the easiest recognition under this circumstance, which includes 2 soft cookies and a layer of filling between them.
To make perfect sandwich cookies, the cookies must have the same shapes and sizes. So it would be better if you use a cookie cutter. For storage, you can keep them in a dry, cool place or in the fridge if the filling is easily spoiled.
Total time: Less than 1 hour
You might not want to buy any store-bought Oreos again after trying these. First, they are quick to throw together. Secondly, these sandwiched cookies taste so good as a midday snack or breakfast.
Another big plus about them is their perfect texture. Soft and chewy, every single bite is filled with chocolate and buttercream. How can you refuse them, right?
Total time: 33 minutes
Alfajores are a Spanish specialty in the cookie list. They are small-bite cookies with rich flavors. Buttery, sweet, and mellow, dulce de leche is a caramelized-like sauce made from sugar and milk, and this filling is the main star in this recipe.
For perfect Alfajores, please roll the dough to reach 1/4-inch thickness and cut them into several cookies with around a 2-inch diameter. And please note that you do not have to bake them until they turn brown on the top.
Creamy and caramelly; there is no reason not to try making Alfajores at home.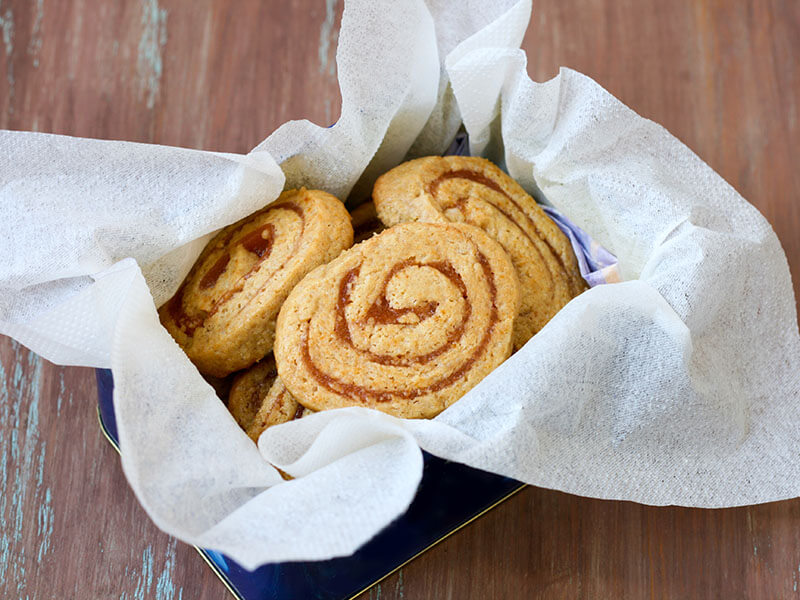 The key characteristic of these cookies is they have to be chilled (in the fridge or freezer) for hours before slicing into smaller cookies for baking. This process makes the dough stiffer and easier to cut. Hence, this kind of cookie is suitable for make-ahead snacks.
Overall, refrigerator cookies (aka icebox cookies) come from a mixing dough rolled in a cylinder or a log. Once cut, they have a uniform shape and size. After baking, these treats come out crispy and quite chewy, but their texture also depends on the cookies' thickness.
Furthermore, you might skip the thawing part for frozen dough, but you will need a sturdy knife to cut it and a bit longer baking time. For more information about this cookie type's examples, do not miss the next recipes.
Total time: 35 minutes (excluding chilling time)
Let's add some fruity flavor to cookies with this idea. These are a brilliant blend of vanilla and strawberry with a stunning appearance, including a red layer of strawberry and a pale yellow layer of the dough. By rolling them into a log and slicing the dough, now you have pinwheel cookies.
The basic rule of making strawberry pinwheel cookies is its chilling time. Thanks to this step, the dough can hydrate and the layers can stick together. The chilling part only takes around 1 hour, so please be patient.
You can also use strawberry jam to make strawberry pinwheel cookies.
Total time: 27 minutes (excluding chilling time)
The first thing to note about this cookie idea is you have to spend a minimum of 12 hours freezing the dough before baking, making it an ideal treat to make ahead as the frozen dough is safe for up to 3 months.
Preparing the dough mixture is so easy by combining ingredients and using waxed paper to shape it into a long log. After taking it out from the freezer, you can still slice it into small pieces without hassle (you may have about 20 cookies if you follow this instruction).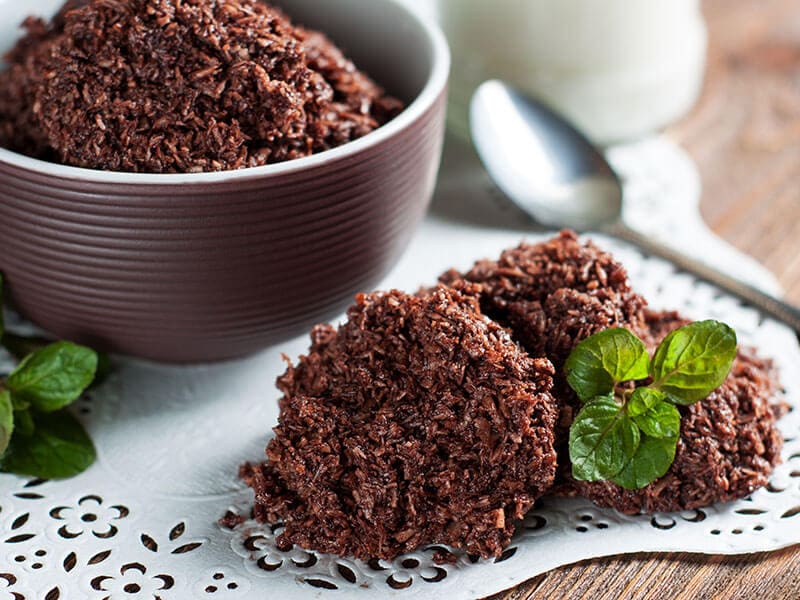 Basically, these cookies require no baking, which is more convenient for those who do not have an oven at home. Preparing them is a breeze too! No-bake cookies usually comprise filler (e.g., nuts, cereal, or oats) held together by melted butter, confectionery, or any sticky binder.
However, when boiling the binder components, you must boil them for a proper period so the mixture can harden after mixing with other fillers. Otherwise, an under-boiling mixture can result in grainy or too-hard cookies.
In brief, no-bake cookies are a hybrid of cookies and candy. People can shape them into typical cookie shapes or cookie bars. Additionally, these treats require time to harden or cool before serving. You can also reduce cooling time by putting them in the fridge.
Total time: 10 minutes
There are a lot of cookie recipes to celebrate the fall, but my go-to one is these pumpkin spice cookies. What's even better, you do not have to bake them.
Just simply mix milk, spice, butter, and sugar, then boil them for around 1 minute with constant stirring before combining with oat, peanut butter, and vanilla. You can use a scoop to scoop the mixture and place it on parchment paper. Let them cool down before enjoying them.
No-fuss cookies with pumpkin spice is a must-try recipe.
Total time: 25 minutes
Oat is a common component in many no-bake cookies, which contain high nutrients. Besides, if you love the combo of peanut butter and chocolate, these cookies are big pluses.
Chewy, chocolatey, and sweet, this recipe only asks for 25 minutes to finish. You can also customize the ingredients, like swapping dairy products with plant-based milk to make dairy-free cookies.
Besides the above classifications, people can also class cookies into other groups based on their components, appearance, or when they are served. Here are 6 varieties of cookies that may meet your requirement for healthier or more convenient treats.
| | |
| --- | --- |
| Cookie Styles | Characteristics |
| Breakfast Cookies | Very healthy with key components are nuts and oats |
| Raw Cookie Dough | Use raw flour and uncooked eggs to make, which requires a proper process to eliminate bacteria (like heat-treat the flour) |
| Low-fat Cookies | Contain low-fat components |
| Vegan Cookies | No animal products in the ingredients |
| Cookies Cake | Made from cookie dough with a giant shape and typically have frosting/icing on the top |
| Skillet Cookies | Cooked in a cast-iron skillet with a larger size and can serve warm |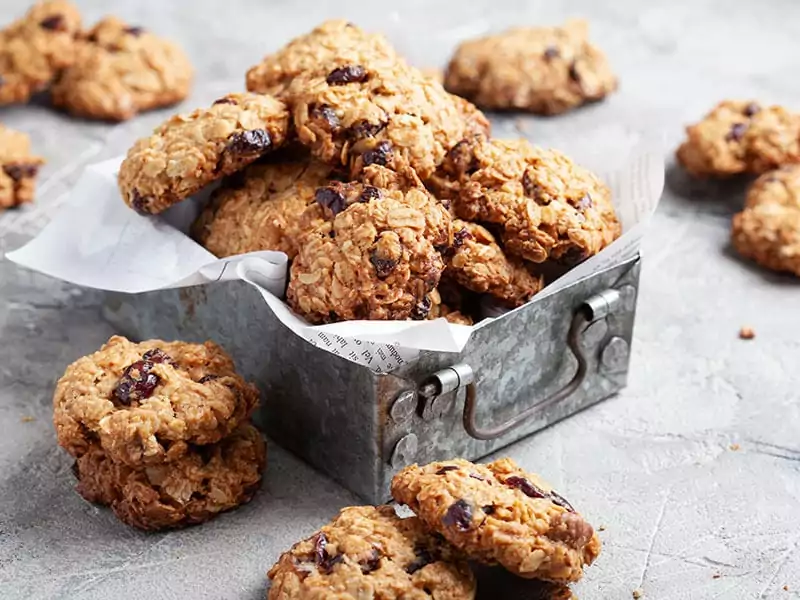 The breakfast idea with cookies is not a new concept. In fact, they are loaded with nutrients because the key components of these cookies are nuts and oats. And their benefits are perfect for your heart and digestive health.
They are usually bigger in size and have lower sugar levels than other types. However, you should also consider the carbohydrate of these cookies for a healthy diet.
Many breakfast cookies are make-ahead ones, making them more suitable for workaholics who do not have too much time for cooking or baking.
Total time: 25 minutes
I always love the soft and meaty texture with the mild sweet taste of raisins, so by adding them with oatmeal, I have a yummy breakfast to enjoy every day.
Also, with the appearance of vanilla protein powder, these cookies offer a good way to lose weight if you stick to a high-protein and fiber diet.
Like other cookie ideas here, this one is super simple to create with both dry and wet components. They have perfect portability, so please feel free to bring and share them with your friends.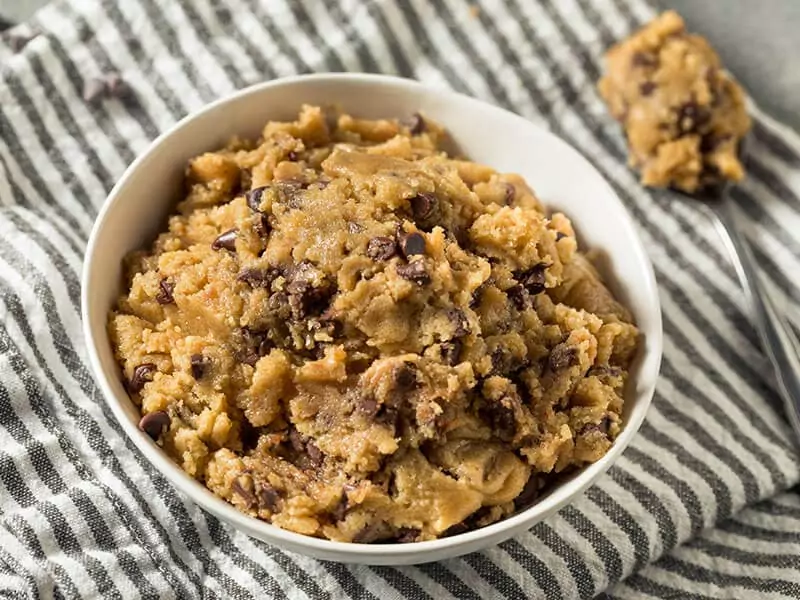 There are several desserts made with cookie dough, but have you tried any raw cookie dough recipes? You can find these treats in some American restaurants, which people normally sell as scooped into cups, similar to the way they sell ice cream.
First, you have to make sure they are safe to eat because raw cookie dough may contain raw flour and uncooked eggs, which can cause food illnesses. Therefore, many edible raw cookie dough recipes skip the egg part to reduce the risk of salmonella bacteria.
The flour, indeed, should undergo a heat-treat to eliminate bacteria. You can preheat the oven, spread the flour on the baking sheet, and bake it for a few minutes. Plus, the flour must be cool completely before adding it to other ingredients.
Total time: 5 minutes
Need a 5-minute snack? Chocolate chip cookie dough is what you want to reach for. They are just a basic form of normal chocolate chip cookie dough without baking, but you have to heat-treat the flour for 5 minutes to kill harmful germs or bacteria.
And the last step is mixing components together. You can use it as cookie filling as well. For storage, keep your snack in the fridge for up to 1 week or in the freezer for 3 months.
Are you addicted to chocolate chip cookie dough without baking them into cookies? Check this wholesome solution.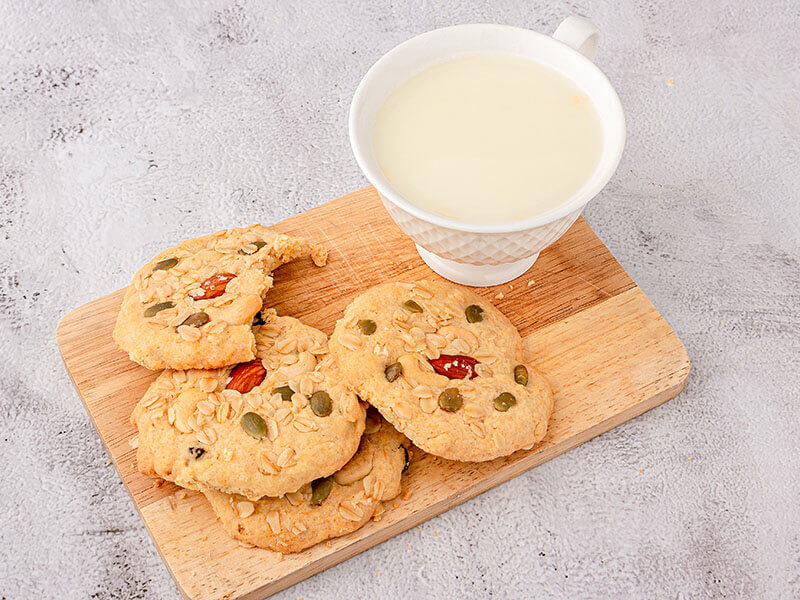 These treats are ideal for your healthy diet while still satisfying your sweet cravings. Of course, you need to choose low-fat components to prepare them.
To reduce fat, you can use less butter or oil. Instead, egg white, unsweetened yogurt, or applesauce is a brilliant alternative for butter. Though they are light and low-fat, these cookies are still chewy and soft to enjoy.
Total time: 25 minutes
If you crave some sweets during your strict diet, I have an ultimate solution for you here. Indeed, these healthy snacks (or desserts) are low-fat, low-carb, and gluten-free. They are also ideal cookies without sugar (internal link sugar-free cookies).
The sweetener I use here is made from monk fruit, which provides a better choice as it will not alter your blood sugar level. Thanks to protein powder, they can supply more nutrients to boost your health as well.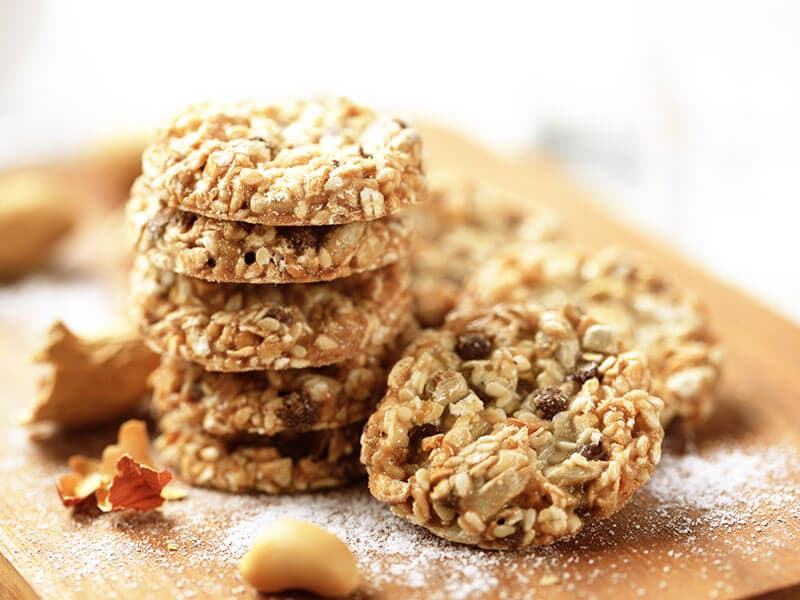 Going vegan is a healthy trend to boost the quality of your diet with no animal products in the food. Fortunately, you can find many plant-based cookies on the internet.
They still have calories, sugar, and saturated fat because sugar, flour, and dairy-free (or ​​artificial) ingredients are some main ingredients in these snacks.
And instead of using egg white, aquafaba (cooked chickpea water) can be an excellent substitution. On the other hand, aquafaba icing is ideal for decoration.
Total time: 40 minutes
Ginger molasses cookies are not only a healthy vegan idea, but they are also bursting with flavors, thanks to the addition of nutmeg, cinnamon, ginger, and cloves.
Molasses also add chewiness to the cookies, making them more enjoyable. Besides, a sugar coating will surely enhance the attractiveness of your snack. Feel free to consume them when they are still slightly warm or cool cookies; it is up to your preference.
Do you have any plans for this weekend? If not, how about trying these ginger molasses cookies? I think you would love it.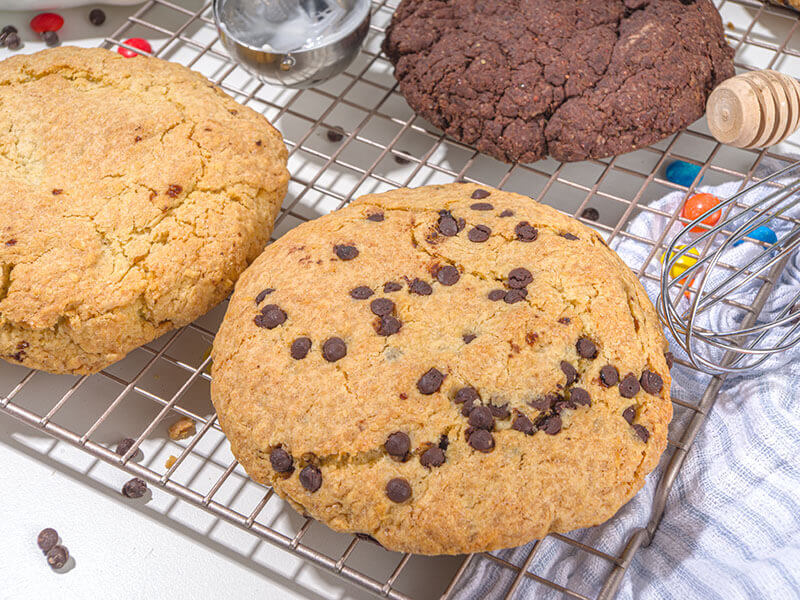 Similar to other cookies, cookie cake is made from cookie dough, but they are giant cookies and typically have frosting on the top as decoration. Thus, cookie cake's ingredient amounts are higher than regular ones, as long as they fit in the baking pan that you use.
In general, cookie cake is a kind of dessert, and you can consume it in smaller slices (like how you enjoy normal cakes).
Total time: About 40 minutes
Cookies without gluten are abundant. With this big cookie cake, I will show you how to make an outstanding dessert to celebrate any special occasion. It is even quicker to make compared to individual cookies.
The highlight of this cake is the icing. You should use a decorating bag with a star tip to shape the mixture of icing, containing sugar, vanilla, almond milk, and buttery spread, and decorate your cake. That's it! Super straightforward.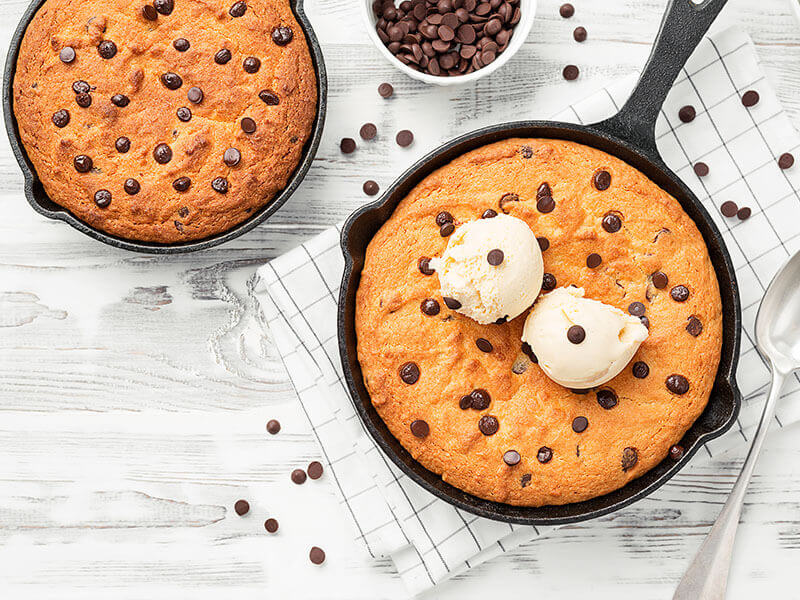 Skillet cookies are simply those cooked in a cast-iron skillet. They always come in larger sizes and are best served warm. In reality, if you need a recipe with less cleanup afterward, nothing is better than this cookie idea.
You can cook and consume your skillet cookies right on the cookware or cut them into wedges and enjoy your food with ice cream on top if desired.
Total time: 35 minutes
The cast-iron skillet is versatile kitchenware that you can use to cook savory and sweet dishes, including cookies. In this recipe, I will show you how to make a giant chocolate chip cookie called Pizookie (mixing "pizza" and "cookie") baked in a skillet.
The ingredients are similar to regular chocolate chip cookie recipes. Also, I use 2 chocolate variants (milk chocolate chips and semi-sweet chocolate chunks) to make this dessert tastier. However, please be careful in making browned butter as it can burn quickly.
If you are looking for ready-made cookies for more convenience, I have a few options for you to choose from. The popularity of these brands is undeniable as you can find them in almost all supermarkets in the USA.
They might differ in flavor and texture, but one thing to be sure of is their high quality and deliciousness. Let's take a look at my top 6 cookie brands below.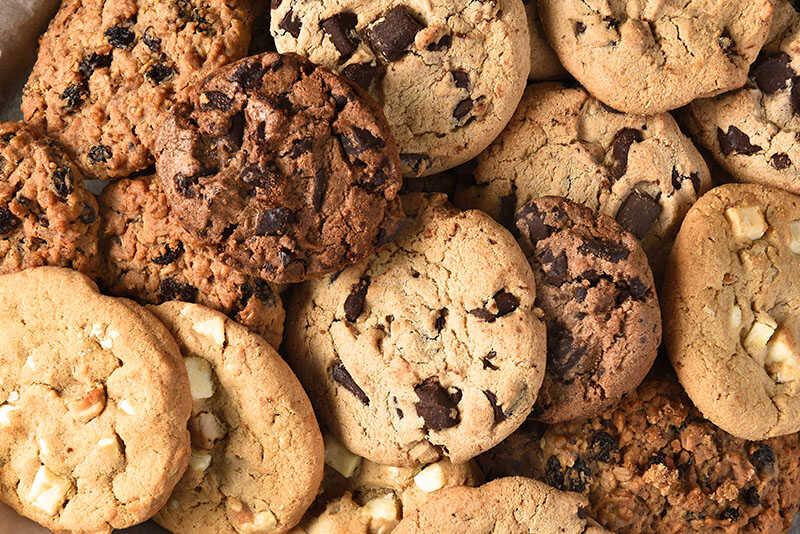 Founded by Margaret Rudkin, Pepperidge Farm has been a well-established American company since 1937. Besides cookies, the company is famous for other baked products, like bread, crackers, buns, and other dessert items.
Their cookies are diverse in product lines as well, from classic ones to distinctive cookies. These Distinctive cookies are named for European cities, for example, Brussels cookies, Milano cookies, etc.
Chip Ahoy! is a chip cookie brand of Mondelēz International organization. Introduced in 1963, this brand has received many positive reviews from American consumers. Their cookies are not only tasty but also available in different variations.
You can rely on your preference to find the most suitable options, such as reduced-fat, original, chewy, or chunky cookies. And you can identify the characteristics of cookies through their package. Chewy cookies are packed in red packing, and blue packing for original variation.
Another good cookie brand to buy is Famous Amos. Established in 1975, Wally Amos (founder) has devoted all of his effort and love for making the finest cookies from high-quality ingredients.
To be more specific, he has chosen the best chocolate from the best chocolate maker in Belgium to make chocolate chip cookies.
His cookies are also inspired by different cuisines. Try Famous Amos's British salted caramel and chocolate or Mediterranean hazelnut and chocolate cookie to find out how awesome they are!
Looking for a perfect gift for your beloved people? Tate's Bake Shop brand is a must-check name. They are not only famous for their cookies but also for the corporate gifting program.
Whenever you need a unique gift for your friends or family members, Tate's Bake Shop's wide range of baskets and towers will satisfy you.
Davis's Cookies was founded by David Liederman in 1979. Nowadays, besides a variety of cookies, you can easily find other baked goods like cheesecakes, brownies, crumb cakes, and more.
They also offer gluten-free variations to fit your diet. Fresh, wholesome, and simple, these cookies are also good for your health as there are no preservatives in their products.
Whenever mentioning the iconic sandwich cookies with white and black color, Oreo is the only brand that many people would think of first. But do you know that their cookie lines are pretty diverse?
You can find gluten-free, classic, thin, fudge-covered cookies. Plus, their limited edition with pumpkin spice cookies is totally worth a try.
Regardless of cookie classification, they are so good to make by yourself because there are tons of simple cookie recipes out there. You can start with no-bake cookies because they do not need any baking involvement.
Lastly, I hope you find this article useful for your knowledge about cookies. They are outstanding and tasty snacks (or desserts) to lighten up your mood. If you still have other questions about them, do not hesitate to share your opinion in the comment part.
I am really looking forward to hearing from you, about your experience with them or how much you love your food. Thank you, and stay safe!