Summer cookies always capture my heart because of their sweetness and freshness. I know what you are looking for, and this post will address your needs thoroughly. It's time to make the hot summer sweet and calm.
These recipes are especially delicious and straightforward. Therefore, it is a pity if you missed a mouthwatering sweet treat in this article. Please focus all your mind on reading this valuable article.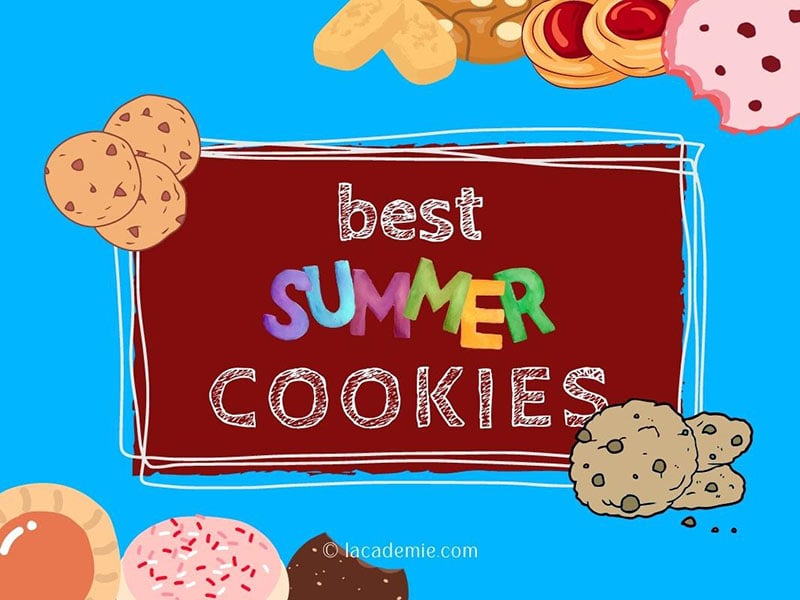 Summer is always the ideal time to enjoy the holidays with your loved ones. Yummy dessert recipes and dishes play an essential role in bringing a fun and memorable summer.
Cookies are an effective way to purify your taste buds after BBQ parties or heavy meals. To make excellent summer cookies, flour, sugar, butter, and baking soda are familiar ingredients you need to have on hand.
In addition, to diversify flavors and create new and unique colors for each recipe, you will need food colorings, eggs, milk, chocolate chips, and fruits. Oil or applesauce are other things you have to prepare.
Alternatively, tools and equipment are indispensable. They make the cookie process more convenient and accessible. Therefore, you should not ignore cookie cutters, parchment paper, cooling racks, baking sheets, or hand mixers.
Have you prepared anything for the summer party? These are great suggestions for your dessert menu. They are simple and delicious sweet treats. Let's explore them right now.
Total time: Around 36 minutes.
Are you curious about the delectable vegan cookie ideas? Let's explore the Lemon Blueberry cookies to understand more about this category. In particular, you cannot find any gluten ingredients in these excellent cookies.
It is full of blueberry and lemon touch. The healthy recipe brings out the fresh juiciness and a sweet-tangy taste of blueberries and lemon. It is considered a cross between a sugar cookie and a shortbread cookie.
It is an excellent recommendation for lemon fans because lemon juice and zest create an intense lemon flavor. When storing them in the fridge, you should wait for them to cool completely to avoid softening the fresh components.
Extra tricks, to make the recipe more colorful, add poppy seeds to the dough. If you want to use maple syrup, I advise you to abandon this thought since it will make the dough too wet.
Total time: About 22 minutes.
Your lover will be delighted to receive these beautiful cookies on Valentine's Day; you can recognize them easily thanks to their round, flat shape and characteristic pale yellow color. Plus, the lemon taste is another telltale sign of these cookies.
Especially when you need some toothsome cookies for an Easter party, these moist and buttery cookies will be valuable. Nutritionwise, the sweet and tangy dessert pairs well with an ice-cold pink lemonade glass in the summer.
You can add glaze to this recipe with lemon juice and lemon-flavored icing. When making its dough, a stand mixer will save you time. A small melon ball scooper will help you have the perfect size cookies.
If you want to make these cookies beforehand, please scoop the dough and store them in a container in the fridge. The baked cookies can last more than 1 week in the refrigerator and up to 3 months in the freezer.
Total time: Around 1 hour 39 minutes.
Besides summer parties, this unique dessert is a favorite cookie recipe of many people on holidays. Therefore, you can make them whenever you want, all year round. The sweetness and zingy citrus touch of lime glaze will knock you down in no time.
Not only that, the aroma and gentle taste of coconut flakes stimulate your taste buds. In particular, the shortbread dough, after baking, has a gorgeous golden hue and perfectly tender and crispy texture.
The pure white and creamy lime glaze will dissolve evenly in your watery mouth. For an extra trick, it is possible to decorate cookies by drizzling white or green icing lines on the surface.
Total time: Around 2 hours 9 minutes.
Lemon Meltaway has always been a typical wedding-themed cookie. In addition, it is suitable to consume in summer with a cold cup of coffee or tea. In terms of flavor, it is not only sweet but also has a typical citrus taste of lemon zest and juice.
It is known as snowballs, Mexican wedding cookies, or Russian tea cakes in many places because there are many similarities with wedding cookies. This dessert will melt in your mouth quickly and leave a distinctive lemon aftertaste.
It looks perfect with powdered sugar on top. And when you zest lemon peel, you just need to take the outer skin and skip the under-white part because it is pretty bitter and changes the taste of cookies.
Follow these instructions to get a yummy Lemon Meltaways for your summer party.
Total time: About 23 minutes.
Jif Peanut Butter is one of the simple cookie recipes that should appear in your cookbook. When you give this recipe a shot, it is hard to resist peanut butter's buttery and rich taste. And don't use natural peanut butter, as it does not contain stabilizers.
To get a smooth and perfect dough for this recipe, you must mix peanut butter, milk, vanilla, sugar, egg, and flour. For decoration, use the back of a fork and press it on top of the unbaked dough to create a cross pattern.
Furthermore, it looks more colorful and eye-catching with chocolate chips or M&M on top. In addition, you must make sure that the cookies are still soft after baking.
Total time: Around 40 minutes.
This recipe I am about to show is a simple and tasty cookie delight with peanut butter as the main component. Besides the fatty and buttery notes of this ingredient, a mild bitterness from cocoa will stimulate the tip of your tongue.
And this slightly bitter taste neutralizes the sweetness of sugar and the seductive aroma of milk. One particular thing is that you will not need to use an oven for this recipe. You just need to boil the components and wait for the cookies to dry for about 30 minutes.
You can identify it quickly thanks to its characteristic dark brown color. In my experience, making this dessert on a rainy day is the wrong decision because cookies will not harden.
Total time: About 25 minutes.
Among the delicious cookie recipes, Funfetti cookies are always my priority at parties. They look so vibrant in rainbow colors. These various colors are the result of using colorful sprinkles.
This dessert makes an excellent gift for those who have a massive passion for sweet sugar cookies. The tender and buttery cookies will melt in your mouth when enjoyed. Also, their interior still retains moderate chewiness.
It is essential to underbake cookies because this helps create a chewy edge and tender center for them. Of course, you should avoid overmixing the batter to keep the cookies soft after baking.
Check the tutorials to prepare Funfetti cookies at home properly.
Total time: About 1 hour.
The sand dollar is a type of sea urchin common in many parts of the world. Also, it is known as sand cakes or cake urchins. The sand dollar is round, flat, and small in size. And the name of this cookie is derived from this creature due to the similarity in appearance.
Its golden brown color grabs your eyes at first sight. It is coated with cinnamon, sugar, and almond slices on top. Furthermore, 5 almond slices give this cookie a unique accent, and it looks like a flower now.
This delicious cookie crosses between a sugar cookie and a snickerdoodle cookie. You will be mesmerized by this incredible cookie's softness and slight chewiness. Also, the sweetness blended with the woody touch of cinnamon brings an indescribable feeling.
Total time: About 25 minutes.
It is a fantastic experience to taste the chewy and sweet Coconut Macaroons after a heavy meal. The natural sweetness and nutty taste of this recipe are derived from honey. Also, you can feel a hint of vanilla while enjoying these cookies.
After beating the egg whites with a hand mixer, you combine them with coconut, vanilla extract, salt, and honey to make a dough. Let's scoop the dough and bake until golden brown. Wait about 15 minutes for the cookies to cool before using.
For variations, if you have regular flour, you can make this delicious treat. To increase the chewiness and moistness of the cookies, you should whip air into the egg white for a few more minutes to complete the egg white turn into a meringue.
Total time: About 27 minutes.
Thumbprint cookies are pretty popular at essential parties. You'll notice a thumb-sized nest in the center of the cookie used to hold the kernel when you look closely. And this is also the origin of the unique name of this delicious dessert.
This crunchy and buttery recipe is shortbread-based cookies. In addition, a bit of moisture from sweet raspberry jam will increase the value of this dessert. And it forms a striking red accent against the bright yellow shortbread.
For best results, you must use soft butter for this recipe. In particular, chilling the dough in the freezer helps prevent cookies from spreading while baking. For extra sweetness, use brown sugar instead of white one.
Total time: About 25 minutes.
Root beer is a carbonated soft drink popular in North America. It is made up of the roots of the sassafras. Furthermore, it also has a fermented form. Cookies with root beer as the main ingredient taste sweet and slightly bitter from this liquid.
I am sure you'll go crazy with the tenderness and moistness of these delicious cookies. Not only that, the frosting on top diversifies the flavor and gives you a pleasant mouthfeel when tasting them.
The white and smooth cream layer is a mixture of butter, milk, root beer, and powdered sugar. This fantastic dessert is plenty of calories, vitamin A, potassium, and calcium.
Total time: About 32 minutes (exclude 1 hour for chilling).
If you are a big fan of cookies with a soft and chewy texture, you'll regret missing out on this recipe. Especially this signature lemon flavor with tangy lemon curd inside and tasty lemon butter glaze will blow your mouth away.
In particular, the highlight of the dessert comes from the nutty fragrance and the light crispness of poppy seeds. Moreover, they help beautify cookies with a mysterious black color. They look dominant on the pale yellow background.
It is nice to see smooth and curd flow when you split the cookie into 2 halves. Simply, if you do not have much time to prepare homemade lemon curd, you can find it in stores. And this element helps balance the taste of these cookies.
Total time: Around 25 minutes.
Chocolate and oats are a popular combination in making desserts, and White Chocolate Chip Oatmeal cookies are the typical and successful recipe for this fusion. They create these sweet cookies with perfect tenderness and chewiness.
You need a well-combined dough with sugar, butter, flour, eggs, and other ingredients to get these incredible cookies. This mix requires oats and white chocolate chips to give the recipe distinct nuance and flavor.
Once baked, these cookies look attractive in their characteristic pale yellow shade. Incredibly, some white chocolate chips on top create a unique look for these cookies.
Total time: About 20 minutes.
Muffin Tin Peanut Butter Cup cookies are ideal for bringing to a professional party because of their unique and eye-catching appearance. The cups are yellow and filled with chocolate in the center.
It is a blend of sweet, buttery, and mildly bitter flavors. Everything is like holding hands, dancing, and melting in your mouth. For best results, choose unsweetened, smooth, and creamy peanut butter.
To prevent stickiness when removing cookie cups from the pan, a non-stick mini muffin pan coated with baking spray is a necessity. Alternatively, it is more accessible with a plastic knife on hand.
Let's explore the right ways to gain incredible Peanut Butter Cup Cookies.
Total time: Around 20 minutes.
Summer pool parties will not be complete without delicious Monster cookies. In essence, it is a peanut butter oatmeal cookie with the addition of M&M. The colorful M&Ms are the dominant highlight of the golden brown cookies.
Its name is unique, isn't it? This delectable recipe is considered Frankenstein's monster of the cookie paradise (a mix of various ingredients), so people call them "Monster cookies". This recipe is standard in the church's cookbook in Lowe Farm of Manitoba.
It is a perfect dessert or snack option for large parties. Moreover, you can use them as gifts for your loved ones. Do not forget to bring them on picnics
Total time: About 40 minutes.
Hot summer will be more comfortable with this citrusy recipe. It is one of my favorite bar cookies. It is hard to tell if they are soft or chewy when you bite them because they have both. Exceptionally, the citrus flavor of lemons will make you fall in love with them at first sight.
Their vibrant yellow color is perfect for summer. Alternatively, you can enjoy these delicious cookies during the Christmas holiday with a hot coffee or teacup.
I add an egg yolk to this recipe to create a perfect texture. When using lemon juice and lemon zest, you should use the ratio of 2.5:1.5 (2.5 teaspoons and 1.5 teaspoons). And, if you are too lazy to zest lemon, you can skip it.
Total time: About 15 minutes.
There are many fun activities in the summer, but I love playing with my kids and making colorful Flip Flop cookies. They look so unique, and I thought of multi-colored flip-flops when I saw cookies for the first time.
It is simple to make the dough for this recipe. Simply mix the sugar, vanilla, egg whites, and cream of tartar until you get a smooth mixture. It is time to choose your best-loved shade to dye the dough, like blue, green, or pink.
To create colorful flip flops, you will pipe dough from the piping bag onto the nutter butter into straps. Let's accent it with a sprinkle at the junction of the 2 straps. You only need a little time in the kitchen to create a memorable summer party for your kids.
Total time: About 35 minutes.
In terms of copycat crumble cookie ideas, I would like to recommend Key Lime Pie cookies. Graham cracker is the star ingredient of this sweet treat. Especially a layer of lime pie filling and whipped cream on top to raise the attractiveness of this delicious dish.
They look so refreshing with a slice of lime on top. Plus, it is simple to fall in love with crucial lime's tangy and intense flavor. However, you can use regular lime in place of key one if you run out of it. But, the taste is lighter.
After preparing the cookies, you can put them in an airtight container and store them in the refrigerator for more than 4 days until the party starts. If you want to keep them longer, the freezer is an ideal choice.
Go to the kitchen to prepare yummy Key Lime Pie Cookies for dessert.
Total time: Around 1 hour 40 minutes.
When you suddenly crave cookies, please try making Chocolate Icebox cookies since they are pretty effortless. Your job is to create the dough in advance with a few easy-to-find ingredients, place it in the freezer, and bake to use whenever you want.
In the 1930s, people would use an icebox to preserve rolled dough. And that was also the origin of the memorable name of this famous cookie. Besides the rich and chocolatey taste, you find the buttery touch of butter in this treat.
It is best not to use melted butter to avoid making the cookies thin when you bake. Also, use a scale to measure the amount of flour. Using cardboard tubes of paper towel rolls to hold the dough will help ensure a round shape for the cookies.
You have to cool the dough for about 1 hour before putting it in the oven because cookies can get crispy if you bake them early. Plus, adding cinnamon is acceptable to enhance the flavor.
Total time: About 35 minutes (exclude the 1 to 2 hours for cooling).
The fastest way to please your crying babies is to give them colorful, sweet watermelon slice cookies. It looks similar to these juicy fruit slices with green peel, pink flesh, and tiny black seeds.
Its sweet taste will help you soothe your little ones effectively. In addition, a little watermelon flavoring brings out an intensely fruity taste. Besides flour and spices, it needs pink and green food coloring to color these slices.
You just need to stick small chocolate chips on the slices to create tiny seeds for watermelon. It is easy to preserve these sweet slices in the freezer with the container. And they will be defrosted when left at room temperature.
Total time: About 1 hour 15 minutes.
I guarantee that you will be addicted to these crunchy cookies. It is a high source of Krispie cereal, white chocolate, marshmallow, and peanut butter. Although they do not need to be baked, their flavor is enough to knock you down.
These tasty cereal-based cookies have a light and beautiful cream color. The black chocolate chips look prominent on the surface of the cookies. There are many ways to preserve these cookies; freezing or storing them in an airtight container are the most common methods.
Total time: About 1 hour.
It is time to bring a tropical vibe to your summer vacation by adding fresh strawberries to your cheesecake pudding cookies. And you will get a tender, moist, and new dessert for enjoying tea, coffee, or other drinks.
In particular, graham crackers are an indispensable ingredient to bring crunchiness to cookies. Nonetheless, these delicious cookies contain butter, so this is a perfect option for fans of buttery and rich taste cookies.
Total time: Around 45 minutes.
This yummy sugar cookie recipe is a fantastic choice for summer and holidays. Plus, you will immerse yourself in the moderate crispiness of the edges and the softness mixed with a bit of chewiness in the center of the cookies.
It is possible to cut these cookies in various shapes depending on your preference. Its mild sweetness will steal your heart in no time. Significantly, the citrus note of orange extract and lemon zest is a beautiful addition to the recipe.
In some cases, you can use orange instead of lemon zest for a citrus flavor. Top with a creamsicle frosting to beautify this sweet treat.
Total time: About 1 hour 10 minutes.
Vanilla Ice Cream Sugar cookies look like they are designed for summer gatherings. Their gentle and harmonious colors will make you feel comfortable when looking at them. Contrary to its name, the ingredients in this recipe do not contain authentic ice cream.
They have an ice cream-like appearance and a luscious sweetness. Especially, to accentuate the recipe, I garnished it with vanilla royal icing. This addition makes it taste a bit like vanilla ice cream.
Total time: Around 40 minutes.
Strawberries are a familiar ingredient in dessert recipes such as smoothies, cakes, or ice cream. Why don't you try making tasty cookies with fresh and tropical components? Let's mix them with lemonade for a perfect recipe.
You will be impressed with its extraordinary appearance with 2 halves of pink and yellow. The pink color is created by cake mix strawberry, and the yellow shade results from using cake mix lemon.
If you like soft cookies, you should not miss them. Alternatively, its texture becomes more special with gentle toughness. Extra tips to enhance its quality and aesthetic, do not forget to drizzle a layer of glaze on top of the cookies.
It is not complicated to prepare perfect Strawberry Lemonade Cookies with these techniques.
Total time: About 22 minutes.
Why don't you try mixing lemon and raspberries in the same cookie recipe? And the result you get is chewy and tender cookies with tart and sweet flavor. Your summer will be cooler when you consume them with vanilla ice cream.
It is hard to resist the intense citrus and fruity flavor of these delicious cookies. As you enjoy them, the buttery cookies will blend and melt in smooth and fresh ice cream. All of them will explode your taste buds in no time.
Do you know any other cookie recipes for summer? If you know, please feel free to share them in the comment section for others to consult. Of course, it is sad if you do not share this post to spread valuable information.
Cookie recipes are always a favorite at summer parties. They are an effective way to refresh your taste buds after enjoying heavy dishes. So, please save them to your cookbook for later use. Thanks for your time!
Nutrition Facts
30 servings per container
---
Amount Per ServingCalories136
% Daily Value *
Total Fat 6.6g

10

%
Cholesterol 29mg

10

%
Sodium 71mg

3

%
Potassium 46mg

2

%
Total Carbohydrate 17.8g

6

%

Dietary Fiber 0.6g

0

%
Sugars 7.7g

Protein 1.9g

2

%
---
Calcium

13

%
Iron

1

%
Vitamin D

5

%
* The % Daily Value tells you how much a nutrient in a serving of food contributes to a daily diet. 2,000 calories a day is used for general nutrition advice.