Some Italian cookie recipes are what you desire. It is hard to resist the temptation of devouring all of your cookies while you are a work-from-home employee. However, all of your jars are empty, and you are so tired of the same sugar cookies and Oreos.
It's time for a change! Italian cookies are best to start your baking career in the kitchen. These 27 selective recipes are my prized collection, and today, I feel nothing happier than sharing them with you.
So are you ready to bake some cookies and dunk them in your coffee like the Italians always do?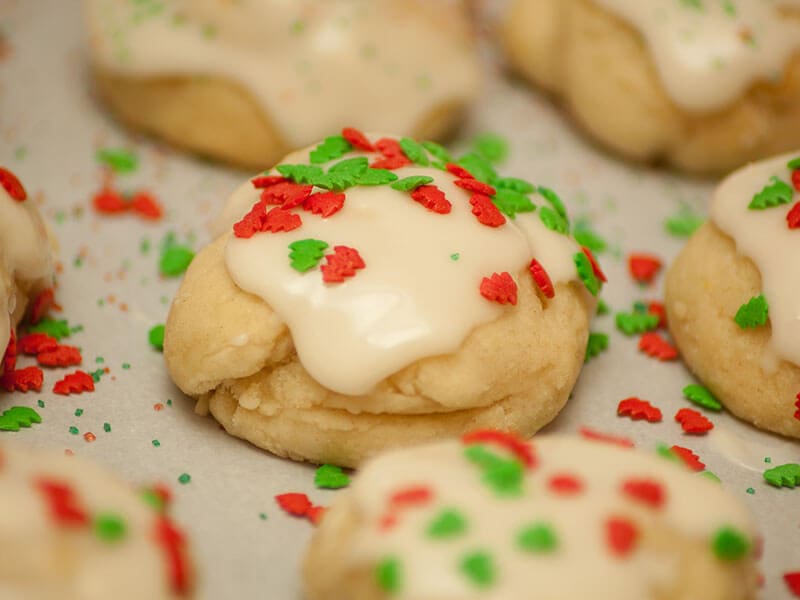 It is reasonable for you to choose Italian cookies to munch on. The variations are versatile and diverse, from sweet to savory, hard cookies to soft ones. This list of 27 outstanding cookie recipes will cover all of these territories. So, are you ready for the first recipe?
Total time: 35 minutes.
When it comes to wine, you think of French first. But do you know Italy is among the world's biggest wine producers? Therefore, don't be shocked to see sweeties like wine cookies are crucial parts of Italian cuisine.
These cookies share a lot of similarities with regular donuts. The cookies are crunchy and crumble-looking. Some people say that the look of wine cookies isn't succulent at all. However, their taste is unexpectedly phenomenal with their sweetness and subtlety.
To make wine cookies, you need to mix flour with oil, sugar, salt, and baking powder. And if you want your wine cookies to taste more Italian, anise seeds are a great addition. After you form your cookies into ring forms, just dip them in sugar and bake for 25 minutes.
The Italians have these cookies year-round. They even dunk wine cookies in coffee while listening to the morning news. The wine flavor is fragrant but doesn't make you dizzy or uncomfortable.
Total time: 17 minutes (excluding an hour of chilling time).
Frollini is another cookie with an impressive form and sugar coating. Typically, people flavor Frollini with nuts like almonds in the recipe. You can also taste vanilla since the extract is also one of the main ingredients.
The cookies are simple and take very little time to bake. You just have to make the dough by mixing flour, almond meal, vanilla extract, and other ingredients. Also, letting the dough chill in an airtight container for an hour is a must.
After 12-14 minutes of baking time, the cookies will develop golden crusts. For garnish, you can sprinkle a layer of sugar on the cookies once they cool down. However, you can skip this step if you are not into sweetness.
Total time: 30 minutes (excluding 30 minutes of chilling time).
Canestrelli often appears in the form of a big yellow flower. The name "canestrelli" in Italian means "little basket". This title refers to the basket that the Italians often use to cool this type of cookie down.
The cookie is simple and pretty distinctive with its citrus flavor. In addition, people prefer adding lemon or orange zest to the dough to flavor their cookies. To make Canestrelli dough, you need to mix egg yolk, vanilla extract, lemon zest, butter, and cornstarch with flour.
The yellow color of the cookies is from the egg yolks. On the other hand, the taste is controlled by the addition of vanilla extract and lemon zest. If you enjoy having snacks while working, this cookie is the one for you.
If you need a cute cookie recipe to make for your kids, Canestrelli is the best option.
Total time: 2 hours.
"Biscotti" is what Italians call "biscuit". Both came from their Latin ancestor which is "bis coctus" with "bis" for "twice" and "coctus" as "cooked". This implies the fact that biscuits are often baked twice. And it is one of the reasons why biscuits are harder than cookies.
You can see the Italians love having anise seeds as a spice in many of their food. They even create Sambuca – a famous brand of anise-infused alcohol. Therefore, don't be too surprised when they dedicate a whole type of biscuit for this spice.
Before giving the biscuit a try, you might think it is a regular one with typical Italian flavors – toasted almond and fragrant anise. However, what catches you off guard is how well these two flavors blend with each other.
This recipe shows you how the collaboration of anise and almond can be very delicate. And to make that miracle, you have to mix almond and anise extract with their crushed seeds with flour, egg, baking powder, and other spices.
After making the dough, you need to form it into the shape of a loaf. The next step is to bake it for 50-60 minutes at 350°F. Your loaf is pretty solid after that but still soft enough to cut it into biscuit size. You should bake the pieces more until they reach your desired crispiness.
As I said earlier, biscuits need to be baked twice. In this case, you need to bake your biscuits once again. The good time for this second bake is 8 minutes if you like soft biscuits and 20 minutes for hard ones.
Total time: 1 hour 5 minutes (including 30 minutes of cooling).
To live up to its name, the cookie is extremely crunchy, and it immediately melts once your tongue meets it. It only takes over an hour with other regular ingredients to make cookies like flour and butter as well as flavoring additives like orange zest, alcohol, and sugar.
Crostoli is how the Italians celebrate their Carnevale (the "remove meat" or fasting festival). During this period, people avoid having meat in their meals for 40 days before Easter.
The citrus ingredient in this recipe can come from lemon or lime zest. Same with the alcohol element, you can choose between gin, flavored vodka, or rum to be part of the Crostoli.
Total time: 20 minutes.
You always hear many people say that cooking is an art. And to the Italians, every single dish is a masterpiece. To prove this point, allow me to introduce you to an aesthetic cookie named Pizzelles.
In their culture, people consider Pizzelles as one of the unreplaceable pastries of the Italians during special occasions like Easter, Christmas, and weddings.
The ingredients of Pizzelles are pretty basic with flour, extract of vanilla and anise, and other things. These are the formulas for plain Pizzelles. There are other tasty variations like lemon Pizzelles, chocolate Pizzelles, etc.
To shape your cookies to their traditional form, you need to equip a mold, but this tool is unnecessary if you only want the cookies for munching. People also make a cylindrical version of Pizzelles and stuff orange-almond cream inside.
Total time: 28 minutes.
You probably have heard of one of the most well-known cakes from Italy – Tiramisu. So, do you know that the crumb you taste in that cake is actually a layer of Savoiardi? The cookies taste extreme with Mascarpone cream, and it also tastes superb alone.
To bake a batch of Savoiardi, you need to prepare egg, potato starch, flour, lemon zest, and sugar (for both sprinkling and flavoring the cookies). The baking only takes 7-8 minutes. A few more minutes to cool it down, and your Savoiardi should be ready.
The outcome will be perfect if your Savoiardi has a soft texture, a comforting aroma, and a mildly sweet flavor. Surely, you can serve these delicious cookies with Mascarpone cream or have them during your afternoon tea or morning coffee time.
Total time: 55 minutes.
This dish is a specialty of the Neapolitans, who make this tasty Struffoli every Christmas. In the form of tiny flavorful balls, Struffoli stimulates the deep desire for sweetness in everyone's heart.
To make these crunchy golden balls, all you need are lemon, orange, butter, and other baking ingredients. The difference between this cookie and others is that you will not bake these Struffoli. It needs deep-frying until its white flour hue turns golden brown.
And no, your Struffoli is not ready without its honey-orange coating. You need to simmer honey and orange juice on a shallow pan or a skillet till the liquid starts to become warmer. After coating your balls of Struffoli, let them rest for 5 minutes, and they should be ready.
The intense sweetness from sugar and honey, plus the fresh aroma of citrus components, can greatly please your senses of taste and smell. You can store these in a jar and refrigerate them. That way, the coating will not melt under an increase in room temperature.
In case Christmas is your favorite occasion, Struffoli is a nice addition that you should try to make this year.
Total time: 23 minutes.
Let's dive deeper into the Italian world of classic snacks and pick one. Pignoli cookie is one of the options on that shelf of the classic. This cookie is well-known for its chewy texture and nutty flavor.
With pine nuts (pignoli) as the main ingredient, the cookie gives you toasty and nutty flavors with an undercurrent of sweetness. Other ingredients include almond paste, sugar, and egg whites. And yes, this is a no flour recipe, so if you're on a diet, this is the one.
Since there's no flour in the component, it is important not to overbake your cookies. Toasted nuts smell good, but once it turns into an overdone odor, it's not really a pleasant feeling to experience.
To make the keto-friendly cookies, you need to make sure they are sugar-free munchies. All you have to do is replace the sugar in the recipe with powdered erythritol. This sweetener doesn't have any sugar spike, so it provides zero sugar to your diet.
Total time: 55 minutes (including 15 minutes of chilling time).
The name of these cookies means "the Lady's kisses" in Italian. They are typical sandwich cookies and surely an epitome of Italian confectionery. These cookies exist in every Italian bakery, even ones in foreign countries.
The tasty, nutty crumbs traditionally come from the rich taste of the blended hazelnuts. However, this post will give you a try with a modern variation – almond Baci Di Bama.
All you need are almond meals, butter, flour, and sugar. With these cookies, you have to shape them into balls first and then let them refrigerate for 15 minutes. After the cookies get harder, you cut them in halves and bake for 20 minutes.
And to make that "heart of the Lady" – the cookies' filling, you just need to melt black chocolate and spread it between two half pieces. The cookies have a regular taste with a mixture of chocolate and nuts, but that simplicity makes you empty the jar in no time.
Total time: 2 hours (including 30 minutes of cooking time).
After reading about wine cookies, you understand that wine is a classic beverage of the Italians, but there's another candidate for this number one drink position. Espresso is the one that I'm talking about.
With high density and viscosity, this energy liquid is flavorful and irresistible. If a blend of sweetness and bitterness in every bite is what you expect to taste from a biscuit, you can't skip this Espresso biscuits recipe.
To make these tasty cookies, the ingredients you need are Espresso powder, chocolate, ground Espresso beans, and other regular cookie baking materials. With a large amount of Espresso, these cookies will be extremely aromatic when you bake them in the oven.
Total time: 1 hour and 30 minutes (including 10 minutes of cooling time).
Cuccidati is a Christmas specialty of the Sicilian people. The iconic things about this fig cookie are sugary filling and white glazing with colorful sprinkles. For stuffing, besides figs, you can fill the cookies with anything sweet like walnut paste, honey, fruit jam, etc.
And in this delicious stuffed cookie recipe, you will learn how to bake Cuccidati with an intensely sweet filling by blending raisins, walnuts, dates, figs, and some other sweet materials. You don't have to prepare the icing layer, but an egg wash and sweet sprinkles should be ready.
The most interesting thing about Cuccidati cookies is how the filling includes many ingredients that work so well together. After baking the cookies for 20 minutes, you can have this sweet dish for your breakfast with milk or orange juice and get ready for your day.
Here's an instruction on how to make these delicious Cuccidati.
Total time: 35 minutes.
In Italy, when you mention Spumoni, people will think of the three-color desserts that represent the three-flavor: pink cherry, green pistachio, and brown chocolate.
To make Spumoni cookies, you need to include these three elements in your munchies. The first step is to make the different doughs for the three colors. The flavoring and coloring are derived from dried cherries, chopped pistachio with green food coloring, and melted chocolate.
After making the dough types, you just have to put them lying next to each other and press them down with the rolling pin. And when the doughs stick together, just cut them into small pieces and bake them for approximately 10 minutes.
You can store the cookies in an air-tight jar at room temperature for 5 days. If you want to save these delightful crafts longer, you should refrigerate them.
Total time: 57 minutes (including 30 minutes of cooling time).
In Italian, "uovo all'occhio di bue" is the name of the most common breakfast in the world – fried eggs. Therefore, don't feel so surprised to find that the Italian Oochio Di Bue cookies look like fried eggs.
The highlighted color of filling in the middle of Oochio Di Bue is the culprit for all of its names. Their appearance makes people think of Christmas, and the cookies also taste like Christmas with their intense sweet jam fillings in the middle of two pieces of sugar cookies.
The cookies part is easy when you only need to mix flour, sugar, and salt, with vanilla and cream cheese to make the dough. You can cut the dough into any kind of shape. Just remember that you need to poke a hole in the middle.
With the jam, you don't have to perform any action besides spreading them on your cooked cookies. You might want to spread the jam thicker in the middle than the edge so that when you place the cookie with an hole on it, the red jam can show more evidently.
Total time: 40 minutes.
The Italian cookie list will be meaningless without these notorious Amaretti cookies. A master creation of the Italians, I would say. With soft and tender crumbs and appetizing crust, these cookies deserve a must-try stand in your baking schedule.
Making Amaretti is also uncomplicated with several steps. And this recipe will teach you how to bake three flavors of Amaretti.
With basic almond Amaretti, you'll use the almond flour and well mix it with sugar. Other ingredients for the dough are almond and vanilla extract, egg whites, salt, and icing sugar for coating.
With the matcha-lime Amaretti, you need to add matcha powder to your dough and replace the vanilla extract with lime zest. The hazelnut-espresso one is almost the same as the main recipe, with hazelnut flour and espresso powder substituting almond flour and vanilla respectively.
The best thing about these munchies is the fact that they are delicious gluten-free cookies from Italy. Therefore, if you have gluten sensitivity, then this recipe is truly for you.
Total time: 40 minutes.
Pinwheel cookies boast an interesting appearance, and their taste is extremely phenomenal. Even though the cookies are not originated in Italy, people still have them during their Christmas holidays as their traditional sweet treat.
In this recipe, you will learn to add more dates to your meals. And I mean dates – a fruit from the Middle East. The sweet raisins-like sweetness of dates mixed with the nutty flavor of chopped walnut for filling goes pretty well with the dough of these Italian cookies.
This filing is easy to make by simmering your dates with water and sugar until the liquid starts to increase its viscosity. Finally, add chopped walnuts to the mix.
To form the pinwheel form, you need to separate the dough into three portions and press it into a large rectangle form. The filling should be spread gently on each dough surface, and you might want to avoid filling to the edge.
The last step is to roll the dough up tightly and cut those long cylindrical cookie dough with jam into smaller pieces. After baking for 10-12 minutes, the cookies should be ready.
One big tip for rolling is trying to keep the dough cool by refrigerating it before and after that step. Another tip is to use wax paper to prevent these doughs from sticking around your kitchen counter.
Here is a visual instruction on how to roll the dough and the filling of pinwheel cookies neatly.
Total time: 25 – 40 minutes (excluding 30 minutes of cooling).
I feel like you are in the mood for more Italian Christmas culinary delights, so let's go for another one. Pizzicati is the child of Italian cuisine with an elegant look and a delectable taste. And I can assure you that once you take a bite, you can't stop but finish a whole batch.
With the combination of vivid jam in the middle of light color cookies, Pizzicati assembles an edible bow tie. The cookie dough is the same as other sugar cookie recipes. And the jam doesn't need much preparation.
Maybe the highlight of the procedure of making Pizzicati is how to make the bow tie. Basically, it's the same with pinwheel cookies. Keeping your dough chilled is the key, so it will not be too sticky to cut and shape.
A spoonful of jam in the middle of a small square dough is enough for one cookie. After that, you fold the two opposite corners on top of each other and a smear of egg white on top to stick them together.
In the end, bake your batch of cookies for 10 minutes and sprinkle some sugar on top. They should be ready after that.
Total time: 25 minutes.
Do you remember the Spumoni cookies that showed up a few recipes ago? Yes, the one with three-color. Neapolitan cookies also follow that format of having three hues for three flavors.
In this recipe, you will learn how to make chewy Neapolitan cookies with three flavors: yellow vanilla, hot pink strawberry, and brown chocolate. And the process is also similar to Spumoni cookies since you need to color your cookies in three colors.
The biggest difference between the two types of cookies is due to their colors. While Spumoni includes green, pink, and brown, Napolitan is distinguished for its pink-yellow-brown colors.
This specific recipe doesn't teach you how to make brown dough. Instead, it recommends you coat a part of the cookies with melted dark chocolate This gives the cookie more texture and a stronger chocolate flavor.
The cookies should be done after 10 minutes of baking, and after another time of chilling, you can store these yummy cookies in a jar. You can also diversify the cookies by adding more flavors like matcha or Espresso.
Total time: 45 minutes.
The word "abbracci" has its origin in the Latin word "brachium". Do you know which word shares the same root with it? Yes, it's "embrace". The adorable Abbracci name implies their image – two pairs of arms swinging in the air and hugging each other.
To make these lovely cookies, you need to prepare two types of dough, which are a dark brown one from cocoa powder and a plain vanilla one. You need to shape the cookies before the dough gets cold and less sticky.
After fulfilling your baking tray, you can put them in the oven for 15 minutes. The outcomes are delicious with two classic tastes of Italian cookies, which are changeable. Instead of the regular combo of vanilla and chocolate, you can pick the cherry-hazelnut one.
Abbracci is a hard cookie, and it can be an Italian breakfast that you can dunk in your coffee. Besides having these for snacks, I think Abbracci cookies are also a nice Valentine's gift for your partner.
Total time: 2 hours and 45 minutes (including 2 hours of cooling time).
I think you're tired of colorful cookies at this point, so let me introduce you to a traditional one to change the atmosphere. Reginelle is the representative whenever you talk about Italian cookies.
This Sicilian favorite is not a hassle to make, with only several steps to perform. The dough is typically Italian, with flour, lemon zest, butter, and other spices. You can make the sesame coating by dipping the refrigerated dough in milk or water and then rolling it in sesame.
25 minutes of baking will produce the appearance of golden brown on the cookies' surface. Some people consider Reginelle as a plain and boring creation, but at the end of the day, its deliciousness is undeniable.
If you love the flavor and the smell of sesame, you need to learn this Reginelle recipe immediately.
Total time: 35 minutes.
You have seen this type of nut in so many splendid Italian recipes, but pistachio isn't actually from Italy. However, that doesn't stop the Italians from taking it for granted and creating something incredible like pistachio cookies.
In the Spumoni recipe, pistachios are only a supporting ingredient. But with this recipe, everything is dedicated to the amazing flavor of this nut. The recipe is pretty appetizing with the combination of honey, lemon zest, pistachio seeds, and other ingredients.
After making the dough, you can separate it into multiple smaller balls. Flavoring it with icing sugar is optional if you want more sweetness. The suitable amount of time to bake Pistachio cookies is around 15-18 minutes.
Pistachio cookies are chewy and tasty. This recipe uses almond flour instead of a regular one, so it's even more delicious.
Total time: 50 minutes (excluding 1 hour of drying time).
Personally, I find chewy cookies are more irresistible than crunchy ones with crumbling textures. And if you're on the same page with me on this topic, Ricciarelli probably can satisfy your desire.
Ricciarelli is a traditional sweet from Tuscany. Its main taste is from the contribution of almond seeds. Therefore, a more English name for Ricciarelli is Italian almond cookies.
All the things you need for these cookies are almond flour, almond extract, and that's it. No, I just play around. You also need orange zest, lemon juice, vanilla, and some other ingredients. With this mixture, your Ricciarelli will turn out aromatic and extremely mouth-watering.
Total time: 8.5 hours (including 8 hours of chilling).
The Christmas theme is such a hard topic to get away from entirely. I mean, how can you say no to an amazing recipe like the Italian rainbow cookies. Even though the cookies can't literally illustrate the seven rainbow colors, I'm sure they can still conquer your heart.
Compared with the Spumoni cookie, this one is darker in color, and it is tastier with two layers of dark chocolate coating. The chocolate layers enrich the texture of the cookies when you eat them.
It might take you some time to make this triumph, but in the end, when you taste the dense flavor of almonds and the fluffy texture of the crumbs, all the effort you put into making these rainbow cookies are totally worth it.
What you need for this recipe are standard cookie dough materials and other flavorings like almond paste and extract, food colorings, fruit preserves, and bitter chocolate. The cookies include the three Italian flag colors and a dark brown chocolate coating.
The outcomes are truly indescribable with the fruit sweetness, almond flavor, and dark chocolate's bitterness. Now, this is the highest level of enjoying dessert. Having these cookies while drinking tea on a warm afternoon is what you have to experience once.
Total time: 1 hour and 20 minutes.
Florence is a city that belongs to the Tuscany region. This place is famous for its long history and cuisine, and one of the best creations from this city is the Florentine cookie, a delicacy named after its hometown.
The inclusion of hazelnuts and almonds in this cookie is all you want if you desire to add more healthy nuts to your diet. The cookies are basically melted sugar with a lot of nuts and dark chocolate for decorating.
All you have to do is put all the ingredients (except the sugar, butter, and chocolate) in the food processor. After blending, you need to simmer flour, sugar, butter, vanilla extract, and the mix from the food processor, and then cool the dough for 20 minutes.
When the liquid turns brown, you know it's time to spoon out the liquid. You need to do this fast enough and shape it into cookies before it hardens. After that, it's time for another 6-8 minutes of baking to harden your cookies.
Lastly, you should spend at least 20 minutes letting the cookies chill before garnishing them with dark chocolate. You can also just sandwich the cookies with chocolate without the extra laze of chocolate on top. This step is not compulsory.
Total time: 1 hour and 7 minutes (excluding the refrigerating time from 1 hour to 2 days).
Besides Mascarpone cheese, there's another name that you can't miss out on once you talk about cookies. Ricotta, the famous cheese from Italy, has an entire recipe to show off its potential in sweet dishes like cookies.
In this recipe, the highlights are Ricotta cheese's creaminess in the crumbs and the bright-colored glaze. To make the cookie dough, you need flour, vanilla extract, other regular ingredients for baking, and the notable Ricotta cheese.
With the glaze, all you need are unsalted butter, vanilla extract, sugar, and milk for the white layer of cream and colorful sprinkles for the final touch. You need to sprinkle the candies on your cookies before the glaze gets cold and hard.
A jar of homemade creamy Ricotta cookies is something you might want to try this year.
Total time: 2 hours and 25 minutes (including 2 hours of cooling).
If you google "mostaccioli" alone, the result will be about a hearty baked pasta instead of a cookie recipe. I don't know how that happens, but to Neapolitans, Mostaccioli is a chocolate Christmas cookie.
The cookies are well-known for their dense flavor of dark chocolate that mixes really pleasingly with a combination of spices. Cinnamony aroma, citrus flavor, and rum's spiciness are what you sense after taking a bite of Mostaccioli.
The Neapolitans can have these during Christmas, but you can make this type of cookie year-round. Just remember to store these cookies in the refrigerator if you want to keep them for long.
Total time: 1 hour and 10 minutes.
Finally, the cherry on top of this list is Cannoli cookies. Let me summarize a bit all the overall Italian cookies for you by listing these ingredients: Ricotta cheese, chocolate, pistachio, alcohol, and citrus. What if I tell you there's a cookie that includes all of these materials?
Cannoli cookies are the top-notch dishes from Italian cuisine. With that combination, taking a bite is like having a whole journey with fragrant orange zest, the spiciness of Amaretto, a hint of creaminess from Ricotta cheese, and sweetness from other ingredients.
And compared to some of the other recipes on this list, Cannoli takes very little time to make. Therefore, if you are expecting to see the light at the end of the Italian culinary tunnel, where all the happiness gathers, Cannoli cookie is what you have to give a try.
I think after the post, you will need some time to pick which cookies you want to try first. I don't blame you since all of them are heaven-sent. The nutty taste of Pignoli or Ricotta cookies with cheesiness and sweetness.
You know what? It's good to express your thoughts in the comment section down below. I would love to read about your experience with these amazing Italian munchies. Also, if you find this post informative, you might want to share it with your beloved.
Anyway, that's a very sweet journey with you. I hope I can see you soon. Take care!
Nutrition Facts
20 servings per container
---
Amount Per ServingCalories63
% Daily Value *
Total Fat 3.4g

5

%
Sodium 31mg

2

%
Potassium 16mg

1

%
Total Carbohydrate 6.7g

2

%

Dietary Fiber 0.1g

0

%
Sugars 5.1g

Protein 0.2g

0

%
---
* The % Daily Value tells you how much a nutrient in a serving of food contributes to a daily diet. 2,000 calories a day is used for general nutrition advice.